Just like Santa Claus needs his little elves to deliver presents on time, online retailers, bloggers, and many other entrepreneurs rely on the support of their virtual little helpers – the chatbots.
Chatbots that can deliver support, generate leads, or rescue abandoned carts all year round, not only during the Holidays.
So what's waiting for you to try out?
Feature #1
Chatbot Loops
Chatbot building should be as easy and fast as possible. And efficient. Period. That's why you should use a chatbot platform instead of coding your chatbots manually.
Efficiency in case of loops means being able to reuse chatbot nodes instead of adding extra ones.
How the Loops Work
Until now, to create a loop inside the chatbot, you had to fiddle with Chat with bot ended node. This type of loop allowed the user to start the chatbot from the beginning.
So we've pushed the loops one step further and now you can create loops between individual nodes at any point of your chatbot structure.
What it means is that you can now create loops that do not necessarily need to start your whole chatbot from the very beginning. You can choose which part of the conversation flow should be repeated.
To avoid infinite loops, however, the nodes that can be connected back to are the ones that require an action from the user – i.e., the loop will stop and wait for the visitor's decision until it jumps to another node.
These actions are: Decision (Quick Replies), Decision (Card Messages), Decision (Buttons), Ask a question.

You can connect any other node back to these four actions. This way, your chatbot can continue the uninterrupted conversation with your potential customer, whilst the customer does not lose sight of their response options or your products.
An Example of Chatbot Loop
Let's analyze an example and see how the loops actually work.
At the very beginning, this chatbot activates when it recognizes a first-time visitor and sends a chat message with greetings.
Then, the chat message is followed by a card message that displays the newest products in stock (we chose leather bags). We often see this feature in Shopify bots at online stores – it's excellent for grabbing attention.
The visitor likes the first bag and clicks the Show me more button.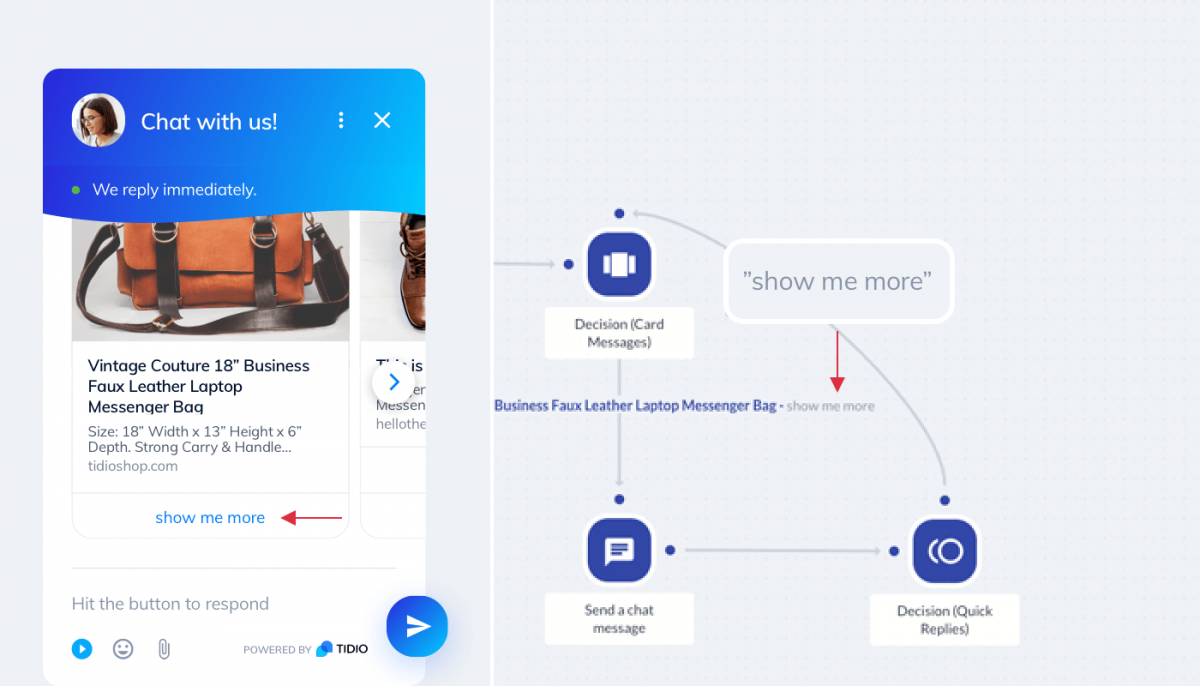 In response to the decision made by the visitor (Show me more), the chatbot moves to the next action node – Send a chat message. The message contains a photo and a few lines of extra info about the bag.
Finally, then chatbot reaches the Decision (Quick Replies) node and asks whether the visitor would like to find out more about this particular bag or go back to see other bags as well.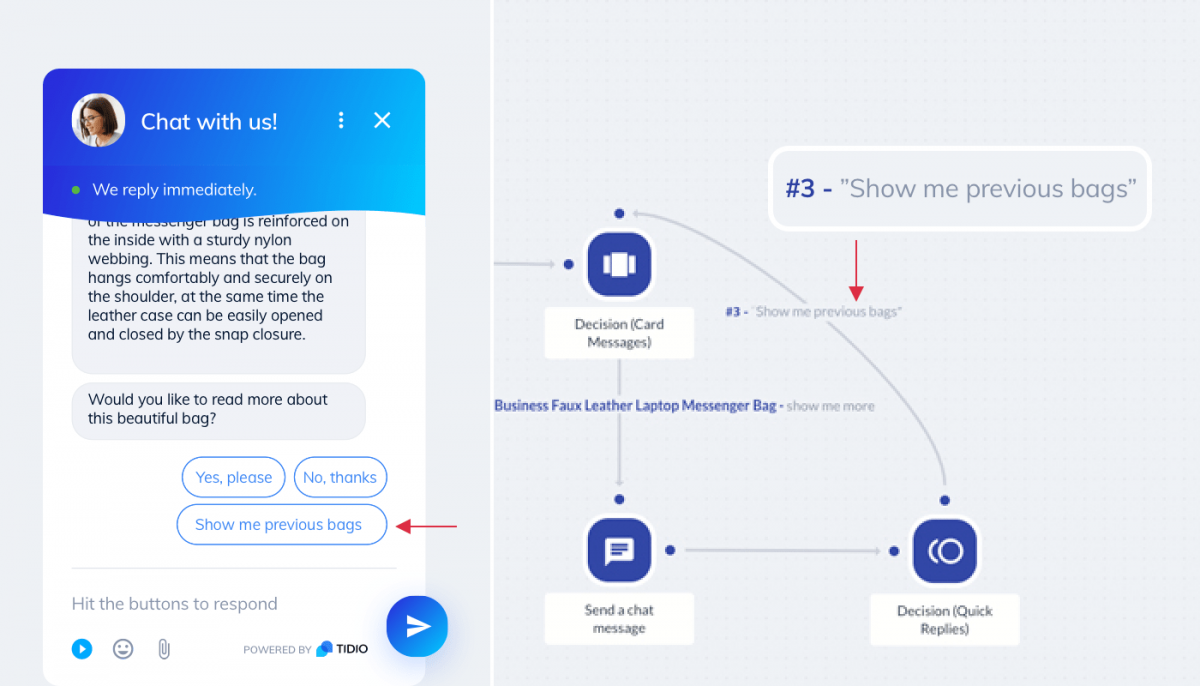 The Show me previous bags decision is connected back to the Card Messages so the chatbot can show all product cards again.
Key takeaway
Instead of creating another node that would contain the same piece of information, you redirect the conversation to the node that already exists and simply re-use it.
What would happen if you did not insert any intermediate action (in this case, Quick Replies) before the chatbot goes back to the previous node (in this case, Card Messages)?
The loop would activate automatically. As soon as the chatbot finishes chatting about the bag properties, the visitor would receive the card messages again without any warning or question.
If chatbots aren't your cup of tea, have a look at our comparison of the best online live chat software.
Check out all live chat features
Feature #2
Chat Status – Notify Users You are Online/Offline
Customers and visitors come from different time zones and not everyone can afford 24/7 customer service (hey, that's what chatbots are for, right?). So naturally, at some point, live chat operators need to set their live chat status to offline.
There are two ways to activate the offline status.
The status would switch on automatically according to DND (Do Not Disturb) schedule
It would be changed manually every time the live chat operator goes offline
Once the offline status is set, the live chat widget either becomes hidden or displays an offline message (depending on your settings).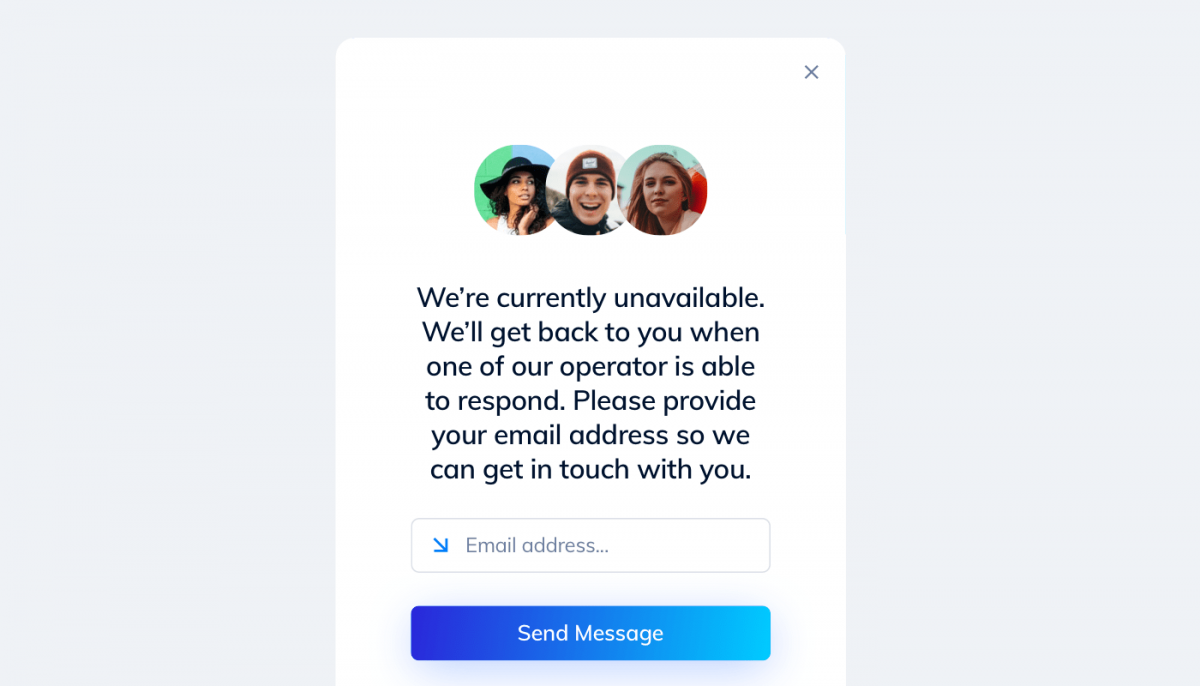 When you (or your live chat operators) are not around, you want your chatbots to remain on their duty to assist your visitors or customers whenever they might need it.
And here comes a really handy feature – Chat status.
It's a new condition node that allows you to build versatile chatbots that will run different conversation flows according to the current live chat status.
How the Chat Status Node Works
Take a look at the screenshot below.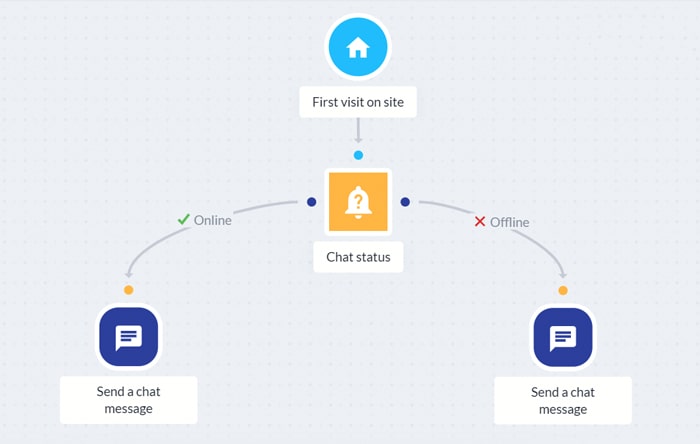 A person lands on your website and the trigger recognizes them as a first-time visitor. If the live chat status is set to offline (the branch on the right), the bot will send a chat message informing the visitor that no live chat operator is currently available.
You may replace Send a chat message with any other suitable action. For instance, your chatbot could prompt a set of Quick Replies to inform about the offline hours and give a set of actionable questions.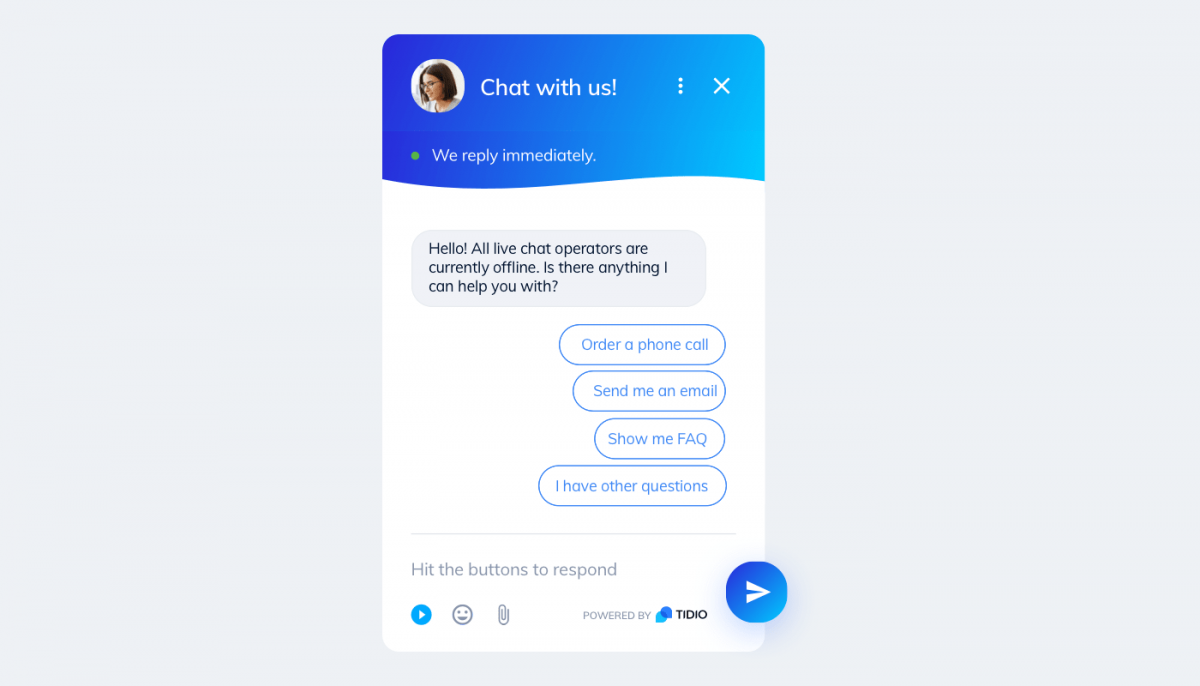 Similarly, if the live chat status is set to online, the message could be anything you want, for instance, a welcome message followed by Decision (Card Messages) to highlight your bestselling products.
One chatbot, two different live chat statuses, two conversation flows. Keep your customers engaged regardless of live chat operators' availability status.
Key takeaway
With Chat status node you can build different chatbot conversation flows depending on the live chat status (offline/online).
Need more in-depth instructions? Check out our guide on how to build a chatbot.
Feature #3
Visitor Clicks on Chat Icon
A new addition to the trigger family.
The chatbot will be prompted when the visitor clicks on the chat icon (the widget). Upon clicking, the chatbot will activate and perform the action it was built for (e.g. send a welcome message, ask a question, offer assistance, etc.).
Chatbots that are initiated by this trigger act in a more subtle way as they activate only when they are asked to.
But that's not the only advantage of this new feature.
How Can You Use Visitor Clicks on Chat Icon Trigger
Here's a short example.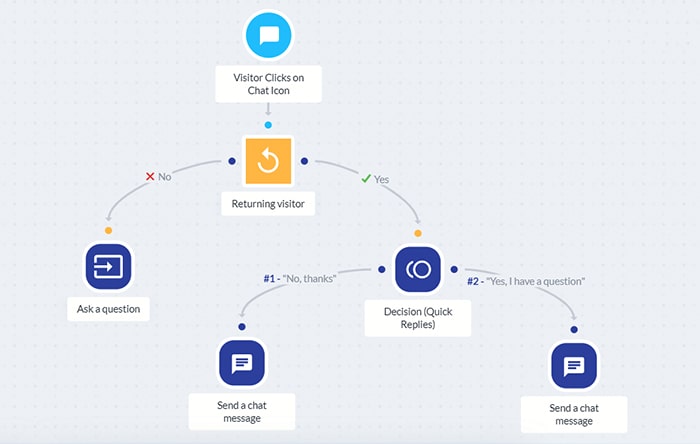 A prospective customer lands on your website and wants to talk with you about the services you offer. They click the live widget and the trigger Visitor Clicks on Chat Icon activates the chatbot.
The chatbot moves to the Returning visitor node and checks whether the person who clicked the chat is a new visitor or a returning customer.
If it's a new visitor (branch "No" on the left), the chatbot sends a question, e.g.: "Hi, welcome to our store. I'm Alfred. What's your name? :)"
Your new visitor provides their name and the conversation begins. You may use this opportunity to collect a lead, offer a discount, present best-selling products or services, ask more questions to get to know the visitor better, etc.

Otherwise, if it's a returning visitor (branch "Yes" on the right), the chatbot sends a message with a set of Quick Replies, e.g.: "Welcome back! Do you need help with finding anything?"
In this case, you want your chatbot to keep your returning customers engaged and help them with whatever they need. The goal is to make your customers stay on your website and get what they came for.
After all, it was the customers' initiative to open a chat which means they have the intent of making some business with you. Turn that intent into a sale!
Key takeaway
Chatbots that start with this trigger activate on the visitor's request. For this reason, such chatbots are likely to be more successful in engaging the visitors and helping them to close a sale.
Try Chatbots For Free