There is no point in denying; the benefits of Facebook Subscription Messaging are irrefutable.
Being able to use messenger marketing to engage customers and leads and do so with your chatbot is truly amazing.
But, unfortunately, you can no longer jump right into sending those chat blasts you've been planning all along; you have to apply and get approved by the Facebook beforehand.
At the end of last year, the company caught us off guard, changing subscription messaging permissions for chatbots. From the beginning of April this year, all Facebook Business Pages wanting to use the service must be approved and receive the permission to send subscription messages.
Luckily, in this post, we'll show you exactly how to do it (and get in.)
Turn your website visitors into delighted customers.
Set up the Tidio live chat app in 5 minutes and watch your sales grow.
Learn About Live Chat
Before we get to the good stuff, though, let's do a quick recap.
What is Facebook Subscription Messaging
I admit that I've found the concept of subscription messaging confusing at first and for a reason. It's riddled with terms like the 24+1 rule, after all, making the idea quite hard to grasp.
So, let's break it into smaller chunks.
In general, the messaging allows you to communicate with your subscribers through the Messenger platform.
The 24+1 messaging policy dictates the frequency and the topics of those communications. As per the policy, you can send unlimited updates, both promotional and non-promotional in the first 24 hours after a user opting to your messaging.

After that, however, you can send unlimited non-promotional updates but only one promotional follow-up, hence the 24+1 rule.
Any business could do the above, of course with one exception: non-promotional content that you want to send on a recurring basis.
In this case, only businesses that Facebook has approved for subscription messaging can avail of this option.
Why Would You Use It, Though?
It seems like a fair question, given the hurdle of requesting the approval, right?
Well, consider this:
Messenger boasts incredible open rates. Some sources claim up to 70-80% open rate, and that's far beyond what you could achieve with an email.
The platform allows you to pick the target audience with laser focus.
Finally, chatbots help automate much of the sending process, saving you time and effort.
Install Free Chatbots
But What Would You Use The Subscription Messaging For, Then?
Well, not for everything, unfortunately. Facebook allows you to communicate with subscribers using three types of information only:
You can tell them about news or events in one of the pre-defined categories: finance, sports, real estate, economy, traffic, weather, politics, religion, entertainment, celebrities, and public service announcements.
Send your customers reminders, or
Share information they will, most likely, find useful.
But in spite of those restrictions, there are many opportunities to engage the audience, even with a product.
You can inform users about upcoming events related to your product or brand, for example. You could also share useful content that provides some information about it too. Or you could have your chatbot to ask whether users want more information. If they reply with yes, Facebook will consider any further communication as "standard," lifting no-promotional restrictions of the subscription messaging.
Unfortunately, there is a catch. Facebook has to approve your page first to allow you to use the feature.
In their announcement, Facebook explained that they will give permissions to use the content at the page level. As a result, you will have to have your chatbot approved for each individual page you operate.
Similarly, you will have to request such permissions for any new page you begin administrating before being able to use the messaging.
The good news – Applying (and getting approved) isn't that difficult. Let's go through the process now.
How to Apply for Facebook Subscription Messaging
There's one thing you must remember when going through the process – Facebook approves each request manually. Now, whether they really do or not, I cannot tell, of course. But it's worth keeping in mind when you fill in the required details.
In short, be specific to improve your chances of hearing yes.
Step 1. Request the subscription messaging in the page settings
First things first, you need to request the feature for your page. To do that:
Go to your page and click "Settings" and then, "Messenger Platform."
Navigate to the "Advanced Messaging Features" option.
Select "Subscription Messaging" and click "Request."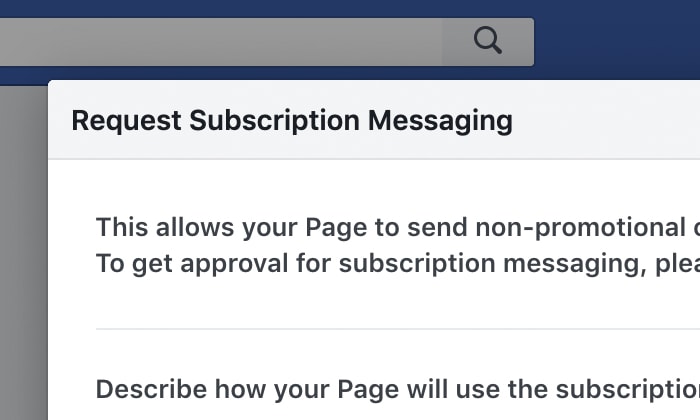 Step 2. Pick what type of communications you want to send
As you've seen above, you can choose from three categories:
News,
Productivity,
Personal Tracking
News
Informs people about recent or important events or information in categories including but not limited to sports, finance, business, real estate, weather, traffic, politics, government, nonprofit organizations, religion, celebrities and entertainment.
Productivity
Helps people manage their personal productivity with tasks that include but aren't limited to managing calendar events, receiving reminders and paying bills.
Personal Tracking
Enables people to receive and monitor data about themselves in categories that include but are not limited to fitness, health, wellness and finance.
You'll also have to describe those communications and declare how often do you want to communicate with customers.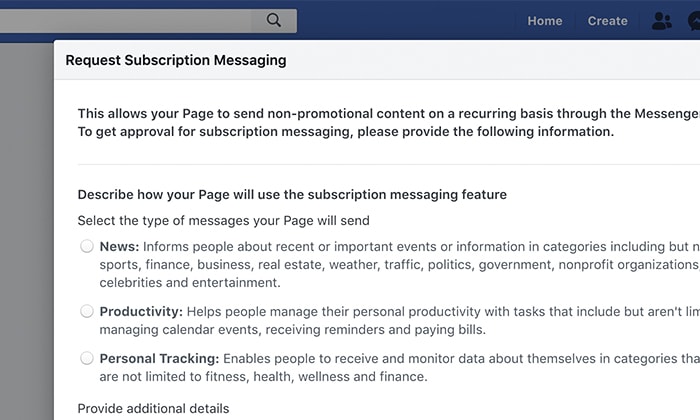 You don't have to provide in-depth info. However, it's good to be clear about what type of information your chatbot is going to send to customers and how often.
Step 3. Provide examples of messages you're going to send
As part of the submission, Facebook requires you to provide a handful of examples of messages you're going to send.
Remember: Provide helpful information!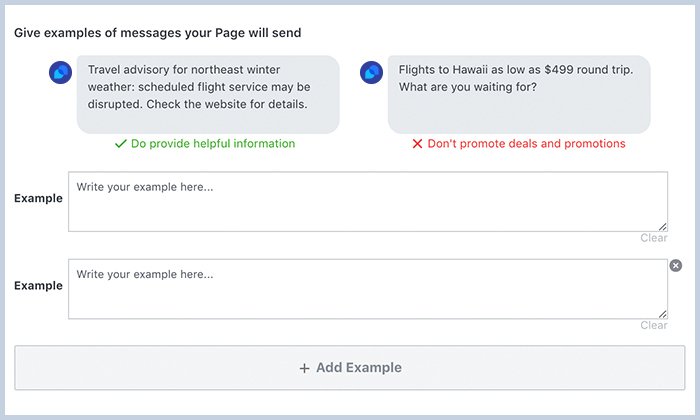 That's it.
How do you know that you've been approved?
It's simple, actually. Once approved, you will see a green check beside the Subscription Messaging option in your Settings.
But what if your application got rejected? Can you apply again?
Yes, absolutely, and there are some things you should look at when re-applying:
Ensure that whatever sample messages you provide contain absolutely no promotional messages.
Describe your chatbot better. Perhaps the info you've provided made it sound promotional in nature or too complex for the review to grasp? Try to be clear and concise.
Consider the categories you apply for. Does your selection match the types of messages you intend to send? Any discrepancies here could jeopardize your efforts to get approved too, unfortunately.
Best of Luck!