Customer Service
Instant Messaging vs Live Chat: Which One For Your Online Customer Service?
Instant messaging and live chat are good choices for seamless chat experience. But which one should you choose for your online support?
Chances are that you are familiar with online chats. Most likely you use any sort of a chat app on a regular basis. You type in your text, click or tap the "Send" button — and it's done. The message was sent. Easy.
On the outside, that's how all messaging apps work. No question about it. But the devil is in the detail. In fact, not all messaging solutions are the same. As a regular user, you might not really care too much, you just want to send a message and get a response.
As a business owner, however, those differences will determine the shopping experience you will be delivering to your customers. So let's take a look at two common types of online chats and see how they differ. This way you will be able to decide which solution you want to use on your website or online store.
The types compared are the following: live chat (represented by Tidio) and instant messaging (represented by Messenger).
In case you are new to live chat as the operator, you may want to test the features we talk about in this article yourself. Go to the registration page and create your free account to start using Tidio.
Install FREE Live Chat
What you're going to learn:
Let's briefly define a chat, live chat, and instant messaging, see what are their individual pros and cons, and finally – decide which tool is geared more toward customer service.
What Is a Chat?
In essence, the chat is a communication process (chat = conversation). It involves an exchange of messages between two (or more) parties over the Internet. To make the exchange possible, a chat-enabled software (or service) is needed. Chat can be text-based, audio-based or audio-visual.
What Is a Live Chat?
Live chat technology enables businesses to communicate with the visitors (or customers) who enter their "digital premises" – e.g. social media fan page or website/online store. It allows a live real-time conversation (a chat), which means that the recipient immediately receives the message from the sender.

What Is Instant Messaging?
Instant Messaging, abbreviated to IM, is about an exchange of instant messages through a stand-alone application or embedded application. Instant messages are usually sent between two parties and the conversation is private.
Tidio vs Messenger: Pros & Cons
There are several key differences between these two, but for the sake of this article, the focus is on how they are applicable in online customer service.
Chat Continuity or Productivity?
Live chatting and instant messaging are initiated by the visitor (or proactively by the live chat operator) by sending a message to the other party.
When the message is sent, the recipient can see it immediately on their screen. The key difference between them is the conversation retention after the chat was abandoned or concluded.
So we have two things to consider here.
One: how chat continuity is important for you?
Two: which tool empowers you to be more productive and deliver faster with responses to meet today's customers' expectations?
Tidio: Chat Continuity
Tidio vs Messenger:

Chat Continuity

| | |
| --- | --- |
| Tidio Pros | Tidio Cons |
| Visitors who have filled in a pre-chat survey can maintain chat continuity | Live chats, once abandoned, are lost and cannot be resumed |
| Live chat operators are more productive and the conversations swifter | |
| Operators can export chat transcripts of any chat and at any time | |
| Live chat is packed with numerous features that make chat operators' life easier | |
+ Tidio Customers Can Maintain Chat Continuity To a Certain Extent
Tidio live chat has a feature called "pre-chat survey"* that elicits visitors' names, email addresses, phone numbers, and GDPR compliances (*you can choose whether the pre-chat survey is enabled or not, and if enabled – what data would you like your visitors to fill in).
If the visitor fills in the survey and has a chat with an operator, the previous chat history will be available to them, provided that the visitor returns to the site using the same browser and does not clear their browser cache.
+ Tidio Chats Are Faster & More Dynamic
The lack of chat continuity can be seen as an advantage, though. Since an operator is aware that an abandoned chat cannot be continued, live chat conversations are much more dynamic and swift which generally makes operators more productive.
Additionally, live chat operators can export a full chat transcript and save it as a separate file and keep them as a reference for future conversations.
+ Tidio Live Chat Is Designed for Customer Service
Last but not least, live chats (and Tidio is no exception) were made with customer service in mind, that is why they are packed with features that enable live chat operators to work more efficiently.
– Tidio Anonymous Chats Cannot Be Resumed If the Visitor Had Left
If the visitor is impatient and leaves the chat before any of the operators have a chance to respond, then the potential customer (or lead) is lost.
Once a live chat has ended (i.e the operator and the customer have left the chat) the chat history is available only to the operator until it is deleted, and to the customer, until he or she leaves the site.
Messenger: Chat Continuity
Tidio vs Messenger:

Chat Continuity

Messenger Pros
Messenger Cons
Chats made via Messenger are linked with the customers' Facebook/ Messenger profiles making them available long after the chat has ended
Messenger operators are not so pressed with response times making their replies not so instant
Hardly any out-of-the-box features designed solely for support agents
Chat continuity can make some conversations take days to conclude
+ Messenger Chats Can Be Read and Resumed Anytime
Messages sent through Messenger remain available to the customer and the customer service agent long after the customer has left the chat. Instant messages can be sent over even if any of the parties is offline.
– Messenger Chats Tend to Be Less Dynamic
Because of it, the operators are not pressed so much in terms of response time as their messages can be sent even when the customers are offline
– Messenger Conversations Can Be More Demanding To Track
Waiting for the response from the customer can take a while (even days) and it is unlikely that a support agent will remember what the conversation was about.
– Messenger Conversations Can Take Hours or Even Days
Waiting for the response from the customer can take a while (even days) and it is unlikely that a support agent will remember what was the conversation about.
Also, since Messenger chats allow to be more liberal when it comes to response times, any message that comes hours or days after forces an operator to come back to that conversation over again to pick it up where it was left off.
– Messenger Chats Cannot Be Exported
Instant messages cannot be exported so they stay in history until the chat or the visitor's account is deleted.
Are You Proactive or Reactive Toward Your Customers?
Proactive service means that the chat operators do not wait for the visitors/ customers to reach them but try to initiate the chat on their own and engage the visitors in a conversation (which could potentially lead to sales).
Tidio: Proactive and Reactive Service
+ Tidio Enables You to Reach Your Customers First
Tidio has a feature called "Visitor List" which shows all of the visitors currently browsing your website. This feature also gives you an overview of what pages are the visitors currently on. Knowing this you can initiate a chat with the selected visitor and ask first if there is anything you can help with or advise about.
+ Tidio Proactive Customer Service Generates More Sales
The bottom line? The visitors who have had a chat with a support agent are 82% more likely to become customers.
Messenger: Proactive and Reactive Service
Tidio vs Messenger:

Proactive And Reactive Service

| | |
| --- | --- |
| Tidio Pros | Messenger Cons |
| Visitor List shows how many visitors are currently browsing your website and which page they currently view | Reactive customer service – your operators need to wait to be contacted first |
| Proactive customer service leads to more sales | No means to check who is visiting your website or to engage visitors in a conversation |
– Messenger Lacks Proactive Service Features
Messenger can be used to contact only those visitors who contacted you first.
– Messenger Does Not Allow You to Check Who or How Many Visitors Are on Your Website
Chat operators cannot see people who currently visit their company's FB fan page or regular website/ e-store.
Do You Want Advanced But Easy Chat Customization?
Regardless of whether you use a live chat or instant messaging app, both of them are out-of-the-box products that have predefined UI: colors, button descriptions, headings, avatars, etc.
If you aim to seamlessly integrate a chat window and widget with your website, it is worth considering which app offers higher customization.
Tidio: Customization
Tidio vs Messenger:

Customization

| | |
| --- | --- |
| Tidio Pros | Tidio Cons |
| All possible colors and gradients are available | None |
| Easy and intuitive live chat window customization | |
| No coding required to customize the chat window and widget | |
| Each operator can customize their avatars and headings | |
+ Tidio UI Can Be Easily Customized
Tidio offers a rich pallet of solid colors and gradients to choose from to ensure that what the customer sees fits the website's color theme.
+ Each Live Chat Operator Using Tidio Can Customize Their Profile
Live chat operators can adjust certain elements individually to match their profile (i.e avatar, name and surname, offline/online status) to deliver more personal conversation.
+ Tidio Customization Does Not Require Advanced Skills
Live chat headings can also be customized according to the availability or the company's voice. The customization process is easy, intuitive and does not require coding.
Messenger: Customization
Tidio vs Messenger:

Customization

| | |
| --- | --- |
| Messenger Pros | Messenger Cons |
| Conversation color can be changed | Advanced customization requires some coding |
| | Individual operators cannot customize their chat profiles |
+ Messenger UI Can Be Customized to a Certain Extent
The solid color of chat "bubbles" can be changed.
– Messenger Chat Operators Cannot Set Up Their Individual Profiles
Chat operators cannot customize the chat window to reflect their profiles as there is no option to add extra operators to the same account.
– Advanced Customization Requires More Effort
You need to do some coding if you want to customize Messenger's UI more.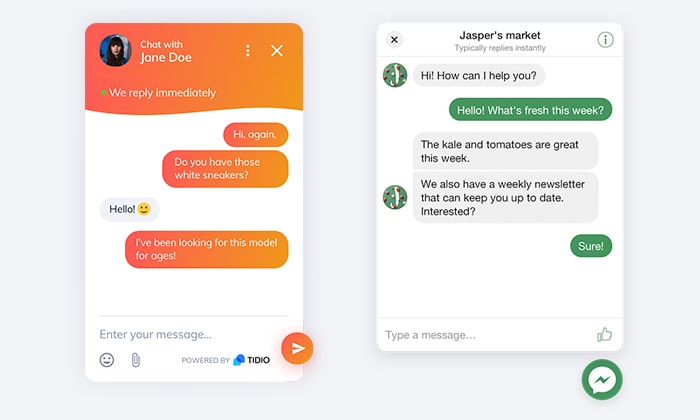 Tip: Go to "Channels" > "Live Chat" > "Appearance" and customize a beautiful widget that will match your website theme. If you do not have an account yet, go to the registration page and register for free.
Do You Want To Limit Your Potential Customers' Pool?
What is your approach toward potential customers? Are you focused on the very specific target audience only or are you open to all audiences and would rather prefer not to prevent anyone from reaching you out?
Setting up a social media profile is seen by many not only as an unnecessary effort but also as an invitation to invigilation and as a result, a lot of consumers do not have a Facebook account.
And this is what we mean by inclusion here – that everyone can contact you without being required to go through any unnecessary step(s) that would put them off and turn away from your company.
Tidio: Accessibility
Tidio vs Messenger:

Accessibility

| | |
| --- | --- |
| Tidio Pros | Tidio Cons |
| No profile, account whatsoever is needed to chat with an operator using a live chat | Customer must be present on the website to launch a live chat. Alternatively, they may run a chat page in their browser. |
| A pre-chat survey can be disabled; if enabled – only a few details are needed for the chat purposes | |
+ Visitors Do Not Need Any Account to Communicate via Tidio
Visitors can start using the live chat without registering their account with whatever website so even social media anti-fans are not restricted from sending a message to you.
Even if the pre-chat survey is enabled, the visitors leave only their very basic details (e.g name and/or email address) which are normally used by the businesses to personalize the shopping experience, get in touch with the visitor later, or to allow visitors to access their previous chat history long after the chat has finished.
– Tidio Is Accessed On-Site
Customers wanting to use live chat customer support need to be present on the website as there is no dedicated customer app for them.
However, there is a handy workaround for this – a chat page. It is a live chat embedded in the website that, unlike the live chat widget, is located under a direct address so the customer can access the chat by clicking on the link or button provided. The link to the chat page can be saved in a browser and used later.
Messenger: Accessibility
Tidio vs Messenger:

Accessibility

| | |
| --- | --- |
| Messenger Pros | Messenger Cons |
| Very popular and recognized chat app having already a high number of regular users | Messenger or Facebook account is required to chat with a support agent |
| | Not every potential customer has a Facebook account – consumers may feel excluded for not being able to chat with you |
+ Messenger Is a Very Popular App
Facebook, and similarly Messenger, are well-known in the digital realm and nonetheless, a lot of consumers have their accounts registered and use that instant messaging app on a frequent basis. Having said this, being able to chat with the business through the medium they already use may be seen by them as convenient.
– Nonetheless, Not Everyone Has Messenger/Facebook Profile Registered
To send a message with Messenger one needs to register an account with Messenger or have a Facebook profile set up. If the visitor wanting to get in touch with you via Messenger has no account, he or she will walk away or in the best scenario, start looking for alternative methods of support.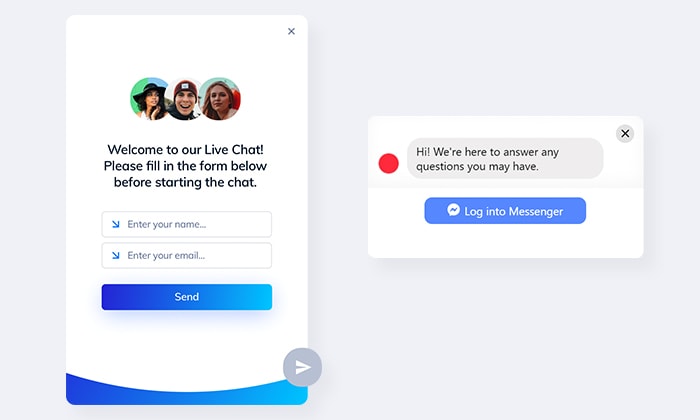 Do You Want Chat With Easy Integration and Seamless Workflow?
Instant messaging apps and live chat apps can usually be installed with a dedicated plugin or a piece of code which is added to the website's code. Sometimes though, no official plugin is available so it is released by another (non-affiliated) developer.
Being able to connect a chat app with other apps or platforms allows you to automate certain tasks and save a lot of time on regular activities.
Tidio: Integrations
Tidio vs Messenger:

Integrations

| | |
| --- | --- |
| Tidio Pros | Tidio Cons |
| Possible integration with website and e-commerce platforms (with a plugin or code snippet) | None |
| Possible integration with CRM systems (with a plugin or code snippet) | |
| Possible integration with marketing automation tools (with a plugin or code snippet) | |
+ Tidio Can Be Integrated With a Variety of Apps & Platforms (Including Messenger)
Tidio can be easily integrated with plugin dedicated to several e-commerce platforms and website builders such as Wix, Shopify, WordPress, Codarius.
It can be also integrated with several CRM platforms (e.g Zapier, Hubspot), e-mail marketing tools (MailChimp, GoogleAnalytics), and helpdesk software (Zendesk, HelpScout).
What is worth mentioning as well, Tidio live chat app can be integrated with email and Messenger as well allowing you to manage all the customers' queries from the live chat admin panel.
Messenger: Integrations
Tidio vs Messenger:

Integrations

| | |
| --- | --- |
| Messenger Pros | Messenger Cons |
| Customer chat plugin allows Messenger installation on businesses' websites | Not all popular platforms have a dedicated plugin |
| | Integration with apps that are not supported by a plugin requires some coding |
+ Messenger Has a Dedicated Plugin to Be Used on Websites
Messenger released a customer chat plugin (in beta) that can be installed on the website. The installation on e-commerce and site-building platforms is possible with the code snippet.
– Messenger Has No Dedicated Plugin for Certain Popular Platforms
No dedicated plugins to popular platforms (e.g Shopify), while the integration with other platforms involves some coding.
Does Your Business Care About Privacy?
Even before GDPR (General Data Protection Regulation) was introduced, a lot of consumers were very concerned about their data. How do live chat and instant messaging apps compare in terms of respect for customers' privacy?
Tidio: Privacy
Tidio vs Messenger:

Privacy

| | |
| --- | --- |
| Tidio Pros | Tidio Cons |
| No registration is needed – anyone can start a chat with an operator | Tidio's customers are responsible for their own customers' data processing |
| Tidio is fully compliant with GDPR | |
| Customers can read and give their consent to your GDPR policy | |
| Customers are not tracked or monitored beyond your website | |
| Any contact profiles you build are managed by you | |
+ Tidio Is Accessible
Visitor wanting just to talk with you through the Tidio app does not need to set up an account and any information that is sent by your customer to you is controlled by you.
+ Tidio Does Not Monitor Your Customers' Messages
Tidio does not monitor end-users' messages at all times – although messages can be remotely accessed, the support team does it only if it helps to resolve the customer's technical issue.
+ You Can Be Transparent With Tidio
For an extra layer of data handling transparency, you can enable a feature called "pre-chat-survey" to inform your visitors about your GDPR policy and ask for their consent.
+ Tidio Does Not Track Your Customers
Since the live chat works only within the "boundaries" of the website, it does not collect visitors' data from other websites they visit.
+ With Tidio It Is You Who Build The Customers' Profiles
Any contacts that you build based on your customer service activities are managed by you.
– Any Data You Acquire via Tidio Is Your Responsibility
Tidio is not responsible for data processed on the customer's end. This feature, in fact, can be seen as an advantage by some.
Messenger: Privacy
Tidio vs Messenger:

Privacy

| | |
| --- | --- |
| Messenger Pros | Messenger Cons |
| Secret messages can be sent and seen only between two people who sent them | Messenger or Facebook account is required to chat with a support agent |
| Messages can be set to self-delete after a pre-defined period of time | Facebook can track and monitor end-users' movement and behavior on all fan pages and Messenger-powered websites |
| | Profiles of the consumers who get in touch with you belong to Facebook |
+ Messages Sent via Messenger Can Be Secret or "Self-Destroyed"
Secret and "self-destructing" messages are Messenger's handy features.
– Messenger Requires an Account to Be Used
A visitor must register their profile with Facebook or Messenger first to be able to just talk with you which can be discouraging.
– Facebook Can Monitor Yours and Your Customers' Chats
Keep in mind that Facebook can potentially track and monitor what fan pages and Messenger-powered websites are visited by your customers.
– Profiles of the Customers Who Contact You Belong to Facebook
And finally, any visitor who gets in touch with you has their profile built with and owned by Facebook – not you.
Live Chat Was Made for Customer Service
Although live chat was made specifically for online customer service, Messenger has few advantages, namely a permanent "thread" between the support agent and the customer that allows to pick up the conversation at any time regardless of the customer's status (online or offline).
Secondly, the Facebook instant messaging app has a huge database of personal data under their customers' profiles – however, only Facebook can really benefit from it.

Is live chat better for customer service? Even considering the pros and cons of both app types, we believe it indeed is. Among many other pros, Tidio live chat is simple to install and integrate, accessible and intuitive to use, can be easily customized, enables support agents to be proactive toward their customers, and helps to protect customers' privacy. And just like Messenger, Tidio can be used for free and boosted with chatbots.
But most importantly, live chat has a number of out-of-the-box features that help to maintain steady customer service flow – features that cannot be found in instant messaging apps.
But then again – why not use both?
You can easily chat with your Facebook fan page followers using Tidio integrated with Messenger. This way you can take advantage of Messenger and live chat features without the need of switching between both apps back and forth – all the chats are managed from live chat admin panel.
With Messenger as an addition to live chat support you add a bit of variety to your online customer service, expand already impressive live chat's possibilities, add an extra channel for customer acquisition, and complement your omnichannel approach.
If you would like to try live chat + instant messaging in one free app then Tidio is your solution.
Try Live Chat For Free