Ecommerce is changing the world of retail as we know it. People's shopping habits change quickly too—buying things on the internet becomes increasingly popular.
But what are the exact numbers?
This article will help you stay up-to-date on the latest online shopping statistics. We've prepared a detailed overview of some of the most recent shopping data. It also includes information on consumer demographics and the impact of online sales on the retail industry.
Table of contents:
You may also be interested in other statistics and studies: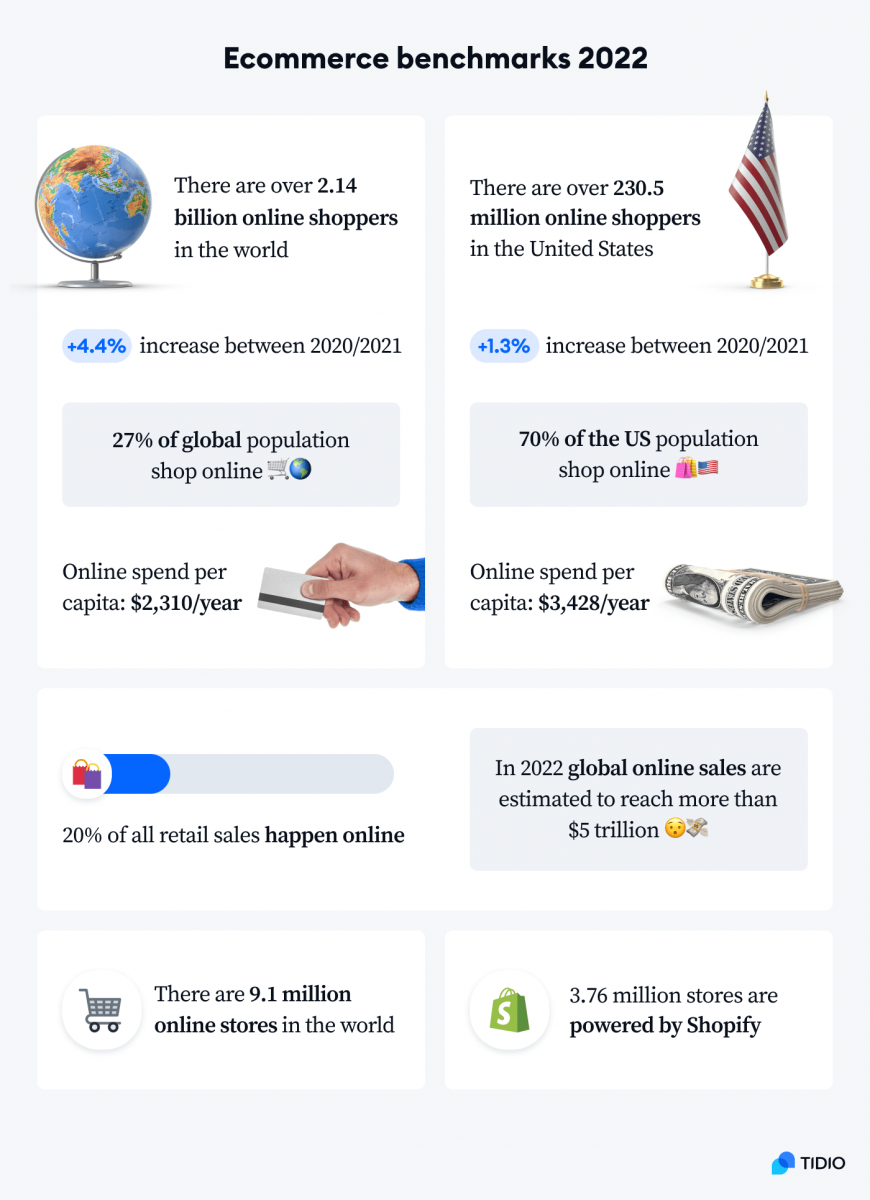 Is there an increase in online shopping?
The number and value of online sales are on an upward trajectory. In 2022 global ecommerce sales will likely reach more than $5 trillion. This growth is being fueled by a number of factors, including the rise of mobile shopping, the growth of social media, and the increasing popularity of subscription services.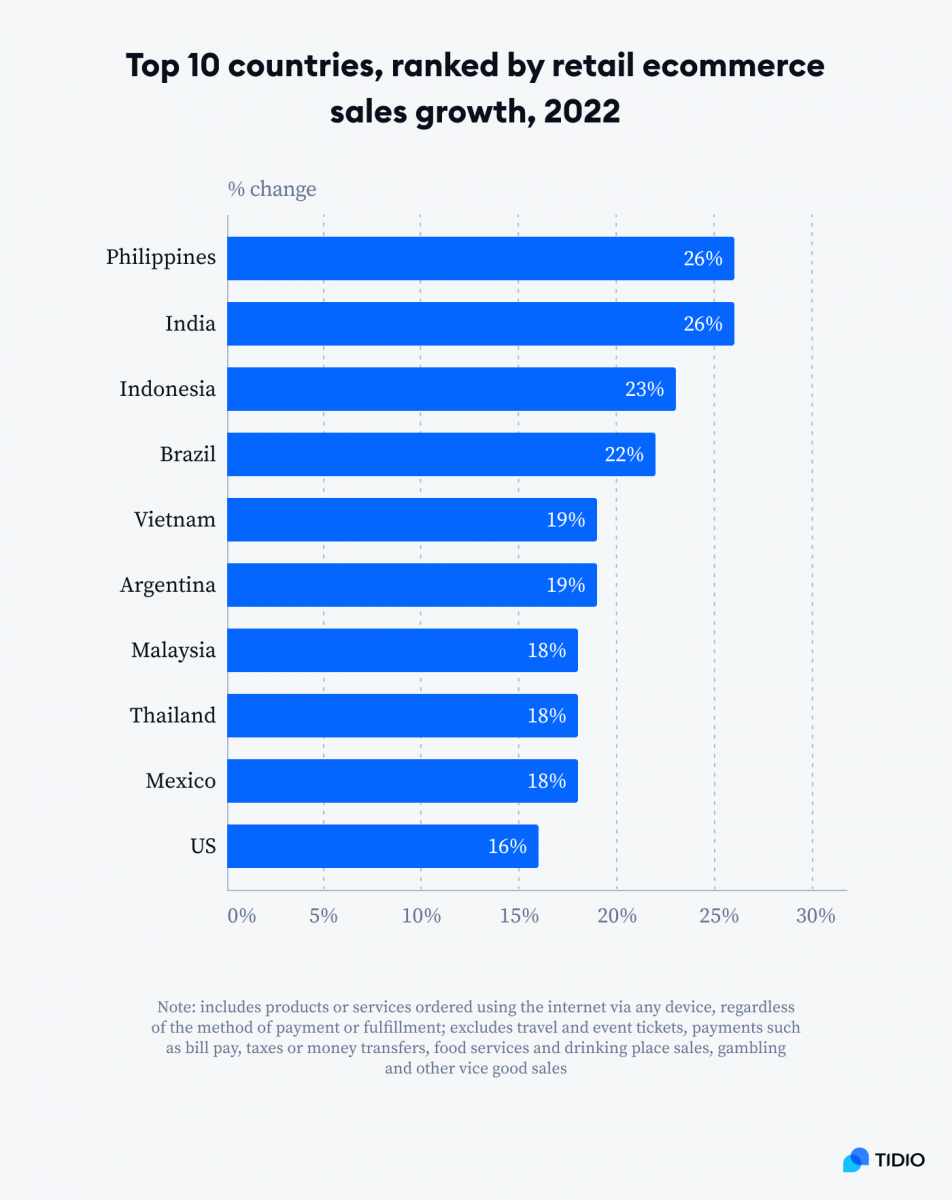 Countries in the Asia-Pacific region and South America are currently witnessing the fastest growth in the ecommerce sector. This is due to the dynamic adaptation of new technologies as well as the demographic structure of these countries. New generations are more tech-savvy and are likely to buy things online than offline.
By comparison, the United States is already a mature market that has been using ecommerce solutions for many years. However, It is worth noting that it is still in the top ten fastest-growing countries when it comes to change in the number of online sales.
US internet users are projected to make more online purchases in 2022 than ever before. And with this growth comes new opportunities for businesses to capitalize on the trend by expanding their reach into the ecommerce market.
How much has online shopping increased during the COVID-19 pandemic?
The pandemic has definitely had an impact on shopping behavior, with more people turning to the internet to buy everything from food and groceries to clothing and other essentials. In fact, a recent study found that 3% of Americans have started their online shopping and bought something online for the first time as a direct result of COVID-19. This is likely because people feel safer buying goods on the internet rather than leaving the house to go to a physical store.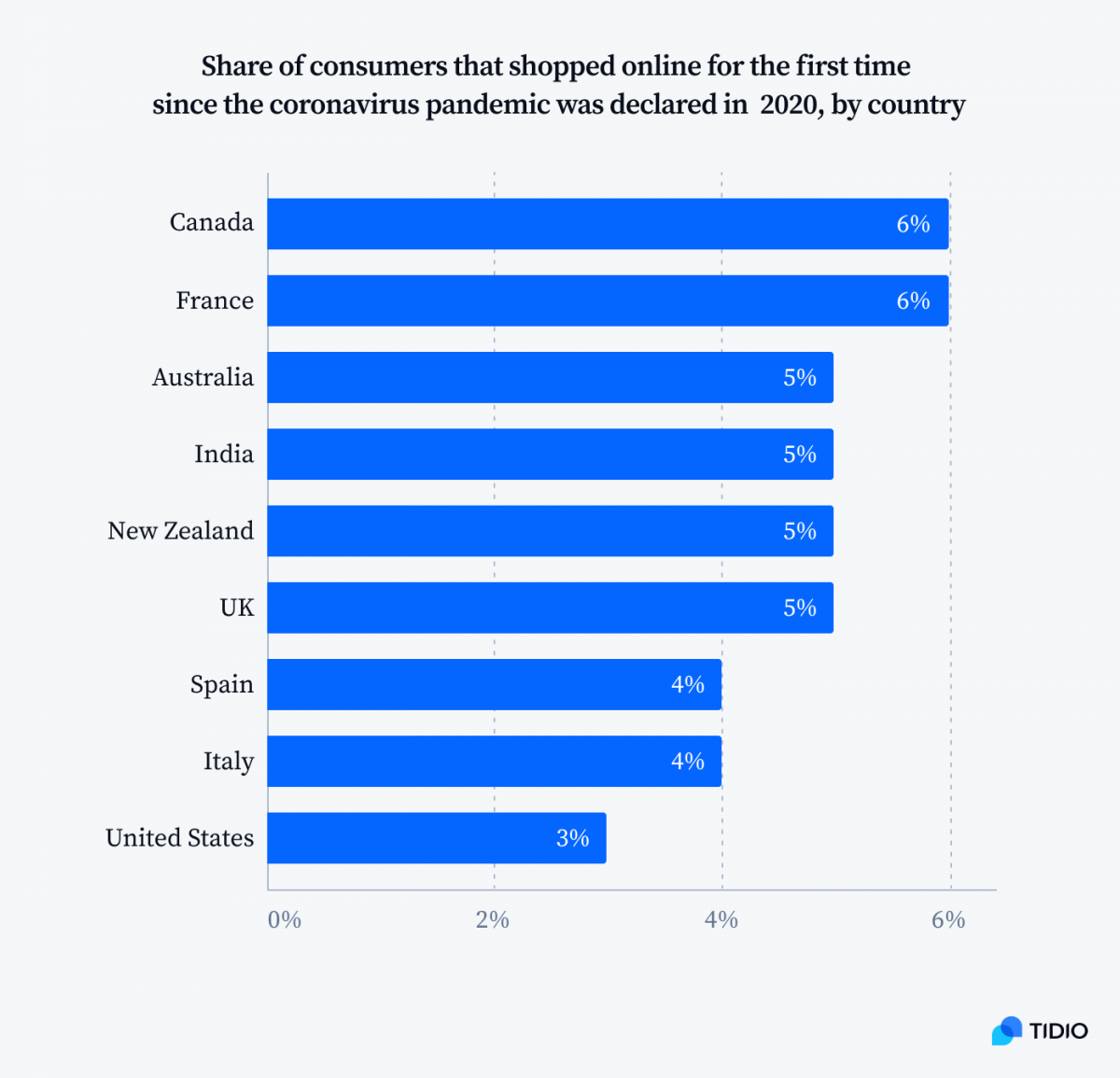 The interest in online grocery shopping increased from 36% of Americans ordering groceries online before COVID-19 to 55% during the first months of the pandemic
The impact of the pandemic, however, is best seen not by the number of new online shoppers but by the higher frequency of purchases by people who were already online consumers. You can see a clear spike in the importance of ecommerce at the onset of the pandemic. The online shopping growth expressed as a percentage of all sales shows a real paradigm shift that happened in 2020.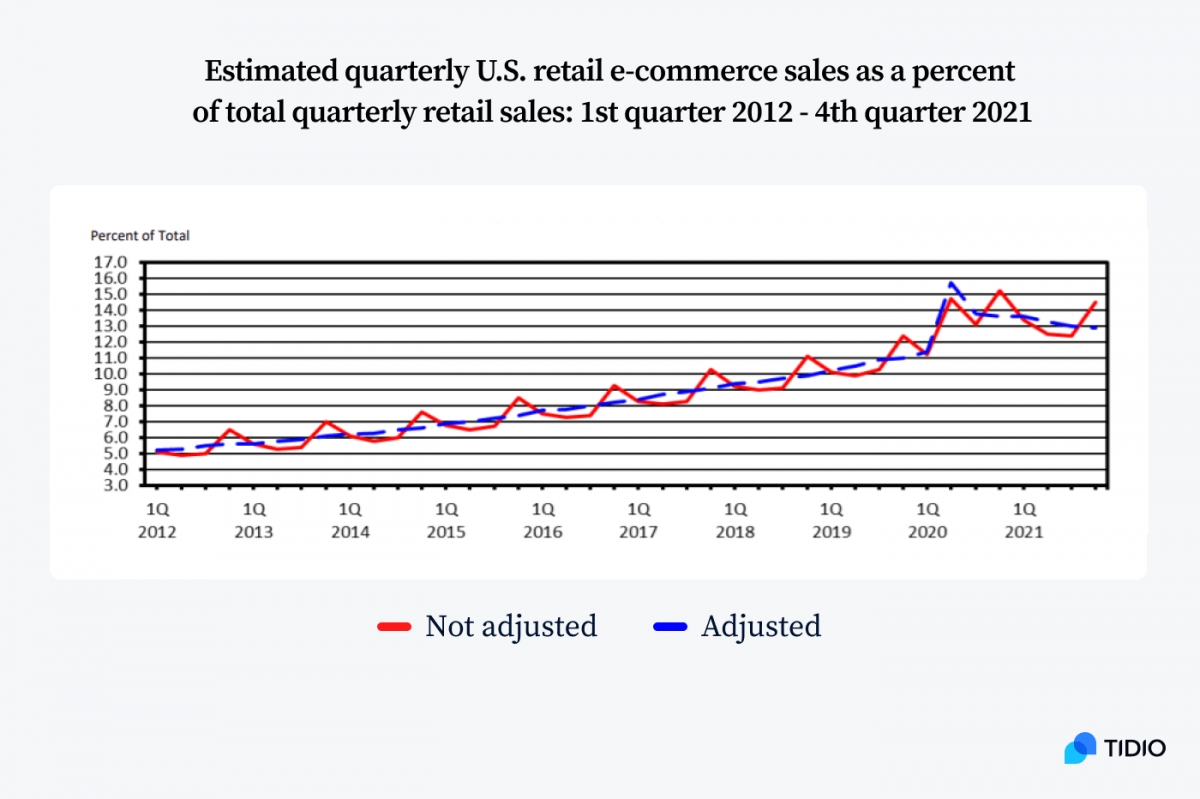 Global ecommerce industry
We already know that there is more demand for online stores than ever before. But what are some other reasons for the growth of the online retail sector?
Ecommerce stores are cheaper and easier to maintain than traditional brick-and-mortar stores. And there are more ecommerce platforms and tools available to help small businesses get started. Anyone can set up a store on Shopify and create a customer service chatbot for free to get hundreds of new online consumers.
How many ecommerce sites are there
Right now, there are 9.1 million online retailers in the world. And, incidentally, the majority of them are powered by Woocommerce or Shopify. This number may seem overwhelmingly high, but people are willing to spend more and more money online. It is a real gold rush for online business owners. In the next few years, ecommerce market will continue to grow almost exponentially.
Global ecommerce sales are going to double before the end of this decade.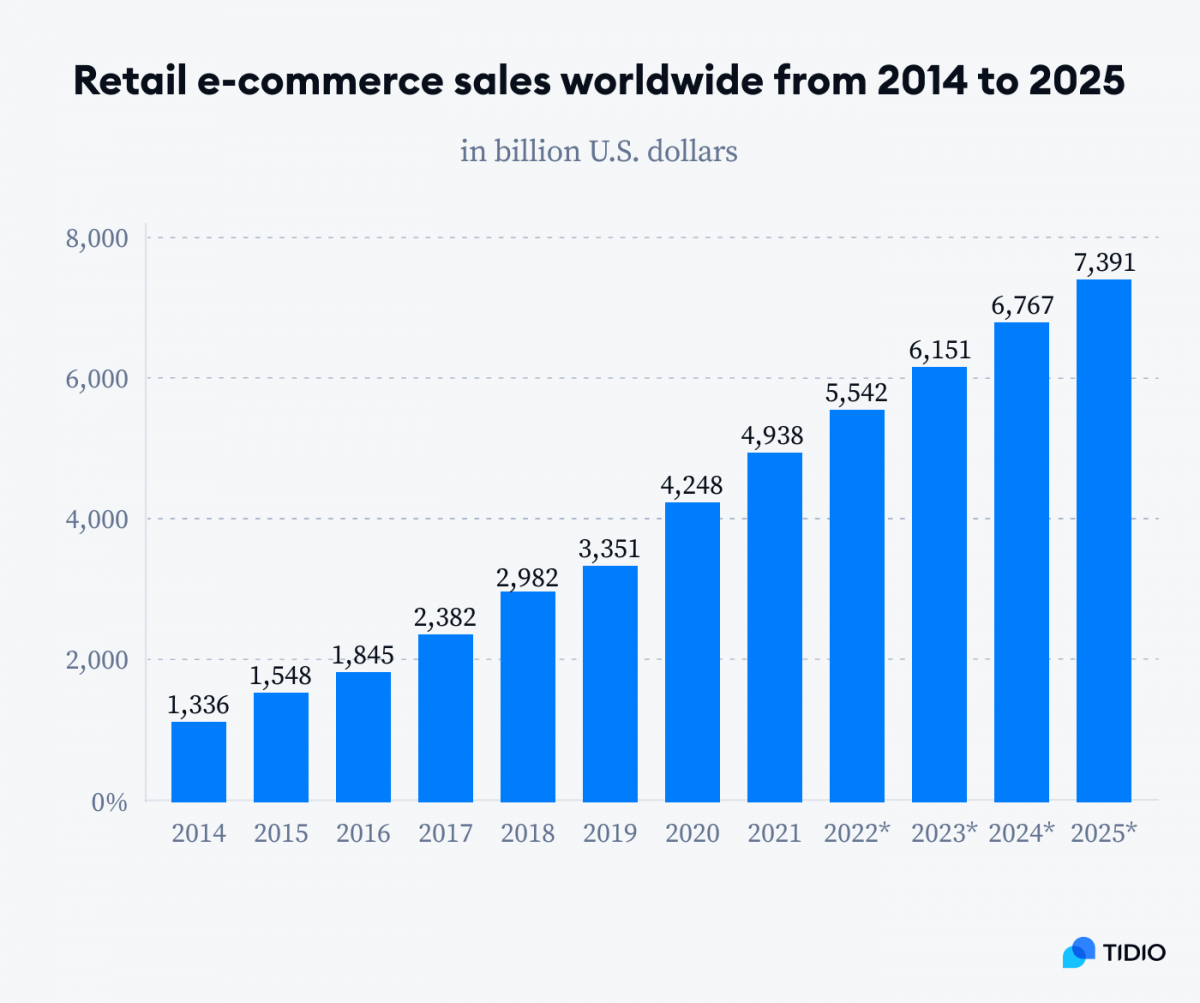 Interestingly, there is no visible rise in interest when it comes to starting online businesses.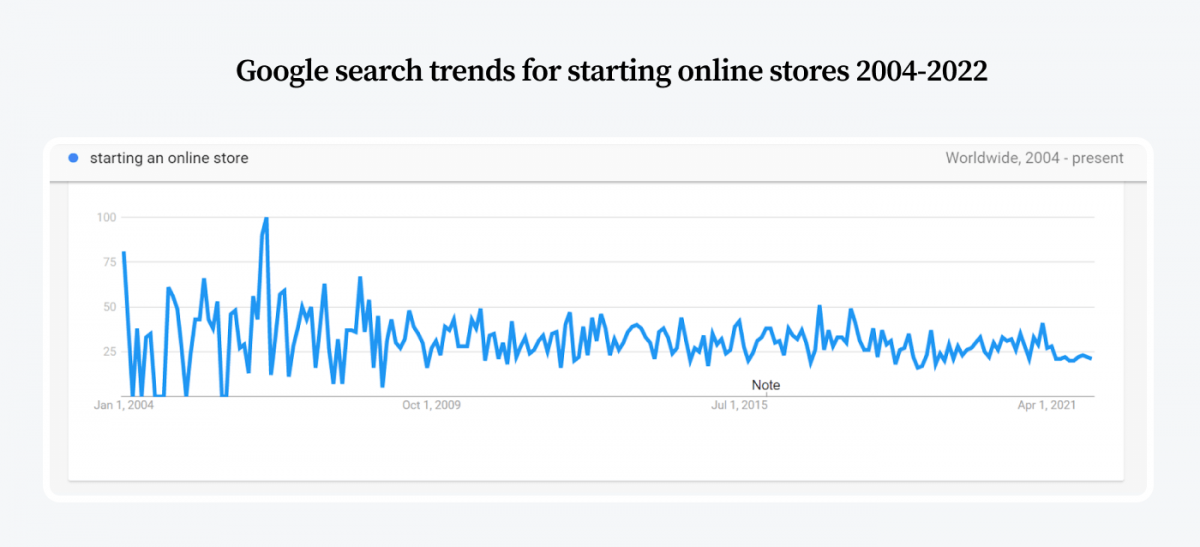 Currently, on the side of business owners, the number of online stores is still too low to meet the growing demand. But, apparently, there is no significant spike in interest. You still have a chance to jump on the bandwagon and ride the wave of ecommerce revenue.
Online shopping vs in-store shopping statistics
Online shopping has been around since 1995, but it wasn't until the late 2000s that the number of digital shoppers exceeded those who shopped exclusively at physical stores.
Ecommerce, in its current form, is not intended to completely replace in-store shopping. Some retailers are even moving towards a model where you can try things in-store and then get the same product shipped to you.
It makes perfect sense, as certain products are more convenient to buy in person and others through a website or app. For example, buying a car on Amazon is a bad idea. That's why most customers embrace both ways. In the US, the number of customers who didn't buy anything on the internet decreased to 30%. But digital buyers don't stop visiting traditional stores—they shop both online and in-store.
Nevertheless, ecommerce sales make up a growing share of retail. As recently as 2017, online sales accounted for just 1/10th of all worldwide sales. By 2025, they are expected to represent almost 25% of total retail sales.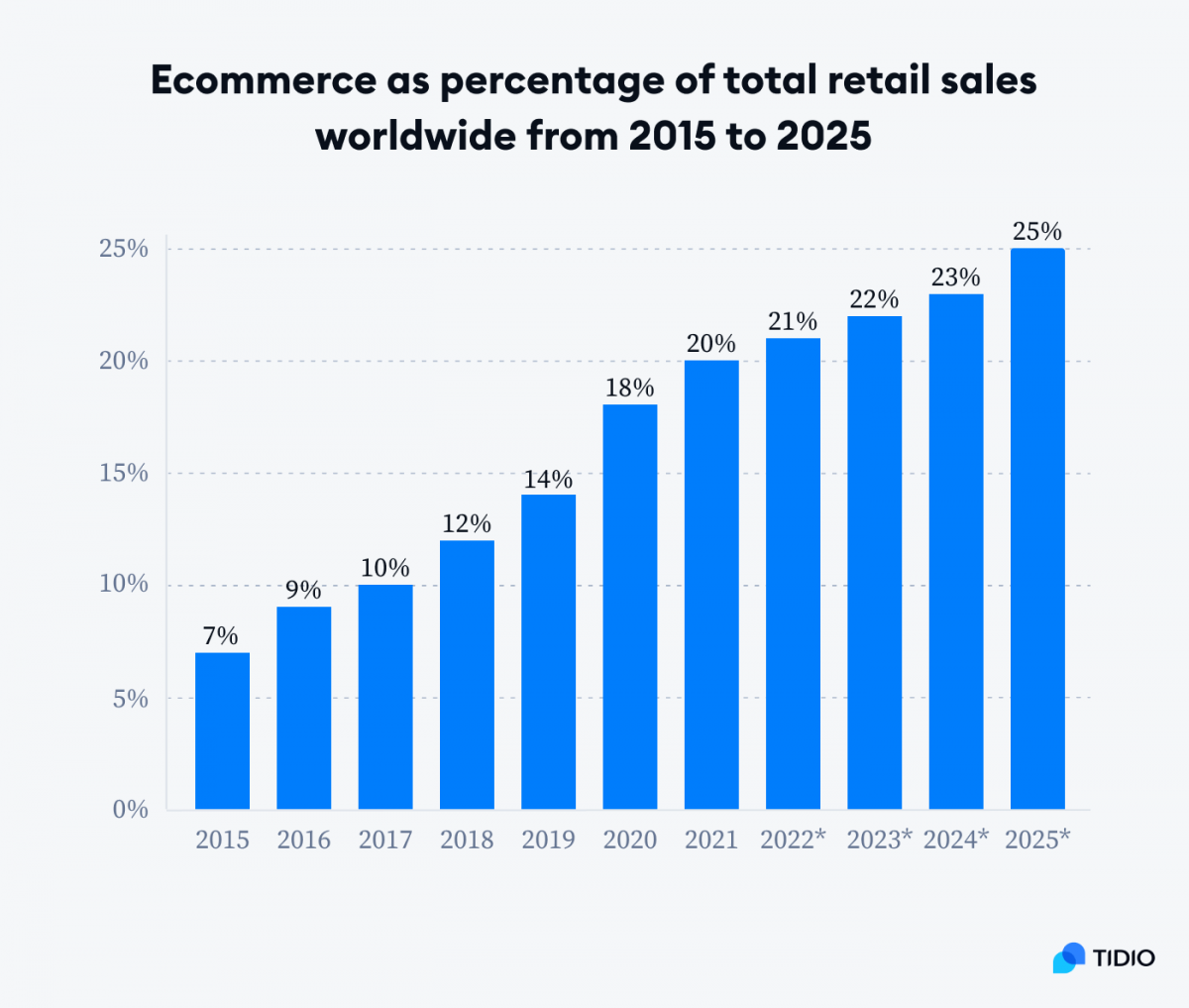 Currently, about 20% of all retail sales happen online
The number of brick-and-mortar retail stores in the US is declining, but the total sales volumes at physical stores are still increasing
The annual growth rate for in-store sales is about 4% while for ecommerce sales it is almost 13%
The number of brick-and-mortar retail stores in the US fell from over 450,000 to just under 350,000 in 2021. With the ease and convenience of online shopping, this number is expected to continue on a downward trend as ecommerce takes on an even greater role in consumer purchase decisions.
Consumers love the idea of shopping from their own homes. One of the most notable changes is how younger generations are driving up ecommerce sales, especially with mobile devices. Shoppers are increasingly using smartphones to make purchases via shopping apps.
Read more: Mobile Commerce Statistics for 2022
How many people shop online
About 2.14 billion shoppers now buy items online, which is a significant increase from just a few years ago. With the current world population of 7.9 billion, it means that 27% of all people that are alive are digital buyers.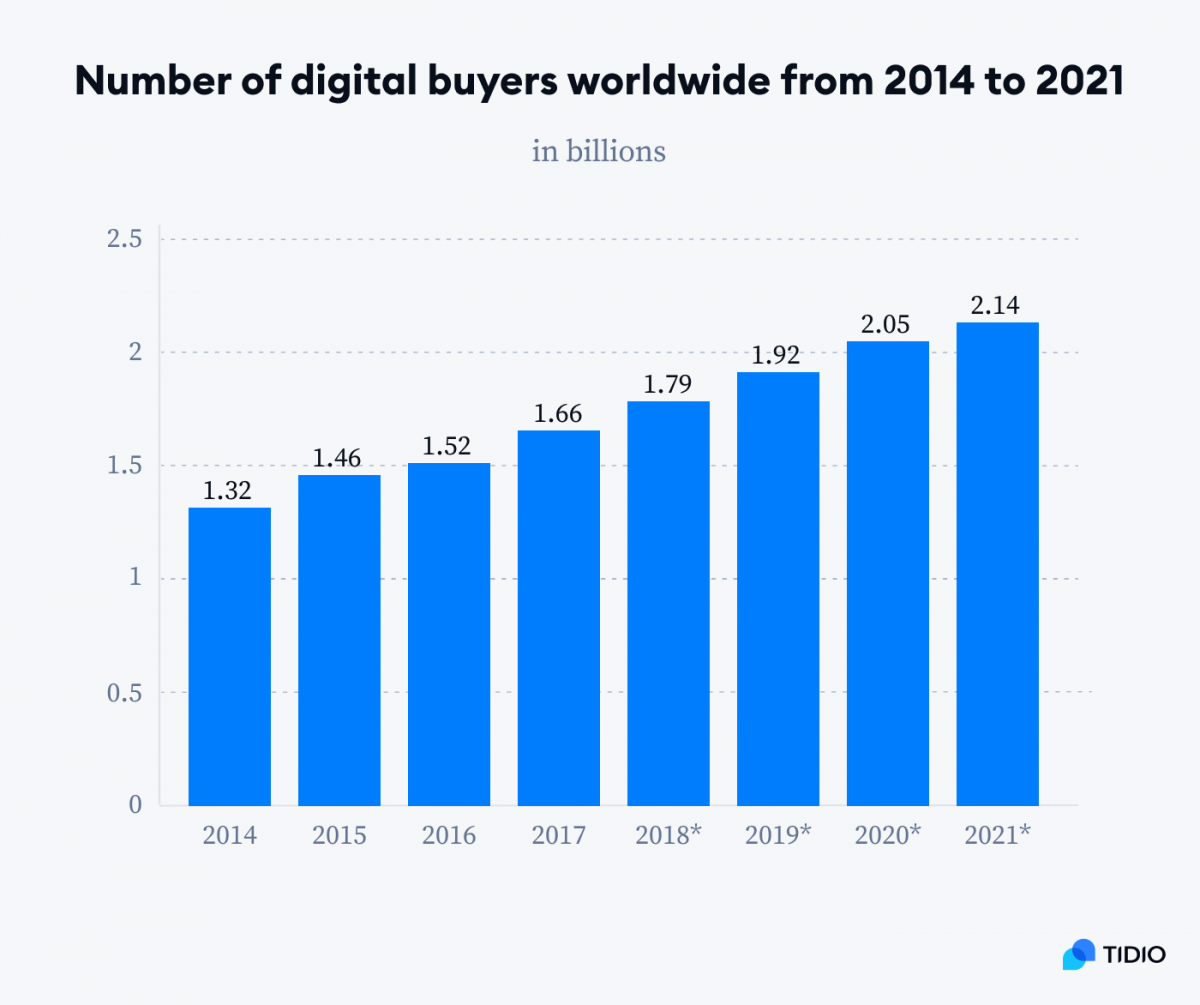 In 2022, it is estimated that there will be over 2.3 billion consumers making at least one purchase from an online retailer
Over the past 5 years, the number of digital shoppers has increased by 40%
During the same period, the sales volumes increased by 218%
In 2015, an average customer spend was about $1,060 on online purchases globally—in 2021, the average online purchase value increased to $2,310/year
In some countries, these numbers are much higher, with the United Kingdom digital shoppers spending over $4,200 per year on average
Not only is the number of shoppers increasing, but so is the frequency with which people shop online. The main factor driving such massive increases is the smartphone penetration among Chinese consumers. There are currently 1 billion active smart devices and mobile phones in China with over 600 million used by consumers on a daily basis. Additionally, the ecommerce industry in countries, such as the United States, is continuing to grow at a steady pace.
How many Americans shop online
Right now, 70% of Americans are shopping online. It translates into 230.5 million online shoppers from the US.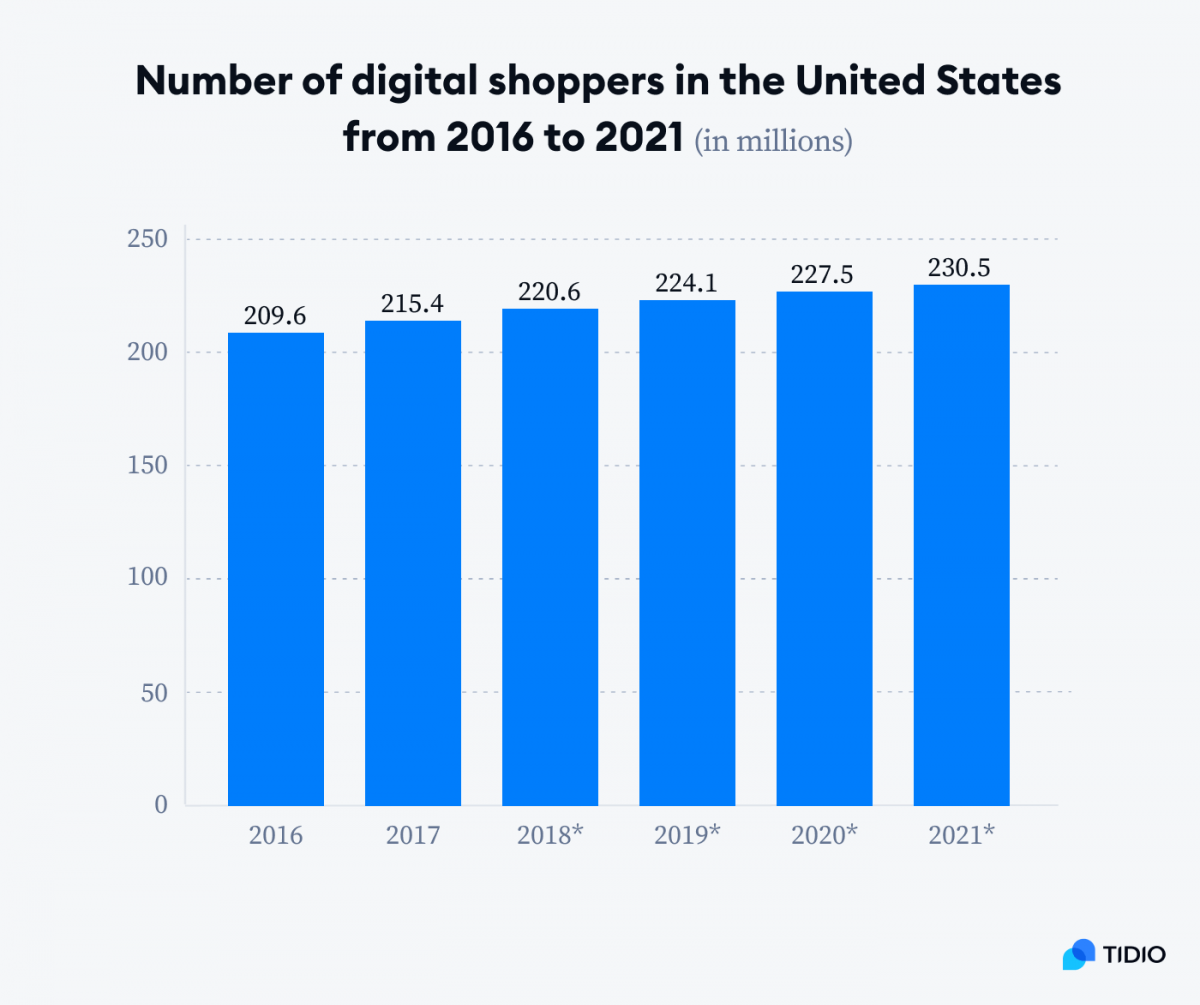 Their purchases represent about 18% of the global ecommerce industry. Total ecommerce sales for 2021 in the US were estimated at $871 billion (an increase of 14% from 2020).
Holiday season in the US
The most important shopping period in the states is the time before the holidays. The year 2017 was the first time when the number of Americans buying gifts online caught up with those who buy them in stores. In 2021, the number of people who bought gifts from online stores was even higher, with 57% choosing to buy Christmas presents online.
Who spends the most online?
The countries spending the most on online shopping are China, the United States, Japan, the United Kingdom, France, and Germany. These countries account for more than half of global ecommerce spending.
If you are interested in what age group spends the most money online, the answer is Generation X. People born between the late 60s and early 80s are the most important consumer segment when we compare their shopping habits and spending power.
Demographics of online shoppers
Gen X online buyers are still the most relevant customer group when it comes to the ecommerce sector. They make regular online purchases and have the highest average yearly expenditure (almost $70,000) of any generation. While their total cumulative spending power is lower than that of Baby Boomers, they are making up for it by shopping online more often.
What percentage of shopping is done online (by generation)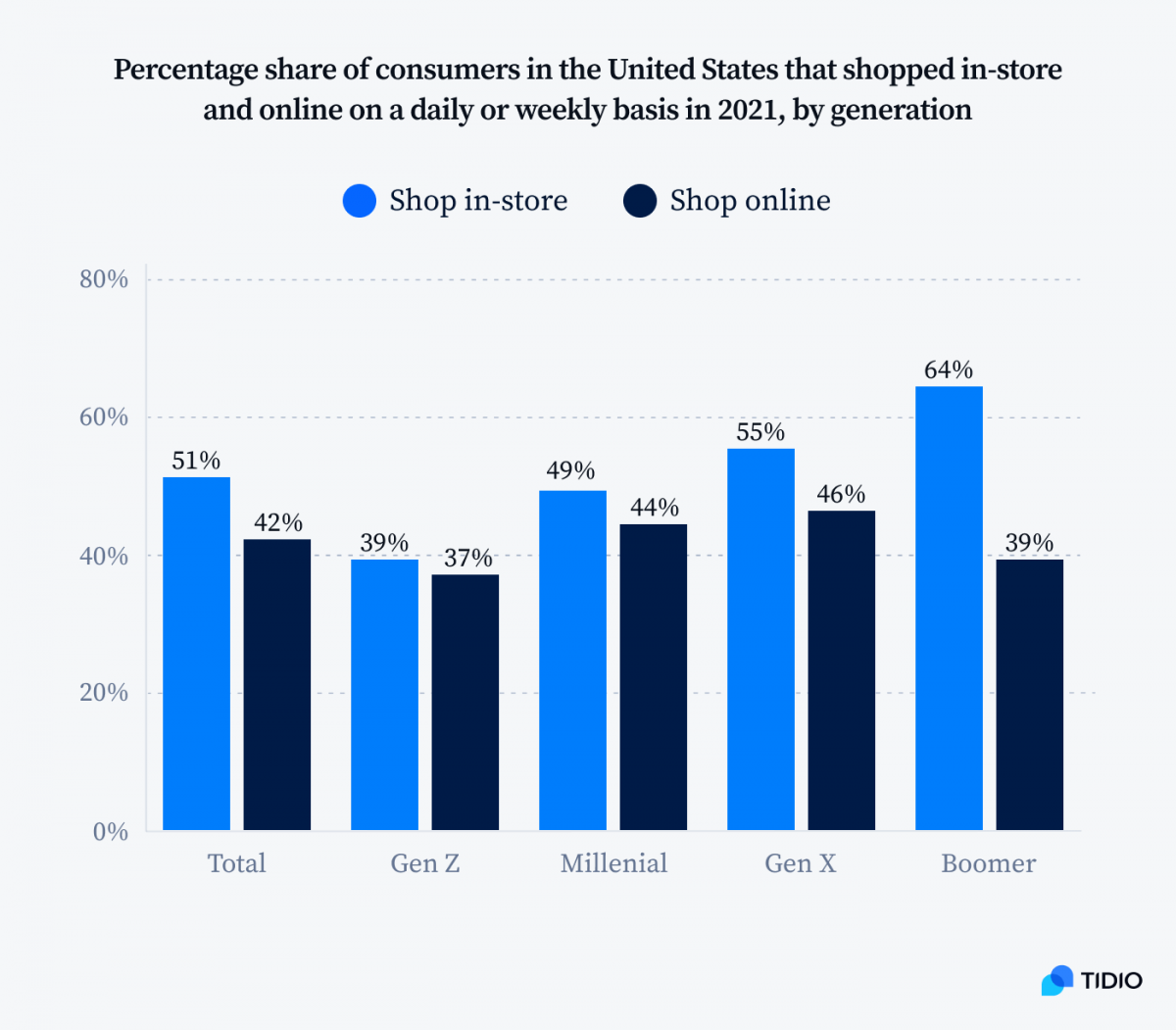 About 38% of consumers are afraid they'll overspend when using credit cards—that's why Gen Z and Millennials prefer shopping with debit cards, while older generations favor credit cards or cash-on-delivery payment options
More than 35% of Millennials admit to being heavily influenced by social media when making a purchase decision—this digital marketing channel is the most effective in this age group
According to our research, about 45% of Gen Z customers cross-reference prices in multiple online outlets to find the best deal. Gen X and Baby Boomers are less likely to browse multiple online stores than younger generations. It can be linked with the fact that they have more disposable income and can afford to make purchases without hunting for bargains.
Male vs female shopping statistics
Gender is another important factor that is correlated with buyer behavior. This is most evident when we look at the categories of the most purchased products online. Women are primarily buying fashion and clothing (W 71% vs M 49%) while men are much more interested in new products related to technology (M 49% vs W 31%).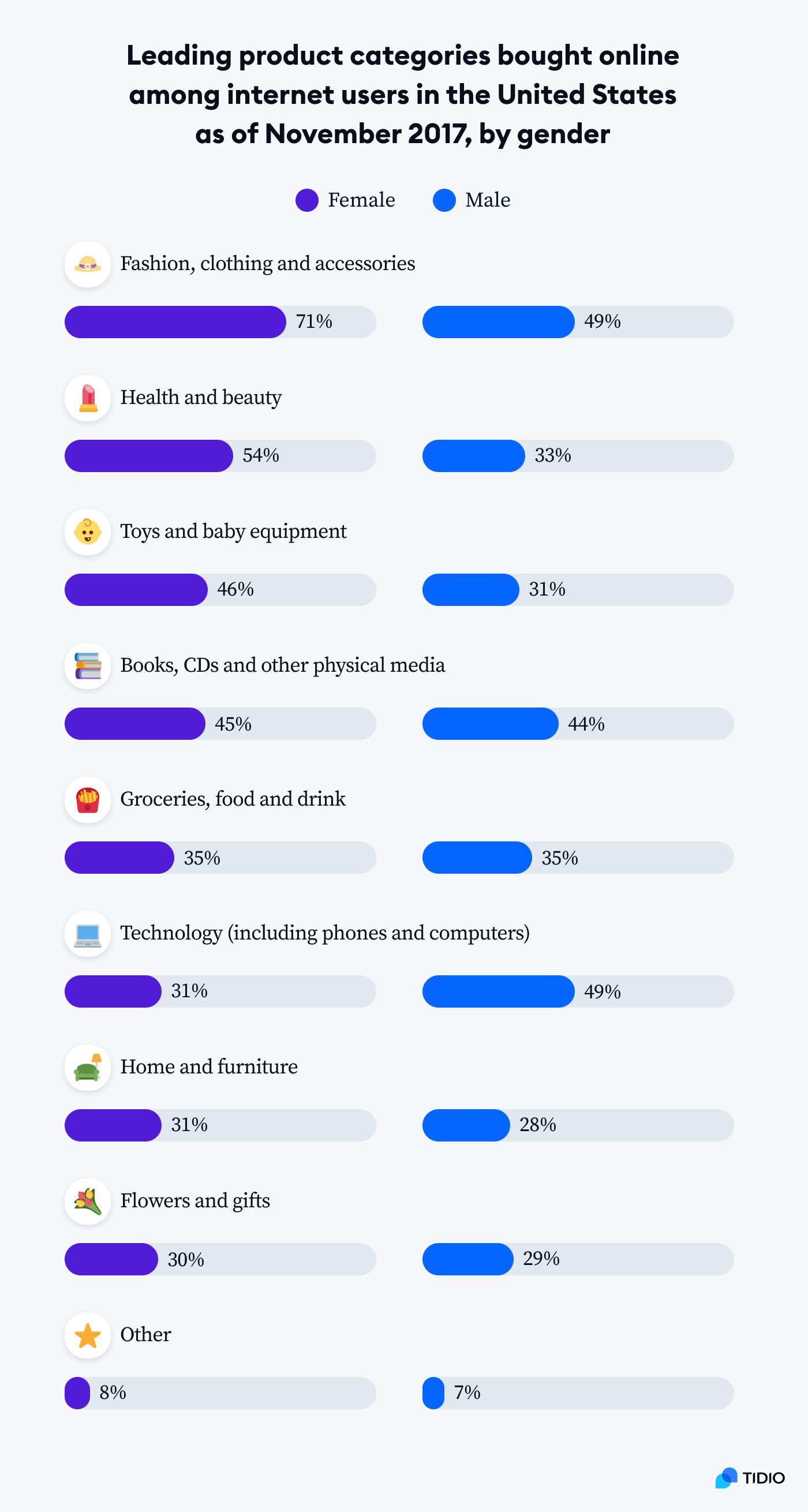 Female online shoppers buy more often per year—on average 7 times per year, compared to men making online purchases about 5 times
Although they buy things online less frequently, men spend on average $220 per transaction compared to only $151 per transaction for women shoppers
Women make purchase decisions 7% faster than men, and many online retailers target women on social media with marketing campaigns that stimulate impulsive buying
Differences in the behavior of female and male consumers are often leveraged by online marketers. For example, reaching customers of a specific gender may require using completely different types of advertising appeals.
Read more on customer psychology: A Quick Guide to Consumer Behavior With Examples
What do people buy the most online?
Amazon and eBay are among the largest online marketplaces, and they happen to also be a pretty accurate indicator of what sells best. Recently, the most popular product categories on Amazon were electronics, with 44% of customers, followed by clothing, shoes, and jewelry.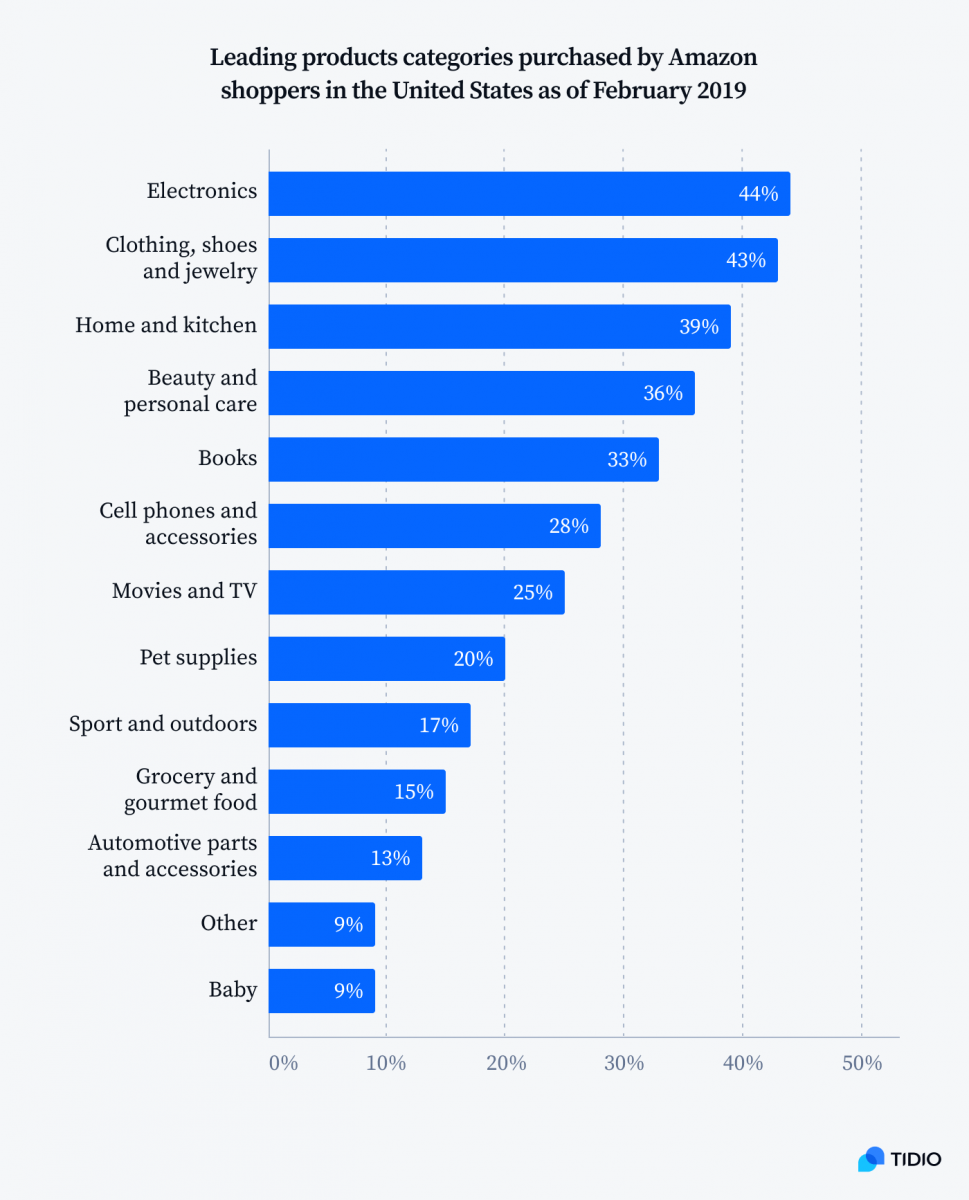 Choosing the right products matters a lot to businesses because each industry has completely different values related to shopping cart abandonment rates, conversion rates, or average order value.
Read more: Best Items to Sell Online in 2022
Ecommerce statistics: conclusion
Businesses need to be prepared for a shift in how consumers shop, and they need to focus on creating an online presence that is both user-friendly and engaging. The ecommerce market size keeps growing at a very fast rate.
This trend is likely to continue in the coming years, as businesses find that it is cheaper and easier to maintain an online store than a brick-and-mortar one. In addition, there are more platforms and tools available to help small businesses get started in ecommerce. As a business owner, it is important to stay up-to-date on the latest shopping trends in order to capitalize on this growth.
If you are interested in more digital commerce statistics, you can also browse the original studies and reports below.
Sources: