Did you know that Squarespace is the third most popular website builder in the world? There are a few reasons for this—it's relatively easy to use, it offers sleek website templates, and requires no coding.
Seems like a perfect solution to showcase your product to your prospective customers!
But to connect with your customers, you need to be proactive and give them the possibility to talk to you.
Hint: Squarespace chat plugins enable you to do this.
How to choose the best one for your business, though? Don't worry, this is where we step in.
In this article:
If Squarespace chat plugins are not what you are looking for, have a look at these articles:
Benefits of adding a chat plugin to your Squarespace website
First of all—a chat on your website enables your customers to communicate with you faster and better. All they need to do is to click on a live chat icon, and they can talk to you just as if they would in real life. This contributes to faster customer service, better customer experience, and more opportunities for sales.
Numbers confirm these claims, too!
As many as 60% of customers expect an immediate response to their query.
A whopping 71% of consumers believe that a quick response from your team can improve their customer experience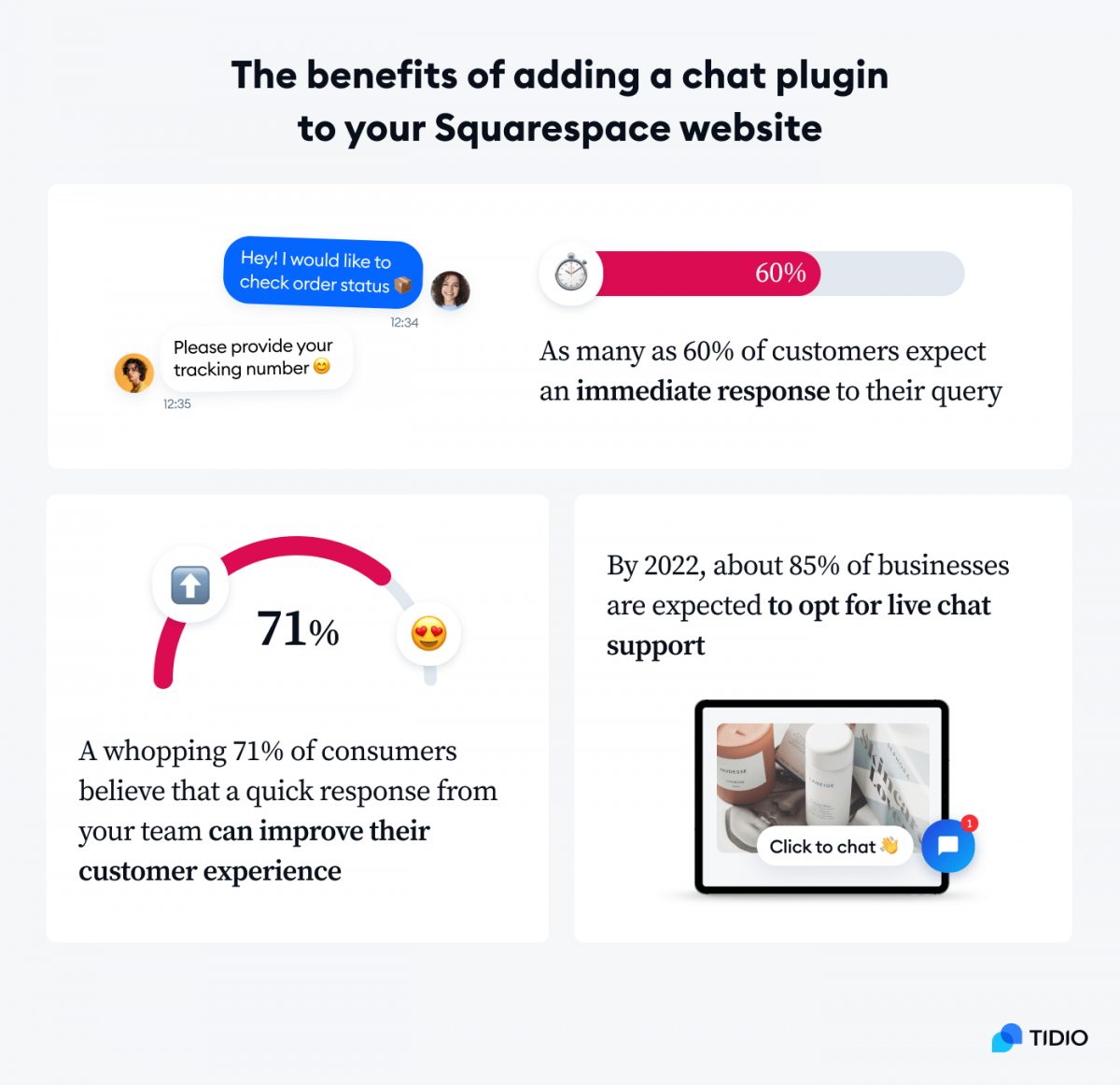 So if you had any doubts about whether to add a live chat to your website or not, now you have your answer.
Now, without further ado—here's the Squarespace chat plugins comparison table:
| Plugin | Free plan | Rating | Premium features |
| --- | --- | --- | --- |
| 1. Tidio | ✅ | 4.7/5 ⭐️ | From $39/month |
| 2. Elfsight | ✅ | 4.8/5 ⭐️ | From $5/month |
| 3. Tawk.to | ✅ | 4.6/5 ⭐️ | Not available |
| 4. POWR | ✅ | 4.4/5 ⭐️ | From $4.99/month |
| 5. Tolstoy | ✅ | 4.7/5 ⭐️ | Contact Tolstoy for pricing |
| 6. LiveChat | ❌ | 4.4/5 ⭐️ | From $16/month |
| 7. Pure Chat | ❌ | 4.6/5 ⭐️ | From $49/month |
| 8. Olark | ❌ | 4.5/5 ⭐️ | From $19/month |
And now, let's review each option in depth. Let's dive in!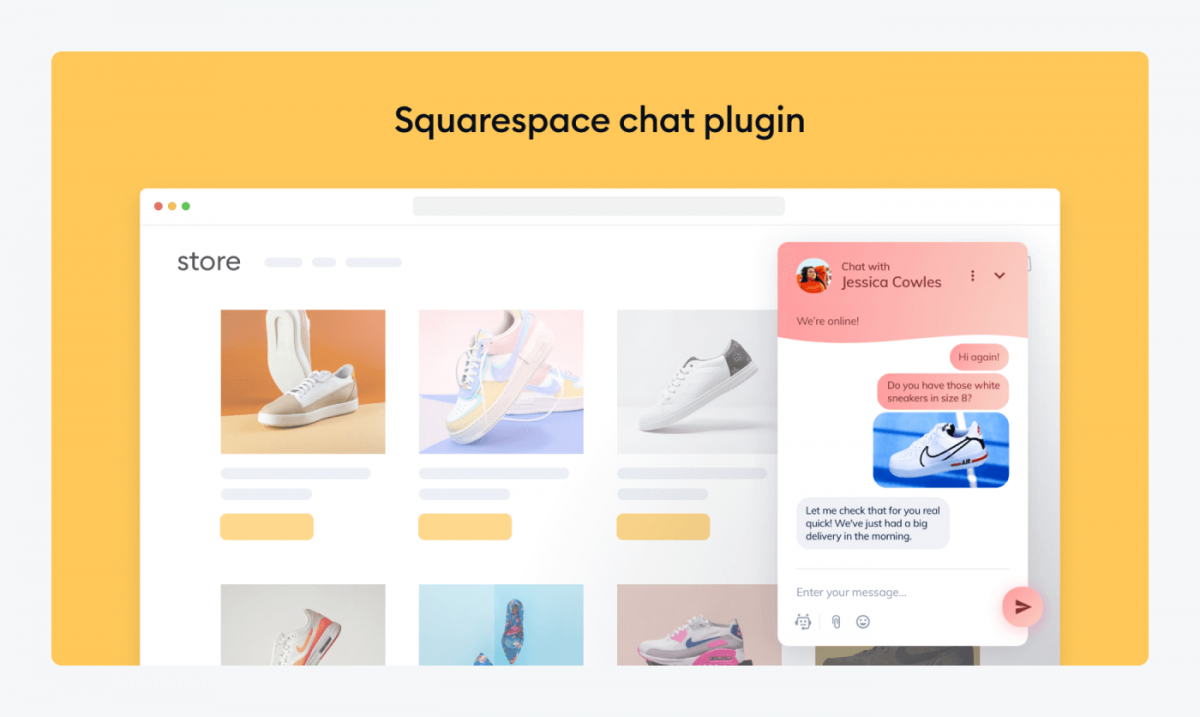 Ratings: 4.7/5 ⭐ (948+ reviews) on G2
Tidio is a live chat software that makes customer communication easy and efficient. But it's not only that—it brings email, Facebook Messenger, and Instagram messages into one panel, so it's easier to manage multiple channels from one place. On top of that, it also provides AI chatbots to automate some of the conversations and provide your customers with 24/7 support.
Key features
Easily customizable chat widget
Easy-to-use chatbot builder
Android and iOS mobile apps
Social media integrations (Facebook Messenger, Instagram)
Easy installation on Squarespace via JavaScript code
Geotargeting and lead capture are enabled
It provides a great balance between price and features
Pricing
Free plan with unlimited chats for customer messaging for two operators
Starter ($39/month/3 operators). Same offerings as free plan plus customer conversations with unlimited visitors, live website visitors overview, and notifications about customers
Team ($79/month/5 operators). Same offerings as starter plan plus quick responses templates, note-taking, and ability to see pages your visitors browsed
Scale ($399/month/unlimited operators). All features from the Team plan plus dedicated onboarding and a dedicated chat support consultant
14-day free trial period
Suggested reading
See how to install Tidio on Squarespace.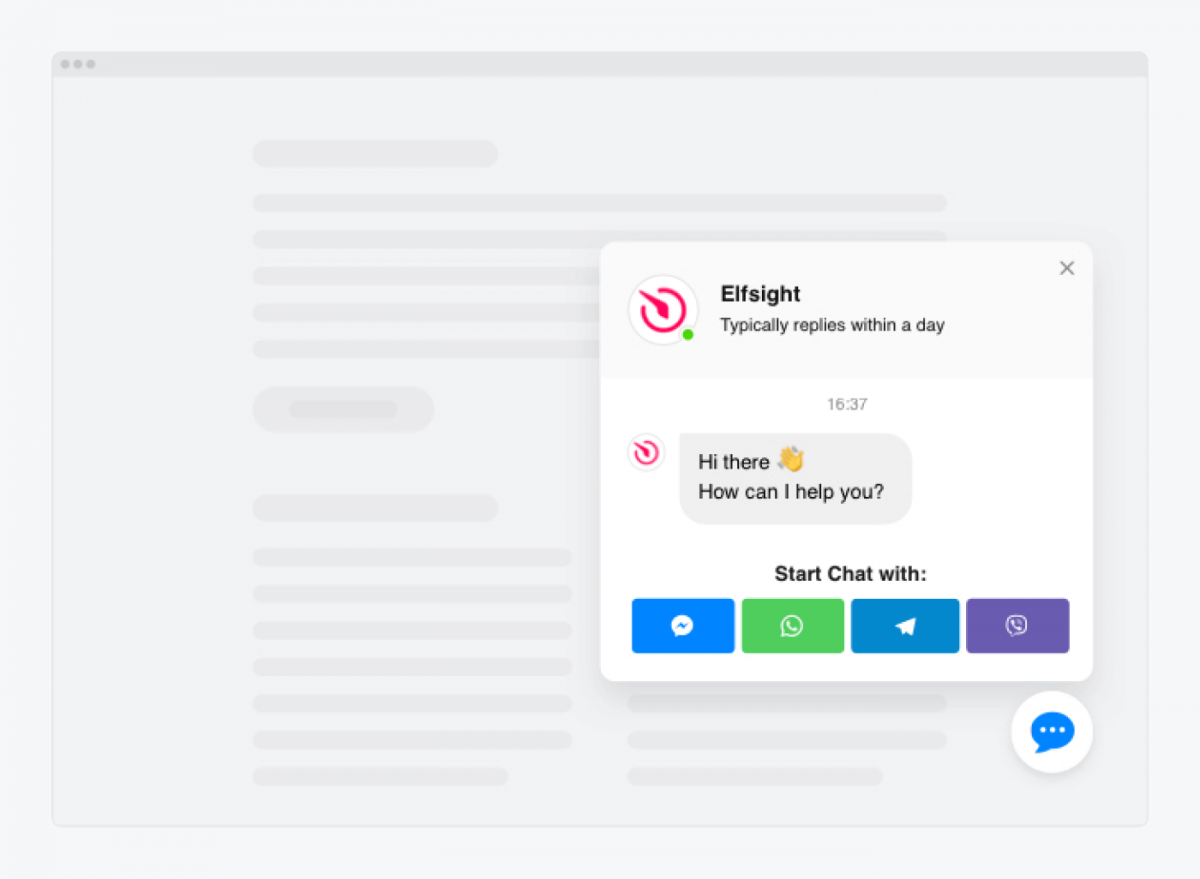 Ratings: 4.8/5 ⭐ (410+ ratings) on G2
Elfsight integrates with a wide variety of websites, including Squarespace. It offers multiple widgets—you can easily embed live chat and chatbots on your Squarespace website without coding, but that's not all. Elfsight also provides other types of tools and modules: from reviews to audio, to the social proof module, and a subscription button to gain more subscribers to your newsletter.
Pros
Easily customizable live chat popups
Multiple social media integrations (including TikTok, Facebook, and Instagram feed)
Clean UI
Pre-build templates
No coding required
Cons
Multiple unused widgets
Many ads within the interface in the free version
Pricing
Lite ($0/month). Only for one website, each widget gets approx. 200 views
Basic ($5/month). Unlimited websites, 5k views, premium support
Pro ($10/month). All from basic plan, 50k views, logo removal
Enterprise ($25/month). All from Pro plan, 5M views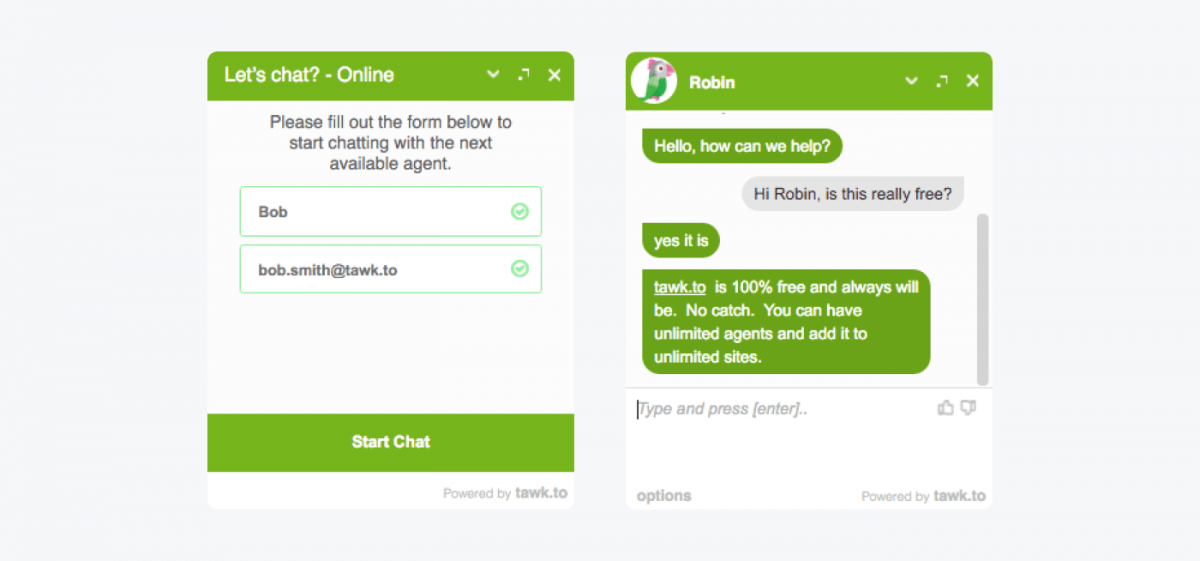 Ratings: 4.6/5 ⭐ (150+ ratings) on G2
Tawk.to is a fully free live chat plugin for Squarespace. It's equipped with limited, yet sufficient features such as group messaging, email and desktop notifications, as well as message filtering. While it might be a great option for small businesses, some companies who need more premium features might find Tawk.to lacking.
Pros
Free version
Removable branding
Possibility to hire agents
Easy-to-use
Simple interface
Cons
The basic version is as advanced as it gets
Pricing
Freemium plan. Includes all basic features
Branding removal ($15/month)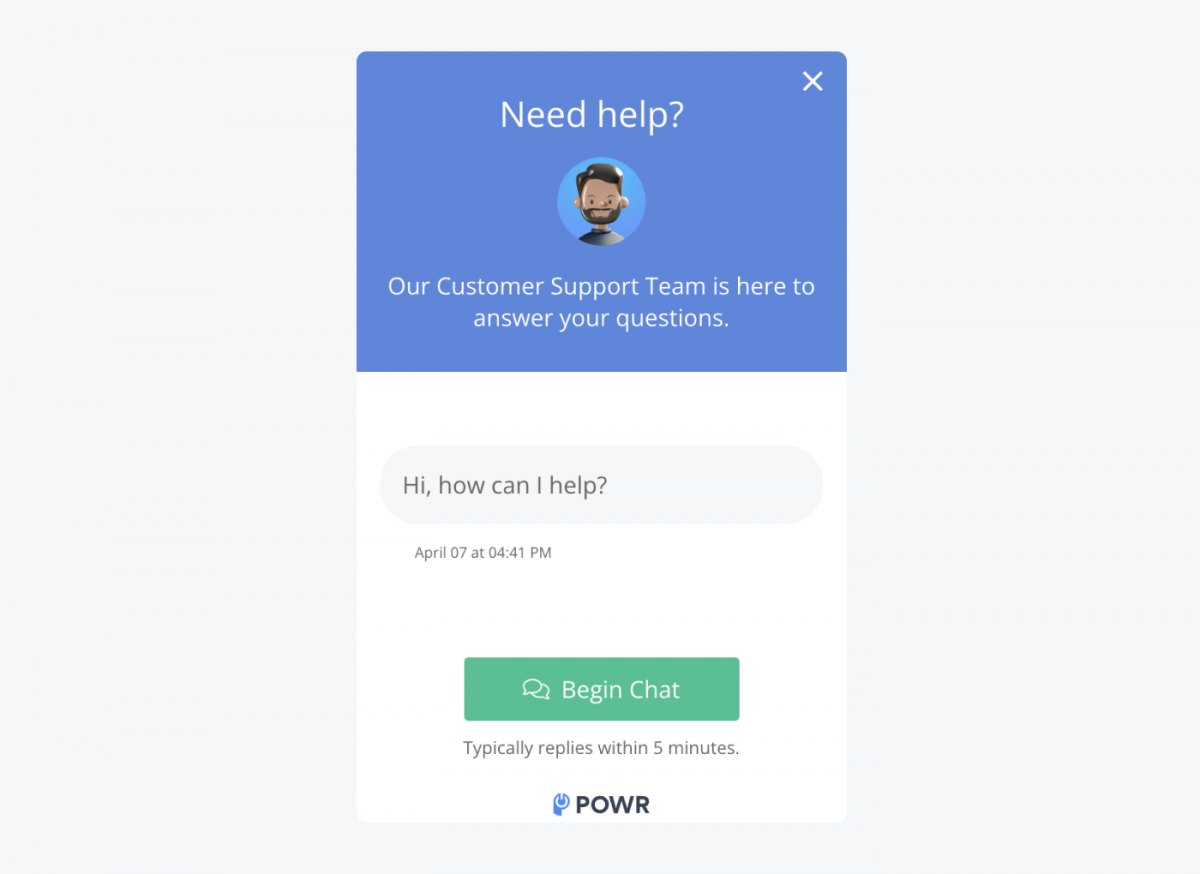 Ratings: 4.4/5 ⭐ (66+ ratings) on G2
Similarly to Elfsight, POWR offers a variety of website modules and plugins—one of them is a live chat. Their live chat widget for Squarespace is easily customizable and it also easily integrates with Facebook Messenger. This makes it a perfect solution for businesses who want to connect with their customers on multiple platforms and manage many conversations in the same panel.
Pros
Automated welcome message feature enabled
Superior widget customizability
Mobile responsive
Live editing feature
Cons
Easy to lose track of the page views count
A brand cannot be changed once set
Some reviews suggest that it has poor connectivity with Facebook
Pricing
POWR's pricing is based on page views your website gets in a month:
The freemium plan comes with 250 page views/month
$4.95/2.5k views/month
$15.19/5k views/month
$28.79/10k views/month
$67.99/25k views/month
$127.99/50k views/month
Custom price/50k+ views/month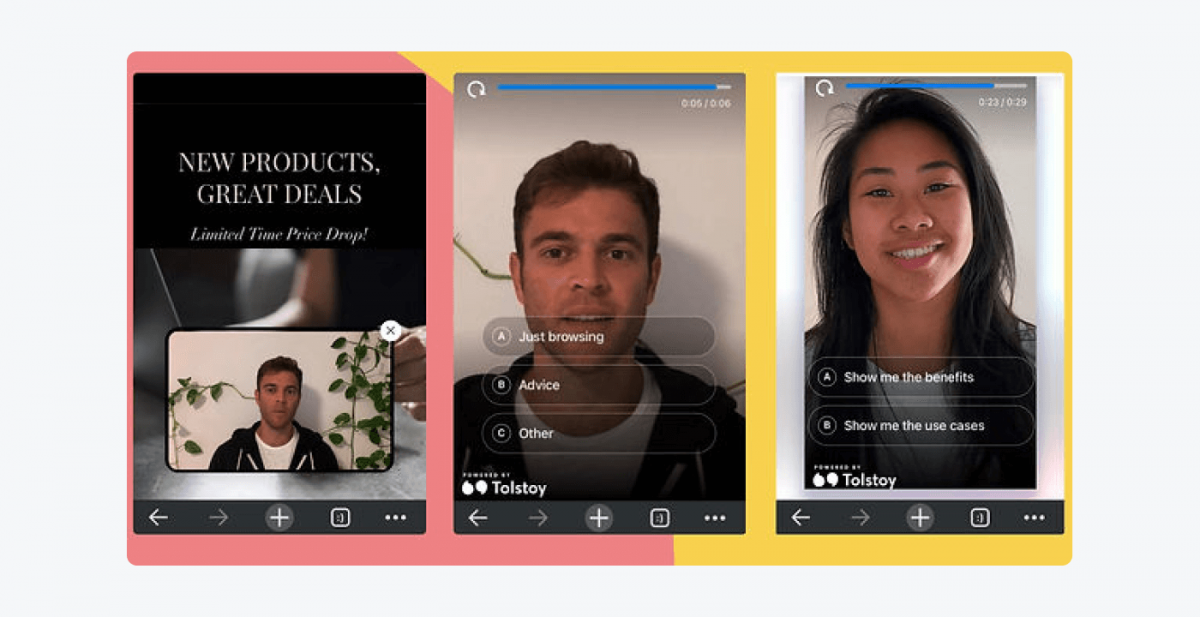 Ratings: 4.7/5 ⭐ (12+ ratings) on G2
This is the only video widget on this list of Squarespace chat plugins. While bearing the same principles as a standard chat, Tolstoy allows more personal interaction between the customer and the website visitor. The website admin or a customer support agent can record a video message for the visitors, which provides more legitimacy to the business.
Pros
High level of interaction
Relatively easy to use
Sleek interface
Integrates with Zapier, Salesforce, Klaviyo, and others
Makes it possible to launch video chatbots
Cons
Not for all kinds of businesses
It doesn't provide text inputs for visitors
Pricing
Freemium plan. All basic features
The enterprise plan (not priced yet). Tolstoy's sales can be contacted for the estimated price.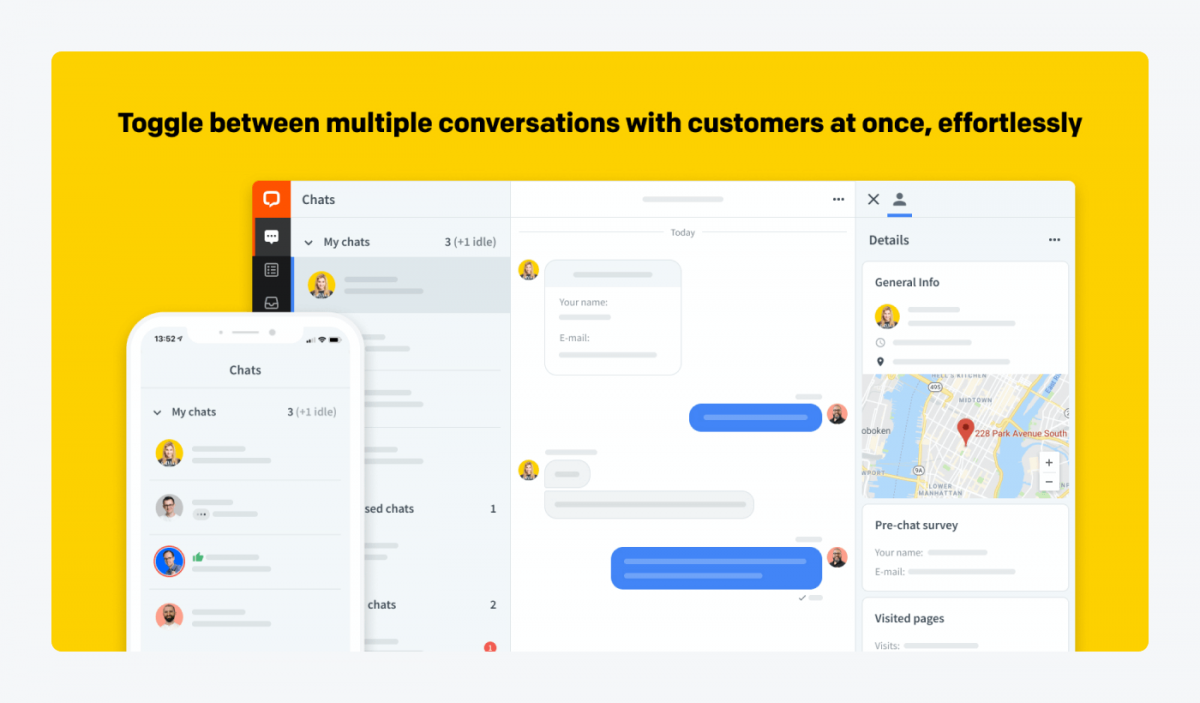 Ratings: 4.5/5 ⭐ (729+ ratings) on G2
LiveChat is known for its superior communication flow and customer service aid features. What sets this Squarespace chat plugin apart is that you can create your own customer segments and easily schedule chat takeovers. This ensures that no customer query is left unattended. On top of that, it also has analytical reports that show customer satisfaction and customer success metrics.
Pros
Multiple messaging channels
Live chat APIs
Easy to customize
Screen sharing option
Cons
No freemium option
Necessity to top subscriptions for live chat and other features
Pricing
Starter ($16/month). Provides limited chat history, and basic features
Team ($33/month). Offers unlimited chat history, basic reporting, and expanded features
Business ($50/month). Unlocks advanced reporting and work scheduling
Enterprise (contact company for a quote). Customized to your needs. You must contact the company for a quote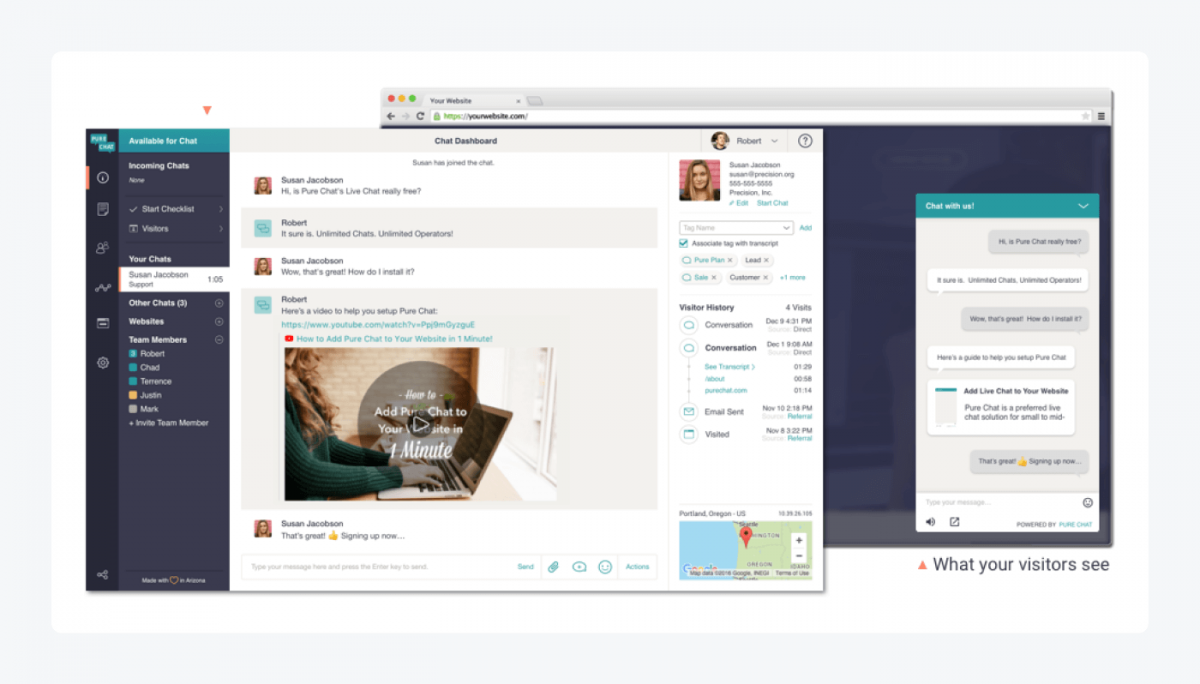 Ratings: 4.4/ 5 ⭐ (200+ ratings) on G2
Pure Chat is another popular chat plugin. It provides you with details of the visitors' activity on the website such as what pages they viewed, the products that they showed interest in, and where they are from. Another great feature of Pure Chat is its extended chat history, so your customer support team can easily backtrack any repetitive issues standing in the way of providing excellent customer service.
Pros
Easily customizable
Modern look and feel
Unlimited chat transcripts
Visitor tracking
Trigger-based notifications
Cons
Some reviewers suggest that other Squarespace chat plugins have more features
It can be seen as basic in its functionality by larger companies
Pricing
Growth Plan ($49/month/4 operators). Extra operator $13/month
Pro Plan ($99/month/ 10 operators). Extra operator $8/month
30-day trial period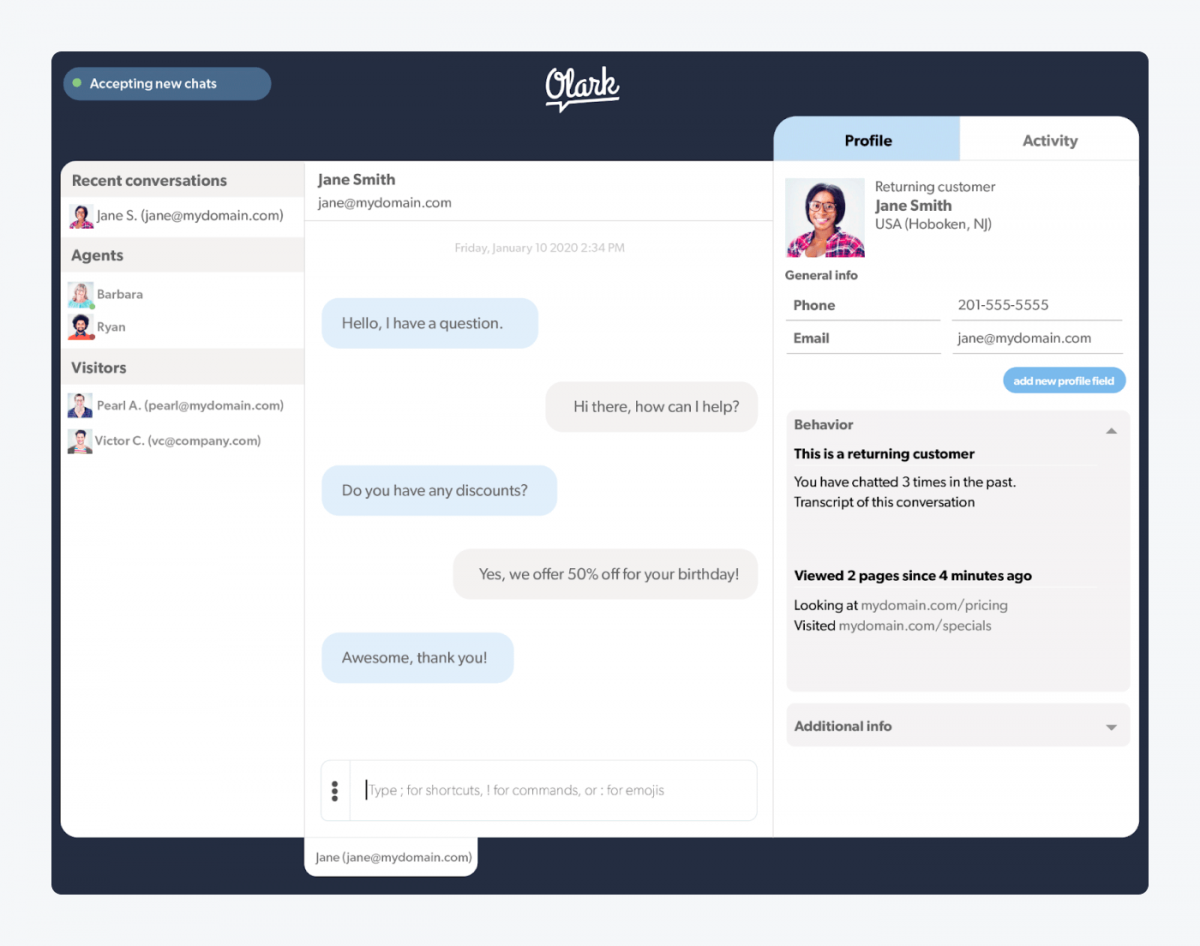 Ratings: 4.3/5 ⭐ (220+ ratings) on G2
Olark is much more than a Squarespace chat plugin. It has additional features such as team management, searchable transcripts, automated messages, and real-time reporting. This chat plugin is cloud-based, so it's relatively easy to add to an existing website, and it comes with a step-by-step guide for easy integration. Olark supports more than 40,000 businesses, including some government entities.
Pros
Customizable branding
Transfers and routing
Triggered messaging
Transcripts archive available
Great value for the money
Cons
No shared seats
The dashboard is not as user-friendly as other available chat plugins
Pricing
Pro plan ($29/month/operator). Includes all premium features unlocked. Additional features like co-browsing or chat translation are priced $29-$99
14-day free trial available
How to add a Squarespace chat plugin to your website?
Now that you know what are your options, it's time to find out how easy it is to add a Squarespace chat plugin to an existing website. Follow this simple tutorial to add the plugin in just 3 minutes. Please note that the steps provided below are specific only to integrating Squarespace chat plugins.
Step 1. Open your live chat provider and go to the section where you can find the code for installation. With Tidio, it's Settings > Channels > Installation section.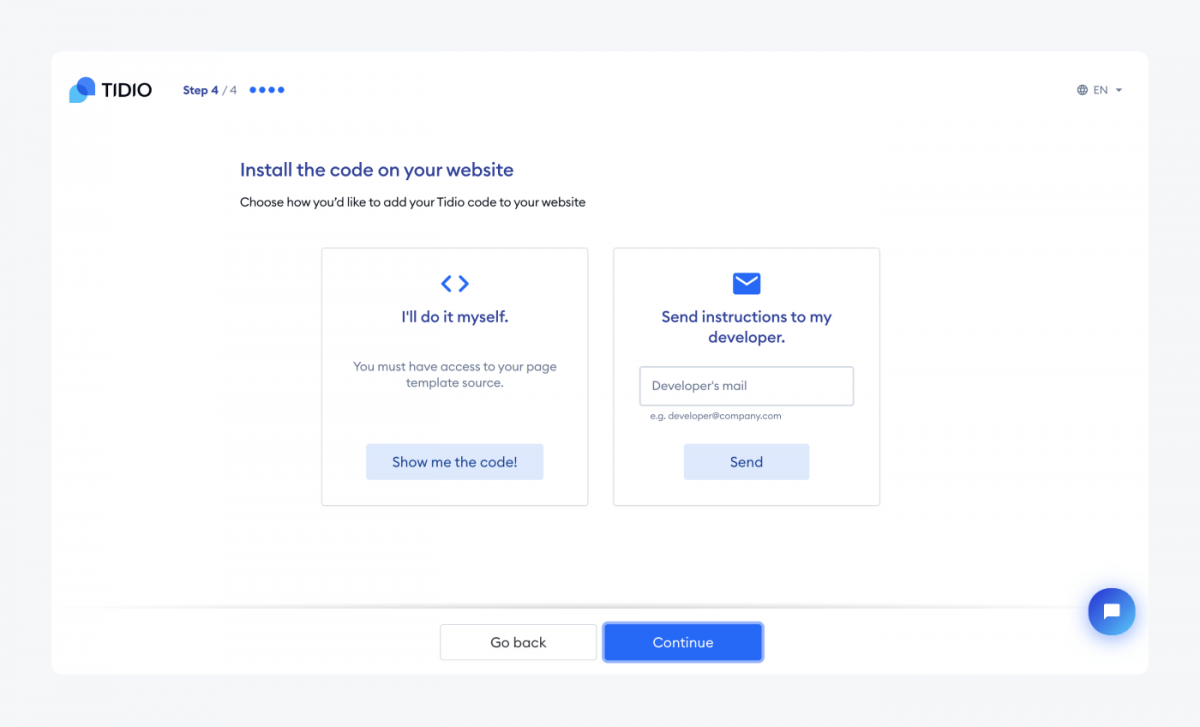 Step 2. Open your Squarespace account in another tab, and go to the far left side of the home page. Next, open the sidebar and click Settings >Advanced settings > Code Injection.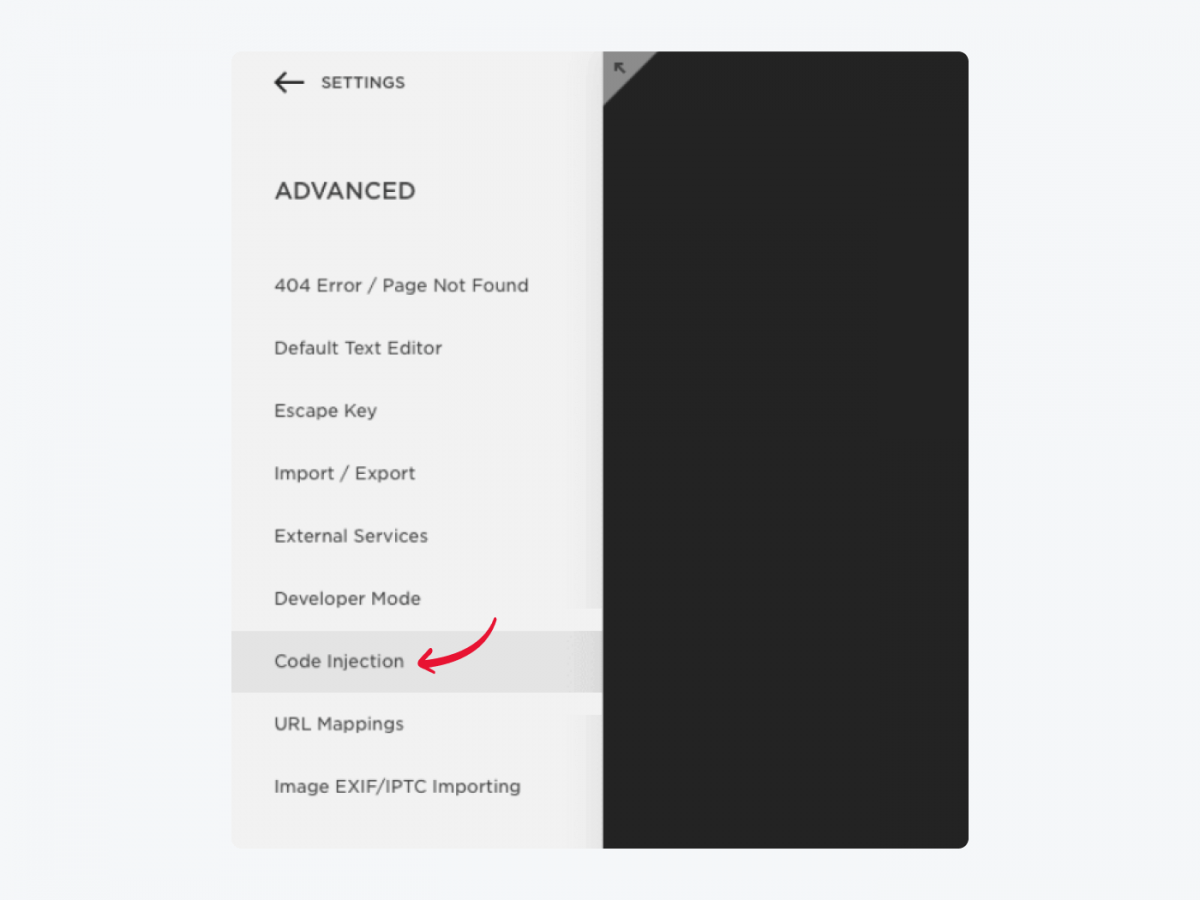 Step 3. Go to the Tidio tab and copy the code snippet.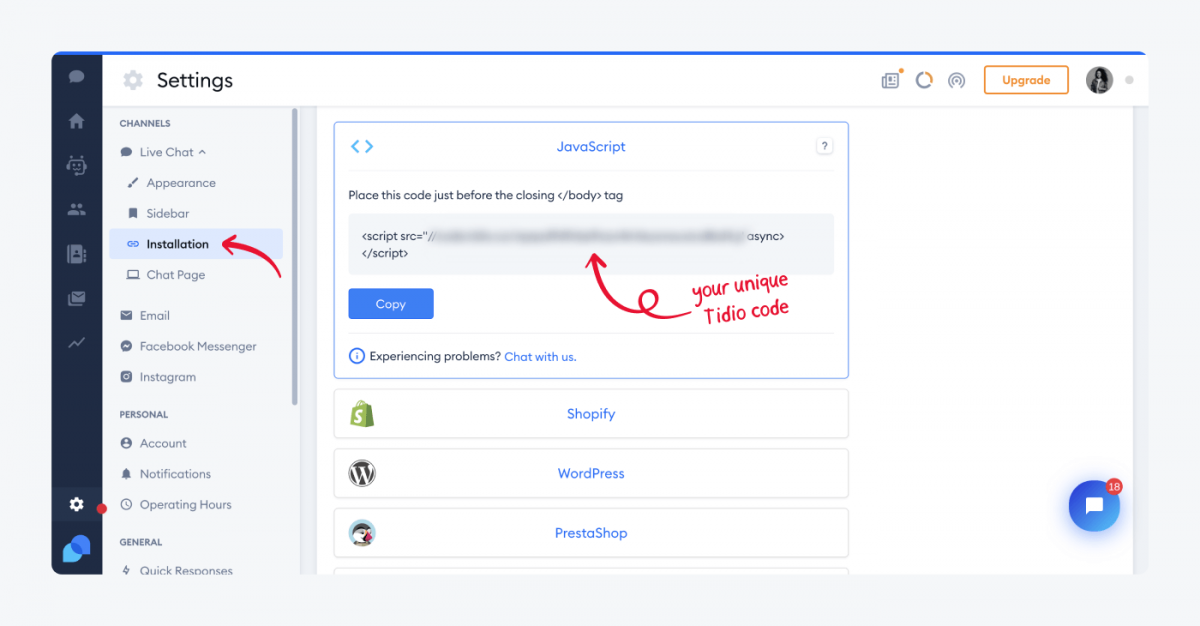 Step 4. Then go back to the Squarespace tab and paste the chat code in the footer section.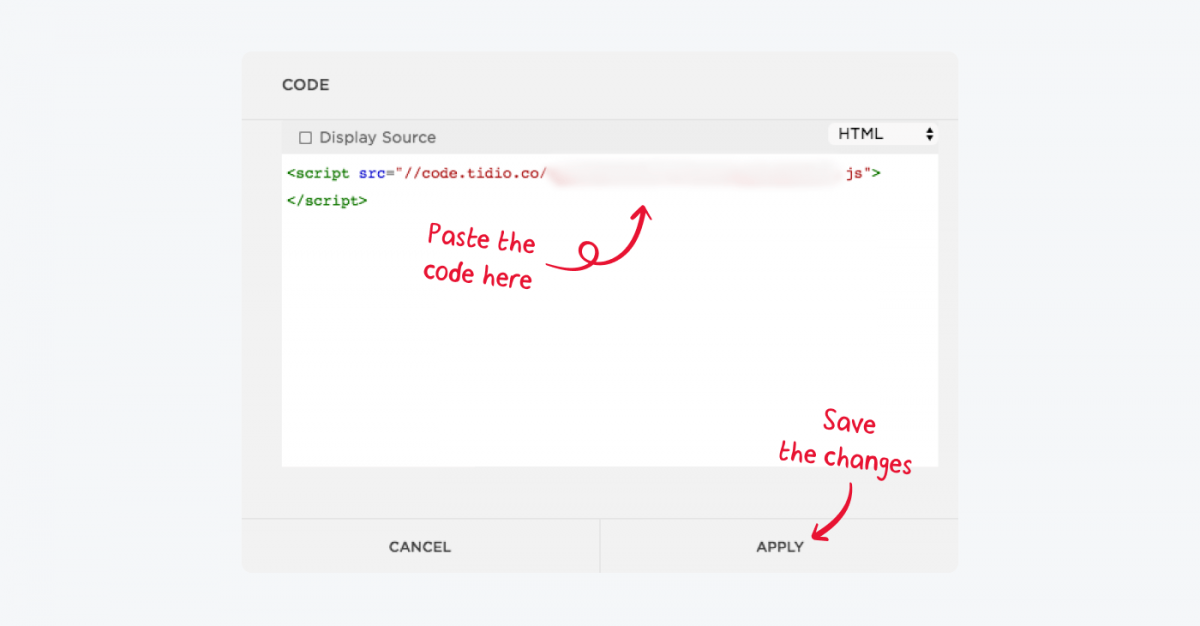 Step 5. Save the changes in Squarespace. Once these settings are saved, the chatbox will appear on your Squarespace website. Everything is ready to go!
Top 8 Squarespace chat plugins: summary
That's it—here are the best Squarespace chat plugins:
Depending on the features your business needs, you should be able to comparison-shop efficiently and pick the right option.
Remember that it's highly recommended that your Squarespace website uses a chat plugin— they have emerged as the gold standard in the customer service experience. As a result, they also create opportunities to secure more sales.
Why don't you try it out yourself, right here, right now?