Generate Leads From
Your Blog
Traffic that your blog attracts is a precious source of potential
customers. This chatbot will collect contact details from your
new visitors or encourage them to become more engaged with your business.
What does this
chatbot do?
It invites visitors to leave their email addresses to receive personalized email campaigns or receive further communication from you about a specific product or service that you offer. It also targets them so that you can easily segment them.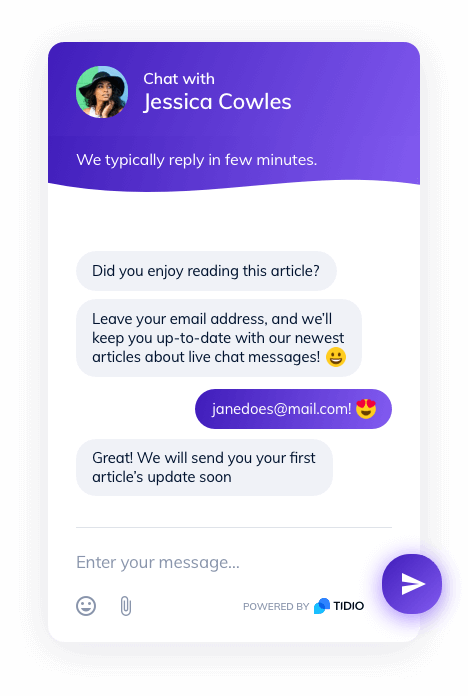 Messages examples
Did you enjoy reading this article? Leave your email address, and we'll keep you up-to-date with our newest articles about [topic].
Hi! I see that you are interested in [topic/product/service]. Would you like to learn more about how [your product/service] can help you [achieve a goal]? Just let us know what you need, and we'll email you a tailored solution straight to your inbox.
Hello there! If you're looking for more DIY projects for kids, join our 4-day email course where we share our best projects, as well as tips & tricks for young builders and their parents.
How to build this chatbot?
Add the Visitor opens a specific page trigger, and enter the article URL.
Add the Delay action and set the delay time to 60 seconds.
Add the Send a chat message action and customize the message.
Add the Tag action and add the tag name (e.g., "kids_toys").
Looking for more ready-made
solutions for your business?
Our chatbots are drag-and-drop simple. Quickly build your perfect custom bot
or pick another template from our free collection.
See More Templates