EU Privacy Changes to Messenger Integration
On December 16th, 2020, Facebook will introduce restrictions on the Messenger API usage – to comply with privacy guidelines from the European Union. The changes to the Messenger API also means some changes to the way you use the Tidio integration with Facebook Messenger.
In this post, we will explain what options will be affected in your integration with Facebook Messenger, as well as why these changes are introduced.
Why Facebook is introducing changes?
The restrictions are put to your integration with Facebook Messenger as Facebook needs to comply with the European Union's privacy guidelines. Beginning December 16th, several Messenger APIs will be unavailable for developers and businesses in Europe and for people in Europe who connect with businesses globally.
API is the acronym for Application Programming Interface, which is a software intermediary that allows two applications to talk to each other
Tidio and all the other apps that integrate with Facebook use these APIs to send and receive messages between businesses and their customers. Since these changes affect the APIs that Tidio is using to integrate with Messenger, Tidio has no choice but to comply with these constraints, which ultimately means limitations in your ability to use some of the functionalities Tidio has offered until now.
To learn more, you can also take a look into more technical documentation that Facebook has prepared.
Who's affected?
The December 16th changes that Facebook introduces will impact all 27 European Union countries and Norway, Iceland, Liechtenstein, and the United Kingdom.
NOTE: Even if your Facebook page isn't located in the EU, you might still be affected.
Which Tidio users will be affected by these changes:
European Facebook pages
This means that if your Facebook page is located within the affected EU + four countries, your page will be impacted by the changes.
Your Tidio account is connected to your Facebook page, so this change will affect your Tidio account if your Facebook page is located in the affected countries.
Pages with admins in Europe
Your Facebook page, not your Tidio account, has certain admins on it. If one of these admins is located within one of the EU + four countries, your entire page will be affected.
Users based in Europe
If your subscribers are in the EU + four countries, your Tidio account will continue to function normally, but the changes will impact your conversations with the European users.
For example, suppose 50% of your subscribers are USA-based, and the other half are in Germany. In that case, Tidio will function as before for the US subscribers but will be subject to the limitations for the German subscribers.
What features will be limited in the integration with FB Messenger
These features listed below will become limited, starting on December 16th.
Sending and Receiving Media Attachments (except Images)
You will no longer be able to send nor receive media attachments, such as media and files. (Images will still function normally on all devices.)
Your customers can send media attachments but will receive an error message letting them know the business may not have received the attachment.
"Hamburger" Menu in Messenger window
Your customers will not be allowed to see the Menu within Messenger. This is the little menu of buttons that appears when subscribers click on the "hamburger" menu within Messenger itself.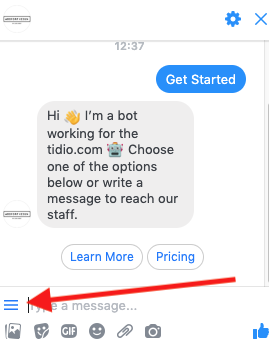 Using the Decision Buttons actions inside the bots: Mobile Only
At Tidio, you can include the Decision (Buttons) as well as Decision (Card Messages) actions to your bot's workflows.

After December 16th, these buttons will only work on iOS and Android devices only. So, the Decision (Buttons), as well as Decision (Card Messages) actions, will only work on mobile devices after the changes take effect.
NOTE: The Decision (Buttons) & Decision (Card Message) actions will not work on the web browser version.
If you include buttons for non-mobile customers, they will receive an "Attachment Unavailable" error message.
The URL option inside the Decision (Buttons), as well as Decision (Card Messages) actions, will also continue to be available on iOS and Android only, meaning your customers must be using a mobile device running iOS or Android.
To summarize this part, you can use Tidio to send messages with buttons, but only if your customers are on mobile devices, specifically Android or iOS devices.
PRO TIP: If you still would like to give your users some options to choose from – consider using the Decision (Quick Replies) actions instead. This action will be still available in the integration with FB messenger.
Our recommendations
Below, you can read about our recommendations and workarounds for the limitations introduced by Facebook.
Quick Replies as an alternative for the Decision (Buttons) as well as Decision (Card Messages) actions

Since the Decision (Buttons), as well as Decision (Card Messages), actions will only function properly for users on mobile devices, you might want to consider changing all of your Decision (Buttons) as well as Decision (Card Messages) actions to Decision (Quick Replies) instead.
Create separate Bot flows for European subscribers and mobile users
If using the Quick Replies actions is not an option for you (if you still want to use e.g., URL link behind buttons), you could ask your users if they're based in Europe.
Later on, you can create different bot flows based on a user's responses to these questions. While this solution allows you to leave some of your existing flows as-is for non-EU subscribers, this might mean you'll have to create entirely different Flows for mobile vs. non-mobile subscribers.
NOTE: Unfortunately, the 'Operating system' Condition won't let you control the chatbot based on the visitor's operating system on Messenger, because Facebook doesn't share such data.
If you have any questions regarding the integration or need any help with it, feel free to reach out to us via chat or at [email protected]