The Chatbot Performance Analytics Tool Is Here!
At Tidio, we strongly believe in the data since it is key to truly understand your users. In the last months, we listen to you carefully to learn that one of the highly requested features was a tool to understand better how your chatbot is performing.
Our goal with the Chatbot Performance Analytics is simple; we want you to understand the effectiveness of automation at Tidio better.
NOTE: This new preview of Chatbot Performance Analytics is vailable for new, selected users only at this moment. We're planning to launch it for everyone very soon.
What is interaction? How do we define it?
The interaction is a moment when the visitor replies to a chatbot message by text or by choosing the button inside the actions.
Actions that will be counted as interactions are:
Ask a question
Decision Cards
Decision Buttons
Quick Replies
Send a message
Check Order Status (Shopify)
Product Availability (Shopify)
Shipping Zones (Shopify)

What is not interaction?
All actions that are performed by the chatbot and did not require visitor's action will not be qualified as an interaction.
Examples of the actions that will not be counted as interactions: tagging, setting contact properties, notifications, sending an email.
Also, replying to a chatbot with only the Send message node after 24 hours will not be counted as an interaction.
Where can I see the interactions of my chatbot?
To see how your chatbot is performing – head over to the chatbots section of Tidio. You will find it under the 'play' button on the left side menu in your Tidio admin panel.
Once, you will be inside the Chatbots section – 'My added chatbots' view will show up. You will see here a list of all of your chatbots. For an easier search for a specific chatbot, you can filter the list based on the status, triggers, or date added.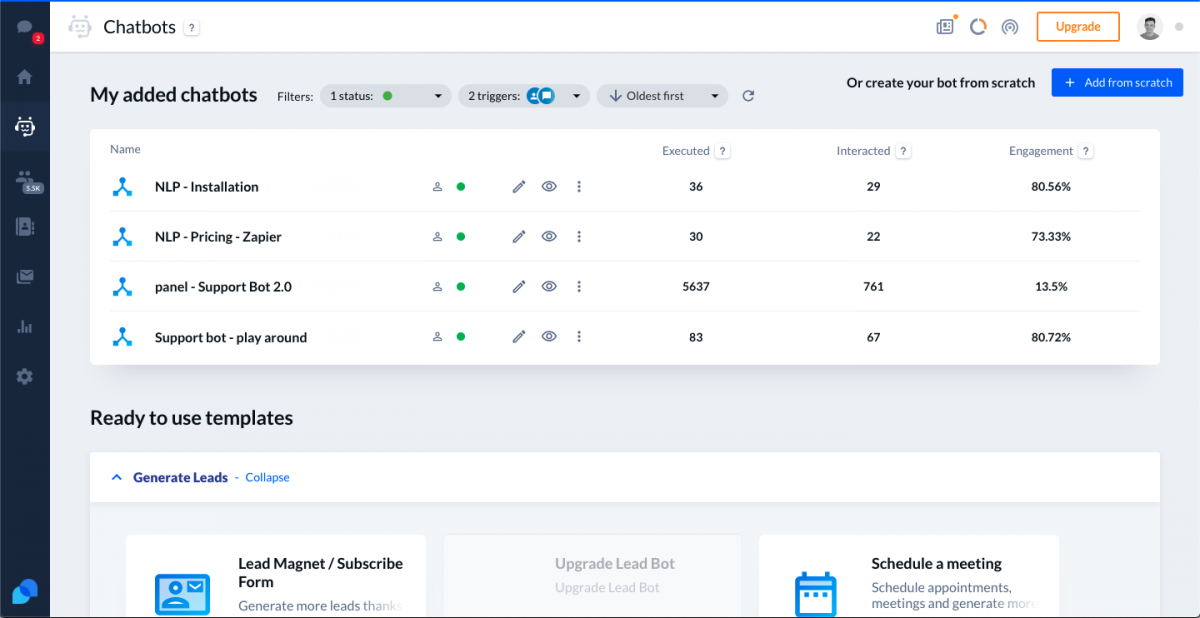 On the left side, you will see the chatbot's name, information whether the bot is active or inactive, an option to edit it, test it out or see more options. On the right side, you will see chatbot's analytics, such as:
Executed (formerly Sent/Triggered) – this information will show you how many times the bot was executed and send a message in the last 7 days.
Interacted – number or times when visitors replied to bot's message in the last 7 days.
Engagement (formerly Conversion) – deeper insight into chatbot performance (Triggered / Interacted)
How to increase interactions with a chatbot?
A short welcome message for customers can make their shopping experience a little bit nicer. It is also one of the key factors when it comes to increasing your sales. However, please note that if you don't require any action from the visitor, then you won't have the interactions.
A chatbot welcome message might be the very first interaction a person's received from the brand. With a chatbot, your website visitors will see the message almost right after landing on the site. Whatever you say, will make the first impression about you and your brand's personality. If you want to truly engage your users, ask questions and provide them with buttons, cards or quick replies.
Check out these 25 amazing examples of the welcome messages that you can use in your chatbot.
Also, take a look and learn how to edit the bot and its initial message.
Tips to make your chatbots more interactive:
Don't create different bots with the same trigger (e.g. it's better to have one multi-language bot rather than two ore more chatbots with the same trigger). If you activate a few chatbots with the same trigger, the chatbots starting with these triggers will be triggered simultaneously, which may cause several messages to be sent to a visitor.
Be careful with delays. If you set long delay after the trigger your chatbot can be cannibalised by another one.
Ask for an email in return of the coupon codes (e.g. it's better to give vouchers to users that you asked for the email addresses first, rather than sending it to everyone with their first visit on the website)
Update your non-interactive chatbots with nodes that interact with visitors (Use the following actions that require interaction from your website visitors: Ask a question, Decision Cards, Decision Buttons, Quick Replies)
Unlimited chatbots for a unique visitor
The Chatbots package allows you to reach customers with the automated messages sent by the bots. We call it Chatbots monthly limit or Chatbot quota.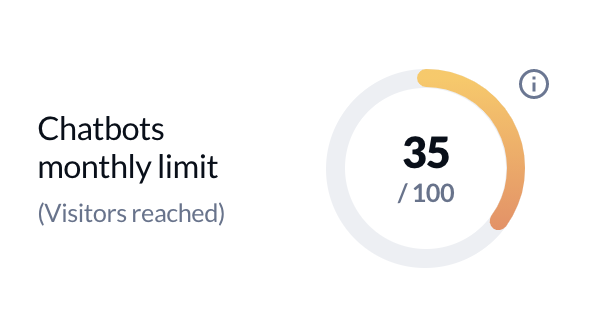 How does chatbots monthly limit work?
🤖 1 unique visitor reached = Unlimited chatbots available
It works like "pay once eat as much you want" rule in some restaurants. 1 unique visitor who was targeted with at least one chatbot consumes 1 from your monthly chatbot limit. You can send multiple chatbot messages (e.g. a welcome message to new visitors, discounts for returning visitors, autoreplies for missed chats, etc.) to one unique visitor, and it would still be counted as 1 visitor reached. It means, that you can provide your visitors with unlimited chatbots during your monthly limit cycle.
In the free plan (as well as the Communicator plan), the number of visitors reached is limited to 100 per month.
So don't worry if one of your chatbot does not perform well. Experiment with optimising it. You can also try engaging visitors on different user journey steps.
We hope you'll enjoy using the new view of Chatbot analytics performance. At Tidio, we always strive to help you discover new ways of improving your business! 📈