How to create an FAQ bot
An FAQ bot is a chatbot which answers the most frequent inquiries that your visitors may have. So instead of having them answered manually, they will be able to click on the question and the bot will provide the necessary answer.
FAQ bot can be added to your automation triggered by the First Visit on Site trigger or can be created separately with another one, depending on when you want your visitors to see the questions. Here you will see how to create the bot from scratch using the First Visit on Site trigger.
In order to begin creating the bot from scratch please head over to the 'Chatbots' section (the 'Play' icon in the menu on the left side) and then select this option: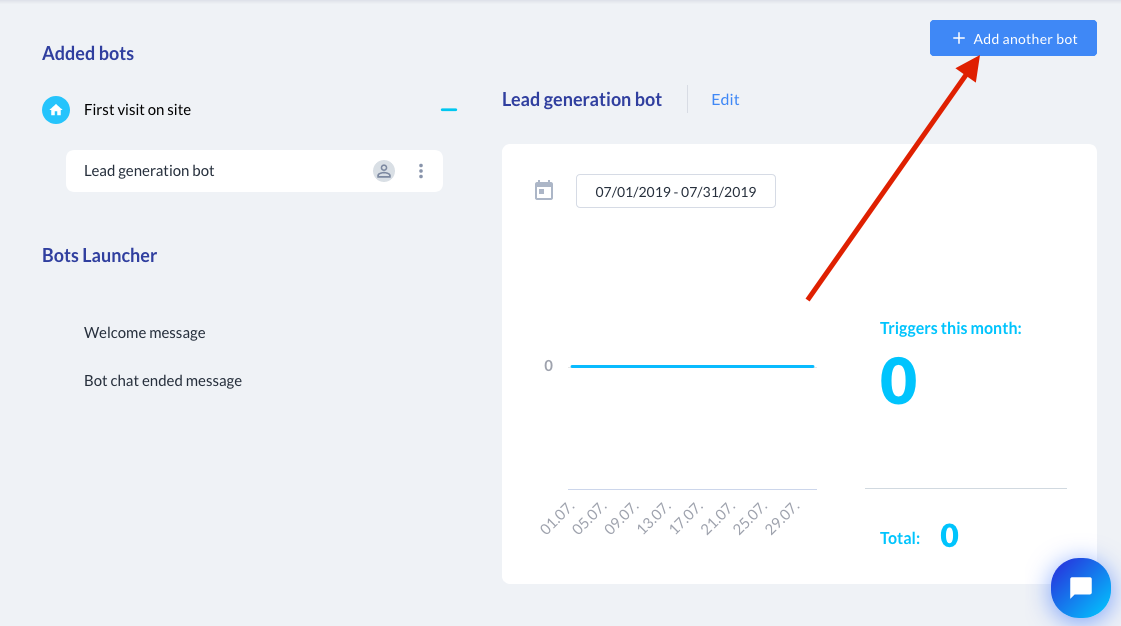 Then proceed by clicking on '+ Add bot from scratch':

This button opens the editing panel of the newly-created bot. It allows you to choose the trigger. The trigger is the node that begins the path of the bot (for more information about our nodes, used to build the bots please head over here where all of them are explained in greater detail).
Now, please pick your trigger off of the list presented to you in the editing panel and then proceed with the action called Decision (quick replies). When you pick and drag the node from the list to the editing grid, it will automatically connect to your trigger. Then the panel of the node will open allowing you to edit the content of the Decision (quick replies) node. Here is how it should be adjusted: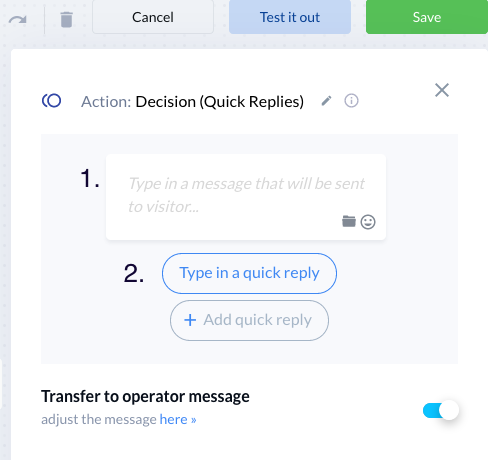 In 1. type the message that the visitor should see before they pick the question. In 2. Add the question which should be answered when the visitor chooses it. With '+ Add quick reply' you can add more of those questions.
Once the Decision (quick replies) node is set, please close the panel of the node. Then from the list of actions drag as many 'Send a chat message" nodes as you have questions onto the editing grid. When it is done then, drag an arrow to each of the nodes: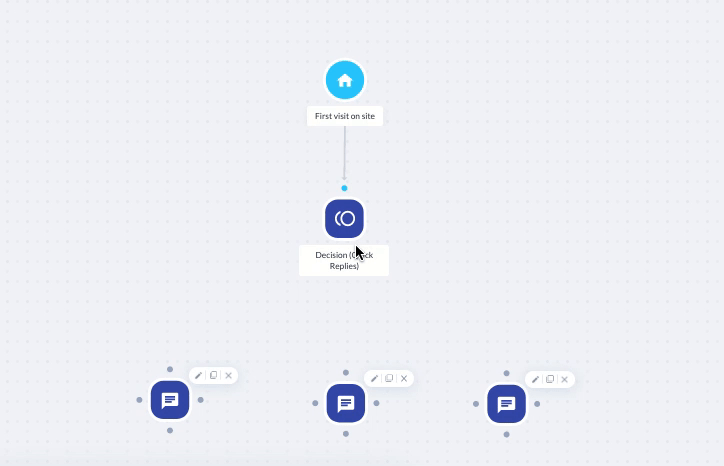 The moment each of the 'Send a chat message' node has a question assigned to them, you can begin writing the answers to the questions inside each of those nodes. It proves very helpful to add at the end of each answer a short sentence asking if this answered the question. When the visitor will answer, the conversation will be transferred to the human operator.
Once the bot is ready, in the top right corner of the editing panel you can save the bot and publish it in on your website.
In case you have any questions, please do not hesitate to contact us at [email protected].