Zapier Integration
Before you start:
This integration is an internal part of our Chatbots editor. Zapier is available as one of the actions and can be added to any automation you've created.
Most zaps send out data collected during the chat to other, 3rd party apps.
Why would I need to use Zapier with Tidio?
This integration will save your time by performing repetitive tasks for you. You can automate workflows which previously had to be done manually with connections called Zaps.
With Tidio as the Trigger for Zaps, you'll never have to export contacts from chat manually again.
Build your own custom Zap on Zapier.

1. Create a lead in the CRM of your choice

With the Zapier integration, you can make sure every valuable contact will be sent to your CRM, regardless of it being integrated internally in Tidio!

There is a wide variety of CRMs available out there, and now you can automatically send contacts and leads to every one of them, as long as they are available in Zapier.

What is important is that it will happen automatically, as a part of your automation you use to gather the visitor data.

2. Get an email notification for every incoming message

If you value each and every message you receive from your customers, you don't want to miss on a sales opportunity and want to be extra sure you get the message no matter where you are – use the Zapier integration to be notified about each message by email right away!

3. Improve customer service in your Shopify store.

Tidio integration with Zapier allows you to additionally automate and keep track of usage of Shopify-specific bots: Shipping Zones and Check Order Status.

While both of them provide you with a great value by answering your visitors important questions in no time, they can give you even more insight into your business condition and opportunities.

Shipping Zones Bot is a great indicator of where your potential users are. Keep track of locations you are receiving a lot of questions about and consider offering your delivery right there. You can do that by creating a Zap after the bot has been launched and then sending the information to your email or Google Sheets spreadsheet.
Check Order Status, however, is an excellent way to see if you offer fast enough shipping. If you receive a lot of questions about the order status, you might need to work on how fast your products are delivered to your customers. Just add a "Send to Zapier" action to your bot and from there analyse the number of inquiries in the tool of your choice connected with Zapier.

How to Setup:
It's easy! Just visit your Tidio admin panel and edit any chatbot you wish to add a zap to.
In this example, we'll be editing the Lead Generation bot so that it automatically sends the contact details to MailChimp.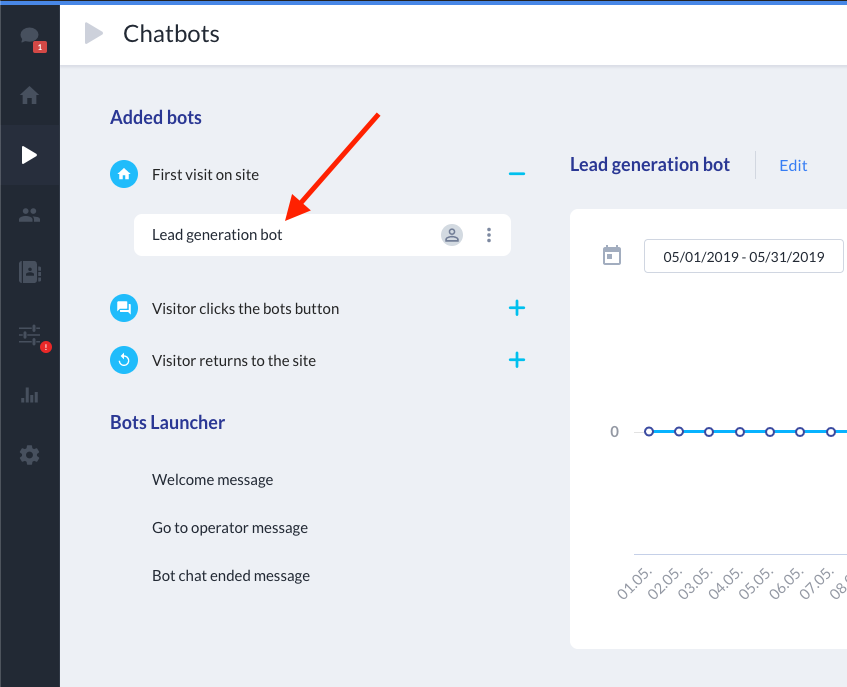 Once you've added the Lead Generation Bot (full guide available here), please edit it: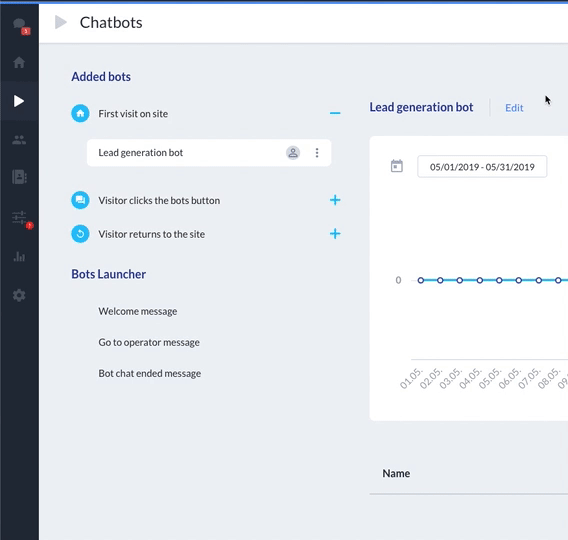 In the next step, we'll have to add the Zapier node to our automation…
… and follow the integration instructions:

Please follow the instructions – log into Zapier and look for the Tidio app.

Select Tidio Trigger: "Contact Sent From Bot" and click Save + Continue
Paste in the long Integration Key and click Yes, Continue.
Then, from the list of actions, select the node  "[node name] (date 20xx-xx-xx 00:00:00)" from the list and click Continue
In the "Pick A Sample To Set Up Your Zap", click Continue:
Now, it's time to set the action step. Here's where thousands of connections become possible.
Let's talk about a popular connection with Mailchimp. The goal here is to automatically populate your mailing list with the contacts collected on chat.
Connect your Mailchimp account in Zapier and start configuring the list.
Make sure to connect all nodes in our editor and save your configuration:

After connecting the Mailchimp account with Zapier and configuring the Zap, we can finally test the integration. I wrote myself a message on chat and provided the details…
…to receive a new contact in Mailchimp after a few minutes.