How to Run a Successful Black Friday & Cyber Monday Email Marketing Campaign?
Black Friday is soon enough. This year it is on November 27 to be even more exact. This means that the time when every marketer wants to break his/her last year's record in sales and the time when subscribers want to buy products at incredibly low prices, is coming. The closer it is to November, the more difficult yet more interesting the "hunting prospects" game gets.

Here are the 15 tips you should consider when starting your Black Friday email campaign. 
1. Create the holiday gift guide
Gift guides have a 48% higher conversion rate than average promo emails. You can base your gift ideas on categories, gender, age, geolocation, etc.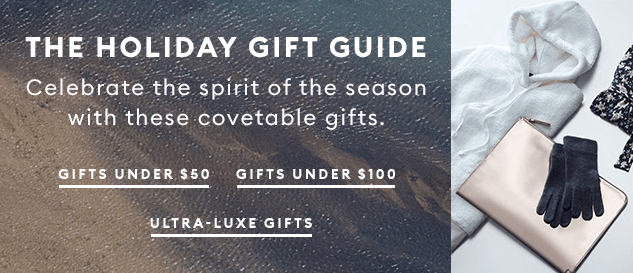 Banana Republic even categorizes gifts by prices.
When it comes to loyal customers, you can also create special offers based on their previous purchases
2. Segment your contact base
We are not talking about regular segmentation by gender or preferences as it goes without saying. You can also segment emails by recipients' behavior.
Normally, brands send one sale announcement email to all users.
But now that you know what category your prospects clicked on and what products they are interested in, you may segment your contact base.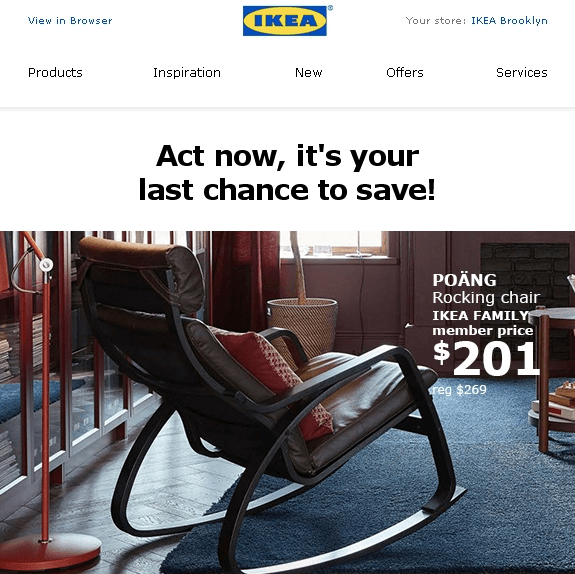 This will make your Black Friday emails more relevant; hence, it will have a positive impact on your conversion.
3. Create a series of Black Friday and Cyber Monday emails
You cannot just send one Black Friday and Cyber Monday email and expect your ROI to be high.
It should be a well-thought-through series of holiday emails ⏱
4. Announce the start of your sales beforehand
As long as your Black Friday email campaigns will consist of a few emails, why not use one to announce the exact dates when your sale starts and ends.
In emails one, you just announce Black Friday sale; in email two, you let recipients know when exactly it starts.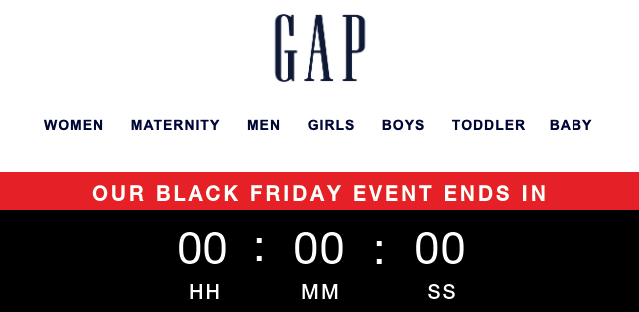 In email three, you may notify subscribers that your holiday sale is coming to its end.
You can either write the dates and just highlight them or add a countdown timer in your holiday emails.
Then the Cyber Monday sale starts…
You need this series, first of all, to notify customers you are in the game and that they will have a chance to buy their favorite products at lower prices. Second of all, it is important to keep customers updated— you need to constantly remind them about your brand.
5. Make a special offer to staunch customers
Why not inform your staunch customers about the exact dates of the sale and discount amount beforehand? Or why not start a pre-sale a day or two before the holiday and invite loyal consumers only?
Let them be the first to shop with you this Black Friday.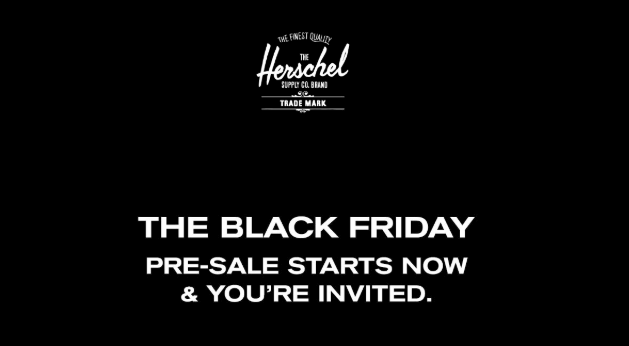 You will need to segment your contact base: active and inactive users. This is another approach to segmentation.
6. Offer free shipping
Do you know what makes best Black Friday marketing campaigns? Free shipping does!
During the holiday season, people tend to spend a fair amount of money on numerous Christmas gifts to all their family, friends, and colleagues.
Hence, they appreciate free shipping, which is one of the most converting options that you can provide.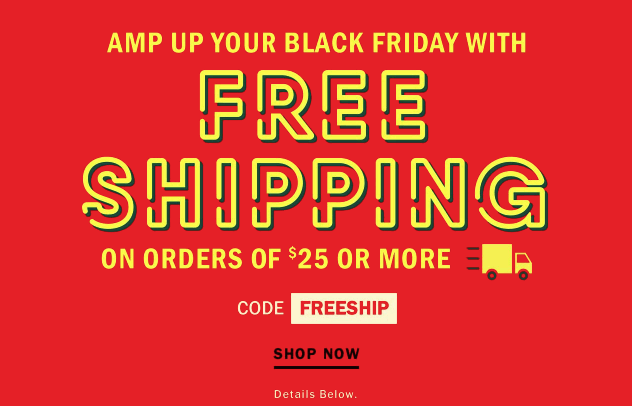 Make sure your "free shipping" notification is pretty noticeable.
7. Spend some time on Black Friday email design
Definitely, your subscribers receive many more emails during the holiday season than they usually do. And all emails contain generous offers. Then how can you grab consumers' attention? A holiday design comes to the rescue.
Make your Black Friday marketing campaigns unforgettable by implementing your unusual bold ideas.
Banners are usually the face of all emails. Pay close attention to them.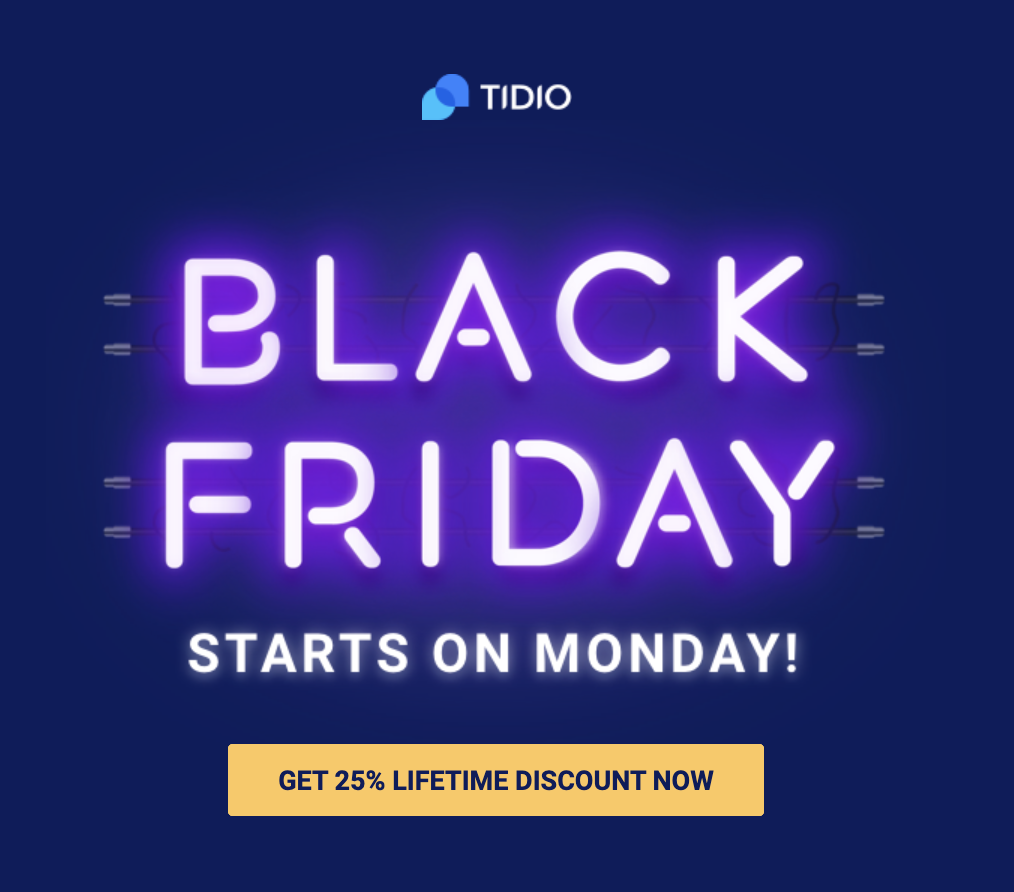 Of course, the same concerns the Cyber Monday email design.
8. Build a contact list for this particular newsletter
Build a contact list for this particular email campaign. For instance, add one more subscription form, which is dedicated to Black Friday and Cyber Monday only, to the website.
You can even offer an additional discount to newbies.
Be sure to provide the details of how to get an additional discount in your Black Friday or Cyber Monday email.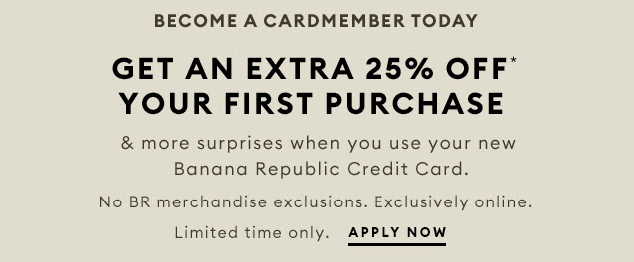 This may be a good start to your long-term relations with these newcomers.
9. Promote your offer across social media
Despite the fact that email marketing remains the most effective channel for communicating with customers, you are supposed to announce Black Friday sales across all media channels.
A combination of these two channels will bring even more benefits 📱
10. Offer gift cards
Even though in paragraph 1 we suggested that you create "Gift Guides", some recipients might not have time to look through them or they might not be familiar enough with the preferences of the person whom they are going to buy a present to. Offer gift cards.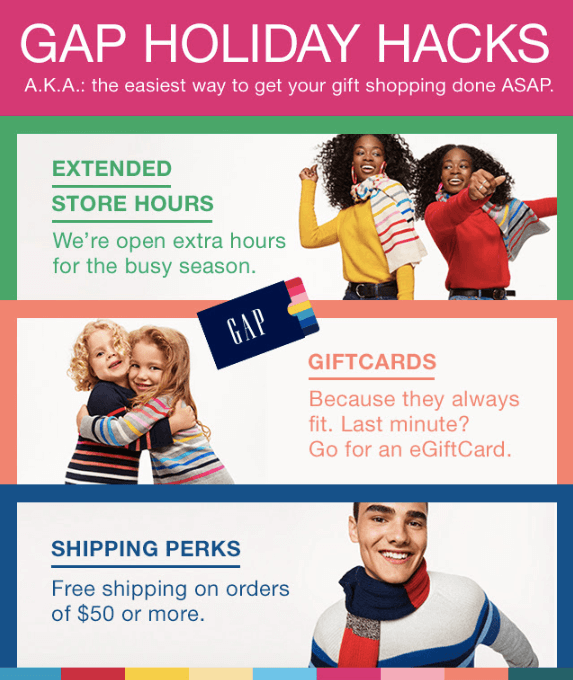 Announce it in your Black Friday and Cyber Monday emails.
11. Be sure to present new products
The holiday season is a good time to present new products.
No matter how much customers love your current assortment, they will definitely like to see something new in your emails.
12. Combine two holidays in one email
Black Friday and Cyber Monday go together. Feel free to combine them in one single email.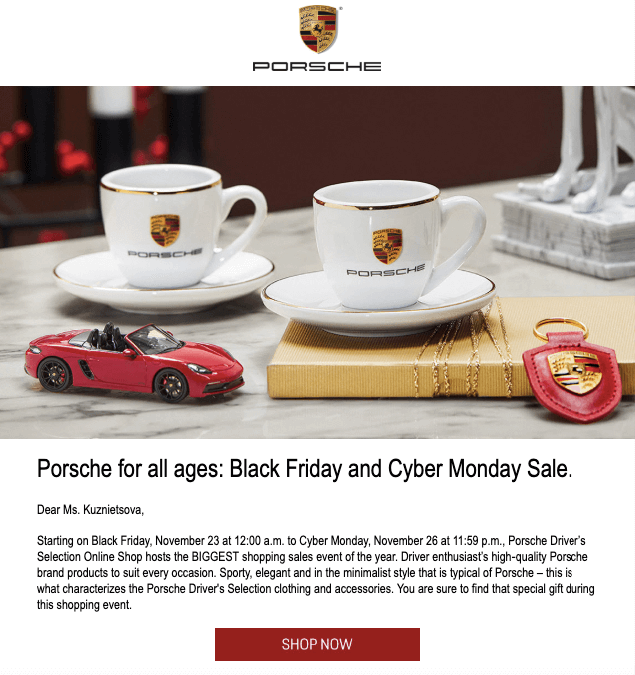 13. Remind customers Christmas is around the corner
According to the NRF research, in 2019, about 190 mln Americans went Christmas shopping during the 5-day shopping weekend, which is 25 mln more than in 2018. 
Remind the rest of your recipients that Christmas is coming; if they buy presents now — they will not have to worry and look for last-minute gifts on December 24.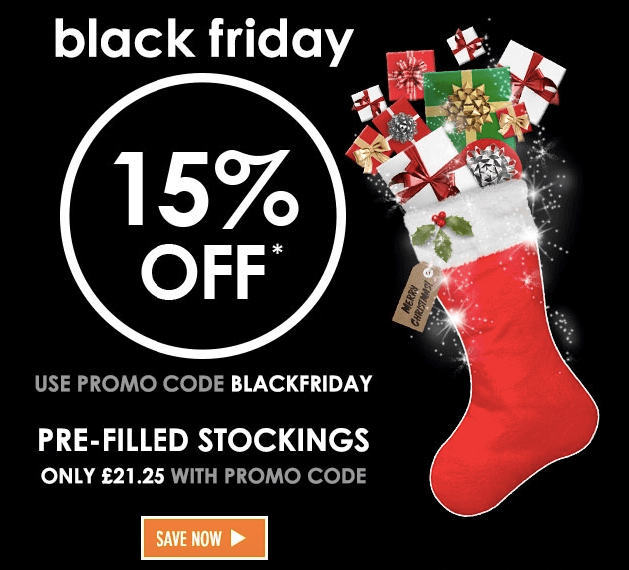 Help them please their close friends and family with good presents this year.
14. Pick the best time
When is the best time to send Black Friday emails? There is no right answer to this question. But you sure have to start way before the 5-day weekend so people have time to get prepared.
Because NRF states that 33% of Americans purchase in September-October. Then why not start your Black Friday campaigns at the beginning of Fall?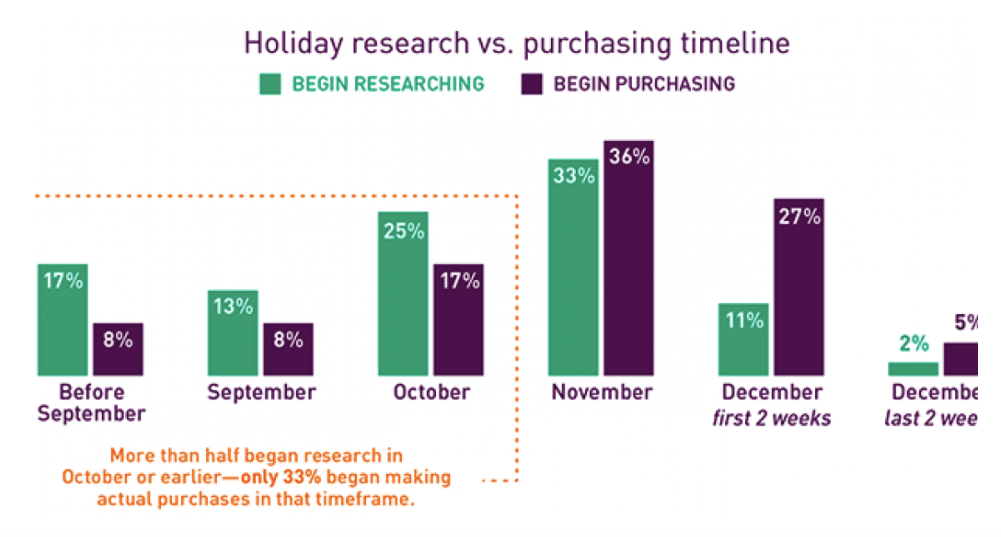 Use your chance to get 30% more clients this year.
When is the best time to send your Cyber Monday email? Normally, people expect to see these emails as a continuation of the Black Friday sale at the end of November, unless you combine these two holidays in one email.
15. Write a powerful subject line
It is a well-known fact that 35% of recipients open emails judging by the subject line alone. Let it be clear, concise and, of course, catchy.
Avoid exclamation marks, avoid text in ALL caps in subject lines.
If your Black Friday sale is coming to its end, mention in your email subject line. You offer free shipping — notify customers about it.
Black Friday subject line examples: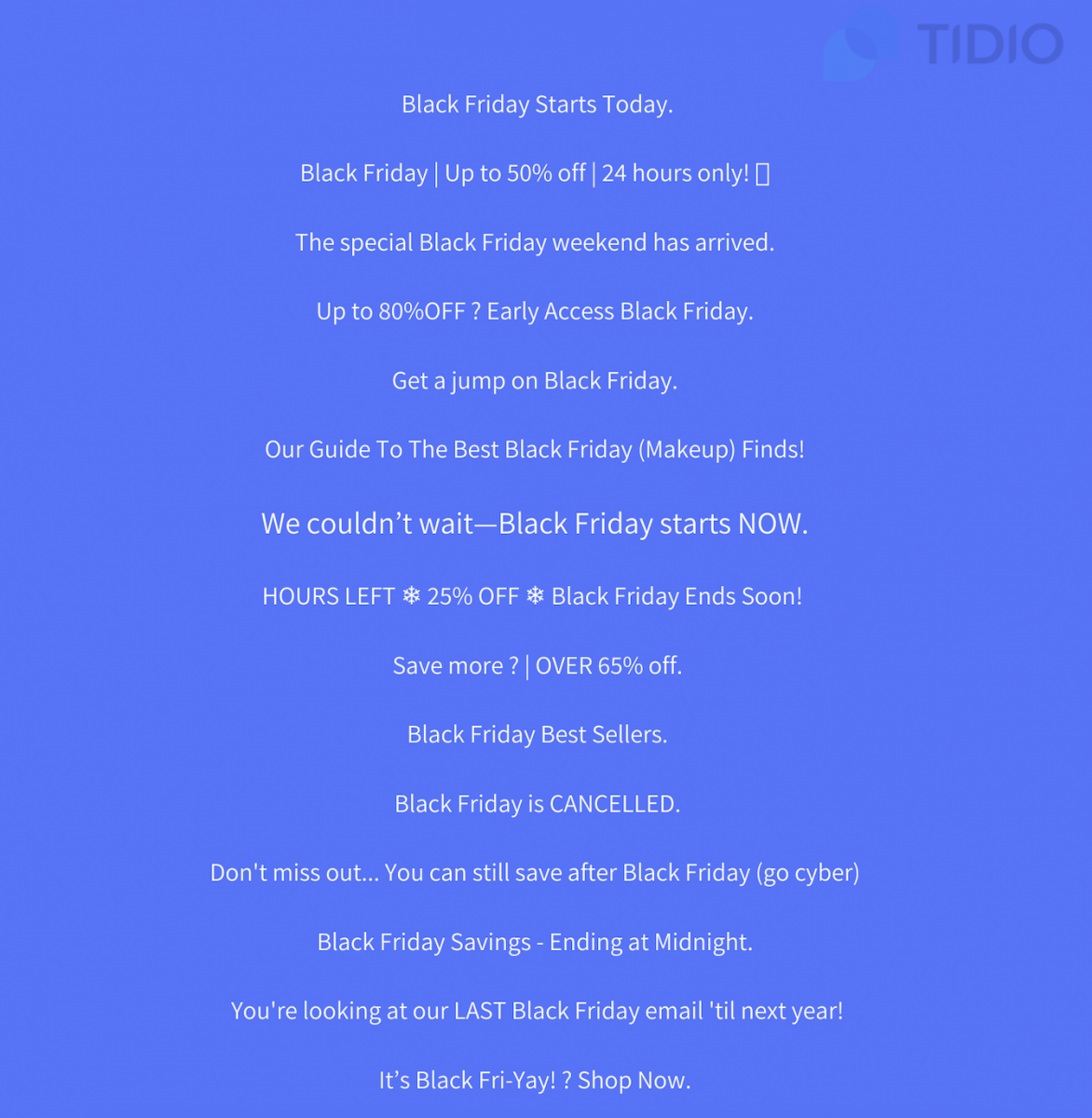 We've got a massive list of catchy Black Friday quotes, phrases, and email subject lines for you in the article prepared by our marketing specialists.
Please be advised: you can set the subject line (with emojis if you like) and preheader text to your emails wth Tidio.
Final thoughts
We hope that our Black Friday and Cyber Monday email examples got you inspired, and now you are ready to start your own brilliant campaign.
When building one, please remember to:
create a series of Black Friday and Cyber Monday emails;
pay close attention to subject lines;
provide free shipping;
announce sales before the start of the Holiday season.
Tidio offers a fair amount of ready-to-use Black Friday email templates and Cyber Monday email templates.
As always, feel free to contact us at [email protected] in case of any questions or issues with the Contacts feature.