How to Go Offline in Your Tidio Panel
In this article, you will learn everything about the offline mode. We will explain how does it work, how to activate it easily and how to manage incoming conversations when you're offline.
Topics we will cover in this article:
How your website's visitors will see the Offline widget
We have designed the change of widget appearance to meet the expectations of your website visitors when your status is 'offline'. Firstly, the offline bar appears at the top widget when someone opens it, allowing you to set a brief message to inform your customers that you are away, or when they can expect a reply.
An offline message will also trigger when any of your visitors attempt to initiate a conversation, asking them to leave their email address so you can follow up on their query when you return. That helps to ensure that the website's visitors will always see an answer from you!
You can personalize both the offline bar and the offline message to your liking by going to Settings > Channels > Live Chat > Appearance in your Tidio Panel.
Changing your status to Offline
There are several ways of changing your status, let's go through all of them!
Manually on Desktop App
In Tidio, changing your chat from online to offline is as simple as logging all of your operators out from the Tidio Panel, or changing their status from "Online" to "Offline". To do so, click your name or picture at the top-right corner of the panel and choose an appropriate option from the expandable menu below:
Manually on Mobile App
To change your status via your mobile app you can go to the settings section – and then just make sure the toggle next to the Offline status is turned off.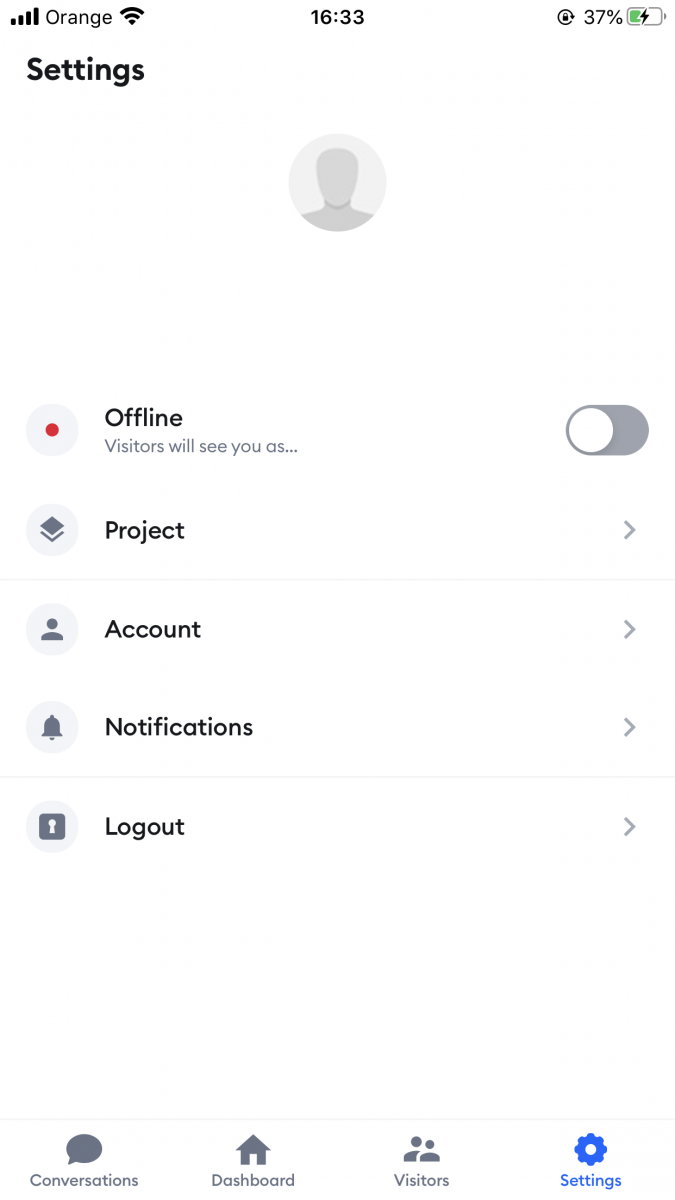 Automatically: Operating hours (Online Hours)
You can enable and adjust the Operators Online hours that will switch between your offline and online statuses automatically at specified times.
This setting works based on your current time zone that you've set up in your Tidio panel so, please make sure the correct time zone is set up at the bottom of the Operating Hours section.
In order to set up the hours when you are online – simply move the white circle and toggle it on the time you wish to be displayed as online.
In order to delete the time frame and set up your account to be displayed as offline for the whole day – hover the mouse over the blue line and click on the garbage bin. You can add a new time frame again by clicking on the "+" button in the same place later on.
NOTE: Please, be aware that each operator needs to set their own schedule individually, so if you wish to have a schedule that's company-wide you'll need to make sure each person has their hours set.
Also, please remember that – if you would like to be actually 'online' within your Operating Hours – your Tidio panel needs to be opened up or in case of the mobile app – running in the background.
IMPORTANT: When you are offline – you won't receive notifications in your Tidio panel. You can only receive the Offline Email Notifications if you are not available to chat with your visitors.
EXAMPLE:
This Tidio user works from 9 am to 5 pm every working day of the week and after his work, he likes to spend some quality time with his family.
Where do I edit the offline status and message?
You can do that in the Settings > Channels > Live Chat > Appearance > Widget Settings > Offline status & message section of your Tidio panel but, you may need to scroll down a bit to find it.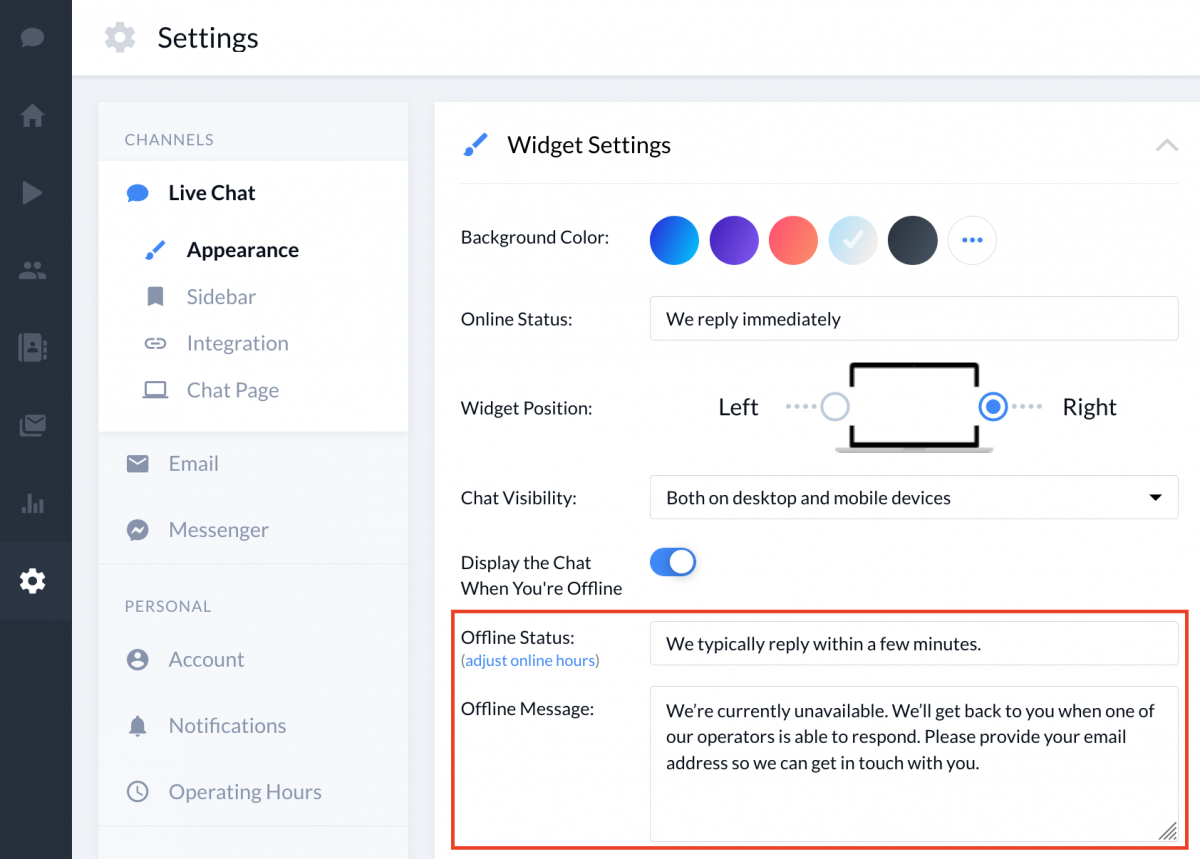 How to receive email notifications when the chat status is Offline?
You can also configure Tidio to forward notifications to your email inbox when your chat is offline, that way you never miss out on a potentially urgent query. To enable that, simply navigate to Settings > Notifications and turn on the option below:

The Email Notification is sent 5 minutes after the last received message in the chat by the visitor.
How Offline notifications work?
The email notifications work only for the conversations received when you're offline, that are left as 'Unassigned' for at least 5 minutes.
It would notify you on the specified email address, 5 minutes after the last message from a visitor was received. Please note that if you switch your status to online or pick up a conversation before the 5-minute mark, the email notification won't be sent.
The notification email itself includes available visitor data and their chat message to you; you can reply to their message by simply responding to that email notification, or logging into your chat panel and answer from there.

The 5 minutes delay has been added to ensure each message is included in the notification you receive. It's very common for the visitors to send their inquiry in multiple chat messages instead of a single message. If the notification would be sent immediately after the first message, you might end up with lots of emails about conversations containing only "hello" or something similar. With the five-minute delay, you'll have the full picture of the customer's issue and you'll be able to react immediately.

Hide the Chat Widget when you are Offline
Some of you may not want to receive messages when you are unavailable, so we have catered to your needs as well by giving you the option to hide the widget completely.  Just go to Settings > Channels > Live Chat > Appearance and make sure the toggle next to the 'Display the Chat When You're Offline' is turned off
---
If you have any additional questions or require further assistance, please reach out to us at [email protected], alternatively, you can reach out to us via our Live Chat.