How to Start Using Tidio Chat
In this article, we will give you some highlights on how to use our Tidio App. Learn with us how to get the most out of it.
What you will learn:
What are the User Interface basics
Receiving and replying to visitors' messages is really easy! This is what the widget looks like from your visitor's point of view:
When a visitor hits 'Enter' and sends you a message, you will get a pop-up and a sound notification:

The new visitor will appear in the 'Unassigned' section of your sidebar in the Tidio Panel:
As well as in the 'Visitors' tab:
---
Visitors Tab
In the Visitors tab, you can also see some additional information about your visitors, including:
Visitor's name – it displays as a randomly-generated unique Visitor ID (e.g. #2ftg9, #5mff3, or #lg0ku), an email address, or an actual name. The email will display if you have the Pre-Chat Survey enabled (which you can find in Channels > Pre-Chat Survey ) or if the visitor provided their email during the conversation.
Name of the operator who is handling the conversation – displays as a grey, horizontal bar right next to the visitor's name e.g. @you). If you are not seeing it there, it means that no-one is chatting with the visitor at the time.
Flag – indicating the country your visitor is typing from. This data is gathered based on the visitor's IP.
Browser icon – representing the browser your visitor is currently using to contact you.
URL – a live preview of the particular URL your visitor is currently visiting.
Now, how to engage your visitor into a conversation? It's very simple – just click on the new pending conversation; doing so will take you to the chat window:
PRO TIP: Look at the picture above. You can see that there was no reply to the visitor for a longer time and an automated message, informing that there is a high volume of incoming chats was sent. Our Chatbots feature allows you to send automated messages when certain conditions are met (for example, when a user opens your website for the first time). You can learn more about this from our Chatbots Guide.
Information on the visitor
In the upper-right corner of your conversation window, you will see a location map and basic info on your visitor. This part will display a name/email/ID, the visitor's viewed pages, their browser version, operating system, and IP address. If the Pre-Chat Survey is enabled, all info that the survey collected will display there as well (e.g. a phone number).
You can respond to visitors by typing your message in the conversation window and hitting 'Enter' on your keyboard. If you would like to send a file or a picture during a conversation – simply click clicking on the paperclip icon or drag and drop the image inside the chat's conversation window. Your customers can do that from their end too!
And here's what the final exchange looks like:
---
How to add new operators
Each Tidio account allows you to have up to 3 users (1 account owner + 2 additional operators). That is to help you with responding to your visitors' queries faster. To add a new operator, please go to the Settings > Operators section > and click on the blue 'Add an Operator' button:
Once clicked, a pop-up window will open and you will be asked to enter your new operator's data. After entering all the information, a temporary password will be generated. Then, simply click on the 'Add' button to complete the process.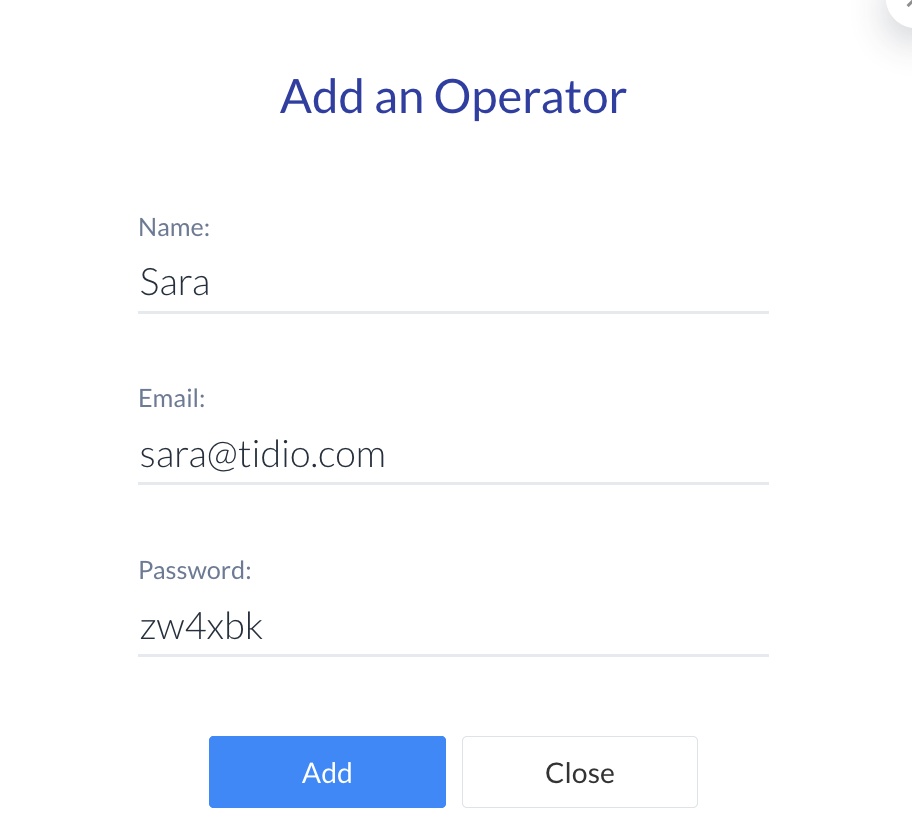 A confirmation email containing the operator's password will be sent to the email address you specified. From that moment, your operator is free to log in via www.tidio.com or the desktop/mobile app to access the panel.

PROT TIP: If you need more than three operators at a time – feel free to click on the 'Upgrade' button in the upper-right corner of your panel to learn more.
---
How to manage the conversations
If you would like to pick up the conversation – click on the system notification or choose a chat from the 'Unassigned' column in the 'conversations' panel. The operator who assigned themselves to it be responsible for that chat. The next step is simply reading the visitor's message, typing in your reply, and letting the conversation take its course.
Whenever a visitor considers the chat finished, it's enough to minimize the widget. When they open the chat's widget again, the conversation will be visible for them right where you left off. For the operator, the chat will stay in the active conversations panel until they unassign themself from it. To unassign – click the 'Leave' button in the upper part of the chat window, right next to the visitor's name.
Transfer to another operator
At any point, the conversation can be transferred to another operator if you need to step out for a minute, or your workload is too heavy at the moment. To transfer a conversation, simply click the three-dots menu right under the location map and select the 'Reassign operator' option:
From there, just select the appropriate person from the list and hit 'Assign':
And it's done!
Finally, when you consider the conversation finished, you can un-assign yourself from it by clicking on the 'Leave' (1) button located at the top of your panel. You can also click the 3 dots at the top of the map and use a 'Leave conversation' (2) button or select a conversation by clicking its icon and choose 'Leave conversation' (3). If all operators have left the conversation, the next time the same visitor sends you a message, it will display in the 'Unassigned' column, just like any other incoming chat. All operators who are currently online will see the notification and will be able to jump right into the conversation. You can also leave a conversation by using the three-dots menu option or simply hitting CTRL + Delete on your keyboard:
---
Differences between the Chat, Email and Messenger messages in the conversations panel
In Tidio there are 3 types of messages that you can receive in your conversations tab of the panel. A normal chat message, email and a Facebook Messenger message. They all appear differently and that is how you will be able to recognize them:
Chat Message
Every chat message will always have the ID which is assigned based on the first letter/email of the user's name. Whilst you are responding to the chat your choice should always be to respond via the 'chat message' as well. This should be automatically set to reply via the chat. However, this is where you can choose to do so if needed:

Email
Emails that you receive on your mailbox that is integrated with Tidio will appear with the blue envelope to specify that this is an email.
You can choose to respond to those emails from the Tidio panel. That option is normally set to Email automatically but in case if you like to switch it yourself that is how it looks like:
PRO-TIP: Red circle on the Chat Icon indicates that this visitor is not on the chat )
Messenger Message
When you have your Facebook Fan Page integrated with your Tidio account all the messages sent to your Facebook page will also appear in Tidio. They might reflect the user's profile picture instead of the letter or a numeric and also have a Messenger Icon to indicate that the message came from the Messenger.
---
Uploading your avatar
A detailed guide explaining the kinds of avatars, as well as the recommended sizes and file formats, can be found in our 'How to set up a new avatar' article.
---
Going Offline
When you feel your work is done for the day, you can change your status from Online to Offline. This will cause your widget to notify your visitors when they can expect a reply from you. They will still be able to send you a message along with their contact email, which you can have forwarded directly to your email inbox. Here's what the widget looks like:
Changing your status and logging out of the panel can be done from the slide-out menu, which you can open by clicking on the operator's picture in the upper-right corner of your panel (if you haven't uploaded a picture yet, you will see a placeholder image). After clicking on it, you should see a screen like the one below, where you can change your status or log out of the chat:
Email Notifications
If you would like to receive email notifications for any messages you receive while logged out or set to Offline, you can configure that under Settings > Preferences > Send email notifications. There is a 5 minutes delay time which is counted from the last message received. This is made to avoid sending you all the messages in separate emails. Instead, the system will collect all those chat messages that have been written on the chat and sent them to you in just one mail 🙂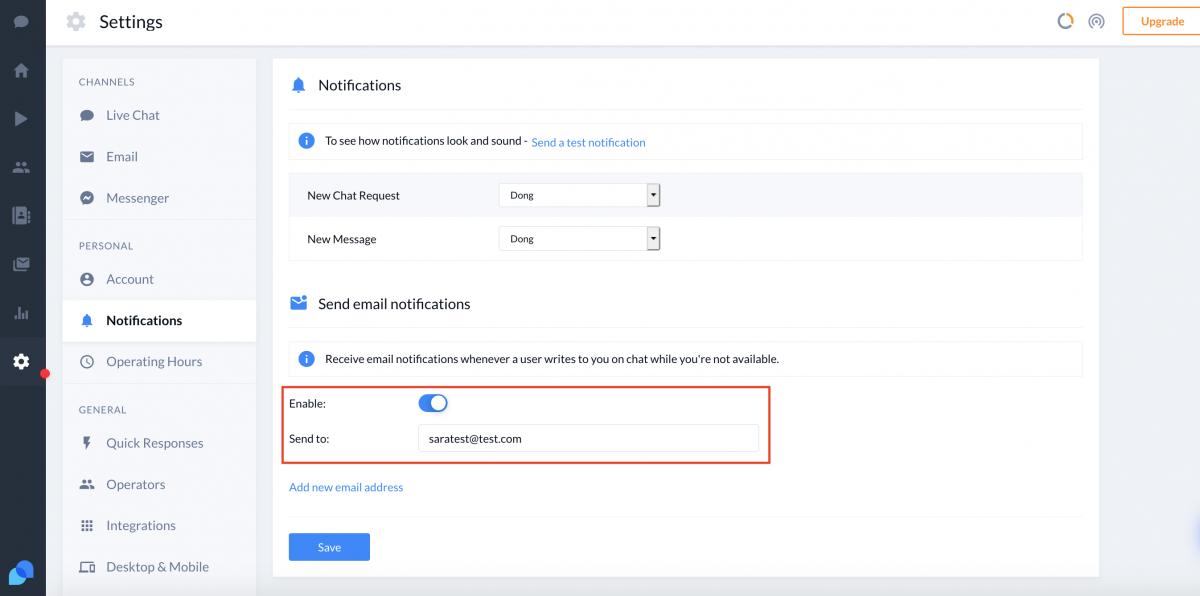 'Operating Hours' – Online & Offline hours
You can use the "Operating Hours" hours option within your Tidio Panel. That way, the notifications will automatically be snoozed between the hours of your choosing. You will find that option by going to Settings > Operating Hours section:

There is also a message that shows up when you're not available. Check the Appearance guide here to learn more about it.
---
Upgrading your account
Upon signing up for Tidio, you will start with a lifetime free Basic plan. During this time you have access to all of the features that are necessary to answer incoming conversations with up to 3 users forever free!
If you opt to continue with a Basic account, that's totally fine – you will be able to use the chat for free forever. Please, keep in mind, that free version's features are slightly limited. If you want to make the best out of our app, don't hesitate to read our detailed step-by-step guide on upgrading your account.
---
What is the Chat Page?
You can locate the 'Chat Page' feature in the Settings > Channels > Live Chat > Chat Page section on the left side of your Tidio panel. Inside you will find a URL which opens the chat in a new tab of your browser. This feature comes in handy if you'd like to design a custom button on your site and link the chat page to it. You can also include it in your emails and social media pages.
New Theme users: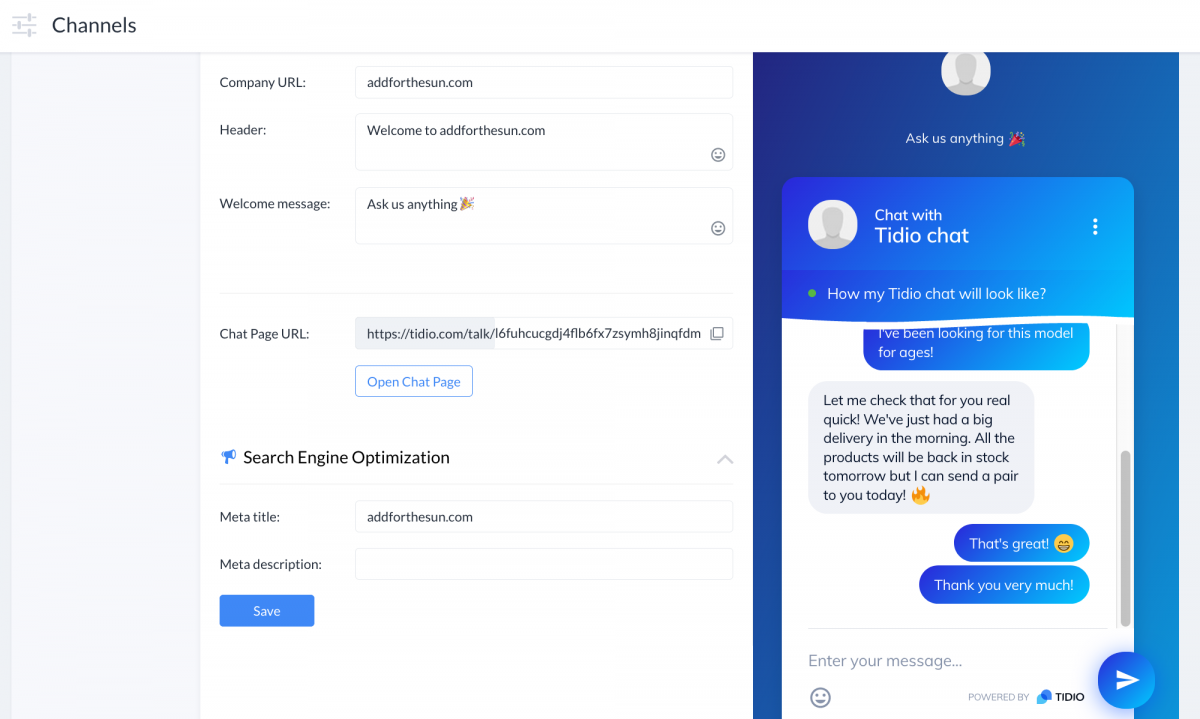 ---
These are the basics of using Tidio to communicate with your visitors! If you have any other questions regarding the way our app works, feel free to browse through our knowledge base articles or contact us directly via the chat widget on www.tidio.com or via email at [email protected]