How to Add Tidio to your WordPress Website?
Thirty-five percent of all websites use WordPress. Considering the competition, that's quite a significant market share. And that share is getting bigger with every passing year.
Tidio live chat app powers up over 60,000 of WP websites.
From the technical point of view, users love Tidio app for being lightweight and simple. From the business side, for the range of benefits, this app has to offer.
How do you get started?
So, let's go ahead and see how you can add live chat to WordPress website in minutes.
Pro-Tip: If your website is not powered by WordPress, see how you can add chat to any website.
How to Add Tidio Chat to your WordPress Website
Step 1
Log into your WordPress account and go to the Dashboard.
Step 2
Navigate to the Plugins section and select "Add New".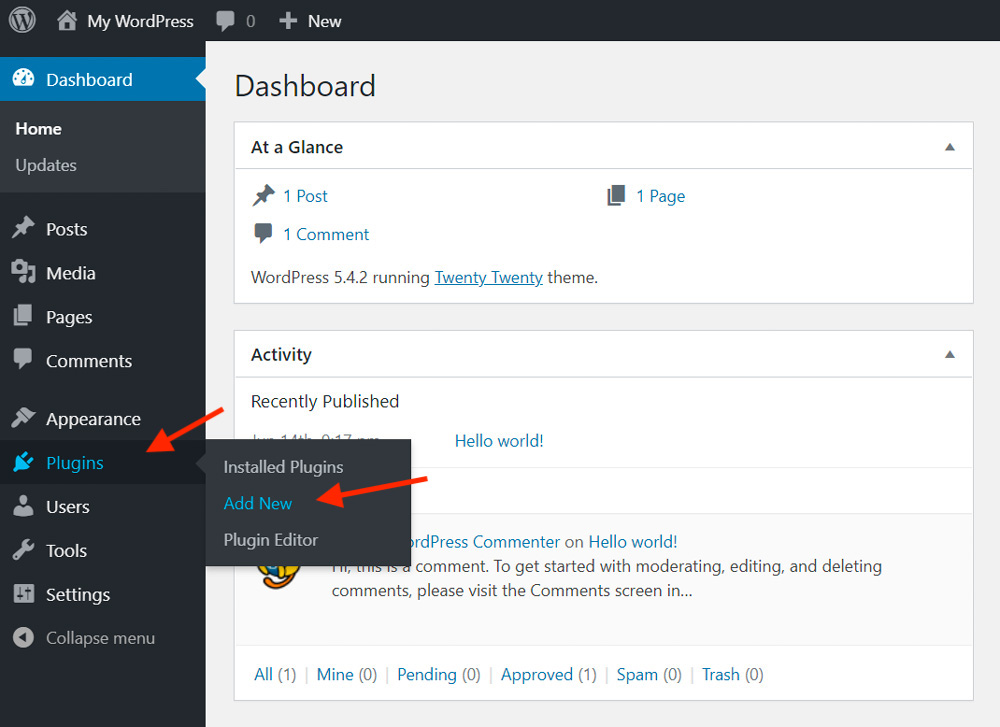 In this section, you can either:
Look for the plugin by typing "Tidio" in the search bar.
Download the plugin from the WordPress Plugin website and then, upload it from your hard drive.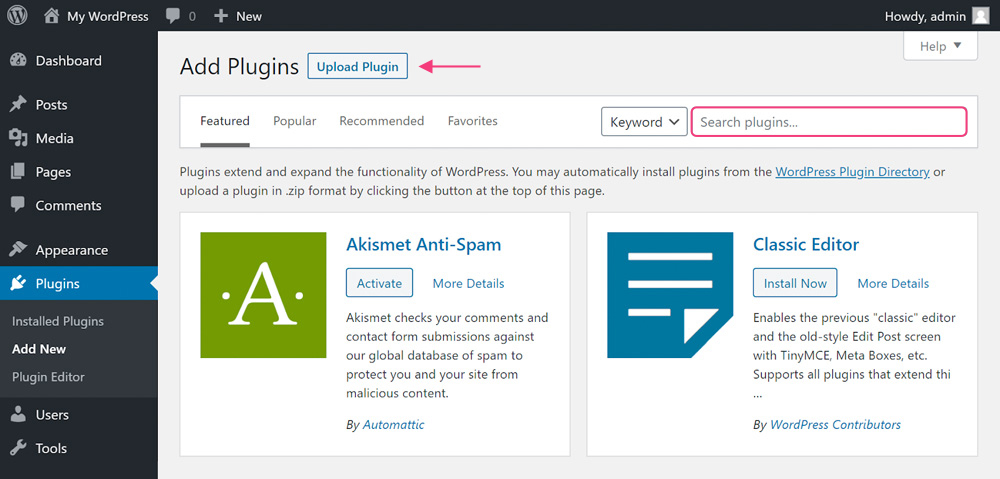 We recommend using the first approach. It's a bit easier and faster. Especially, when you don't have the plugin downloaded.
When you type in the app name, press Enter on your keyboard to let the WordPress look for it.
Step 3
Add live chat plugin by choosing it from the list. Ok, WordPress found the Tidio app. Time to hit the Install Now button.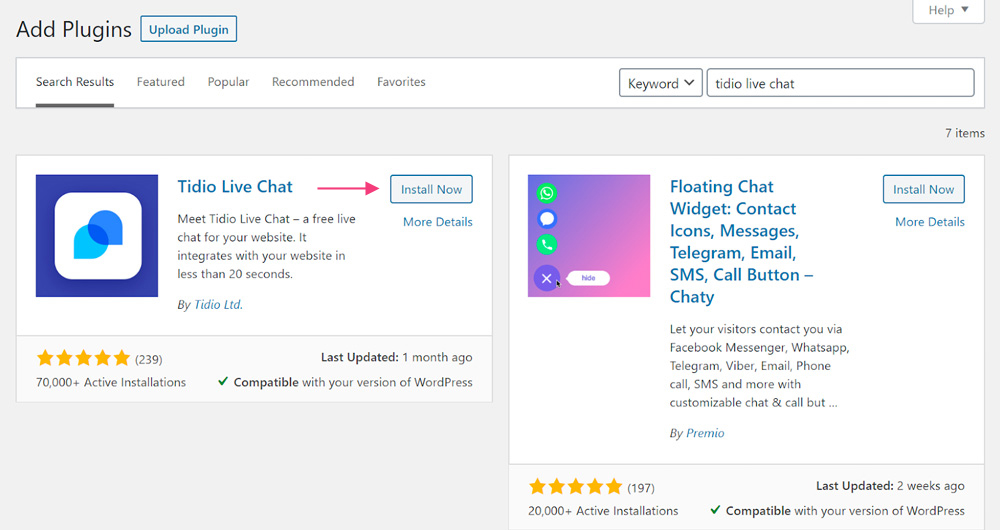 You've got an app installed. Before we move on, make sure you click the Activate button.

Now, if you go back to your Plugins section, you'll see Tidio on the list.
Step 4
Create a free Tidio account. If you haven't registered your account yet, now it's a good time to do this.
Locate Tidio Chat on the menu on your left hand-site and click it. Next, enter your email address to sign up.
When you're done, you'll receive a message saying that your site is integrated with Tidio. Good job!
If you get a warning that your email is already in use, please follow our troubleshooting steps – that will help you sort it out and log in to your Tidio plugin.
Step 5
Configure your Live Chat. You'll now begin the product tour. This is where you're going to do some initial set-ups of your live chat.
You will be able to customize and make changes to your chat widget even more after the tour. So you don't need to spend too much time on this step.
First, enter your name (or the name of your website or store).
Next, fill in your personal and website data.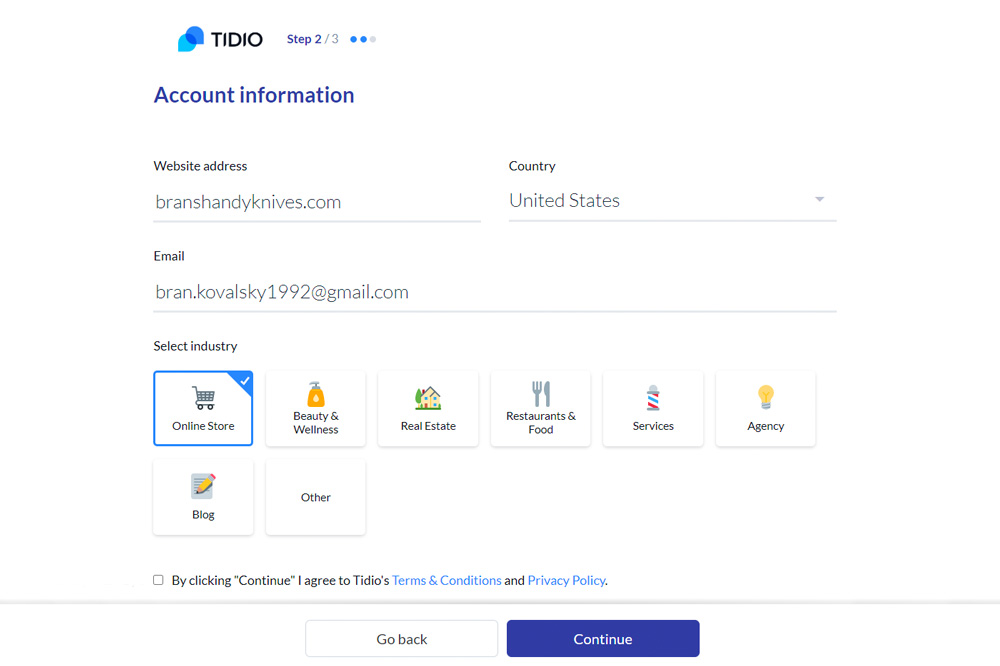 And finally, choose your chatbot. If you're not sure which one you may need, pick any. You can always change it later.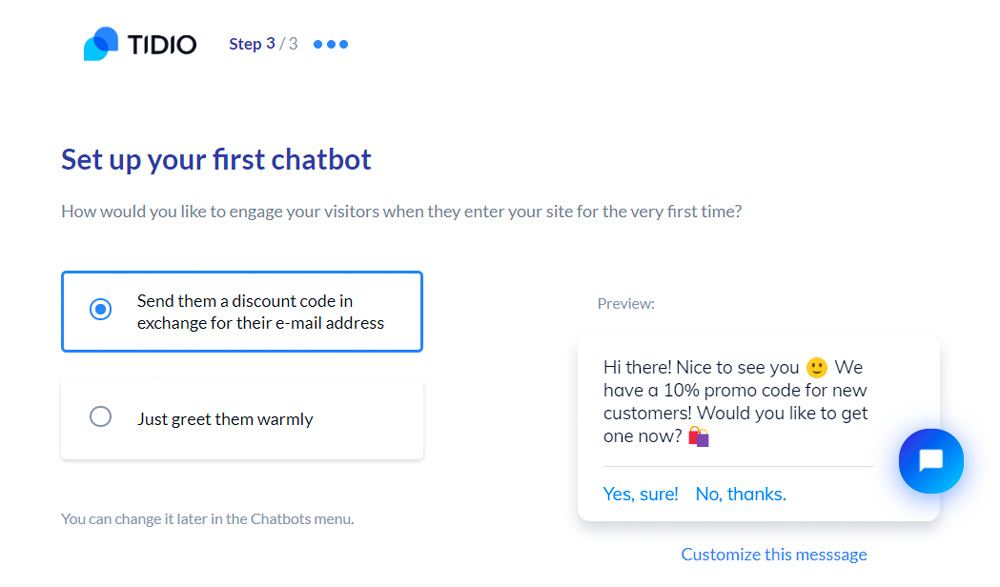 When you're done with the tour, you will finally see the admin panel. This is where you customize, manage, and track everything. Here, you also chat with your visitors, build your chatbots, and email campaigns.
Step 6
Once you're done, the chat widget should appear on your WordPress website. By default, it's location is the lower right-hand corner. You can change the position in the Settings panel and set up more rules or adjust the appearance of your chat widget. We have explained all the possible options in our article about the Channels section.
Have you encountered a problem with login into your Tidio plugin?
If you are unable to login to your Tidio account via the Tidio plugin installed on your WordPress platform – please, follow this troubleshooting step or use:
NOTE: Please, make sure the Tidio chat widget is installed on your website via the use of only one installation method – the plugin or the javascript code.
---
Add Chat Functionality to WordPress Website: Alternative Method
Please, do not use this method if you have a Tidio Plugin installed on your website. Instead, please follow this troubleshooting step.
Step 1
Create Tidio account. Go to the registration page to sign up for your free account. Just like before, after you register, you will go through the same short product tour. When you finish it, you will be logged inside your admin panel.
Step 2
Integrate Live Chat with WordPress website manually. Find your unique javascript code. On the left-hand side menu, you'll find the Settings > Channels section.

Next, choose the Integration link under Live chat, and select WordPress from the list.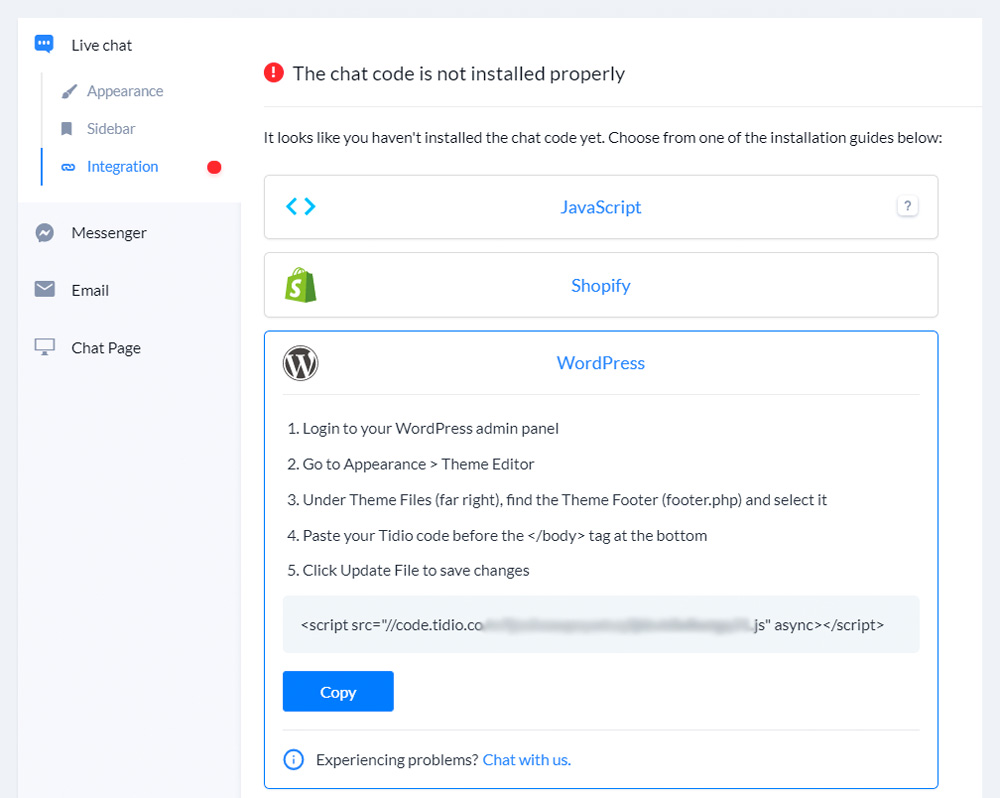 Step 3
Open the Theme Footer (footer.php) file located in your WordPress panel (Appearance > Editor) and paste the code above the closing </body> tag. Remember to press Update file and refresh your website once you are done.
Is there anything else left to do?
Well, it's time to explore your new app! Visit our blog to learn all the "What's" and "How's" about live chat, chatbots, and email marketing.
For technical help, take a look at the Knowledge Base or reach out to our amazing Support Team.
Enjoy your new app!
🍀 P.S. If you still have problems with figuring out how to enable the live chat feature on your WordPress website, let us know or try our troubleshooting steps from below.
Troubleshooting Tidio integration with WordPress
If you are not seeing the chat on your website immediately after adding it, please try the following steps:
1) Open your website in a new incognito window
In your browser. If you are using Chrome, hit CTRL + Shift + N (Windows) or CMD + Shift + N (Mac).
2) Clear your website's cache
The process depends on the device and browser you are using; for a detailed, step-by-step guide on how to do that on most popular platforms, please visit www.refreshyourcache.com
3) Disable the caching plugins
If the chat is still not displaying on your website, please make sure that any caching plugins (W3 Total Cache, W3 Super Cache, etc.) are temporarily disabled. Their purpose is to keep your website's loading time as short as possible, however, this might hold off any changes made on your website. Disabling them for a minute should allow the chat widget to load properly; after making sure that it worked, feel free to enable your plugins again.
If you can't log in to your account using the plugin, you can try clearing the plugin data in the WordPress plugins section. This will allow you to log in again using your existing login credentials.
If you have any questions about the WordPress plugin or how to install Tidio Chat to your WordPress site, please contact us via chat or at [email protected]