How to cancel my subscription
To cancel your paid subscription, you will need to log into your Tidio panel.
Skip to cancelling for Shopify users
Important! Please note that the following steps are not applicable for subscriptions purchased on Wix. To cancel such a subscription, please refer to Wix support.
1. Select Settings from the list of menus available on the left side of your Tidio panel.
2. Once you're in the Settings menu, choose the Account tab and click Cancel to stop any further billing and downgrade your subscription to Basic.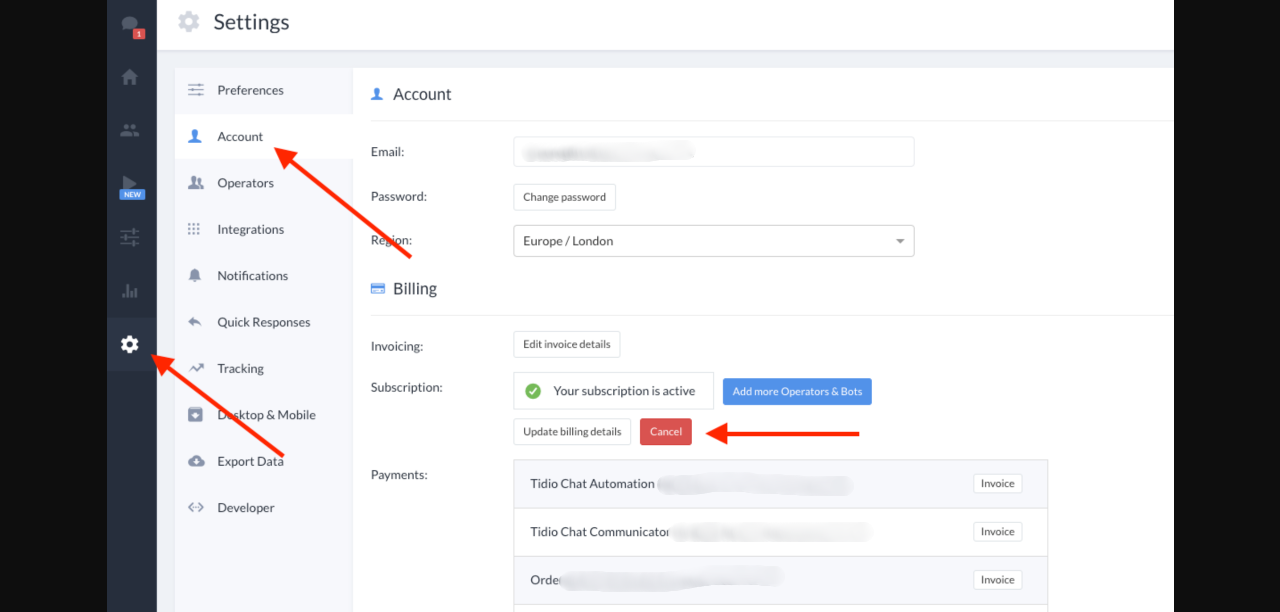 Make sure that you've done the following steps as well:
Turn off any recurring payments set up in Paypal.
Uninstall the plugin (or remove the code) from your website if you wish to stop using Tidio.
HOW DO I DOWNGRADE TO BASIC IF I'M USING SHOPIFY?
If you're running an online store on the Shopify platform, the steps to downgrade to Basic from a paid plan are the same. However, the Billing section in your Tidio panel looks a little different.
To cancel a paid subscription purchased for your Shopify store, please go to Settings and then into the Account section. Under Billing, press Cancel to stop your subscription:
Alternatively, you can click the Upgrade button in the upper-right corner of your Tidio panel, then set the number of operators to zero (0) and Automation to 100, and click Cancel My Subscription.
---
If you have any questions regarding the downgrade or the available features, please contact us on our live chat at www.tidio.com or at [email protected]