Premium Features in Tidio
If you enjoy using Tidio on the free plan, you will surely enjoy it even more with the premium features. Tidio's upgrades can expand the capabilities of your account by giving you access to new functionalities. We currently have two plans; to see a quick summary of our plans, check out our pricing page.
The Communicator Plan
The Communicator upgrade is a quality improvement to your account. Here's what this plan can add on top of the basic features:
Live Typing
The Live Typing preview allows you to see your visitor's messages as they're being typed in real-time. This way, you can think of a reply before the visitor even sends their question.

PRO-TIP: Finding yourself in pressing situations with more than one client at once can be stressful. Live Typing will give you more time to think and pleasantly surprise your clients with quicker replies.
The Visitors list
The live Visitors list will show you all the people who are currently browsing your website. Here, it is possible to proactively begin chatting with a selected visitor as well. Furthermore, the list will show you some basic data and the page they're currently on.
Check out our article about Visitors list to learn more.
PRO-TIP: Being proactive is great; the customer feels taken care of when you offer a helping hand on your own. The list lets you reach out to the live visitors, and your message will pop-up for them in the chat widget.
Viewed Pages
The Viewed Pages history displays the most recent page accessed by the visitor within your website (as long as Tidio is installed there). This allows you to identify what the visitor is browsing, like a particular product page. The list also includes a timestamp for the specific page's visit.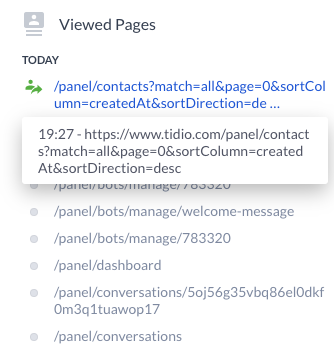 PRO-TIP: While supporting a visitor, it is best to know what they're seeing. With the Viewed Pages list you can track their journey through your website and know where they have been exactly. This makes your assistance more direct, and you don't need to ask that many questions.
Adding more operators
On top of the other features, the Communicator upgrade allows you to purchase more operator seats. That means you can have more people to help you manage incoming chats. Each extra operator (above the standard number of three) will cost an additional monthly fee.
Check out our article about managing operators to learn more.
The Chatbots Plan
The Chatbots package gives you more monthly triggers, which allows you to reach more customers with the automated messages sent by the bots.
What is a trigger?
Technically, a trigger is an input that tells the bot to activate in a specific situation (e.g. when a new visitor enters your site, or when a visitor is waiting for your operator's response for too long, etc.).
In practice: when a bot is triggered, that means it has been used. This means your monthly trigger limit is basically a monthly limit for your bot usage.
In the free plan (as well as the Communicator plan), the number of triggers is limited to 100 per month.
One trigger equals to one unique visitor who receives at least one automated message. You can send multiple automated messages (e.g. a welcome message for new visitors, discounts for returning visitors, auto-replies for missed chats, etc.) to one unique visitor, and it would still be counted as one trigger.
In conclusion, subscribing to the Chatbots package gives you a chance to reach more people. We currently have 12 options to choose from:
1,000 visitors reached
2,500 visitors reached
5,000 visitors reached
10,000 visitors reached
15,000 visitors reached
20,000 visitors reached
40,000 visitors reached
60,000 visitors reached
80,000 visitors reached
100,000 visitors reached
150,000 visitors reached
Custom/unlimited visitors reached
If you'd like to send more automated messages and reach more unique visitors on your website per month – the Chatbots package will help you!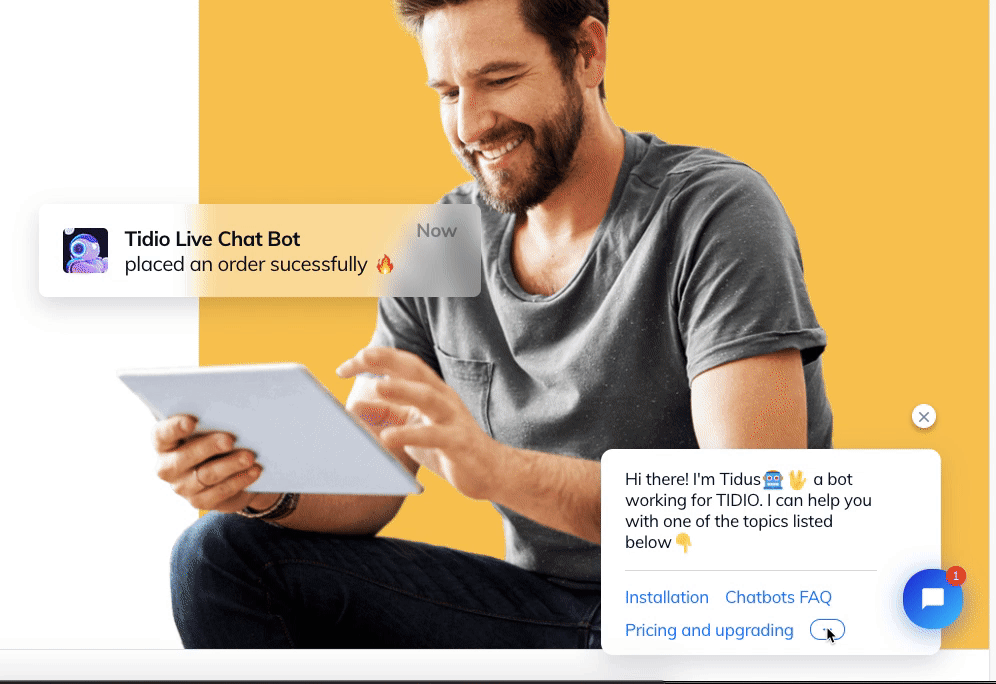 PRO-TIP: If you want to use your chatbots to the fullest and automate your responses – you can create an FAQ bot that will answer the most common questions for you!
Check out our guide on how to set up the FAQ bot.
If you have more questions about Tidio's features, feel free to contact us at [email protected] or chat with us live on our website.