The Holiday Season is without a doubt the biggest season for e-commerce business owners.
Last year, Cyber Monday was the single most profitable shopping day in the history of the United States. Every year, American households spend more and more on gifts for their friends, family, pets, and for themselves (as the self-gifting trend is still very popular).
Additionally, several years ago, people who bought their Christmas presents online outnumbered those who preferred in-store shopping. Today, most people buy gifts online and patiently search for the best deals.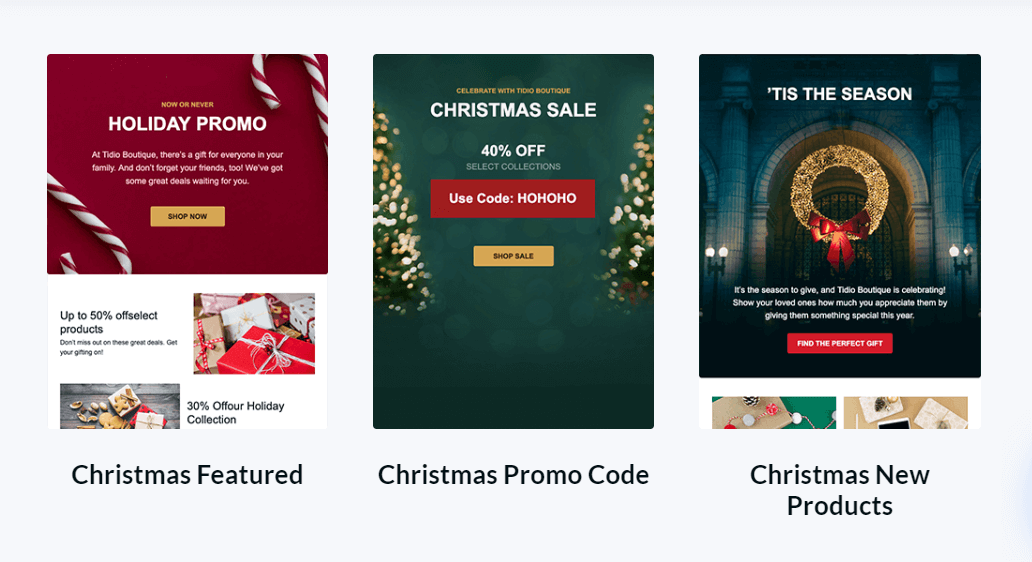 If you also want to squeeze as much cash out of the following months as possible, keep track of the shopping season calendar and use our secret weapon – chatbot messages you can use for every important shopping day.
Choose a date from our Holiday Shopping Season Calendar for 2020 to see messages you can use in your chatbot conversation scripts and send to your customers. They also can be used in emails and pop-up ads!
What Messages Are Best on Every Day of the Holiday Shopping Season?
You can find ready-to-use message templates right below. When most e-commerce copywriters will be trying to figure out what to write in a Christmas card email, you will sit comfortably and enjoy your free time. Your chatbot will take care of sending direct messages to the visitors of your online store in real-time.
Tip: Do you want to increase your profits during the holiday season? Use Tidio's marketing solutions and start sending out Christmas spirit to the world around 🎅
Try different chatbot ideas this year to see which work best for your business.
Halloween 2020 – October 31st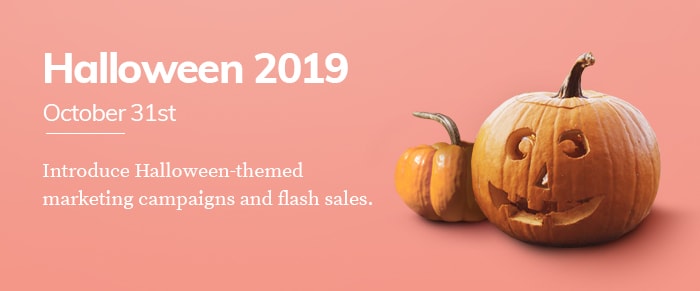 It may come as a surprise, but Halloween has surpassed Valentine's Day in terms of overall sales. While not commonly associated with buying gifts, the period around this holiday is great for introducing Halloween-themed marketing campaigns. Flash sales are the way to go.
You don't have to sell Halloween costumes or sweets to make an additional profit during the last days of October. It doesn't require a lot of effort to upload a Halloween background on the FB page of your online store and set up a spooky ghost or a Halloween cat chatbot which will entertain your visitors and set the mood for buying.
Happy Halloween Messages
You can use the same phrases that you can find on Happy Halloween cards. The trick (or treat) is to keep it light and make everything friendly and inviting. Remember that you are not trying to create a creepypasta. You don't want to actually scare off your customers with gory imagery or creepy messages – the tone should be humorous and playful.
Example Halloween Messages
No tricks! Only Treats 🍬. Check out our Halloween deals and get a 10% discount coupon.
How are you doing 🐺? Have you seen our new Halloween offer? Hurry up before the full moon 🌖!
We have fa-BOO-lous prices 👻! Up to 50% off on selected items until Halloween!
No money-vampires allowed 🧛‍♂️! We will NOT suck your wallet dry. Save up to 40% during our Halloween sale!
May you have a bag full of treats. Happy Halloween shopping!
Halloween Emojis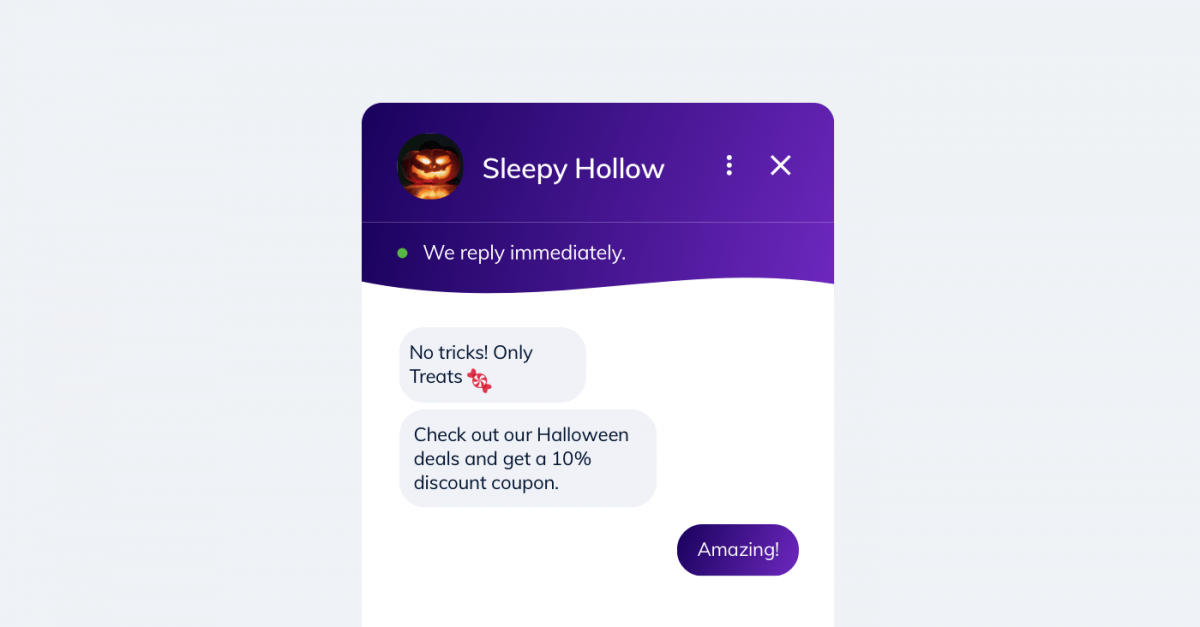 You can add some of these emojis to decorate your Halloween messages and grab the attention of your customers:
| | |
| --- | --- |
| Emoji Name | Emoticon Preview |
| Jack-o'-lantern (Halloween pumpkin) emoji | 🎃 |
| Spider emoji | 🕷 |
| Spider web emoji | 🕸 |
| Vampire emoji | 🧛‍♂️ |
| Female vampire emoji | 🧛‍♀️ |
| Bat emoji | 🦇 |
| Zombie emoji | 🧟‍♂️ |
| Female zombie emoji | 🧟‍♀️ |
| Skull emoji | 💀 |
| Candy emoji | 🍬 |
| Castle emoji | 🏰 |
| Ghost emoji | 👻 |
Singles Day 2020 – November 11th
It is a relatively new phenomenon. Singles Day originated in China and within two decades it has become the most profitable shopping day in the world, with $38.4 billion spent in 2018 on the Alibaba website alone.
The idea is to embrace your individuality, celebrate your freedom, and go (online) shopping. After becoming an unofficial holiday in China, it became popular in India. Recently, Singles Day has gained some popularity outside of Asia as well. Several major retailers in Germany, Belgium, Norway, or Sweden introduced Special Singles Day deals and full-blown celebrations.
Example Singles' Day Messages
You are worthy of good things! Treat yourself! It's 11.11!
Do you know that today is Singles Day? It is the biggest e-shopping day in the world! Have a look at our special offer here: (link address)
Our Singles' Day sale ends midnight, but be yourself and choose yourself every day!
You don't really need an excuse to spend money for yourself, but there is a good one today – it's Singles' Day! Buy yourself a gift and save $10 for every $100 you spend!
Click Frenzy 2020 (Australia) – November 17th
Click Frenzy is the Australian counterpart to American Cyber Monday. It is the biggest online shopping event of this type in the Southern Hemisphere. The initiative had a bumpy start and quickly ran into some problems (just type #ClickFail), but after several years, it managed to become quite popular.
Click Frenzy deals can be accessed through the official website (as a retailer you need to sign up and manage your offers). Consequently, you can't send chatbot messages to customers who browse them. But, you can use your chatbot to redirect the visitors to www.clickfrenzy.com.au.
Thanksgiving 2020 – November 26th
Thanksgiving is all about spending time with your family. Consequently, most shops are closed. Many customers don't like the idea of shopping during that day. You can use it to your advantage! Focus on Thanksgiving wishes to build brand loyalty.
Thanksgiving Messages
Since chatbots don't need to spend time with their close relatives, they are great messengers who can wish happy thanksgiving or communicate to your visitors that your brick-and-mortar stores are closed for the day. Surprisingly, many shoppers will respect that, and it may pay off in the long run.
Here are some Thanksgiving message templates:
Happy Thanksgiving to you and all the people who make you smile. Thank you for being our customer!
May you enjoy a Thanksgiving full of happiness and warmth!
Here's to enjoying the company of good friends and family.
Happy Thanksgiving! May you have a bright, peaceful and fun-filled holiday. Remember to come back for our Black Friday/Cyber Monday Deals!
May your Thanksgiving be cheerful, abundant, and full of gratitude.
Grey Thursday 2020 – November 28th
What is Grey Thursday? It is the day before Black Friday. Some retailers choose to open their stores on the evening of November 28th – the practice which some (mockingly) named "Grey Thursday." However, more and more businesses choose to extend the Black Friday/Cyber Monday (referred to as BFCM) shopping spree marathon and include Thursday as the day which launches their campaign.
Successful Gray Thursday chatbot messages should stress that the customers are taking part in something exclusive. You should be able to convince them that they are "sneaking" into your store before everyone else and, therefore, can get the best cut-price deals.
Grey Thursday Messages
Can't wait till Black Friday? It's OK to take a peek. Check out our Grey Thursday offers.
The early bird catches the worm! Start Black Friday on Thursday and buy selected items at reduced prices while they are still in stock.
The Black Friday shoppers aren't here yet. Steal the best offers from under their noses!
Black Friday 2020 – November 27th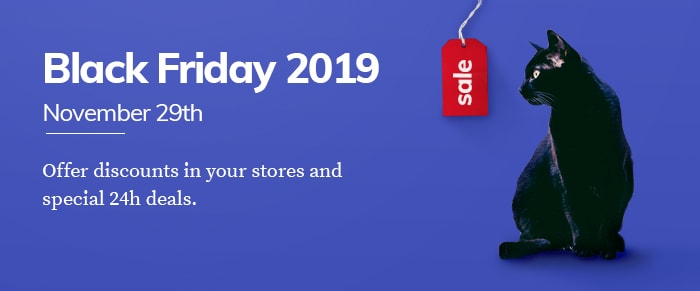 Black Friday marks the start of the holiday shopping season. Some of the products bought on this day will eventually end up under a Christmas tree, wrapped up as gifts. Historically speaking, the Friday following Thanksgiving is a holiday in some states, and usually, it is a non-working day. People massively used this opportunity for Christmas shopping and the tradition turned into Black Friday.
Black Friday Messages
Black Friday is strongly connected with Cyber Monday. You should treat your BFCM campaign as one shopping festival which lasts for several days. If you are an online business owner, you should carefully map out your sales strategy and plan what type of chatbot messages you are going to send to your customers on a day to day basis.
Black Friday is here! Read our shopping tips and sales guide right here: (link address)!
It's Black Friday! Leave your email address here to get hourly updates about our hottest deals and receive exclusive discounts!
Once your chatbot collected your customers' emails, you can use it to send follow-up email messages such as this one:
We have good news! The Black Friday deals are extended until Sunday! Visit our Black Friday Deals 2020 page for details.
Alternatively, you can employ messages that emphasize the contrast between Black Friday (in-store shopping) and Cyber Monday (online shopping):
Are you still digesting that turkey? Why not save yourself the hassle of Black Friday and wait for our Cyber Monday Deals! Shop online from the comfort of your own home.
Small Business Saturday 2020 – November 28th
Small Business Saturday is supposed to be a counterbalance to the BFCM frenzy. It is a shopping holiday that is meant to remind customers that it is important to support local businesses. Instead of huge sales and bombastic marketing campaigns, this day is dedicated to friendliness, great customer service, and quality of products.
Small Business Saturday Messages
You might be tempted to offer discounts or use some aggressive marketing strategies, but it could do more harm than good. You should decide whether you fall into the small/local/friendly/neighborhood business category or the crazy-50%-discounts category. If the former is the case, don't cut your prices – use your chatbot to communicate who are the people behind your brand! It is a good opportunity to mention that you support or take part in local initiatives such as sporting events, local societies, or organizations.
Example chatbot messages you can send on Small Business Saturday:
Hi! Did you know that XYZ is a family business? It's been around in the neighborhood since 19XX.
Today is Small Business Saturday! It is our holiday and we would like to use this opportunity to thank you for choosing our brand!
Cyber Monday 2020 – November 30th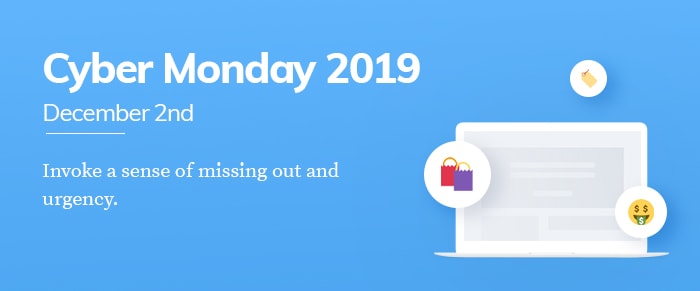 Cyber Monday is the e-commerce sibling of Black Friday. While Black Friday originated as a regular retail store event, the first Cyber Monday deals were intended for online shoppers.
Tip: Would you like to create your first email marketing campaign but you don't know how? You can try a free lead generation, customer service, and business messaging platform right now. Meet the small business owners' favorite all-in-one live chat and marketing automation tool. Create your free Tidio account now and get access to 20+ beautiful email templates and chatbots.
Online stores are not closed for weekends, so why wait till Monday? Why is it Cyber Monday and not a Cyber Saturday? When Cyber Monday became a thing, most internet users still browsed the web mainly at work. When they returned to their offices after the Thanksgiving break, people who missed (or boycotted) Black Friday ordered their Christmas presents online.
Happy Cyber Monday Messages
Good Cyber Monday chatbot messages should inform about your Cyber Monday deals and encourage your customers to spend more money than usual. It is a once a year opportunity not to be missed! You should try to invoke a sense of missing out and urgency. After all, the sales are about to end.
Cyber Monday message examples:
Don't miss out on our Cyber Monday Deals!
Are you looking for Cyber Monday bargains? You are in the right place!
Happy Cyber Monday! We wish you get all that you dream of at the best prices.
This year Cyber Monday is canceled… We are doing Cyber Week instead! Leave your email address and we'll keep you informed about our best deals and ridiculous discounts every day of the week.
Giving Tuesday 2020 – December 1st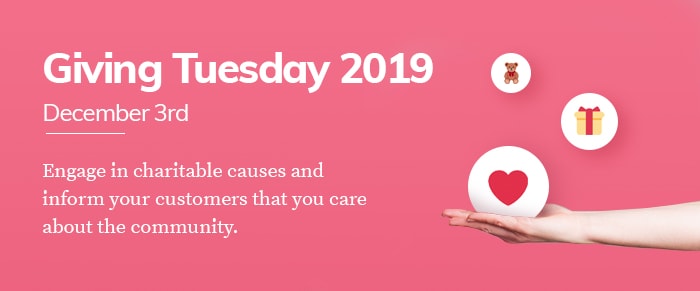 Just like Small Business Saturday, Giving Tuesday is an alternative and reaction to over-commercialization of the holiday shopping season. As the name suggests, it is a day that focuses on giving instead of buying. The public attention shifts towards fundraising events, charities, and local initiatives.
Giving Tuesday Messages
Giving Tuesday is a great opportunity to engage in charitable causes by using your social media and online presence. You can use a chatbot on your website to inform your visitors about your participation in Giving Tuesday – it's a great way to promote your e-commerce business and give back to the community.
Giving Tuesday Message Templates
This #GivingTuesday we're raising money to benefit Brens Owl Sanctuary 🦉🦉🦉! 10% of all your spending today will be donated to help owls ❤️ 🦉. Leave your email address and by the end of the day, we'll let you know about the total donation. Thank you!
You can make a difference! Only today, you can buy any item at a 10% discount and donate it to one of the selected organizations 🎁. No shipping cost involved!
We can TALK about making a difference or we can MAKE a difference. Today is a great day live by the rule "all action, no talk". Every time you or your friends buy one of the items from our stock marked as #GivingTuesday we will donate $25 to Olkwood Animal Shelter 🐶 ❤️ 🐱
Green Monday 2020 – December 14th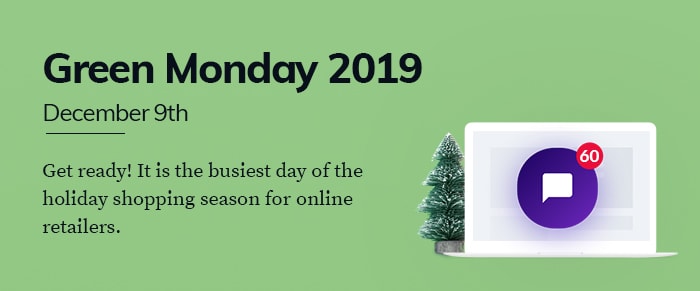 The name Green Monday was coined by eBay and it has been used for more than a decade. It is one of the most profitable (and the busiest) days of the holiday shopping season for online retailers. It was named "green" because of all that extra dollar bills people spent.
Although Green Monday comes relatively early in 2020, customers perceive it as the perfect middle ground between those who want to take care of presents quickly (and have peace of mind) and those who delay their hunt for gifts but still don't want to be the last in line. Online shoppers sometimes have to wait up to 2 weeks for their gifts to arrive, so Green Monday is the final call if they wanted to be on the safe side.
Green Monday Messages
It is the most lucrative day of the holiday season and it is OK to admit it. You can write about money, cash, amazing discounts, and price cuts.
Here are some sample Green Monday chatbot messages:
Check our Green Monday Flash Sale! Up to 40% Off 🤑
Today is Green Monday 💚💚💚! 25% OFF on all online orders!
You have a green light to go on a shopping spree 🚦! Green Monday is here!
It is the last chance to save up to 75% 💰! Green Monday Deals end TONIGHT. Click here!
Additionally, you can create a Black Friday/Cyber Monday/Green Monday marketing combo and activate your potential buyers. Consider using a chatbot that gives discount vouchers for returning customers! You can easily set up a chatbot powered by Tidio that recognizes people who revisit your online store/left contact details/made a purchase.
Here is a sample Green Monday message it can send:
Hi (name), welcome back! Thanks for choosing one of our Cyber Monday deals. Do you need any additional Christmas presents for your family and loved ones 🎁? As our regular customer, you are entitled to a Green Monday di$count code!
Get Returning Visitor Chatbot For Free
Free Shipping Day 2020 – December 14th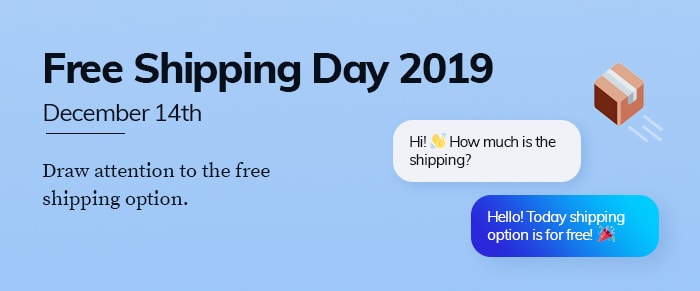 Free Shipping Day is for last-minute buyers who would still like to buy their Christmas presents online. Retailers who decide to incorporate Free Shipping Day into their holiday marketing campaign should check if the shipping services they use can deliver gifts in time.
Sometimes high shipping costs prevent buyers from completing their purchase. They are one of the main reasons for shopping cart abandonment! During Free Shipping Day customers are far more likely to close a deal without any problems!
Free Shipping Day Messages
Chatbot messages sent to visitors during this day should, unsurprisingly, draw attention to the free shipping option. It is also the last moment to buy Christmas gifts online without worrying about the possible delivery delay.
Here are some of Free Shipping Day messages that your chatbot can use:
It's the final call! Order your Xmas gifts today and get FREE shipping.
Free Shipping Day is here! FREE delivery today only.
Make haste! Free Shipping Deals end at MIDNIGHT.
Super Saturday 2020 – December 19th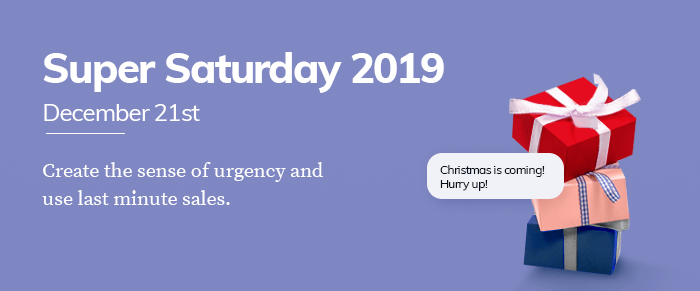 Super Saturday, also known as Panic Saturday, is the last Saturday before Christmas. Traditionally, it was the last opportunity to buy Christmas presents for those who tend to procrastinate or postpone holiday shopping until the very last moment. It used to be much more relevant to in-store buyers and brick-and-mortar shops, but because of modern fast shipping services and premium courier deliveries, Super Saturday has also become a part of the e-commerce calendar.
Super Saturday Messages
Panic Saturday is now a little bit less panicky than in the past. However, the sense of urgency is something you should work with when composing your chatbot messages.
Here are some examples:
Need some last-minute Christmas gifts? Don't worry! We have you covered! Here are some of our Christmas bundles with free super-fast delivery included!
Don't panic! You can still do your Christmas shopping with 48h guaranteed delivery 🚚💨
It's Super Saturday! Be a shopping superhero and save Christmas! We can help you!
Christmas Messages
In general, the online activity drops during Christmas Eve, Christmas Day, and Boxing Day. People don't shop online during those days. However, you should remember that the holiday shopping season begins right after Halloween. Some major retailers start their Christmas sales in October.
You should be able to sense the right moment – which is appropriate to your particular industry, type of merchandise, and brand identity – for using Christmas-themed elements in your marketing campaigns. Don't force it! A Christmassy photo of you wearing a Santa hat may look fun on your Facebook but quite corny in your professional email signature.
You have many other opportunities to choose from – just review our calendar and plan your holiday shopping season marketing strategy accordingly.
Sample Christmas messages:
Christmas is here again! Find the best gift ideas for those you love!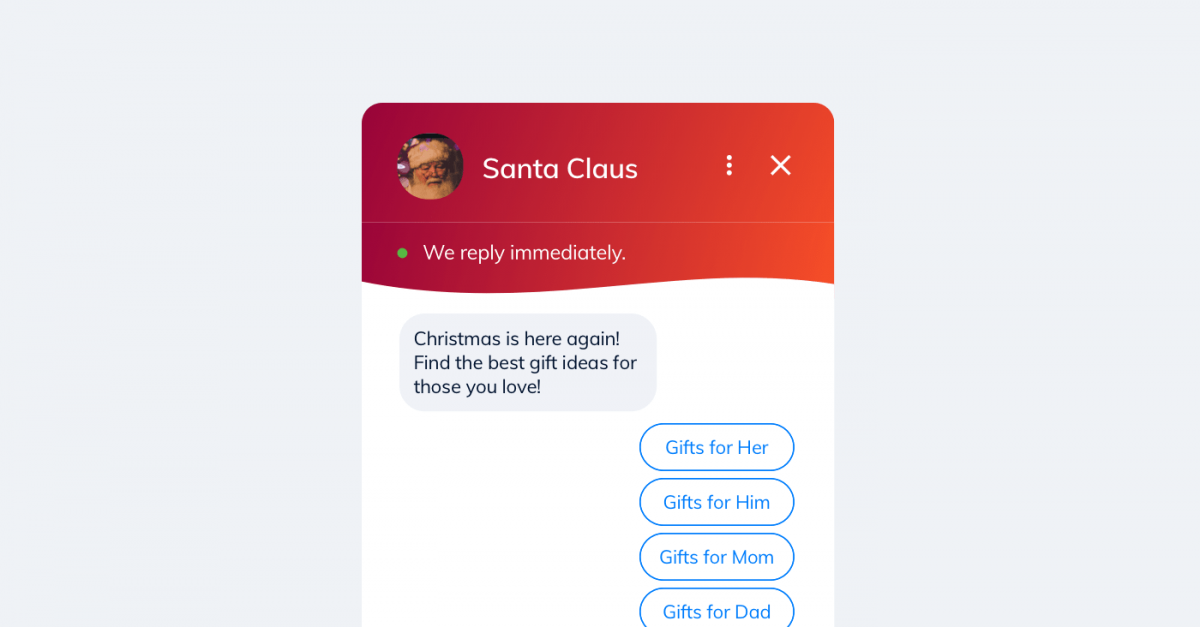 Quick response options: [Gifts for Her] [Gifts for Him] [Gifts for Kids ] [Gifts for Teens] [Gifts for Dad] [Gifts for Mom] [Gifts for Grandpa] [Gifts for Grandma] [Gifts for Pets]
Best wishes for the holiday season! Fill it with joy and amazing shopping moments!
At this special time of year, our thoughts turn gratefully to our customers. Thank you for your support. Happy holidays.
Ho! Ho! Ho! 🎅 Santa is back and his bag is full of gifts! Save up to 40% on our Christmas Sale.
Oh no! Not another ugly Christmas sweater! Here are some Christmas gift ideas – this year buy presents that everyone loves 🎄
Christmas Emojis
You can use the following emojis to liven up your Christmas messages:
| | |
| --- | --- |
| Emoji Name | Emoticon Preview |
| Santa Claus emoji | 🎅 |
| Mrs. Claus emoji | 🤶 |
| Cookie emoji | 🍪 |
| Milk emoji | 🥛 |
| Snowflake emoji | ❄ |
| Snowman emoji | ⛄ |
| Christmas tree emoji | 🎄 |
| Gift emoji | 🎁 |
| Socks emoji | 🧦 |
| Christmas star emoji | 🌟 |
| Reindeer emoji | 🦌 |
Holiday Shopping Season Summary
If you are professionally engaged in e-commerce, marketing, and advertising, you should know that the period between Halloween and New Year can be the most important part of the year. Some online businesses generate more than half of their total annual revenue between Thanksgiving and Christmas. Business owners have already started counting down the days before Santa comes to town and they get prepared to count the money they'll get – from their customers, of course!
To make the most of this year's holiday shopping season, you should consider using chatbot messages that will generate leads and increase your sales during the important days of the e-commerce calendar.
Try Chatbots For Free