Chat, AI, and more. Everything you need for customer service
Solve up to 70% of customer problems with Lyro AI. Boost your sales with dedicated ecommerce features.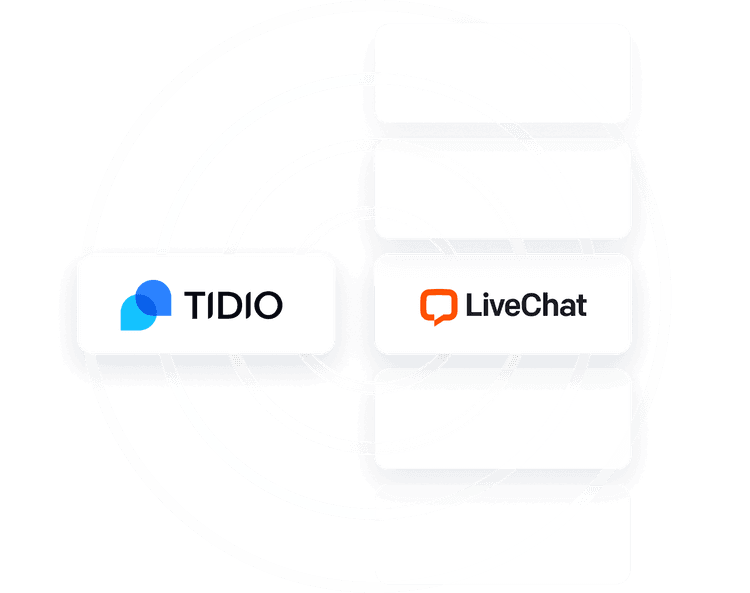 Why you should choose Tidio instead of LiveChat
AI
Maximize your support capacity with Lyro AI
Lyro handles up to 70% of common customer questions, freeing up your real agents to solve complex requests.   Lyro is easy to implement and doesn't require training. The AI talks to multiple customers at once and answers questions in less than 15 seconds.
See how much you can save with Lyro
Advanced Shopify integration
Enjoy a deep Shopify integration
Improve your team's efficiency with a seamless Shopify integration.   Shopify and Shopify Plus users can take advantage of Tidio's advanced features, such as live shopping cart preview, customer order history, and chatbots for self-service.
Fair pricing
Grow your business, not your bills
We developed Tidio with small and medium-sized businesses in mind.   That's why you can start with a free-forever plan and upgrade to one of our paid solutions as you grow.   Combine the plans and add-ons to tailor our platform to your needs. And if you need a custom solution, we have your back with Tidio+
Email marketing automation
Boost brand loyalty with email marketing
It's difficult to gain loyal customers when you're only responding to their messages.   Proactively engage your customers with email marketing. Tidio's built-in email marketing automation tool enables you to reach up to 40,000 subscribers per month with no daily sending limits.
Sales chatbots
Boost conversions with dedicated chatbots
Increase your conversions with 35+ plug-and-play chatbot templates designed to recommend products, offer discounts, and lower cart abandonment.   Chatbots notify your agents when customers close the chat window, are prepared to leave the website, or want to talk with a human agent, so they can respond accordingly.
Don't take our word for it, check how Tidio helps users grow their business
Get more leads
GET THIS PROGRAM - it has already boosted my sales leads by 34% in a matter of hours. Don't waste your time, searching - Tidio does it all. I am very pleased how they helped get me started too.
Review on G2
Increase conversion rate
My conversion rate went from 1.4 to 4.8! This is amazing and makes me a lot of money automatically!
Review on Shopify
Generate more sales
Tidio helped me make over 60k in sales in just a few months. Customer retention rate is a lot higher and a benefit is the sales!
Review on G2
Increase satisfaction rate
Since having Tidio integrated into our website we have seen sales nearly double and positive reviews triple.
Review on G2
Compare Tidio with Live Chat, feature by feature
Why use a plain helpdesk when you can have a robust customer experience suite instead?
Email marketing automation
Powerful Shopify integration
Solve more customer problems with unlimited tickets and AI
Improve your response times and boost your sales with Tidio