Discover more than a live chat. Explore excellence with Tidio
Get Tidio up and running in minutes. Build trust with your customers across all communication channels. Sell more than ever, and boost revenue in no time.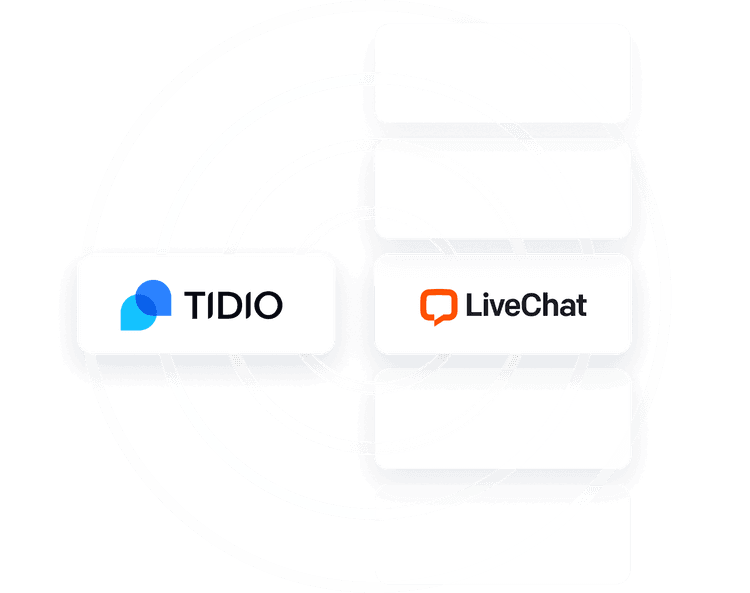 Sales Chatbots
Engage customers with chatbots made to sell
Choose out of 35+ pre-designed chatbots that we created with the best ecommerce sales tactics in mind. Or, build your own chatbots with our drag-and-drop builder.   Recommend products, send discounts, and answer questions about current offer 24/7. Convince your visitors to make a purchase and see your sales skyrocket on the spot.
AI response bots
Automate work with self-learning AI Bots
Tired of answering repetitive questions? Our self-learning AI Response Bots can handle up to 47% of customer queries without creating a single ticket!   AI Response Bots use machine learning to analyze customers' questions, categorize them, and then pick the best response. So, your team can focus on other issues.
Customer experience suite
Manage your entire business in one place
Stop switching between multiple platforms and wasting time. Tidio has all your favorite features and tools in one place. Live chat, chatbots, integrations, multichannel, team departments, ticketing system - it's all here   Respond to messages, manage store orders, assign team duties, and do much more with a single customer experience solution. Tidio is powerful, yet simple, just like you need it.
Free & Paid plans
Get all you need in one plan, and at a fair price
Pricing should be transparent and adjust to your needs, right? That's why at Tidio, things are simple.   You can start with a free plan with all the essential features. Then, when you're ready to grow, our paid plans will give you access to all features at once, so you won't need to make hard choices. All at a much lower price than LiveChat.
Estimate your online store performance with Tidio sales chatbots
Fill the form
to see extra monthly revenue brought by Tidio chatbots
Current performance:
No. of orders per month:
NaN
Monthly revenue [USD]:
undefined
Expected results with Tidio chatbots:
Conversion rate:
NaN% - NaN%
No. of orders per month:
NaN - NaN
Monthly revenue [USD]:
NaN - NaN
Don't take our word for it, check how Tidio helps users grow their business
Get more leads
GET THIS PROGRAM - it has already boosted my sales leads by 34% in a matter of hours. Don't waste your time, searching - Tidio does it all. I am very pleased how they helped get me started too.
Review on G2
Increase conversion rate
My conversion rate went from 1.4 to 4.8! This is amazing and makes me a lot of money automatically!
Review on Shopify
Generate more sales
Tidio helped me make over 60k in sales in just a few months. Customer retention rate is a lot higher and a benefit is the sales!
Review on G2
Increase satisfaction rate
Since having Tidio integrated into our website we have seen sales nearly double and positive reviews triple.
Review on G2
Why Tidio stands out?
Already bought a LiveChat subscription but want to go with Tidio instead? We've got you covered, literally. We will match your existing subscription, and you will pay nothing until your LiveChat plan ends.
Let's talk
Compare Tidio with LiveChat
Get a complete customer experience suite, not just a plain help desk.
Customer support chatbots
Cost per agent (USD billed monthly)*
Estimate your online business performance with Tidio's sales chatbots
Build excellent customer relationships with Tidio