Chatbots
How to Create a Chatbot for a Website?
Learn how to create chatbots that engage your potential customers, collect email addresses, and boost your sales.
Do you remember that time when Facebook AI chatbots created their own language?
Some people found the incident quite disturbing. When it comes to this sort of technology people tend to panic. They just can't help it!
One can almost hear a newspaper boy screaming:
Extra! Extra! Read all about it! Chatbots create own language! The end is near! Full story!
Don't panic! Chatbots are fun and you are the one in control. Furthermore, to create a chatbot you don't have to be a computer genius (or a mad scientist). You can choose one of 18+ chatbot templates/bot triggers and customize it to create your own chatbot.
There are many cliches and stereotypes surrounding chatbots, intelligent machines, and robots. We've all probably watched Terminator, RoboCop, and Matrix once too often.
Our imagination has been shaped by science-fiction movies. That's why building a chatbot (or a robot) sounds a little bit like making a Frankenstein monster.
Should we be afraid of them? Check out this little guy:
Choose one of the answers
As you can see, chatbots are rather friendly. What's more, their conversation flows don't have to be very complicated.
It may come as a surprise, but simple rule-based chatbots are much more effective when it comes to engaging visitors on your website.
How to create a chatbot like the one above? Read on to find out or sign in to use our chatbot builder or get straight to business.
Why Create Your Own Chatbot
There are many reasons why custom-built chatbots can be worth your while.
First of all, creating your own chatbot is a great experience.
It will force you to answer some fundamental questions about your business, your customers, and the goals you want to accomplish. Designing chatbot conversation flows gives you a fresh perspective on some of the most critical issues related to customer relationship management.
Secondly, by customizing your chatbot conversations you connect with your customers on a completely different (and better) level.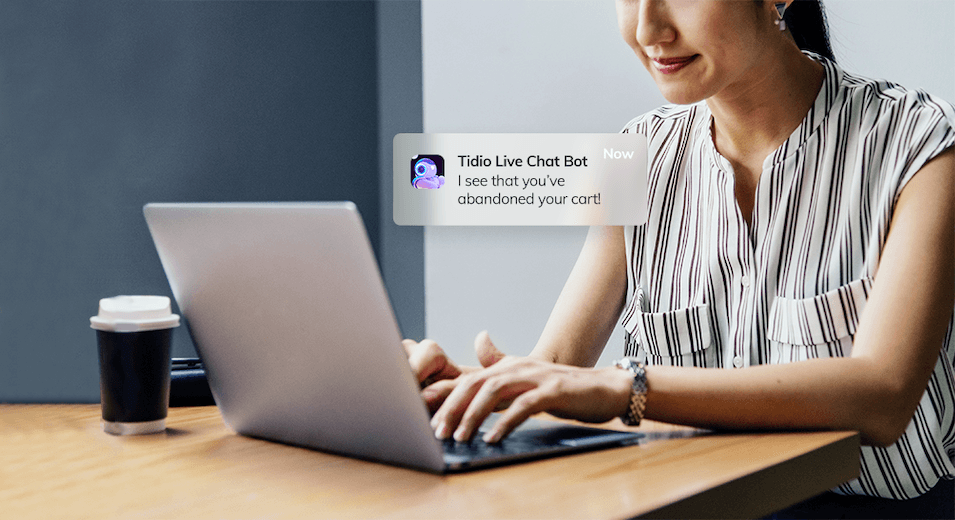 You can create a chatbot and inject some true personality into the way you communicate with your potential clients.
Last but not least, being able to quickly customize your chatbots and chatbot dialog flows can give you an advantage over other businesses.
By modifying conversations manually and analyzing how well they perform you can do some experiments. When you are the one in control you can quickly see what conversation flows and chatbot messages work best for you.
A: Hello. How can I be of service?
B: Hi! You look wonderful today. Want to build a chatbot like me?
For example, do you know which of these two chatbot welcome messages gets more clicks?
You can check it for yourself. It takes only several minutes to create a free chatbot that welcomes your visitors and collects their emails.
Do I Need to Code to Create a Chatbot?
To create a chatbot you don't need to know any programming language. You can build a fully-functional chatbot for your website by using one of the popular chatbot building platforms. Today, anyone can create a chatbot online, for free, and without any coding skills.
People frequently ask – "I want to create a chatbot. What technology should I use?".
Well, there could be only one answer – "It depends". Do you want to make a Facebook chatbot that will have conversations through Facebook Messenger? Or do you want to use NLP and AI?
When you want to build a Natural Language Processing chatbot to win the Loebner Prize you probably need some Python, machine learning experience, and a lot of determination. These are the chatbots you do need to code.
However, if your goal is to create a simple eCommerce chatbot for your online store, you can do it yourself in minutes. No coding skills required!



Even actions that may seem complex and technically difficult can be performed with a single action. For instance, you can easily create a chatbot that collects emails from your customers by adding one drag-and-drop icon within its chat flow.
Create a Chatbot in Minutes
How long does it take to build a chatbot? We have some good news – you can create your own chatbot right here, right now. It will take no longer than 15 minutes to set up your first custom-made chatbot on your website. Even less if you use WordPress or Shopify!
Choose one of the answers
There is nothing to be afraid of. To create a chatbot similar to the one above and make it appear on your website you need to install Tidio widget, create an account, and open the chatbot builder in the Chatbots panel.
Did you know?

You can either build your own bot with a drag-an-drop chatbot builder or employ one of the 16+ chatbot templates. Download our free ebook to see how 22 different chatbot automations can help you increase user engagement by 100%.

Get free ebook now
How to Create a Chatbot Dialog Flow
Although you don't need to code to build chatbots, you do need to plan the flow of your chatbot conversations.
It is very intuitive. All you need to do is connect messages and quick reply nodes into a logical flow. Let's take a look at one of our chatbots.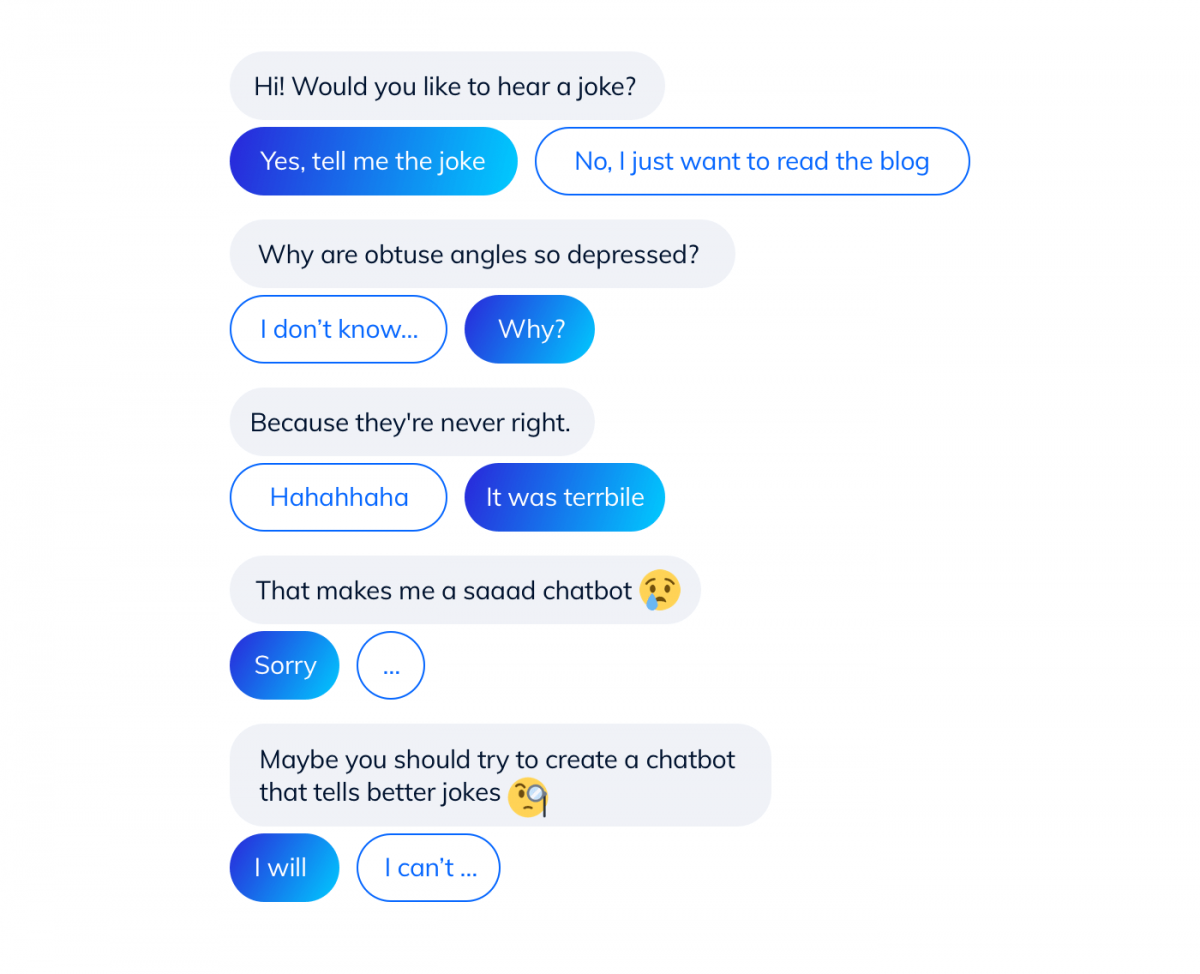 Now, you can take a peek at the conversation flow used in this example. Let's look under the hood and discover how to create a chatbot like the one above.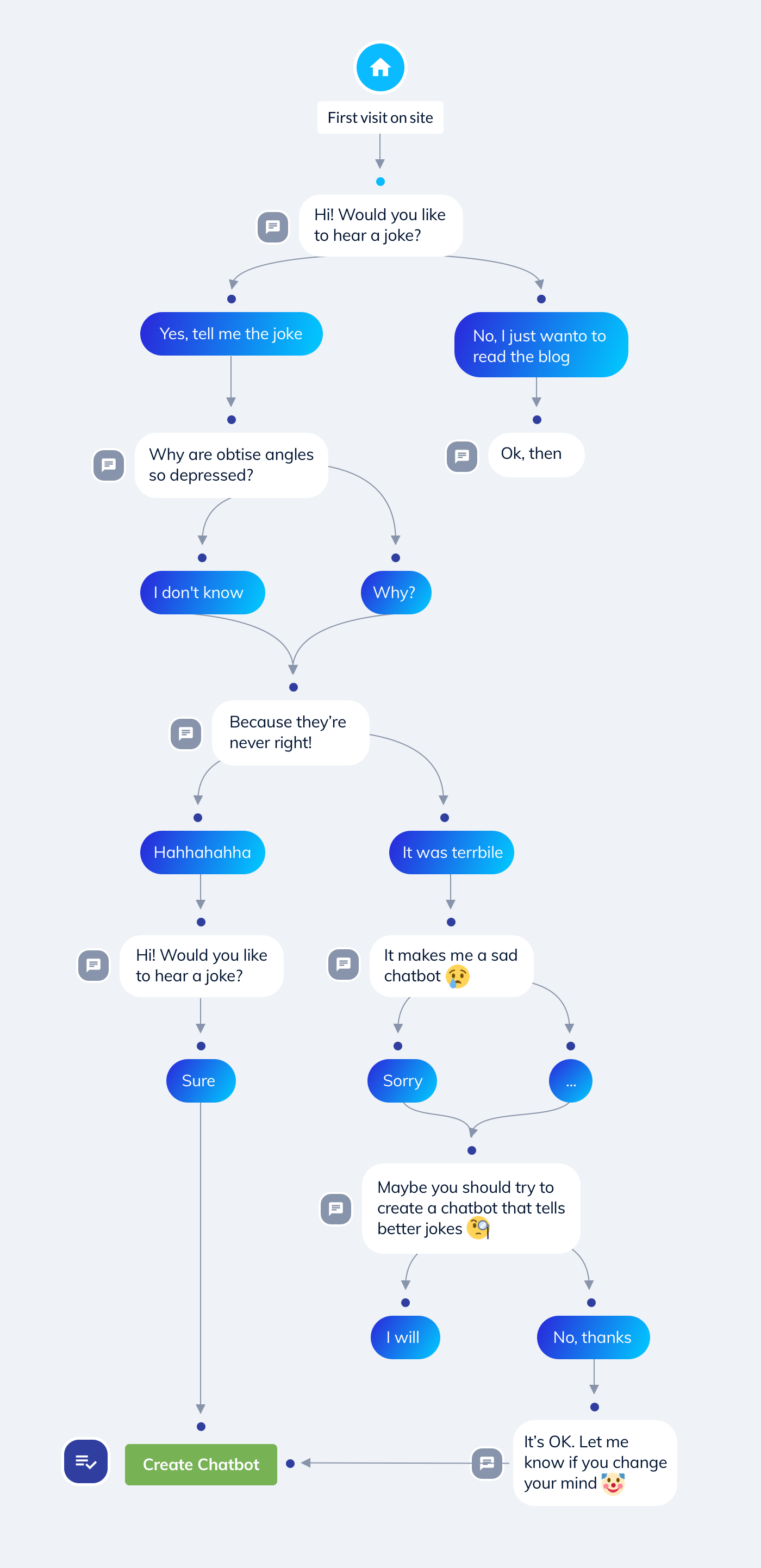 The purpose of this chatbot is to grab the attention of visitors and engage them in a conversation before sending the sales pitch.
A joke seems innocent. When your website visitors allow the chatbot to tell a joke, it's a low-commitment action on their side. However, during the course of the conversation, the chatbot leads them towards accomplishing a specific goal.
As you can see, to create an effective chatbot you don't need to write long messages and plan complicated conversation routes.
Simple solutions work best. You can create even the most advanced projects with automatic messages, quick replies, and decision cards.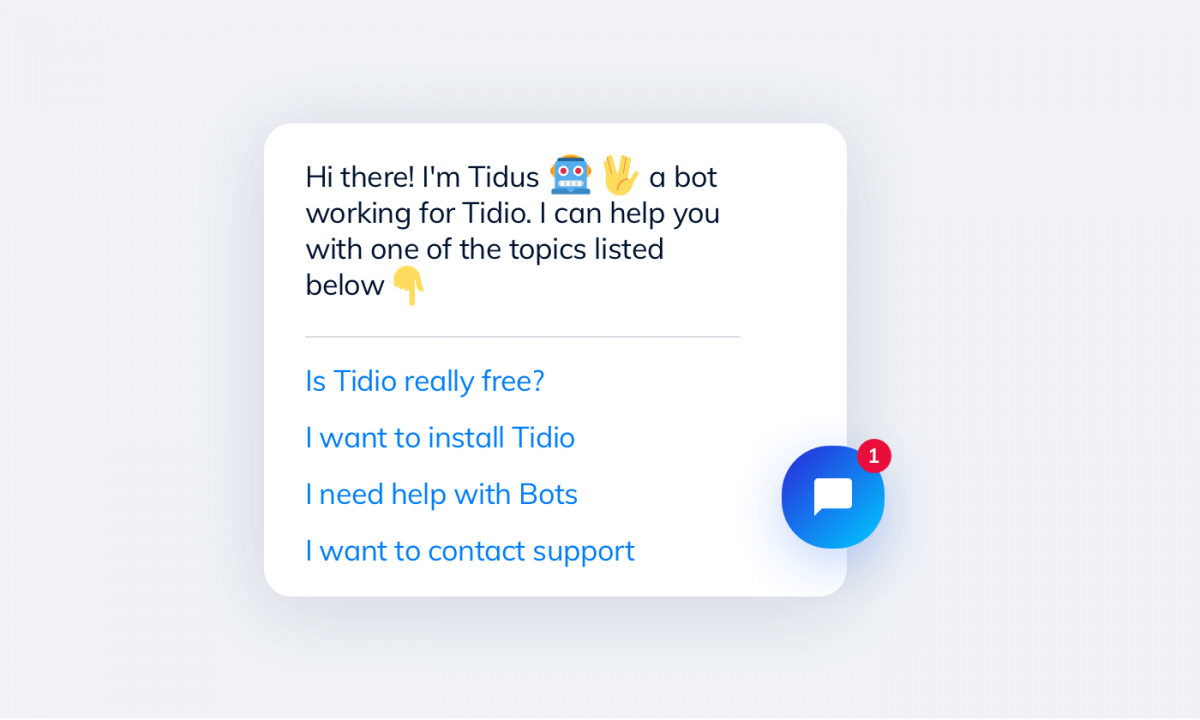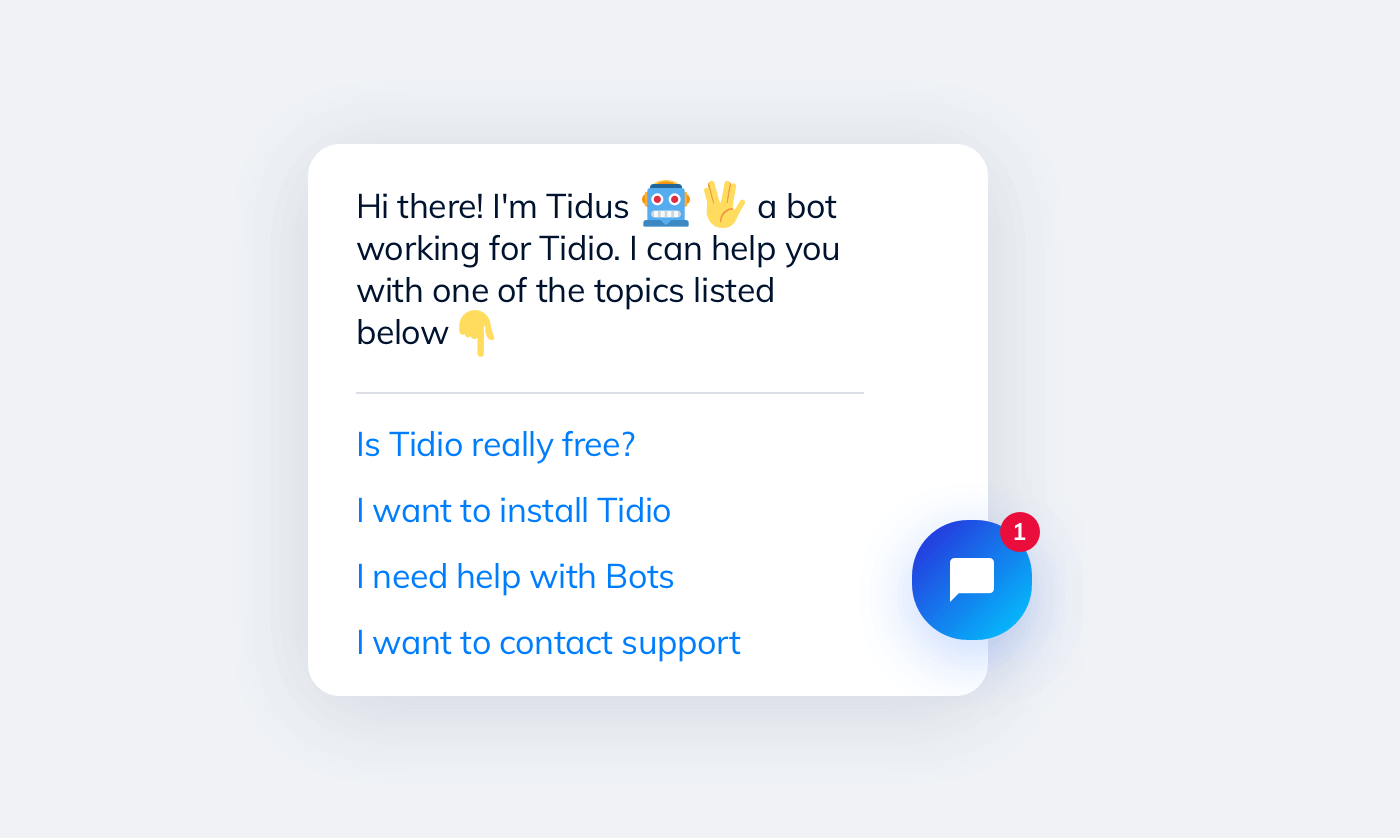 What's important is the content of your messages. Sometimes the way you phrase a certain question or greeting can have a huge impact on the users and visitors of your website. Trying out different messages is one of the most important parts of building chatbots.
If you don't know how to start you can create some awesome conversation bots just by modifying ready-made templates.
You can choose any of the chatbot templates provided by default in the chatbots panel and replace the content of their messages.
Check Chatbot Templates
Make a Chatbot Now
Have you heard this one?
Click the button
The best way to master creating chatbots is to get your hands dirty and start building them. If you want to learn how to create a chatbot, you must practice.
Check these articles to search for guidance and inspiration:
Tidio is a chatbot platform that helps small and medium business owners with automating their marketing and customer service. Our app has more than 140 000 active users.
You can try it out for free to communicate with your customers through a live chat widget, chatbots, and emails.
Try Chatbots For Free