Looking for a chatbot builder that's easy to use and will help you automate customer service right away?
We've got your back.
We tested various bot builders, read their reviews, and ratings to save you the hassle.
Look at our cherry-picked selection of the best bot creators available on the market.
In this article:
See how our visual chatbot builder works
With Tidio, making chatbots is as intuitive as playing with building bricks. Try it for free.
Make a Chatbot Now
If chatbot builders are not exactly what you were looking for, check out these articles instead:
What is a chatbot builder?
First things first—
Let's quickly define what we'll be reviewing here.
A chatbot builder is a piece of software that allows you to create your chatbots without any coding skills. This is a platform that helps brands to automate their communication with clients by setting up pre-determined scenarios. It allows businesses to welcome their website visitors, collect leads, and provide support. Whatever it is that your company needs.
Since 2018, the use of chatbots has increased by 67%. More customers use them, which pushes more companies to provide bots as one of their customer service and sales solutions. And no wonder, since chatbots are effective in resolving about 87% of basic customer inquiries.
Here are the top ten chatbot building tools that made our list:
By the way—
The first five bot builders are free tools, the rest only have paid plans but offer free trial periods.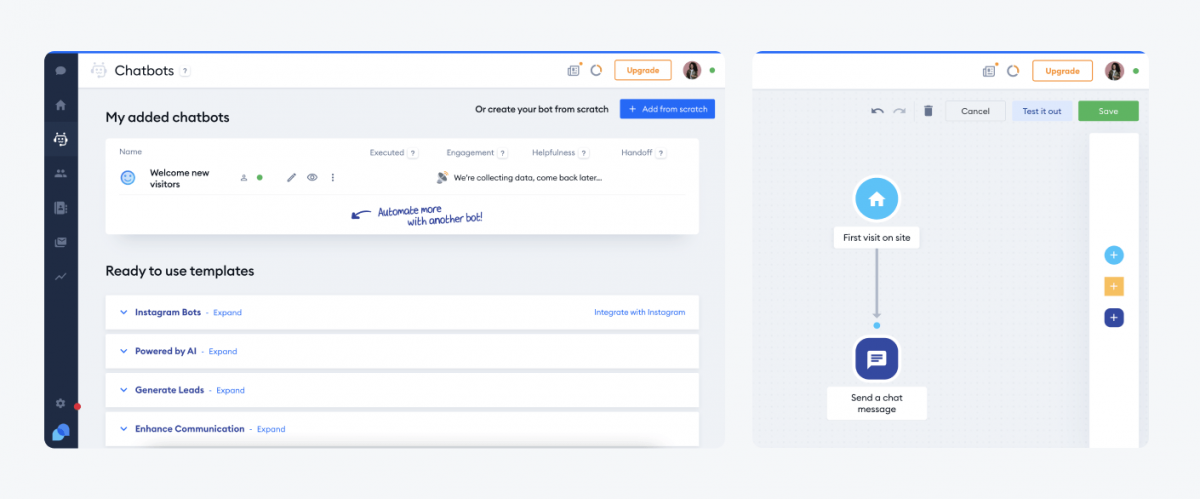 Score: 4.8/5 stars (368 reviews)
Tidio is arguably the best chatbot builder for small and medium-sized businesses that need a live chat with integrated chatbots.
And yes, it's us. But no, we're not going to use this space to brag about how amazing we are. Let the reviews speak for themselves.
What can you expect?
Here's a rundown of key features:
Visual chatbot builder with a drag-and-drop editor
Easy to set up and use
Fast and helpful customer service
Chatbot performance analytics
16 different triggers
37 ready-to-use templates for a variety of purposes (Instagram bots, boost sales, etc.)
Integrations with other platforms available (Shopify, WhatsApp, Instagram, etc.)
NLP Tidio chatbots that can process natural languages
Free version available
Unlimited chatbots: $39
If you're asking yourself, "How do I make a chatbot for free?" our article on creating a chatbot will guide you by hand.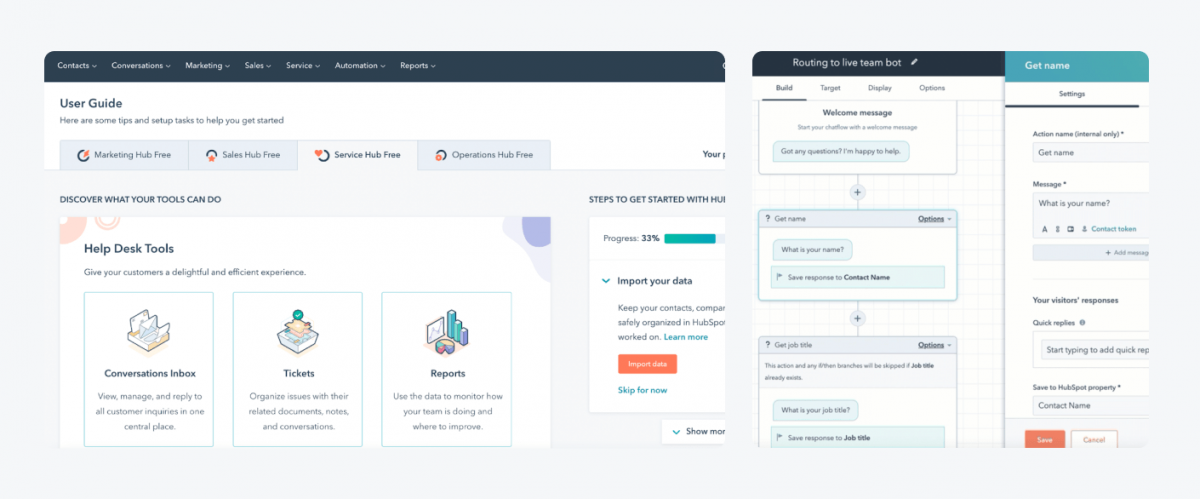 Score: 4.4/5 (679 reviews)
This bot creator software is suitable for small to medium-size businesses who are looking to improve lead generation and help their marketing team.
HubSpot chatbot builder software is part of the HubSpot free CRM service. You can set your chatbot to send an automated welcome message, answer repetitive questions, and book appointments. You can also set your team's availability to answer inquiries, so clients know when you can chat or you're away.
| Pros | Cons |
| --- | --- |
| Seamless integration with other HubSpot services/products | No onboarding materials (you need to use FAQs, customer support, and forums to better understand the platform) |
| Calendar booking available | Difficult to use at first |
| One inbox for all customer communication | Tagging system missing |
Free version available
Service Hub Starter $45/mo
Service Hub Professional $360/mo
Service Hub Enterprise $1,200/mo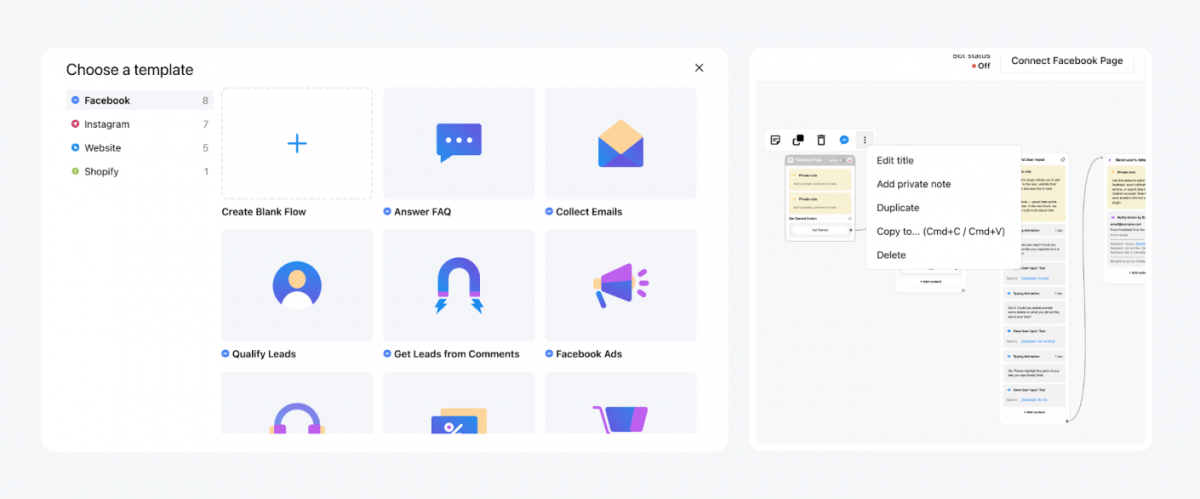 Score: 4.6/5 (30 reviews)
Chatfuel is a great bot maker software for freelancers, startups, and businesses that focus on interactions with clients through their social media.
It is a Messenger chatbot builder (works only with Facebook and Instagram) that gives companies a central platform for adding some editing tools and other integrations. You can use the NLP (Natural Language Processing) for a better customer experience for your international customers. You can also choose from a variety of templates to best fit your needs when creating a conversational flow.
| Pros | Cons |
| --- | --- |
| Many chatbot templates to choose from | Limited customization |
| Reporting and analytics available | Only available for Facebook and Instagram |
| User-friendly | No complex bots available |
Free version available
Pro $15/mo
Premium and Agency: speak to the sales representative
Learn more about Facebook chatbots, how they work, and how they can help your business.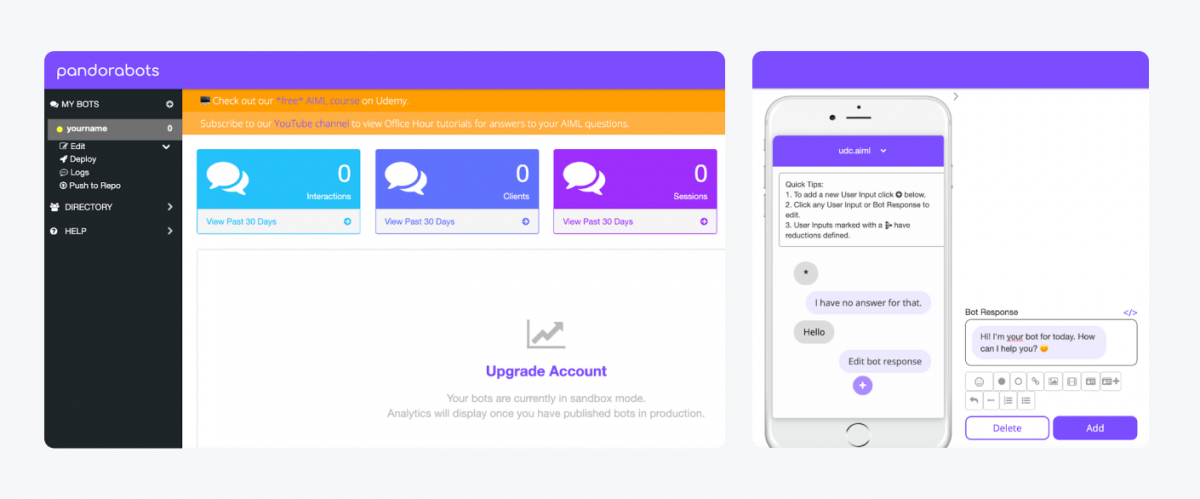 Score: 5/5 (1 review)
Pandorabots is a good solution for small businesses. But you need to have some spare time to learn its functionalities to the fullest.
It is an open-source platform that uses artificial intelligence as a service to build and deploy chatbots. Its framework is based on the AIML (Artificial Intelligence Markup Language) scripting language, and you can use it to create conversational bots that chat with your clients. But it doesn't include machine learning tools that can be useful for sales and marketing automation.
Pandorabots is a chatbot maker that can be deployed on multiple channels, such as WhatsApp, Slack, Viber, etc. This is useful for companies with an omnichannel presence.
| Pros | Cons |
| --- | --- |
| Pre-build dialogues available | The external database needed to store user information |
| Cloud-based platform | Difficult to use |
| Customizable content | Not possible to pass the conversation to the agent |
Free version available
Developer $19/mo
Pro $199/mo
Enterprise: contact sales representative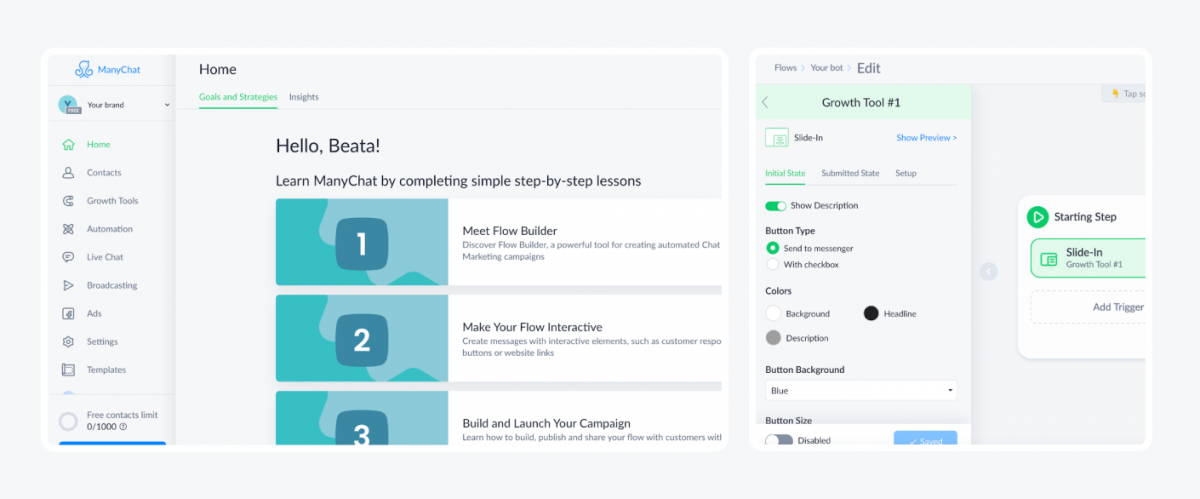 Score: 4.6/5 stars (119 reviews)
This bot-building software works best for companies that are primarily based on Facebook, Instagram, and WhatsApp.
You can use this chatbot maker to connect and chat with your clients through Instagram and WhatsApp. It also provides email and SMS integration for your convenience.
ManyChat is a Facebook chatbot builder that offers great educational content for fast onboarding. It also has a structured and flexible interface to create your chatbot with a drag-and-drop editor. On top of that, you can fully customize the content of what your bot is telling your customers.
| Pros | Cons |
| --- | --- |
| Highly customizable | Facebook-based |
| User-friendly | Only basic analytics provided |
| Many integrations, such as Zapier, Shopify, Google Sheets | Some reviewers had issues with the customer support |
Free version available
Pro $15
Let's move on to chatbot builders that don't offer a free version of their product for startups and small businesses. But, all the ones we're going to list have a free trial so you don't have to use your credit card until you're sure you're making the right choice.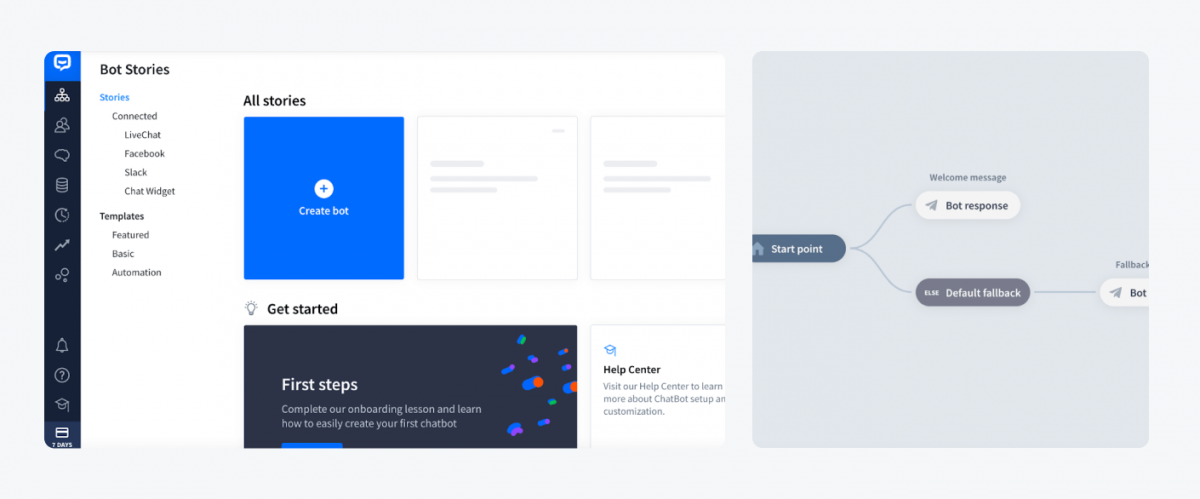 Score: 4.6/5 (15 reviews)
ChatBot is a great option for medium to large businesses that need a smooth way to communicate with their audience.
This chatbot builder lets you use templates to start off your journey with the bots. You can also build a bot from scratch by choosing the different actions you want it to perform. This is an all-in-one platform to make chatbots, implement them, and track their performance.
Chatbot is one of the chatbot companies that provides a quick learning course right at the start. You can drag and drop elements into the correct places and automate key tasks for your company, such as greeting customers and collecting their information.
| Pros | Cons |
| --- | --- |
| Different channels (website, Messenger, Slack) | No machine learning technology implemented |
| AI available | Not possible to manage from a mobile app |
| Analytics available | Not multilingual (chatbots only communicate and recognize one language) |
Free 14-days trial available
Starter $42/mo
Team $126/mo
Business $424/mo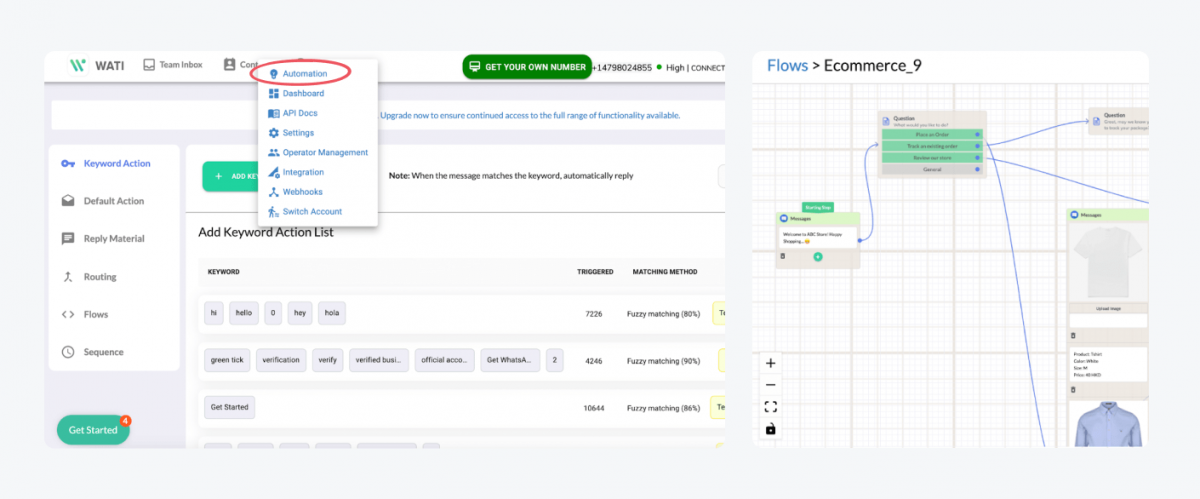 Score: 4.6/5 (71 reviews)
This bot-building software is best for B2C businesses that serve their customers, send notifications, and chat over WhatsApp.
There are a variety of chatbot templates to choose from in this WhatsApp chatbot builder. You can also create a bot from the ground up, but it's not possible on the free trial. You can customize the text for your chatbot, but colors and design will stay the same.
| Pros | Cons |
| --- | --- |
| Webhook and Google Sheet Integration | Not possible to duplicate features (each flow starts from scratch) |
| Official integration with WhatsApp (other integrations: Zapier, Shopify) | Builder feature needs improvement to become more intuitive |
| Training videos on YouTube available | No integration with social media |
Free trial available
Standard $49/mo
Professional $98/mo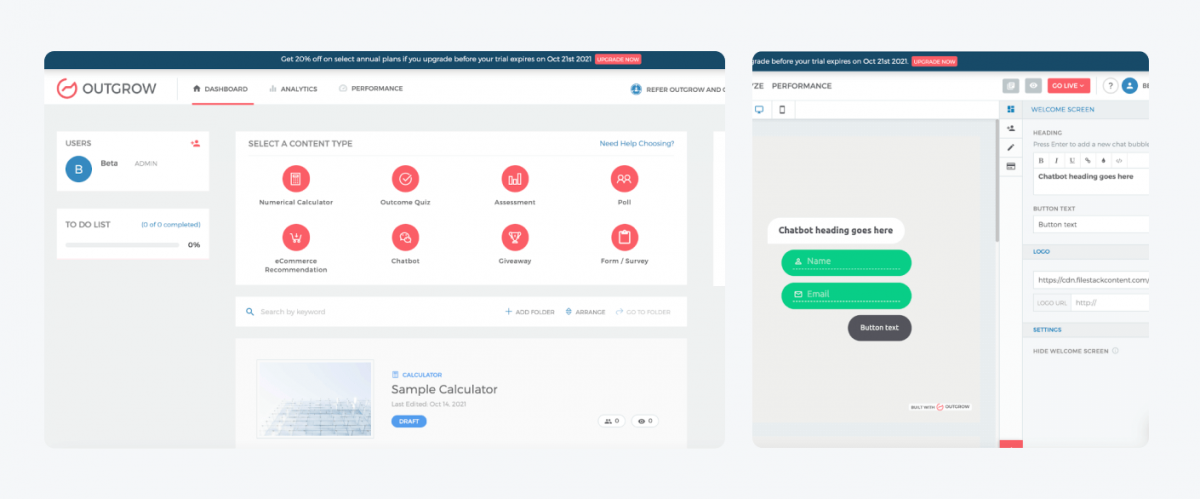 Score: 4.8/5 (247 reviews)
Outgrow is a great bot builder for those who want to ask their audience questions and get to know them. But if you're looking for a customer support chatbot, this might not be the best option for you.
This is one of the chatbot makers that provide a great onboarding experience. You get two simple questions at the beginning and then a video on each step of building your chatbot.
Outgrow has more than chatbots if you want to build quizzes, assessments, or surveys. There are templates for each purpose for easier implementation. You can tweak the templates to fit your brand voice and add as many pages as you wish. It is also fully responsive for mobile, desktop, and tablet devices.
| Pros | Cons |
| --- | --- |
| Video instructions for each stage of building a chatbot | Speed of loading needs improvement |
| Variety of integrations such as Salesforce, Mailchimp, Slack | No customer support bots |
| Customization available with text, videos, and photos | Most features at an additional cost |
Free 7-day trial available
Freelancer Limited $22/mo
Freelancer $45/mo
Essentials $95/mo
Business $600/mo
Score: 4.7/5 (120 reviews)
This chatbot builder is best for large businesses that want to automate the conversations on their website without the representative's involvement.
TARS helps the marketing team's workflow and improves conversion funnels. You can automate the process of greeting prospects and generating leads. You can also integrate this chatbot maker into your landing pages to provide the necessary details. It won't overwhelm your visitors with too much information listed but give just enough to ask for the user's contact details and build relationships.
| Pros | Cons |
| --- | --- |
| Highly customizable | No live chat integration |
| Video tutorials help with the onboarding process | Chatbot keyword recognition not available |
| Analytics tool available | The design needs improvements and updates |
Free 14-day trial available
Plan prices available on request
Score: 4.5/5 (88 reviews)
This is a good bot builder platform for medium to large businesses who need assistance with a lot of customer inquiries.
Aivo is one of the chatbot builders that offer conversational artificial intelligence. This can help your brand with customer service and keep the authenticity while you chat with clients. It's easy to use, so you can create your bot, launch it, and track its performance with analytics effectively.
This bot builder platform provides support in English, Spanish, and Portuguese, giving you more flexibility if your brand's representatives speak any of these languages. It also integrates with platforms, such as Salesforce, Zapier, and Zendesk to become even more efficient in tasks you require.
| Pros | Cons |
| --- | --- |
| AI chatbot available | No real-time monitoring |
| Analytics available | Loading speed needs improvement |
| Failed interactions can be moved to the knowledge base to answer questions in the future | Integrations cannot be managed by your development team |
Free 30-day trial available for starter plan
Starter $99/mo
Advanced $449/mo
Business/Enterprise: contact sales representative
That's the end of our top bot creators list. Now let's go through a list of what you should look out for when choosing your chatbot platform.
Best chatbot builder: checklist
So, what to look out for in a chatbot maker when you're choosing one for your business? Among others, the ability to customize it without any coding knowledge and great customer support from the chatbot company. 
Here's a table with a quick comparison of chatbot builder features you should look out for: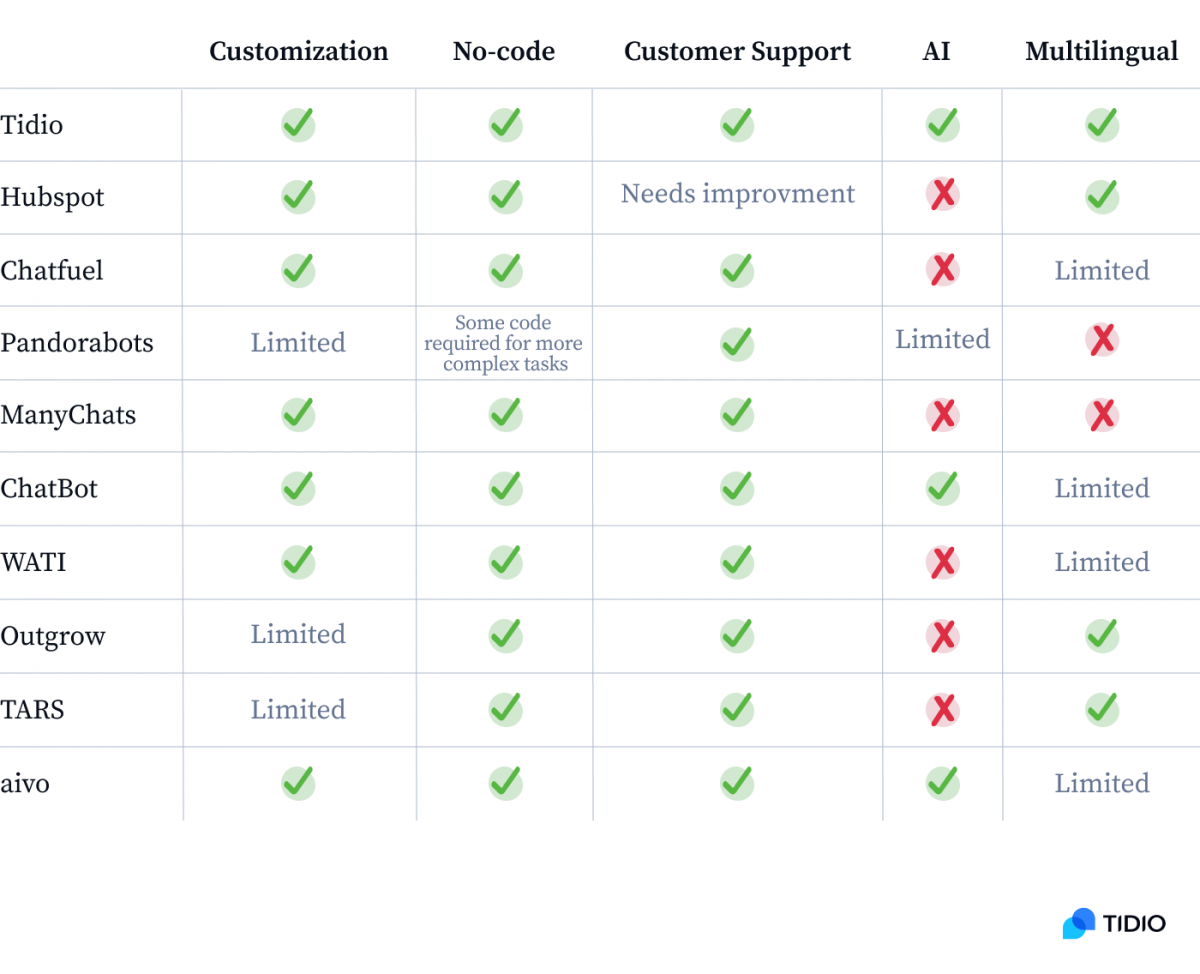 Let's look at the qualities one-by-one.
1. High customization
According to a survey, about 35% of customers are frustrated by impersonal service. So, give your chatbot a personality and improve the customer's experience.
This is one of the most important requirements for a chatbot builder because most of your site visitors interact with your chatbot for quick inquiries. In fact, a different survey found that over 80% of respondents interact with chatbots.
Make sure you deliver good customer service and leave a great impression on these clients with a customized bot that feels personal. But to do this, the chatbot creator you choose must give you the opportunity to customize the bot to your needs.
2. No code required
If you're not a programmer, you probably don't know much about coding. And that's why you're getting a chatbot builder and not making one yourself.
So, the chatbot you're creating shouldn't require any coding skills for you to build your bot. This is important because if coding is not your strong skill, you might get discouraged from using chatbots altogether. Also, when building a bot requires you to use lines of code to complete the process it might prove too draining to finish it.
That's why a drag-and-drop interface would be ideal, as it provides a good user experience and it's efficient in creating your conversation flowchart. It's fast, simple, and easy to use by anyone.
3. Great customer support
When you start building chatbots, you will encounter issues from where to find the chatbot creator on the dashboard to how to use its triggers effectively. Everyone does at the beginning. The crucial thing is to have support and overcome the problem so you can smoothly move on and continue to build your chatbot.
So, look at the reviews people leave on G2 and filter them by "customer service" and "customer support". Go through what other users are saying about their customer experience and if the reps are helpful enough to assist with the issues.
Great customer support is not just about quick responses or being friendly during the chat. It is important, but the representatives also need to be knowledgeable and help you when you need assistance. It will make the process of building your chatbot easier and more efficient.
4. AI chatbot available
There are two types of chatbots: rule-based and AI chatbots. You should look if the bot builder you're about to use offers AI help if you choose to implement it in the future.
Rule-based chatbots (also known as the decision-tree bots) communicate through pre-defined rules and a set of questions. They are guided by a decision tree and give users a set of options to reach the desired answer.
Whereas AI chatbots are built using machine learning models and learn to make connections between questions and generate appropriate answers. They can build on top of the pre-programmed commands to chat with clients more effectively.
The choice is yours, but you can also go for a hybrid bot that will combine both types of chatbots to match your needs.
5. Language range
This one is important for international brands. So, if your business operates internationally then you need to provide the same great customer service options for everyone.
That's where different language options come into play. NLP (Natural Language Processing) is a branch of AI that allows chatbots to understand the text the same way humans do. Sometimes your customers will write sentences that mean the same thing but they will phrase them differently. The point is—your chatbot needs to understand what they're saying to assist them properly.
And not just one group of clients but also users from across the globe who don't speak the same language as you do. You can grow your business more efficiently and rapidly if you include more groups of users, create a great experience, and make them feel at home.
Key takeaways
So what is the best chatbot builder out there?
Well—it depends on your company. So, when you're looking to start building a bot, make sure you define what's important to your brand and ensure the bot builder of your choice has what you need.
Just a quick recap—
Best chatbot builder for small businesses:
Best Facebook chatbot builders:
Best WhatsApp bot creator:
Best free chatbot makers:
Best chatbot companies for larger businesses:
Best chatbot creator for collecting customer information: