Before deciding to purchase a product from your brand, shoppers look for business reviews.
And what they find will determine whether they'll shop with your company.
This is the power of ratings and reviews.
How to make sure that your reviews persuade future clients instead of detracting them? What tools to use and how to gain more online feedback?
Let's find out!
In this article:
If you want to learn more about how to grow your online business, check out these articles:
First things first—
What are ratings and reviews?
Ratings and reviews are customers' feedback of a company, available online for anyone to see. They allow clients to express their opinion on a business and share their experiences with the online community.
This is important for potential clients because they can look through other's opinions when making purchase decisions. Ratings and reviews are also useful for businesses, as they help to spread brand awareness and improve the trustworthiness of your company.
But, what's the difference between ratings and reviews? Or are they the same thing?
In simple terms, a rating is a 1-5 star score given, usually, by the customer to a business. Whereas a review includes the star score with a written or recorded comment to it.
Here's a quick comparison between the two: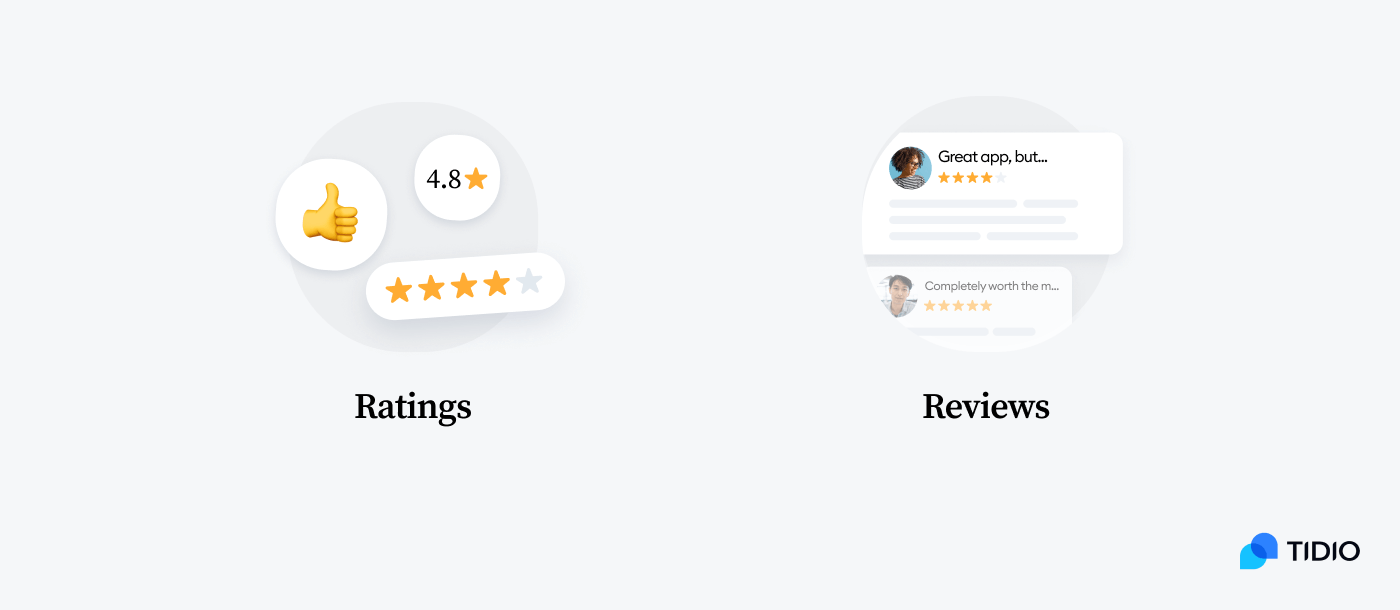 And what's the difference between testimonials and reviews?
In short, testimonials are provided directly by customers to the business and are displayed on the website. They usually consist of a client's photo, their experience, and some numbers to show the results they got by using a company.
On the other hand, consumer reviews are usually presented on a third-party website. They express the shopper's experience and provide ratings for the company.
Let's see a quick comparison of testimonial vs review: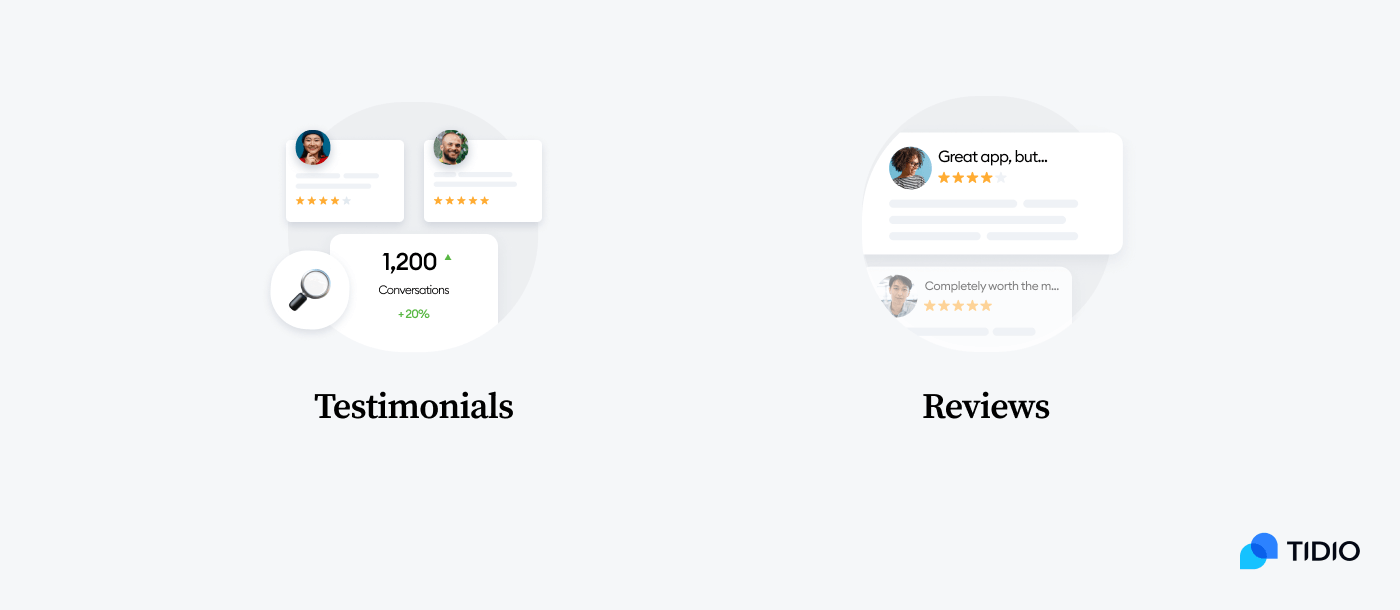 Types of consumer reviews
Keep in mind that customers can choose to give a company a star rating but not leave a review. And if they decide to share their opinions, they can construct them in a number of different ways. Let's discover more about that.
The three main types of reviews are:
Customers writing out their experiences with a brand, products, and services provided is the most popular form of a consumer review.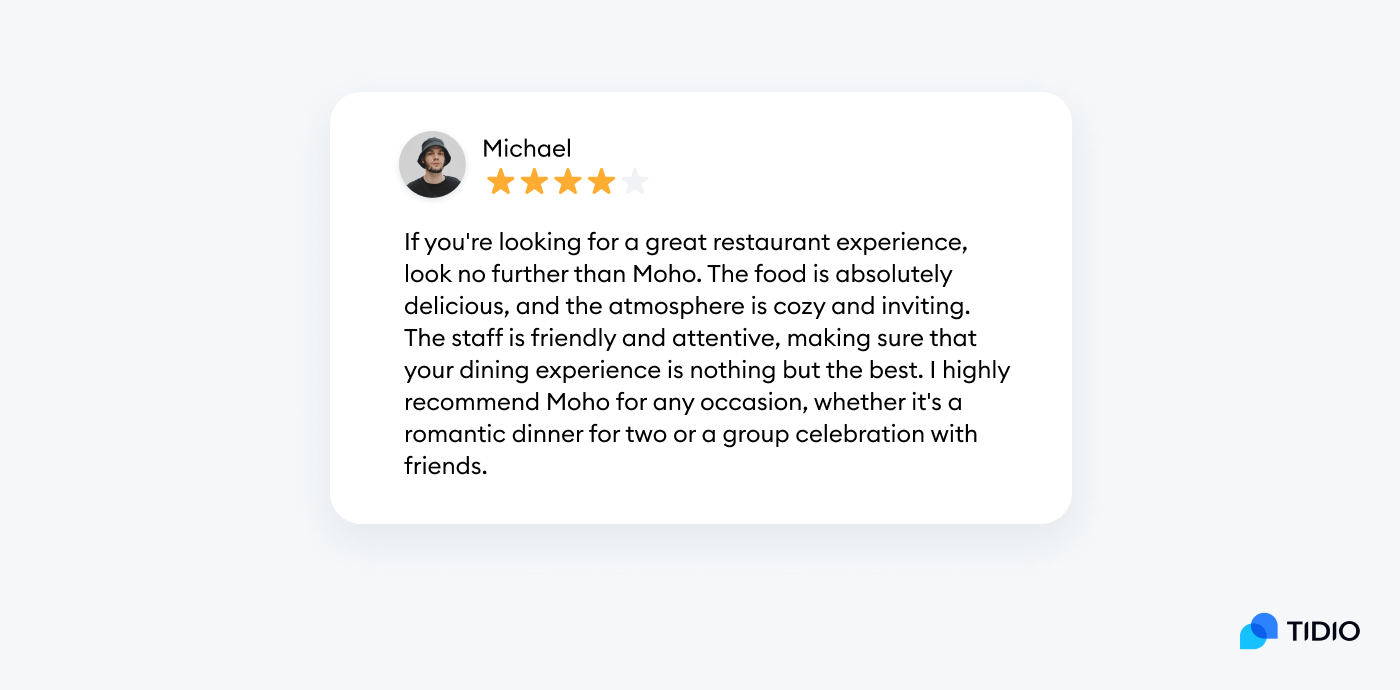 This type of user review includes photos to add evidence and back up their words. They're usually from the person's visit to the store, restaurant, or upon receiving the products bought online.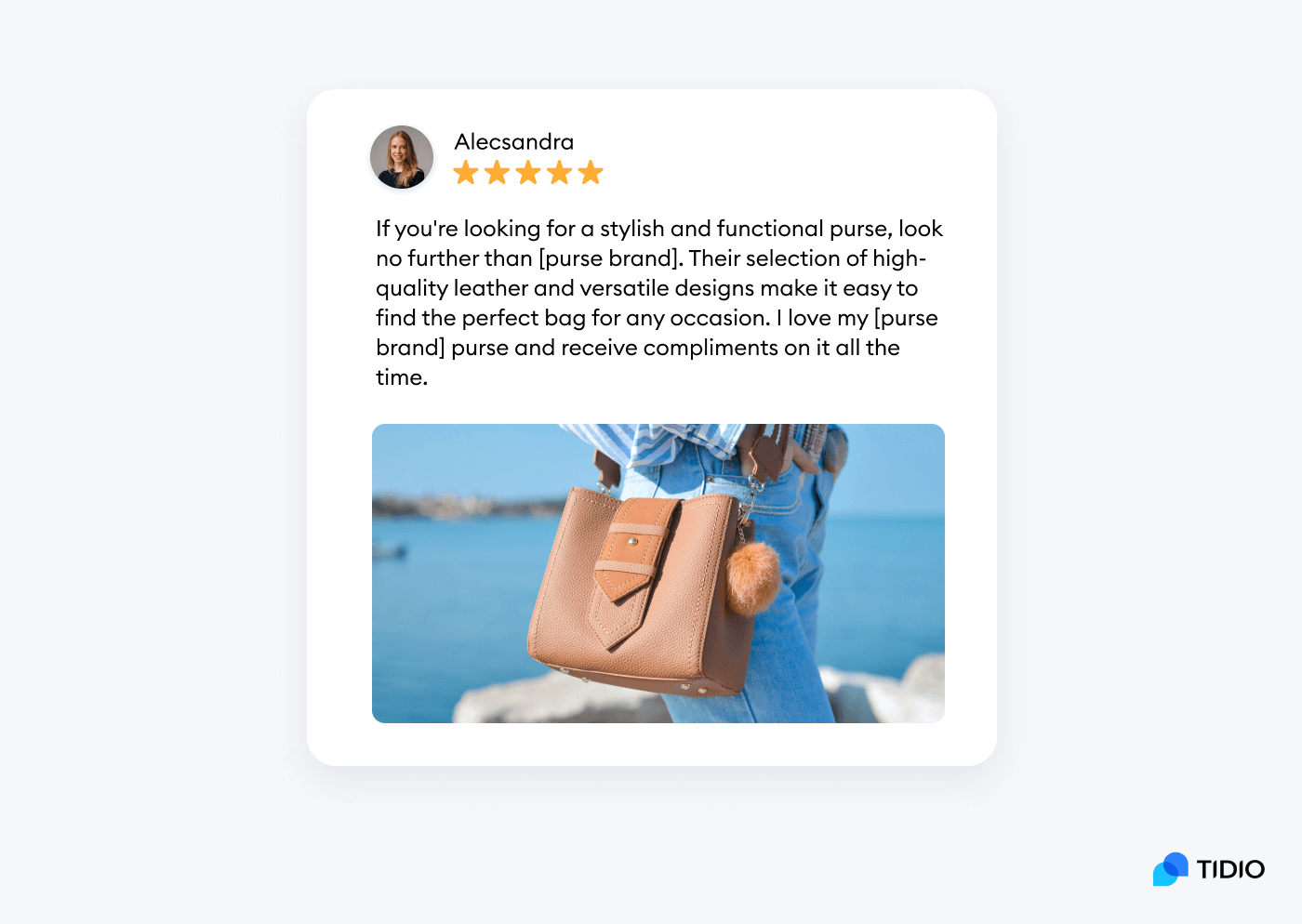 In this case, customers present their judgment and their story with the business in a form of a video. Usually, this is a recording of themselves talking, but it can also be a video of the store or restaurant on the day they visited.
A consumer review can also contain all three of these elements. It's all dependent on the customer posting the feedback.
Why are ratings and reviews important for your business?
Retailers can use product reviews as social proof of the quality of their products and services. And collecting user feedback on their experiences can help online stores grow their conversion rate and the number of shoppers. But these are just two examples of customer reviews' importance for ecommerce websites.
Let's find out more about why ratings and reviews are important for your business.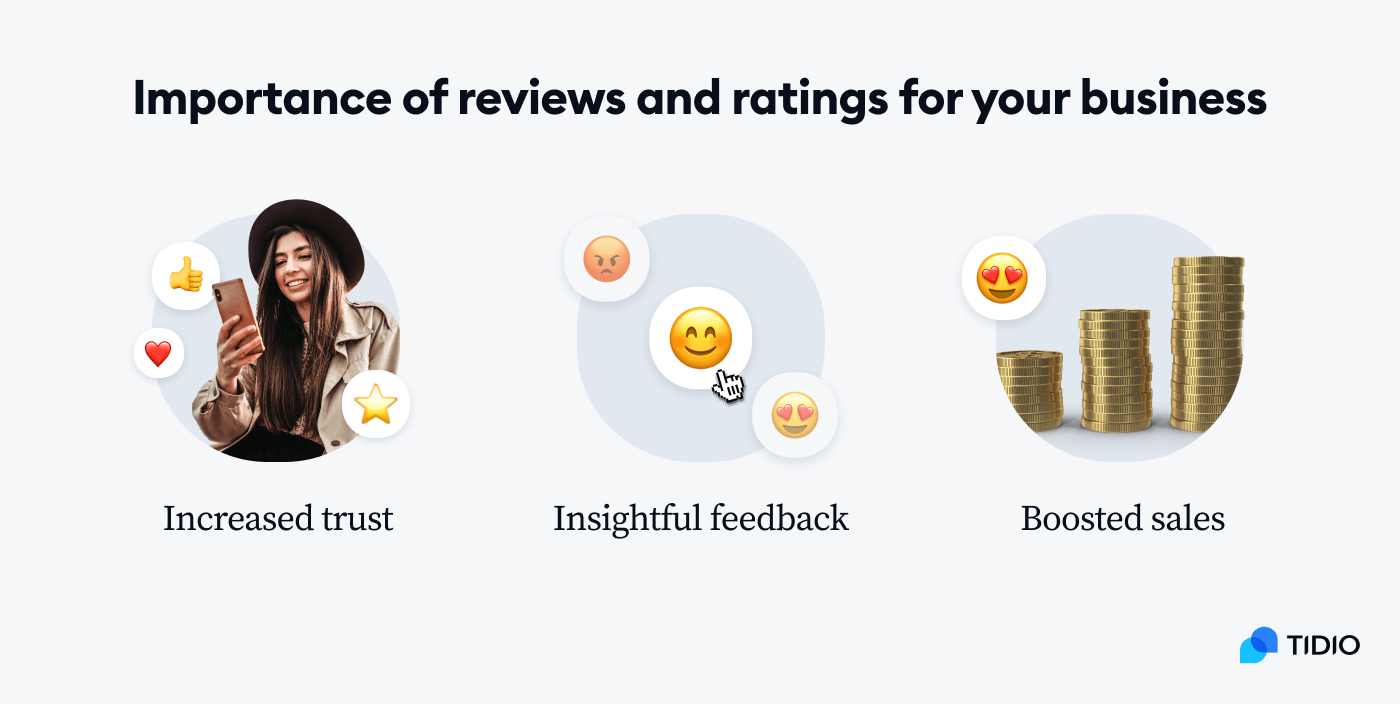 The three main aspects are:
1. They build trust in the brand
Positive reviews and high ratings can help to build trust with potential customers, making them more likely to make a purchase. In fact, as many as 89% of consumers are "highly" or "fairly" likely to use a business that responds to all of its online reviews.
On the other hand, negative reviews and low ratings can damage trust and drive potential customers away.
Moreover, about 57% of consumers say they wouldn't be likely to use a business that doesn't respond to feedback at all. So, to ensure a positive reputation online, your business has to proactively manage its consumer reviews and ratings.
But—avoid creating fake reviews.
That's a trap that will deteriorate your reputation.
Just take the Sunday Riley scandal as an example. The company went viral for all the bad reasons. It faced criticism online for asking employees to post fake positive reviews of its products on Sephora's website. This even went as far as the Federal Trade Commission (FTC) that found the company guilty of making false claims and not disclosing that the fake reviews were written by the employees and Ms. Riley herself.
Read more: Learn how to build trust in your ecommerce store and what makes a website credible.
2. They provide valuable feedback
Reviews and ratings provide valuable customer feedback for your business. They can aid you in identifying areas for improvement, such as product quality or customer service. By addressing these issues, your business can improve the customer experience and turn first-time buyers into loyal customers.
Third, this feedback also plays a significant role in search engine optimization (SEO). Positive reviews and high ratings also improve the business's visibility in search engine results, making it more likely that potential customers will find the business.
3. They help to boost sales
Proactive management of consumer reviews can also boost sales. They increase the likelihood of a customer making a purchase.
They can even show how you turn things around! Research shows that about 80% of local business customers are likely or very likely to leave a positive review if their initial bad interaction was turned into a positive one.
Read more: Check out this case study about how an Italian fashion atelier grew conversion rates using live chat.
Now—
Let's discover why online customer reviews are the ultimate salesperson for ecommerce.
The impact of reviews throughout the customer journey
The number of reviews but also the review content matter during the decision-making processes of potential customers. That's because the amount of people leaving feedback for your brand indicates the credibility of your company, whereas the contents show the quality of your products and services.
But at which stage of the buyer's journey are business ratings and reviews more crucial?
Customer journey consists of five main stages:
Awareness
Consideration
Purchase
Retention
Advocacy
And online reviews play the biggest role in the first two of these stages.
The awareness stage is all about the potential customer discovering your type of product and your brand. Ratings and user reviews are so important in that stage because it's the shopper's first impression of your company that can decide upon their future decisions.
During the consideration stage, the client starts to browse your product pages and think about whether they should do business with you. Customer ratings and product reviews provide proof that your company is the right one to purchase from, and evidence of the great service you provide.
What about the parts of the buyer's journey that happen after the client makes up their mind?
The purchase and retention stages are more dependent on your customer success team, communications with the client, and the quality of your products and services.
Whereas, in the advocacy stage, you should try to convince the shopper to leave a review and tell their close ones about your business. This way, they become an advocate for your company on top of being a buyer.
The power of word-of-mouth recommendations that your loyal clients can provide is strong. In fact, as many as 92% of people say they trust recommendations from friends and family. Online consumer reviews take the second place, with over 70% of shoppers trusting that medium.
Ratings and reviews: tips and best practices
The functionality, quality, and usability of your products is essential when you want to receive positive reviews about your brand. Customer service also plays an important role here.
So, firstly, ensure the buyer has a great shopping experience overall, in-store as well as online. Then use these six tips and best practices to make the most out of your business ratings and reviews:
1. Respond to reviews
This is especially important because research shows that businesses that respond to customer ratings and reviews are seen as 1.7 times more trustworthy than those that don't.
So, for positive opinions, you should thank the reviewer and, if appropriate, share some relevant information in your response. But keep in mind that your reply is public, so don't display any personal or confidential information. Also, avoid being salesy, as this could be viewed as too pushy.
Two popular examples of responses to a positive product review are:
Thank you for sharing your experience with our business.
Thank you for your review. We're happy to hear that you had a positive experience with us.
On the flip side, when you receive negative feedback, try to find a solution to the problem or at least a way to make up for the shopper's bad experience. On top of that, you should respond in a timely manner, stay professional, and try to understand what caused this feedback.
For inspiration, here are two examples of replies to a negative review are:
Thank you for your feedback. I'm sorry to hear you had a negative experience with our brand. We'll work on improving our services and hope you give us another opportunity to do better.
– Ben (customer success manager)
Thank you for taking the time to provide us with your feedback. We're sorry you had to wait a long time for our customer service representative and then had a negative experience during the conversation. We're investing into training and new initiatives to improve our customer support at the moment. We're happy to speak with you more about this and discover if there's anything we can do to make up for the situation. Let us know if you'll be willing to have this conversation.
– Brianna (customer experience manager
Read more: Learn how to leverage negative feedback to your advantage with this ecommerce growth strategy playbook.
2. Display reviews
You can add consumer reviews to your website in a number of different forms, like testimonials, widgets, and badges.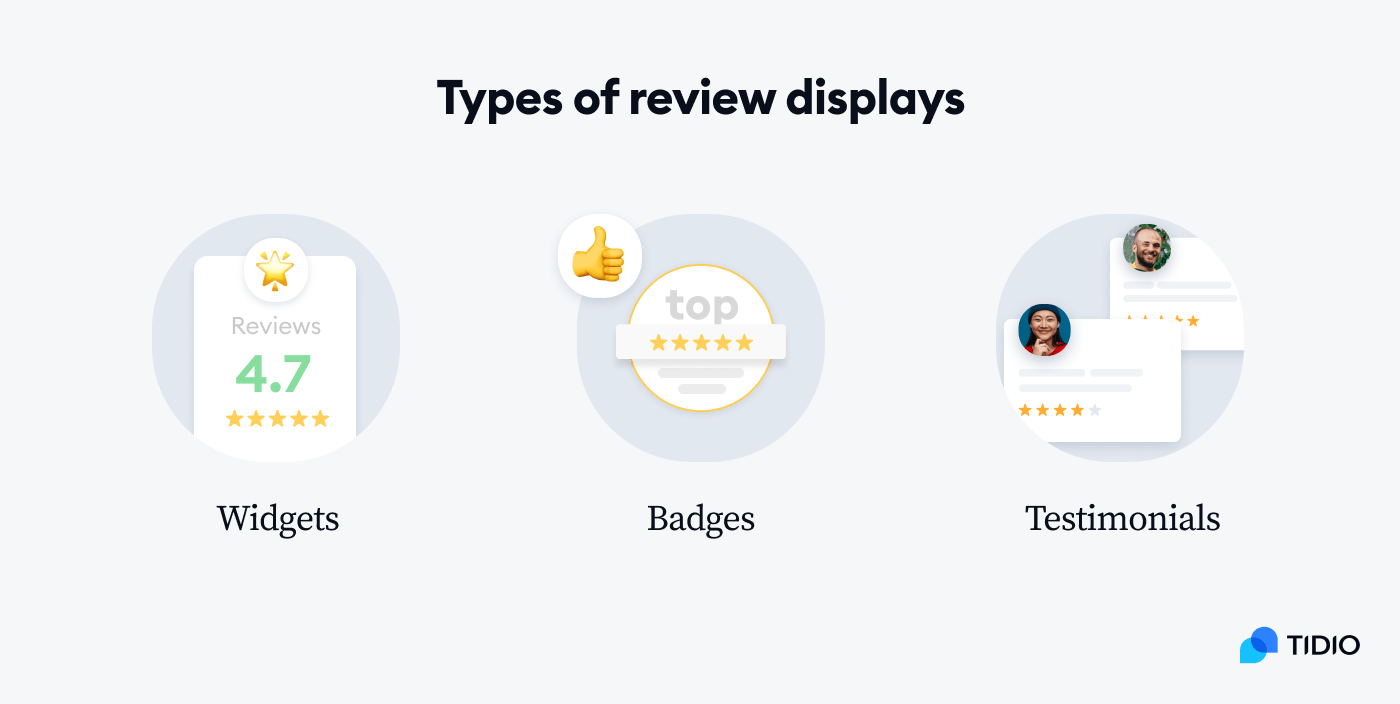 This will aid you to show off the experiences of your clients on your homepage, specific product categories, as well as reviews pages. You can also display products' ratings on a checkout page to give the last little nudge for the shopper to convert. That's why they're a perfect marketing aid your brand can use to increase revenue and the trustworthiness of your site.
3. Improve SEO ranking
Customer reviews can assist you in ranking better on Google, if you use them well. Also, Google is the first place where people look for opinions about a brand. In 2023, the average Google Business Profile (GBP) boasts 179 reviews.
In fact, as many as 98% of people read reviews, especially for local businesses.

So, collect ratings & reviews on Google and make your third-party reviews easy to find for users. This will aid your ecommerce website rank better on Google, improve your brand visibility, and ultimately help to boost your sales.
4. Ratings & reviews on Amazon
You should get on the sites and sales channels that your customers are on.
So, do some research on the platforms your target shoppers use for their purchases and put your high-quality products there. A good idea is to start with Amazon as about 89% of US consumers are more likely to purchase products from Amazon than any other ecommerce website. This number goes up to 96% for Prime members.
So, if you're not selling on Amazon and on social media, you're missing out. And it's time to catch up and make your products easily accessible to potential customers. It's the best way to get more orders, but also to boost your feedback collection.

And what do you look at when browsing Amazon? Chances are, you're comparing the prices and ratings before looking at anything else. In order to boost the number of product consumer reviews, ask for them every time someone checks out, or offer incentives, like discount codes, for every feedback from the client.
Now—what tactics are best to use for your feedback collection?
Best tricks and tactics to use
There are many ways and tactics that can aid you in collecting more consumer reviews and rankings from customers. A few of the most popular ones are: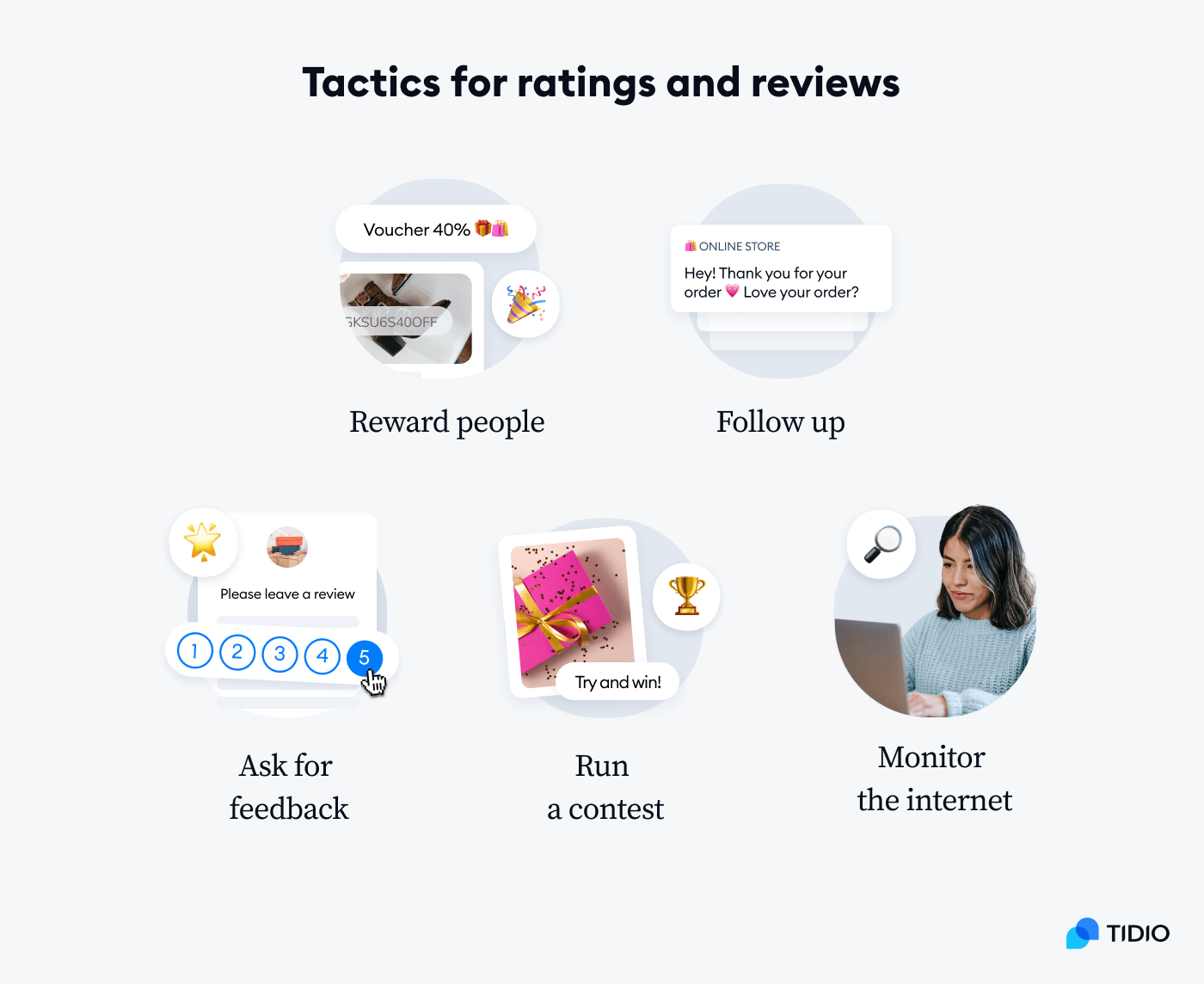 Reward the reviewers
You can provide every person who leaves you a review with a 10% off discount code. This will be a nice surprise for them and improve their overall engagement with your brand.
Start a contest
A little competition is a great way to market your business. You can use your social media and the assistance of your current clients to go viral. So, keep it simple and add a rule for the person to leave a review for you as one of the contest tasks.
Follow up with the buyer
Send follow-up emails to the people who just made a purchase, asking for them to leave business reviews and ratings on your site or a third-party platform. This can encourage them to go ahead and share their shopping experience with your business.
Use brand monitoring tools
This will help you spot consumer reviews outside of your own channels, like social media and blogs. You can use tools such as SproutSocial, Brandwatch, Mention, and Google Alerts to you stay on top of people mentioning your company on the web.
Simply ask for it after every interaction
This will gain more customer service ratings from your shoppers. This is because the interaction will still be fresh in the client's mind, and they will be more eager to leave some feedback on it.
Also, don't forget to do a consumer reviews analysis to learn from the feedback your clients left for you. This way, you can discover what needs to be improved and what your customers love about your brand.
Read more: Check out the list of 15 inspiring ecommerce case studies to learn how the biggest players in the industry make the most out of their ratings and reviews.
So—
Which tools can assist you in achieving the best results with your online store ratings?
Best platforms for ratings and reviews
You can use software to help you boost the review volume and display the user-generated content (UGC) on your website from third-party platforms. Most of the tools can also showcase your star reviews and put widgets on your website that display clients' testimonials.
Here's a quick comparison table of the best ratings and reviews software:
| Platform | Rating | Free plan/trial | Main feature |
| --- | --- | --- | --- |
| Judge.me | 5/5 ⭐️ | ✅ | Multichannel sharing of reviews |
| Yotpo | 4.9/5⭐️ | ✅ | Smart filters for reviews |
| Stamped | 4.7/5⭐️ | ✅ | Metrics and analytics dashboards |
| WP Social Ninja | 4.9/5 ⭐️ | ✅ | Shoppable Instagram feed |
Let's discover the platforms more in-depth.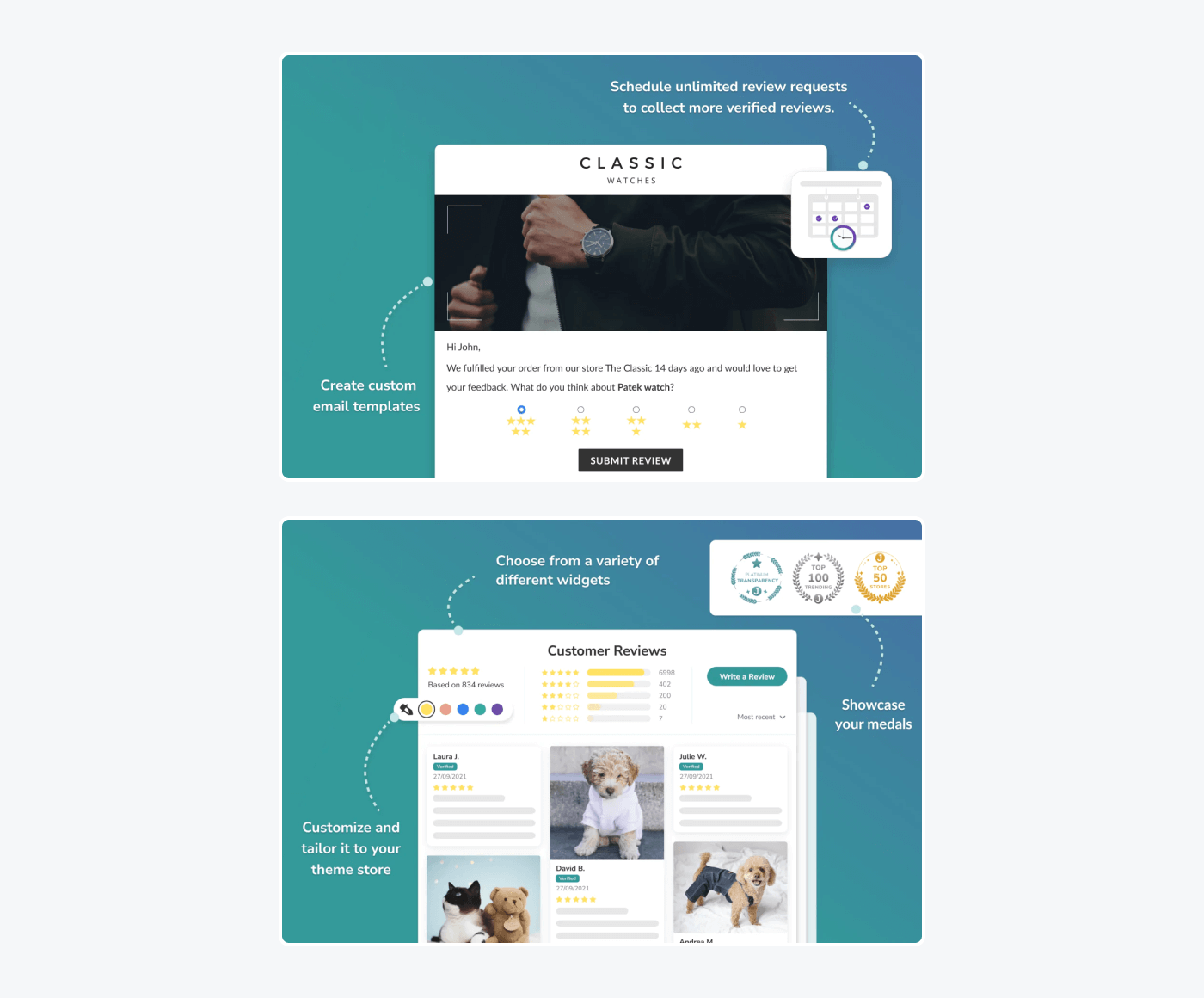 Rating: 5/5 ⭐️ (13,275+ reviews)
With Judge.me, you can install and customize review widgets on your pages to show your clients' opinions of your business. You can also collect feedback on autopilot via email, SMS, and straight from your website. And to get even better results, you can share reviews on social media and improve your SEO with rich snippets.
Main features:
Customizable widgets available in a variety of styles
Unlimited automatic review requests
Reviews sharing on multiple channels like social media and Google search
Free plan available
Awesome ($15/mo)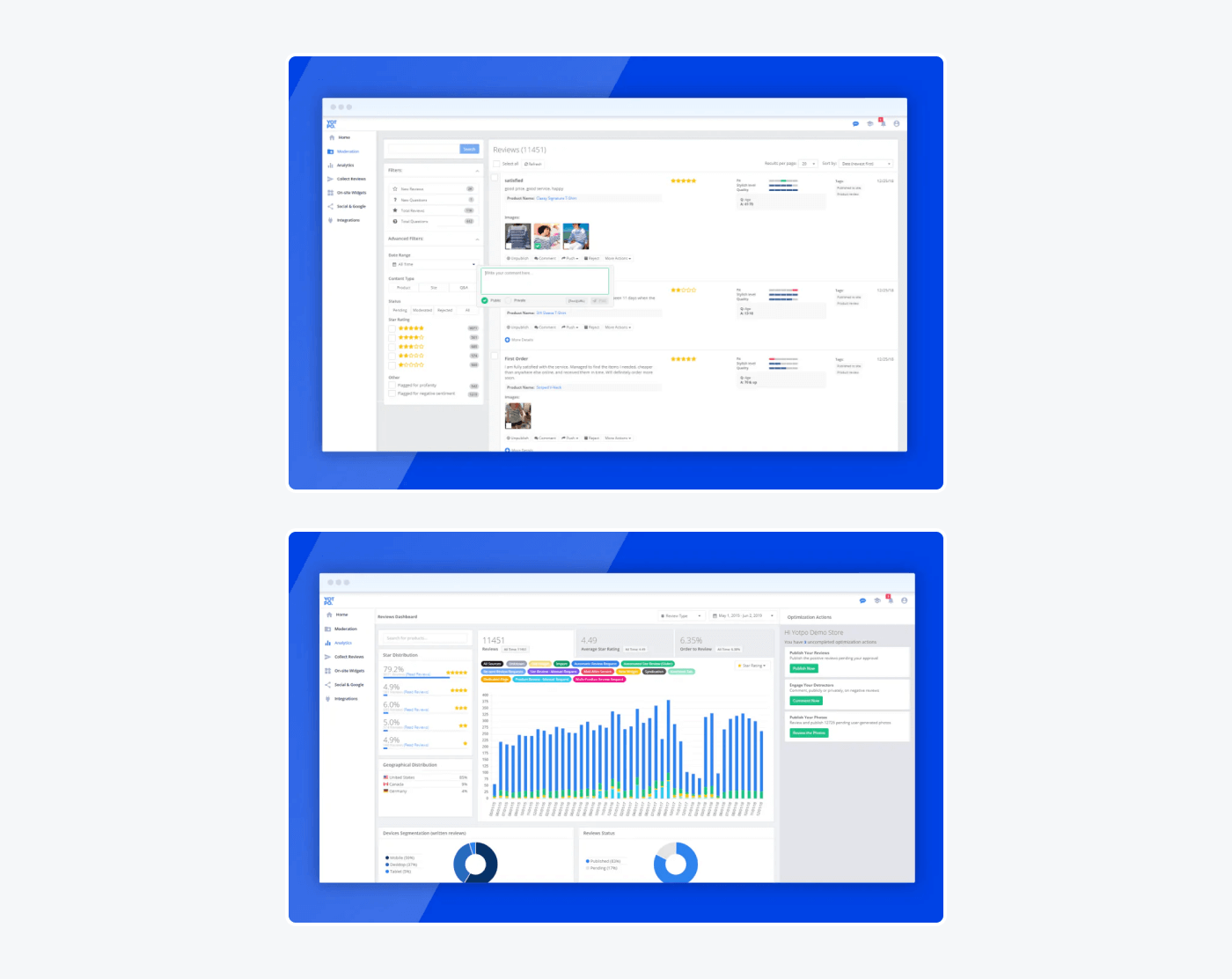 Rating: 4.9/5⭐️ (5,815+ reviews)
This ratings and reviews software enables you to generate authentic content that will assist you to grow your business. And once you collect customers' reviews, users will be able to filter and search through them to get the most relevant information they need about your products and services. Yotpo also asks the reviewers to add photos and videos to their feedback and asks custom questions to get the most informative evaluation of your brand from customers.
Main features:
Analytics and metrics on reviews data
Email and SMS requests available
Smart filters for reviews
Free version available
Growth (starting at $15/month)
Prime (starting at $119/mo)
Premium → contact sales team
Enterprise → contact sales team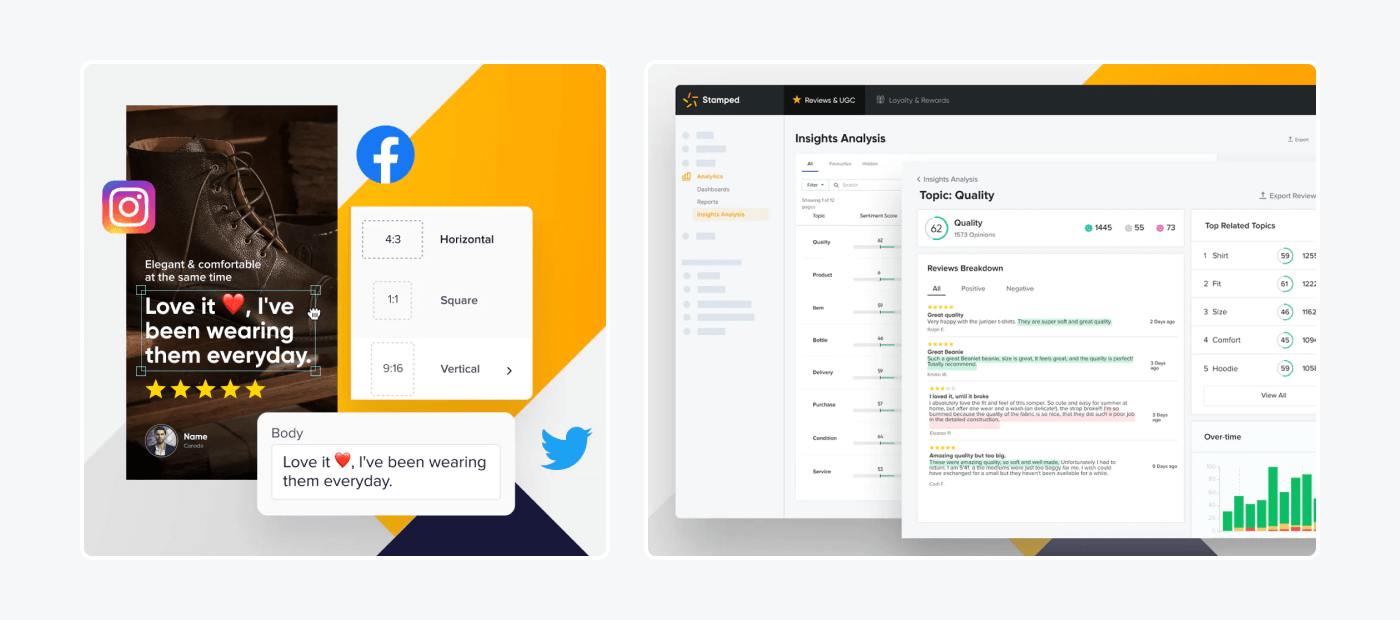 Rating: 4.7/5⭐️ (5,960+ reviews)
Stamped helps businesses collect and showcase user reviews with product ratings to build the trustworthiness of the brand. And you can learn actionable insights with the data collected. For example, you can do sentiment and topic analysis to find out what the overall brand sentiment is around your audience. With this ratings and reviews platform, you can also quickly identify repetitive themes in the user feedback for further discussions.
Main features:
Social sharing and marketing
Photo and video collection
Multilingual support available
Free starter plan
Basic ($23/mo)
Premium ($59/mo)
Business ($149/mo)
Professional ($299/mo)
Enterprise → custom pricing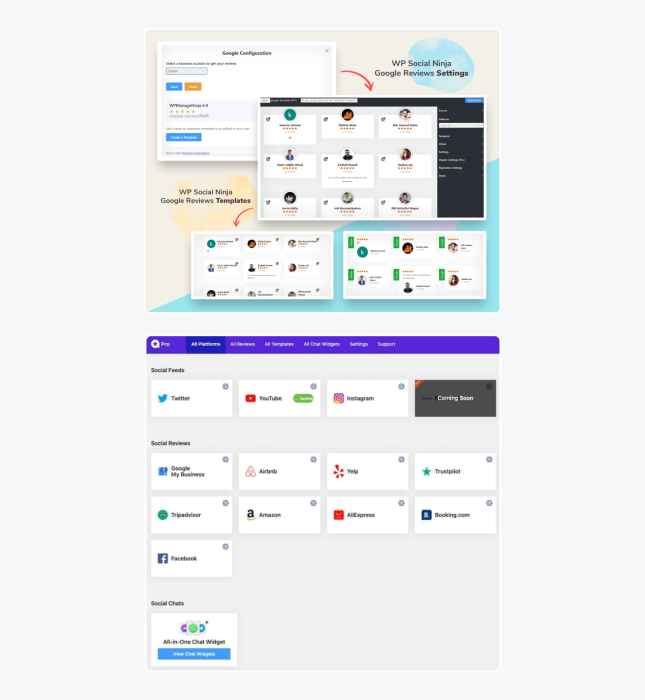 Rating: 4.9/5⭐️ (35+ reviews)
This WordPress plugin allows you to connect with 30+ social media platforms and display social proofs on your website. On top of that, you can customize and filter reviews from 10+ social channels. You can also use the built-in templates, show your social media feeds on your site, and connect with your customers through chat widgets.
Main features:
Shoppable Instagram feed
Notification popups
Integration with Fluent Forms
Free version available
Single License: 1 domain access ($89/year)
Agency License: 25 domain access ($299/year )
Unlimited License: Unlimited domain access ($499/year)
Now—
How does Tidio help manage ratings & reviews?
How to use Tidio to manage your ratings and reviews?
Once you integrate Tidio with your communication channels, it becomes a center for managing them. You can connect multiple platforms and channels to Tidio like live chat, email, Facebook, Instagram, and recently also reviews.
You will see all of your shopper's feedback and opinions on Tidio by connecting it with your rating and review app. From here you can thank the customer for a positive review or follow up on a negative one.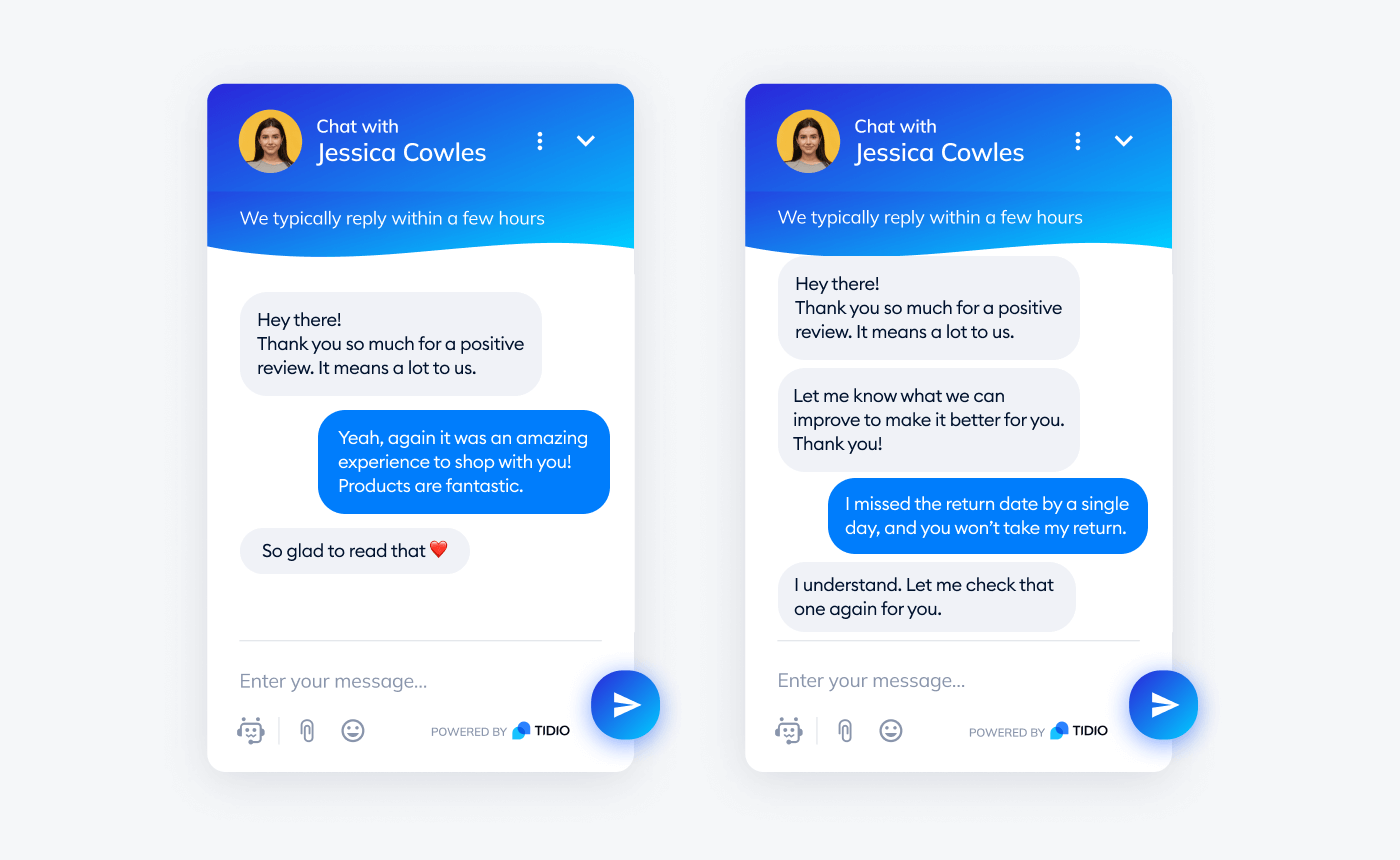 You can now use the ticketing feature to follow up with users who posted a bad review. Thanks to this feature, you won't miss any opportunity to fix a mistake and turn negative emotions around.
Tidio also offers chatbots and customer service automation dedicated to managing reviews.
For example, you can trigger a chatbot as soon as the customer wants to post a negative review. They can ask about the reason and redirect the user to a live chat agent. Your representatives will get a chance to change the shopper's mind and earn a positive opinion.
Another example of how you can use Tidio to manage your reviews is when a user posts a positive one. You can send a simple thank you message, but we encourage you to offer a discount code for your next purchase to increase the loyalty of your client.
Ratings and reviews integrations in Tidio
Now you can easily integrate Tidio with Judge.me and claim a 60-day extended trial. This will help you get the most advantage of managing your rating and reviews inside our tool.
With this integration between Tidio and Judge.me you can thank clients for sharing their opinions. You can also engage customers who left a negative review to learn more about their experience and how you can change it. This way all of your shoppers will feel heard and appreciated.

On the other hand—once you get a negative review, how to handle it and turn it around?
How to deal with negative reviews?
Negative reviews can be a bit of a bummer for your business. But don't panic. All is not lost yet. And sometimes, you can even turn the bad reviews in your favor. But you have to be smart about it.
Here are three things you should keep in mind when dealing with negative customer reviews: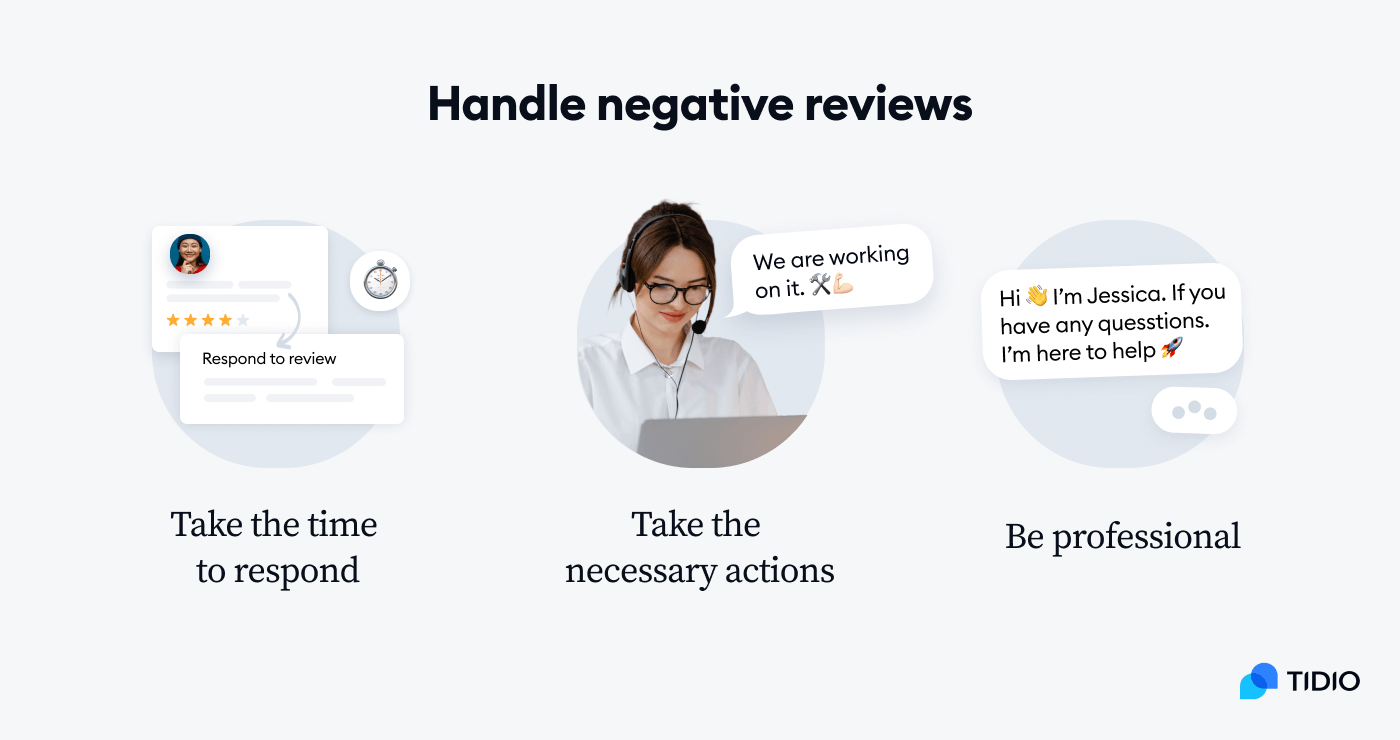 Take the time to respond
Thank the reviewer for their time and for sharing their experience with your business. No matter if it's positive or negative, you should write them a Thank you message.
All feedback is useful. Positive reviews of online stores boost trustworthiness and credibility. On the other hand, a negative user rating gives companies a perfect opportunity to improve and points out issues that the brand might not have been aware of.
So, allocate some time every day or every week to reply to the shoppers that left you feedback and shared their thoughts about your company.
Show that the necessary actions were taken
This step can turn negative reviews in your favor.
Most people who share their negative experiences with the brand want to be heard and for the business to do something about it. So, speak to the reviewer, ensure you fully understand their struggles, and let them know that you're taking action to improve your services.
It will show that you care about your customers and might even regain you a client that would have otherwise been lost.
Be nice and professional
When faced with a negative review, make sure to respond professionally and be nice about it. Use positive words, ensure a pleasant tone, and show empathy when faced with negative reviews.
The client is unsatisfied about something, and it's your job to understand why. This way you can still turn things around and gain a happy client.
And remember never to take the review personally. The reviewer is angry or annoyed at the situation they're in, not at you. So, take a deep breath, count to 10 and stick to being professional about the whole event.
Read more: Learn the best ways to deal with difficult customers and how to turn an unhappy client into a loyal customer. Also, discover how to handle customer complaints properly with response examples.
Reviews and ratings: key takeaway
That's all. Now you know all you need to scale up your ratings and reviews strategy.
Let's do a little recap.
Ratings and reviews are feedback provided by the customer for the brand, usually available on third-party websites.
They are important because they build trust in your brand, provide valuable feedback, and help to boost your sales.
Five best practices to get the most out of your reviews are:
Respond to feedback
Display your reviews
Improve the SEO ranking
Use Amazon and other sales channels
Apply a variety of tactics
Remember that you don't have to rely solely on yourself to collect and display reviews. You can also use tools to help you with them. Some of the most popular software are Judge.me, Yotpo, and Stamped. You can also integrate these tools with Tidio to manage and respond to your ratings and reviews more efficiently.