Choosing the best live chat software is often like shopping at the Spice Bazaar in Istanbul.
The selection of colorful and sweet-smelling spices is astonishing but… Not all of them are perfect for your dish. Add the wrong one, and your dish is ruined.
Same with live chat apps—
Many may look enticing but are unsuitable for your business.
If you're unsure which live chat tool to choose, we're here for you. This live chat software comparison will help you see what flavor each can bring to your online business.
In this guide:
Benefits of implementing live chat platforms
Reviews of 17 best live chat software apps
How to choose the best live support software
If you're looking for a solution to help you automate your customer support activities, have a look at these articles:
Now—
Whether you manage a small online business or a large retail store, you'll find the best customer service chat software for your website on this list.
17 Best Live Chat Software Options to Consider
What Are The Benefits of Live Chat Software for a Website?
Before we move on, let's see why even consider using live chat software in the first place.
First off, over 84% of customers are satisfied with live chat as a tool to communicate with businesses.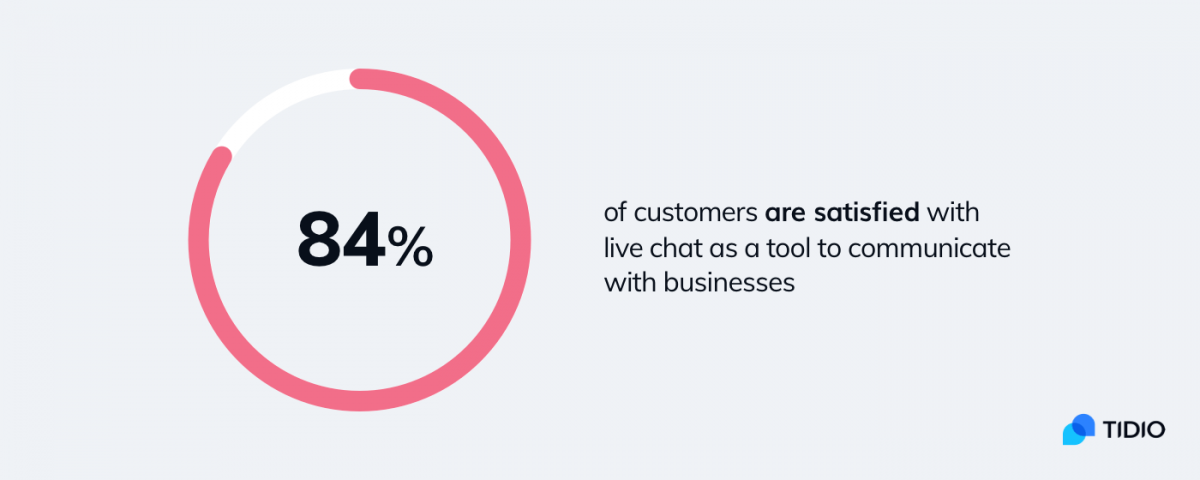 Here are some of the numerous benefits using live chat software can bring you:
Real-time customer support. Live chat is the fastest customer service channel, with some studies putting the response time at 7 seconds. You can provide support and share promotions—60% of shoppers appreciate personalized promotions and real-time deals.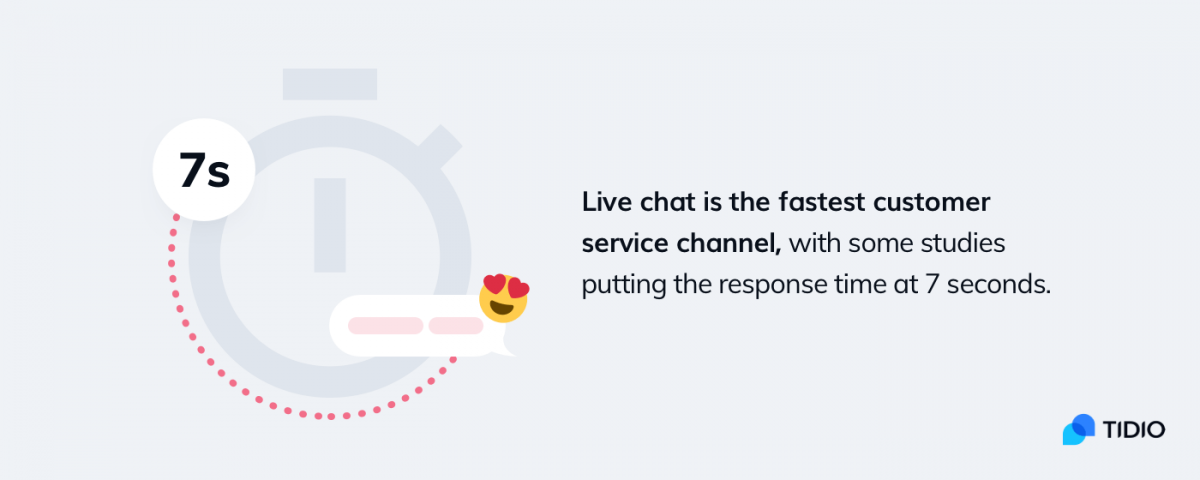 Communication with customers on the go. Many live chat software options come with mobile apps, so you can answer more questions faster. Timely in-app notifications of new visitors and incoming messages will give more sales opportunities.
Valuable customer information. Live chat apps allow you to see which pages on your website customers have visited. This information, along with location, is useful for creating a personalized customer experience.
Lead generation. You can ask for a customer's email before they start chatting with your customer support agents. Also, the best live chat software comes with lead generation chatbots. They can be set up to generate leads with promotions.
Integrations with other apps. The average small business uses 102 apps. That's why the best live chat apps integrate with email marketing tools, content management systems, marketing analytics, CRMs, and other platforms.
How to Choose the Best Live Chat Software for Your Business?
As you browse the list of the best online live chat apps, keep in mind these questions. They will help you decide which one(s) are best suited for your business.
Can I proactively message my website visitors? Do you want your customer service to be proactive or reactive? Do you want to be able to start communicating with customers without them clicking on the chat widget first?
Does the app provide quick responses? Do you aim for the speed of reaction? If so, consider chat tools offering canned responses. This will let you save chat replies and speed up your answers in future conversations.
Can I integrate it with the other apps? Would you like to keep all your data in one place? Some live chat programs offer integrations with popular CRMs, website analytics, and customer engagement tools.
Can the app help me with building customer relations? If so, choose the website live chat app that can save such customer data as location or visited pages to help you with customer segmentation, for instance.
Can I automate some of my work? Want to minimize the number of repetitive tasks? Then make sure the app you choose comes packed with chatbots. Chatbots can help you automate answering FAQs, as well as generate leads, or send welcome messages to your website visitors.
How much does it cost? Choose the website chat that won't ruin your budget. Many apps offer a free plan so you can test all the functionalities and decide if they're worth the investment.
What do the other users say? Good reputation matters. When choosing online chat software, be sure to read reviews in relevant app stores and on independent websites.
Can live chat actually help you with building a good reputation? It sure can! More details here: 6 Live Chat Benefits and Solutions for Business Success
1. Tidio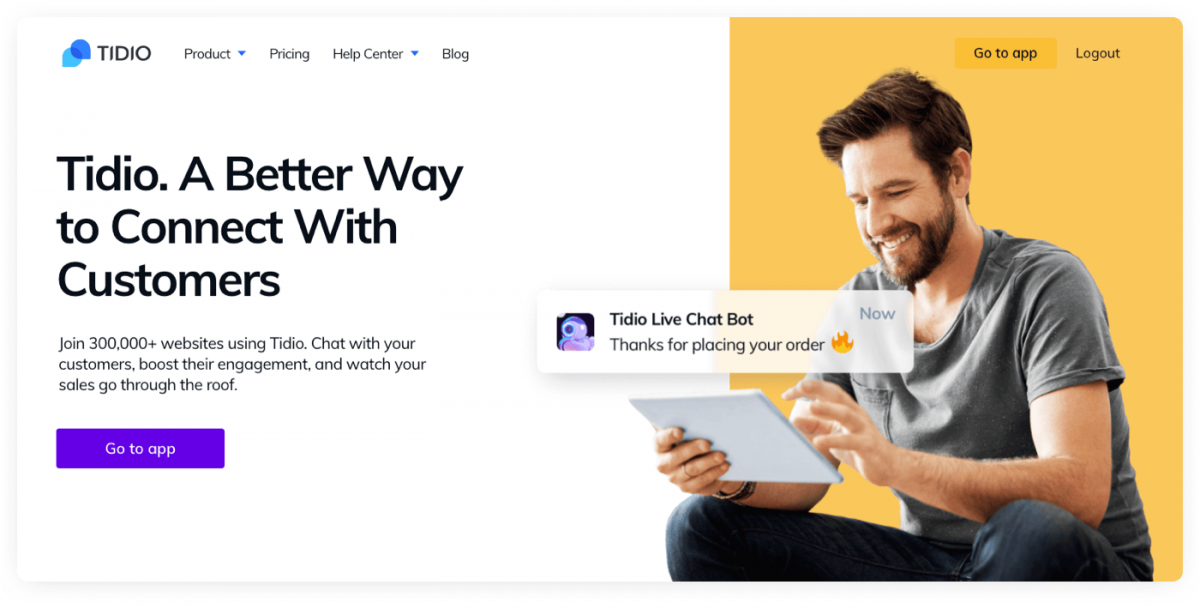 We won't be promoting ourselves here by saying things like "we're the best free live chat software out there." Our own article is not the right place to convince you that "we're the top live chat software" either.
No.
So, let us simply encourage you to try our free chat software for websites and see for yourself if we deserve all the positive reviews we get.
More than that, you're welcome to leave us a review—we'd love to know what your impressions are!
Here's what you get:
Visitor profiles to save customer information (location, contact details, visited pages, etc.)
Live visitor list to see website visitors and share promotional offers directly
Integrations with popular CRMs, analytics, and eCommerce platforms
Lead capture forms to collect emails before starting a web chat
Canned responses for quicker replies
Automated lead generation and customer support with ready-made chatbots
Pricing:
Free—Provide unlimited live chat support with three users, chatbots + a mobile app
Communicator—$18/mo. View website visitors in real time, get a preview of their messages as they write, and get new visitor notifications
Chatbots—$18/mo. Deploy as many support chatbots as you want + build custom ones with a visual editor
Turn your website visitors into delighted customers.
Set up the Tidio live chat app in 5 minutes and watch your sales grow.
Learn About Live Chat
Kelly, the owner of Care Package Depot, generates 140+ quality leads weekly with Tidio live chat and chatbots. Here's how she does it: How I Built a Successful Personalized Items Business During COVID-19
2. Podium Webchat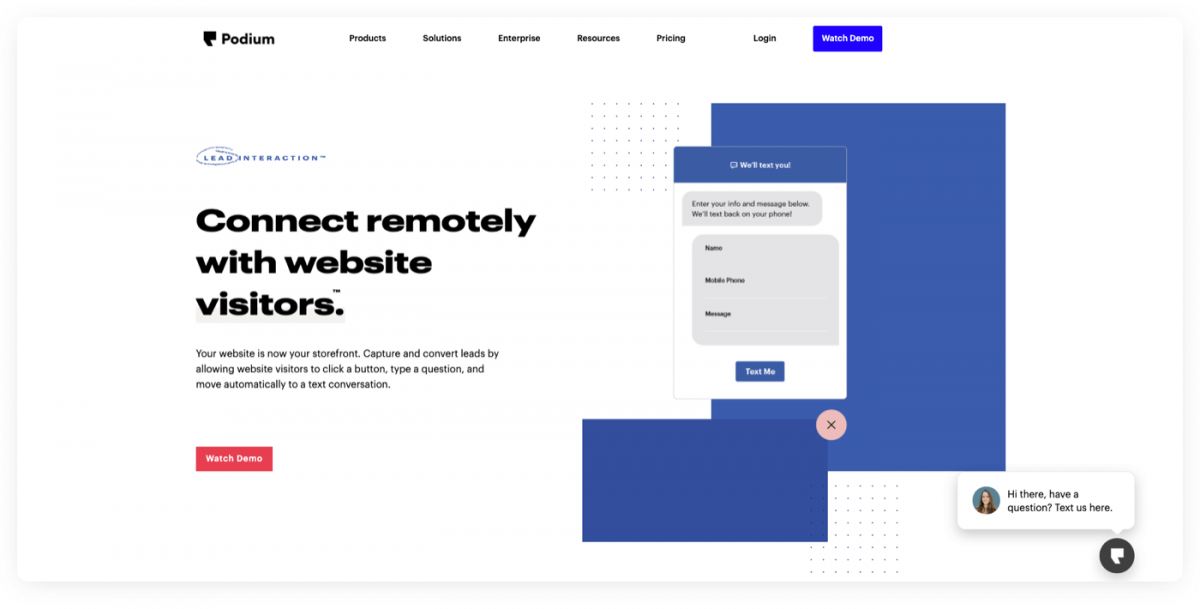 Podium Webchat isn't just live chat support software, but an online reputation management platform. It has a live chat feature, response automation, social media messaging, and automatic review requests.
Adding Podium to your website means having a centralized inbox for both website and social media customer messages. But keep in mind that it's a click-to-chat app–this means that you can't message website visitors first. They must provide their contact data and start a conversation.
Features:
A completely customizable live chat widget
Contact capture form in the widget to send text messages to customers later
Auto responses to capture leads
Lead generation and customer support performance dashboards
Pricing:
Custom—Customers are encouraged to get in touch for a price quote
Having a live chat on your website is a huge step towards excellent customer support. Next step? Learning how to build a five-star customer service: The Definitive Guide To Customer Support
3. HubSpot Live Chat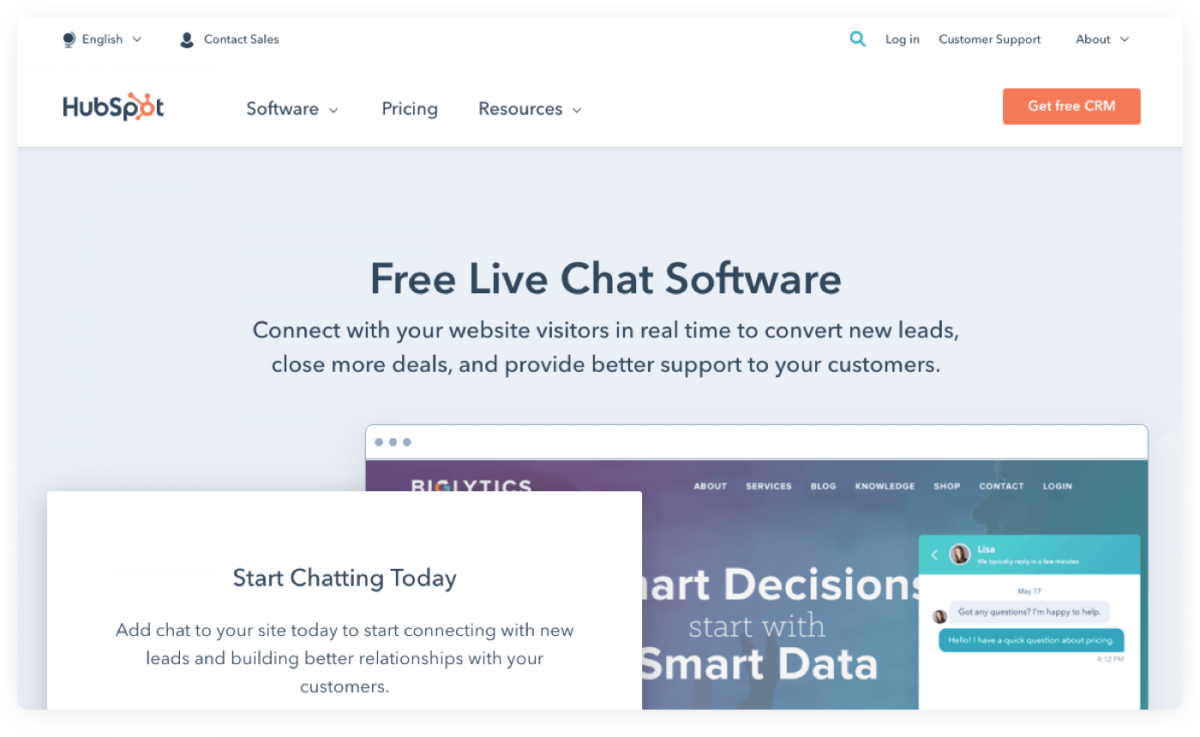 HubSpot Live Chat is a free live chat software app for a website with rich functionalities. The app integrates with the free CRM software from HubSpot to record customer information. So, you can fall back on some helpful context for the next conversations with repeat customers.
Like many other best live chat software apps here, HubSpot also has a chatbot builder, which you can use to create custom chatbots. This feature can help automate repetitive tasks such as answering FAQs.
Features:
Universal inbox that all teams can access and reply to messages
Automated lead generation and basic customer support tasks with chatbots
Integration with the HubSpot's free CRM
Pricing:
Free—But upgrading CRM features costs extra
4. LiveChat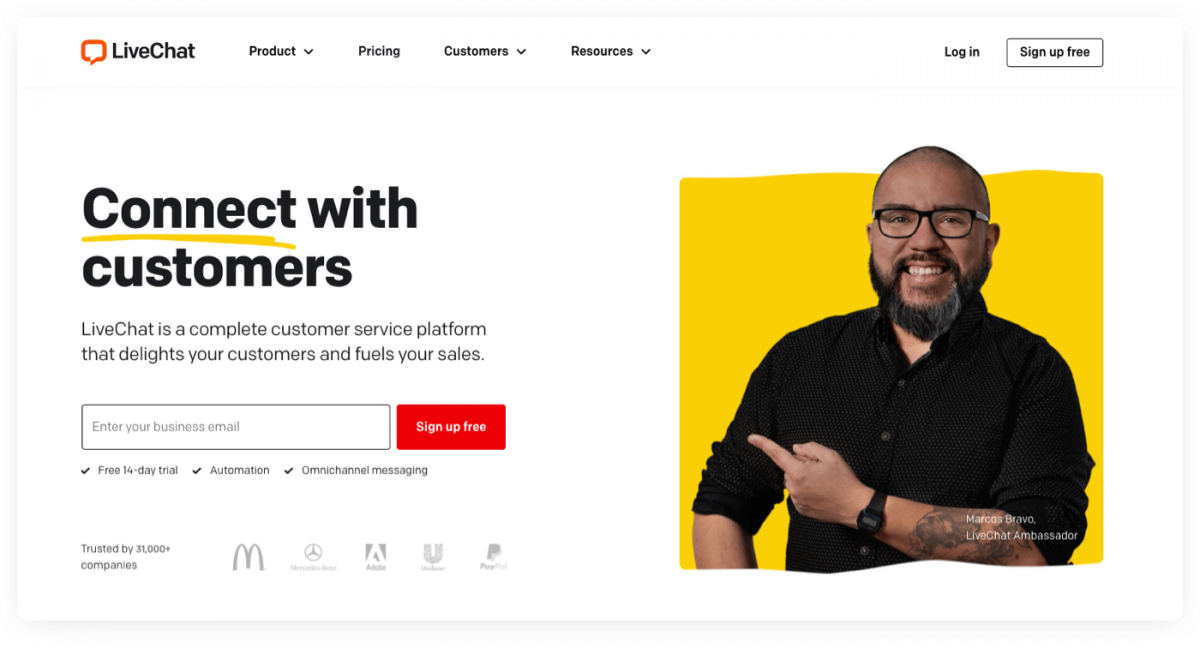 LiveChat offers a complete customer support solution for sales. Its live chat app is simple, customizable, and conversion-oriented.
Mid-sized and large businesses will benefit most from this website live chat service. If you have a large customer support team to manage, you'll find LiveChat's detailed reporting on agent performance and customer satisfaction useful.
Features:
Chat rating that allows customers to rate the quality of each interaction
Live chat messages with buttons, product carousels, and canned responses
Reports with customer satisfaction rating and agent performance data
Pricing:
Starter plan—$16/mo per agent. Basic widget customization, ticketing, and 60-day chat history
Team plan—$33/mo per agent. Suitable for mid-sized companies and offers a ticketing system, branding, agent groups, and reporting
Business plan—$50/mo per agent. Designed for a large customer service department and offers ticketing, data security, agent groups, and advanced reporting
Enterprise plan—custom pricing and individual contract
5. LiveAgent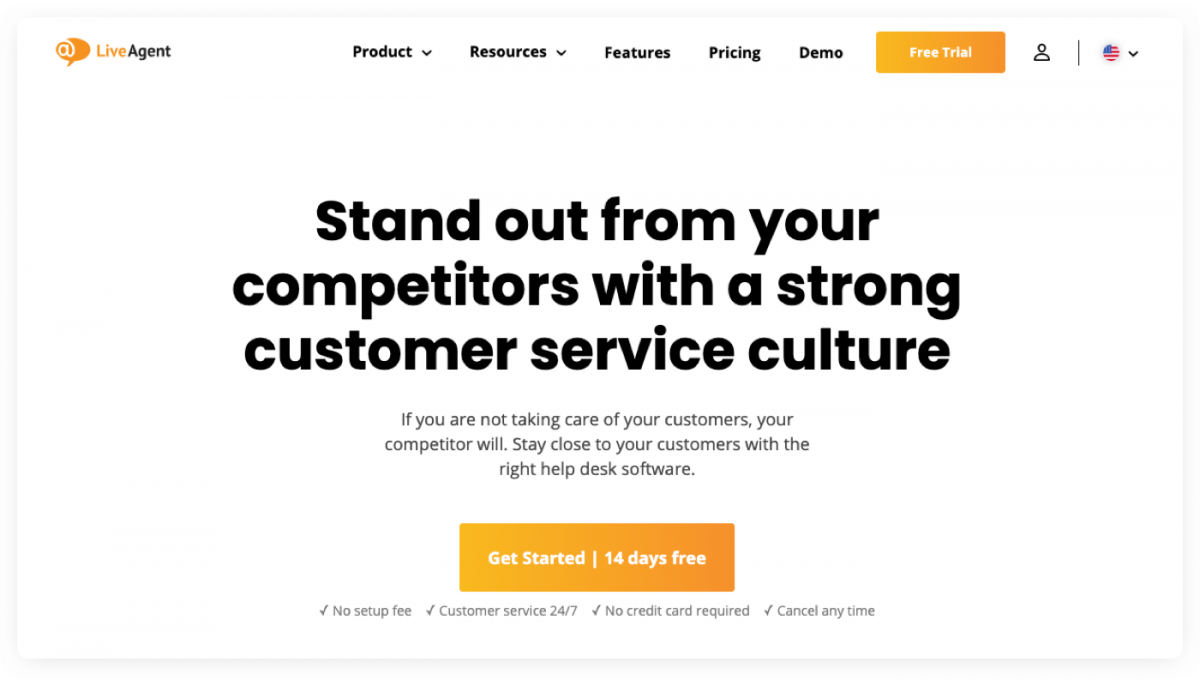 LiveAgent is a good choice for mid-sized businesses that want to offer customer service via phone, email, and live chat. Why? The live chat website plugin is designed to be a part of the LiveAgent helpdesk solution.
Choosing this website live chat makes sense if you manage a team that gets hundreds of support requests. Even in the basic plan, you get unlimited email ticketing and customer portal, which are good options for large eCommerce stores.
Features:
Collection of live chat widget designs for customization
Proactive customer service: chat invitations for website visitors to start conversations
Real-time customer message preview in the chat window before they send it
Pricing:
Free version—Live chat is limited to only one URL on a website, store chat history for 7 days.
Ticket+Chat—$29/mo. Real-time website visitor view, different live chat widget designs, social media integration
All-inclusive—$39/mo. Predefined answers, live chat transcripts, integration with popular CMS
6. Olark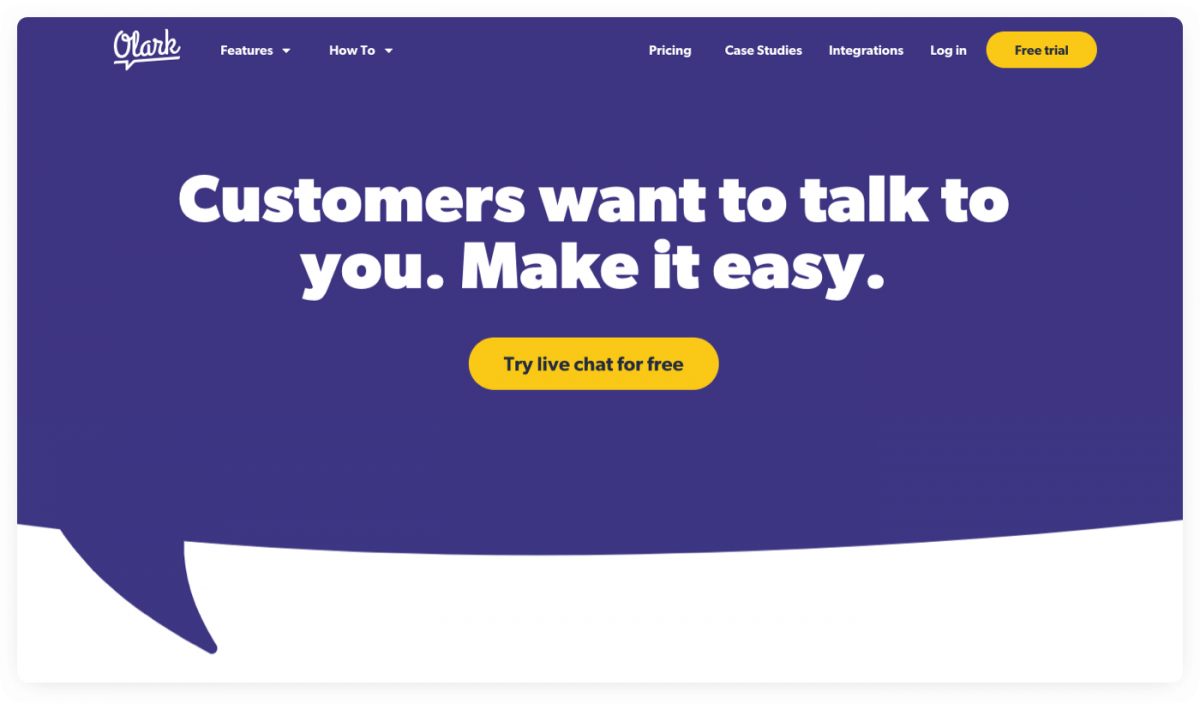 Olark is a user-friendly customer support chat software that offers decent analytics and reporting. Business owners will be able to collect information about customer satisfaction with surveys, support, chat volumes, and agent activity.
Another useful feature is chat transcripts. Olark's live chat tools give access to a complete archive of conversations with customers. You can use it to find insights about product feedback and customer satisfaction.
Features:
Chat rating to access customer satisfaction with service quality
A customizable website chat box
Live chat automation features: automated welcome messages and promotions
Pricing:
$19 per agent/mo—A one-year subscription reduces the price to $15 per agent per month
Custom pricing for Olark Pro plans
7. Pure Chat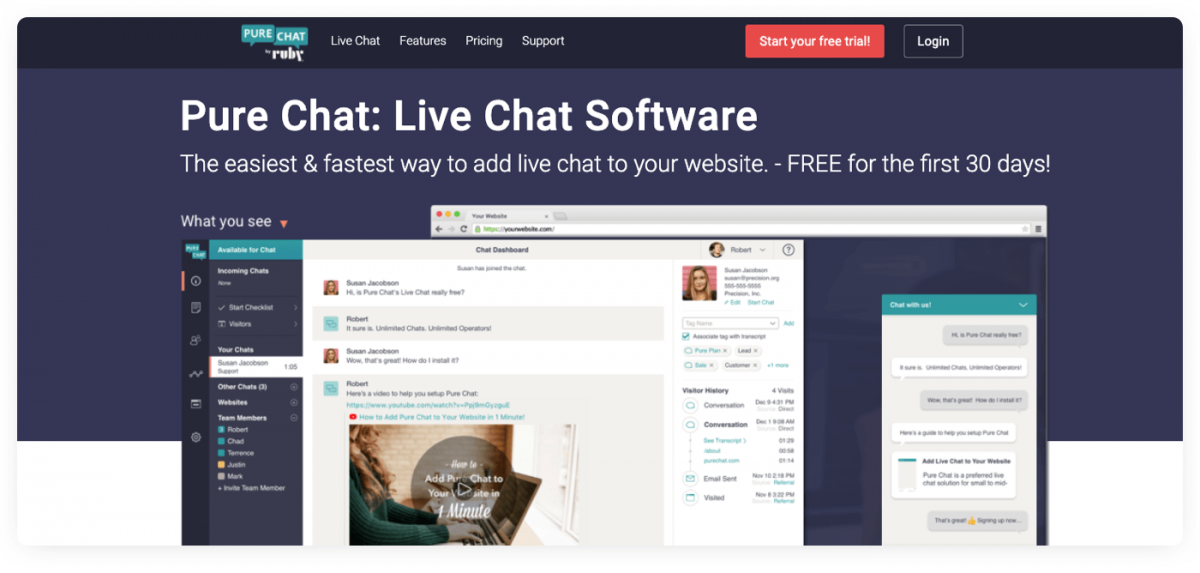 Here's what you need to know about Pure Chat. It's one of the best live chat software options for mid-sized companies with real-time visitor analytics. Sales teams can collect such data as the history of conversations, visited pages, and contact info to find leads and improve marketing
You can integrate this online live chat software with tools like Google Analytics, Salesforce, MailChimp, and HubSpot.
Features:
Unlimited chats
Access rights for live chat admin and operators to improve data security
Canned responses for faster communication with customers
Real-time visitor analytics
Pricing:
Growth—$49/mo. Four operators, unlimited chats, live chat widget customization, Android + iOS app
Pro—$99/mo. Install live chat on unlimited websites, 10 operators + SMS marketing
8. Chaport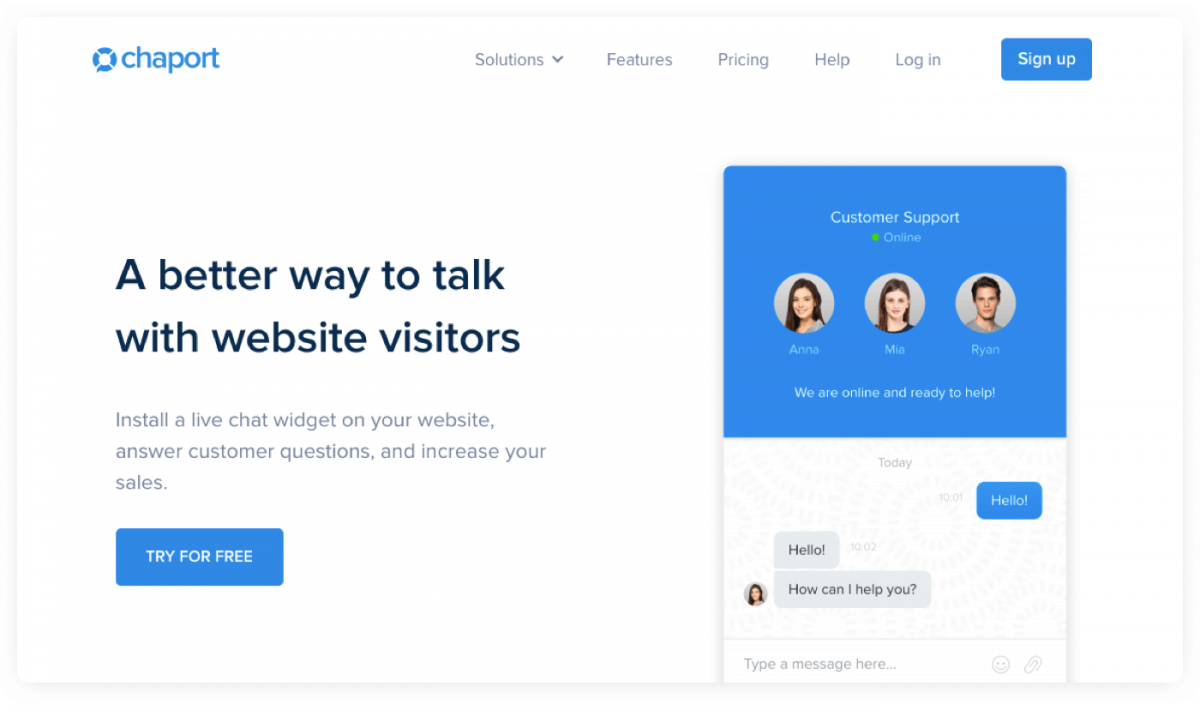 Chaport stands out from the list of live chat support software thanks to integrations with Facebook, Viber, and Telegram. Those are the heavyweights of the instant messaging world—Telegram alone has 400 million users—so you can invite customers to message you via a preferred app.
Messages from all apps and live chat on a website arrive in one inbox. The inbox is available on mobile, which makes responding to customers easier
Features:
Simple and stylish live chat software for website
Integrations with Facebook, Viber, and Telegram
Canned responses and chat search
Pricing:
Free—Chat with customers without limits, get basic reports and save chat history for 30 days
Pro—$9.80/mo. Advanced reports, file sending, integration with instant messaging apps, and canned responses
Did you know you could make a Facebook chatbot yourself? Here's Facebook Messenger chatbot guide with examples and tips on how to build one in minutes.
9. Zendesk Chat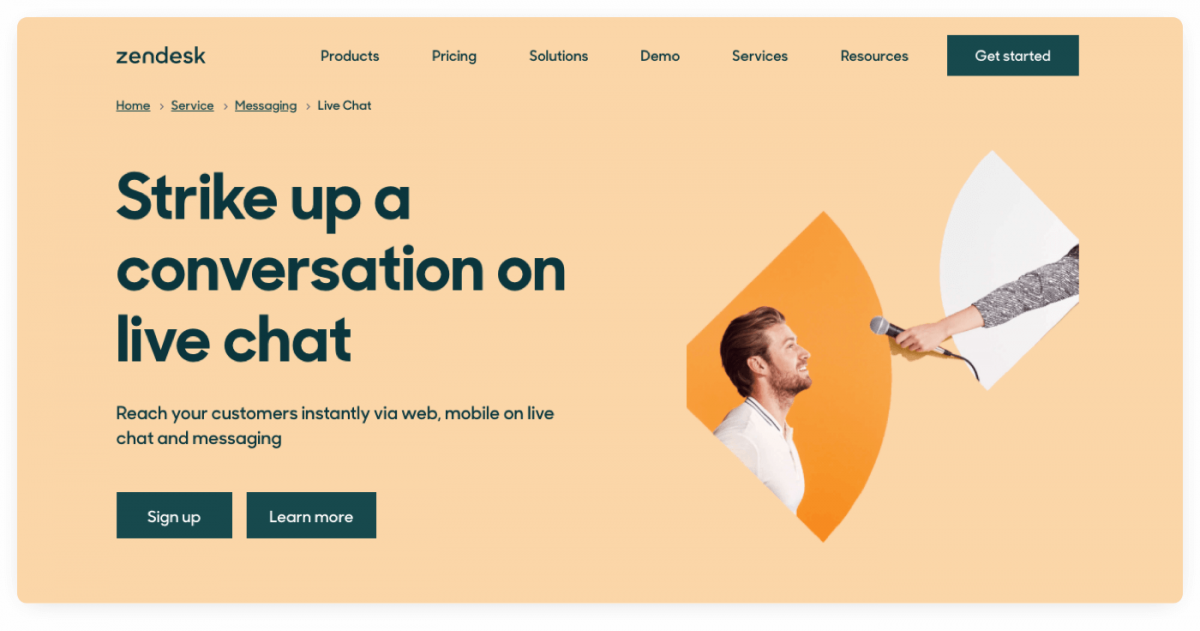 Zendesk offers its live chat service for free, but the functionality is very limited. Besides the actual live chat, you get only a 14-day chat history and chat rating.
The paid plans have more useful features for sales, marketing, and branding. Online businesses with thousands of monthly orders will find useful options like operating hours, support agent roles & permissions, and web SDK.
Features:
Offline pre-chat forms to collect customer information before chatting
View visitors on your website in real time
Chat rating feature to let customers evaluate your customer support
AI-powered chatbots to automate basic customer service tasks
Pricing:
Lite—free. One concurring chat + save chat transcript history for 14 days
Team—$14/mo (per agent). Unlimited chats, chat customization, 2 support departments
Professional—$29/mo. Ger reports on agent performance, track conversions, and add operating hours to the live chat widget
Enterprise—$59/mo. Monitor store visitors in real time, assign roles and permissions to agents, and get web SDK for live chat customization
10. LivePerson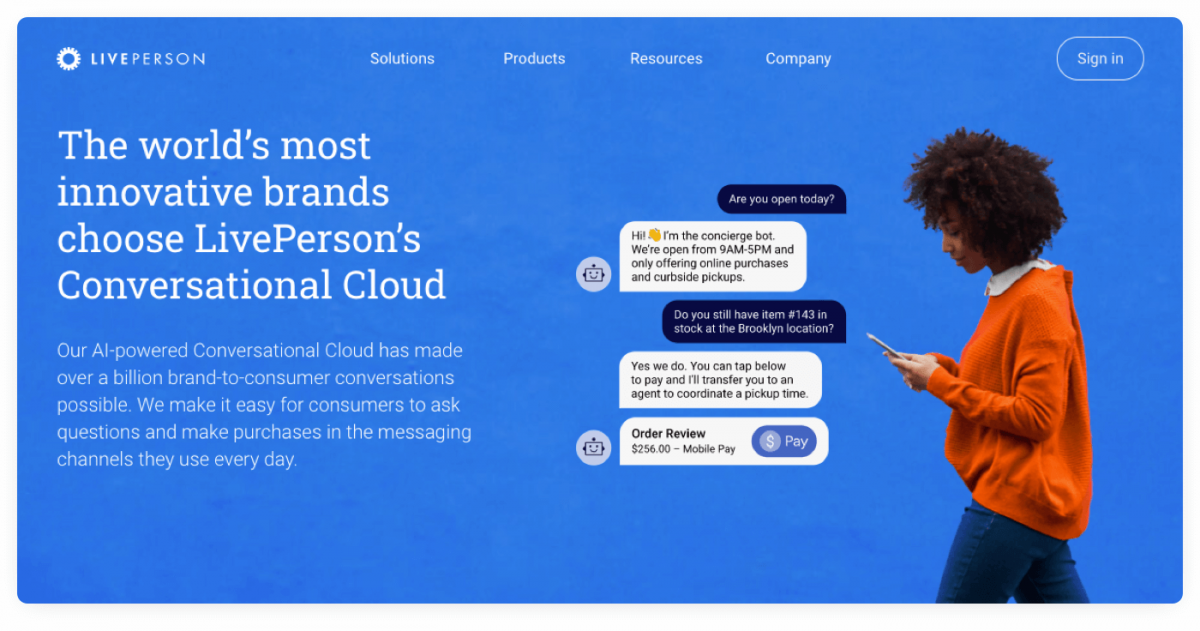 LivePerson calls its web live chat "The world's first AI-powered conversational cloud." In simpler terms, it means a messaging platform that combines SMS, instant messaging apps, chatbots, and live chat.
This best website chat app boasts advanced AI functionality. For example, customers can make payments directly in the chat and get answers to their questions thanks to machine learning.
Features:
Communication with customers via live chat, chatbots, WhatsApp, Facebook, Twitter, Google's Business Messages, Apple Business Chat, and more
Automate customer interactions with AI chatbots
Integration with CRM to collect and store customer data
Pricing:
LivePerson doesn't list live chat software pricing on its website. Third-party live chat reviews suggest $40/user/mo for the cheapest plan
Speaking of conversational support… You'll find these useful: Best Support Phrases and Quotes for All Types of Customer Service
11. Tawk.to
Looking to hire agents to take care of your customer service? Tawk.to is a live chat service that lets you do that. This live chat software for a website offers to take over your customer support and provides agents for hire by the hour.
You can hire live chat agents for as low as $1 per hour. The average base hourly rate is $14.41, according to Payscale data, so using Tawk.to could be an option for small businesses on a budget.
Features:
Real-time visitor monitoring to learn about the customer journey
Canned responses for faster customer service
Message translation into 45+ languages
Mobile app for iOS and Android to chat with customers on the go
Pricing:
$1 hour/agent for workdays
$1.50 hour/agent for double shifts
$2.20 hour/agent for weekends
Think that hiring and training in-house customer support agents is a better idea? Here are the skills to look for: 25+ Customer Service Skills That Employers & Customers Love
12. Acquire.io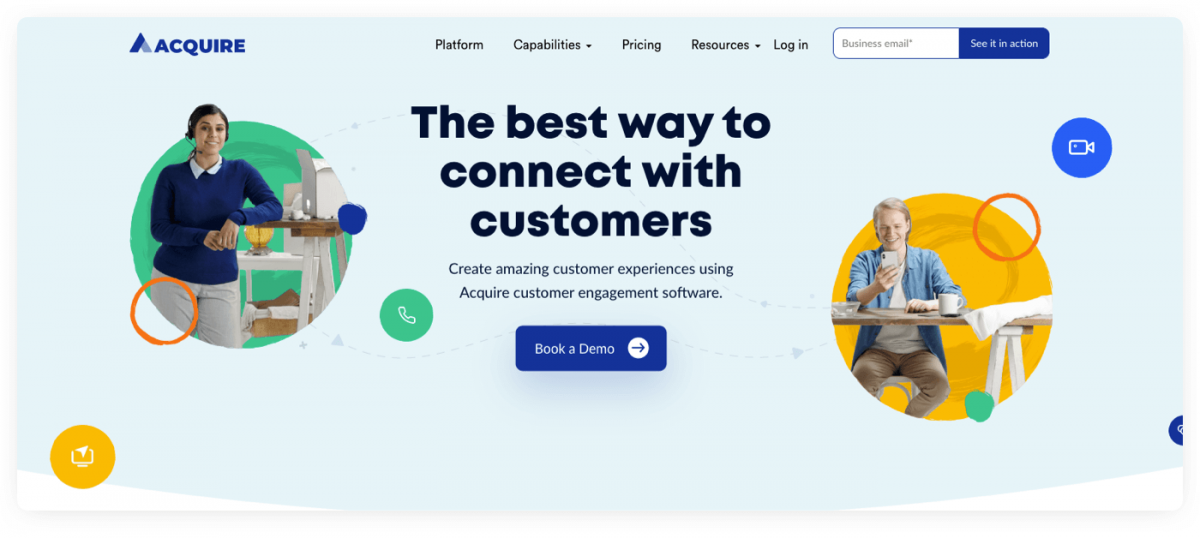 Acquire offers a highly customizable live chat app for a website.
This software is a good option for businesses looking to go international. Acquire.io offers auto-translation into more than 100 languages, which only a few best live chat software apps provide. So, your support agents don't have to speak foreign language to respond to requests.
Multimedia sharing capabilities are another reason why this live chat for websites stands out. You can share files, co-browse, and talk to customers via audio. There's also a video chat, so Acquire.io might be suitable for businesses looking for live chat video software.
Features:
Automate common support tasks with chatbots
Chat routing with agent tagging for faster and personalized support
Connect with customers via live chat, audio, phone, screen share, and video chat from one dashboard
Pricing:
The developer doesn't list the price for Acquire.io's website live chat services. Third-party sources suggest $300/mo as the price for the cheapest plan (+$40 for every extra live chat operator). Contact their support team for details
13. Formilla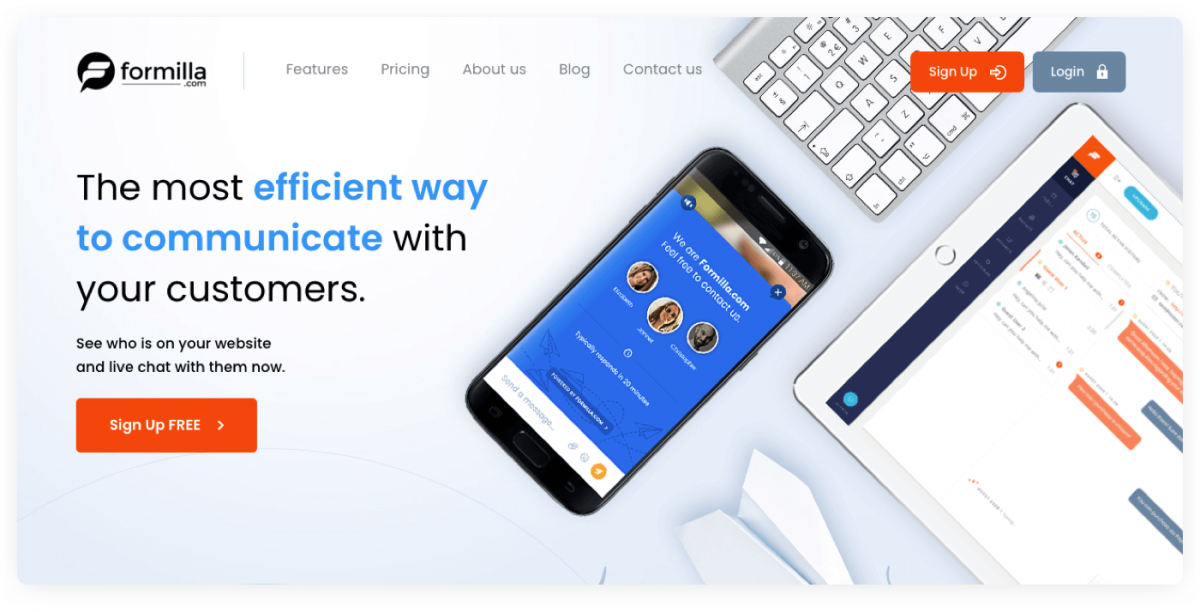 Formilla is branded as a live chat for business with customer support and automation features. With this live chat software, you'll be able to view visitors in your store, message them, and automate some responses with chatbots.
Formilla can integrate with 500+ third-party apps through Zapier. So chances are that this web chat is compatible with an email marketing tool or a CRM of your choice.
Features:
Real-time visitor monitoring for marketing and support
Automatic display of predetermined messages for visitors based on their characteristics (new vs. returning customers, location, abandoned shopping cart, etc.)
Saved replies for quicker response to common questions
Pricing:
Premium—$29.99/mo. Get 2 live chat operators, chatbots, saved replies, and mobile apps
Professional—$49.99/mo. Real-time monitoring, AI chatbots, file sharing, multiple website integration
Growth—$69.99/mo. Get unlimited live chats, email messages, and in-app messages
14. Drift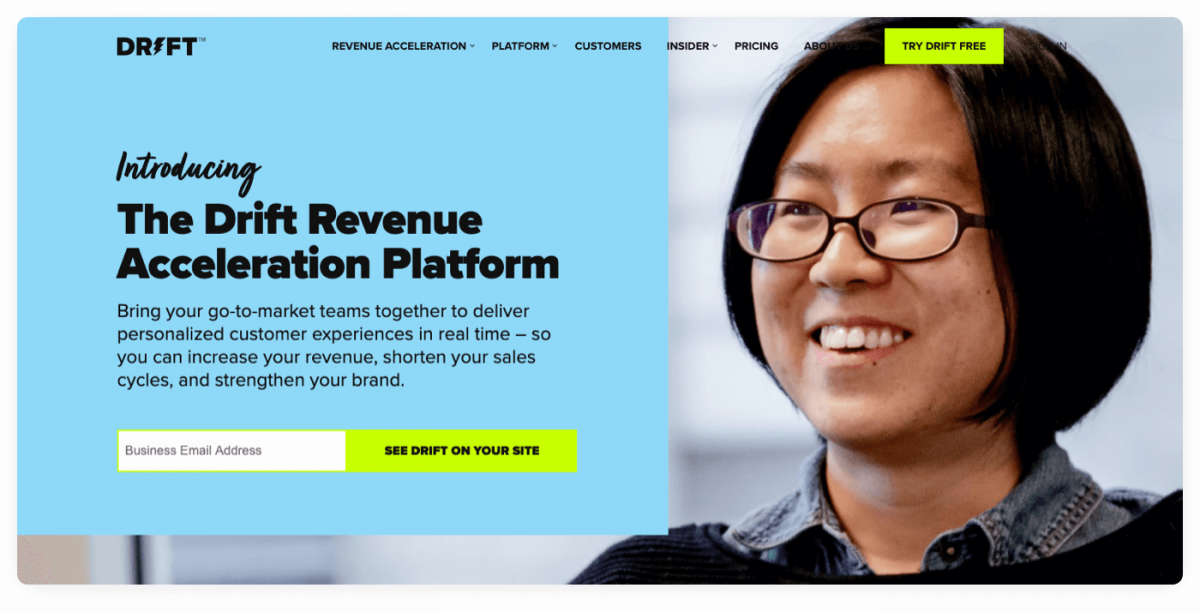 Drift is one of the best live chat apps for large businesses because of its enterprise-level features. This live chat tool identifies anonymous website visitors, gives real-time notifications of visits, and qualifies leads for a more personalized support experience.
Drift also has reporting capabilities. This live chat app for a website collects customer data that you can integrate into your reporting stack for analysis.
Features:
Lead routing to ensure that a customer goes to the right representative or agent
Conversational AI to automate customer support requests
Custom chatbot templates for lead generation, increasing conversion rates, and customer service
Pricing:
Drift offers a free plan limited to only one concurrent conversation. To get sales and marketing features, you need to sign up for premium plans. Drift doesn't share the pricing, but live chat reviews suggest the monthly cost of $400
15. Intercom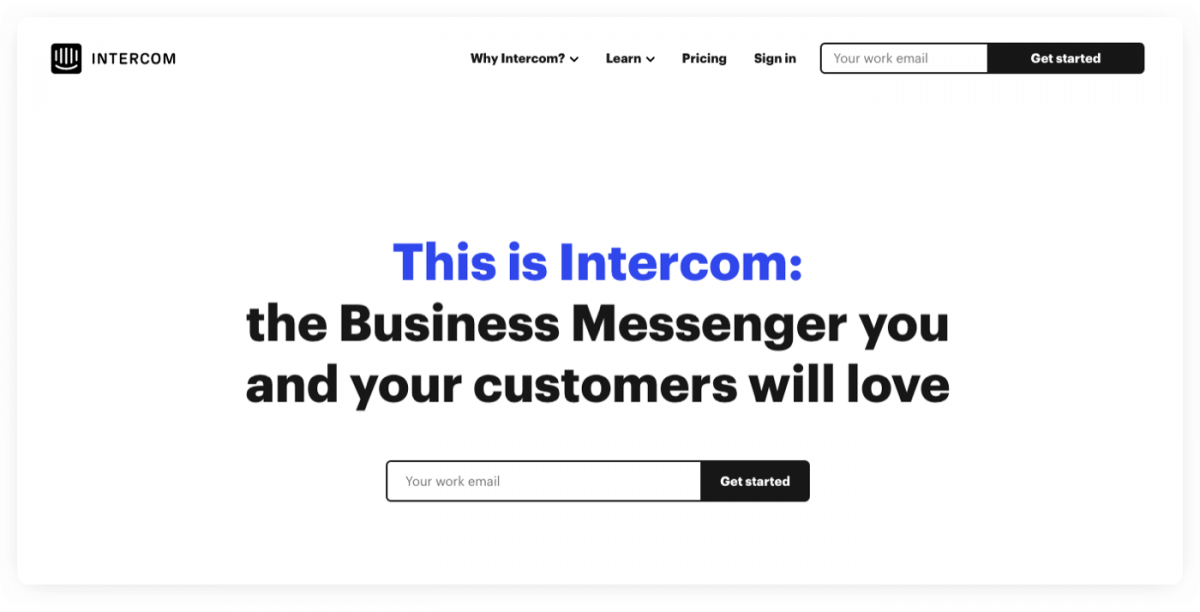 Intercom is like Apple of live chat service providers–functional but super expensive. That's why there's a bunch of Intercom alternatives out there. Still, it remains one of the live chat platforms to help large companies with customer support and marketing.
Compared to other best live chats, Intercom is extremely feature-rich. Large B2C companies and SaaS businesses, for example, will find tools like help center, ticketing, custom API, and Service Level Agreements useful.
Features:
Live chat conversation ratings to monitor customer service quality
Custom chatbot templates for various customer support and marketing-related needs
Canned responses to speed up customer service
Salesforce dashboards to monitor sales performance
Pricing:
Start—from $39/mo. One live chat operator, office hours notification, conversation tags
Grow—from $99/mo. Five operators, emails, website chat ratings, and help center
Accelerate—from $499/mo. 10 operators, chatbots, support team analytics, ticketing, and integrations with Salesforce
Scale—from $999/mo. Get up to 10 operators, user roles and permissions, custom API, and workload management
16. Chatra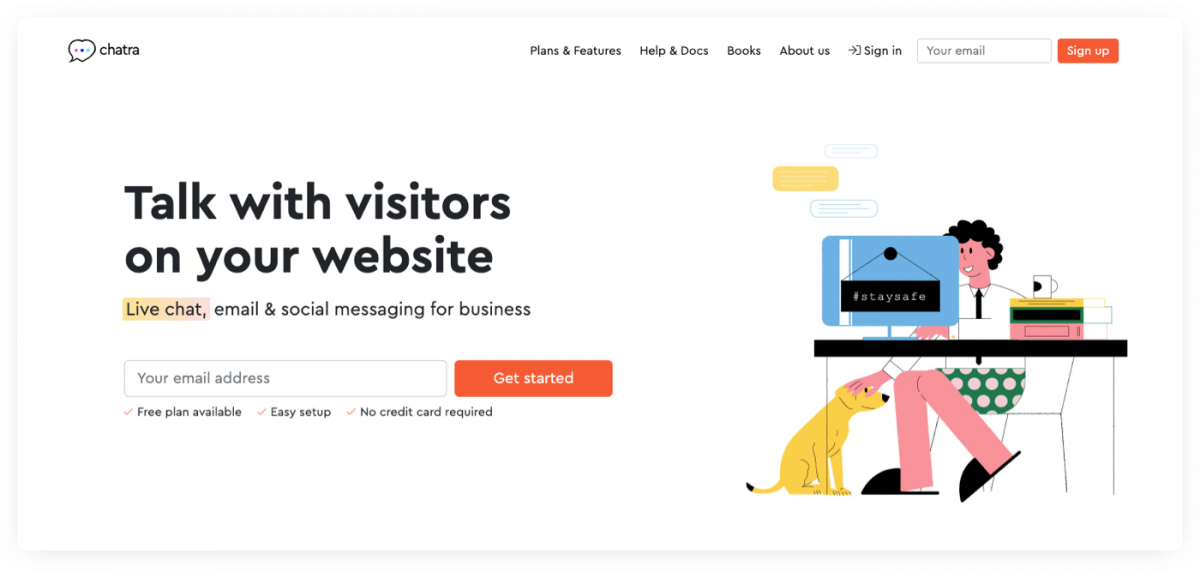 Chatra offers a free live chat service, which makes it an option for businesses on a budget. The most interesting feature, however, is the email integration.
Businesses that rely on email customer support can take advantage of Chatra's email helpdesk feature. It brings emails and live chat messages into one inbox, so you can answer more customers easier.
Features:
Unified user dashboard to reply both to emails and live chat messages
Chatbots to automate simple customer support tasks
Real-time visitor list to see who's browsing your online store
Pricing:
Free—Use one live chat agent, basic visitor data + mobile app
Essential—$19/agent/mo. Get chatbots, detailed visitor info, canned replies, unlimited simultaneous chats
Pro—$23/agent/mo. Chat ratings, Google Analytics reporting, email tracking, operating hours
17. Crisp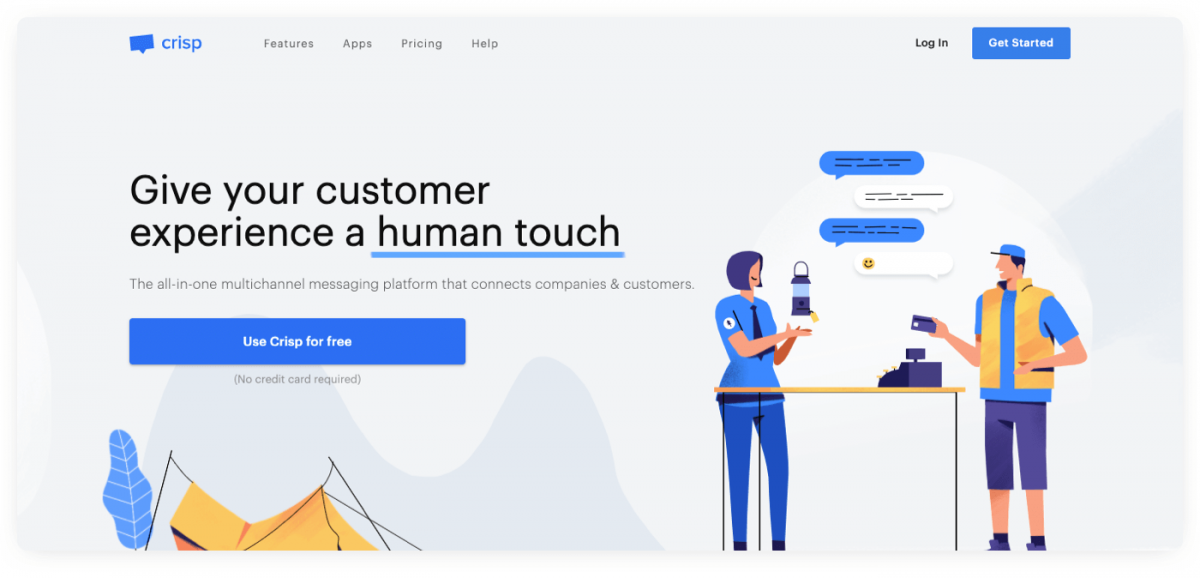 Crisp helps small and medium-sized businesses to build customer relationships via multichannel marketing. Besides live chat website software, this website support chat app offers integrations with emails, SMS, and instant messaging tools.
Crisp aims to be less of a live support chat for a website but more of a multichannel marketing app for SaaS startups. Features like video live chat software, knowledge base, and co-browsing support that.
Features:
One dashboard to answer questions from all customer communication channels
Integration with sales dashboards, CRM, and co-browsing software
Crisp Analytics dashboard to track user satisfaction, employee effectiveness, and other chat-related statistics
Pricing:
Basic—free. Two live chat support team members as operators, visitor notifications, and mobile apps for iOS and Android
Pro—$25/mo per website. Canned responses, unlimited chat history, live chat widget customization, and integration with Slack and Facebook
Unlimited—$95/mo per website. Custom chatbots, reporting on chat satisfaction and agent performance, routing to assign chats to specific operators
When Jano, the founder of Whisker Bag, was looking for a live chat online, he chose a live chat tool with the most "extensive functionality." The result: 400% more leads and increased sales. Read the story: How We Turned Cat Travel Bag Idea Into a $100K/year Side Business
Best Live Chat Software: Summary
Now you know how to choose the best live chat software and add some flavor to your website. Remember: every option comes with a free plan or trial period.
Here are the best live chat software options for websites:
Tidio
Podium Webchat
HubSpot Live Chat
LiveChat
LiveAgent
Olark
Pure Chat
Chaport
Zendesk
LivePerson
Tawk.to
Acquire.io
Formilla
Drift
Intercom
Chatra
Crisp
Keep in mind the questions from the previous section while browsing live chat companies. They will help you find the best live chat services for websites you're managing.