First things first—
What is a live chat solution?
Live chat software is a messaging tool that pops up as a chat window and allows for proactive customer communication straight from your website or social media. Visitors can click on the chat widget and interact with your business when browsing through your ecommerce store and ask questions straight away.
It's a great way for visitors to reach your reps directly in seconds which, in turn, can improve your customer engagement and boost conversion rates.
But how to choose the best live chat software for your business?
Let's find out.
In this article, we compared:
| Provider | Ratings | Free plan/trial | Best for |
| --- | --- | --- | --- |
| Tidio | 4.7/5 ⭐️ (1,400+ ratings) | ✅ | Small and medium businesses |
| Smartsupp | 4.6/5 ⭐️ (130+ ratings) | ✅ | Video recordings |
| Crisp | 4.6/5 ⭐️ (105+ ratings) | ✅ | Multichannel marketing campaigns |
| Intercom | 4.5/5 ⭐️ (2,685+ ratings) | Trial | Large online businesses |
| LiveAgent | 4.5/5 ⭐️ (1,445+ ratings) | ✅ | Helpdesk software |
| Podium | 4.5/5 ⭐️ (1,320+ ratings) | ✅ | Facebook communication |
| LiveChat | 4.5/5 ⭐️ (745+ ratings) | ❌ | Mid-size and large ecommerce stores |
| Tawk.to | 4.5/5 ⭐️ (170+ ratings) | ✅ | Outsourcing customer support |
| Zoho Desk | 4.4/5 ⭐️ (4,685+ ratings) | ✅ | Omnichannel customer service |
| HubSpot | 4.4/5 ⭐️ (1,935+ ratings) | ✅ | CRM software integration |
| Drift | 4.4/5 ⭐️ (930+ ratings) | ✅ | Enterprise-level features |
| Zendesk | 4.3/5 ⭐️ (5,605+ ratings) | ❌ | Helpdesk software for mid-sized and large businesses |
| Olark | 4.3/5 ⭐️ (220+ ratings) | Trial | Marketing and survey features |
| Pure Chat | 4.3/5 ⭐️ (200+ ratings) | ❌ | Reporting and analytics |
| LivePerson | 4.2/5 ⭐️ (145+ ratings) | ❌ | Conversational AI features |
| Acquire | 4.2/5 ⭐️ (40+ ratings) | ❌ | Global businesses |
If you want to find out more about live chat and its components, check out these articles:
But why are these the tools that we've chosen?
Well—
We spent about 40 hours analyzing nearly 50 live chat tools to help you find the best system for your needs. To ensure an unbiased outcome, we set a strategic methodology and based our ranking on product data.
The rating factors included:
Number of reviews on third-party sites
Ratings on third-party websites, such as G2
Paid plans and the free chat options
General features
User's opinions of the software
After the analysis, we also tested the customer service chat software using the free trial period. This has led us to the list you can see in this article. We've placed the tools in order of best ratings with the highest number of reviews.
But before we look at them properly, let's check—
What are the benefits of live chat software for a website?
There's a lot in it for your business and your customers, but let's see what the research says on that topic.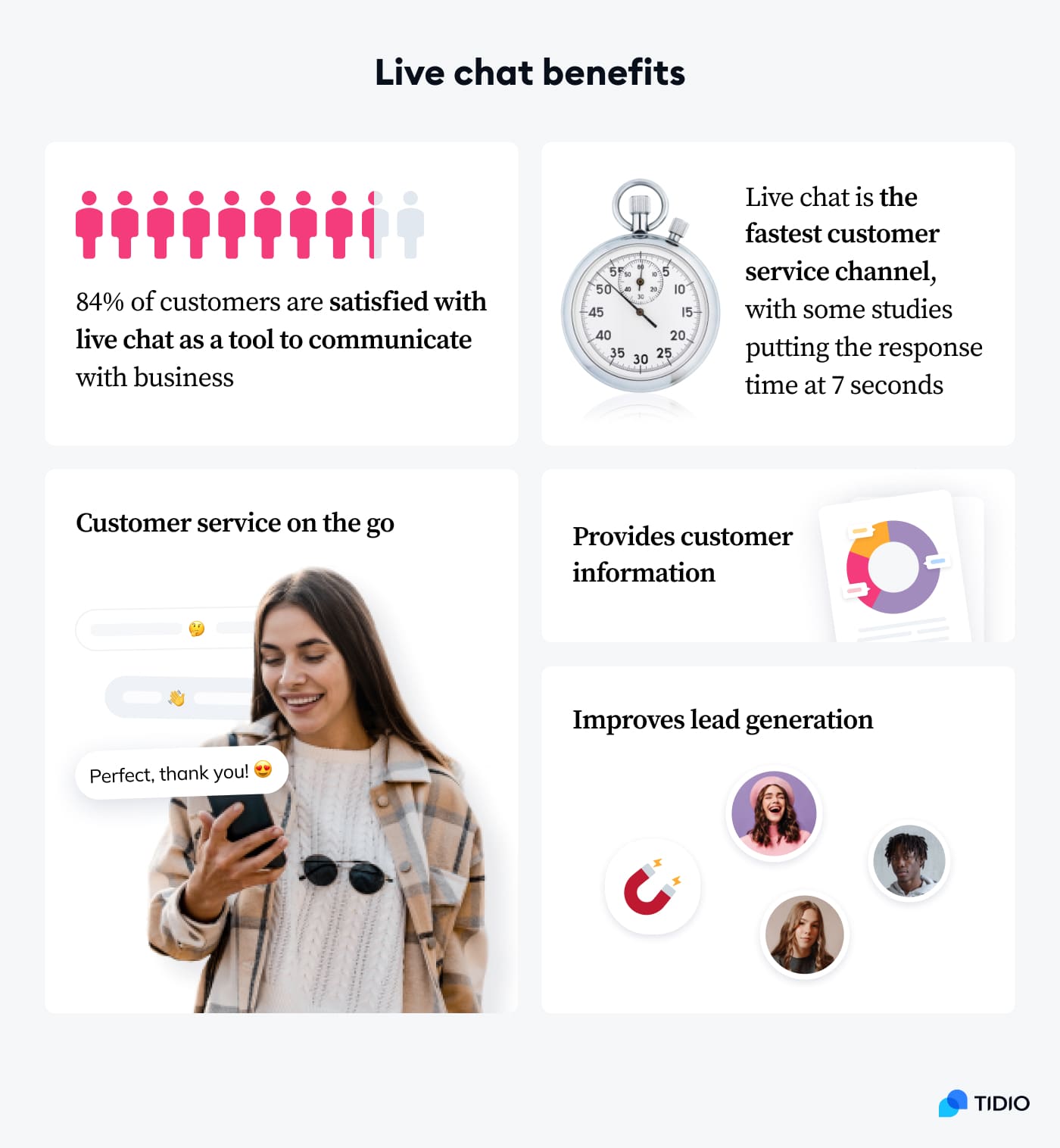 Increased customer satisfaction
A study shows that over 84% of customers are satisfied with live chat as a tool to communicate with businesses. So, by adding this tool to your website, you can grow the overall customer satisfaction with your business.
Real-time customer support
Live chat on site is the fastest customer service channel, with some studies putting the response time at 7 seconds. You can also provide real-time support and share promotions using the pop-up chat window—60% of shoppers appreciate personalized promotions and deals.
Customer communication on the go
Timely in-app notifications of new visitors and incoming messages can help you improve your customer relationships and, ultimately, grow sales. It's also good to keep in mind that over 41% of your shoppers expect a website chat feature when browsing ecommerce sites.
Valuable customer information produced
Live chat allows you to see which pages your customers visited, their demographics, and what device they use for browsing. And while collecting the information, you can also improve your customer support as the satisfaction rate of website live chat services is about 85%.
Lead generation & increased sales
According to Forrester's study, visitors who have a conversation with a business are nearly three times as likely to convert than those who don't. These customers also tend to buy around 10-15% more than clients who don't use live chat.
We only scratched the surface here when it comes to live chat trends and statistics. Check out the essential live chat statistics to learn more about trends related to website chat services.
So—
What is the best live chat for websites?
Here are the in-depth reviews of the top tools available on the market.
Best live chat software for websites
When searching for "live chat software" on G2 and other review platforms, we get between 420 and 514 results. There are plenty of options out there to choose from, and going through them all would take you days, if not weeks.
So, instead of checking them all, let's see the reviews of the top 16 live chat software.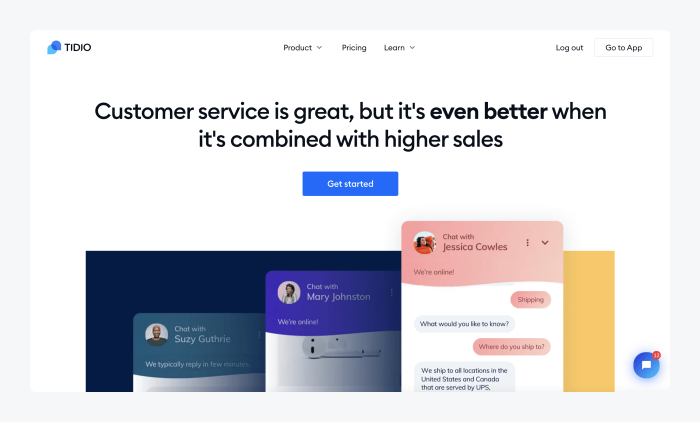 Ratings: 4.7/5 ⭐️ (1,400+ ratings)
We won't be promoting ourselves here by saying things like "we're the best free live chat software out there." Our own article is not the right place to convince you of that.
So, let us simply encourage you to try our free chat software for websites and see for yourself if we deserve all the positive reviews we get. More than that, you're welcome to leave us a review—we'd love to know what your impressions are!
Main features:
Visitor profiles to save client information (location, contact details, visited pages, etc.)
Live visitor list to see who's browsing your store
Real-time visitor message preview in the chat window
Integrations with popular CRMs, analytics, and ecommerce platforms
Canned responses for quicker replies
Automated lead generation and customer support with ready-made chatbots
Free plan available
Communicator ($19/mo/operator)
Chatbots ($19/mo)
Tidio+ (from $329/mo)
Chatbots: ✅
Read more: Learn how to install Tidio on different websites and platforms in under 5 minutes.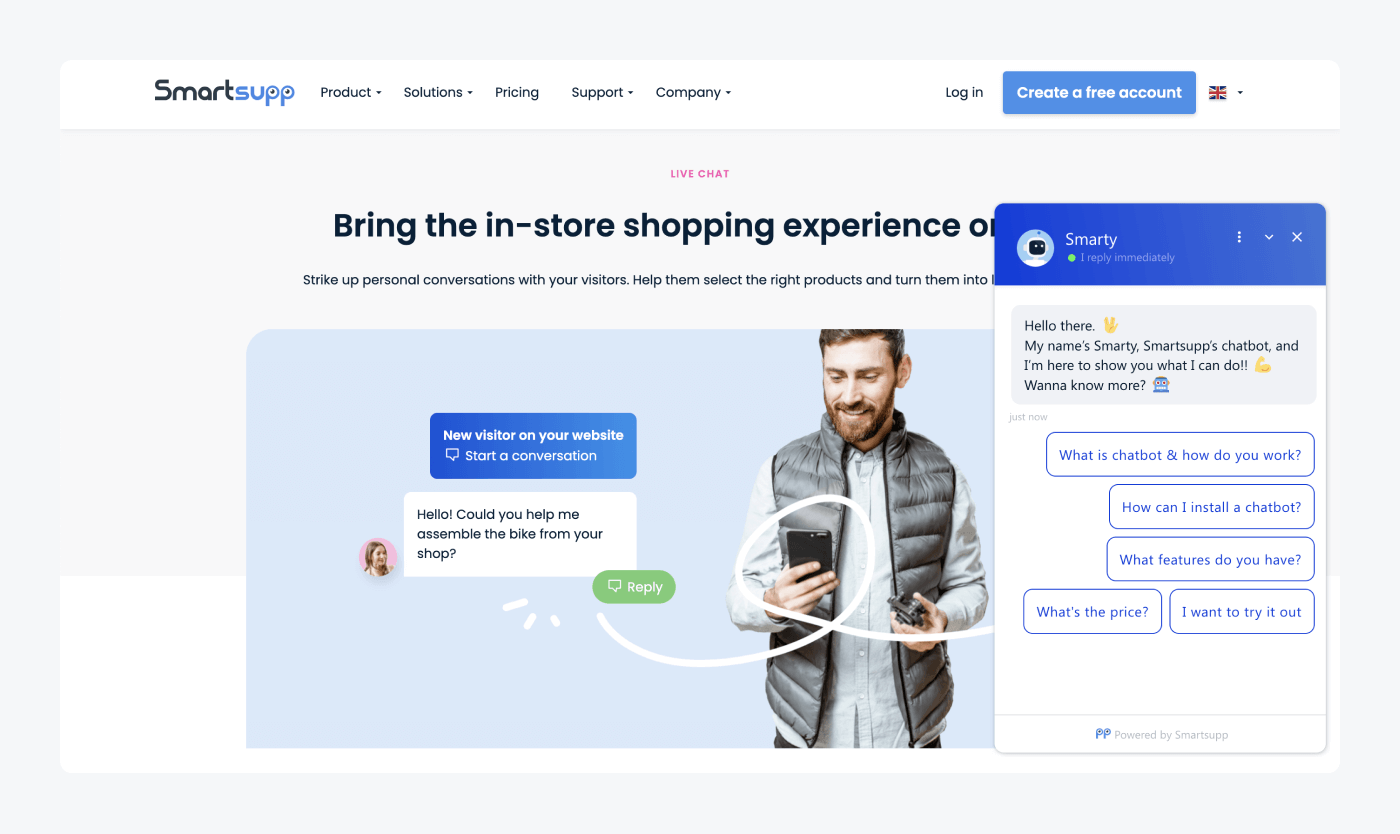 Ratings: 4.6/5 ⭐️ (130+ ratings)
Smartsupp helps ecommerce businesses provide a personalized shopping experience and drive more sales. You can offer proactive customer service through live chat, chatbots, and video recordings. This way, you can respond to repetitive questions and offer an interactive experience for your clients.
You can also see who's browsing your platforms and catch them at just the right moment. This makes online shopping a little more like the in-store experience with a human assistant to help the shopper when they need it.
Pros:
Free mobile app for Android and iOS
Previous conversations with the same user easy to find
Customer feedback feature available
Cons:
Delay in receiving messages via the app
Easy to miss notifications on the iPhone app
Not able to integrate with a CRM platform
Free version available
Standard ($22.5/mo)
Pro ($60/mo)
Unlimited → contact sales team
Chatbots: ✅
Ratings: 4.6/5 ⭐️ (105+ ratings)
This tool helps small and medium-sized businesses to build customer relationships via multichannel marketing. Besides live chat website software, this website support chat app offers integrations with various communication channels, such as emails, SMS, and instant-messaging tools.
Crisp offers services like video live chat software, knowledge base, and co-browsing. These can help your business to provide a modern user experience, generate qualified leads, and improve customer satisfaction.
Pros:
Screen sharing available
Live Translate feature to speak to the customer's in their native language
Crisp analytics dashboard to track user satisfaction, employee effectiveness, and other chat-related statistics
Cons:
Not possible to insert a customer satisfaction survey into the chatbox
Unable to mark chats as unopened after they are viewed
Not possible to group reviews after receiving them
Free version available
Pro ($25/mo/workspace)
Unlimited ($95/mo/workspace)
Chatbots: ✅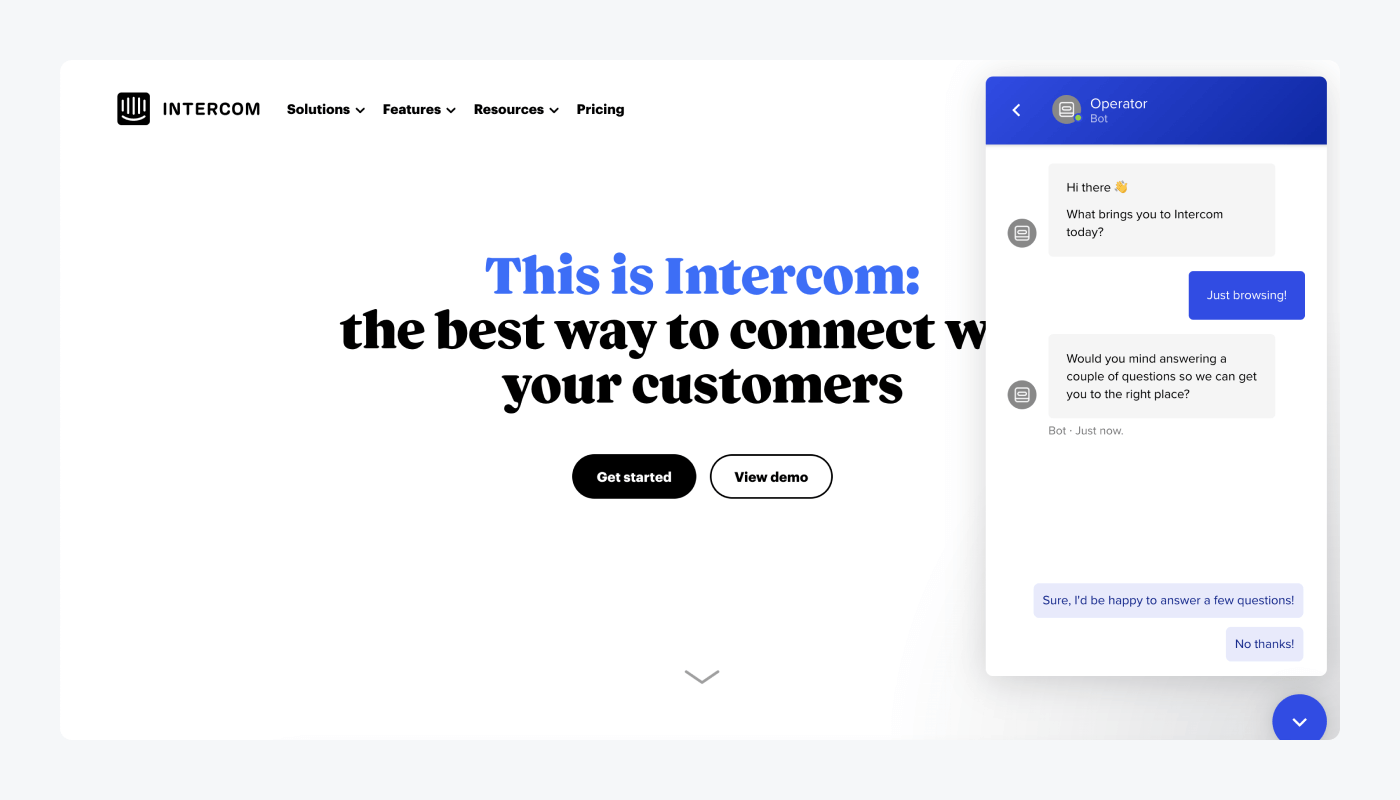 Ratings: 4.4/5 ⭐️ (2,685+ ratings)
This tool is like the Apple of live chat service providers—functional but super expensive. That's why there are a bunch of Intercom alternatives out there. Still, it remains one of the best live chat systems to help large companies with customer support and marketing.
In addition to that, Intercom offers advanced features and add-ons. Large B2C companies and SaaS businesses, for example, will find tools like help center, ticketing, custom API, and Service Level Agreements useful.
Pros:
Live chat conversation ratings to monitor customer service quality
Custom chatbot templates for various customer support and marketing-related needs
Canned responses to speed up customer service
Cons:
Expensive compared to competitors
Not able to merge or duplicate conversations
Organizing content into folders and subcategories not possible
14-day free trial
Starter ($74/mo)
Contact sales for other pricing plans
Chatbots: ✅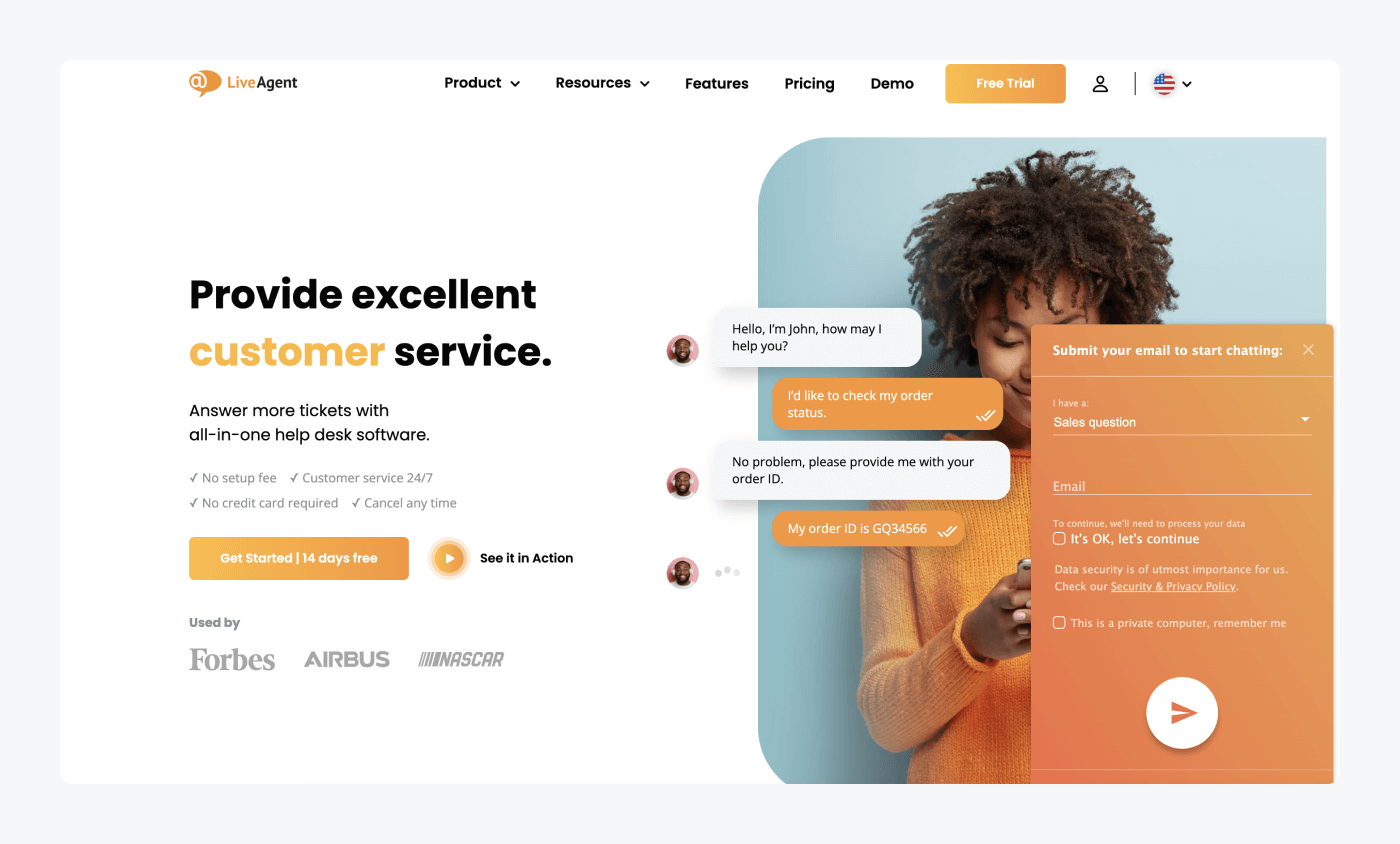 Ratings: 4.5/5 ⭐️ (1,445+ ratings)
LiveAgent is a good choice for mid-sized businesses that want to offer customer service via phone, email, and live chat. This is because it is designed to be a part of the LiveAgent helpdesk solution which includes call center software, a ticketing system, and social media integrations.
Choosing this website live chat software makes sense if your team gets hundreds of support requests and wants to keep all your chat history in one place. Even in the basic plan, you get unlimited email ticketing and visitors' profiles, which are good options for ecommerce stores.
Pros:
Chat invitations for website visitors to start conversations
Ticketing system for better organization of tasks within the team
All support tickets relating to a specific client are in one place
Cons:
Outdated UI design
Knowledge of HTML, CSS, and JS needed to add things to the panel
No AI tools implementation
Free version available
Small business ($15/mo/agent)
Medium business ($35/mo/agent)
Large business ($59/mo/agent)
Enterprise ($85/mo/agent)
Chatbots: ❌
Read more: Discover the best customer service software that will help you improve buyer's satisfaction and boost conversions.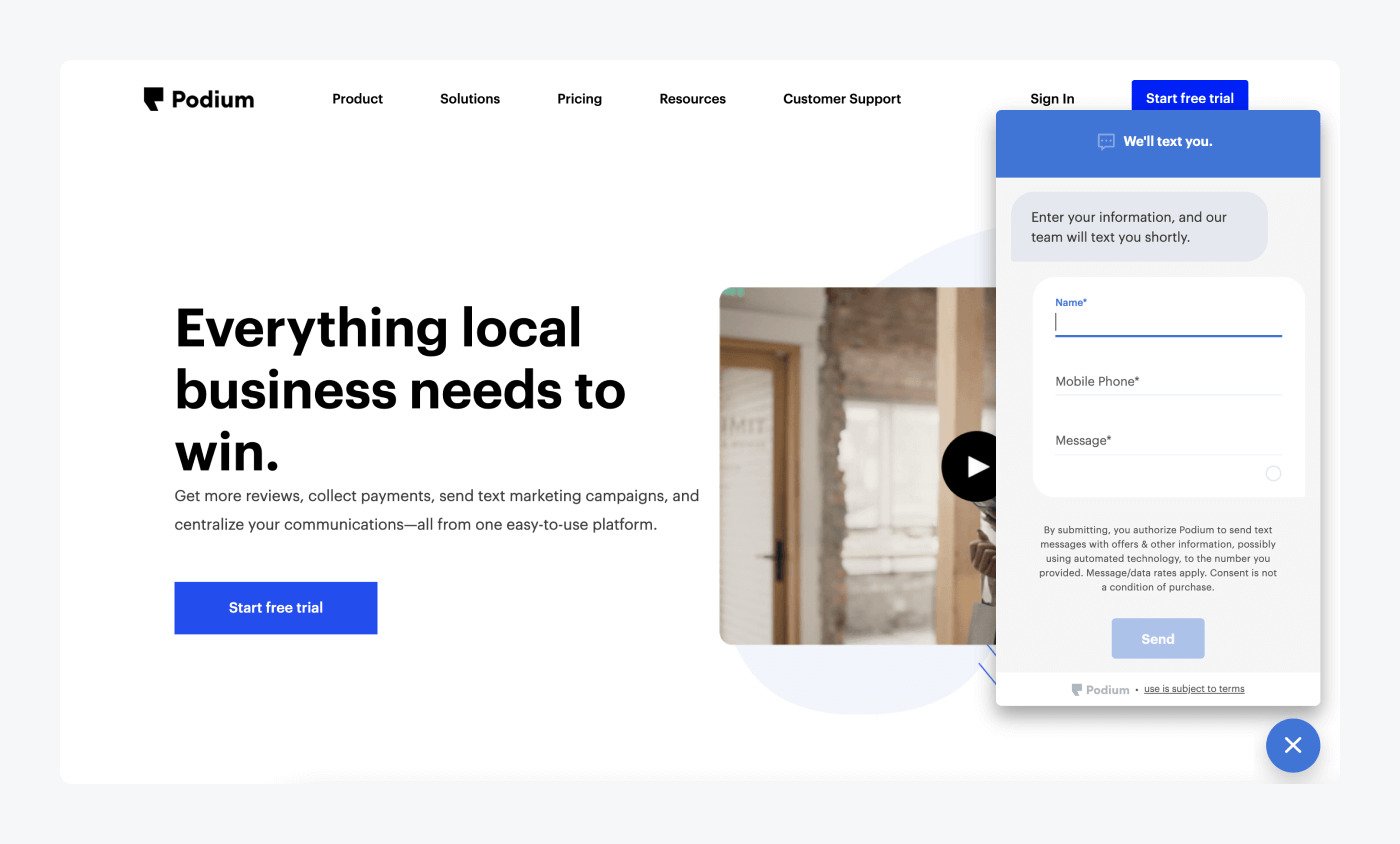 Ratings: 4.5/5 ⭐️ (1,320+ ratings)
Podium live chat support services is an online reputation management platform. It has a chat feature, response automation, social media messaging, and automatic review requests.
Adding Podium to your pages means having a centralized inbox for both website and social media messages. This is one of the live chat vendors that offer a click-to-chat app, which means that you can't message visitors first. They must provide their contact data before they start a conversation, so you'll have their email address for any future follow-ups and proactive chats.
Pros:
Contact capture form in the widget
Auto responses to capture leads
Easy to use desktop and mobile app
Cons:
Unreliable search function
No limits on who can join the communication
Some reviewers complain about customer support being difficult to reach
Free 14-day trial available
Essentials ($289/mo)
Standard ($449/mo)
Professional ($649/mo)
Chatbots: ❌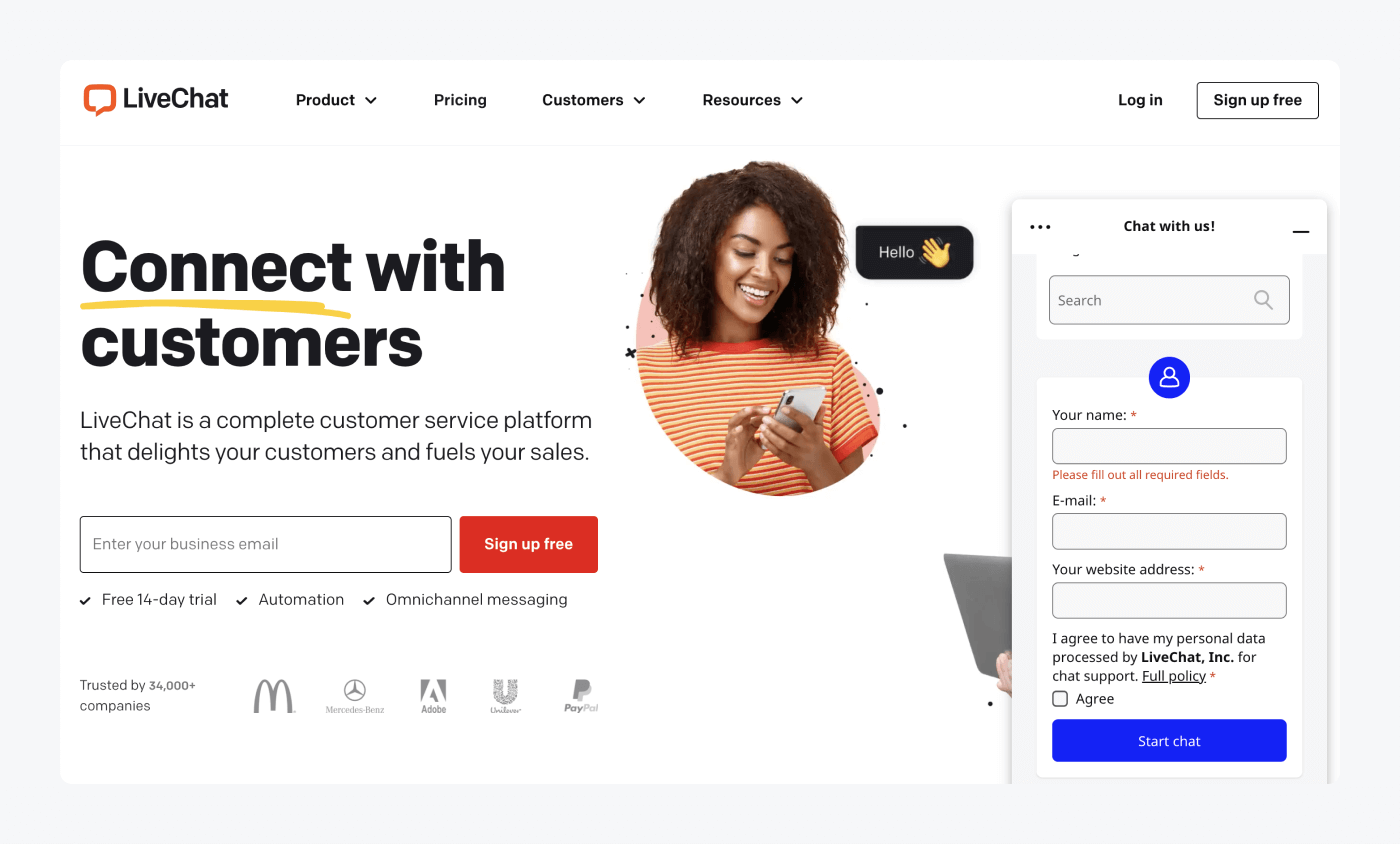 Ratings: 4.5/5 ⭐️ (745+ ratings)
LiveChat offers chat services for sales and customer support. Its live chat app is simple, conversion-oriented, and has many customization options. It has a variety of integrations, such as Telegram, Slack, and WhatsApp.
This website live chat service has most benefits for mid-sized and large businesses. If you have a large customer support team to manage, you'll find LiveChat's detailed reporting on agent performance and customer satisfaction useful.
Pros:
Chat rating for interactions available
Live chat message templates with buttons, product carousels, and canned responses
Reports with customer satisfaction rating and agent performance data
Cons:
Limited number of customers in queues, additional clients redirected to other channels
Limitation on customer invitations
Some reviewers report frequent technical glitches
Free 14-day trial
Starter ($24/mo/agent)
Team ($49/mo/agent)
Business ($69/mo/agent)
Enterprise plan available upon request
Chatbots: ❌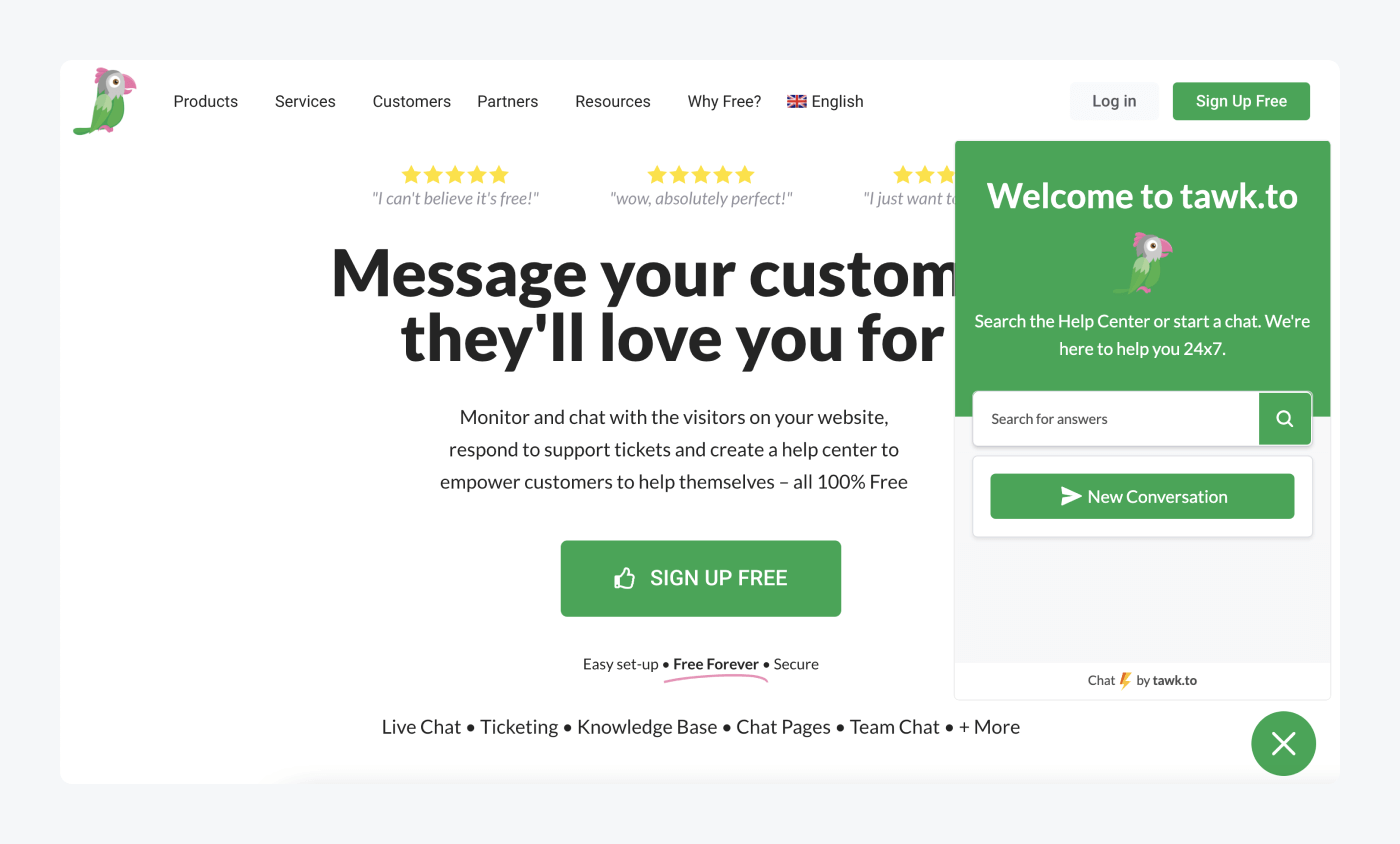 Ratings: 4.5/5 ⭐️ (170+ ratings)
You don't need a big budget for this one as it's completely free. Which makes this customer service chat software a perfect solution for start-ups and small businesses. You can start communicating with new clients straight away.
Also, if you need to hire agents to take care of your customer service, Tawk.to also has support agents that you can hire by the hour.
Pros:
Message translation into 45+ languages
Mobile app for iOS and Android to chat with customers on the go
Unlimited agents on a single account
Cons:
No configuration of a chatbot
Lag between an offline message sent by clients and email notification
Minimal reports section
Free software
Hire an agent ($1/hour)
Remove branding ($19/mo)
Chatbots: ❌
Read more: Do you think that hiring and training in-house customer support agents is a better idea? Check out the customer service skills you should pay attention to when interviewing representatives.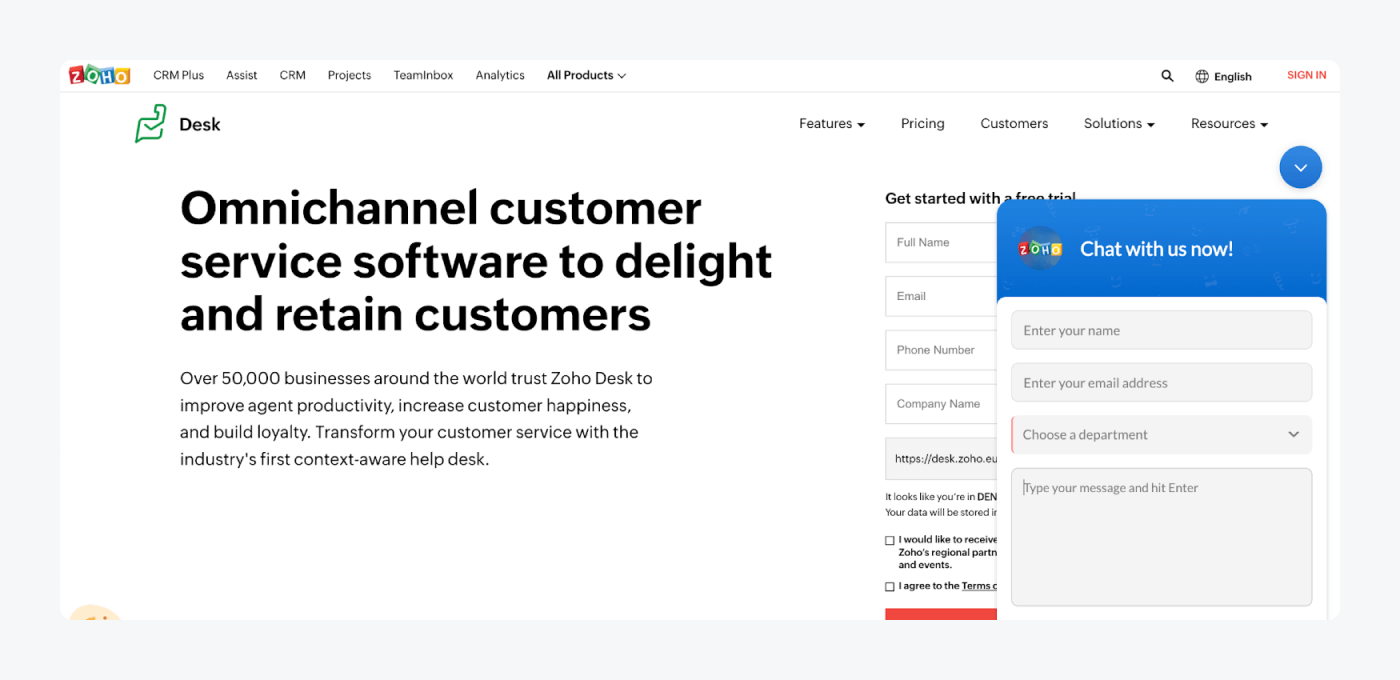 Ratings: 4.4/5 ⭐️ (4,685+ ratings)
This live chat customer service software can help you manage customer interactions over many different channels such as email, SMS text, and, of course, live web chat. You can also easily hook up your customer service number with Zoho Desk to make and receive calls in-app.
You can assign calls to representatives based on their team or department, or automatically route calls to representatives that the customer spoke to before. This can improve customer relationships and increase customer satisfaction with your brand.
Pros:
Modern UI for a better user experience
Mobile app available for on-the-go customer service
Community forum for users
Cons:
Not possible to add logos to accounts
Global dashboards not available in all versions
Synchronization of comments from Zoho Desk and Zoho Books not possible
Free version available
Standard ($20/mo/agent)
Professional ($35/mo/agent)
Enterprise ($50/mo/agent)
Chatbots: ✅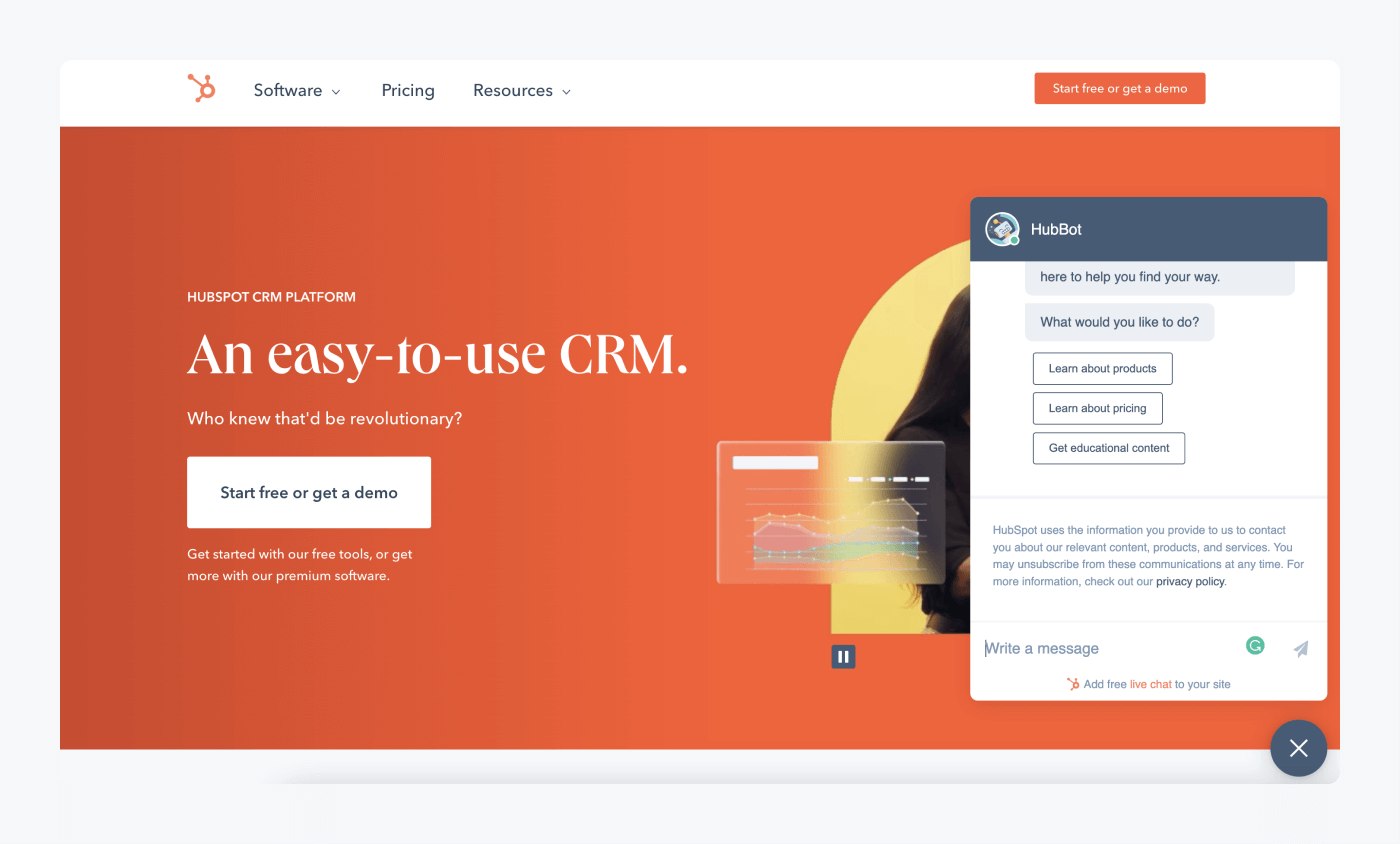 Ratings: 4.4/5 ⭐️ (1,935+ ratings)
HubSpot's live chat support software app integrates with the free CRM software from HubSpot to record visitors' information. So, you can fall back on some helpful context when your repeat customers communicate with you again. Having all your client's data in one place can also help you scale your customer support and automate some of the repetitive tasks into self-service.
Like many other best live chat software apps here, HubSpot also has a chatbot builder, which you can use to create custom conversational bots. This feature can help automate repetitive tasks such as answering FAQs.
Pros:
Universal inbox that all teams can access and reply to messages
Automated lead generation and basic support tasks
Integration with the HubSpot's free CRM
Cons:
Limited data analytics
Some reviewers report issues with tickets that don't reopen after being viewed
The timeline can't be deleted unless each event in the timeline is manually removed
Free version available
Starter ($20/mo)
Professional ($500/mo)
Enterprise ($1,200/mo)
Chatbots: ✅
Read more: Learn how a leather wallet company effectively recreated in-store customer experience on their ecommerce store and increased sales.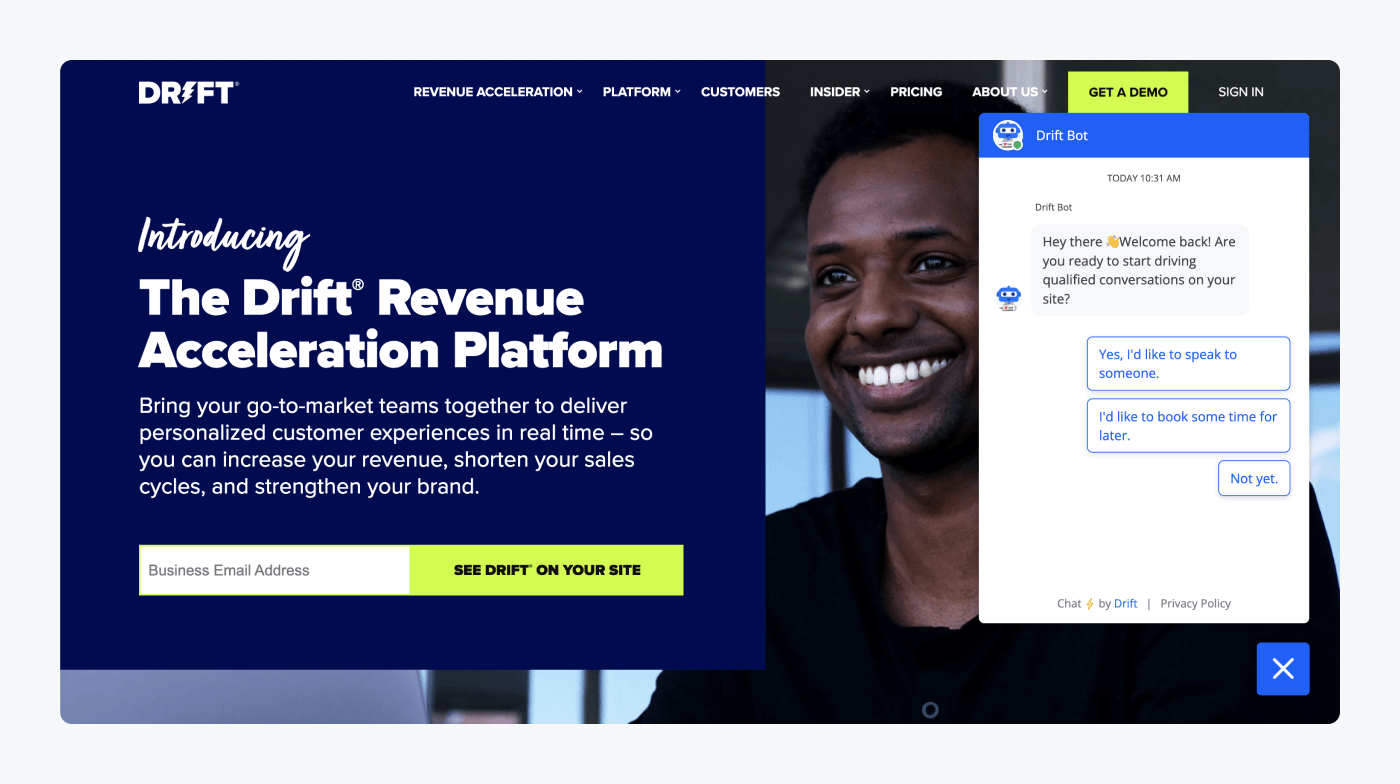 Ratings: 4.4/5 ⭐️ (930+ ratings)
Drift is one of the best live chat apps for large businesses because of its enterprise-level features. This tool gives real-time notifications of visits and qualifies leads. It also provides reports for analysis, so your service team members can learn from previous chat experiences.
This online chat for websites helps your business with conversational marketing which is very useful for B2B companies. It puts the buyer at the heart of what you do and personalizes the customer experience. It also ensures a real-time conversation to make the buying process frictionless, enjoyable, and more human-like.
Pros:
Lead routing to ensure that a client goes to the right representative
Conversational AI to automate customer support requests
Complex reporting available
Cons:
Slow email notifications
Search function needs improvements (it only works when you input the exact email or number)
Set up is time-consuming
Free version available
Premium ($2,500/mo)
Contact sales for other pricing plans
Chatbots: ✅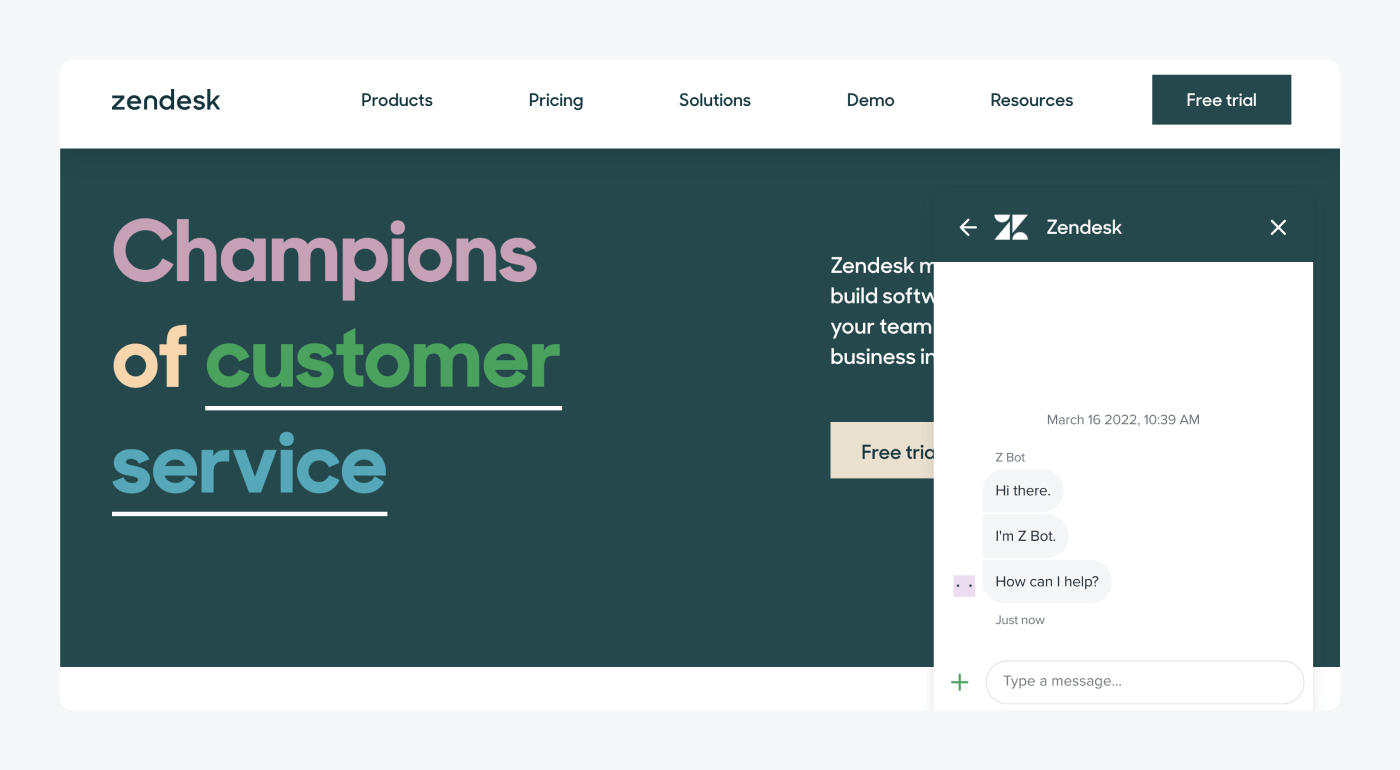 Ratings: 4.3/5 ⭐️ (5,605+ ratings)
Zendesk offers useful features for sales, marketing, and branding. Online stores with thousands of monthly orders will find options like operating hours, live chat support agent roles and permissions, and web software development kit (SDK) very handy.
You can have conversations with your clients on any channel, from email and voice chat, to social media platforms and WhatsApp. Also, all these interactions are kept in one place for your agents' convenience. This way, your representatives can respond to queries coming from any channel faster and more efficiently.
Pros:
Offline pre-chat forms to collect customer information before chatting
Real-time preview of website visitors
Chat rating feature to let customers evaluate your customer support
Cons:
Some reviewers report frequent service disruptions
Tickets get closed automatically after 30 days
Layout and navigation needs improvement for a better user experience
Suite Team ($49/mo/agent)
Suite Growth ($79/mo/agent)
Suite Professional ($99/mo/agent)
Suite Enterprise ($150/mo/agent)
Additional enterprise-ready plans (from $215/mo/agent)
Chatbots: ✅
Did you know that …
Global live support chat software is predicted to reach $997 Million by 2023. Moreover, about 79% of your consumers prefer online chatting services because of the real-time service it provides.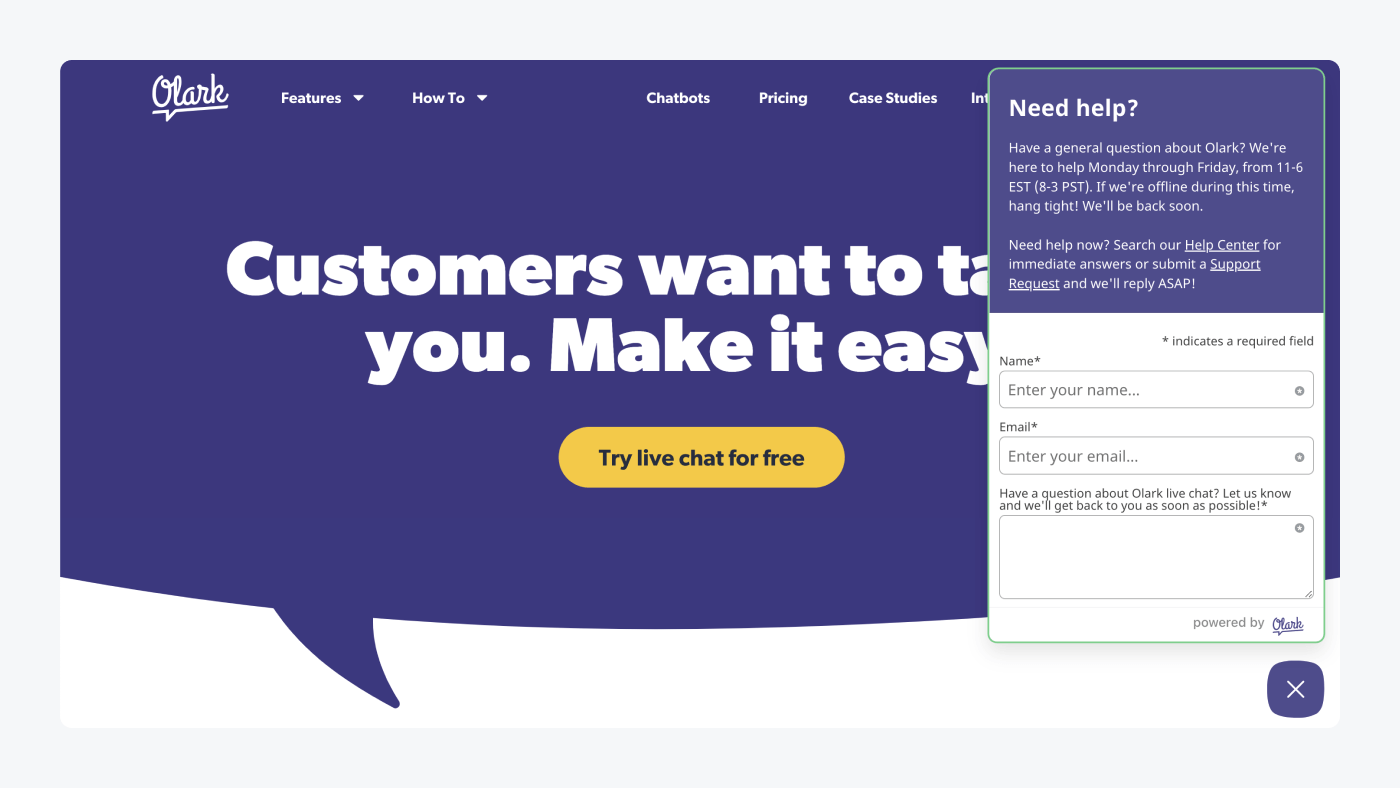 Ratings: 4.3/5 ⭐️ (220+ ratings)
Olark is a user-friendly customer support chat software that offers analytics and reporting. The tool also helps to collect information about customer satisfaction with surveys, support, chat volumes, and agent activity.
Chat transcripts are another useful feature of this chat software. Olark's live chat tools give access to a complete archive of conversations with customers. You can use it to find insights about product feedback and customer success metrics. This can help your team catch recurring issues and improve the process.
Pros:
Chat rating with a customer satisfaction survey to assess service quality
Fully customizable website chat box
Automated welcome messages and promotions available
Chat transcriptions
Cons:
Not intuitive customization
Not possible to put the chat on only one page of the website
Reviewers report being displayed as offline or away while they were online
Free 14-day trial
Standard ($29/agent/mo)
Contact sales for Pro plan pricing
Chatbots: ✅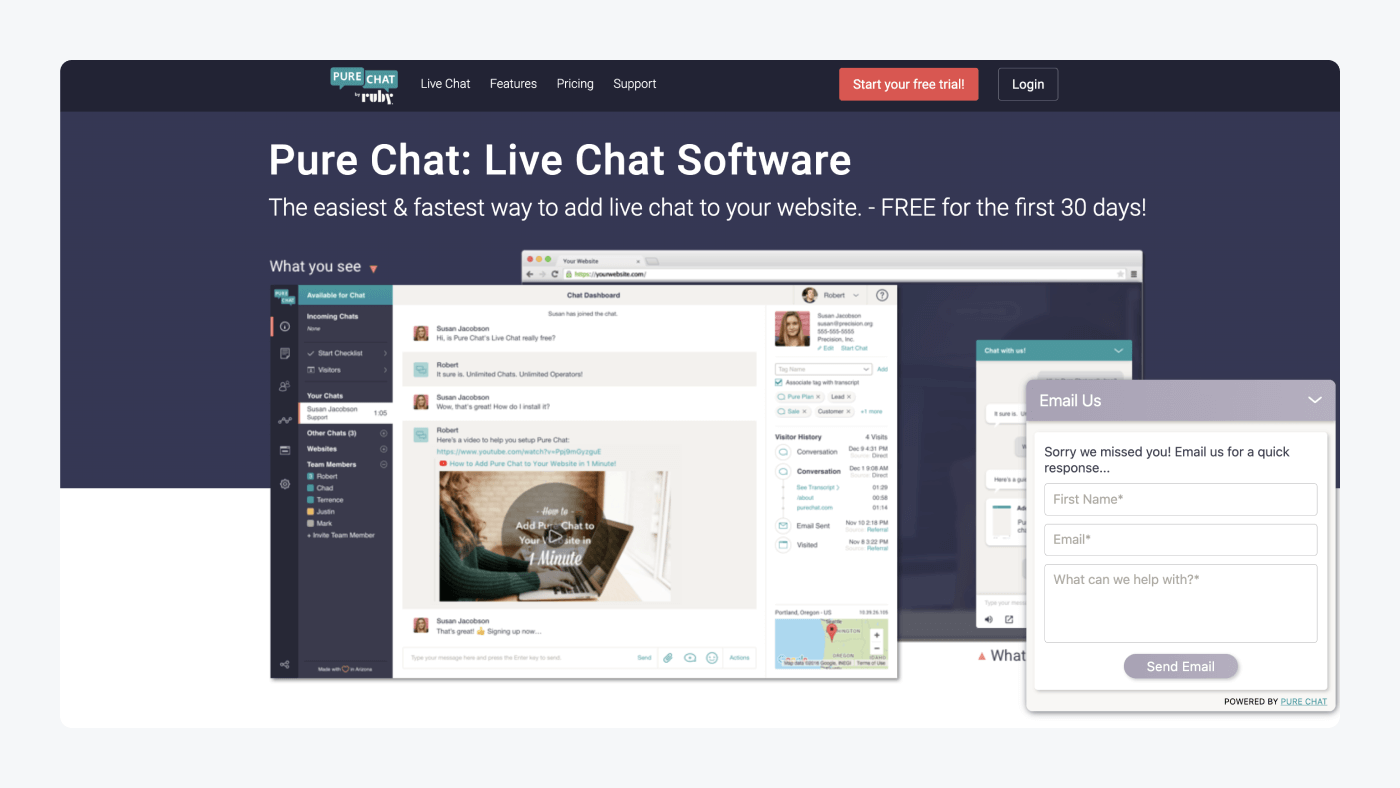 Ratings: 4.3/5 ⭐️ (200+ ratings)
Pure Chat is one of the best online live chat software options for mid-sized companies with real-time visitor analytics. Sales teams can collect such visitor tracking data as the history of customer conversations, visited pages, and contact info to find leads easier and improve their marketing efforts.
You can integrate this live chat system with tools like Google Analytics, Salesforce, MailChimp, and HubSpot. It ensures your company supports the newcomer throughout the entire customer journey.
Pros:
Unlimited chats available for any plan
Canned responses for faster communication with customers
Real-time visitor analytics
Cons:
Limited customization
Users reported unresponsive customer support
Disconnects customers from the chat when they leave it to search for something on the page
Growth ($49/mo)
Pro ($99/mo)
Additional Users/Operators for Growth ($15/mo)
Additional Users/Operators for Pro ($10/mo)
Chatbots: ❌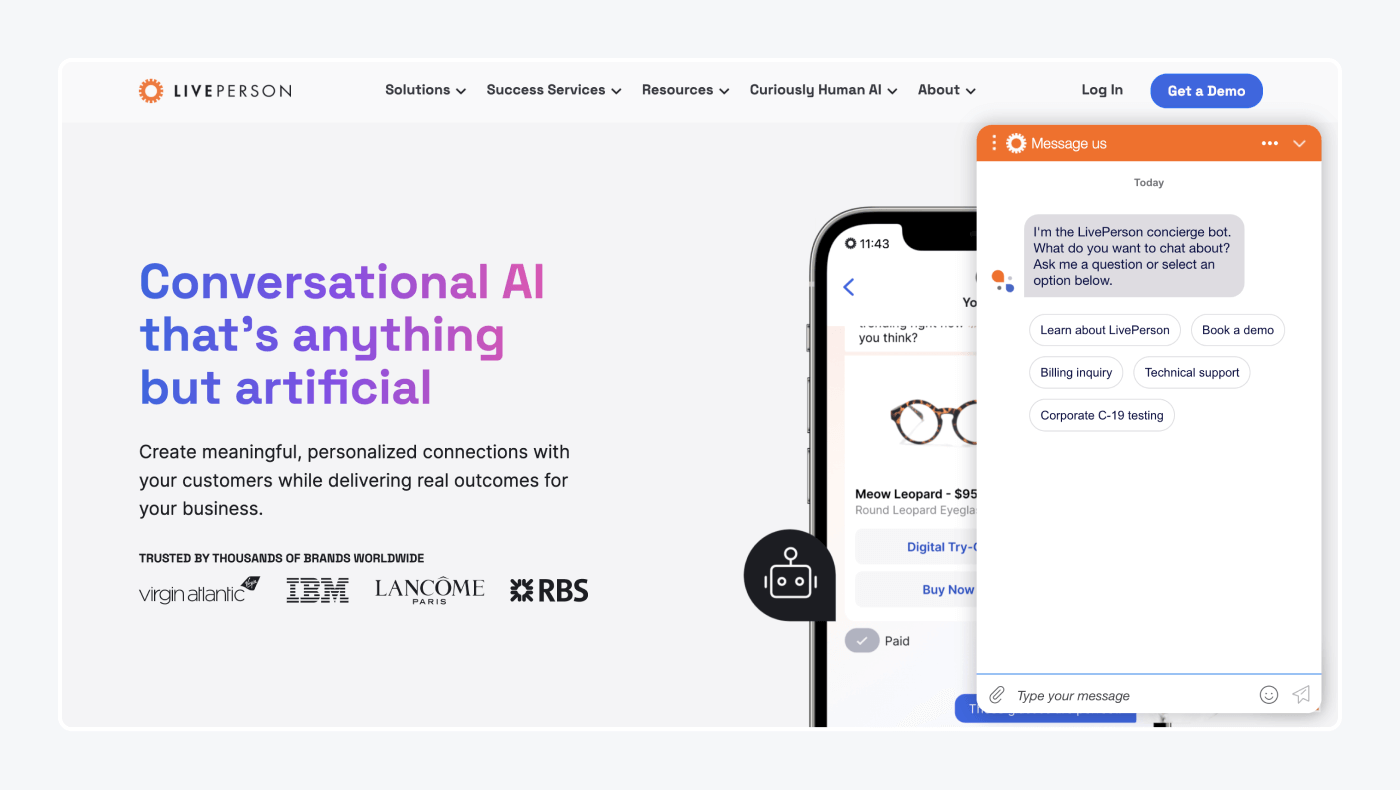 Ratings: 4.2/5 ⭐️ (145+ ratings)
LivePerson calls its web live chat "the world's first AI-powered conversational cloud." In simpler terms, it means a messaging platform that combines SMS-messaging, instant messaging apps, chatbots, and live chat. It is also compatible with the most popular messaging platforms, such as WhatsApp, Apple Business Chat, and Facebook Messenger.
Conversations are handled in a single cloud-based space available on desktop, iOS, and Android devices. This chat support software can also enable customers to make payments directly in the chat, which can increase sales on your site and improve customer experience.
Pros:
Numerous communication channels: live chat, chatbots, WhatsApp, Facebook, Twitter, Google's Business Messages, Apple Business Chat, and more
AI chatbots available to automate your customer interactions
Integration with CRM to collect and store customer data
Cons:
Reviewers report bad customer support
Poor UX performance
Not possible to group chats
Contact sales for pricing plans
Chatbots: ✅
Read more: Learn how to streamline your ecommerce customer service with best practices and useful tools.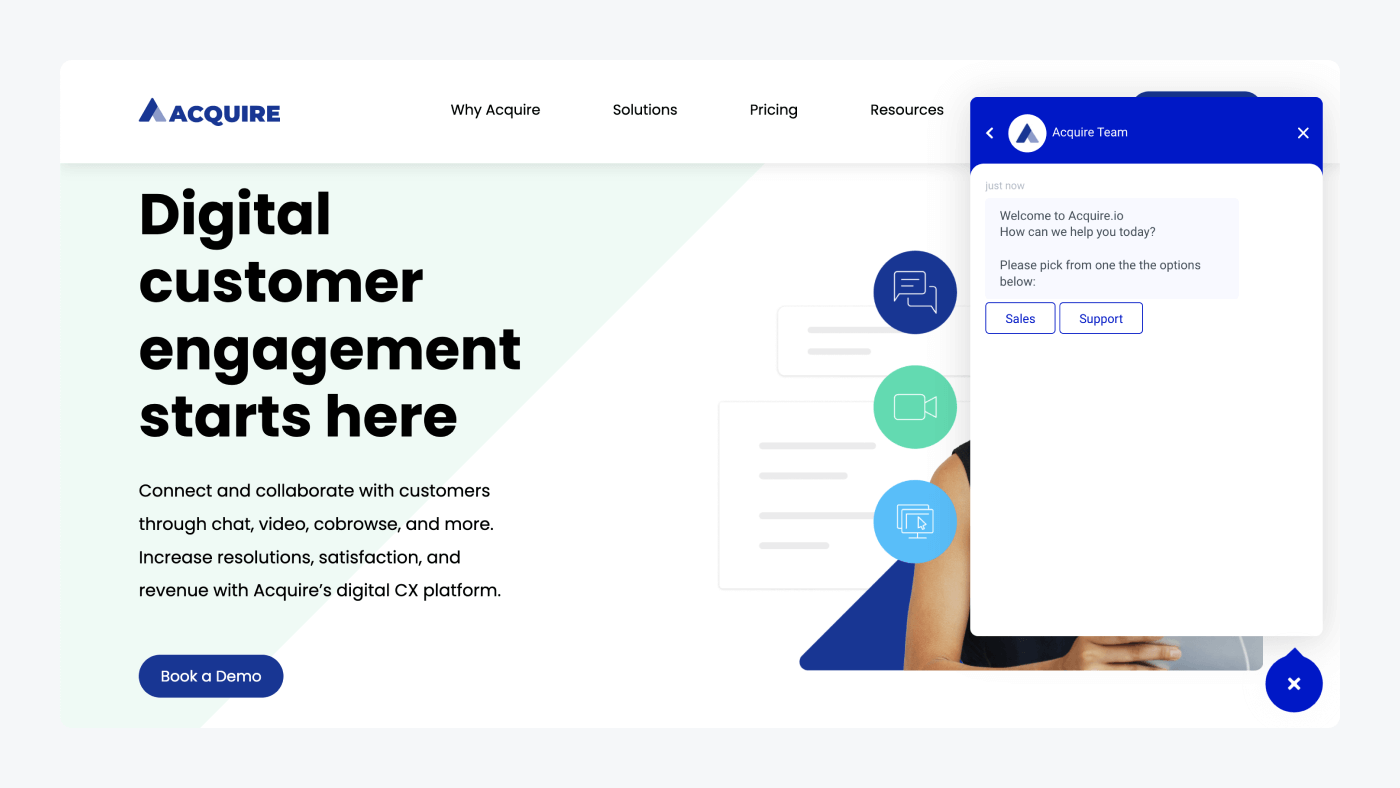 Ratings: 4.2/5 ⭐️ (40+ ratings)
Acquire offers a highly customizable live chat app for a website. It is also a good option for businesses looking to go international. This online chat software offers auto-translation into more than 100 languages. So, your support agents don't have to speak foreign languages to respond to requests.
Multimedia sharing capabilities are another reason why this live chat for sites stands out. You can share files, co-browse, and talk to customers via audio. This live message app also offers a video chat, so Acquire might be suitable for businesses looking for live chat video software.
Pros:
Chat routing with agent tagging
Live chat, audio, phone, screen share, and video chat available on one dashboard to provide a better omnichannel experience for customers
Automate common support tasks with chatbots
Cons:
No mobile application
Users report poor and unreliable customer support
Inconsistent notifications of new chats
Self-service ($500/mo + $25/mo/agent)
Integrated solution ($2,000/mo + $45/mo/agent)
Chatbots: ❌
That's all the best live chat software for businesses out there.
So—
How to choose the best live chat for your website?
Chatting services all brag about how great they are. But some of them have no backup for their words. Make sure to look for these chat functionalities in an online chat platform when searching for your perfect match: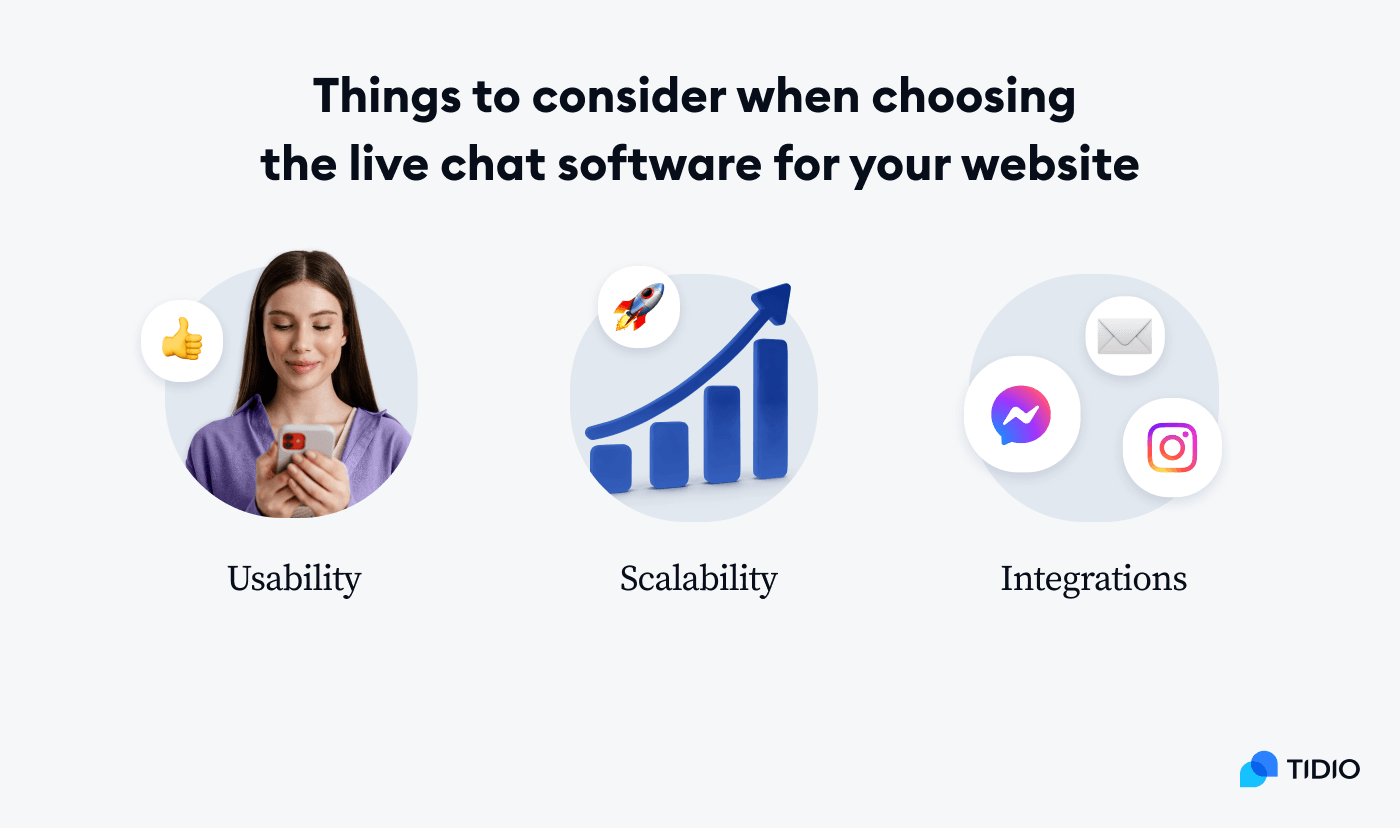 Live chat services for websites need to be easy for your team to use. Nobody wants to implement a platform and then spend hours explaining how it works for each of their team members. So, ensure the business chat software is simple and quick to set up and learn.
It's not enough anymore for your online chatting software to be on your website. Nowadays, you need live chat features that can scale alongside your company. Scalability functionalities can be available for you straight away, or with a higher plan you can get once your business grows.
The online chat services you consider should seamlessly integrate with your existing site, platforms, and tools. Also, make sure the look and feel of the live support software match your site.
Read more: Learn about the best chat platforms you can use to improve the way you deliver customer service to your clients.
What about the functionality that the chat services should have?
Let's have a look at the must-haves.
Must-have live chat software features
When going through the best website chat software, keep in mind what the most important features are for your business. Some of the must-have chat features and functions include: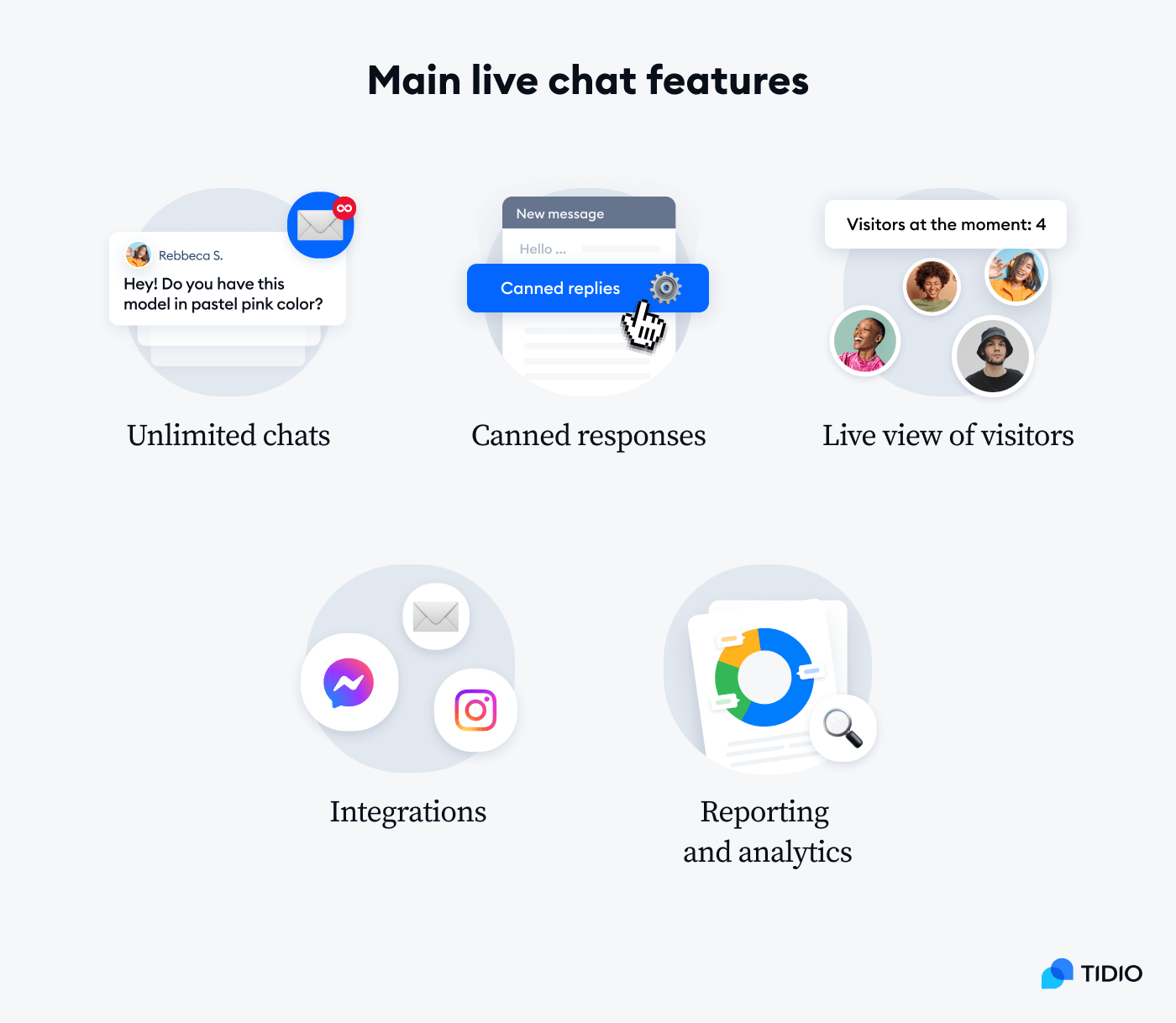 You don't want to be limited on the number of conversations you can have with your customers just because of your provider. It's important to check if the live chat platform you choose offers unlimited chats, so your customer support reps can interact with visitors freely.
This will improve your customer service and improve customer engagement. Canned responses are the quick replies to common queries that your representatives can save and send to clients when a repetitive question appears.
Live view of website visitors
Tidio's live view feature allows you to see which pages your visitors browse and what they get stuck on. This can be useful when you want to approach the client at the right time and secure a sale or provide a helping hand.
It's important for your live help software to integrate with your other programs and platforms. Some of the most popular and handy integrations are with Zapier, Messenger, MailChimp, Google Analytics, and one of the CRM systems, such as Salesforce. These can broaden your reach and capabilities when it comes to customer communications.
When you want to track performance and get better at your efforts, you'll need the reports provided by your live chat software provider. These will show you how efficient your customer support team is, how satisfied your clients are with the interactions and other information on the chats.
Chatbots are a useful addition to a live chat solution that makes your business available to customers 24/7, even when your chat agents are asleep. They also automate some of the customer service workflows. Check out some of the best chatbot platforms to pick the right one for your company.
Now—
Let's find out how you can easily add live chat support service to your website using a chat customer service provider.
How to add live chat software to your business website?
You already know the benefits, the main features, and 16 of the best chat software to use on your site. Now comes the time to show you how to actually set one up, so you can enjoy the advantages and extensive features for yourself.
We'll be using Tidio online chat support software to demonstrate how to do this.
Register for a free trial with your preferred live support tool
Customize your live chat widget, so it matches your pages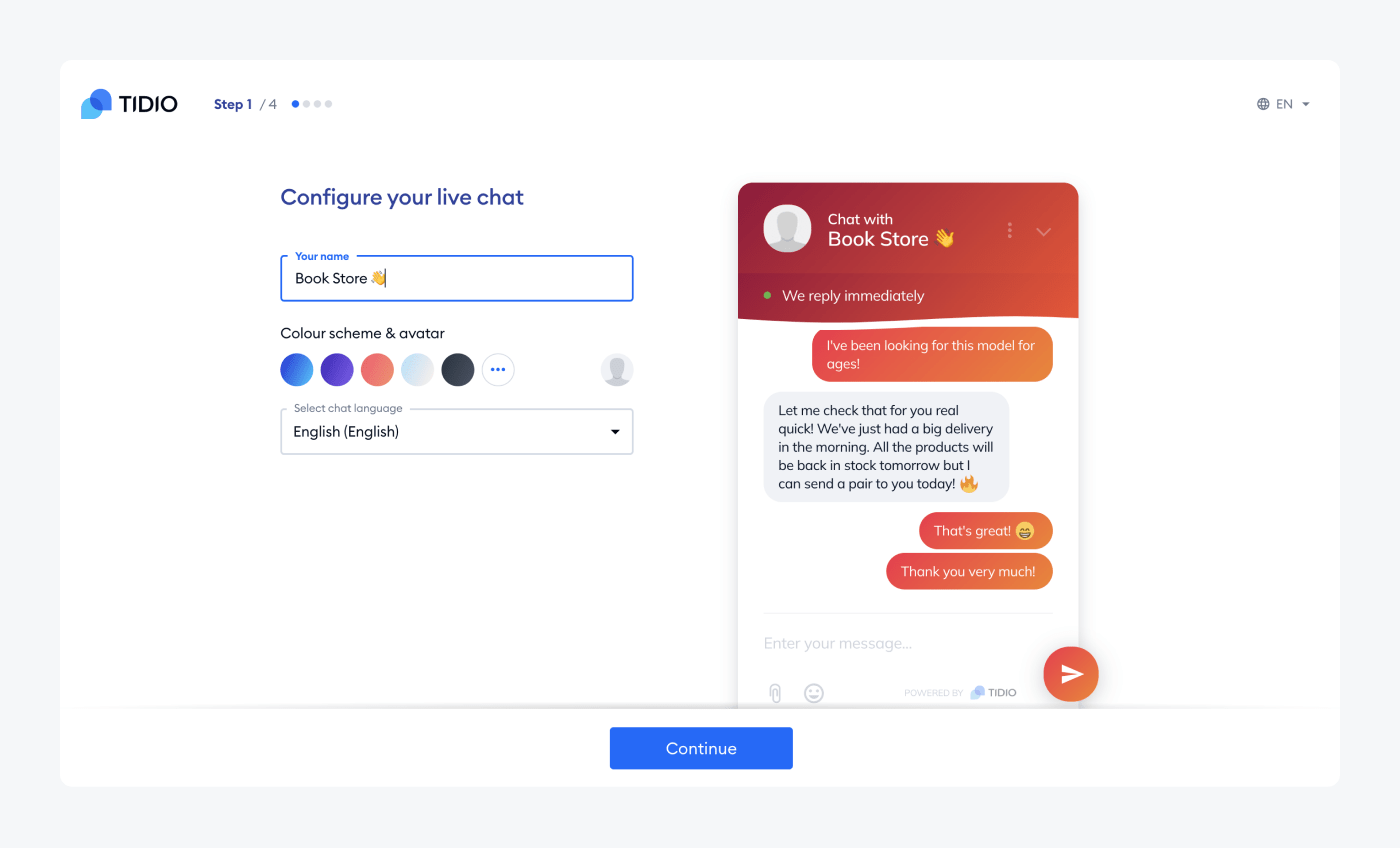 3. Edit and personalize your messages to the visitors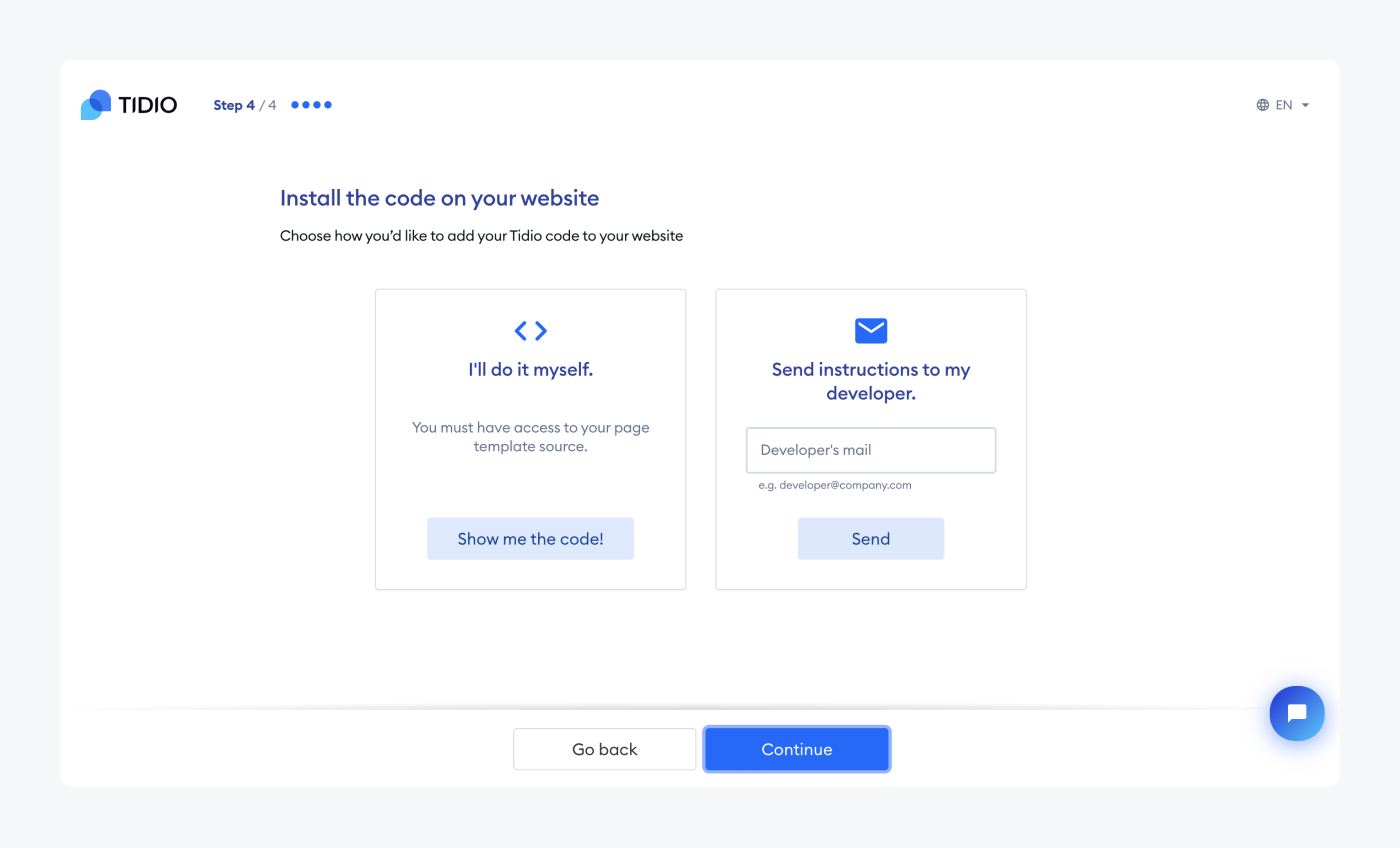 4. Import your existing contacts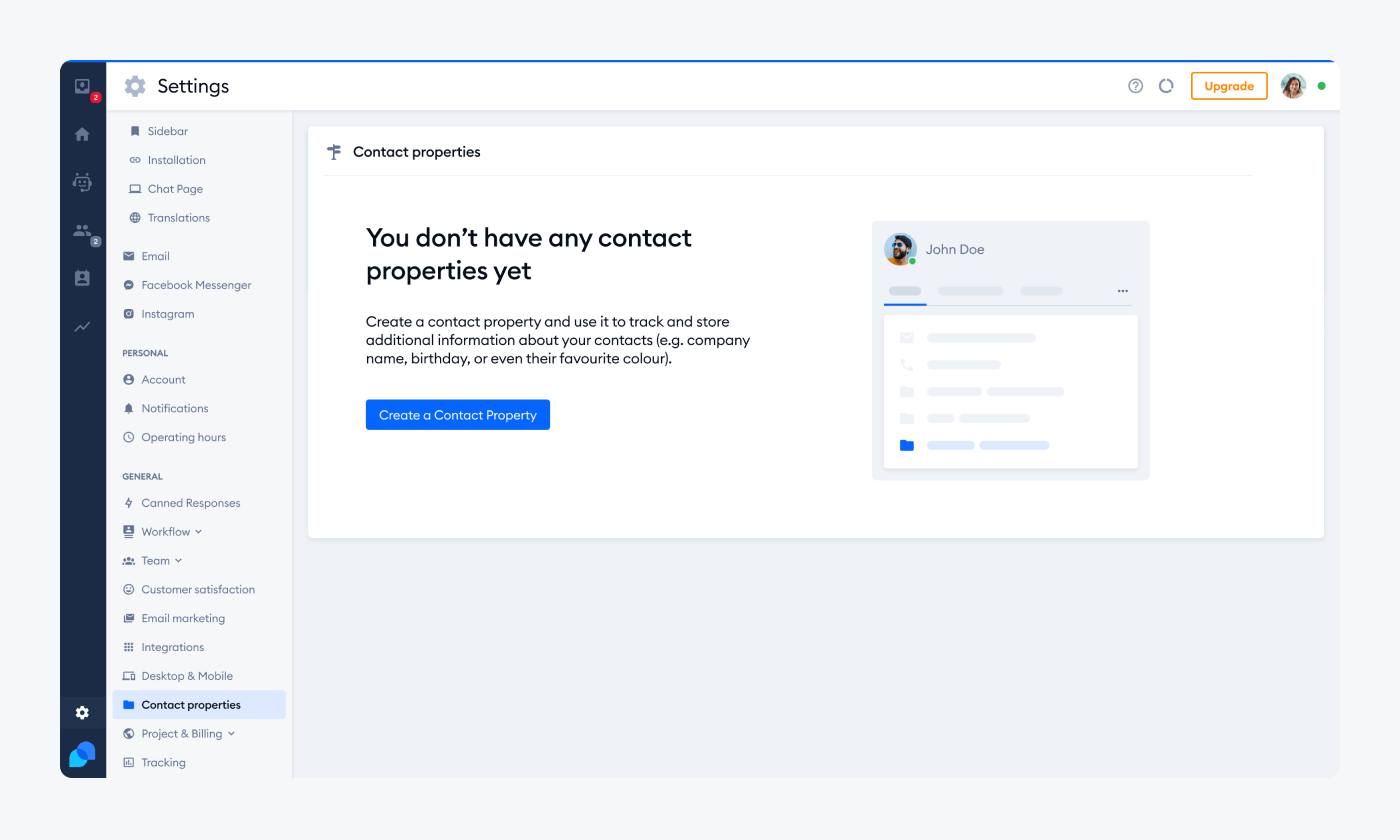 5. Edit and personalize your messages to the visitors
Read more: Check out this detailed guide on how to add a website live chat tool to your business site.
You can also watch this video to discover how to customize a chat widget to match your pages:
Summary
That's all from our list of the best website chat software out there.
When choosing your provider, remember to look for unlimited chats, canned responses, live view of visitors, useful integrations, and analytics. Also, consider using chatbots alongside your live chat for more efficient and faster customer service.
So, which live chat platforms are best?
As a quick recap, these include:
Tidio
Podium
Tawk.to
LiveAgent
LiveChat
Zoho
Intercom
Hubspot
Drift
Pure Chat
Crisp
Smartsupp
Zendesk
Olark
Acquire
LivePerson
FAQ
What is live chat software?
Live support chat for website is a computer program that allows you to communicate with visitors through a chat window on your site. This allows for customer communication straight from where a client is and needs assistance. 
What is live chat for business?
A live support chat for business sites is a feature that pops up a chat window to communicate with visitors in real-time via text and voice messages.
What are the benefits of live chat software?
Some of the biggest benefits of live chat solutions for websites are improved customer satisfaction, a boost in sales, better marketing, and faster support for clients.
What is the best live chat software?
Three of the best live chat platforms are Tidio, Smartsupp, and Intercom. They all offer different features, so you should look for one that matches your needs.
How can I add live chat to my website for free?
You can add a live chat to your website for free in two ways. The first one is by adding it through your content management system with a chat plugin on WordPress or an app on Shopify. The second option is to sign up on the live chat platform's site and add the chat using a piece of code. Remember to make sure you choose a live chat software provider that offers a free forever plan.
What are the common features of live chat software?
Some of the common features include canned responses, basic analytics, and a visitors' list. Other features that you should look for in a chat provider are a live view of visitors, live typing, and a mobile app available.
What is live chat software best for?
Live chat software is best for customer support, customer service, and lead generation. 
Is live chat a real person?
Live help chat is a tool used by real people. When chatting on the live chat window, customers are communicating with real-life representatives.
What is the difference between a chatbot and live chat?
The main difference between a live chat service for a website and a chatbot feature is that bots offer automated responses they've been programmed with, whereas live chat is operated by support agents.
What is an example of chat software?
A live chat example is Tidio, and it's used on sites such as Ad hoc Atelier and Procosmet. 
What's the difference between live chat and help desk software?
A live chat service improves the user experience and helps businesses connect with customers. A helpdesk software focuses on organizing and managing incoming tickets with visitors' problems.