To be successful, real estate agents need to juggle many tasks at once and stay organized.
If you operate online, this can be really hard.
But there are some things you can do to make things easier.
For example, using real estate chatbots is a great way to manage your business, connect with clients, and keep on top of things.
But how to use bots for real estate sales? And which software should you choose? Is there a perfect chatbot solution tailored for the real estate market?
Well—
Let's tackle all of these questions one by one.
In this article:
If you want to learn how other businesses use chatbots, here are some more articles that may interest you:
OK. First things first—
What is a real estate chatbot?
A real estate chatbot is a virtual assistant that can handle inquiries about buying, selling, and renting homes. A real estate bot can answer questions about the process and provide updates on what's happening with a sale or purchase. It can also schedule meetings, or collect contact details of online leads.
In the most general terms, chatbots can simulate conversations and send messages to your clients. A bot can use artificial intelligence or pre-defined conversation scripts.
Chatbots have been gaining popularity in recent years as a way to automate repetitive tasks. For instance, instead of typing out the same message for the hundredth time, you can set up a chatbot to send automatic replies for you.
For example, here is Alan—a real estate chatbot that assists human agents and helps customers with their queries related to home loans: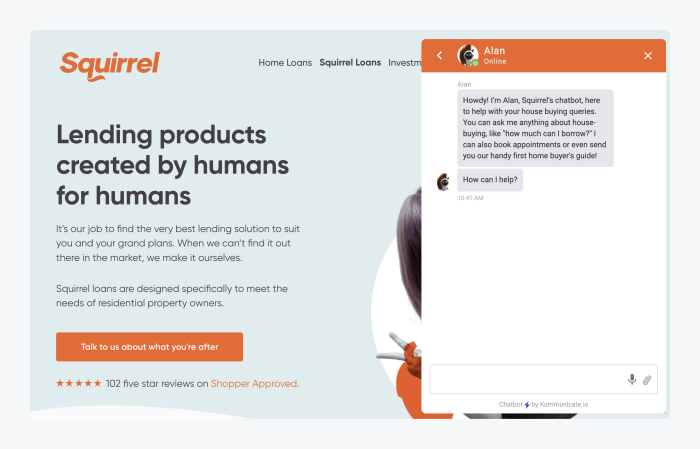 Having a chatbot as part of your real estate business can make buying or selling a home a much smoother process.
How chatbots can be used in the real estate business
Chatbots are commonly used in customer service to provide automated responses to customer questions. In real estate, this can mean answering questions about properties or the sales process.
The adoption rate of chatbots in this sector, however, is surprisingly low. For example, in Brazil, only 1% of chatbots were developed for real estate businesses. And only 8% of customers in Italy wanted to use virtual assistants for handling their real estate queries.
Chatbots in the finance and banking sector have received an equally mixed reception among customers. In spite of this, their usage is expected to increase tenfold between 2020 and 2030 at a 25.7% compound annual growth rate.
As with any new technology, consumers are still getting used to conversational bots. And the road to full adoption is bumpier in some industries than others. However, it's hard to underestimate the advantages and benefits of chatbots. Instead of a potential risk, it's better to see them as an opportunity, as in many cases chatbots can have an impressive ROI of over 1000%.
Real estate chatbots can:
Collect contact information and route prospective buyers to real estate agents
Book appointments and property tours, manage your meeting calendar
Help customers with their search for a new home by providing them with listings that match their criteria
Get rental applications from clients and qualify leads based on the data they submit
Provide potential buyers with information about the property, such as square footage, the number of bedrooms and bathrooms, price, and location
Answer frequently asked questions regarding the technicalities related to buying or selling properties
In general, real estate businesses use bots to streamline the home-buying process. By automating repetitive tasks, such as sending messages and scheduling appointments, they can save time and money. Additionally, chatbots can help your real estate agents keep track of potential leads and customers. FAQ or property management chatbots have the potential to revolutionize your business.
Best chatbots for real estate
There are a lot of chatbot apps to choose from. But which one is the best for real estate? You should focus on providers that offer services like lead capture, real-time updates, and automatic listing distribution. And of course, you'll want to consider the costs of each platform.
Now—
Is there any chatbot for the real estate industry that is better than the rest?
To help you make a decision, here is a comparison table of the most popular options:
Let's take a look at the real estate bots and compare them in more detail.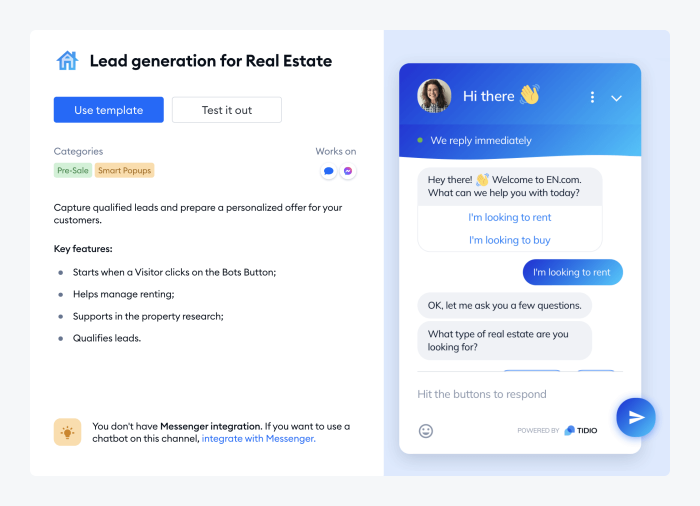 Rating: 4.7/5 ⭐ (based on 1,155+ reviews on G2)
Tidio is a feature-rich free customer service and marketing platform for businesses of all sizes. It's a perfect solution for lead generation and answering FAQs. It also comes with a variety of templates that include chatbot conversation scripts for real estate businesses. With thousands of users and positive reviews, Tidio is a very popular chatbot and live chat for real estate agents.
You can also use Tidio as free CRM software. With Tidio's customer segmentation functionalities, you can tag visitors, create customer databases, and group your audiences by what they are interested in: buying, selling, renting, houses, apartments, etc.
Top features:
Mobile app for notifications and quick query management on the go
Easy integration with websites (plugin) and Facebook pages (through a Facebook account login)
Advanced functionalities such as canned responses, visitor insights, and message sneak-peeks
Robust tools for analytics, chatbot performance, and bot message flow click-through rates
Built-in help desk ticketing system and marketing automation tools
Omnichannel communication and multi-language chatbots
Free. Freemium plan with unlimited conversations and access to Tidio's chatbot builder
Communicator ($19/month). Visitor insights and user permissions
Chatbots ($49/month). Unlimited chatbot projects and automatic bot messages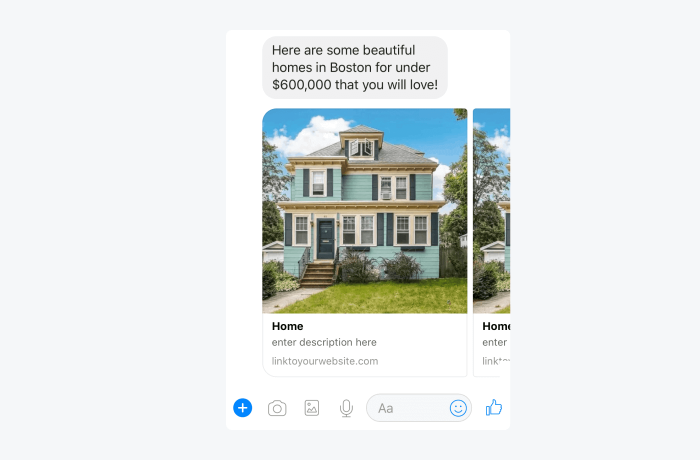 Rating: 4.9/5 ⭐ (based on 275+ reviews on G2)
MobileMonkey enables businesses to deploy chatbots across all major messaging channels, such as Facebook, Instagram, SMS, and web chats. It provides all the tools businesses need to create and set up chatbots. These include a visual chatbot builder, templates, and artificial intelligence (AI) capabilities. MobileMonkey also offers a wide range of integrations with third-party services, making it easy to connect bots with your CRM or sales tools.
Pros:
The Dialogues panel within the bot editor tool is easy to use and it has many features related to writing your custom chatbot scripts
You can organize your chatbot conversations in folders and reuse them in various chatbots
Many SMS features such as mass text messages for marketing
Cons:
It has all the necessary functions, such as scheduling meetings, but a bot for real estate has to be designed from scratch
This tool is focused on chatbots for social media and requires integration with Facebook
Startup edition ($119/month). A multichannel chatbot marketing automation platform for SMS, webchat, Instagram, and Facebook Messenger
Growth edition (Custom pricing). Advanced solution for real estate teams with a high volume of customers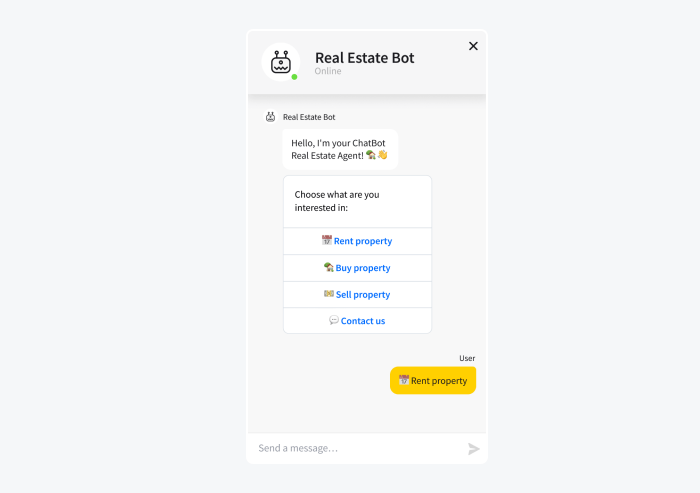 Rating: 4.5/5 ⭐ (based on 15+ reviews on G2)
ChatBot is a paid chatbot platform that offers real-time updates and automatic listing distribution. Additionally, it provides lead capture features like a form widget on your website. This allows visitors to submit their contact information and lets you follow up with prospects. It also allows for a wide range of integrations, making it a great choice for real estate agencies.
Pros:
Countless integrations with popular sales and customer service tools
ChatBot can be connected to Brivity and other CRM systems, which makes it easy to keep track of your clients and manage tasks
A robust API for setting up custom bot triggers and detailed analytics
Cons:
To take full advantage of all the functions of this solution, it should be combined with other tools and modules from the same company (sold separately)
Can be quite expensive for smaller companies
Starter ($50/month). One active chatbot with limitations
Team ($149/month). Unlimited AI training history and up to 5,000 chats included
Business ($499/month). Unlimited active chatbots and up to 25,000 chats
Enterprise (custom). Unlimited automated chats
ChatBot is one of the tools powered by LiveChat and it functions within their app ecosystem. If you are interested in other all-in-one customer service, CRM, and chatbot software suites, you can check our guide to the best LiveChat alternatives.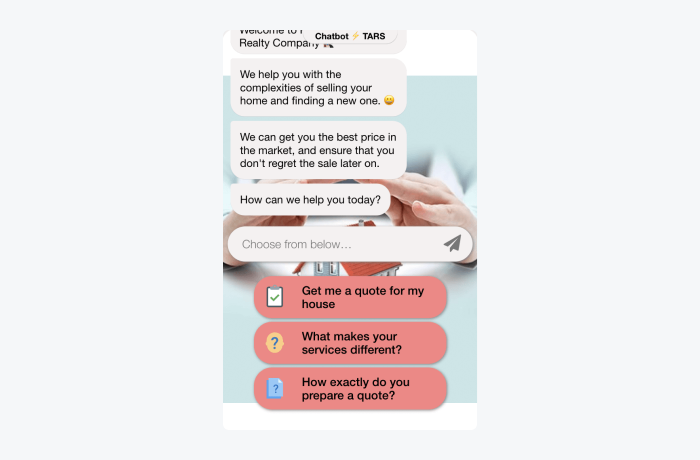 Rating: 4.7/5 ⭐ (based on 145+ reviews on G2)
Tars is a customer service chatbot that helps businesses communicate with their customers. It can be used to answer questions, provide support, and handle transactions. These features make it an excellent chatbot for the financial and banking sector but real estate agents will also find it useful. The tool can also help you keep track of your current listing appointments and suggest open houses or viewings to buyers.
Pros:
Over 100 real estate chatbot conversation templates available (rental screening, property valuation, apartment locating services, etc.)
Many integrations, including Slack, Salesforce, Google Analytics, Zendesk, and Zoho
Natural language processing (NLP) bots with conversation analytics and built-in optimization tools
Cons:
The backend and some of the panels look a little bit outdated in terms of UX design
There are many resources and tutorials but the onboarding process can be confusing to users who are less experienced with chatbots
Free trial. This chatbot solution offers a 14-day trial to test the app
Business ($99/month). 5000 chats/month and 1 chatbot
Premium ($499/month). 10000 chats, 3 chatbots, and WhatsApp Business API
Enterprise (custom pricing). Increased limits, custom code, and additional integrations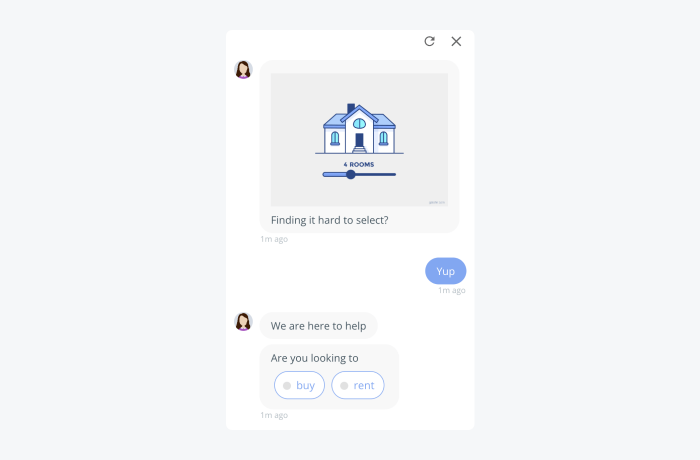 Rating: 4.7/5 ⭐ (based on 10+ reviews on G2)
Collect.chat is a valuable tool for businesses that want to improve their customer support or sales processes. It can help you to save time and money by automating time-consuming tasks that would otherwise be carried out manually. You can use Collect.chat to design bots for your website chat or create custom chatbot pages with unique URLs. In addition, the app provides a range of features that make it easy to use and customize chatbots to suit real estate screening and sales.
Pros:
Three chatbot templates for real estate (virtual real estate agent, mortgage assistance survey, and mortgage help)
Drag-and-drop chatbot building tools with a heavy focus on lead generation functionalities
Responsive customer support team ready to answer your questions any time of the day
Cons:
On the basic plan, widget customization and branding options are very limited
Data synchronization could be improved as sometimes it can be difficult to collect partial information if users haven't finished the whole conversation with your bots
No live chat feature available
Free. You can collect 50 responses from your visitors for free every month
Lite ($24/month). Logical jumps and webhooks (custom code callbacks)
Standard ($49/month). Native 3rd party integrations and no Collect.chat logo
Plus ($99/month). Team collaboration features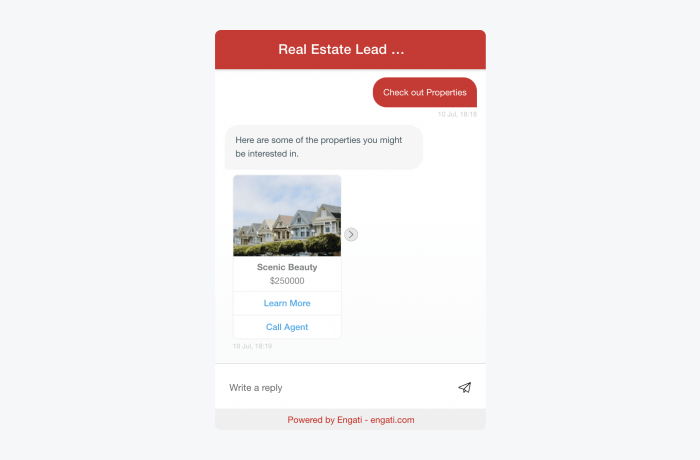 Rating: 4.5/5 ⭐ (based on 15+ reviews on G2)
A chatbot powered by Engati can act as your virtual agent by connecting you with multiple buyers, renters, and sellers simultaneously. It presents offers to users interested in renting or buying a property and collects their contact details. The chatbot can also help improve your rental listing process by qualifying prospects. At the same time, it is useful for engaging online leads and improving their customer experience.
Pros:
You can use Engati's SMS integration to send text messages
This software allows you to build real estate chatbots for 16 different channels including Telegram, WhatsApp, and Instagram
The customer care team is responsive and ready to help
Cons:
Integrating Engati with some platforms can be a difficult and time-consuming process
The pricing is not disclosed but according to some users it's on the higher end (and there is no free plan available)
You have to book an appointment and contact sales to receive your individual pricing but the starting point is about $150 per month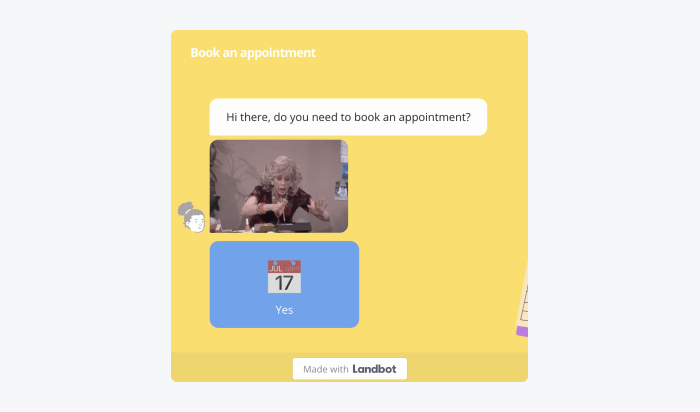 Rating: 4.7/5 ⭐ (based on 220+ reviews on G2)
Landbot lets you build chatbots for a live chat widget or design conversational AI landing pages. With Landbot, you can create simple chatbots in minutes, without any coding required. It comes with a whole library of interesting chatbot designs that are ready to customize and connect to your property management system.
Pros:
You can deploy your chatbots as independent landing pages
Many chatbots are available out of the box
WhatsApp automation features
Cons:
This tool is not the best for designing complex chatbot flow logic
Just like Collect.chat, this app is designed primarily for online lead generation—you and your agents won't be able to take over mid-conversation
Free. Basic bots and 100 chats per month
Starter ($30). Up to 500 chats, additional integrations, and A/B testing
Pro ($80). Up to 2,500 chats, API, and webhooks unlocked
Business (custom). Unlimited chats, bot building service, and team training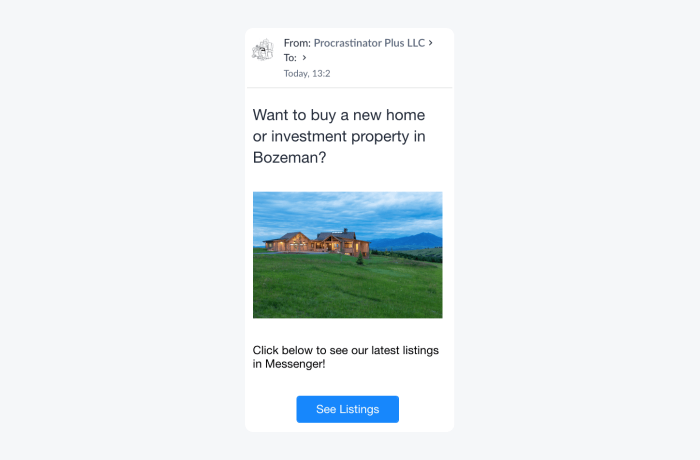 Rating: 4.6/5 ⭐ (based on 130+ reviews on G2)
You can use ManyChat to create bots that will allow your clients to schedule property viewings via social media. If you're using ManyChat to create real estate chatbots for your Facebook page, you can use the platform's built-in features. For example, you can set up Facebook marketing campaigns with ads inviting users directly to Messenger chats. You can create a bot that will answer common questions from potential buyers, or use Messenger and Instagram bots to schedule property viewings.
Pros:
A free plan that allows businesses to get started with chatbots without any upfront costs
Real estate chatbot template is available in the editor and it's easy to customize
Great option for real estate businesses interested in using social media as their main channel for customer engagement
Cons:
Setting up custom bots for Messenger ads can be challenging
Some limitations connected with using Facebook as the messaging engine—for instance, it's impossible to message leads after 24 hours because of the official policy
Free. You can use ManyChat bots for free for up to 1,000 contacts engaged
Pro (from $15/month). SMS text messaging, email, additional customer segmentation tags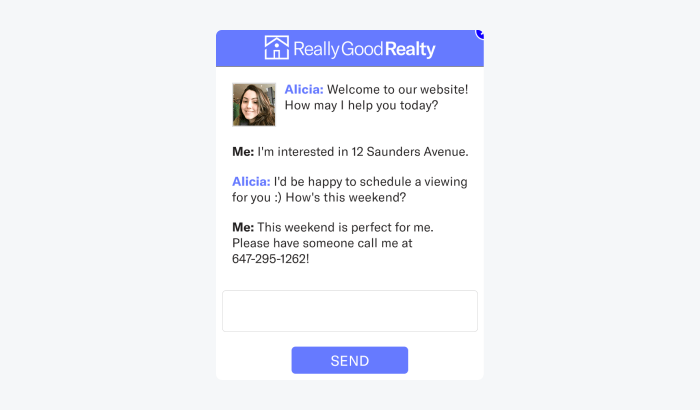 Rating: Not available
Although ReadyChat is not strictly a chatbot tool, it's certainly a good alternative to a chatbot. It's a website chat widget that is handled by professional live chat agents. You can simply share your property listings and a dedicated team of official ReadyChat operators will handle basic communication with potential home buyers for you. Their customer success professionals can even provide recommendations on how to improve your listings. All these features make ReadyChat a perfect tool for the real estate industry.
Pros:
Focused on the real estate market and operating in the same niche for years
You don't have to design chatbots or complex automations—agents will handle everything on their own
Opportunity to consult the company and enhance your processes
Cons:
More of a 3rd party service than a complete software solution, which may not be what you are looking for
Compared to other options mentioned so far, it's much less integration-focused
Value ($199/month). Up to 10 qualified leads per month
Premium ($399/month). Up to 25 qualified leads per month
Additionally, there is a one-time setup fee between $299-$399
How to set up your real estate bot in 5 easy steps
Collecting leads is the first step in the long process of converting sales. Real estate chatbots are perfect for activating leads and turning them into happy homeowners or sellers. Once you've made use of lead sources for realtors, you should have an audience ready and primed to start leading down your sales funnel with your chatbot tool.
So, how to build a real estate chatbot step by step?
Well—
To add a real estate chatbot for lead generation:
Create a free Tidio account with your email or Facebook account
Configure your chat widget and choose real estate as your industry
Implement the chat on your website and Facebook page
Go to the Chatbots panel and add real estate chatbot template
Customize your bot and start collecting visitor contact details
Let's discuss each of these steps in detail now.
1. Create a free Tidio account with your email or Facebook account
Tidio is a forever free chatbot builder and a live chat platform for agencies and ecommerce businesses. You can sign up to this platform with you email, Facebook login, or use an ecommerce account.
2. Configure your chat widget and choose real estate as your industry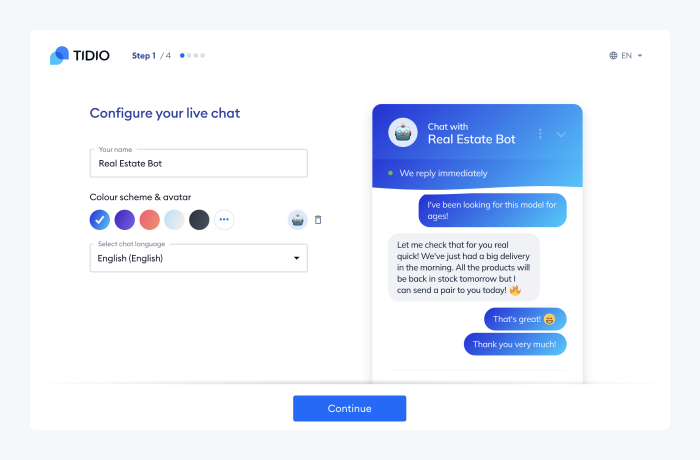 You need to provide some additional details such as the size of your business and industry. This will help to personlize your bots. You can upload your own avatars, and choose different names, labels, and welcome messages.
3. Implement the chat on your website and Facebook page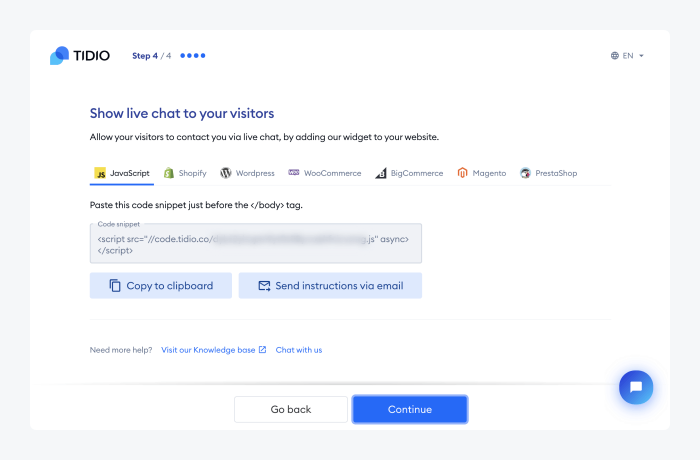 You can integrate the chatbot plugin with your website by using an auto-generated code snippet. You can also use an official WordPress plugin or use an app/plugin offered by your platform. If you are interested in adding a Facebook chatbot for real estate to your page, you should also connect the widget to your Facebook profile.
4. Go to the Chatbots panel and add real estate chatbot template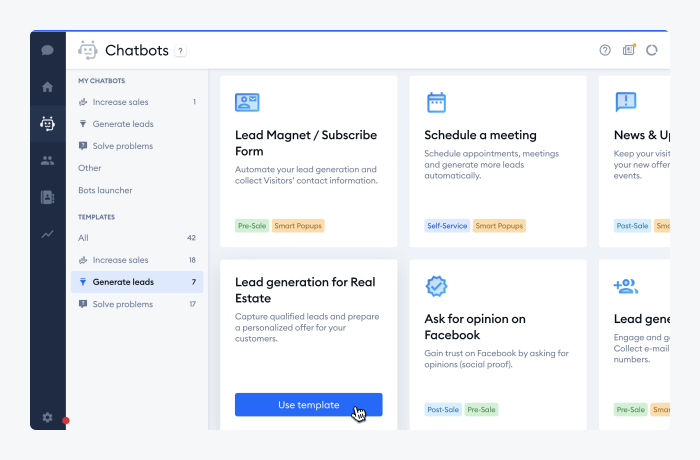 Go to the Chatbots panel. You can either start building your chatbot from scratch or pick one of the available templates. Find the template called Lead generation for Real Estate and click Use template to start personalizing it for your business.
5. Customize your bot and start collecting visitor contact details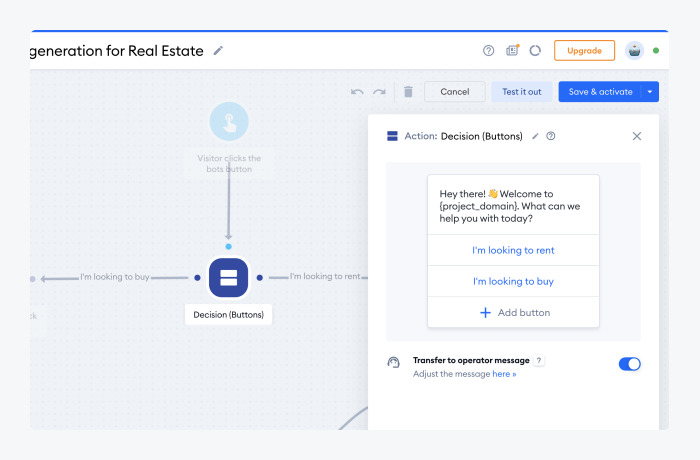 You can go through the chatbot decision tree designer to see what the bot looks like. If you want to alter any of the messages that are sent during this bot's conversation, just click on the appropriate node. You can edit the type of message or control the input from the user.
To find more details about setting up your chatbot read: How to Use Templates in Tidio
Conclusion
Website and social media bots are a great way to target potential buyers in the real estate market. By integrating chatbots with marketing automation software, you can create custom target lists of people who are most likely to be interested in purchasing a home. You can also send them automated messages that will encourage them to visit your website or contact you for more information.
By using chatbots, you can stay in touch with potential buyers without having to put in a lot of extra work. This type of tool can save you time and money while still providing you with the opportunity to reach a large number of potential buyers.
But which solution will be the right one for you?
Once more, here are the best real estate chatbots by category.
Best overall multi-channel chatbots for real estate:
Best for deep Messenger and social media integration:
Best for conversational landing pages:
We recommend trying out Tidio first, as it's completely free. It's one of the most universal all-in-one customer service, and marketing automation solutions. If you are looking for a free chatbot for real estate, it's a great starting point.