Customers are browsing your website at any hour of the day. And they might need your support when you're offline.
Suitor found a perfect solution to that problem.
This Australian suit and tuxedo rental company uses Tidio to offer 24/7 customer service without the need for a representative to spend endless hours on the chat. The business automates support processes by using AI-powered chatbots that answer frequently asked questions, sort through requests, and more.
Let's find out more about Suitor and how it uses Tidio to grow.
Experience the new way to hire formalwear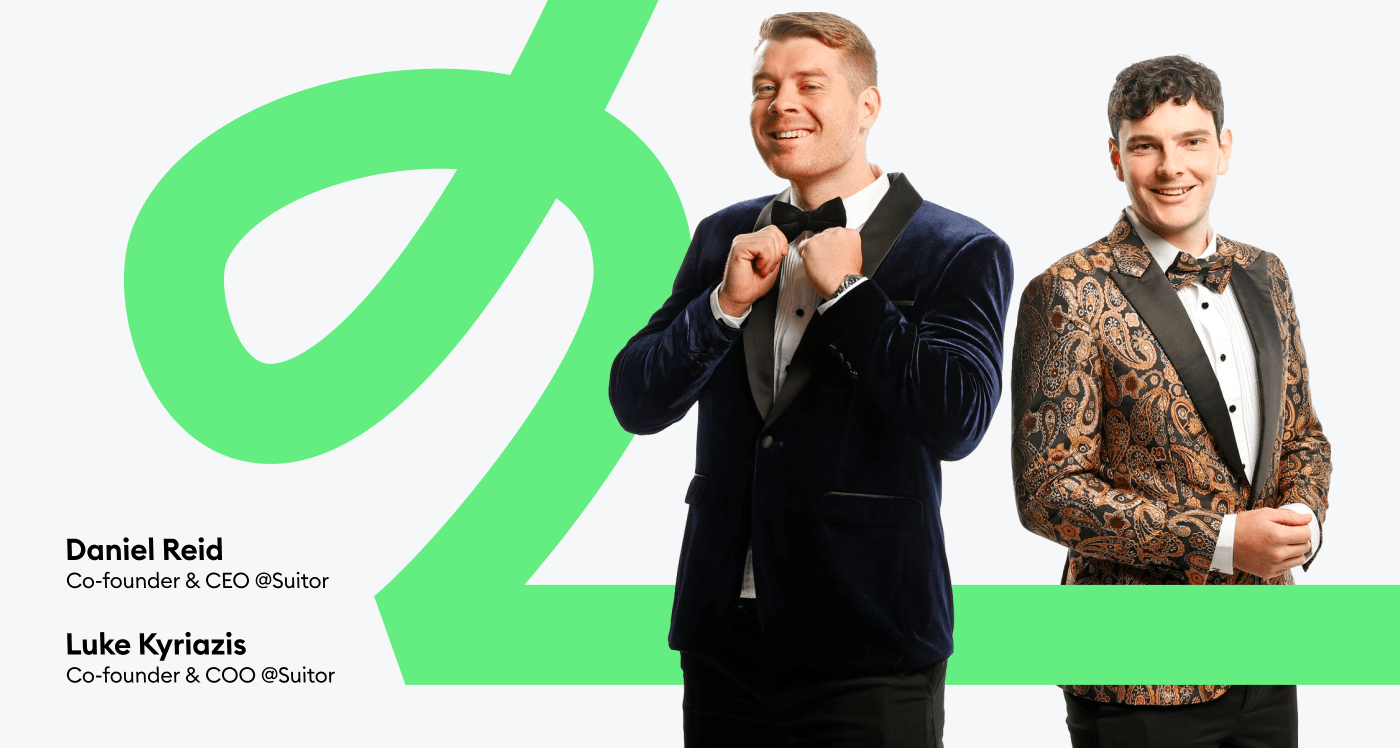 Information about the company
Industry: suit rental
Started year: October 2017
Size: 5 employees
Country of origin/headquarters: Australia
Tidio products/tactics used: chatbots and automation
You need a suit when going to a big event, but don't want to spend thousands of dollars on something you'll wear once a year.
The easy solution is—to rent it.
This is what Suitor offers. Suits and tuxedo to rent or buy.
The company started from one of the founder's garage and grew to a million-dollar business that snatched two sharks in the Australian SharkTank in October 2023. They're going around the world with great quality suits, providing a great solution for customers.
The challenges Suitor faced
When growing a business, the founders of Suitor started to struggle with a growing number of customer service queries. Constant replying to most common questions took too much of the owners' time, especially given that the answers were already available on the website.
They needed something that would answer FAQs in a natural way and filter through the incoming requests.
The solution to this problem?
Lyro, a conversational AI provided by Tidio.
After checking a few available platforms, Suitor decided to choose Tidio because of its easy-to-use interface and artificial intelligence chatbots. The owners trained and tested Lyro and found that it can take care of most of the clients' questions. And shoppers are happy with it, praising the brand's customer service experience.
The number one thing that has grown our business is offering that customer service experience the rest of the market has not been able to do.
So, let's discover, in more detail, how Tidio helped Suitor automate the customer service while still providing great experience to shoppers.
Automatic responses to customer service inquiries
Suitor was able to reach up to 85% of customer service automation using Lyro. This means that most of the queries are taken care of automatically by an artificial intelligence chatbot. The best part—customers love it and the owners of the company are much happier.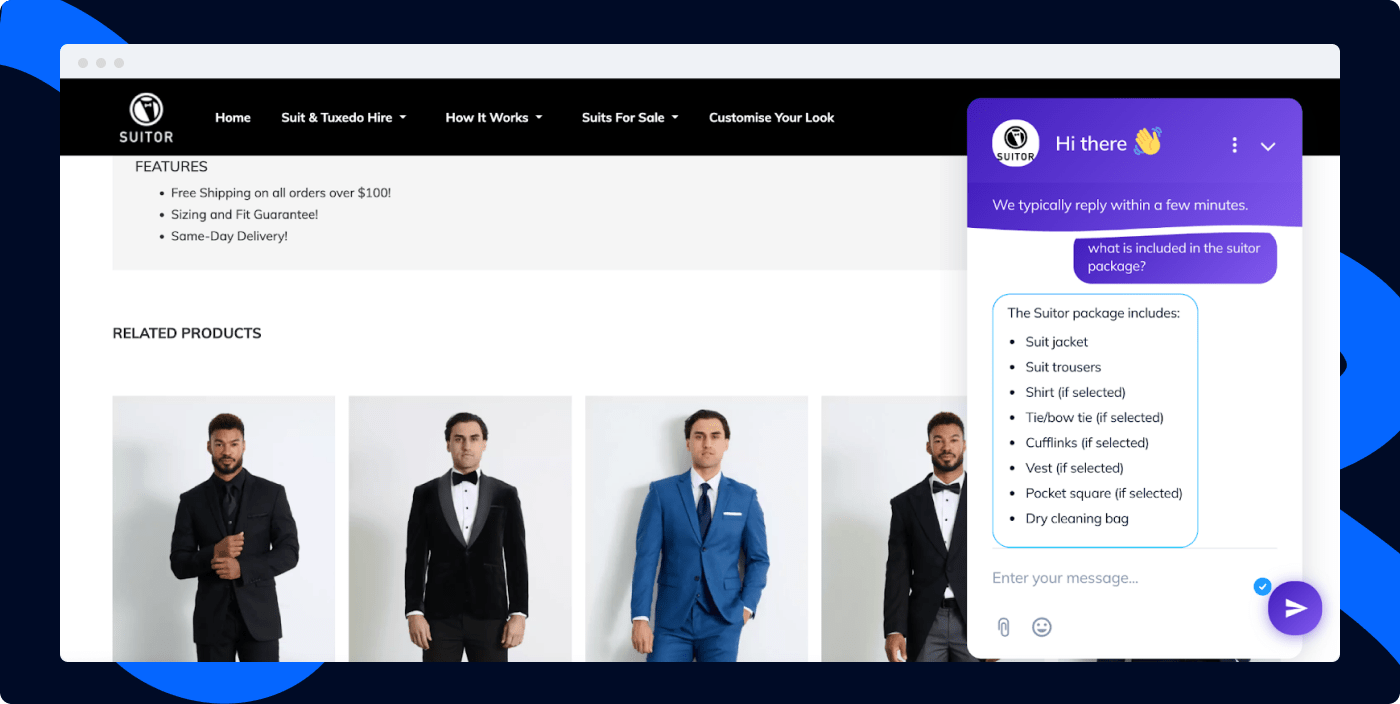 Lyro answers simple FAQs, learns with input, and communicates with shoppers using natural language which improves the overall customer experience. On top of that, thanks to automation, Suitor is there for the clients at any hour of the day. With many orders coming through after 8 pm, it's important that buyers receive support when the representatives aren't online.
I'm so much happier because we can trust that the customer service is being taken care of by the chatbot.
2. Decrease in average response time
The average response time before upgrading to the Tidio+ plan and implementing Lyro was about 3 minutes. This was the time when Suitor was primarily using the live chat feature of the platform.

When the owners decided to add conversational AI to their website, the response time dropped to a whopping 6 seconds! That's a huge decrease which is definitely appreciated by the clients who now get support instantly.
Lyro gives customers 24-hour support. Even if it doesn't always fully answer the question, it gives them enough information to go through the website.
3. Visitor behavior analysis across platforms
One of the deciding factors for going with Tidio was the integrations and the easy setup. The company needed a platform that smoothly integrates with WooCommerce, Facebook, and other channels. This way the owners could keep all the communication in one place, measure the performance, and scale their customer support operations.
Moreover, once Tidio was set up, owners didn't have to worry about customer support anymore as chatbots did their thing and sent complex queries to the live agents automatically. As it turned out, it's not really necessary in the majority of the cases, because only 24% of queries are transferred to a human representative, on average.
I don't even have the Tidio app on my phone because I trust it to do its job.
The experience is everything
With Tidio's 24/7 support, Suitor gained a competitive advantage over its competitors. The suit rental company discovered that people prefer to use AI to static bots and more customers are open to talking to intelligent chatbots.
Suitor uses Tidio every day, which has saved them money and time while increasing the company's revenue and owners' happiness. On top of that, customers leave feedback praising the experience. And when customers are happy, the business tends to grow exponentially.
We've had big revenue growth [this year] and Tidio is a large part of why we're growing. It's a massive part of our customer experience.
AI can help you save time and money as well. So, why not start automating your business today?