Live Chat
Add Shopify Live Chat to Your Store in 3 Minutes
Having a Shopify live chat is a must for effective customer support and lead generation. Here are easy instructions on how to add Tidio live chat to your Shopify store in minutes.
The Shopify merchants found a way to keep their customers happy and loyal (and keep getting new ones!). They found live chat.
Live chat for Shopify is a communication app that you can have, too. It's free and the installation process takes only a few minutes.
In a moment, we'll show you how you can add a free live chat to your Shopify store.
By the end of this tutorial, you will be able to talk to your visitors in real-time, track their behavior, collect emails, and make more sales with less effort!
Let's get started!
Want to turn your website visitors into delighted customers? Set up the Tidio live chat app in 5 minutes and watch your sales grow by 300%! Talk to users in real-time and deliver exceptional customer service.
Try Free Live Chat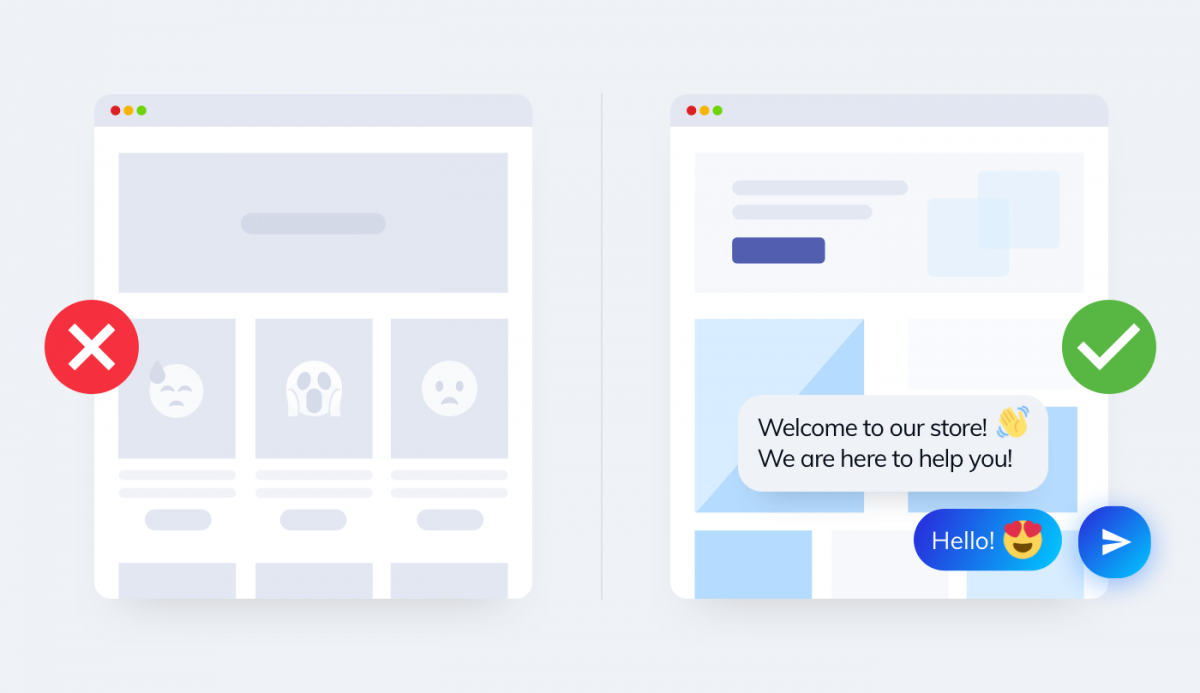 Sample use cases—See how people use live chat on their websites here.
One of our users, Vivian, had this to say:
One of the best business decisions I have made. Many customers complete purchases right after we answer their inquiries via live chat.
How to Add Tidio Shopify Live Chat Plugin to Your Store
To find and install Tidio Shopify live chat:
Go to Shopify App Store and search for "live chat."
Find Tidio Live Chat in the search results (typically it's displayed as the first one).
Click on Tidio Chat software for Shopify and visit the page of the app.
Get the app by clicking on the "Add App" button.
Or go straight to Tidio Shopify Chat app on Shopify app store.
It all takes about 30 seconds!
After the installation, you can start customizing the design to make the app really yours. The process is straightforward, so you should start engaging your visitors in no time.
Looking for the best live chat solution for your store? Head straight to Best Live Chat Software Comparison [Revised for 2020]
Why Should You Add a Shopify Live Chat Plugin?
There's a big opportunity for Shopify store owners, waiting to be discovered.
As of April 2020, there are 2,921,565 online stores running on the platform. The latest stats say that $135+ billion were made in sales on Shopify in total.
Despite the fact that many customers prefer live chat, less than 6% of these stores use it. This small percentage has a major competitive advantage over the rest.
Let's find out why stores without Shopify online chat app are losing.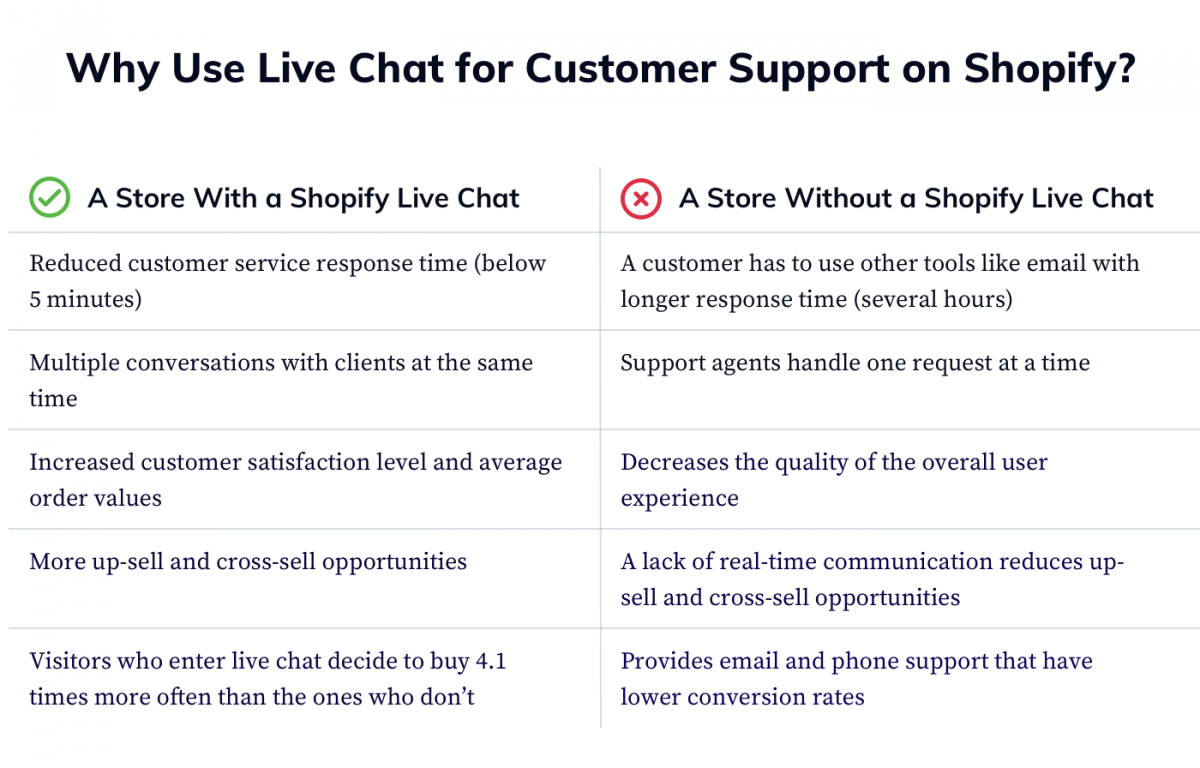 As you can see, having a Shopify online chat app can help you grow your eCommerce business exponentially.
What Shopify Stores Use Live Chat?
Let's check out some stores with Tidio Shopify live chat plugin. These examples show how one can personalize it and make it useful for visitors.
Lumineux
Lumineux is an oral care product seller. It uses Tidio Shopify live chat to show welcome messages and generate leads.
As you can see, the brand offers a deal for visitors with an automated message. To get the discount, they need to provide an email. This way, the brand generates leads.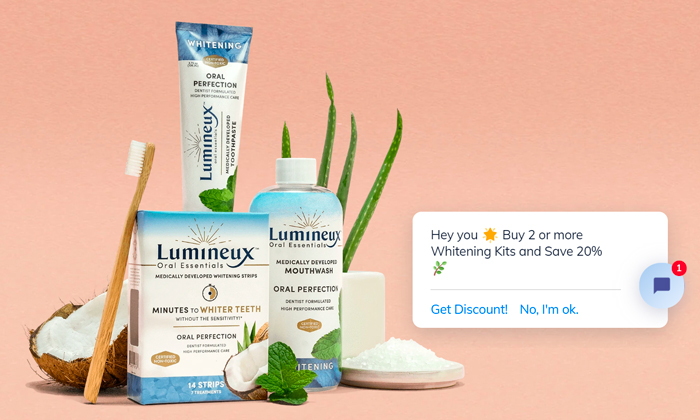 Lumineux also uses a friendly tone to address the visitors. Since customers prefer natural and friendly conversations, the right tone is key. Using a Shopify live chat gives an opportunity to let your brand's personality shine.
5% Nutrition
5% Nutrition is an eCommerce bodybuilding supplements seller that also uses Shopify live chat to welcome website visitors. The brand has done a great job at personalizing the widget with a custom image and operators' avatars.
As a result, the chat looks amazing on the website.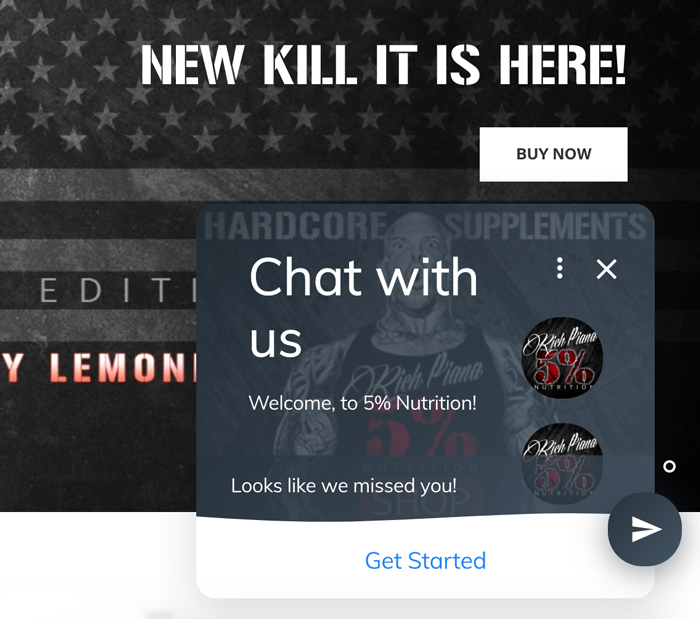 When visitors click on the Get Started button, the widget displays several common questions asked by the visitors and customers.
If the customer clicks on Check Order Status, for example, the widget asks for email or another ID used during the purchase.
As a result, the customer can get the information they need quickly. This way, 5% Nutrition makes it easy to get answers to the most common questions.
Yu Keep
Yu Keep is a service that provides loans for popular electronics and other products. If someone wishes to buy from the service, he or she proposes conditions and applies for a loan.
The company uses automatic messages in the Tidio Shopify live chat app to explain how the service works to website visitors. Similarly to 5% Nutrition, the widget offers access to the most frequently asked questions.
Anyone interested in using Yu Keep's services can use this self-help solution. In case they still need some kind of assistance, they can contact operators through live chat.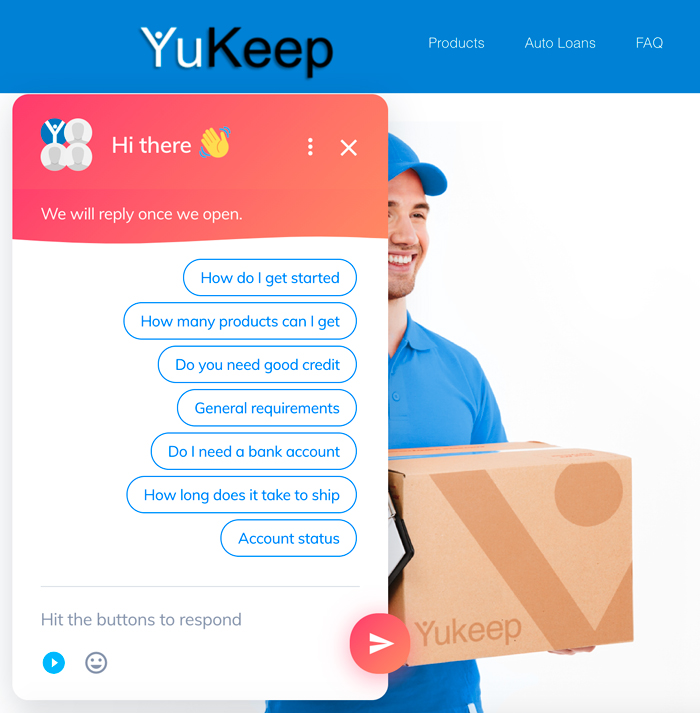 Creating a self-help resource like Yu Keep is a nice way to optimize customer support. Not only does it make getting answers easier, but it also reduces the agents' workload.
Precision Watches
Precision Watches is a U.S-based retailer and a certified service center. The company uses Tidio live chat app for Shopify to help with common requests related to purchases and repair.
If a visitor chooses Watch Repair Inquiry, they'll get the info on watchmakers and store hours. Also, an automatic message asks more request details to give to the support agent later.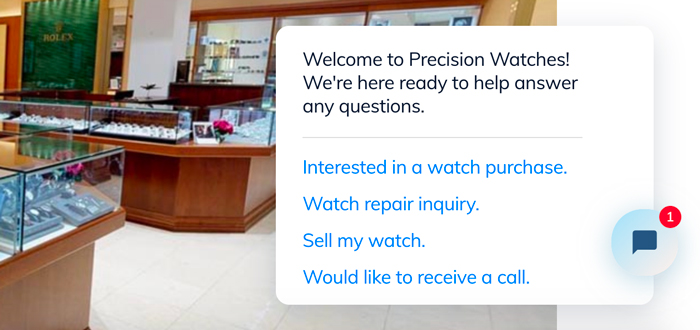 As you can see, the widget provides other helpful options for the visitors. Having them readily available helps the business to connect with more leads. Also, a Shopify live chat like this one helps to serve customers better. It collects more information on requests to help customer agents.
Recommendation
Visitors can use a live chat to order a phone call but not the other way round. To cover all grounds and make your business more accessible use the most universal tools. Top live chat software can take care of other channels as well.
The Shopify stores mentioned so far come from different industries and sell different products. But they can engage more visitors, provide better support, and make it easier to buy with Shopify live chat.
Now that you've explored how online stores use Tidio's dedicated Shopify chat app, why not join them?
Try Tidio Live Chat for Shopify
Tidio Shopify Chat App—Features for eCommerce
Tidio Shopify live chat app makes customer support proactive, efficient, and fast. Here are the most important benefits it has for Shopify store owners.
See Visitor Activity
The best customer support is proactive, e.g. anticipating customer needs and addressing them instead of reacting.

Tidio has features designed to help with achieving proactive support. Live Typing, Visitor List, and Viewed Pages are among them.
With Live Typing, an operator can see what a website visitor is typing before they send the message. Thanks to this feature, you can respond faster and keep your customers satisfied.
Visitor List shows the visitors to your Shopify store in real-time. It allows engaging them directly and sharing deals, information, or offering support.
With Viewed Pages, you can personalize your live chat messages. Thanks to this feature, you can see the pages your visitors viewed. If you discover that someone has visited a certain product category, you can try to offer them a discount via a live chat message.
Stay in Touch with Visitors on the go
With Tidio live chat app, you can receive notifications of new visitors and conversation requests. You can take your support on the go and reduce the response time.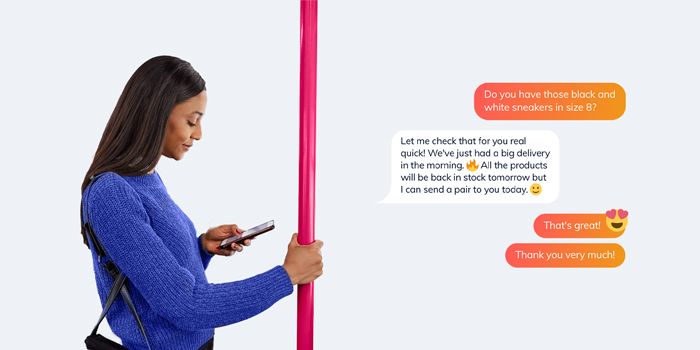 The app is available for both Google Play and the App Store.
Don't Write the Same Responses All Over Again
With Tidio Shopify live chat, you can better prepare for conversations with visitors. Thanks to features like Quick Responses and chatbots, you can pre-write messages and use them during the conversation.
Quick Responses are pre-written templates for welcome messages and answers you can call whenever you need. If you have to use a specific template to respond to a visitor, type dash and the first few letters from any word in it.
With chatbots, you can pre-write entire conversations and handle common and repetitive questions. Tidio's Shopify online chat comes with chatbot templates you can personalize. Some of the most popular ones include:
A FAQ bot
A bot for welcoming new visitors
A bot for messaging a returning visitor
A bot for giving returning visitors a discount
A bot sending notifications when customer visits a specific page
You will be able to generate leads even offline and engage more visitors thanks to templates.
Monitor Performance of Your Shopify Store
You can assess your performance with Tidio's solution for Shopify customer service chat. The number of leads generated, response times, and various chat analytics are some of the most important information you can track.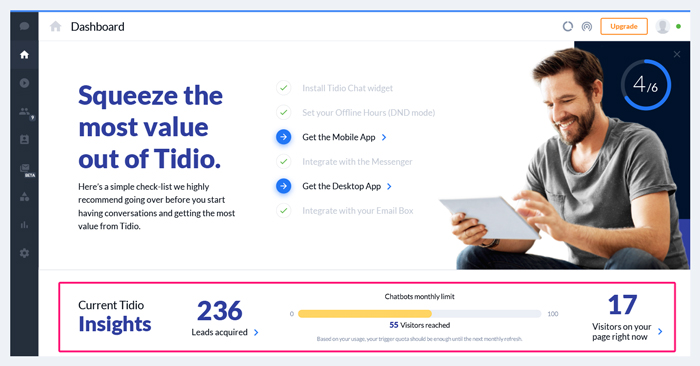 For example, tracking response times can show how fast your customer support is. Since it directly influences customer satisfaction, you need to have a benchmark to ensure the shortest possible reply time.
Next, tracking the number of conversations is a good way to assess the effectiveness of your visitor engagement. Having this information can help to improve visitor messaging and, eventually, get more leads.
Note: If you notice that you're losing customers at the checkout, consider installing a Shopify abandoned cart app.
Customize the Look of Your Shopify Live Chat App
Rich widget customization options allow you to personalize it to match your website layout and/or theme.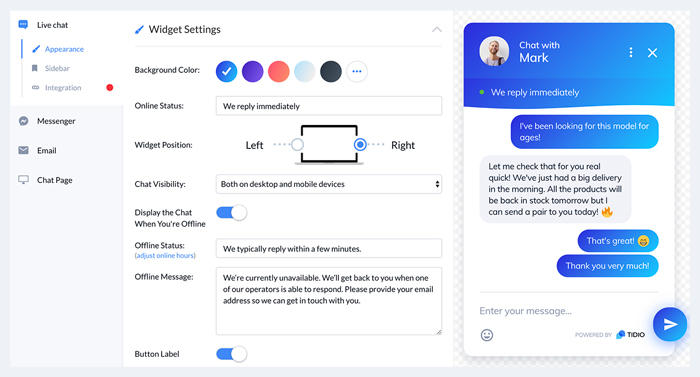 Here are the most important of them:
Custom colors, background pictures, and avatars
Online and offline status messages to display to visitors
Select where and when to display the chat widget or hide it
Dedicated Automations for Shopify
Tidio's free live chat for Shopify support has automatic messages to help your visitors:
Check order status. Configure the chatbot to answer the question about order status.
Check product availability. Answer questions about the availability of products in your store.
Check delivery location. Configure a message to ask about the area of delivery.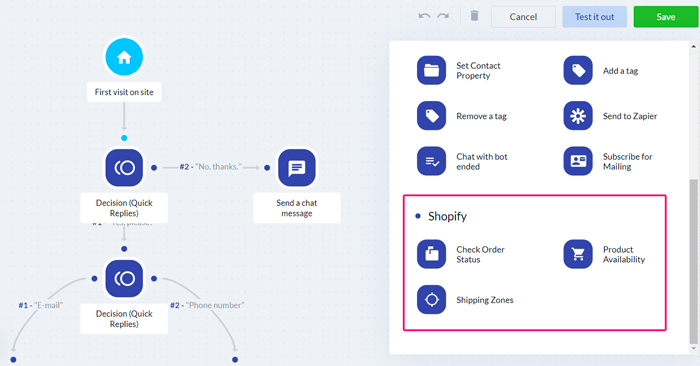 These options are easy to integrate thanks to the Tidio chatbot editor.
Install Tidio Chat for Shopify right from the Shopify App Store
Be sure to install the official Tidio Shopify live chat app from the Shopify App Store. This is the best and safest way to get the latest build and enjoy all features.
Good Alternative to Shopify Chat/Shopify Ping
Many store owners have found the official Shopify Chat app quite limited. One shortcoming is the need to install the additional Shopify Ping app to be able to respond in real-time. Many Android and desktop users of Shopify Chat have also expressed their concerns about a lack of Ping equivalent.
Tidio is a second-party plugin but it is the highest-rated and the most popular live chat solution among Shopify users.

Summary
Shopify stores using live chat have a major competitive advantage over the rest. However, only less than 6% of the stores on the platform provide this communication channel for visitors.
By using Tidio Shopify live chat, you can start improving your customer experience and sales, and get that competitive advantage, too.
Thanks to a great selection of business-oriented communication and automation features, it can help you to achieve your goals. So, if you're looking for a live chat app for a Shopify store, be sure to check out Tidio.
Try Tidio For Free