If you're a business owner, you've heard of BigCommerce and Shopify – and with good reason. Together, they host over a million online stores. But which one should you choose, and which one is best for your specific eCommerce business?
Sit back and relax, because we've done extensive research. While we can say with confidence that both are excellent platforms – and neither is a silver bullet for all business needs – there's no clear winner. Shopify wins in several regards, but the choice comes down to your specific needs and business model.
Turn your website visitors into delighted customers.
Set up the Tidio live chat app in 5 minutes and watch your sales grow.
Learn About Live Chat
Why does Shopify have a slight edge over BigCommerce?
There's one big reason why many businesses choose Shopify over BigCommerce. In short, when you go with Shopify, you go with the leader in the field. Choosing an eCommerce platform isn't a popularity contest. But popularity helps in lots of ways.
Psst! In case you wonder, most of the best eCommerce plugins, such as Tidio, are available for both platforms.
Get Tidio for Shopify
Get Tidio for BigCommerce
With Shopify, you'll work with the 10-to-1 favorite for online business. That means they've got more resources to deliver a better product. But it also means a much wider support base, more developers to help you win, and more apps and themes to boost your functionality.
But not so fast. BigCommerce is coming up on Shopify's bumper fast, growing and adding customers and developers like lightning. In fact, the company filed to go public in July of 2020, so they're no last-place contender. Plus, there are several other reasons you might go all-in for BigCommerce.
Loading ...
Choose one of the sections below to read detailed BigCommerce vs Shopify comparisons regarding:
1. Shopify is more popular
Imagine this – you made a big mistake. You chose the wrong eCommerce platform, and now you've got less apps, less robust customer support, and fewer developers to work on your system. Why? Because it's less popular. With a less popular platform, you'll have a smaller pool of resources to pull from.
That's the key problem with BigCommerce. While 90,000 online stores in 65 countries is nothing to sneeze at, it doesn't hold a candle to Shopify's 1 million businesses in 175 countries. If a million business owners can't be wrong, then the BigCommerce vs Shopify question has been settled.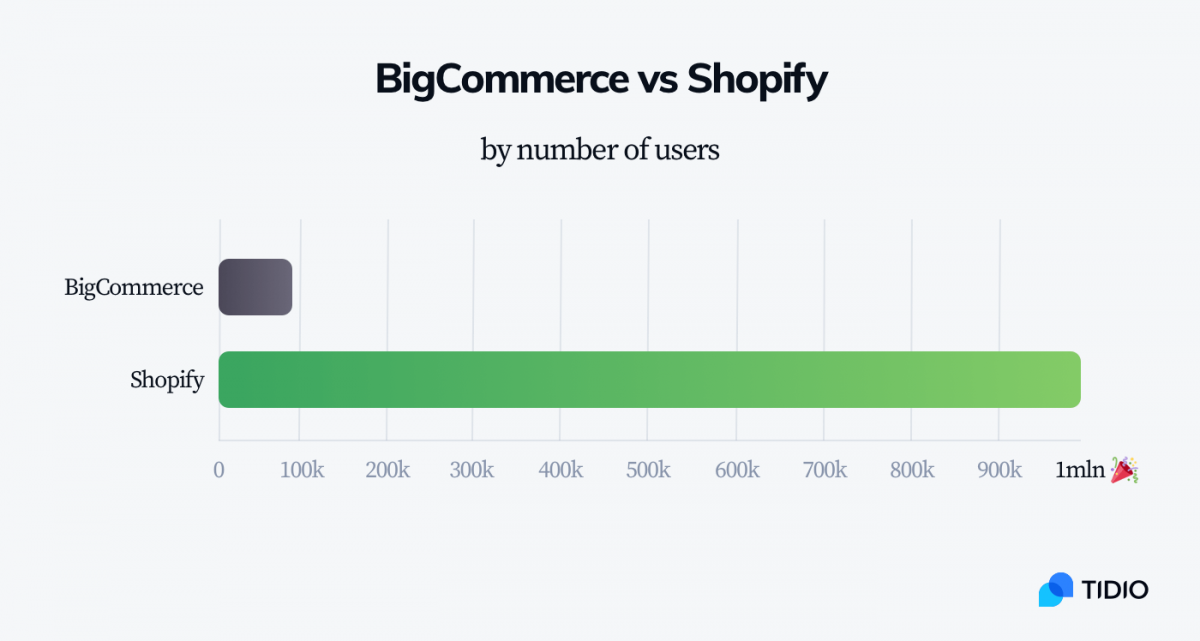 But hold the phone, because the soon-to-go-public BigCommerce is more profitable than Shopify and growing fast. Should you hitch your company's wagon to Shopify's big-now star, or BigCommerce's possibly soon-to-dominate juggernaut?
2. Shopify wins big on apps – they matter
Let's face it, both Shopify and BigCommerce are excellent platforms for your online store. BigCommerce wouldn't have 90K users if it was a dud. But more users at Shopify means more developers are writing apps for it like crazy. All those apps provide a mountain of convenience for your business.
Shopify boasts over 2,400 apps, with more than 12 million installed and another 33,000 downloaded per month. BigCommerce can't come close with about 800 and far fewer downloads. Why? Because Shopify is a bigger market for app developers. That said, BigCommerce is fast making up the slack.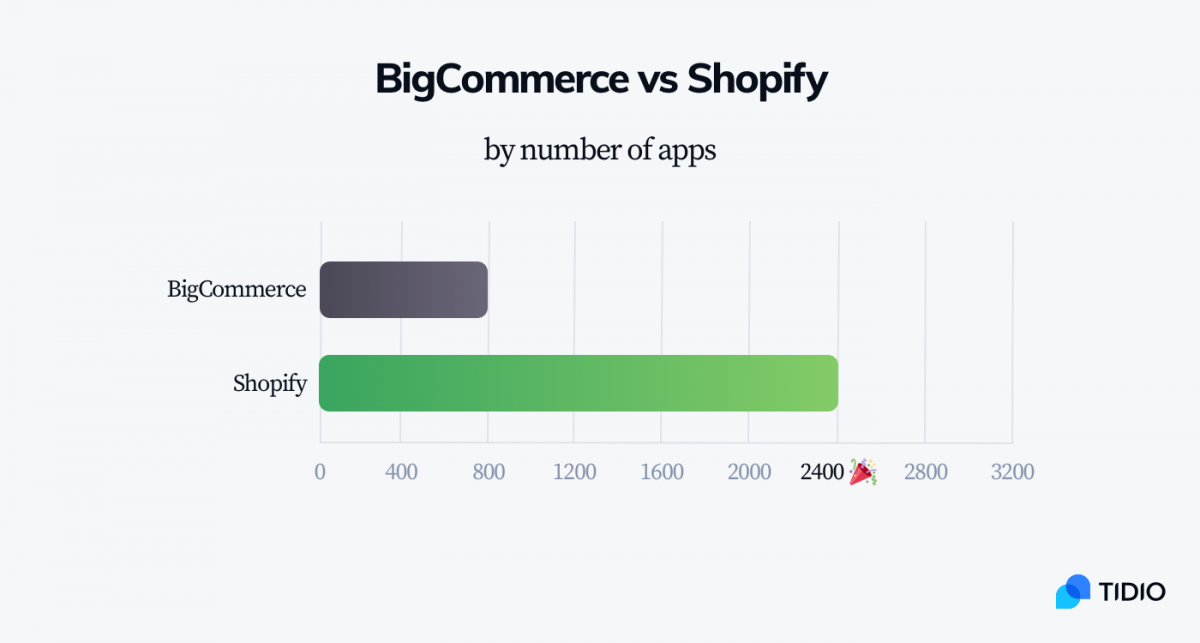 Shopify has tons of free apps, including apps to increase your conversions, boost your SEO, add content, serve your sales channels, supersize your customer service, and tons more. So Shopify isn't just an eCommerce platform. It's a massive business success team for your company.
See the top Shopify apps, or do your own side-by-side comparison of BigCommerce vs Shopify apps here:
The Mailchimp problem
Shopify has one Achilles' heel – no Mailchimp app. According to Shopify, they dropped the service because Mailchimp refused to comply with a 2019 Shopify policy to collect and store certain customer data.
But there's a workaround.
With Shopify or BigCommerce, you can use Tidio Mailing to create and send your email campaign in minutes.
Want to shoot your conversion rate to the Moon? See our article: 8 Ways to Increase Ecommerce Sales and Conversion
3. The price is nearly identical
The BigCommerce vs Shopify price comparison at first seems like a wash. Here are the two platforms with their three apparently identical plans side by side: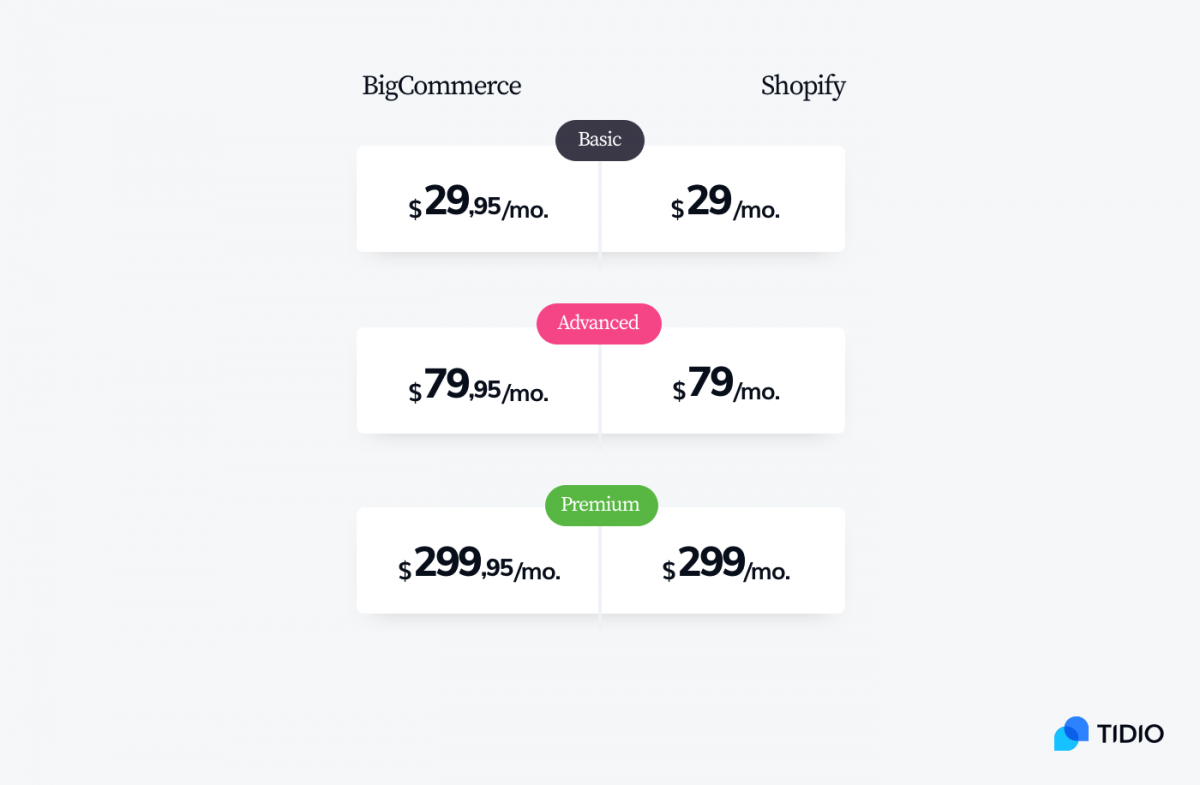 Looks the same, right? But it's not.
There are two key considerations (and several minor considerations) when comparing BigCommerce to Shopify on price:
First – BigCommerce charges more per month based on your sales
BigCommerce has max annual sales limits with each of the three plans listed above, and Shopify doesn't. With BigCommerce, when you reach $50,000, $180,000, or $400,000, they'll bump you up to a higher price. At $400,000, you're blown right off the table above into a "custom" plan.
🚀 Shopify doesn't have sales limits on ANY of their plans.
Second – Shopify charges transaction fees
Shopify charges transaction fees from 0.5% to 2% depending on your plan. You can get around those fees by using their proprietary Shopify Payments system to process all your card transactions. That means you can't use PayPal or other external payment gateways. AND Shopify Payments is limited to 16 countries.
🚀 BigCommerce doesn't charge transaction fees on ANY of their plans.
The upshot? You need to decide whether you're happier paying for a more expensive BigCommerce plan or paying more in transaction fees with Shopify.
Third – Other price considerations
4. They're both easy to use
Both BigCommerce and Shopify are easy to use. We're not saying you won't have problems. There's always a learning curve with any eCommerce platform, and these two giants in the space are no exception. The to interfaces are actually fairly similar, with menu-driven screens and easy content uploads.
For content management, both platforms feel a lot like Squarespace and WordPress, so you'll feel right at home if those are in your wheelhouse. BigCommerce's page-builder has an easier drag-and-drop interface. It is a huge advantage if you mean serious page customization. A paid app can bridge the user-friendliness gap with Shopify.
Want to add Shopify online chat to your website? See our guide: Add Shopify Live Chat to Your Store in 3 Minutes
5. Both have 24/7 phone support
When you first start using BigCommerce or Shopify, you'll need to use support. A lot. You'll have dozens of questions and challenges, and you'll hit the inevitable teeth-grinding roadblocks. Thankfully, both have 24/7 support. As with any support, though, it has its ups and downs.
You'll find plenty of users from both platforms online who say each one has the best support you'd ever want. You'll also find plenty who say it's the worst support they've ever used. Either way, this category is a toss-up. If great support is important to you, choose either one.
6. Design and themes – Shopify wins by a nose
The look of your online store matters to your bottom line. A more professional and attractive-looking store will keep your customers happy and bring in more revenue. When it comes to design, the BigCommerce vs Shopify showdown has a clear winner for now, but that will likely change as BigCommerce gains traction.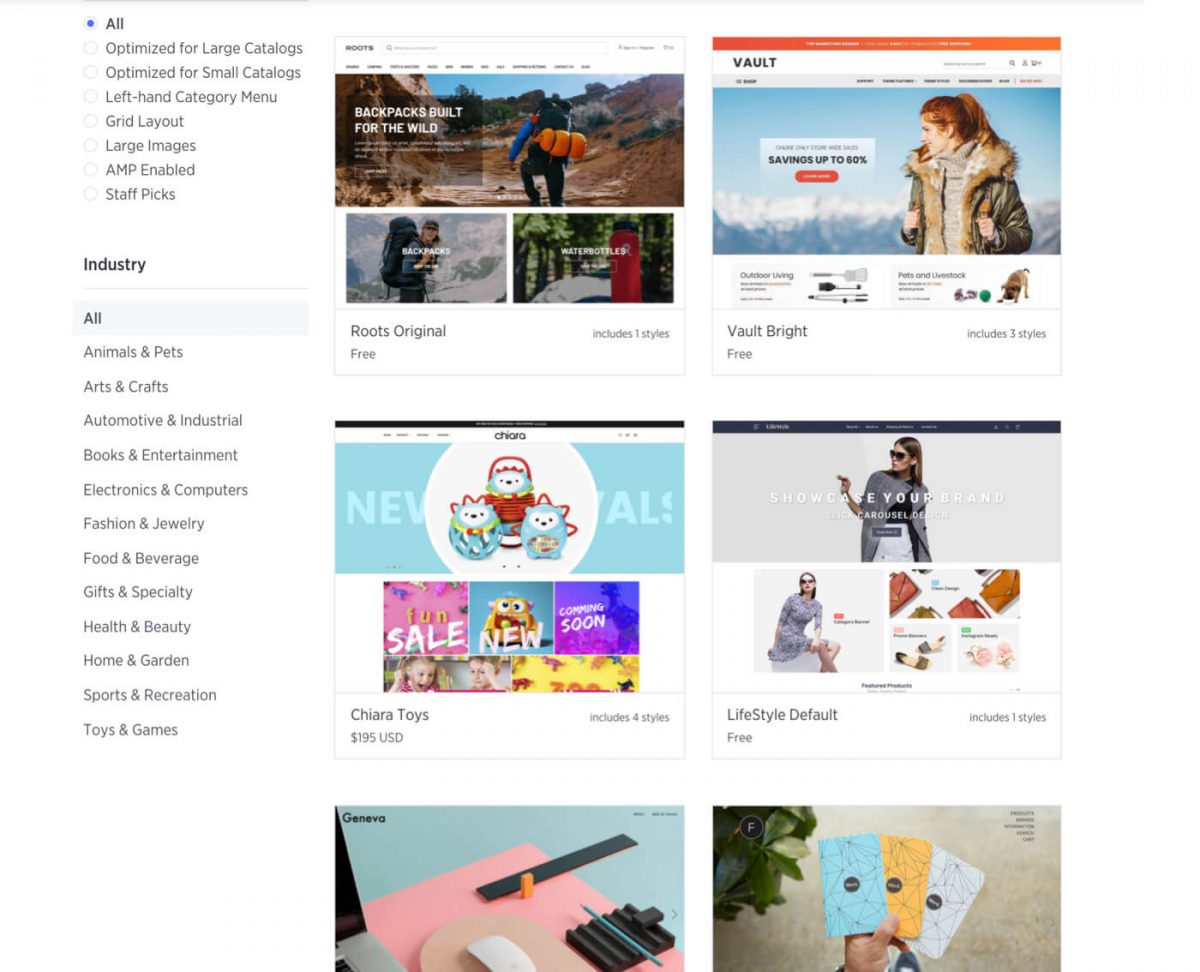 Here's the rub:
7. Scalability – it's a tie
Here's a key question – do you run a big business, a small business, or a small business that will be big soon? Nothing's rougher than starting with the right choice, then watching it become the wrong decision as you grow. Thankfully, both eCommerce platforms serve small and medium-sized businesses well.
But what about big companies?
The difference is in the hidden cost. BigCommerce has a ton of built-in functionality in its enterprise-level plan. That's the one where you get blown off the 3-tier pricing plans and into a custom pricing plan for big fish.
With Shopify, you won't get those built-in big business solutions, but you will get the same thing from their apps. There's a problem though. All those app subscriptions can add up to a real annual expense once you're in the enterprise-plan-zone with Shopify.
But again –
You don't have to bump up to Shopify's plan when you hit $400,000 in annual revenue. With BigCommerce, you do. Shopify's max plan – called Shopify Plus – just adds extra perks like up to 10,000 transactions per minute and an online training portal with interactive online classes and a massive training video library.
So yes, this one is a tie.
Install the Tidio chatbot on your Shopify store and max out your customer service ROI. See our guides: How to Install Tidio on Shopify and How to Install Tidio on BigCommerce
8. Multi-currency support – BigCommerce edge
If you'll sell only in the US, you don't care about this one. But if you've got an international customer base – or would like to have one – it's much better for your business if you sell in different currencies. BigCommerce senses currency by customer IP address and automatically converts.
That's huge.
But – Shopify can do the same thing with lots of currency converter apps. So why does BigCommerce come out ahead with currency conversion? Because while most of Shopify's conversion apps have free pricing plans, they also graduate to paid plans of $10 a month or more based on your usage.
Again, it's a slight edge.
9. Analytics – Shopify wins, but…
What gets measured gets improved. You'll want to keep a close eye on your sales and data so you can get max ROI out of your biz. So how does the BigCommerce vs Shopify contest look when it comes to reporting? Well – both have built-in analytics at the $79 level.
With Shopify, you can short-circuit this with an entry-level plan by using apps. There are dozens of good analytics and reporting apps on Shopify, and many are 100% free. BigCommerce a few, but the selection, quality, and freebies don't measure up. Does it matter? Not so much, since you'll probably use Google Analytics anyway.
10. Developer community – Shopify wins (for now)
Developers matter. The more developers you have, the more apps you get, the more themes and templates you have, and the more programmers and designers there are to save your bacon if you get into a jam. Just by virtue of Shopify's 10 to 1 customer ratio, there are more good options here.
Just take a look at the graph below. It's from Google Trends. It compares how many people search for "Shopify developer" vs "BigCommerce developer" each day: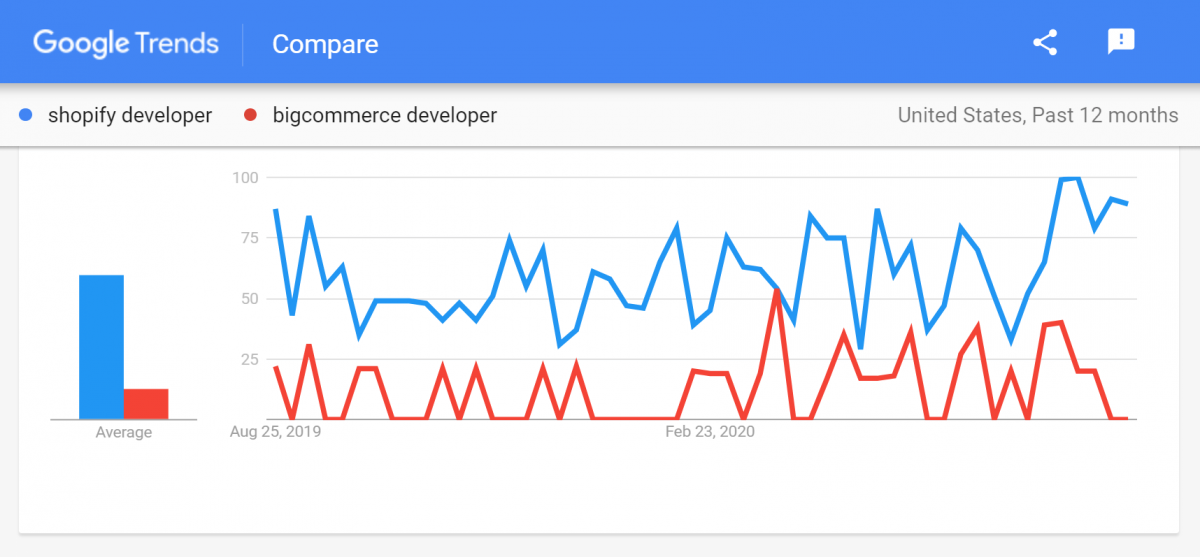 It's supply and demand. The more people who need developers for one platform or another, the more there are. That means more solutions, cheaper prices, and of course many hands make light of heavy work. But what about a year from now? Forward-thinking business owners are well-advised to bank on BigCommerce's rapidly increasing market share.
11. Multiple languages – Shopify wins
If you've ever read Steve Krug's excellent book, "Don't Make Me Think", you know the #1 rule of an online store is to make it easy for your customers to buy. Well, shopping in a second language isn't easy.
Now of course no translation is perfect, but it helps to have at least some option in place. With Shopify you get the standout Langify app (4.7 stars for 994 reviews) as well as several other options. BigCommerce doesn't have Langify and only gives you a couple of far less popular solutions.
Other BigCommerce vs Shopify considerations
What about blogging? Abandoned cart recovery? Email integration? Mobile functionality? Conversion help? By now you can probably guess these for yourself. Both BigCommerce and Shopify have out-of-the-box answers, while Shopify trounces BigCommerce with its apps.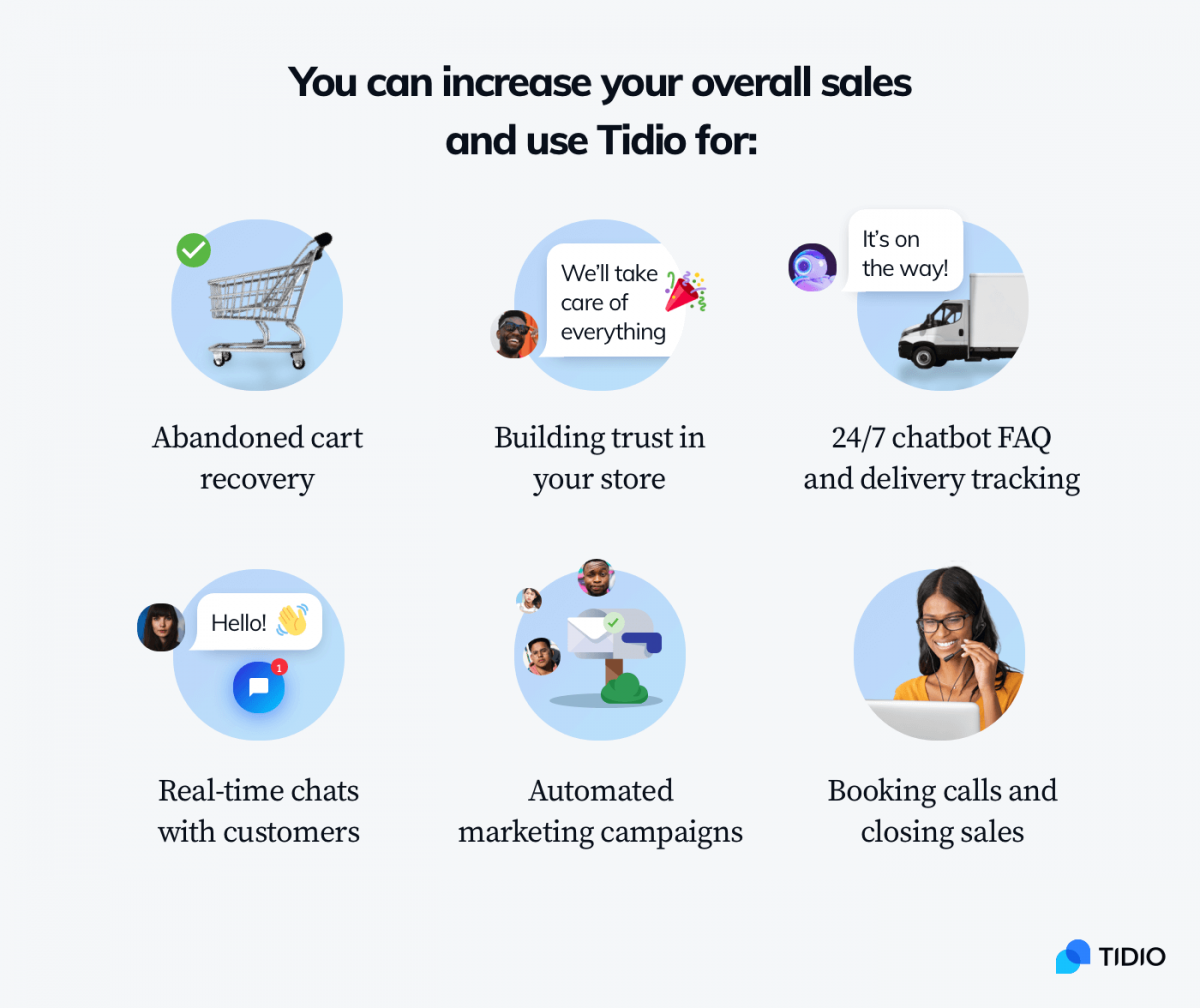 Shopify vs BigCommerce: Summing Up
So what's the final answer to the BigCommerce vs Shopify question? Shopify wins for now because it has more users, but BigCommerce is more profitable, just about to go public, and growing lightning-fast. A million Shopify stores vs 90,000 BigCommerce stores means more developers, and that means more and better apps, themes, and solutions. That will change, so the choice is really down to your business size, model, and workflows.

Turn your website visitors into delighted customers.
Set up the Tidio live chat app in 5 minutes and watch your sales grow.
Learn About Live Chat