Shopify has great features for ecommerce brands. But it also has some drawbacks that can drive users away from it.
And that's what's probably bringing you here, isn't it?
Maybe the pricing didn't match your budget. Or you didn't find the features you were looking for. Or customer support wasn't the best.
Whatever the reason was—you're now looking for a Shopify alternative.
And this is the right place for you!
So, let's compare the top Shopify alternatives with pros, cons, and pricing to choose the right one for your ecommerce business.
In this article:
Do you want to discover more about Shopify? Check out these articles:
Now—
Let's introduce Shopify first and look at some of the reasons you might be searching for an alternative.
What is Shopify?
Shopify is a cloud-based ecommerce platform that allows you to build and manage an online store. It's user-friendly and rich in ecommerce features, helping brands of all sizes to grow their business. Moreover, merchants can use Shopify to run their ecommerce store from their website, brick-and-mortar location, social media channels, and more.
Shopify has a rating of 4.4⭐️ with over 4,100 reviews on G2, and a market share of 29% when it comes to ecommerce software in the US. The four Shopify biggest competitors are WooCommerce, Wix, SquareSpace, and Ecwid.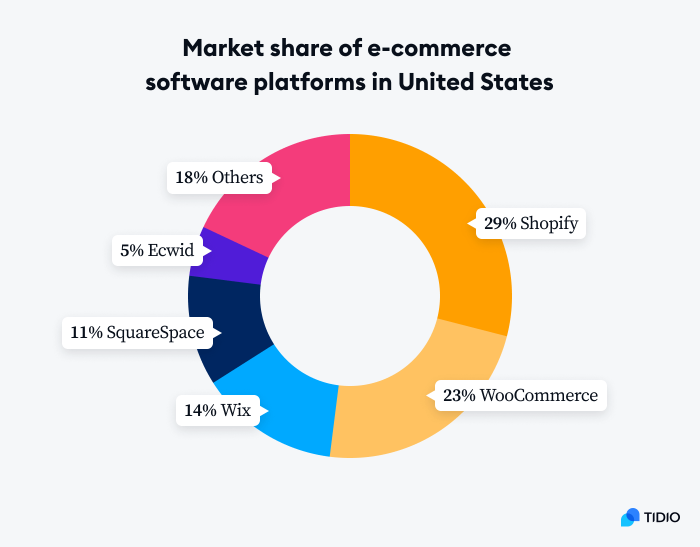 Shopify offers 4 plans on the standard version and one Shopify Plus version for enterprise-level companies. The prices of these plans are:
Starter ($5/month)
Basic ($29/month)
Shopify ($79/month)
Advanced ($299/month)
Shopify Plus (starting at $2,000/month)
The main differences between Shopify and Shopify Plus include the number of features, the amount of support, and the pricing.
Why look for an alternative to Shopify?
Some of the Shopify disadvantages include high pricing, limits on customization, and restrictions on the number of staff. On top of plan prices, Shopify users also pay translation fees if they choose to use additional payment processors to the Shopify payments solution.
Read more: Learn the full picture of Shopify pricing and fees and check out some of the best Shopify stores for inspiration.
Have one of these reasons put you off? Or did you find another Shopify con that made the platform not a good fit for your business? Whatever it was—you need an alternative.
So…
Let's move on to the section you came here for—who are Shopify's competitors?
Shopify competitors & alternatives
There are over 300 ecommerce platforms listed on G2 alone. That's a lot to go through, and most of them are not even worth your while. Instead of spending hours upon hours of your days searching the net for the best solution, check out the 12 top companies like Shopify we hand-picked for you after a thorough research.
Here's a comparison table of Shopify alternatives:
Now—
Let's have an in-depth look at each of the Shopify top competitors with pros, cons, and pricing comparisons.
Rating: 4.8/5 ⭐️ (265+ reviews)
The main difference between Ecwid and Shopify is their purpose. Namely, Ecwid stands for "ecommerce widget" which means that it's a plugin used to turn an existing website into an ecommerce site. Shopify, on the other hand, is a website builder that enables you to create a fully-hosted online store from scratch.
So, if you already have a website that you're happy with, this Shopify competitor may be one of the best choices for your ecommerce plan. Ecwid also offers many payment options including Stripe, Amazon Pay, and PayPal.
Pros:
No transaction fees
Higher digital product upload
Social media selling and marketplaces, such as eBay, supported
Cons:
Doesn't calculate shipping rates automatically
Limits on the number of products
POS (points of sale) only available through third-party apps
Free plan available
Venture ($15/mo)
Business ($35/mo)
Unlimited ($99/mo)
Example of a store built with Ecwid: Grab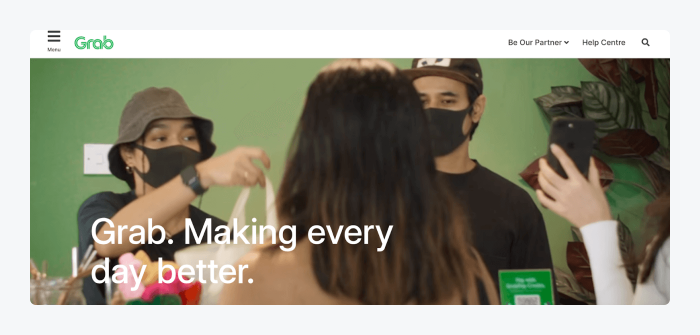 Read more: Check out the Ecwid vs Shopify comparison for a more in-depth look at each element of the platforms.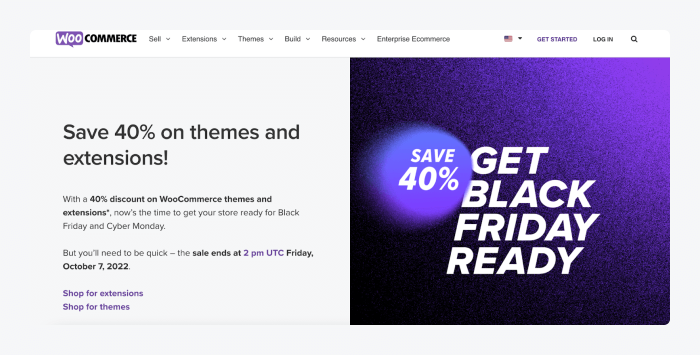 Rating: 4.4/5 ⭐️ (1,000+ reviews)
Just like Ecwid, WooCommerce is a plugin and not a full-fledged platform. But this doesn't stop WooCommerce from being an ecommerce giant. It's powered by WordPress, which is the most popular content management system (CMS) on the market, hosting over 35,800 live sites.
This free Shopify alternative is scalable and flexible, with limitless customization available to the user, and super convenient for starting a dropshipping business. It's a great choice for users of WordPress websites, those with a DIY spirit, and a little bit of technical skills. What's more, it doesn't have a paid plan, it's completely free!
Pros:
Over 50,000 integrations and plugins
WordPress based
Scalable to your business needs
Cons:
Only one pre-designed theme available to customize
Security features must be sourced
More technical than Shopify
Example of a store built with WooCommerce: Tipi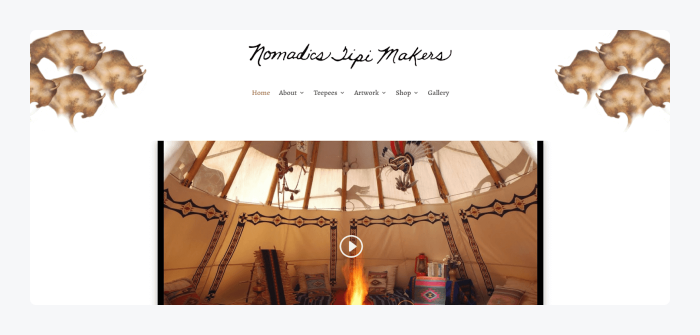 Read more: Compare WooCommerce and Shopify to see which one works best for you.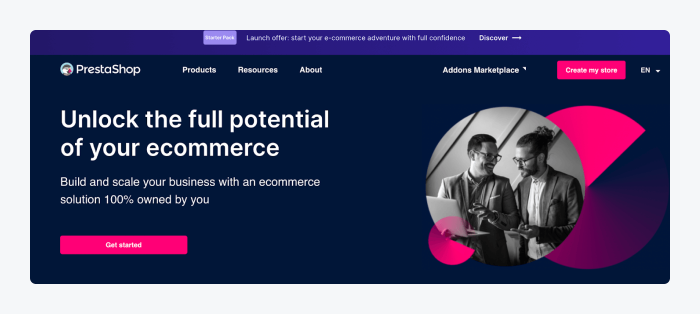 Rating: 4.3/5 ⭐️ (135+ reviews)
PrestaShop lets you personalize your ecommerce website just the way you want it. You can manage product catalogs, orders, credit card payments, shipping, and your customer databases, all from one place.
This is one of the free alternatives to Shopify that helps you scale your business by launching marketing campaigns to reach more of your desired customers. It also aids you in growing internationally with multilanguage stores and a variety of currencies.
Pros:
Regular updates to the software
Range of modules to enhance your ecommerce store
Highly customizable
Cons:
Low support of themes
Only basic reports available
Slow at times and can disconnect from the network
Example of a store built with PrestaShop: Pylones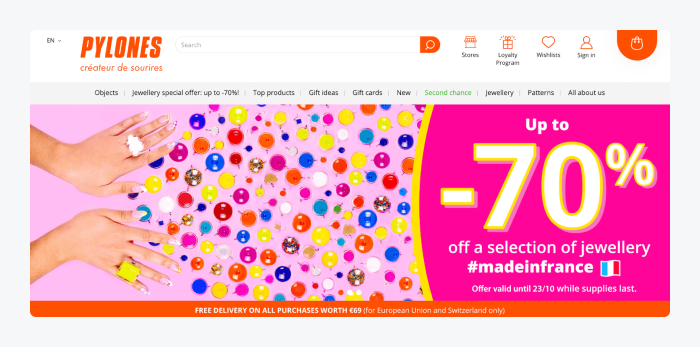 Read more: Learn how easy it is to install Tidio on your PrestaShop ecommerce store and start increasing sales.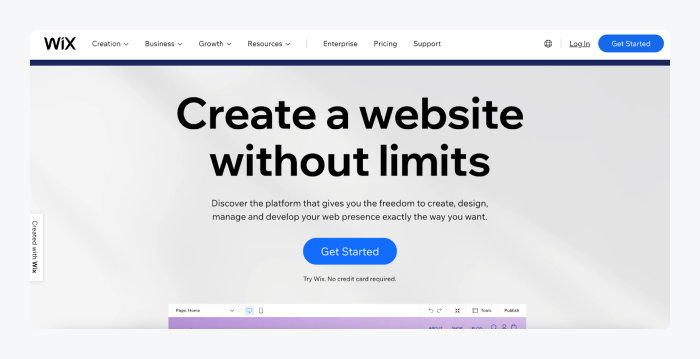 Rating: 4.2/5 ⭐️ (1,520+ reviews)
This is one of the websites like Shopify with one exception. Wix is primarily designed for web hosting and building different types of websites which includes online stores, but it's not limited to them. It allows you to create, launch and manage your business website.
Wix is cloud-based and offers SEO tools to help you make your site a success. This Shopify competitor also provides features for starting a blog and building an online presence.
Pros:
Free domain on all pricing plans
Free SSL certificate, PCI-compliant, built-in security measures
No transaction fees on third-party payment providers
Cons:
Only basic cart and shipping functions
No advanced reporting
POS only available in the US only and only with Wix hardware
Free plan available
Connect Domain ($5.50/month)
Combo ($10/month)
Unlimited ($17/month)
Business Basic ($20/month)
VIP ($29/month)
Business Unlimited ($30/month)
Business VIP ($44/month)
Example of a store built with Wix: Evolve Clothing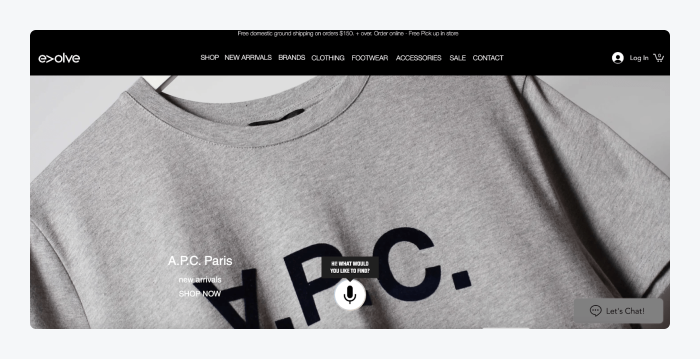 Read more: Discover whether Wix or Shopify is better for your ecommerce store.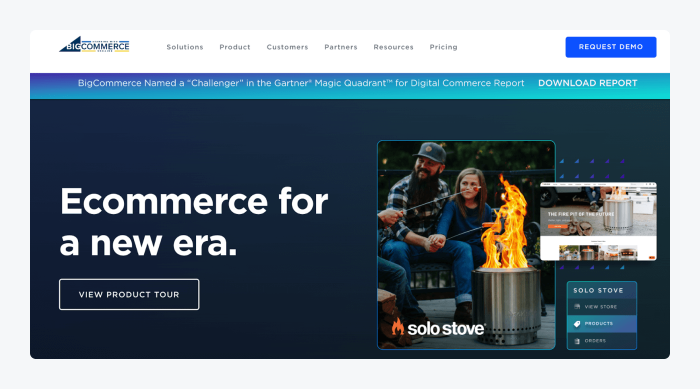 Rating: 4.2/5 ⭐️ (435+ reviews)
BigCommerce is a leading SaaS hosted solution for businesses of different sizes. It empowers store owners to build an online presence by providing a website builder and functionalities for managing online stores.
This alternative to Shopify lets you easily customize your ecommerce store and improve its performance by engaging your website visitors with beautiful design.
Pros:
Search engine optimization available with fully customizable URL slugs and other features
Variety of themes with different styles
Built-in blog
Cons:
Not many dropshipping options available
Slower load time than Shopify
Mobile app needs improvements
Free 15-day trial
Standard ($29.95/mo)
Plus ($79.95/mo)
Pro ($299.95/mo)
Enterprise → contact sales for custom pricing
Example of a store built with BigCommerce: Ted Baker
Read more: Compare BigCommerce vs Shopify pricing, features, and more.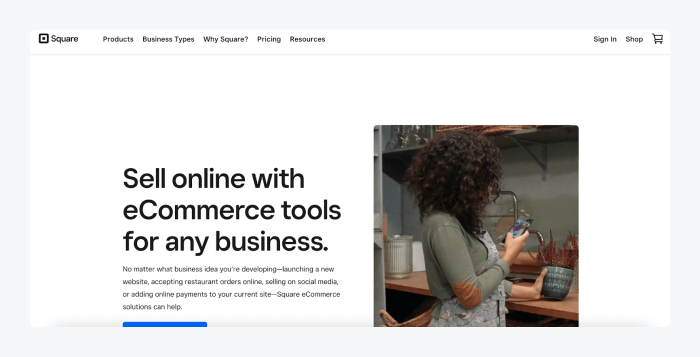 Rating: 4.2/5 ⭐️ (435+ reviews)
Square ecommerce, formerly known as Weebly, is a simple website editor. It has many ready-to-use templates that are responsive for all types of devices.
This is one of the best Shopify alternatives that offer a variety of services for your business. Whether you're launching a new site, want to enable online orders for your restaurant, or sell on social media, Square ecommerce has capabilities that will help you grow your brand.
Pros:
Integrates with Square POS
Easy to use for the customers
Variety of businesses supported including restaurants, selling on social media, and retail
Cons:
Can be a little clunky at times
Difficult to customize and navigate
The published site sometimes doesn't look like it did in the editor
Free plan available (+processing rate of 2.9% + 30¢ per transaction)
Plus ($29+/month + processing fees)
Premium → contact sales for custom pricing
Example of a store built with Square Ecommerce: Parlour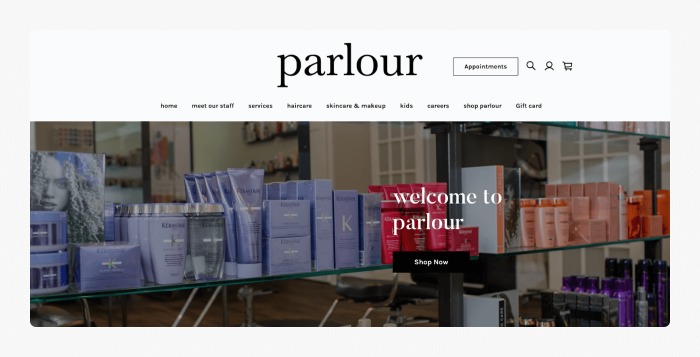 Did you know that …
Nasdaq predicts that about 95% of all purchases will be made online by 2040. This is an increase from about 19% in 2021.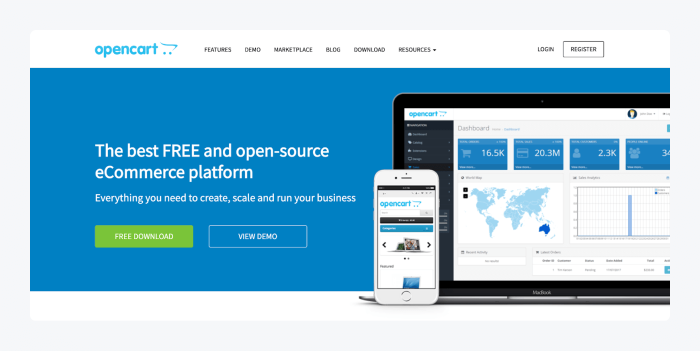 Rating: 4.3/5 ⭐️ (100 reviews)
OpenCart is one of the free Shopify alternatives, ideal for start-ups and small businesses. It's an open-source, transparent platform with free downloads and updates.
It offers an in-built SEO, a variety of extensions, and a selection of over 13,000 modules on the marketplace to expand your store's functionality. This free alternative to Shopify provides a variety of payment gateways and shipping methods, so you can easily manage your products, tax rules, and more.
Pros:
Very reliable
User community and plenty of documentation
Comprehensive suite of tools and extensions
Cons:
Some users say the customer support is unresponsive
Steep learning curve
Time-consuming integrations
Example of a store built with OpenCart: Jovani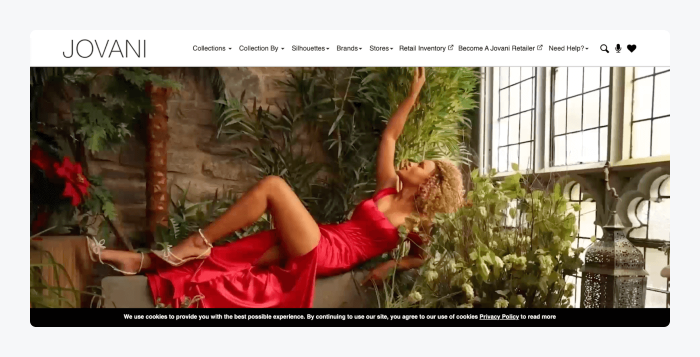 Did you know that …
Only about 2% of visits to ecommerce sites convert into purchases in the US. This means that even though the number of digital shoppers increases steeply, the conversion rates from a visitor to a customer are not that high.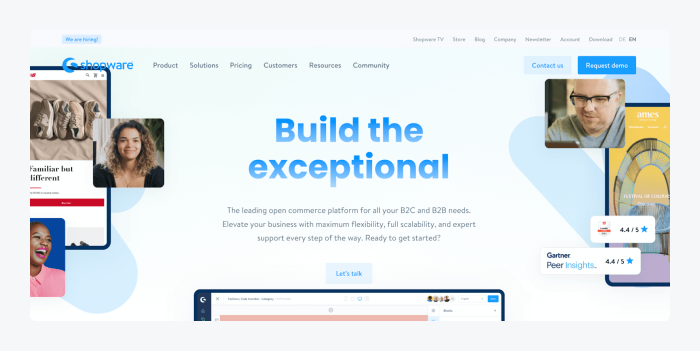 Rating: 4.4/5 ⭐️ (50+ reviews)
This list of ecommerce solutions like Shopify wouldn't be complete without Shopware. This drag-and-drop website builder offers complete freedom of customization and automation of your business operations.
It enables you to operate various sales channels from one platform and target your customers more effectively. It also helps you engage and interact with your website visitors via co-browsing and guided video shopping experience.
Pros:
Easy to operate a variety of sales channels from one platform
Multiple domains on one backend available
Cons:
Some plugins are not compatible with each other
Slow import speed
Not suitable for B2B companies
Free version available
Rise ($600/month)
Evolve → contact sales for custom pricing
Beyond → contact sales for custom pricing
Example of a store built with Shopware: Haribo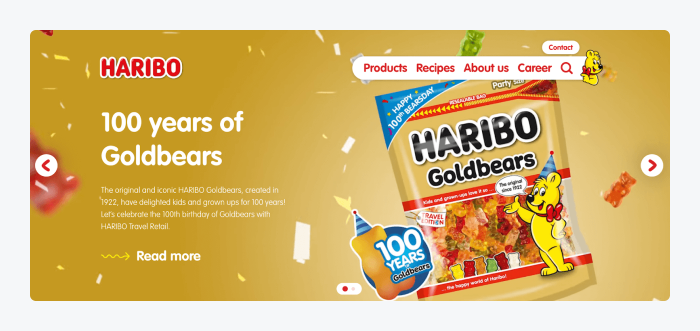 Read more: Learn key information about Shopware ecommerce including pricing, features, and how to get started with the platform.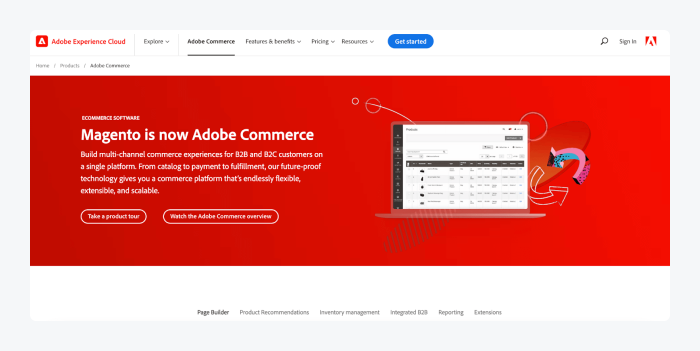 Rating: 4/5 ⭐️ (485+ reviews)
If you're looking for a Shopify Plus alternative—this is it!
Adobe Commerce is an enterprise version of the free Magento Open-Source. Business owners can sell unlimited products and build multichannel shopping experiences for their B2B and B2C clients on a single platform.
It offers AI analytics, automation of back-end workflows, as well as inventory and sales management. But, keep in mind that you need some coding knowledge or hire a developer to make the most out of this platform.
Pros:
Built-in functionalities for SEO, including changing URLs structure
Features for inventory management
Supports 150 payment gateway options
Cons:
Requires technical know-how to set up and run
Apps can be buggy
Open-source platform, but you'll need to stomach the cost of developers
Contact sales for custom pricing
Example of a store built with Magento Commerce: Land Rover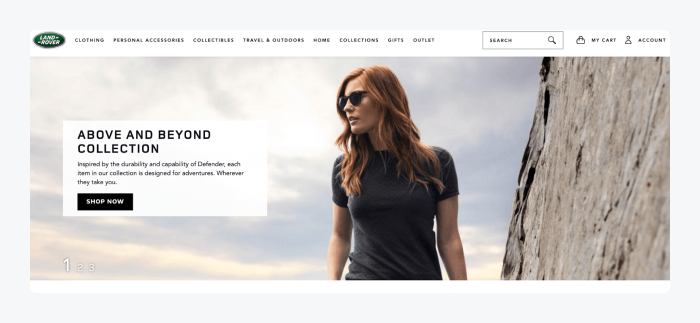 Read more: Discover all you need to know about Magento Commerce and compare Magento to Shopify to see which one's the right choice for your business.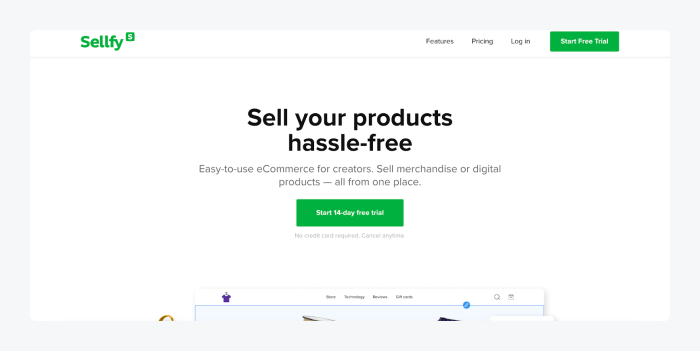 Rating: 3.9/5 ⭐️ (45+ reviews)
Sellfy was designed with entrepreneurs and digital content creators, such as designers, musicians, and illustrators in mind. Users can showcase their products with multiple images and previews.
This competitor to Shopify provides customizable storefronts, product widgets, and add-ons, such as Buy Now buttons. It is also perfect for beginners as it's easy to use while providing advanced features for putting your business plan into action.
Pros:
Transparent and fast payment process
Good for selling digital products
Unlimited bandwidth and secure product storage
Cons:
Some reviewers say that customer support needs improvement
No order-level discounts available
A limit of 2GB of item records can be transferred
Free plan available
Starter ($29/mo)
Business ($79/mo)
Premium ($159/mo)
Example of a store built with Sellfy: Enamel Workshop
Did you know that …
Our study on Black Friday and Cyber Monday trends shows that over 65% of people intend to shop online this holiday season. And about 36% of them will be looking for deals on social media. So, if you want to make the most out of this year's Thanksgiving weekend, you should set up an ecommerce site and advertise your products on social media.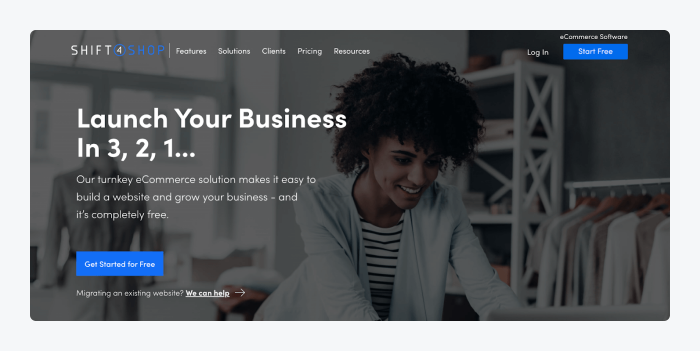 Rating: 3.8/5 ⭐️ (30+ reviews)
Shift4Shop (previously known as 3dcart) is a VISA PCI Certified provider and a website builder that offers a variety of content marketing features to grow your online business and brand awareness. It offers email marketing tools, order management, and over 100 free themes.
This is one of the best alternatives to Shopify which is free and secure. It provides many payment methods for shopping cart checkouts, such as credit cards, PayPal, Apple Pay, and Google Pay. It also offers a free custom domain name for those who need one.
Pros:
Real-time updates on product availability
Easy to add new products to inventory
SSL certified
Cons:
Occasionally, the loading time is long
Additional charges for some features
Some reviewers say that the store isn't easy to configure
Example of a store built with Shift4Shop: Unicus Decor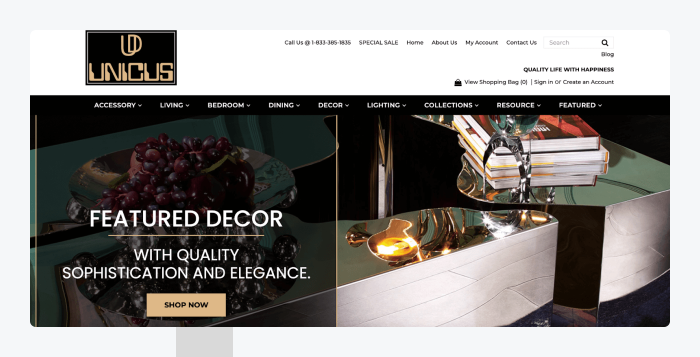 Did you know that …
Online businesses with a social media presence have about 32% higher sales than companies that don't appear on social media channels.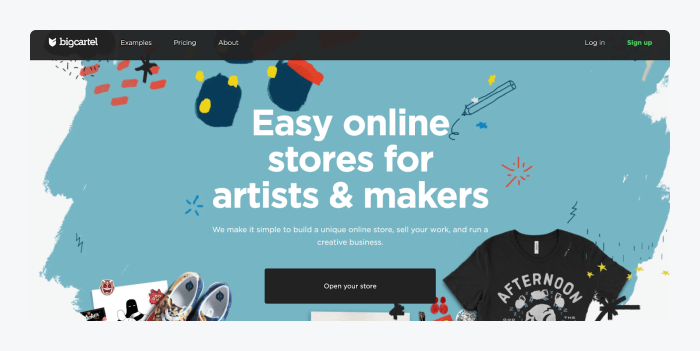 Rating: n/a
If you are a creator that needs a beautiful web design to sell t-shirts, art, clothing, merch, or any other works, this Shopify alternative is worth considering. It provides many built-in features even on the basic plan. You can update products, fulfill orders, check your stats, and offer deals from any device that suits you best.
BigCartel lets you customize the look and feel of the store using an online store builder, or dive into the code using HTML and CSS to make something completely unique.
Pros:
Automatic collection and remitting of sales taxes
Good customer support with FAQs, articles, video tutorials, and developer documentation
Themes are easily customizable
Cons:
More payment options need to be added
Product listing restrictions
Limited configuration
Gold (Free to use)
Platinum ($9.99/month)
Diamond($19.99/month)
Example of a store built with BigCartel: Get to Work Book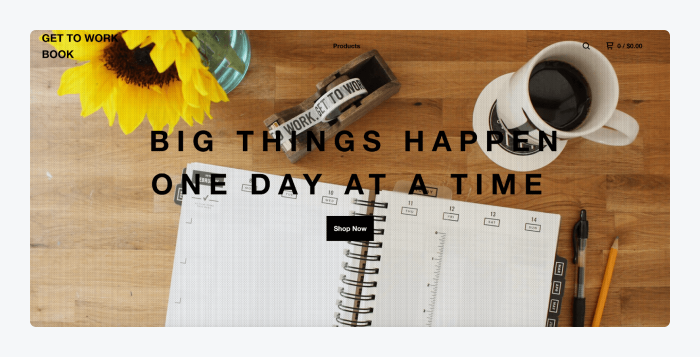 Read more: Check out this case study to discover how a dog accessories store (Pooch Bandana) doubled sales in a week using chatbots.
What to consider when choosing a Shopify alternative?
Looking through the competitors of Shopify can get overwhelming. So, before you start, here's what you should consider: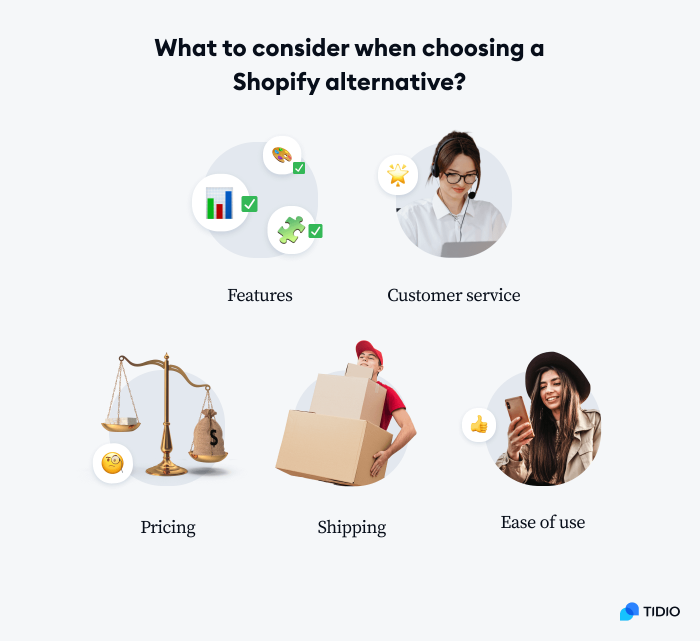 Make a list of features that are important for you when it comes to an ecommerce platform. Try to stick to it as much as possible when checking your options. This way, you'll get the most functionality possible straight out of the box and won't need to search for additional apps and plugins.
Responsive customer support
When you encounter any problem with the platform, you'll need customer service to be responsive and knowledgeable. The easiest way to check the quality of customer support is to look through user reviews on sites such as G2 and Capterra.
You probably have a budget set aside for building an ecommerce website. Make sure you don't pay more for the software than you're comfortable with. Some of the Shopify alternatives are completely free, and many also have a free plan available.
Free and fast shipping are two of the most important considerations for online shoppers. Therefore, you should look for a Shopify competitor that offers a variety of shipping options your clients could pick from. This will save you lots of time and extra work in the long run.
It should be easy to use for your customers. There is a lot of competition out there, so make sure the use of your online store and the checkout process are super simple for the potential customers. You don't want to lose them just because they didn't know how to navigate your site, do you?
Conclusion
By now, you should have a good idea as to what are the best Shopify alternatives with their pros, cons, and pricing plans.
But just as a quick review—
Here are the top competitors of Shopify:
Ecwid
WooCommerce
PrestaShop
Wix
BigCommerce
Square Ecommerce
OpenCart
Shopware
Magento Commerce
Selfly
Shift4Shop
BigCartel
And remember to look for comprehensive features, responsive customer support, good pricing, shipping options, and ease-of-use when choosing your ecommerce platform.
Whichever Shopify alternative you pick, it's a good idea to put live chat software on your ecommerce store. It can help you bring in more sales and improve customer satisfaction. Great way to start your online store, don't you think?
FAQ
What are the alternatives to Shopify?
Some of the best alternatives to Shopify are Ecwid, WooCommerce, PrestaShop, Wix, and BigCommerce.
What are alternatives to Shopify plus?
Depending on what you are looking for, there is a large number of Shopify Plus alternatives on the market. However, one of the best alternatives to Shopify Plus is Magento Commerce (also known as Adobe Commerce.)

Are there any free sites like Shopify?
Yes. WooCommerce, PrestaShop, and OpenCart are free to use. 
Which ecommerce platform is best?
WooCommerce is more suitable for WordPress users and those comfortable with using WordPress as their CMS. However, WooCommerce is a plugin, not an ecommerce platform. Therefore, Shopify is a better solution for ecommerce businesses who want to set up an online store and manage it from one platform.
Who is better: Shopify or BigCommerce?
Shopify has a bigger market share and higher user ratings. Shopify also offers more apps, it's easier to use and better for scaling up.
How much are Shopify fees?
It depends on the plan. Shopify charges transaction fees of 5% on the starter plan, 2% on the Basic Shopify, 1% on the Shopify plan, 0.5% on the Shopify Advanced, and 0.15% on the Shopify Plus plan. 
What are the disadvantages of Shopify?
Some of the common disadvantages of Shopify include pricing, limited customization, and lack of email hosting.