With Shopify, creating your own online store is easier than ever.
Everyone can do it. Literally E-V-E-R-Y-O-N-E.
Still, there is a big difference between setting up a store and making it thrive.
Successful Shopify stores are easy to navigate, look professional, and sell great products. But there is more than that.
So, what is the secret sauce? What is that special "zing" that customers feel when they visit some of the best Shopify stores?
We have compiled a list of the most inspiring stores powered by Shopify to help you find out.
Browse the best Shopify sites by product categories:
You are going to find out what popular companies use Shopify for running their ecommerce websites. The profiles include Alexa Rank and organic traffic information extracted from SEO tools. We'll also show you what a Shopify store looks like and how to tell if a site is using Shopify.
If you are interested in learning more about Shopify as a platform, you can also read:
Best Shopify Stores: Clothing & Jewelry
Clothing is one of the most popular products sold online. In recent years, almost 30% of the total fashion retail sales in the United States happened online. It can be hard to figure out how to make your Shopify clothing store stand out from the rest. Here are some of the best fashion stores on Shopify that are doing it right.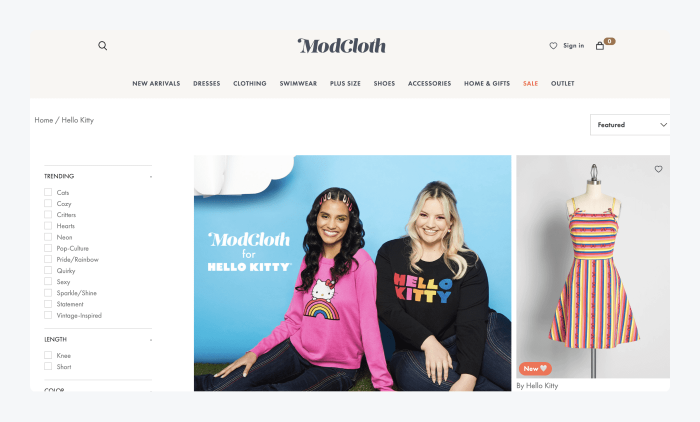 Monthly traffic: 236,000+ visitors
Global Alexa rank: 41,528
The homepage shows featured collections and the store is easy to navigate ✅
ModCloth is a vintage-inspired fashion retailer that specializes in unique, stylish clothing for women of all sizes.
Their mission is to make fashion accessible to everyone, and they offer a wide range of sizes, from XS to 4XL. ModCloth is also well-known for its quirky, fun designs, and they often release new collections inspired by current trends.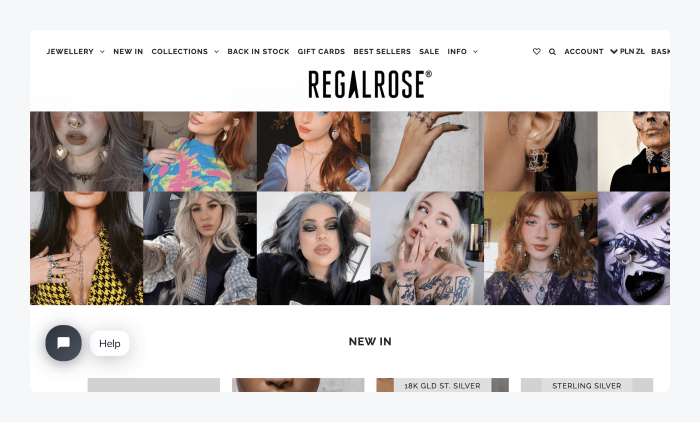 Monthly traffic: 76,500+ visitors
Global Alexa rank: 402,224
This Shopify store uses a live chat widget for real-time customer communication ✅
Regalrose is one of the most memorable Shopify stores. It sells a variety of gothic and alternative fashion items, including clothing, handmade jewelry, and accessories. Some of their current bestsellers include skull rings and chokers.
They also know how to use the power of social media to expand their customer base. How? The store is integrated with Instagram and shows photos of customers wearing Regalrose products.
What types of stores are running on Shopify?
Shopify is home to a wide variety of stores, ranging from small businesses to major brands. You can find everything from fashion and beauty stores to electronics and home goods stores on Shopify. Right now there are almost 4 million active Shopify stores. You can find out more information about the popularity of Shopify and the size of ecommerce sector in our online shopping stats and trends report.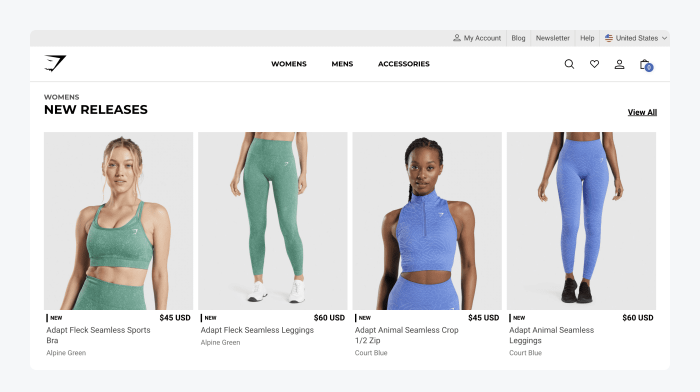 Monthly traffic: 2,529,000+ visitors
Global Alexa rank: 5,207
High-quality product photography and good collection navigation ✅
Gymshark is a British athletic clothing brand, founded in 2012. The company sells its clothes online through its own Shopify website and third-party retailers.
From the outset, Gymshark has been a social enterprise. Its team works to build a community around health and fitness and encourages others to pursue their passions. That's also why their ecommerce website uses social proof and case studies to build customer loyalty.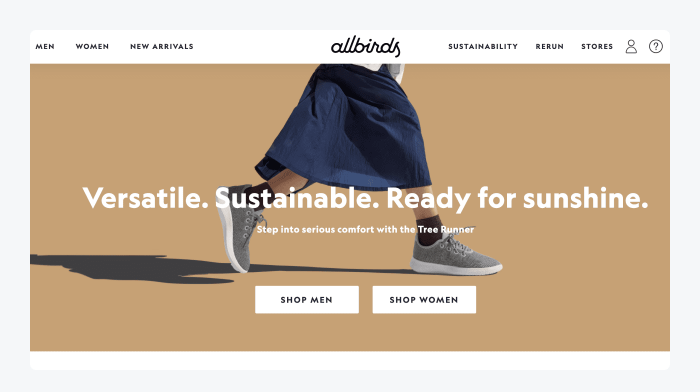 Monthly traffic: 675,000+ visitors
Global Alexa rank: 12,325
Clear and transparent communication highlighting product sustainability ✅
Allbirds produce eco-friendly shoes. The shoes are made out of sustainable materials like eucalyptus tree fiber. They come in a variety of colors and styles for both men and women. The company has a growing fanbase of loyal customers who love its shoes.
The Allbirds website is another example of famous brands using Shopify. It has a great design that is easy to use and provides a lot of information about its products. It also has a section where you can connect with customer support and track your order.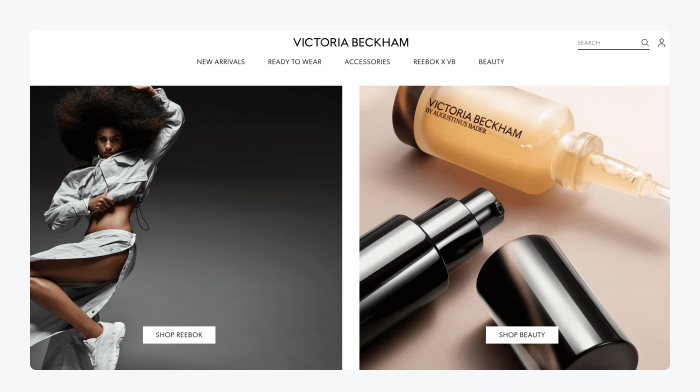 Monthly traffic: 82,000+ visitors
Global Alexa rank: 80,072
High-quality product photography and interactive videos on the Shopify store's homepage ✅
You may recognize Victoria Beckham as one of the Spice Girls, but did you know she is also a successful fashion designer? She founded her eponymous fashion label in 2008. The brand is known for its modern minimalism and a strong sense of sophistication.
The collections feature the finest craftsmanship and materials. And the designs are based on Victoria's own personal style. Victoria Beckham's ecommerce business is also an official partner of Reebok.
Biggest brands that use Shopify
Some of the most popular brands using Shopify include Netflix, Red Bull, and HarperCollins. However, keep in mind that for many companies, online stores account for a small portion of revenue. For example, Heinz has one of the best Shopify Plus stores, but is only a side project connected to the "Heinz to Home" marketing campaign.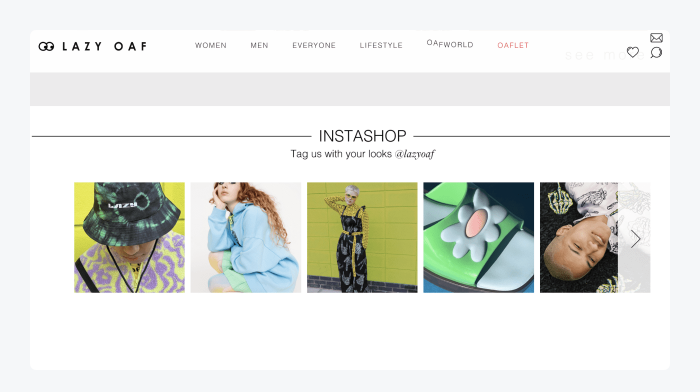 Monthly traffic: 131,500+ visitors
Global Alexa rank: 20,579
It is one of our favorite Shopify stores because it uses Instagram feed for highlighting social sales ✅
Lazy Oaf is a clothing company based in London, England. The company was founded in 2001 by Gemma Shiel. Lazy Oaf designs and sells a range of men's and women's clothing and accessories. Their slogan says "Keep it weird" and it perfectly reflects the extravagant style of the clothes.
The company's products are available online on their Shopify store and in brick-and-mortar stores around the world. Their main customer base is young people who use social media and care about their online presence.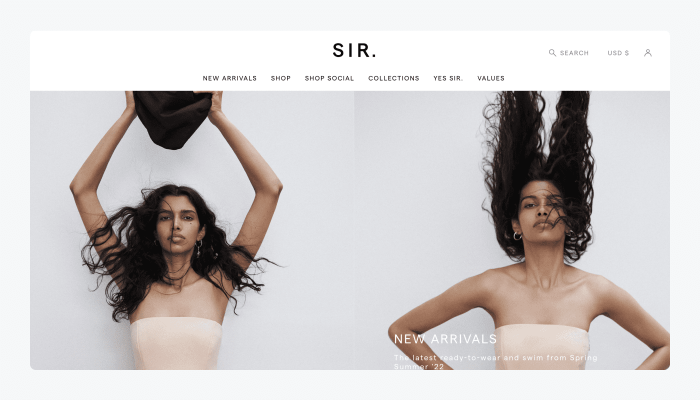 Monthly traffic: 12,000+ visitors
Global Alexa rank: 145,007
SIR. uses an ecommerce chatbot for tracking orders and answering FAQs to deliver better customer experiences ✅
SIR. is an acronym—it means Separates, Intimates, and Ready-to-wear. The creators of this fashion label recognize their social and environmental responsibilities. Their mission is to operate in a manner that is empowering of all people who come into contact with their supply chain while being conscious of their planet.
SIR. employers are dedicated to their fundamental brand values of integrity and transparency. You can visit the values section on their Shopify website to find out yourself that they are very serious about their commitments.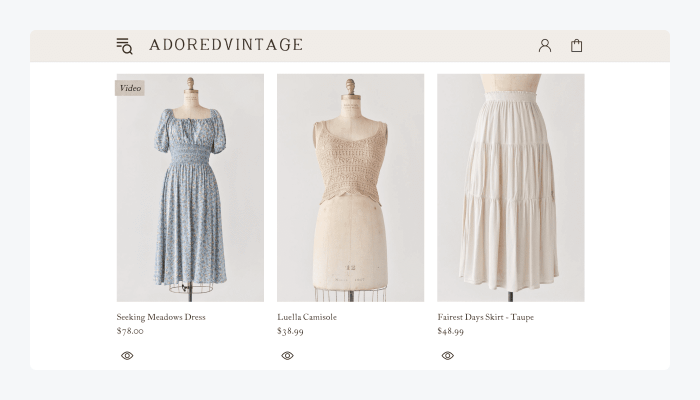 Monthly traffic: 16,000+ visitors
Global Alexa rank: 285,518
This Shopify ecommerce store has beautiful product photos and uses social proof popups to show purchases made by other visitors in real-time ✅
It only takes one glance at the store's website to know that Adorned Vintage store owners have a great sense of style. Just look at these cool retro mannequins. They definitely know how to take great product photos.
Adorned Vintage is the perfect place to find that unique, one-of-a-kind item you've been searching for. They have a wide selection of clothing and accessories, so you're sure to find something that catches your eye. And if you're not sure what you're looking for, their customer care team is always happy to help.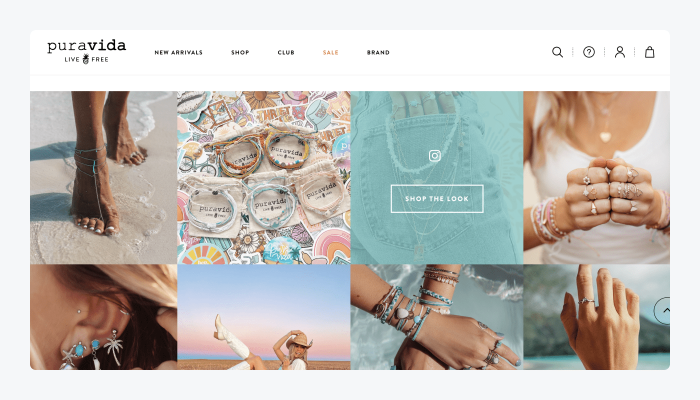 Monthly traffic: 396,000+ visitors
Global Alexa rank: 18,494
It is another example of the high-quality Shopify stores that use Instagram to boost their sales—for example, with the "shop the look" functionality ✅
Pura Vida is an inspiring online business and a great ecommerce success story. A group of friends started a company that makes bracelets inspired by their time in Costa Rica. They had met two artisan bracelet makers and decided to sell them in San Diego.
The bracelets were a success, and the company has continued to grow. It is very popular among surfers. The company has more than 2,000,000 followers on Facebook, which is very impressive.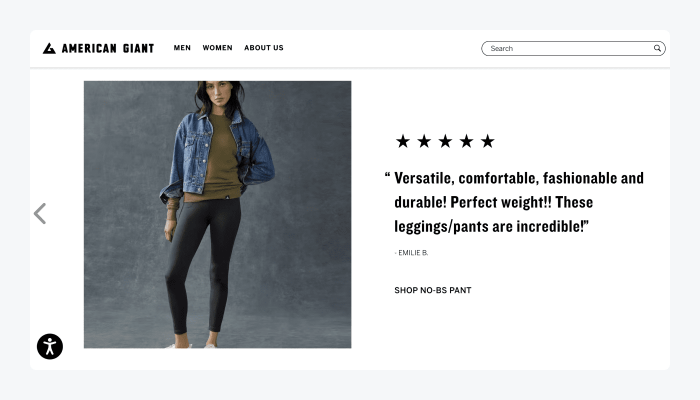 Monthly traffic: 52,000+ visitors
Global Alexa rank: 67,657
American Giant is a great example of a Shopify store using social proof and product reviews on the home page to increase conversions ✅
American Giant is a clothing company that manufactures high-quality, American-made clothing. The company was founded in 2011 by Bayard Winthrop and its headquarters are in San Francisco. American Giant sells men's and women's clothing, including sweatshirts, hoodies, T-shirts, and outerwear.
Their online store is one of the most popular Shopify sites, and it's committed to providing customers with the best possible experience. The company offers free shipping on all orders over $100, and it has a generous ecommerce return policy. American Giant also offers a loyalty program.
How can you tell if a site is using Shopify?
The easiest way is to open the source code of the page. Simply right-click anywhere on the page and select "View page source." Then press Ctrl + F (or Command+F on Macs) and type shopify. A page that is powered by Shopify will have the name mentioned several hundred times. For example, the image URL addresses will start with https://cdn.shopify.com/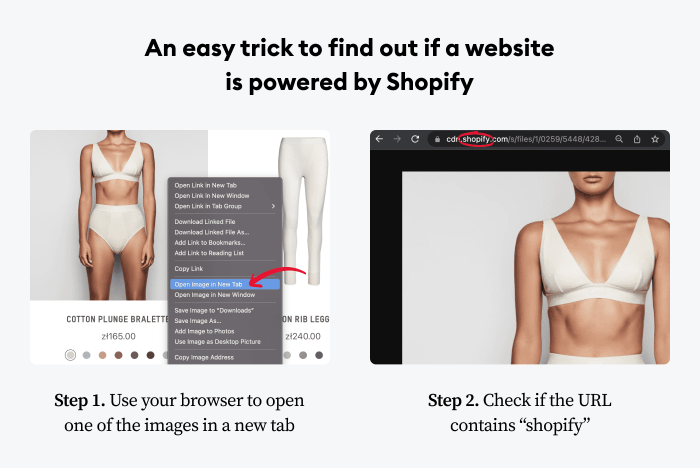 Best Shopify Stores: Health & Cosmetics
People are always looking for ways to improve their appearance or their health. It shouldn't come as a surprise that selling health and beauty products online can be a great recipe for a successful ecommerce business. But remember to focus on cruelty-free and natural products. Finding the right products to sell, especially if you are interested in Shopify dropshipping, will take some research.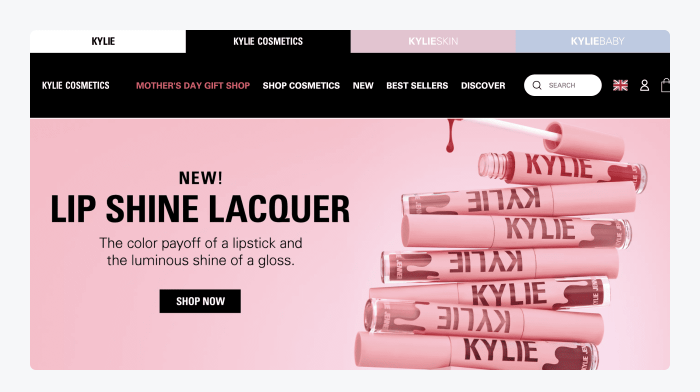 Monthly traffic: 669,000+ visitors
Global Alexa rank: 36,769
This website uses an intuitive menu that helps to navigate between different product categories such as cosmetics, skincare, and baby items ✅
Kylie Cosmetics is one of the most recognizable Shopify store examples. The company is an American cosmetics brand founded by Kylie Jenner, the youngest daughter of Kris and Caitlyn Jenner. The company's products are sold online through their website and a mobile app. Kylie Cosmetics is even a featured case study on the official Shopify website.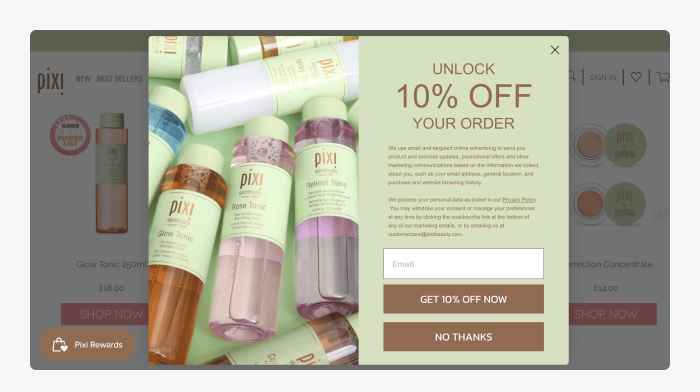 Monthly traffic: 58,000+ visitors
Global Alexa rank: 589,724
It has a transparent customer loyalty program and rewards for returning customers ✅
Pixi is a brand that sells makeup and skincare products that aim to enhance natural beauty. The brand was created by Petra Strand. The products are designed to be used on the go, so you can achieve a youthful appearance without spending a lot of time or effort. Their Shopify website has a well-designed lead generation flow that includes newsletter signup popups.
Monthly traffic: 2,500+ visitors
Global Alexa rank: 326,466
It uses certificates and seals at the bottom of the page to build ecommerce trust ✅
Meow Meow Tweet is a vegan, cruelty-free and sustainable skincare company. Its mission is to provide high-quality, sustainable, and affordable skincare products that are good for customers and the environment.
Meow Meow Tweet was founded in Brooklyn by Jeff Kurosaki and Tara Pelletier. The pair met in an art school in Michigan. And you can immediately tell that this company is run by creative people with lots of imagination. For example, their product packaging designs feature many cool illustrations by Jeff.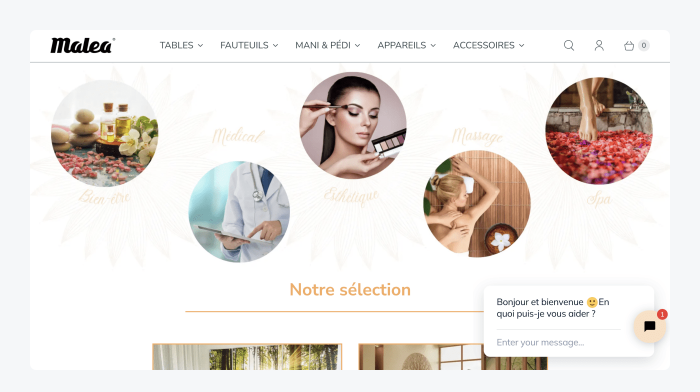 Monthly traffic: 1,500+ visitors
Global Alexa rank: Outside the main ranking
This Shopify online store offers real-time communication through a live chat button and a great overall user experience ✅
Like many other Shopify store examples, Malea has a great website design and user-friendly interface. Their primary products are massage tables and spa accessories. Malea products are made with high-quality materials and craftsmanship. They pride themselves on their commitment to customer satisfaction and environmental sustainability.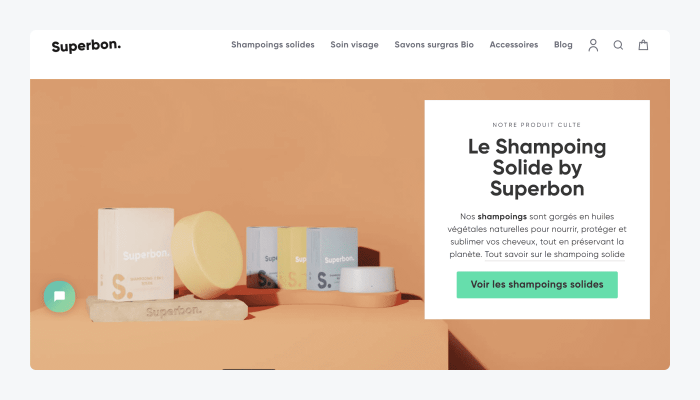 Monthly traffic: 1,300+ visitors
Global Alexa rank: 2,144,831
This Shopify web page is very user-friendly and engaging, with numerous animations and minimalist design ✅
Superbon is a French Shopify store that sells solid shampoo. The store owners were tired of harsh chemicals in traditional shampoos. Their solid shampoo and other products are made with natural ingredients and are gentle on the scalp. They in a variety of scents, including lavender, mint, and citrus. Superbon's mission is to provide customers with a healthy alternative to traditional shampoo.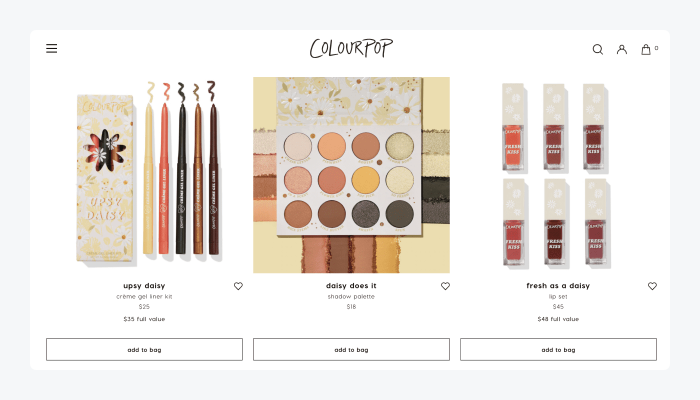 Monthly traffic: 929,000+ visitors
Global Alexa rank: 6,002
It is another example of Shopify stores that use social sales and Instagram in their marketing strategy ✅
ColourPop is a cosmetics company headquartered in the United States. It produces high-quality, low-cost cosmetics. ColourPop's primary goal is to bring innovative, trendsetting, and high-quality cosmetics to the masses. The company offers a wide range of products, from eyeshadows and foundations to lipsticks and blushes.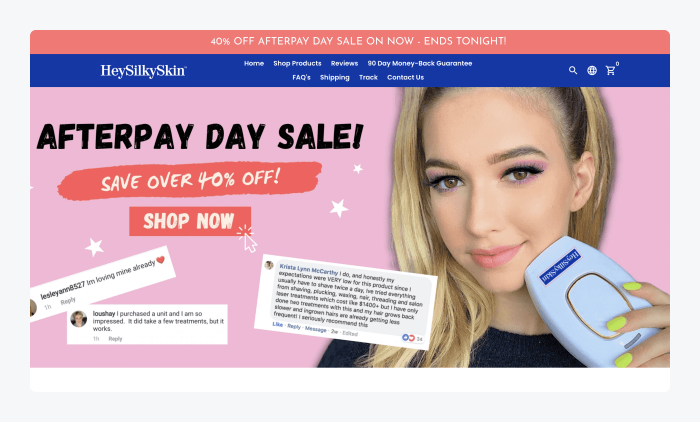 Monthly traffic: 1,700+ visitors
Global Alexa rank: 39,816
This Shopify site places great emphasis on showing consumer reviews and testimonials ✅
Hey Silky Skin sells hair removal accessories. They offer a wide range of products, whether you're looking for a quick and easy solution for those pesky upper lip hairs or something more heavy-duty for the bikini line. Whatever your hair removal needs may be, they claim that they can handle it. Hey Silky Skin offers some of the cheapest laser hair removal systems on the market. And many customers have said that they are happy with the results of their treatments.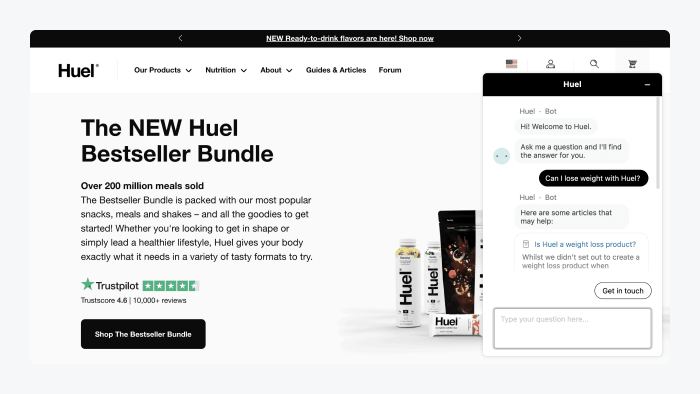 Monthly traffic: 355,000+ visitors
Global Alexa rank: 26,206
Huel's store on Shopify uses a chatbot for business queries and an integrated knowledge base to resolve common questions ✅
Huel is a nutritionally complete powder that you can use to make meals or snacks that are high in protein and fiber, and low in sugar and fat. It is a food product that has been created to provide a sustainable, complete source of nutrition. Huel does this by combining a good balance of macronutrients. It also includes all the essential vitamins and minerals your body needs.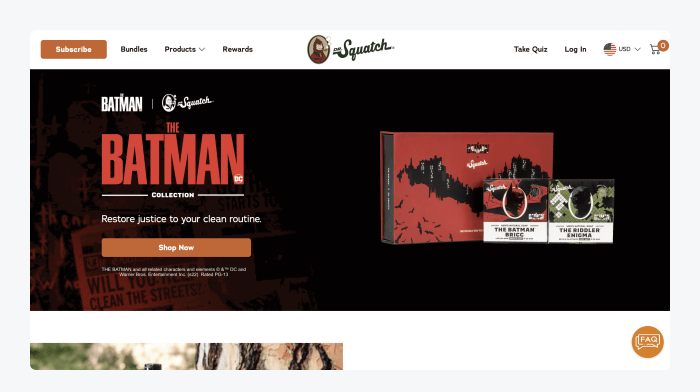 Monthly traffic: 532,000+ visitors
Global Alexa rank: 27,618
The homepage features the latest collections that can reach their target audience and new customers ✅
How do you sell organic soap to men? By partnering with Star Wars and DC Comics, obviously. Can there be anyone more manly than Batman? You can't argue with the underlying logic of their marketing.
Dr. Squatch's mission is to raise the bar on men's personal care products by providing natural soap with no harmful ingredients. They formulate their products for men through performance, scent, and avoidance of estrogenic substances. Their mission is to inspire and educate men to be happier and healthier.
Best Shopify Stores: Home, Art & Pets
Home accessories or pet products are among the fastest-growing online retail niches. An average dog owner in the United States spends $1,200 per year on their pet. People are increasingly buying home accessories and pets products online because it is convenient and allows them to compare prices too.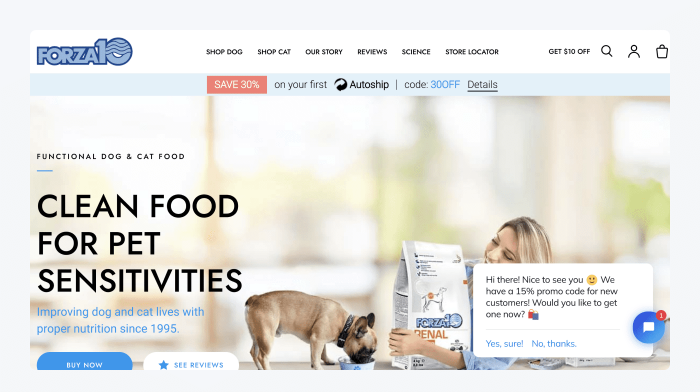 Monthly traffic: 900+ visitors
Global Alexa rank: 2,112,779
This store collects email addresses with their Shopify live chat app—they can be used for future email marketing campaigns ✅
Forza10 is a pet food brand that focuses on animals with sensitive digestion systems. Its recipes are based on natural ingredients and do not require a vet prescription. Additionally, their recipes include sustainable protein sources like anchovies and lamb, which makes them highly palatable to dogs and cats around the world.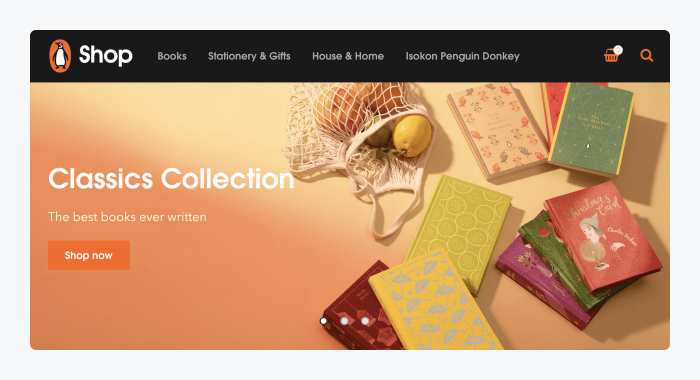 Monthly traffic: 10,000+ visitors
Global Alexa rank: 42,403
It uses one of the most beautiful Shopify themes and has stunning product pages ✅
Penguin is one of the most popular companies that use a Shopify store. In addition to books, their online store sells book frames, home accessories, posters, and all sorts of merchandise. One of the most interesting items available in the Penguin Shop is the Isokon Penguin Donkey bookshelf.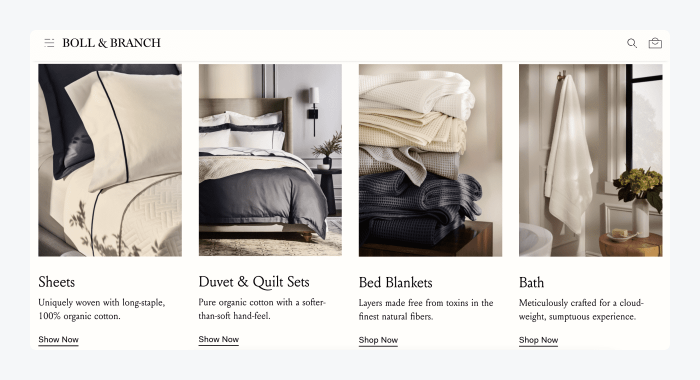 Monthly traffic: 80,000+ visitors
Global Alexa rank: 66,991
Easy checkout and well-designed landing pages for different product categories ✅
Boll & Branch are known for their high-quality bedding, which is made from organic cotton and sourced from sustainable farms. Their products are available in a variety of colors and patterns, and the company offers a wide range of other home goods, including towels, and robes. Their Shopify store is well-organized, and it is easy to find exactly what you need.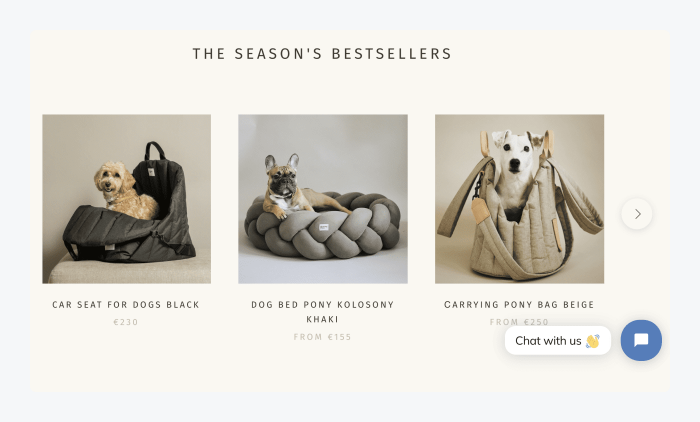 Monthly traffic: 300+ visitors
Global Alexa rank: 47,855
This store uses a customer service bot created with a chatbot builder and eye-catching product photos featuring pets ✅
Hunting Pony offers handmade accessories for pets. Their collars, leashes, clothing, beds, houses, and accessories are made of natural and high-strength materials. They offer a wide variety of colors, sizes, and styles for each product to suit the needs of any pet owner. All of their products are also adjustable or can be customized to ensure the perfect fit for any pet.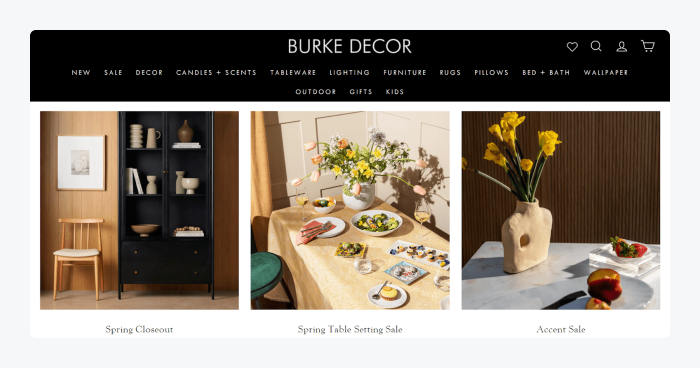 Monthly traffic: 186,000+ visitors
Global Alexa rank: 31,557
Burke Decor uses automated emails to reduce online shopping cart abandonment rates ✅
Burke Decor's Shopify store sells an array of modern home decor and furniture. Their selection includes items for the living room, bedroom, dining room, kitchen, office, and more. They offer free shipping and have a loyalty program where customers can earn points to use towards future purchases. Burke Decor also offers a blog with tips on interior design.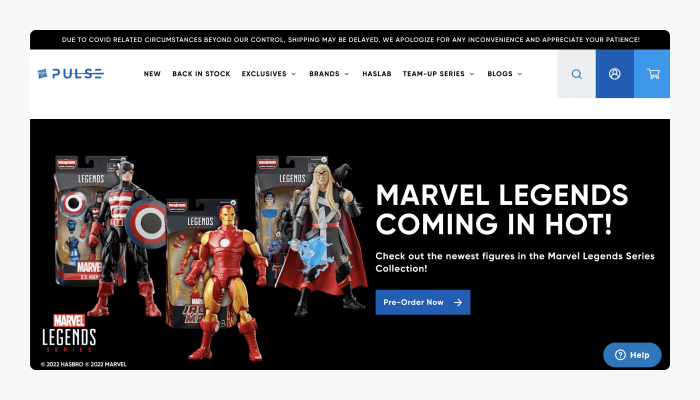 Monthly traffic: 394,000+ visitors
Global Alexa rank: 46,177
This ecommerce store offers a variety of payment methods such as Google Pay, PayPal, or Discover Click to Pay ✅
Hasbro's store on Shopify is their primary sales outlet and information hub. You can visit the site to learn more about Hasbro's latest and greatest products, read about the company's history, and get a sneak peek at upcoming releases. Featuring in-depth product information, exciting interviews with creators and celebrities, and fun exclusive content, Hasbro Pulse is the ultimate destination for fans of all ages.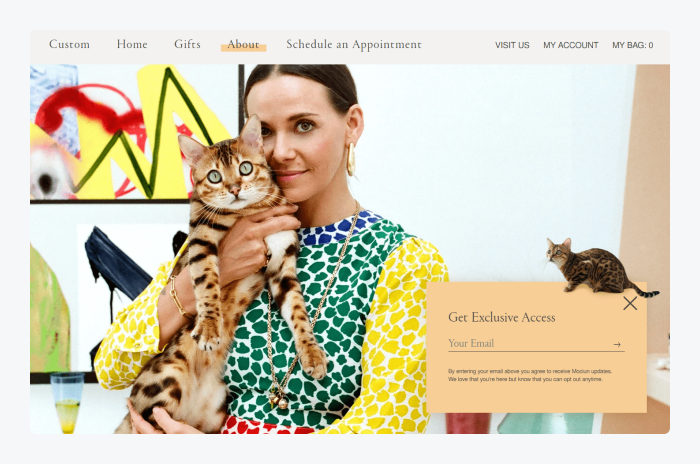 Monthly traffic: 10,000+ visitors
Global Alexa rank: 593,559
A lead generation popup grabs visitors' attention (plus, the cat is just adorable, so everyone wins) ✅
Caitlin Mociun is a Brooklyn-based jeweler who makes delicate pieces out of gold, silver, and precious stones. She experiments with new materials and loves minimalistic aesthetics. Her rings, necklaces, and earrings are all incredibly beautiful and make perfect gifts. The online store is powered by Shopify and combines minimalistic menus and navigation with bold use of colors.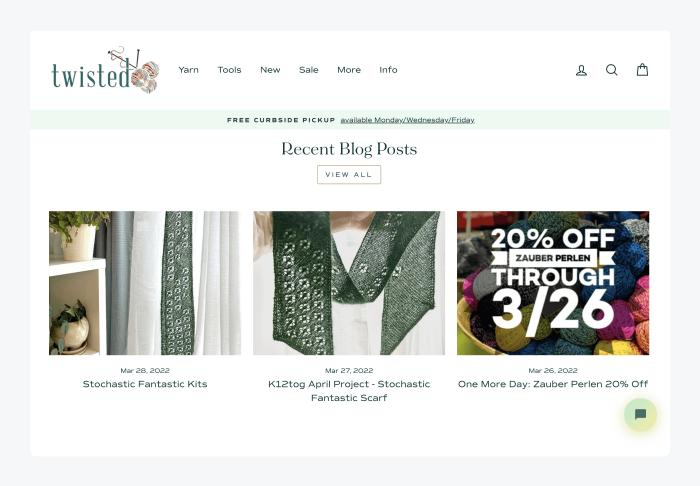 Monthly traffic: 4,500+ visitors
Global Alexa rank: 1,065,168
The store builds relationships with customers by blogging about knitting ✅
Twisted sells knitting accessories and yarn. They have a wide variety of yarns, from the softest merino wool to the roughest hemp. Whether you're a beginner or an expert knitter, Twisted will help you find the perfect yarn for your next project. They also provide a wide range of knitting needles, crochet hooks, and other accessories.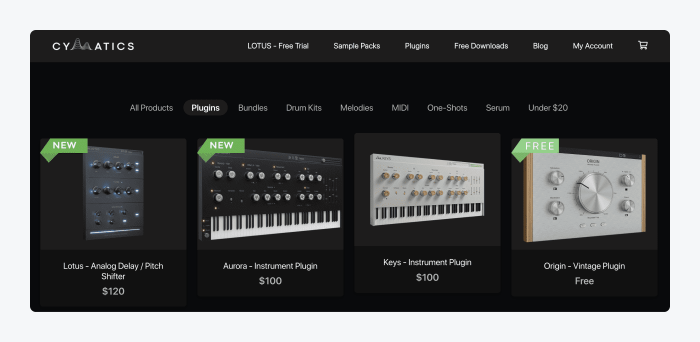 Monthly traffic: 115,500+ visitors
Global Alexa rank: 42,066
This Shopify store offers free samples, plugins, and other lead magnets to collect contact details of their potential customers ✅
Cymatics FM is a Shopify online store with music production samples and virtual instrument plugins. Their sounds and stems are sourced from the world's top musicians, sound designers, and recording studios. This ensures that you're getting the best quality samples possible. Whether you're looking for synth sounds, drums, basses, or just some inspiration, Cymatics FM has something for everyone.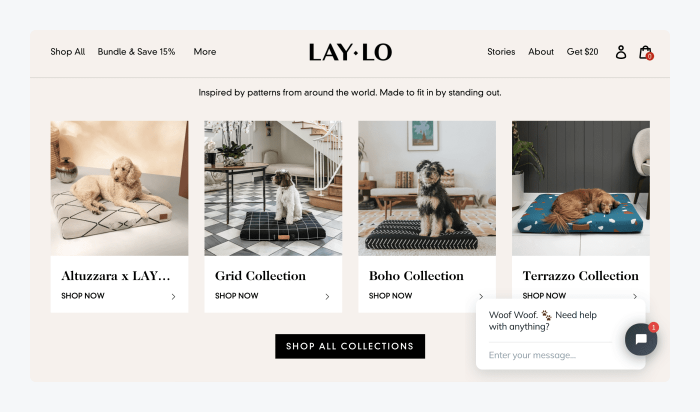 Monthly traffic: 400+ visitors
Global Alexa rank: 1,701,034
Lay Lo added a live chat to their website on Shopify to deliver faster responses and better user experience to their visitors ✅
Lay Lo is a company that produces dog beds and other pet accessories. Their beds are made from quality materials and are designed to provide your pet with comfort and support. Lay Lo offers a variety of sizes and styles to choose from, so you can find the perfect bed for your dog or cat.
Best Shopify Stores: Electronics & Toys
Buying toys or electronics can be a daunting task. There are usually so many product lines to choose from that it can make your head spin. You need to follow the current trends to know what products are "hot." And with electronics, you also need to know what parameters to compare in order to buy the right model.
But buying these items online makes it much more convenient. Below are some inspiring Shopify store examples that sell tech gadgets and toys without causing a headache.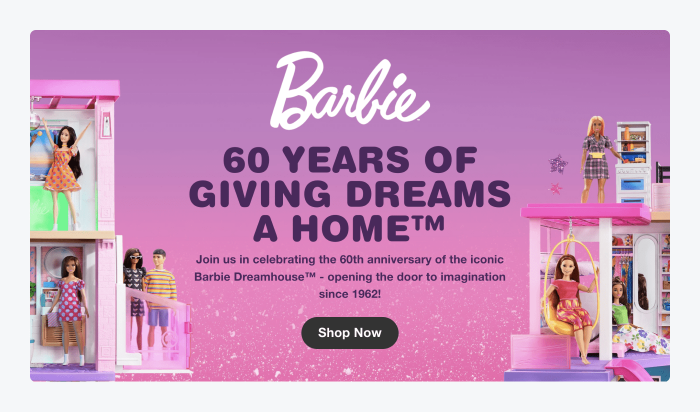 Monthly traffic: 340,000+ visitors
Global Alexa rank: 23,880
Each product line, such as Barbie, Hot Wheels, or Jurrasic World toys, has a dedicated, SEO-friendly landing page ✅
Mattel, the American multinational toy manufacturing giant, is another brand with an official online store powered by Shopify. Mattel produces toys and merchandise under a variety of brands, including Barbie, Hot Wheels, and Fisher-Price. Mattel also owns several entertainment properties, such as Masters of the Universe and the WWE.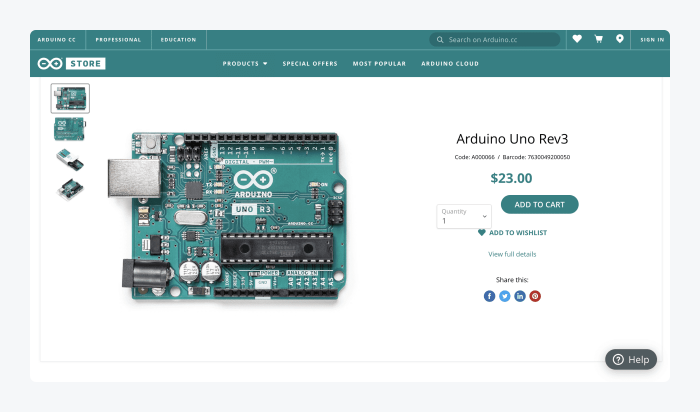 Monthly traffic: 55,000+ visitors
Global Alexa rank: 3,124
Arduino shows alternative versions of their Shopify store to visitors from different regions to offer personalized experiences ✅
Adruino is an open-source electronics platform based on easy-to-use hardware and software. You can use them to create DIY robots or, basically, all sorts of electronic devices. Their official store is Shopify-based and sells a variety of boards and components, such as the famous Uno board. The store also has a wide variety of other boards, sensors, and modules to choose from.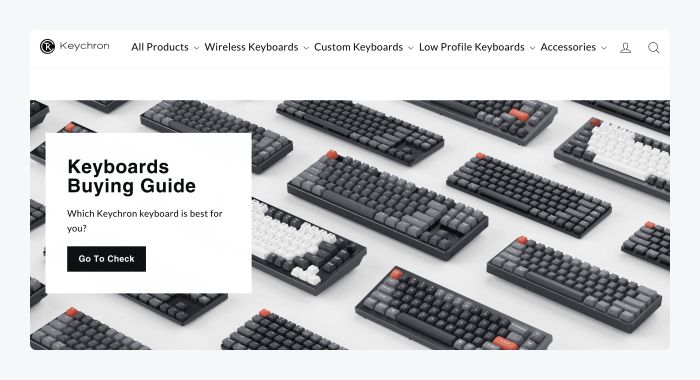 Monthly traffic: 378,000+ visitors
Global Alexa rank: 18,082
Keychron has a separate Shopify landing page with their own buyer's guide ✅
Keychron is a company that sells keyboard and mouse combos. They have a wide variety of different keyboard and mouse combinations to choose from, as well as different colors and designs. Their products are durable and high quality, and they offer a money-back guarantee if you're not satisfied with your purchase.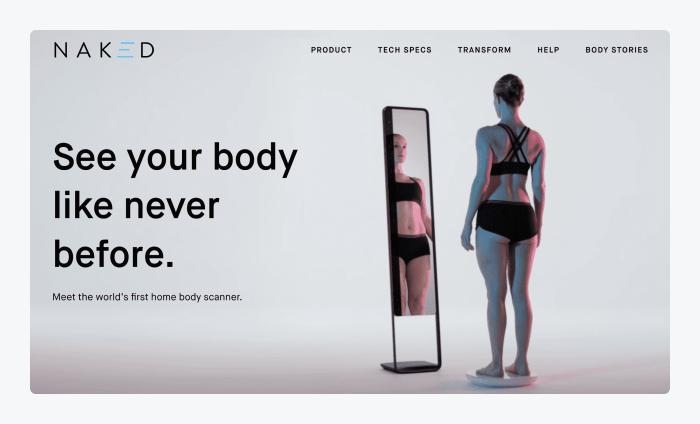 Monthly traffic: 1,300+ visitors
Global Alexa rank: 994,074
This store makes good use of animations and videos on its homepage ✅
Naked is a modern fitness monitoring device that is an alternative to a bathroom scale. It takes a 3D scan of your body and gives you feedback, so you can make informed decisions about your diet or exercise routine. The device can also be used to monitor your body over time to track your progress. Their Shopify website has many cool videos and tech documentation.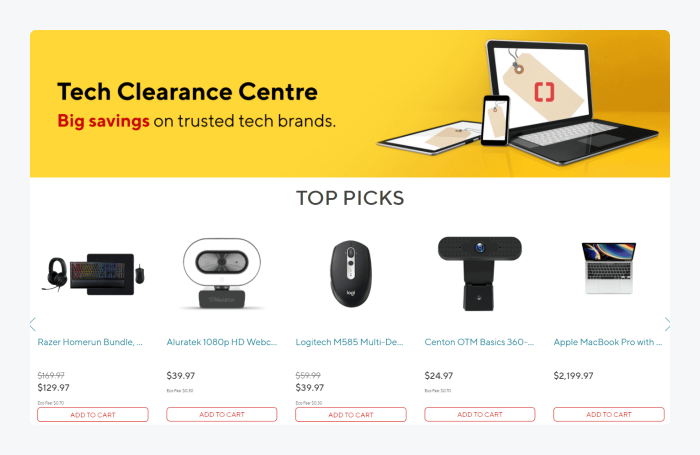 Monthly traffic: 3,492,000+ visitors
Global Alexa rank: 11,098
This store informs about the free delivery options right off the bat to persuade customers who may hesitate during the checkout process ✅
Staples Tech Clearance Center is one of the best Shopify stores to find deals on top-brand tech products. They have amazing deals on laptops, tablets, smartphones, and more. Plus, they provide excellent customer service—you can always find the help you need or use their Help Center chatbot.
Read more: How to Start with Tidio Chatbots
Monthly traffic: 100+ visitors
Global Alexa rank: 397,552
It is one of the best Shopify store examples that use popups to offer discount codes ✅
Bebemoss is a company that creates and sells handmade toys. The Bebemoss toy collection includes primarily crochet dolls. They are made with organic cotton, wool, and hemp. The materials used for making the dolls are not only eco-friendly but also hypoallergenic. This makes the Bebemoss dolls a great choice for children with allergies or sensitivities to other materials.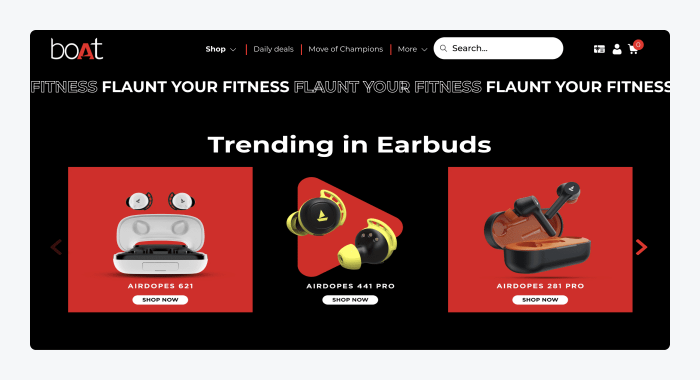 Monthly traffic: 2,290,000+ visitors
Global Alexa rank: 5,587
Great collaboration with influencers on social media to promote Boat products ✅
Boat is an Indian wireless earbuds manufacturer. The company was founded by Aman Gupta and Sameer Mehta and is based in Mumbai. Their official store is hosted on Shopify and offers a variety of headphones and earbuds. The design of the site is very minimalistic and relies on three basic colors—red, black, and white. If you're looking for a great pair of wireless earbuds, then they may be worth checking out.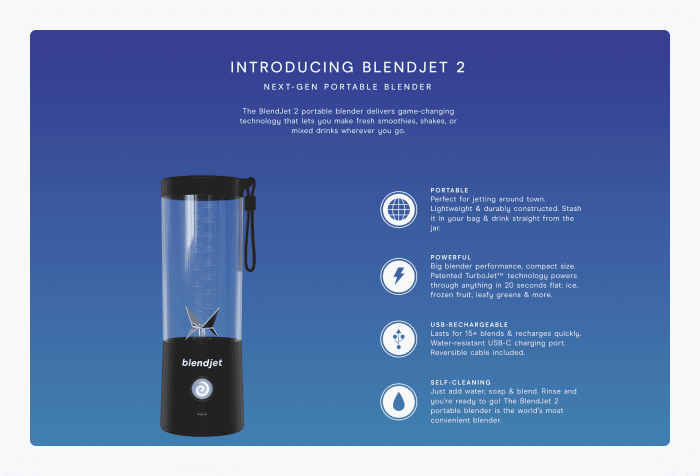 Monthly traffic: 117,000+ visitors
Global Alexa rank: 24,340
Multilanguage functionality that translates the Shopify page for visitors depending on the country they're browsing from ✅
BlendJet, as the name might suggest, is a manufacturer of high-end blenders. The company has been in the business for many years, and during that time it has managed to develop a number of innovative and ground-breaking products. One of BlendJet's most popular blenders is the XXL model, which is a top-of-the-line appliance that is perfect for any kitchen. Their Shopify website uses some nice videos that show the blenders in action.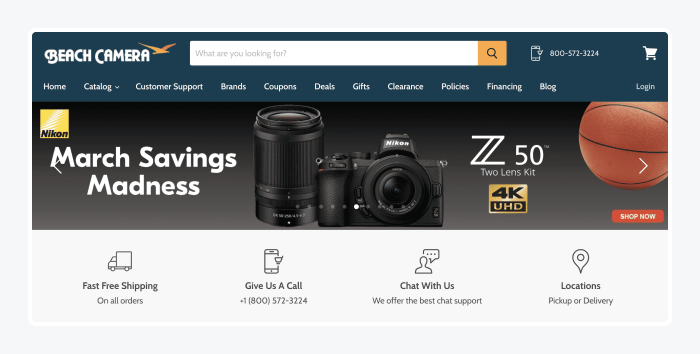 Monthly traffic: 12,000+ visitors
Global Alexa rank: 39,486
Slideshow section displays featured products and new deals from famous brands and the website is optimized for mobile commerce ✅
Beach Camera sells almost everything, from photography equipment to musical instruments and fitness gear. But the company is best known for its wide selection of cameras, including digital and DSLR models.
Despite the really huge assortment of items, their online store on Shopify is fairly straightforward and uncluttered. You can easily find the products you are interested in thanks to its clear menus and good site navigation.
Shopify stores for mobiles
One of the most important qualities of the best stores on Shopify is that they are responsive. Offering mobile-friendly experiences to digital shoppers is essential for achieving success in modern ecommerce. You can find out more about mobile commerce statistics in our report.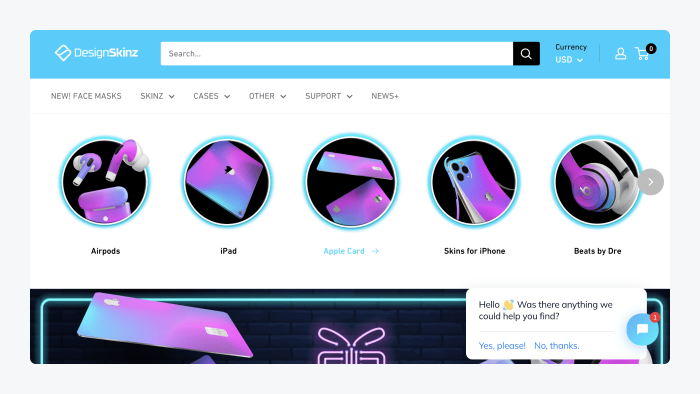 Monthly traffic: 4,500+ visitors
Global Alexa rank: 1,141,387
It uses a Shopify chatbot for lead generation to collect emails and phone numbers of the store visitors ✅
DesignSkinz sells a wide range of skins and cases for mobile devices, the iPhone, iPad, and MacBook. They have a huge range of designs to choose from, and you can even create your own skin design. Their Shopify store is an instant success story and if you need a new phone case, DesignSkinz is friendly on your wallet too.
Key takeaway
There are many great Shopify stores around the world, but the ones listed above are some of the very best. If you're looking for inspiration for your own ecommerce business, then these should give you plenty of ideas. Remember, the key to success is to offer something unique and to stand out from the crowd. With a bit of creativity and hard work, you can create a successful Shopify store, too.
If you want a free +100 bonus points added to your customer service quality, you should start by implementing a live chat plugin on your website.