Today, everyone can create a Shopify store and turn it into a prospering business.
And yet very few people actually succeed.
Selling things online can be very tricky. There is no universal eCommerce blueprint for successful Shopify stores.
But wait! Wouldn't it be great to take a peek at some of the great stores that have already cracked the formula for success?
Well, you are in luck.
In this article you'll find:
Are you up for some reverse engineering?
We are going to check out some of the best Shopify stores to inspire your own business.
Looking for something else? You may also be interested in the following articles about Shopify:
Now—
Let's explore some beautiful Shopify stores.
Ready?
16 Best Shopify Stores You Can Learn From
There are more than 1 million Shopify stores. Shopify is the second biggest eCommerce platform and it has a 20% market share.
Does it even make sense to start your own Shopify store today?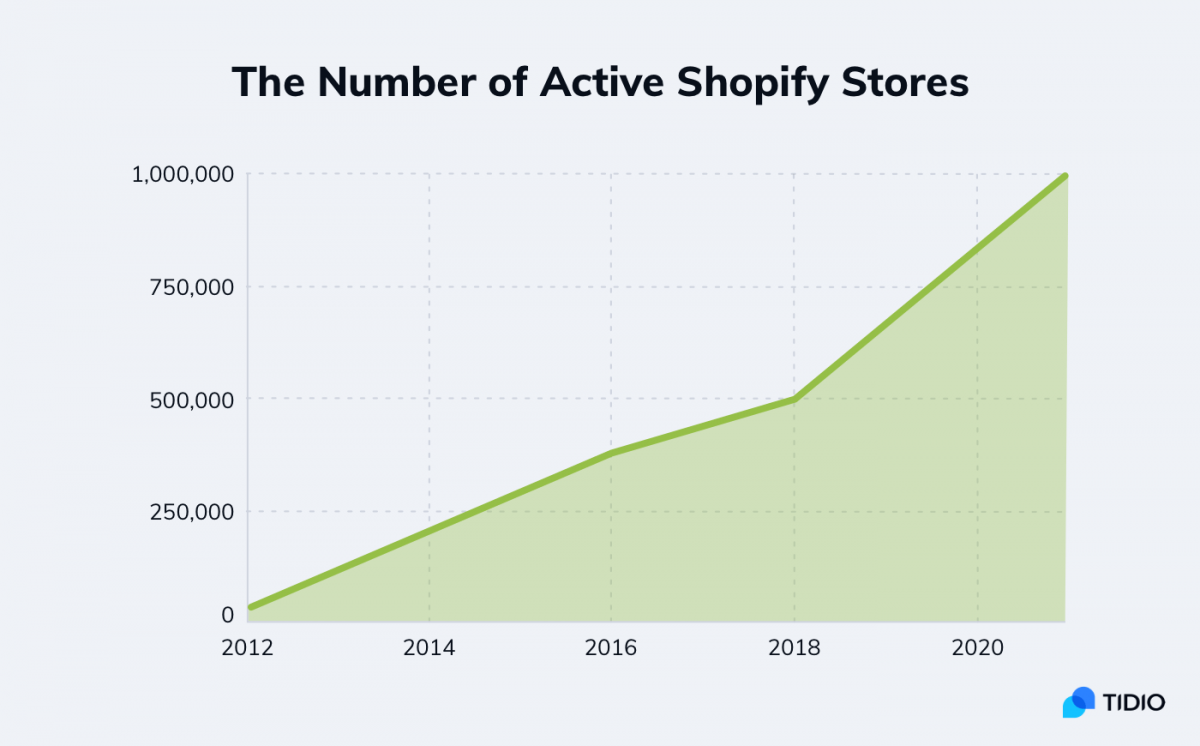 The numbers seem huge but there is still plenty of money to go around. In 2021, global retail eCommerce sales will reach almost 5 trillion dollars. It's worth noting that one-third of these sales will happen in a dropshipping model.
Here's a selection of well-designed Shopify stores that customers love to browse. If you are looking for inspiration, you should visit:
Now—
Let's take a look at each of them. One success story at a time.
Regalrose UK
Regalrose is a UK-based online store that sells women's jewelry. Their slogan says WELCOME TO THE DARK SIDE and it seems very appropriate. Sword-shaped earrings, skull rings, and onyx necklaces are their dominant products.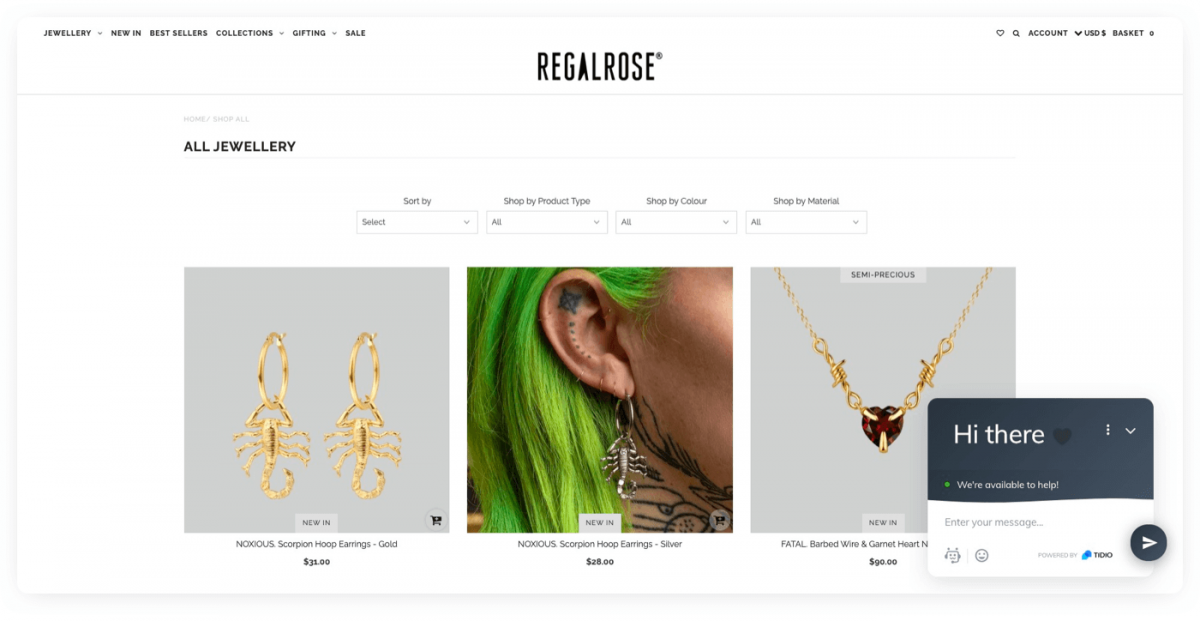 They focus on unique designs and target young women who like alternative looks. Regalrose has a huge following on Instagram and Facebook. The jewelry with a dark/dreamy character looks great in photos shared by their customers.
Store Category: Jewelry
Store address: regalrose.myshopify.com
What we like about this Shopify store: Regalrose is a very cohesive store. Amazing photos and cool products work together perfectly.
Tip: Budding online businesses love the Shopify platform but successful entrepreneurs and influencers also use it. Even members of the Kardashian–Jenner family! Kylie Cosmetics—founded by Kylie Jenner and currently valued at $900 million—is a Shopify store.
Leveret
Leveret sells cotton sleepwear. What's the twist? It comes in customizable sets. If you want to buy matching pajamas for your partner, kids, pets, or even your daughter's favorite doll, Leveret is the place.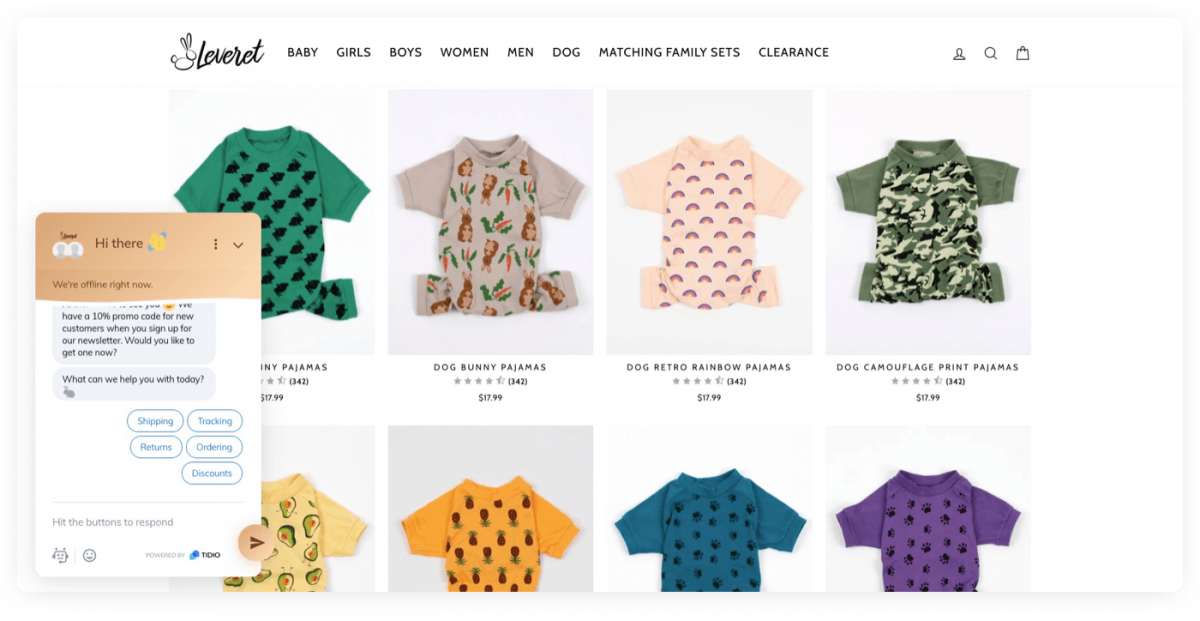 It is one of the cleanest Shopify online stores, with a simple yet effective design. The navigation is super easy and there are no unnecessary elements to distract you. Dive into a category and you get all that you need—products that you can browse and a live chat widget to answer your questions.
Store Category: Clothes
Store address: leveretclothing.myshopify.com
What we like about this Shopify store: There are no pop-ups but you can still receive a 10% promo code for new customers. How? Leveret uses a chatbot for offering discounts. Pretty cool, right?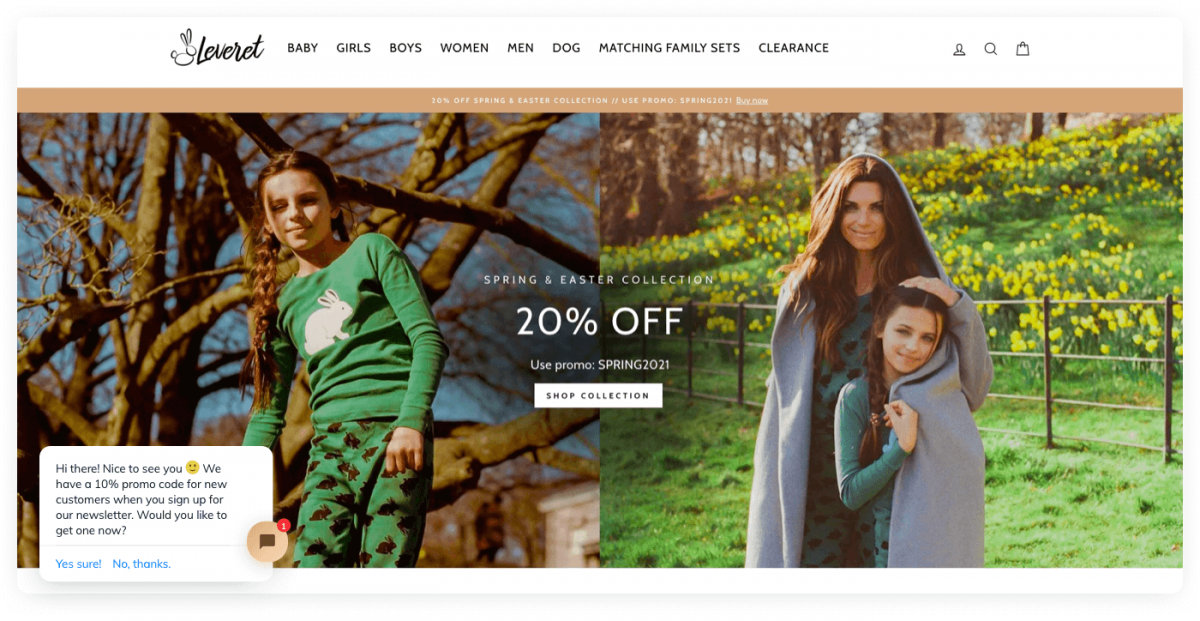 Chatbots are an interesting alternative to modals and pop-ups. They are very popular in eCommerce. There are many bot templates created for online stores. If you would like to learn how to create discount chatbots for eCommerce businesses, check out this guide: How to Make a Chatbot [Easy Ways to Create Chatbots for Free]
The Little Market
This is one of the most interesting Shopify stores we visited. It collaborates with people from 28 countries to deliver artisan products. The Little Market advocates women empowerment, social justice, and supports many causes.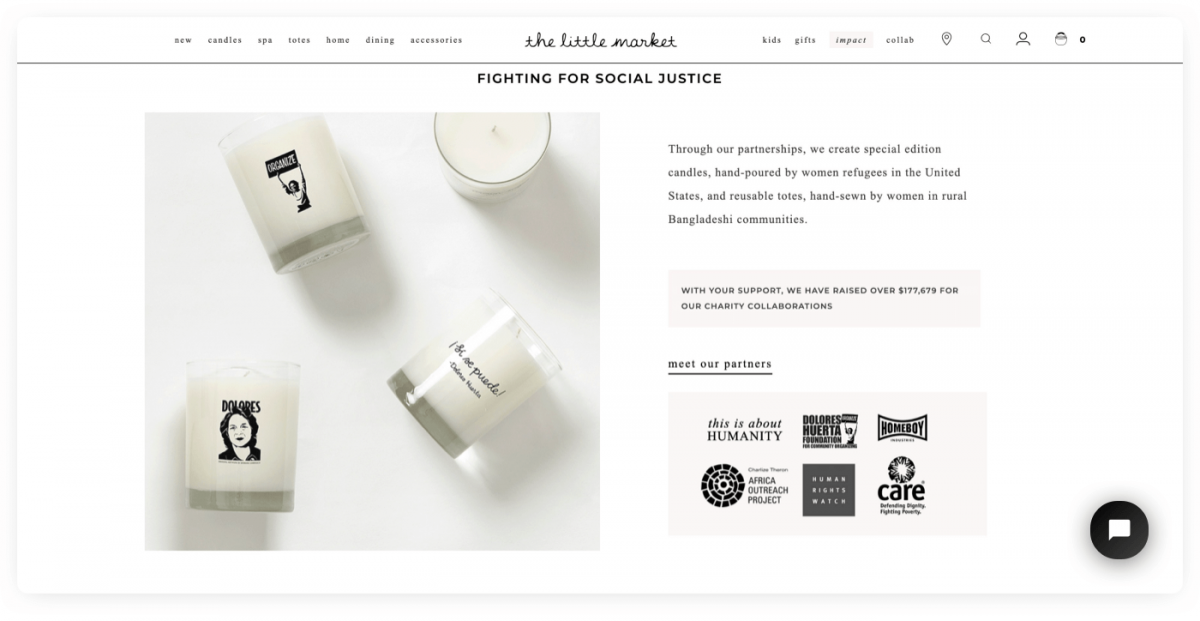 Each product page comes with a story. You can buy handmade natural products such as soap prepared by women transitioning from homelessness. Or printed bags created by ex-gang members. Or quilts made by victims of human trafficking. The list goes on and on. The Little Market operates as a non-profit organization and it is based in Los Angeles.
Store Category: Artisan Products
Store address: the-little-market.myshopify.com
What we like about this Shopify store: It highlights the story of the people behind each product. That is a very unique selling proposition (USP).
GS Equestrian
As the name suggests, GS Equestrian sells all kinds of products related to horse riding. It has riding clothes, stable equipment, grooming accessories, and nutrition products. The business is based in Devon UK.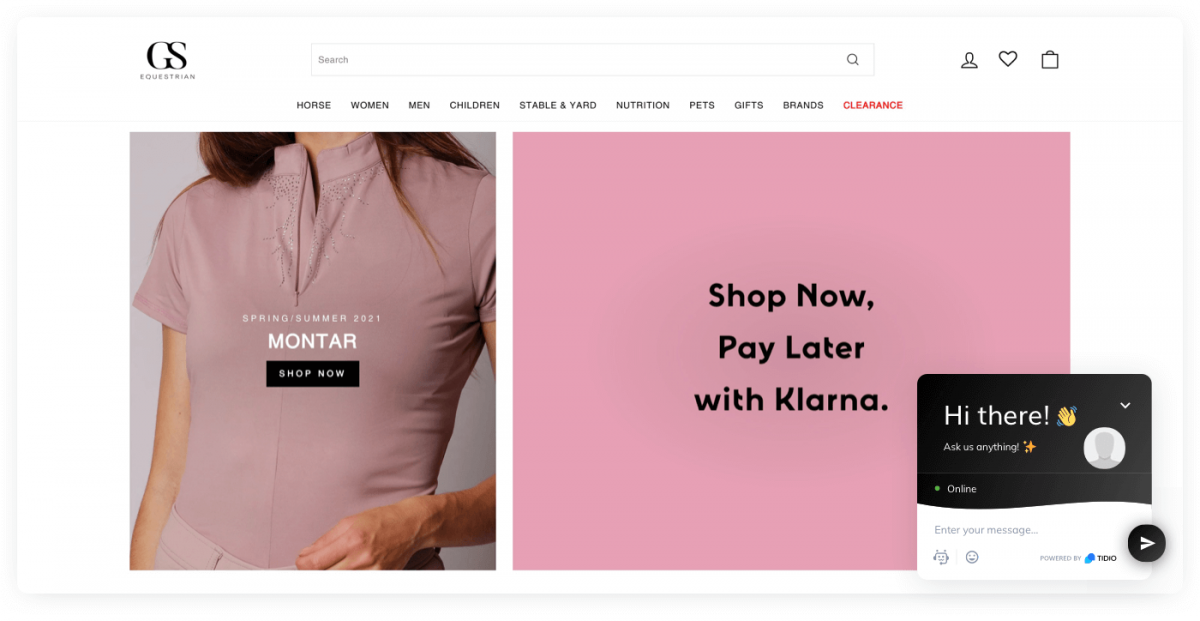 The store has a minimalistic design and doesn't use too many colors. Its dominant palette is black and white. The live chat widget is also black. In most cases, this is a very safe choice—black is universal and matches everything.
Store Category: Sports & Recreation
Store address: goldstar-equestrian.myshopify.com
What we like about this Shopify store: The placement of their search bar is very good and improves navigation. With a store that offers so many different product categories, it is essential.
The Tea Spot
Tea is one of the best products to sell online. But there are many things that make The Tea Spot unique. Maria Uspenski, the founder, is a cancer survivor who wrote the book Cancer Hates Tea. The business is engaged in "supporting other cancer survivors and community wellness."
Apart from all types of tea that you can imagine, the store sells tea tumblers and teapots. Most of the photos used on their website and on social media show active people using teaware. Take a look at their promo video:
Drinking tea is presented as an indispensable part of a healthy, active, and creative life.
Store Category: Food & Drink
Store address: the-tea-spot-boulder.myshopify.com
What we like about this Shopify store: Great understanding of the target audience and their lifestyle.
Tip: Social media marketing can be very effective but there are many other options. If you have an eCommerce website it may be a good idea to try out email marketing. Getting email subscribers can become a critical part of your marketing strategy.
Chicago Music Exchange
CME is a store that specializes in guitars and guitar accessories. You can buy guitars (both regular and bass), amps, and pedal effects. Drums and keys are also available but guitars definitely are their most important products.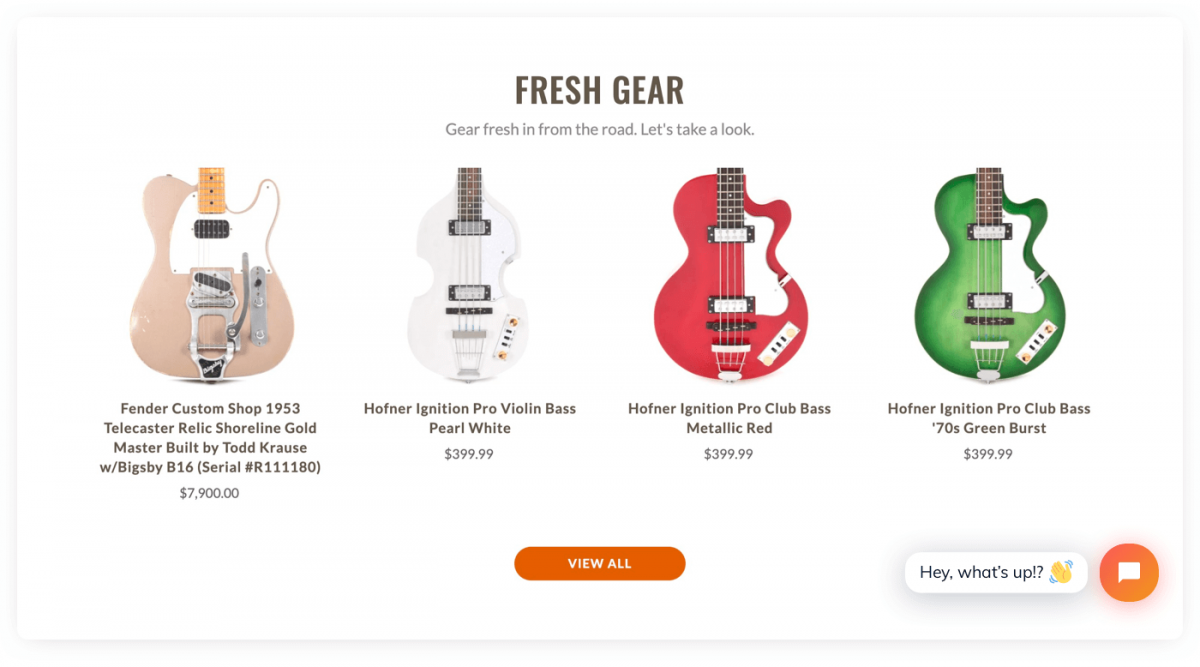 The language that they use is very friendly and down-to-earth. It is also easy to get in touch with sales representatives and discuss anything you need. All you need to do is write a message through their live chat widget.
Moreover, CME is a great place to learn more about music equipment. This online store has a very nice blog with many entries. It is a cool way to showcase products in a natural context.
Store Category: Music Equipment
Store address: chicago-music-exchange-plus-store.myshopify.com
What we like about this Shopify store: That they went for chicagomusicexchange and not chicagoguitarsexchange, which would have sounded confusing and proved a good domain name matters.
Couch Savers
It is exactly what it says on the box. Couch Savers sells sofa covers. You can put them on your old sofa and make it look brand new. The idea seems simple but, in a way, it is a revolutionary product.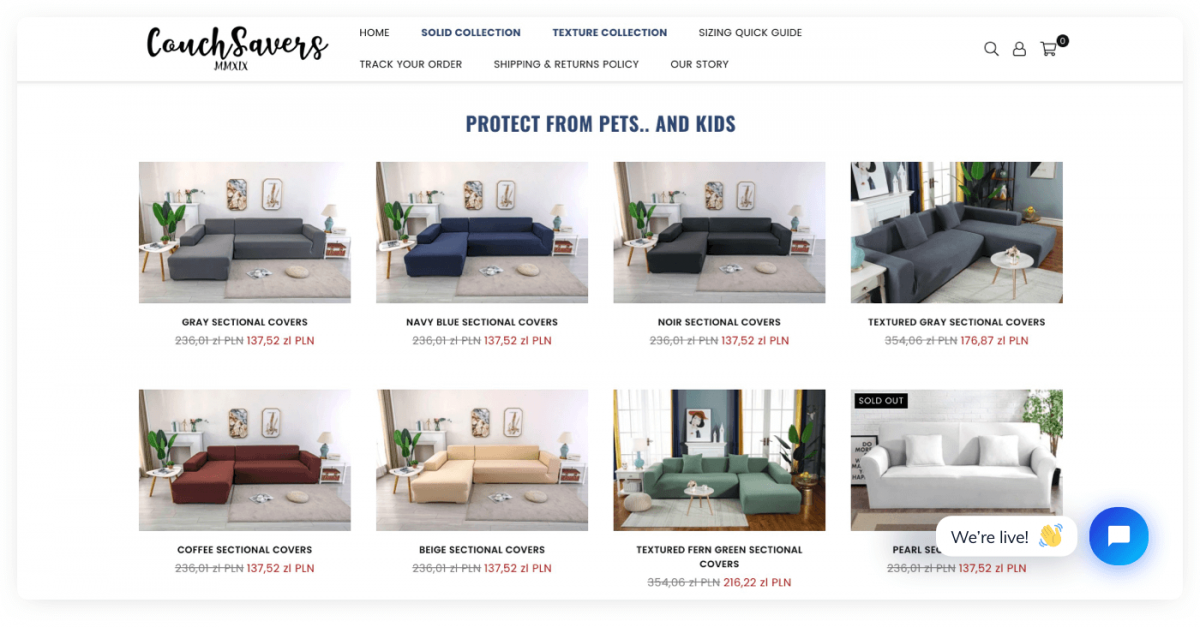 Couch Savers pride themselves on being pro-environmental. After all, why should you throw away your old sofa because of a stain or other type of superficial damage?
This online store sells only one product. It does however come in all forms, colors, and sizes. You can connect with customer support and send photos of your sofa to find the best match too.
Store Category: Home & Furniture
Store address: couchsavers.myshopify.com
What we like about this Shopify store: It is a great example of a store that does not need many categories. Everything is very straightforward.
Tip: If creating a store on Shopify seems too complicated, there are some alternatives. You can sell things on eBay, Etsy, or Amazon, to name just a few. Read more here: Best Places to Sell Online
Petyfy
This online store sells dog accessories. Its owner, Stephanie, believes that it's important to personally test all products. With a little help from her dog, she managed to choose the best items that are steady performers.
Petyfy has backpacks for dog transportation, jackets, beds, collars, and harnesses. There are no products for other animals like cats and you can count dog toys on the fingers of one hand. It also doesn't sell dog food. It's a good call.
By focusing on selected types of products, you can minimalize the risks and maximize profits. It also helps you keep the operation low maintenance.
Store Category: Pet Products
Store address: petyfy-1.myshopify.com
What we like about this Shopify store: The rigorous selection of accessories and using social proof to build trust.
Home & Lighting
Here's another example of an elegant, straight-to-the-point eCommerce store. Home & Lighting sells outdoor solar lights for houses. You can buy a solar lamp for your garden, a street lamp, or building-mounted lighting. There is also a range of other solar-powered devices like solar security cameras or mosquito killers.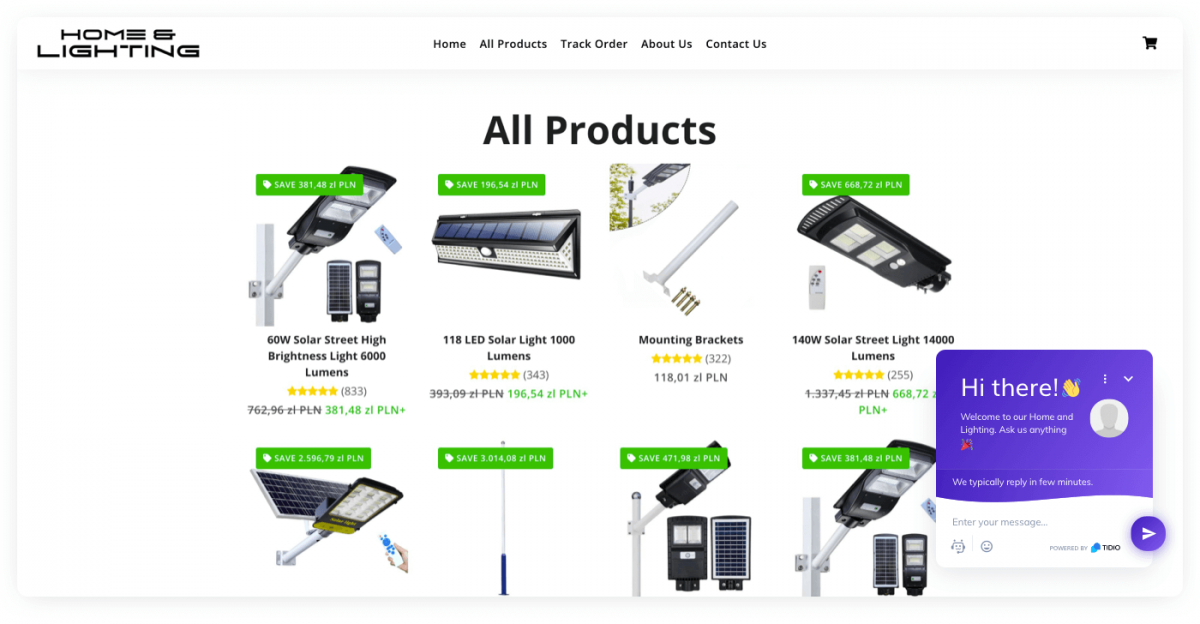 The website is well-designed and it gets the most important information across immediately. Free worldwide shipping? Check. Featured products that are on a discount? Check. Live chat customer support? Yep. Right in its place.
Store Category: Home & Garden
Store address: home-and-lighting-usa.myshopify.com
What we like about this Shopify store: They have massive, double-figure "discounts" on every single product. All the time. So, it is not really a discount but an old sales trick. We like it nonetheless.
Designer Revival
This online business sells luxury bags and clothes from popular brands like Louis Vuitton, Gucci, Prada, and others. They take care of in-house authentication to ensure that all products are original. You can browse collections by designers or by the type of item. The goods are sold on consignment.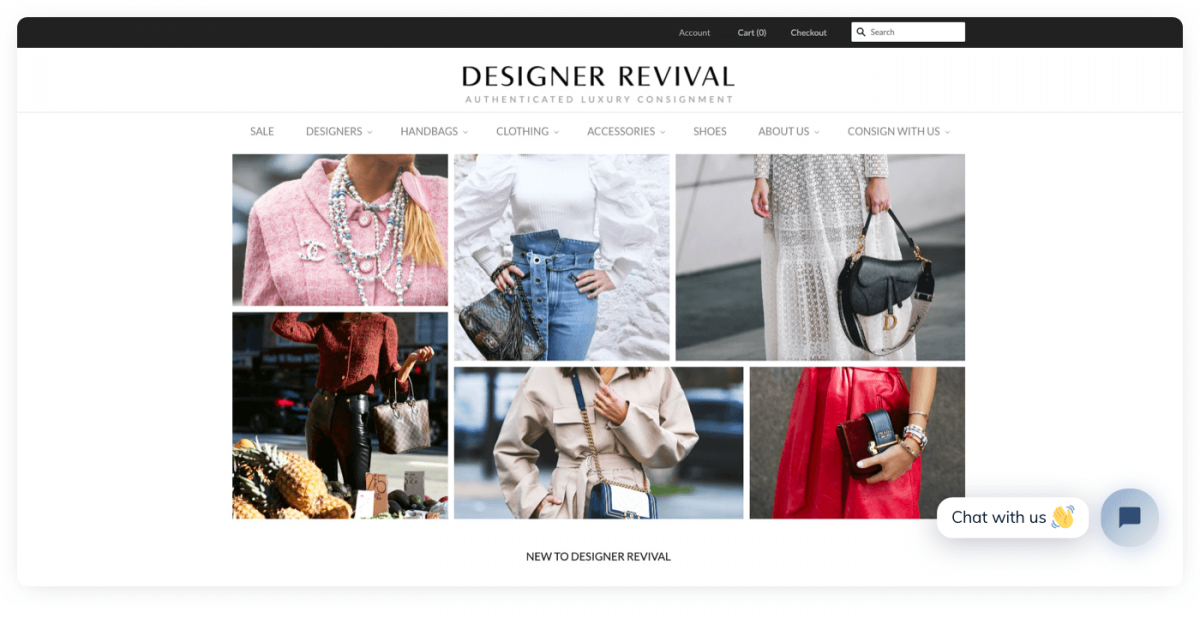 Online fashion boutiques are quite similar to one another. A minimalist design, sparse use of colors, good product images, and you are all set. This store does not have a blog but it has a YouTube channel with some interesting videos about fashion. It makes the store stand out from other luxury item retailers.
Store Category: Clothes & Accessories
Store address: designerrevival.myshopify.com
What we like about this Shopify store: The description right below the logo is 100% accurate. It says authenticated luxury consignment and it is exactly what the website has to offer.
Shapellx
Shapewear is an amazing product that can accentuate your silhouette and hide imperfections. Since the enormous success of Spanx, many companies have followed in their footsteps. Shapellx is a prime example of an alternative to Spanx. They sell high-quality shapewear, waist trainers, and bodysuits.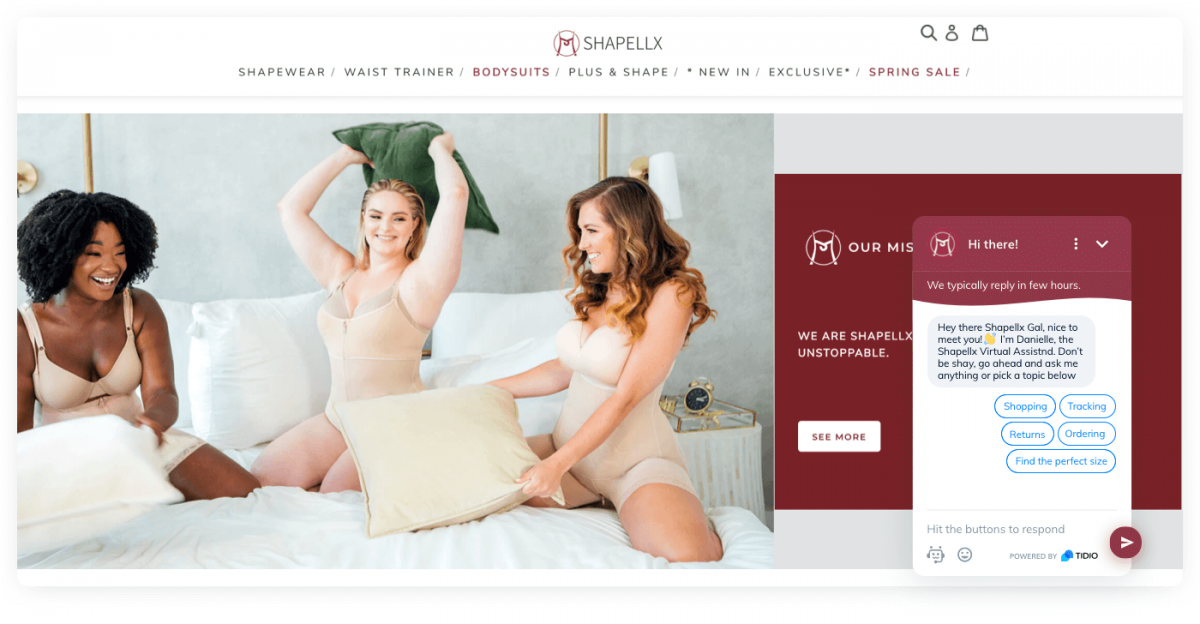 This online store is very customer-oriented and communicates it on several levels. Through photos, invitations to try out shapewear or to become a brand ambassador. Their slogan says: We are Shapellx. We are strong, sexy, and unstoppable. It implies that you can become too.
Store Category: Shapewear
Store address: shapellx.myshopify.com
What we like about this Shopify store: They use a virtual assistant chatbot to answer frequent questions from customers. A very smart move that improves customer satisfaction and saves time.
What Do Successful Shopify Stores Sell?
Not everything is suitable for online sales. If you are looking for cool product ideas, you should check out our guide to the best eCommerce niches.
Swiss Knife Shop
Here comes another great example of great eCommerce stores that sell only one type of product. What you can buy in Swiss Knife Shop? Well, it's not that hard to guess. High-quality knives, grooming accessories, and tools from popular brands like Victorinox, Leatherman, or Swiza.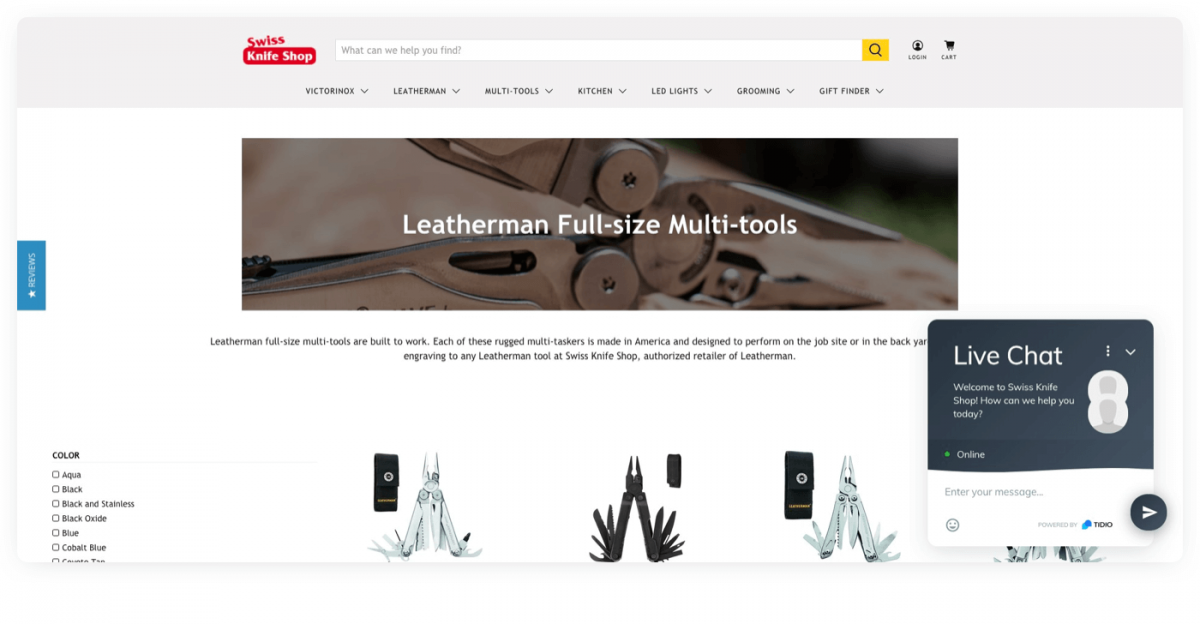 Swiss Knife Shop offers many product customization options. You can order knives with personalized engravings or create your own Swiss knife by choosing the specific tools you want it to include.
Store Category: Tools
Store address: swiss-knife-shop.myshopify.com
What we like about this Shopify store: There is a cool gift finder section with many criteria like price range or rating.
Tip: Straightforward business names are great for SEO. Try to mention the type of product that you sell in your company's name. It would be easier to mix your brand keywords with more general searches related to your niche. When someone Googles "swiss army knife," Swiss Knife Shop is one of the top results.
Aria Vent
This store sells a unique product designed from scratch. It is a family business and they sell modular air vents manufactured in Canada. There are five different models available.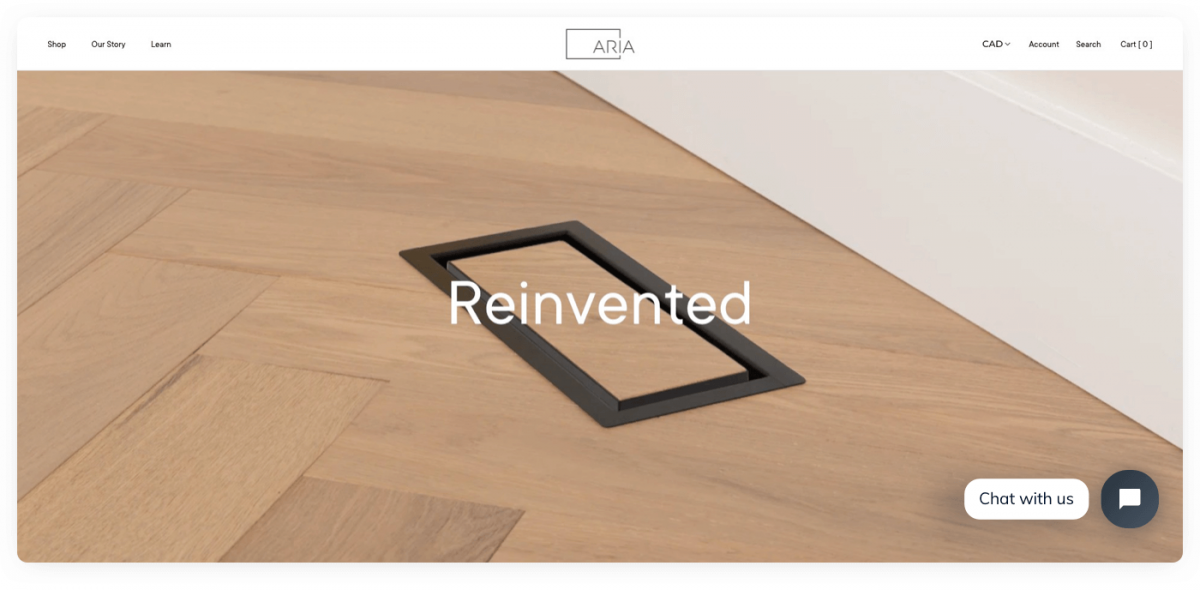 The design of the store is quite different from regular eCommerce stores. There is no search bar or categories since there is no need for them. Instead, the homepage has a very nice animation that illustrates how the vents are built. It is essential that potential customers understand the idea behind the product.
Store Category: Home & Interior Design
Store address: ariavent.myshopify.com
What we like about this Shopify store: It has a sleek and very modern look. The landing pages are stunning. This is no surprise, considering that the business is operated by professional designers.
Beavertown
This one stands out. It is a London-based brewery founded by Logan Plant, the son of Robert Plant. The Robert Plant. From Led Zeppelin. They produce all kinds of beer, some of which are quite experimental. Some of the most popular ones are Gama Ray and Neck Oil.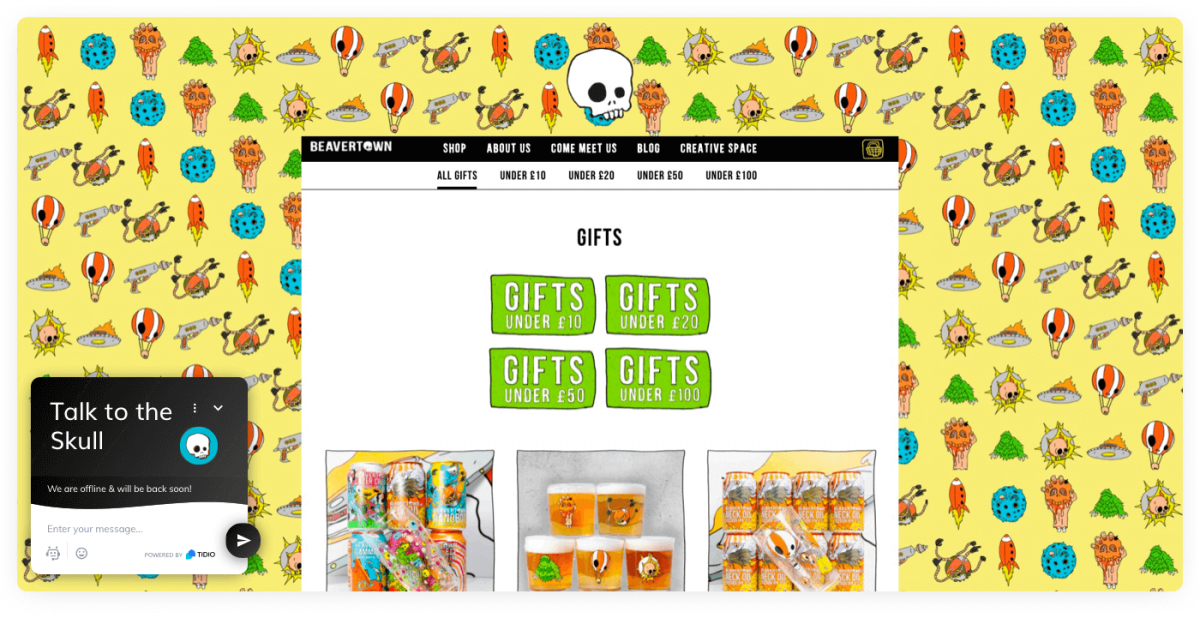 Their Shopify store has a very distinctive look with hand-drawn psychedelic cartoons. It matches the "hipster" feel of the whole enterprise. The aesthetic that they use is consistent with their beer labels. Even on their live chat widget!
Store Category: Food & Drink
Store address: beavertown-brewery.myshopify.com
Why we want to give this Shopify store whole lotta love: Cool website design, original aesthetics, and the spirit of rock'n'roll. You can buy some awesome t-shirts too!
Mociun
This online store sells jewelry designed and made by Caitlin Mociun. The website is both a store and a page where you can contact Mociun and schedule an appointment. The physical store operates on Driggs Avenue in Brooklyn, NY.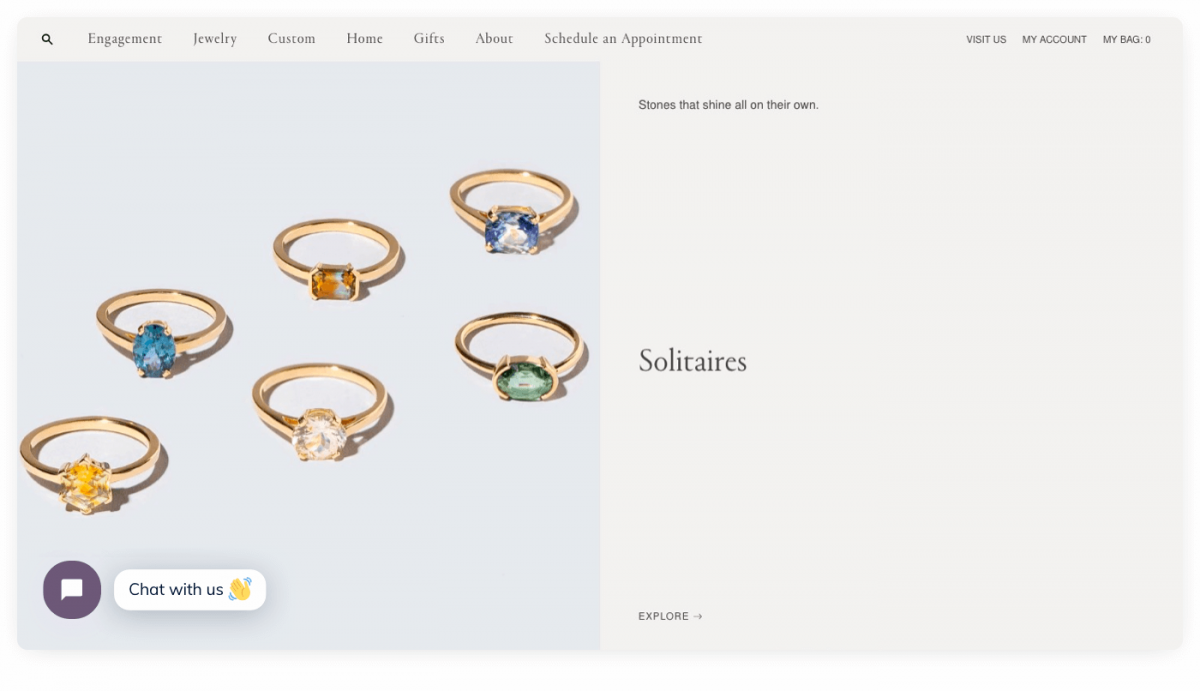 What makes this website one of the best Shopify stores we've seen is the quality of product photos. Sometimes they are little pieces of art in themselves. Caitlin presents her jewelry in very creative ways, for example, juxtaposed alongside plants.
Store Category: Jewelry
Store address: mociun-com.myshopify.com
What we like about this Shopify store: The masterful use of vivid colors expresses the personality of the owner. And she even put her cat on their newsletter pop-up!
Moonbun Baby
Moonbun Baby sells clothes and accessories for babies and toddlers. The store is pretty self-explanatory but everything is executed in a very skillful way. They care about delivering superb customer service and have a fantastic blog.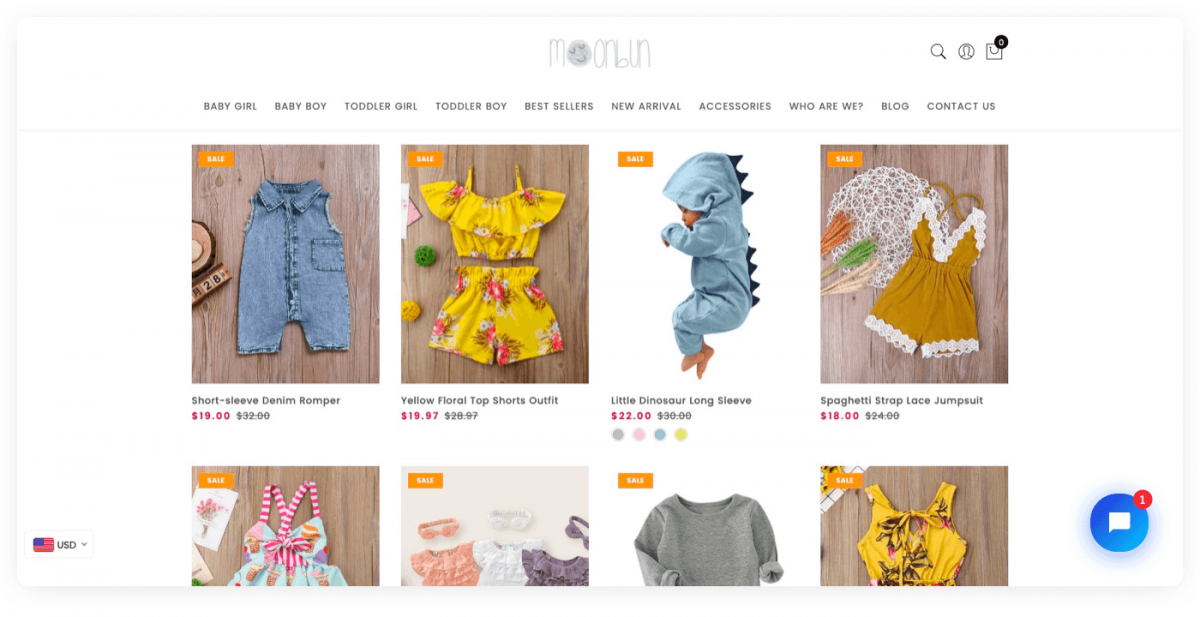 The bright design is very modern yet friendly. The logo which looks like a doodle is charming and so is the whole website. It hits that sweet spot right between being cute but without having unnecessary bells and whistles.
Store Category: Baby Clothes
Store address: moonbunbaby.myshopify.com
What we like about this Shopify store: The way they expose their Pinterest and Instagram icons at the very top of the website.
Shopify Themes
Some eCommerce stores use customized versions of popular Shopify themes. For example, Moonbun is powered by the Gecko theme. You can check which theme a selected store uses by inspecting the source code. Open a webpage, click Ctrl + U, then Ctrl + F, and type in "Shopify.theme" to find out its name.
How to Find Shopify Stores
There is no official list of top Shopify stores because Shopify does not share this information publicly. However, there are many ways to check if a store is powered by Shopify.
You can inspect any store's source code and look for myshopify. Every shop has a unique myshopify address which is different from the regular address.
You can also list websites that use specific hosting services. For example, you can use MyIP. Shopify online stores will use Shopify, Inc as IP Owner/Parent IP Owner/Hosting.
Shopify Stores for Sale
If you don't want to start your eCommerce adventure from scratch, you can buy an existing store. Many eCommerce stores could be profitable but need some extra effort or a different business strategy.
Some store owners handle several stores and want to move on and focus only on the most profitable ones. It can become a golden opportunity for you, especially if you are new to eCommerce. Visit Exchange Marketplace to browse Shopify stores that you can buy.
What Makes a Successful Shopify Store
You may have noticed that there are many things that all the stores listed above have in common.
Best Shopify stores have:
Good website navigation and functionality
A minimalistic design that improves clarity
Live chat widgets for better customer service and faster contact
Featured products that are at a discount price
High-quality products that target a specific niche
Stunning product photos
Product reviews and testimonials
Newsletter signup forms
Smooth checkout process
Most of them also use some form of customer service and marketing automation. Would you like to learn more? Try out the Shopify app that helped thousands of store owners improve their sales.
Turn your website visitors into delighted customers.
Set up the Tidio live chat app in 5 minutes and watch your sales grow.
Learn About Live Chat