After a lot of hard work, you've managed to jumpstart your business and set up your online store. Congratulations!
But your customers are not completing their purchases. They add items to their online shopping cart—
And then they leave without a trace.
What fresh hell is this?
Well, they may have found an item elsewhere. Or they may not like the prices. They also might want to consider buying items offline instead of online.
Thankfully, there are many ways to tackle the issue of shopping cart abandonment.
In this article:
If you want to improve your online store, you may also be interested in:
What is cart abandonment in ecommerce?
Shopping cart abandonment occurs when a customer begins the checkout process but fails to complete the purchase. It can happen for many reasons, such as being interrupted, not having enough money, or not being sure about the purchase. From a business perspective, an abandoned cart often represents a lost sale.
Common reasons for cart abandonment in ecommerce stores are:
Customers are just browsing and are not ready to buy
The store doesn't look like a trustworthy website
Complicated checkout and poor checkout experience
Lack of additional incentives such as discounts
Hidden or surprisingly high shipping costs
Forcing customers to provide credit card information
Making online shoppers sign up with their email address
No trustworthy or secure payment options
Slow website and excessive load times
No social proof or testimonials from other shoppers
Too many form fields to complete
Poor website usability on mobile devices
Lack of favorite shipping options
Unclear return policy
Optimizing the checkout flow and user experience is essential for online stores. In fact, according to a research study by Baymard Institute, almost 41% of all abandonments are due to checkout issues.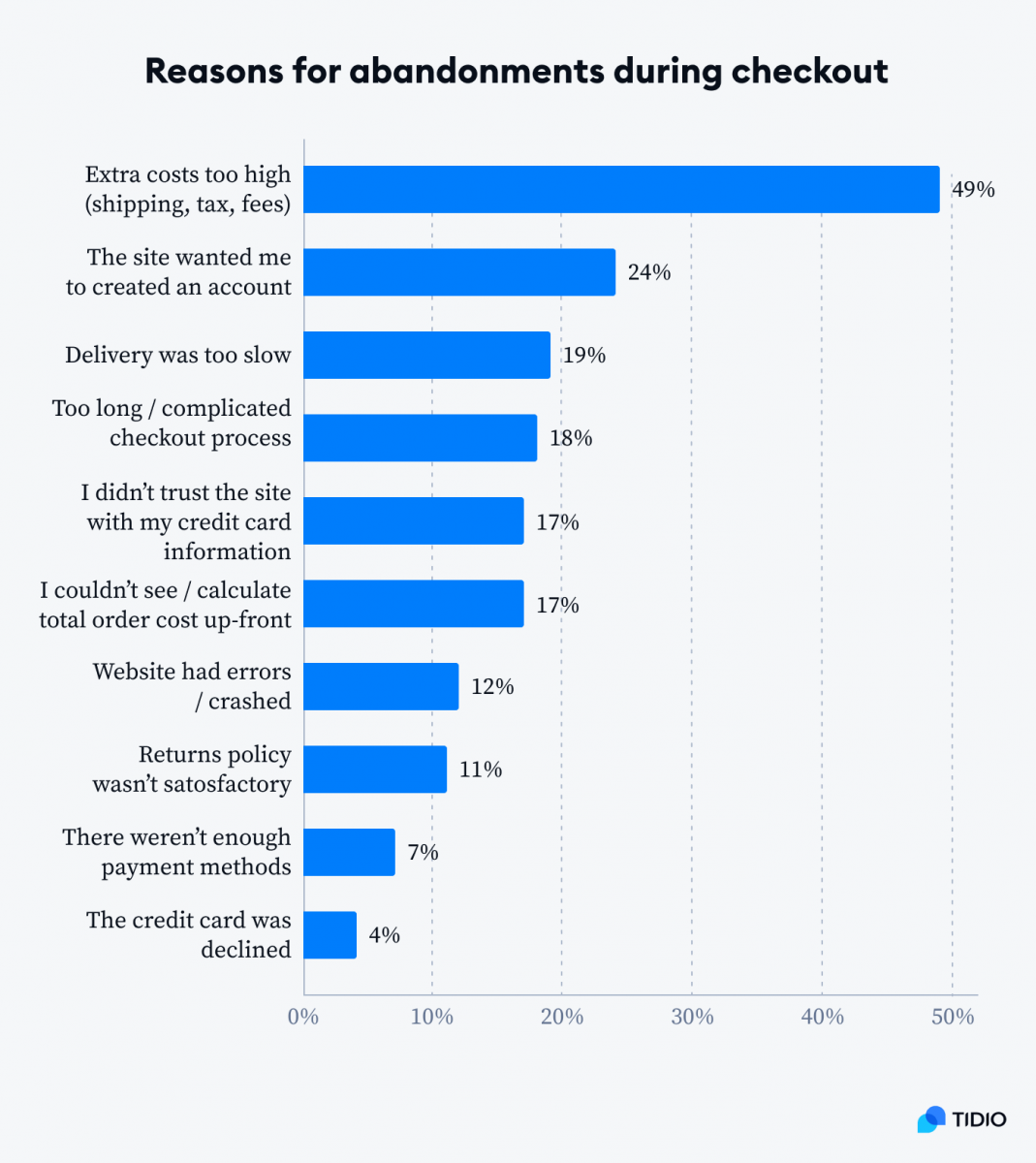 Why is shopping cart abandonment a problem for retailers?
With an estimated 70% of customers never completing their purchase after cart abandonment is a common issue for online businesses. This number means that for every $300 that a retailer earns, they lose an average of $700 due to shopping cart abandonment.
To put it simply, shopping cart abandonment is a problem for businesses because it costs them money. Online retailers are missing out on sales and revenue, which impacts their bottom line.
Your shopping cart abandonment rate directly affects your customer acquisition costs. The more customers slip through your fingers, the harder it is to get a positive return. It's like scooping water with a bucket full of holes!
Losing revenue is only one of the effects of online shopping cart abandonment. It is also a problem for businesses because it can indicate that there are problems with their website. Very often, customers have to deal with slow checkout times, errors on the page, or hidden costs such as shipping charges. If they encounter these problems during checkout, then they may decide not to complete their purchase.
OK, but what exactly is the shopping cart abandonment rate of your store?
How to calculate your cart abandonment rate
The cart abandonment rate is the percentage of shoppers who leave items in their virtual carts but never complete their purchase. In other words, it tells you how many people left without buying anything from your store. Possibly because they were dissatisfied with one or more aspects of the shopping experience.
Here is a simple cart abandonment formula:

Let's give it a try.

If there were 325 users who added items to their shopping carts and only 51 transactions finished, our cart abandonment rate would be about 84%. It is a little bit above the average and our business could definitely use some improvement. The lower our cart abandonment rate, the better our business performs!
Average abandoned cart rate by industry
The average abandonment rate for different industries varies, but it is generally highest in the travel and hospitality industry, where it can reach as high as 89%. The average abandonment rate for online retail is traditionally estimated at about 70%.
However, during the coronavirus pandemic, the shopping cart abandonment rates spiked. There are even more customers shopping online, but they also visit multiple stores to compare prices. According to our customer experience survey, about 45% of Gen Z shoppers browse several ecommerce sites before making any purchase.
The cart abandonment statistics from 2021 show some interesting new benchmarks.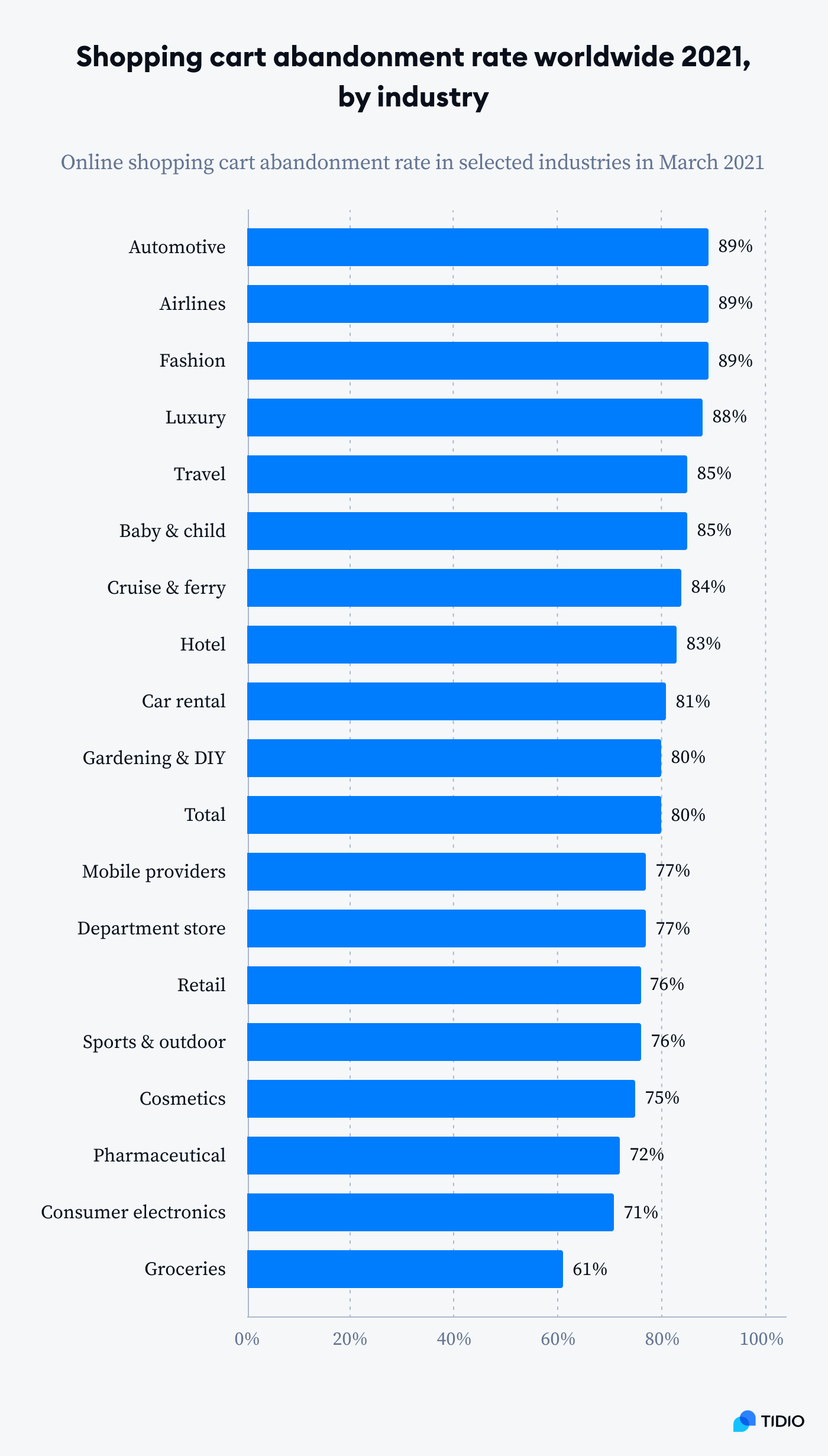 In 2021, the average shopping cart abandonment rate was as high as 80%. Online shopping is now the norm and the market is much more competitive than before. The good news is that the average order value is on the rise too. It is getting harder to catch fish, but the fish are getting bigger. No wonder retailers are scrambling to find ways to reduce their checkout abandonment.
Best abandoned cart strategies
There are a few ways to reduce shopping cart abandonment. You can try providing a guest checkout option, improving the customer experience on your website, and delivering good customer service.
You should also make sure that your website is responsive and mobile-friendly, as a majority of ecommerce checkout drop-off occurs on mobile devices. According to a cross-device shopping cart abandonment study by Barilliance, as much as 86% of shopping transactions on mobiles end without a sale.
Let's discuss some common shopping cart abandonment and recovery strategies.
1. Use chatbots to collect cart abandonment feedback or give discounts
If you don't know why customers abandon their shopping carts, there is a simple way to find out—just ask them about it!
Of course, asking each of them personally and one at a time can be quite tedious. That's why if the customer does not complete the purchase you can trigger an automated chatbot. Here is an example of an abandoned checkout bot in action.
Another way that retailers can use chatbots to reduce the number of abandoned carts is by using them to provide real-time assistance to customers.
Chatbots can help site visitors with choosing the right products, answering their questions, or explaining costs such as shipping charges. By providing assistance, chatbots can make customers more satisfied with their experience and more likely to complete their purchase.
Oh, and they can also offer discounts and motivate customers to complete their checkouts.
Read more: Find out how an Italian atelier fashion ecommerce reduced the cart abandonment rates using chatbots.
2. Send emails to remind customers about their unfinished purchases
Cart abandonment emails are a common method of reducing online cart abandonment. You send them to remind customers about products they left behind. The email template goes out 3-5 days after an order was abandoned.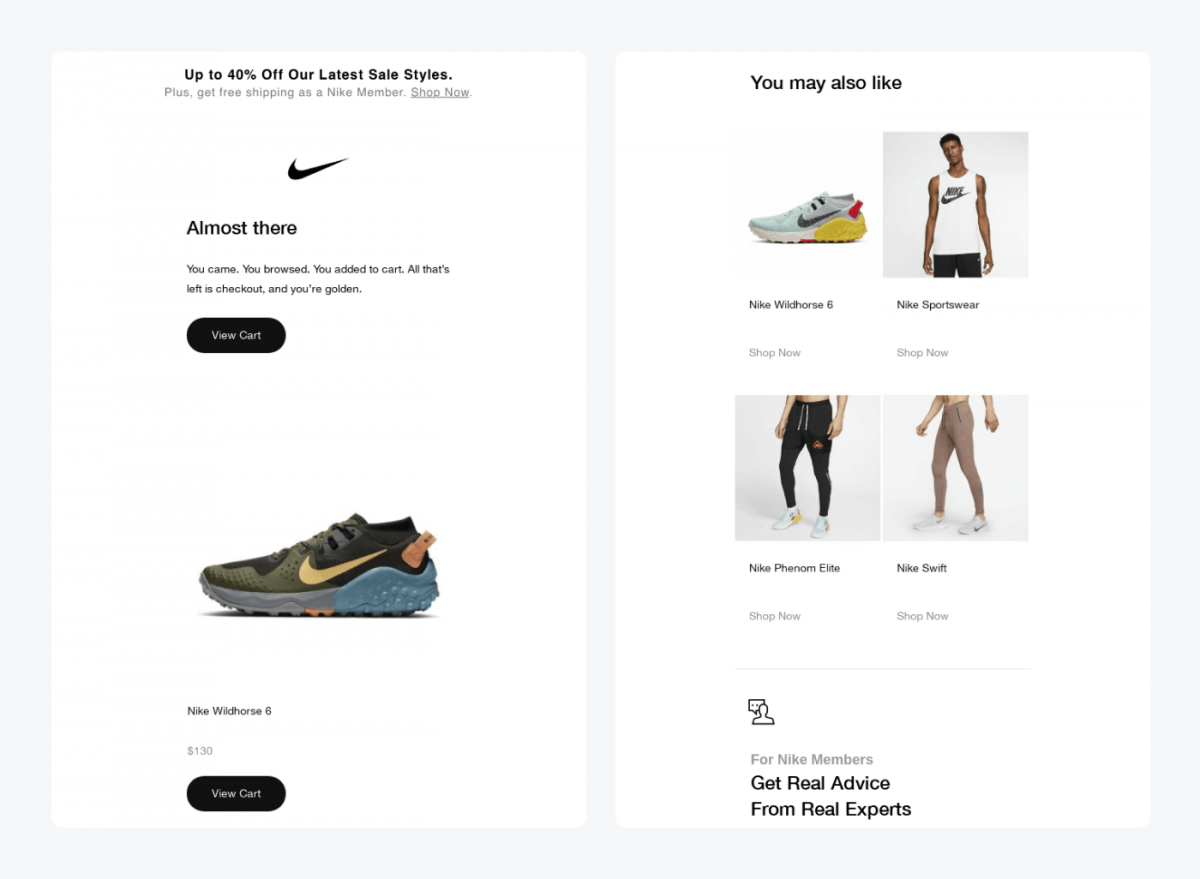 You can include links to bring customers back to the site, so they can complete their orders. It is also a good idea to give them a discount. Sometimes you can even use abandoned cart emails as a cross-selling opportunity and suggest similar products.
The open rates for abandoned cart emails are comparatively high. The first message in your cart email sequence can get an open rate of almost 63%. However, the click-through rate is much lower—you can expect to bring only 14% of customers back to your website. Even this amount should translate into about a 10% increase in the total number of completed transactions.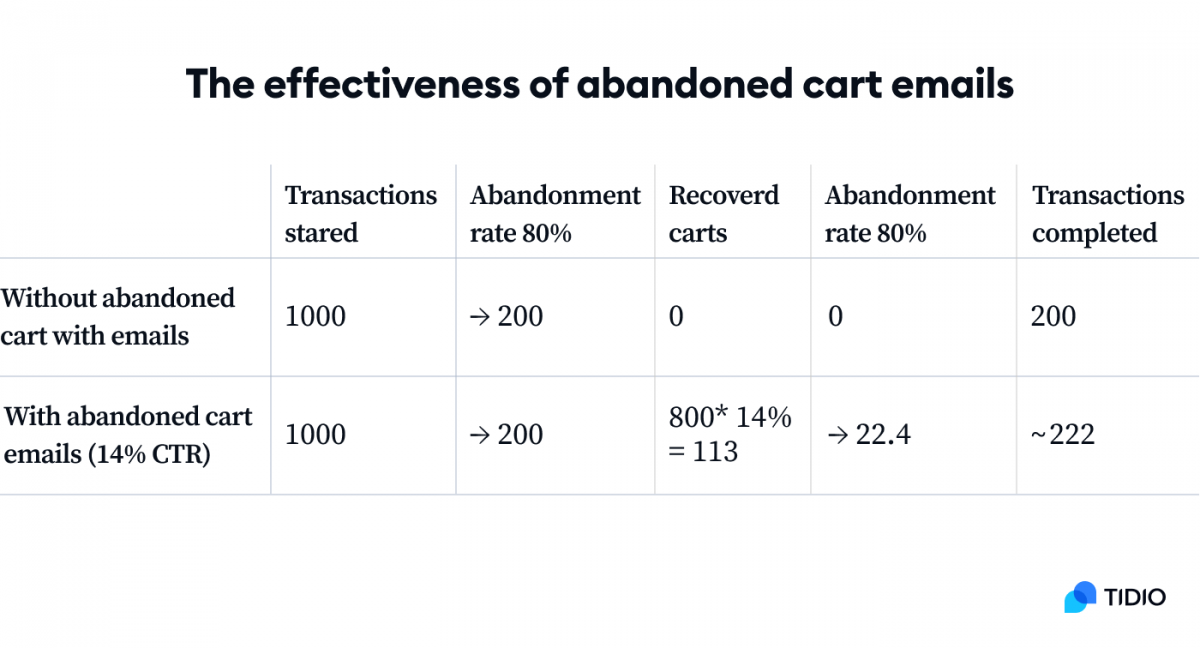 You can increase your open rate and CTR by experimenting with your abandoned cart email subject lines.
3. Add dedicated cart recovery plugins to your website
One of the biggest advantages of setting up online stores on Shopify or WooCommerce is that there are great apps and plugins for everything. The problem of shopping cart abandonment is no exception. There are almost 800 different Shopify abandoned cart apps. Many of them are free, so you can explore them and choose the one that suits you best.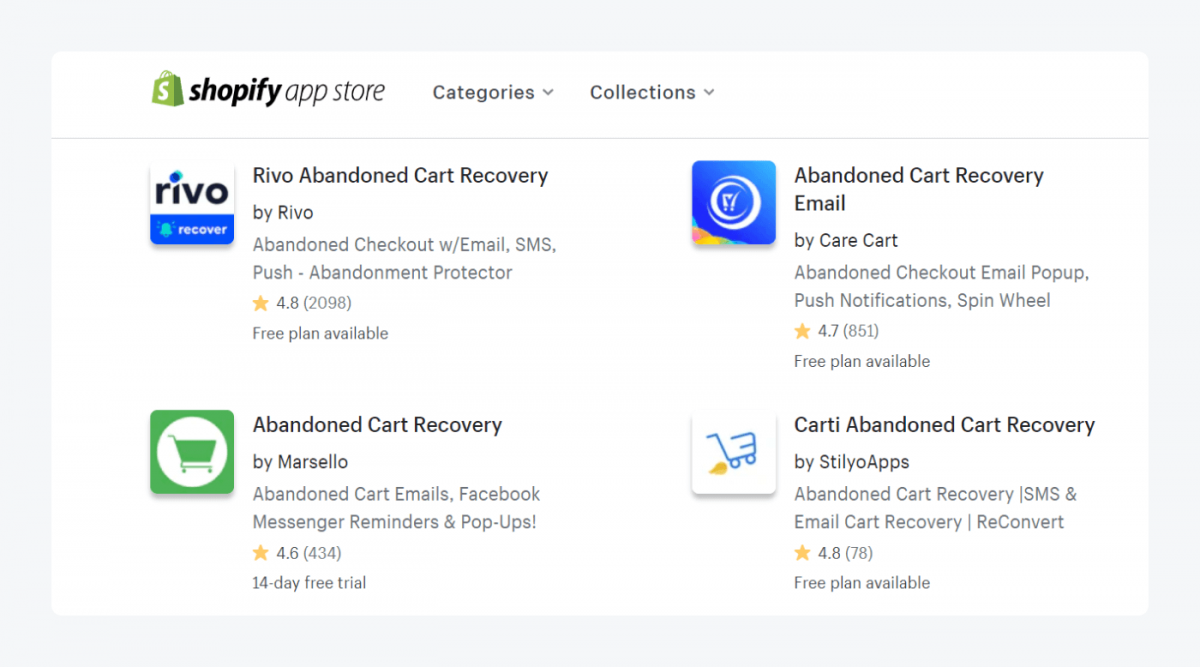 Cart recovery plugins are a great way to reduce shopping cart abandonment and increase your sales. They work by automatically sending reminders to users who have abandoned their carts. Many of them also support Facebook Messenger, so customers can be reminded about what they left behind via messenger notifications instead of email messages, if desired. SMS notifications are also quite effective, with a recovery rate of around 16%.
If you are interested in other plugins that will increase your conversions, you can check out:
4. Try using surveys to collect feedback about your checkout page
Ultimately, checkout flow optimization is the best way to reduce shopping cart abandonment and improve your conversions. But it is hard to see that something is missing until someone tells you about it.
Do potential customers leave because they can't use payment methods like PayPal? Maybe they want to sign in with their social media account? Maybe they want to use a discount code and don't know how to do it?
It's best to use tools that allow us to find answers to these questions.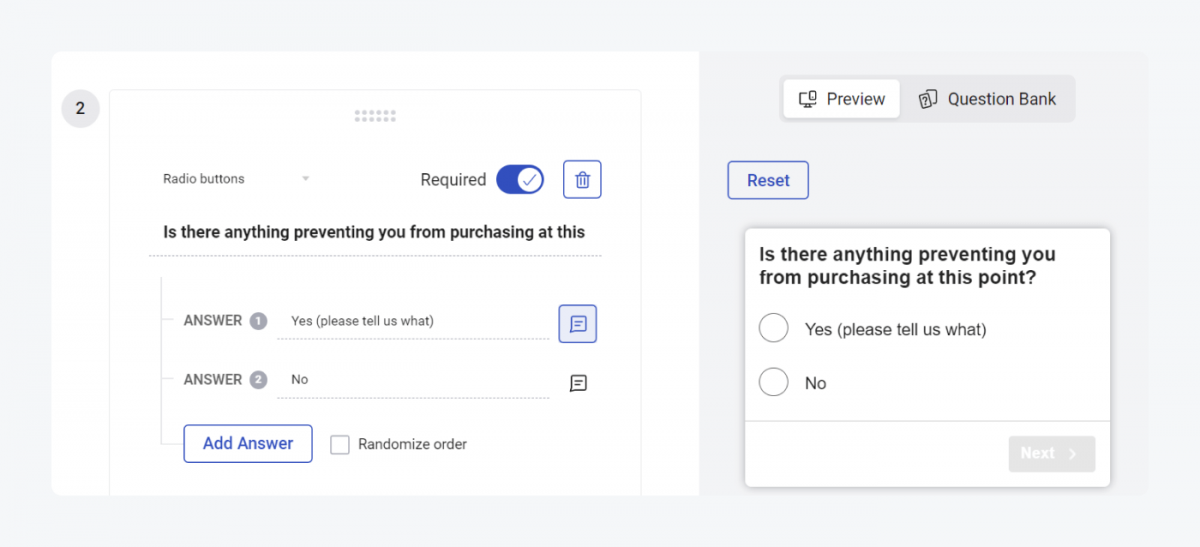 There are many apps, such as HotJar or Tidio that you can use to add pop-ups and collect customer insights. Customer satisfaction surveys and questions about user experience will give you more information about the top reasons behind your checkout drop-off rate.
Read more: Why Is Customer Feedback Important for Improving Ecommerce Sales?
5. Improve your store navigation
This may seem counter-intuitive, but sometimes a customer won't buy a $4000 electric guitar because they can't find the right cable for it for $5. Instead, they will buy it from a store that immediately suggests the right cable as a compatible product.
Your site visitors often don't finish shopping because they want to add another product to their cart but can't find the product on your website. That's why top online stores like Amazon often suggest additional products. If we buy a guitar then the store will give us suggestions on what strings, cables, or stands we need.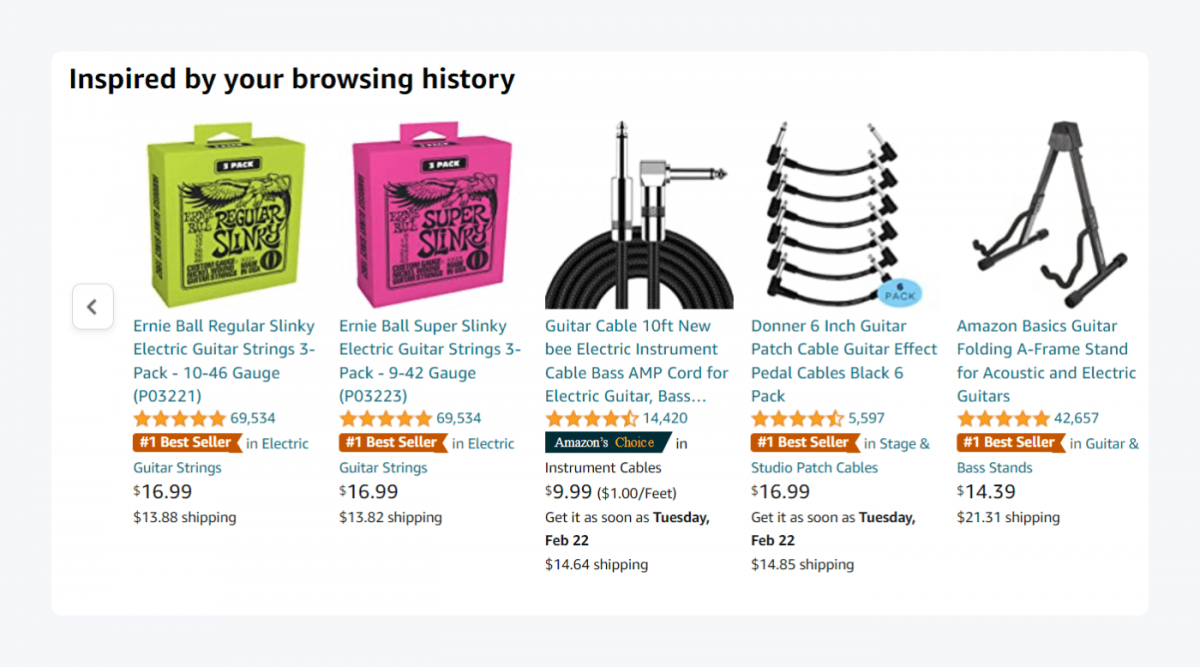 If products are hard to find or the layout of your website is confusing, shoppers are more likely to abandon their carts. Use clear and concise product page descriptions, menus, and navigation bars to help them easily find what they need. You can also design chatbots that suggest recommended products.
6. Offer shopping assistance and answer queries via live chat
Live chat is a customer service tool that allows retailers to communicate with shoppers in real-time. It's a great way to answer questions, help customers through the checkout process, and reduce shopping cart abandonment. Live chat is available on most ecommerce platforms, and there are a number of live chat software providers out there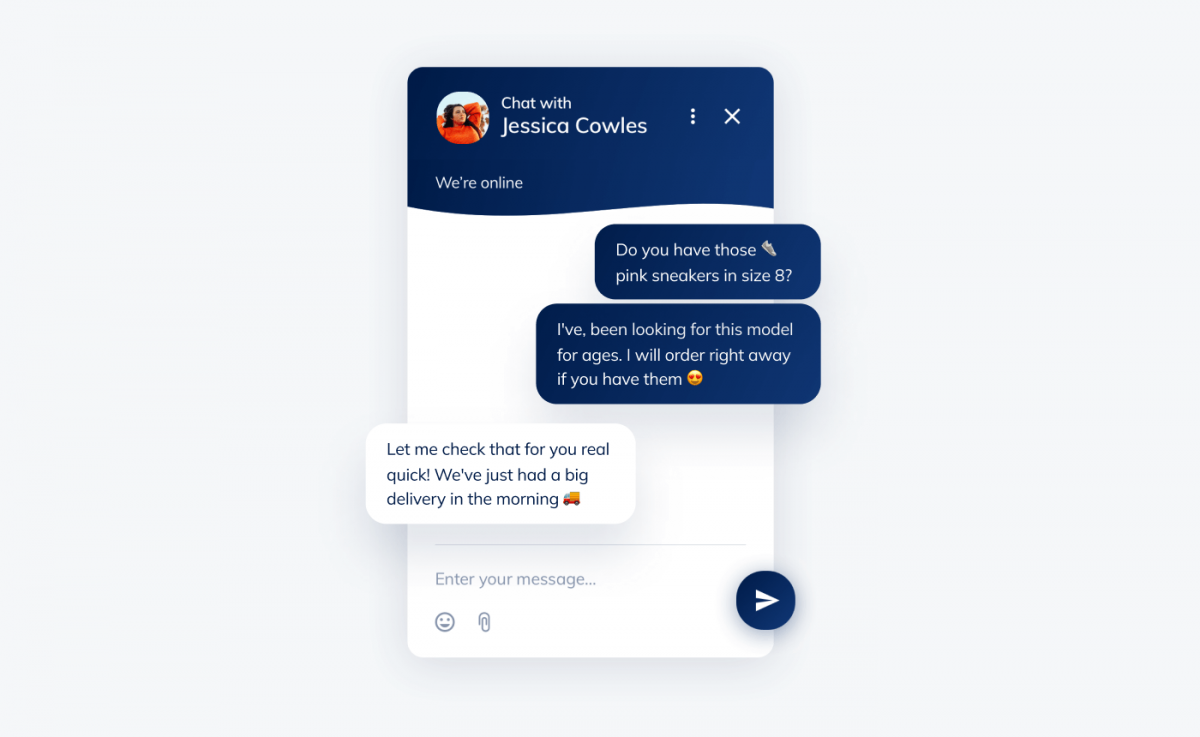 You can use live chat to offer special promotions, such as free shipping or discount codes. This can help you reduce abandonment rates and is especially useful for retailers who have an active social media presence. You can use Facebook live chat integration to connect your live chat and social media. You can also automate some of the messages with Facebook and WhatsApp chatbots.
Read a case study: How Our Chat Support Slashed Cart Abandonment by 25%
7. Set up retargeting campaigns to bring customers back to your website
Sometimes visitors need a little push to complete a purchase. If you have their contact details then you can use email marketing. However, if they didn't leave their email then you can still use Google Ads or retargeting campaigns on social media.
If you almost bought a tortilla press, then you can expect to see tortilla press ads on almost every single page you visit. These ads are usually powered by Google. And as an online business owner, you can use them too.
Be careful—paid marketing campaigns can be costly. Remarketing campaigns should be precise and related to products that customers already had in their shopping cart. Retargeting all store visitors probably won't work because you're reminding these people about something they didn't want in the first place. They may not have even reached the point where they would decide what to buy.
Read more: Tracking an Abandoned Cart With Tidio
Digital shopping cart abandonment: key takeaway
Unfinished checkouts are a major problem for online retailers because they can lead to lost sales and revenue. Retailers can use a variety of methods to reduce shopping cart abandonment. But usually collecting customer feedback to improve the user experience should be your first step. By understanding why users don't finalize their purchases, retailers can take steps to address these issues and increase sales.
Ecommerce shoppers abandon your checkout site because:
They are not informed about the shipping costs upfront
There is no free shipping option or additional discounts
They don't want to buy one product only, but they can't find the other
The checkout process is too long
The site doesn't inspire their trust
It is a problem for businesses because every abandoned shopping cart translates into:
Lower checkout conversion rate
Higher customer acquisition costs
Increased remarketing costs
Lost revenue
But you can reduce the number of dropped shopping carts with a right set of marketing and customer service tools. To improve your cart abandonment rate you can:
Use pop-up surveys to understand why customers are leaving items in their carts—this information will help you improve your store navigation, design, and checkout process
Offer live chat assistance to increase customer satisfaction and help you gather insights and close more sales
Offer coupon codes or set up retargeting campaigns to bring back lost customers (however, be careful with the cost of these campaigns—they should only be used for products that were "almost" bought)
If you want, you can optimize your customer journey and solve the problem of abandoned shopping carts with our free solution.