After a lot of hard work, you've managed to jumpstart your business and set up your online store. Congratulations!
But your customers are not completing their purchases. They add items to their online shopping basket—
And then they leave without a trace.
What fresh hell is this?
Well, they may have found the item elsewhere. Or they may not like the prices. They also might want to consider buying items offline instead of online.
Thankfully, there are many ways to tackle the issue of shopping cart abandonment. So, let's go ahead and see how to do that.
In this article:
If you wanna find out more about how to combat abandoned carts, check out these articles:
First, let's get some background information straight and start with the shopping cart abandonment definition.
What is shopping cart abandonment?
Shopping cart abandonment occurs when a shopper begins the checkout process but fails to complete the purchase. Any product that a potential client puts in the basket but doesn't go through with the transaction is seen as abandoned.
It can happen for many reasons, such as being interrupted, not having enough money, or not being sure about the purchase. From a business perspective, an abandoned cart often represents a lost sale.
Okay, but why is shopping cart abandonment a problem for retailers?
With an estimated 80% of customers never completing their purchase, cart abandonment is a common issue for online businesses. This number means that for every $200 that a retailer earns, they lose an average of $800 due to shopping cart abandonment.
To put it simply, shopping cart abandonment is a problem for businesses because it costs them money. Online retailers are missing out on sales and revenue, which impacts their bottom line.
Your shopping cart abandonment rate directly affects your customer acquisition costs. The more customers slip through your fingers, the harder it's to get a positive return. It's like scooping water with a bucket full of holes!
Losing revenue is only one of the effects of online shopping cart abandonment. It's also a problem for businesses because it can indicate that there are issues with their website. Very often, customers have to deal with slow checkout times, errors on the page, or hidden costs such as shipping charges. If they encounter these problems during checkout, then they may decide not to complete their purchase.
What is abandoned cart recovery?
Abandoned cart recovery is a strategy that ecommerce stores use to convert abandoned carts into completed sales. It usually involves using marketing automation and other tools that push the visitor down the sales funnel to complete their purchase.
It's important to note that cart recovery comprises two stages.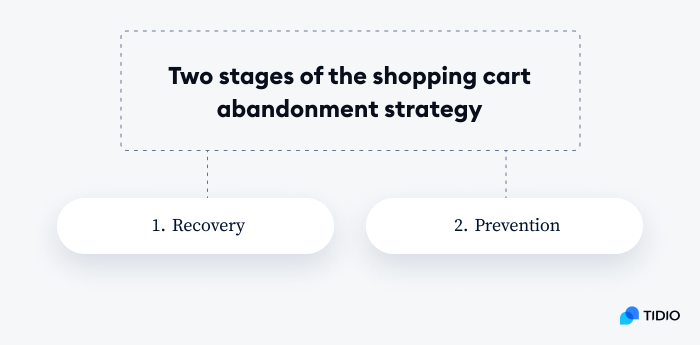 First one is all about recovering the carts that were abandoned. Businesses do this by sending out cart recovery emails, adding a cart saver chatbot to their site, using remarketing ads, and more.
The second stage works on improving the website user experience to prevent future cart abandonments. This includes shortening the checkout process, making the design better, or offering a number of different payment options.
But if you can't prevent it, what's a standard abandoned cart rate, and how to calculate yours?
What is a cart abandonment rate?
The cart abandonment rate is the percentage of shoppers who leave items in their virtual carts but never complete their purchase. In other words, it tells you how many people left without buying anything from your store. Possibly because they were dissatisfied with one or more aspects of the shopping experience.
So, what is the abandonment rate of shopping carts?
The average rate for different industries varies, but it's generally the highest in the cruise & ferry industry, where it can reach as high as 98%. On the other hand, the average abandonment rate for online retail is traditionally estimated at about 70%.
However, during the coronavirus pandemic, shopping cart abandonment rates spiked. Nowadays, there are even more customers shopping online, but they also visit multiple stores to compare prices. According to our customer experience survey, about 45% of Gen Z shoppers browse several ecommerce sites before making any purchase.
Read more: Learn the essential shopping cart abandonment statistics to discover more about why, where, and when people abandon their carts.
It's important to calculate your store's checkout abandonment rate to know whether there's cause for concern and to be able to lower it. So, what formula to use for that calculation?
Cart abandonment rate formula
In simple words, to calculate cart abandonment rate, you should take the number of all the finished transactions and divide it by the number of started transactions. Then, subtract the quotient from 1. At the end, multiple that number by 100%. This will give you the cart abandonment rate.
Here is a simple cart abandonment formula:

Let's give it a try.

If there were 325 users who added items to their shopping carts and only 51 transactions finished, your average abandoned cart rate would be about 84%. It's a little bit above the average and your business could definitely use some improvement.
Remember—the lower your cart abandonment rate, the better your business performs!
So, what could be some of the reasons people leave items behind in their shopping baskets? And how to reduce cart abandonment on your site? Let's find out!
Reasons for cart abandonment
Research shows that add-to-cart numbers are growing, but so is the abandonment rate. But why do people stop in the middle of the sales funnel and decide to drop out? And can you do anything about it?
Here are top ten most common reasons why people abandon their baskets: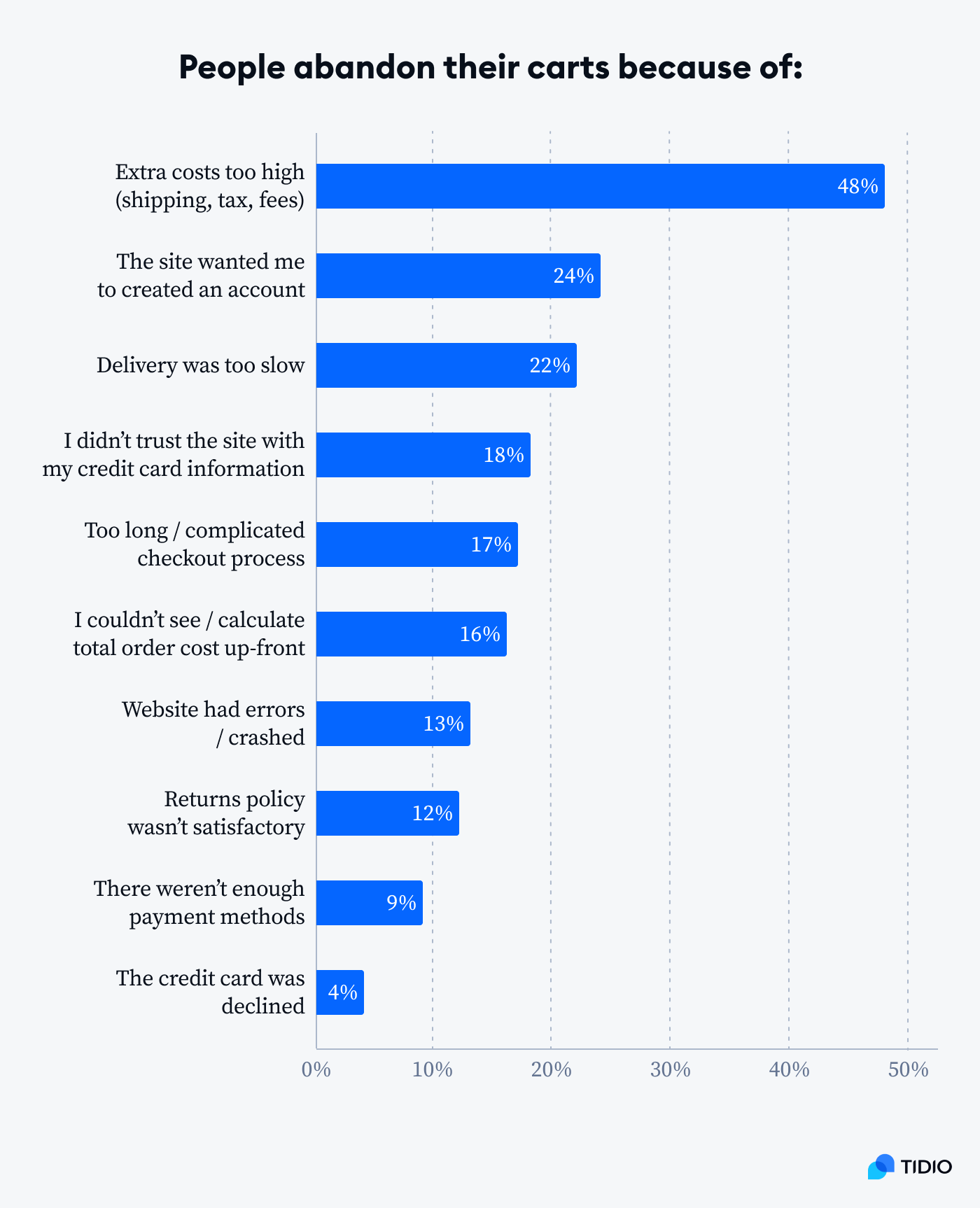 Let's have a more in-depth look at each of these reasons and get some shopping cart abandonment solutions for them:
1. Unexpected costs
Solution: Offer free shipping
When adding a product to the cart that costs $10 for example, nobody likes to see it turn into $21.56 at the checkout. Where does this amount come from? Usually, it's because of shipping, tax, and other fees, and that's completely understandable.
But, what's not understandable is trying to trick a customer into believing that the item has a different price than the one that shows up at the end of the purchasing process.
So, you should show the additional costs upfront from the start. And if you can prevent some of them, like shipping fees, then do so. The best part is, you don't have to cover the shipping costs to offer free shipping. You can add the price of the delivery to the cost of the item.
The truth is—most of the customers act like this when they shop online: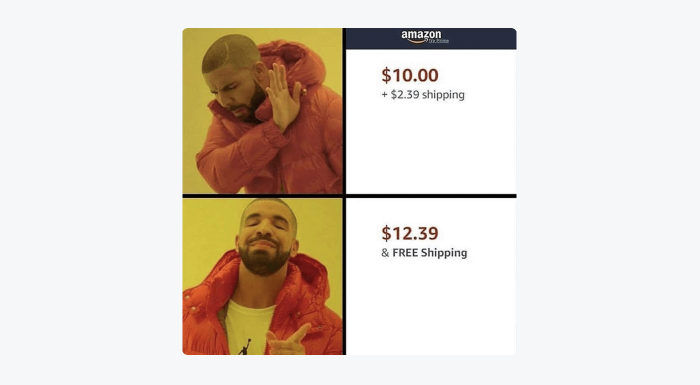 What about the other costs? It's a good idea to include those in the price as well or let the person know about them on your product pages.
2. Necessary account creation
Solution: Use guest checkouts
Ask yourself a question: does my business really need all the customers to have an account?
If the answer is yes, determine why and try to find a different way to get what you need from the clients without forcing them to sign up. If the answer is no, then provide a guest checkout right away. This will improve your shoppers' checkout experience and lower your average cart abandonment rates.
This way, you'll still get the visitor's email address and all the necessary information but you'll avoid frustrating them. It's a win-win situation.
Here's an example of how Stradivarius made use of this method: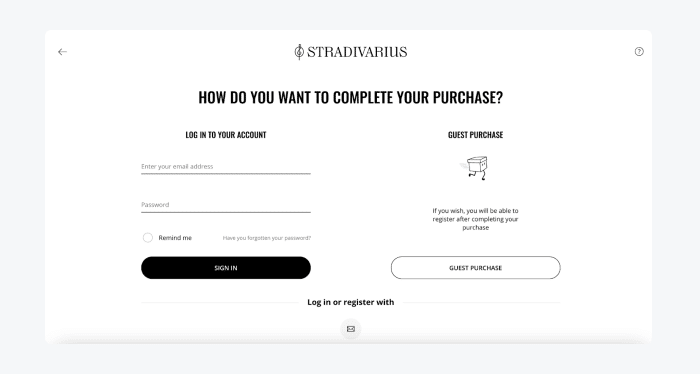 This online store gives shoppers two options when it comes to checking out. People can purchase items by logging into their account or they can proceed with a guest purchase. The Guest Purchase only asks for essential info like email address and delivery address.
3. Long delivery times
Solution: Partner with a number of delivery companies
Different delivery companies will usually have a varying number of days for standard delivery. Their prices will also differ if you compare standard and express delivery. So, provide different options for your clients.
Partner with a few delivery companies, see which ones offer the best deals, and let your visitors decide on the delivery time and method.
Let's have a look at how Amazon does this: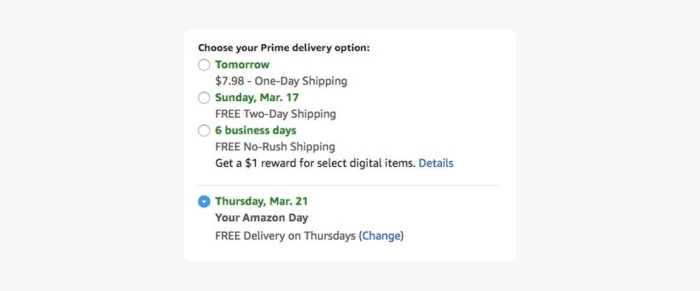 They offer a number of shipping options for clients to choose from varying in the length of time for delivery. This allows you to charge more for express delivery and keep buyers that are in a rush happy.
4. Lack of trust in the site
Solution: Upgrade your design
Our study on what makes a website trustworthy shows that modern-looking design and crisp images are very important when it comes to positively influencing a web store's credibility.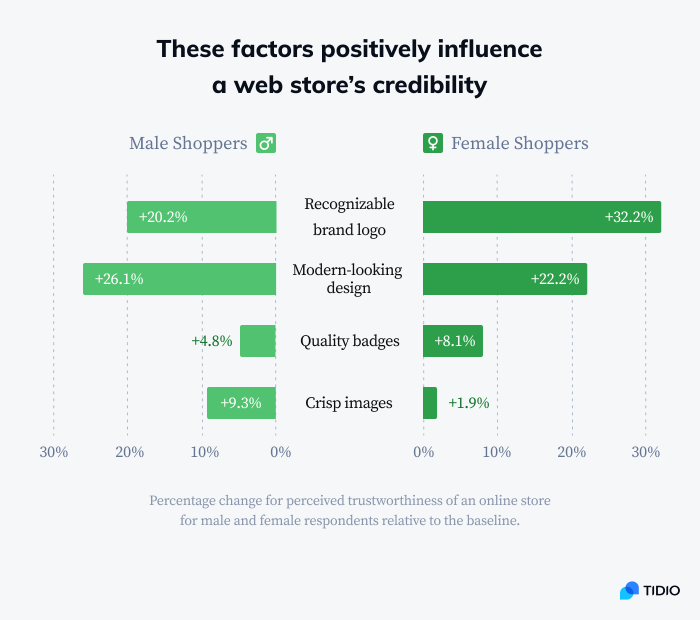 So, it's in your favor to upgrade the design of your website, earn some quality badges, and perform brand visibility activities to build your brand image online. These will all help you gain visitors' trust and close more sales.
It's also a good idea to collect testimonials for social proof of your company's credibility. People tend to trust ratings and reviews more than your landing page when it comes to judging your business.
You can also try to prepare two versions of your site. Then, run A/B testing to see which one performs best with your target audience.
5. Issues with the checkout process
Solution: Speed up the checkout process
The biggest frustrations customers have with the checkout process is that it's either too long or too complicated. And it's really bad when it's both.
So, this should go without saying, but let's put it down in black and white.
Make the process easy and quick for shoppers and you'll gain more sales. So, ask only for the necessary information, design the checkout in the clearest way possible, and don't include too many steps in the purchasing journey.
Just like Lego does it: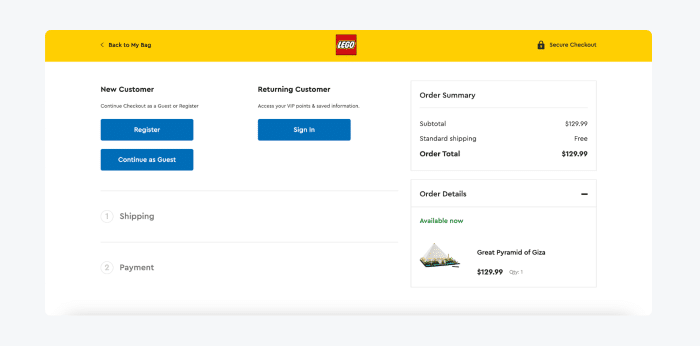 This company shows you the 3 steps you need to follow to purchase the product. They make it clear and simple and only ask for the necessary information like your contact details, delivery information, and payment method. You should try to base your purchasing process on this online store.
6. No total cost up-front
Solution: Be transparent
This relates to the first point on our list.
People prefer to know how much they're going to be paying for the product. So, tell your customers what's included and what isn't straight on the product page. And if you're not offering free shipping, it's a good idea to present the shipping price there as well.
This alone won't make them open up their wallets, but being honest and upfront with your buyers will increase the trustworthiness of your site. It can also improve your brand image and spread the word about your company. And there's no better marketing than word-of-mouth marketing.
Have a look at how Etsy does it: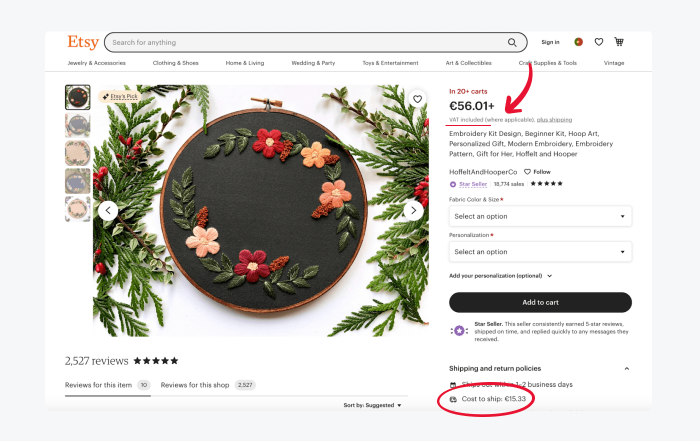 This ecommerce website shows visitors the price of the product and states whether the VAT is included in that cost. It also shows the shipment cost below to present the full picture to the potential buyer of how much they'll spend on the item.
7. Problems with the website
Solution: Update your website regularly
Let's face the facts here.
If your website loads too long, breaks, or is outdated, then your potential customers will turn to a competitor instead. People don't have the patience to wait for the website to load. They also don't want to receive outdated information or look at blurry pictures.
A recent report shows that more than 60% of outages cost over $100,000 and about 15% of outages cost more than $1 million. You don't want your business to lose this amount of money just because your ecommerce website is down.

And it's your job to ensure a good shopping experience.
So, run reports on your website, fix any issues that arise in a timely manner, ensure load times are fast, and keep the site updated at all times.
8. Unsatisfactory returns policy
Solution: Offer a clear and fair returns policy
You should revise your returns policy if your ecommerce site is experiencing too many online shopping cart abandonments. There's a very big chance that these two are related.
Why?
Because if you're not giving full refunds or not providing the returns packaging and shipping then clients will think twice before purchasing your products. And this leads to your ecommerce cart abandonment rate rising while the conversion rate is dropping.
People will also think that there's something wrong with your items as the lack of return options suggest you don't believe in their quality. So, put some trust in what you're selling and let people return items that they're not satisfied with.
Take a look at Zappos' return policy: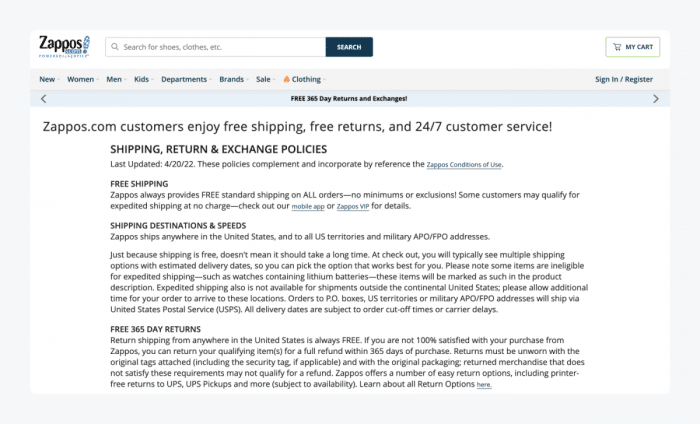 On the opposite side, when your returns policy looks more like the one Zappos offers, shoppers will feel safe and comfortable ordering from your online store. This can lead to a boost in your average order value and conversions.
Read more: Learn the best practices for ecommerce return policy and check out some examples that will help you write an effective one for your business.
9. Lack of payment options
Solution: Offer a number of payment methods
Online shoppers like to have options when it comes to payment. Some of them don't mind inputting their card details while others will leave if you don't offer Apple Pay. So, ensure your ecommerce store gives people a choice when it comes to the payment method.
Here are the most common payment methods used by customers: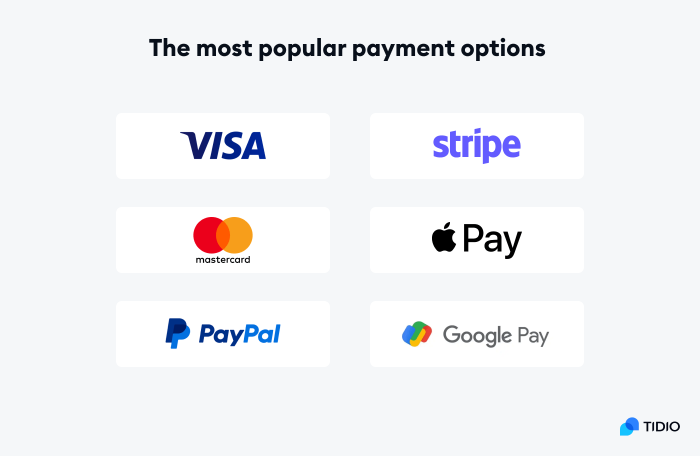 Consider adding all of them to your online store and you might be surprised how well they can work as an abandoned cart recovery method.
10. Declined card
Solution: Ensure your systems are up to date
Let's be realistic—there isn't much you can do in this situation.
But, you can give them a different ways of checking out. For example, install Klarna and let them pay in installments. This cart abandonment software includes a Buy now, Pay later option on your online store. It also helps shoppers split the payment for their purchase into a few installments.
This can help customers buy your products and enjoy them quicker while paying for their spending later. Sephora is one of the stores that offer this option for customers.
Okay, these are the most efficient ways to prevent buyers from leaving their baskets behind. But what about the recovery? What to do with shopping carts that were left behind and how to turn tables around?
Here are six effective cart abandonment solutions to get more sales.
Effective cart abandonment strategies
There are a few ways to reduce ecommerce cart abandonment. You can try providing a guest checkout option, improving the customer experience on your website, and delivering good customer service.
You should also make sure that your website is responsive and mobile-friendly, as a majority of ecommerce checkout drop-off occurs on mobile devices. According to a cross-device shopping cart abandonment study by Salesforce, as many as 84% of shopping transactions on mobiles end without a sale compared to 74% on desktops.
Let's discuss some of the best strategies to recover abandoned carts.
1. Use chatbots
You can collect cart abandonment feedback, give discounts, and motivate customers to complete their checkouts.
If you don't know why customers abandon their shopping carts, there is a simple way to find out—just ask them about it!
Of course, asking each of them personally and one at a time can be quite tedious. That's why if the customer doesn't complete the purchase you can trigger an automated chatbot. Here is an example of an abandoned checkout bot in action.
Another way that retailers can use chatbots to reduce the number of abandoned carts is by having them provide real-time assistance to customers.
Chatbots can help site visitors with choosing the right products, they can answer questions, or explain costs such as shipping charges. By providing assistance, chatbots can make customers more satisfied with their experience and more likely to complete their purchase.
Read more: Find out how an Italian atelier fashion ecommerce brand reduced the cart abandonment rates using live chat and chatbots combo.
2. Send cart abandonment emails
Cart abandonment emails are a common method of reducing online cart abandonment. You send them to remind customers about products they left behind and encourage them to finish their checkout. The email template goes out 3-5 days after an order was abandoned.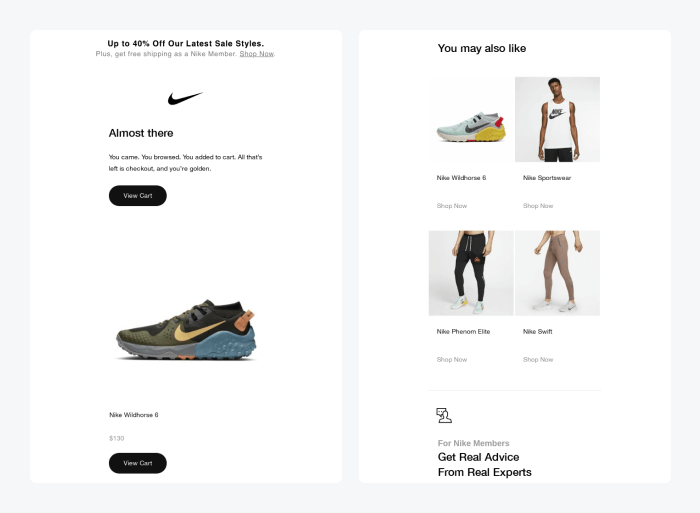 You can include links and a call to action to bring customers back to the site to complete their orders. It's also a good idea to give them a discount or a coupon code. Sometimes you can even use recovery emails as a cross-selling opportunity and suggest similar products.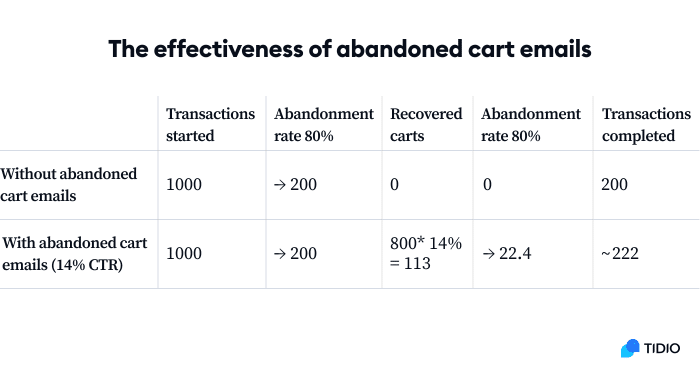 You can increase your open rate and CTR by experimenting with your abandoned cart email subject lines.
3. Add dedicated cart recovery plugins to your website
One of the biggest advantages of setting up online stores on Shopify or WooCommerce is that there are great apps and plugins for everything. And the problem of unpurchased shopping carts is no exception. There are almost 560 different Shopify abandoned cart recovery apps. Many of them are free, so you can explore them and choose the one that suits you best.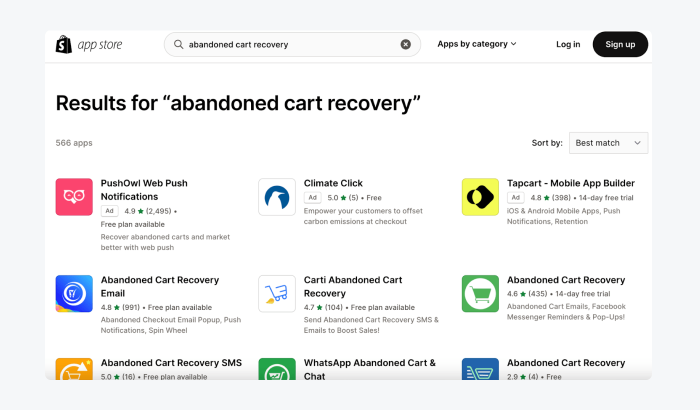 Abandoned cart software is a great way to reduce the number of shopping carts left unpurchased and increase your sales. They work by sending automatic reminders to users who have left their carts behind. Many of them also support Facebook Messenger, so customers can be reminded about what they left behind via messenger notifications instead of email messages. SMS notifications are also quite effective, with a recovery rate of around 16%.
If you are interested in other plugins that will increase your conversions, you can check out:
4. Collect feedback about your checkout page
Ultimately, checkout flow optimization is the best way to reduce shopping cart abandonment and improve your conversions. But it's hard to see that something is missing until someone tells you about it.
Do potential customers leave because they can't use payment methods like PayPal? Maybe they want to sign in with their social media account? Or maybe they want to use a discount code and don't know how to do it?
It's best to use tools that allow you to find answers to these questions and gather valuable customer feedback.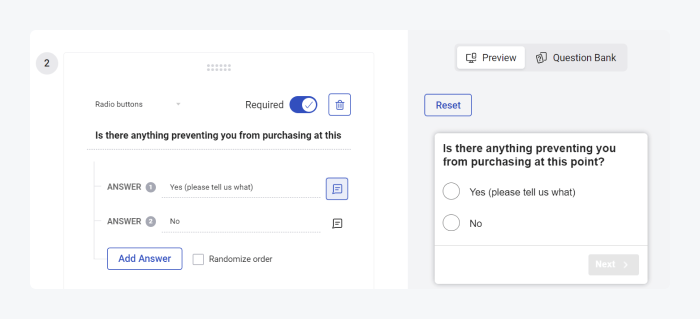 There are many apps, such as HotJar or Tidio that you can use to include pop-up ads and collect customer insights. Customer satisfaction surveys and questions about user experience will give you more information about the top reasons behind your checkout drop-off rate.
5. Offer live chat for shopping assistance
Live chat software is a customer service tool that allows retailers to communicate with shoppers in real time. It's a great way to answer questions, help customers through the checkout process, and reduce cart abandonment. Live chat is available on most ecommerce platforms, and there are many different live chat software providers out there.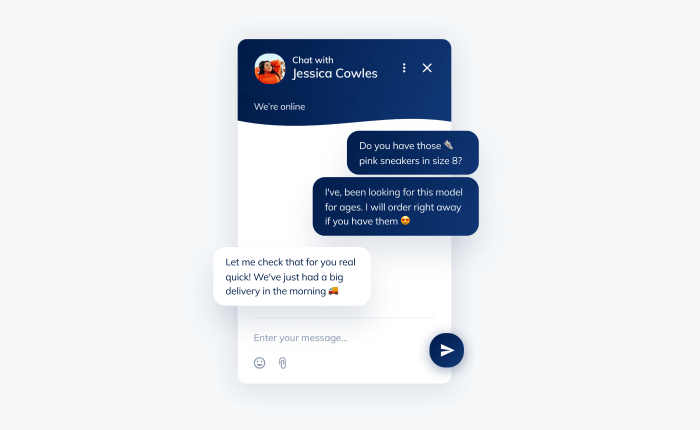 You can use live chat to offer special promotions, such as free shipping or discount codes. This can help you reduce abandonment rates and is especially useful for retailers who have an active social media presence.
For example, you can use Facebook live chat integration to connect your live chat and social media. Also, you can automate some of the messages with Facebook and WhatsApp chatbots.
6. Set up retargeting campaigns
Make the most out of Google Analytics cart abandonment reports for this. There, you can check where people drop off, the bounce rate on your site, and much more.
Sometimes first-time visitors need a little push to complete a purchase. If you have their contact details, then you can use email marketing to do it. However, if they didn't leave their email, then you can still use Google Ads or retargeting campaigns on social media.
For example, i you almost bought a tortilla press, then you can expect to see tortilla press ads on almost every single page you visit. These retargeted ads are usually powered by Google. And as an online business owner, you can use them too.
But be careful—paid marketing campaigns can be costly.
Remarketing campaigns should be precise and related to products that customers already had in their shopping cart. Retargeting all store visitors probably won't work because you're reminding these people about something they didn't want in the first place. They may not have even reached the point where they would decide what to buy.
Read more: Learn how to track your cart abandonment using Tidio.
Shopping cart abandonment: summary
That's all for today! But before we go, let's cover the main points one more time.
The main reasons for ecommerce cart abandonment are:
Unexpected high costs
Necessary account creation
Long delivery times
Untrustworthy website
Checkout issues
No total cost upfront
Website crashing
Unsatisfactory returns policy
Lack of preferable payment methods
Card declined
You can easily solve all these issues by working on your ecommerce website and improving it. For example, you can enable guest checkout, present all the prices on the product page, and work on your website's design.
These actions will help you prevent any future checkouts from being left unfinished. But, there are also strategies to push the person to complete their checkout if they left some products in their basket. The strategies include using chatbots, sending out recovery emails, and setting up retargeting campaigns.
Are you ready to boost your sales by recovering abandoned carts?
FAQs
What is shopping cart abandonment?
Shopping cart abandonment happens when a visitor places products in their basket but doesn't complete the purchase. Any products left behind in the shopping cart are considered abandoned because they didn't make it through the whole checkout process.
Why is shopping cart abandonment a problem for retailers?
Shopping cart abandonment is a problem for ecommerce stores because it represents lost sales. It's an important metric to track as it can help you spot any troubles with your website and signal the need for improvements in the user experience or the sales funnel.
How to reduce shopping cart abandonment?
To reduce abandoned carts you can:
– Be transparent about the fees
– Provide a number of delivery options
– Improve the website design
– Simplify the checkout process
– Work on your returns policy
– Enable guest checkout
– Add different payment methods 
How does shopping cart abandonment affect inventory?
It affects inventory because items in unpurchased carts limit the products' availability on your site for other potential customers. Sometimes a client is interested in purchasing an item from your ecommerce store but can't get access to it because the product is stuck in someone's basket. This presents the biggest problem if you offer limited stock. 
What are the damaging effects of shopping cart abandonment?
Some of the most damaging effects of shopping cart abandonment are:
– High customer acquisition costs
– Inventory management issues
– Lost customer lifetime value
– Inaccurate data
What percentage of online shoppers abandon their shopping carts?
Baymard Institute research shows that nearly 70% of all online shopping carts are abandoned by customers. This is very high considering if you're looking at 10 visitors that put items in their baskets, only three of them finish the checkout process. 
What is the dominant cause of shopping cart abandonment?
The dominant cause of shopping cart abandonment are unexpected costs. This brings the cost of the purchase to be higher than the customer expected and leads to them abandoning their carts. The costs include shipping fees, tax, and other additional fees that were not stated on the product's page. 
How to calculate the abandonment rate?
To calculate your cart abandonment rate:
– Get the number of all the finished transactions and divide it by the number of started transactions
– Subtract the quotient from 1
– Multiple that number by 100%