Are you looking for tips on how to provide excellent customer service and improve customer experience straight from your website and social media?
You might have heard that customer service chatbots are great helpers when it comes to these aspects.
However, some questions could still remain unanswered in your head.
What do customer service chatbots actually do? How can they help your business? What are the examples of companies that successfully use chatbots for support? And what chatbot service should you use for your website?
That's what we are here for.
Let's uncover all mysteries surrounding these great tools.
In this article:
Do you want to learn more about chatbots? Check out these articles:
Starting from the basics—
What is a customer service chatbot?
A customer service chatbot is computer software that simulates human communication via text chats in order to help businesses answer questions and requests.
Using artificial intelligence and machine learning, chatbots are programmed to assist website visitors and provide exceptional customer service.
They easily recognize common speech triggers of visitors on different stages of their customer journey and are able to provide relevant information without the need to involve human agents.
But are chatbots good for customer service, anyways?
The short answer is yes. The longer one will require us to present some of the biggest advantages of AI chatbots for customer service that businesses can benefit from.
Read more: Explore various chatbot types and learn more about the best use cases for your business.
Benefits of chatbots for customer service
A customer service bot can do a lot. It's a powerful tool to engage website visitors, improve lead generation, answer FAQs, and much more. Additionally, customer service bots are available 24/7 answering real-time requests, can speak multiple languages, and often don't require any coding skills to install.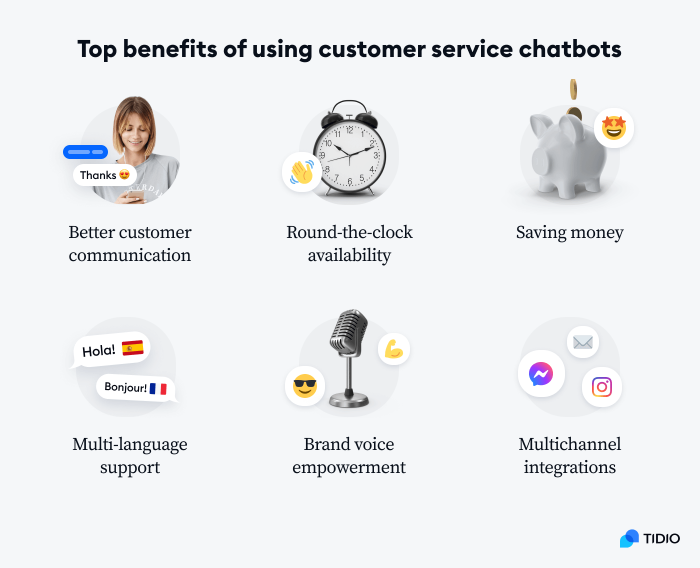 So—
How can chatbots improve customer service?
Chatbots provide better customer communication
With artificial intelligence becoming more and more advanced, bots are starting to be exceptionally fast learners.
An AI bot is able to collect relevant data about customers and use it to improve customer satisfaction of your shoppers. Personalized and targeted support combined with fast response times and low wait times is a sure way to generate more leads and improve the overall user experience.
Customer service bots are available round the clock, everywhere
Modern-day customers are busy and demanding. They want to get answers to their questions quickly and sufficiently.
The good news is that, unlike a human support team, bots do not have to sleep—they are available 24/7 and can send instant replies to the customers' inquiries. Such efficient communication is a sure way to convert website visitors into paying customers.
Customer service chatbots save your business a lot of money
Not only does chatbot customer service boosts your sales, it can also save your brand some money. How?
Well—first of all, installing a chatbot for customer service is always much cheaper than employing and training a team of customer service agents. Many chatbot builders and chatbot templates are available free of charge.
Moreover, Business Insider Intelligence report estimates that global retail consumer spending via chatbots will reach $142 billion by 2024. Sounds impressive, doesn't it?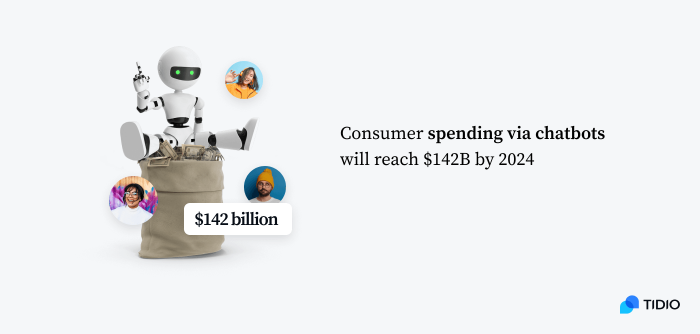 Read more: Check out this case study by Tidio on how support automation led to a $100K/year side business.
Customer service chatbots speak multiple languages
In the modern world, breaking down the language barriers is more important than ever. It's partly because, according to statistics, 75% of customers prefer to shop in their own language. And nobody wants to lose potential customers because of frictions in customer interactions.
Great news for companies is that AI customer service chatbots running on NLP (natural language processing) technology are able to easily understand different languages and respond to visitors accordingly.
Customer service bots give your brand a unique voice
Every business wants to stand out from its competitors, and customer support chatbots are great helpers in this venture. Well-designed bots make your brand more human and give people a feeling they are engaging with something more than simply a robot.
What's more is that adding a bit of personality to a bot is a sure way to attract more visitors to have a chat with your bot. In fact, our chatbot personality study revealed that as many as 53% of consumers build positive associations around brands whose bots use quick-witted comebacks. By knowing what the customer needs and how to provide it to them, a customer service bot can take your brand loyalty to the next level.

Customer service chatbots come with multiple integrations
It doesn't matter what platform your website operates on—Shopify, Wix, WordPress, or WooCommerce. There are definitely plenty of solutions available for you to choose from.
On top of that, a chatbot doesn't have to be present only on your website. There are Messenger, Whatsapp, and Instagram chatbots that can help you to stay in touch with your shoppers at all times and help customers whenever they need support.
But which chatbot providers offer the richest array of features? Let's find out.
Best chatbots for customer service
Now that you know about all the perks of having a chatbot, let's check out the top customer support bots on the market.
Now, a bit more in-detail—here are the in-depth reviews of the best chatbots for customer support to help you choose your perfect tool: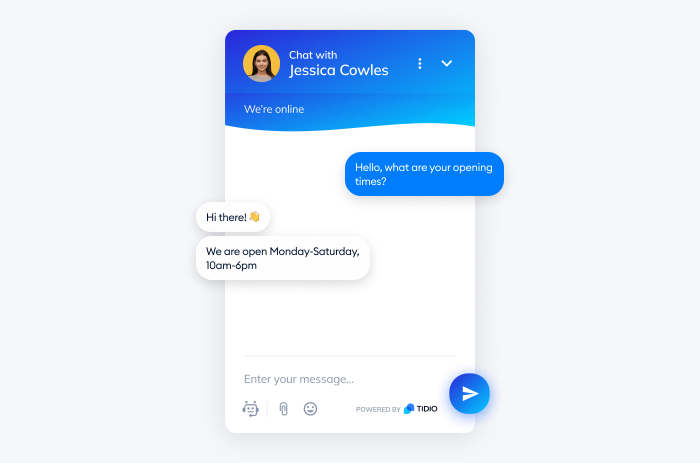 Rating: 4.7/5⭐️(1,310+ reviews)
This is one of the best customer service chatbot service for ecommerce on the market. Tidio is a versatile all-around communication platform that includes chatbots and a live chat feature. It also has dedicated integrations with all major ecommerce platforms and comes with a no-coding chatbot builder.
Key features:
Integrations with Instagram, Zapier, and Facebook
Over 30 chatbot templates to choose from
FAQ chatbots one can optimize for any business type
More than 17 different triggers
Easily personalized and customized widgets that blend in with the look of any website
An iOS and Android mobile app
Freemium version available
Communicator ($19/mo/operator)
Chatbots ($39/mo)
Tidio+ (starting at $289/mo)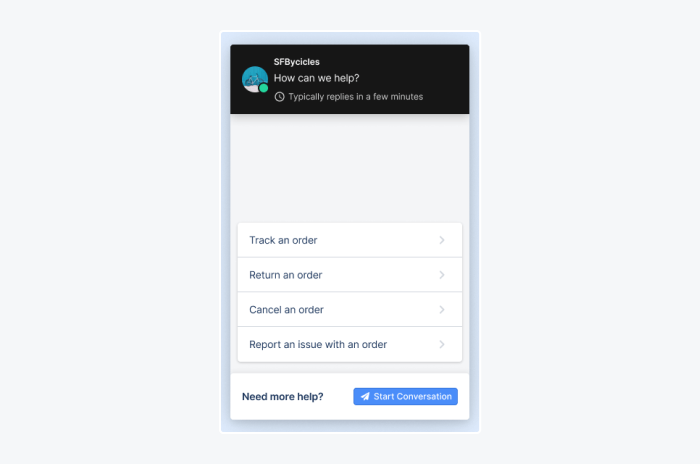 Rating: 4.6/5⭐️(480+ reviews)
Gorgias is a good option for medium-sized businesses as it combines a Shopify chatbot tool and a ticketing system. It's a useful tracking and segmentation tool that allows companies to offer a more personalized approach to their customers.
Pros:
30+ integrations, including those with messaging platforms and social media
Chatbot history view
Intent and sentiment detection
Tracking updates
Cons:
Focuses mainly on ecommerce
Limited reporting features
Basic ($60/mo)
Pro ($300/mo)
Advanced ($750/mo)
On-demand (Custom price)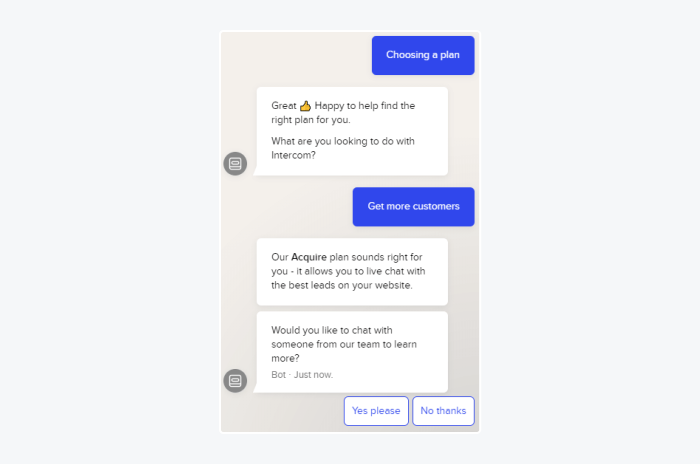 Rating: 4.4/5⭐️ (2,420+ reviews)
This customer service AI chatbot solution offers in-chat surveys for customer feedback collection, tracking customer interactions, and automatically sorting visitors into categories. It also lets you add rules to your support funnel for a better workflow automation. Intercom provides tools that will help your business improve customer interactions and experiences.
Pros:
Various chatbot templates
Workflow monitoring and reporting
Customer satisfaction surveys
Multilingual chatbots available
Cons:
Difficult to use with a steep learning curve
Content organization into folders not possible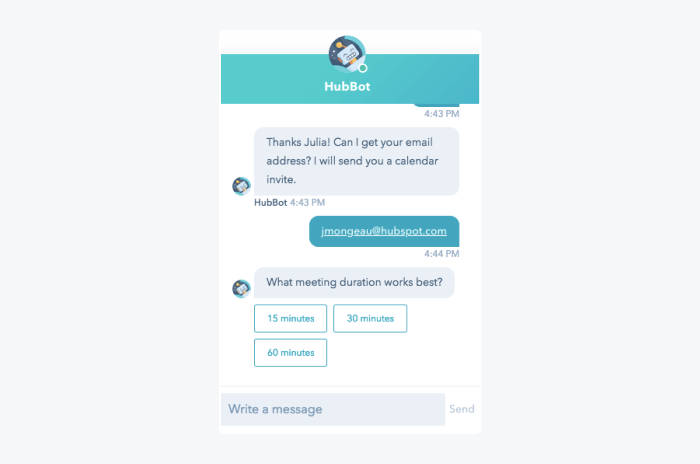 Rating: 4.4/5⭐️(1,610+ reviews)
HubSpot primarily offers a marketing and sales software to help your business grow your sales and number of subscribers. It provides a CRM system to keep track of your customer communications and organize your interactions better. This customer service chatbot platform gives you a great suite of tools to help you with marketing, sales, and client support.
Pros:
Visitor tracking
Well-organized and easy to navigate user interface
Shared inbox
Various integrations, such as HhubSpot CRM, Zapier, Gmail, etc.
Cons:
Limited analytics
Knowledge base can be difficult to set up
Free version available
Starter ($45/mo)
Professional ($450/mo)
Enterprise (Starts at $1,200/mo)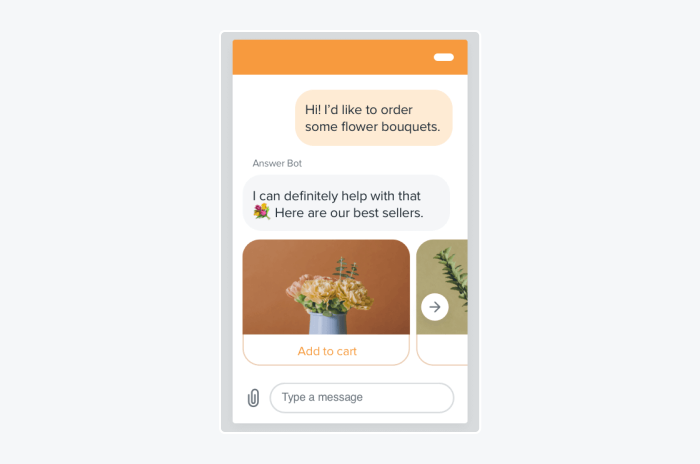 Rating: 4.3/5⭐️(5,280+ reviews)
Zendesk provides companies with a cloud-based solution with agent role permissions, web SDKs, and operating hours. You can put this tool on any channel you like email, social media, WhatsApp, and more. This customer service chatbot for websites is easy to use and offers useful features for sales, branding, and marketing as well as the support team.
Pros:
Advanced reporting and analytics
Offline pre-chat forms
Real-time preview of website visitors
Multilingual support
Cons:
Few data transfer issues reported
Navigation and system layout need improvements
Suite Team ($49/agent/mo)
Suite Growth ($79/agent/mo)
Suite Professional ($99/mo)
Top 5 customer service chatbot examples
So—
Now you know all about how cool it is to have a chatbot for customer service.
However, you might think: are there any big brands that are actively using AI customer service bots? And the answer is yes!
Here are some examples of popular brands' chatbot use cases.
Spotify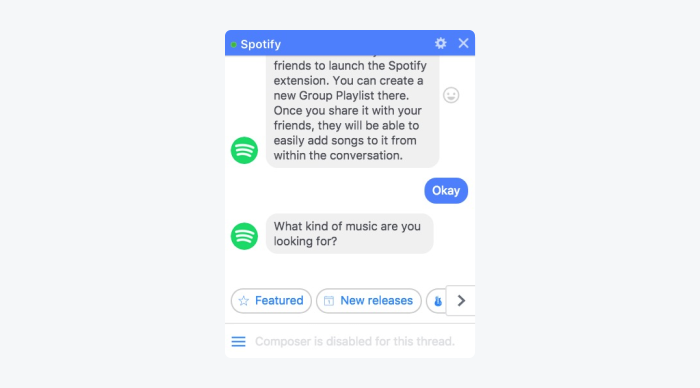 Spotify has launched a Messenger chatbot that helps customers search for and share music. Users can find songs and send 30-second audio clips on the chat or full songs on Spotify's app to their friends. This AI customer service chatbot can assist you in making your playlist and give music recommendations based on your mood, genre, and the activity you're doing at a particular moment.
Sephora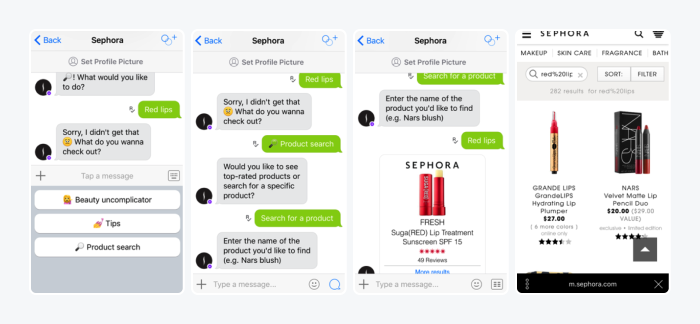 The Sephora chatbot is trained to give customers makeup recommendations, tutorials, and tips regarding their cosmetics. It's called Ora and the bot is dedicated to millennials. This AI chatbot for customer service is available 24/7 to answer support questions about the frequent shopper points, product availability, order tracking, and more. It also readily provides product reviews and ratings to help you with your shopping.
Mastercard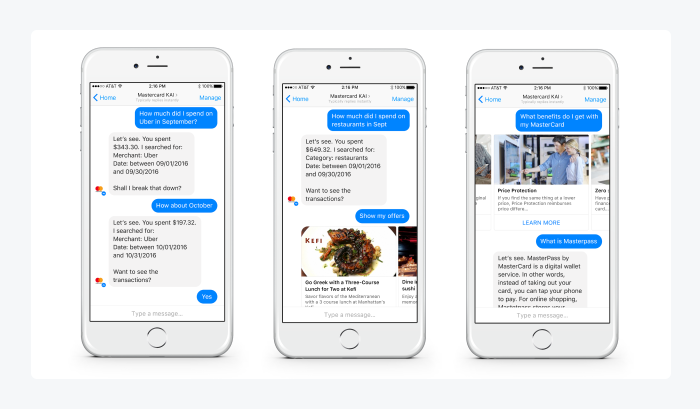 Mastercard has a Facebook Messenger chatbot for customer support that allows customers to track their credit card transactions easily. It can also help users review account information, answer questions about the accounts, and provide information about the cardholder benefits. This AI customer service bot also provides purchase history, monitors spend levels, and even helps with the financial literacy of its users.
Starbucks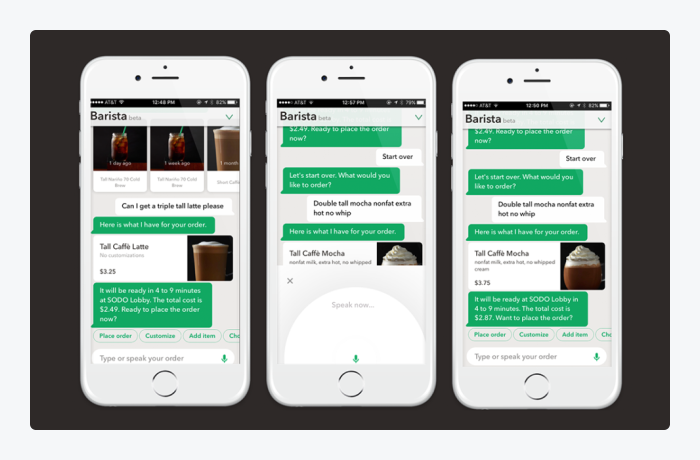 Starbucks customer service chatbot allows users to simplify the process of ordering their drink. How? The bot guides the shopper through the steps of placing an order either via text or voice. It supports natural language processing, completes the payment process with the linked credit card or gift card, and sends a request to a nearby coffee shop to be made. Once the drink is ready for pickup, the customer service AI chatbot sends a notification to the client.
Lyft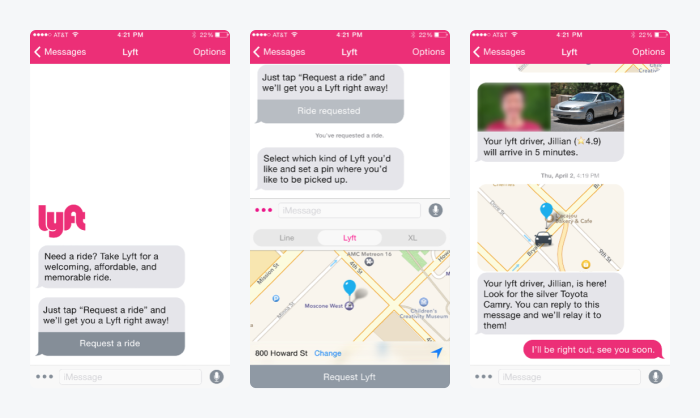 Chatbots seem to be a logical solution to ensure a great level of customer experience when it comes to taxi providers like Lyft. This chatbot customer service allows users to request a ride, track the driver, and see the picture of the car and its license plate. It even helps with customer service questions and deals with complaints, which allows shoppers to get their issues solved quicker, without the need to deal with a customer support number.
How to build a customer service chatbot?
The good news is that many chatbots require zero coding skills to build and install them. Additionally, many of them can be added to a website in less than 5 minutes. Sounds too good to be true? Let's check out the necessary steps for building a customer service chatbot for your website: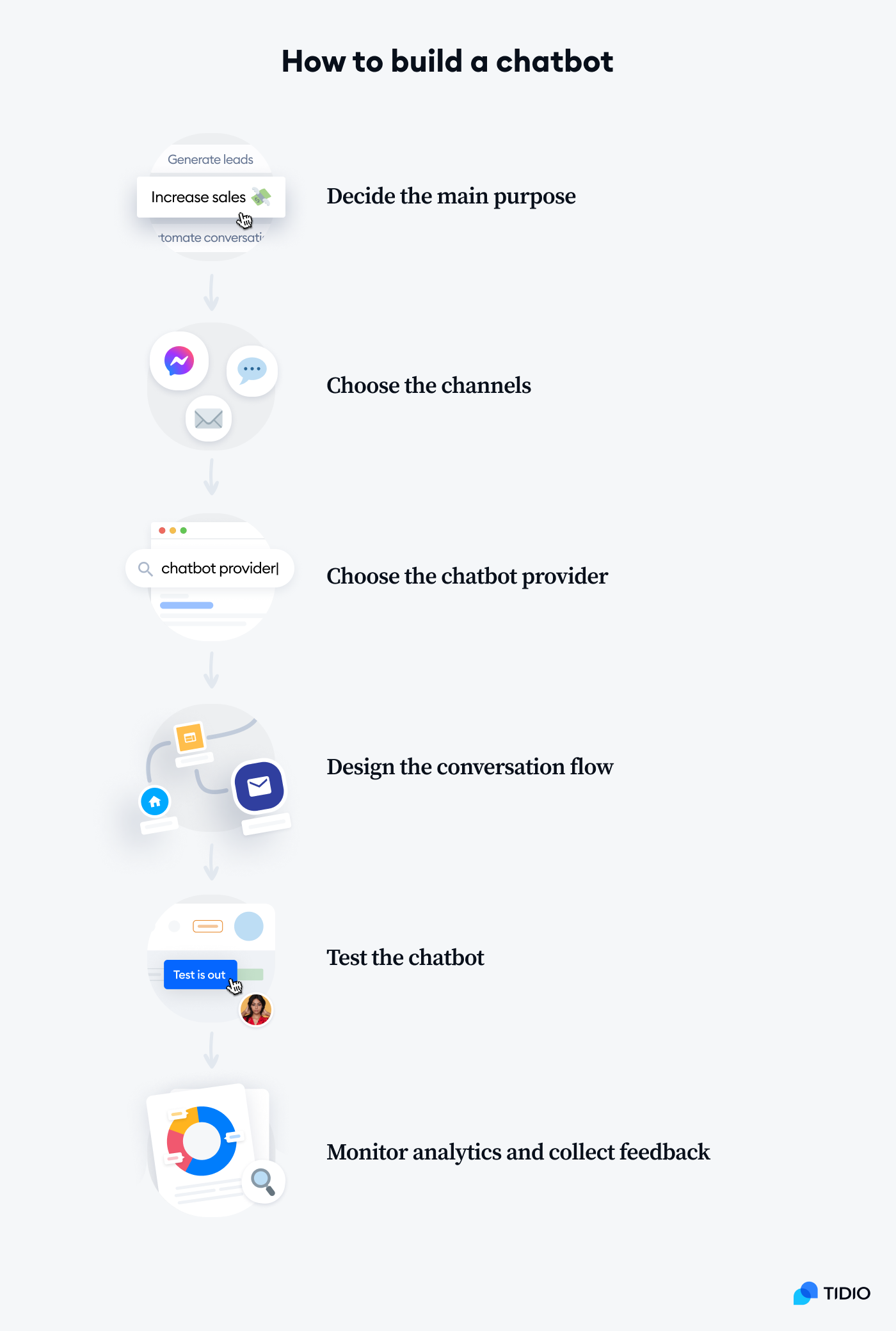 Decide the main purpose of your chatbot
It's crucial to identify what you want your conversational AI to do and be as specific as possible. This could be for the bot to greet new visitors, recover abandoned carts, or answer questions about shipping and returns. This will help you to narrow down the features you need, specify the functionality of the bot, and decide how you should customize the bot.
Choose the channels you want to use
Do your customers mainly contact you on your website, or are they active Instagram users? What about Messenger or WhatsApp? Think about what your target audience uses and choose a customer service chatbot that has the appropriate integration.
Pick your customer service chatbot provider
Take all important factors into account and choose your ideal chatbot solution. The good thing is that many services (like Tidio, for example) come with a free plan, so you don't need to pay before you try and find your perfect customer support tool.
Design your conversation flow in a chatbot builder
Log in to the chatbot builder of your choice and design the triggers you want your chatbot to recognize. For instance, if you want the chatbot to activate on a specific landing page, start with a Visitor opens a specific page command. Write the message you want your bot to send and add a decision command with quick replies.
It's crucial to double-check if everything is running as smoothly as possible. When building a Tidio chatbot, you can click the Test it out button and see a live preview of your chatbot as customers see it. Check the conversation flow and correct it if necessary.
Monitor chatbot analytics and collect user feedback
In order to consistently provide an excellent support experience with your customer service chatbots, it's vital to always measure how your tool is performing and be ready to implement necessary changes based on feedback and analytics. So, decide on the metrics to use and keep an eye on them at all times.
Read more: Discover how to create a chatbot from scratch in 8 easy-to-follow steps.
Tips to scale your business with customer service bots
After the installation, you might be wondering what you can do to make your chatbot even more efficient at helping your customers. We got your back—read on for the tips and tricks: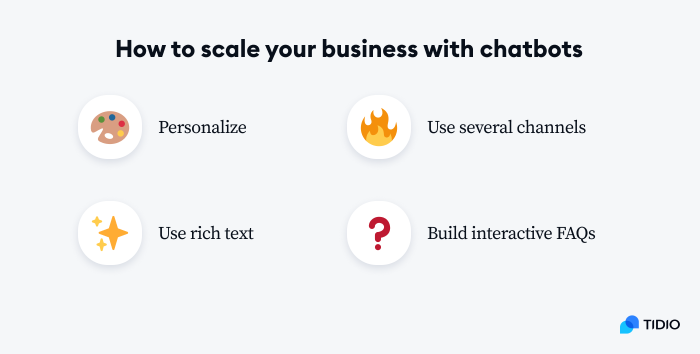 Personalize the communication
Our study on chatbot statistics reveal that customers love feeling special and seeing that a business is customer-centric. In fact, those companies that are client-centric are reported to be 60% more profitable than the rest!
So, if your support bots can provide people with the feeling of uniqueness, you are in for success. Make sure to program your chatbots to imitate human interaction. This includes greeting your visitors by name, adjusting to their tone of voice, and talking on behalf of your company in the unique brand voice.
Use a multichannel approach
As mentioned before, it's crucial to figure out what channels your target audience is using. The chances are high that you have a few segment groups that use different communication channels for different purposes.
The solution to this issue is simple: use an omnichannel customer service approach. Combining stellar AI-powered support on your website and messaging apps will help you win the loyalty of your customers.
Build interactive FAQs
It's a good idea to ensure that your chatbots are ready to answer any FAQs your customers might have. This way, they won't have to visit the FAQ page and scan it themselves, and communication will be much more efficient.
In fact, about 74% of shoppers prefer using AI chatbots for customer service when asking FAQs and simple questions. Bots are easy to use, find the answers for the user, and are quick in responding to customer questions. What not to like about them?
Use rich text and content
Rich text and content supports different text formatting, like italics, bold text, and underlining. It's more engaging to read text in different formats, font sizes, and colored text than just plain writing, wouldn't you agree?

And customers love seeing it too! It adds to how much a company cares about communication. Using rich text with different elements as well as images and GIFs makes the conversation more interactive, discouraging the visitors from closing the page.
Final thing—where do humans win, and where do chatbots claim the throne?
Human vs chatbot for customer service
In other words: should you get a bot for customer support or stick to human representatives?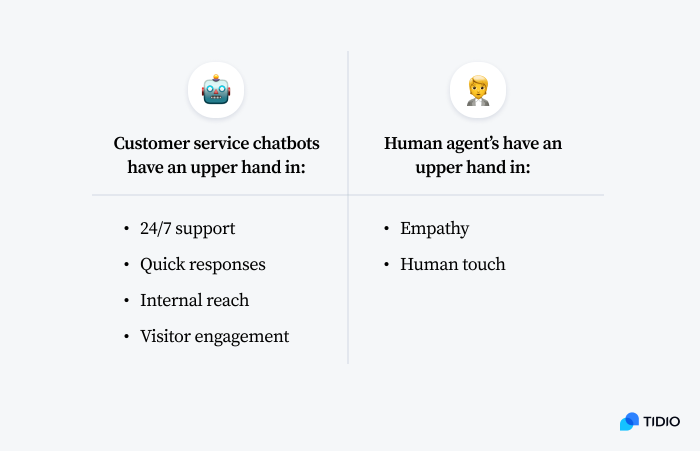 Let's try to keep that one short. You should add a chatbot for customer service to your website if:
You have a growing business with an increasing number of customer service queries
Your support tickets are outgrowing your team's capabilities
You want to provide a 24/7 service to your shoppers
You can an international business
You want to improve engagement with your website visitors
I think we can agree that a chatbot in customer service brings many benefits and can help your live agents streamline some of their tasks. But, sometimes a human touch goes a long way, and it's exactly what your clients need. In that case, human representatives win.
So, chatbot customer service might not be the best choice for your business if:
You have a starting up business that needs human interactions with its customers
Your business requires a human touch when it comes to customer service
You know your company and your clients best. What do you think your business needs most? This is a crucial question to answer before adding a customer service AI chatbot for the website. But if you're not sure, then choose a platform with a free plan, set up some bots, and find out if they deliver the results you are looking for. And if you want to explore the subject in-depth, have a look at our guide to customer service automation.
Customer service bots: key findings
So, let's review what we've learned:
A customer service chatbot is an AI-powered computer program that is aimed at helping businesses provide stellar customer support
Chatbots for customer service provide better communication, are available 24/7, save a lot of money, and give a brand its unique voice, among many things
There are lots of customer service bots to choose from, depending on the size of your business and your purposes
Using a well-trained customer service chatbot is becoming a must—many big brands like Starbucks, Sephora, or Mastercard use them
Building a chatbot can be done in a couple of easy steps without any coding skills
A customer service chatbot is a great way to scale your business if you put effort into personalization, and take an omnichannel approach to your business communication
It seems like customer service chatbots are here to stay. Moreover, they are becoming a golden standard for a business. It could be exactly the time to install one.