Imagine having an instant helper ready to support customers 24/7. This assistant doesn't need sleep and is able to respond to any questions right away.
You guessed it—we're talking about customer service chatbots.
From answering consumers' queries to swiftly solving issues, these virtual agents are continuously changing the game of client service and improving user experiences.
But what can you do to make them work for your specific business needs?
Join us as we dive into the topic of a customer service chatbot and showcase how you can use it to supercharge your interactions with clients.
In this article:
Do you want to learn more about chatbots? Check out these articles:
First things first—
What are customer service chatbots?
A customer service chatbot is an automated conversational tool powered by artificial intelligence (AI) that engages in conversations with clients. It enhances customer support by providing assistance, answering questions, and resolving issues efficiently. These chatbots can be integrated into various communication channels like websites, messaging apps, and social media platforms.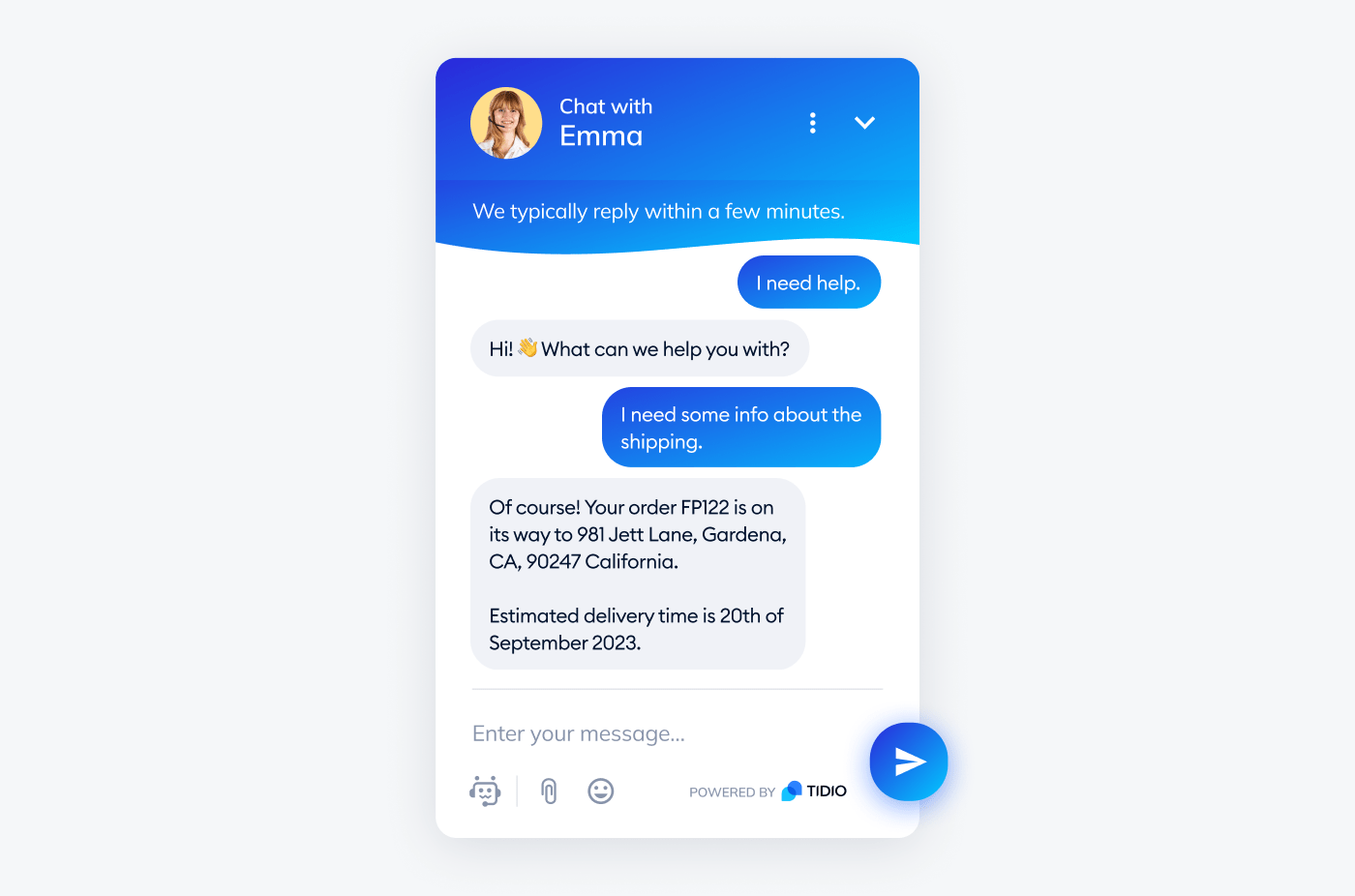 Also, they easily recognize common speech patterns of visitors at different stages of their customer journey. Moreover, they're able to provide relevant information, freeing up human support agents to handle more complex tasks.
Now, you should note that there are two types of bots most commonly used in customer service: rule-based and AI-powered bots.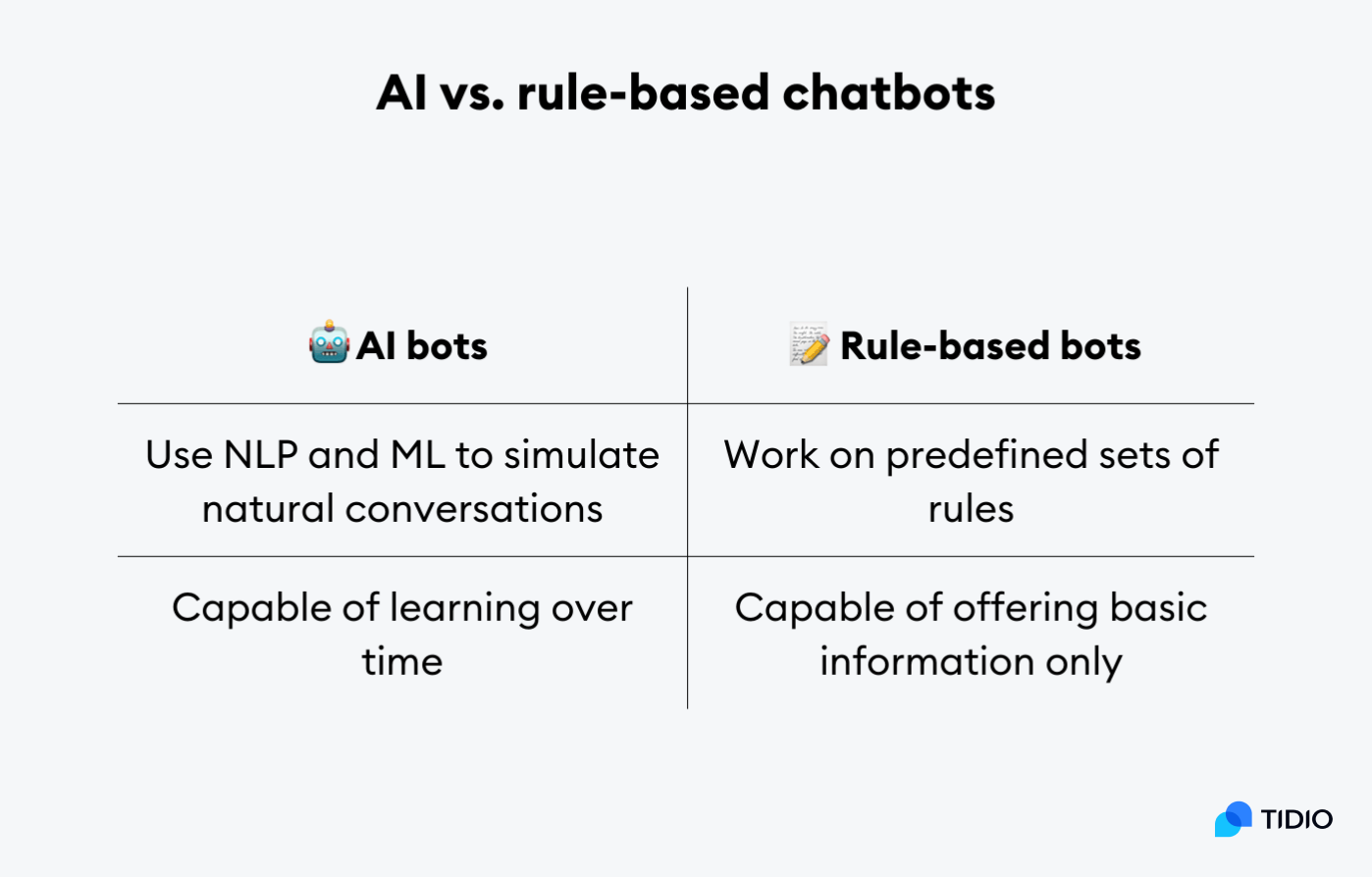 Rule-based bots are particularly useful for handling predictable customer requests, queries, or tasks. That's because they operate based on predefined sets of rules and decision trees. They excel at providing quick responses to frequently asked questions, offering basic information, and guiding users through simple processes.
On the other hand, AI chatbots leverage advanced technologies like natural language processing (NLP) and machine learning (ML) to simulate human-like interactions. AI-powered bots can learn from interactions over time, becoming skilled at understanding context and user intent, which makes them ideal for addressing a wide range of customer needs and resolving more complex issues.
Tidio's Lyro is a great example of such a bot. It's capable of learning from previous conversations and delivering human-like answers within seconds.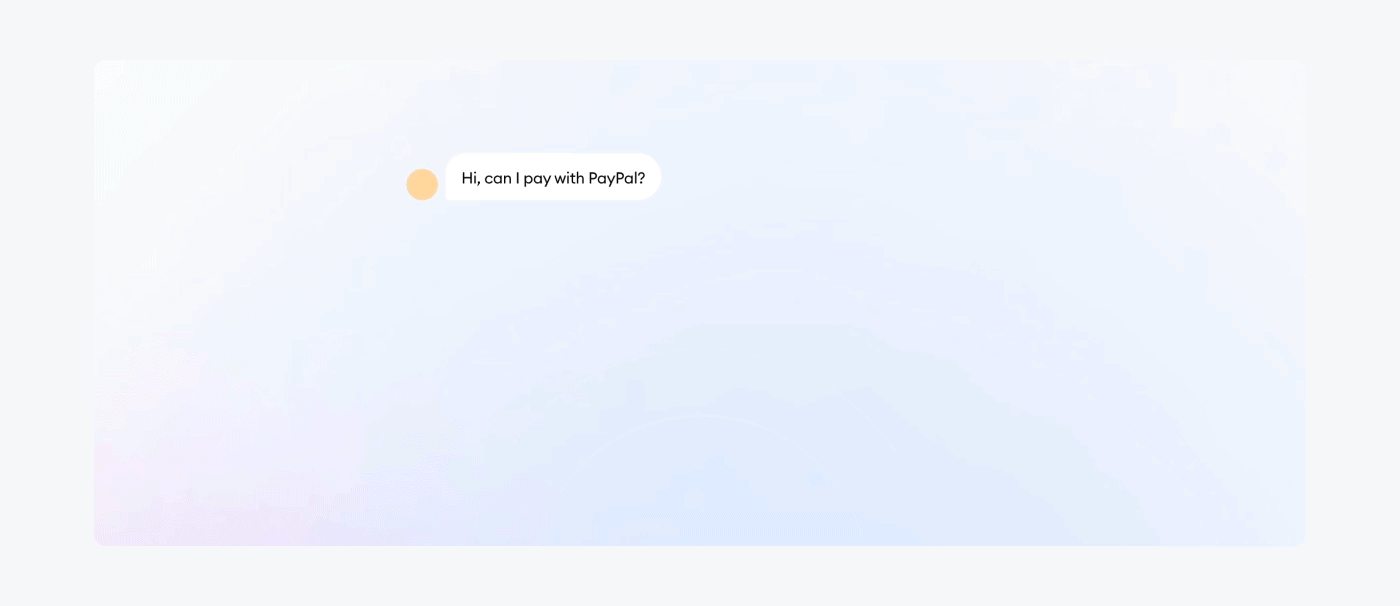 Read more: Explore various chatbot types and learn more about the best ways you can use them for your business.
Now you're more familiar with how these virtual customer service assistants work. But are they really capable of replacing humans?
The short answer is—yes.
The longer one will require us to analyze some of the core differences between human and chatbot customer service.
Humans vs. chatbot for customer service
So, here's the question—
Should you get a bot for customer support or stick to human representatives?
Well, it all depends.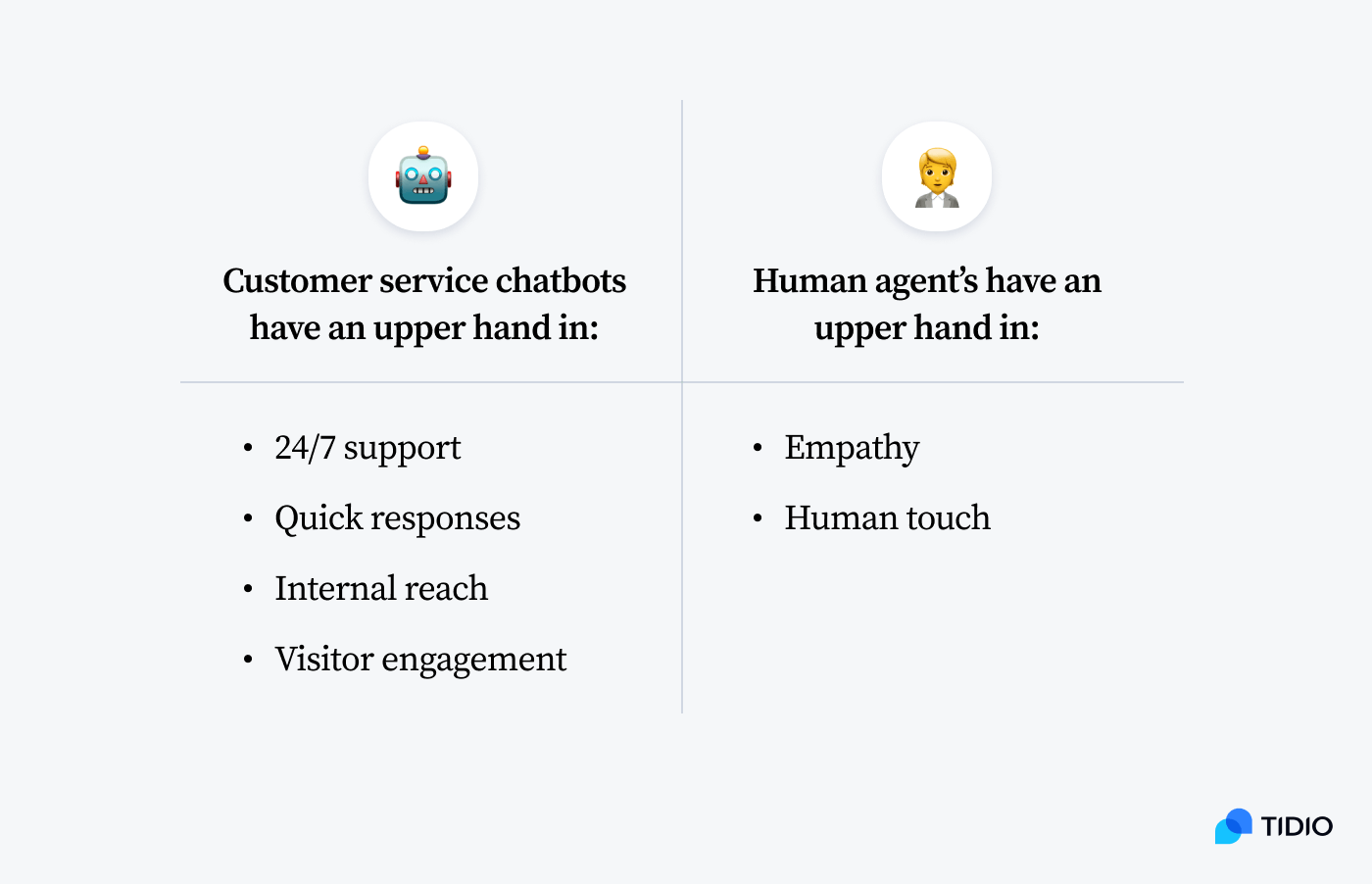 Let's try to keep this one short. You should add a chatbot for customer service to your website if:
You have a growing business with an increasing number of customer service queries
Your support tickets are outgrowing your support teams' capabilities
You want to provide a 24/7 service to your shoppers
You want to improve engagement with your website visitors
Now, while a chatbot in customer service can obviously help your live agents streamline their tasks, sometimes a human touch goes a long way.
So, chatbot customer service might not be the best choice for your business if:
You have a startup business that needs human interactions with its customers
Your business requires a human touch when it comes to customer service
You know your company and your clients best. What do you think your business needs most? This is a crucial question to answer before adding a chatbot for customer service to your site.
Now you know the basics of how customer service bots operate. But what are the true benefits they can bring to your business?
Let's explore this in more detail.
Benefits of chatbots in customer service
A customer service bot can do a lot. It's a powerful tool to engage website visitors, improve lead generation, answer FAQs, and much more. Additionally, these bots are available 24/7, can speak multiple languages, and often don't require any coding skills to install.
So, here are the top advantages of using these bots for customer service: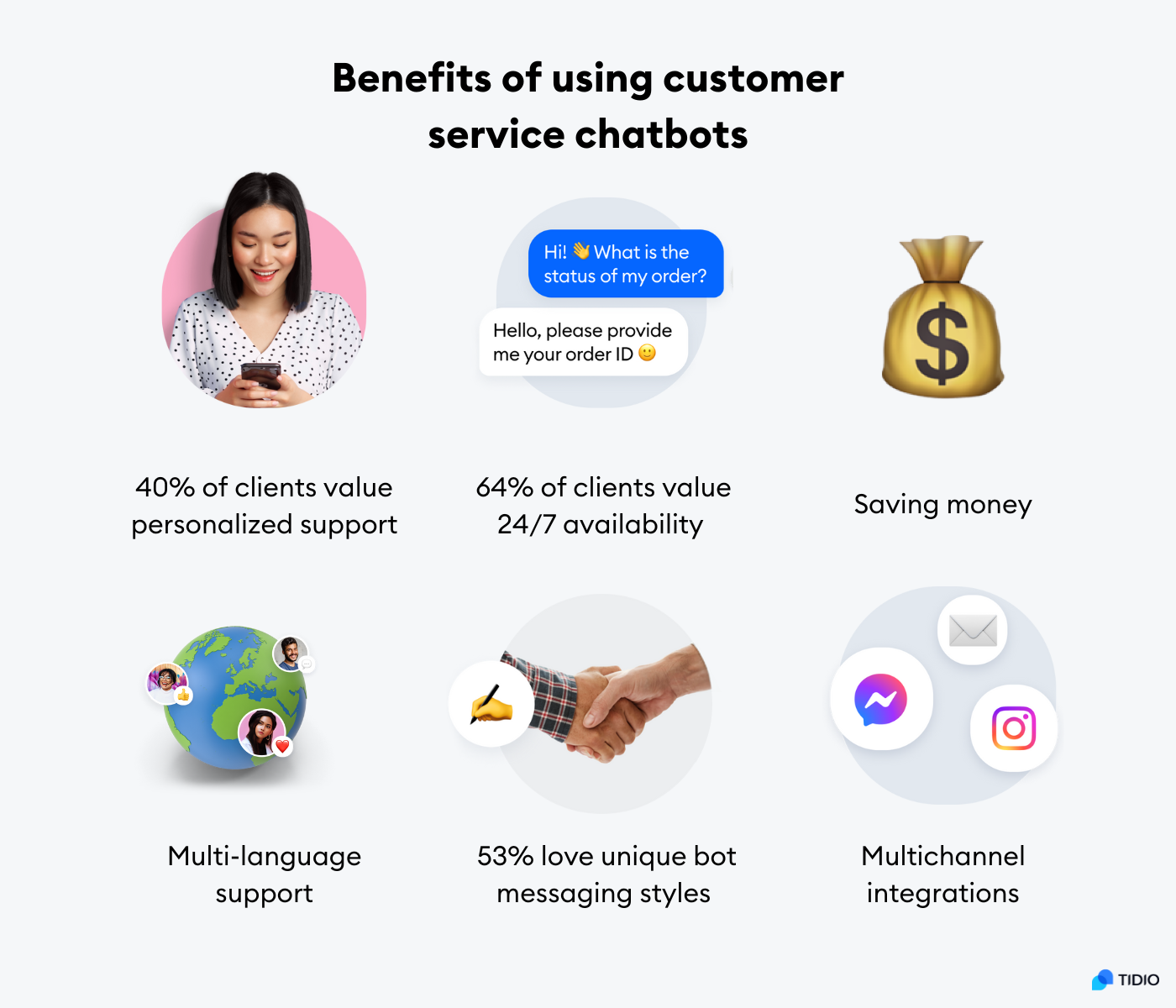 They provide better customer communication
With artificial intelligence becoming more and more advanced, bots are starting to be exceptionally fast learners.
An AI assistant is able to collect relevant data about customers and use it to improve customer satisfaction of your shoppers. Personalized and targeted support combined with fast response times and low wait times is a sure way to generate more leads and improve the overall experiences of users. In fact, as many as 40% of people will spend more than planned after a highly personalized client experience!
Read more: Check out different tips and strategies you can implement to improve your customer relationship.
Customer service bots are available round the clock, everywhere
Modern-day customers are busy and demanding. They want to get answers to their questions quickly.
The good news is that, unlike a human support team, bots don't have to sleep—they're available 24/7 and can send instant replies to customers' inquiries. Such efficient communication is a sure way to convert website visitors into paying customers. And the fact that a whopping 64% of consumers think that bots' 24-hour service is one of their top benefits is further proof of that.
They save your business a lot of money
Not only does a customer service chatbot boost your sales, but it can also save your brand some money. How?
Well—first of all, installing a CS bot is much cheaper than employing and training a team of customer service agents. And many chatbot builders and bot templates are even available free of charge.
Moreover, the Business Insider Intelligence report estimates that global retail consumer spending via bots will reach $142 billion by 2024. Sounds impressive, doesn't it?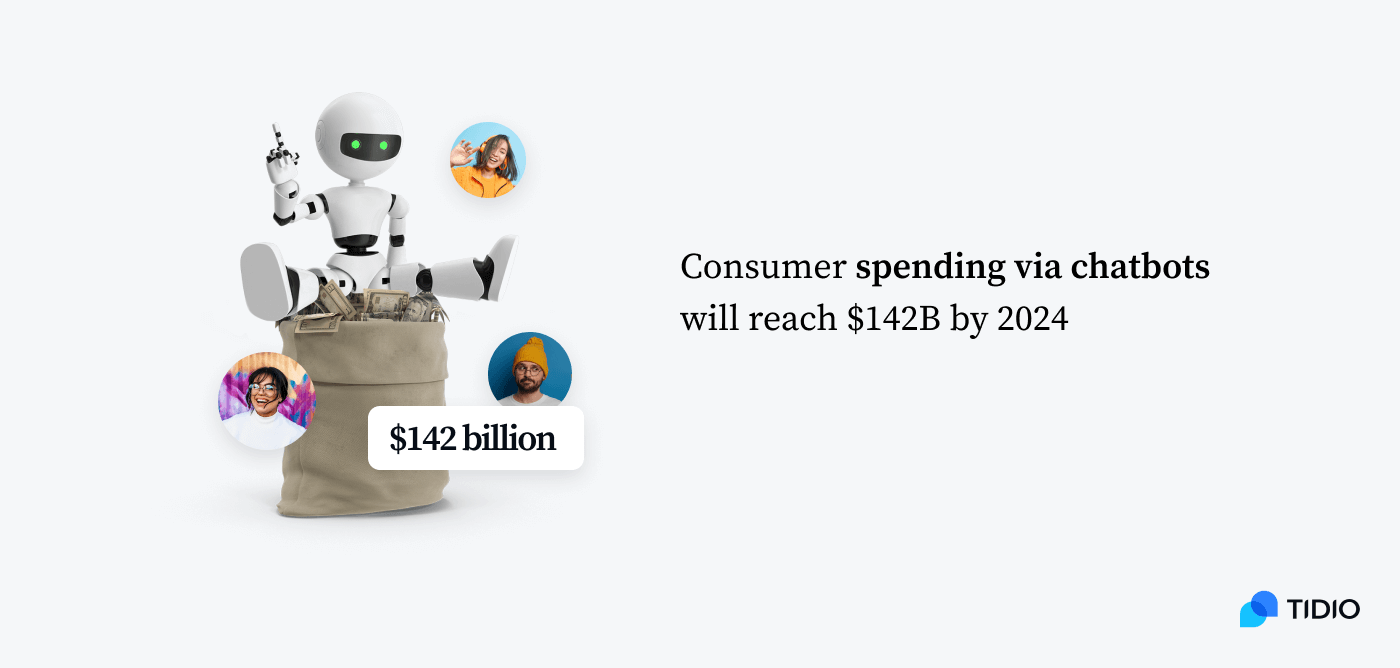 Read more: Check out the Lyro case study to learn how this powerful AI assistant helped Tidio's support team automate 58% of their conversations.
Customer service bots speak multiple languages
In the modern world, breaking down language barriers is more important than ever. According to statistics, 75% of customers prefer to shop in their own language. And nobody wants to lose potential customers because of friction in client interactions.
The great news for companies is that AI customer service chatbots running on natural language processing technology are able to easily understand different languages and respond to visitors accordingly.
They give your brand a unique voice
Every business wants to stand out from its competitors, and a chatbot for customer support is a great help in this venture. Well-designed NLP bots make your brand more human and give people a feeling they are engaging with something more than simply a robot.
What's more, adding a bit of personality to a chatbot is a sure way to attract more visitors to interact with it. In fact, our chatbot personality study revealed that as many as 53% of consumers build positive associations around brands whose bots use quick-witted comebacks. By knowing what clients need and how to provide it to them, this type of virtual service can take your brand loyalty to the next level.

They come with multiple integrations
It doesn't matter what platform your website operates on—Shopify, Wix, WordPress, or WooCommerce. There are definitely plenty of solutions available for you to choose from.
On top of that, a bot doesn't have to be present only on your website. There are Facebook Messenger, Instagram, and WhatsApp chatbots that can help you stay in touch with your shoppers at all times and help customers whenever they need support.
Okay—
It's clear what the key benefits of using bots for customer service are.
So, it's time to check out what these chatbots look like in action.
Real-life examples of best customer service chatbots
So—
Are there any big companies that are actively using customer service bots?
The answer is yes, of course.
Here are some popular brands' chatbot use cases for customer service.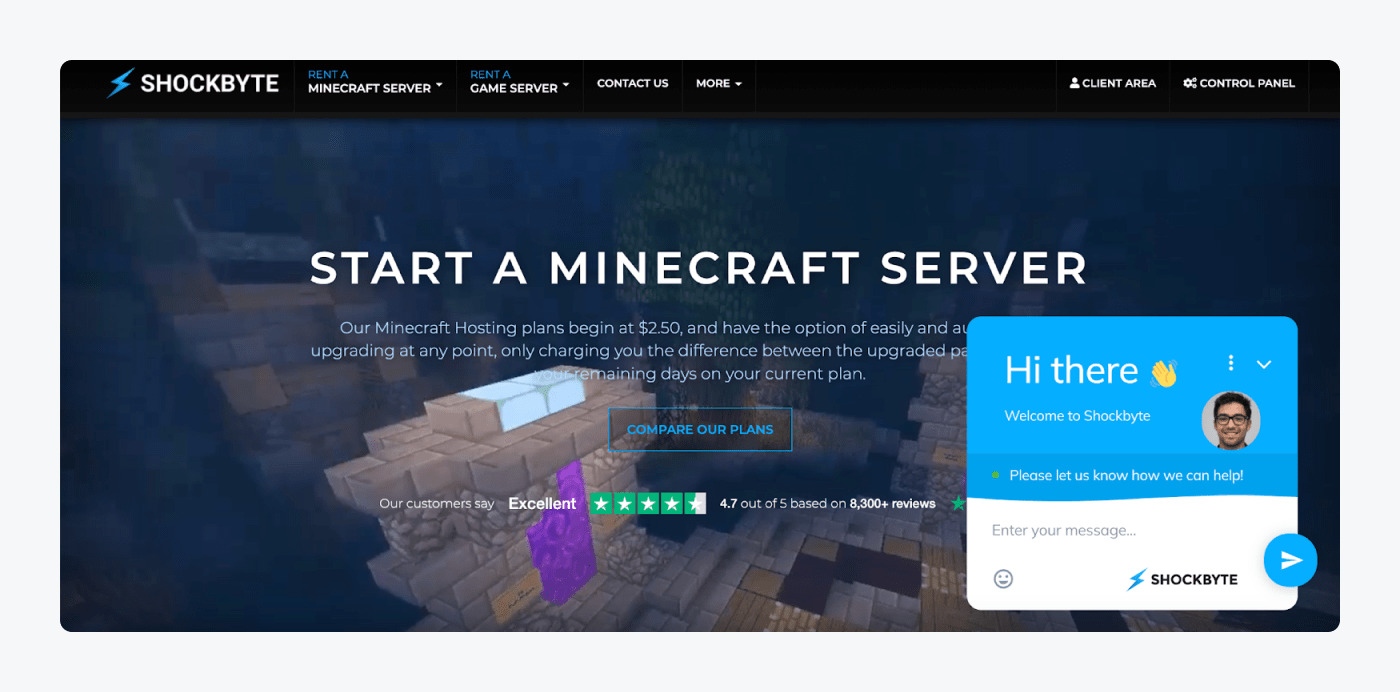 Shockbyte is a game server provider that uses a Tidio chatbot to enhance its customer service experience. The bot allows the visitors to get answers to the most commonly asked questions, receive help when it comes to selecting any available plans, and more.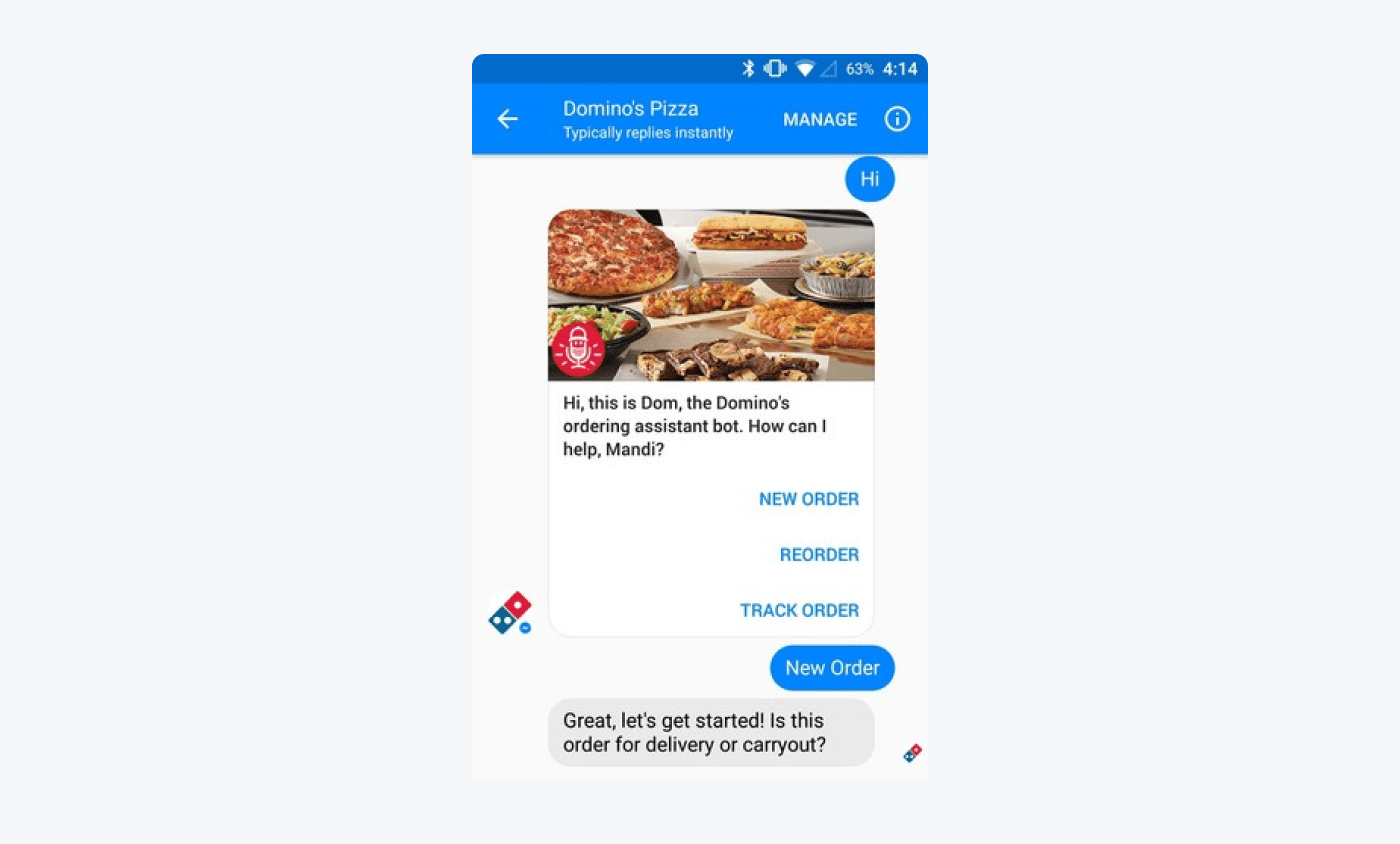 Domino's Pizza employs a chatbot on its website and app to simplify the process of ordering a meal. Customers can interact with the bot, provide their preferences, select toppings, and complete their orders seamlessly through natural language conversation. This AI assistant ensures a smooth and efficient ordering experience without the need to navigate through complex menus.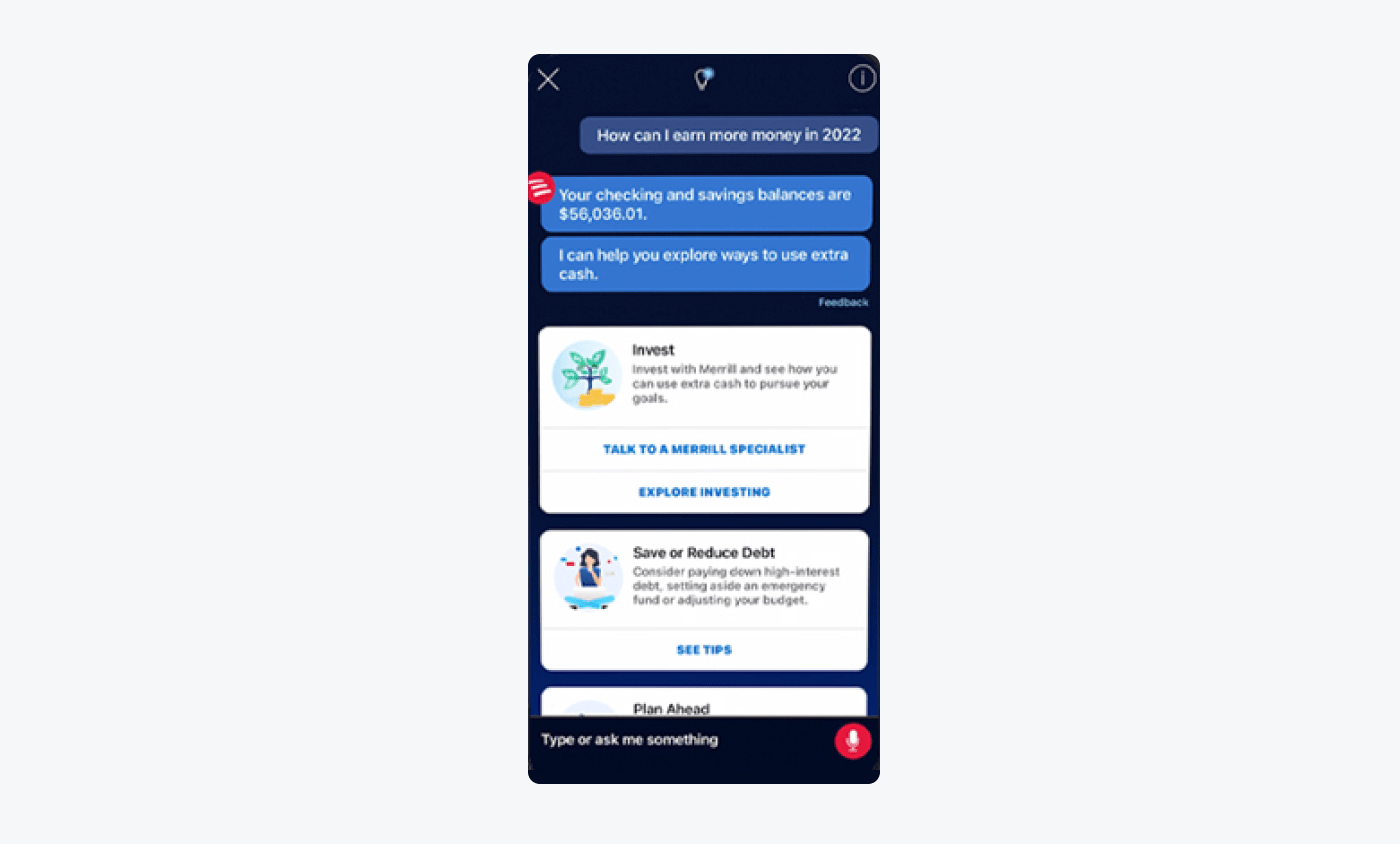 Bank of America's virtual assistant Erica helps customers with their account inquiries. Customers can ask about their account balance and recent transactions, or even set up alerts for specific activities. The finance bot provides quick and accurate responses, saving customers time and reducing the need to visit a physical branch or wait on hold for assistance.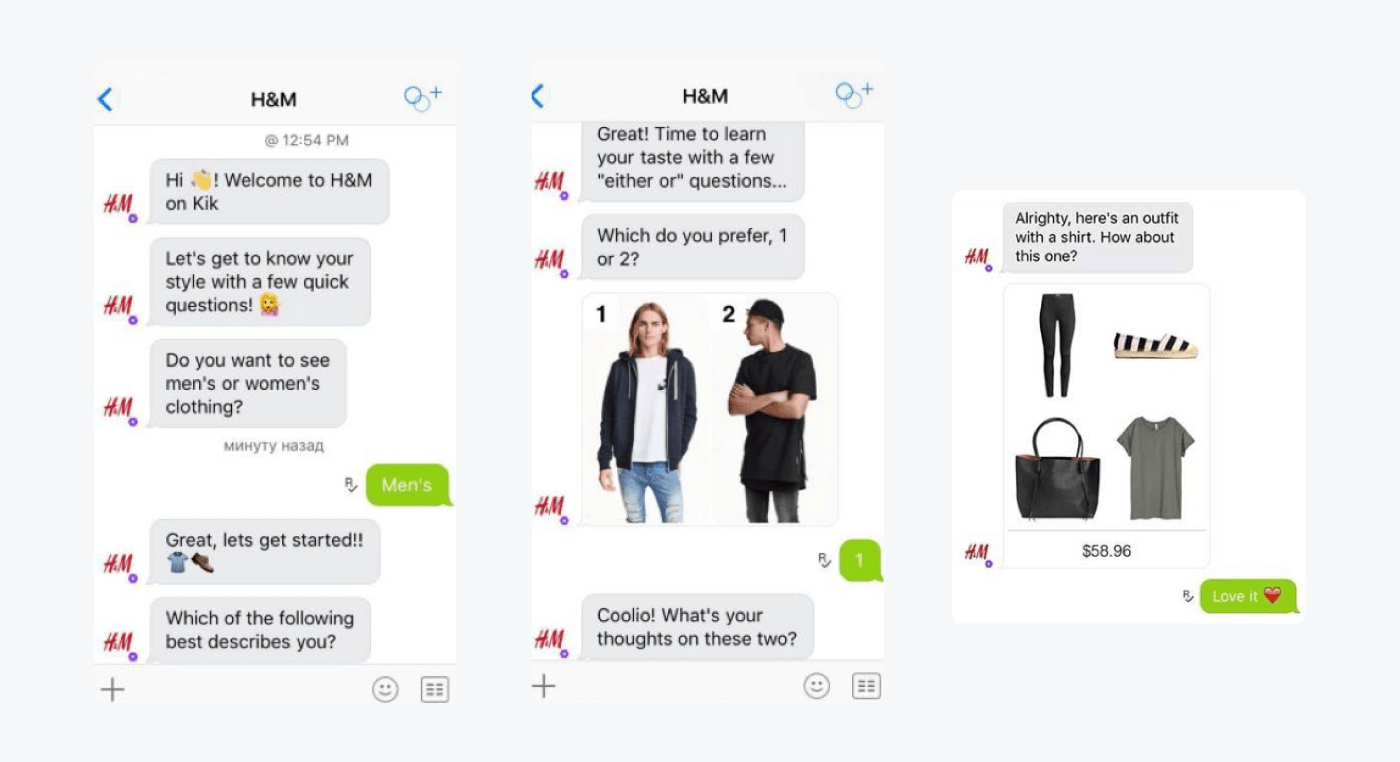 H&M's virtual shopping assistant engages with customers seeking fashion advice. Users can describe their preferences and style, and the chatbot will suggest outfits or clothing items from the store's collection. This interactive experience helps customers make confident purchasing decisions and offers a personalized shopping assistant.
Read more: Learn how to recreate online in-store experiences and effectively engage clients using chatbots.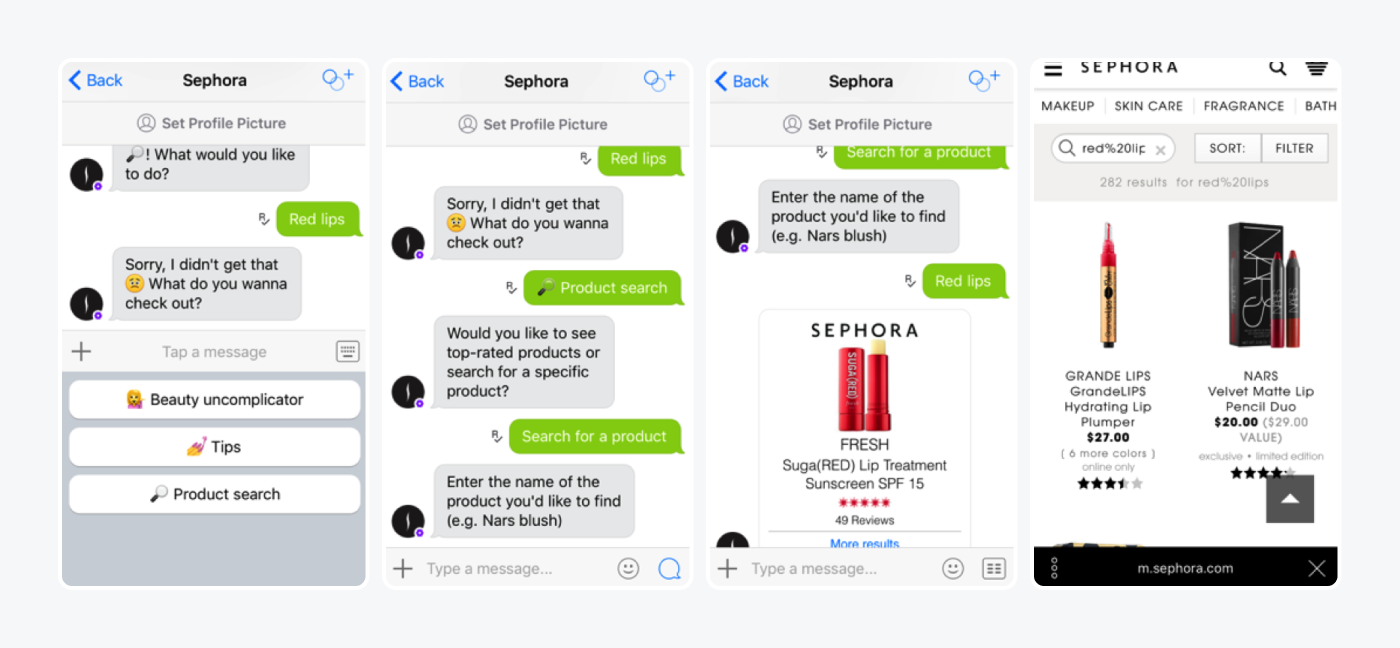 Sephora's bot is not just a regular customer service bot—it's also a virtual beauty guru, offering makeup and skincare advice. Customers can describe their skin type, concerns, and desired looks, and the chatbot recommends products, application techniques, and even tutorials. This AI assistant enhances the customer's shopping journey and provides expertise right at their fingertips.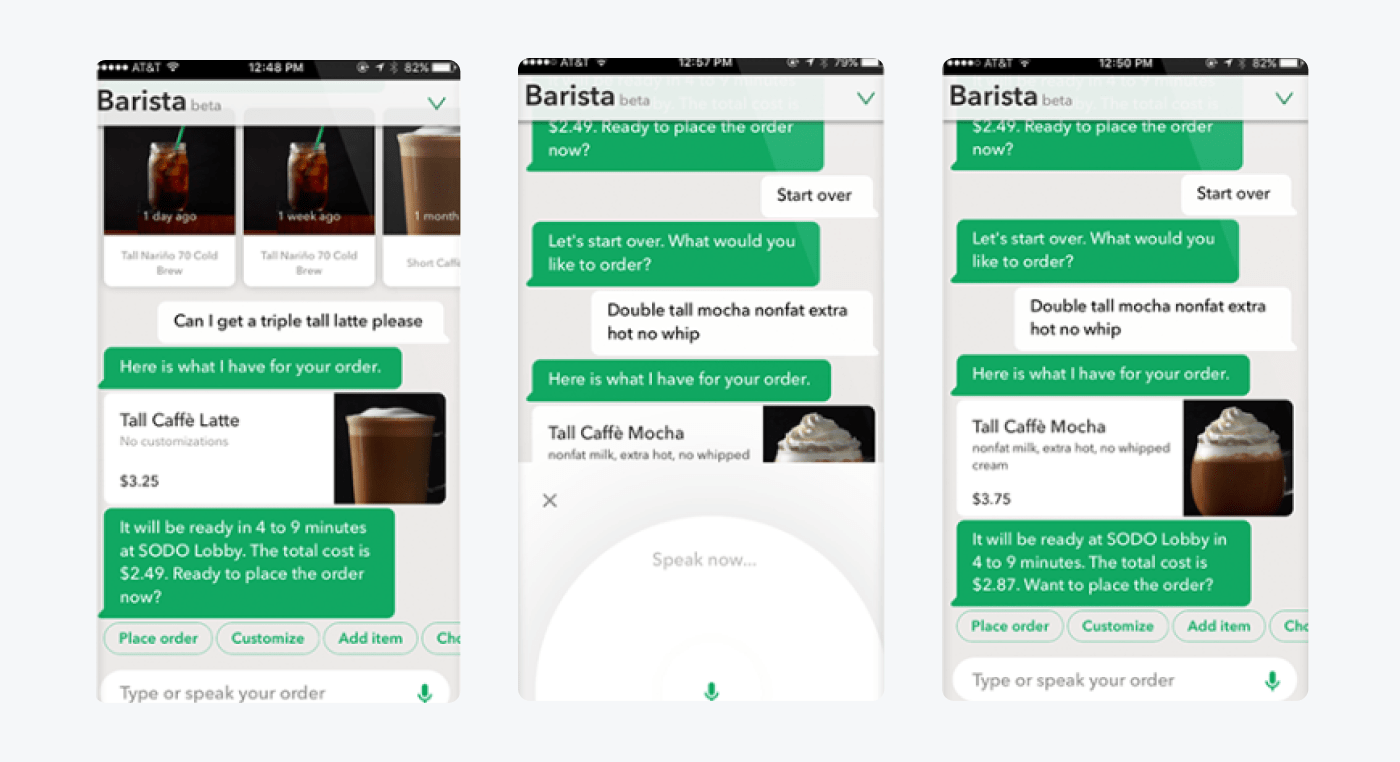 This customer service chatbot example allows users to simplify the process of ordering their drink. How? Starbucks virtual assistant guides the shopper through the steps of placing an order either via text or voice. It supports natural language processing, completes the payment process with the linked credit card or gift card, and sends a request to a nearby coffee shop to be made. Once the drink is ready for pickup, the bot sends a notification to the client.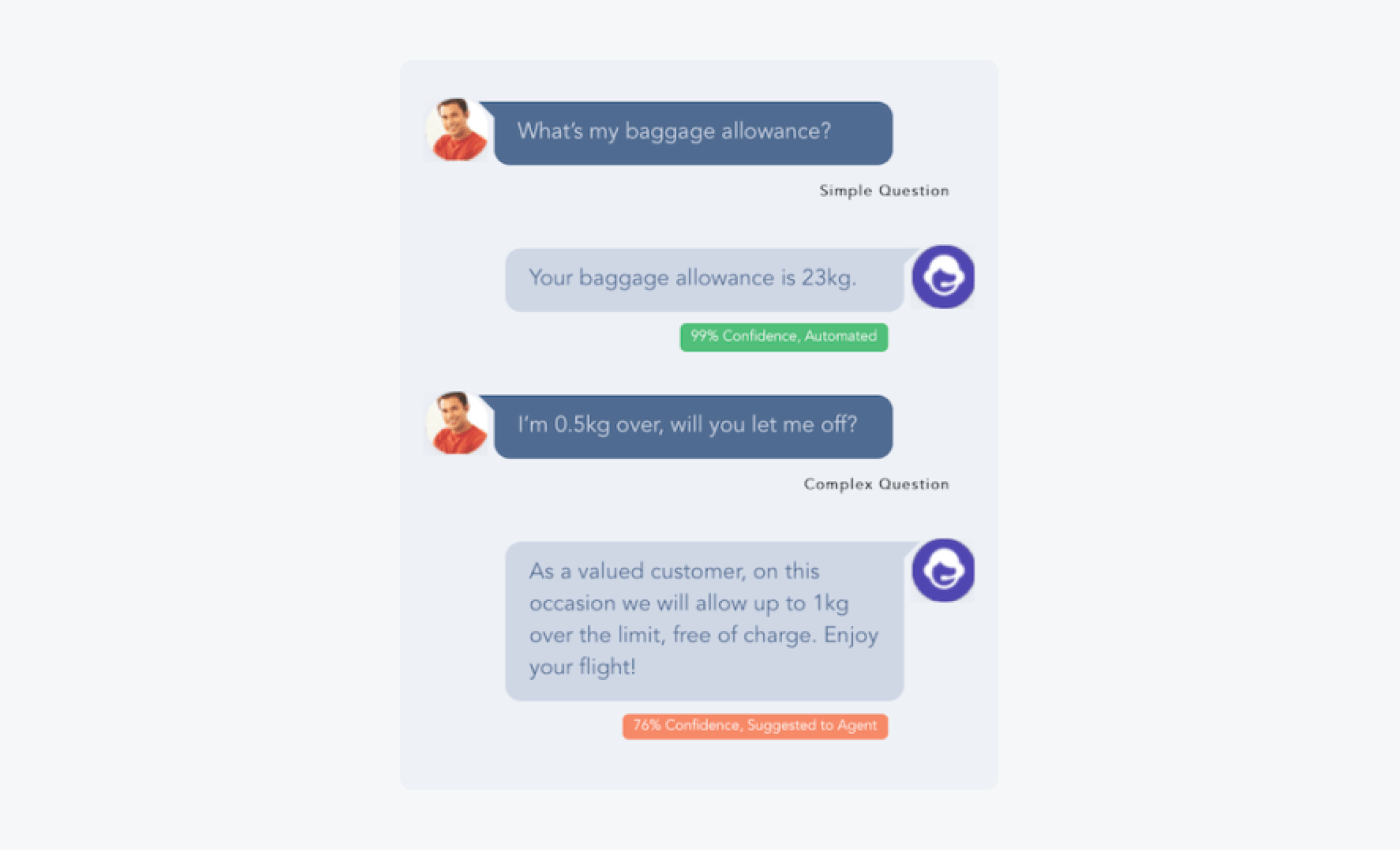 KLM's chatbot keeps travelers informed about their flights. Customers receive real-time updates on flight statuses, gate changes, and baggage information through a messaging app. This AI tool helps ease travel uncertainties and provides convenience by quickly delivering all the crucial information.
These examples all showcase how customer service chatbots enhance various aspects of the user experience, from simplifying ordering processes to providing personalized assistance and information. They illustrate the versatility and practicality of chatbots in addressing specific client needs.
But you might be wondering—which bot providers offer the richest array of features?
Best customer service chatbot providers
Now that you know about all the perks of having a bot and are familiar with some real-life examples, let's check out the top customer support bot software on the market. These tools are great because they contribute to delivering top-notch customer support and boosting client experiences. Also, they help automate many of the mundane tasks and reduce the workload of your reps so they can focus on more complex customer queries.
Here's a table of each tool we'll cover for a quick comparison:
| Platform | Rating | Free plan | Best for |
| --- | --- | --- | --- |
| Tidio | 4.7/5 ⭐️ | ✅ | Ecommerce customer service |
| Gorgias | 4.6/5 ⭐️ | ❌ | Medium-sized businesses |
| Intercom | 4.5/5 ⭐️ | ❌ | Large and enterprise businesses |
| HubSpot | 4.4/5 ⭐️ | ✅ | CRM software integration |
| Zendesk | 4.3/5 ⭐️ | ❌ | Helpdesk software |
Now, let's go more in-depth—

Here are the reviews of the best chatbots for customer support to help you choose your perfect tool: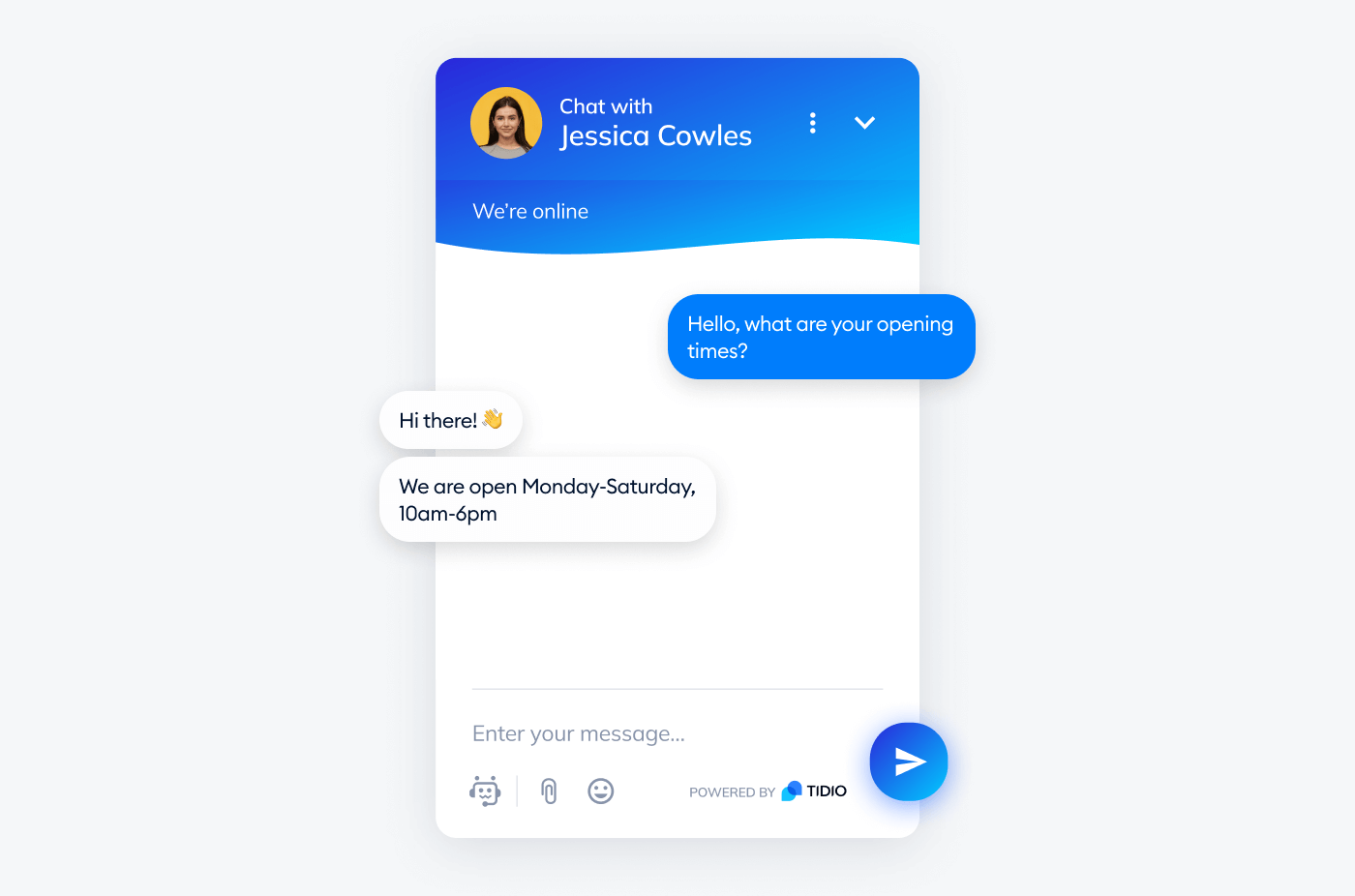 Rating: 4.7/5 ⭐️(1,405+ reviews)
This is one of the best customer service chatbot platforms for ecommerce on the market. Tidio is an all-around communication service that includes AI bots and a live chat feature. It also offers dedicated integrations with all of the major ecommerce platforms and comes with a no-coding chatbot builder.
Main features:
NLP chatbots
Over 30 chatbot templates to choose from
Lyro AI bot capable of solving up to 70% of customer problems
FAQ bots you can optimize for any business type
More than 17 different chat triggers
Integrations with Instagram, Zapier, and Facebook
An iOS and Android mobile app
Free version available
Starter ($29/mo)
Communicator ($25/mo/seat)
Chatbots (starts from $29/mo)
Bundled solution (starts from $29/mo +$25/mo)
Tidio+ (starts from $394/mo)
Read more: Learn how to use Tidio's Visitor Says trigger and reduce your team's workload.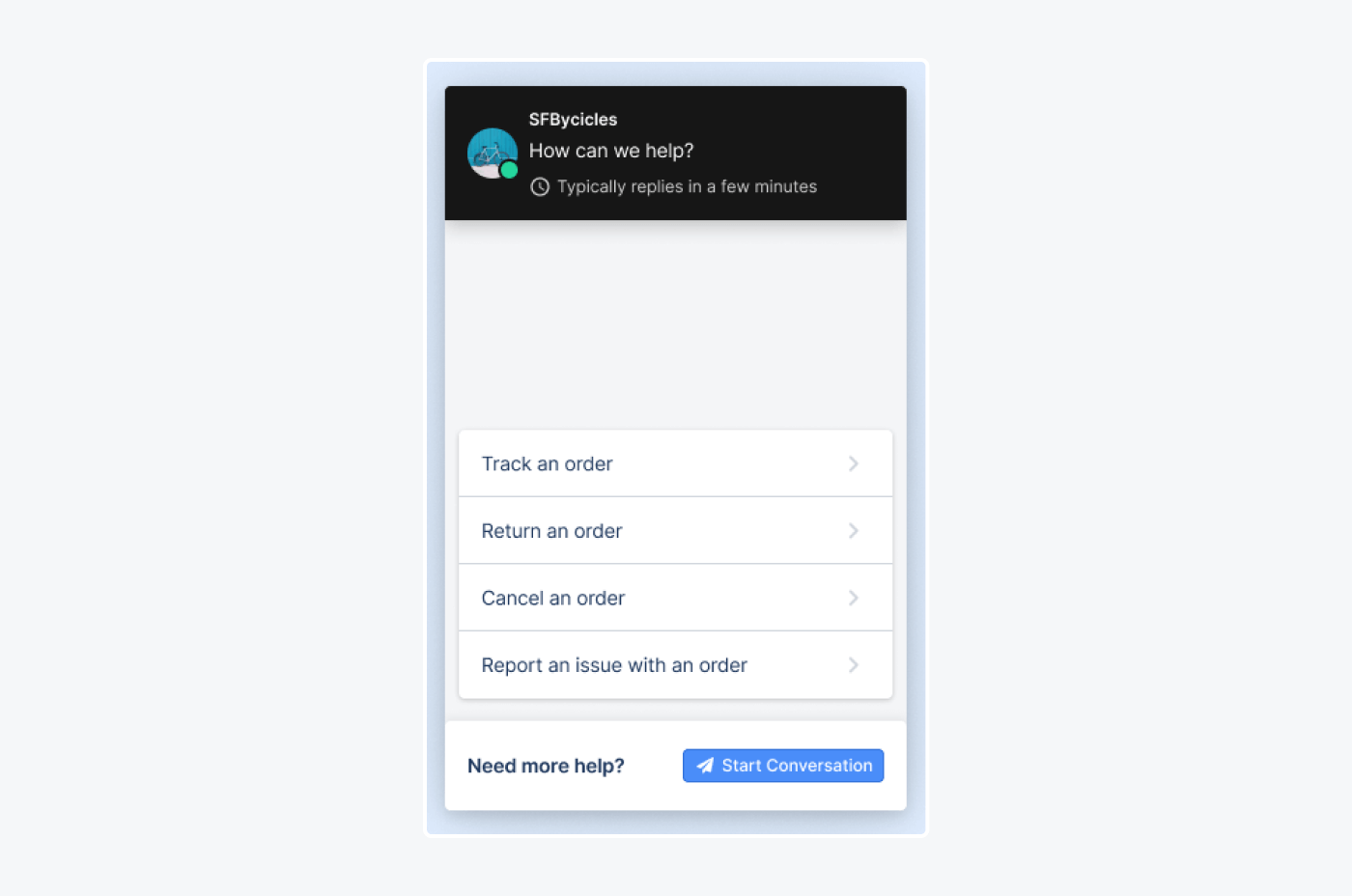 Rating: 4.6/5 ⭐️(495+ reviews)
Gorgias is a good option for medium-sized businesses as it combines a Shopify chatbot tool with a ticketing system. It's a useful tracking and segmentation platform that allows companies to offer a more personalized approach to their customers.
Pros:
30+ integrations, including those with messaging platforms and social media
Chatbot history view of conversations
Intent and sentiment detection
Tracking updates available
Cons:
Focuses mainly on ecommerce
Limited reporting features
Starter ($10/mo)
Basic ($60/mo)
Pro ($360/mo)
Advanced ($900/mo)
On-demand (contact sales)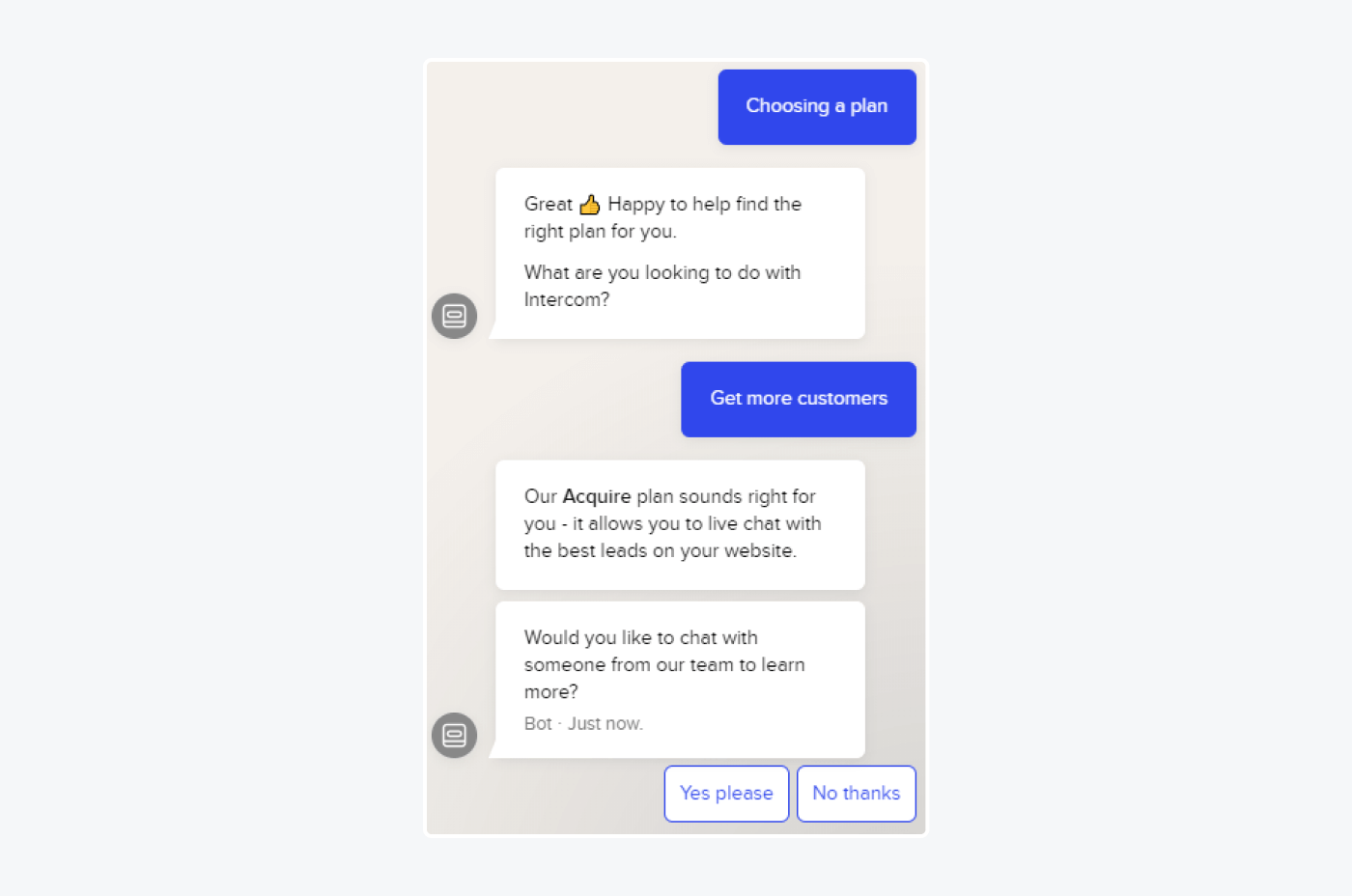 Rating: 4.5/5 ⭐️ (2,775+ reviews)
This customer service chatbot solution offers in-chat surveys for customer feedback collection, tracking customer interactions, and automatically sorting visitors into categories. It also lets you add rules to your support funnel for better workflow automation. Intercom provides tools that will help your business improve customer interactions and experiences.
Pros:
Various chatbot templates
Workflow monitoring and reporting
Multilingual bots available
Cons:
Difficult to use with a steep learning curve
Content organization into folders is not possible
Starter ($74/mo)
Pro (custom)
Premium (custom)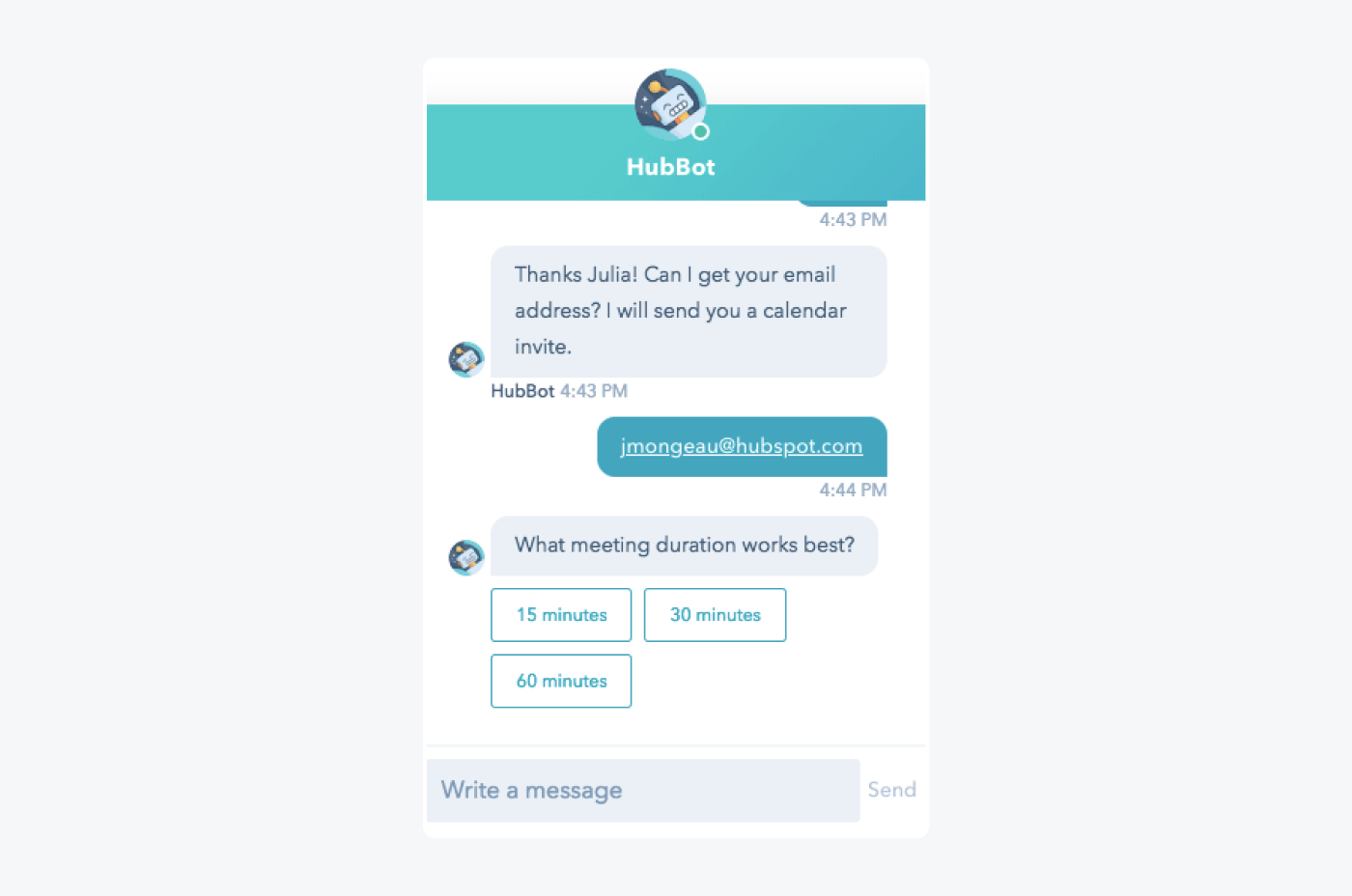 Rating: 4.4/5 ⭐️(2,030+ reviews)
HubSpot primarily offers marketing and sales software to help your business grow its revenue and number of subscribers. It provides a CRM system to keep track of your customer communications and organize your interactions better. This customer service chatbot platform gives you a great suite of tools to help you with marketing, sales, and client support.
Pros:
Visitor tracking
Well-organized and easy-to-navigate user interface
Shared inbox
Various integrations, such as HubSpot CRM, Zapier, Gmail, etc.
Cons:
Free version available
Starter ($18/mo)
Professional ($450/mo)
Enterprise (Starts at $1,200/mo)
Rating: 4.3/5 ⭐️(5,680+ reviews)
Zendesk provides a cloud-based solution with agent role permissions, web SDKs, and operating hours. You can put this tool on any channel you like, including email, social media, WhatsApp, and more. This customer service chatbot for websites is easy to use and offers handy features for sales, branding, marketing, as well as the support team.
Pros:
Advanced reporting and analytics
Offline pre-chat forms
Real-time preview of website visitors
Multilingual support
Cons:
Few data transfer issues reported
Navigation and system layout need improvements
Suite Team ($55/agent/mo)
Suite Growth ($89/agent/mo)
Suite Professional ($115/agent/mo)
Suite Enterprise (contact sales)
Okay—
You're now aware of the best platforms you can use to enhance your customer service efforts and help automate the workload of your reps.
So let's see how you can implement one for your business needs.
How to set up a customer service chatbot?
The good news is that there is a number of chatbot companies that let you build and install your bots with zero coding skills. Additionally, many of these chatbots can be added to a website in less than 5 minutes.
Sounds too good to be true? Let's check out the necessary steps you should take to build a customer service bot for your website: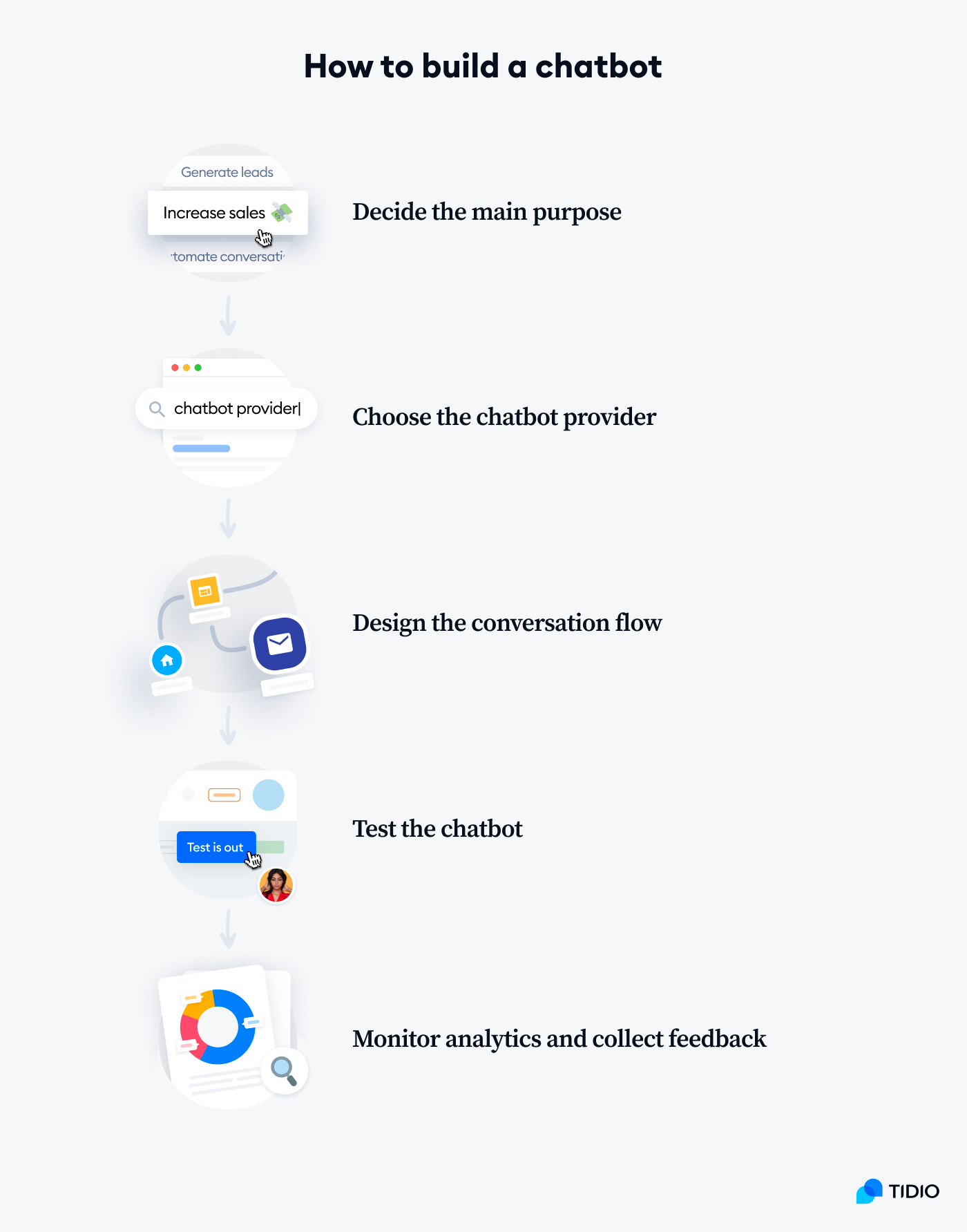 And now, onto the steps themselves.
1. Decide the main purpose of your chatbot
It's crucial to identify what you want your conversational AI to do and be as specific as possible about it. This could be for the bot to greet new visitors, recover abandoned carts, or answer questions about shipping and returns. It will help you narrow down the features you need, specify the functionality of the bot, and decide how you should customize the chatbot.
2. Pick your customer service chatbot provider
Take all of the important factors into account and choose your ideal solution. The good thing is that many services (like Tidio, for example) come with a free plan, so you can try it out for free and find your perfect customer support chatbot tool.
3. Design your conversation flow in a bot builder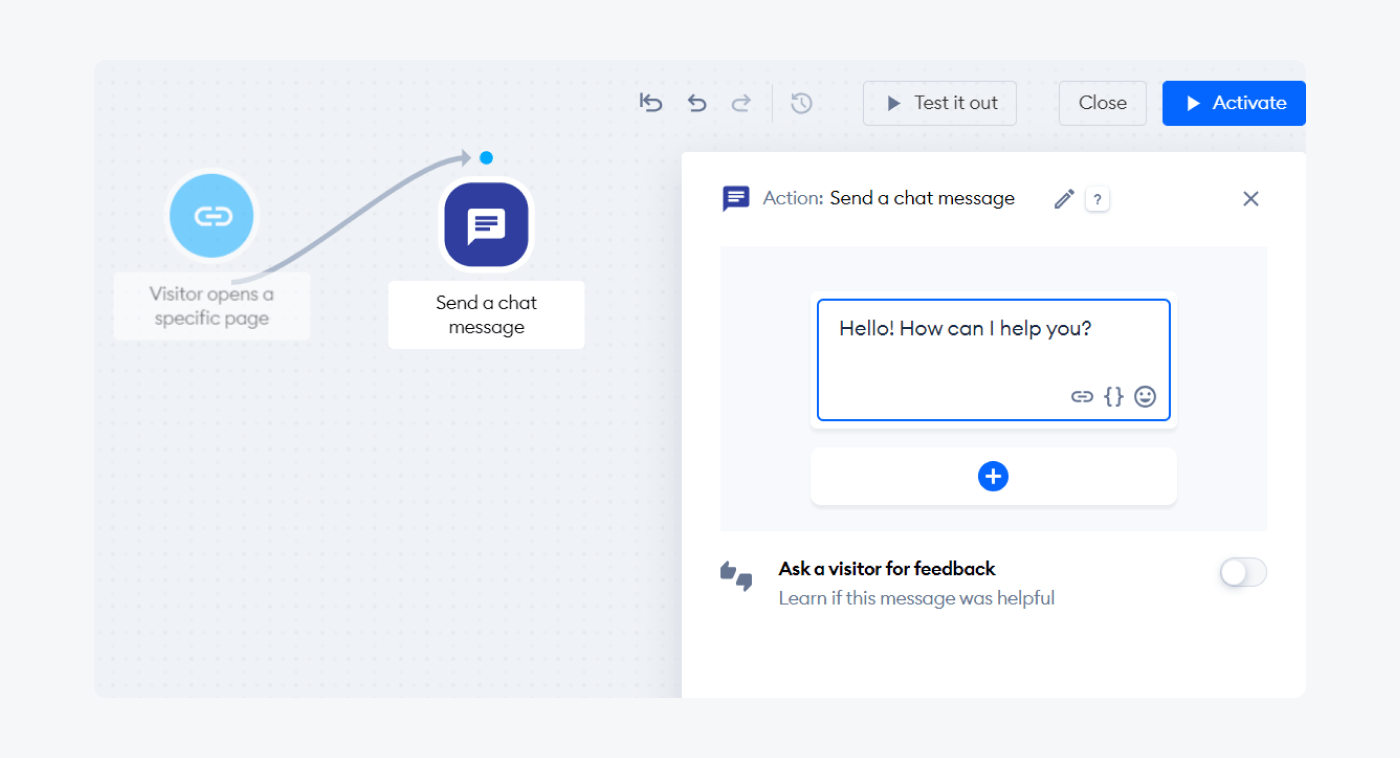 Log in to the builder of your choice and design the triggers you want your bot to recognize. For instance, if you want the chatbot to activate on a specific landing page, start with a Visitor opens a specific page command. Write the message you want your bot to send and then activate it with a simple click of a button.
4. Test your chatbot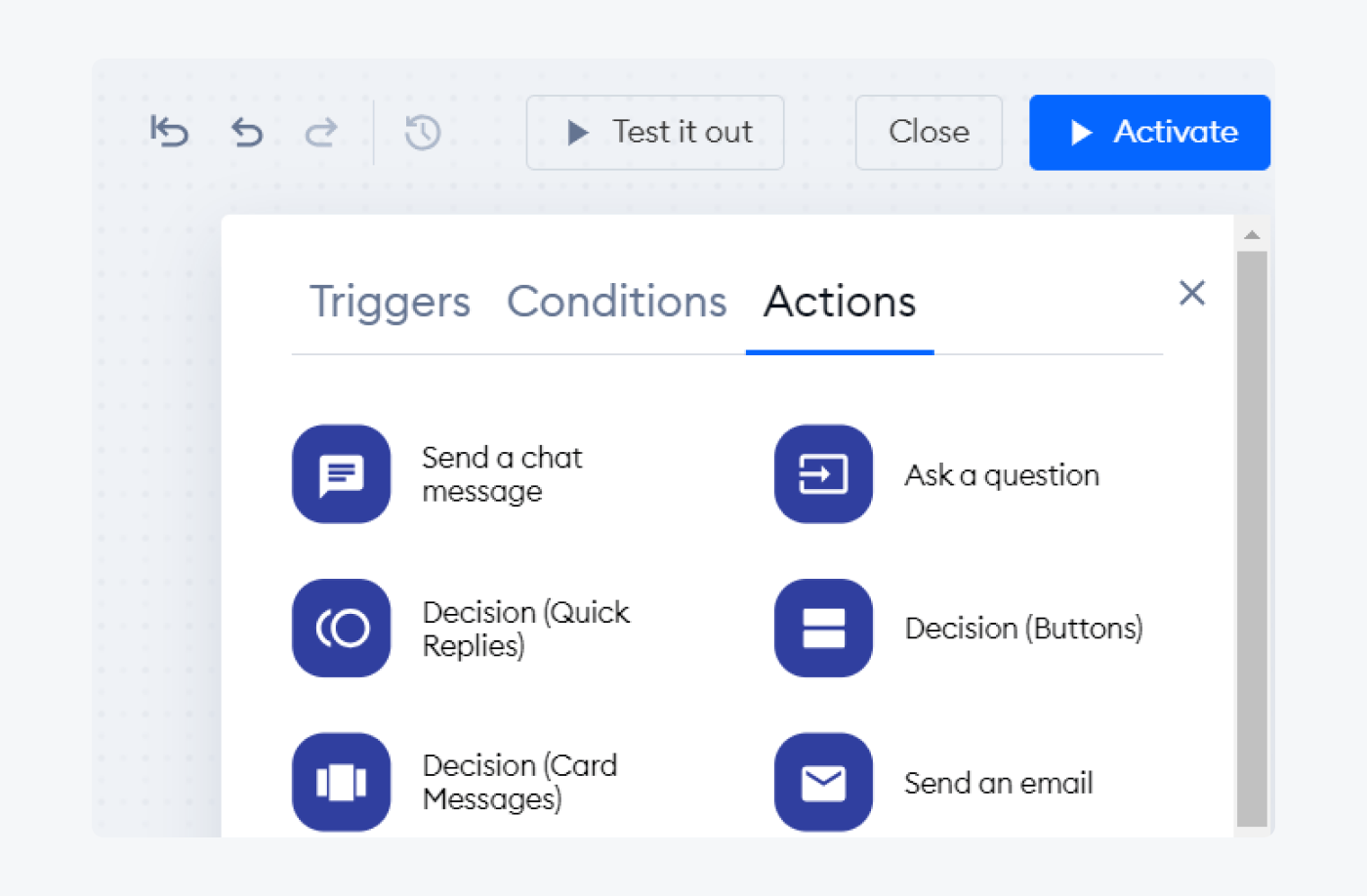 It's crucial to double-check if everything is running as smoothly as possible. When building a Tidio chatbot, you can click the Test it out button and see a live preview of your bot as customers see it. Check the conversation flow and correct it if necessary.
5. Monitor chatbot analytics and collect user feedback

In order to consistently provide an excellent support experience with your customer service chatbots, it's vital to always measure how your tool is performing. Moreover, you should be ready to implement necessary changes based on feedback and analytics. So, decide on the metrics to use and keep an eye on them at all times.
Read more: Discover how to create a bot from scratch in 8 easy-to-follow steps.
And those were the five easy steps to set up your own customer service bot.
With that out of the way, let's move on to some useful tips you can implement to take your efforts to the next level.
Tips to scale your business with customer service bots
After the installation, you might be wondering what you can do to make your bot even more efficient at helping your customers. We got your back—read on for the tips and tricks: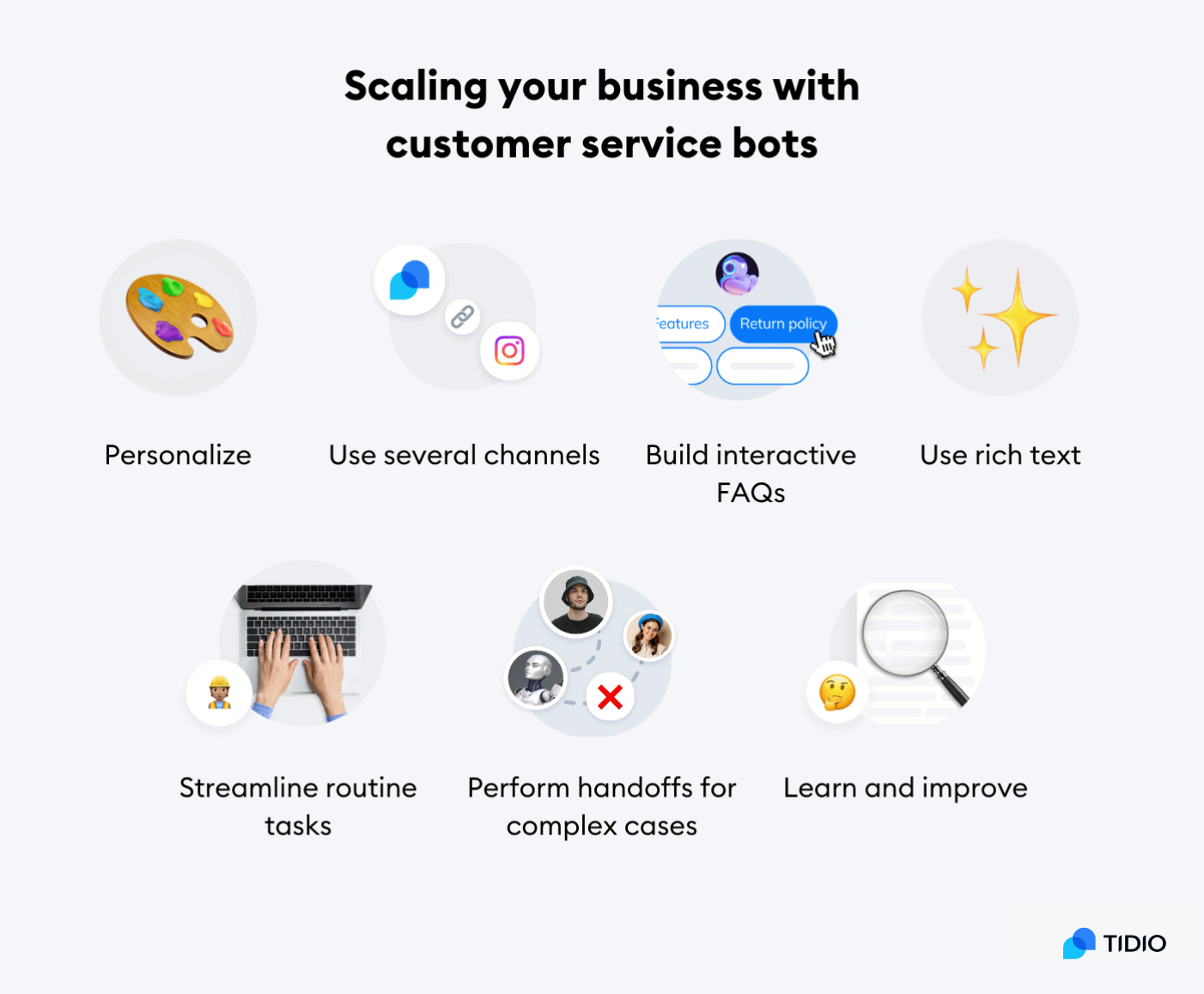 Personalize interactions for stellar experiences
One of the chatbot's superpowers lies in its ability to provide personalized experiences at scale. Our study on chatbot statistics reveals that customers love feeling special and seeing that a business is client-centric. In fact, customer-centric companies are reported to be 60% more profitable than the rest! So, if your support bots can provide people with the feeling of uniqueness and being valued, you are in for success.

As you scale, maintain a human touch even through the virtual assistant. Train your AI chatbot to respond empathetically and adapt to varying conversational tones, ensuring each interaction feels like a genuine conversation. This includes greeting your visitors by name, adjusting to their tone of voice, and talking on behalf of your company in the unique brand voice.
Embrace and use a multichannel approach
Scaling your business means reaching customers across various platforms. Therefore, it's crucial to figure out what channels your target audience is using. And the solution to this issue is simple: use an omnichannel customer service approach. Implement your bot on multiple channels, like your website, social media, and messaging apps. This will help you meet clients wherever they are and ensure consistent support and customer engagement.
Remember, each platform might require different interaction styles. So, adapt your chatbot's responses accordingly while maintaining a unified brand voice. Combining stellar AI-powered support on your site and messaging apps will help you win the loyalty of your customers.
Build interactive FAQs
It's a good idea to ensure that your bots are ready to answer any FAQs your customers might have. This way, communication will be much more efficient because buyers won't have to visit the FAQ page and scan it themselves.
In fact, about 74% of shoppers prefer using chatbots for customer service when asking FAQs and simple questions. Bots are easy to use, find the answers for the user, and are quick in responding to customer questions. What not to like about them?
Use rich text and content
Rich text and content supports different text formatting, like italics, bold text, and underlining. It's more engaging to read the text in different formats, font sizes, and colored text than just plain writing, wouldn't you agree?

And customers love seeing it, too. It adds to how much a company cares about communication. Using rich text with different elements as well as images and GIFs makes the conversation more interactive, discouraging the visitors from closing the page.
Streamline routine tasks for efficiency
Customer service bots can be your secret weapon to tackle repetitive and time-consuming tasks. By automating routine inquiries, order tracking, and basic troubleshooting, you free up your human team to focus on more strategic and complex matters. This scalability boost leads to faster response times, higher customer satisfaction, and optimized resource allocation.
Remember, the key is to strike a balance between automation and personal touch. Try to use chatbots to handle the routine, and let your human team shine in more elaborate interactions.
Have a bot perform seamless human handoffs for complex cases
While chatbots are remarkable problem solvers, there will be scenarios where a human touch is irreplaceable. Implement a smooth transition from a chatbot to a human agent for intricate or sensitive inquiries. Make sure your bot is capable of recognizing when to initiate this handoff and that your human team is well-prepared to take over seamlessly.
This approach maintains the efficiency of chatbots while assuring customers that their complex concerns are being addressed by skilled professionals.
Continuously learn and improve
Your bot isn't a "set it and forget it" tool. So, you should regularly analyze interactions and gather feedback to fine-tune your chatbot's performance. Chatbots can learn from every conversation, improving their responses and understanding over time. By identifying patterns, refining responses, and adding new capabilities, you ensure your bot evolves as your business scales, offering even better support to an expanding customer base.
All in all, by strategically integrating these virtual assistants into your support routine, you'll be well on your way to expanding your reach while delivering a top-notch customer service experience.
Customer service bots: key takeaway
So, let's review what we learned:
An online customer service chatbot is an AI-powered computer program that helps businesses provide stellar customer support
These bots offer better communication, are available 24/7, save money, and give a brand its unique voice
When choosing the best chatbot for customer service, consider your business size and your purposes first
Using a well-trained customer service bot is becoming a must—many big brands like Starbucks, Sephora, and Domino's use them
Integrating such a bot can be done in a couple of easy steps without any coding skills
This is a great way to scale your business if you put effort into personalization and take an omnichannel approach
It seems like customer service chatbots are here to stay. Moreover, they are becoming a golden standard for businesses. So, this is exactly the time to go ahead and install one for your needs.