In the world of customer relationship management (CRM), Drift provides a unique product. The company offers a combination of live chat, conversational marketing, and conversational sales. Their software is used to help companies grow by maximizing the lifetime value of each customer.
Overall, Drift is best known for customization and great integrations. But there are many alternatives…
Despite the tremendous value it offers, Drift isn't the right fit for every business. For example, businesses that communicate with non-English-speaking customers will find the platform lacking. That's why we've compiled the best Drift alternatives for you.
In this article, we:
Go over the list of the best Drift alternatives
Compare what each CRM has to offer relative to Drift
Offer some guidance on how to choose the right Drift alternative
If you're interested in CRM platforms, you can also check out:
The best Drift alternatives are:
Drift competitors: overview
Drift markets itself as a "revenue acceleration platform" and it delivers that acceleration by creating personalized marketing experiences. This means chatbots, messaging platform, and reporting features (including geotargeting) that make customer experiences seamless.
Within the marketing automation industry, Drift has a 1.16% market share. When it comes to the lucrative but competitive live chat category, Drift has a market share of 2.52%, making it the 10th most used live chat software.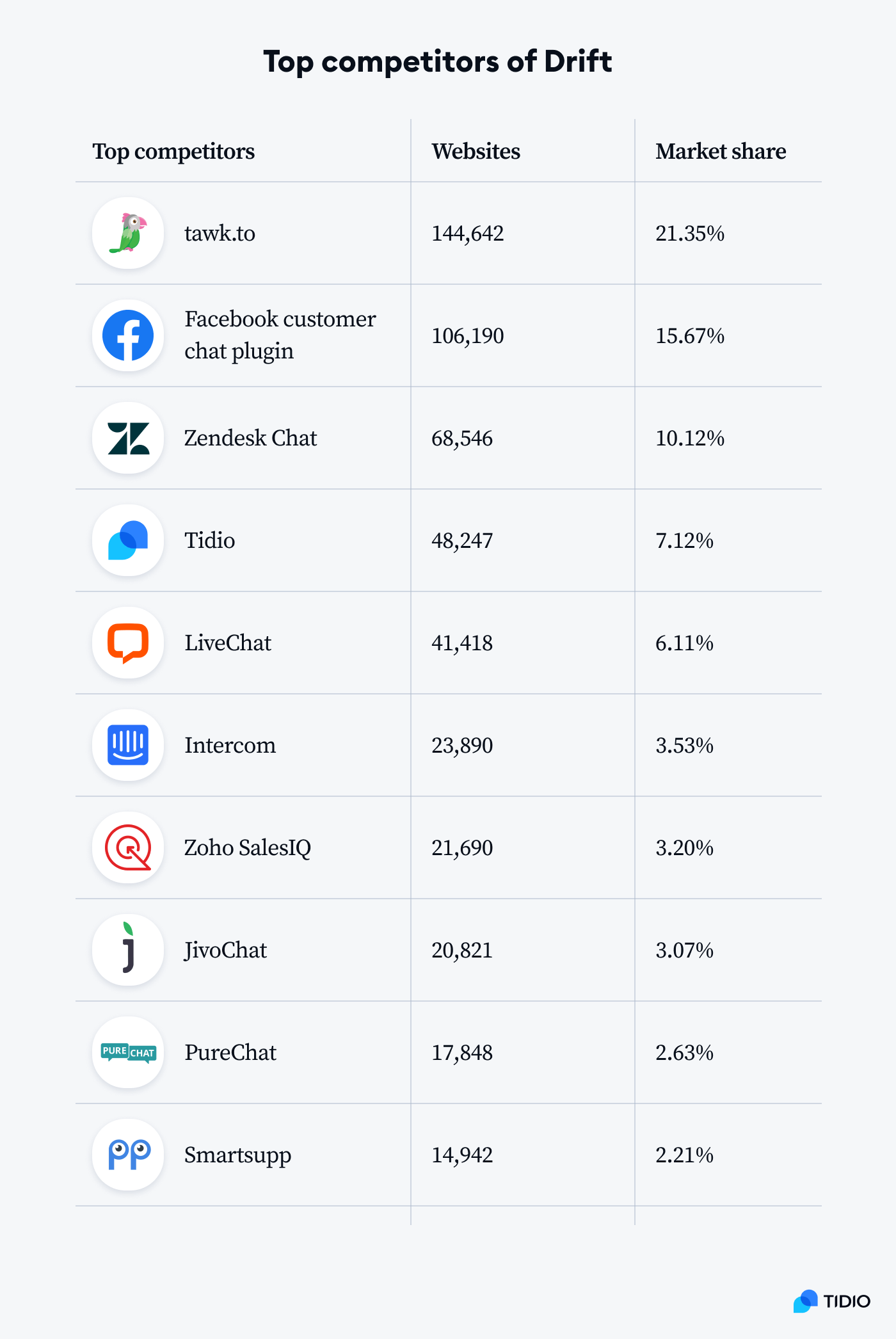 Drift is not an industry leader except perhaps in real-time customer communication, but for such a relatively new company, it's highly competitive. However, many alternatives that have been around for far longer are available, including many with different value propositions.
Why use a Drift alternative?
Drift exists in an ecosystem that's very dynamic. Different companies have different needs —a startup will require different functionalities compared to an enterprise.
If you're looking for the best option for your business, you'll need to comparison-shop. But the good news is that at least one option will certainly fit into your existing customer relations infrastructure.
Most Drift alternatives:
Offer a mix of CRM/CSM tools and similar functionalities
Fall into a similar price range or offer less costly pricing plans (with some notable exceptions)
Offer services meant for a specific type of business, such as customer engagement tools and automation software
So let's jump right in and compare your options.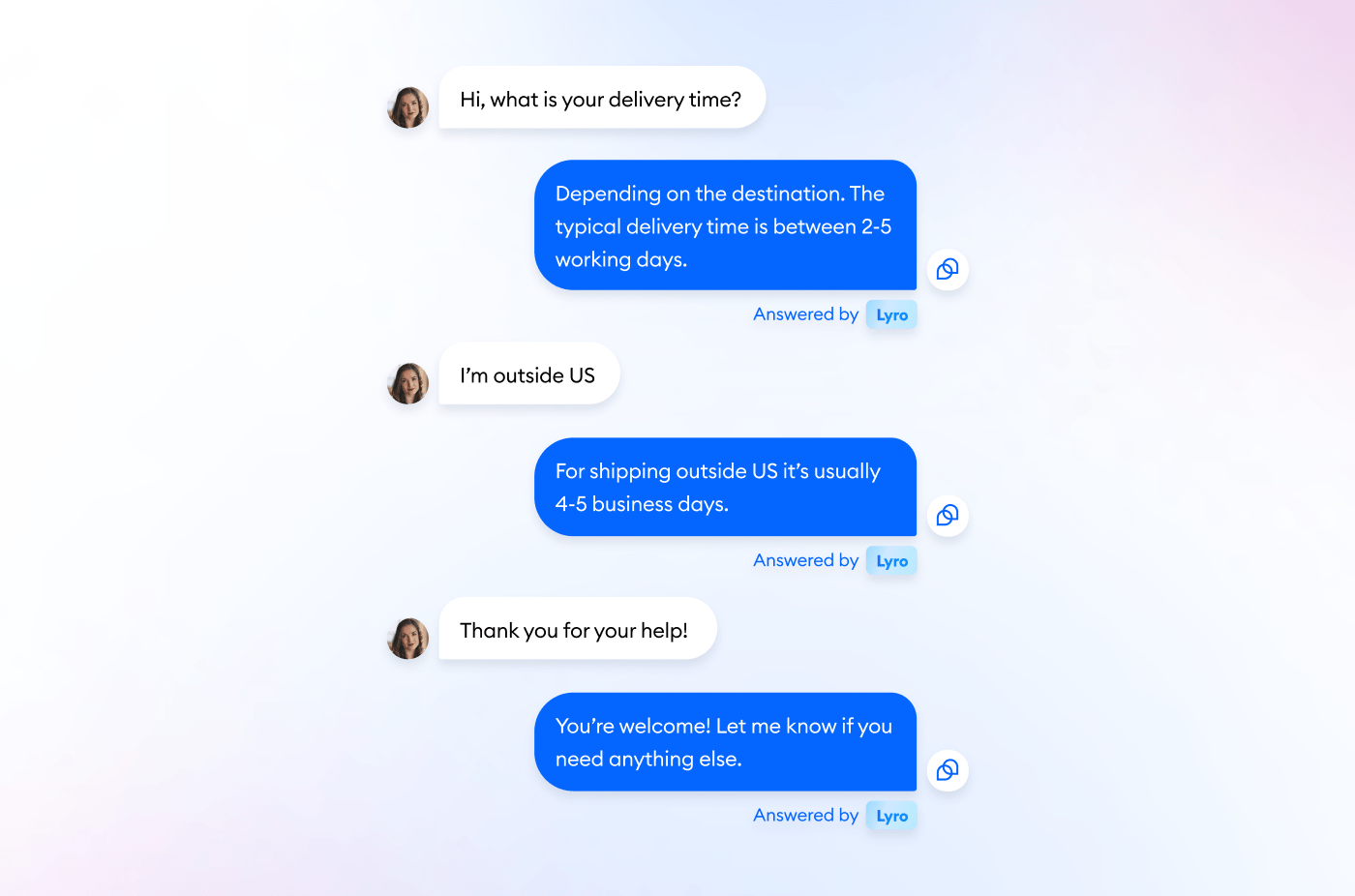 Ratings: 4.7/5 ⭐️(1,400+ ratings)
Tidio democratizes AI and introduces Lyro to help SMBs grow their brand. It's the best Drift alternative that employs deep learning to enhance your customer support and drive more sales. This AI chatbot engages your website visitors in a conversation with a natural flow.
The best part is that there's no need for you to train it. The bot autonomously learns to answer your frequently asked questions (FAQs) and expands your capabilities without incurring additional hiring costs.
Main features:
Automated chatbot training
Context and intent recognition
Natural Language Processing (NLP) chatbots
Conversation bot templates available
16 different triggers for bots
Easy to use software
Android and iOS apps available
Comprehensive knowledge base
Multiple integrations (Zapier, Pipedrive, Messenger, Instagram)
Free plan available
Starter ($29/mo)
Communicator ($25/mo/operator)
Chatbots ($29/mo)
Lyro add-on (from $39/mo)
Tidio+ (from $329/mo)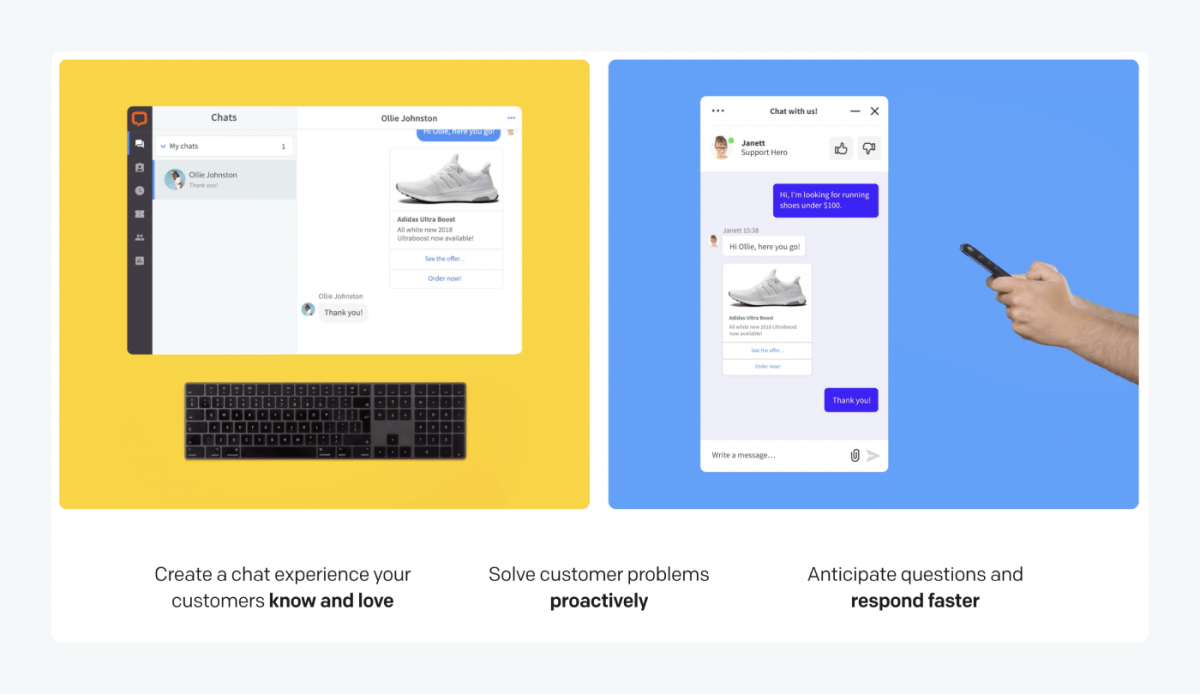 Ratings: 4.5/5 ⭐ (729+ reviews) on G2
If you're looking for a simple, cheap, and effective CRM for your website, LiveChat is often a better alternative to Drift. Their name speaks for itself.
LiveChat offers many third-party integrations (for example, WhatsApp), a proactive and high-quality chat service, a sleek-looking chat widget, a functionality to book meetings, and more.
Pros
Strong plugins with popular platforms like WordPress, Shopify, and Facebook Messenger
Easy to use
Great customer service (even the worst customer reviews mention positive experiences with customer service)
SMS integration
Cons
Relatively expensive for the range of features offered
Some users complain of an ineffective system for avoiding customers' spam folders
Pricing
Starter ($16/month). Offers a basic ticketing system and customization, chat history is limited
Team ($33/month). Provides unlimited chat history and has more available features
Business ($50/month). Unlocks advanced reporting and work scheduling
Enterprise (must contact LiveChat for a quote). Customized to your needs and includes extensive onboarding assistance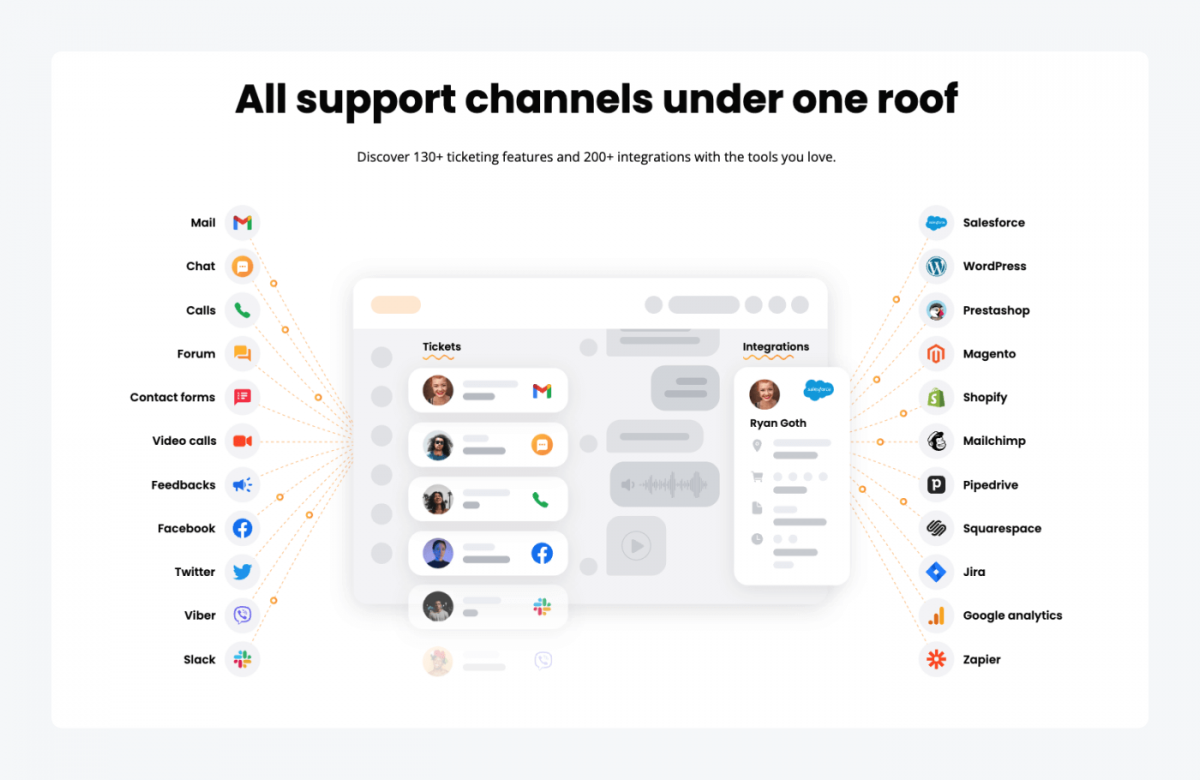 Ratings: 4.5/5 ⭐ (1,367+ reviews) on G2
LiveAgent (formerly Salesforce Live Agent) is a CRM alternative to Drift that offers most of the typical tools of the industry like live chatbots and ticket routing. In addition, they offer extra coordination tools.
What's best is that LiveAgent is a great option if you're looking for more free features. CRM tools can take time for businesses to get accustomed to. LiveAgent offers a surprisingly rich selection of features with their freemium offer.
Pros
Free plan is quite comprehensive
Good option for small businesses
All plans are cheap if you just need one agent
Simple UI
Cons
Not as comprehensive as much of the competition
Limited interoperability
Pricing
Free. All basic features
Ticket ($15/month/operator). Unlocks the ticket plan
Ticket+Chat ($29/month/operator). Grants you tickets + chat
All-inclusive ($49/month/operator). Opens the all-inclusive plan with call center functionality, IVR, and hardware IP phone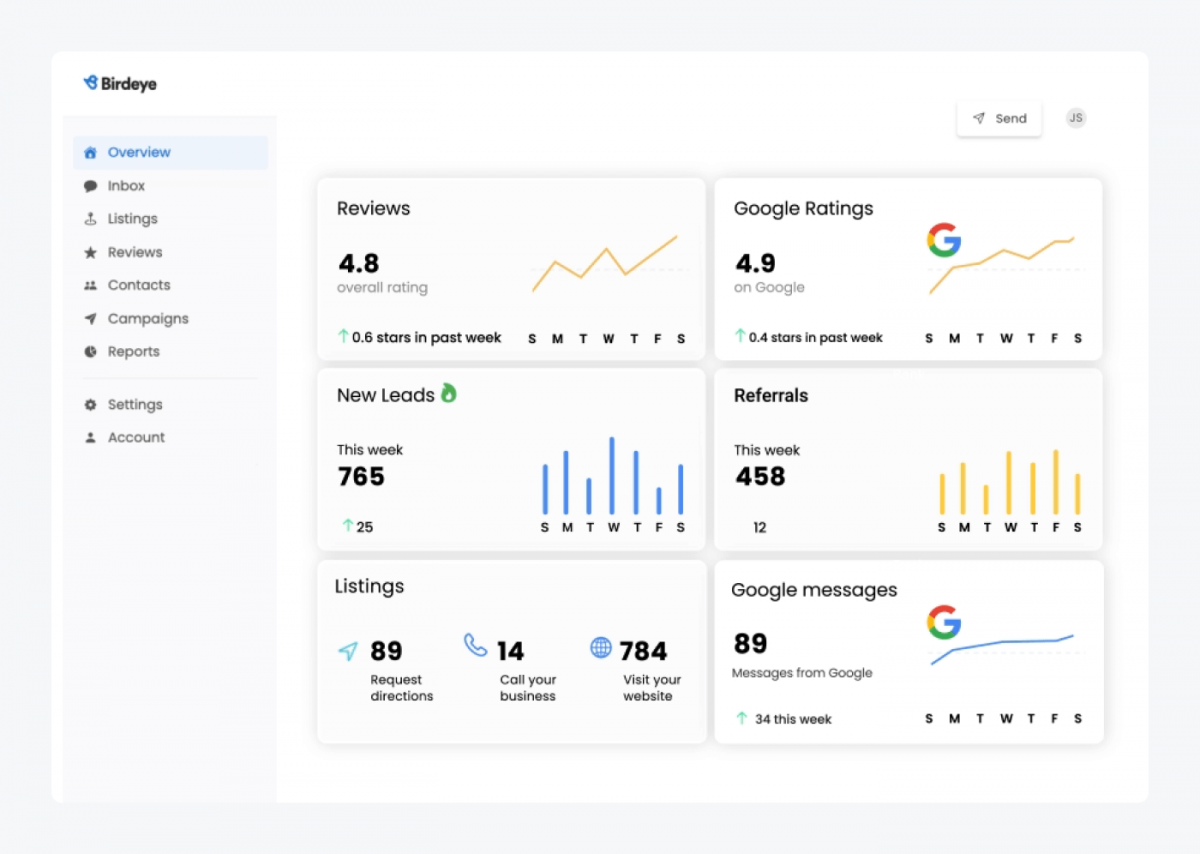 Ratings: 4.8/5 ⭐ (1,414+ reviews) on G2
BirdEye is another all-in-one customer experience platform. It's relatively popular—the company has at least 60,000 customers. BirdEye, as the name may suggest, focuses on a bird's eye view of the customer experience.
To that end, their most complete service package provides ticketing, chat, customizable surveys, analytics, and other basic services. As a Drift alternative, BirdEye offers a lot of analytical insights, albeit at a higher cost.
Pros
Modern, centered on user experiences
Advanced analytics insights
Multiple-purpose integrations (such as Peachtree for invoicing)
Cons
Some users complain of difficulties setting up integrations
High costs, perhaps prohibitive for many very small businesses
Pricing
Standard ($299/month). Provides single location functionality
Professional ($399/month). Unlocks listings, reviews, campaigns, and some other interaction features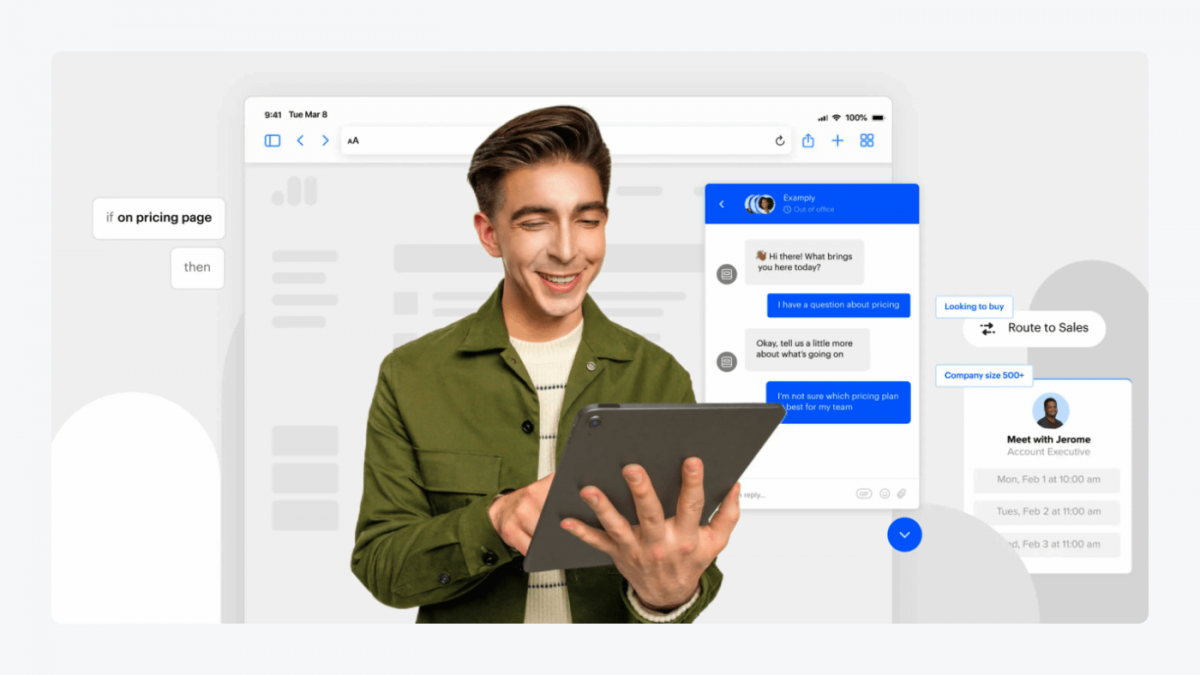 Ratings: 4.4/5 ⭐ (2,112+ reviews) on G2
Intercom, like LiveAgent, offers an impressive free plan to prospective customers. But their simple, straightforward packages can be applied to a wider range of businesses than Drift's or LiveAgent's.
One of the more valuable features Intercom offers is comprehensive lead qualification. That means that customers get the attention they deserve, while Intercom also sorts customers into categories based on the actions they are likely to take.
Pros
No-nonsense, online-sales oriented approach
Highly customizable
Multilingual automated chatbots
Complete package for small-to-medium-sized businesses
Cons
Some users complain the interfaces are difficult to use
High costs
Pricing
Unlike most options on this list, Intercom doesn't have flat pricing options. Their services are known to be more expensive than most alternatives. To learn about their pricing options, you must contact them and explain your business's needs to receive a quote.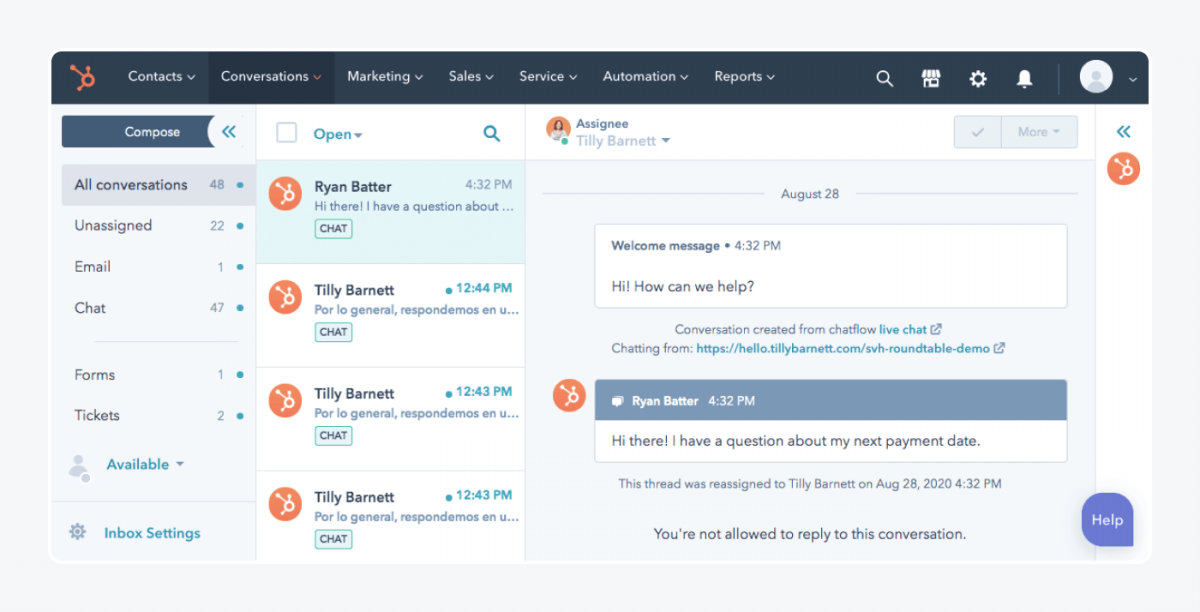 Ratings: 4.4/5 ⭐ (8,275+ reviews) on G2
Perhaps no comprehensive online marketing comparisons can be complete without including HubSpot. HubSpot offers many online marketing services, one of which is HubSpot Service Hub (CRM). However, if you benefit greatly from Service Hub, their other products can be integrated into your business, offering a powerful combination for growing businesses.
Alternatively to using Drift, you can try HubSpot's CRM for free and decide if their (pricier) paid service packages are a good fit for your business.
Pros
Works with other HubSpot subscriptions for a more complete marketing system
Includes an inbound marketing platform
Extremely rich range of integrations (such as Slack, SurveyMonkey, Eventbrite)
Feature-rich, free package for small businesses
Simple, easy-to-use interfaces
Cons
Paid plans are very expensive
Limited customer support unless you subscribe
Pricing
Free. Includes most basic features, analytics, email marketing, ticketing, and live chat. It's ideal for small and growing businesses
Starter ($45/month). Provides higher limits for marketing contacts (up to 1,000) and more advanced features such as A/B testing and campaign management
Professional ($360/month). Offers all from the Starter plan plus unlocks more advanced features such as contact scoring, custom surveys, and forecasting
Enterprise ($1,200/month). Unlocks all advanced features and provides priority support and advanced automation features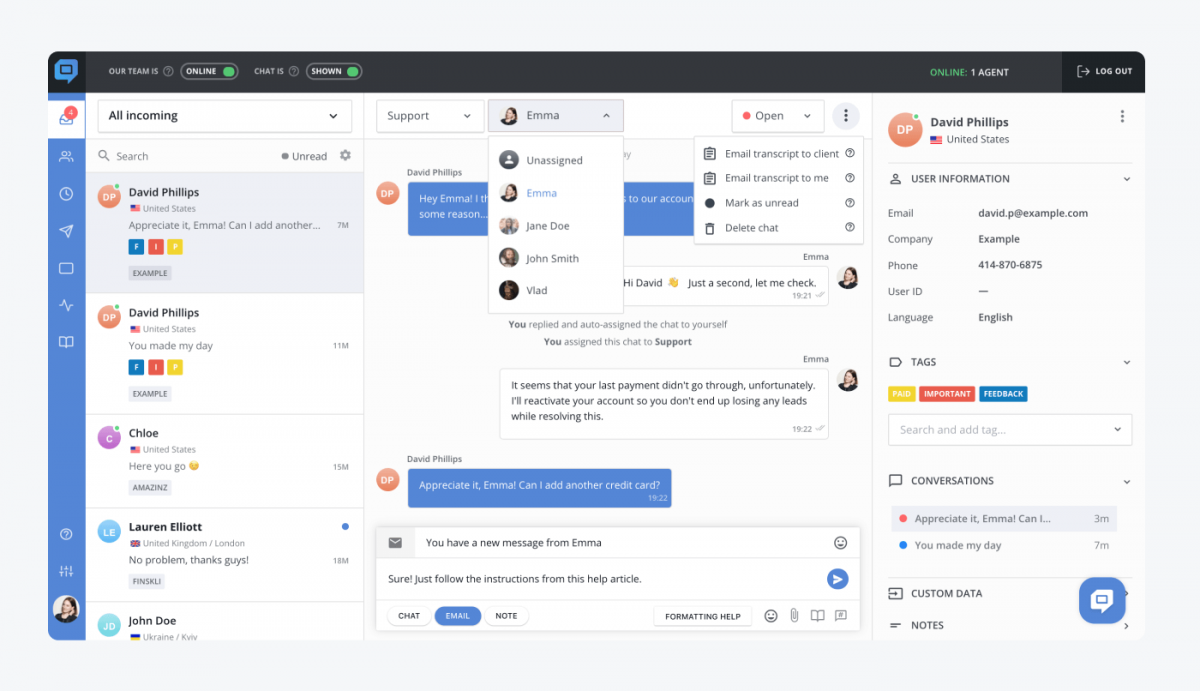 Ratings: 4.7/5 ⭐ (165+ reviews) on G2
HelpCrunch combines CRM with online marketing functionalities you won't find in other Drift alternatives.
You should consider HelpCrunch if you're looking for a versatile CRM platform that factors in email marketing in addition to the standard suite of CRM features. The typical profiles of HelpCrunch customers include SaaS companies and ecommerce companies.
Pros
Free trial
Relatively inexpensive for the number of features you get
Interchannel communication interface
Cons
Some users complain of occasionally sluggish performance
No fully free version
Pricing
Basic ($12/month/operator). Offers widgets, popups, a help desk, and educational resources. Also provides basic automation
Pro ($29/month/operator). Opens more of the above and adds unlimited messages, advanced automation, and customization
Enterprise (must contact sales to receive a quote). Personal onboarding assistance, a customized package to meet the needs of large enterprises, plus all the features from Basic and Pro plans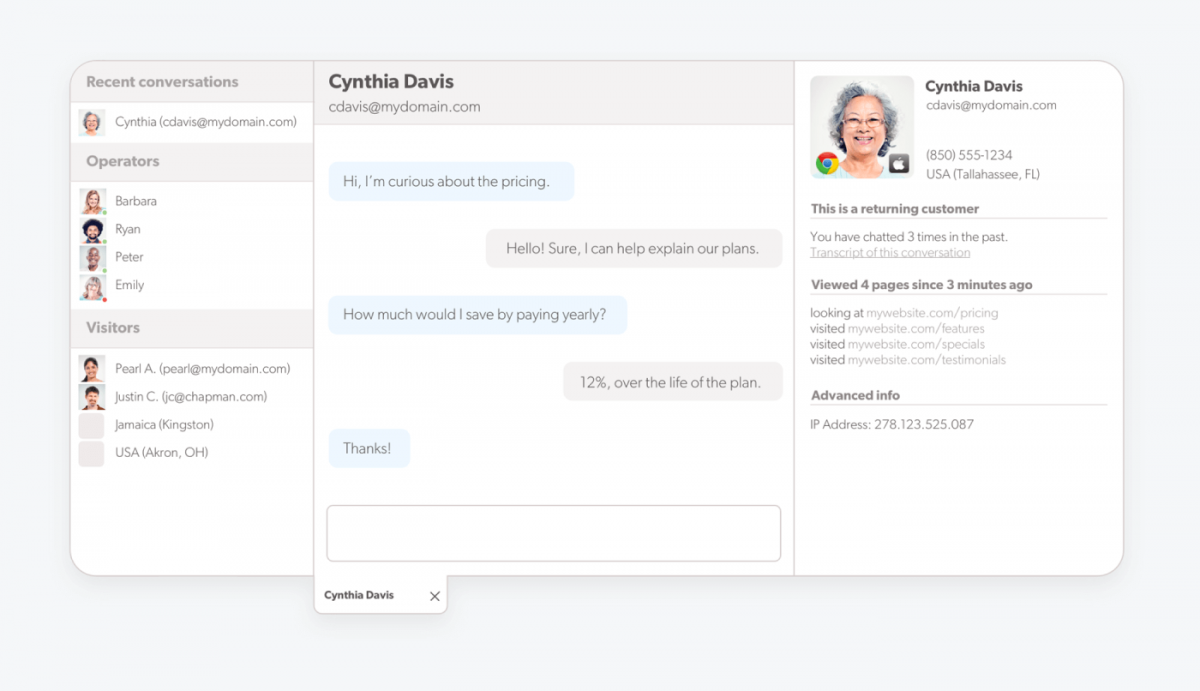 Ratings: 4.3/5 ⭐ (220+ reviews) on G2
As a Drift alternative, Olark puts a lot of focus on personalization. The "human touch" is a concept that's growing in marketing in customer relations. Olark realizes that and is perhaps a bit ahead of the curve.
Olark includes typical CRM features like automatic FAQ chats, ticketing, and more. But they stand apart when it comes to the small touches that work. Attention-grabbing but subtle interfaces may sound small, but Olark's practices resonate with customers, who give the platform great reviews. If you want a simple, grounded, and very inexpensive channel for customer relations, Olark is worth considering.
Pros
Advanced personalization features
Low-cost compared to its competitors
Ease of use
Comprehensive for the price tag
Cons
Not as many features as other Drift alternatives
Not as dynamic as many other solutions
No free plan
Pricing
14-day free trial. No freemium plan
Basic ($29/month/operator). Standard features without AI bots
Pro version (individual pricing). Includes support automation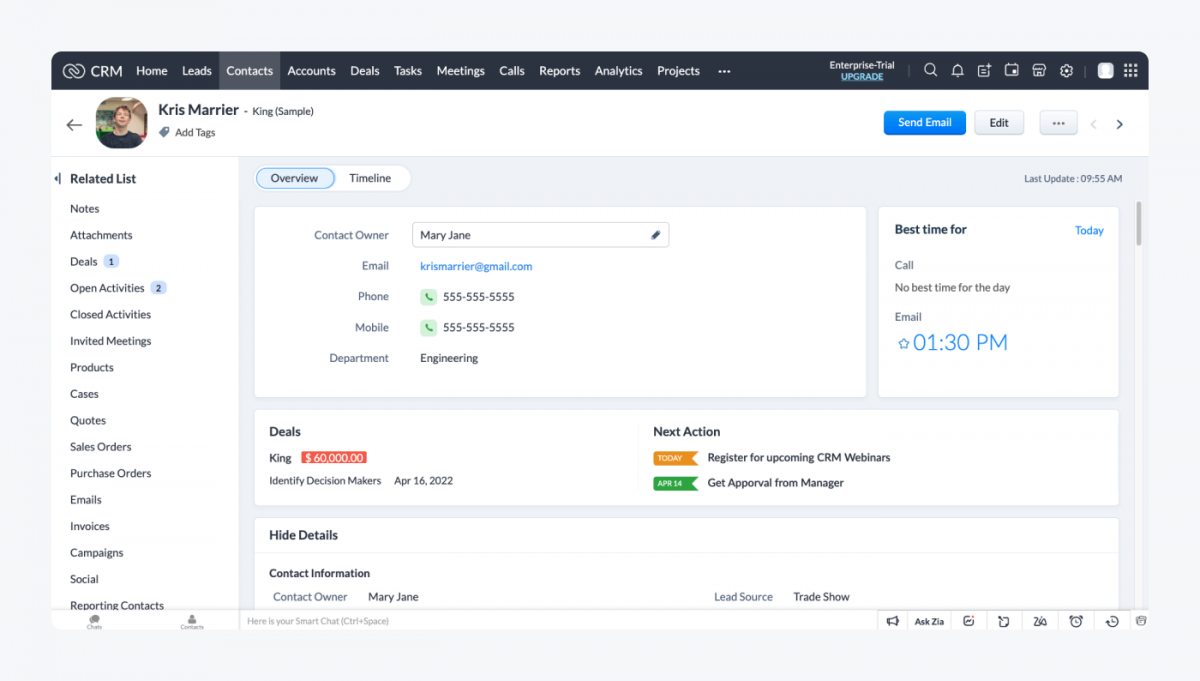 Ratings: 4/5 ⭐ (2,083+ reviews) on G2
Zoho CRM is focused on providing mid-sized businesses with contact management, sales funnels, and omnichannel customer interactions. They provide forecasting and various analytics as a part of their service packages. In its totality, Zoho CRM goes above and beyond the scopes of many other Drift alternatives.
In fact, it's a fully-fledged customer management system with a longer list of features than many of the other entries on this list. Their less typical features include sales force automation, lead management tools, and gamification tools. Many SMBs also use Zoho CRM and Zoho's other flagship products in tandem.
Pros
Strong emphasis on data security and privacy
Wide range of features
Relatively low costs for what you get
Sales tools
Cons
Some users complain about UI failures
Sometimes slow
Can be hard to use
Pricing
Standard ($14/month/operator). Offers basic marketing assistance, mass emails, and workflow features
Professional ($23/month/operator). Provides inventory management and tools for sales teams
Enterprise ($40/month/operator). Opens advanced customization options, mobile SDK, and MDM, plus more options
Ultimate ($52/month/operator). Unlocks the most advanced features and almost unlimited use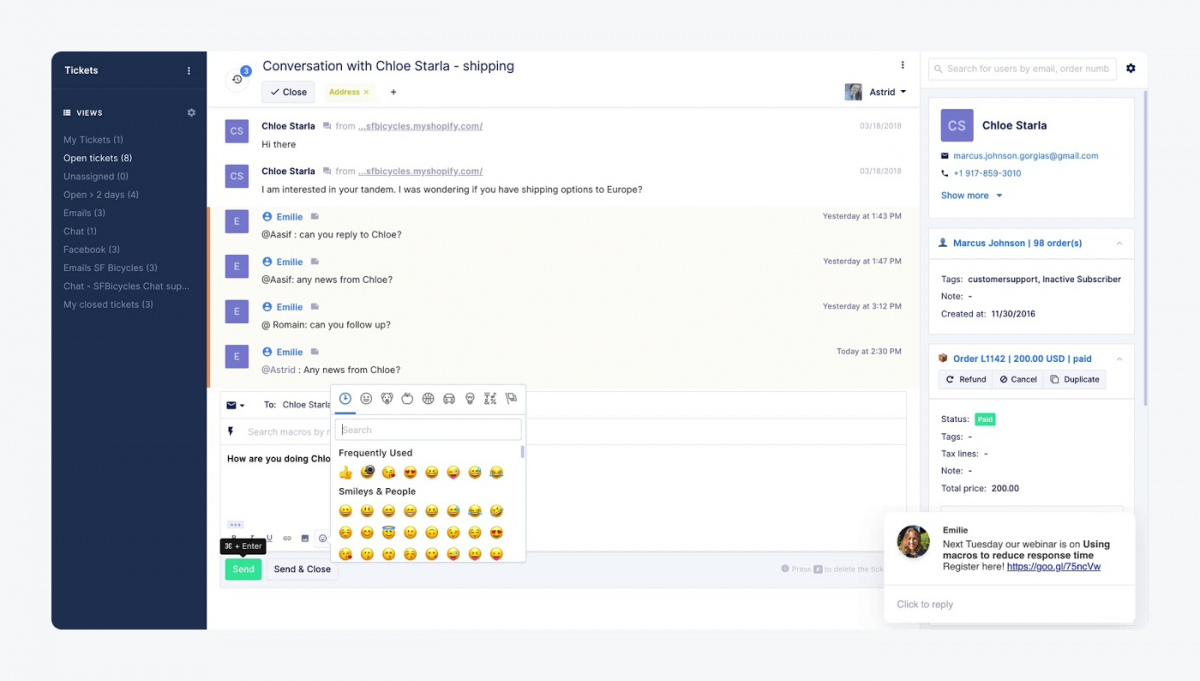 Ratings: 4.7/5 ⭐ (69+ reviews) on G2
Gorgias is the one CRM here totally dedicated to the customer management of ecommerce companies. More specifically, it was designed uniquely for Shopify, but works well with BigCommerce and Magento.
While Gorgias offers most of the features typically associated with CRM software, they follow up with features like social media sentiment analysis and loyalty plans. These features are meant to make the sales and customer loyalty processes more seamless.
Pros
Easy implementation
High quality, comprehensive analytics
Ecommerce-focused
Seamless, powerful integrations
Cons
Technical difficulties due to frequent updates
Relatively expensive
Pricing
Basic ($90/month). All basic features, but limited tickets
Pro ($450/month). Allows more tickets than with the Basic plan. Also provides Magento integration
Advanced ($1,130/month). same as the Pro plan but with a dedicated Success Manager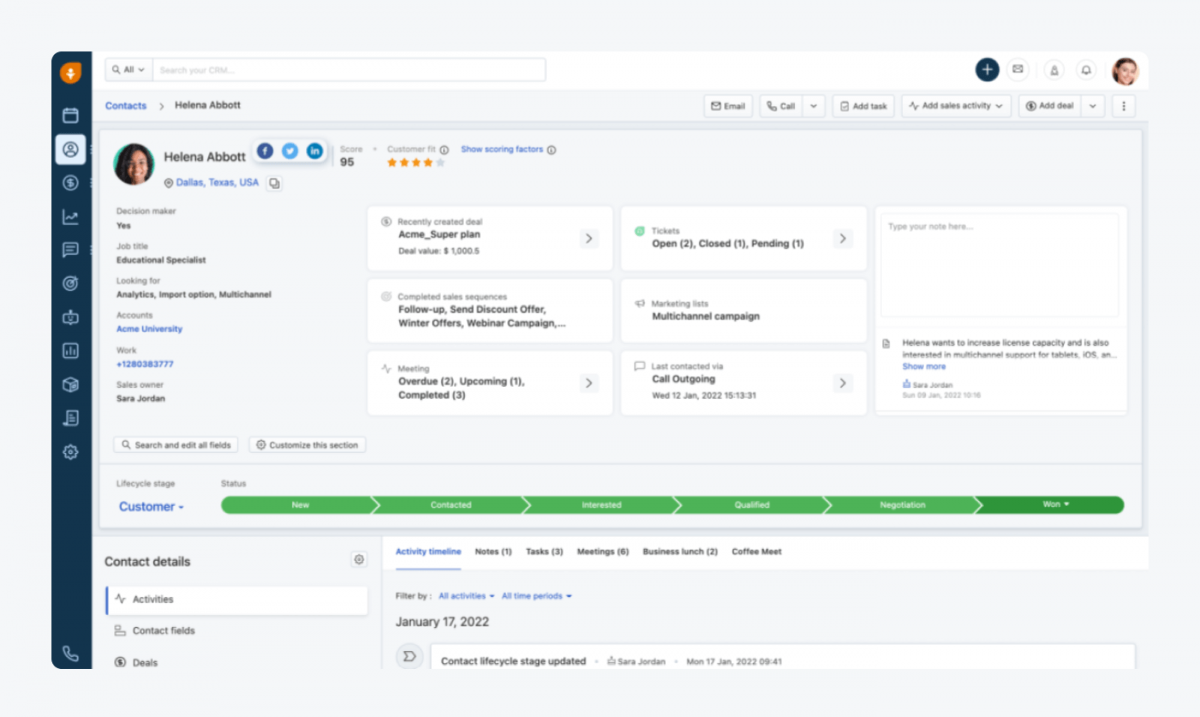 Ratings: 4.6/5 ⭐ (958+ reviews) on G2
FreshDesk Messaging from FreshSales (formerly known as FreshChat) provides sales enablement technology, as well as CRM features offered by Drift and other alternatives you're by now quite familiar with.
For sales enablement purposes, FreshSales offers personalized and automated email campaigns. In addition, the all-in-one sales and marketing tool offers lead and customer qualification. In terms of regular CRM features, they offer automated chat available in dozens of languages.
Pros
Intuitive, customizable interfaces
Advanced forecasting, analytics and insights
Enhanced sales processes
Rich marketing features
Cons
Only the most expensive plans have great features
No third-party integrations
Pricing
Freemium. The free package includes 24/5 support with chat, email, and phone support. Mobile app features are also provided.
Growth ($15/month/operator). Includes sales sequences, WhatsApp Business integration and visual sales pipeline
Pro ($39/month/operator). Includes all of the above plus 3k chatbot conversations and sales management
Enterprise ($69/month/operator). Offers all features from the plans above plus custom modules, AI-powered forecasts, and a dedicated account manager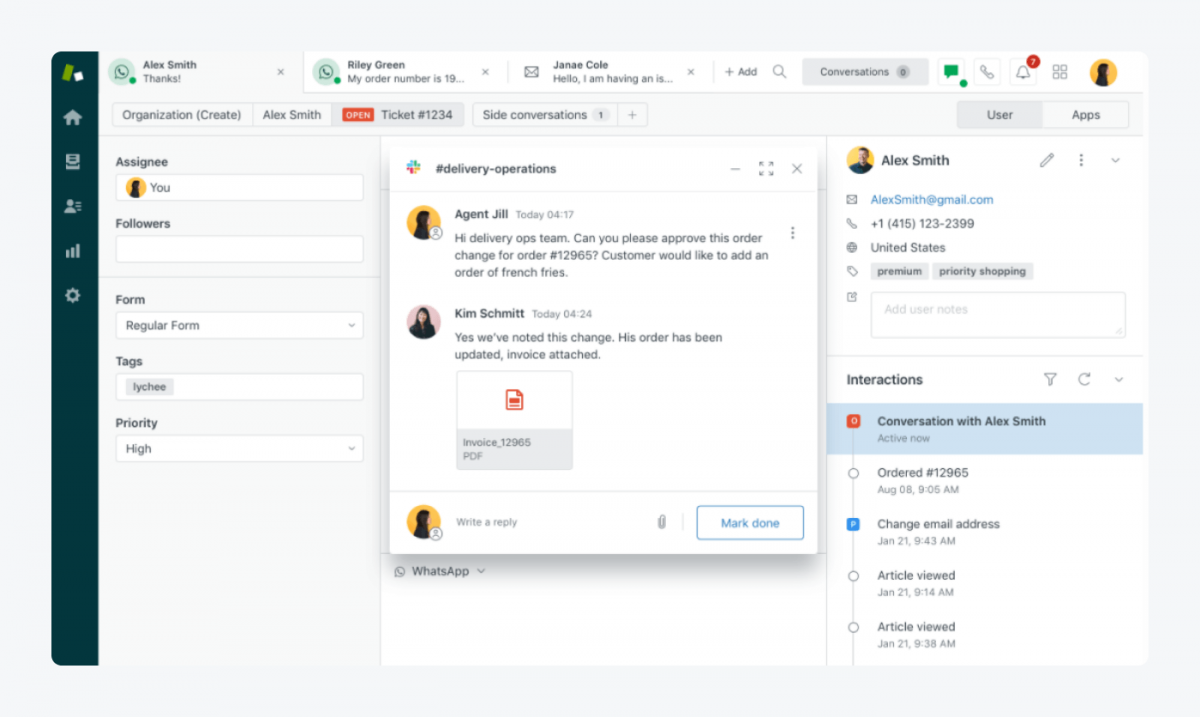 Ratings: 4.3/5 ⭐ (3,590+ reviews) on G2
If you're looking for an alternative to Drift, it makes sense to consider another trusted industry leader. Zendesk is active globally, offering chatbots and other services in dozens of languages. They serve over 85,000 businesses worldwide.
As a versatile SaaS platform, it offers "Zendesk Support" and "Zendesk Support Suite" packages. These options fit in with most small- to medium-sized business needs.
Pros
Comprehensive management customization
Useful alerts and escalation management system
Reasonably priced
Cons
Some users complain of technical challenges with data migration
Pricing
Suite Team ($49/month). This plan includes all basic features (live chat, ticketing system, email automation) with some limitations
Suite Growth ($79/month). It provides all the features from the Suite Team plan but with limitations that are acceptable for bigger teams
Suite Professional ($99/month). Unlocks the full range of services
Enterprise (You must contact Zendesk for a quote). These packages are more comprehensive and personalized, but of course, come at a much higher cost
Conclusions: how to choose the best Drift alternative
The key to choosing the best Drift alternative is choosing the CRM software that suits your business's unique needs.
For example, an ecommerce company may find one option to be excellent, but that same option may be awful for another business. So, it's important to consider factors such as:
Industry
Budget
Business size
Workflow complexity
To make matters simpler for you, we've compiled some of the companies that are more useful based on your business's specifications.
Best overall:
Best for very small businesses:
Best for eCommerce:
Best for additional sales features: