You want to add live chat customer service to your website and improve your customer interactions.
You heard of Gorgias' great features, but it doesn't seem to suit your needs or doesn't match your budget.
No worries!
There are plenty of options out there. But looking through them all would take you hours. And wouldn't it be better to spend them on growing your business instead?
Of course it would be!
That's why we did the research for you. So, check out the in-depth reviews of the top Gorgias alternatives with pros, cons, and pricing comparisons of each one.
In this article:
If you want to find out more about live chat, check out these articles:
Let's start by introducing Gorgias—
What is Gorgias, and what can you use it for?
Gorgias is a customer service live chat and help desk software for ecommerce businesses. It seamlessly integrates with Shopify, BigCommerce, and Magento for easier installation. Gorgias helps online stores increase service desk efficiency. On top of that, it also offers a single panel to manage all the support, and reduce ticket first response time.
All that sounds great, so what are some of the functionalities it can add to your online store?
Gorgias has a market share of 3.7% and its top features include:
Full customer history across different channels
Customer details and orders next to the ticket
Multiple stores' support available
Single helpdesk for email, phone, live chat, and social media conversations
Chatbots available
Rules for ticket tagging
Cancellation, refund, and duplicate of orders from within the chat
So, it's a good customer service software for ecommerce businesses to consider. However, when you're in a different industry, it might not be the best fit for you. Also, some users complain about the lack of sales features and the need to use additional software for their sales needs.
Additionally, Gorgias is one of the live chat software tools that is on the expensive side. Its pricing plans include:
Basic ($60/month)
Pro ($360/month)
Advanced ($900/month)
Enterprise → contact sales for pricing
See this quick video about Gorgias' features and setup:
Onto the main subject of this article—
What are the best Gorgias alternatives?
Here's a comparison table of Gorgias competitors for a quick view:
Let's jump straight into it and look at in-depth reviews of the top 10 Gorgias competitors: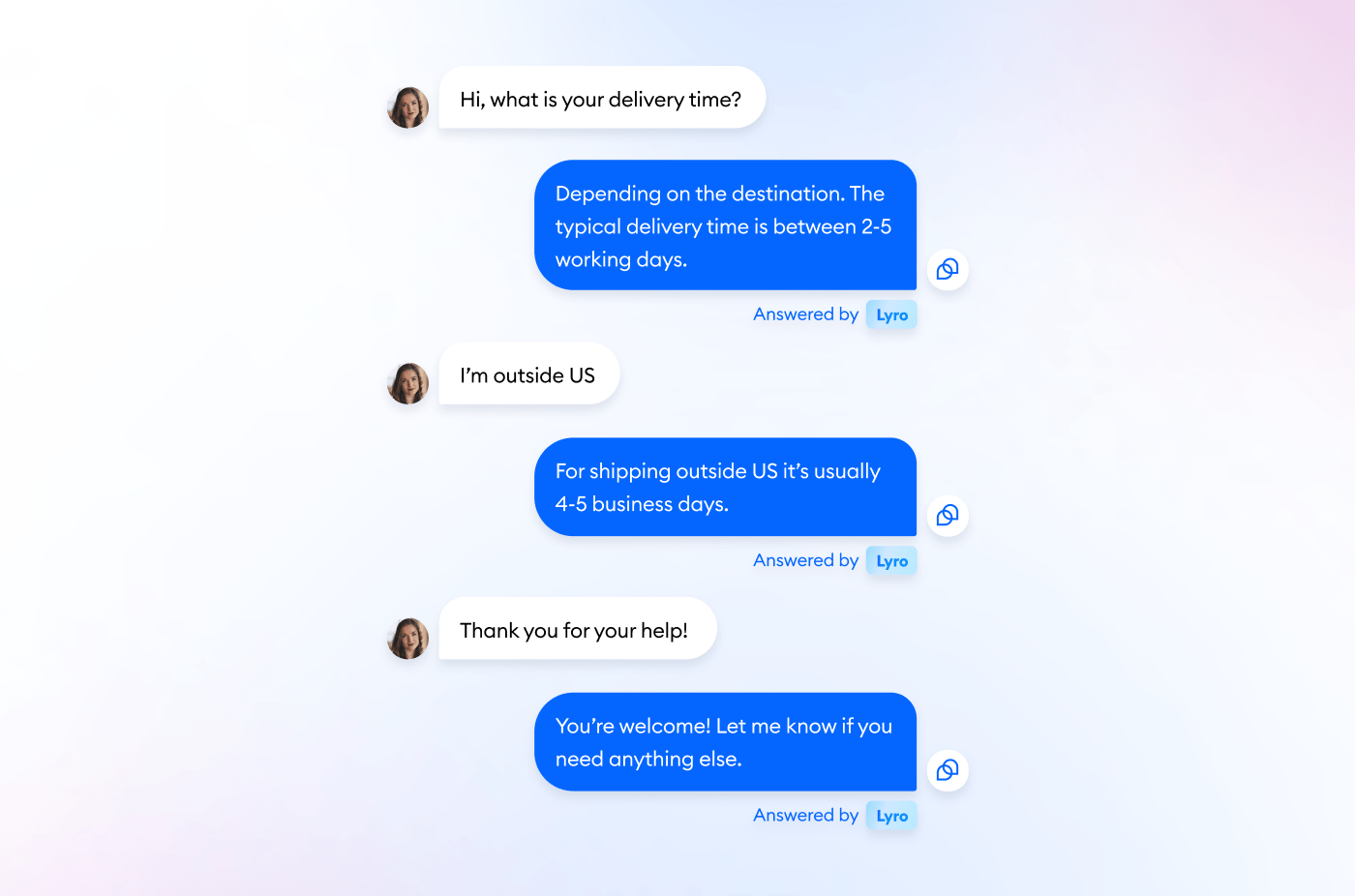 Ratings: 4.7/5 ⭐️(1,400+ ratings)
If you're wondering "What are the Gorgias alternatives that use AI?", then Lyro is your answer.
It's an all-in-one customer service solution that includes a live chat feature and conversational AI chatbots for ecommerce workflow automation. Lyro also offers NLP (Natural Language Processing) to help with the customer experience.
And yes, you're right. This is our system. So, instead of promoting ourselves in this article, we'll encourage you to check the system out for yourself.
Main features:
Understands context and bot intent detection to help
Natural Language Processing (NLP) chatbots
Self-training software
Conversation bot templates available
Powered by Claude Large Language Model (LLM)
16 different triggers for bots
Free plan available
Starter ($29/mo)
Communicator ($25/mo/operator)
Chatbots ($29/mo)
Lyro add-on (from $39/mo)
Tidio+ (from $329/mo)
Read more: Learn how to answer customers' questions automatically with Tidio AI Response Bots.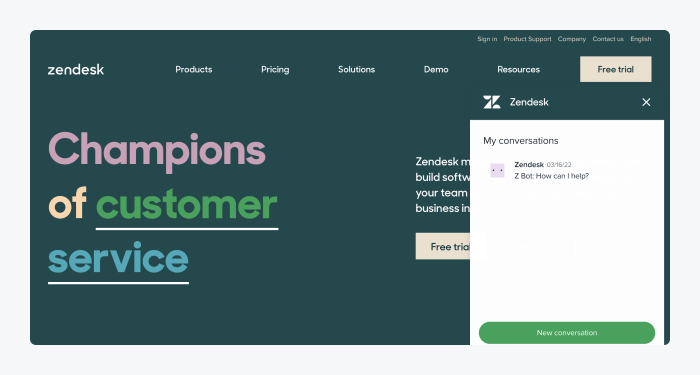 Rating: 4.3/5 ⭐️ (4,335+ reviews)
Zendesk offers a software solution for customer support, sales, and overall customer engagement. It's a SaaS platform that provides pre-chat surveys, canned responses, and team members' collaboration for more efficient results. This Gorgias competitor also has AI chatbots, so you can offer 24/7 support on all channels.
Pros:
Self-service including knowledge base, chatbots, and FAQs
Comprehensive reporting for customers and agents
Chat routing and queue management available
Cons:
Some reviewers state there are technical issues with data migration
Relatively slow customer support team
Suite Team ($49/agent/month)
Suite Growth ($79/agent/month)
Suite Professional ($99/agent/month)
Read more: Discover the best Zendesk alternatives out there and compare them in detailed reviews.
Rating: 4.4/5 ⭐️ (2,645+ reviews)
This is one of the Gorgias alternatives that works perfectly on Firefox. You can use it to improve customer relationships and increase conversions from your ecommerce. This is a cloud-based customer service software, which makes it easier for your team to customize the system. It provides custom ticket views and marketing tools to better organize your customer communication and increase conversions.
Pros:
Advanced analytics and forecasting
Ticket assignment and merging
Customizable and intuitive interface
Cons:
Limited integration with third-party software providers
Some reviewers had data synchronization issues
Free version available
Growth ($18/agent/month)
Pro ($59/agent/month)
Enterprise ($95/agent/month)
Did you know that…
Customers use live chat primarily because of no wait times (34%) and convenience (26.9%). And over 41% of shoppers expect websites to offer a live chat support. This number is even higher when it comes to mobile (Android and iOS) and reaches 62%.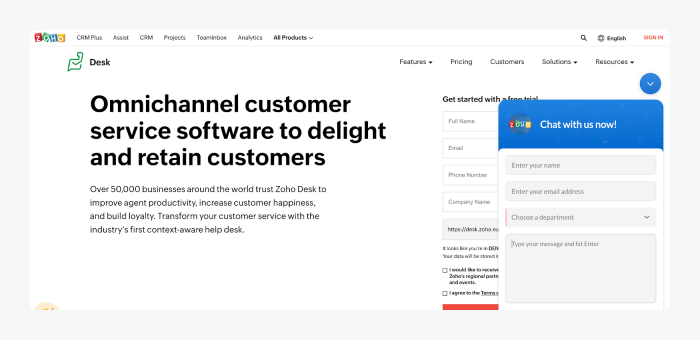 Ratings: 4.4/5 ⭐️ (3,825+ reviews)
Zoho Desk is a CRM software with ticketing system functionality that simplifies support ticket management for your customer service team. It provides canned responses, auto-tagging, and sales automation to streamline some of the customer interactions. This is one of the Gorgias alternatives that is best suited for mid-sized companies. It can help them improve contact, and project management, as well as multichannel customer communication.
Pros:
Time tracker available for ticket routing and management
Interactive Voice Response (IVR) for call centers
Variety of integrations, including Jira, Google, Salesforce, and Slack
Cons:
Some reviewers state there are user interface failures
Slow customer support
Free version available
Standard ($20/agent/month)
Professional ($35/agent/month)
Enterprise ($50/agent/month)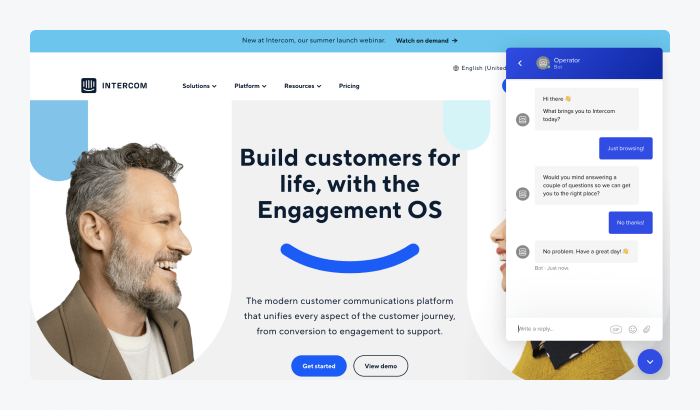 Rating: 4.4/5 ⭐️ (2,250+ reviews)
Intercom lets you add rules to your funnel which contributes to workflow automation. It's best suited for larger businesses that want to build customer relationships through instant messaging. This Gorgias competitor offers in-chat surveys to collect customer feedback from your shoppers and improve user experience from your site. You can also track customer interactions to improve the quality of your support and increase customer satisfaction.
Pros:
Collision detection for customer support requests
Workflow monitoring and reporting dashboards
Multilingual chatbots available
Cons:
Steep learning curve
Some of the dashboards are difficult to use
Contact sales for demo and pricing
Read more: Check out the best Intercom alternatives and competitors on the market.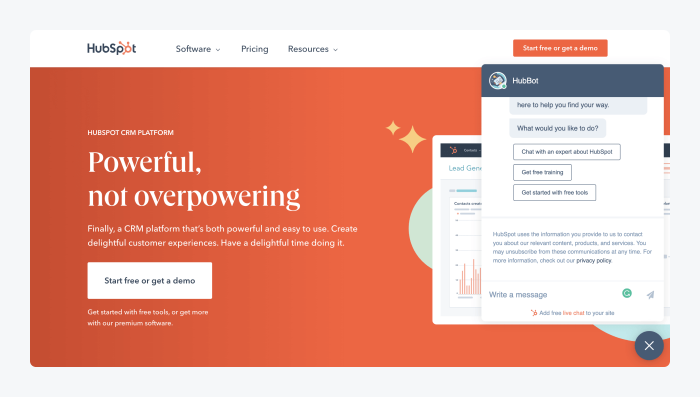 Rating: 4.4/5 ⭐️ (1,245+ reviews)
This is one of the Gorgias competitors that offers extensive sales tools and inbound marketing to help you increase conversions on your website. It offers a website builder, marketing automation, and customer management for your business to attract and convert more visitors. You can also create email marketing campaigns and identify the best subject lines, content, and call-to-action buttons to make your marketing efforts more effective.
Pros:
Easy tracking of website visitors
Email marketing campaign builder
Ticket routing and automation
Cons:
Reviewers report limited customer support for users on the free plan
Tricky to set up your own knowledge base
Free plan available
Starter ($45/mo)
Professional ($450/mo)
Enterprise ($1,200/mo)
Did you know that…
Chatbots are effective in resolving customer issues about 87% of times. And by automating routine tasks, you free up over 77% of your reps' time to focus on more complex issues.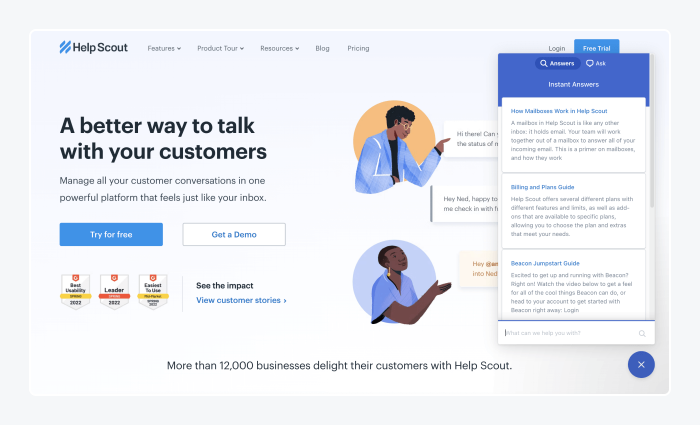 Rating: 4.4/5 ⭐️ (355+ reviews)
Help Scout offers a help desk solution with a shared mailbox for your customer support and management of queries. It also provides automated workflows to improve the efficiency of your customer service representatives and streamline some of the processes. You can use a ticketing system to keep all of your customer communications organized. This Gorgias alternative offers a variety of integrations, including MailChimp, Salesforce, and Slack.
Pros:
Shared inbox for your team
Robust API
Customer management system
Cons:
Email merging can be a little confusing
Some reviewers state that the email spam filters need improvements
Standard ($25/user/month)
Plus ($40/user/month)
Company ($60/user/month)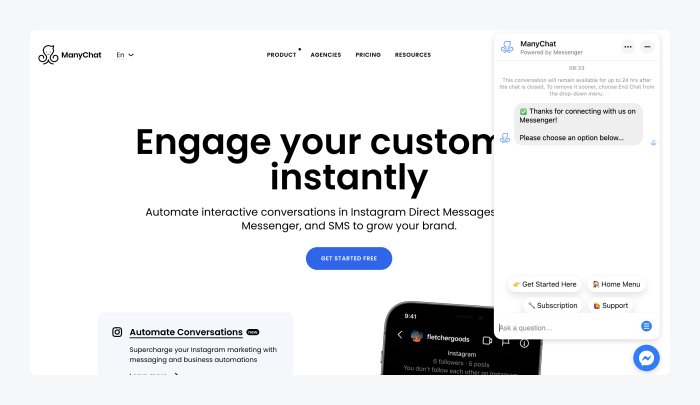 Rating: 4.6/5 ⭐️ (130+ reviews)
This Gorgias competitor is a chat marketing platform that lets you set up your automated messaging via Facebook Messenger, Telegram, Instagram, email, and SMS. It works best for small businesses and those that are based primarily on Instagram, Facebook, and WhatsApp, instead of a website. On top of that, ManyChat is very simple to use, so you can set your Instagram bots up in minutes with ready-made templates.
Pros:
PayPal/Stripe payments on the chatbot
Audience segmentation available
Customer onboarding content including tutorials
Cons:
Only basic analytics and reports available
Facebook-based, so the system is dependent on Meta for some of its workings
Free version available
Pro ($15/month)
Rating: 4.6/5 ⭐️ (120+ reviews)
This Gorgias competitor is best for B2C companies that primarily use WhatsApp to connect with their customers. This is because WATI is an official business partner of WhatsApp and ensures a seamless integration for the users. You can monitor performance and data-driven insights to help you improve customer experience and make better business decisions in the future. It also provides templates and lets you set the availability hours of your human agents, so the clients know when they can contact your representatives.
Pros:
Integrations with Zapier, Shopify, and Google Sheets
Links with the official WhatsApp Business API (official integration with WhatsApp)
Performance monitoring available
Cons:
Reviewers report that the builder feature is not intuitive and needs improvements
No social media integration
Standard ($49/month)
Professional ($98/month)
About 2 billion people worldwide use WhatsApp every month. It was also the 8th most popular app to download in 2021.
Did you know that…
About 2 billion people worldwide use WhatsApp every month. It was also the 8th most popular app to download in 2021.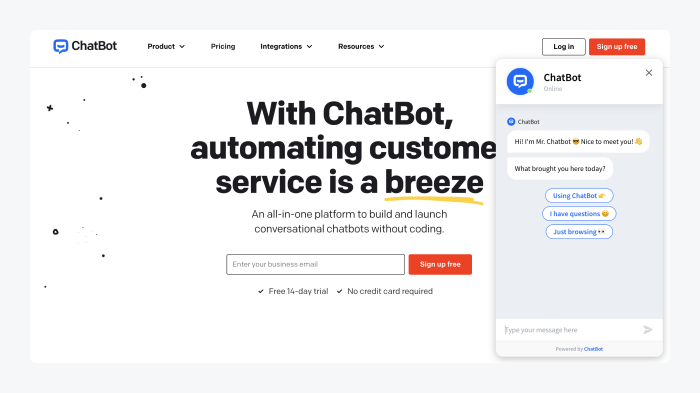 Ratings: 4.5/5 ⭐️ (15+ reviews)
ChatBot, just as the name suggests, focuses on providing chatbots for customer service. It can help you automate tasks and generate more leads for your business with the use of natural language and AI chatbots. You can customize your bots with a drag-and-drop chatbot builder with images, buttons, and quick replies. This Gorgias alternative lets you deploy the bots on your website and third-party platforms, then track their results across different channels.
Pros:
Large number of chatbot templates
Variety of integrations, including Facebook Messenger, WordPress, and Slack
AI algorithms and natural language processing available
Cons:
Only chatbots provided (no live chat included)
Limited configuration of the bot display
Starter ($50/mo)
Team ($149/mo)
Business ($499/mo)
Enterprise → contact sales for pricing
Read more: Check out the best ChatBot alternatives out there.
How to choose the best Gorgias alternative?
As you can see, there are a number of options when it comes to Gorgias alternatives. It can become overwhelming to look at all the different customer service platforms and not know where to properly start. So, take a step back and start by looking at your business needs and calculating the budget for this software. Only then you'll be able to pick the best option for your company.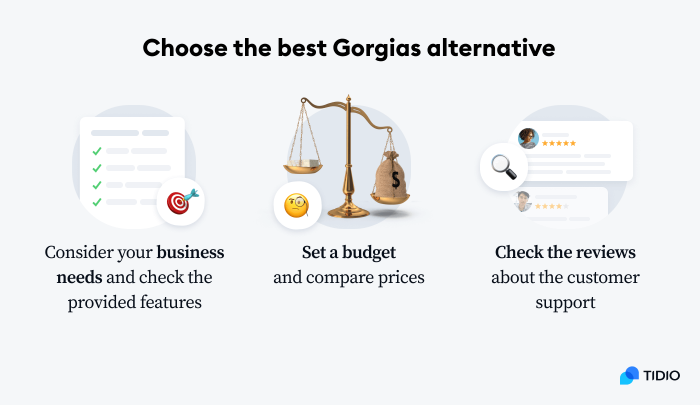 Here's how to select the best Gorgias competitor for your business:
Check the provided features
When you know your company's needs, it's much easier to identify which live chat platform meets them. For some businesses, a good ticketing system is the most important part of their live chat feature, for other companies, it's the customization.
So, go through the features and functionality of the platform you're considering to see if they match your requirements.
Sometimes you can get a similar customer support software for half the price of the one you're looking at. That's why it's good to compare prices and see if you need all the bells and whistles that will increase your costs by tens of dollars every month. If you don't, then you might as well save some money and go with the cheaper option that still provides all the features that will satisfy your business needs.
Also, remember to always see if the solution you're checking is in your budget, while also considering the return on investment you expect from implementing it.
See if there's good customer support
No matter how tech-savvy you are, you will probably come across some trouble when setting up and using the software for the first time. And to get the most out of it, you'll need to learn well. A helping hand definitely be useful.
Therefore, it's important to check if there's quick and knowledgeable customer support provided with the platform. It's also good to see if the system has user onboarding resources to introduce you to its workings.
Key takeaway
That's all for this article. You can always go back to the list whenever you're in doubt about which solution will be good for your company. We recommend going through the reviews and picking the top three platforms. Then you can go onto their website and look through the user ratings to check the offers in-depth.
As a quick recap, here are the top Gorgias competitors worth looking at:
Tidio
Zendesk
Freshworks
ChatBot
ManyChat
WATI
Help Scout
Intercom
HubSpot
Zoho Desk
Remember to set your budget and identify your business needs before going on a hunt for your customer service software. This will help you identify the right platforms that match your budget and provide features you require.