You want to gain new customers, upsell, and grow your online sales while streaming workflows for your sales team?
You're in the right place.
A live chat for sales helps businesses answer shoppers' questions about products and services, improve the customer journey experience, drive sales, and more. It can help you exponentially grow your business without adding extra costs to your spendings list.
So, no more waiting around.
Let's discover how to use live chat sales to your advantage.
In this article:
If you're interested in more articles about live chat, check these out:
Now—
Is sales live chat worth it?
Does live chat increase sales?
The short answer is—yes.
Sales chat has a number of benefits that can give you an advantage over competitors. These include increasing the value of the orders, boosting revenue, but also improving customer satisfaction.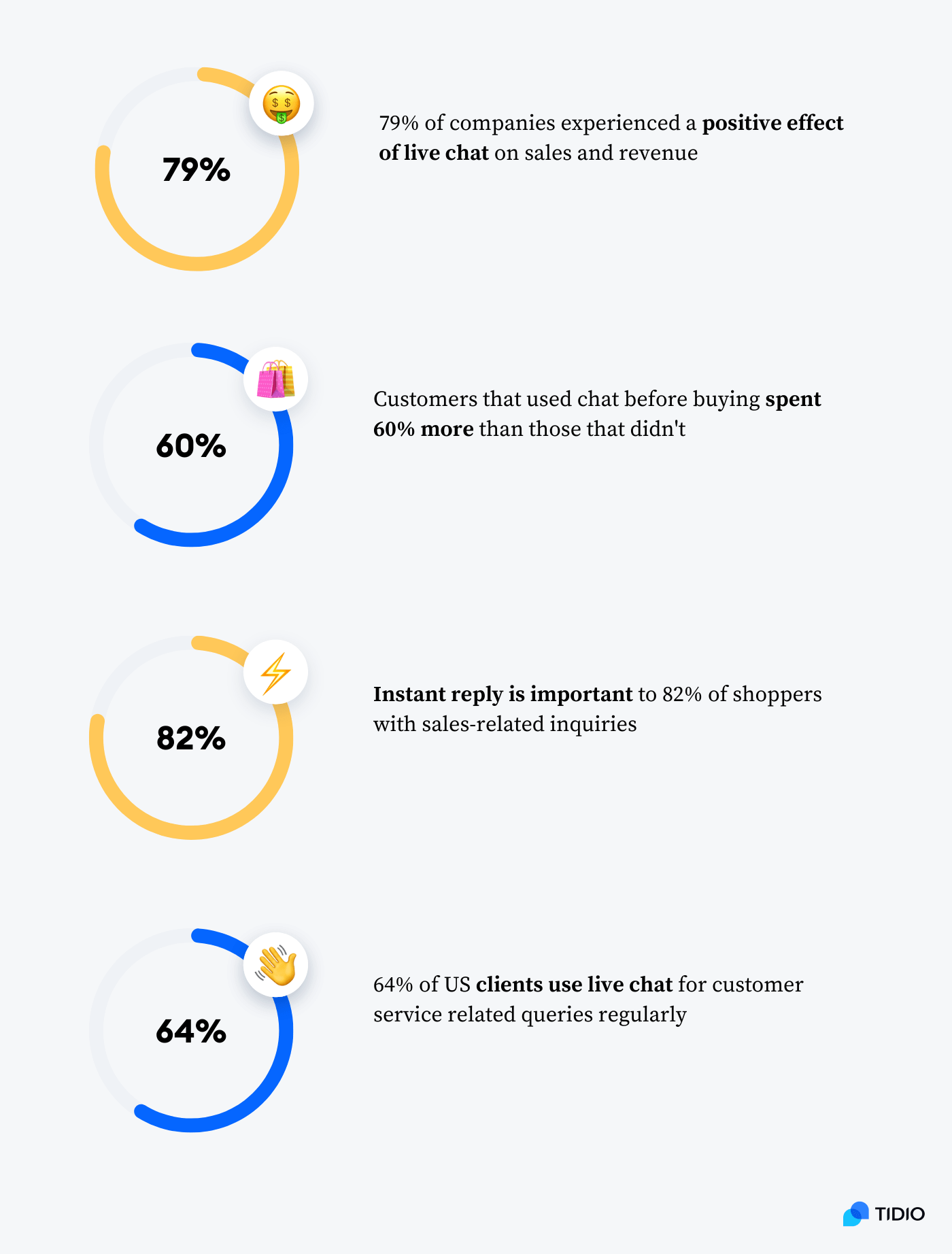 Here are the main reasons you should get sales live chat for your business website.
Increased sales
Over 79% of businesses state that providing live chat for their visitors has had a positive effect on customer loyalty, sales, and revenue. So, adding a sales chat to your business website can help you grow your brand exponentially.
Higher purchase value
On top of increasing overall sales, live chat also boosts spending per purchase. In fact, the research found that shoppers that use live chat prior to the purchase spend about 60% more in comparison to those that don't use the chat.
Real-time communication
Having a sales assistant on hand is one of the main factors people choose to shop in physical stores. But live chat gives this advantage to online stores now. And it's crucial since customers rate immediate responses from the business as very important across their entire buyer journey. This includes marketing and sales-related inquiries (82%) as well as customer support questions (90%).
Higher customer satisfaction
Chat messages can help you boost sales but also improves the satisfaction of your shoppers. They're often quicker than checking the knowledge base, so many people like using it and want ecommerce sites to offer real-time customer support. In fact, a whopping 64% of US customers use a live chat widget regularly.
Now—
What makes a great live chat for sales? Let's find out.
Read more: Read this case study to learn how Ad hoc Atelier nearly tripled the conversion rates using Tidio.
Live chat for sales: main features
When using live chat for sales, you'll need some great features to help you with the processes. The requirements vary between each business so make sure that the software you choose offers the functionality that your brand needs.
Here are some of the sales chat features you should look out for: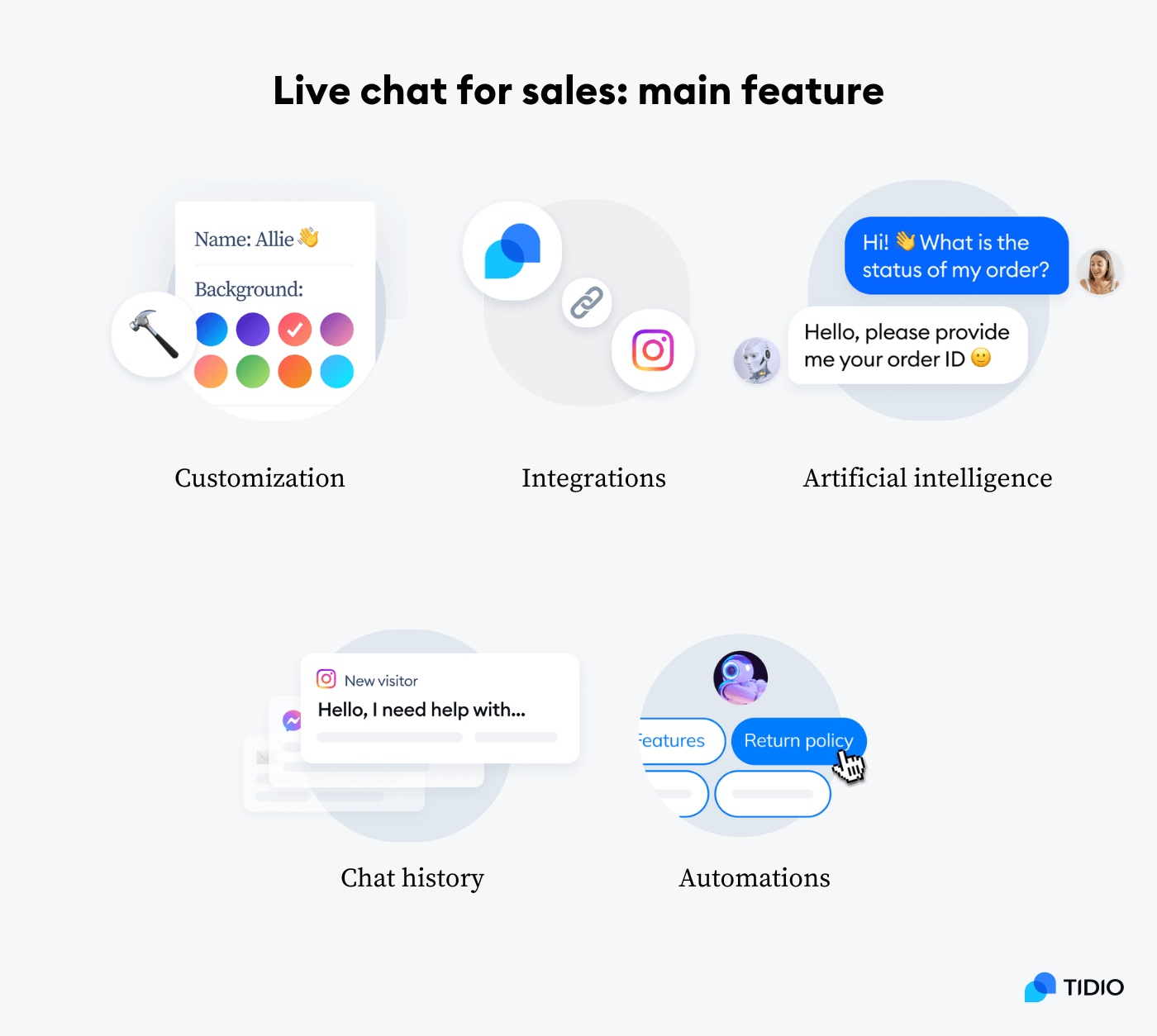 Make sure that the help desk and sales system you choose allows you to customize the look and feel of the software. This includes the widget's design and placement, as well as the messages to your visitors.
The sales live chat that you pick should offer a long chat history. Ideally, you should be able to choose the period of time that you want to keep the messages for reviewing.
AI is everywhere now, and if you don't jump on it, you'll be left behind the competition. This technology can help you streamline some of your processes to speed up task completion and keep customers engaged. It also lowers the time it takes for visitors to get support when browsing your website.
Some of the most useful integrations include social media, Zapier, MailChimp, Google Analytics, Salesforce, and HubSpot CRM. But these are just suggestions. Your business already uses a range of platforms so make sure to find a software that integrates with those systems seamlessly.
These include all the customer service and sales automations to help you decrease the workload, like AI chatbots. Some platforms will offer email automation with the sales live chat software, others can provide order tracking. Choose the ones most suitable for your brand.
"A customer who is on the fence about making a purchase is able to get their questions answered without any delays, creating a positive experience that can factor into converting them into a paying customer."
Read more: Download a free ebook and learn how you can leverage AI for your customer service.
Ok—let's look at the best software you can use for your business website, shall we?
Top 5 sales chats for your business
There is an abundance of choices when it comes to live chat software nowadays. But how do you know which platforms are good for growing sales and increasing your revenue?
We checked reviews, looked through the features, and tested tens of different systems, so you don't have to worry about it.
Here's a comparison table of our findings for a quick view.
Okay, let's explore the best live sales chats in more detail.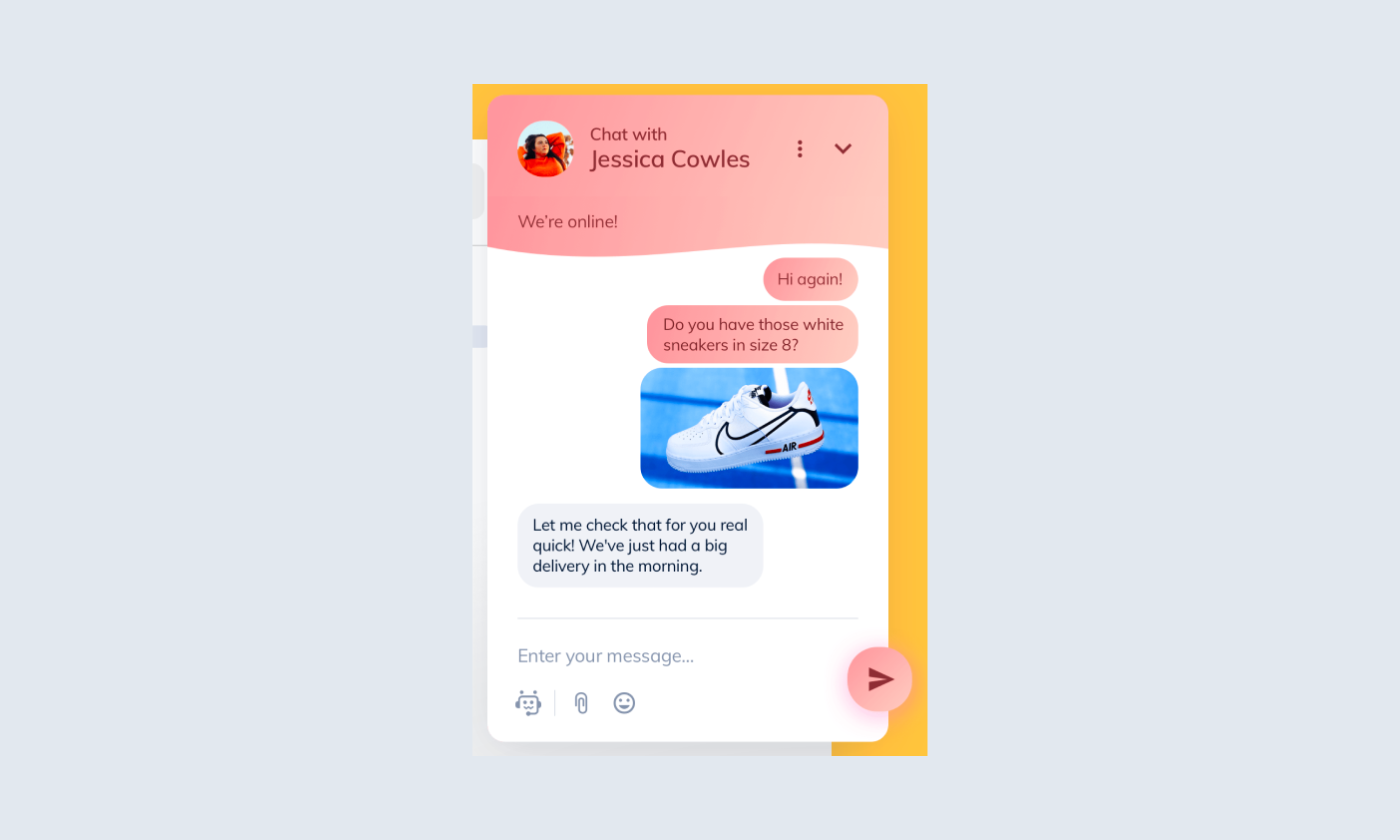 Ratings: 4.7/5⭐️ (1,400+ reviews)
Best for: overall ecommerce chat functionality
Tidio provides a sales live chat tool enhanced with chatbots, enabling effortless customer engagement and sales generation for your ecommerce business. Additionally, it offers a multichannel system that consolidates all conversations into a single inbox.
We encourage you to check the feedback from our users and check the system's functionality free of charge.
Main features:
Live view of website visitors
Visitor profiles with their information
Real-time visitor message preview
AI-assisted canned responses for quicker replies
Mobile apps for Android and iOS devices
Free plan available
Starter ($29/mo)
Communicator ($19/mo/seat)
Chatbots ($19/mo)
Bundled solution (starts from $19//mo + $19//mo/seat)
Read more: Learn how Tidio's live chat conversation panel works.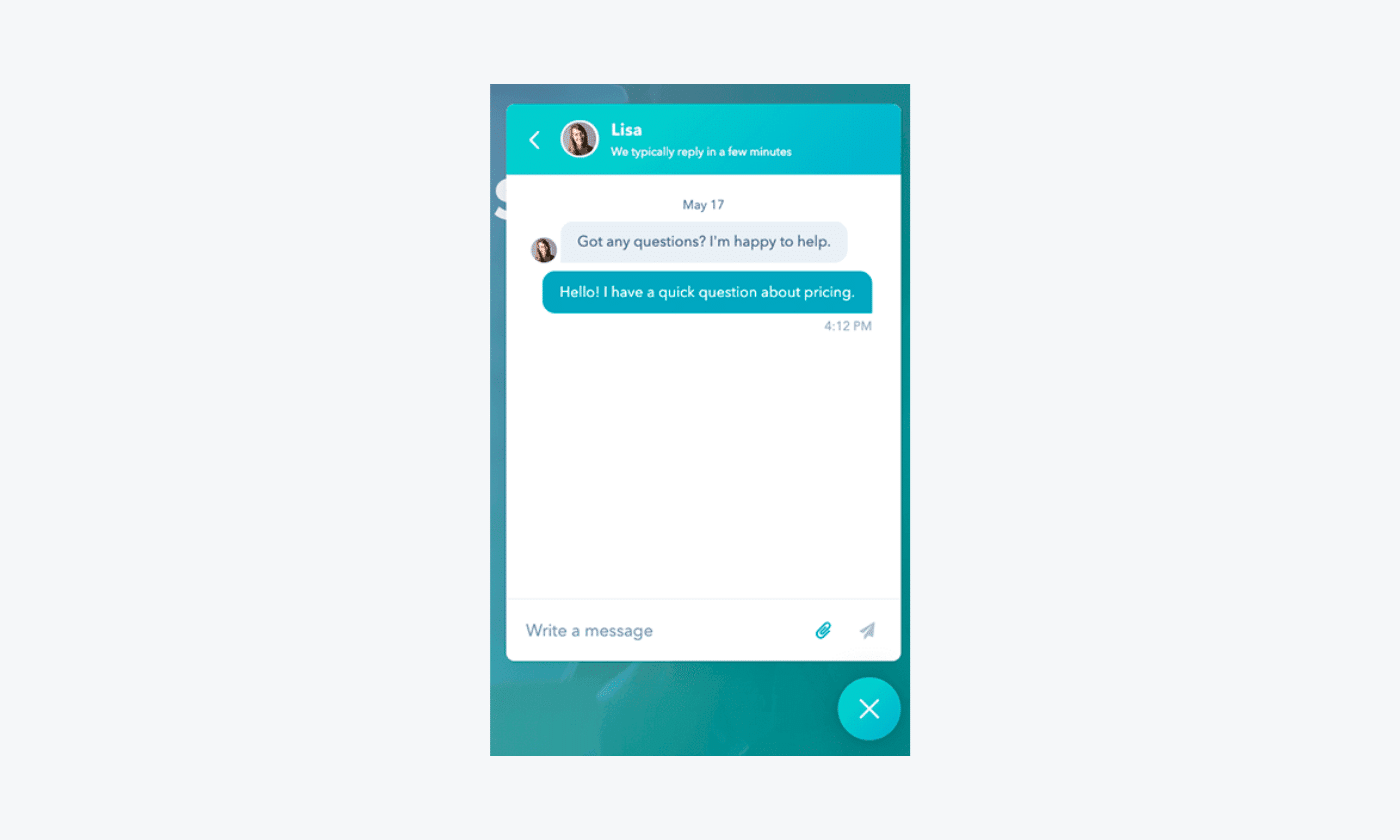 Ratings: 4.4/5⭐️ (10,370+ reviews)
Best for: CRM suite features
HubSpot provides a sales live chat as part of their HubSpot CRM suite, which offers the convenience of synchronizing customer data across various HubSpot modules. You can see relevant contact information on the chat window, which makes personalization easier. Also, this chat for sale integrates with other channels such as Slack, Zapier, and Intercom.
Pros:
Responsive calendar booking
Clean user interface
Mobile apps available
Cons:
Difficult to navigate between tickets and the inbox
New conversation notifications are easy to miss
Free version available
Professional ($490/mo)
Enterprise ($1,180/mo)
Read more: Discover the best live chat apps available on the market with pros, cons, and pricing compared.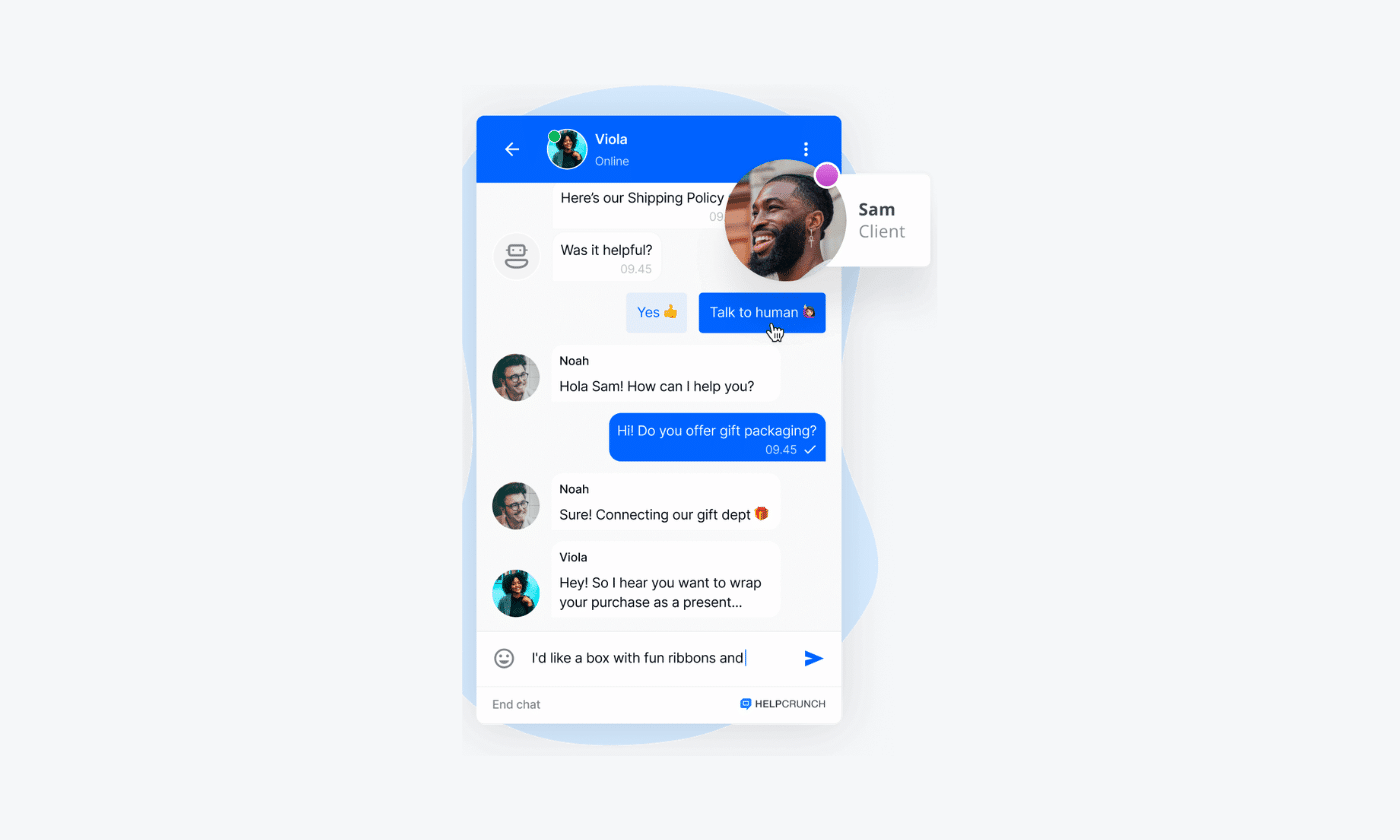 Ratings: 4.7/5⭐️ (190+ reviews)
Best for: inter-team collaboration
HelpCrunch is a comprehensive customer communication platform that combines ecommerce live chat, email marketing automation, and sales capabilities. It connects various communication channels into one platform, ensuring a seamless and unified user experience. This sales chat also offers dashboards with metrics for easier tracking of each team's performance.
Pros:
Multichannel platform
Tagging system
Customizable chat widget
Cons:
Onboarding process needs improvements
Bugs in the Facebook Messenger occur
Free trial (14 days)
Basic ($15/mo)
Pro ($25/mo)
Unlimited ($495/mo) Only available on the annual subscription.
Read more: Compare the top ticketing systems and choose the best one for your business.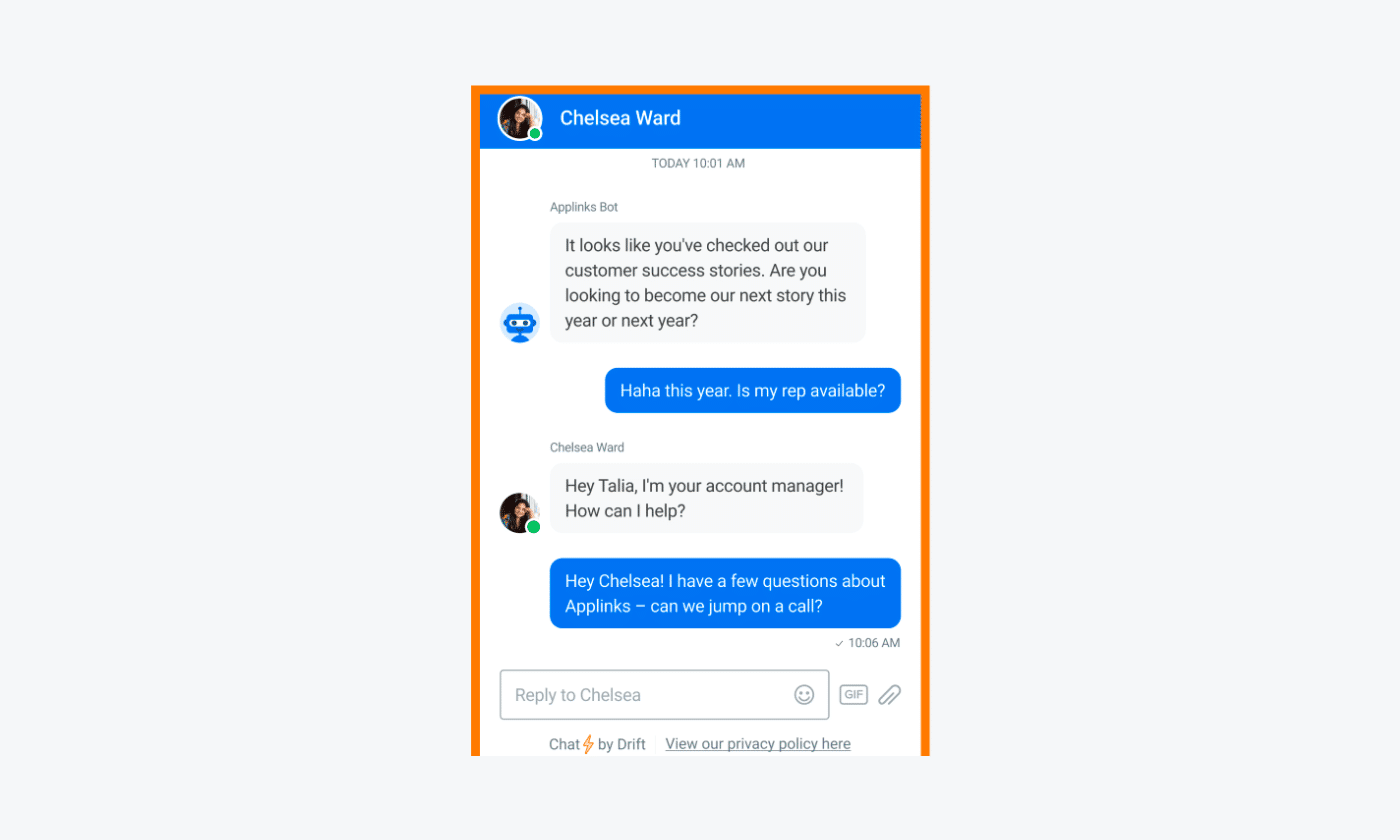 Ratings: 4.4/5⭐️ (940+ reviews)
Best for: scheduling calls
Drift is a leading sales live chat platform designed specifically for B2B businesses, offering powerful capabilities for customer engagement through conversational marketing. It includes a range of features, like live chat, chatbots, email marketing, and video communication tools. This software allows you to create multiple inboxes, add internal notes to conversations, and utilize saved replies for efficiently addressing frequently asked questions.
Pros:
Account-based marketing features
Call and zoom functionality
Customer segmentations
Cons:
Limited customization options
Some reviewers say that the backend interface can be confusing
Drift Startup program → contact sales team
Premium (starts at $2,500/mo)
Advanced → contact sales team
Enterprise → contact sales team
Read more: Check out the most effective B2B lead generation strategies that will help you level up your business.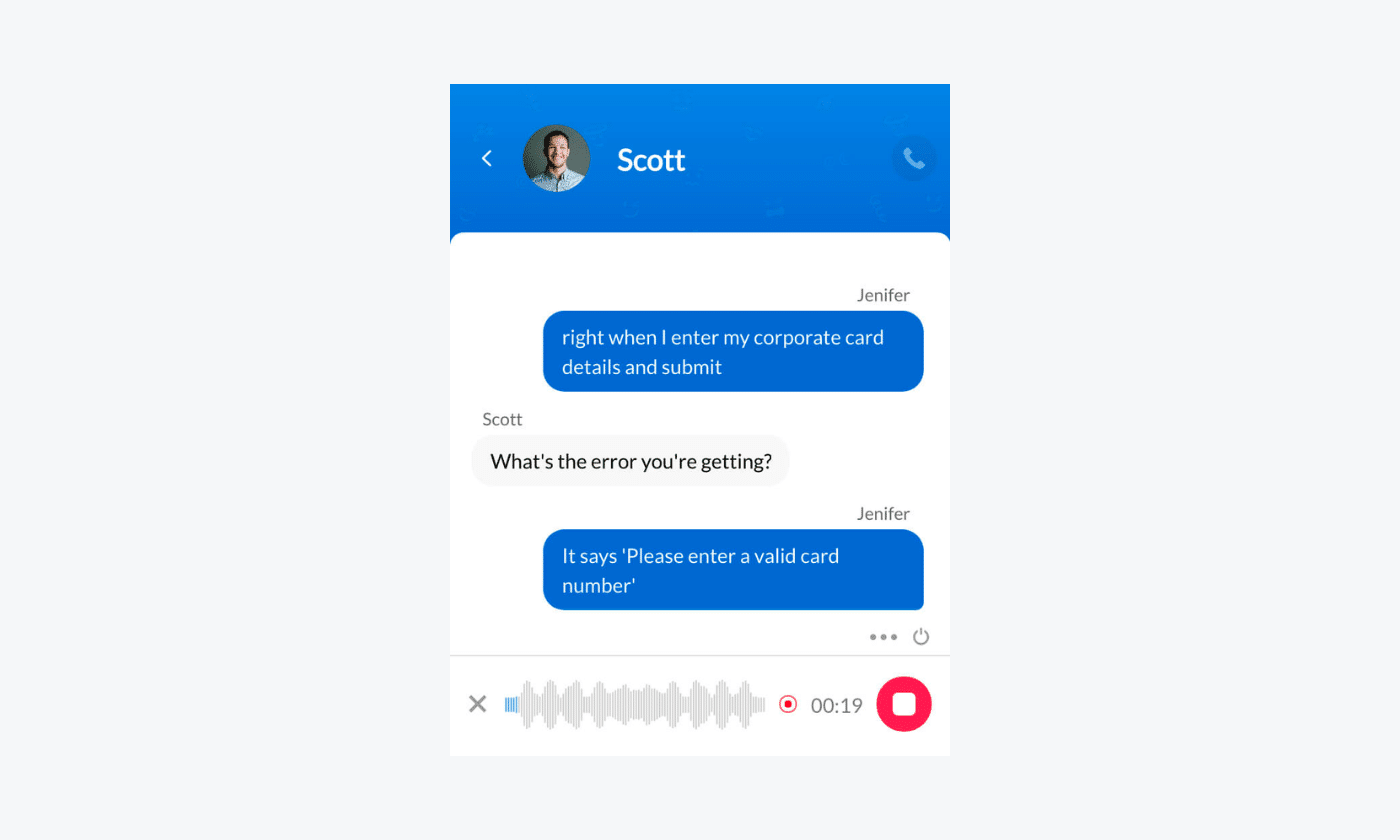 Ratings: 4.4/5⭐️ (270+ reviews)
Best for: package tracking
Zoho offers a comprehensive suite of software tools, including chat, CRM, and cloud-based inventory management designed to streamline the sales process for businesses. This live sales chat for websites helps companies to create and manage sales orders, track delivery status, and process payments. Additionally, Zoho provides users with a powerful dashboard that allows them to view the sales pipeline and generate invoices.
Pros:
Adaptable to the business needs
Tracking expenses and billable hours
Good customer service
Cons:
Occasional unexpected logouts from the app
Changing currencies can be tricky
Free plan available
Daily reports (scheduled)
Basic ($10/mo/operator)
Professional ($17/mo/operator)
Enterprise ($25/mo/operator)
Read more: Discover the top sales tools for representatives and marketers to improve the efficiency of operations.
The 8 best live chat sales techniques
Since you know the benefits and the top software to use, now comes the time you might be wondering "how can I increase sales through chat?" So, let's dive into the techniques.
Here are some effective live chat tips for sales:
1. Train your team
The importance of training your sales team cannot be overstated in today's competitive business landscape. The customer success and sales teams act as the frontline representation of a company. Therefore, the quality of service provided directly impacts the satisfaction and loyalty of your buyers.
Training the sales agents involves several essential steps in order to equip them with the skills and knowledge required to excel in their roles.
Firstly, it's crucial to provide comprehensive product and service courses, ensuring that staff members have a deep understanding of the company's offerings. This includes educating them about features, benefits, and potential issues that customers may encounter.
Secondly, give lessons about effective communication skills, like active listening, empathy, and clear articulation. Representatives should learn how to ask probing questions, understand customer needs, and respond appropriately. Role-playing exercises and simulations can be helpful in honing these skills.
Thirdly, cover problem-solving and conflict-resolution techniques, teaching staff how to handle challenging situations with professionalism and patience. This includes strategies for de-escalation, negotiation, and finding mutually beneficial solutions.
And remember to continuously provide training for your team members. Make it a quarterly task and focus on each person's development. Also, keep your staff updated on industry trends, new technologies, and evolving customer expectations.
Read more: If you're preparing for a social sales rep live chat assistant interview, check out these top customer service interview questions. Also, learn how to effectively deal with angry customers.
2. Be fast at responding
It's important for your team to establish efficient procedures and use the available resources in order to ensure fast response times to sales queries. How, you may ask. Let's go through a few effective methods.
Firstly, offer omnichannel experience for customers by providing sales live chat on multiple communication channels, such as your website, social media, and WhatsApp. Regularly monitor these platforms and assign dedicated team members to promptly address incoming queries.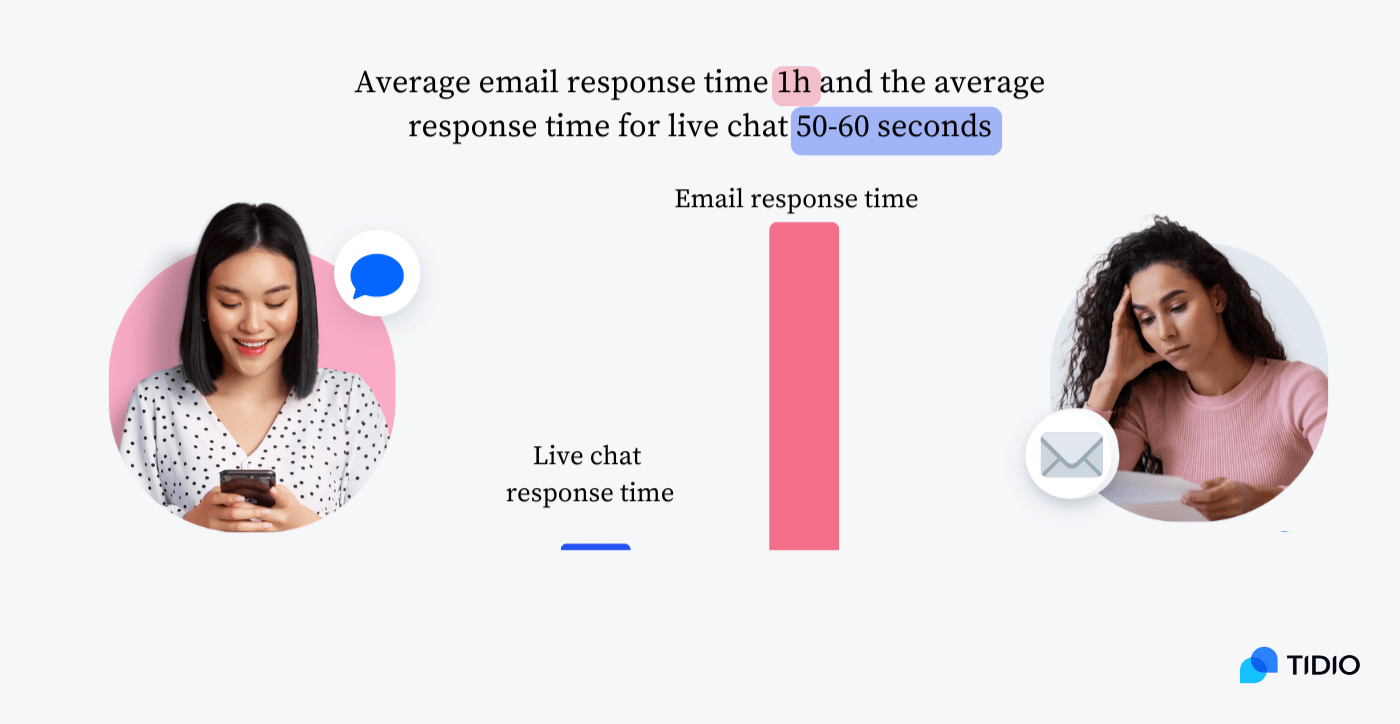 Another way to speed up your response time is to add tools like chatbots alongside your chat system. This will help you automatically send welcome messages to your visitors and acknowledge queries instantly.
This software can also provide the necessary information right away and segment the inquiries into specific categories. Customer segmentation will further speed up the response time for your team as the requests.
On top of that you should set clear response time goals for different channels and motivate your teams to meet those goals. Leverage technology tools like CRM software to centralize customer communication and effectively track response times.
Finally, prioritize urgent queries and foster a culture of urgency within the sales team. This will help you enhance customer experience and increase the likelihood of successful sales conversions.
3. Add visuals and links to your messages
In sales communication, visuals play a crucial role in capturing attention, conveying information, and influencing purchasing decisions. People are more attracted to visual communication, so incorporating graphical elements allows for a more engaging and memorable experience.
Product images, infographics, charts, and videos can effectively showcase the features and benefits of a product or service. Additionally, visuals can help simplify complex concepts, present data in a digestible format, and highlight key selling points.
This makes understanding and envisioning how your products meet customers' needs easier for them. These graphical elements have the power to evoke emotions, create desire, and enhance the overall appeal of the offering.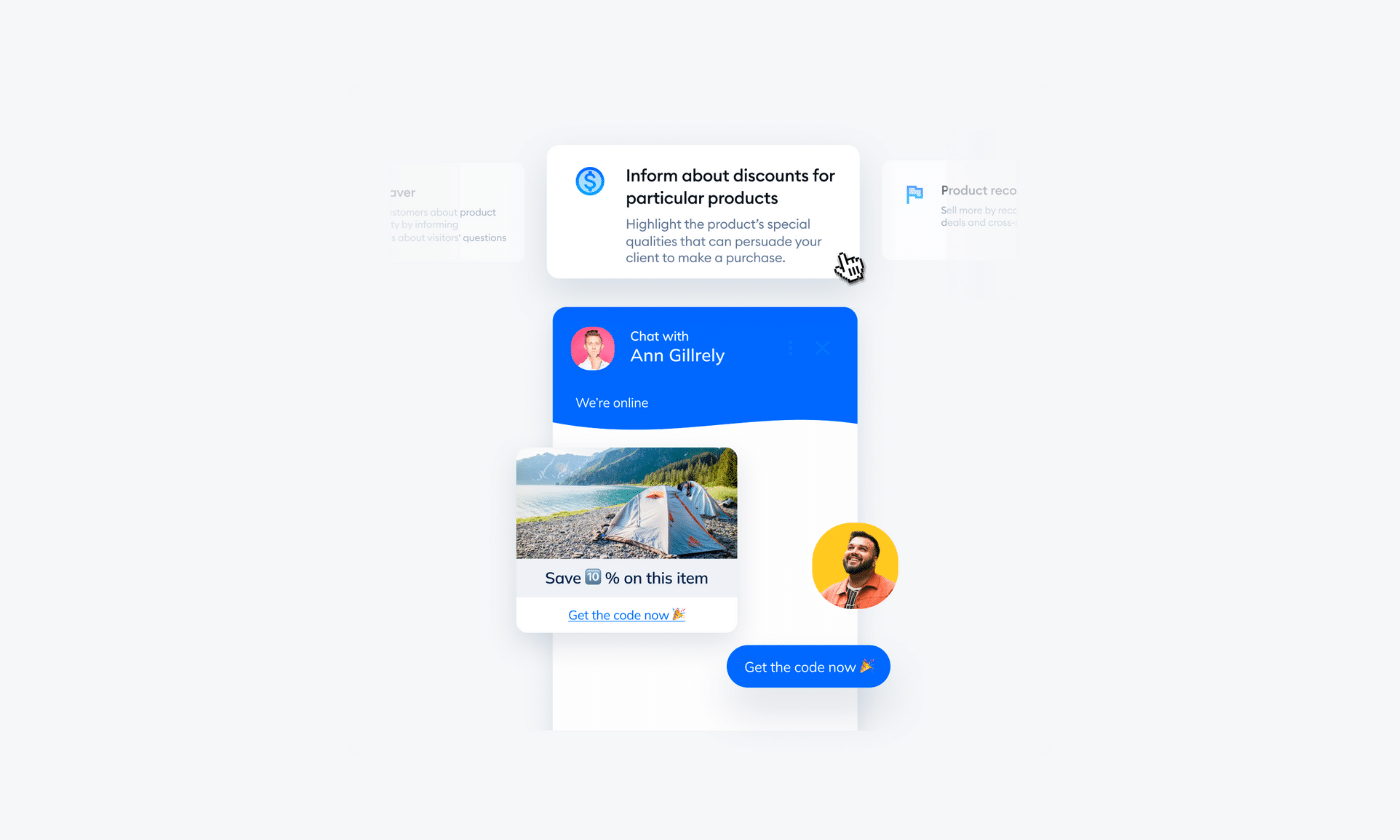 So, how to add images and links to your communication with the customers?
Make sure to include your graphic designer in the meetings about the strategy. This will help them make relevant graphical elements for your campaigns.
You can also add clickable URLs that direct customers to specific web pages, articles, or resources straight from the chat. These links allow recipients to easily access additional information or take desired actions with just a click.
On top of that, you can insert eye-catching images directly into your chat messages. And to maintain professionalism, it's essential to use high-quality pictures that align with your brand's style and tone.
4. Be precise with the information
Every word counts when it comes to sales communication. So, when communicating with potential clients, you need to convey your message clearly and effectively. This will help you ensure there's no room for misunderstanding or confusion.
Precise communication helps you articulate the features and benefits of your products or services accurately. It also helps you highlight the unique selling points and address the specific needs, or pain points, of your audience. On top of that, you'll be able to present compelling arguments easier and provide the necessary information in a concise manner.
Ultimately, being precise in sales communication increases your chances of closing deals, building long-term partnerships, and achieving success. So put effort and attention into it.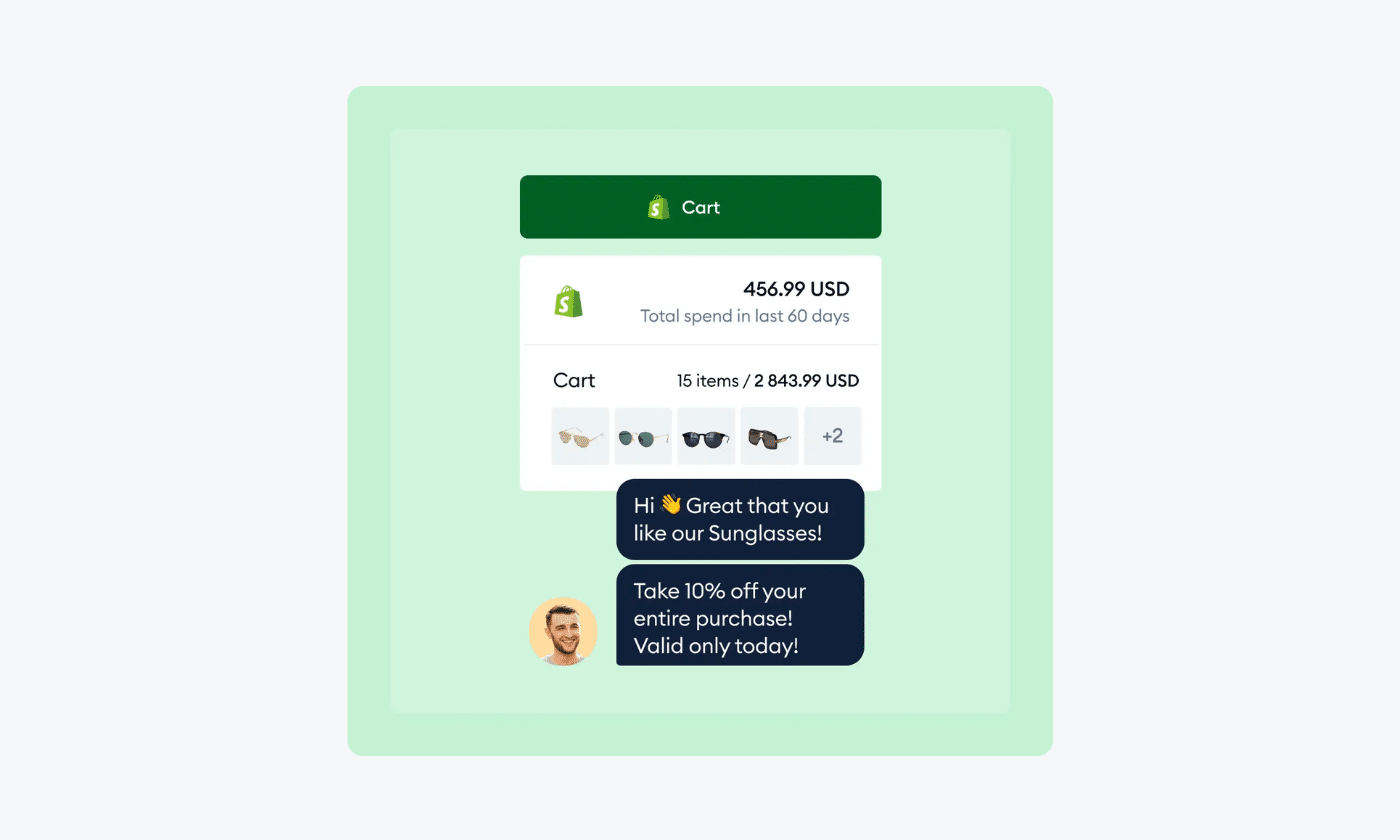 To ensure precision in your sales communication, there are several key strategies to implement.
First and foremost, thoroughly understand your product or service inside and out. You need to be familiar with its features, benefits, and unique selling points. This will help you communicate clearly and accurately when speaking to potential customers.
Additionally, know your target audience, their specific needs and pain points. This knowledge will allow you to tailor your message and provide the best solutions.
Use language that is concise, avoiding jargon or technical terms that might confuse or alienate your audience. Keep your communication focused and to the point, highlighting the most relevant information.
Active listening is also crucial. So, pay attention to your prospects' questions, concerns, and feedback. This will help you respond appropriately every time.
Finally, always double-check your written and verbal communication for clarity, grammar, and spelling errors. Precision in sales communication demonstrates professionalism, builds trust, and increases your chances of success.
Read more: Learn the common grammar mistakes and how attentive people are to them.
5. Add personal touches
Personalization is crucial in sales communication due to its ability to create meaningful connections and enhance customer engagement. In today's competitive marketplace, buyers expect more than generic, one-size-fits-all sales pitches.
By tailoring communication to individual preferences, needs, and interests, sales professionals can demonstrate a genuine understanding of their customer's requirements and build trust.
This approach not only increases the likelihood of making a sale but also strengthens customer loyalty and satisfaction. In fact, customers tend to spend an average of 21% more with a brand that personalizes the shopping experience. On top of that, over 86% of consumers say that personalization increases their loyalty to a business.
Here's how you can recommend products in a chat box for your shoppers: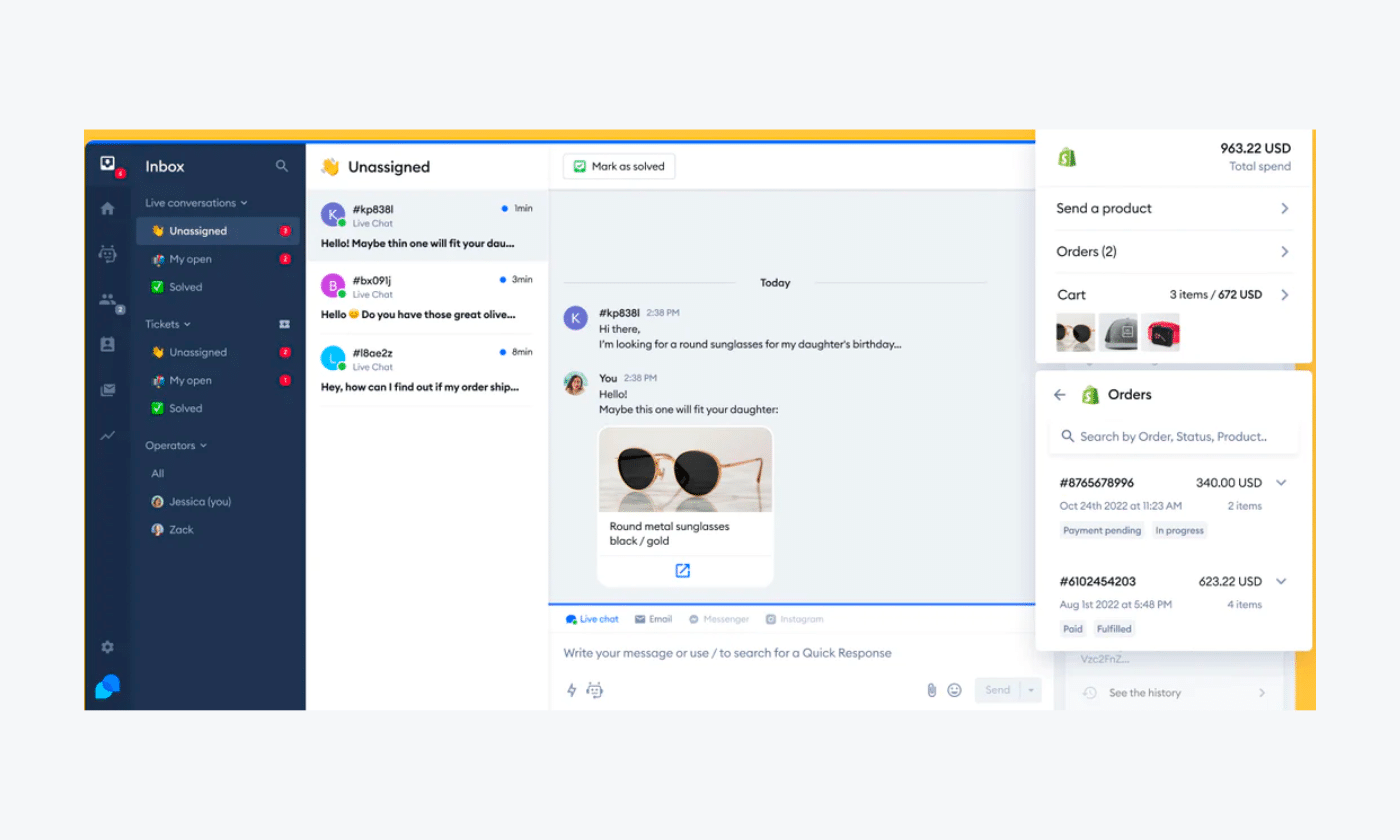 To ensure personalization in sales communication look through the best practices below.
Firstly, make sure your sales live chat representatives ask targeted questions and gather relevant information about the customer. Then, ask them to tailor the responses accordingly.
Additionally, use a chat for sales to provide recommendations based on the customer's specific requirements and browsing history. By analyzing the shoppers' behavioral patterns, sales agents can proactively offer relevant products and solutions that match the client's interests.
Moreover, your sales reps can use sales live chat tools to follow-up discussions and address any concerns or customer questions in a timely manner.
Utilizing real-time sales effectively enhances personalization in sales communication, leading to increased customer engagement, conversions, and overall success.
6. Gather and qualify leads
Gathering and qualifying leads is a critical process for any growing business.
By collecting prospects, companies can identify potential customers who have shown an interest in their products or services. This allows the business to establish a database of potential clients, prioritize efforts, and focus on leads that are more likely to convert.
In the end, this can lead to brands using the resources to the fullest and improving the efficiency of the sales and marketing strategies.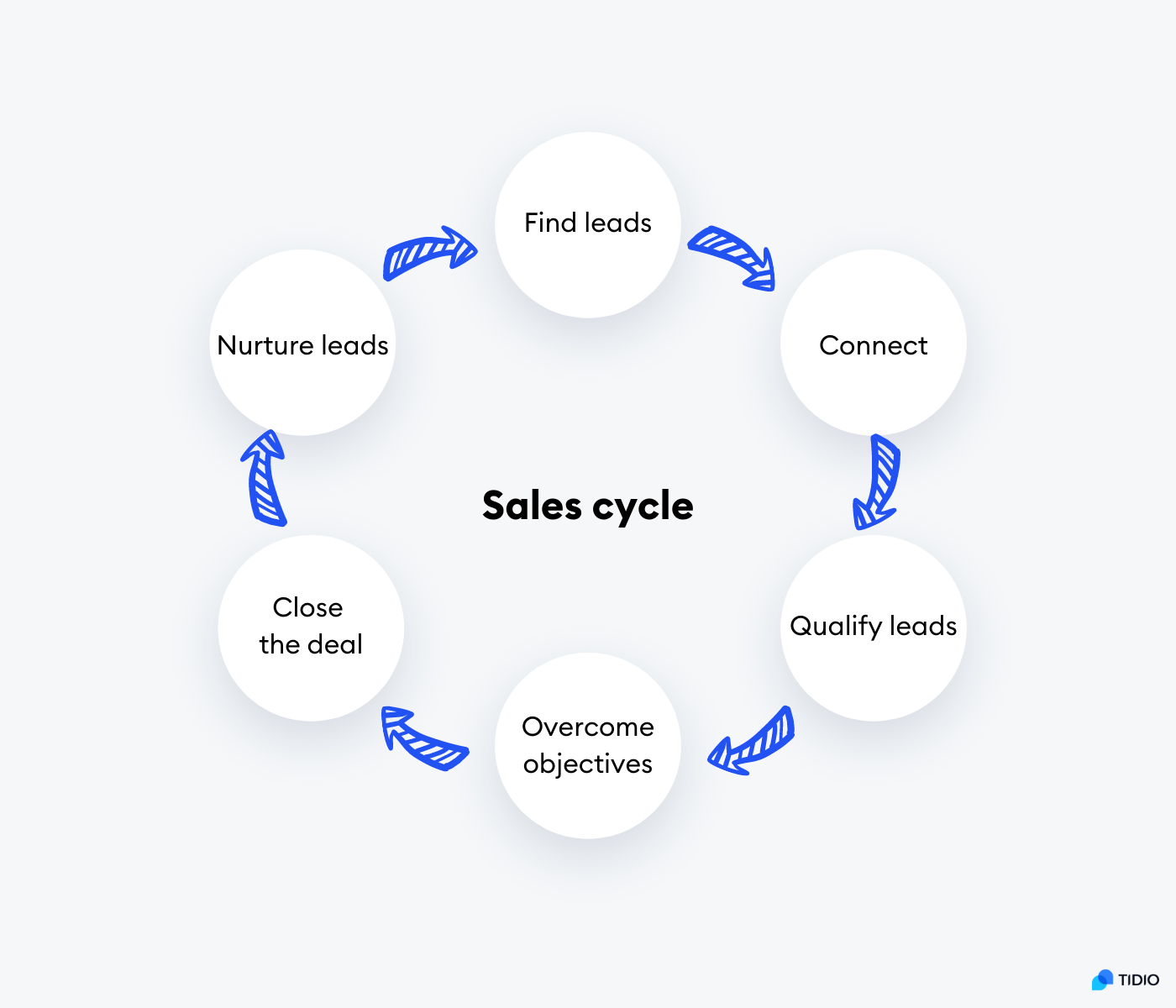 Using live chat for sales as a tool to gather and qualify leads can be an effective strategy for engaging with website visitors in real-time.
Some of the methods to use include:
Crafting engaging greetings that appear when visitors land on your website
Offering value through expert assistance to foster loyalty
Using targeted chat triggers based on specific actions or visitors' behaviors
Asking qualifying questions to gather more information about the visitor
Scoring and prioritizing leads based on the answers provided
Following up and nurturing leads with personalized messages
By implementing these strategies, you can effectively gather and qualify leads using live chat, increasing your chances of converting them into valuable customers for your business.
7. Reach out proactively
Proactively contacting customers is essential for building strong and lasting relationships. By taking the initiative to engage with customers, businesses can demonstrate their dedication to satisfaction while showing that they value the buyers' opinions and needs.
Moreover, proactively communicating with clients allows companies to gather valuable feedback, address any concerns or issues promptly, and provide personalized assistance. It also presents an opportunity to update customers about new products, services, or promotions, keeping them informed and engaged.

There are several effective strategies to consider when reaching out to visitors.
Personalize the communication based on the customer's preferences and past interactions
Utilize multiple communication channels such as email, phone calls, social media, and even text messaging to ensure you use their preferred platform
Use live chat to send out pre- and post-chat surveys asking visitors for their information and experiences
Identify the optimal moments to initiate contact, such as after a purchase, during special promotions, or when introducing new offerings
Ensure the content of the communication focuses on highlighting the value and benefits of the products or services, addressing any potential pain points, and providing incentives or exclusive offers
Track and analyze the results of sales communication efforts to refine future outreach strategies, ensuring a more effective approach
Read more: Learn tips and tricks on how to use proactive live chat to its full potential.
8. Limit the workload for your team
Implementing live chat for sales enables businesses to offer real-time assistance to potential customers and address their queries or concerns in real time. This allows the sales team to handle multiple customer interactions simultaneously, enhancing efficiency and productivity.
With this technology, customers can engage with representatives without the need for phone calls or emails, leading to faster response times and streamlined communication.
So, you should encourage your sales team to streamline as many processes as possible. Moreover, using sales live chat your team will have canned responses and access to pre-existing resources, such as product information or FAQs, within their arm's reach. This minimizes repetitive tasks and enables them to focus on more complex inquiries.
Ultimately, live chat optimizes the workload of your team, empowering them to engage with customers efficiently while delivering a personalized and timely experience.
Read more: Discover the best live chat for ecommerce available on the market and choose the best one for your business.
Live chat for sales: key takeaway
Live chat sales is a technique of using chat tools as part of a proactive sales strategy. It involves embedding a widget on a business website and communicating with potential customers in real time. You can market your products, provide support, and push visitors to complete their purchase straight from the chat window.
The 5 best live chat for sales tools are:
Tidio
HubSpot Sales Hub
HelpCrunch
Drift
Zoho SalesIQ
During the chat session you can market your offers, answer questions, and qualify leads. Some of the most useful techniques include training your team, ensuring a fast response time, adding visuals to your communication, and personalizing the messages to the user. On top of these, you should remember to reach out proactively and be precise with your chats for best results.
Live chat for sales has a number of useful benefits including shorter response times, increased customer experience, and boosted revenue. So start using support and sales chat on your website today!
FAQs
What is live sales chat?
Sales live chat is a tool that you can use for a proactive sales strategy. It enables businesses to offer clients real-time assistance, answer their questions immediately, and proactively guide customers to the sale.
Does live chat increase sales?
Yes. According to studies, businesses that implemented live chat reports increased sales, revenue, and customer satisfaction. 
How to do chat sales?
To do chat sales effectively you need to train your customer service team, ensure fast responses, and reach out to visitors proactively. You should also add graphical elements to answers, be precise with the information you provide, and add personalized touches to your messages. 
Is live chat good for business?
Yes. Live chat improves customer satisfaction, decreases the workload on your team, and increases your sales in the long run. 
How can I increase sales through chat?
You can increase sales through chat by gathering leads, providing helpful support, and answering queries in a timely manner. You should also add links and graphical content to your messages to ensure you represent your point effectively.
Why do customers prefer chat?
Customers prefer chat because they can get quick responses straight from the company's website. 
Why is live chat important in sales?
Live chat is important for sales as shoppers often need assistance during the buying process and neglecting their questions can lead to abandoned carts. Moreover, buyers tend to spend more per purchase when they chatted with a business in comparison to those that didn't.