Nowadays, speed and proactiveness are key to success in sales.
Why?
When people have dozens of options while making buying decisions, the traditional sales methods aren't enough.
If you want to close the deals, you need to act fast. The faster you connect with potential customers, the higher your chances for success are.
And one of the best ways to achieve it is to implement real-time sales in your company.
Keep on reading to find out how to accelerate your sales and lead generation strategy with this approach.
In this article:
If you want to know more about the best sales tactics and lead generation strategies, be sure to read these articles:
Now, moving to the main topic, let's answer the question—
What exactly is real-time sales?
Real-time sales is a deal-closing method based on proactively initiated conversations focused on providing sales assistance to customers when they are at the final stage of the buying process. The main goal of this approach is to deliver immediate responses to client's queries which will help them make the purchase.
The most important factor of real-time sales is being proactive. Sales people must anticipate the buyer's needs and reach out when the time is right to make full use of the sales opportunities. For example, this can be when potential customers are checking out the pricing or product pages.
Read more: Proactiveness can help you in many different areas of your business! Check out best examples of proactive customer service and learn how to create an unforgettable experience with your brand.
Why should you consider using real-time sales in your company?
Thanks to its proactive and client-oriented approach, real-time sales can make a significant change in your daily sales operations. In fact, it can positively impact both sales team efficiency and your company's revenue.
Now, let's go through each of the benefits of real-time sales in more depth.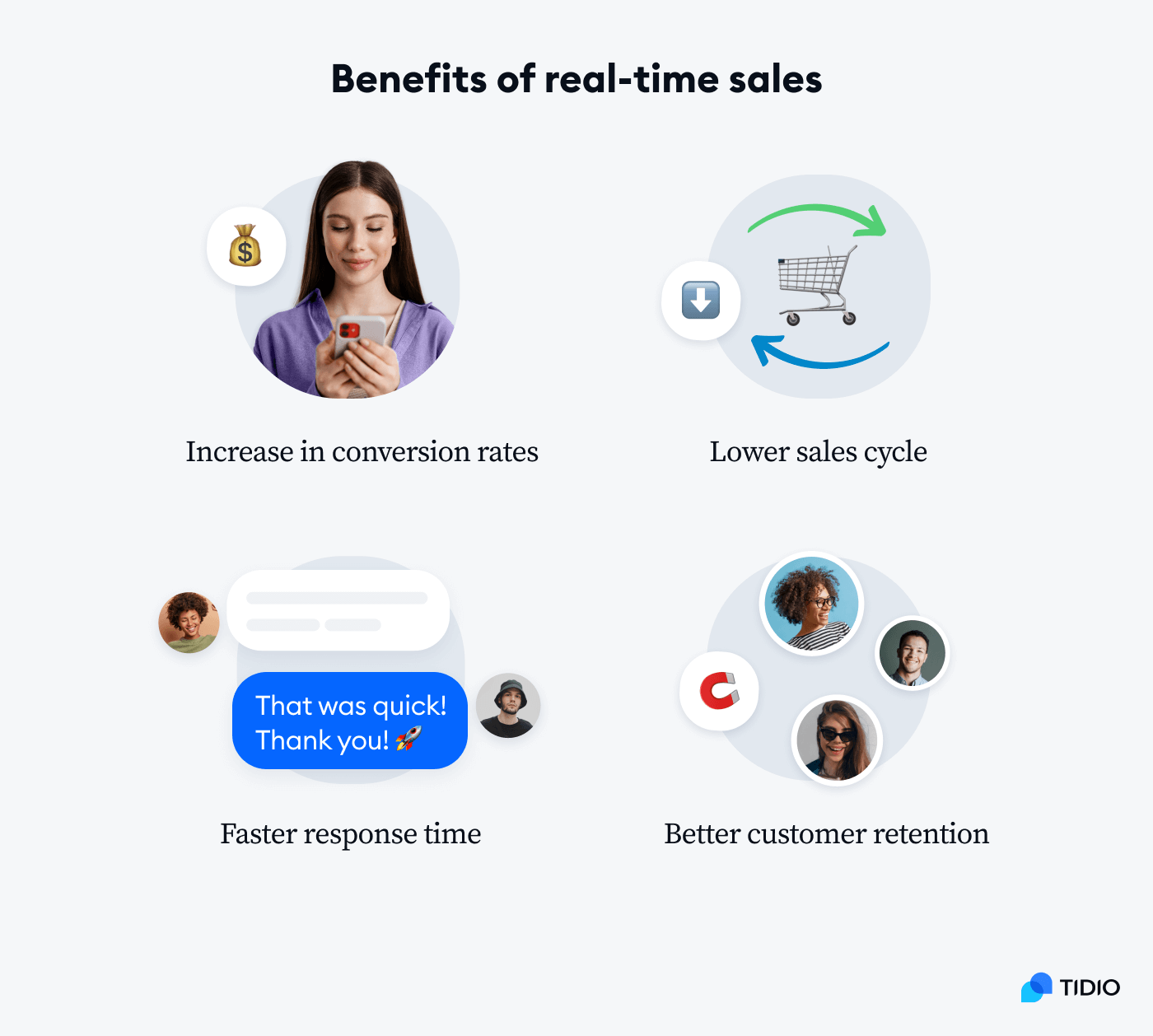 Increase in conversion rates
Proactively approaching your website visitors and offering them limited promotions or coupons with short deadlines can make them more engaged with your business. This, in turn, is a great way to increase conversion rates. According to IBM research, sending personalized offerings, discounts, or special deals can increase average revenue per user by 166%!
By approaching your prospects directly while they are looking for information about your products or services, you make them feel taken care of and valued.
Read more: Learn more about how to directly approach your prospects and increase your conversion rates with proactive live chat.
Lower sales cycle
Proactively messaging your prospects when they need help allows you to reduce the number of touchpoints during their customer journey with your company. In consequence, this shortens their decision-making process. Moreover, by approaching them with the ready solutions to their problems, queries, and offering them relevant content, you make them more engaged with your brand.
If you include these activities in your marketing strategy, you will be well on your way to winning your prospects' hearts.
Faster response time
According to research conducted by Forrester, customers are 2.4 times more likely to stay when companies solve their problems more quickly. Also, they are 2.7 times more likely to spend more when companies communicate clearly. On top of that, 73% are more likely to recommend highly responsive brands to other consumers.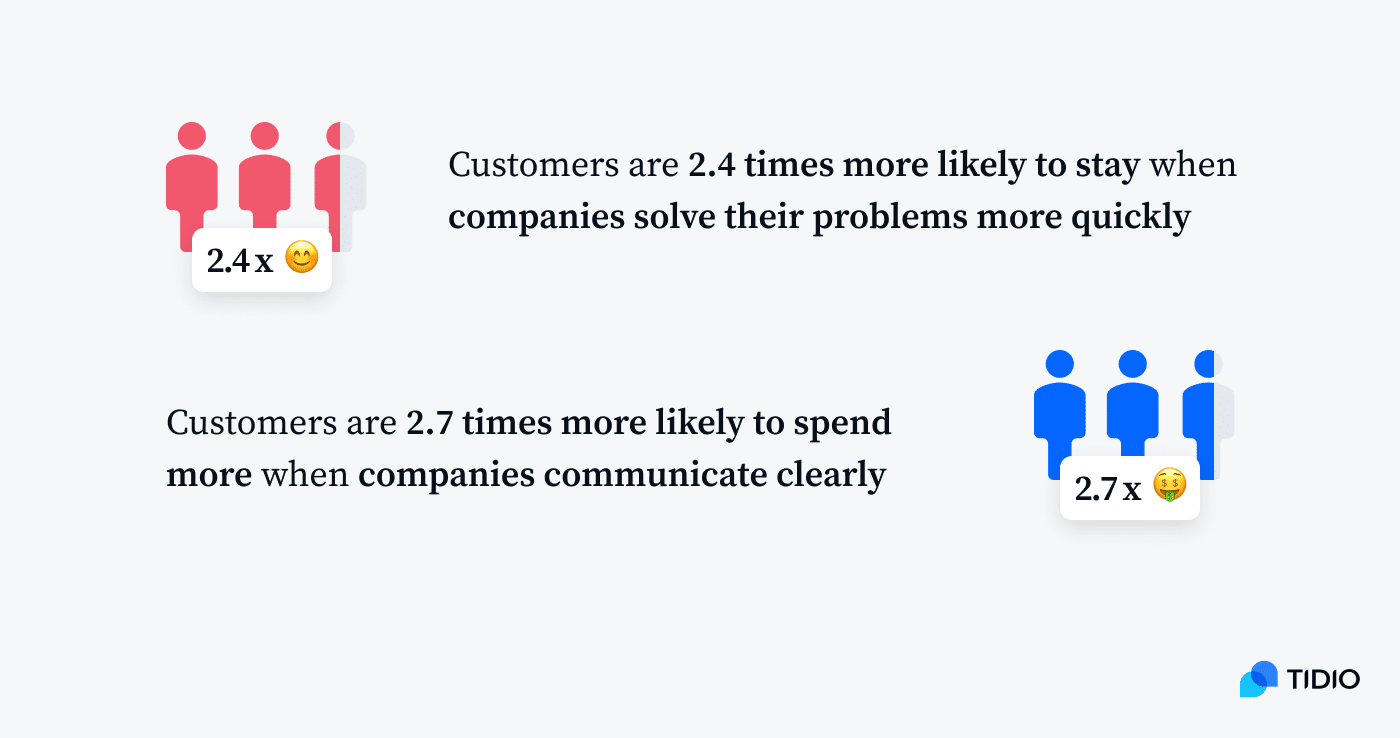 The correlation between response time and customer satisfaction is clear as a day. Thanks to the real-time sales approach, you can not only increase the chances to close the deal, but also have a positive impact on the overall customer experience.
Read more: Check out how our conversational AI, Lyro can slash the first response time from 1 minute to less than 15 seconds.
Better customer retention
Customer retention refers to a company's ability to turn its clients into loyal customers and prevent them from turning their eyes toward competitors.
By reducing your response time and being available for your clients 24/7, you'll build a stronger relationship with them. Simply put, your clients will get more engaged with your brand. And, if you combine it with great customer experience, there is a huge chance that they won't even think about turning to your competitors.
How can real-time sales drive business?
So—
Real-time sales shortens the sales processes, takes away the repetitive tasks, and gives you the opportunity of increasing conversion rates. But, to fully benefit from this methodology, companies need to implement it in every possible step of their customer journey.
Here's how to do it.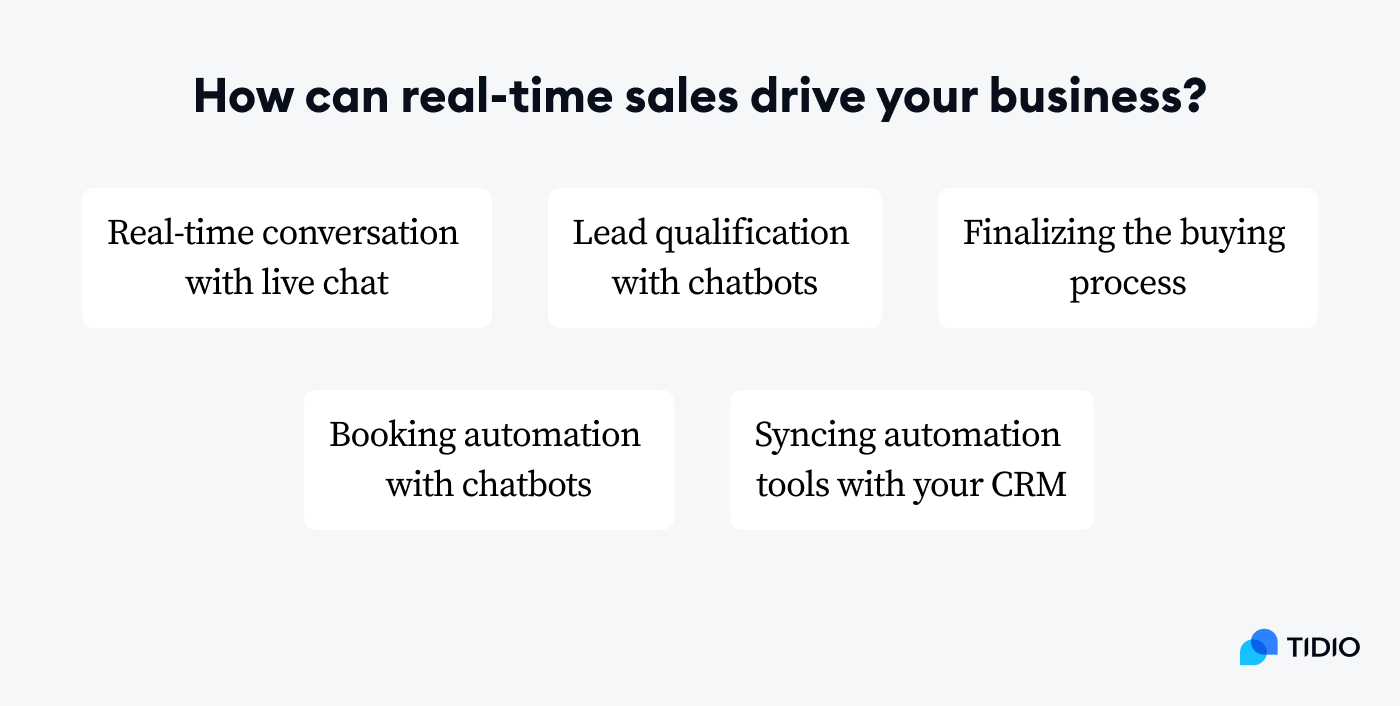 Real-time conversations using live chat software
One of the first things on your to-do list while implementing real-time sales should be installing a live chat plugin. Thanks to that, you'll be able to approach your prospects any time they are on your website and answer their questions within seconds.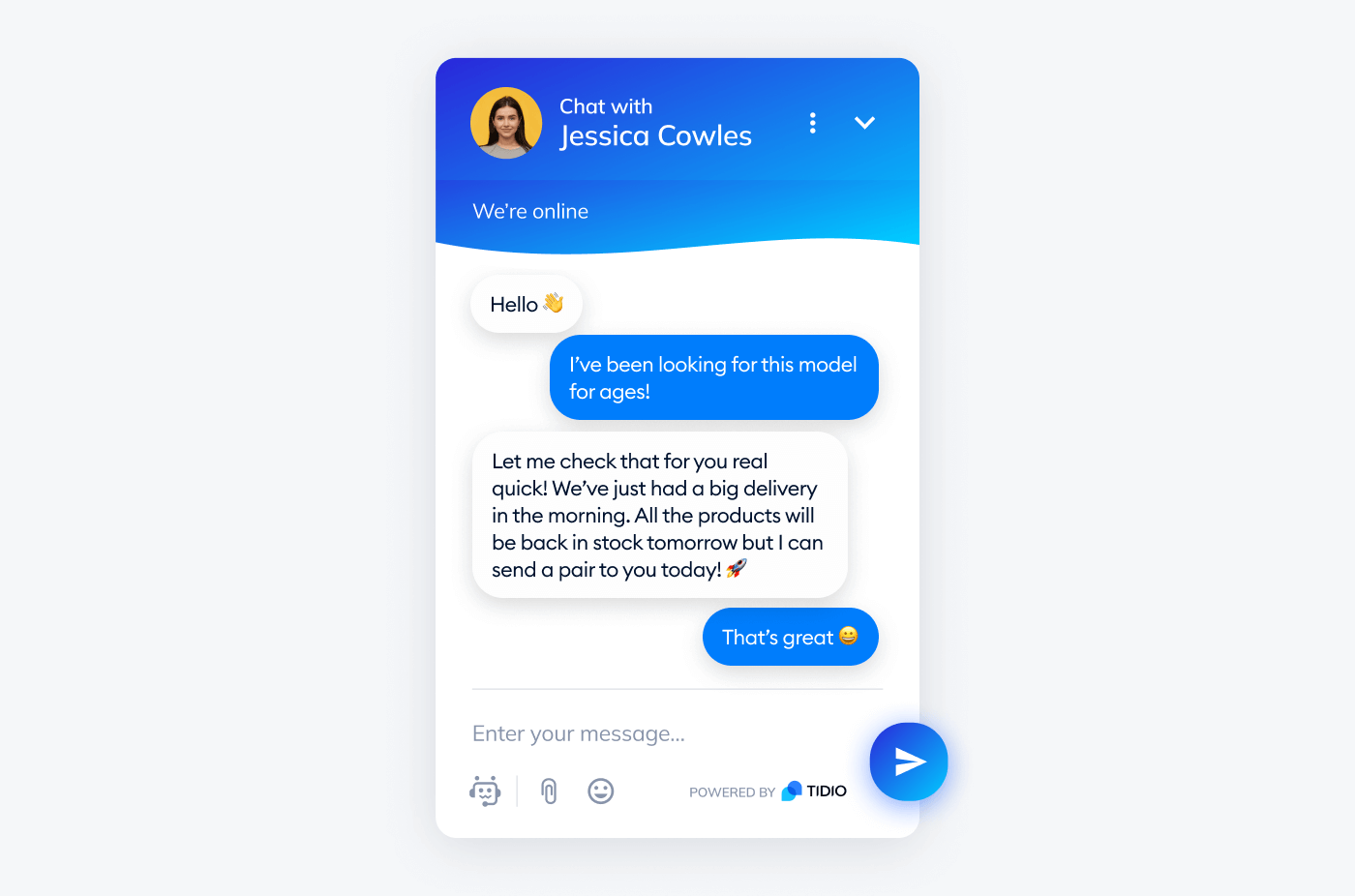 Simply put, by using live chat on your website or ecommerce store, you'll take customer interactions to the next level.
But there's more.
Live chat software like Tidio makes instant approaching easier than ever before. Thanks to features like Viewed pages or Live Visitors List, you can see which pages of your website people browse and get a real-time overview of all the visitors on your site or ecommerce store.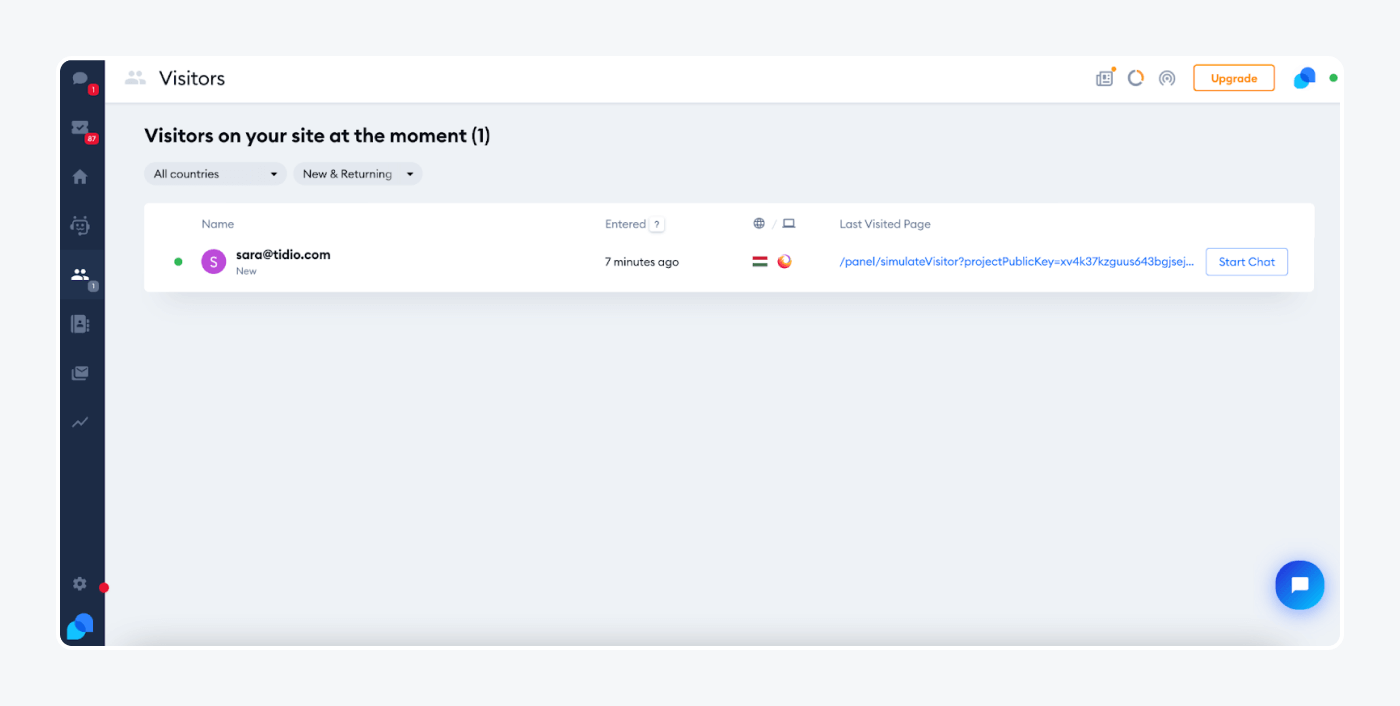 Having such insights in your arsenal lets you see what your potential customers are interested in, prepare personalized messaging, and step in on time to help them in their buying decisions.
Lead qualification with chatbots
One of the key aspects of successful sales strategy is lead qualification. It helps sales teams to categorize their prospects, give them certain priority levels, prepare relevant content and messaging for them, etc.
Unfortunately, lead qualification takes time. It requires sales reps to ask prospects questions related to their needs to figure out which category they belong to. But, thanks to chatbots, you can significantly reduce the effort sales reps have to put into this process and partially automate the process.
To achieve that, you need to design a proper lead qualification flow in a chatbot builder. But, before that, figure out what a "good lead" means for your business, what your ideal customer profile is, and which group of clients brings the most profits to your company.
Ask yourself these questions:
How do people get to my website?
Are they already my clients?
Why would they need my products or services?
Is there something they already know about my products/services?
Is the visitor a decision maker in their company?
What is their budget range?
Having the qualification flow done, you can move to building your chatbot. Most of the chatbot plugins, including Tidio, offer a customizable chatbot builder with which you can design the chat flow that best suits your needs. This includes the first message, chatbot triggers, different conversation scenarios, etc.
As a starting point, we'd suggest you begin with the First visit on site trigger. This trigger notifies the chatbot once a new user visits your website/ecommerce shop for the first time. So, every time there is a new visitor on your site, they will be welcomed by your bot.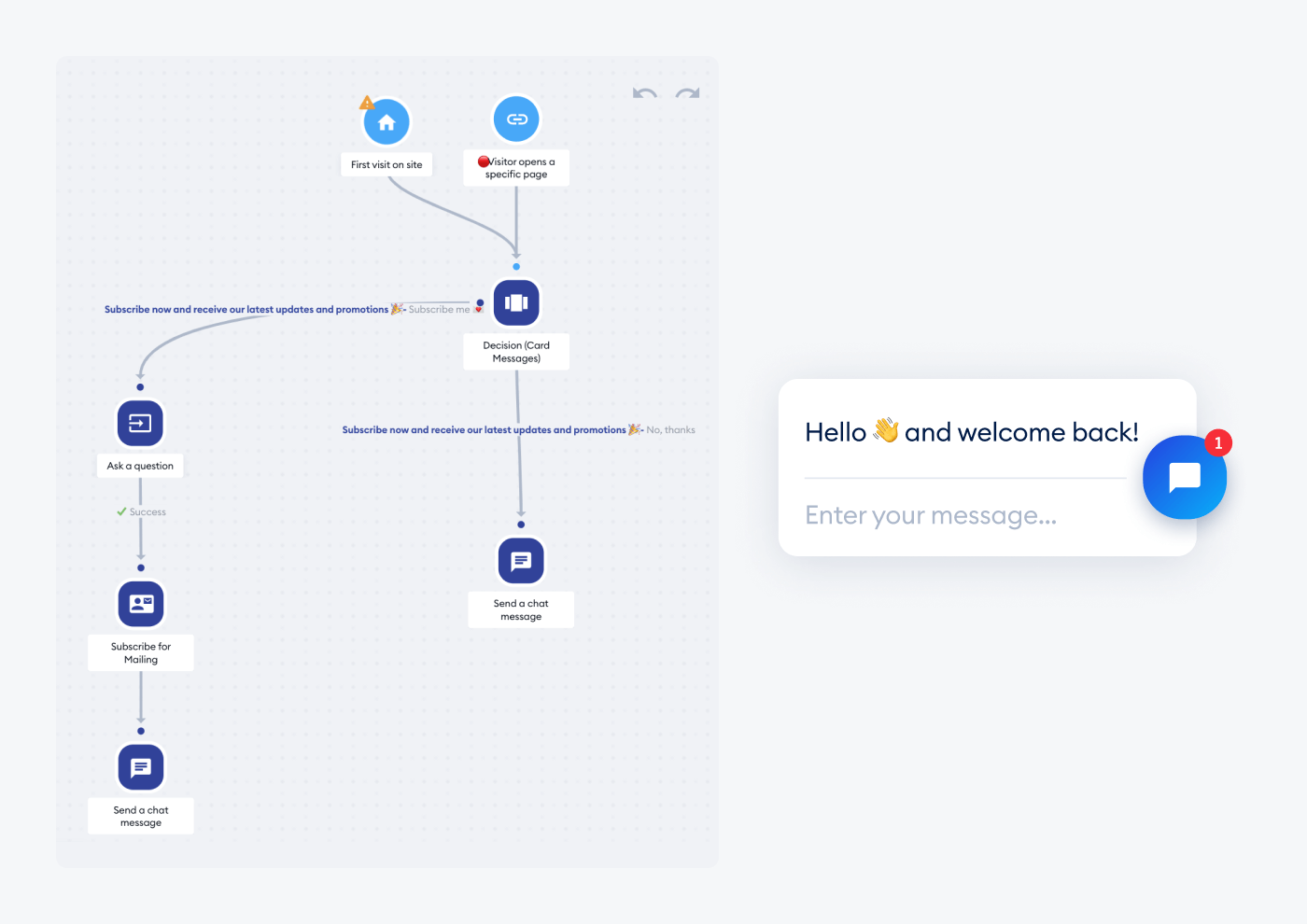 Read more: Check out Tidio's chatbot builder and start composing your conversation flow with drag-and-drop elements, which is super easy and intuitive, even for AI conversations rookies! Also, learn how to create a chatbot for your website without using any coding.
Finalizing the buying process with chatbots
Besides lead qualification, chatbots can also help you convince your customers to make a purchase at your website and turn them into loyal clients.
How?
Imagine somebody visiting your ecommerce website, putting a certain product in the shopping cart but, for some reason, not finishing the transaction.
Is the product too expensive? Are they comparing your offer with your competitors? Or maybe they're looking for something else? You can't know for sure.
But, what we do know is the fact that they wanted to buy it. Or, at least, they were interested. Otherwise, why would they add the product to the shopping cart in the first place?
Luckily, thanks to features like Cart booster, your chatbot can approach them offering a small cart discount to convince them to make a purchase.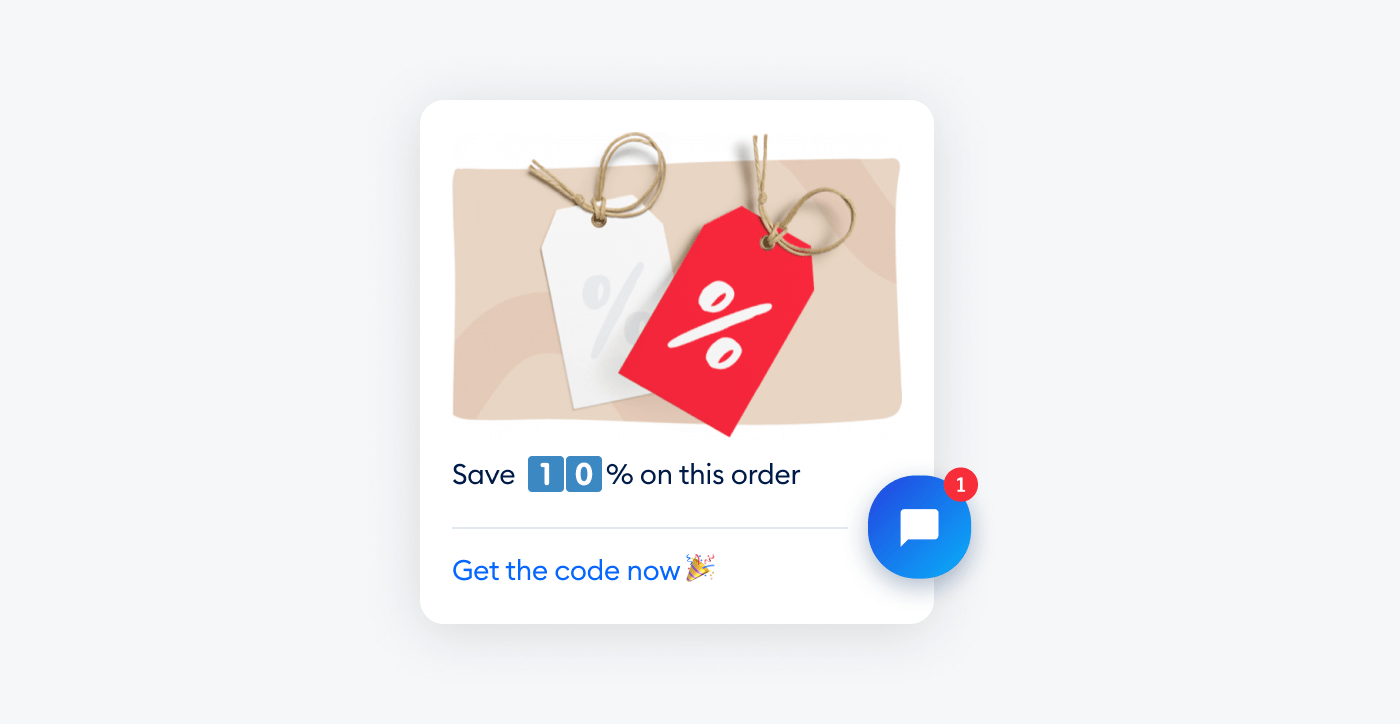 Staying with discounts, let's take a look at another example—the feature called Spinning wheel.
Let's say that somebody visits your online shop, browses your products and, after a while, leaves the website. But, after some time, they come back. So, we can assume that they're interested in your offer. In this case, we can use the Spinning wheel feature.
This feature notifies a bot when a visitor comes back to your website. It starts a conversation with a fun activity in which people can "win" one of the previously set prizes, like, for example, free delivery of the goods or price discounts.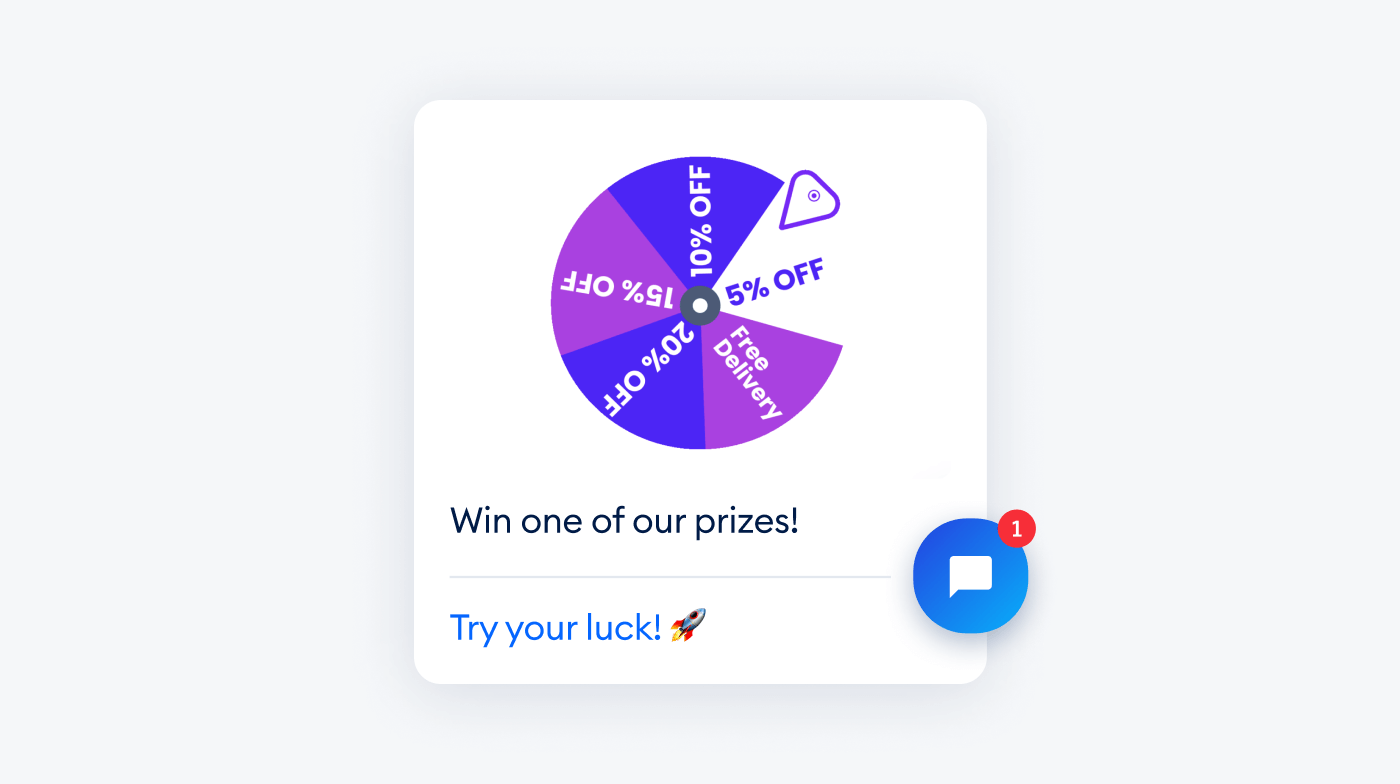 But it doesn't end at discounts. Other scenarios in which chatbots help you increase sales in real time include:
Discount for new visitors
Product recommendation
Last item in stock
Inform about discounts for particular products
Booking automation with chatbots
Just like qualifying leads manually, booking calls and meetings with prospects can be a time-consuming task. And if your company is a startup with a small team and limited sales resources on board, it can be overwhelming. Also, it can get tricky when all your customer service or sales agents are busy and can't take care of the new client.
But chatbots can help you solve this problem.
Thanks to various chatbot templates available on the market, you can design a conversation flow that will arrange calls with your prospects and assign them to your sales agents. For example, Tidio's chatbot app includes a chatbot template dedicated to setting up calls with clients!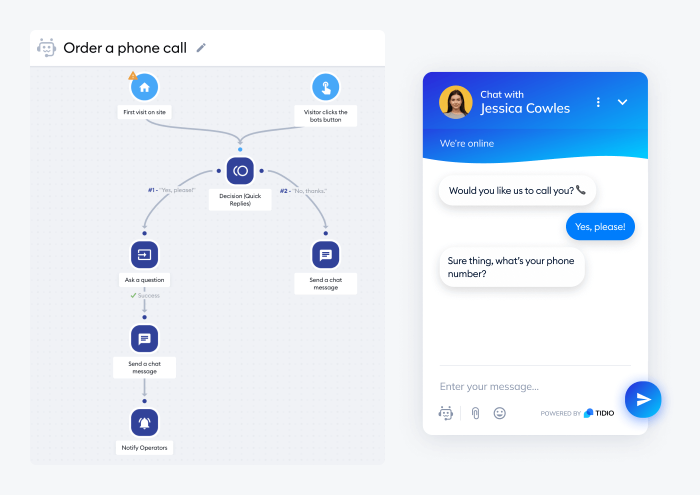 Thanks to that, your sales forces will be able to fully focus on sales conversations without getting interrupted by booking matters. Also, you won't have to hire extra resources to handle the incoming appointment traffic, as chatbots will do it for you.
Thanks to that solution, you can be sure that your sales performance won't get hurt because of any mistake like, for example, forgetting about making an appointment.
Sync automation tools with your CRM
Automating lead qualification or booking meetings sounds cool. But, it would be even cooler if all the insights about your prospects could be gathered in one place—your CRM. Thanks to that, your sales and marketing teams will get a detailed overview of all your leads and prospects.
With this "knowledge base", creating engaging messaging that turns prospects into customers and maintaining the current clients' engagement will be much easier to create and distribute.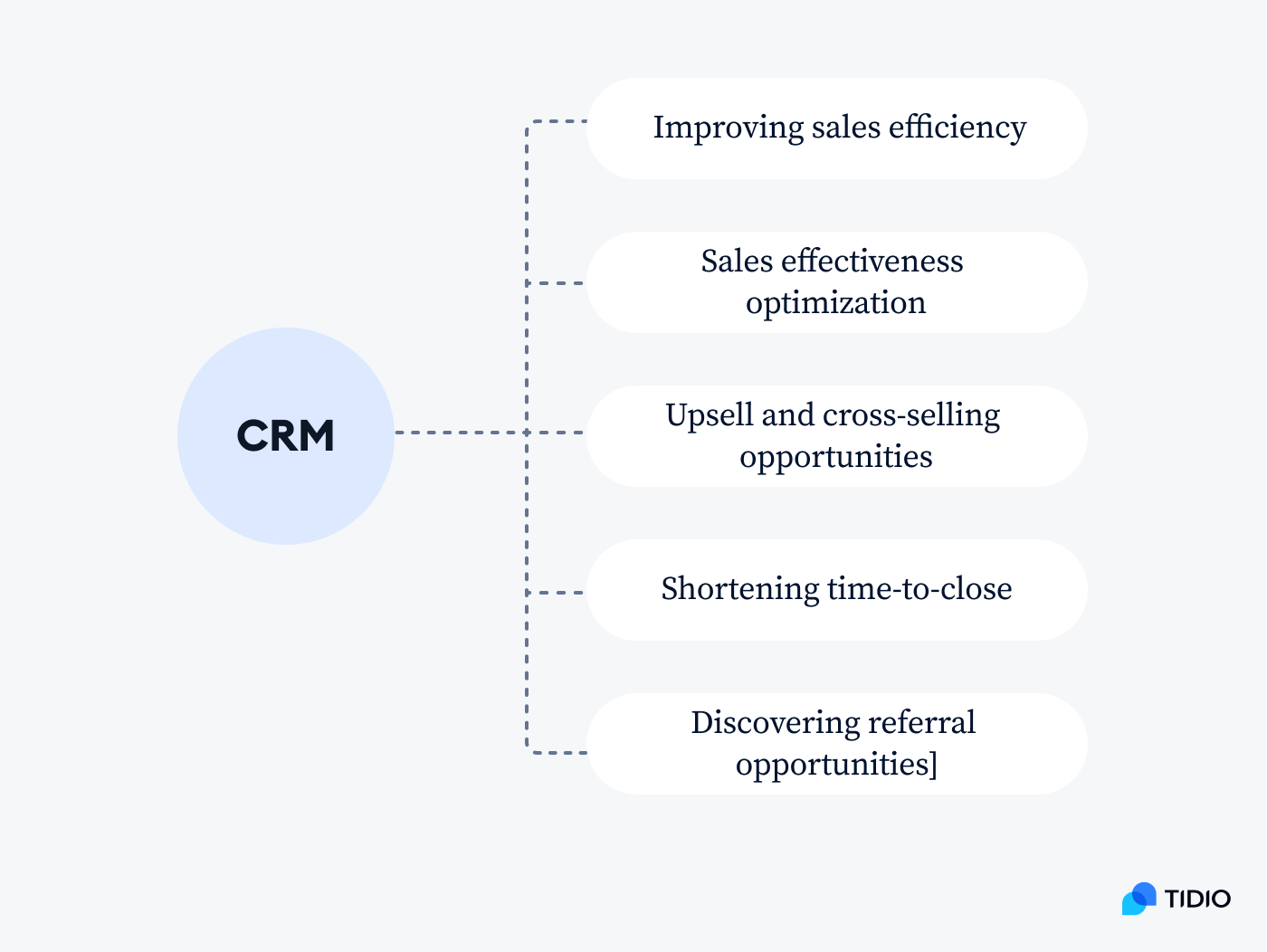 In fact, a CRM system can bring benefits to your sales team in many areas, including:
Improving sales efficiency—to assign priority levels to leads that are most likely to convert based on their interaction with your brand
Sales effectiveness optimization—to get valuable insights about which potential customers are engaged and approach them at the right time and close the deal
Upsell and cross-selling opportunities—to discover the low-hanging fruit sales opportunities that you may have overlooked
Shortening time-to-close—to get an overall view of your customers, their needs and capabilities to push them through your sales funnel smoothly
Discovering referral opportunities—to find out if you can get some referrals from your existing clients instead of spending hours on looking for new leads.

With the help of dedicated CRM dashboards, both sales and marketing teams will have a complete overview of your leads and prospects. Thanks to all the metrics gathered in one place, they will be able to maximize their marketing and sales strategy which, in consequence, will help turn prospects into customers.
So, while choosing your live chat and chatbot provider, be sure that they offer a CRM or allow for integration with third-party CRM applications like, for example, HubSpot. The same applies to the rest of your marketing tools, like social media or email marketing software.
Read more: If you're looking for a CRM for your company, be sure to check out this free CRM software list.
Real time sales: key outtakes
Nowadays, the key to customers' hearts lies in:
Great customer service
Fast response time
Personalized approach
All of this can be achieved with real-time sales. This strategy is based on a proactive approach supported by sales management and marketing automation tools like live chat plugins or chatbots. And it's all done to make prospects feel taken care of and provide them with the greatest possible customer experience.
Thanks to CRM software, you build a well-organized base of prospects and customers based on real-time sales data gathered by, for example, chatbots. With their assistance, your sales and marketing teams can adjust their strategies and activities to maximize their lead generation efforts and put their effectiveness to another level.
That being said, real-time sales wouldn't be possible without live chat and chatbot software, which play a great role in automating lead generation and qualification processes. So, if you're planning to implement real-time sales in your company, we suggest that you check out what Tidio's live chat and chatbot builder has to offer.