Here's the deal—
Around 36% of B2C brands consider Instagram to be "very important" or "critical" to their social media marketing.
It's not surprising that Instagram chatbots are gaining more popularity.
But you already know that, don't you?
The good news is you can build a chatbot for Instagram by yourself, without coding and in minutes.
But how to get started? This is exactly what we will cover.
In this article:
If you want to learn more about chatbot technology, you can also read:
Ok—
Now, let's find out what an Instagram chatbot is and how it can help you boost your business.
What are Instagram chatbots?
An Instagram chatbot or a conversation bot embedded into Instagram is a computer program that automatically replies to messages. Its main functionality is to interact with users by sending welcome messages, answering questions, and replying to DMs in a conversational, human-like manner. Instagram chatbots work 24/7 and are capable of having multiple one-to-one conversations at once.
This is what an Instagram chatbot looks like to the person who interacts with it: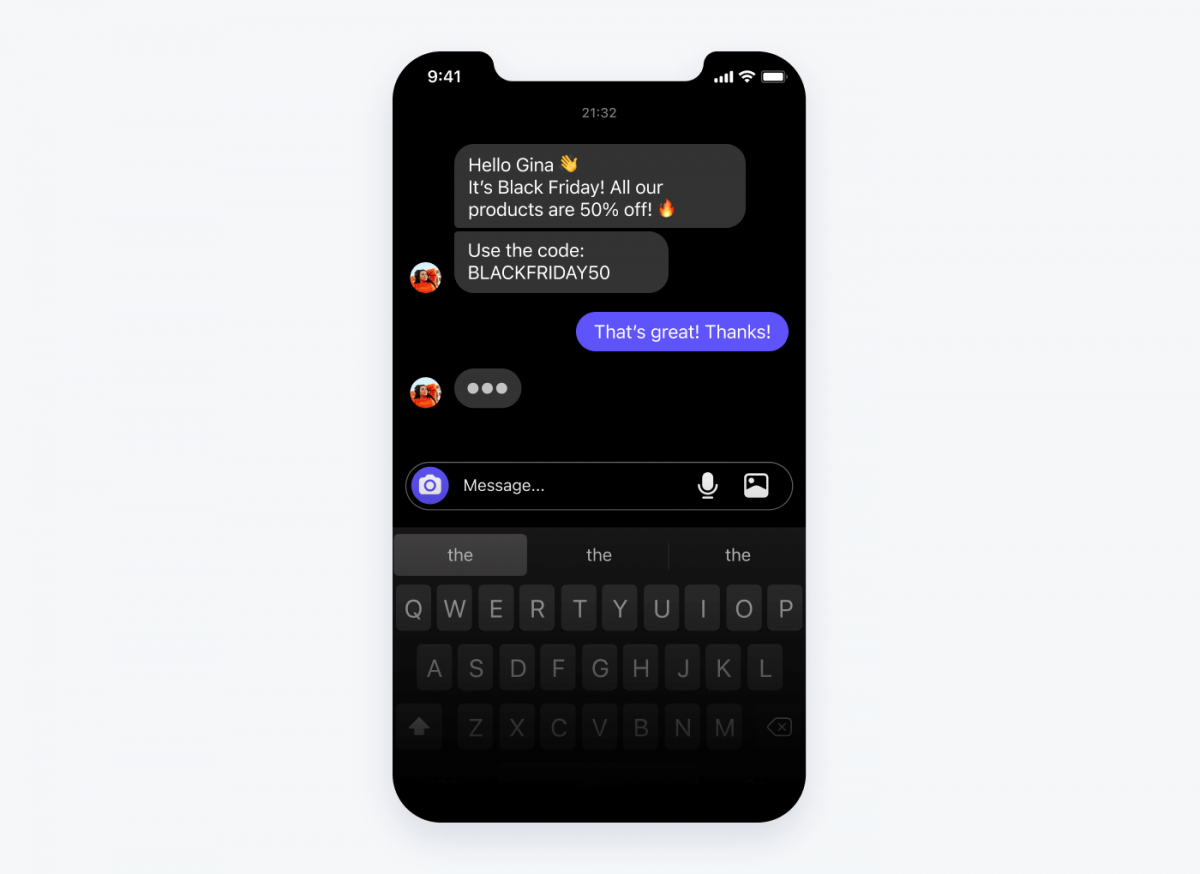 Business owners use Instagram chatbots for automating:
Replies to customers' questions
Order placement
Repetitive answers about shipping policy and order status
Leads collection
Giving discounts
These capabilities make chatbots perfect virtual assistants for any Instagram business account. Unsurprisingly, that's why they became part and parcel of modern customer service and digital marketing.
But it gets better—
Instagram chatbots can help you boost your profile and scale your IG strategy by increasing customer engagement. For example, you can automate sending quick replies to people who react to your Instagram stories.
How is it possible?
How do Instagram bots work?
Most chatbots, including the ones you can use on Instagram, are built with conversation flow charts. They allow the bots to interact with potential customers, whether it is answering their questions or making specific actions.
You can build both simple and complex chat flows using three elements:
Triggers: tell the chatbot when to launch
Actions: tell the chatbot what to do
Nodes: tell the chatbot what conditions cause a specific action—they are based on a simple if this, then that logic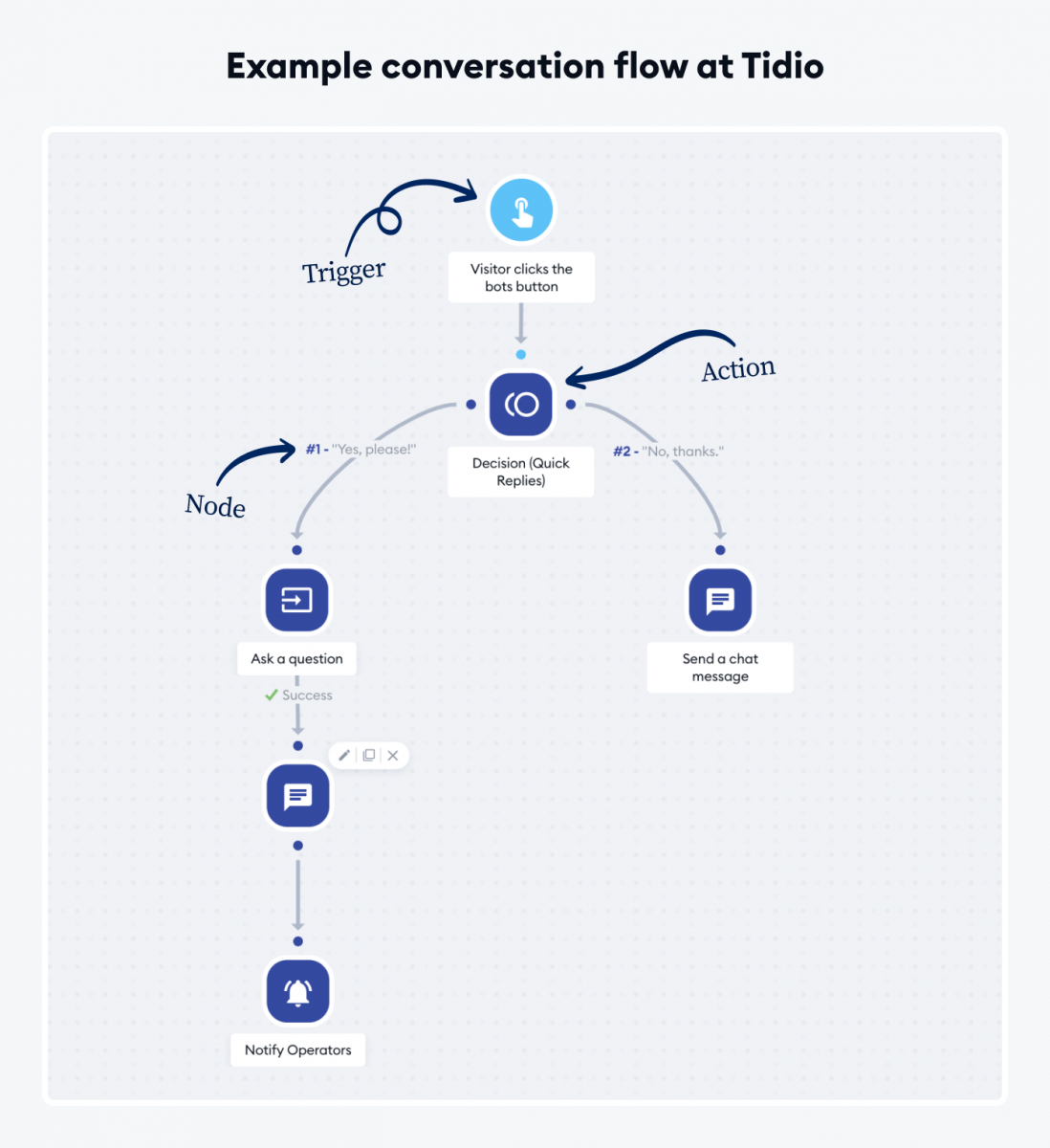 For example, if a customer sends you an Instagram DM with a question about shipping, you can use chatbots to answer them. You just need to set up a chatbot that will be triggered by a set of specific words such as "shipping," "shipping policy," "shipping information," or "shipping update." As a matter of fact, any modification can be done by changing/adding the trigger, action, or condition.
Suggested read
Discover the best chatbot builders on the market.
How to make a chatbot for Instagram?
Instagram doesn't have a native platform to create bots directly inside the interface. However, there is a wide variety of third-party solutions you can choose from.
You can try chatbot platforms from different pricing ranges such as Tidio, ManyChat, or Chatfuel—the majority of them offer a free plan or a free trial.
Now, let's see how to make an Instagram chatbot, using the Tidio platform as an example.
1. Sign up for a free Tidio account
Visit the registration page to create your free account. You can log in with your email, Shopify account, Wix account, or Facebook page. Once you register, you will be asked to customize the widget for your live chat. Don't worry—if you came here only for chatbots, this step is optional, so click on "Skip."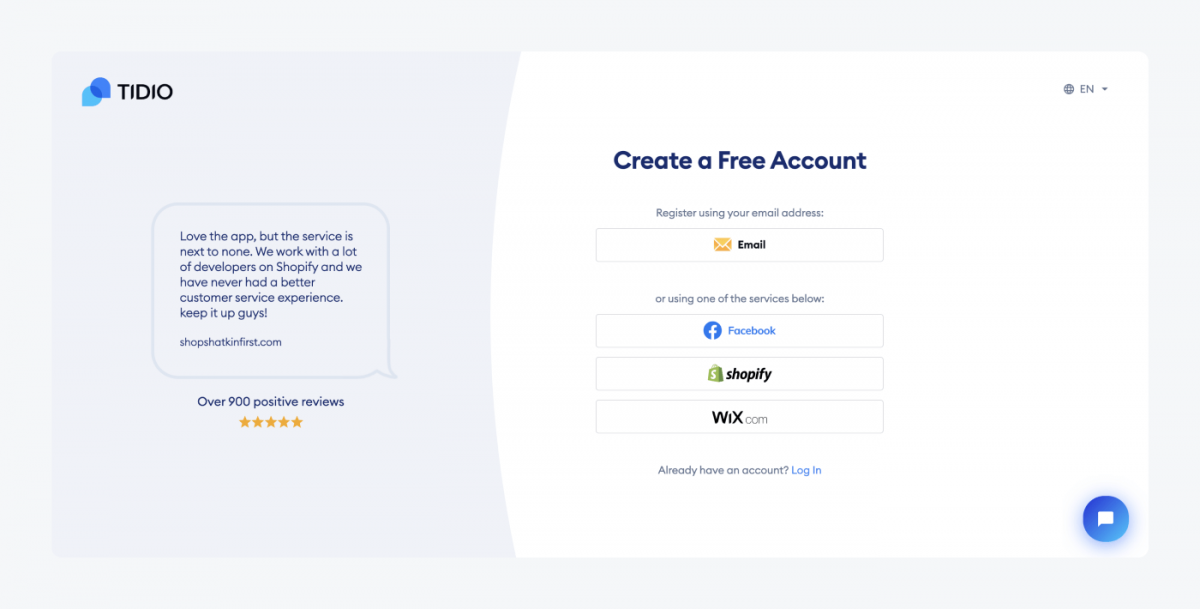 Suggested read
See how to get started with chatbots at Tidio.
2. Connect Tidio to your Instagram page
When you open the main dashboard, open Settings in the bottom-left corner. Go to the Channels panel and click on Instagram. You don't need to use API or paste any code snippets—Tidio integrates with Instagram via a login. You just need to authorize it with your account.
Next, choose the accounts you want to integrate. Then click on the Connect your Instagram account button. The interface will ask you to tick the Instagram account permissions. Done!
Good to know…
You can also use Tidio to manage your email, live chat, and Facebook Messenger conversations.
3. Go to bots launcher to turn on Instagram chatbots
Once your IG account is integrated with Tidio, go to the Chatbots panel and scroll down to the bottom of the page. Click on any template from Instagram bots or choose +Add from scratch.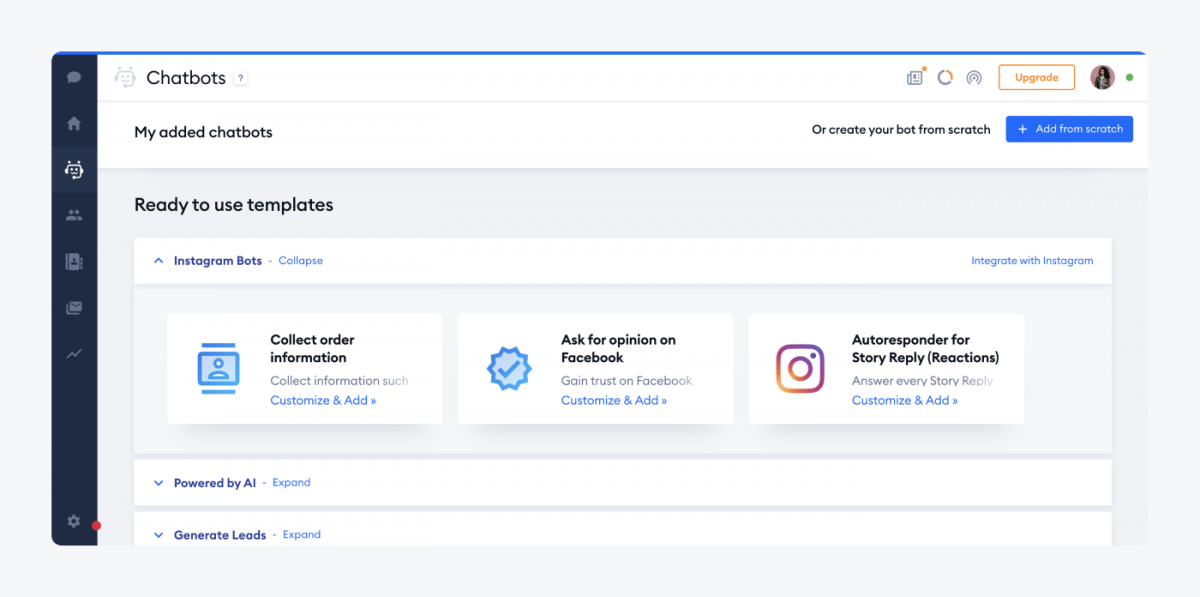 4. Use our visual drag-and-drop editor to create your Instagram chatbot
Tidio's chatbot editor lets you:
Choose one of the ready-made Instagram chatbot templates
Modify the templates according to your needs
Create a chatbot from scratch using conversation flows
Modifying the ready-made templates is extremely easy. Depending on your needs, you can set up different conditions and customize chatbot messages based on your target audience.
If you want to create an Instagram bot from scratch, you use the same chatbot editor—the only difference is that you choose and drag the building blocks by yourself to create a chat sequence.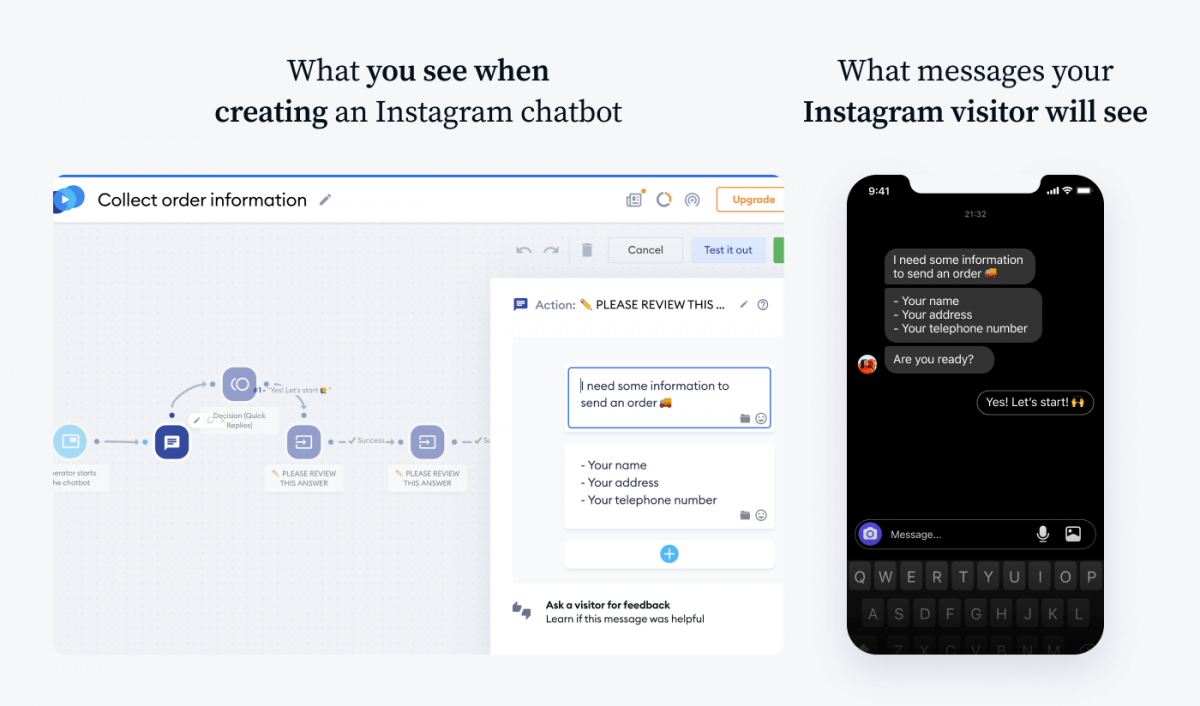 Suggested read
Learn more about the Tidio chatbot creator.
5. Activate your Instagram chatbot
Once your bot for Instagram chats is ready, all you have to do is activate it with one click. Once it's done, it will act exactly as you set it up and interact with your Instagram audience.
If you want to keep perfecting it, you can always save it as a draft.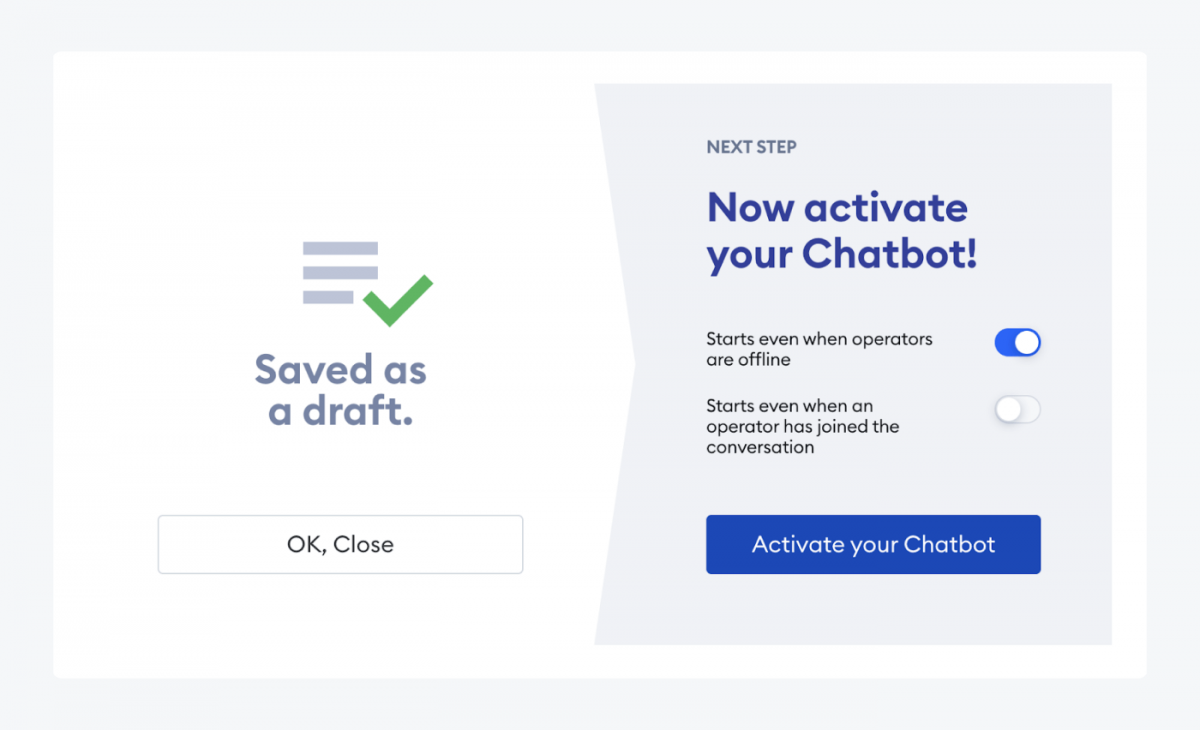 Types of Instagram chatbots
Instagram is arguably one of the most lucrative social media platforms for businesses. As many as 80% of Instagram users use it to decide if it's worth purchasing a product from a brand, and 54% admit to making a purchase right after seeing it on Instagram.
But you cannot focus only on upselling and cross-selling if you want to transform your IG profile into a sales machine. Answering FAQs regularly and engaging your audience exactly when they need it is key to success.
This means you will need different types of Instagram chatbots for different purposes. And there are Instagram bots too, which are a different thing altogether. For now, let's have a look at the most popular chatbots for Instagram.
Instagram story bot responder
Engaging your prospects on Instagram is crucial to boosting sales and lead generation. But if you are busy taking perfect pictures, processing the orders, and taking care of the inventory, it might be difficult to find time for everything. And let's not forget that responding to every reaction to your IG story on a daily basis can be incredibly time-consuming, especially if you have many followers.
People like to react to stories, and they do it often. However, their story reactions usually just end up in your inbox, forever unread. For businesses, this is a great opportunity to show that they appreciate the engagement of their followers and customers. It also builds a positive brand image
This is exactly where the chatbots step in. With the latest Instagram chatbots, you can choose which reaction is supposed to trigger a chatbot. You can even set up a thank you message the chatbot will send in your name and add a GIF or a photo to it!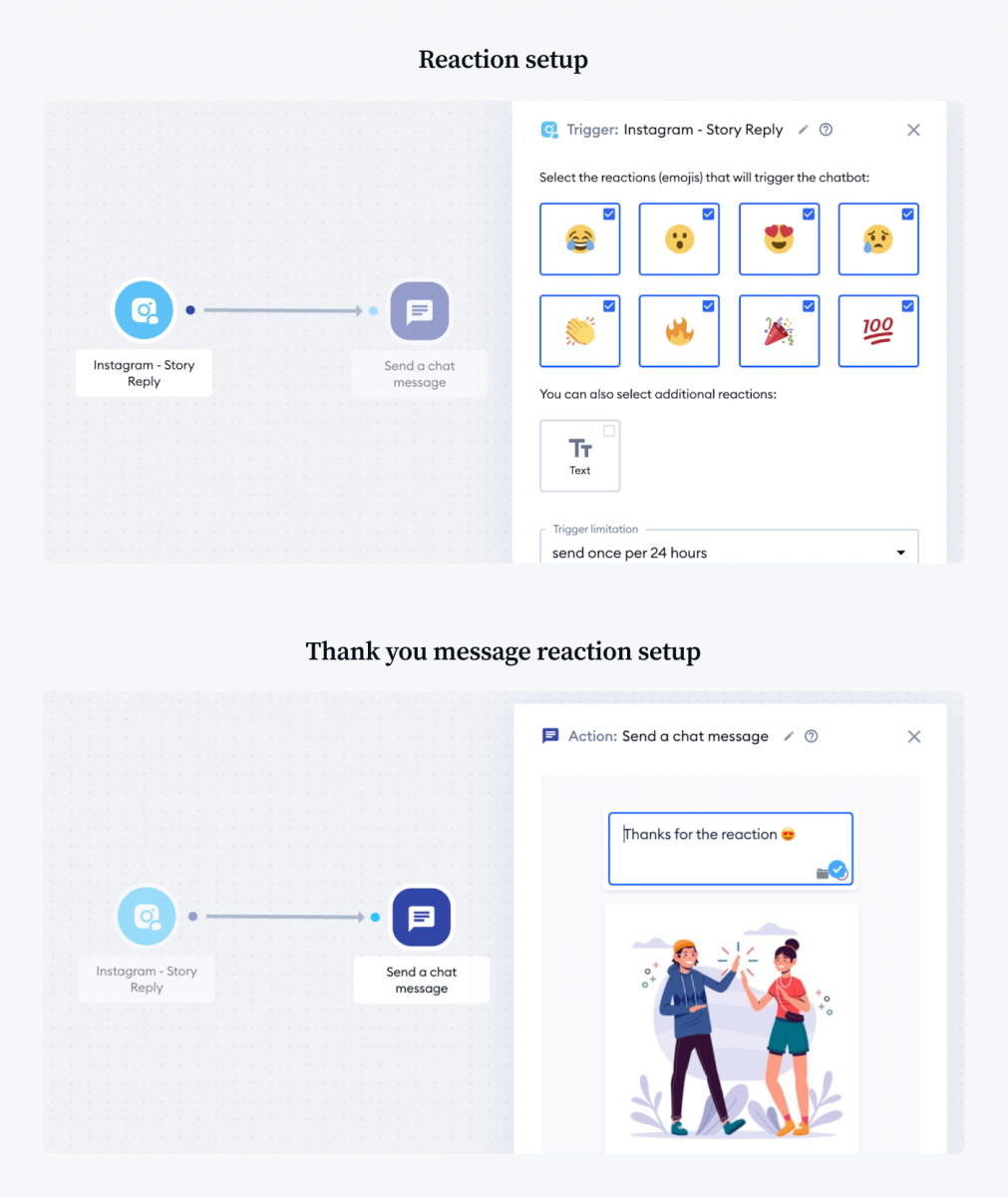 Instagram DM bots for answering repetitive questions
Over 50% of customers require an online business to be available 24/7 and reply to their messages instantly. However, it's simply not humanly possible to provide good customer service all the time. And even if you enable the customers to send the tickets via CRM when you are offline, it's not an ideal solution. Who wants to start every working day with dozens or hundreds of unread Instagram messages?
This is where the chatbots take charge. They can have multiple one-on-one, real-time chats with the clients while you are away.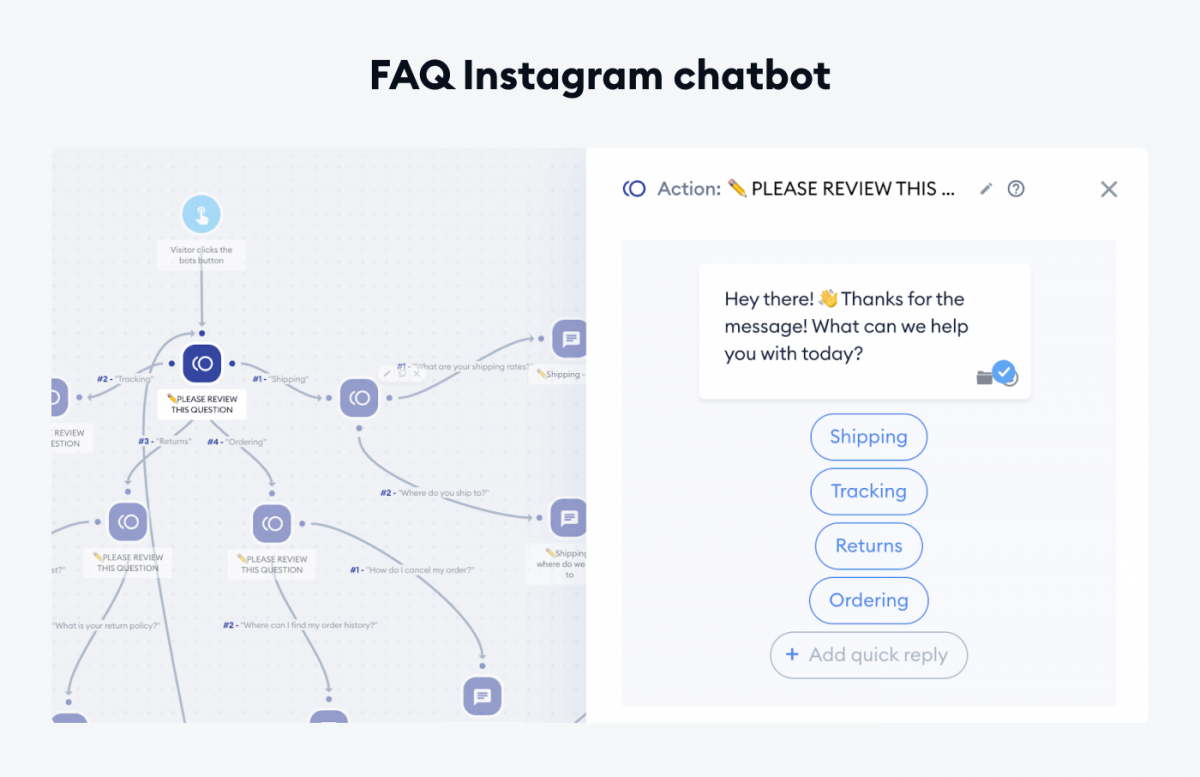 Order placement directly via DM
Answering repetitive messages is not the pinnacle of chatbot capabilities. Modern Instagram chatbots can also take the order from the customer directly within a DM conversation. This way, you increase your efficiency and speed up the purchase.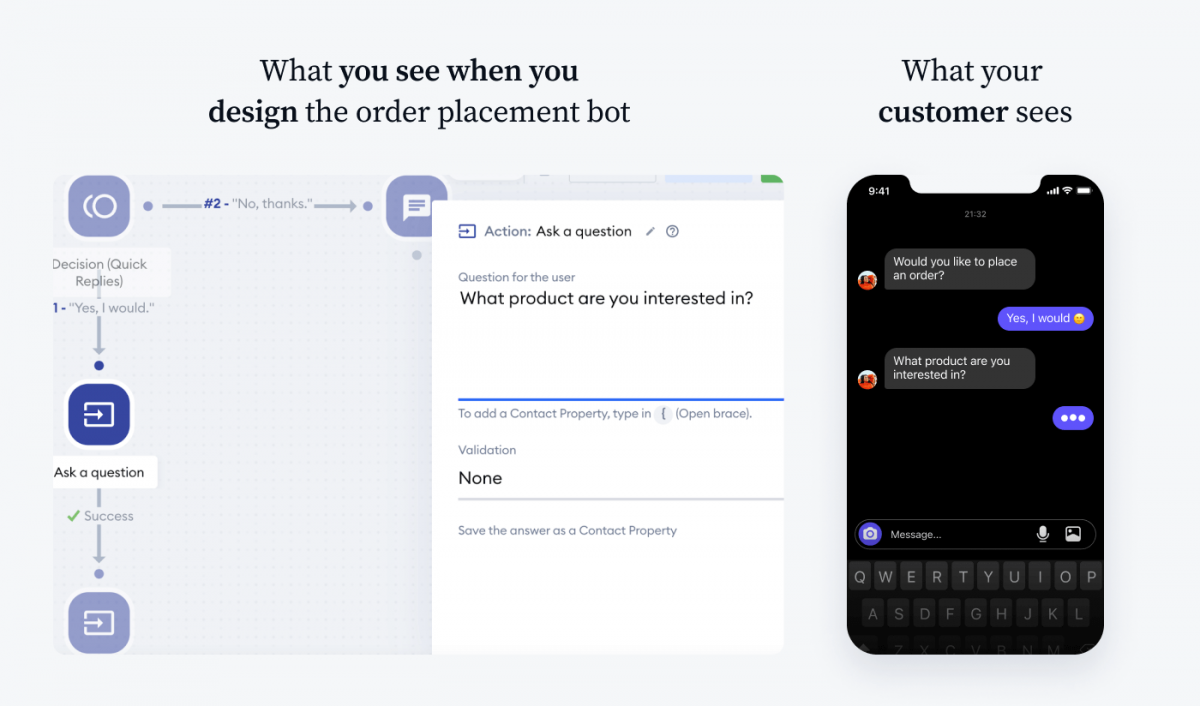 Send product recommendations based on the users' preferences
As many as 80% of consumers are more likely to buy from a company that provides a tailored experience.
Now—
Imagine a chatbot that can personalize product recommendations based on what the customer asks via a DM. That would be a real boost in customer experience, without sacrificing the time of your customer service team.
The good news? This is now possible! Tidio's Instagram chatbots can use predefined data sets such as words, phrases, and questions to recognize the query and act upon it.
For example, if a user asks about a "pink dress," a chatbot can send them a discount for a specific model, or show them all the models of pink dresses you offer. The only thing you need to do is to set up the queries that the Instagram chatbot will analyze and use to respond.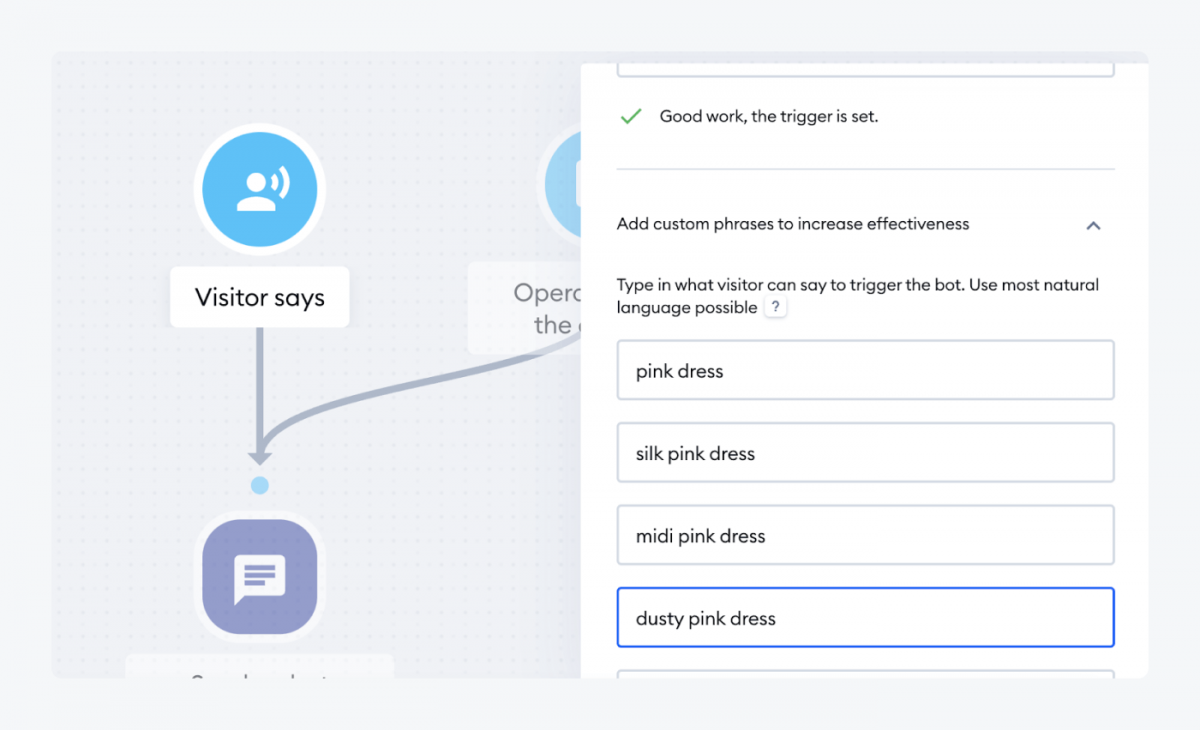 Ask for opinion on Facebook
Collecting the info about customer satisfaction is crucial. As many as 89% of consumers worldwide read reviews before buying products. And since Instagram shopping doesn't have an opinion tab yet, it is a common practice to ask your customers to leave an opinion on your official Facebook fan page. Luckily enough, you don't have to set up a separate Facebook Messenger chatbot to do this—an Instagram chatbot can automatically send a request to your customer.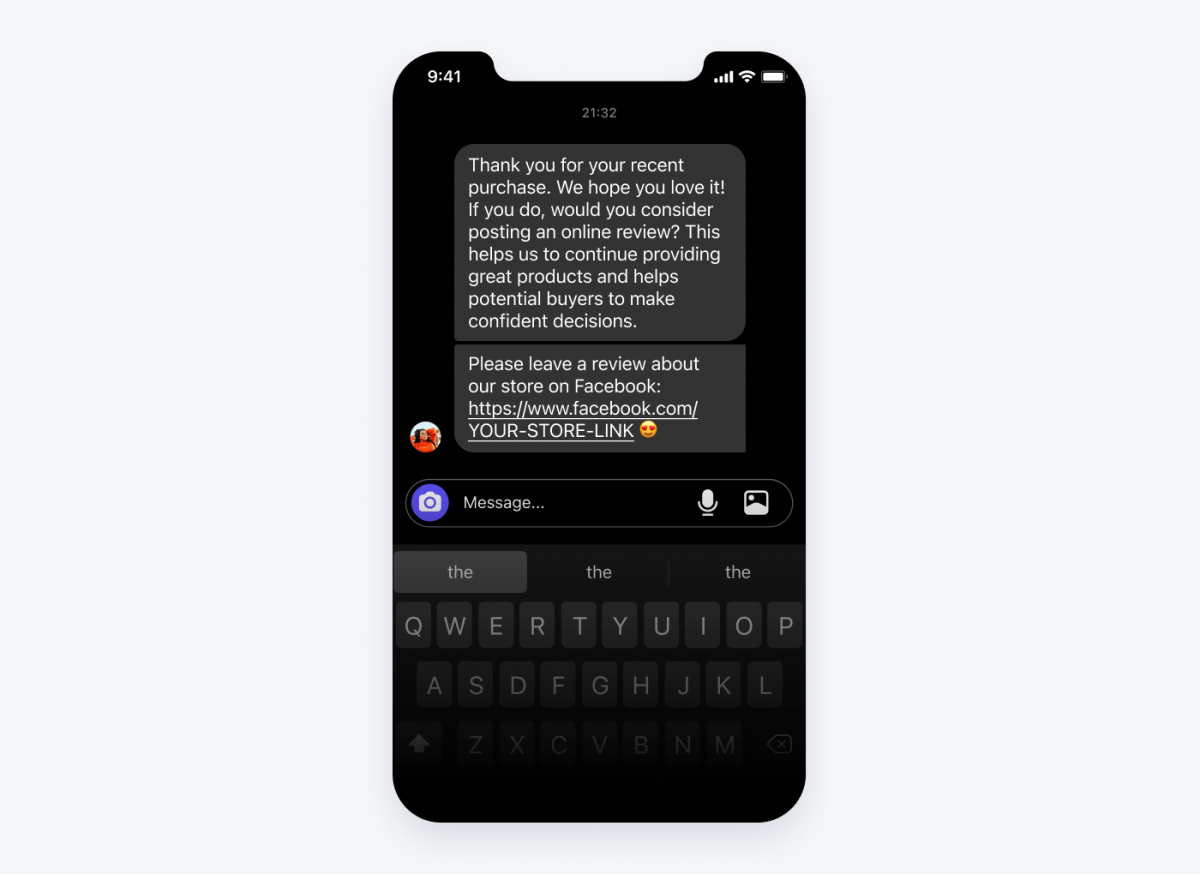 Suggested read
See more Instagram bot messages examples in our blog post about chatbot scripts.
Instagram chatbot: key takeaways
Now you know how to build your own Instagram chatbot and how to use it to give your business a boost. Let's summarize all the important info:
Best chatbots for Instagram bring many benefits for businesses: serving customers on autopilot, answering repetitive questions and messages, and increasing sales are among them.
Building Instagram chatbots doesn't require coding. In fact, creating a chatbot flow in a bot builder is very simple—it requires putting building blocks in the right order in a drag-and-drop visual editor.
You can use many types of chatbots: Instagram message bots in the form of FAQ, Instagram story bots that react to those who viewed your story, and even order bots that take orders directly within the DM conversation.
Are you tempted to make your own chatbot and help your business grow? Don't hesitate and go ahead—we promise to answer all your questions and concerns if you happen to have any!
FAQ: Instagram chatbot
Is there a chatbot for Instagram?
Instagram doesn't provide a native solution for creating chatbots inside the interface. Instead, you can easily integrate your Instagram account with a third-party chatbot development platform, like Tidio. This will enable you to easily create an Instagram chatbot in minutes.
How do I create a chatbot on Instagram?
Login to your Tidio account and integrate your Instagram account in the Settings>Channels>Instagram tab. Authorize the integration with your account and choose the Instagram pages you want to set the chatbots for. Then, go to the chatbots section and select a ready-made template, or create a new chatbot from scratch in a visual chatbot editor.
Why are chatbots on Instagram essential for marketing?
By adding chatbots to your website and social channels such as Instagram and Facebook, you can streamline communication and save a lot of time. Chatbots help resolve customer issues, provide information, and engage your audience at the right time. As a result, chatbots can both drive sales and brand awareness.
What is the best Instagram chatbot?
Tidio has quickly emerged as one of the best chatbots for Instagram. The platform offers powerful chatbot software as well as a continuously growing number of marketing automation tools. It also offers live chat, email automation, and a multichannel dashboard, so you can manage all your communication channels from one place.
Are chatbots illegal?
Chatbots are perfectly legal. However, businesses need to be transparent about how they portray chatbots to their visitors, users, and customers. For example, you cannot make chatbots appear as if they are real humans. A chatbot can be designed with personalization in mind, but your customers must know that they are talking to a chatbot.