Live Chat
10 Best WordPress Chat Plugins for Your Website [2020 Update]
Thinking about adding chat functionality to your WordPress website? In this article, we're going to take a look at some of the best WordPress live chat plugin options available on the market.
Live chat apps were made for websites. They're fast, sleek, lightweight, and packed with many features to make online sellers' (and their customers') lives easier.
Live chat became the favorite communication channel for Millennials. It is the most accessible medium for personalized dialogue between the business and the customer. The solution for faster and round-the-clock service.
Live chat apps are becoming more and more popular. With popularity comes supply. And with supply comes confusion. There are hundreds of live chat apps available on the market. Over 600 of them come as dedicated WordPress plugins.
Have you been asking yourself "which live chat app should I give a try?" Then read on! In this article, you will find the list of the best WordPress live chat plugins. They are compared and rated to help you make the most informed decision.
We will also show you how to install the best WordPress chat plugin for your website.
💡 Psst! Want to make the best of your WordPress chat plugin?

Some WP chat plugins come equipped with a WordPress chatbot that is integrated with the widget. Chatbots send automatic responses to save your time, engage visitors, and reduce bounce rate.
Ok, let's get started!
What Is the Best Live Chat Plugin for WordPress?
Here's the selection of the live chat plugins for WordPress we will discuss and compare:
How the final score is calculated:
((Versatility score + Ease score + Looks score + WP users rating) : 4)) * 100% = final score
We also included the price, general pros & cons, as well as key features for each of the best chat plugins for WordPress.

Please note: The number of installations, user ratings, and updates of WordPress chat plugins is valid as of May 2020.



| | |
| --- | --- |
| Pros: A free all-in-one live chat/chatbot/mailing solution. | Cons: To automate a phone & SMS support, Tidio needs to be integrated with a third-party app. |
Tidio is an out-of-the-box solution. You don't need any additional modules or plugins to have a fully-functional product. This WordPress chatting plugin is very customizable so you can easily make it match your brand.
If your primary goal is efficient day-to-day communication with customers, then you're in luck. Tidio offers most of its core live chat features for free. If you need extra chat operator seats or premium features, you will find that the paid plans are very affordable and flexible.
This WP live chat plugin is also a great choice if you need a tool for marketing automation (e.g. lead generation and nurturing, mailing, CRM).
Tidio offers a forever-free plan with plenty of features that you would normally need to pay for with other live chat brands. Right now, it is the best chat plugin for WordPress.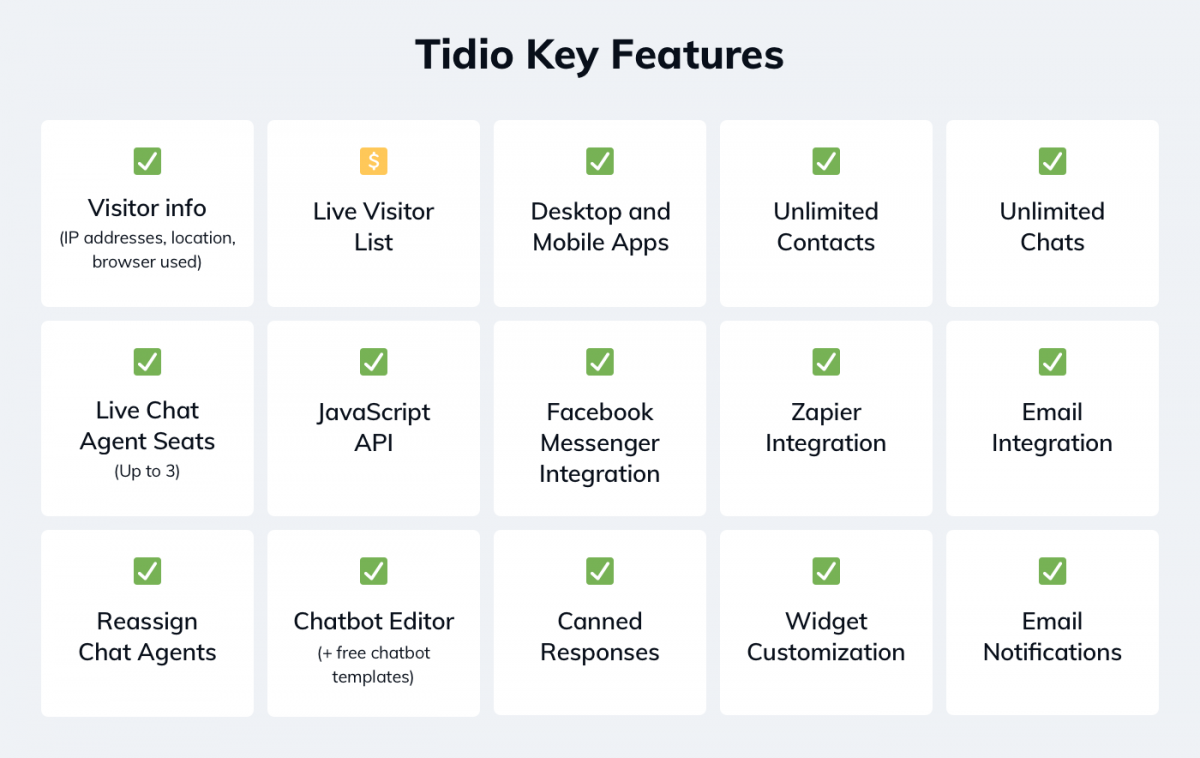 How do I add Live Chat to WordPress?
To add live chat to a website, choose an app you want to install from the WordPress plugins list. Let's use Tidio as an example.
1) Visit the "Plugins" > "Add New" page inside your WordPress admin area.
2) Search for Tidio plugin and click Install Now.
3) After the plugin is installed, click Activate.
That's it! You have successfully added a live chat to your WordPress website. Now, all you need to do is to set up a free account and configure the live chat settings to your liking.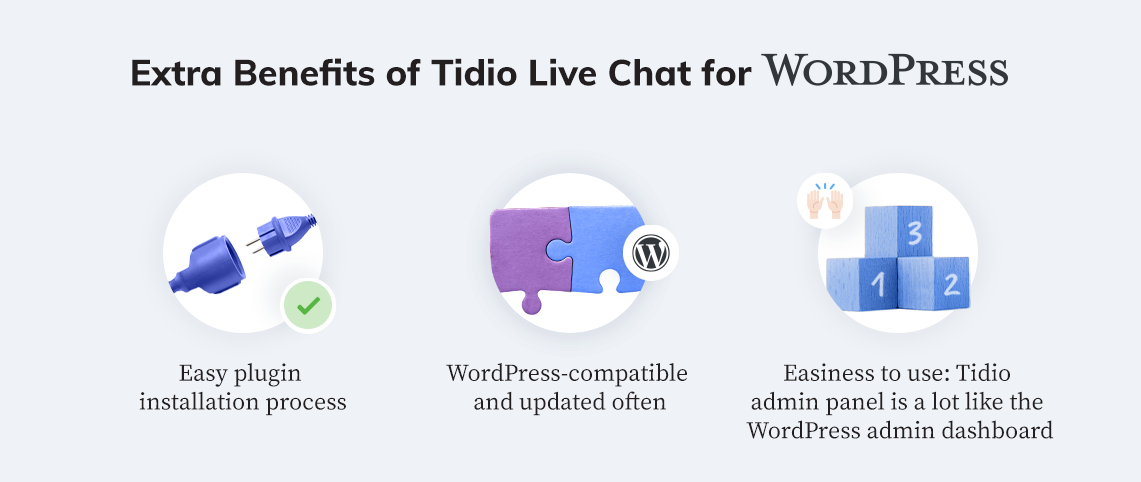 🚀 Read: How to Install Tidio on WordPress (a step-by-step tutorial with visuals and alternative installation method if you want to add live chat to website code manually)



| | |
| --- | --- |
| Pros: Relatively low price and the Callback feature. | Cons: No automated conversations (chatbots). |
The panel of this live chat for WordPress looks trendy and elegant, with lots of white space and pleasant vector graphics.
If you plan to automate some of your conversations, keep in mind that JivoChat does not offer chatbots. But, to some extent, it makes up for it with its phone support tools. Instead of automatic messages, you can use a Callback feature to have voice chats. Such a solution may be suitable for some businesses.
JivoChat free plan comes with more chat agents seats when compared to Tidio but it offers way fewer features.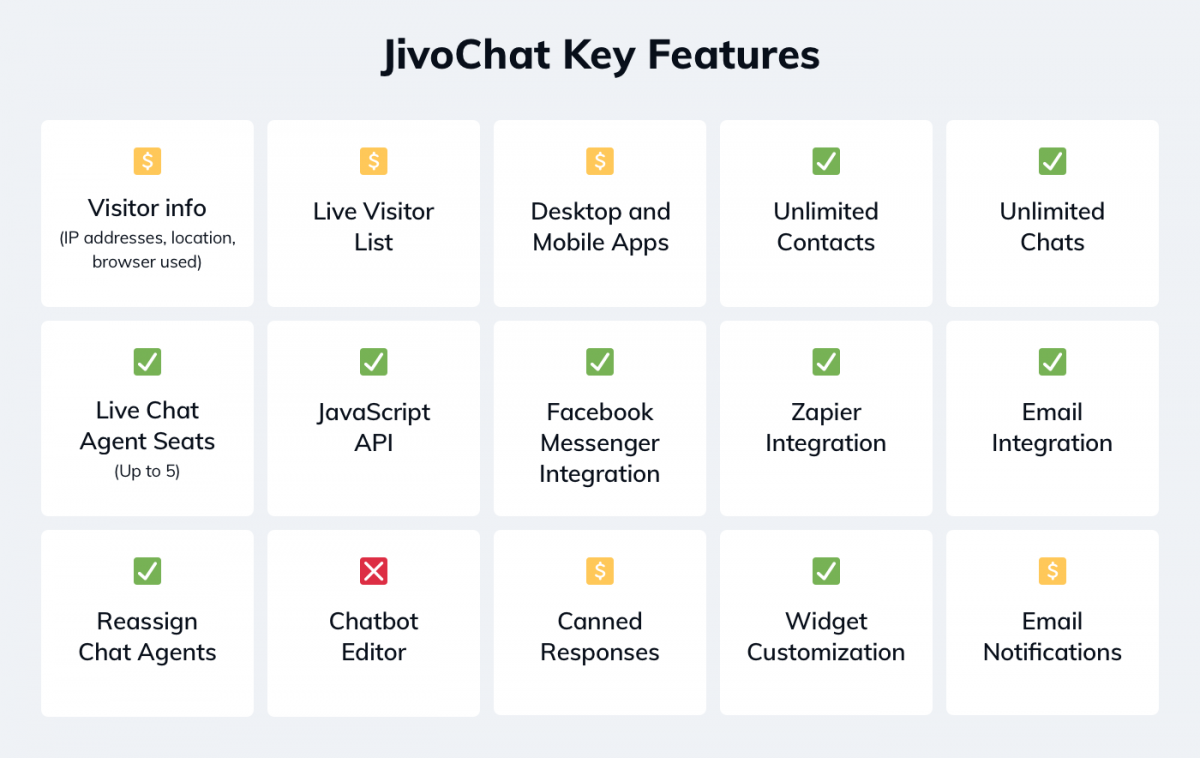 | | |
| --- | --- |
| Pros: Great onboarding and user experience. | Cons: Free Standalone Chat is not really free. |
Zendesk Chat is elegant, minimalistic, and easy to navigate. It doesn't allow you to customize the widget, though. Several key features (e.g. pre-chat surveys and visitor tracking) are available out of the box.
The onboarding process is also well-designed.
Although you can opt for a free version of a chat, it is only free for those who are on any Zendesk Support Plan.
Zendesk's apps are about integrated customer support. Their WordPress live chat is one of the many products they offer. So to make the most of it, you will need to integrate your Zendesk Chat with other Zendesk apps — and pay for them separately.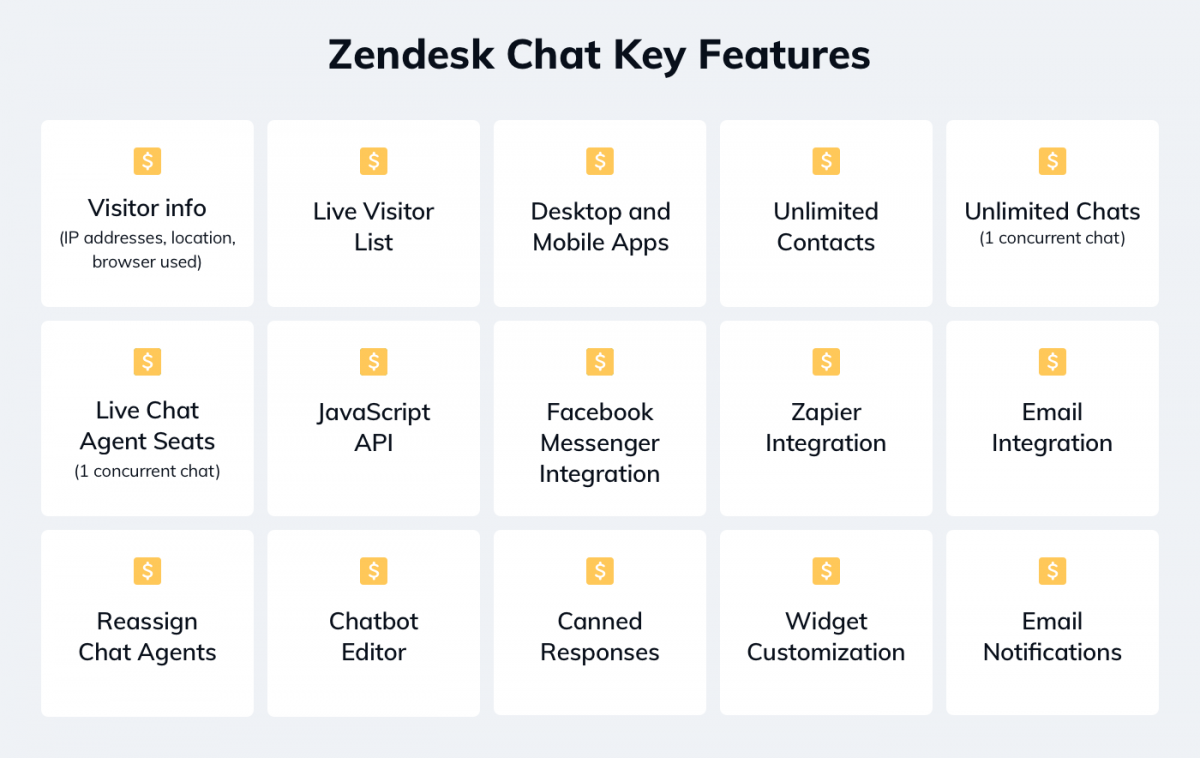 | | |
| --- | --- |
| Pros: Advanced reporting tools and the typing speed test. | Cons: No free version of the app and you need to install modules separately. |
LiveChat has many unique features, including special graphic elements made to draw attention to the live chat box. Although they clutter the screen space, some may find it visually attractive.
This WordPress live chat plugin is modular and uses the "plugins within plugins" approach. It even has its own marketplace section in the panel. You add extra features by connecting LiveChat with other apps.
For instance, to create chatbots you need to install a separate app called ChatBot. Both apps are billed separately and come with their own panels.
It's a good and powerful website chat plugin, but the cheapest plan is very basic and limited. If you decide to go for more expensive plans, they're a lot of features waiting for you. Just be aware that some of them might be quite complex to use.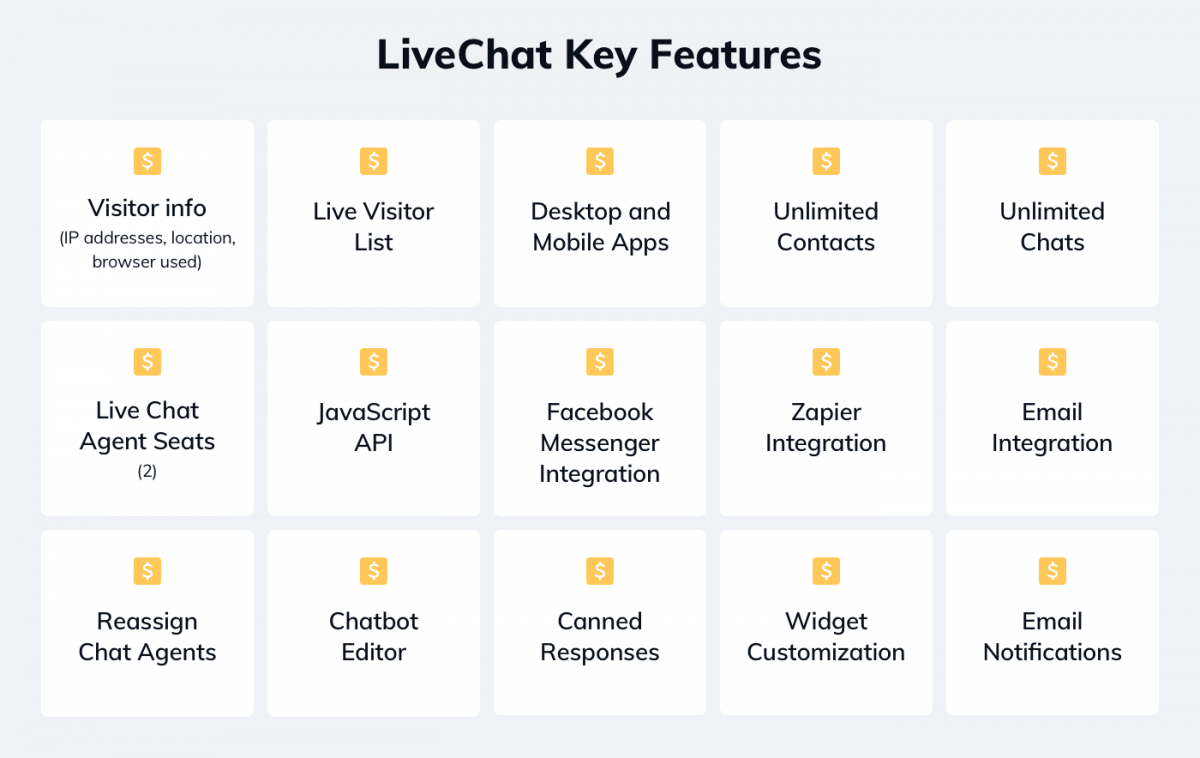 | | |
| --- | --- |
| Pros: Sleek design and the look of the panel | Cons: It is modular and you need to install separate plugins for extra functionality. |
As the name suggests, this live chat for WordPress is very crisp and good-looking. Apart from the looks, it offers plenty of features that you can test during the free trial.
Similarly to LiveChat, individual features come as plugins. What it means is that you also need to install extra plugins within the main Crisp WordPress plugin. And there are over 40 to choose from.
Such a customization method might be quite discouraging. But if you prefer to test individual plugins and keep the ones you need, Crisp might be the live chat for you.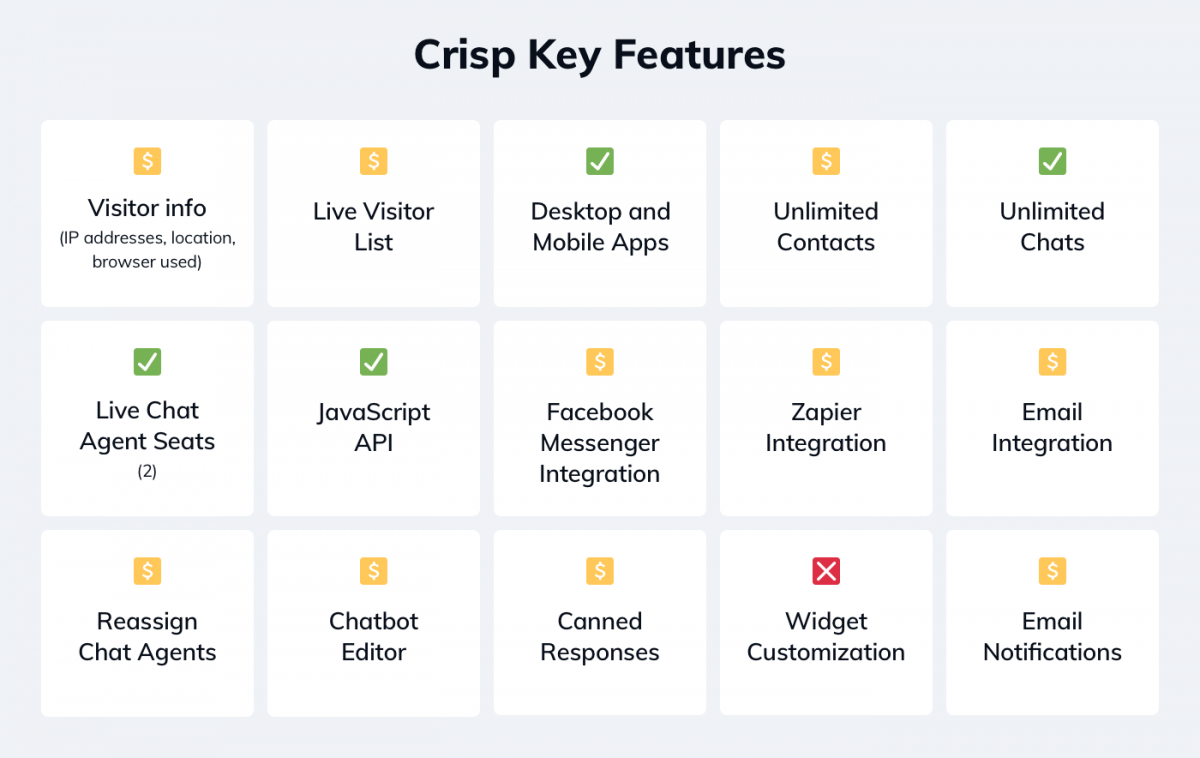 | | |
| --- | --- |
| Pros: All features are available for free. | Cons: No chatbots, no Facebook Messenger integration, no marketing automation tools. |
Tawk.to is a good-looking WordPress chatting plugin. You can customize the widget look and get the colorful Attention Bubble to make the live chat stand out.
This live chat is meant purely for live chat customer service so you won't get any CRM or marketing automation features. If all you need is a free chat plugin for WordPress without any advanced features or chatbots, it can do the job. However, the only way to handle a high volume of customer queries with Tawk.to is to hire chat agents from them.



| | |
| --- | --- |
| Pros: Great design, vivid advertising, advocates the idea of conversation marketing. | Cons: No trial to test premium features. Paid plans are very expensive. |
The Drift live chat website plugin is bold and has a very distinctive feel and attitude, although some may find it a little over the top. Still, when compared to other apps, the interface feels less intuitive. Sometimes it is hard to find what you look for. For example, some icons tend to appear and disappear in different situations.
The Free plan is very basic and does not include chatbots. Since there is no trial, you cannot test the paid features, either.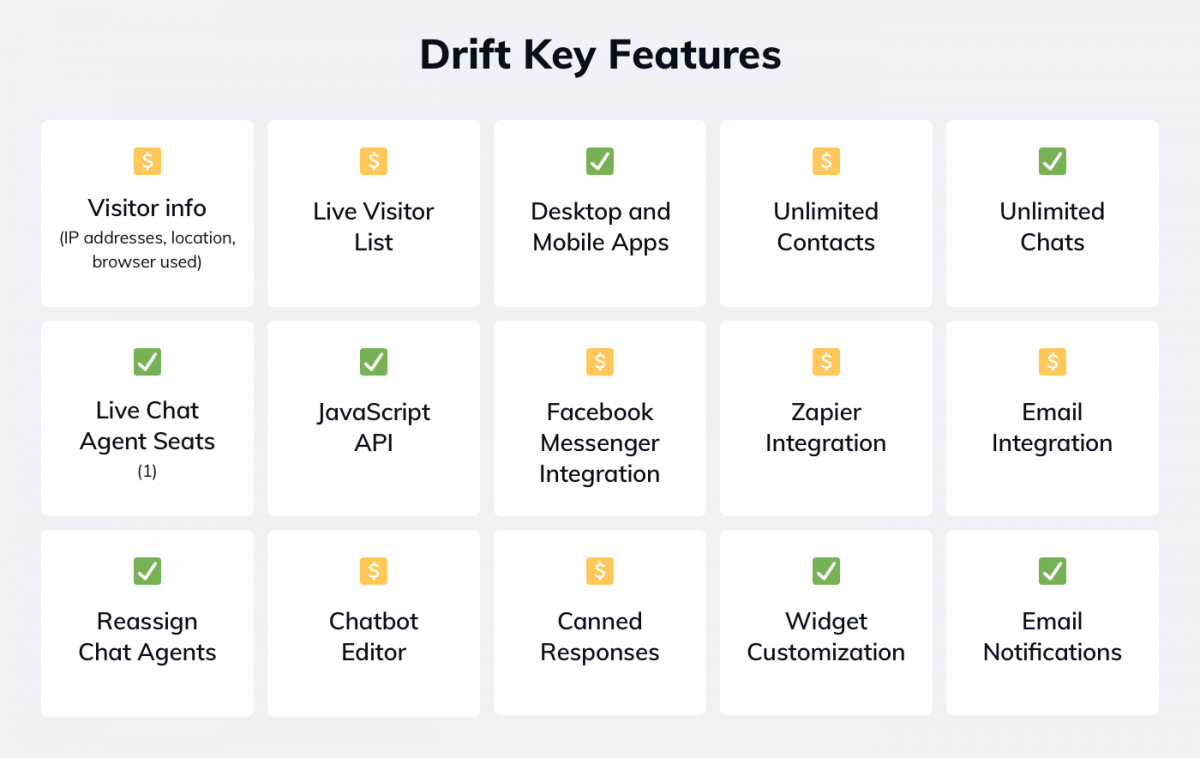 | | |
| --- | --- |
| Pros: Quick installation, widget customization, AI chatbot. | Cons: Very limited Free plan. |
At first glance, this WordPress chat plugin has a simple and minimalist look. But don't underestimate it – Formilla is rich in features. It has chatbots, smart messages, real-time visitor monitoring, to name a few. The downside is, that all these features are available only to the paying customers.
Formilla also offers some original ways of customizing the appearance of the chat box on your website. Advanced users can customize the appearance of the widget by editing the CSS code.
AI chatbots look very promising, but the process of training one takes time. You also need to already have some messages sent by your customers. This can be a problem for new users. If you're planning on using bots, start with rule-based ones.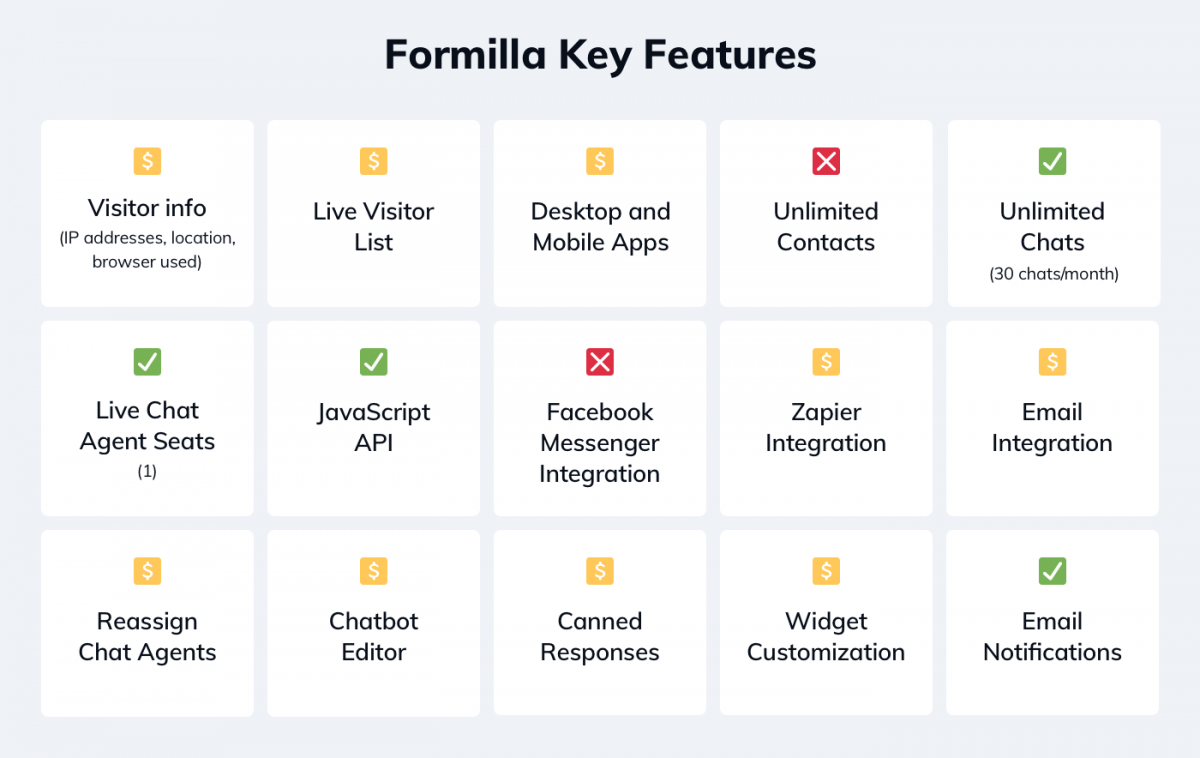 | | |
| --- | --- |
| Pros: A live chat solution with a calling feature. | Cons: Outdated UI, hard to integrate with third-party apps. |
3CX is a company that provides VoIP services. Their live chat is a semi-complete solution you can use for free because they use it as a lure. They are pushing something else. The company wants you to connect this WordPress live chat plugin with their 3CX Phone System.
What's the catch? It looks like it time-traveled from somewhere around the late 2000s and early 2010s. WP Live Chat by 3CX is quite functional, but far from being user-friendly.
This live chat WordPress plugin does work but is not very elegant or innovative. It can be set up and used in your WordPress dashboard which may seem to be a benefit, but it isn't. The plugin is hard to integrate with other apps or software.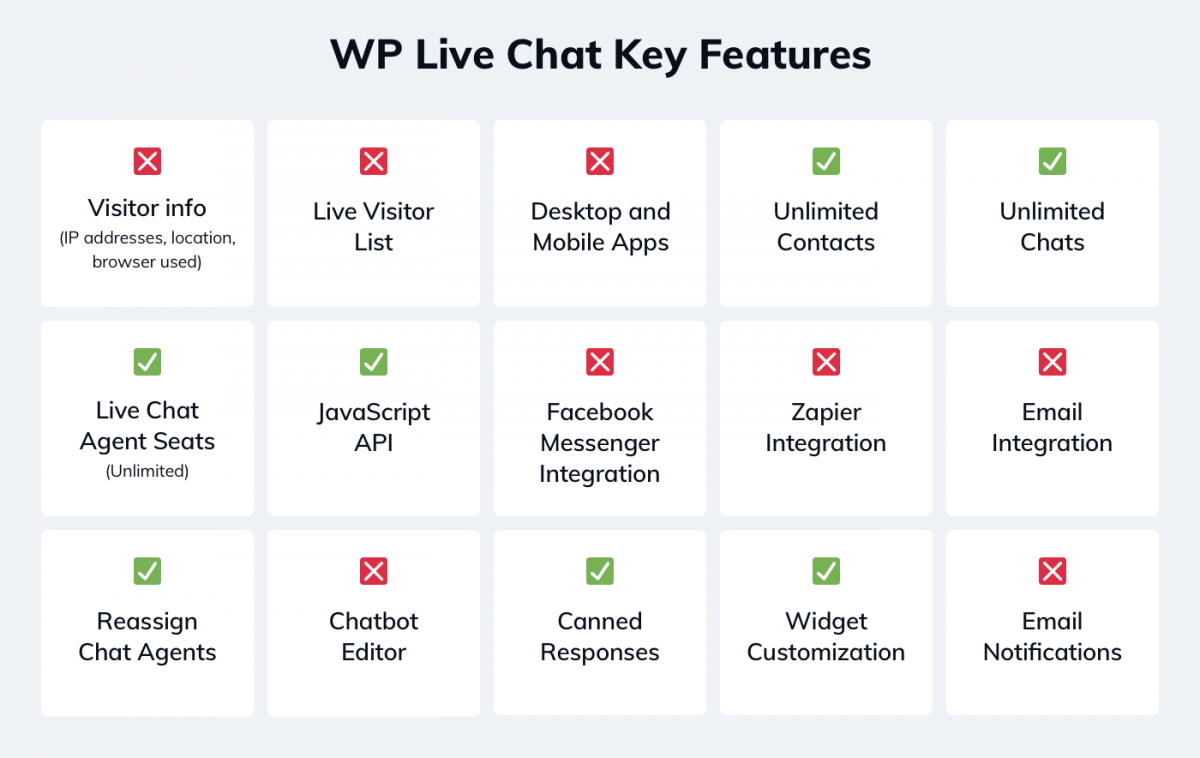 | | |
| --- | --- |
| Pros: Very advanced solution for business communication. | Cons: No free plan available. A credit card is required to start a trial. |
Intercom is a good-looking and high-quality chat plugin for WordPress, specifically popular among big companies. It takes care of interaction management, automated workflows, product tours, data analysis, and more. Intercom is a very robust platform that can do a lot for your business – if you can afford it.
To get the full live chat experience, you will need to buy several add-ons (sold separately). For instance, to use an Answer Bot, you will need to pay an extra $99/mo on top of the chosen plan.
🚀 Read more: Best Intercom Alternatives for Small Businesses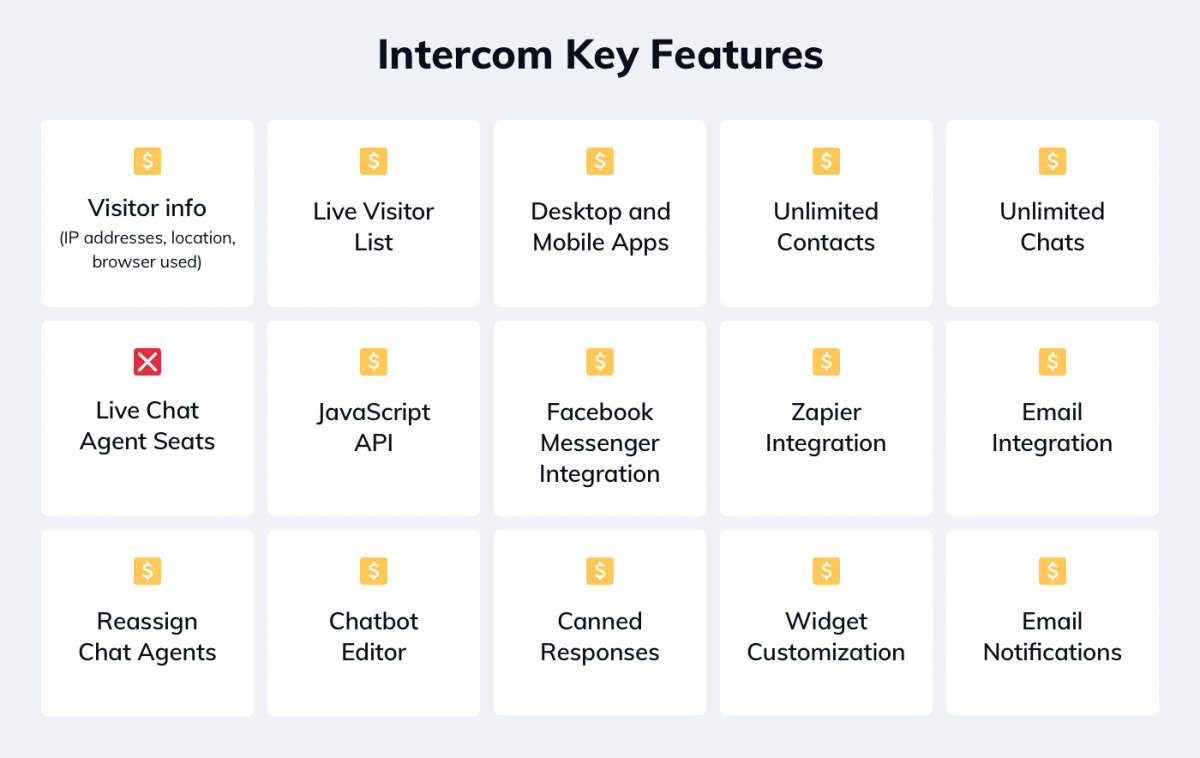 The Best and Most Popular WordPress Live Chat Plugins Ranked
The ranking below sums up our comparison of the best chat plugins for WordPress in 2020.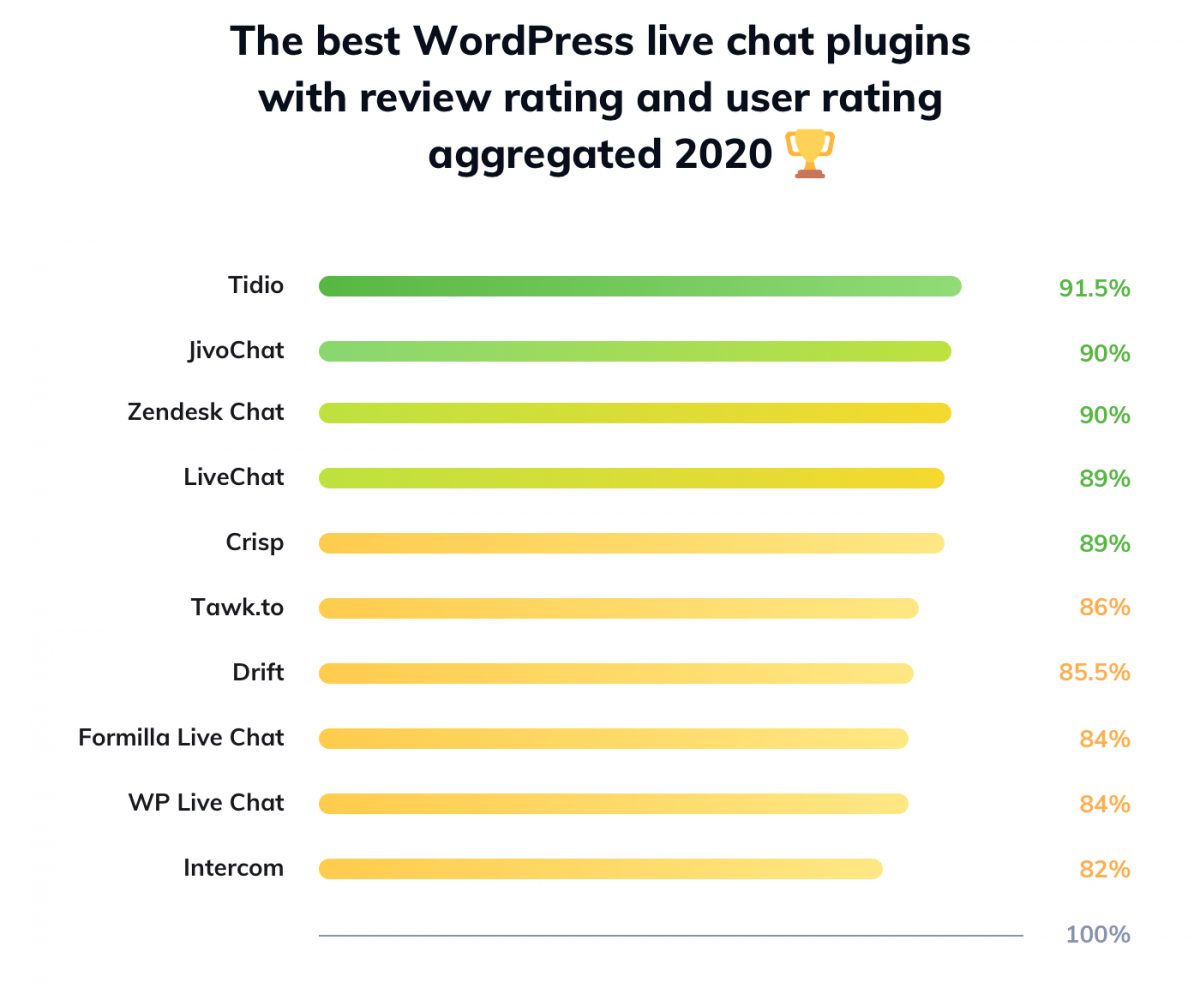 As you can see, the live chat market is quite diverse. Although there are many more players on the WordPress live chat arena, the table lists only the best entrants.
All the plugins we presented offer many exciting live chat features. Chatbot automatic messages, canned responses, widget customization, to name a few. Few of the brands offer them in their free plans (Tidio). Some of them do not offer free plans at all (Intercom, LiveChat). While others have their free plans extremely limited (Zendesk Chat, Crisp, Drift, Formilla).
Tidio proved to be the best choice for SMBs. This ready to use the out-of-the-box app is packed with amazing features that are available for free. Not only that. Unlike some competitors, Tidio does not charge extra to access its other products (chatbots and mailing).
Read more:
👉 Best Live Chat Software Compared (All Platforms)
👉 Best Free Shopify Live Chat in 2020
Which Live Chat Plugin for WordPress Should I Choose?
The fundamental question you should ask is not: "What should I choose?". Instead, think about: "What do I need?" Every WordPress chat widget has its pros and cons.
So ask yourself:
"Do I need an efficient tool to go beyond chats and build relationships with my customers?"
"Do I want to collect leads and support my customers 24/7?"
"Do I want to store unlimited contacts to convert and nurture?"
"Do I need a simple but not basic tool to talk without limits?"
If you have answered "Yes" to any of these questions, then go for Tidio.
Sign up today and find out for yourself why Tidio is the top live chat for WordPress on the list.
Try Live Chat For Free