Do you like jigsaw puzzles?
I do.
Each puzzle piece comes in a similar size but differs in its shape and color. You can follow various tactics to solve the puzzles. Whether it would be the right one depends on different factors, such as the total pieces number, image, color contrast, size, etc.
Solving jigsaw puzzles reflects the biggest challenges of today's customer service.
First of all, all customers are different. They vary in their experience, expertize, expectations. No customer is identical (neither is a jigsaw piece).
Secondly, learning about and analyzing your customers' problems take time (just like analyzing and sorting the puzzle pieces).
And finally, customers expect fast service so you need to decide what channel of communication with your customers would do the job most efficiently (choosing the right tactics for solving the puzzles will result in a faster task completion).
In this article we cover 7 types of customer service that can help you with your everyday customer service activities:
There are many areas of customer service where your business may operate inefficiently. Few examples may include:
How long do you keep your customers waiting?
Are your customers provided with sufficient resources to resolve their issues on their own?
Do you keep your customers up to date with regular updates?
Can your customers get in touch with you after hours?
With so many different solutions available nowadays, why don't you try something new and see how a certain type of service can improve your customer care.
Different Types of Customer Service
Support can be provided by a company staff over the phone, through email, live chat, or social media. It can also take place on-site. 
Customers can seek answers to their queries with the help of FAQ, or find answers themselves through different self-service options. 
#1 Phone Customer Service 
Good old fashioned customer service.
According to Microsoft's report, this type of customer support (another term for customer service) is the most popular choice among all service types all over the world. 
Pros:
Direct type of interaction which allows better recognition of customers' emotions
People talk faster than they type, which makes a telephone fast and efficient medium
Great channel for complex or urgent problems
A telephone is a device known to all generations so even non tech-savvy users can use it
Cons:
Trends change alongside the generations – young people prefer texting to calling
Long or unspecified hold times when all operators are busy
Poor network reception can prevent from making a phone call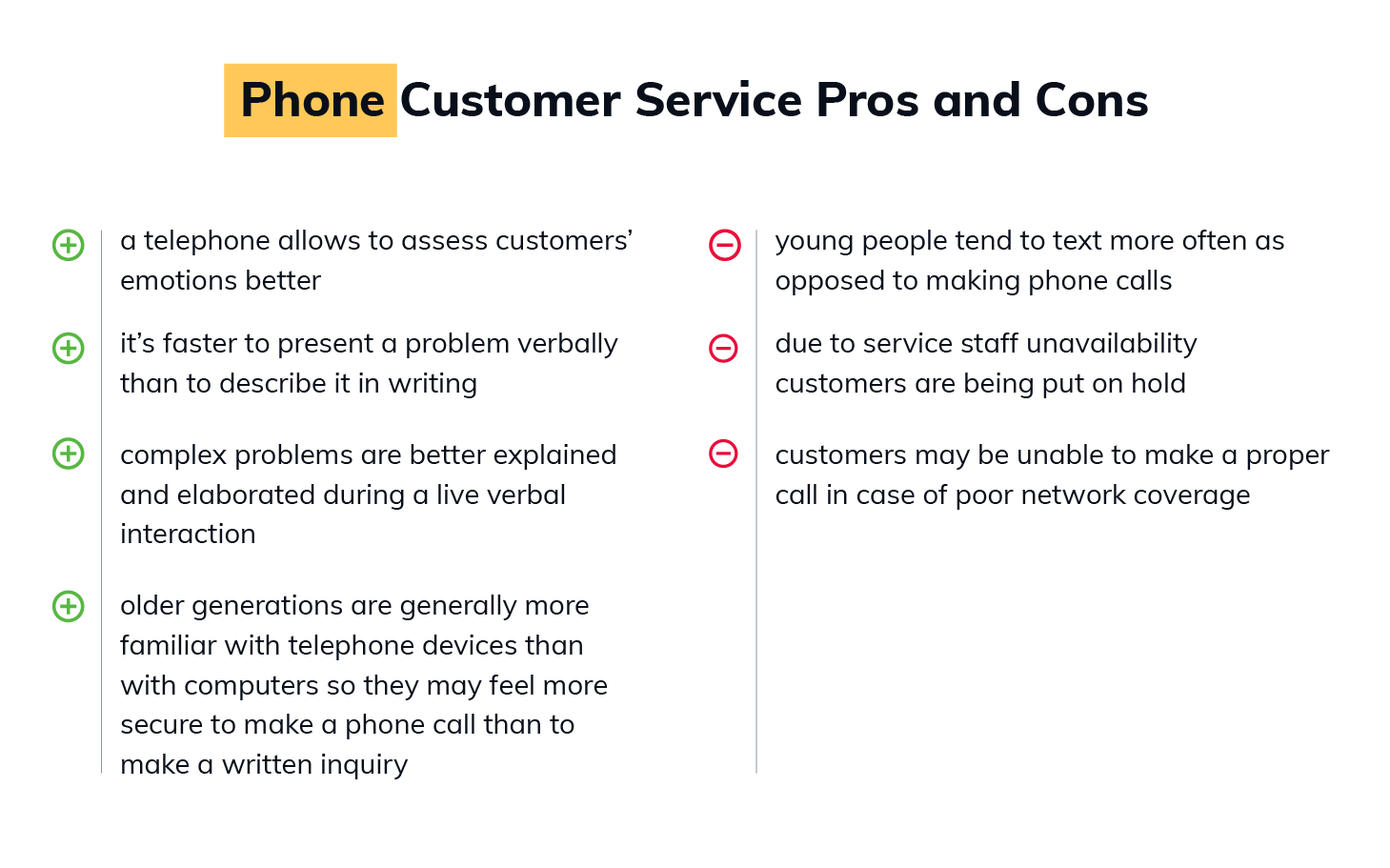 What Industries Would Benefit from Phone Customer Service the Most?
The public sector is bound by strict legal constraints, that's why it's important the customers understand regulations and procedures correctly. 
In the private sector, many customers feel more secure to resolve high-priority or sensitive problems over the phone.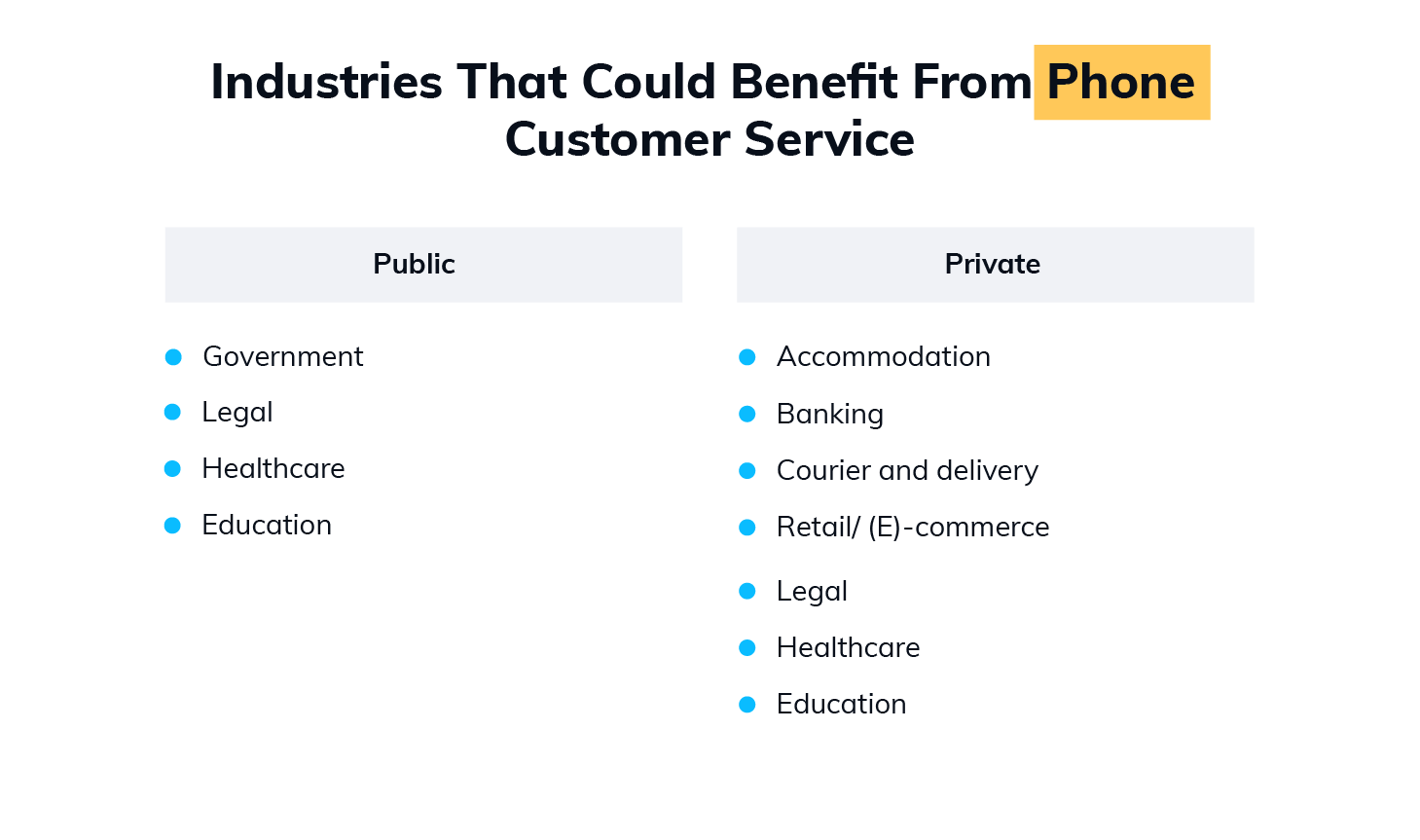 Examples of Companies Using Phone Customer Service
GoDaddy is a web hosting company that offers support to customers from major cities from all over the globe. Since technical issues can pop up at any time, it makes sense that customers expect fast support.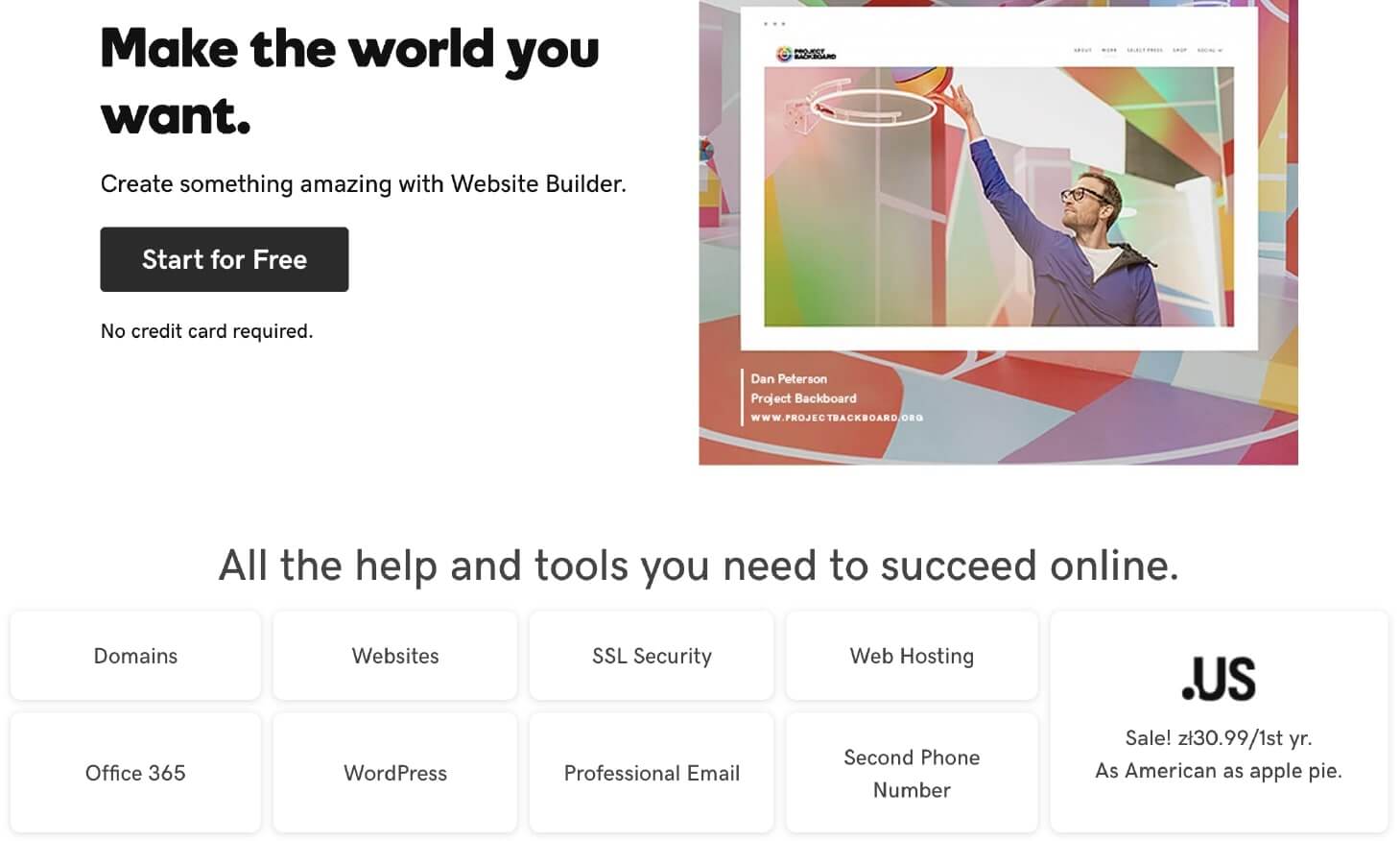 As a global courier company, FedEx offers phone service to its customers from a range of locations all over the world. Shipment-related issues may happen to anyone that's why FedEx offers its customers the possibility of immediate support.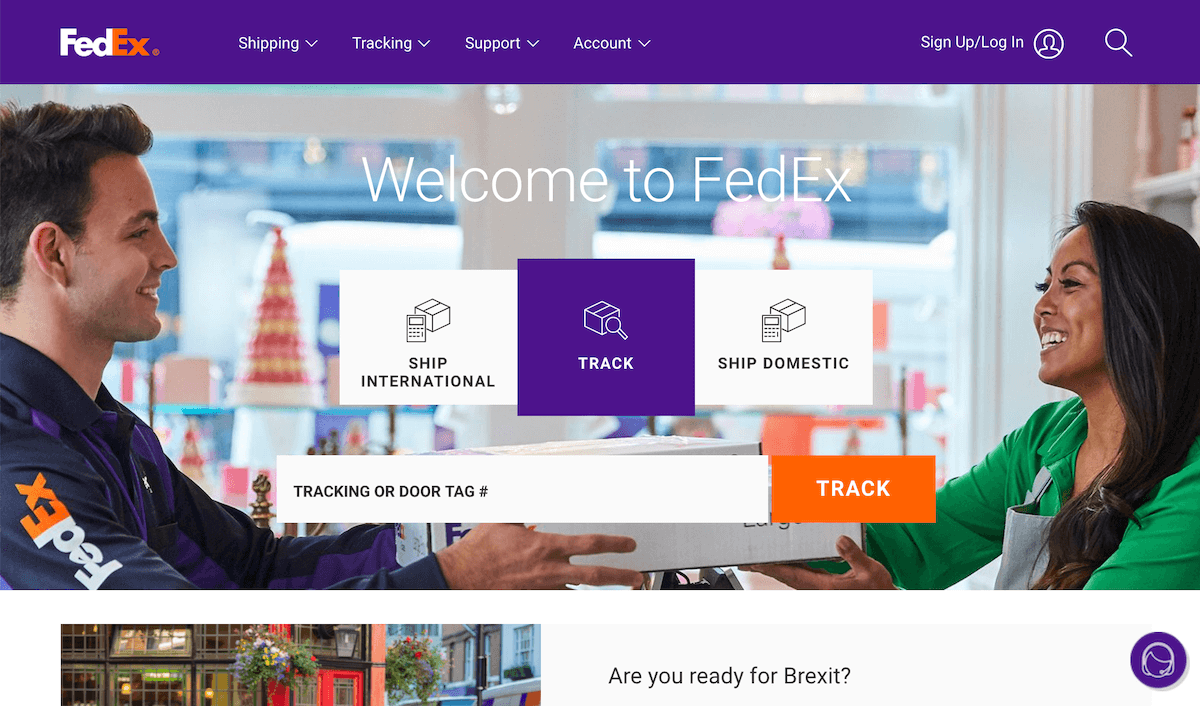 #2 Email Customer Service
In terms of channels popularity, email is still one of the top choices. On average, people send 269 billion emails every day. 
Nowadays, it is more common for companies to have an online contact form on their website.
Pros:
Queries can be sent at any time of the day or night
Conversation history is kept by both sides for future reference
Repetitive email queries can be automated with chatbots
Cons:
Reading and writing an email consumes time
Email follow-ups add on top of total time spent on an individual customer
Email prevents from an accurate assessment of customers' emotions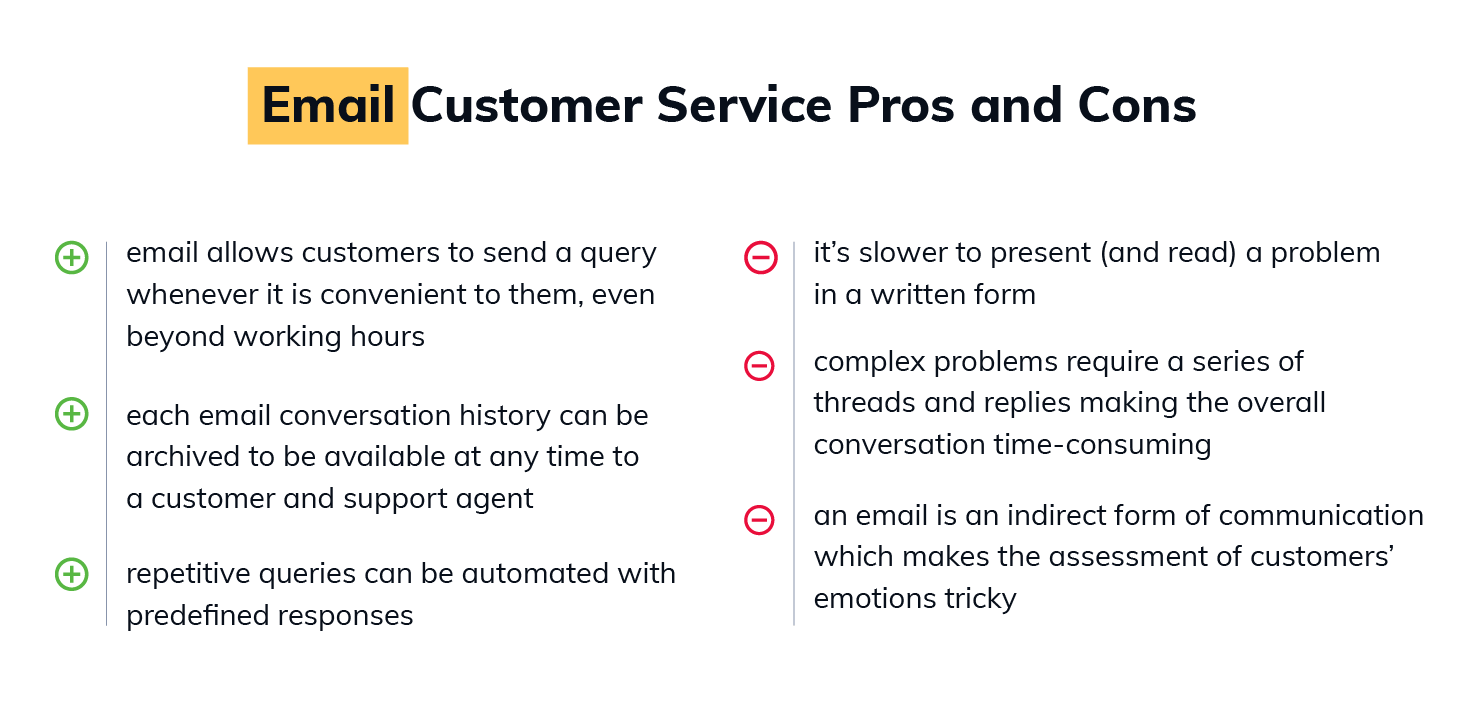 What Industries Would Benefit from Email Customer Service the Most?
For private companies with a large pool of local and foreign customers, emails can be helpful since they can be automated and sent at any time of the day or night. 

Examples of Companies Using Email Customer Service
China World Hotel, Beijing
China World Hotel is an example of a business operating in the accommodation sector. To meet the needs of customers living in different time zones, the hotel offers the possibility to make an inquiry through an email – a channel perfect for questions coming from any time zone.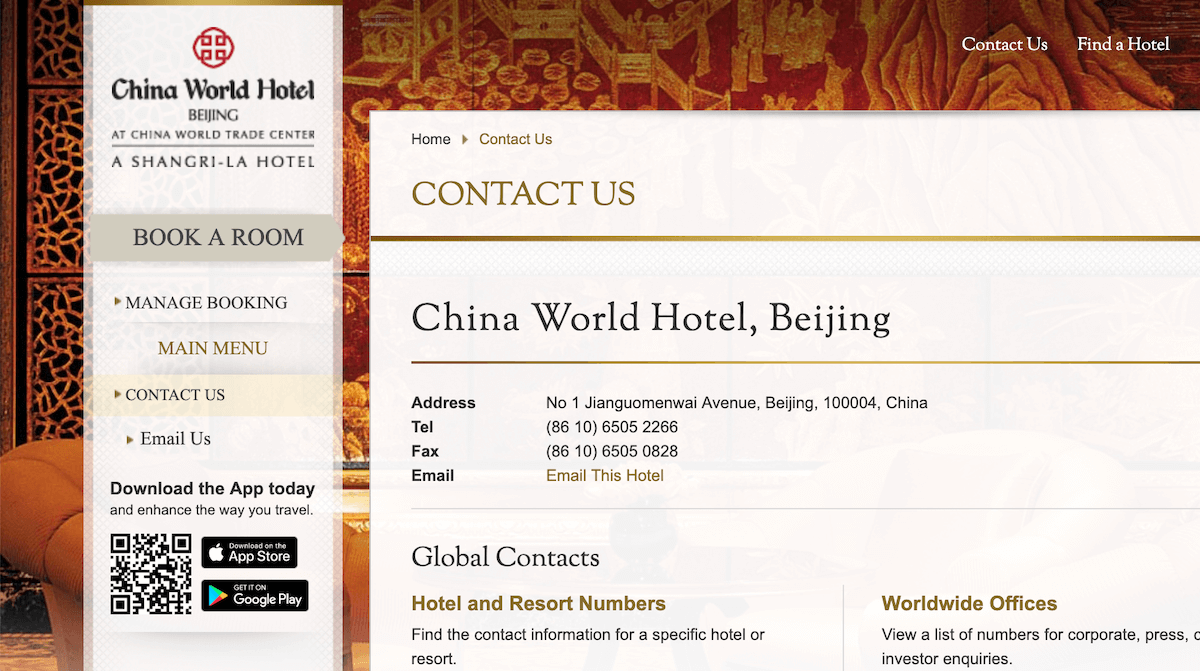 Waterstones is an excellent example of a company using the omnichannel approach. Customers can choose to call the customer service directly, send an email, or chat in real-time.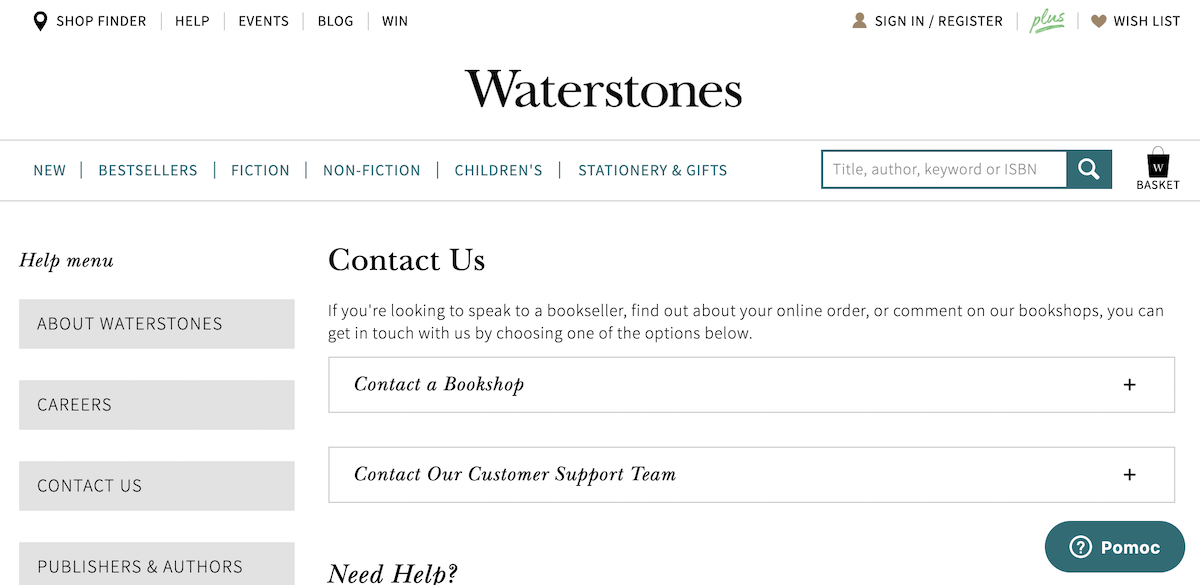 #3 On-Site Customer Service
This type of service is delivered to the customers' homes or workplaces. On-site support includes therapeutic services, appliances repairs, teaching, and consulting.
Pros:
Convenient for the customers as they do not need to visit the service providers
Allows for better understanding of customers' pains and needs
Allows for strengthening the brand quality through the display of expertise
Cons:
It takes time and money to reach customers' places as scheduled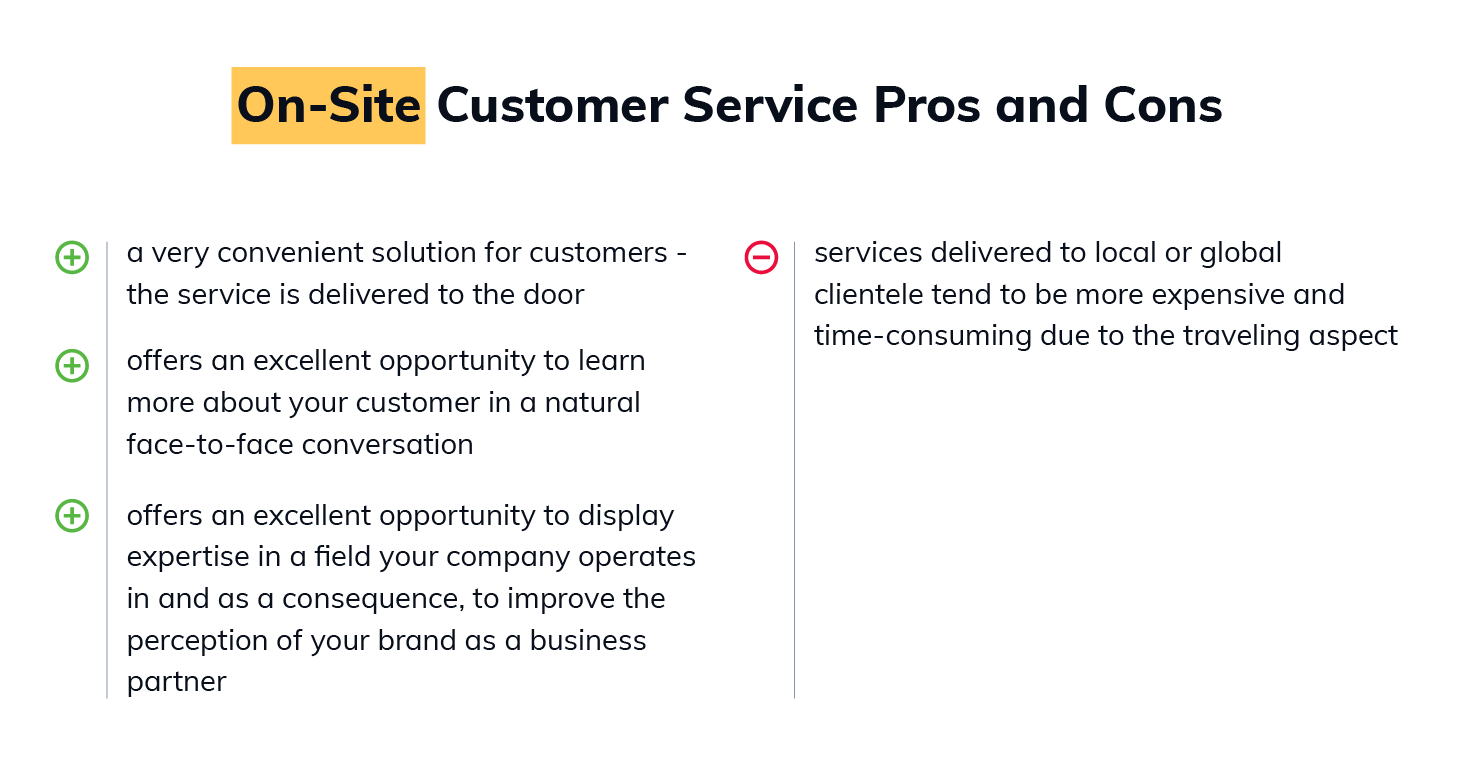 What Industries Would Benefit from On-Site Customer Service the Most?
This solution would be most suitable to companies offering repair/maintenance, or beauty services. It's also suitable for entrepreneurs deliver training, therapy or consulting sessions.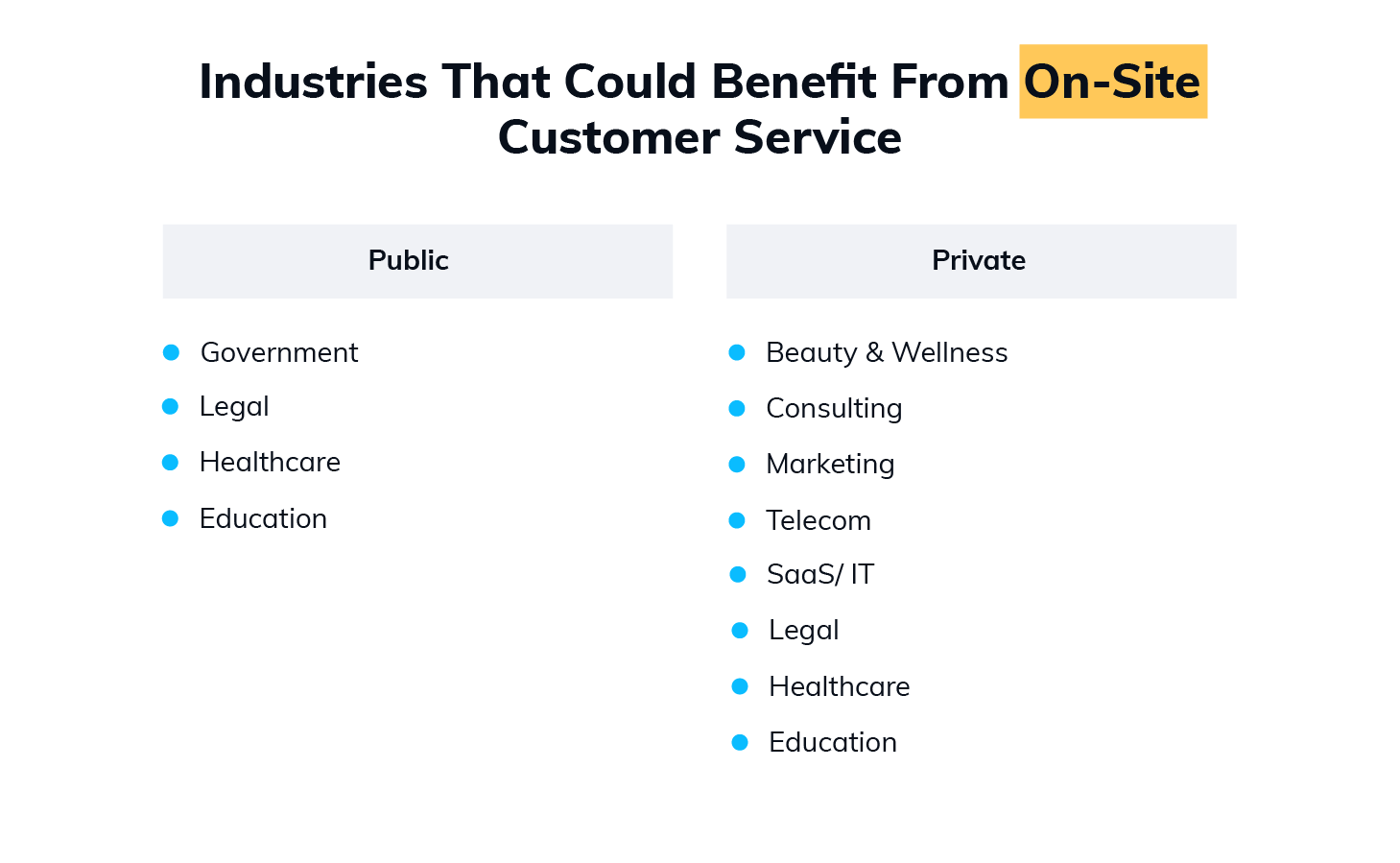 Examples of Companies Using On-Site Customer Service
AT&T aids its customers with on-site technical support. Technicians install and troubleshoot network and devices in their customers' locations.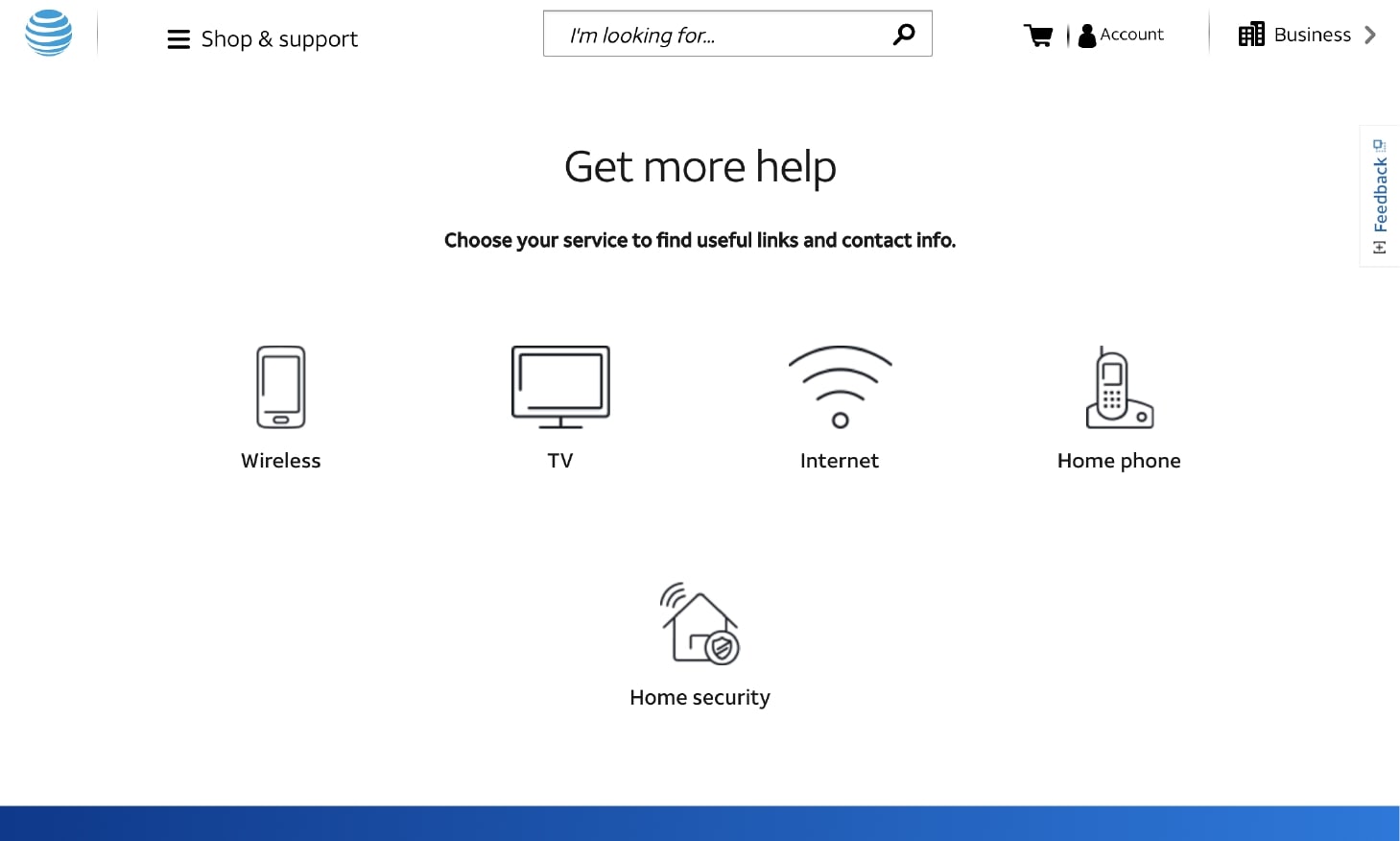 Beauty Bus, a foundation operating in a beauty and wellness sector, delivers beauty services to ill patients and their caregivers directly at hospitals and social service partners.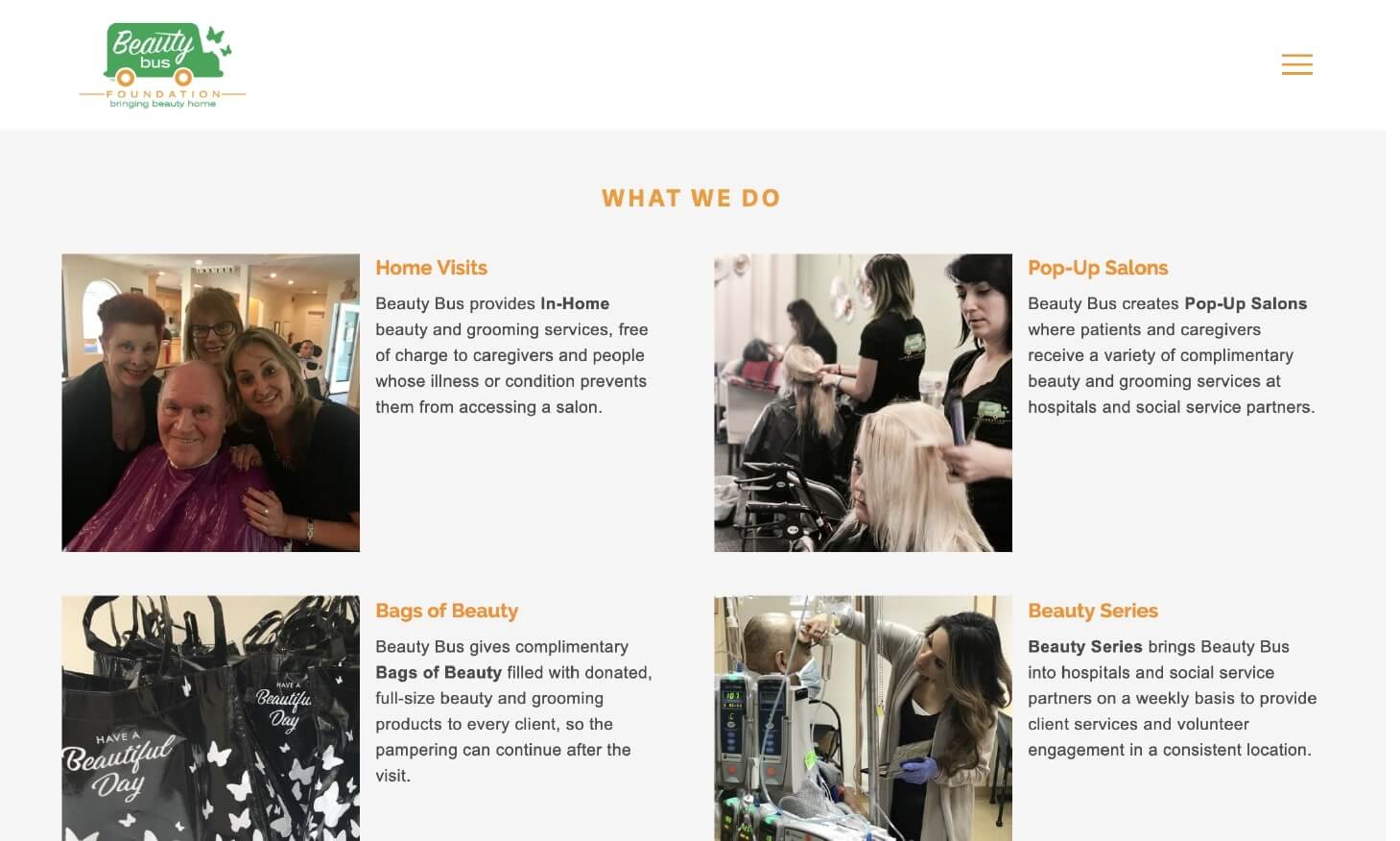 #4 Live Chat Customer Service
What is live chat? A must-have online business tool. The main strength of a live chat channel lies in its possibility of integration with chatbots turning it into a very viable customer service solution to any company – private or state.

It shares some strengths and weaknesses of the email service. However, due to its unique advantages over the phone and email channels, live chat has a huge satisfaction rate of 92% among customers.
(…) if we do not move customers from Email to a chat experience with built-in intelligent self service then as an industry we are doomed to escalating linear costs as more and more of humanity gets online with their smartphones and starts consuming digital services

(Abinash Tripathy, CSO @ Helpshift) – source: https://bit.ly/2RADdeK
Pros:
One support agent can have multiple live conversations at the same time
When integrated with chatbots, repetitive conversations can be automated
Conversation history is kept by both sides for future reference
Cons:
Live chat prevents from an accurate assessment of customers' emotions
It's faster than email but still slower than a phone conversation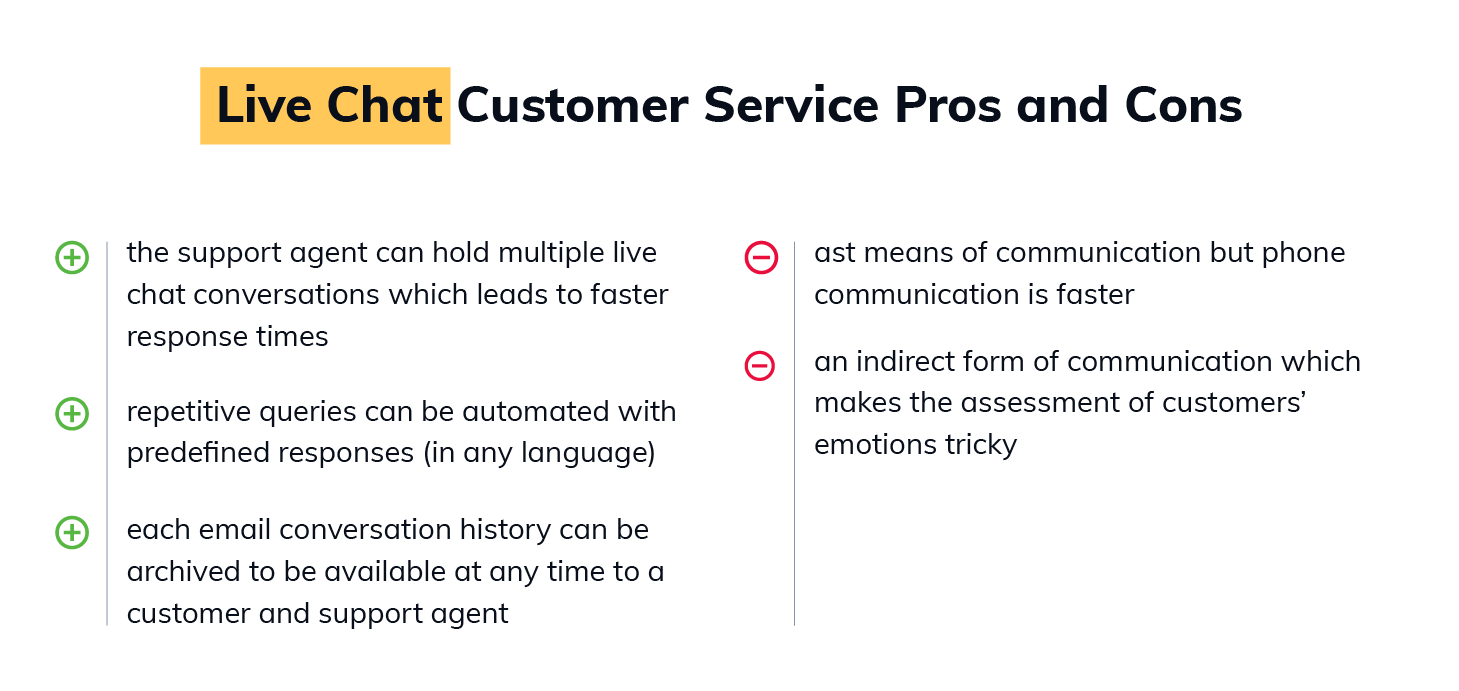 What Industries Would Benefit from Live Chat Customer Service the Most?
At first glance, live chat seems to be the best tool for private sector companies due to their casual and innovative nature. However, public sector institutions can also benefit from a live chat type of customer service – live chat is an inexpensive and low-maintenance tool that can potentially ease the burden of daily repetitive tasks.
Pro tip #1

Do not to respond to your customers with generic and dull responses. Use live chat + chatbots combination to your advantage – script smart and unique responses to attract and engage customers in a conversation. For more, read our article: 10 Principles of Conversational UI to Design Better Chatbots.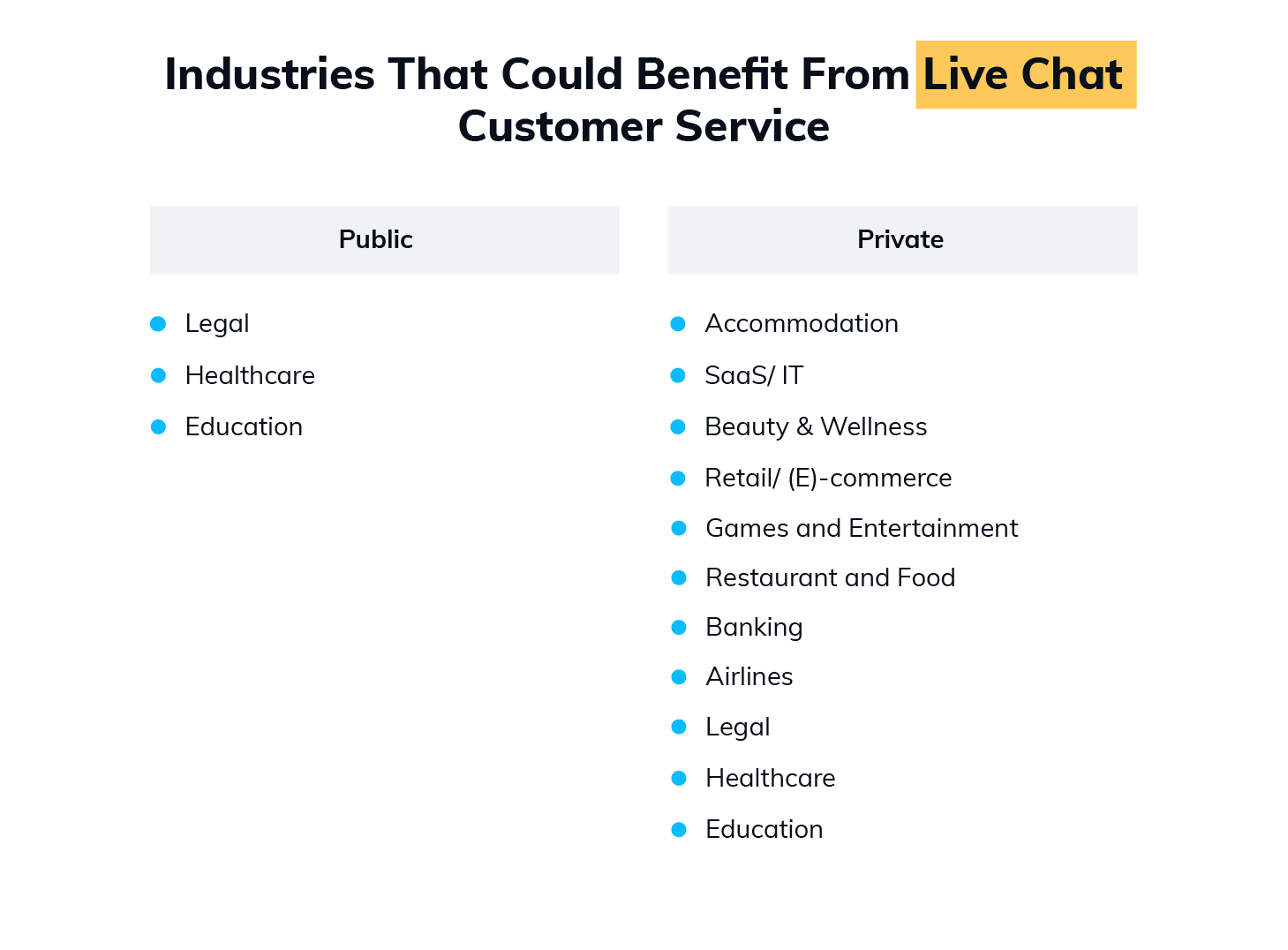 Examples of Companies Using Live Chat Customer Service
Customers of Tidio, a live chat and chatbot company, can inquire about the product or contact support through a live chat.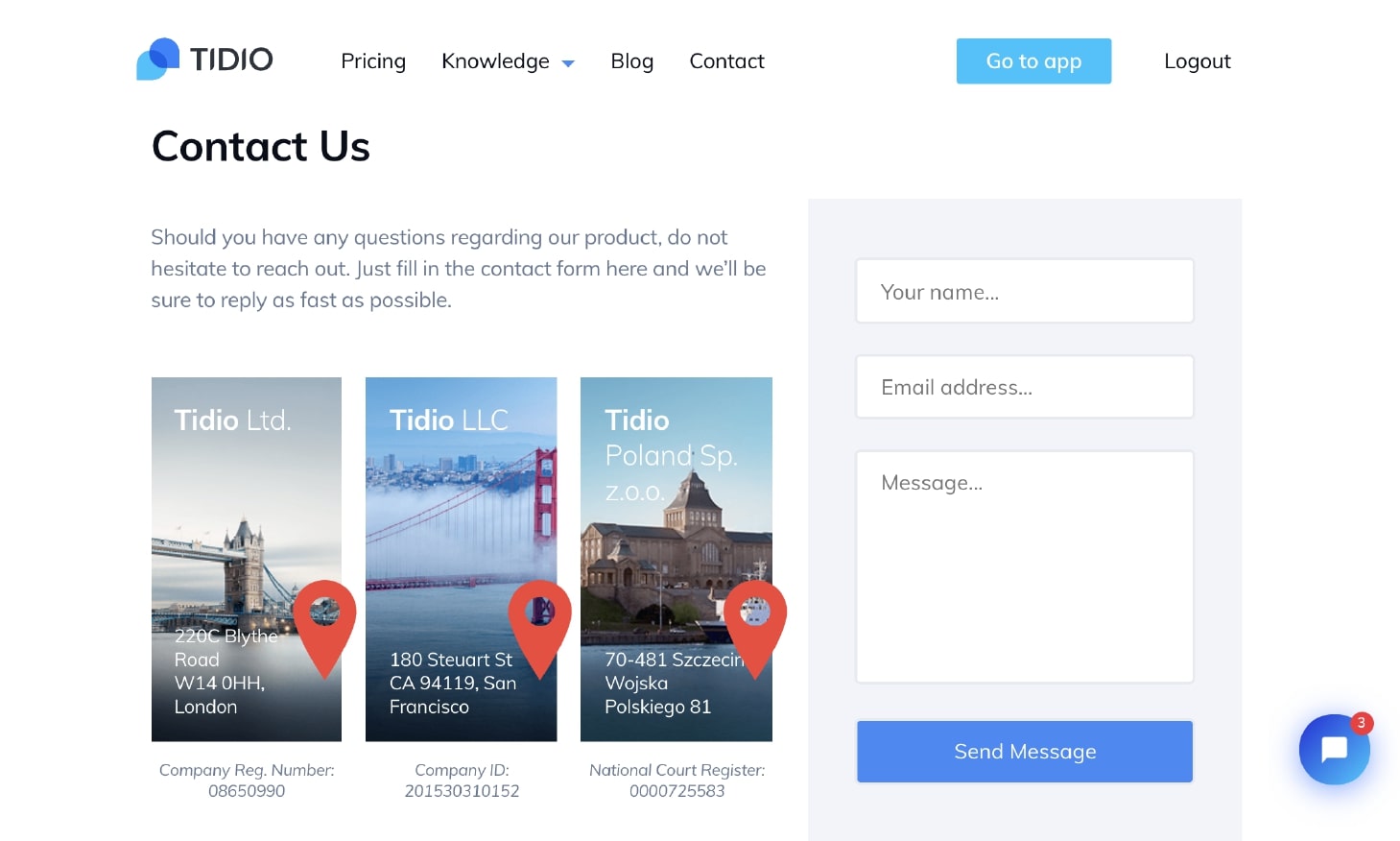 HP Virtual Agent helps customers with troubleshooting issues with PCs or printers.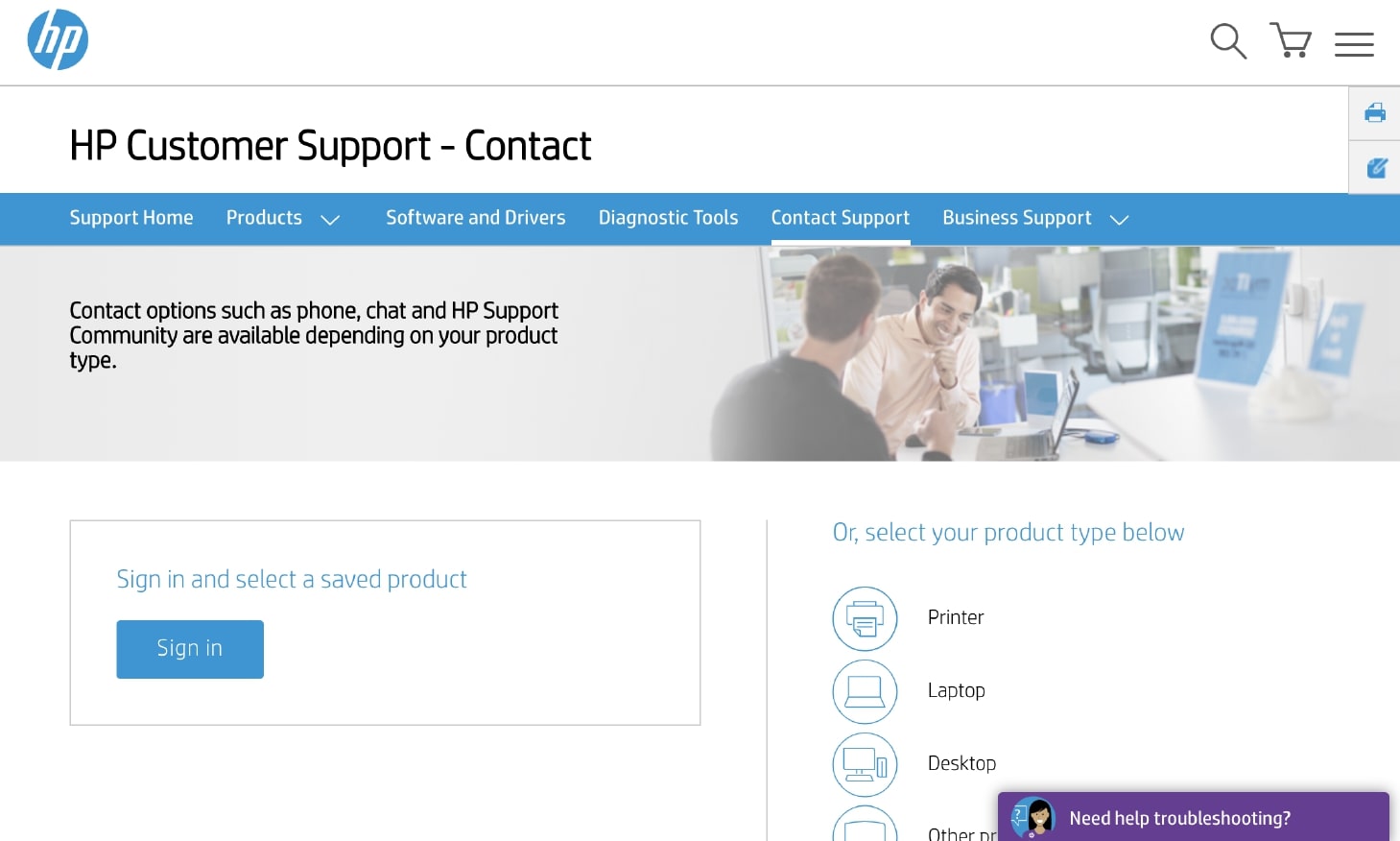 #5 Social Media Customer Service
Social media support is support provided through social media channels (such as Facebook or Twitter). 
How do you respond to a customer on social media? 
On social media platforms, you can engage with your customers in many ways: through private chats, post comments, and group discussions.
Pros:
Private conversations can be carried on through a live chat
Public replies to company's post may potentially decrease the number of similar questions
Public questions can be replied by a customer service agent or by another user
Users can form groups concentrated on your product or service where they can answer each others' questions and share experiences
Cons:
negative feedback can be easily shared to other users and harm your reputation – be honest and diplomatic to avoid escalation!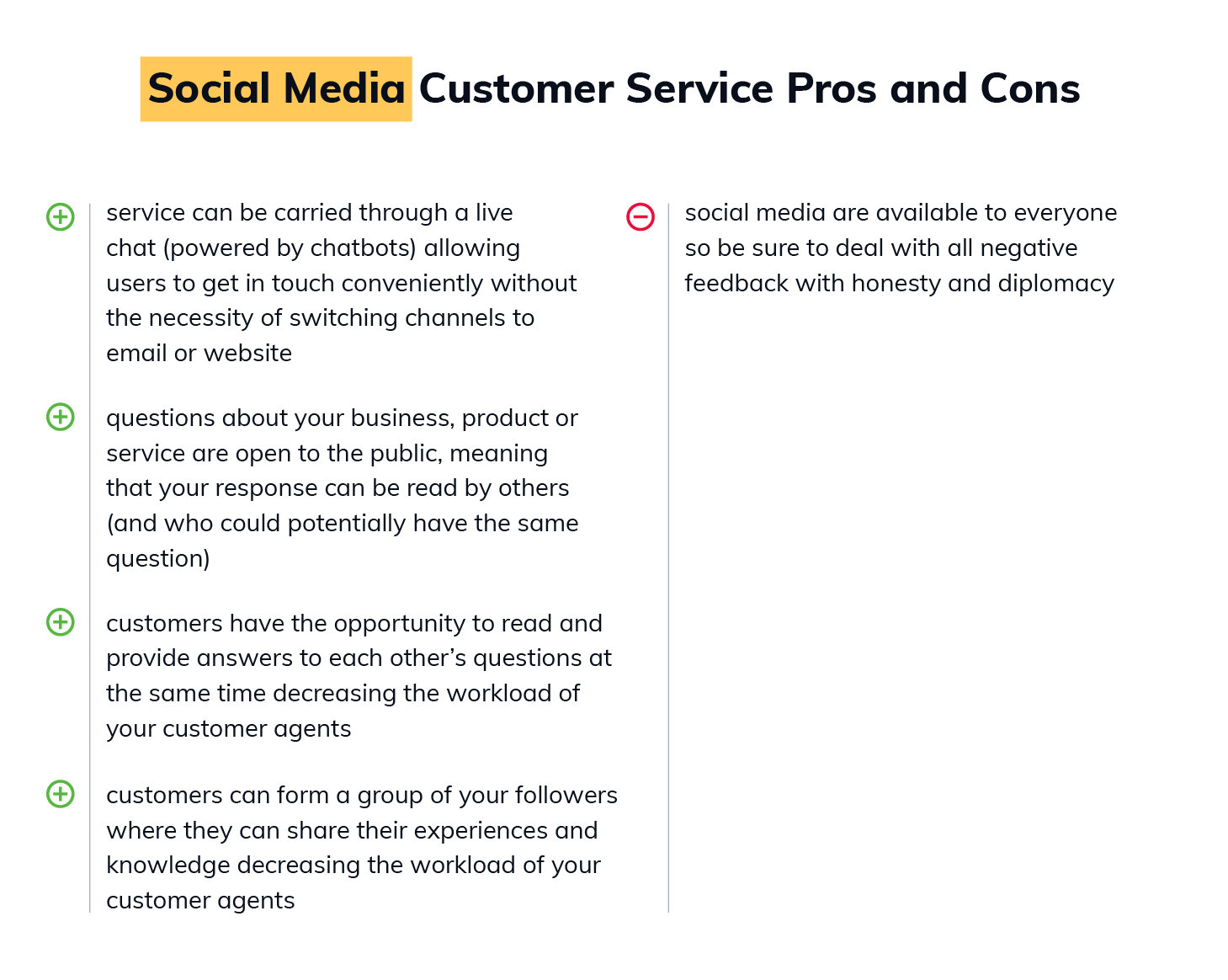 What Industries Would Benefit from Social Media Customer Service the Most?
Social media is a great channel for any entrepreneur/ company wanting to utilize the very popular means of online social interactions. It offers various ways of responding to customers' queries. On top of that, this channel can be integrated with chatbots to chat with customers, make reservations, book appointments, or place orders for them.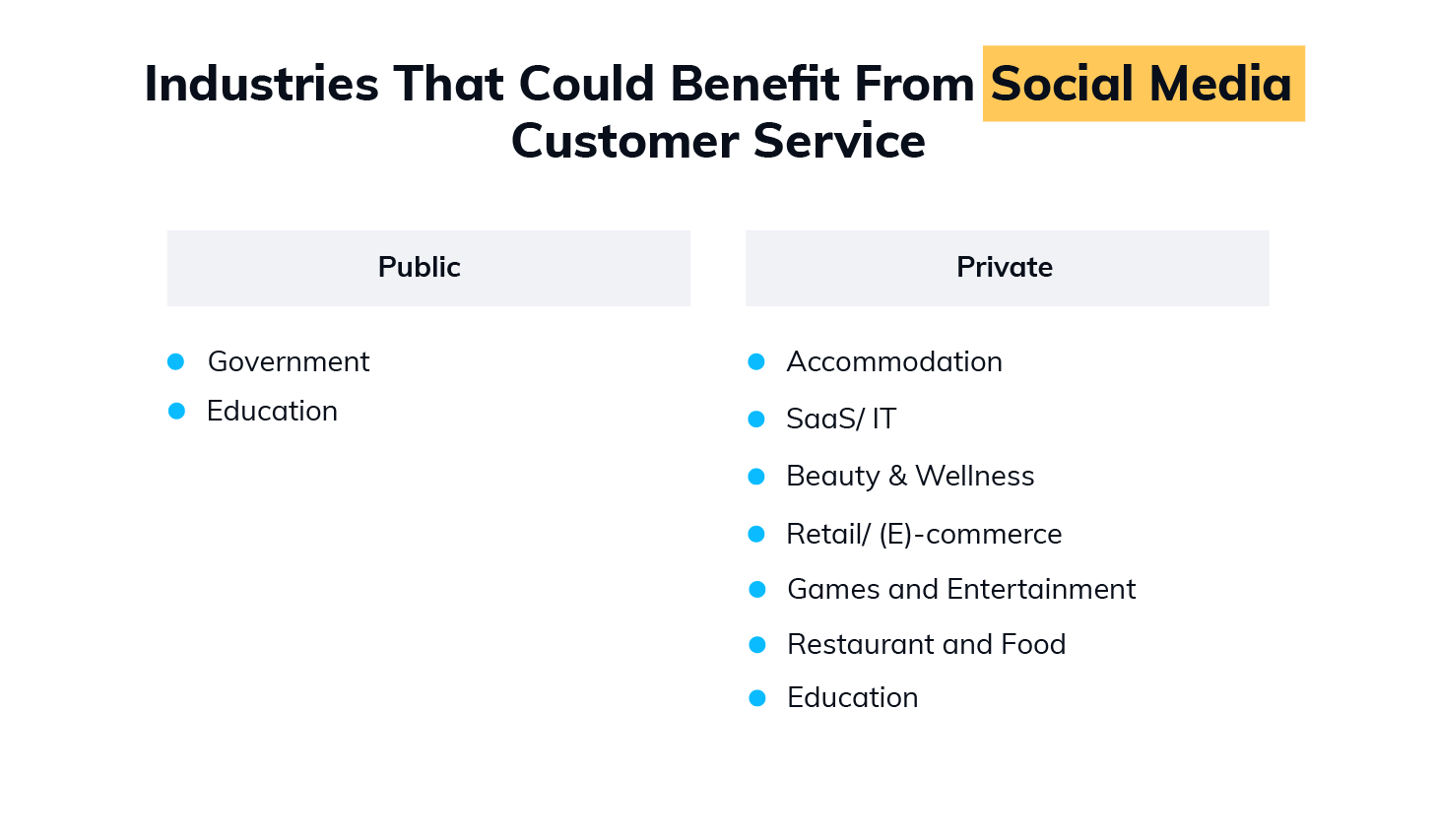 Examples of Companies Using Social Media Customer Service
Booking.com engages with customers through the most popular social media platforms.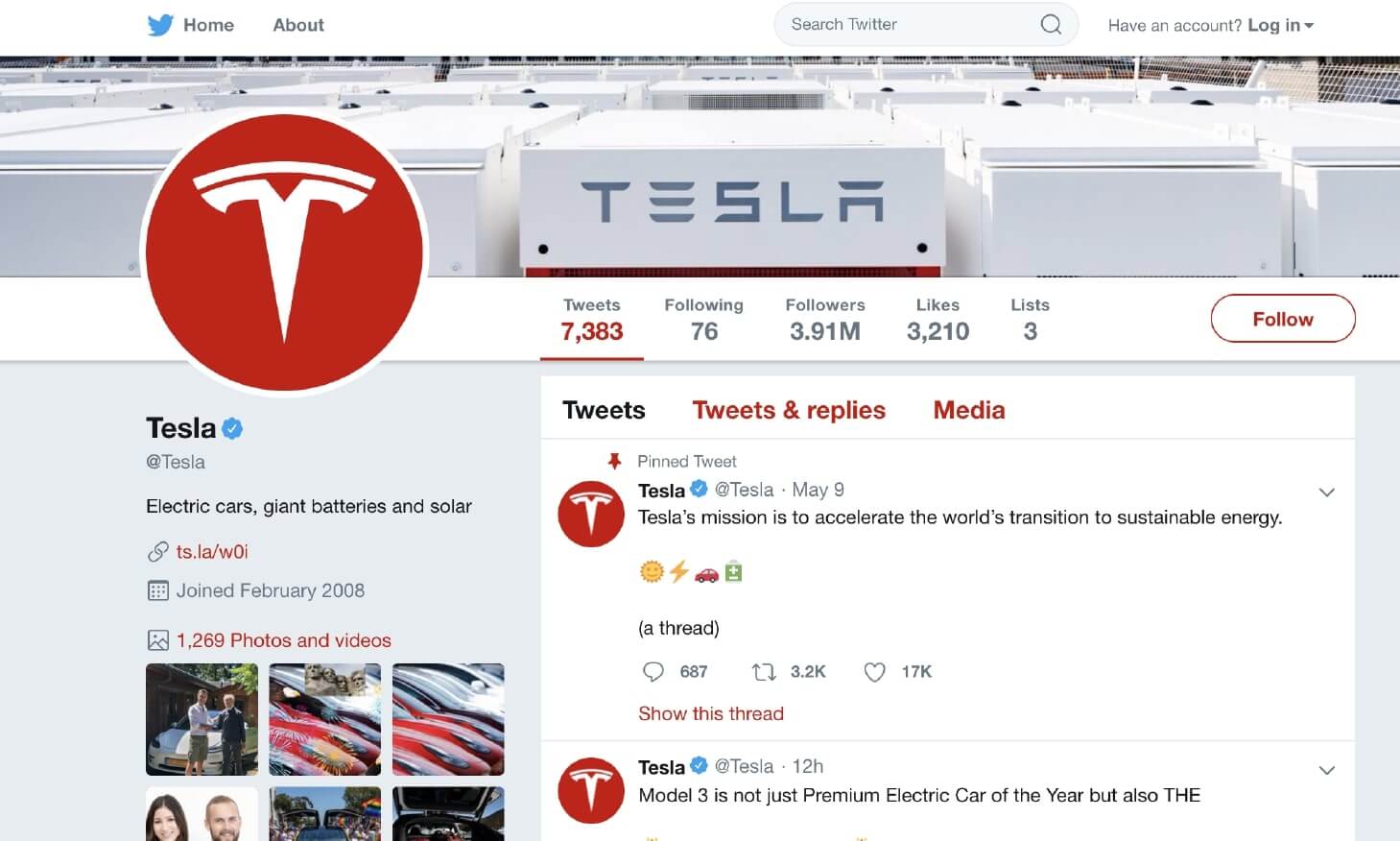 #6 FAQ Customer Service
One of the most hassle-free among all types of service mentioned so far. 
What does FAQ stand for? The FAQ (Frequently Asked Questions) is a list of questions and answers relating to a particular subject. FAQ questions can be grouped into categories or listed in any order.
Pros:

Accessible any time of the day/ night or weekday
Fewer phone calls and email queries
Low cost of set-up and maintenance
Cons:
No individual approach
Requires regular maintenance to ensure the information is accurate and up-to-date
Needs to be skillfully written to convert the customer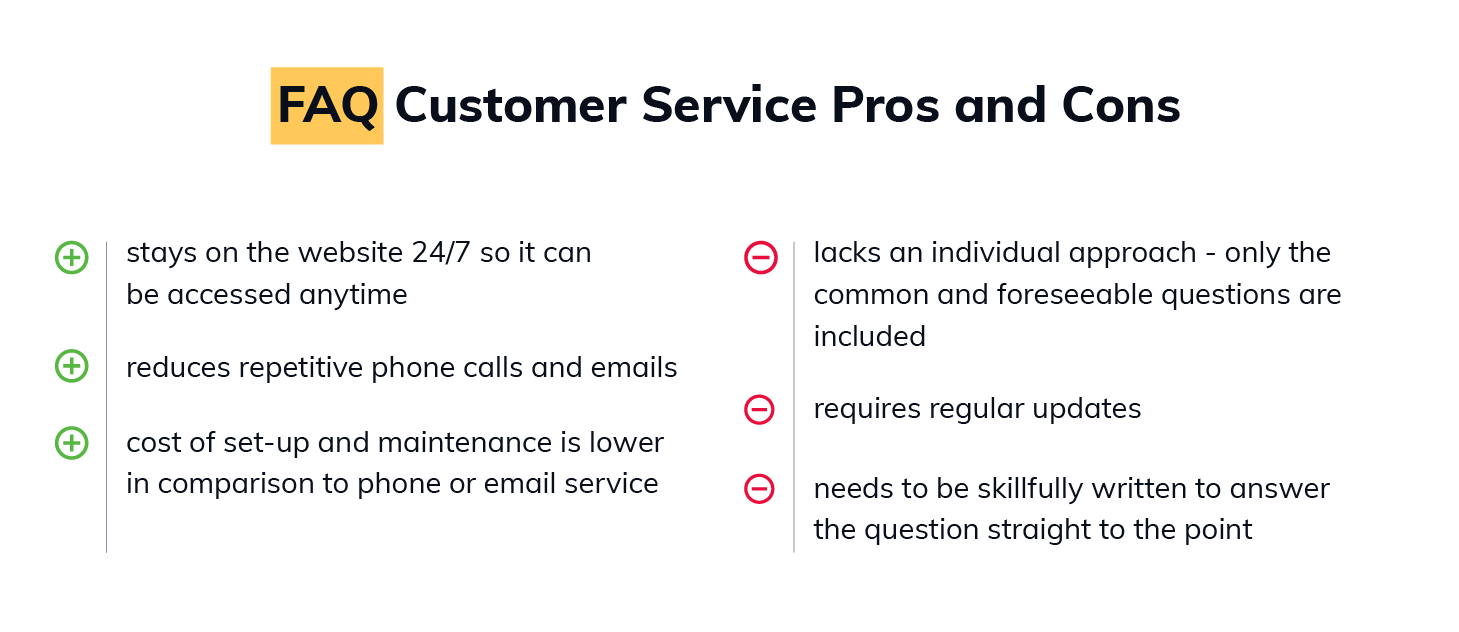 What Industries Would Benefit from FAQ Customer Service the Most?
The FAQ is an inexpensive way to provide your customers with answers they could seek. There is no fixed number of questions to be included so it can be easily adjusted to the company's individual needs. 
Examples of Companies Using FAQ Customer Service
US Postal Services have their FAQ questions conveniently arranged by topic. Topics are broken down into subtopics, and the most common ones are located at the top of the list.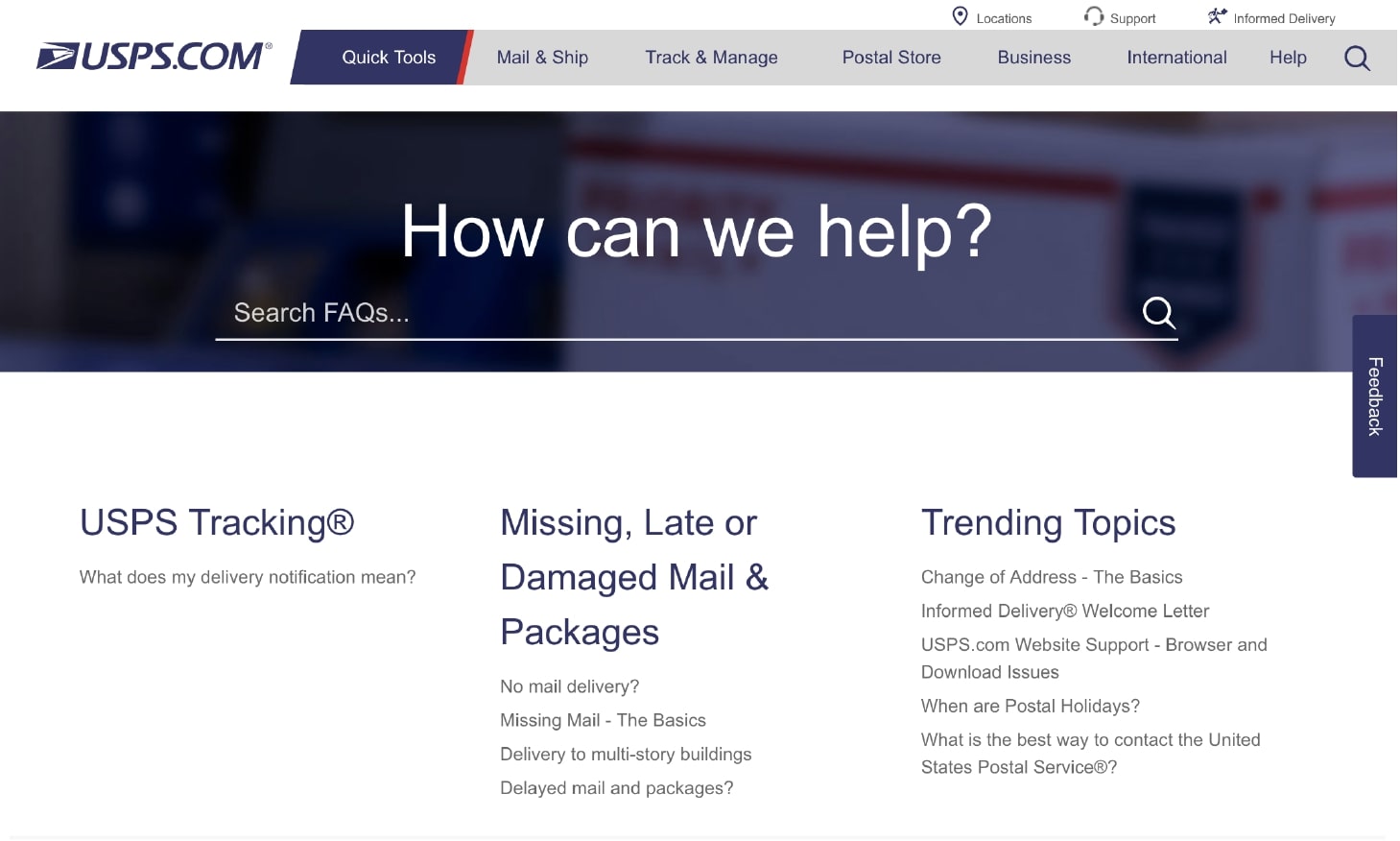 Nintendo Switch FAQ is short. All the questions are listed one after another. Each question can be conveniently expanded to reveal the answer.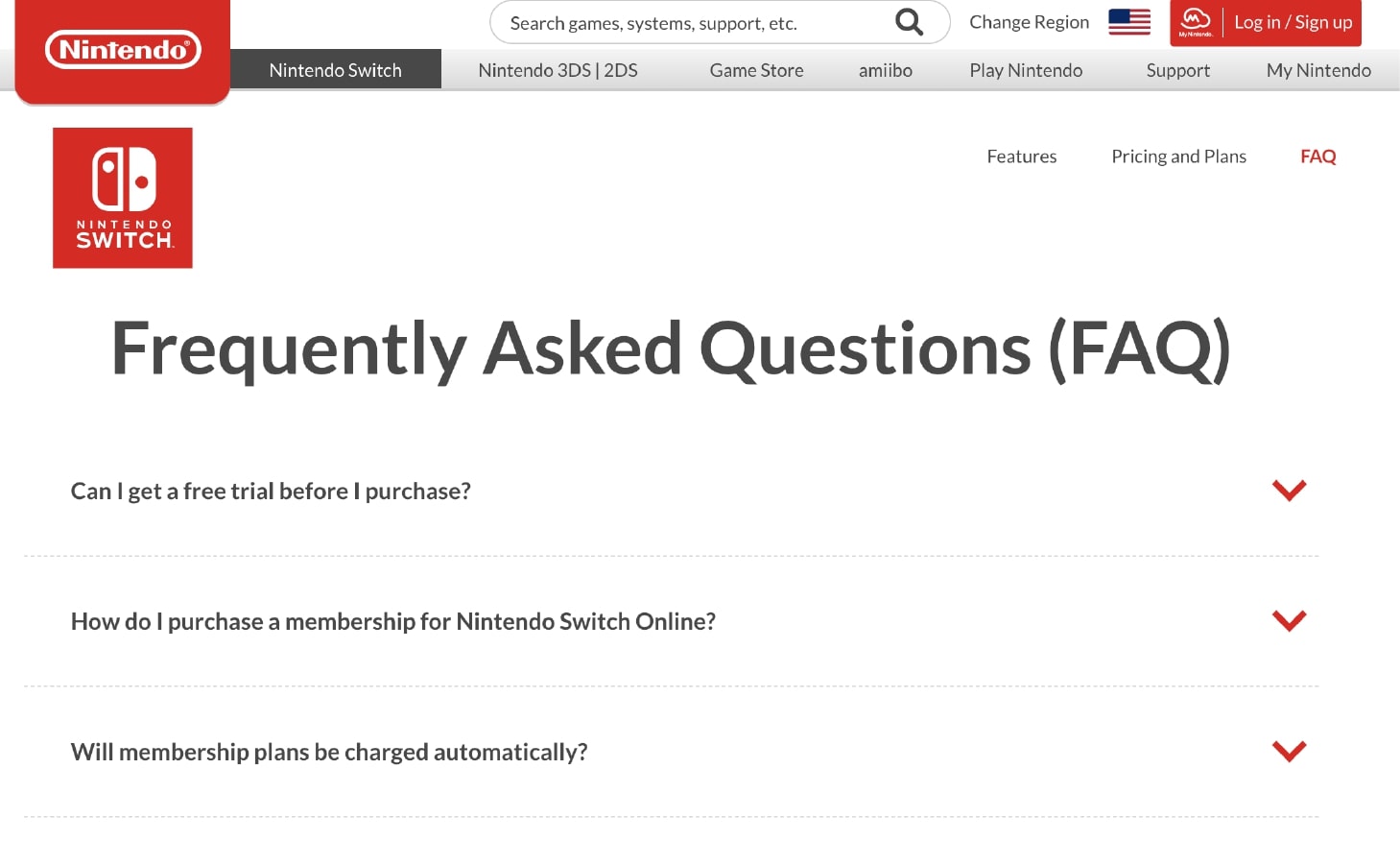 #7 Customer Self-Service
Some customers prefer to solve their problems on their own before they resort to contacting customer support. 
Many companies offer a wide range of training materials to help their customers to resolve issues on their own. Self-service materials also aim to present the company, product and services. Customer self-service includes webinars, instructional videos, tutorials, help-files, infographics, demos, documentation, online tools, guides – collectively, they are often referred to as Knowledge Base.
Pros:
Accessible any time of the day/ night or weekday
Fewer phone calls and email queries
Combines different sources of information (visual and audio) – useful for customers with hearing or visual impairments
Content can be prepared in many languages to meet foreign customers' needs
Cons:
Requires regular maintenance to ensure the information is accurate and up-to-date
Requires more effort to prepare compared to FAQ
Needs to be skillfully written to ensure that all instructions and explanations are clear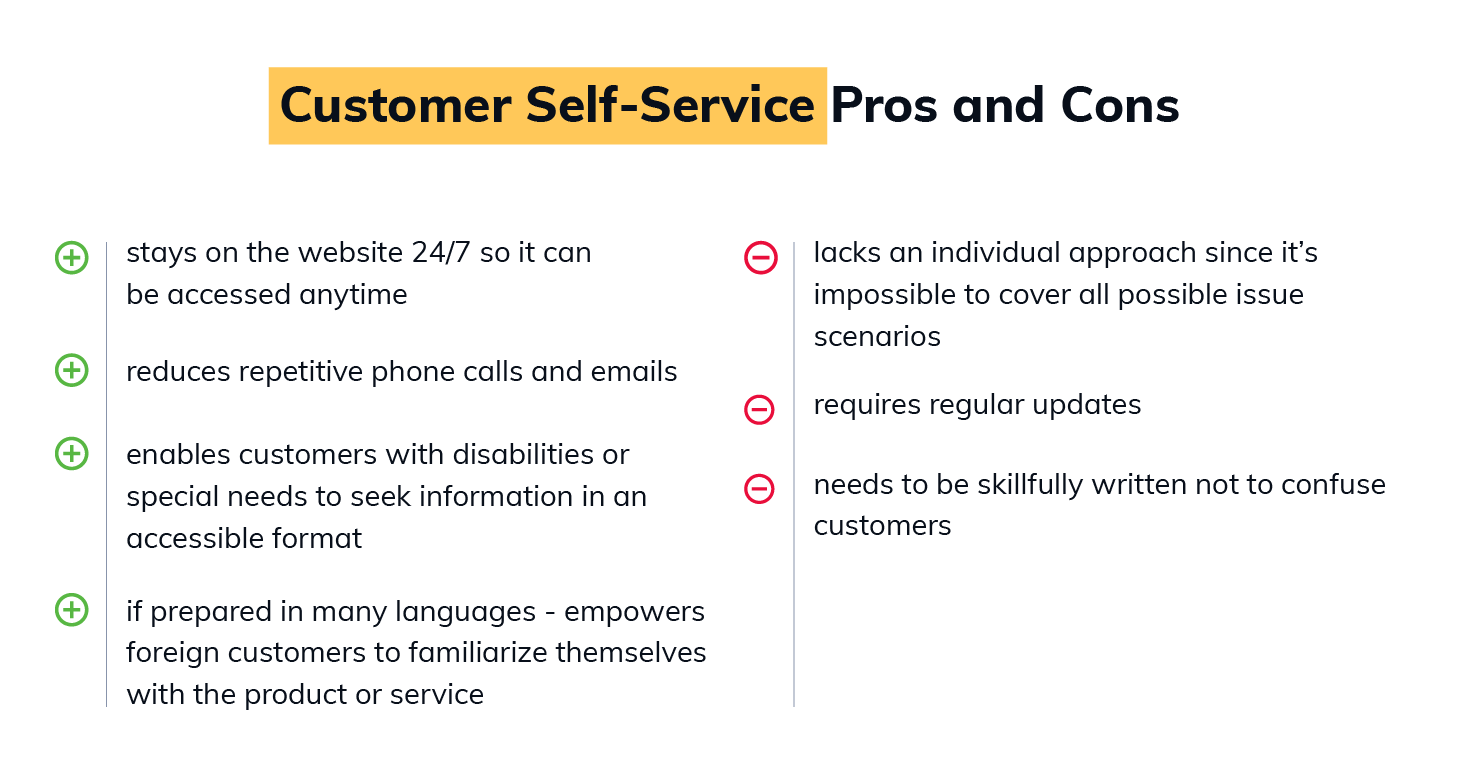 What Industries Would Benefit from Customer Self-Service the Most?
This service works well for any industry but could be more useful to enterprises that offer a wide range of services or complex products. It also works well for public institutions that are usually associated with endless regulations and formalities.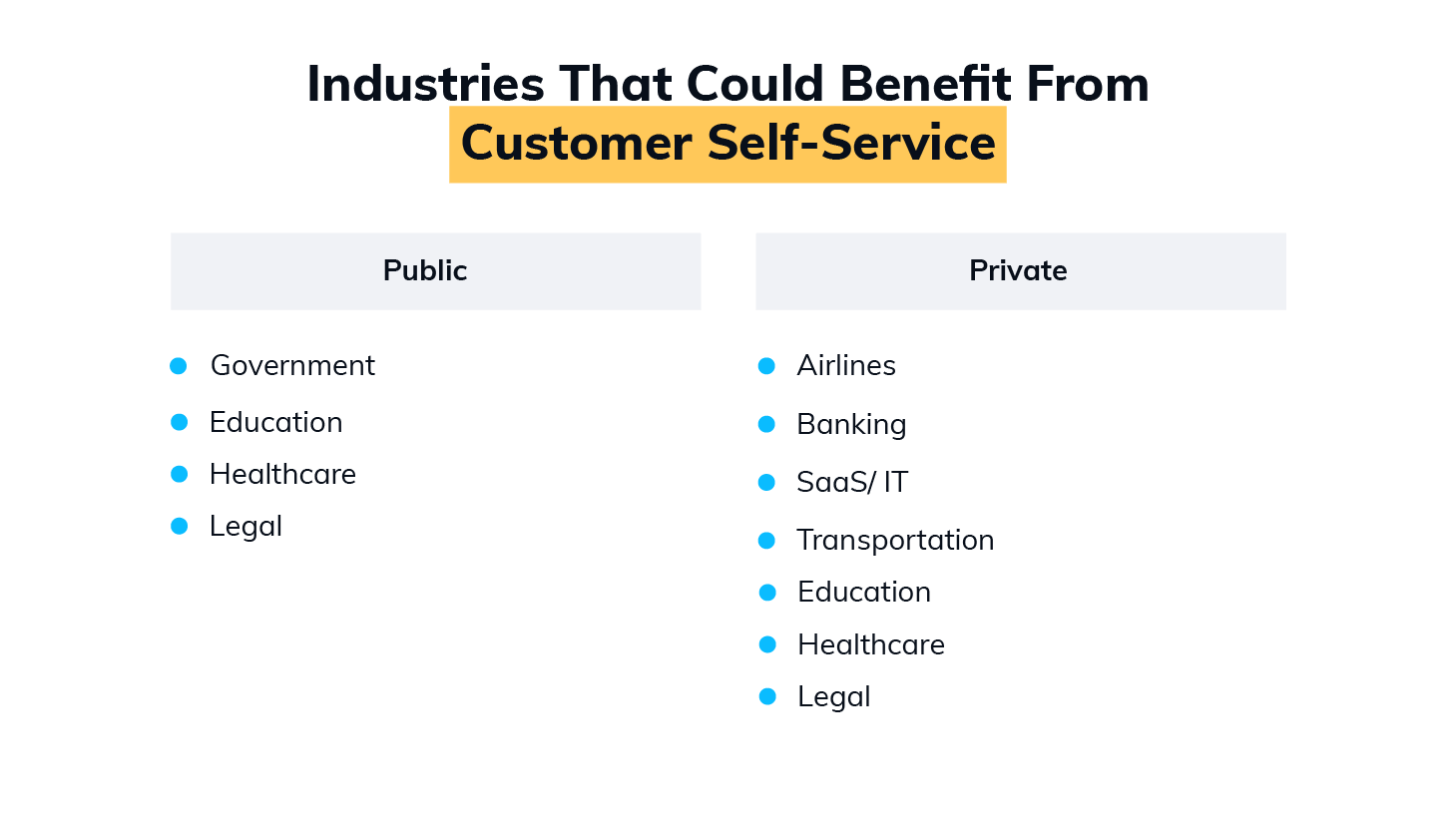 Examples of Companies Using Customer Self-Service
Atlassian has brilliant documentation for their products and services.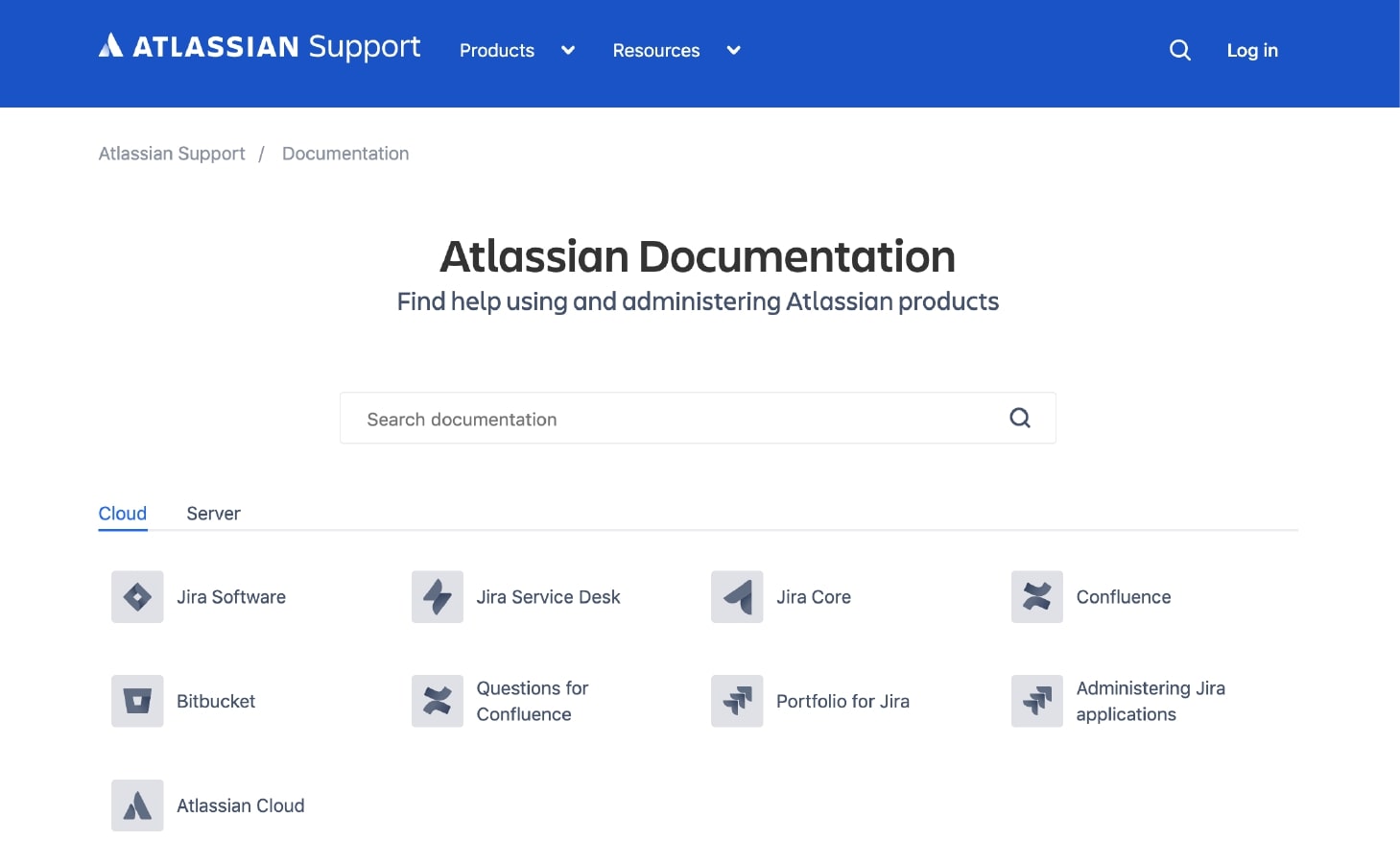 Mayo Clinic created Patient & Visitor Guide alongside a wide variety of topics, such as Symptoms A-Z, Tests and Procedure A-Z, and Patient Online Services among many others.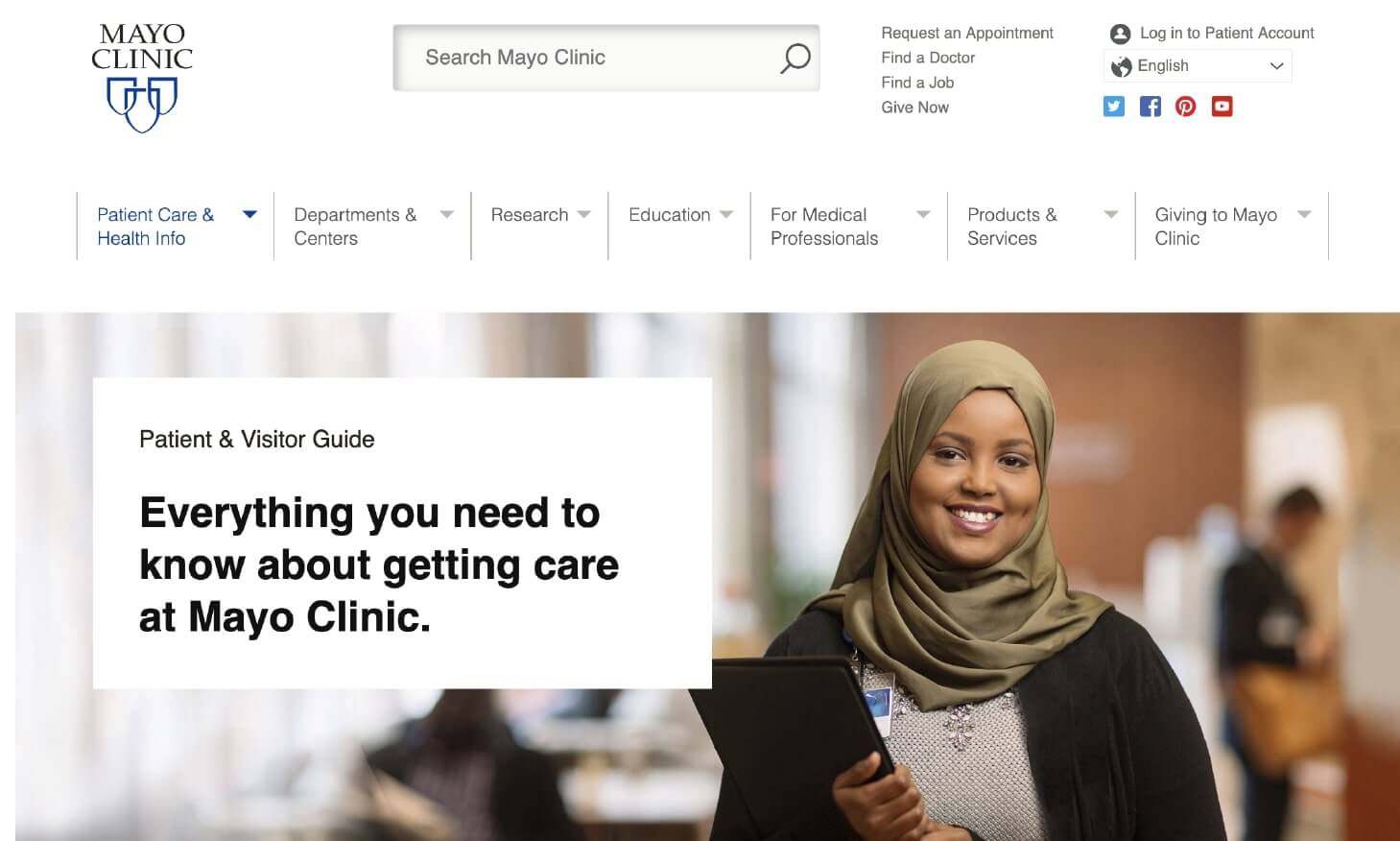 Closing Thoughts on the Pros and Cons of Different Forms of Customer Service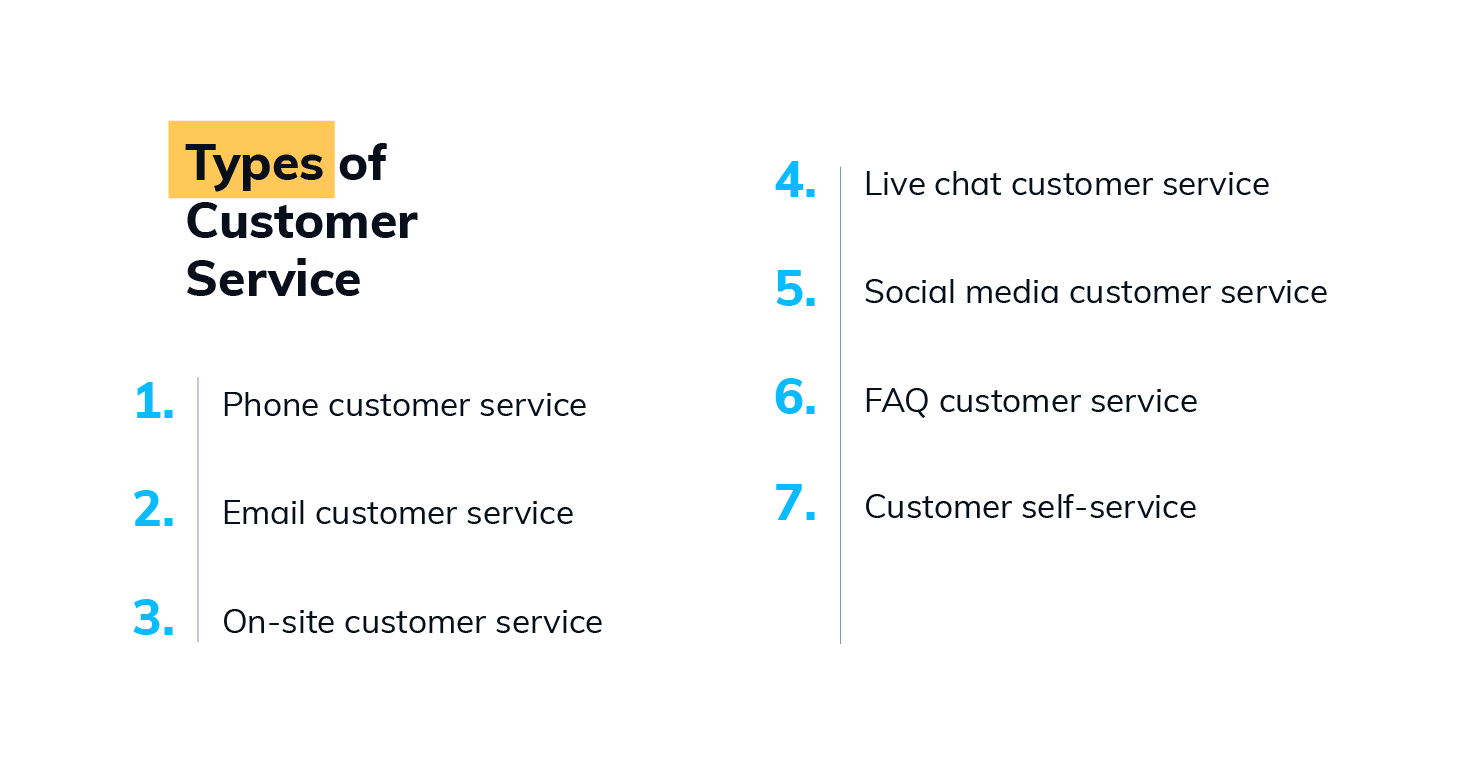 There could be more than one type of customer service that would meet your customer service goals. One thing is sure: customers' expectations grow and you may face the necessity for adoption of omnichannel customer service strategy. Omnichannel customer approach ensures that your customers' queries are resolved in a professional and timely manner.
Pro Tip #2

Remember, customers' satisfaction can be (and should be) measured. Results will give you a hint on whether a given channel is effective or not.
A list of needs and wants is different for each customer. Some of them prefer direct contact, while some may be reluctant to make a contact due to many reasons – they may have disabilities, anxieties, may be unable to communicate well in a language foreign to them, or they generally, prefer to solve problems on their own.
Ensure that you meet the needs of different types of customers – do not leave any on their own. This a sign of the 5-star customer service!