Here's a fact—
Nine out of ten consumers want omnichannel customer service.
They also want to switch between communication channels smoothly (e.g., phone to chat to email), the CX Transformation Benchmark Study from NICE inContact reveals.
What does this mean in practice?
One type of customer service won't cut it.
It will only limit your customers' chances of getting in touch with you. It can also make you look suspicious.
Your customers deserve the best customer service. Luckily, there are several ways in which you can deliver it.
In this article:
Seven types of customer service based on communication channels
Two types of approach-based customers service: reactive and proactive
How to choose the right type of customer service for your business
Pros and cons of each of the nine customer service types
Turn your website visitors into delighted customers.
Set up the Tidio live chat app in 5 minutes and watch your sales grow.
Learn About Live Chat
Not exactly what you were looking for? Check these!
1. Phone Customer Service
Are people still using this type of customer service? Absolutely!
About 30% of Gen Z and 31% of millennials prefer using the phone after email as their preferred medium of communication of customers likes to resolve issues on the phone. So, phone support is far from being dead. But a call center has its shortcomings too, e.g. an automated phone system.

About 56% of customers have found the automated phone system frustrating. Why? Because it made it hard for them to reach the human agent.
When dealing with an issue, your agents must present impeccable customer service skills. They also need technical knowledge to understand the customers' problems.
Plus, you'll need to consider such factors as your agents' working hours, standardized greetings, and routing rules.
Phone Customer Service: Pros
Personalized experience for each customer
Takes less time than typing or email exchange
Easy to use for different generations
More natural human-to-human interaction
Phone Customer Service: Cons
Long or unspecified hold times
Heavily dependent on the quality of reception
Agents can't handle multiple phone calls at the same time
Possible high charges for international customers
Time-consuming and frustrating operator transfers
Which Business Sectors Should Consider Phone Customer Service?
This type of customer service still works great for some businesses.
If you believe in creating personal connections with customers who call you—phone customer service is for you.
It will also work for businesses and institutions that handle complex cases. The phone will allow them to answer all the questions the customer may have in one go.
If you work in B2B or B2C sectors that deal with high-priority or sensitive requests, the phone, again, is the right choice.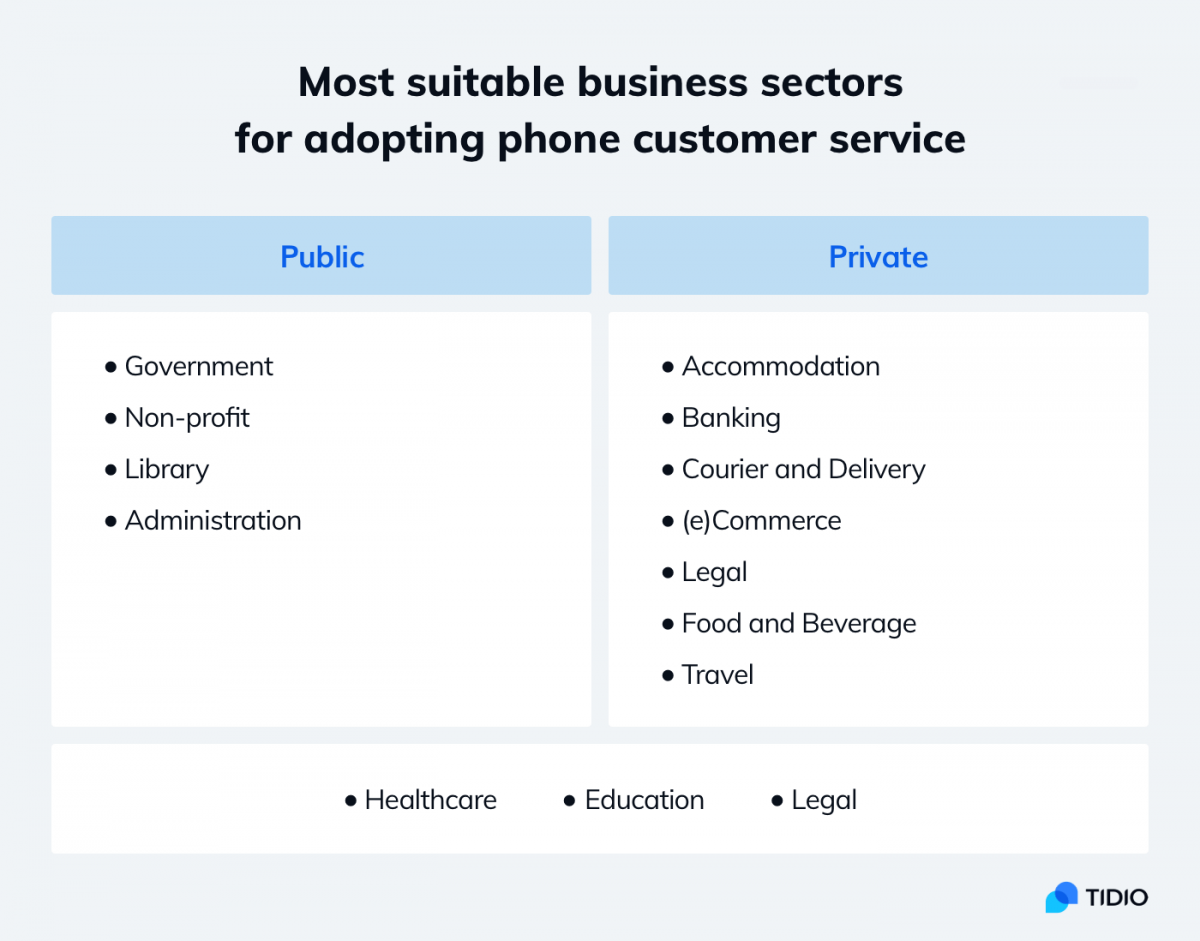 2. Email Support
Email customer service is still king.
About 54% of customers said they had used email customer service channels last year.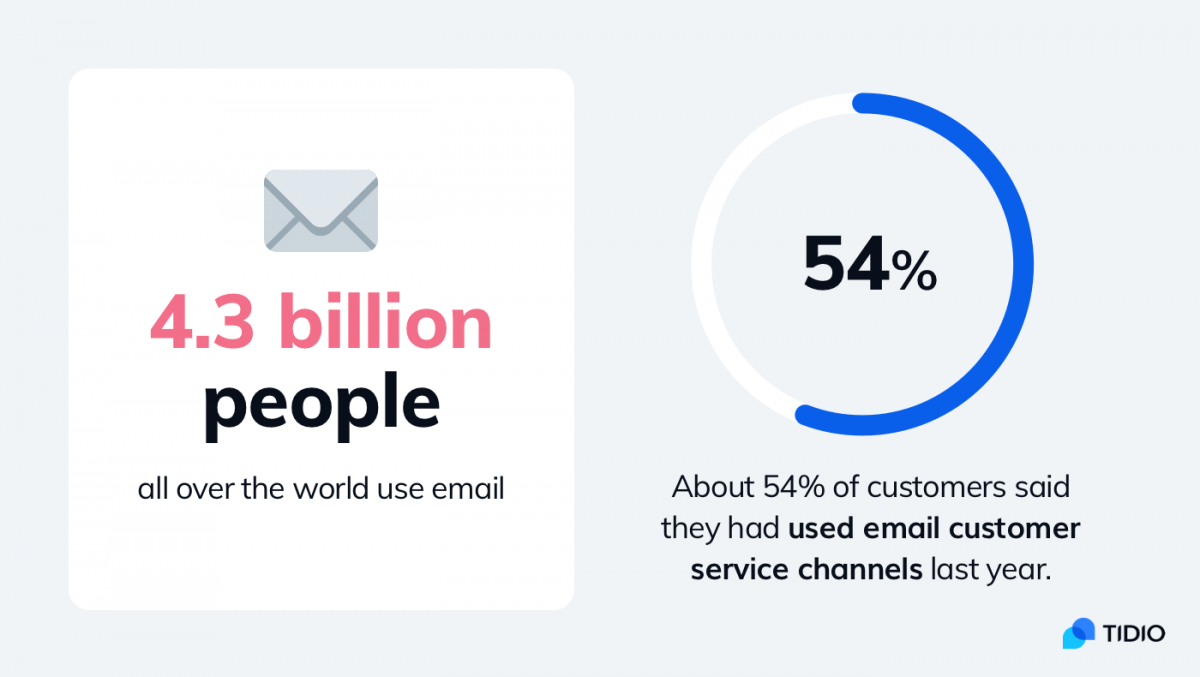 The number of email users is also staggering. Nowadays, 4.3 billion people all over the world use email.
Customers choose email customer service because they believe it's the fastest way to resolve their issues.
Businesses that provide this type of customer support must remember to respond as soon as possible (not later than within 24 hours).
If your agent cannot answer the customer during this timeframe, they should inform the customer about it.
If you don't want to give an email address on the company website, you can add an online contact form. Web forms serve the same purpose as sending emails.
Email Support: Pros
Email conversation history
Canned responses for repetitive customer questions
Customized email designs
Email automation to schedule and send follow-ups
Email Support: Cons
Time-consuming
Difficult to personalize experiences
Difficult to read emotions
Easy to miss
Which Business Sectors Should Consider Email Customer Service?
Many B2B companies are fine with email for customer support.
That's because the issues they deal with are risky. Agents may be unable to resolve them on the spot with a few clicks (e.g., product security update). They need more time to find solutions and emails can give them that.
Email customer service is a good option for companies with a large pool of foreign customers. That's because their customers can send their queries at any time of the day or night.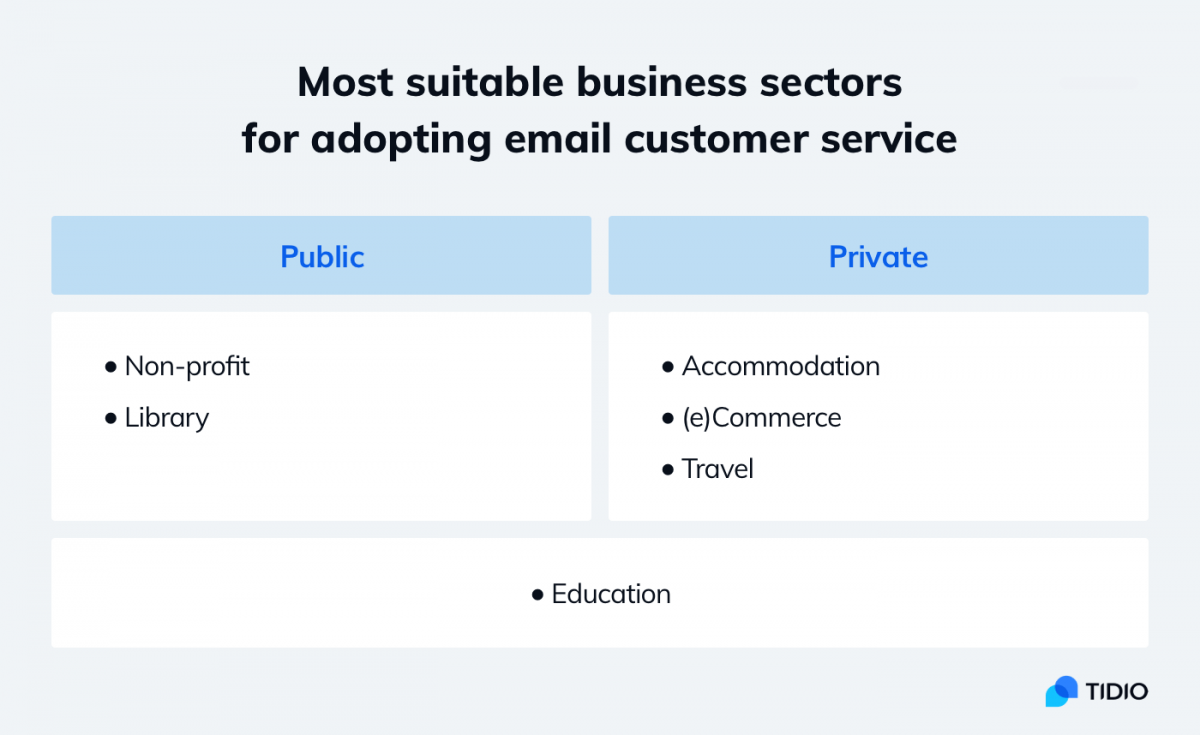 3. On-Site Customer Service
This type of customer service is very convenient for customers as it's delivered to their door.
A customer service representative arrives at the customer's site to deliver a service in person. The type of on-site service could vary. It could range from training to conducting regular product maintenance to medical treatment impossible to deliver remotely.
This type of customer service is not convenient for the company, though.
On-site customer service can be a tedious process. It requires close collaboration between the customer service team and an on-site service rep. But that, of course, depends on the service.
Plus, during the pandemic, on-site service poses a health risk to the representative and everyone around.
Suggested reading: Virtual Customer Service During the Coronavirus Crisis
On-Site Customer Service: Pros
Field expertise display
Natural face-to-face interactions
Convenient for customers
On-Site Customer Service: Cons
Expensive and time-consuming
Requires an on-location support team
Which Business Sectors Should Consider On-Site Customer Service?
One-on-one customer service makes sense only when on-site presence is necessary.
B2B/B2C services such as medical therapies, beauty and wellness, appliance repairs, and inspection would be hard to deliver over the phone or any other medium.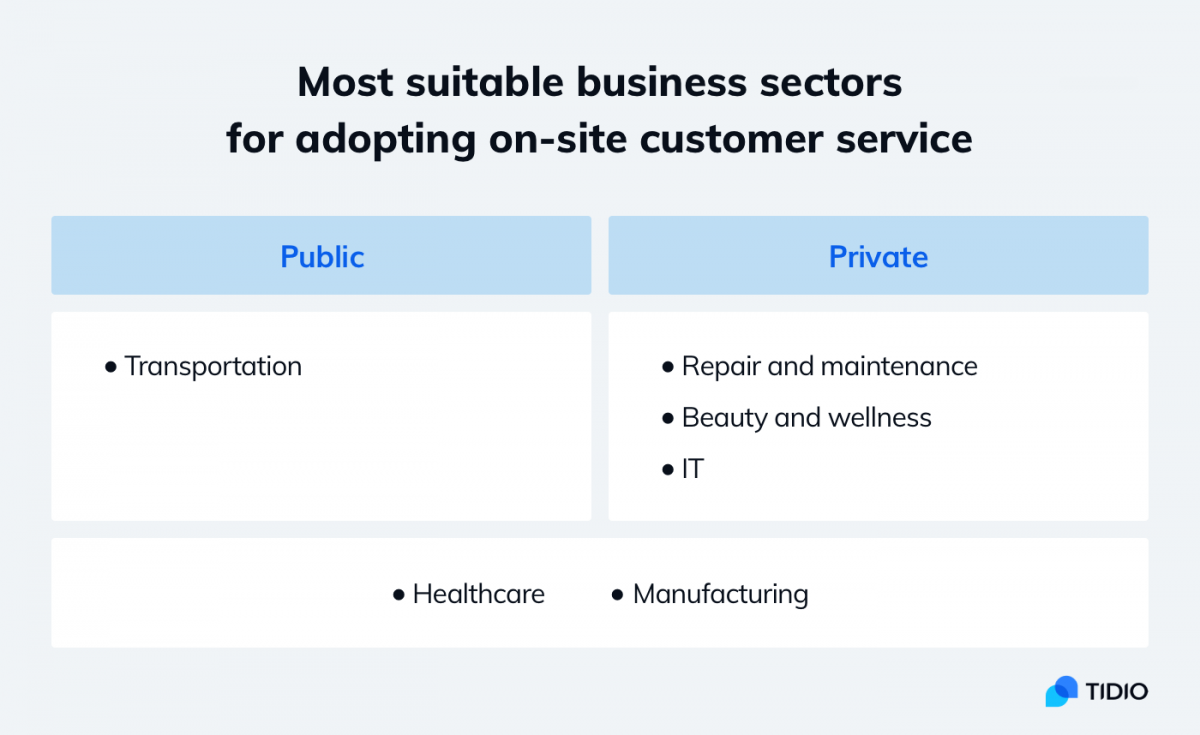 4. Social Media Customer Service
Social media support is exactly what it seems to be. You get it via social media, such as Facebook or Twitter, for example.
To make social media customer service viable, you'll have to keep an eye on messaging, comments, and group discussions.
That's because you never know when someone feels like telling the digital world how unhappy they are with your product.
Of course, if anything like that ever happens, you should act immediately.
If you can't afford dedicated staff to resolve social media queries, you can integrate a live chat with FB Messenger. This way, you'll receive direct messages sent via social media channels straight to the live chat inbox.
Social Media Customer Service: Pros
Integration with live chat apps
Product community groups
Customer-to-customer help
Social Media Customer Service: Cons
Public negative reviews and comments
Which Business Sectors Should Consider Social Media Customer Service?
Social media is an excellent choice for online businesses as companies can interact with their audiences in various ways (e.g., comments, posts).
To respond faster to direct messages, they can integrate live chat with the platform of their choice, like Zendesk for example. Live chat integration, coupled with chatbots, will speed up chats, bookings, and orders.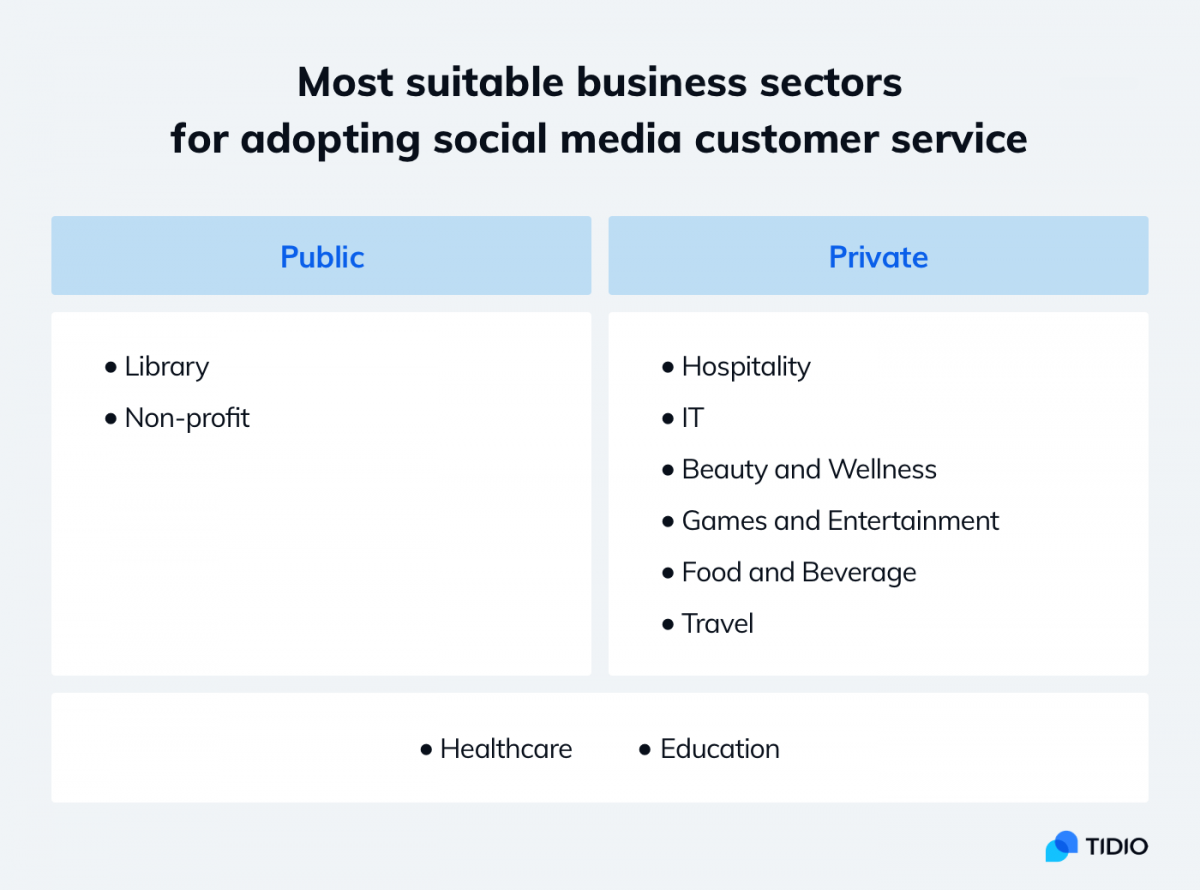 5. Customer Self-Service
Customer self-service is suitable for customers who prefer to look for solutions on their own.
Such customers are usually knowledgeable enough to search for the best answers by themselves in a dedicated FAQ section, for example. Or, they could be shy individuals who would rather not talk to customer service agents.
To make the most of this type of customer service, your support agents need to know your customers' needs and typical questions they have.
You'll also need to ensure a great UX and SEO of your self-service sites. The goal of such a customer service solution is for your customers to find your blog or knowledge base quickly and easily.
But customer self-service isn't only beneficial to customers.
According to Harvard Business Review, one company found that customer self-service could save millions of dollars in maintenance costs.
By enabling just one in twelve customers to self-troubleshoot their problems, the company would save $10 million in less than 18 months.
Customer Self-Service: Pros
Accessible 24/7
Combines various resources
Can be multilingual
Customer-friendly
Low maintenance (in case of infrequent product changes)
Customer Self-Service: Cons
High maintenance (in case of frequent product changes)
Labor-intensive in case of a complex product
Requires good writing skills
Impossible to cover all scenarios
Which Business Sectors Should Consider Customer Self-Service?
Customer self-service works well for any industry. But it could be more useful to companies that offer a wide range of services or complicated products.
It's also a good option for public institutions that deal with many regulations and formalities. The advantage is that the self-help resources can be available in several languages.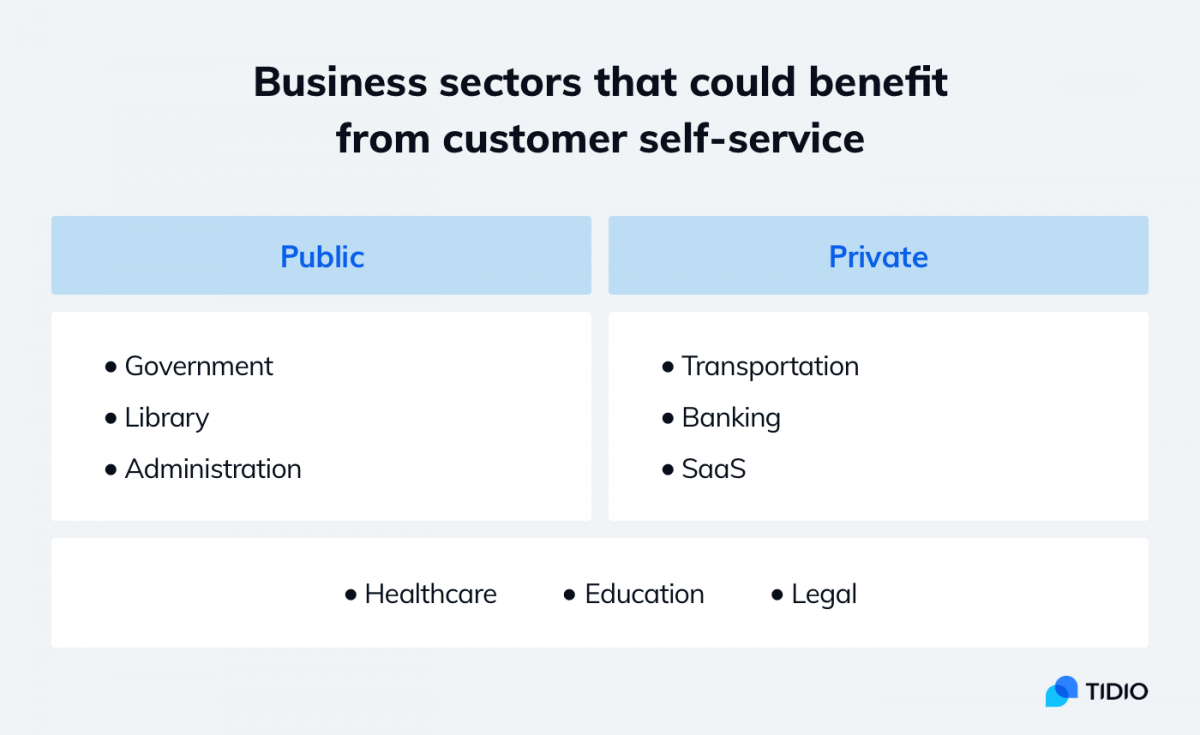 6. Live Chat Support
Live chat is arguably the best solution businesses have in their arsenal against the increasing customer churn.
Why?
It's a good mixture of what's best about email and phone customer service. But unlike those two, live chat allows you to help your customers proactively in real-time.
It means that you can offer your help before your customers ask for it. Out of all the support types we've mentioned so far, only live chat and chatbots allow for proactive customer service in real-time.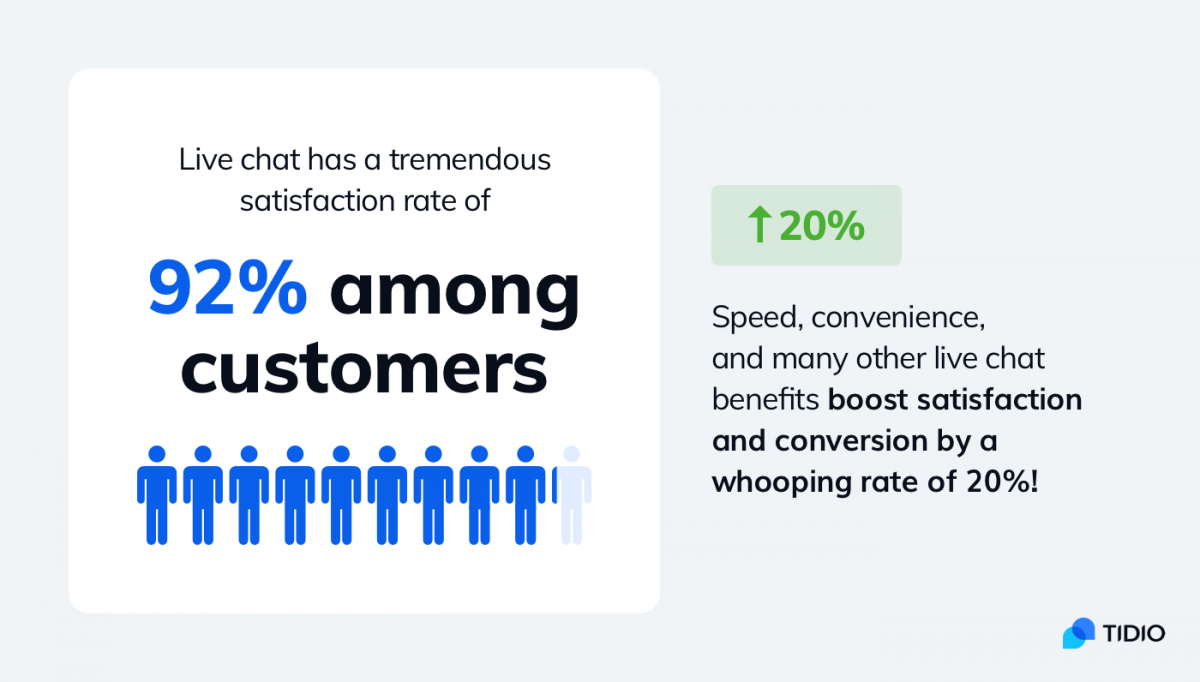 Due to its unique advantages over the phone and email channels, live chat has a tremendous satisfaction rate of 92% among customers.
Speed, convenience, and many other live chat benefits boost satisfaction and conversion by a whooping rate of 20%!
Read the following comparisons to find the best solution: Best Free Live Chat Software Intercom Alternatives 10 Best WordPress Chat Plugins
Live Chat Support: Pros
Supports handling several customers
Canned responses to automate repetitive replies
Web chat conversation archive
Customer-friendly
Website integration and high customization
Integration with various third-party apps
No frustrating operator transfers
Live Chat Support: Cons
Difficult to read emotions
Faster than email but slower than a phone chat
Which Business Sectors Should Consider Live Chat Customer Service?
It's inexpensive and easy to use, making it a perfect match with small business owners who support customers by themselves.
Public sector institutions can also greatly benefit from a live chat type of customer service. For example, many public libraries offer the "Ask a Librarian" service. It lets patrons chat with the librarians.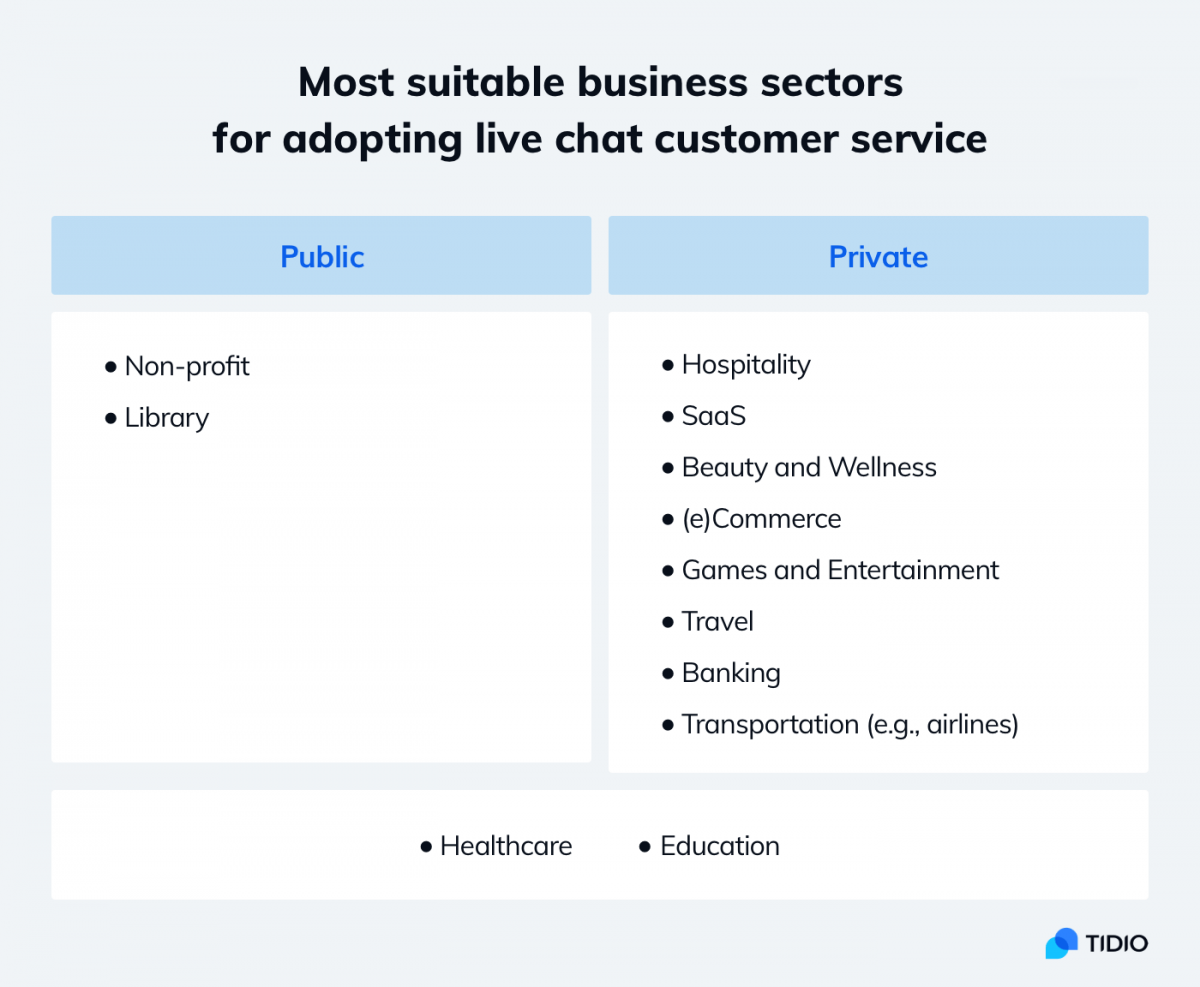 7. Chatbot Customer Service
Chatbots are tireless round-the-clock virtual assistants. They can answer customers' questions, help with shopping, collect feedback, and much more.
For consumers, the most significant benefit of chatbots is that they can receive support 24/7. They also don't have to talk to anyone and still get the help they need on the spot.
The BI Intelligence study has found that 48% of consumers care more about whether a chatbot can solve their issues than whether it has a personality.
Companies love chatbots because chatbots can help them save up to 30% on their customer support costs.
Chatbot Customer Service: Pros
24/7 customer support
Zero customer wait-time
Cost-effective
Transfer of chats to live support agents
Reduced number of queries to solve
Chatbot Customer Service: Cons
Limited in independent query solving
Conversation design requires logical thinking
What Business Sectors Should Consider Chatbots Customer Service?
Lately, all sorts of businesses have been adopting chatbot technology, including B2B and B2C ones.
The top five industries profiting from the use of chatbots are real estate (28%), travel (16%), education (14%), healthcare (10%), and finance (5%). But chatbots will also work incredibly well for e-retailers, bloggers, and artists.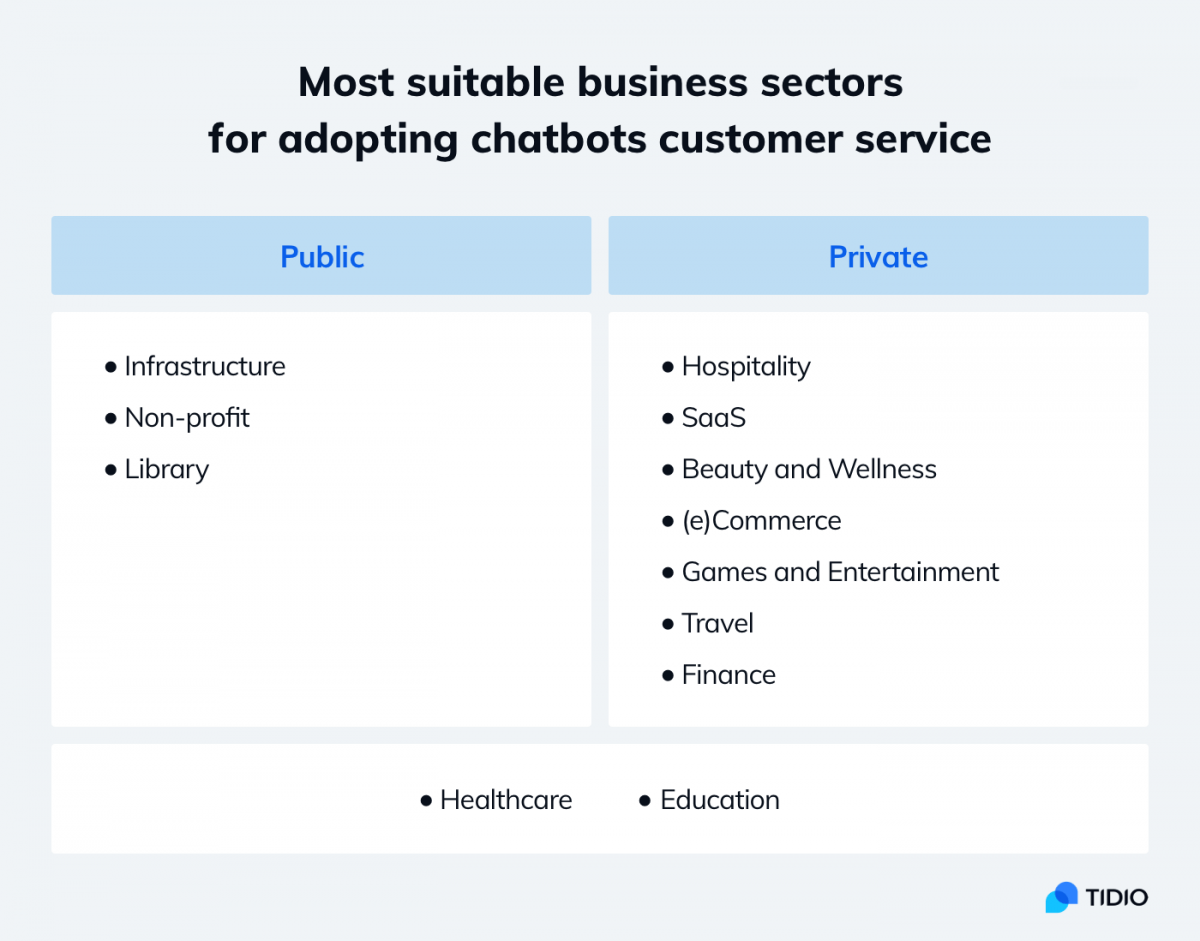 Suggested reading: Chatbot for Business: How They Work & What They Do
8. Proactive Customer Service
This type of customer service isn't as much about a specific communication channel as the company's approach to its customer base. In this sense, it differs from the customer service types we've covered earlier in this article.
This type of customer service is about identifying and resolving issues before they escalate and become problems. The focus here is on customer success. For that reason, the majority of consumers like proactive support.
About 68% say that proactive customer service improves their perception of a brand. Another 87% are happy when a company proactively contacts them about customer service issues.
You can deliver good customer service proactively in two main ways:
Solving an issue in advance
Providing self-help resources
Proactive Customer Service: Pros
Higher customer loyalty and a better service experience
Lower volume of issues and requests
Trust and strong customer relationships
Proactive Customer Service: Cons
Annoying to some customers
Customer Service Types That Allow for a Convenient Proactive Support
Self-service
On-site
Live chat
Chatbots
9. Reactive Customer Service
Reactive service comes after a customer files a complaint, experiences a problem, or feels generally dissatisfied.
Reactive support is usually more stressful as support agents are dealing with negatively charged people. It also makes a less positive impact on the customer experience and brand perception.
Reactive Customer Service: Pros
Reactive Customer Service: Cons
More workload for support agents
May increase the churn rate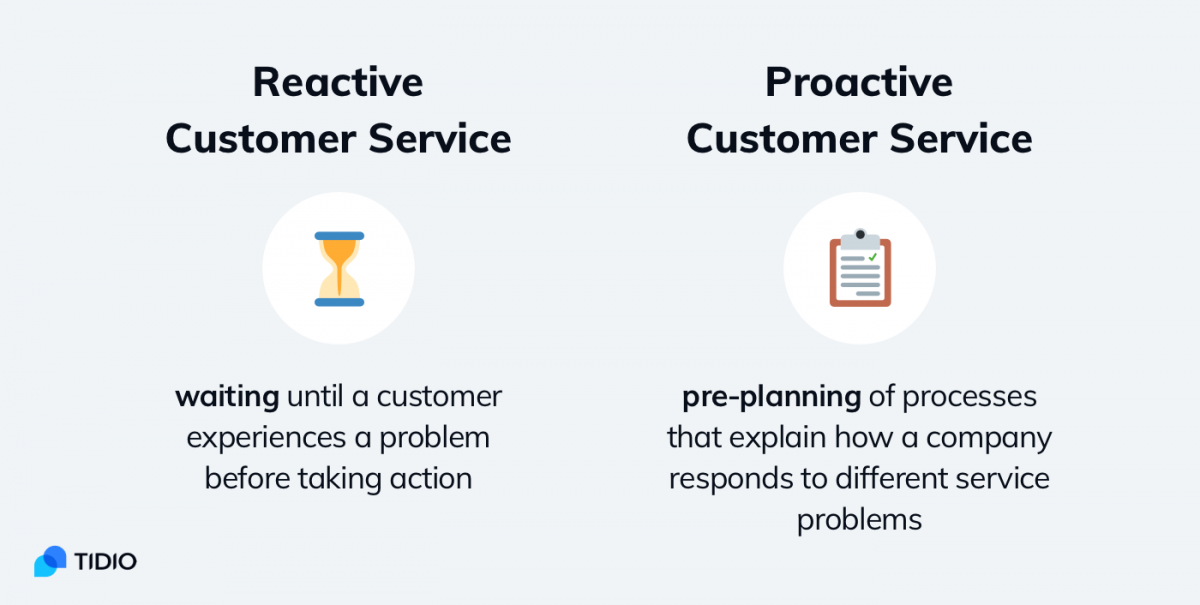 Check out the article Proactive vs. Reactive Customer Service: Pros and Cons. It will give you more insights into these two types of customer service. Plus, it will show you how you can use chatbots and live chat to serve your customers proactively—and effectively.
Different Types of Customer Service: Summary
One of the golden rules of customer service says: "Be present where your customers are."
Here's a list of all customer service types you can choose from:
Phone customer service
Email customer service
On-site customer service
Social media customer service
Customer self-service
Live chat customer service
Chatbot customer service
Plus, two types of customer service that are not defined by the communication channel:
Proactive customer service
Reactive customer service
The sheer number of customer service options can be overwhelming. But remember that you do not need to be present on every channel out there.
It would be hardly possible anyway.
But here's what you CAN do:
Find the channels that work for your customers best. Then, build your customer service options around these channels.
Keep an eye out on emerging channels. Adopt those that gain popularity among new customers and save the company's time and money (e.g., live chat, chatbots).
Be proactive and solve issues before they escalate. It will improve your brand reputation and customer satisfaction metrics.
Turn your website visitors into delighted customers.
Set up the Tidio live chat app in 5 minutes and watch your sales grow.
Learn About Live Chat