Which of these two situations is true for you:
You have tons of data about your customers. Or you have very little data about them.
In either case, you face the same challenge—
It's pretty hard to find meaningful and actionable information.
But hey!
You can directly ask your customers about their preferences and listen to what they have to say.
It's called the voice of the customer analysis.
This article explains:
Not what you wanted to learn? Try these articles:
What is the voice of the customer?
Voice of the customer (VoC) is a market research technique that captures customers' feedback about their experience with and expectations for your offer. It helps brands understand their customers' needs and wants to improve products and services.
The voice of the customer analysis is based on qualitative and quantitative data collected from multiple sources.
Your brand can use VoC to identify customer needs and then align the customer experience it offers with them. This can help your company make informed decisions about your business' core strategies, products, or services.
VoC is different from customer feedback. The former is about capturing customer feelings towards the brand, analyzing, and responding to them. The latter is actual reviews, ratings, and recommendations that a customer gives.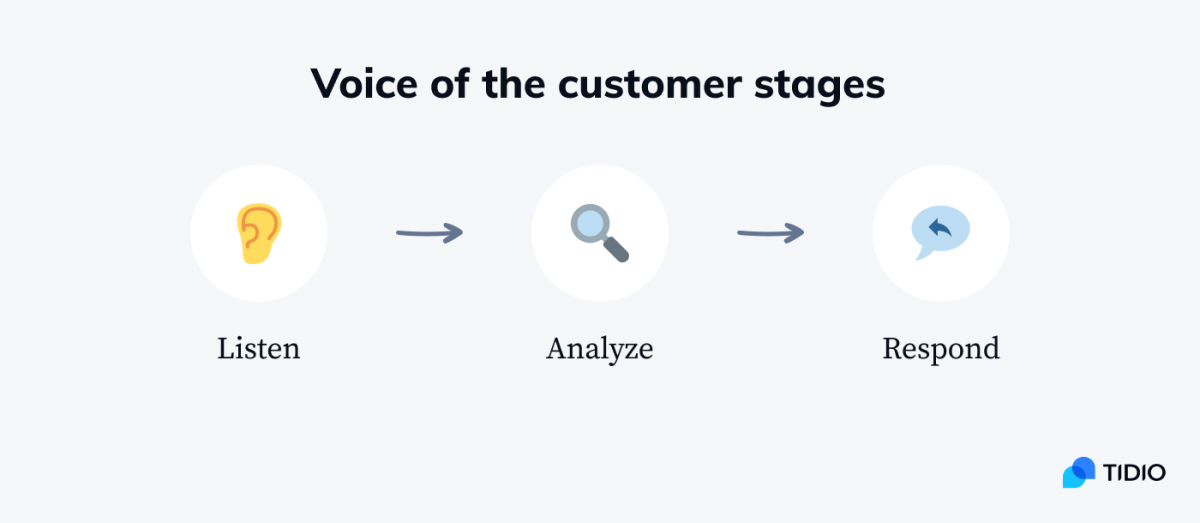 Like it or not, setting up a VoC program is essential for customer success. So much so that giant tech companies consider the VoC while shaping their customer-oriented strategies. The voice of the customer serves as a common ground for all teams to go forward in the same direction.
Notable voice of customer examples
Want to see how VoC influences strategic decisions?
If you're an Amazon Prime member, you'll probably remember when Amazon gave in to the customers' demands in 2017. It released Amazon Prime Video on all Apple TVs, despite the brands being archenemies.

How come?
Marketing research indicates that 66% of consumers expect companies to understand and respond to their needs. And listening to VoC ensures 55% greater customer retention. In other words, VoC makes sense for all types of customers and companies alike.
In this context, Amazon's move was very smart.
But there's more—
VoC can also significantly shape how a product looks.
From time to time, Apple sends out surveys to customers. In one of them, customers were asked about how comfortable they were with the iPad mini's display size. What they use the device for in portrait and landscape orientation. And, some generic questions about the use of accessories.
It may seem like a random selection of questions, but only for those unfamiliar with VoC marketing.
Suppose, iPad mini owners report they use wireless headphones with it. Apple's next move may be removing the headphone jack.
The results of such a survey may lead to an entirely new approach to designing the iPad mini.
What can a voice of the customer program do for your company?
The thought of turning customer feedback into practical results may seem abstract for someone who's used to making decisions based on their gut feeling alone.
So let's see how implementing a VoC program can influence your company big time.
1. Increase customer loyalty
If you know your customers' behavior, interests, and needs you can respond to them to boost customer experience and foster relationships with customers. All of them eventually increase your bottom line. You can also better manage your brand and prevent customers from taking their frustrations out on social media.
2. Increase retention rate
A solid VoC program equips you with actionable measures that can better your offer and keep your customers for longer. For example, it can tell you what caused an increased churn rate in the last quarter or what features or services are missing from your offer. Your next step would be tailoring your products and services to meet customers' expectations and requirements. You can then use the right customer retention software to see if it worked.
3. Facilitate making business decisions
Before launching an innovative product line, service, solution, or idea, you can test the waters to see if customers are up for it and if you can expect a return on your investment. If it turns out that your new concept isn't viable, you can focus on providing what customers really want.
4. Improve internal operational processes
Hearing a unified VoC empowers cross-functional teams of experts. For example, the B&D department and IT can work hand-in-hand and improve the customer journey. Cooperation between team members who share the same goal speeds up processes and simplify interactions.
How to design the voice of the customer methodology?
It takes a bit of strategic thinking to obtain the desirable and reliable results from collecting VoC data.
Here are a few steps you should take before you begin the voice of the customer process.
1. Establish a goal for VoC research
To give your voice of the customer program a solid base, focus on the main objective of your research. You should ask yourself what you want your customers to tell you. Without it, you won't be able to act on what you find out.
You can capture customers' opinions on new trends and initiatives, or focus on explaining previous customer behavior.
Here's a couple of examples of goals to give you an idea in which direction you could go:
Identify likes and dislikes (and their extent)
Identify unsolved problems
Understand the importance of one functionality over another
There are hundreds of questions you can ask. We'll give you examples at the end of this article.
2. Choose the best VoC method to gather the data
After establishing the goal of the voice of customer research, it's easier to choose the most suitable technique, whether qualitative or quantitative, and source to capture the customer data.
For example, if you're in the Saas industry and wanted to evaluate your software's user-friendliness, you'd probably go for user remote tests. But if you want to check your brand's positioning, you may want to sync with the voice of the consumer on social media.
We've listed methods of collecting VoC data in the next chapter.
3. Analyze the voice of the customer data
The purpose of this step is to dig into the collected data and interpret the results. Hopefully, the final report answers your initial question. Sometimes, you'll be surprised that you found answers to questions you didn't ask.
If you start with the wrong question or gather the wrong data for the question, your conclusions will be off.
4. Act to improve customer experience
Depending on the method you use and what you find out, you can prepare a customer experience strategy. Some conclusions will be straightforward. For example, your customers may tell you they want to reach you via a web chat, which is an easy fix.
Other conclusions may be more difficult to draw. If that's the case, you'll have to look into specific data points and run more complex VoC analyses. Companies like Lexalytics specialize in advanced VoC analytics, deeper customer insights, and data visualizations.
What are VoC techniques and tools?
Assuming you have more than a couple of clients, you'll need a strategic approach to listen to them. Customer satisfaction metrics, like Net Promoter Score (NPS) or Customer Satisfaction (CSAT) alone, won't cut it anymore.
To get reliable insights, you need various methodologies, like these tried and tested voice of the customer methods.
1. Customer surveys
Online VoC surveys have several advantages for the voice of customer analysis. From analyzing customers' expectations to addressing their issues. From identifying opportunities to improving your offer or product functionality to measuring customer satisfaction (NPS).
It's one of the fastest ways of collecting feedback. You can ask customers questions about their experience right after purchasing a product, using a service, interacting with the customer care team, or navigating your website.
Platforms like Delighted do everything for you. But you've got a choice of tools with predefined questionnaires, visitor segments, and triggers for on-page surveys. Survey software automates a lot of the work and organizes collected data.
Best voice of the customer survey tools:
Learn all about creating customer satisfaction surveys if you're doing it for the first time.
2. Live chat
Live chat is a tool that allows your customers to connect with you in real-time and leave their feedback about your organization, offer or any issues they might have.
You can set up your live chat to pop up as a response to specific customer actions, e.g., when they spend too long on a check-out page. It's a chance to see if they need help with anything. Or you can set up incoming visitor notifications and track their visits with viewed pages. Some live chats let you conduct pre-chat surveys, as well.
You can then use the insights to improve your website or your offering.
3. Focus groups
Focus groups consist of several customers (usually 8 to12) who share their views and observations about your business, existing product, or a new concept. They are invited to discuss their opinions and beliefs openly.
The qualitative data collected in focus groups tend to be unstructured, and it's more challenging to analyze it than that collected through, e.g., online surveys. Remember to record the sessions so that you can use the transcript for VoC analysis.
You can organize the data from the discussions yourself in a spreadsheet or ask a professional market research company if you're inexperienced.
Best voice of customer tools for focus groups:
4. Customer interviews
It's another method of collecting active feedback, next to focus groups and surveys. Interviews take place via email, on the phone, or even in person. Some customers love it and see it as a way to build trust and relationships with the brand. Interviews with a group of 20-30 people can identify 90% of customer needs.
Before you start interviewing, identify customers based on market segment characteristics and prepare questions you want to ask. You can conduct discovery interviews with B2B customers to include their insights into a new product development process. You can let them take the lead when discussing problems and the ideal state and simply ask, "What else?"
Resources for capturing VoC through interviews:
5. Social listening
Customer feedback on social media channels is very valuable. Social listening is when you monitor mentions related to your brand on social media, like relevant hashtags, references to competitors, or industry trends.
Social media reviews influence 67% of customers. So not surprisingly analyzing and engaging in online conversations with customers is an important element of the voice of the customer methodology. It can be as small as responding to customer complaints, or as big as shifting brand positioning. The goal is to act upon what you've learned.
Best tools for analyzing social media feedback:
6. Customer reviews online
Online reviews are another way to get passive feedback from customers. It's an important part of your online presence that influences purchasing decisions. Third-party review sites like Yelp, Capterra, TrustPilot, and Google offer you the opportunity to get unsolicited opinions and insights on issues you didn't even know existed.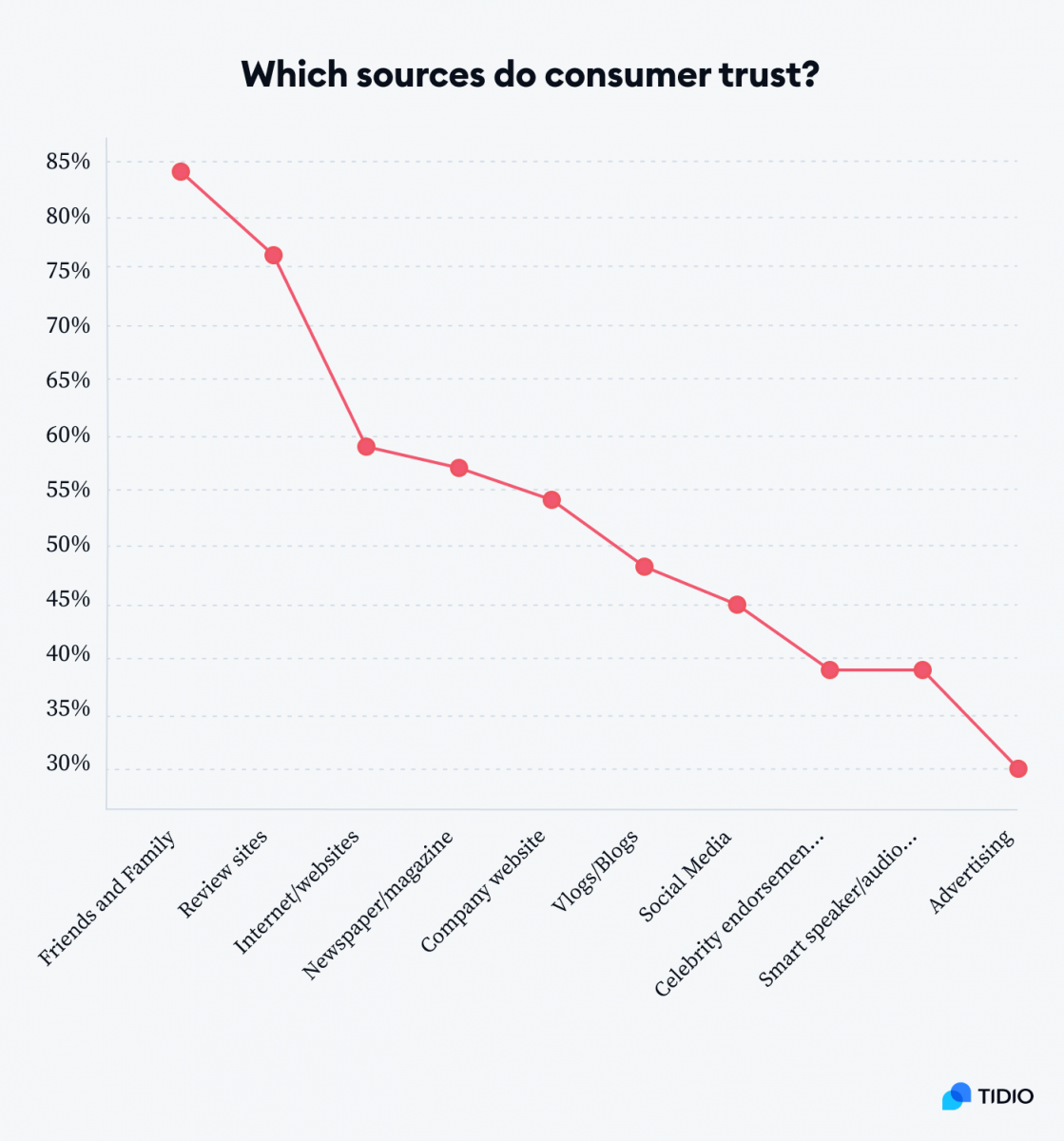 Responding to negative reviews and tackling the problems gives you a chance to win new customers and retain existing ones for longer. For example, as a B&B owner, you may learn that most of your guests' experience can be improved if you serve breakfast or a bad smell coming from a trash chute that puts off your clients.
Useful resources for analyzing feedback in online reviews:
7. Monitor website behavior
Check how visitors navigate on your website, where they click or tap, and where they move the cursor. You can also record and replay sessions and create eye-tracking heatmaps to visualize what customers do on your pages.
You can identify roadblocks in the navigation process to improve the UX of your website.
Best VoC tools for monitoring web behavior:
8. Optimize user experience
A/B testing is one of the best VoC techniques because you can identify what offers, content or features influence your website's conversion rate. You can compare the original version of a website (A) with its variation (B) and get precise data on what users like and dislike.
It helps you make decisions based on quantifiable results. Sometimes a seemingly small detail influences conversion rate. For example, the word "FREE" can be off-putting or encouraging on different pages.
Best voice of the customer tools for UX:
9. Optimize usability
If you're in the Saas industry, you can sync with the customer's wants and needs by running remote user tests that help evaluate your product. Their objectives are similar to those of A/B testing—identify obstacles and remove them.
Remote usability testing is a method of checking how test participants interact with your product and in their natural environment, e.g., at home or in an office. It gives you an idea of what customers' experience is like.
Best voice of customer tools:
9. Analyze Google trends and search engine queries
Keeping an eye on Google Trends and keyword search volumes is a pillar of SEO. Still, it helps understand the broader needs of consumers, adapt your offer, and identify new opportunities.
To target existing customers, you can analyze the results from a search box on your website. It's easy to implement and more cost-effective than other voice of customer techniques.
Best voice of the customer tools:
As a bonus, check out other voice of customer software for monitoring customer experience that didn't make it to the list above but might still interest you—for example, a tool for analyzing the voice of the customer in support tickets.
Examples of voice of the customer questions
Here are some common voice of customer survey questions that help you collect actionable feedback and consequently improve the customer experience.
1. Recommendations and brand loyalty questions
They measure Net Promoter Score (NPS) and allow you to assess customer loyalty. They usually combine scale questions with follow-up open-ended questions.
On a scale of 0 to 10, how likely are you to recommend this company, product, service, website to a friend?
On a scale of 0 to 10, how likely are you to switch to another brand, company, product, or service?
How likely are you to recommend us based on your recent purchase?
Follow up with the right questions to elicit customers' motivations.
What is the primary reason for your score?
How can we improve your experience?
Tell us a bit more about why you chose [a number].
2. Value and results obtained from using products or services
This type of voice of customer questions measures what's working and what's not when customers use your products or services.
Did anything prevent you from completing your purchase?
Did you find what you were looking for?
Which feature are you the least/most happy with?
3. Brand perception questions
VoC questions about your brand aim to find out what customers think about your company. Brief interactions with brands (e.g., a new ad campaign) can change consumers' views of a company from negative to neutral to positive.
If you ask those questions, you can spot and prevent early signs of a brand crisis.
When you think about our company, product, or service, what comes to mind?
What three to five words would you use to describe our brand, company, product, or service?
Who do you think a brand, product, or service is aimed at?
4. Competitor analysis questions
When you're in a competitive industry, it's useful to know who you're dealing with. You may know instinctively, but the voice of the customer may differ. Insights on competitors help you match their offers and reduce churn rates.
Can you name a competitor you would prefer over our brand, product, or service and explain the reasons for choosing them?
When you think of this product or service category, what brands or companies come to your mind?
Have you heard of any of the following brands?
If you'd like more ideas for questions to ask in the voice of customer surveys, check out these 52 customer satisfaction questions organized by the customer journey stage.
Key takeaways
Here's a quick summary of what you should remember about the voice of the customer:
Voice of the customer (VoC) is a research method of collecting and analyzing customer feedback to get a complete picture of your target audience.
The method is critical for companies' improvement and growth.
It aims to improve your organization and workflows, offer better products or services, or more generally obtain actionable insights in the decision-making process.
Several VoC techniques can be used to collect customer feedback. Some of them involve using software or platforms for data analysis.
It's essential to structure your voice of customer programs to get reliable results.
Don't get discouraged when first attempts to capture customers' feelings and expectations don't bring expected results. It can be a learning curve to implement VoC strategy on your own. Fortunately, specialized firms can help you do so.