Customers don't buy a product for the sake of owning it.
They have a goal and expect their purchase to help them achieve it.
One way for companies to help their clients achieve this goal is not to focus on the product but on their customers' success.
Does this matter?
No. Not at all if you don't mind your customers going elsewhere.
If you do, though, here's what you'll learn from this article:
If customer success isn't exactly what you're looking for, check out some of these articles instead:
Customer success: definition
Customer success is a business strategy that focuses on consumers achieving their desired outcome with the brand's products and services. It ensures a good and mutually beneficial relationship between the client and the business.
Every company's greatest assets are its customers because, without customers, there is no company.
Consumers might be hard-to-please individuals, but they are also your most valuable asset.
If your company meets the buyer's needs and expectations, they will stay with you for longer and talk favorably about your business.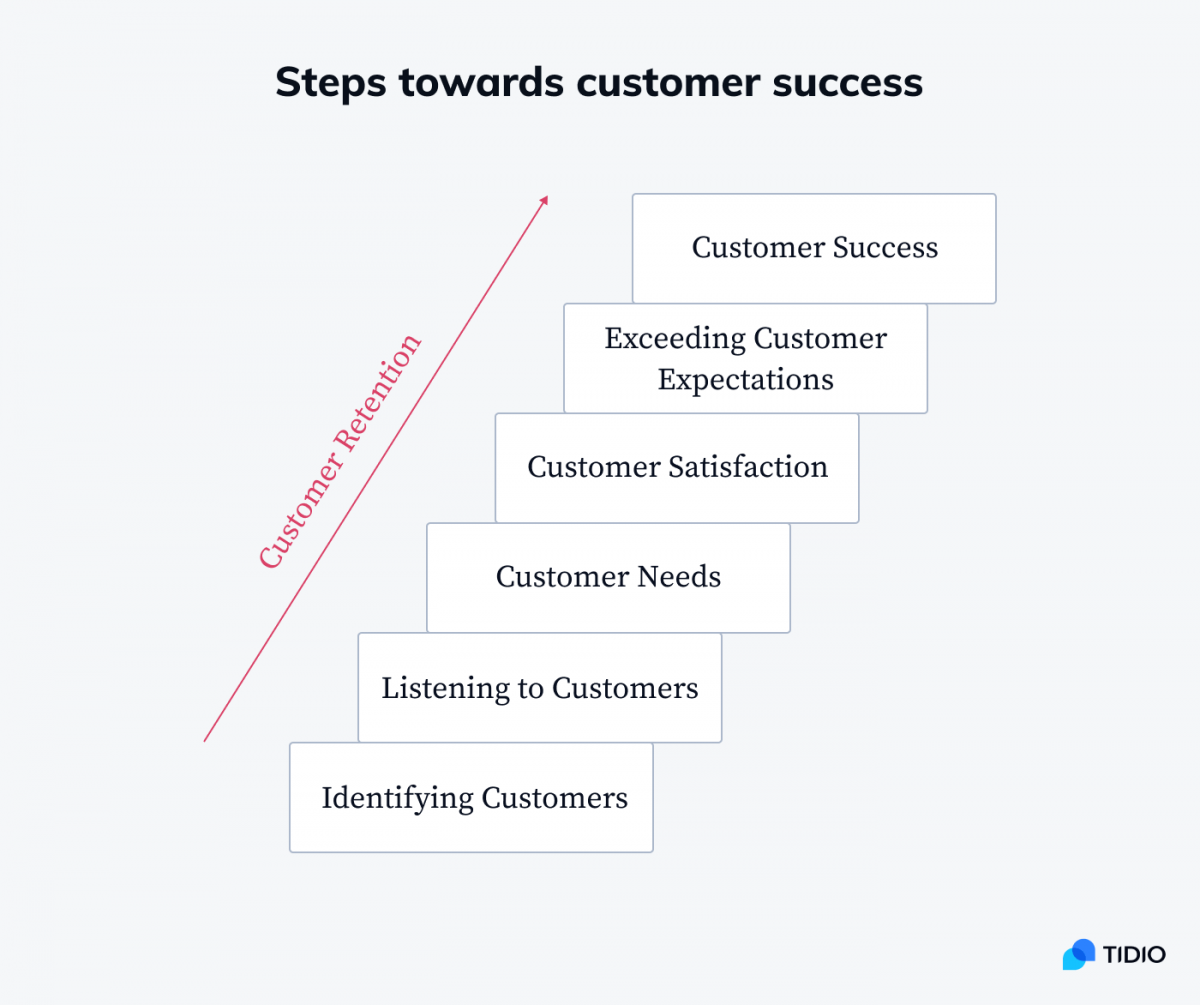 You can think of customer success in terms of people buying "meaningful outcomes," not products or services.
What does this even mean?
Well, imagine you're buying a drill.
Do you want the drill itself, or do you need it to make a hole in a wall?
The drill is a means to an end as your goal is to drill a hole in a wall, not just to own a product.
This is how it works.
Customer success management is all about understanding your shoppers' goals and making sure they achieve those objectives.
A buyer can be satisfied with your product but still not get the most out of it, and therefore, you will fail to ensure the client's success.
Just like with the drill example above.
The shopper can purchase a drill and be satisfied with it. But then gets home and realizes that it is too weak to drill a hole in their wall. There's nothing wrong with the drill, but the customer will not achieve the goal.
Customer success vs. account management
Now—
Let's not mistake customer success with account management or customer service. They are separate departments in an organization.
Even though both work on maximizing the customer lifetime value and seek to establish a mutually beneficial relationship with the client, their roles and responsibilities differ significantly.
Customer success and account management: differences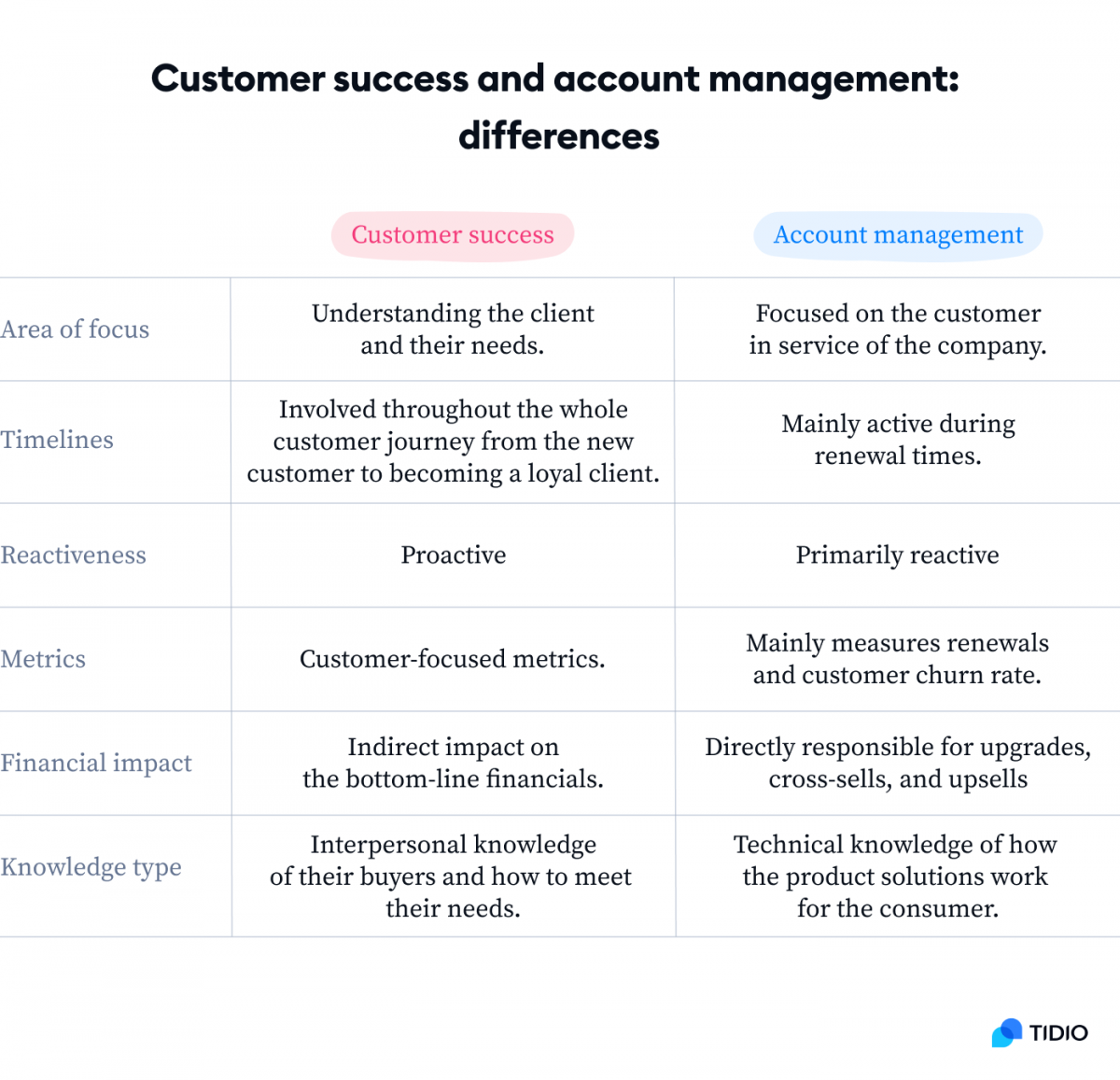 Customer success managers (CSMs) work proactively on seeking new opportunities and ways to create additional value for the consumer.
In contrast, account managers focus on renewals, customer feedback, and upsells.
Another difference is their perspective. Customer success managers allocate resources to deliver value and satisfy clients. When consumers are satisfied and successful, renewals will come naturally.
That's not the case with account managers. From their perspective, all resources should be focused on making and re-making the sale.
In short—
Both focus on creating satisfied and successful shoppers to keep the recurring revenue, but their purposes and methods differ. That's why they are part of separate departments in a business.
Customer success vs. customer service
How do these differ then?
Let's start with the similarities. For sure, customer success and service focus on customers and solving their issues.
But that's where the similarities end.
Here are the differences:
Customer success and customer service: differences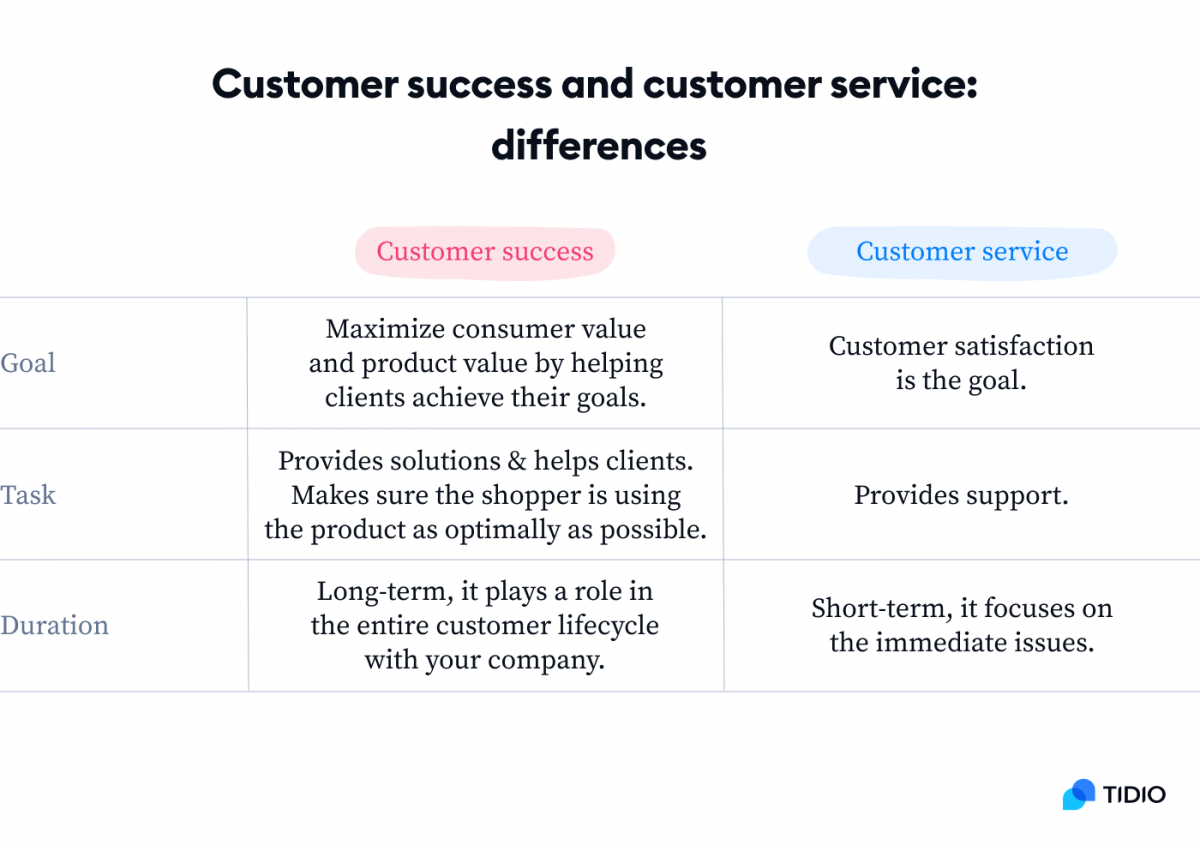 You must understand that customer service is reactive, while the customer success approach is proactive.
In addition, customer success teams try to help your client achieve their goal, while customer service works on resolving shopper's issues as quickly as possible. Plus, customer success teams try to anticipate future issues and customer service solves the ones on hand.
Why is customer success important?
They say a picture is worth a thousand words. We say numbers are worth millions of dollars.
So, let the numbers do the talking:
The key three benefits from customer success programs:
Better product adoption—help with using the product (87%)
Better return on investment (82%)
Easier onboarding (60%)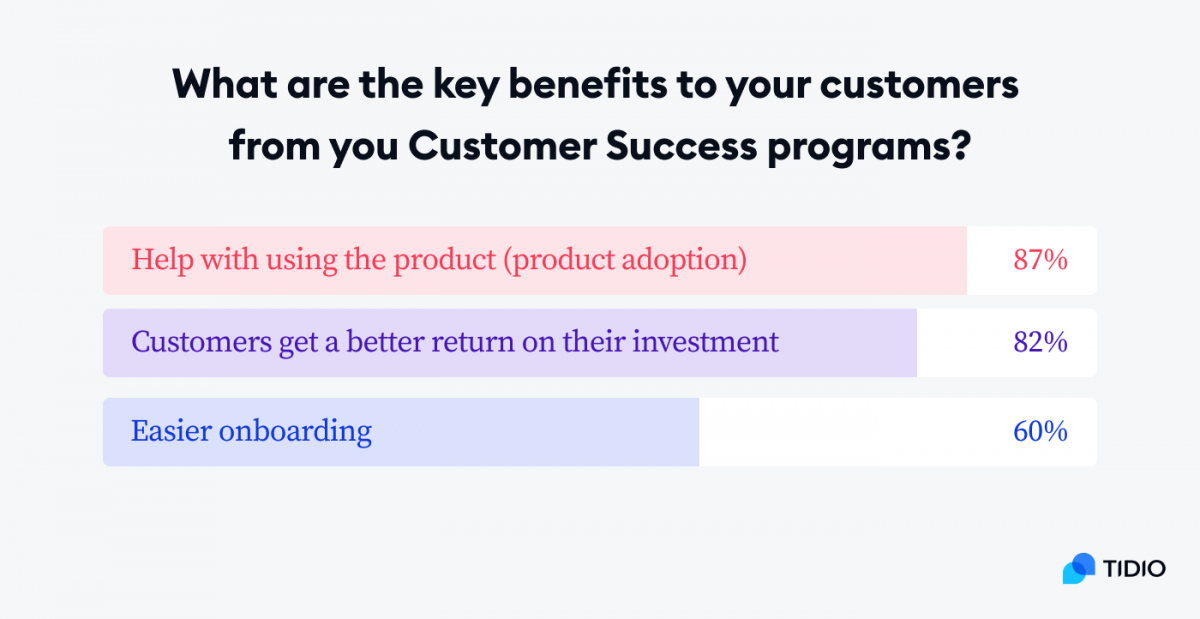 And remember—
Customer success management is particularly important for SaaS businesses as they often compete on the level of experience rather than the product itself.
What is a customer success team?
Ok, we've covered the basics.
Now, let's have a look at what customer success teams actually do.
In a nutshell—
They optimize the shopping experience, provide customers with useful resources and support, and develop a lasting relationship between the shopper and the brand.
They're also responsible for:
Addressing the needs and doing deeper research into customers' expectations
Maximizing the value your consumer receives from your product
Building relationships, boosting retention and helping with customer onboarding
Offering professional consultations and taking care of renewing clients' contracts
The goal of the customer success team is to make sure the buyer has a high level of satisfaction and achieves high success using your products and services.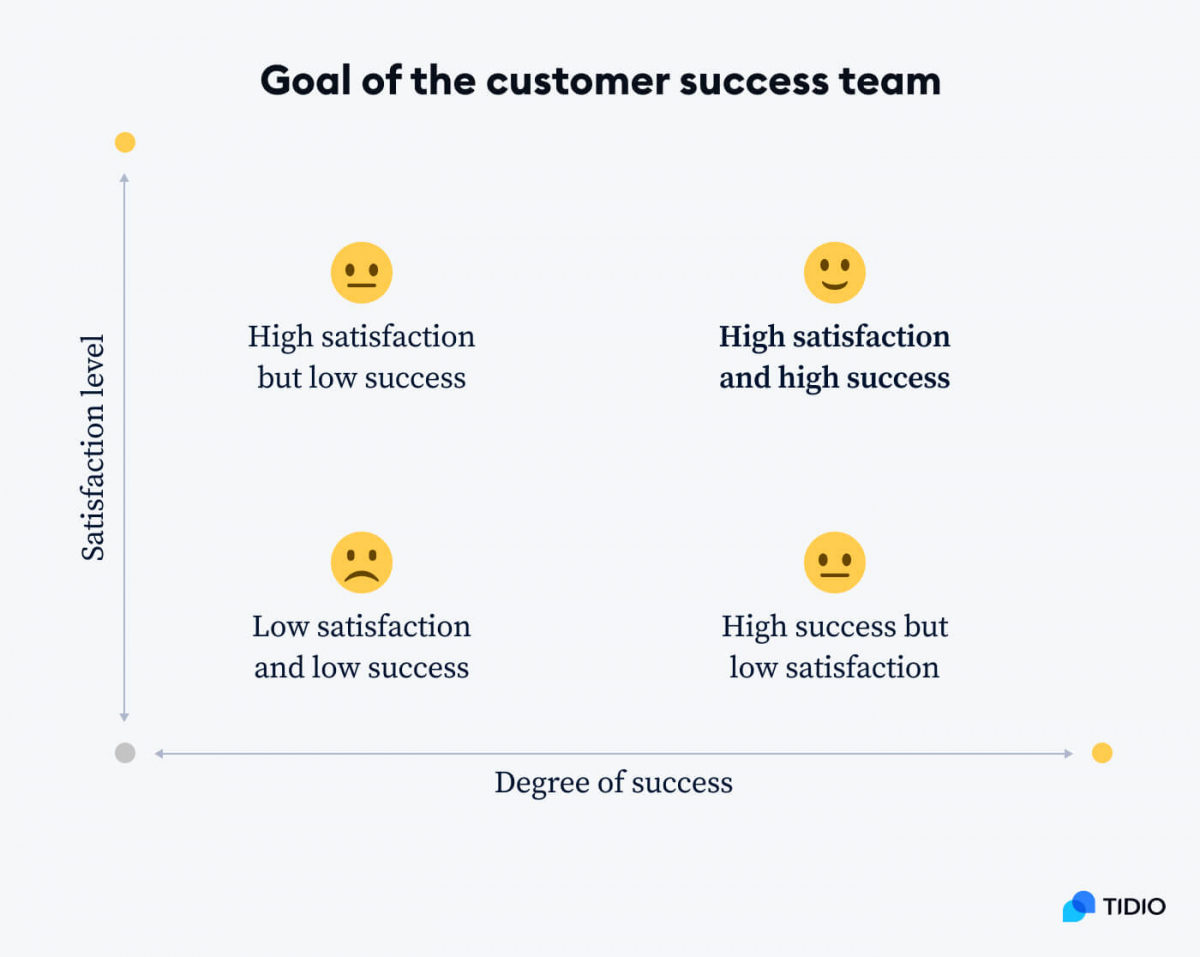 Customer success operations differ across organizations. So, you need to clearly define your expectations and what the responsibilities of your customer success team are from the beginning.
When creating a customer success team, make sure they know exactly what their role is. To broaden your horizons you may want to have a look at a couple of customer success certification courses:
Essential customer success metrics
Can you measure customer success?
Sure!
We even wrote a dedicated article covering customer success metrics, so here's just a quick glance at what you should be paying attention to:
To get you started, try and create a customer satisfaction survey that fires off after each live chat interaction with your clients. This way, you'll quickly see what changes you need to make and what's valuable for your clients.
Learn how to automatically collect customer feedback with Tidio live chat.
How to create a customer success strategy?
You need to tailor your customer success strategy to your customers' needs. Let's look at some tips on how to kickstart it.
1. Target the right customers
This is where your customer persona comes in.
Identify which clients are most likely to achieve customer success when using your product or service. Those consumers need to be ready, willing, and able to use your product. Also, your product needs to be the right fit for them.
2. Educate your customers
Create a customer education strategy to optimize customer success.
Share free content for your new clients to become more informed about your product and how it can help them achieve their goals.
Share insights and your team's knowledge on topics related to what your product can help with. Also, provide a knowledge base and free guides on how to get the most value out of your product.
The right approach to customer success would be to start artificially creating problems that the clients might have. This approach allows you to predict what the consumers might struggle with more skillfully and help them overcome future problems.
3. Personalize the experience
Every shopper is an individual, and this is how they want to be treated.
Personalize the experience and the onboarding process for each of your new customers. This will help you with customer satisfaction and retention.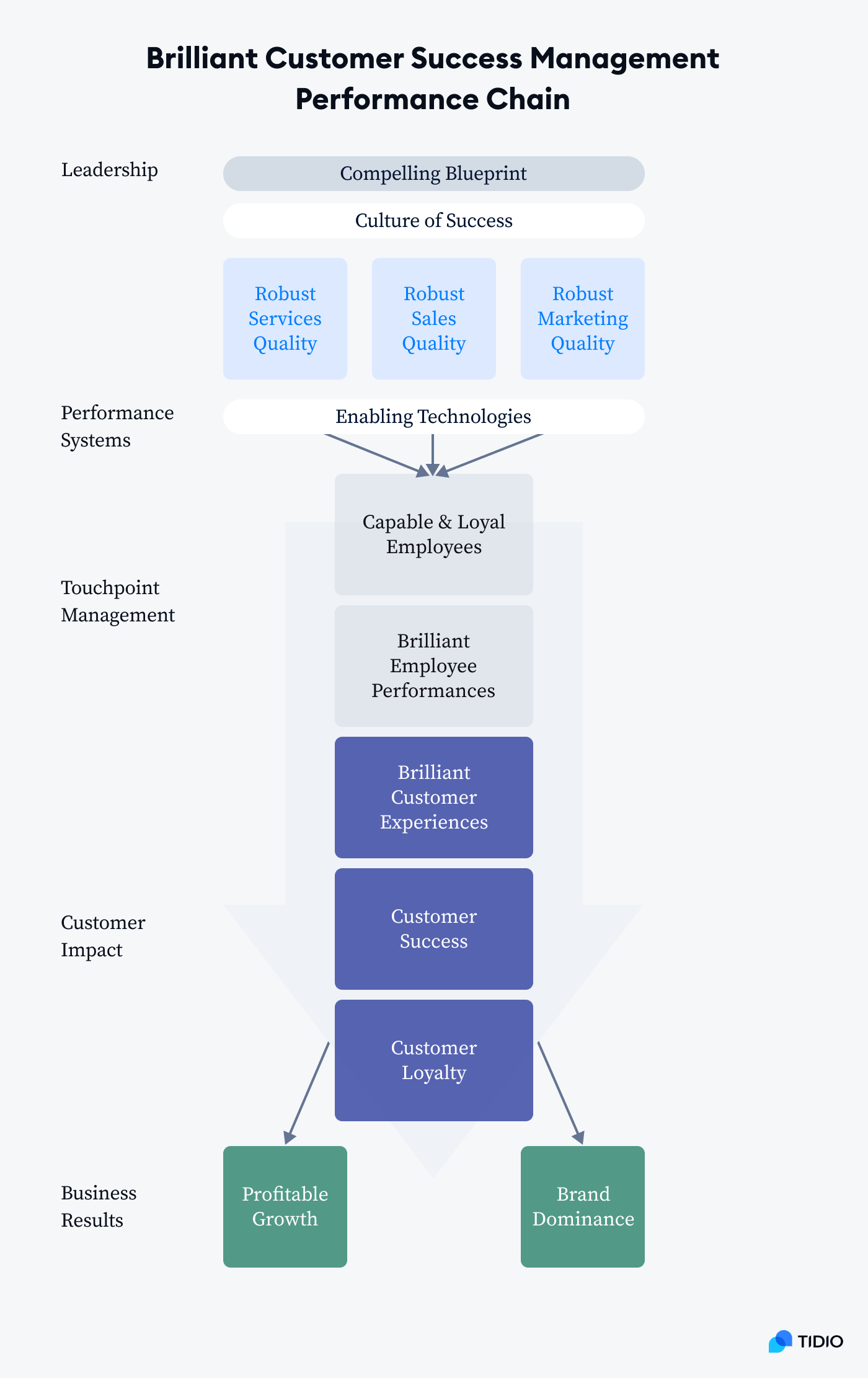 Check out this article if you want to find out more about customer success strategies.
Customer success stories from real life
What's a customer success story in the first place?
In essence, it's an example of how a company helped its customer(s) become successful.
Makes sense, doesn't it?
Such stories not only make for an interesting read, but also help brands demonstrate the real value they bring to their customers.
Here are three examples worth looking at:
The first customer success story is Mailchimp that helped Good Dye Young company increase its revenue by 305%.
Hayley Williams's company struggled to create targeted, relevant messages that reflected the brand's personality. And yes, we're talking about the Hayley Williams of the band Paramore.
With the use of Mailchimp, Good Dye Young was able to personalize its marketing and increase the open rates of its emails. Mailchimp aided the brand to create a more meaningful relationship with clients and gain consistent results from their marketing strategy.
Another story of customer success comes from Marketing Suite for providing a multi-team organization with a place to collaborate and arrange their workflow.
This company was struggling with a lack of collaboration between different teams and accountability or visibility into the projects.
Marketing Suite managed to help them create a workflow that provided visibility and caused more productivity in the teams.
The last example we'll mention is a customer success story from Hourly that provided an automated time tracking and payroll software for Izzy's Brooklyn Bagels.
This 20-year-old shop struggled with time tracking and payroll processes for its employees. The manager spent hours every pay period processing corrections. And still, payments for the employees were going out wrong.
Hourly fixed this problem and fulfilled customer success by providing the bagel shop with automation of their time tracking and payroll calculations. Now, the pay for employees is accurate, and the manager doesn't lose time on corrections.
By the way—
We also have quite a number of customer success stories, you can find some of them on our blog in the case study section.
Customer success software to aid your strategies
Customer success? There's an app for that!
Have a look at our super short and helpful list of software tools to help you with different aspects of customer success:
One of the most important parts of customer success is being there for your shoppers when they encounter any issues. Tidio can help you with that by providing a live chat feature for your website. There is also a chatbot to quickly answer any simple questions.
Customize the widget to fit your website and answer the most common questions. Make the support for your shoppers quick and easy and help them achieve their goals.
Learn how to install Tidio on your website.
Start by integrating all the data from customer touchpoints such as support, product, finance, and sales into one platform. The software then translates this information into real-time health scores and updates them as your clients change.
You'll get alerts of any big events, such as sales drops or reaching your milestones. Keep track of your shoppers and proactively manage them.
Integrate this software to help you personalize your buyers' experience.
This customer success software is for SaaS businesses.
It gathers shopper's information from different systems allowing you to see it in one place when interacting with clients. This software also automatically creates tasks for a better organization of your team's day.
Focus on what needs extra attention and automate the low-touch customer success workflows. Integrate this software to personalize the experience for your shoppers and increase their engagement.
This customer success platform helps to monitor customer health changes and drive proactive engagement.
You can use the real-time reporting of key accounts and metrics on product adoption. Stay on top of by tracking value, utilization, and operational incidents.
This platform also helps you track workflows and automate personalized campaigns to drive product adoption based on data on user behavior.
Become customer-centric with this software.
Bring all your client data into one place and get to know your shoppers better. Gain insights and manage workflow to improve customer experience.
This platform helps you keep track of product usage, gives you alerts and guidance on your health scores. Integrate it into your strategy to make data-informed decisions when personalizing your client's experience.
So that's the customer success software you can use for some help to ensure shoppers achieve their goals. What are some other resources to become an expert in client success?
Additional resources
Did we get you interested?
Cool!
But it's impossible to cover such an extensive subject as customer success in a short article.
Have a look at this list of customer success books, summits, and blogs:
Books
Some of the best customer success books you should consider reading:
Conferences
Customer success conference and summits you should look out for:
This is a virtual event for customer success managers. It brings together thousands of CSMs to share ideas and learn from each other. You can discover what the trends are, learn different strategies, and level up the customer success game at your company.
The next conference will take place in Utah, United States. It provides a learning environment where you can meet like-minded people. Top executives, leaders, and innovators in customer success provide insights and inspiration during this two-day event.
You can stream this past event or join next year for a great opportunity at networking. Learn the best practices to build a team, proactively manage your clients, and accelerate your career. Listen to innovative leaders inspiring customer-centricity and how to build products that consumers love.
Web portals
Enhance customer experience and provide a customer success portal for your clients:
Create your own portal and give customers the freedom to access resources, get support, and help each other. Magentrix allows you to build and personalize your knowledge base, support page, and community sites. This web portal automates repetitive tasks and allows consumers to engage with your brand whenever and however they like.
This platform provides CSMs with a centralized view of the most important insights and customer portfolios. It provides a single view of all tasks, activities, and reports from across different platforms. This can help your team become more productive and the manager to gain more control over the operations.
Empower clients to find a resolution for their issues on their own. This customer success portal helps you launch an intuitive self-service and keep your shoppers happy. You can personalize the experience for every customer group by surfacing relevant information and content for them. And your clients can also start managing and updating their account information without your representative's help.
Blogs
For a quick read about different aspects of customer success, blogs such as these will prove insightful:
This blog focuses purely on customer success. Gainsight even wrote a book about it if you want a longer read. You can gain knowledge from channel partner success, strategic accounts, and everything in between. Gainsight is the first place you should visit when you're seeking a full picture of customer success.
A close second comes this client success blog. It provides you with a customer success playbook, tips for CSMs, and how to practice transparency with clients. This blog presents what CEOs need to know about user success and teaches you how to measure your results. Simply put: this customer success blog has most of the topics you are scratching your head about.
Last but not least. ChurnZero is a customer success blog that focuses on how to reduce churn rates by improving client success. It shows you Google trends, gives you career advice, and provides advice on how to avoid burnout. If your company struggles with high churn rates and you want to improve this, then give this blog a read.
Key takeaways
Here's a recap of the most important points to remember:
Customer success is a business methodology stating how to interact with consumers. It is a way to ensure your clients are satisfied with your product and reach their desired outcomes.
This methodology is vital for customer retention and product satisfaction.
You can measure client success with their lifetime value, health score, retention rate, customer satisfaction score, and net promoter score.
The team helps your relationship with shoppers, boosts retention, and increases referrals.
Scroll up if you need a quick look back on any of the key parts of customer success.