Chatbots
How to Create a WhatsApp Chatbot for Your Business in 10 Simple Steps
WhatsApp is more than a casual messaging app. Companies use WhatsApp chatbots to automate their messaging. Can a WhatsApp chatbot work for your business?
You may not use WhatsApp, but the rest of the world sure does.

Robert McMillan
Wired Magazine
Before we dive into the subject of WhatsApp chatbots, imagine this:
People send over 65 billion messages via WhatsApp every day. If you were to deal with only 0.000001% of them, you'd still have to answer 650 messages a day.
Truth is, even 65 seems more than enough if most of them are messages like: Is this item in stock? Does it come in red? What's my order status?, and you're supposed to give an answer in under 2 minutes.
Well, this is exactly what a WhatsApp chatbot can help you with. And then some more.
In this article, you'll find out:
Want to generate leads and provide 24/7 customer service even when you sleep? Create unlimited chatbots for your website without coding to engage more visitors or recover abandoned carts.
Try Chatbots Here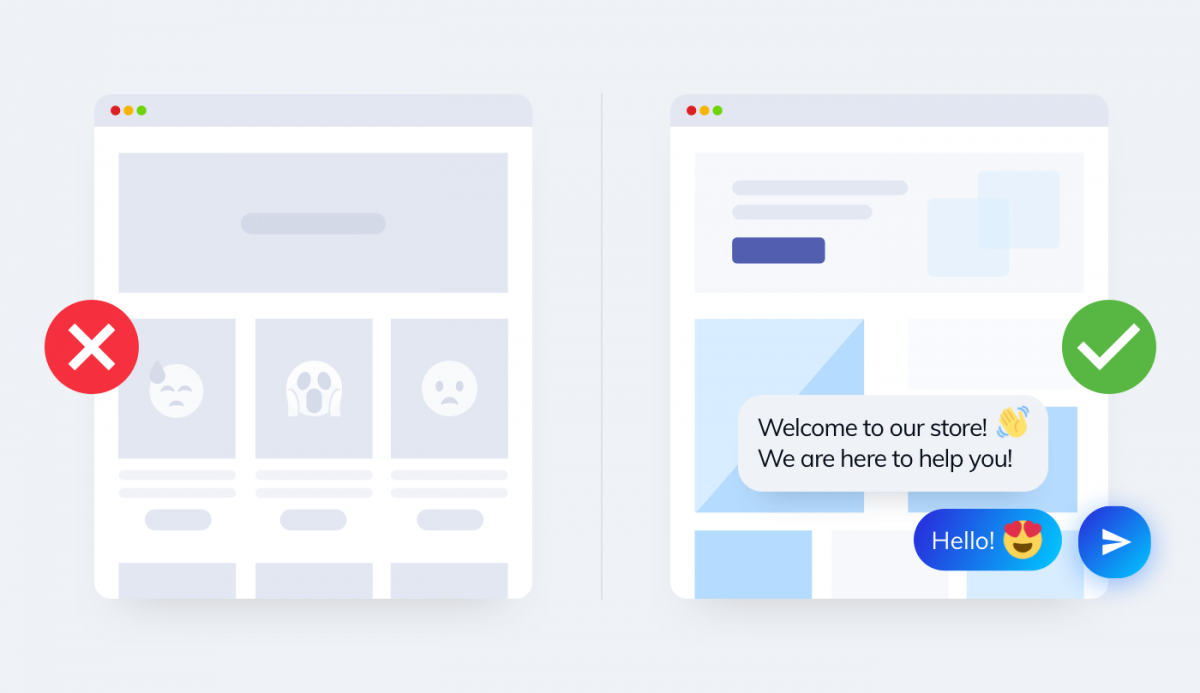 Explore chatbots now—Test the easiest visual chatbot builder for free.
One of our users, Michael, had this to say:
We could set up a simple chatbot in minutes because the drag-and-drop bot builder was really easy to use. Also, the support team was very helpful and answered all our questions
Looking for similar reads? Read more about:
What Is a WhatsApp Chatbot?
WhatsApp chatbot is a software application that can interact with users and simulate human conversations on the WhatsApp platform, thanks to end-to-end encryption.
Today, WhatsApp chatbots offer various functionalities, based on machine learning, NLP (natural language processing), and artificial intelligence.
You can use a WhatsApp Bot to handle customer issues and answer questions in real-time, which can greatly improve customer experience.
If you want to fully grasp chatbots, check out our article about what a chatbot is used for.
Now—
You probably wonder whether it makes sense for YOUR business to configure WhatsApp and integrate a WhatsApp chatbot.
Why Create a WhatsApp Chatbot?
Here's what WhatsApp chatbots can do for you:
Elevate customer support and lead generation by providing automated customer services 24/7
Save time and reducing customer service costs
Increasing customer engagement by leading them through the sales funnel processes
Build trust and loyalty among customers by assisting them on their preferred platform
Support customers by providing instant answers to their questions and enabling them to take fast actions
Personalize customer experience with customized WhatsApp scripts
Provide safe encryption to protect the confidentiality of the conversations with your customers
Plus, besides Facebook Messenger, WhatsApp has one of the fastest-growing customer bases in the world. Facebook officially reported that WhatsApp's monthly active user base has increased by 365% over the course of 6 years.
This means that sooner or later, you will have customers who would want to use WhatsApp to communicate with your company.
Installing a WhatsApp bot can help you respond to your customers when you are not around, maintain a smooth conversation flow, and improve the overall customer experience.
Plus—
Today's WhatsApp chatbots can answer even complex questions and perform specific tasks, like gathering contact information for sales or processing a refund. This makes them particularly useful for eCommerce businesses.
Suggested reads
Do you want to know what techniques companies employ to get more customers? Read the best examples in our e-commerce case study analysis.
But how to build your own WhatsApp bot? Are all WhatsApp chatbots created equal?
Let's find out.
Two WhatsApp Chatbot Solutions
Here's the thing—
There are two ways in which you get your WhatsApp chatbot:
WhatsApp chatbot development (via WhatsApp Business)
Integrating chatbot into WhatsApp (via WhatsApp Business API)
To understand how they differ, have a look at the table below: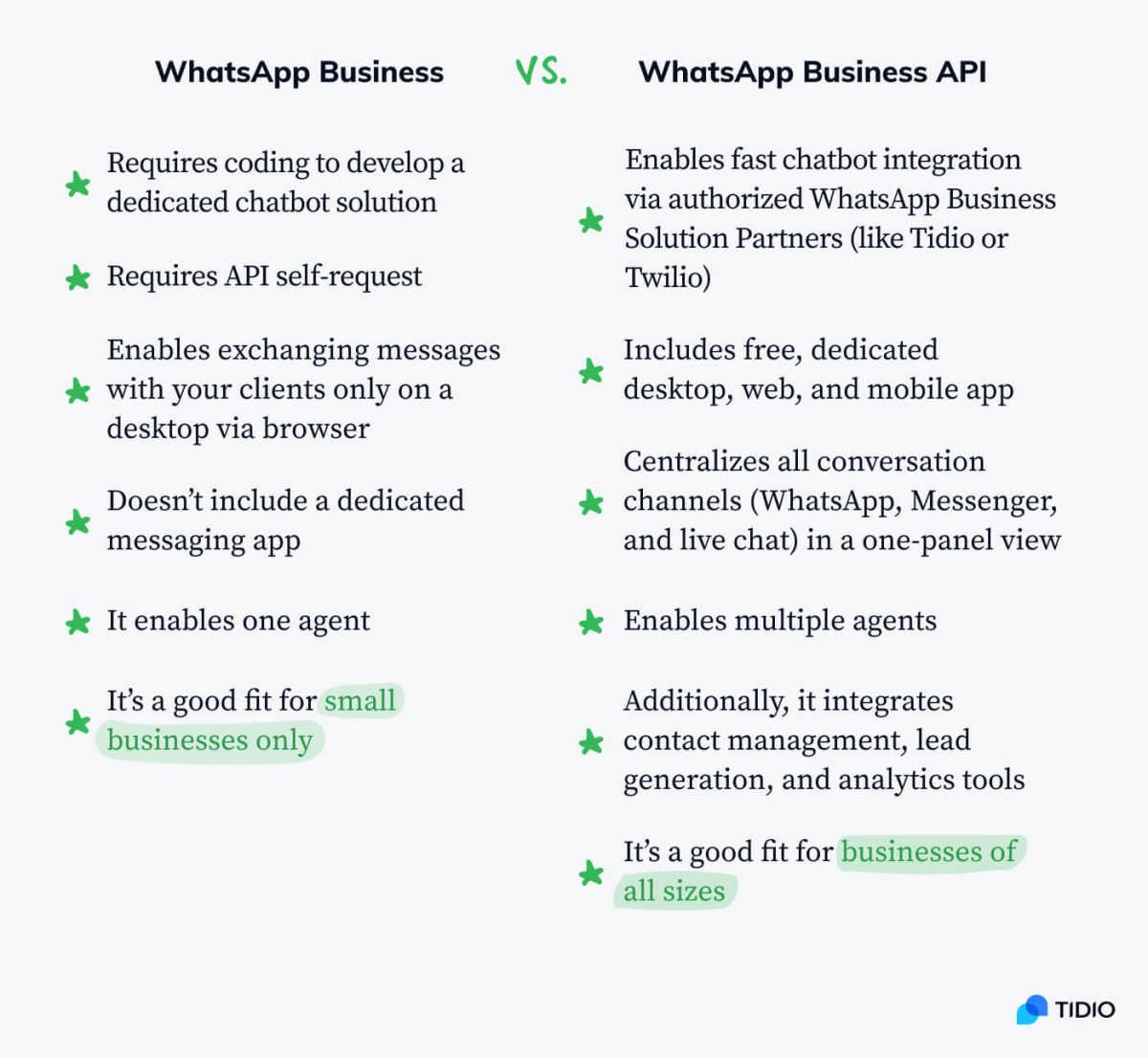 What does this all mean?
In short—
If your primary need is the automated "away messages" functionality, and you don't need multiple operators or unlimited access—WhatsApp Business should be more than fine.
However, if you plan to create an intelligent chatbot for WhatsApp, and you deal with many messages on a daily basis, WhatsApp Business API is the best option for you because of customization and higher flexibility.
Here's what each choice entails:
If you choose WhatsApp chatbot development services (a.k.a. the WhatsApp Business way)…
You need to engage your own development team or hire a WhatsApp chatbot building company. Then, you need to apply for a dedicated API key access and have developers ready to create the WhatsApp chatbot application using Python, PHP, GitHub, Dialogflow, or NodeJS, depending on your architecture.
If you choose to integrate a chatbot into WhatsApp (a.k.a. the WhatsApp Business API way)…
You should go for services offered by WhatsApp Business Solution Providers. An official WhatsApp Business Solution Provider covers all infrastructural requirements and offers an API hub, so the whole process of creating your own WhatsApp AI bot is 100% codeless.
On top of that, Business Solution Providers usually offer many additional features such as contacts management, analytics, and reporting.
Can you see the paradox already? A more complete WhatsApp chatbot solution is much less of a hassle. But what you choose depends entirely on your needs.
How to Create a WhatsApp Chatbot Step by Step
Creating a WhatsApp chatbot with WhatsApp Business API is relatively simple. Let's break it down!
Step 1: Check If You Meet the Official Whatsapp Business API Policy
This step is important because it clarifies whether your business can freely use WhatsApp Business API and consequently, benefit from creating a WhatsApp chatbot.
It's essential particularly for e-commerce companies, who want to check if the common practices of the industry they are in will not be limited by official WhatsApp Business policies. For example: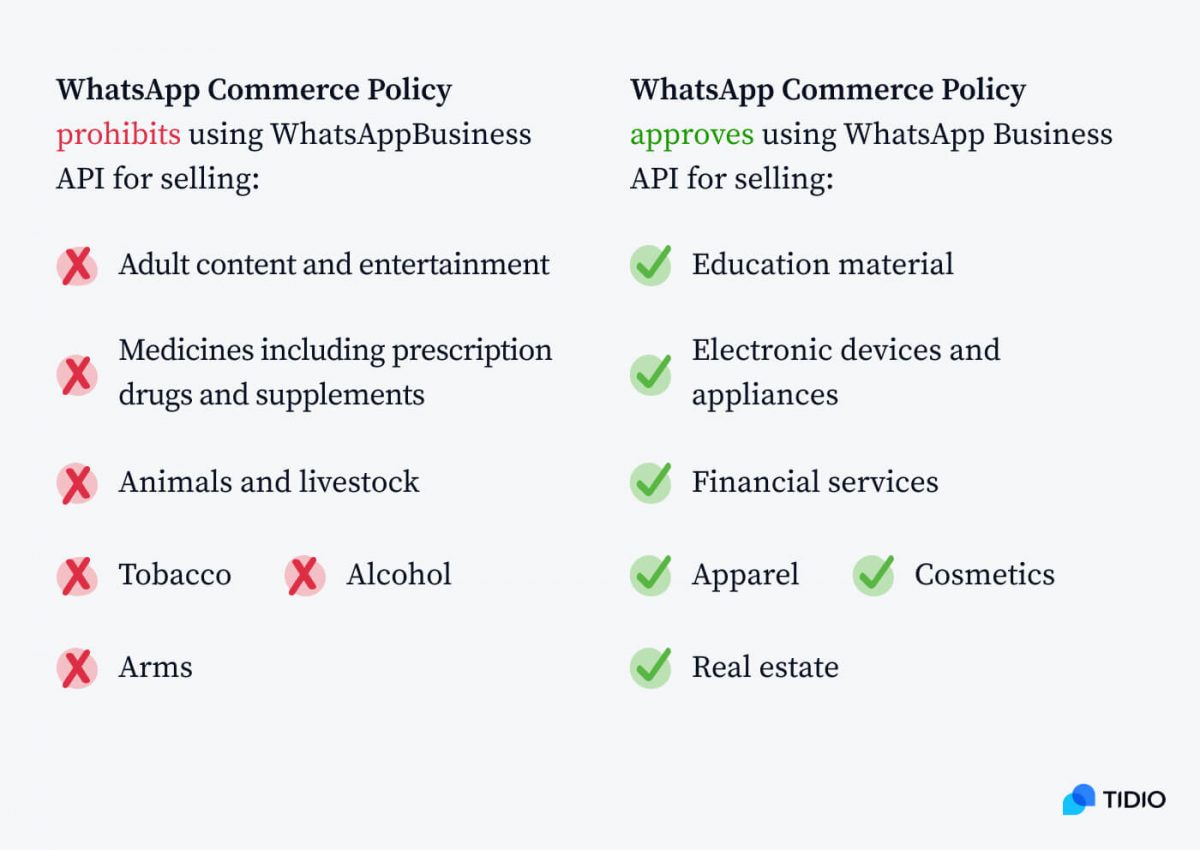 On top of that, WhatsApp Business Solutions have specific restrictions that can play a decisive role for some companies when it comes to using WhatsApp Business API in general:
Opt-in (GDPR): To message your customers, you need to receive opt-in permission that confirms they wish to receive communication from your business. Also, you are responsible for the method of receiving the opt-on (for example, by adding a pop-up window once they start a conversation).
Message types: you can only send transactional notifications or messages that comply with approved Message Templates.
24-hour message window: if a customer starts the conversation first, you can continue that conversation up to 24 hours after the last message.
Check the official WhatsApp Business Policy for more information and FAQs.
Step 2: Set Up an Account With Your WhatsApp Business Provider
Once you make sure you are eligible for using WhatsApp Business API, it's time to act. First, create your free account with an official WhatsApp Business Solution Provider of your choice: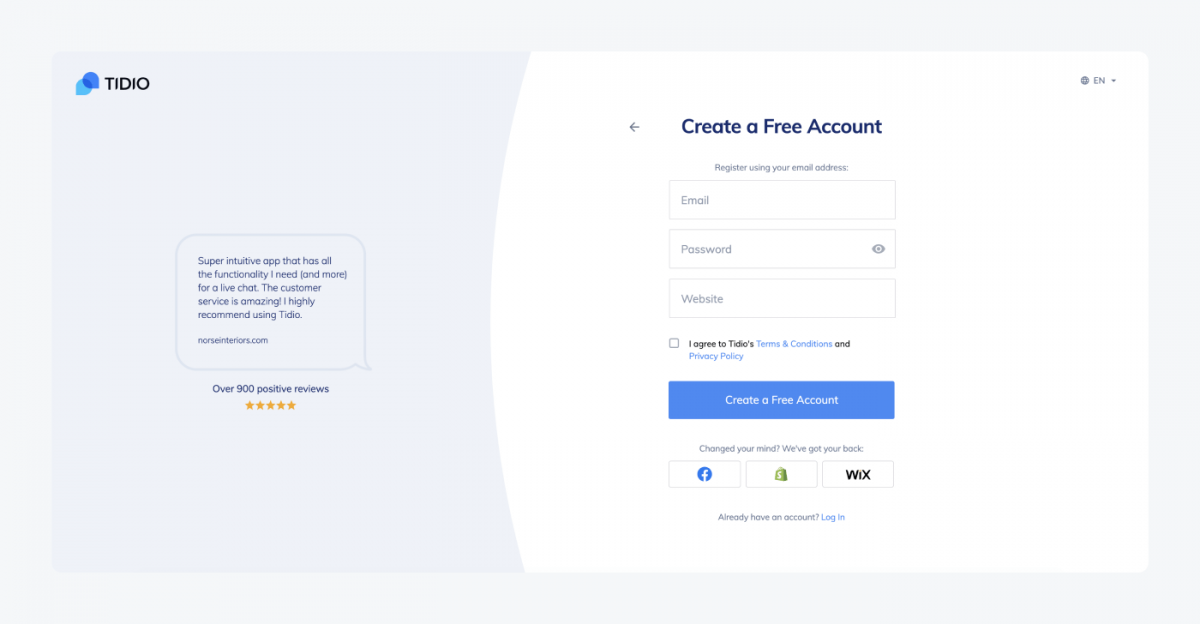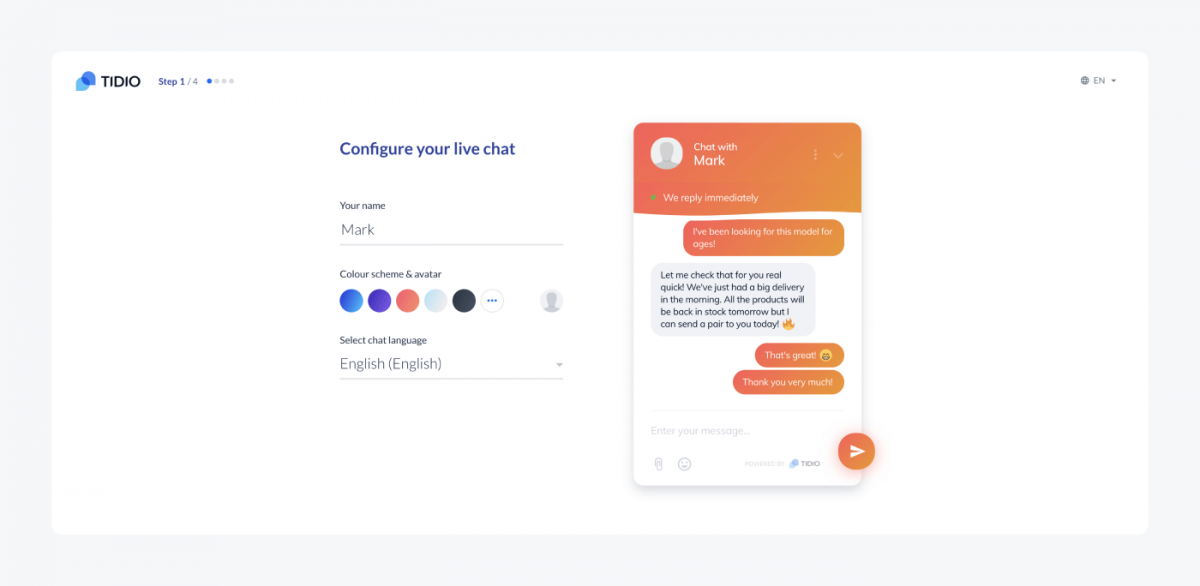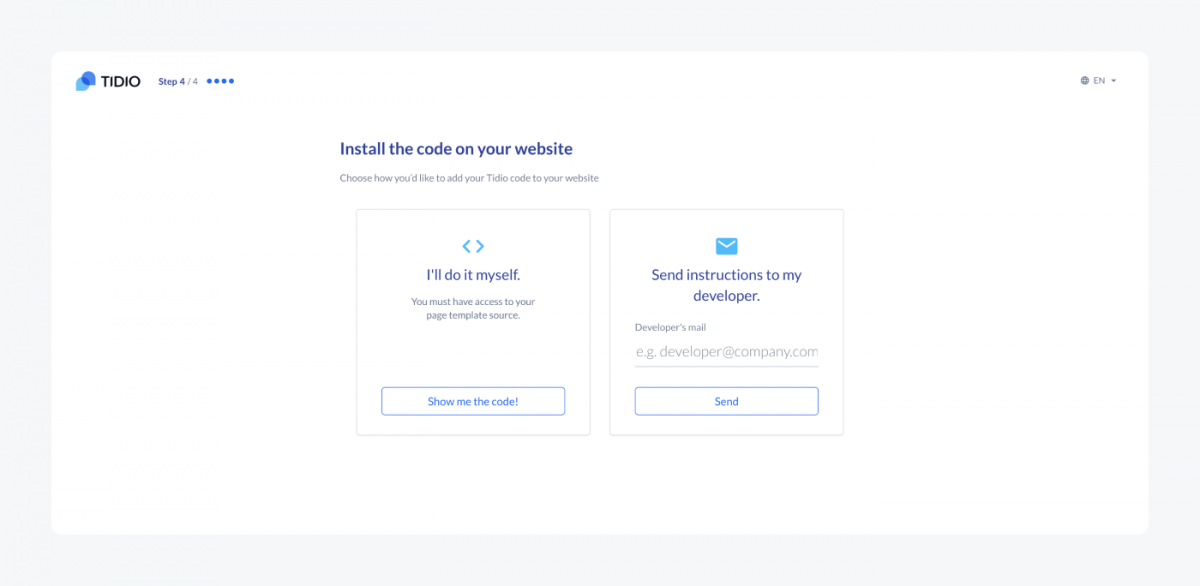 Step 3: Install WhatsApp Business Integration
After you set up your account, install WhatsApp Business integration with a unique business phone number: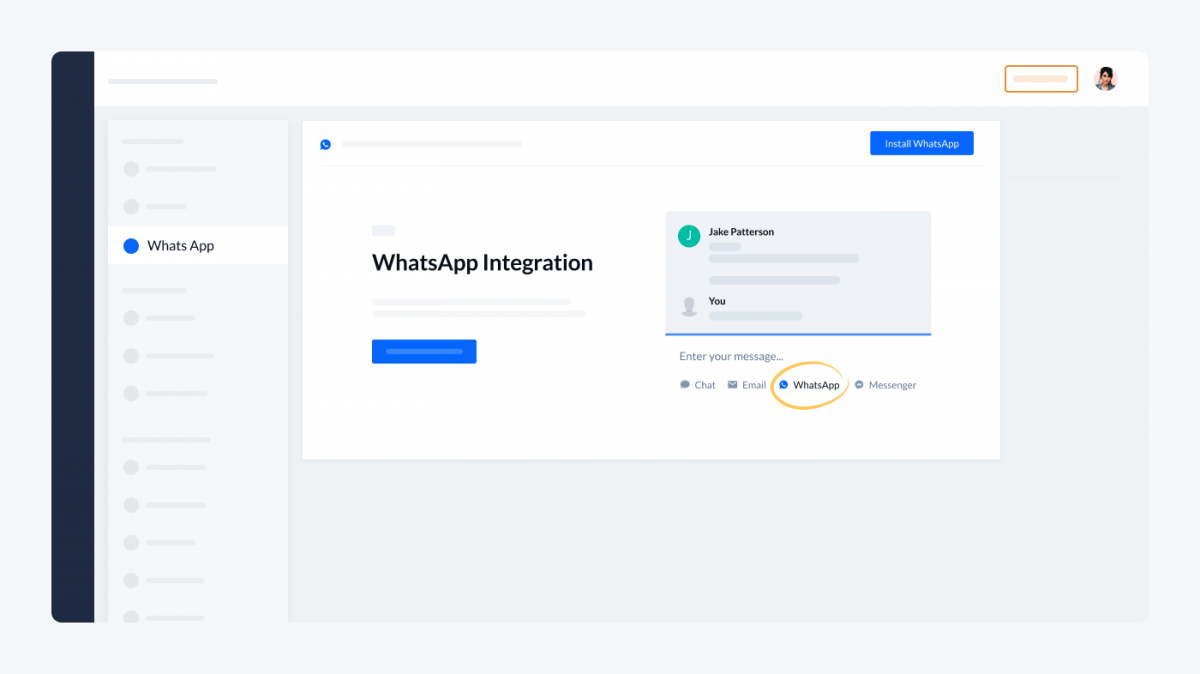 …or Migrate Your Data if You Already Have an Account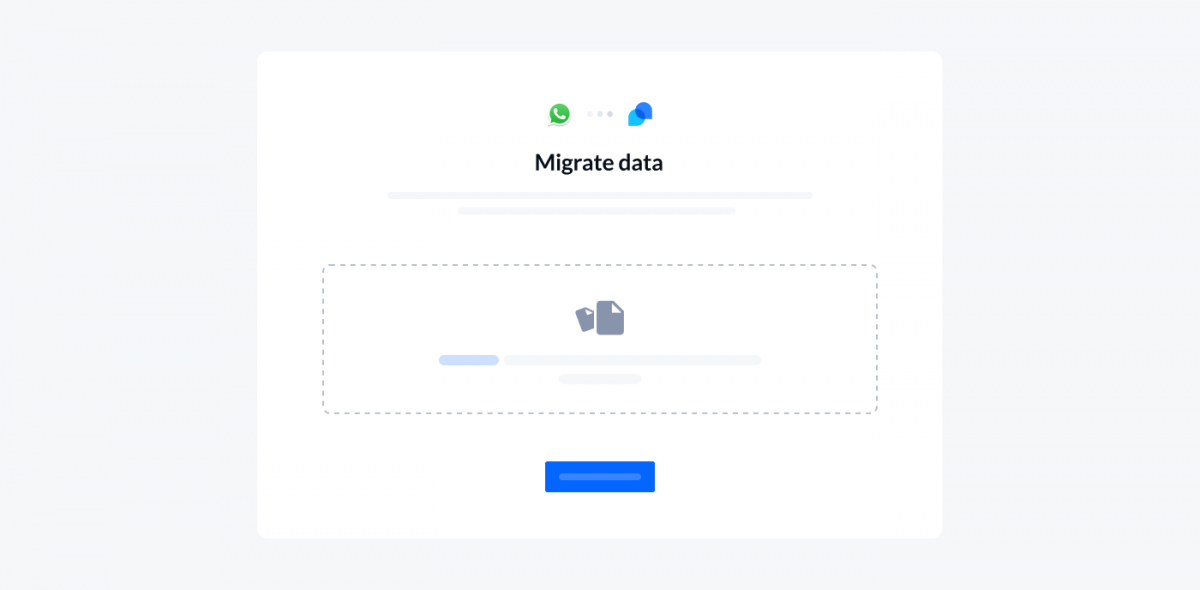 Step 4: Apply for an Official WhatsApp Business Account Status
There are two types of business accounts on WhatsApp:
Verified business account
Regular business account
The only difference between them is that the verified account has the green "verified" checkmark on the logo, but this little detail can make you look more trustworthy to your potential customers.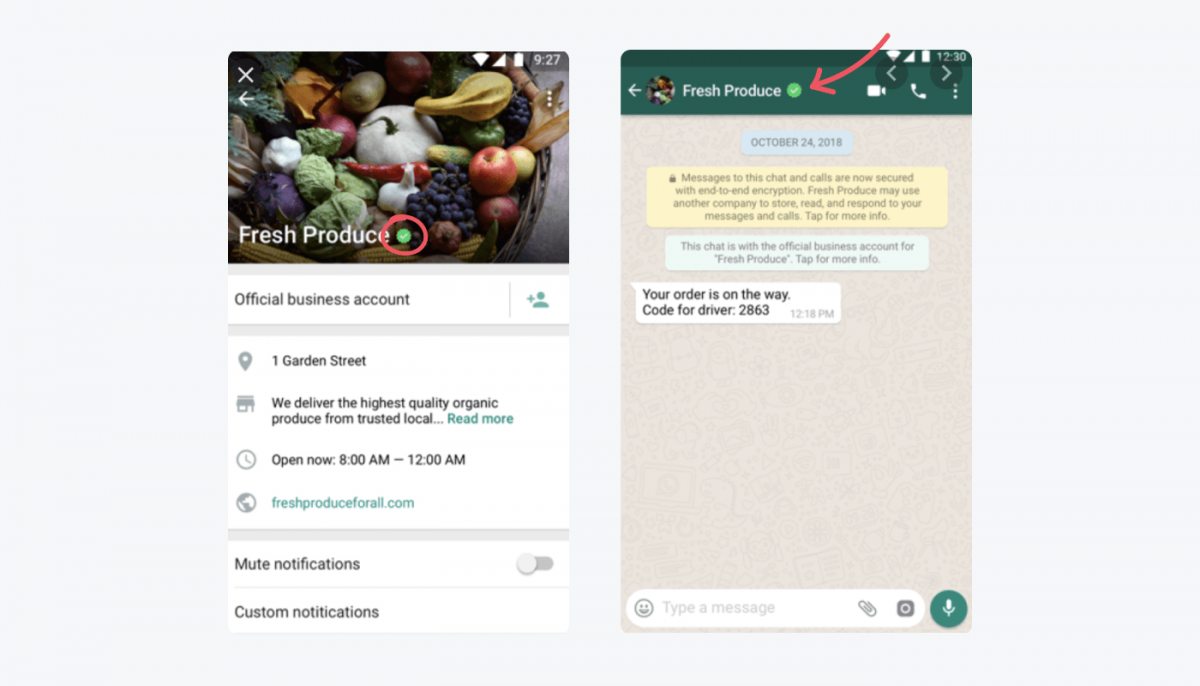 Good to know…
To have the status of a verified WhatsApp Business account you need to meet certain criteria:
You need to be a business, not an individual
You have to enable 2-Step account authentication
Your business should be verifiable on Facebook via Facebook Business Manager
Preferably, you must be a reputable brand
Preferably, you are in the 2nd Tier on messaging level
Step 5: Get Access to Your WhatsApp Business API Hub Through Your Business Provider
A Business Provider representative will obtain access to your WhatsApp Business API. This step can take anywhere from a few days to a week or two.
It's easy to verify whether you chose the best WhatsApp partner based on this step. If your provider is an experienced player in the field, they would want to start chatbot development in a sandbox environment immediately, even before obtaining access to your API hub.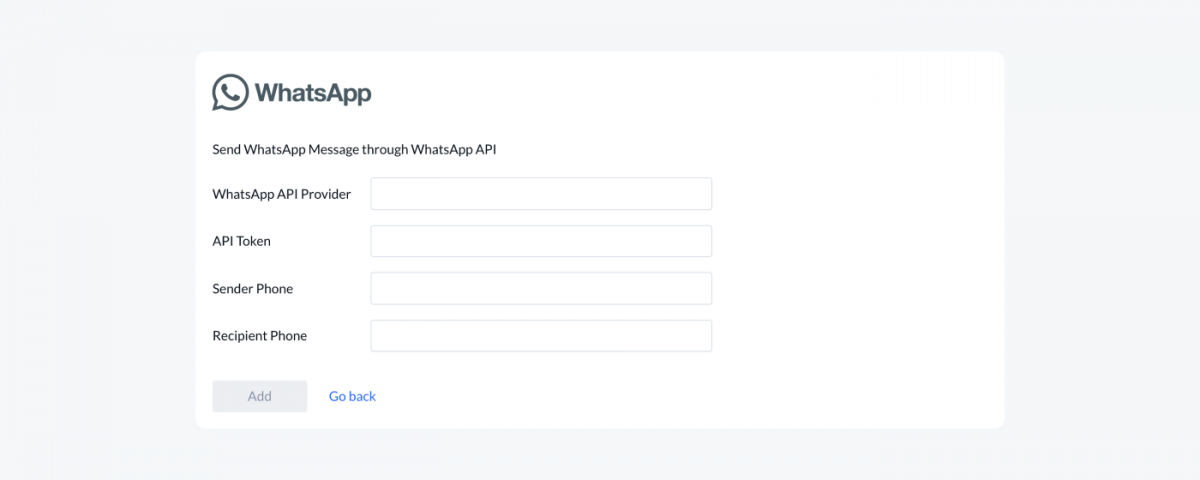 Step 6: Define Your WhatsApp Chatbot Goals
Now it's time to define the areas the chatbot will take over and determine what are the specific goals of its actions.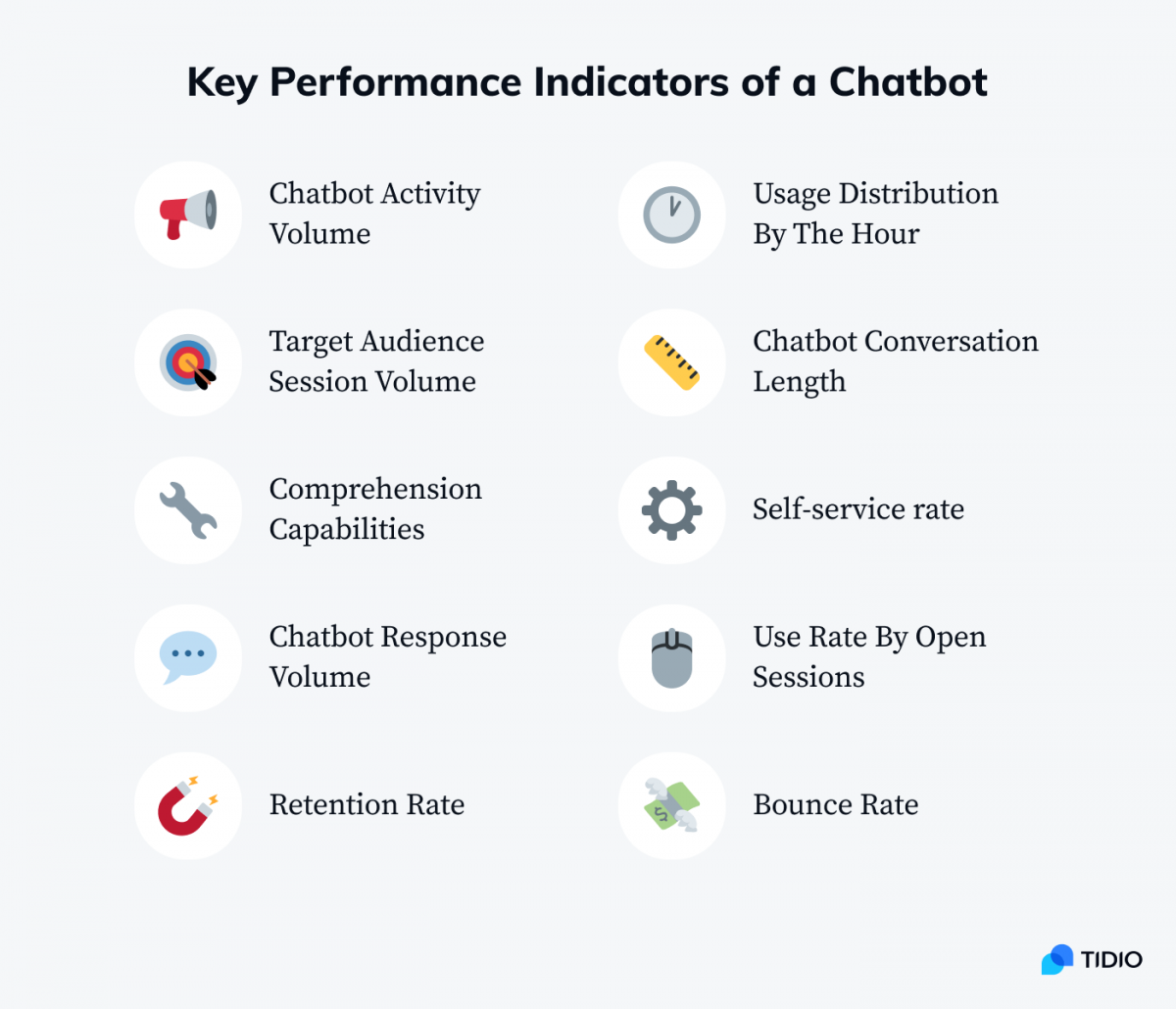 Step 7: Create Detailed Project Requirements
The next step is to create a detailed roadmap for the chatbot, answering a few key questions:
What languages will it speak?
Which persona will it communicate with?
What other integrations apart from WhatsApp will it serve?
Step 8: Design the WhatsApp Chatbot Flow
Game on! This is the most important process of creating a WhatsApp chatbot. In this step, you create a logic tree (usually with drag and drop functionality) and define triggers that will determine the chatbot's "behavior" towards your customers.

Apart from the most common scenarios like answering customers' questions about products or services, you'd need to predict more complex interactions like processing the refund or gathering specific data.
Step 9: Add Integrations and Secure the Process
Once you have your WhatsApp chatbot ready, it's time for final tweaks: making sure the opt-in is working, the data collected is private, and all other integrations are connected to the main panel.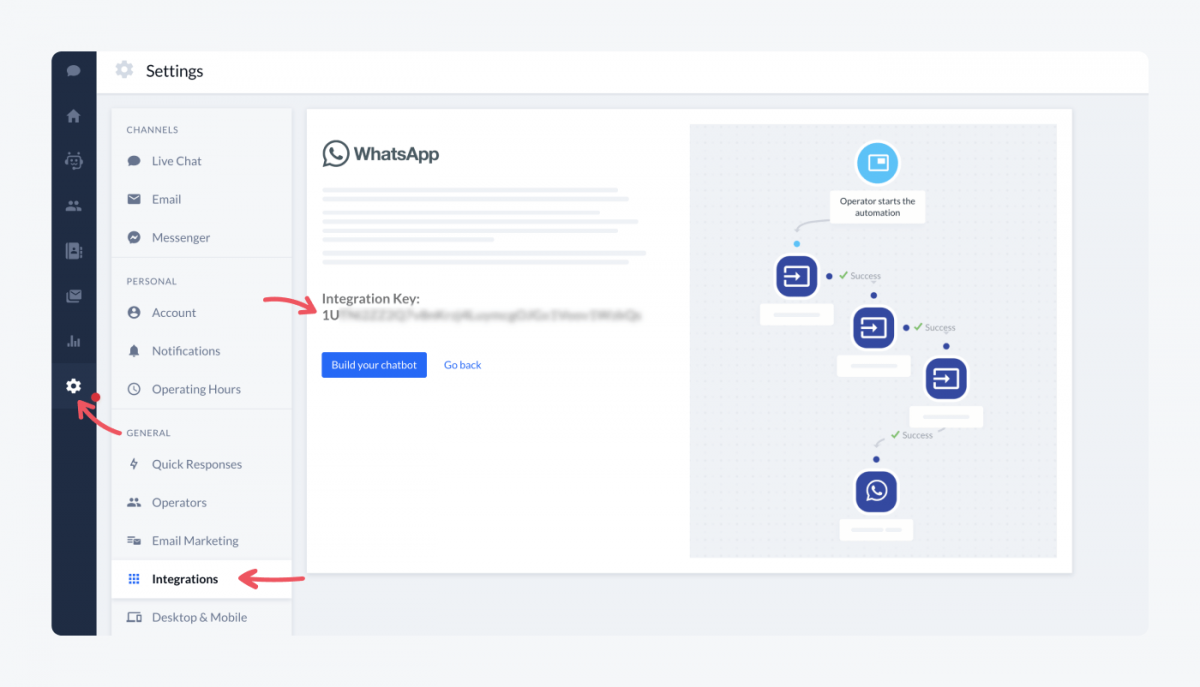 If that's the case, it's time for the last step…
Step 10: Launch Your WhatsApp Chatbot!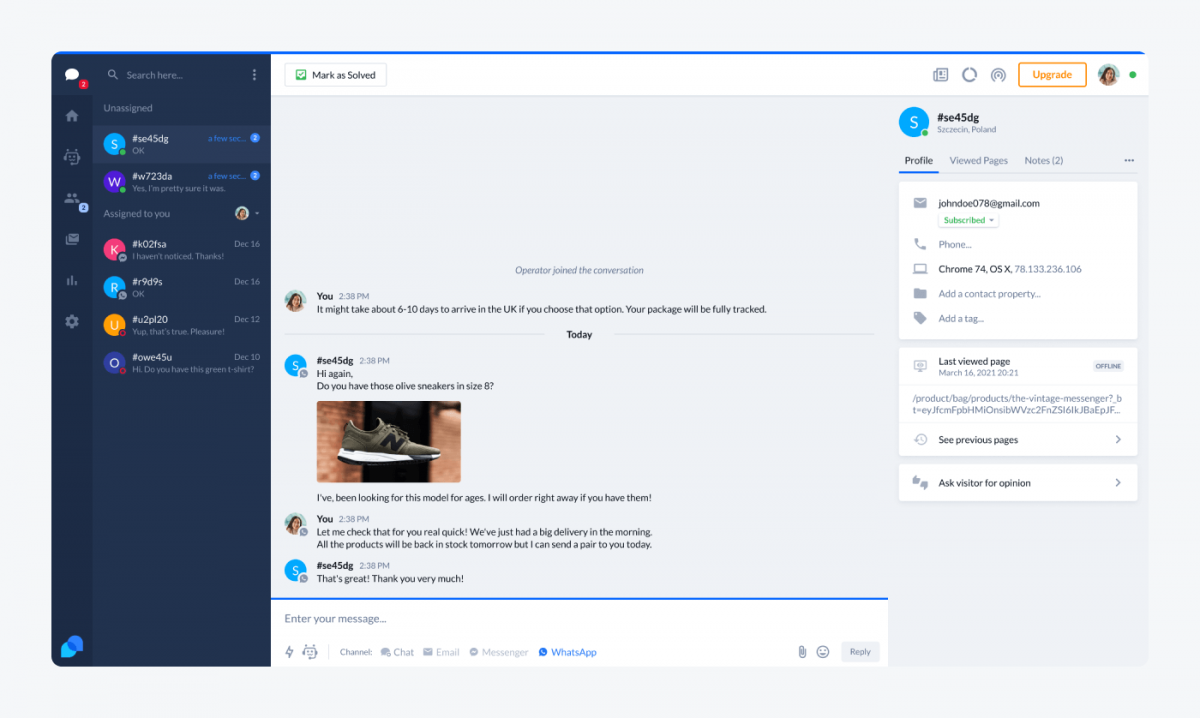 …and observe how your intelligent chatbot solves numerous inquiries and collects contacts for you!
Benefits of Using Tidio for Creating a WhatsApp Chatbot
Apart from the benefits that we mentioned earlier, like flexibility, and the ease of implementation, using Tidio's WhatsApp Business API to create your WhatsApp chatbot has unique advantages.
Automated Leads Collection
With Tidio, your WhatsApp chatbot can collect all information about the customers that reached out to you. All is GDPR-compliant thanks to the opt-in.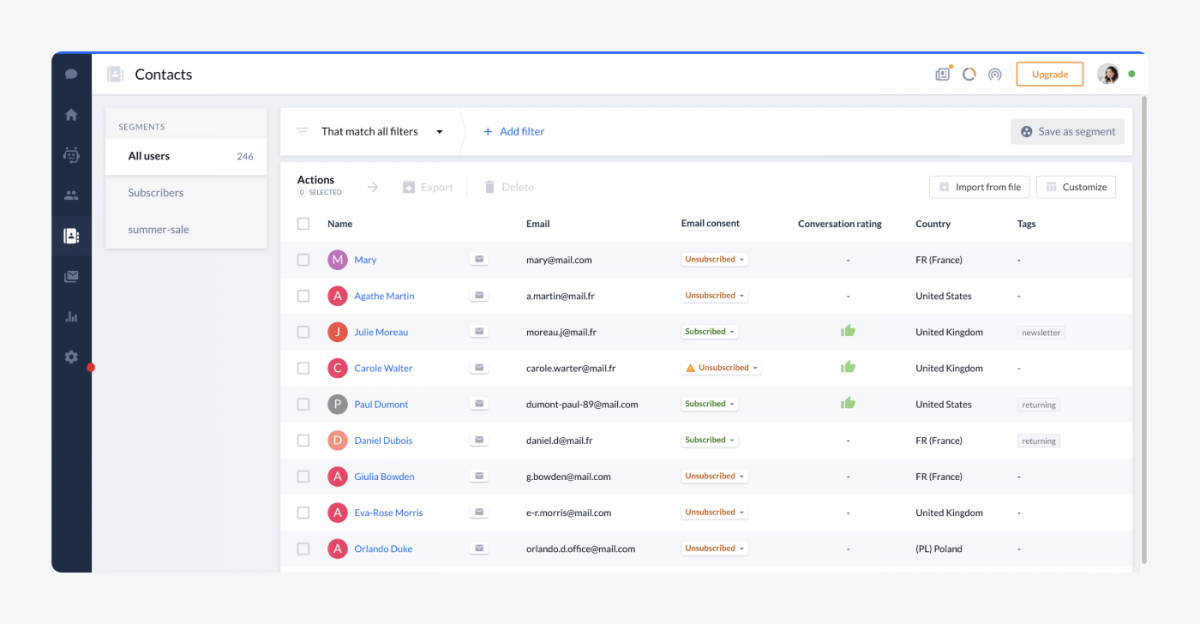 Centralized Customer Support Channels
As an Official WhatsApp Business Solutions Provider, Tidio offers to centralize all your main communication channels in a single hub, so you can easily switch between them and create multi-functional chatbots.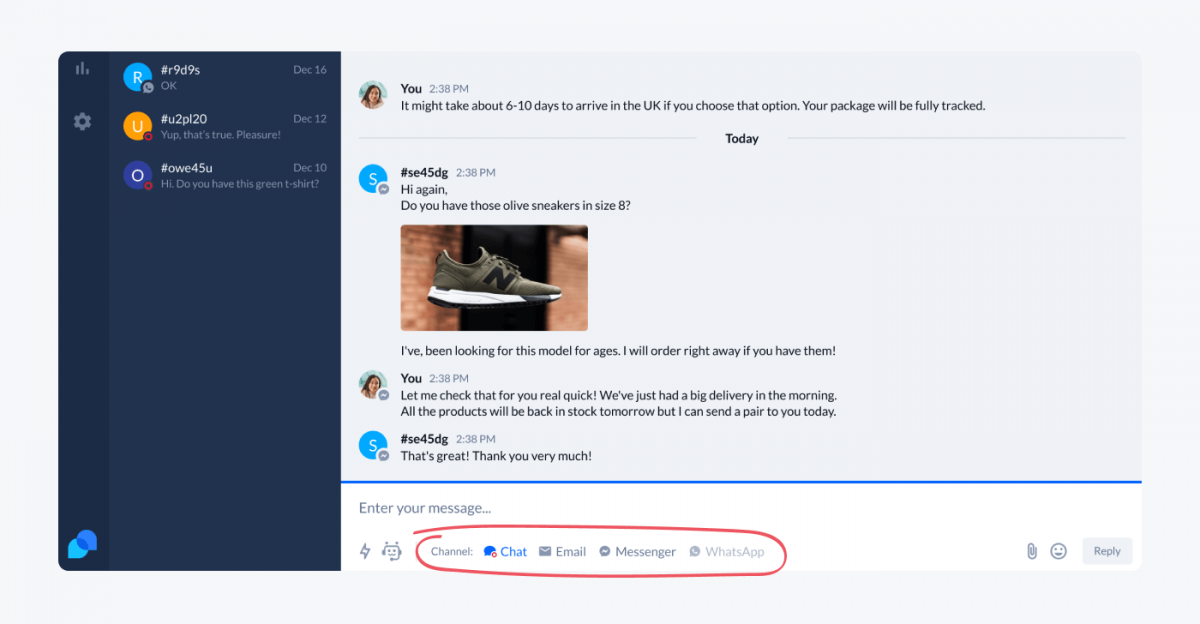 Customized Communication Flow
Tidio's WhatsApp chatbot can deliver all essential information to your customers, but you can also set a scenario in which it automatically reroutes the conversation to a human agent.

Create a WhatsApp Chatbot for Your Business in 2021: Summary
Let's quickly recap the most important info:
Because WhatsApp popularity keeps on growing, WhatsApp chatbots for businesses are becoming more popular too—especially when it comes to providing customer support
Customers appreciate the familiarity and the personal touch of WhatsApp; that's why installing a WhatsApp chatbot that ensures a smooth communication flow can improve customer experience
There are two approaches to WhatsApp business automation: through WhatsApp Business, which requires coding, or through WhatsApp Business API that enables you to integrate the chatbot into your WhatsApp platform
Creating a WhatsApp chatbot via fast integration consists of 10 steps and can be easy, as long as it's lead by an experienced WhatsApp Business Solutions Provider, like Tidio
Would you consider adding a WhatsApp chatbot to your website? Or maybe, you already have, but you are not satisfied with the results? Which approach to WhatsApp chatbot creation did you choose? Don't hesitate to reach out and talk to us about your experience.
We will let you know as soon as our latest WhatsApp chatbot integration is launched!