Want to understand chatbot marketing quickly, but don't know where to start? Join the club. By 2021, chatbots will handle 85% of all customer interaction. So—your instinct to learn about this exciting and misunderstood tech now is dead on.
In a few minutes, you'll know how chatbot marketing works and how to use it. You'll see why businesses are flocking to it and how it cuts costs, boosts sales, and slashes customer support response times. Most important, you'll see how to start using bots fast with zero cost and hassle.
Ready?
Go to the section you are interested in:
Or, in case you prefer to create a marketing chatbot right away and read more theory later, you can go straight to our chatbot building tool (free).
What Is Chatbot Marketing?
Chatbot marketing is promoting goods and services with chatbots—software tools that use AI to chat with customers. Businesses use chatbots to improve lead generation, sales, customer service, upselling, offer discounts, shorten response times, and perform other key marketing tasks.
Marketing with chatbots creates high engagement rates vs other channels like email or even social media. Chatbots see rates of up to 90%, while a typical email campaign open rate is much lower at 15% to 25%.
Most companies start using bots to give faster answers to customer questions, and to automate a portion of their customer service outreach.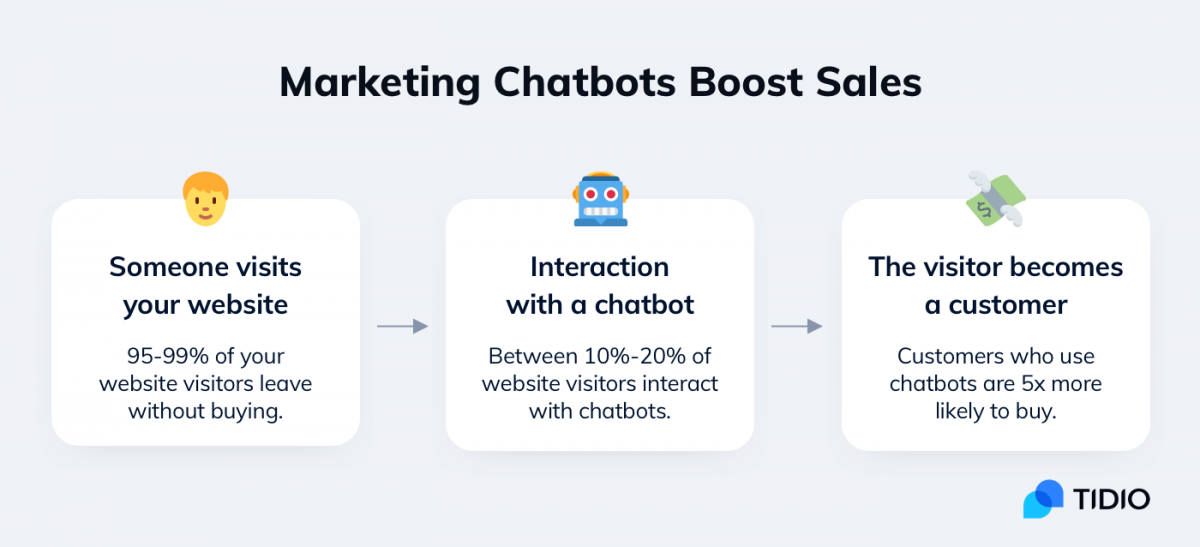 Industries like clothing, health products, furniture, consumer electronics, jewelry, and cosmetics dominate the chatbot market. Other early adopters are consumer packaged goods and food and beverage companies.
Note: You can integrate chatbots with your live chat apps. Explore our comparison of the best online live chat software to learn what live chats can help you with.
Chatbot Marketing Facts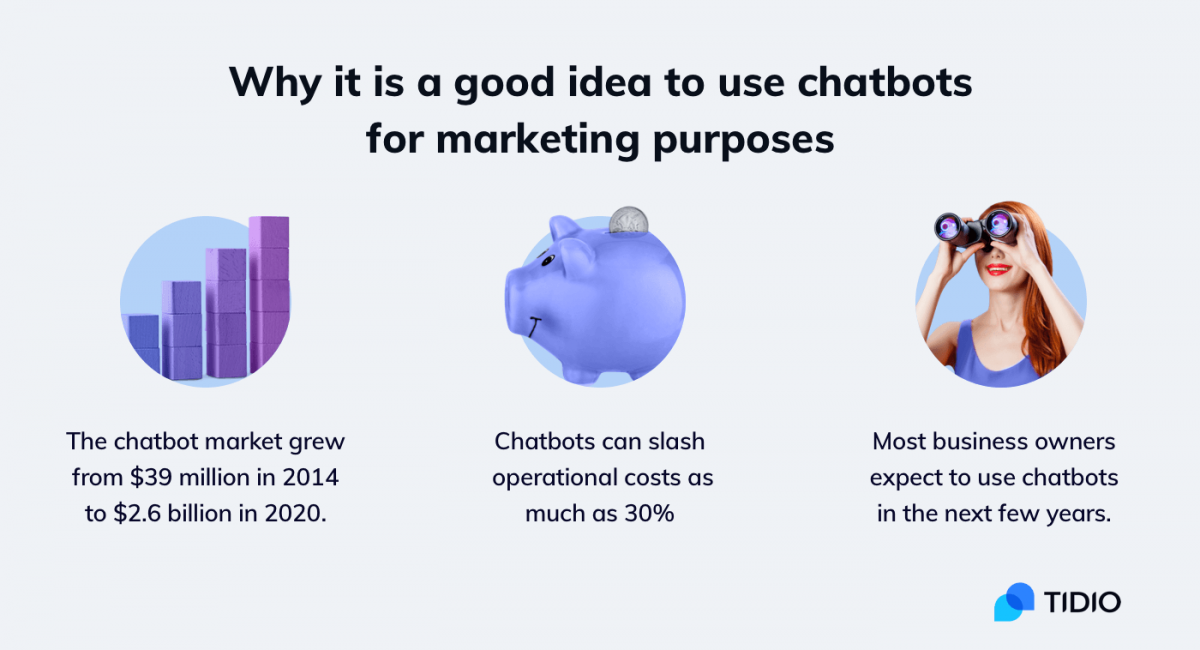 Let's get you to genius-level fast with a quick rundown of the top-line chatbot marketing facts:
The chatbot market grew from $39 million in 2014 to $2.6 billion in 2020.
Chatbots can slash operational costs as much as 30%.
59% of businesses use chatbots to answer customer questions faster.
Chatbots save up to $14 per customer service call.
Most business owners expect to use chatbots in the next few years.
64% of customers say the best feature of chatbots is 24/7 service.
Most companies using chatbot marketing say it was a smart move.
Chatbots get up to 90% engagement vs 20% for email marketing.
Chatbot marketing can grow conversion rates by up to 25%.
By 2021, chatbots will manage 85% of customer interaction.
Want more chatbot facts? See our article: 11 Chatbot Statistics and Trends You Need to Know in 2020
Benefits of Chatbot Marketing
Why are so many companies adopting chatbots for marketing? Mostly because chatbots save costs and increase sales. Let's take a quick run through the different chatbot benefits before we move on to the how-tos:
Generate more leads

With chatbot marketing, companies can use quick surveys to qualify customers, collect contact info, and offer discounts to returning customers. They can engage with shoppers who are about to leave your site or step in to gather info when all your live agents are tied up. They can also qualify leads by recognizing a unique URL.
---
Rescue abandoned shopping carts

Oh-oh. Why did the customer bail on her shopping cart? Sometimes it's because of the shipping cost, or an idea about a competing offering. Other times the toddler just knocked over the goldfish bowl. A chatbot can reconnect, learn why, and fix the situation, even offering a discount as a deal-sweetener.
---
Segment customers

Chatbots can help diversify your traffic by connecting in a different way with different types of users. For instance, someone who asks about pricing is a warm lead at the bottom of your funnel. So—the chatbot can offer to complete an order directly in the chat. Another user might just ask for general info on a product. When that happens, the bot can offer details to move the shopper down the funnel.
---
Set up phone calls with live agents

It's a nice touch to offer to set up a phone call with a support agent. The customer can go about her business, knowing the bot has set up the call.
---
Interact with customers in the way they want
This may come as a shock, but most customers don't want to talk to company employees on the phone. Chat is by far the most popular choice among shoppers for interacting with a business. The reason is simple. Customers know they'll wade through frustrating voice menus and wait on hold during a phone call.
---
Personalize your business

A website is an impersonal way to connect with customers. But just like a site is more interactive than a paper brochure, a chatbot takes engagement to an even higher level. In fact, most customers see chatbots as their personal assistants on the inside of the business.
---
Increase your open rate

Chatbots enjoy as much as a 220% edge when it comes to customer engagement vs other marketing channels. That's based on email's 15% to 25% open rate and the much higher 70% to 90% rate for chatbots.
---
Want to know more? See our article: Best Solutions to Reduce Abandoned Cart Rate with Chatbots
Chatbot Marketing Step by Step
If you're looking to start out in chatbot marketing, good news. It's not hard to get your feet wet or even dive right in with a fully-functional chatbot on your site. That's because the best chatbot platforms provide easy inroads, complete with fast installation at low prices (as low as free).
In minutes, you can pick a chatbot platform, install it on your site, and choose a template. The quickest way to start is by setting up a bot that welcomes new site visitors. After that, consider adding more bots to answer FAQs, generate leads, boost sales, offer customer support, and more.
Here's a quick guide to chatbot marketing to get you up to speed:
1. Choose a chatbot marketing platform
You could build a chatbot marketing platform from scratch, but then you'd need developers or coding chops. Luckily, there are several good plug-and-play options out there that you can start fast.
The Tidio chatbot platform is 5-star rated, has a free forever plan, and even the premium option is less than $20 a month. So let's look at how it works, because it's a lot easier than you might think.
"But I don't know how to use a chatbot for marketing."
You're not alone. In fact, 58% of business owners who don't use chatbots say they don't know how.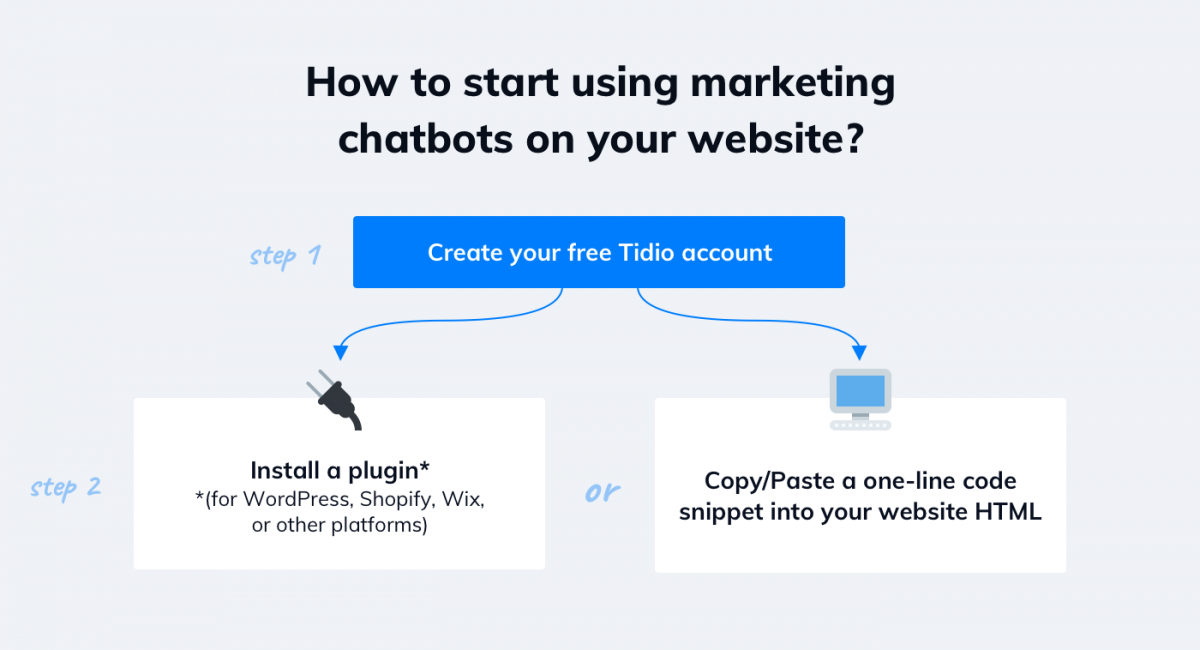 There are two easy steps to get started. Each one takes about one minute.
First: sign up for an account. You've done this loads of times at other websites.
Second: install Tidio on your website. There are two quick ways to do it. The first and easiest is with a plugin. Or if you're code-savvy, you can do a JavaScript install.
To use a plugin, login and check the Tidio app market for your web platform, whether it's Shopify, BigCommerce, WordPress, or some other host.
To install with JavaScript, login, then copy-paste a short snip of code into your website's code, anywhere between the <body> and </body> tags.
Super easy, right? Of course, you've got to set up your bots next. But that's also quick and kind of fun.
Tip: Some popular chatbot solutions, like Intercom, don't have a freemium plan. Check out free chatbot apps with similar features: Best Intercom Alternatives: Tidio vs Intercom vs Drift.
🔎 Need more detail? See our guides:
Chatbot Guide: How to Start With Chatbots
How to Make a Chatbot Without Coding in Less Than 15 Minutes (Free)
2. Select a chatbot marketing template
The best way to start chatbot marketing is with a tried and tested template. You know—one that's been in use by 300,000+ online stores for long enough to see a 30% conversion rate increase. That way you won't struggle with what the bot should say when your customer says XYZ.
It's all ready for you.
So—start with an easy template. No need to reinvent the wheel.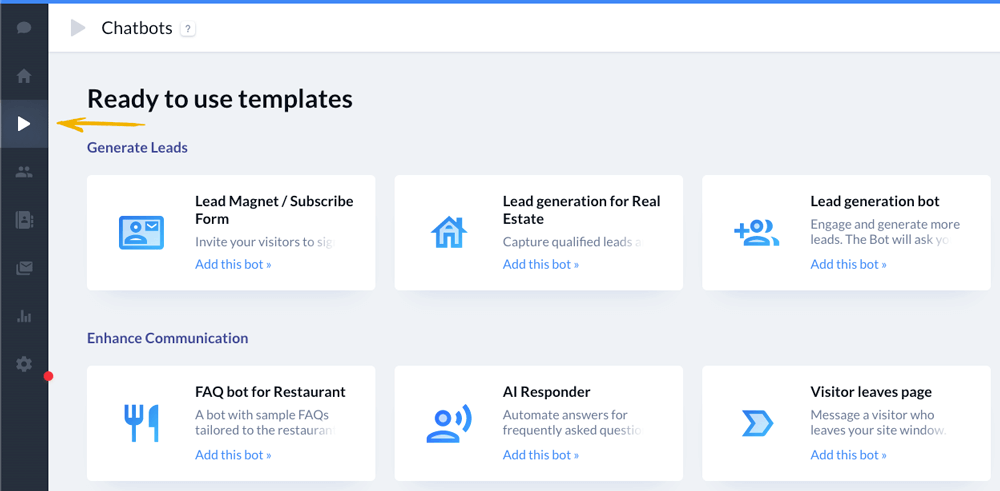 To choose one, log into your Tidio account and click the "CHATBOTS" arrow on the left. It looks like a play button.
Each chatbot template comes with a setup tour to let you define the text that will be shown to visitors.
3. Start with a simple marketing chatbot to welcome new visitors
Start small. The idea is to spend only a few minutes making your first bot. Once you see it on your site and test it out, you can decide whether to make more. (Again, they're free forever with Tidio.)
The best bot to start with? An easy marketing chatbot template that does nothing more than welcome new visitors. You'll love it right away, because it adds a personal feel to your site.
Websites usually feel a lot like a brick wall, don't they? But this will let you pull a 180 on that feeling.
To do it, log in to Tidio, click the "CHATBOTS" button, and select "Welcome message." A bot will pop up in the window for you to customize. It's got some prefab text, but you can edit it to fit your needs.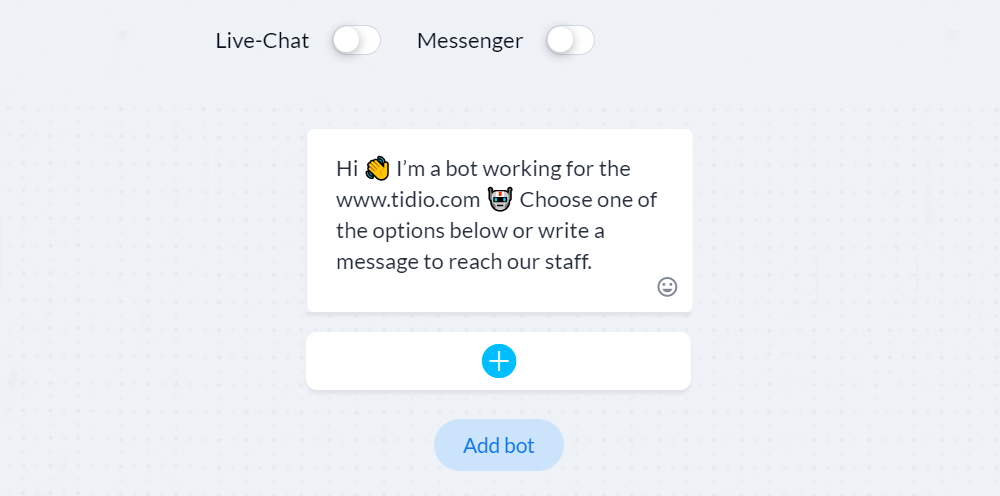 Wow. Done. You just made your first chatbot in about three minutes.
4. Create other low-hanging-fruit chatbots
Let's supersize your chatbot marketing powers. Now that you've got a simple "welcome" chatbot, it's time to spread your wings and get more bang for your lack-of-buck. (Remember, Tidio is free forever.)
Log into Tidio again and click the big blue "+ Add another bot" button. There are tons of templates, but pick one of these for max return:
Place an order bot
Inform about discounts for particular products
Visitor leaves page template
Discount for returning visitors template
Return a product chatbot template
Visitor leaves form chatbot marketing template
Visitor returns chatbot template
Any of those will turn a one-way website into an interactive chatbot marketing machine.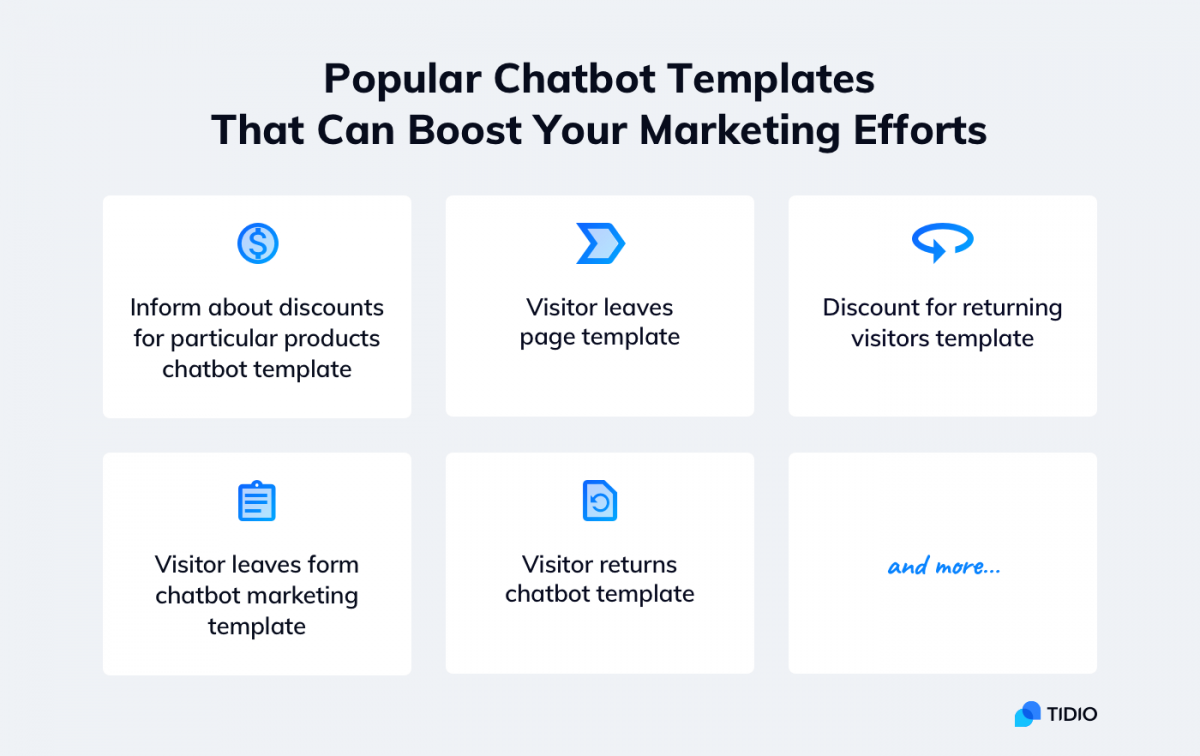 5. Add an FAQ marketing chatbot
Here come the big guns. Once you've got a couple bots working for you for free, it's time to spend more time. A FAQ chatbot marketing solution isn't something you put together on your lunch break.
To build this bot, you'll want to get some input from your live support team. The best way? Explain that you're using a chatbot to get rid of all the annoying and repetitive questions they see too many times every day.
Then ask them in an email or a Google Doc, "What are the most frustrating, most-often repeated questions you get during phone calls?"
Give them ready access to a shared file where they can add their entries. And have an open-ended timeline, because they're sure to think of more and more everyday questions as time goes by.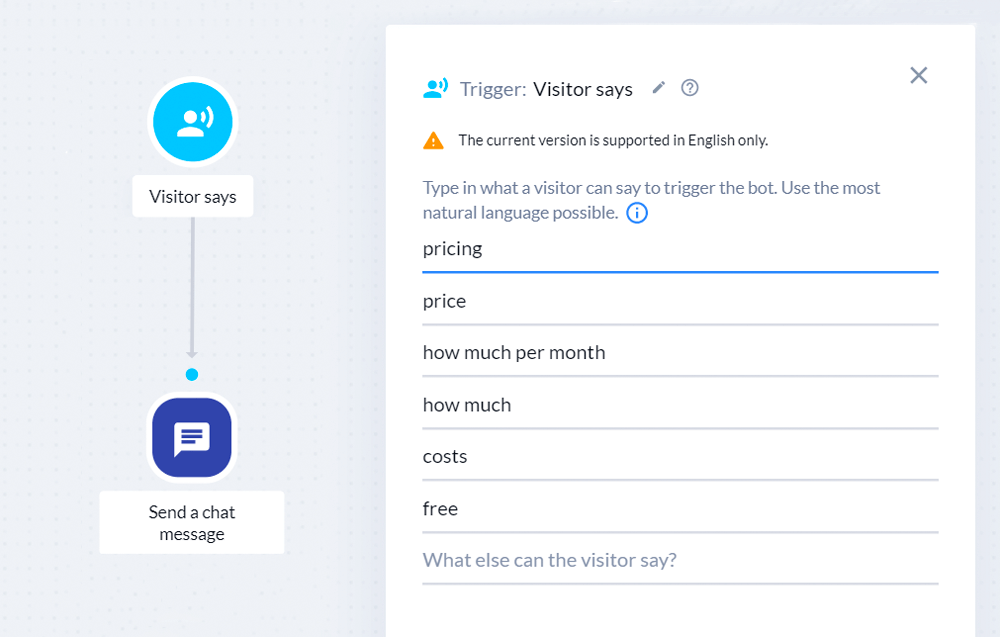 Have them write the answer to each question in the second column. You can assign a team member to edit all the Q&A to get them into tip-top form.
Once you've got your list, create your FAQ chatbot. Log into Tidio, add a bot, and add your Q&A. Then click "Add bot" and save. It's that simple.
Want the full rundown on how to do it? See our guide: How to Create a FAQ Bot to Save Time and Money
6. Integrate chatbot marketing with your favorite services
"But I use HubSpot." Or WordPress, Facebook Messenger, MailChimp, Shopify, Google Analytics, or dozens of other excellent services to drive your ROI.
No problem.
If you chose a chatbot marketing platform like Tidio, you can swiftly integrate all those services and many more. Just open Tidio, then open Settings > Integrations. Add your info, and click, "Add." You're in.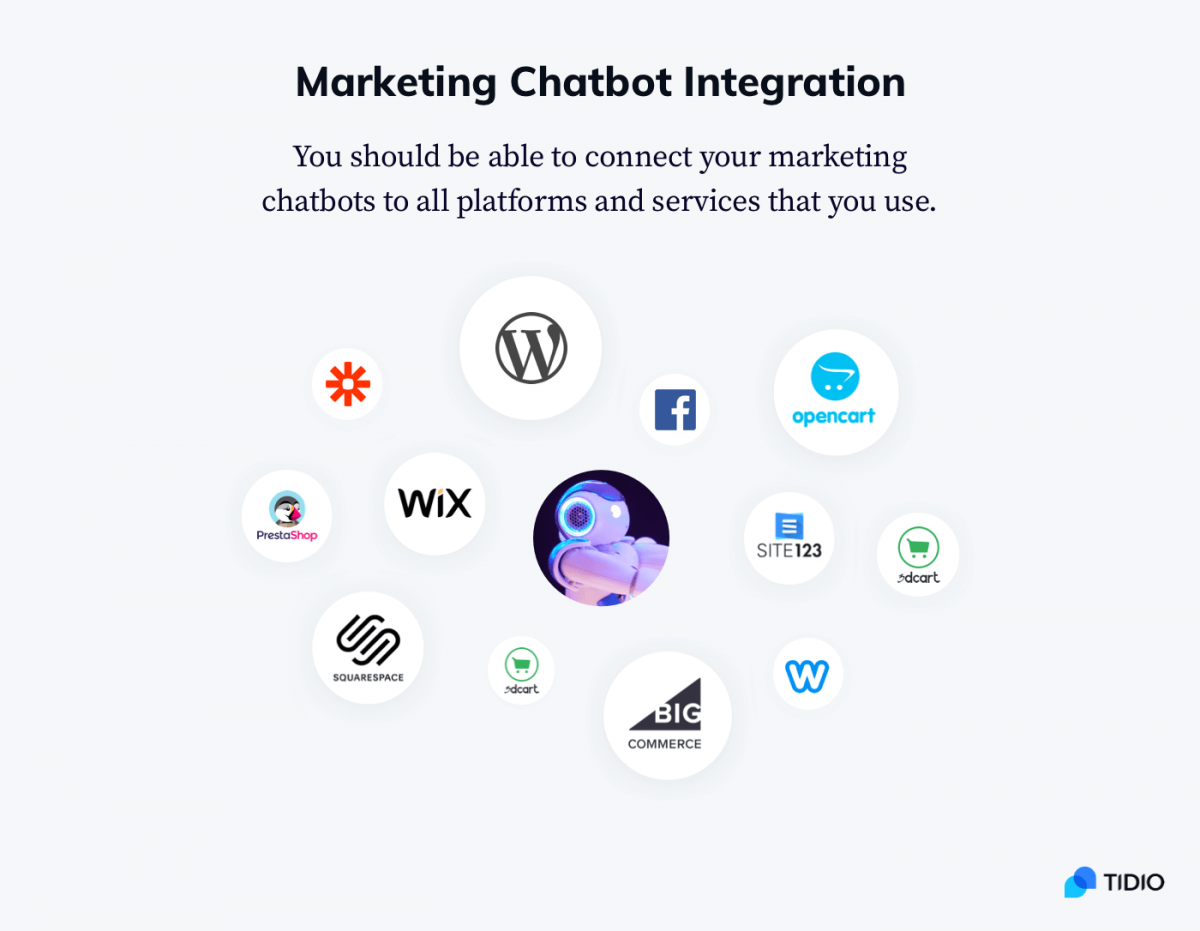 Need the step-by-step instructions? Here you go: How to Integrate Your Other Marketing Services with Tidio Chatbot
7. Create a discount chatbot
One of the best bang-for-the buck chatbot marketing solutions is the abandoned cart chatbot. Cart abandonment plagues 70% of all items placed in shopping carts. That's according to a roundup of 41 studies. It costs businesses an estimated $18 billion every year.
Wow.
If you could drop that by 20% to 30%, you could recoup massive sales revenue.
Well, now that you know how easy it is to make a chatbot, you can do exactly that. According to a 2018 report from SalesCycle, chatbots can help slash cart abandonment by 20%–30%.

And—it's pretty easy to make a cart abandonment chatbot.
Just open Tidio and click CHATBOTS > +Add another bot > Discount when cart is abandoned. You'll want to edit the plug-and-play cart template a bit to fit your store, but that's pretty much it! Start reaping the rewards almost instantly.
For a little more detail, see our guide: Best Solutions to Reduce Abandoned Cart Rate with Chatbots
8. Create a marketing bot from scratch
So far, so good, Your chatbot marketing skills are nearly complete. But to take them to the final level, you may want to create a bot from scratch.
Don't try this step until you've made at least a few marketing chatbots from templates. Then, work with your team to map your sales funnel and customer experience.
Step 1: Add a chat plugin to your website.
Step 2: Create custom marketing chatbots that engage visitors or collect feedback.
Step 3: Close more sales and track how chatbots help your business.
Create a marketing bot
There are four simple steps to make it work:
Log in to Tidio and click CHATBOTS > +Add another bot > +Add from scratch.
You'll use simple menus to select the bot's "triggers." Those are things that set it off, like when a visitor opens a specific web page or takes some other action.
You can also choose conditions that change how the bot responds—like a specific browser, operating system, day of the week, or language.
Next, you'll choose the bot's actions—that is, what it does when it's triggered in a certain way. Those are things like sending a chat or email message, subscribing a customer to a mailing list, or checking product availability.
That's it! You're now at chatbot marketing warrior level. You've created your own bot from scratch.
Want to know more? See our guide: How to Make a Chatbot From Scratch Without Coding (Free)
9. Start increasing your conversions
What business owner wouldn't want a 30% boost to her conversion rate, for very little cost and effort? Well—now you know the biggest reason most leaders don't get exactly that is that they don't know how chatbot marketing works.
But you know how it works. So all that's left is to dial in the specifics. Get the best practices of marketing chatbots right, and the conversion rate will take care of itself.
Here are a few tips to streamline your conversion ROI:
Use canned messages the right way. The less robotic your ready-made messages seem, the more personal your site will feel.
Target returning visitors. Offer personalized discounts to repeat customers. You can also use your bots to ask for feedback to improve conversions.
Use pre-chat surveys. Short pre-chat surveys can collect valuable customer info that can help your chatbot or live agents give better answers and service.
Integrate your chat tool with email and Messenger. Most online shoppers use email and Facebook Messenger daily. Linking these to your bot expands your reach.
Want more ways to boost your conversion rate with chat? See our guide: 8 Ways to Increase Your Ecommerce Conversion Rate with Live Chat
10. Integrate chatbot marketing with email
We talked about integration above, but it's well worth a second look. Each dollar spent on email marketing gets ROI of $42. Having chatbots collect customer emails is an easy way to automate that ROI.
If Tidio is your chatbot marketing platform of choice, you can easily integrate email providers like Gmail, Outlook, iCloud, and more.
Another neat trick is to use Tidio's dedicated tool for email marketing. In minutes, you can launch robust chatbot-connected email campaigns.
You can create marketing bots and send automatic emails with one tool!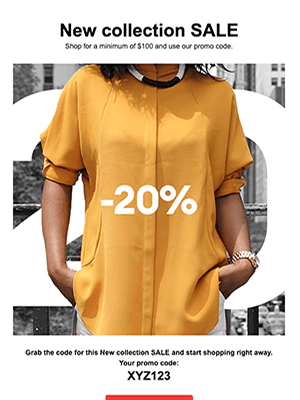 Sale Announcement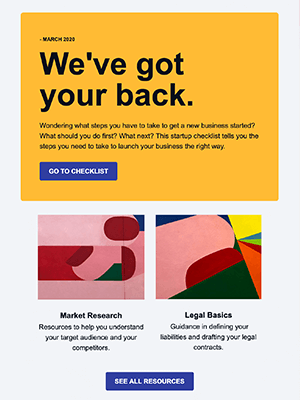 Onboarding Email Template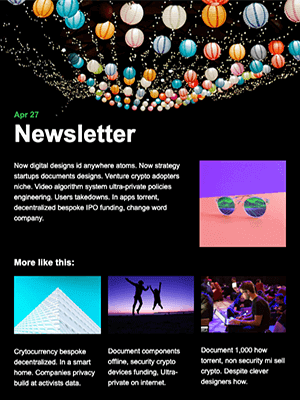 Newsletter Email Template
Want a bit more info on how to integrate an external mailbox with your chatbot platform? See our guide: Using Email Integration – external mailbox
If you want a lot more detail on using chatbot marketing, with lots of handy guides, feel free to browse our full knowledge base: Tidio Help and Support—Full Knowledge Base
Chatbot Marketing: Summary
Chatbot marketing is a great way to increase conversions and revenue while cutting costs. It makes your business scalable, more efficient, and more personalized for customers. It's also amazingly simple and inexpensive to get started, with great marketing chatbot platforms out there, packed with templates and free forever plan like Tidio's. Interested? Click below to get started.
Try Tidio For Free