Chatbot marketing is a technique utilized by businesses to promote products and services with the use of chatbots. These computer software programs can interact with users by applying pre-set scenarios or implementing AI. Companies can employ marketing chatbots on their website, Facebook Messenger, and other messaging platforms, like WhatsApp and Telegram.
But how to make the most of it? And how to even get started?
Stick around and let's go through some tips, examples, and benefits of chatbots for marketing.
In this article:
Check out these to discover more types of marketing:
First off—Let's answer the question "what is a marketing chatbot compared to an ordinary bot?"
The most important differentiator is that a marketing chatbot performs specific marketing tasks. Also, its effectiveness is measured based on the bot's ability to get customers signed for a newsletter or encourage a purchase from your company's ecommerce store.
So, let's explore how chatbot marketing can help your business, shall we?
Chatbot marketing: benefits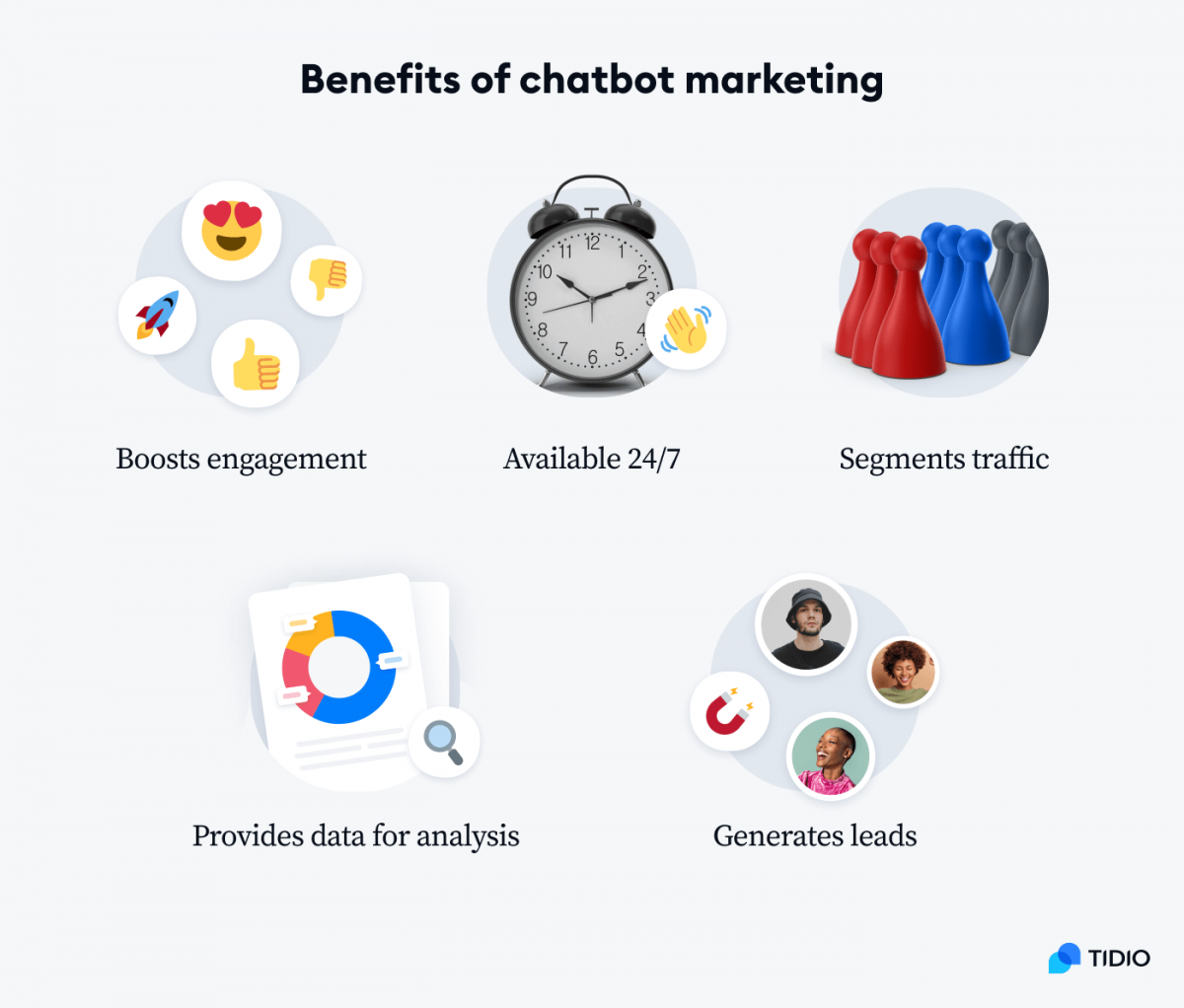 Some of the main chatbot marketing benefits are:
Boosting engagement & sales
Chatbots can increase customer engagement on your website and boost sales using conversational marketing. You can also set your marketing chatbots to collect orders and move the client down the funnel towards the sale. This is especially useful as Juniper's research projects that chatbot-based spending will increase from $7.3 billion in 2019 to $112 billion by 2023.
Chatbots for marketing can help you segment traffic and advertise your products to the right audience. This is important as research shows that around 77% of a company's return on investment (ROI) comes from segmented and targeted communication.
So, for example, if a person shows interest in your pricing or one of the products from your collection, the chatbot identifies them as a warm lead. Based on that segmentation of users, the chatbots can engage them at the right time.
Even if a potential client is browsing your website at 3 am, a marketing chatbot is there to provide recommendations and help with the orders. This could improve the shopping experience and land you some extra sales, especially since about 51% of your clients expect you to be available 24/7.
Providing data for analysis
During the conversation, your marketing chatbots can collect visitors' names, contact details, and interests. Other data that you can collect for analysis is about the bot's performance and efficiency. After analyzing the data, you can put additional information into your knowledge base, and make your bot more effective. You can even put a customer satisfaction survey at the end of the chat to get insights about the visitor's opinion of your brand.
Research shows that companies who answer within an hour of receiving a query are seven times more likely to qualify the lead. So, make sure your business responds to customers' questions as quickly as possible. Chatbots for marketing can do that at any time of the day, as well as provide suggestions and offers to increase the chances of a sale.
These were some of the main benefits of implementing a chatbot marketing strategy. Now—Let's find out what can you use marketing chatbots for.
Find out more about the advantages of chatbots for your business.
How do you use chatbot marketing?
What can chatbot marketing help you with? Let's have a look.
It can be a lifesaver for ecommerce businesses. When the lead is hot, a chatbot can send a notification to encourage the client to place an order or recommend some items they might be interested in.
With chatbots, you can make it quick and easy for the clients to book their next appointment with you. You can do this by connecting your calendar to the chatbot which will then ask potential customers about the date, time, and contact information to schedule a booking, while you're busy with other tasks. This can be especially helpful for services-based companies, like a beauty salon or a fitness training facility.
Promoting your services and products should be a part of your ongoing marketing campaign. Marketing bots can help with this time-consuming task by recommending products and showing your offer to push the client to the checkout.
You can also share news and updates of your company to keep your customer base informed about your latest products and services.
Since you know the basics, let's check out some of the best chatbot marketing examples on the market.
Chatbot marketing: examples
Many companies use machine learning chatbots for marketing purposes. Some have AI chatbots to aid their sales team in improving the customer journey, collecting qualified leads, and encouraging sales. Others use this computer program as part of a support team to provide help in real-time.
Let's look at some examples.
The first successful use case for chatbot Messenger marketing is Lego's Christmas newsletter campaign. They used marketing chatbots to help parents decide on a perfect Lego set for their children. The bot asked the potential customers about their kids' age and interest, then showed a selection of products. On top of that, the chatbots provided links to certified stores where the warm lead could go to pick up the products.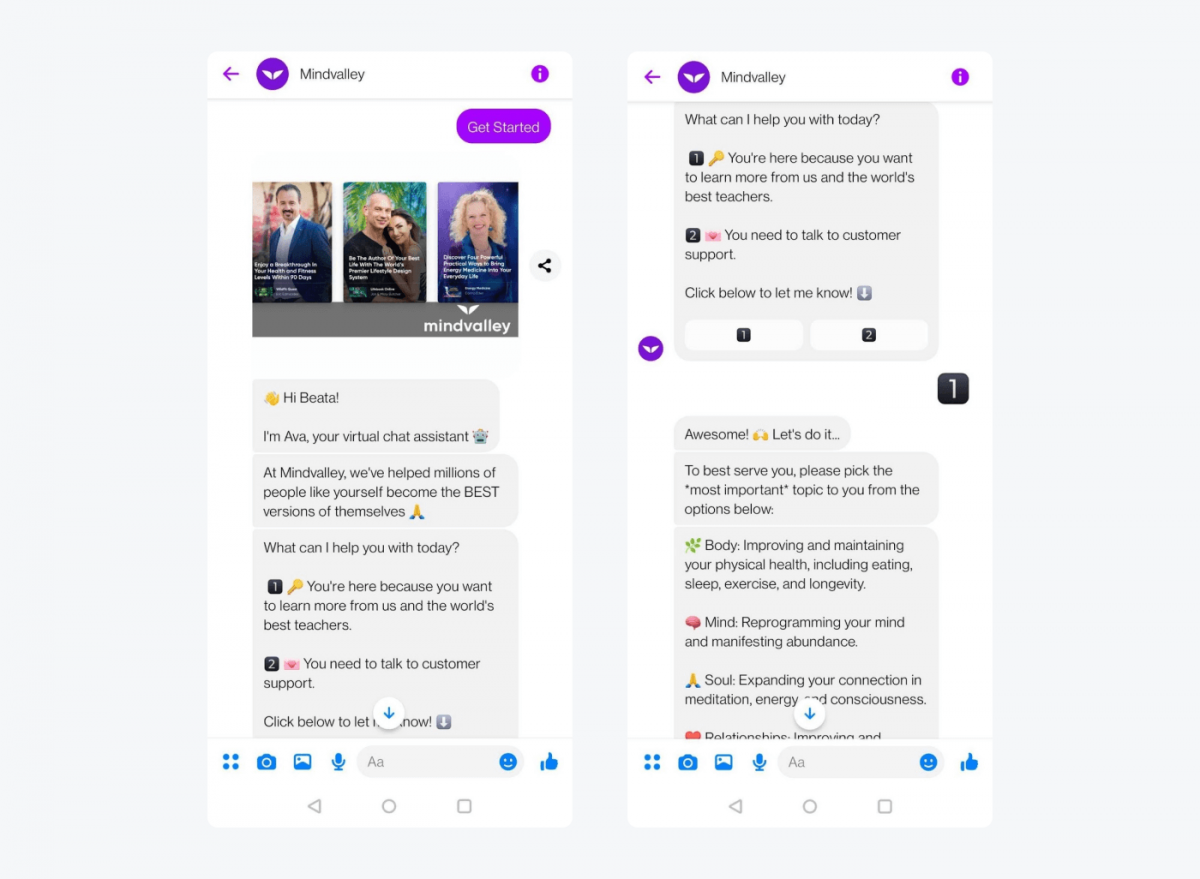 Another one of the best examples of using chatbot marketing is MindValley. This brand provides a learning platform for personal development and uses bots to promote its services.

Customers can choose from different options on the company's Facebook Messenger bot and depending on the choices, they'll get a customized message with recommendations. Potential clients can also choose to speak to customer support straight away if they don't feel comfortable communicating with the chatbot.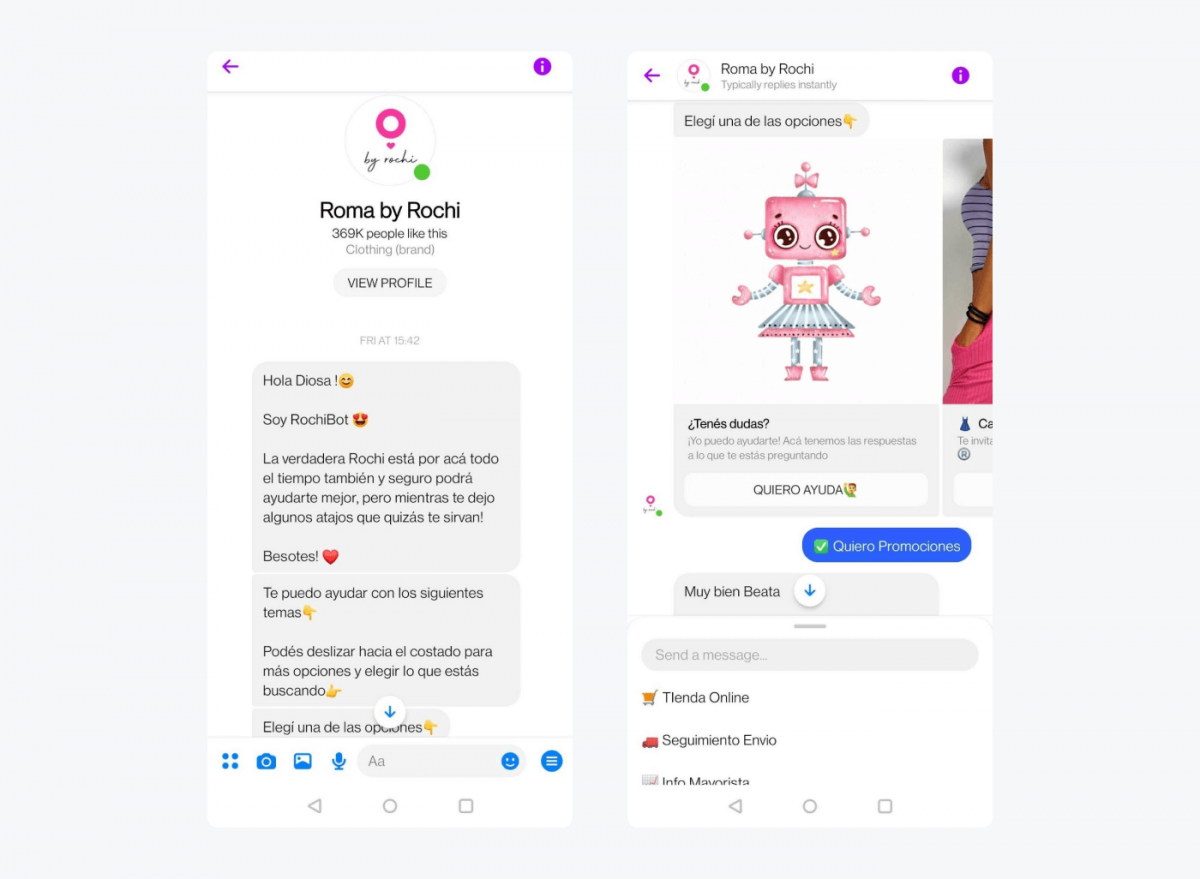 Roma by Rochi is a clothing ecommerce that uses chatbots to upsell products through its Facebook page. This business gives customers a variety of options to choose from on their Messenger bot. Their chatbot for marketing will answer customers' questions, show the product catalog or notify the lead when items go on sale.
You can also click to shop online and be taken straight to the ecommerce store. Other options include shipment tracking and wholesale information.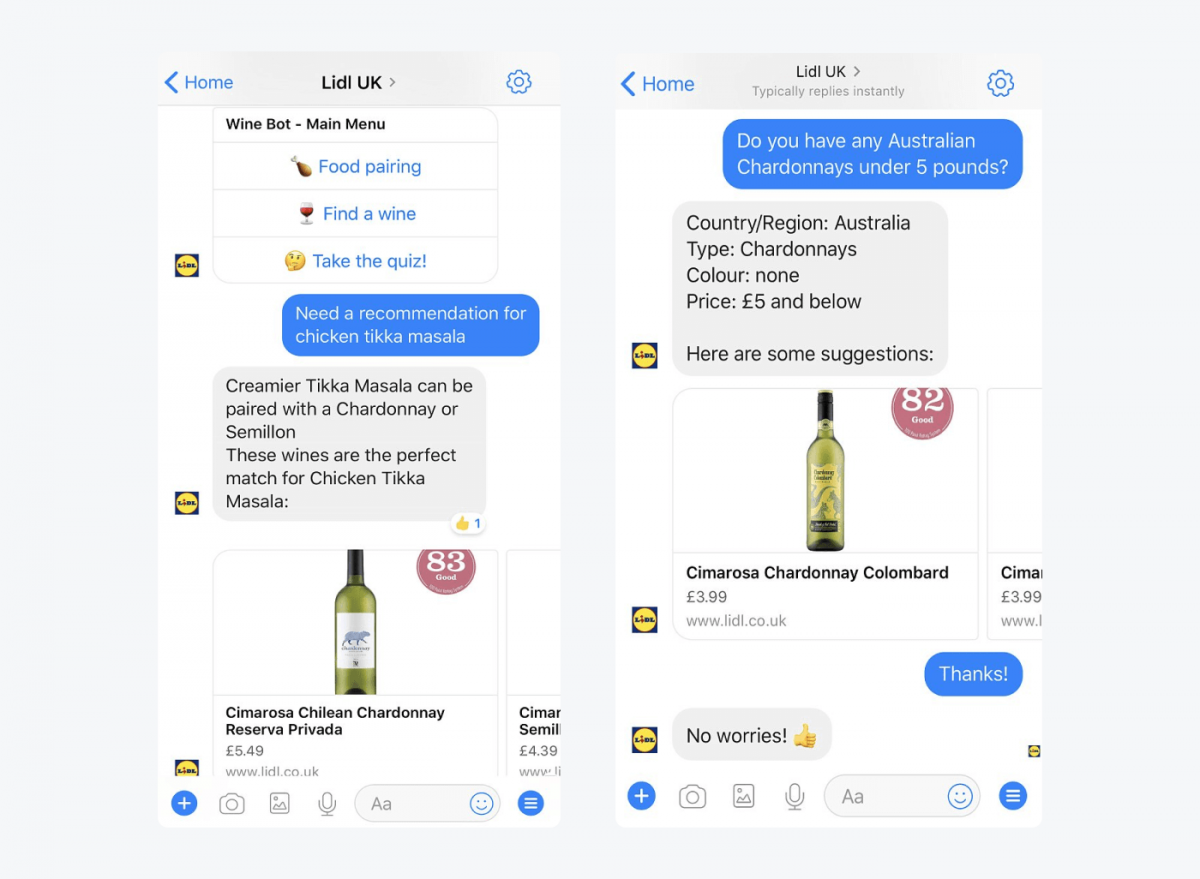 Lidl UK gives its customers a helping hand when choosing the right bottle of wine from their store. Clients can choose from food pairing, taking a quiz, or finding a specific wine.
This marketing chatbot helps the business with upselling their wine bottles and assists the customer in making an informed decision. It's a win-win situation where clients come back to the store when they're happy with the purchase after the recommendation.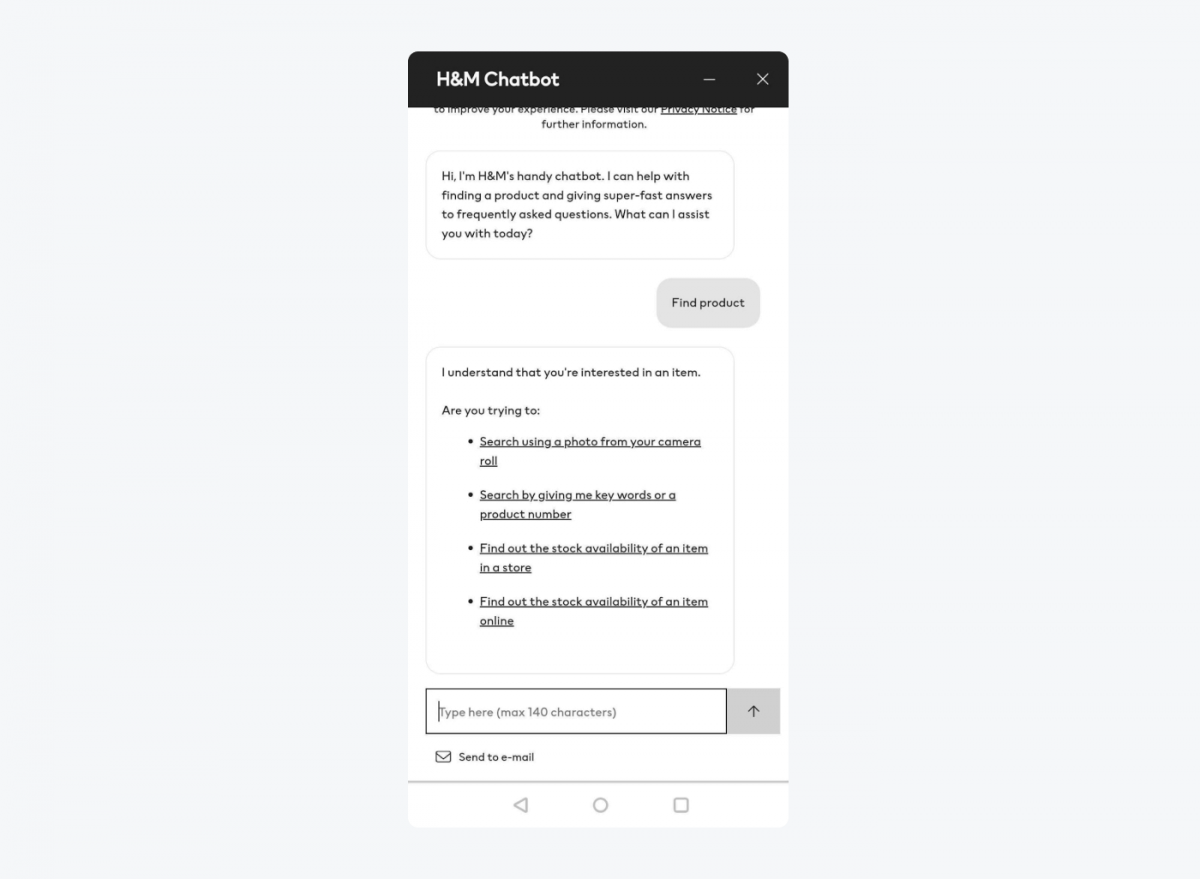 This chatbot for marketing lets customers search for products and their availability. A client can click on one of the options and insert a keyword or a photo to find what they are looking for. Once the search is defined, the bot will send the lead to the correct page on the company's website.
Read more: Best Real-Life Examples of Chatbots From Different Industries
These are some inspirations for your chatbot digital marketing. Now, let's move on to setting up a strategy.
10 tips for an effective chatbot marketing strategy
Chatbots can bridge the gap between the first-time visitor and a customer. They can segment your audience and provide the right messaging to the right people. As a result, sales chatbots can increase your revenue and improve the customer experience. But what should you keep in mind when crafting your first chatbot marketing campaign?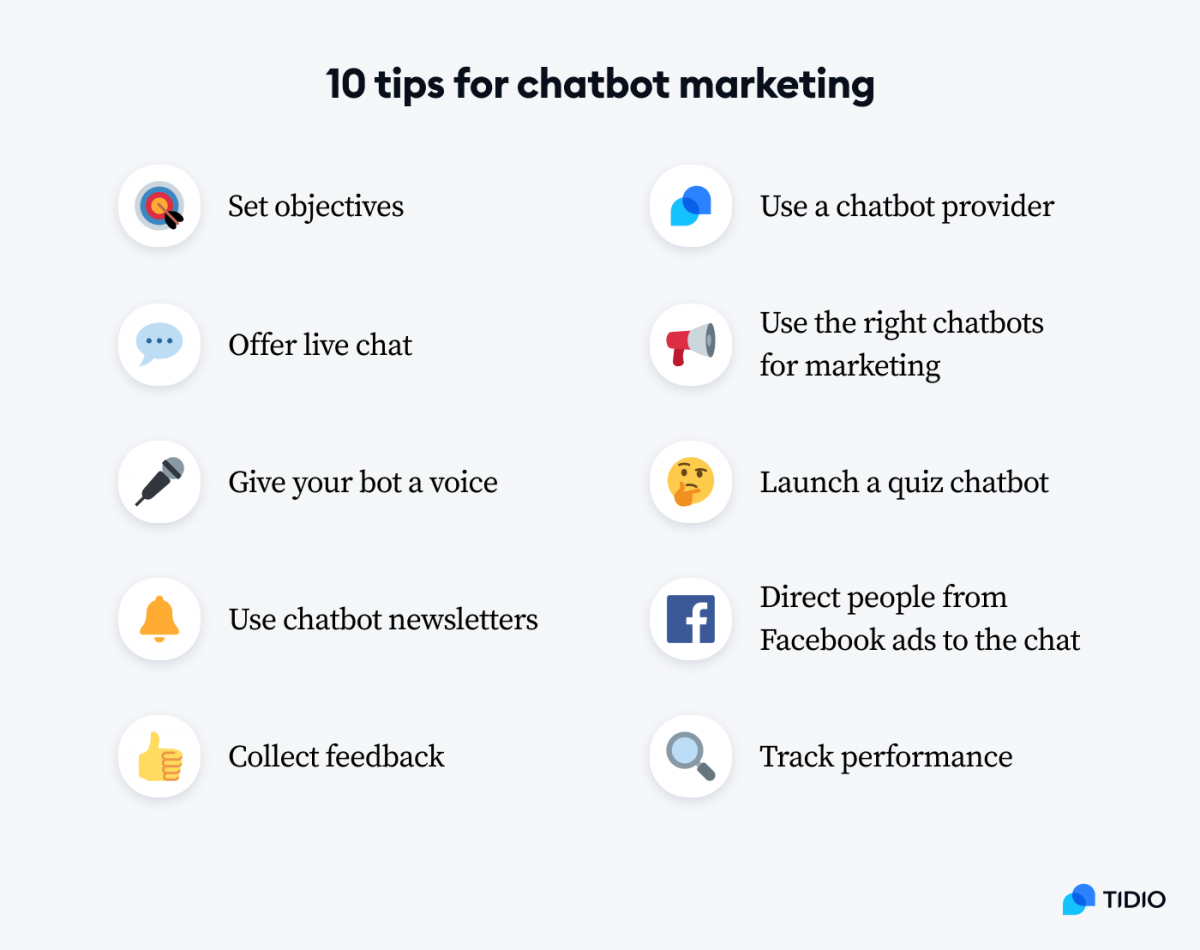 1. Set objectives
You need to know what your goals are to measure how successful your chatbot strategy is. So, it's important for your marketing team to set objectives and define metrics you'll use to assess the results. Some of the objectives could be increased sales, increased number of subscribers, or improved shopping experience for customers.
2. Use a chatbot provider
Let's be clear here—using a chatbot marketing company is not the same as using a marketing agency. They provide you with the software, but you're the one creating your own chatbot.
It's easier, faster, and cheaper to use a chatbot platform than to develop one in-house. To save yourself some time and trouble, you should use a company that provides artificial intelligence chatbots for marketing.
Suggested reading
Check out the best chatbot apps to pick the right one for your business.
3. Offer live chat
Let your potential customers know that a real person is just a click away. Some people just don't want to communicate with a bot, and that's when your reps should come in. Make sure that you give your website visitors the option to speak to a human agent in case that's their preference. It can save you a lead and help to make a sale.
4. Use the right chatbots for marketing
There are many types of chatbots out there and each of them serves a different purpose. So, make sure that you choose the bots made for marketing purposes. Some chatbots for marketing you could use include:
Product recommendation chatbots
Place an order chatbots
Schedule an appointment chatbots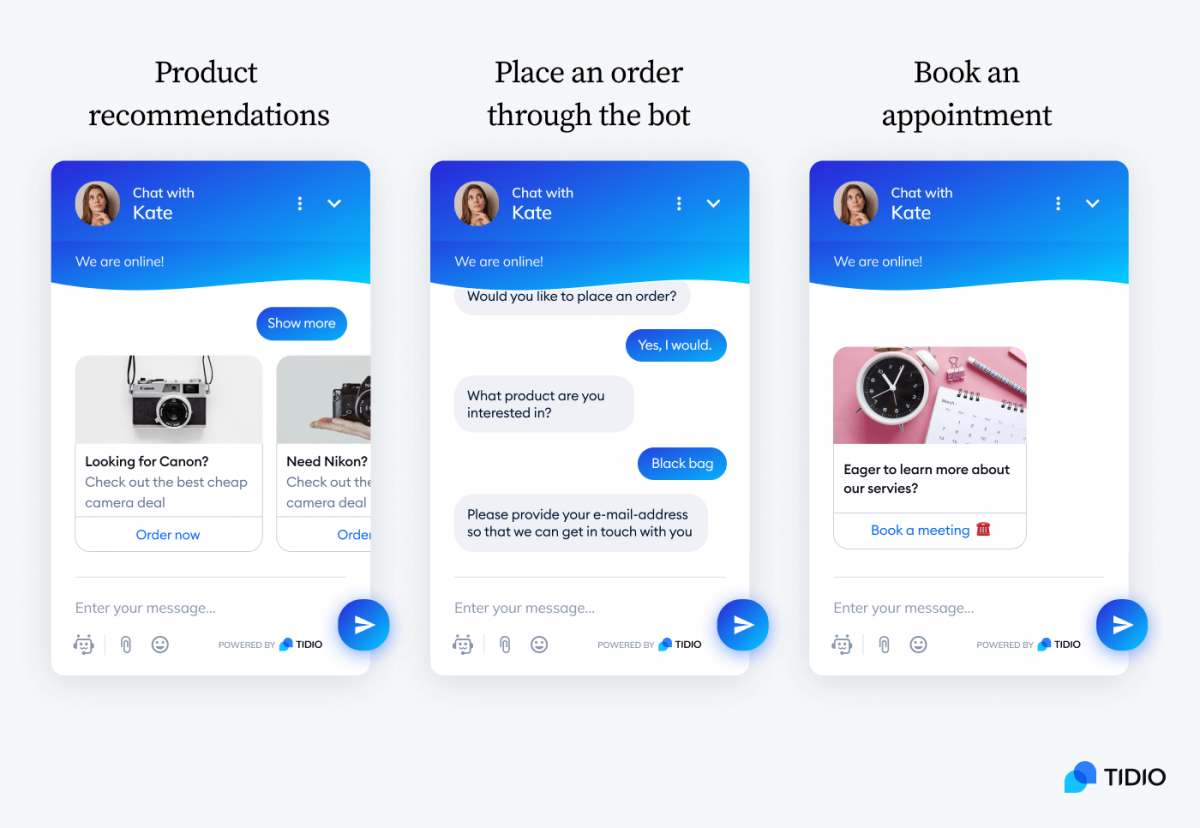 5. Give your bot a voice
Your marketing chatbot needs to have a voice that matches your brand. So, if you're a funeral products store, then your bot probably shouldn't be playful. But, if you're an ecommerce store selling kids' toys, then make your chatbot cheery and humorous. Chatbots should represent your business as accurately as possible.
Suggested reading
Learn how to write a warm welcome message to the clients and find out more about chatbot personality from our research.
6. Launch a quiz chatbot
Want to know what your visitors are looking for? Ask them! This way, the recommendations will be more personal and accurate. You will also be able to collect some data on the potential customers that you can use later to promote your products and services.
7. Use chatbot newsletters
Alongside your email newsletter, send short updates to your website visitors to keep them updated. You can include anything that will be relevant to your clients—new releases, products on sale, and upcoming offers.
8. Direct people from Facebook ads to the chat
You can build a Facebook Messenger chatbot that will interact with users through a product quiz. Then, create some ads for your Facebook page that will direct potential customers to the chat on Messenger. This way, you can increase engagement, show off your products in a fun way, and improve click-through rates to your ecommerce store.
9. Collect feedback
Send simple customer satisfaction surveys and follow-ups to your visitors after the conversation is over. This way, you can collect customer feedback and gain insights on what your customers ask about, what they're interested in, and how likely they are to recommend you. This can show if you're meeting customer needs and what you should change to improve.
10. Track performance
Use analytics and metrics to track how your marketing chatbots are performing. This will give insights you can use to improve your customer service. You can also tweak the bot's decision tree—from triggers to messages it sends your potential clients. So, it's good to keep track of performance to make the changes in a timely manner.
Suggested reading
Learn how to use Tidio chatbot performance analytics to quickly check your bot's metrics. Also, check out the best chatbot ideas to use for your business and personal needs.
Let's look at what to avoid, so you don't fall into any traps with your marketing automation chatbot.
What to avoid in chatbot marketing?
Conversational marketing chatbots have many benefits and if used correctly, they can bring you great results. But there are a few obstacles you should be aware of. So, how to do chatbot marketing right?
Don't use them exclusively
Use other channels as well, such as SEO and email marketing. If you want great results from your chatbot marketing campaigns, you should combine them with other channels and live chat. And don't underestimate the human touch—aid your representatives instead of replacing them.
You need to constantly work on, improve and update your chatbots. This technology is not something you can set up, launch, and expect great results. It will always need improvements and updates, as well as reviewing the results to keep track of the performance.
In other words, don't annoy your potential client with too many marketing messages. Remember that sending too many messages out to your visitor can lead to them opting out. Your site will become associated with spam, and it can ruin your brand image.
Key takeaway
Chatbot marketing is a technique that uses chatbots to promote your business. It automates the marketing of your products, collects leads, and takes orders on a chosen messaging app or your website.
A few points to keep in mind:
Some of the benefits of marketing chatbots are boosting sales, generating leads, and providing help to your customers 24/7.
You should set objectives before you start your chatbot marketing campaign, give your bot a personality that matches your brand, and collect feedback.
Always track the performance of your chatbots, don't leave them on their own after launching.
FAQ
Is chatbot digital marketing?
Yes, chatbots are a form of digital marketing. They are most useful in the initial stages of the marketing process, like collecting leads and answering customer service questions. But they can also be used to promote products and place orders.
Are chatbots the future of marketing?
Marketing chatbots are becoming more advanced and chatbot marketing is used more widely. Their use will keep growing in the future, and they'll be more visible in different industries for marketing purposes. But chatbots will not replace traditional marketing, rather, they will be an addition to it.
How can I use a Messenger chatbot for marketing?
You can link your business to your Facebook Messenger, and set up a marketing chatbot from there. A chatbot marketing campaign on Facebook Messenger can help your followers get answers to frequently asked questions, receive recommend products and subscribe to your blog or service. 
Can Tidio help me create a chatbot without coding?
Yes. You don't need any coding skills to create a chatbot with Tidio. You can use the visual builder to drag and drop elements into the right places and customize all the actions to your needs. There are many templates you can use to build task-specific bots for customer support, lead generation, and others.