This WordPress chatbot guide is your Rosetta Stone for all things chatbot. By the time you're done reading, you'll understand what the best WordPress chatbots can do for you.
Whether you're looking for a simple, free chatbot for WordPress or a lead-generating machine, we've got you covered.
The 10 WordPress chatbot plugins we show you here have plenty of features, as well as free plans to get you started.
In this guide:
Learn more about Tidio chatbot features and benefits, check out our page dedicated to chatbots.
Tidio plugin is one of the best plugins I have ever installed, extremely well-crafted and intuitive to set up. In a very short time, users can design an awesome bot that will drive visitors pretty everywhere on the website.

Awesome plugin and best ever support

Tidio WordPress Review by andrino27
Not exactly interested in a chatbot for WordPress? Have a look at our other articles:
Benefits of WordPress Chatbots for Businesses
Before we jump into the actual reviews, let's have a quick look at what good adding a chatbot to your WordPress site can bring about.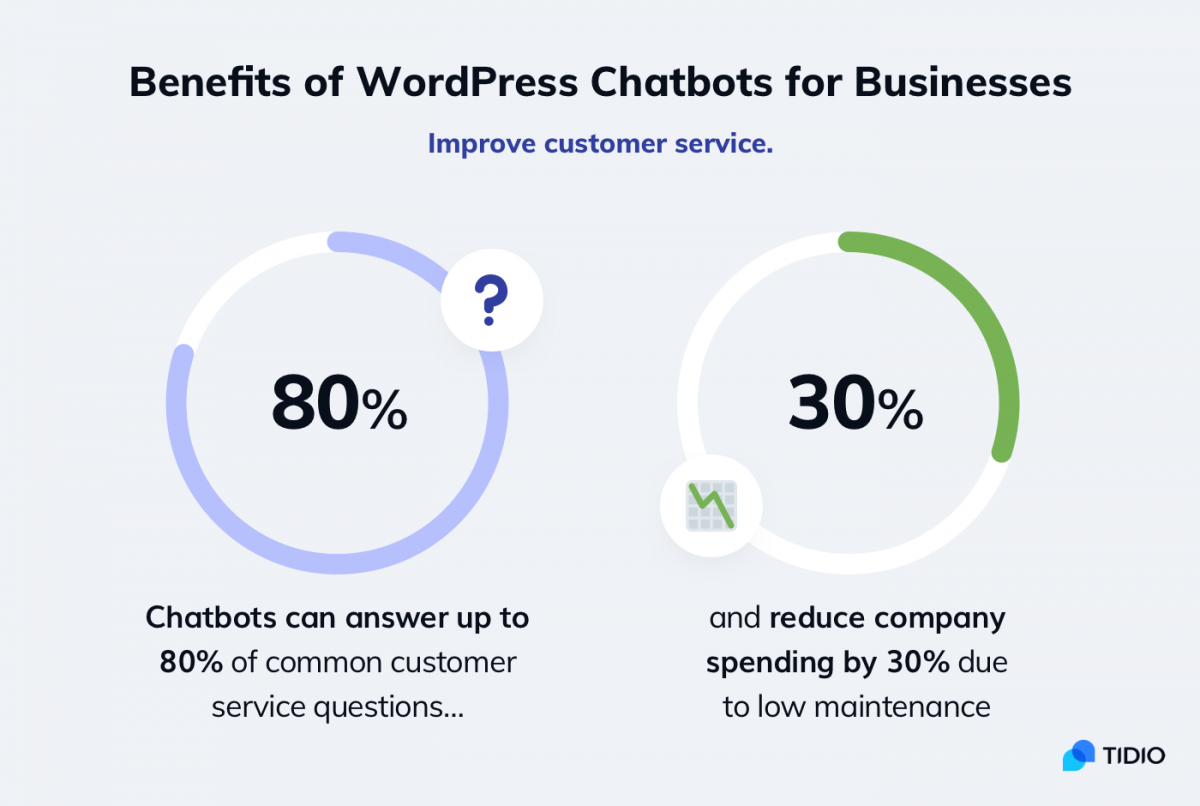 Improve customer service. Chatbots can answer up to 80% of common customer service questions and reduce company spending by 30% due to low maintenance (IBM)
Make employee routine more efficient. Chatbots reduce low-end, repetitive tasks by 20%—a full day a week (Accenture)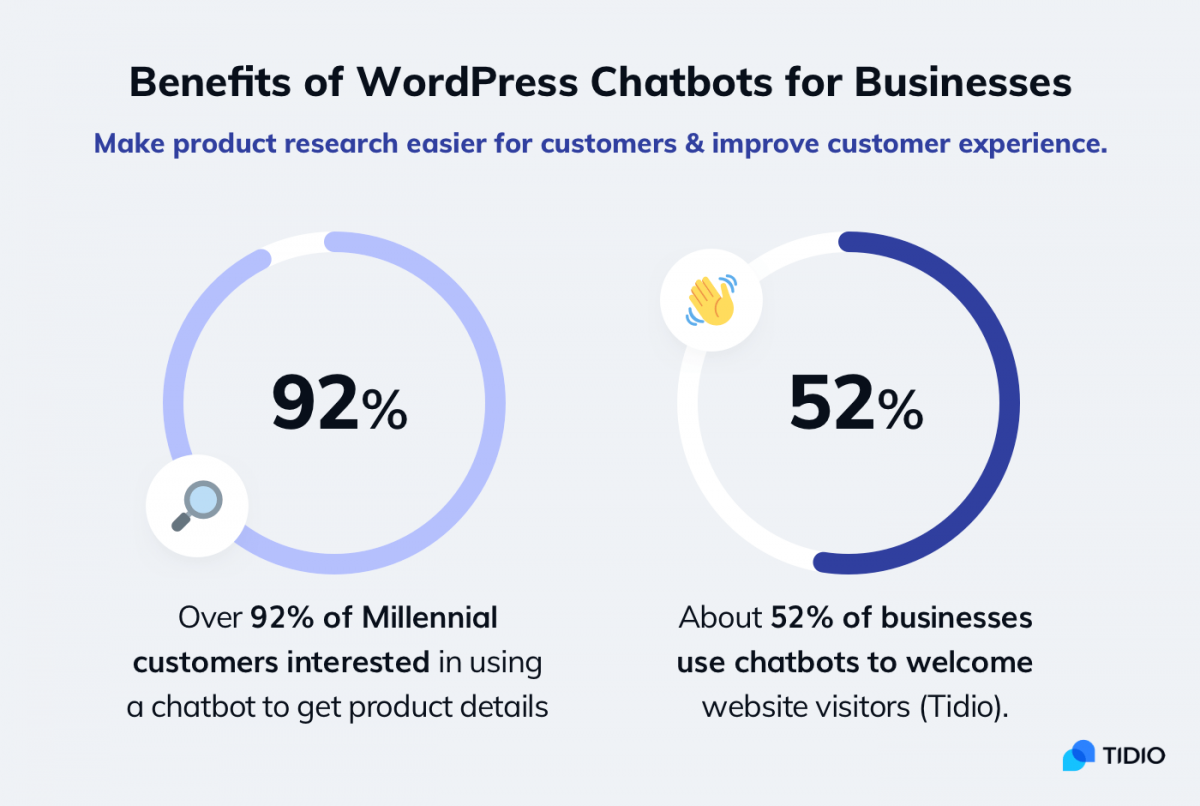 Make product research easier for customers. Over 92% of Millennial customers are interested in using a chatbot to get product details (EMACS Journal survey)
Improve customer experience. About 52% of businesses use chatbots to welcome website visitors (Tidio).
Check out this article on how to use WordPress if you're still unsure about some of its complex parts. You can also explore our guide to the best chatbot examples from top brands to find more use cases for WordPress chatbots.
1. Tidio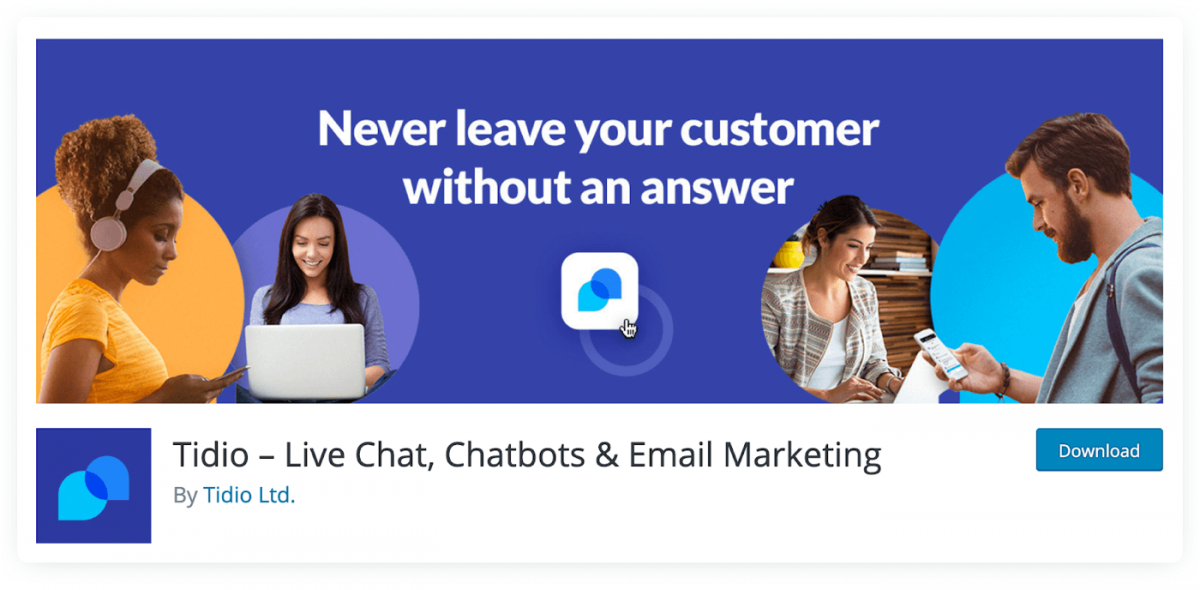 It's always awkward to speak highly of your own product in an article that you wrote yourself. Regardless of how much you love the product and how much you'd like to recommend it.
So, instead, let us fall back on what our users say:
"Easy to use, has a clean interface and a surprising number of features. Especially appreciate how in-depth their bot and automation can get without requiring heavy technical knowledge."
You can read more reviews before trying Tidio WordPress chatbot. Here's what you'll get:
Features:
Fast and easy-to-integrate WordPress chatbot
Free, simple chatbot templates for lead generation and customer support
Simple bot creator software to create industry-specific chatbots
Mobile app for Android and iOS that notifies about visitors and conversation requests
Pricing:
Free plan available. Suitable for start-up businesses
Communicator—$19/mo. Perfect for small to medium businesses
Chatbots—$49/mo. Great for growing businesses
2. WP-Chatbot for Messenger by Mobile Monkey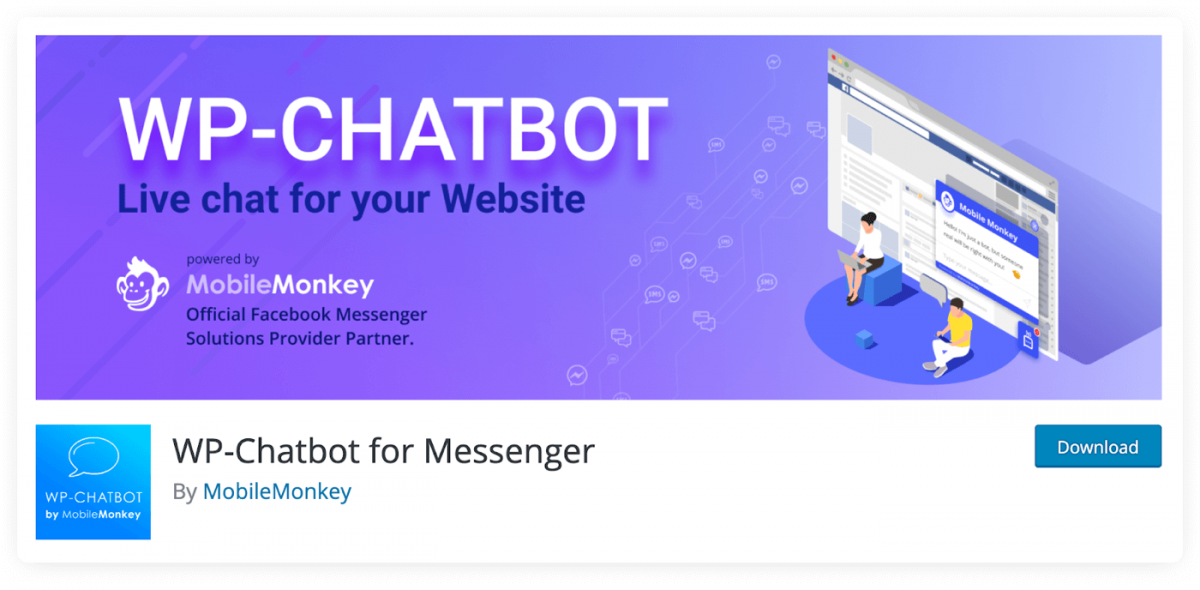 WP-Chatbot for Messenger is one of the best WordPress chatbot options with 10,000+ active installations. After a quick setup, the plugin gives you one inbox to receive customers' messages from a Facebook page and the website chatbot widget.
You can share marketing messages and answer FAQs with this WordPress chatbot, and reach more customers automatically.
Features:
WordPress chatbot plugin customization: shape, colors, and page location
One unified inbox to view all conversations from both website chatbot and Messenger
Builder and templates to create custom chatbots for WordPress
Pricing:
Free—live chat and chatbots, lead capture forms + templates for WordPress and Facebook Messenger for one operator
Pro—$21.75/mo. Email notifications about new conversations, visitor re-engagement campaigns, and SMS marketing for two operators
Unicorn—$51/mo. Custom visitor notifications via email and mobile app + audience synchronization with Facebook ads
Team—$299/mo. Designed for customer support and marketing teams managing chatbots on up to 10 websites.
WP Chatbot for Messenger lets you create Facebook chatbots. Want to see how other businesses did it? See Facebook Messenger chatbot examples from SaaS, restaurants, and online businesses.
3. Chatbot With IBM Watson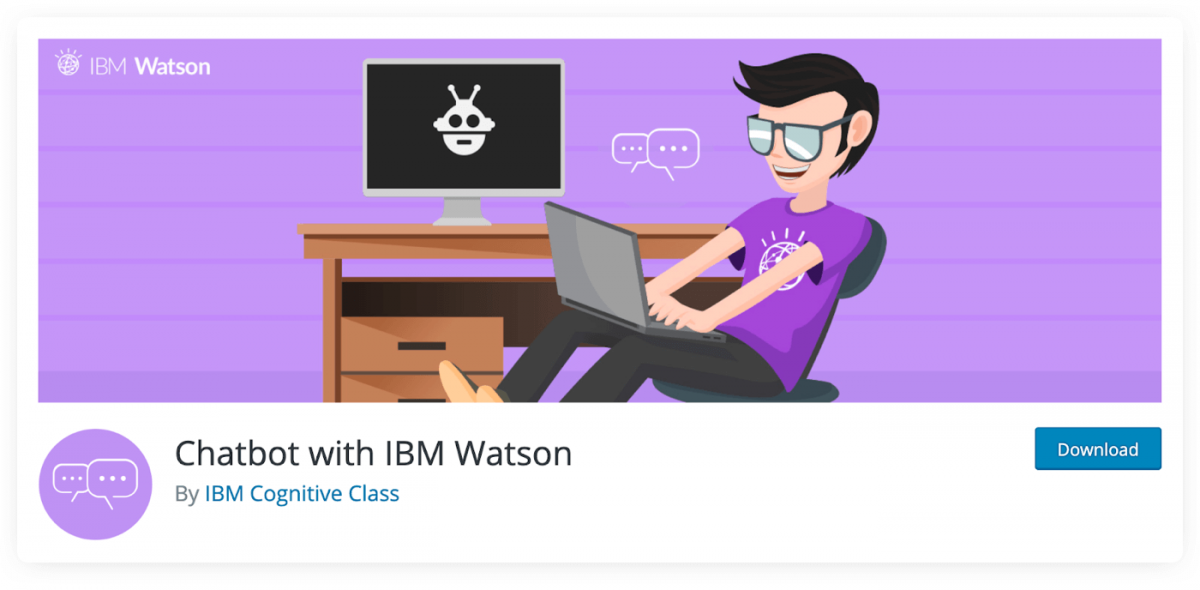 This WordPress chatbot uses IBM's Watson Assistant technology to create and use virtual assistants with artificial intelligence. Chatbot with IBM Watson makes this list because of rich messages with clickable responses and multimedia, rich customization, and language recognition capabilities.
One thing before you check out this AI website conversation plugin: be ready to learn. The technology requires some initial training, so IBM provides a free course to deploy chatbots on their cloud.
Features
Advanced AI website chat technology by IBM
Quick and easy plugin setup, even for beginners
WordPress chat plugin integration with any web page (homepage, landing page, etc.)
Pricing:
WordPress plugin directory suggests that Chatbot with IBM Watson is an open-source website chatbot. The IBM's website confirms a free plan for the Watson Assistant. Premium features like concurrent chats and multiple language support cost from $120/mo.
Want to know how a WordPress chatbot uses AI and natural language processing? This simple AI Chatbots FAQ guide has the answers.
4. Join.Chat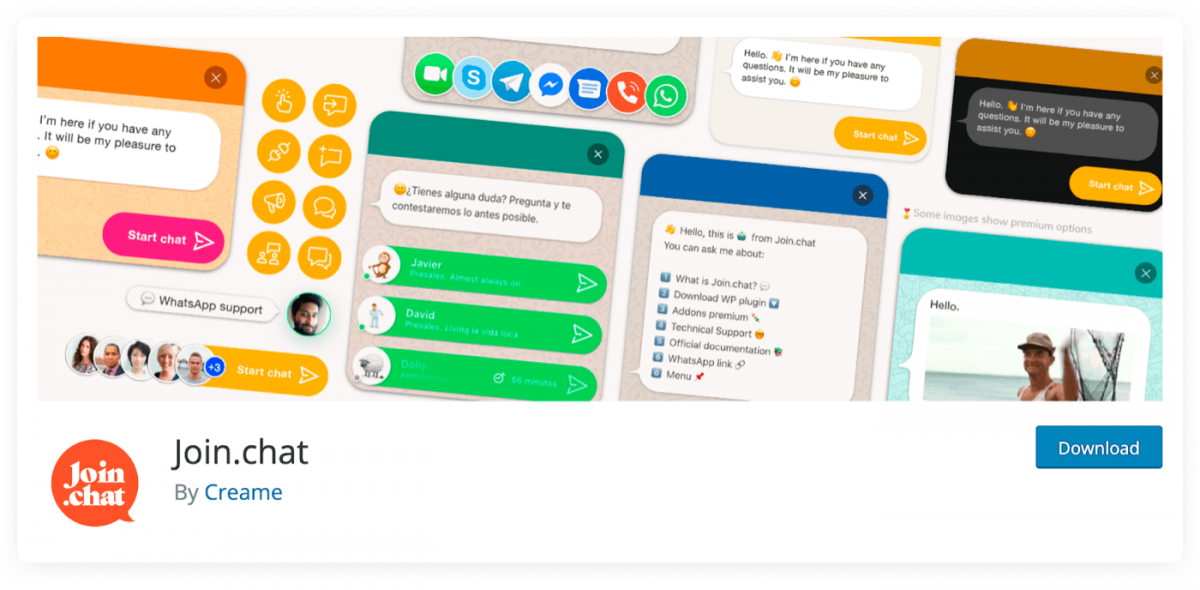 Join.Chat is a WhatsApp WordPress chatting plugin that has an option to activate a chatbot. It's called Svachat, and it can answer the FAQs related to your business or product.
This chatbot for WordPress comes as an add-on to a chatting plugin. There are pre-written questions and answers for conversation, and users reply with numbers to indicate their selection of an answer.
Features:
WhatsApp contact button for a WordPress site
Chatbot answers with bullet points so customers can choose answers
Links in chatbot messages to lead customers to support resources
Option to switch to a real support agent on WhatsApp
Pricing (Svachat chatbot):
$24 for installation for one website
$48 for three websites
$149 for an unlimited number of websites.
We mentioned chatbots answering FAQs, which is an idea to improve customer experience and sales. Read about FAQ chatbots and more in Creative Chatbot Ideas to Boost Your Online Business in 2021
5. Chatbot for WordPress by QuantumCloud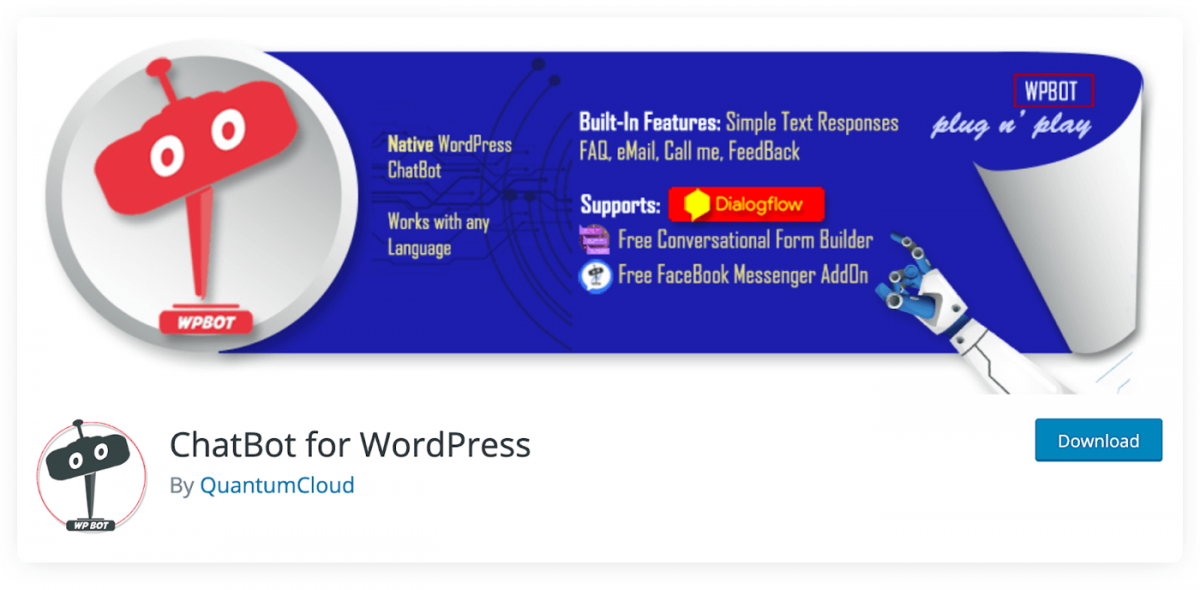 Chatbot for WordPress is an easy-to-install, functional chatbot for online businesses. It has templates for lead generation and customer support and even integrates with Google's Dialogflow to add AI chat capabilities.
The basic version of Chatbot for WordPress is suitable for providing support on personal websites and small business stores. The premium version has advanced WordPress bot features such as a chatbot builder, Messenger integration, and exit-intent messages.
Features:
Automated FAQs, call requests, and feedback messages
Drag-and-drop chatbot builder to create custom WordPress chatbots
Integration with Facebook Messenger and Google Dialogflow AI bot software
Pricing (Lifetime plans—pay once, use forever):
Personal plan—$25/year. One-site installation, best for personal websites and bloggers
Master plan—$88/year. Install on up to 100 sites, best for online businesses
Ultimate plan—$239/year. WordPress native conversational forms with media, live chat, Facebook Messenger integration, multilanguage support.
The best chatbots for WordPress come with a chatbot builder. With it, you can write the chatbot's side of the conversation and let your brand's voice shine. Why do that: Why Is Brand Voice Important and How To Define It?
6. Collect.chat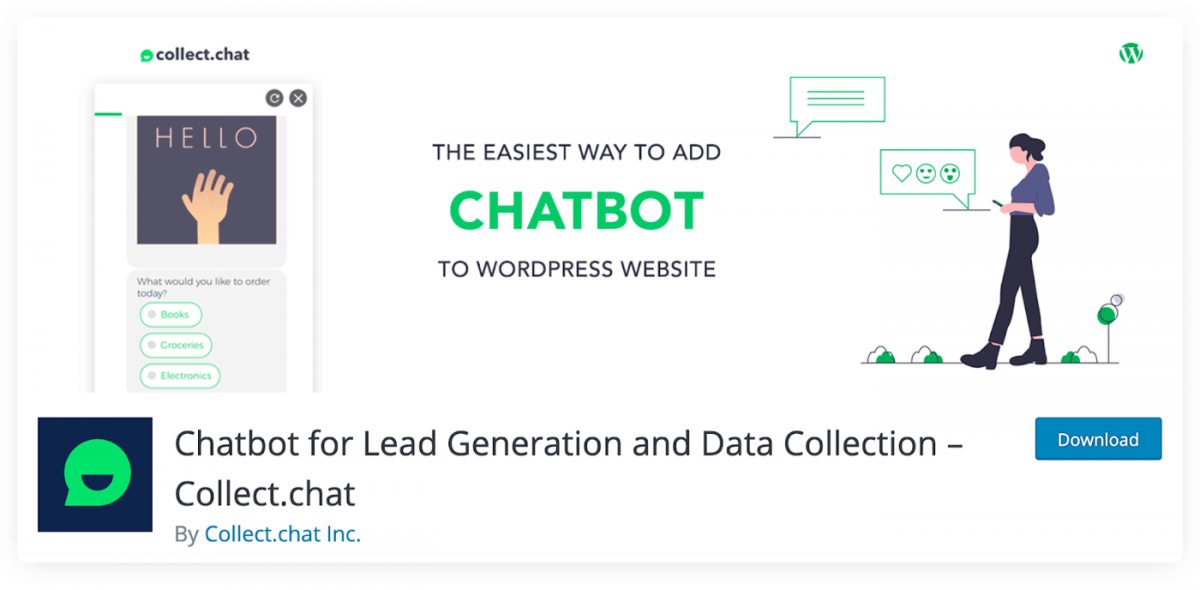 Collect.chat WordPress chatbot is a good option for service businesses. You can choose a template to allow website visitors to set up appointments by providing them with a calendar. As customers choose dates, they will automatically get recorded into your Google Calendar.
Also, this chatbot for a WordPress website has email notifications of conversations. They're useful to ensure that you're ready to take on a conversation if necessary.
Features:
Intuitive WordPress chatbot builder with rich customization options
50+ chatbot templates for various purposes (FAQs, lead generation, appointments, etc.)
Reports with chatbot engagement and visitors' answers
Pricing:
Free plan—Basic chatbot features, 50 responses per month, suitable for low-traffic websites
Lite plan—$24/mo. Up to 500 responses per month
Standard plan—$49/mo. Email notifications, campaign tracking, 2500 responses per month
Plus plan—$99/mo. Customer support team collaboration + 5000 monthly chatbot responses.
Chatbot templates are an opportunity to share promotions and try other lead generation tactics. More ideas here: 12 Tricks to Generate Leads with Live Chat and Chatbots
7. Cliengo Chatbot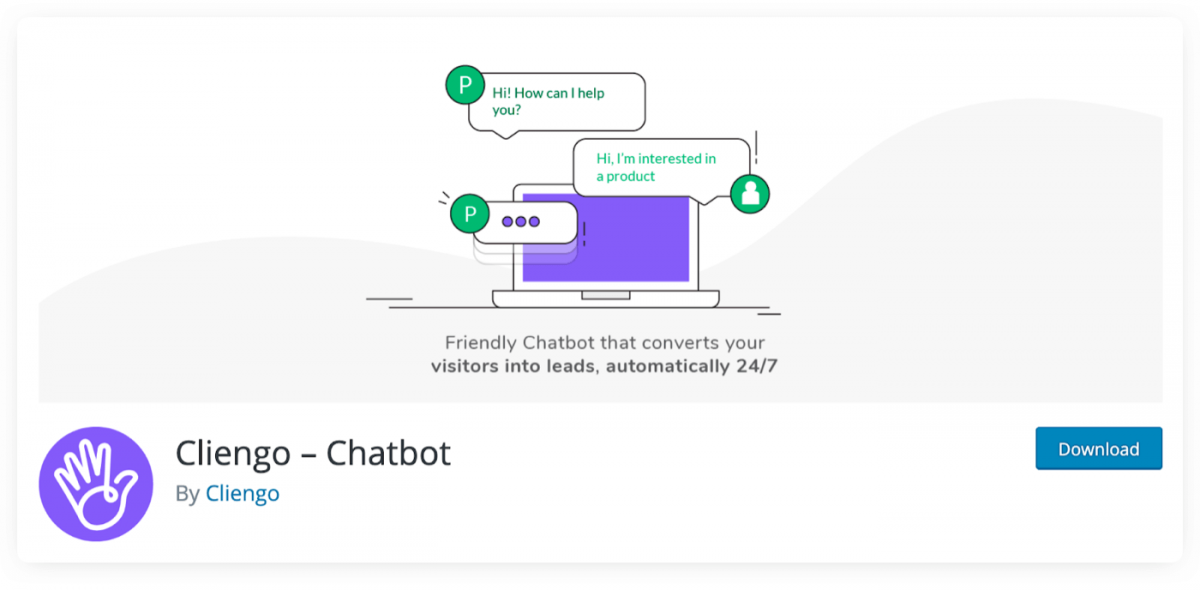 The most striking thing about this chatbot on WordPress is 130+ integrations. Cliengo connects with Google Ads, Facebook Ads, Google Analytics, popular CRM, and many other useful tools for online businesses.
Like many best WordPress chatbot plugins here, Cliengo has one inbox for customer messages from social media, instant messaging apps, and website visitors. This feature will make supporting customers easier for any business.
Features:
Integration with WhatsApp, Facebook Messenger, live chat, and CRM
Chatbot templates for customer support and lead generation
WordPress chatbot reply options with answers
Pricing:
Free—For three users. One website chatbot + social media and live chat integrations
Starter—$24/mo. Two website chatbots, three users. CRM and email marketing reporting, Google Ads conversions, 50 leads/mo
Premium—$90/mo. Suitable for mid-sized businesses. Six users, more integrations + 200 leads per month
Corporate—$300/mo. Best for large businesses. Includes unlimited users, chatbots, and 1000+ leads per month.
Integrations help reach more customers and organize marketing effort. So do plugins. Check out 10 Best WordPress eCommerce Plugins to Grow Your Store for help with choosing the best plugins.
8. My Chatbot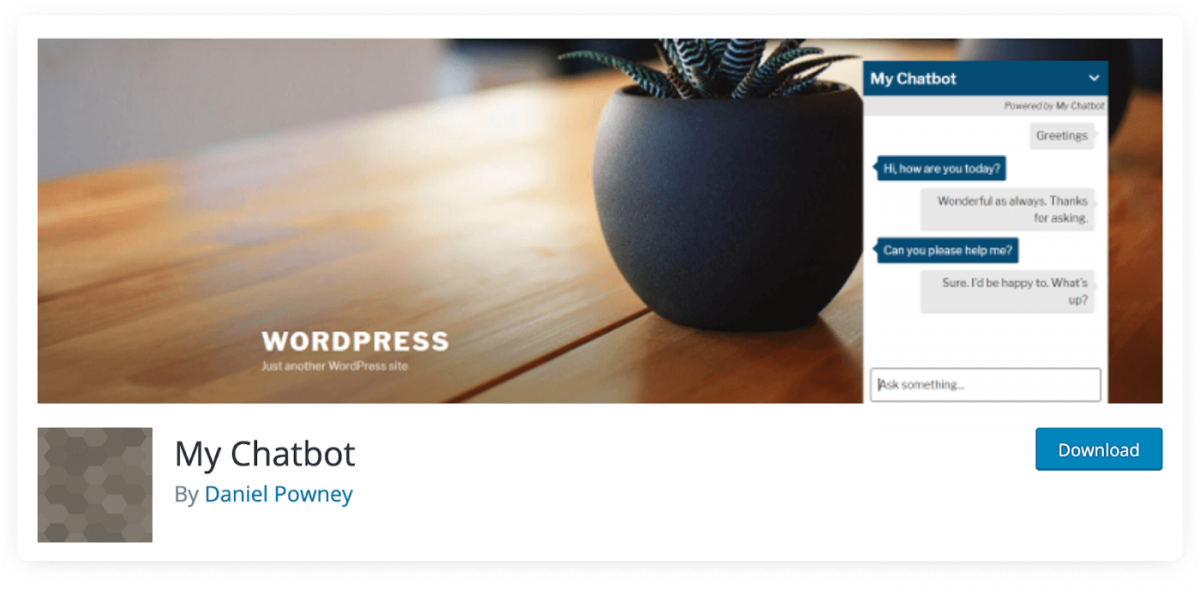 My Chatbot is a simple WordPress AI chatbot that integrates with Google Dialogflow (in the Pro version). This integration provides Natural Language Processing (NLP) and Machine Learning capabilities, which improves the chatbot's ability to understand messages from users.
The free version of this best chatbot WordPress plugin also provides nice options. You can answer FAQs, send links and media in the chat window, and view conversation history.
Features:
Rich chatbot message options—videos, images, answer cards, and quick replies
WordPress chat bot plugin customization (colors, text, fonts, and background)
Welcome messages to greet new visitors
Google Dialogflow integration for better recognition of messages from users
Pricing:
Free—Rich messages, conversation history, and WordPress chat box customization
Pro—$23.99/year. Chatbots with NLP and menus for easier communication.
My Chatbot, like other chatbot options here, supports welcome messages. Did you know that you can share promotions and greet website visitors with them? Here are The Best Welcome Message Examples to Onboard and Welcome New Visitors
9. Chatra Live Chat + ChatBot + Cart Saver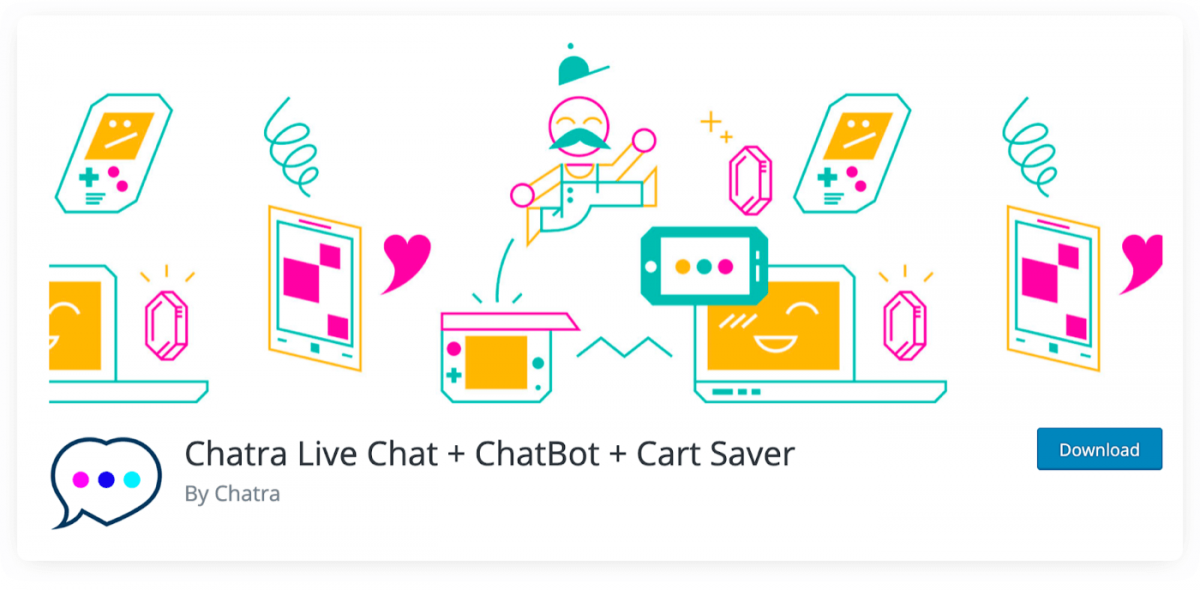 Chatra is a WordPress chatbot designed to help with sales. It's a part of Chatra's multichannel marketing tool and provides templates to automate lead generation and simple support tasks like FAQs.
Chatra's Facebook integration could also be helpful. Since 50% of customers follow brands on social media to learn about products, choosing the best chatbot for WordPress is a good idea for sales.
Features:
Customizable chatbot templates to generate leads, provide basic support, and assist with completing the checkout process
Exit-intent chatbot messages to prevent visitors from leaving
Customer information and conversation history storage to use for marketing
Pricing:
Essential—$15/mo. Chatbot templates for customer support, lead capture, welcome messages with promotions, and assistance with checkout
Pro—$23/mo. Data export, integration with Zapier, and chat reports.
Don't have enough time to respond to customer messages on your online store? Check out Free Chatbot Templates to see how a chatbot can answer shipping questions and share discount codes while you can do something else.
10. Live Chat (+Chatbots) by Hybrid.Chat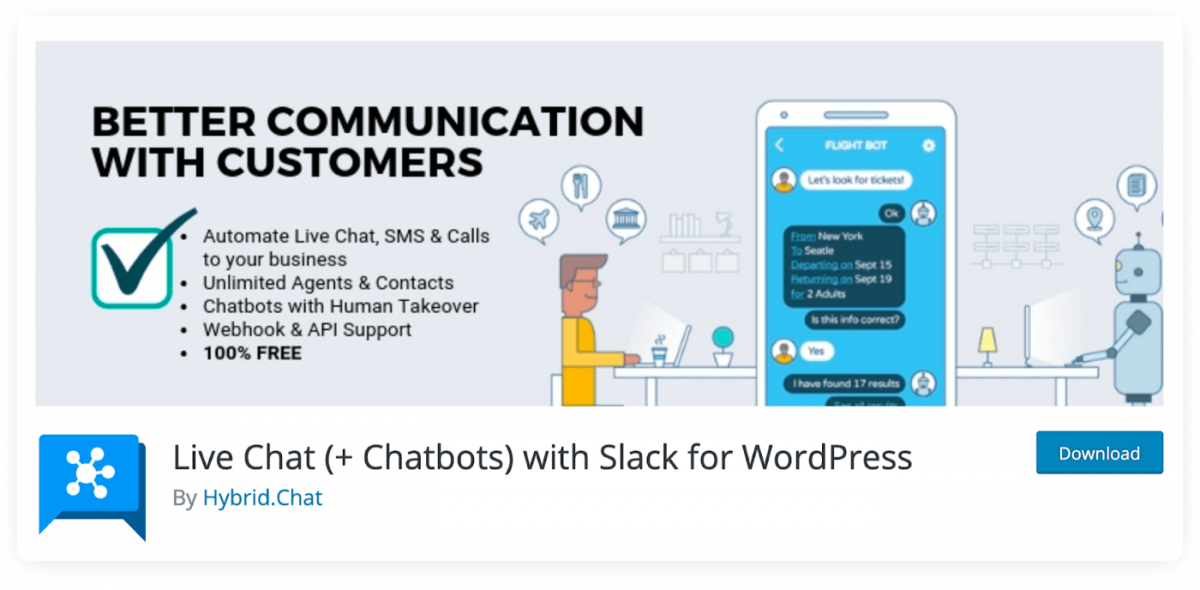 Universities, marketing agencies, law firms, and healthcare institutions can consider WordPress chatbot by HybridChat because it has ready-made templates for them. Hospitality experts, in particular, recommend using bots to create better guest experiences, so industry-specific chatbots are something that makes HybridChat stand out.
You can use templates to capture contact data of leads, provide answers to FAQs, allow visitors to make appointments, and more. There's a chatbot builder to create custom WordPress bots, at your disposal.
Features:
Ready-made, industry-specific chatbot templates for various kinds of users
AI chatbots functionality thanks to conversational AI
Integrations with popular business apps like CRM
Pricing:
Free—Access to chatbot templates, two concurrent bot sessions, chatbot answers with media and buttons + 100 monthly conversations
Basic—$29/mo. More chatbot templates, five concurrent bot sessions, Zapier integration + 1,000 monthly conversations
Pro—$79/mo. 10 concurrent bot sessions, chatbot & agent collaboration + 10,000 monthly conversations.
WordPress chatbots work well for hotels, but online stores are where they really shine. Here are chatbot templates to:
👉 Announce a Sale on a Chosen Day
👉 Provide Extra Info about a Specific Product
The best news: you can have them on your store up and running in minutes.
How Do I Make a WordPress Chatbot?
Here's a quick video on how to make a WordPress chatbot from Tidio.
And here you can read them if you don't like watching videos:
Step 1: Add Tidio WordPress chatbot to your site
Find Tidio WordPress plugin in the plugins directory or directly from the Plugins menu in the dash. Whichever function you choose, look for "Tidio."
Here's Tidio's view in the WordPress plugin directory search results. As you can see, this bot tool is active on 90,000+ websites. So you're in good hands.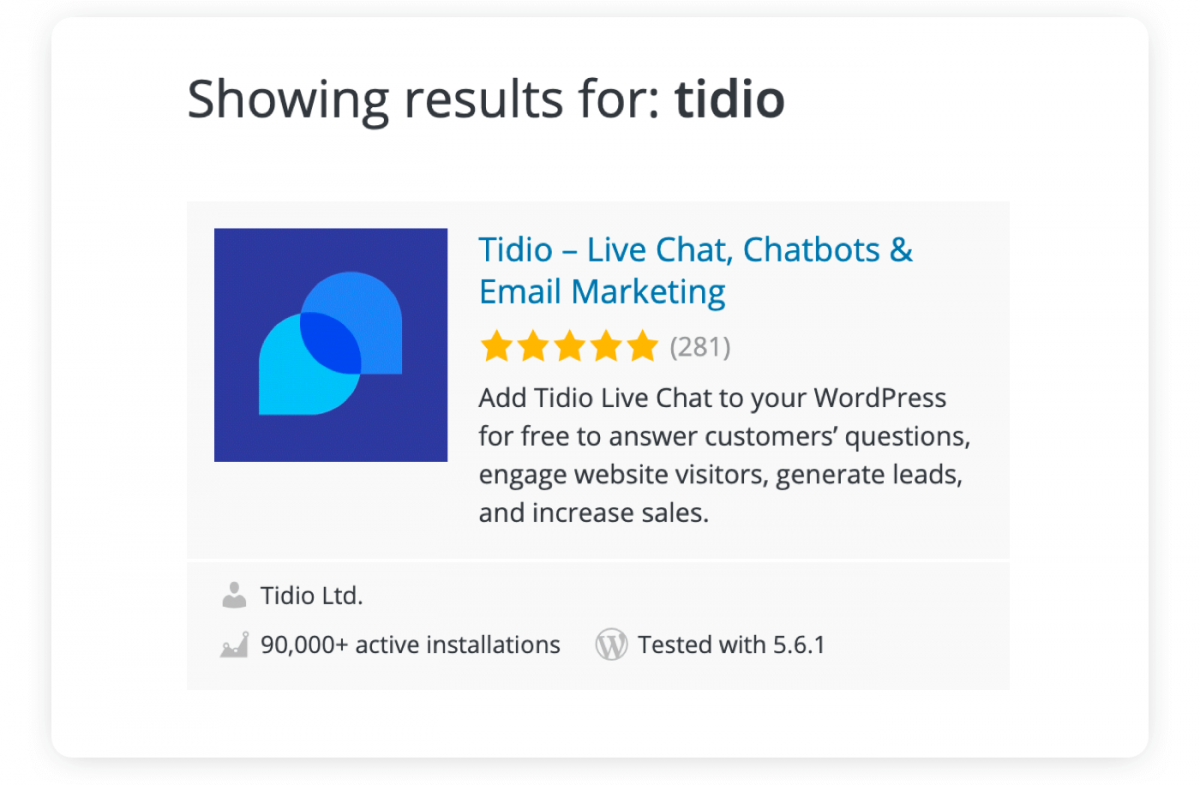 Add this free chatbot plugin to your website.
Step 2: Create a free account and choose a chatbot
Activate the bot plugin, and you'll be prompted to create a free account.
Once you're done, go to the Chatbots section (located in the main menu to your left) inside the Tidio dashboard. Choose a WordPress chatbot to add to your website.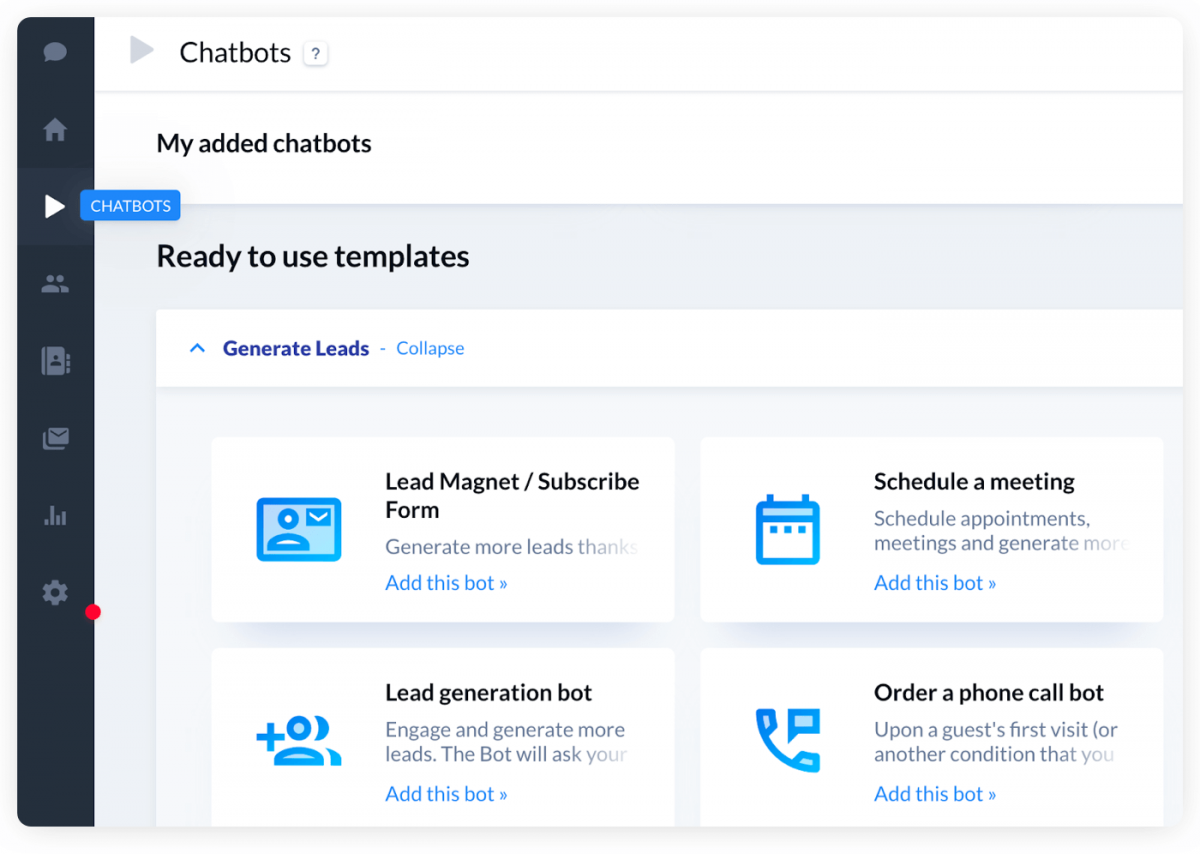 Let's choose the "Welcome message" bot. It's simple and super useful (you can share your promos with it, for example).
Step 3: Customize and activate your WordPress chatbot
Tidio has a default welcome message that invites visitors to contact you. Let's go for something more specific and related to eCommerce businesses.

Click "Save" and "Add bot" in the same window. Congratulations, you've just set your new and awesome WordPress chatbot.
Here are more detailed instructions to create chatbots for WordPress for lead generation and sales: How to Make a Chatbot [Easy Ways to Create Chatbots for Free]
WordPress Chatbot: Summary
A chatbot for WordPress can generate leads, answer customers' questions, share promos, or simply welcome visitors. This handy tool can take a huge load off your shoulders and make your business more efficient.
The top chatbots for WordPress:
Tidio
WP-Chatbot for Messenger by Mobile Monkey
Chatbot with IBM Watson
Join.chat
Chatbot for WordPress by QuantumCloud
Collect.chat chatbot
Cliengo chatbot
My Chatbot
Chantra Live Chat + Chatbot
Chatbot by Hybrid.Chat
And don't forget: adding any of these chatbots for WordPress is super simple. You can have a good-looking chatbot up and running in minutes.