Chatbots
5-Minute WordPress Chatbot Guide: Add a Chatbot to Your WordPress Website
After reading this article you'll know how to build your first WordPress chatbot with a free top-rated plugin from Tidio.
The best part about using WordPress to run a blog or an online store is that it's easy.
You can solve any problem by installing the right plugin.
If you want a chatbot on your WordPress website, you can make it happen in several clicks.
Want to generate leads and provide 24/7 customer service even when you sleep? Create unlimited chatbots for your website without coding to engage more visitors or recover abandoned carts.
Try Chatbots Here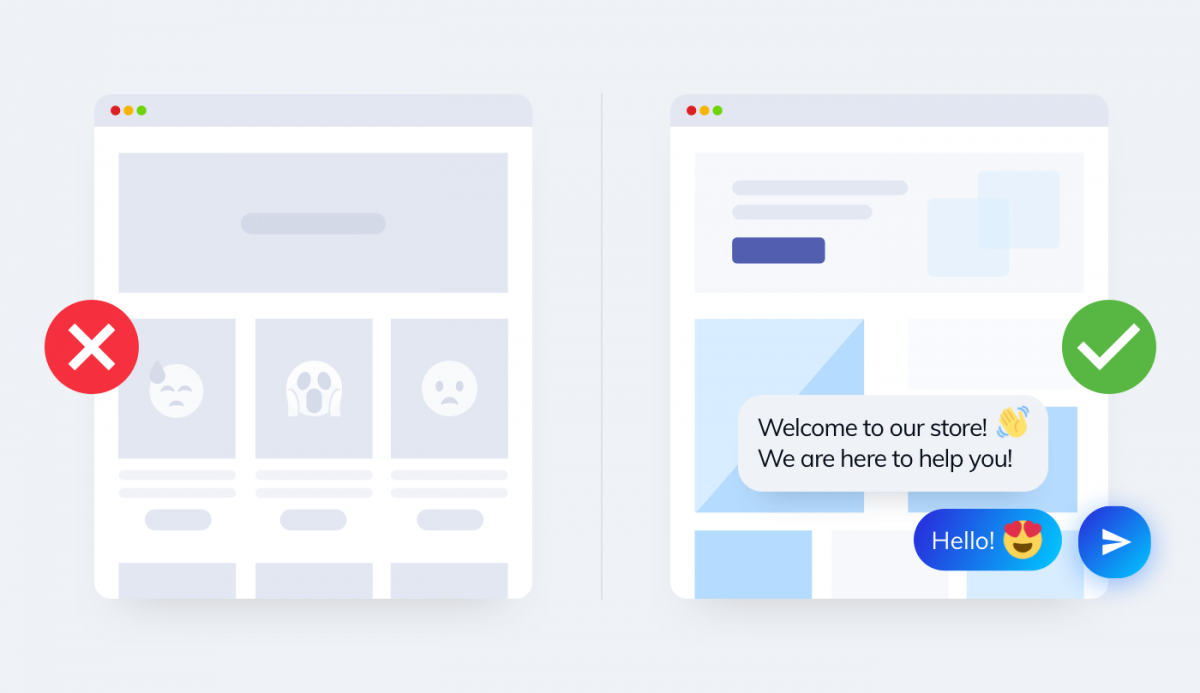 Explore chatbots now—Test the easiest visual chatbot builder for free.
One of our users, Michael, had this to say:
We could set up a simple chatbot in minutes because the drag-and-drop bot builder was really easy to use. Also, the support team was very helpful and answered all our questions
Below, find easy step-by-step instructions and some cool info about chatbots. By the time you're done, you'll know how to install a WordPress chatbot (and how they're helping businesses and blogs succeed).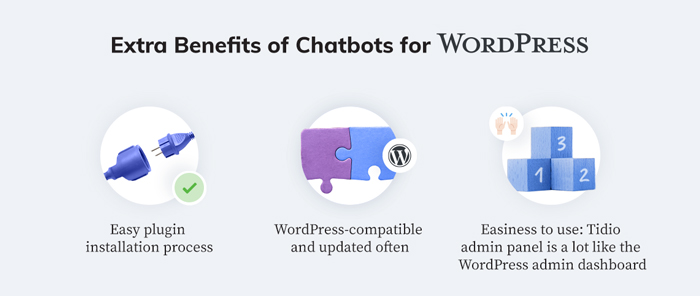 How to Add a Chatbot—WordPress Website 
Adding a WordPress chatbot to your website is very easy.
We will show you how to do it with a short video or you can read our manual.
This video from our friend Mitch provides a beautiful quick explanation.
The whole process is straightforward, so you can add a chatbot to your website within minutes.
Let's summarize it once again.
Step 1: Go To Your Dashboard
Log in your WordPress website and go to the Dashboard.
Step 2: Find The Best Chatbot Plugin for Your WordPress Site in WordPress
Hover over the "Plugins" menu tab and click "Add New." The system will open a directory of plugins where you need to search for "Chatbot Tidio."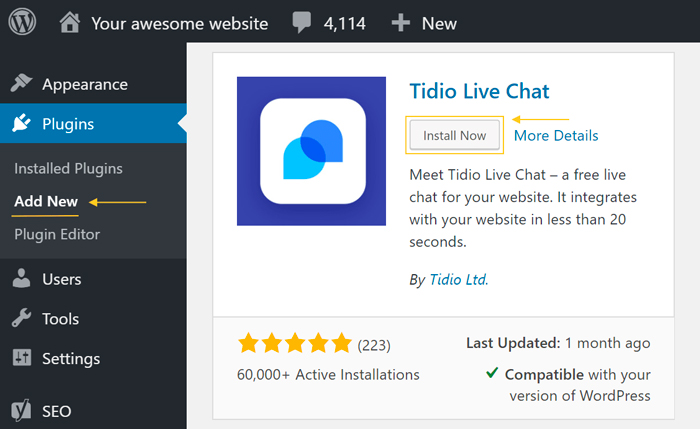 When you find the plugin, click on the "Install Now" button to begin the installation.
Within a minute, you'll have a chatbot installed on your website. Now, you need an account to start using and personalizing it.
Step 3: Create a Free Tidio Account
After the installation, turn on the plugin. You'll be prompted to create your free Tidio account.
When you're done, proceed with setting up a chatbot.
How to Set up Your First Chatbot for WordPress
Let's now talk about how to choose a type of chatbot, personalize it, and configure the messages to visitors.
1. Automatic Message: The chatbot sends the first message
2. Quick Reply: The user chooses one of the quick replies suggested by the bot
3. AI Response: Response based on AI/Visitor Says feature
Build WP Chatbot
Step 1: Go to the Chatbots Panel
In Tidio admin panel, find Chatbots in the main menu on the left side of your screen. It will be your operation center for anything related to your chatbots.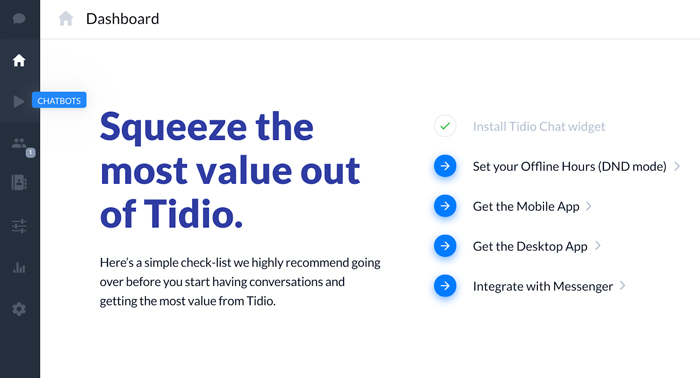 Here, you can view templates, see active chatbots, access performance, and add new ones.
Since it's your first time around, we're interested in adding the new chatbot for WordPress.
Step 2: Add a New Chatbot
To add a new chatbot to your website, click on the "+ Add Another Bot" button on the far right of your screen.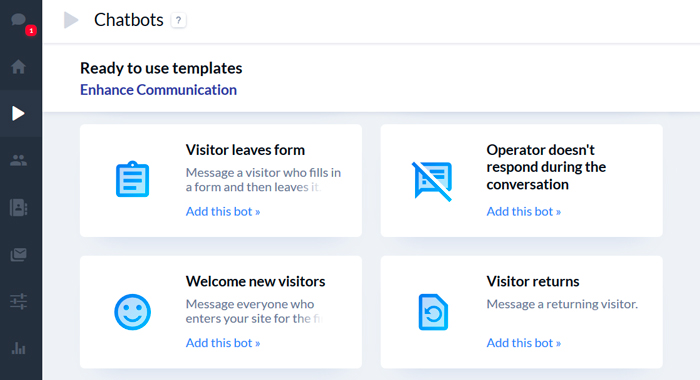 As you can see, the button opens the collection of chatbots for different purposes.
For example, there are welcome chatbots to greet visitors with a warm welcome message. Or, you can invite them to subscribe to your blog or order a phone call.
After you choose your first WordPress chatbot, there's only one step left: creating a welcome message. 
Step 3: Configure the First Message of Your Chatbot
The chatbot sends it to all new website visitors. You can edit it to reflect the chatbot's goal.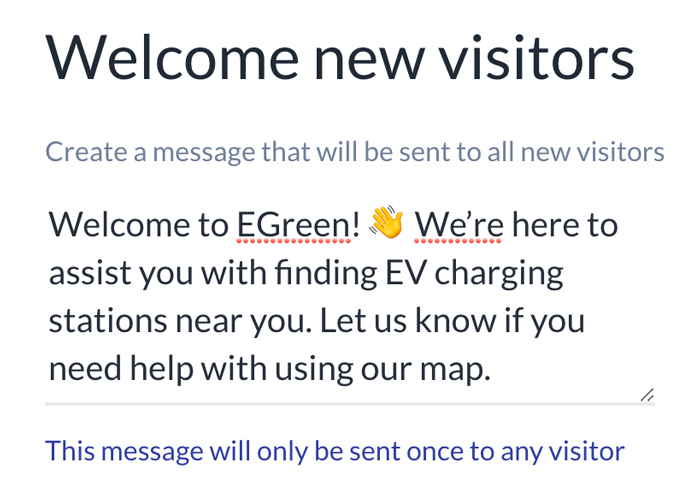 Tidio provides a default message that greets visitors and invites them to contact you. While it's a great approach, you should go for something more specific and related to your business.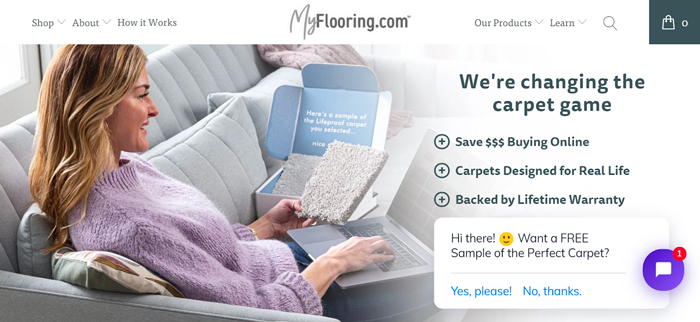 Having a unique welcome message will help you to get more interactions with visitors.
Click "Save" to set your new welcome message.
Now, set it to "Active" by using this feature, located just above the message itself.
Congratulations, your first chatbot is ready to go!
Try It Now
Here are more detailed guides about creating the first chatbot if you need more info.
Dive deeper:
Why You Should Add a Chatbot on Your WordPress Website
First of all, installing a WordPress chatbot is an excellent way to improve the customer experience. In a few dimensions.
Visitors to eCommerce stores can use it to find product info, contact support, or sign up for your newsletter.
But chatbot plugins for WordPress open a wide range of lead nurturing and sales opportunities for any kind of business run.
Let's take a look at some of the main benefits of adding chatbots to your WP website.
The Benefits of a WordPress Chatbot 
Answer visitors' questions faster and automate customer service ⏱
Make your website more interactive, and entertaining 🎈
Collect emails and track the behavior of your site visitors 🕵️‍♂️
Support round-the-clock business availability 🟢
Offer content, discounts, and other deals 🎁
Collect feedback from visitors 😍
As you can see, chatbots can make a pretty cool addition to your website. They are very good at improving the overall quality of your user experience. And there are no risks involved
The Most Popular WordPress Chatbot Templates
Chatbot templates are types of bots designed to achieve a specific purpose. These can include messages aiming to generate leads, provide answers to FAQs, or share info about special deals.
Take a look at the most popular Tidio WordPress chatbot templates used by our users.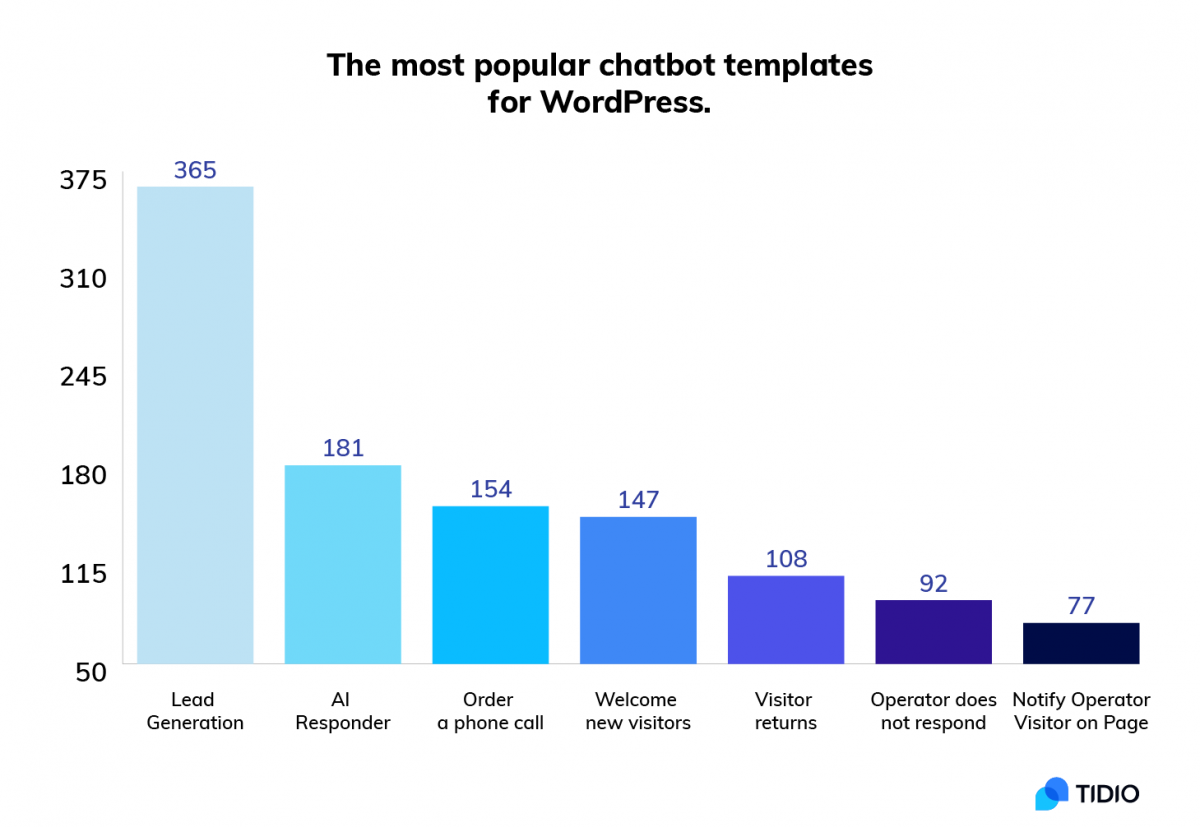 In this table, you'll find the main use cases of chatbot templates and reasons why WordPress website owners choose them.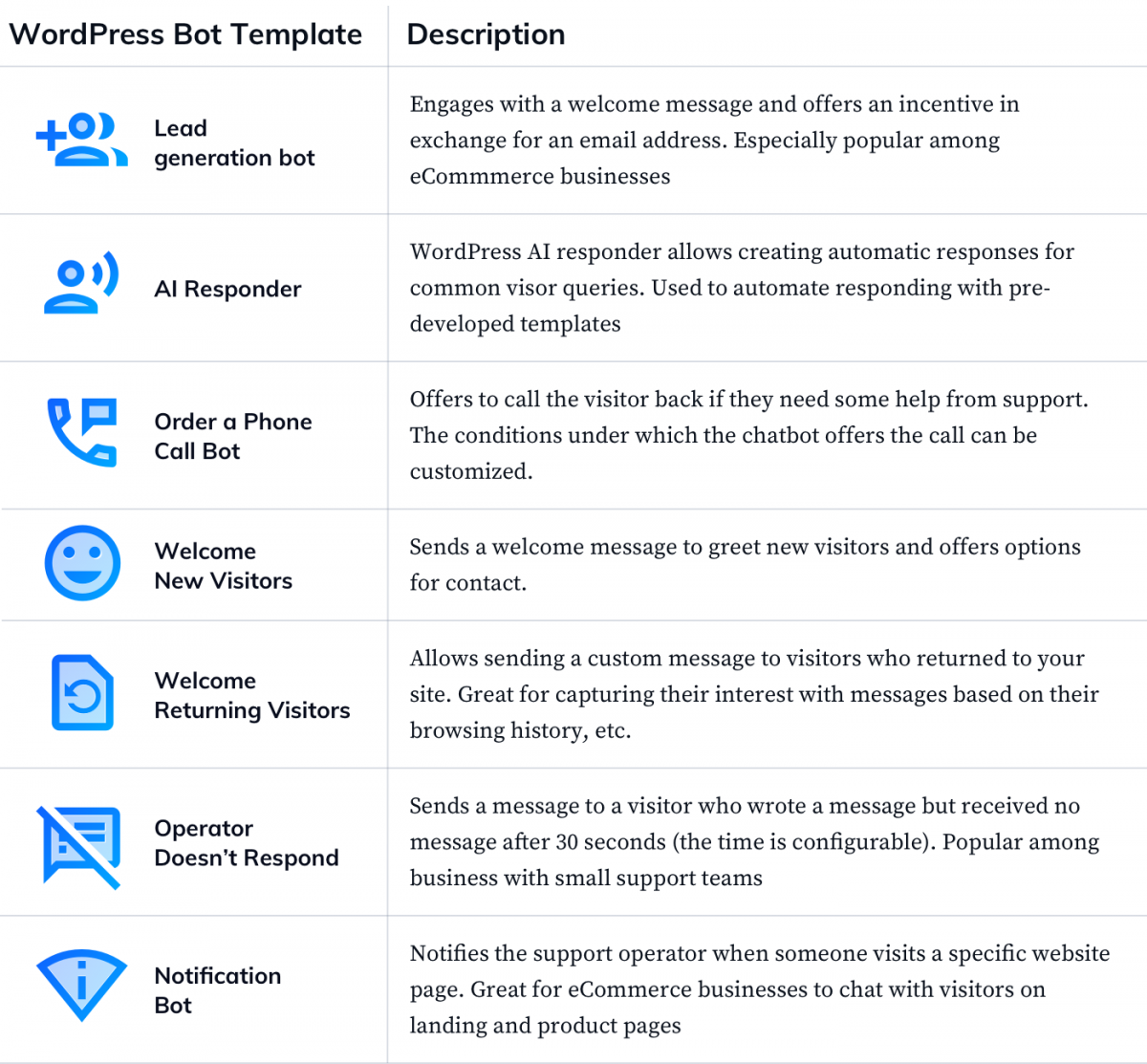 While these templates cover many situations, you should try creating your custom chatbot from scratch. It's easy, even with no previous experience!
The Features of Tidio WordPress Chatbots
There is one big reason why the WordPress community likes using chatbots powered by Tidio. They are simple, useful, and have many business-oriented features.
Drag-and-Drop Chatbot Editor
You probably use drag-and-drop in your daily apps like Gmail, so you should know how easy it is.
Chatbot editor is a drag-and-drop interface, too. That's why making your first chatbots will be as easy as riding a bike.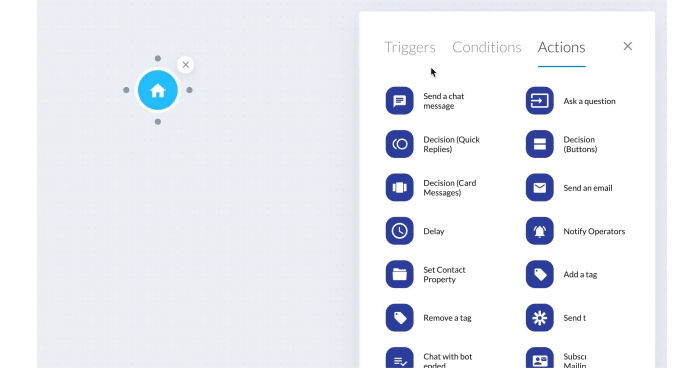 This type of interface allows building a ready-to-go chatbot in minutes.
WordPress Visitor Tracking and Custom Bot Behavior
You can configure Tidio WordPress chatbot to assign a property to each visitor. This way, you can track their behavior.
You can do it in the editor by adding the Set Contact Property action node to a chatbot's workflow.

This action node triggers the automatic saving of visitors' information, e.g., viewed products.
It helps you spy on your website visitors and see how they browse your website. You can use this knowledge to your advantage and focus your marketing efforts on specific pages.
Dive Deeper:
Customization of Your WordPress Chat Widget
WordPress users are very picky when it comes to plugin customization. After all, everything on WordPress is made of different apps and building blocks. They don't always fit together right away. That is why a good WordPress chatbot should:
look like an original part of your website
have colors that match their brand's visual identity
Tidio offers color customization options for the chat widget, interface, and icon. Also, you can insert an image of your choice as a background of the chatbot view.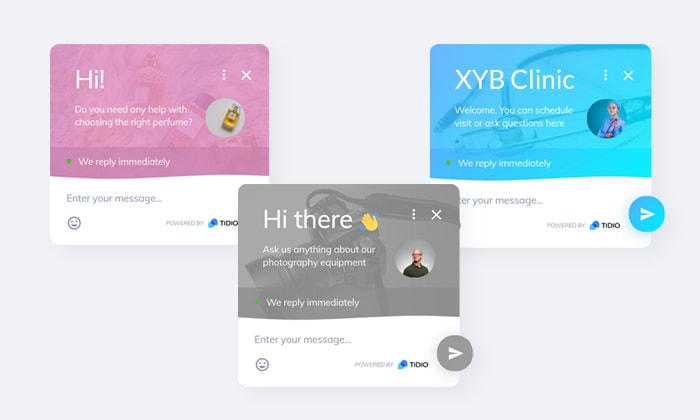 Find all these options in the "Channels" menu item in Tidio chat panel.

There's a function to use specific RGB or Hex color values, too. Thanks to this, you get a chance to match the chatbot's look with your company's brand colors.
WooCommerce Chatbots
Tidio chatbots for WordPress have many features related to eCommerce. Online store owners can use chatbot automations to give discounts or provide info about the status of orders.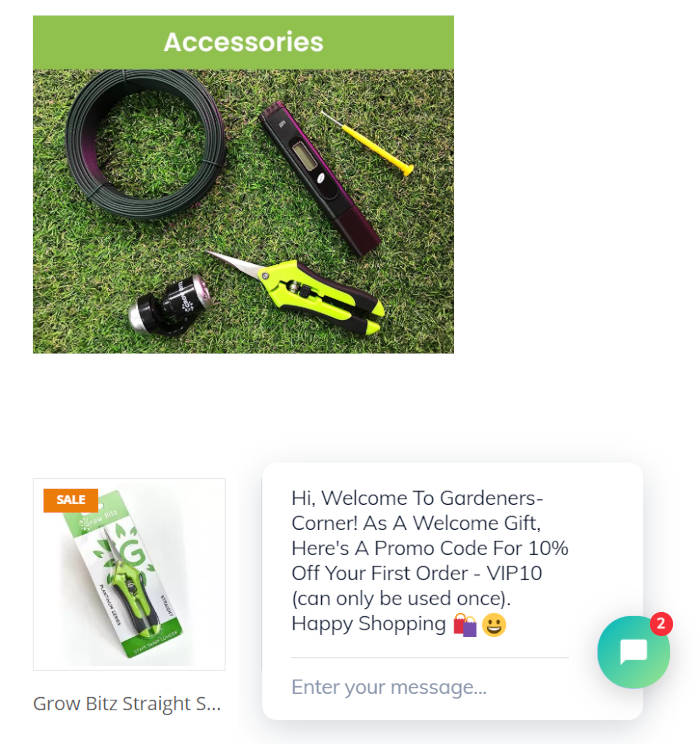 Other WordPress Chatbot Plugin Options
Apart from Tidio, WordPress has other chatbot options.
WoowBot
WoowBot is a WordPress chatbot created for WooCommerce users. It's easy to install and run, and generates some stats related to shopping performance. 
It's an interesting option to use by eCommerce businesses but WoowBot is quite difficult to configure if you want to make the most of it and it's design could be more up to date.
WP-Chatbot (Facebook Chatbot)
This WordPress chatbot plugin installs a Facebook Messenger chat widget on a WordPress site. Despite being a popular communication platform, Facebook chatbot option isn't the best way to go. 
🚀 Read: More about the benefits and drawbacks of Messenger chatbots.
IBM Watson Chatbot
IBM Watson assistant chatbot plugin for WordPress has about 2,000 active installations. User reviews suggest problems like bugs, freezes, and unstable updates.
Dive Deeper:
Conclusion
If you were curious, our blog also runs on WordPress. It has a few Tidio WordPress chatbots installed.
Chances are you've met at least one of them already.
WordPress users comprise over 35% of the customers of Tidio.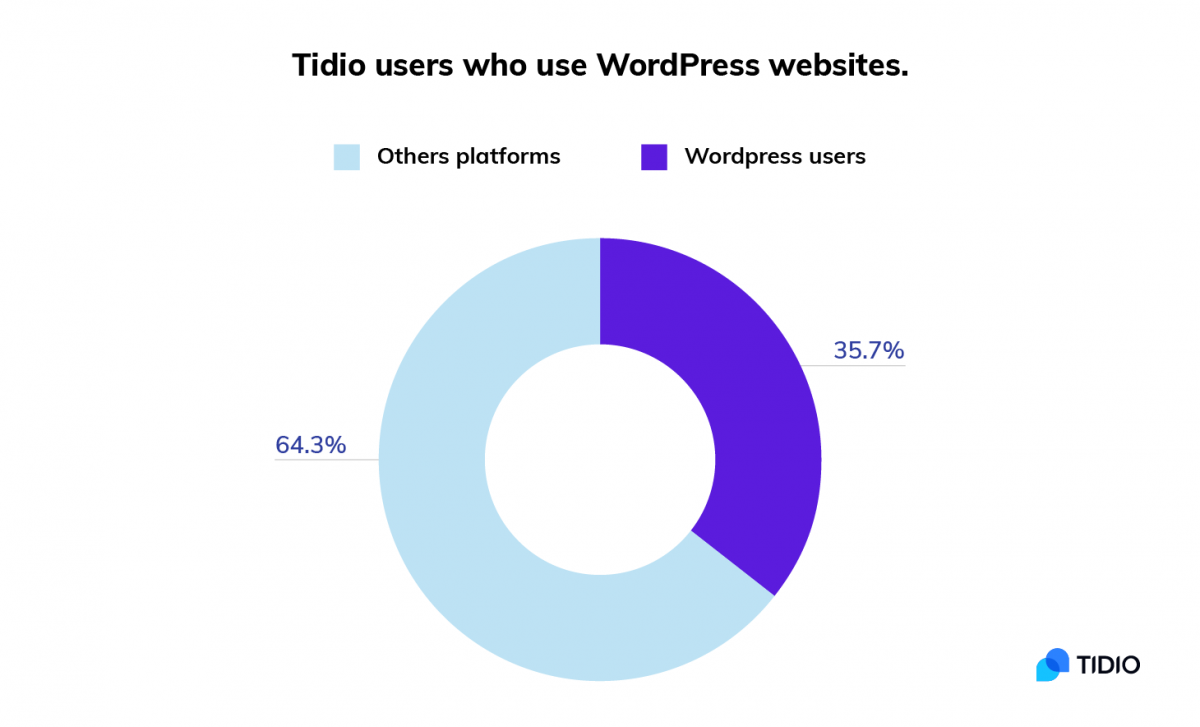 Here are a few reasons why you should join them:
Rich chatbot functionality, tailored for every type of business
Regular updates and features that are WordPress compatible
Effectiveness proved by thousands of experiences from users.
Add Chatbot to WordPress Now
Is there something else you'd like to know about Tidio WordPress chatbots?
Feel free to check out these pages.
Tidio WordPress Chat Plugin on WordPress.org