Nowadays, when every company claims that their products or services are the best on the market, there is one thing that can make you stand out from the crowd—excellent customer service.
But—
It takes money and effort. And sometimes, especially when your business is growing, the amount of tasks can be overwhelming for your customer support team.
Fortunately, with the help of customer self-service tactics, you can not only solve customers' issues without even talking to them, but also reduce support costs!
Interested?
So, let's discover how to optimize service interactions and improve your customer service agents' well-being.
In this article:
If you want to read more about how to deliver a great customer service experience, check out the following articles:
Now—
Let's dive into the topic and discover every inch of customer self-service.
What is customer self-service?
Customer self-service is a strategy that enables end users to independently find solutions to their problems, without contacting the customer service team.
It's happening through the various assets available on the company's website, like:
Customer self-service portal
Product tutorials and trainings
Webinars
Knowledge base articles
FAQ page
FAQ chatbots
Community forum
Mobile app
Automated call center
Combined together, these options provide clients with a comprehensive guide to your products or services.
Now, let's find out what value customer self-service can bring to your business.
Benefits of customer self-service
According to research by Gartner, about 70% of customers are using self-service support to solve their problems. That shows us that self-service channels are one of the people's first-choices when it comes to solving their own issues or finding answers to the most common questions.
It could be because customer self-service is just faster than contacting a "regular" support team or call center. Also, with a set of helpful materials available on your home page, you can serve multiple clients at once.
Now, let's take a closer look at self-service solutions to find out what value they can bring to your business.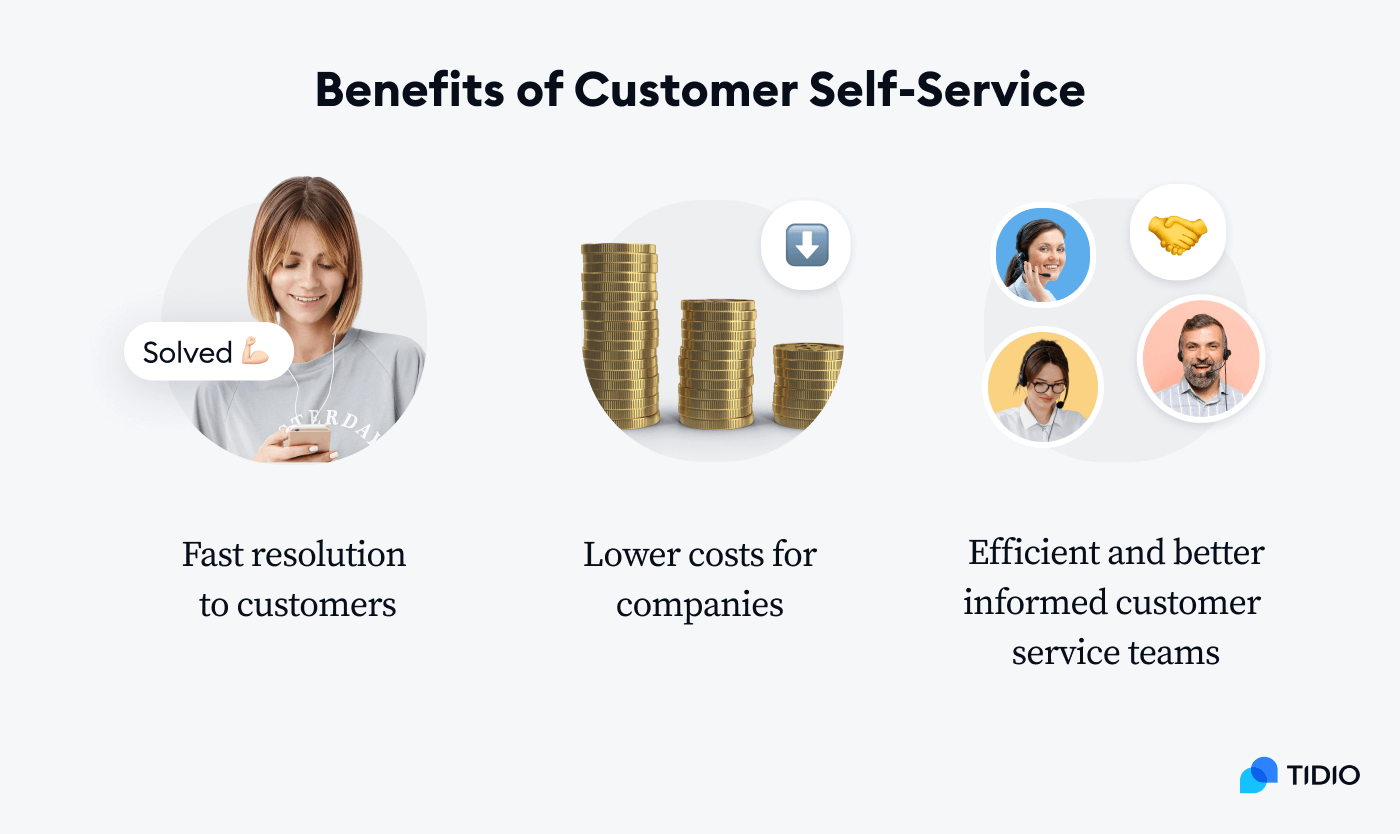 Fast resolution to customers
A quick and direct way to solve problems is, according to the 2021 Zendesk CX Trends Report, the most important aspect of a good customer experience for nearly 32% of respondents.
And that's exactly what self-service is—a quick and direct way to solve problems. Clients can help themselves at any time, without waiting for a support team.
Lower costs for companies
Although customer service is a crucial aspect of the overall success of your company, it also adds up costs. You need to hire service representatives, provide them with unnecessary tools, onboarding, and training. All of this takes time and money.
Money that you can save by preparing self-service materials for your customers.
Efficient customer service teams
Besides cutting costs and providing customers support, self-service tools can also help your support team. The knowledge base and documentation can help your agents provide the most up-to-date information to your shoppers.
Also, your self-serve help center can also act as a great onboarding tool for your new employees.
Now, when we have all the basic information covered, let's discover self-service use cases you can implement in your company.
Customer self-service examples
You can add customer self-service to your business in a variety of ways. In this section, we've selected the most popular, tried-and-tested examples. Let's dive in and find the right one for your company.
FAQ page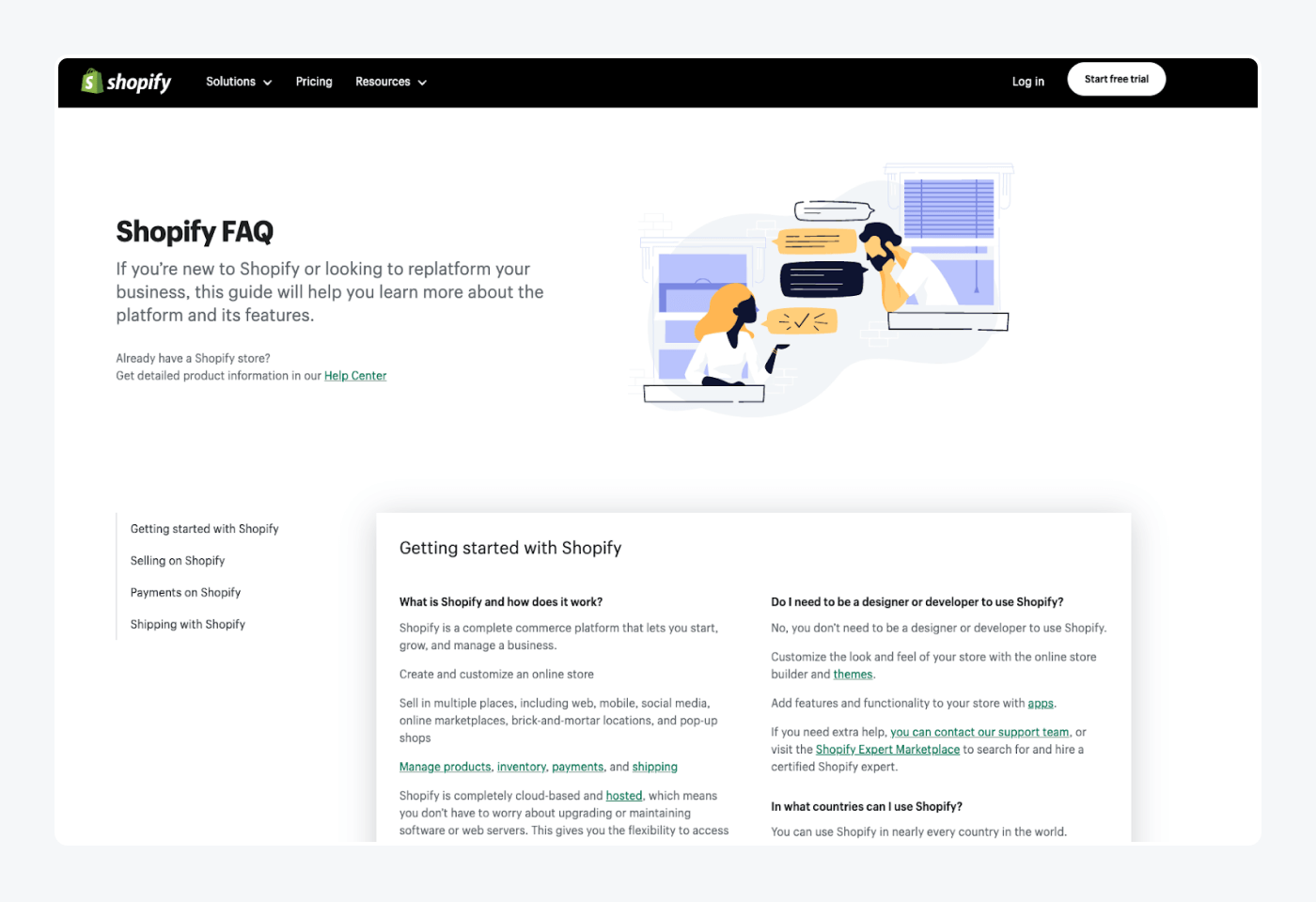 Who would've guessed?
Well-known, frequently asked questions page is one of the most popular examples of customer self-service experience. That's because it does its job well. FAQ page is a simple way to address all of the most popular questions your customers ask—in short—it's basically a simplified version of the knowledge base.
The biggest challenge while creating this page is to find the most relevant topics for your customers in order to make the whole page truly useful and helpful for users. You can do it by using different communication channels like chat surveys, feedback chatbots, sources of your customers' insights like CRM or chat transcriptions.
Knowledge base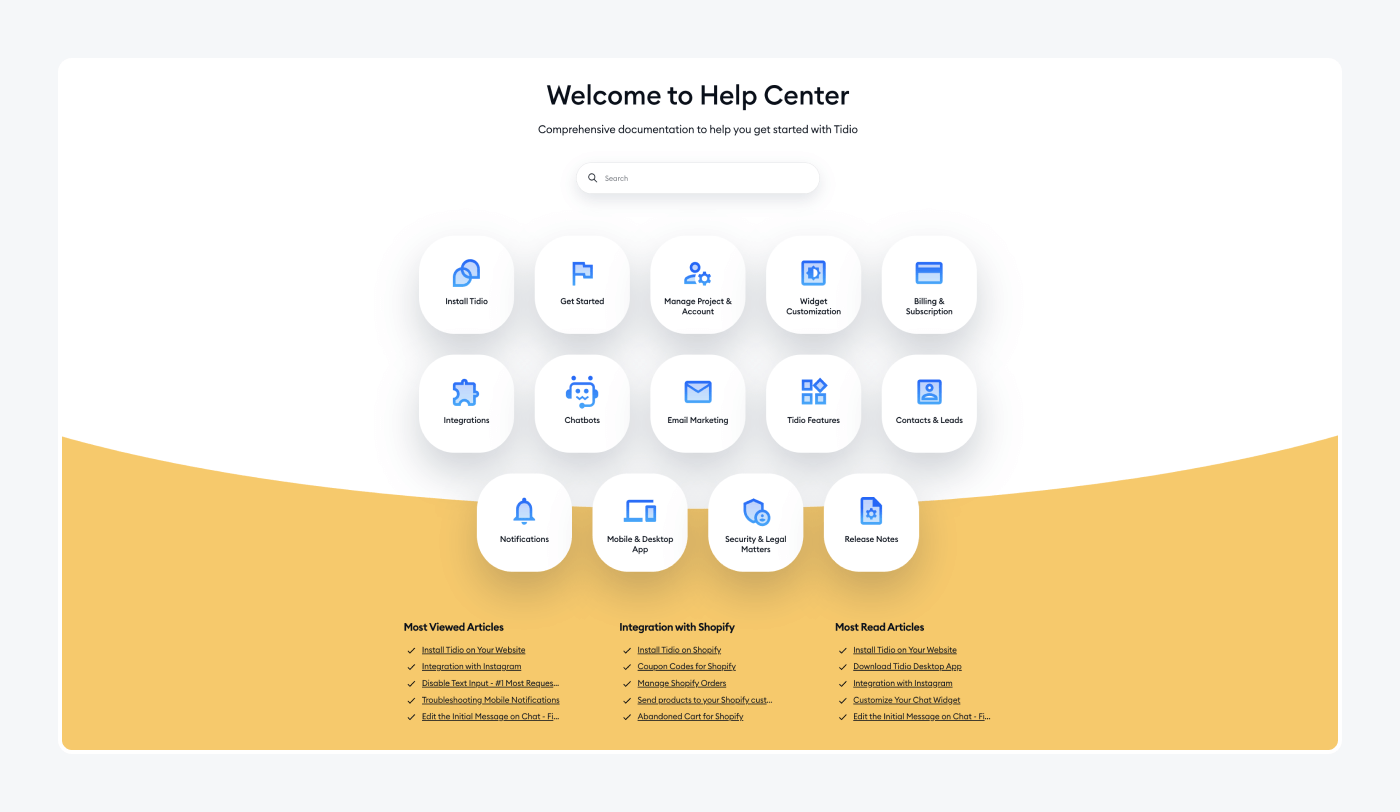 A knowledge base is one of best customer self-service examples. It's a section of your website where customers can solve common product or service issues.
Usually, a knowledge base section includes:
List of directions and tips for using your products/services
Frequently asked questions
Payment information (billing & subscriptions)
Video tutorials
Knowledge on different business departments
Security & legal matters
If you're looking for examples or inspiration while creating your own knowledge base section, take a look at Tidio help center. It's easy to find, it helps to solve numerous issues, and answers a variety of questions related to the Tidio's products.
Here, customers can find how to add live chat to a website and get started with chatbots, a list of features with a description of each one, and many more.
Also, if you take a look at the bottom of the Tidio help center page, you can see two columns with most popular articles on Tidio's help center and one column with recently published ones. All of this makes the whole section a complete guide to the tool and does not leave the customers without help.
AI-powered chatbot and live chat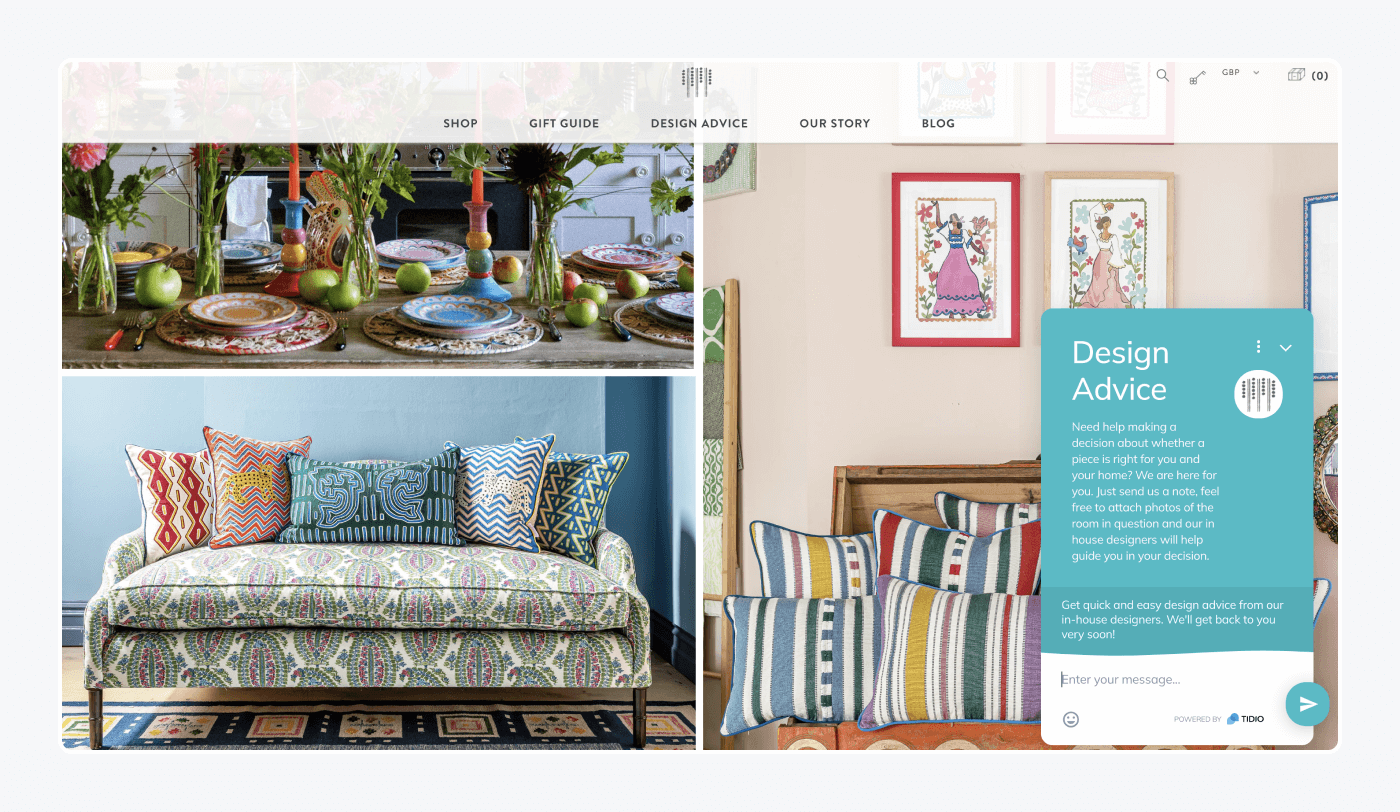 In theory, your support team can be online 24/7 and answer every question right away, but it would cost you thousands of dollars. You'd have to employ people from different time zones or pay your current staff for weekend/night work.
Luckily, chatbots can solve this problem. They will serve your clients without breaks, vacations, holidays and, if designed well, are free of human errors.
But the best thing chatbots and live chat can do for your business is to help personalize customer experience and build a great ecommerce growth strategy. For example, let's take a look at Wicklewood. This small, UK-based home decor store decided to compete with IKEA with the help of chatbots and live chat plugin.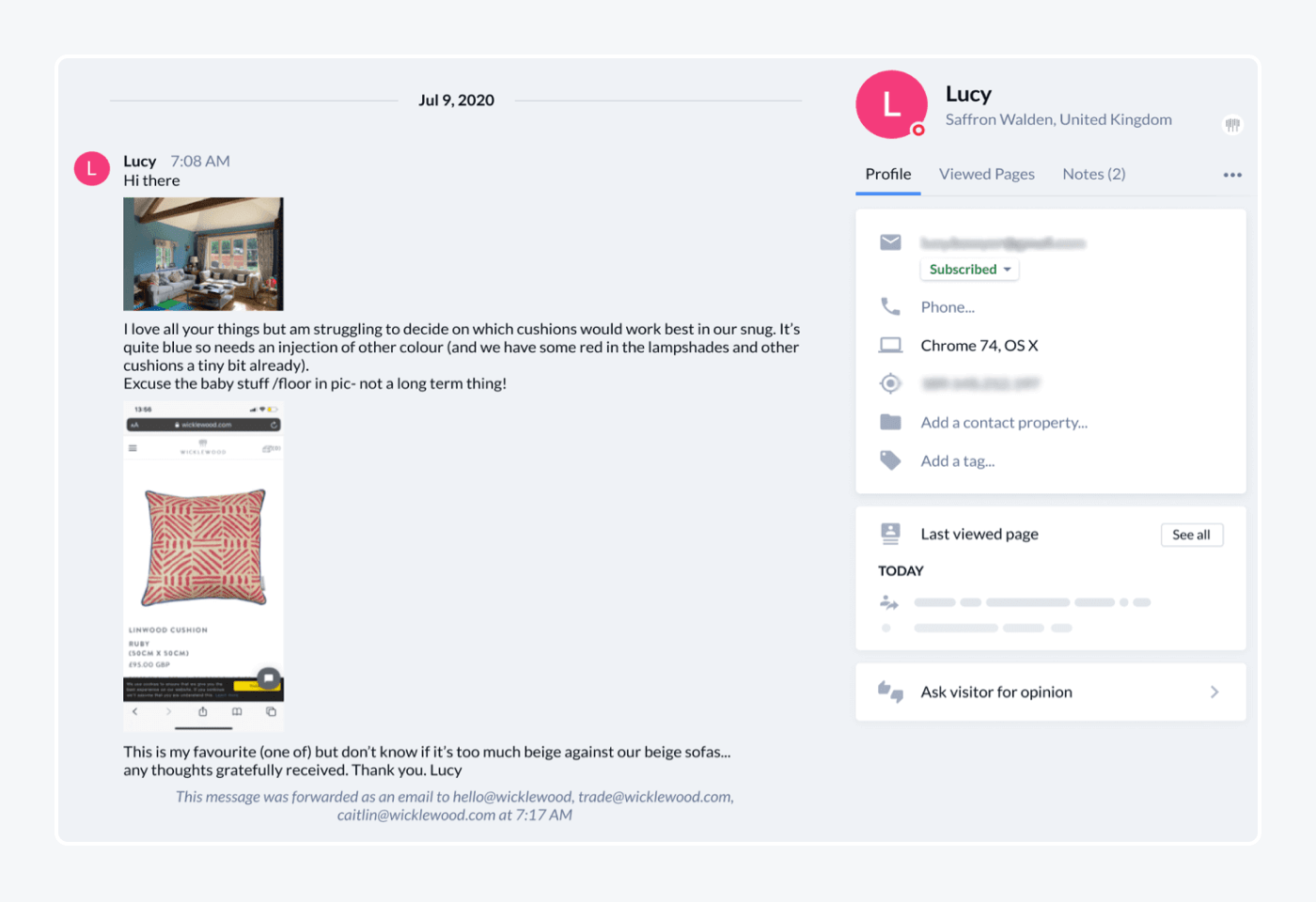 Does it work?
Sure it does! Thanks to AI chatbots and live chat as a part of their customer self-service strategy, Wicklewood reduced customer friction, got 15% more leads, and 3 times more referrals. If you are curious about the details, check out the case study describing how Wicklewood's team used Tidio to compete with Ikea.
Product training for customers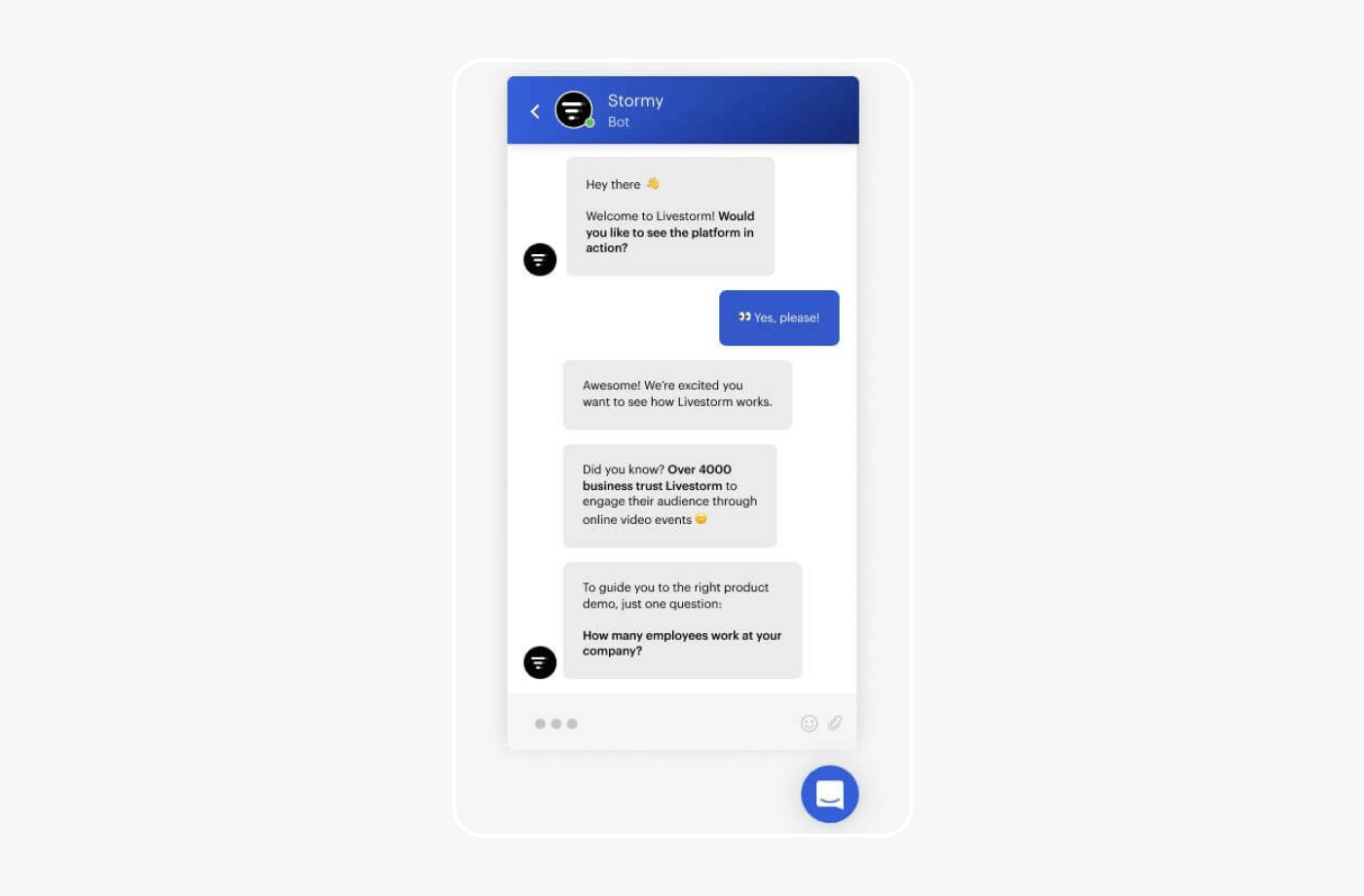 It's obvious that when a company hires sales, marketing, or customer support reps, they are provided with a complex product/service training. New hires have to know what they're dealing with.
Usually, they get a detailed explanation of:
Product's functionality
Its main benefits
Product optimization to customers' needs
Common customer issues when using the products/service for the first time
And much more
This training makes the new hires into true experts, knowing every tiny detail of the product/service their company is selling. And, if this training works so well for new hires, why not share it with your customers? If you have prepared a detailed training for your staff, offer it to your clients as well.
By doing this, you will not only show your customers that you care about experience. You'll also demonstrate that you care about the customer's success and want them to grow with you.
Community forum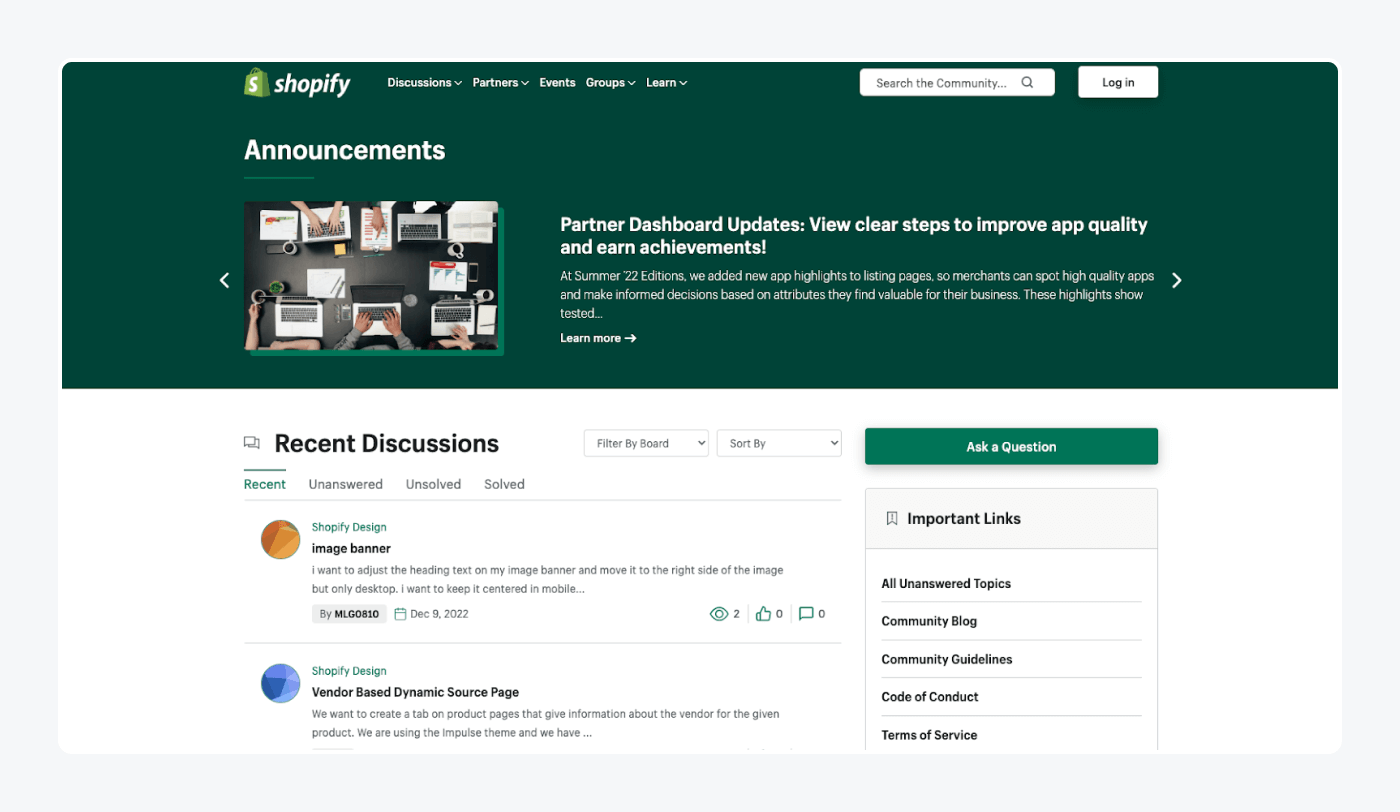 The best way to create support content is to give this task to your well-trained support team. But, there are some cases when it's also good to create a community forum around your products/services, so people would be able to help one another.
When is it good to create a community around your brand?
There are three most popular cases:
Your company is rapidly growing, and you're struggling to keep up with the support queue
You haven't prepared your help center content yet to address all the frequently asked questions
You offer free products/services and can't afford a support team to help your clients
As an example, let's take the Shopify Community. By joining the Shopify community forum, their customers get access to over 900,000 Shopify Merchants and Partners. Moreover, as you may have guessed, they can take part in meaningful conversations with their peers.
Mobile app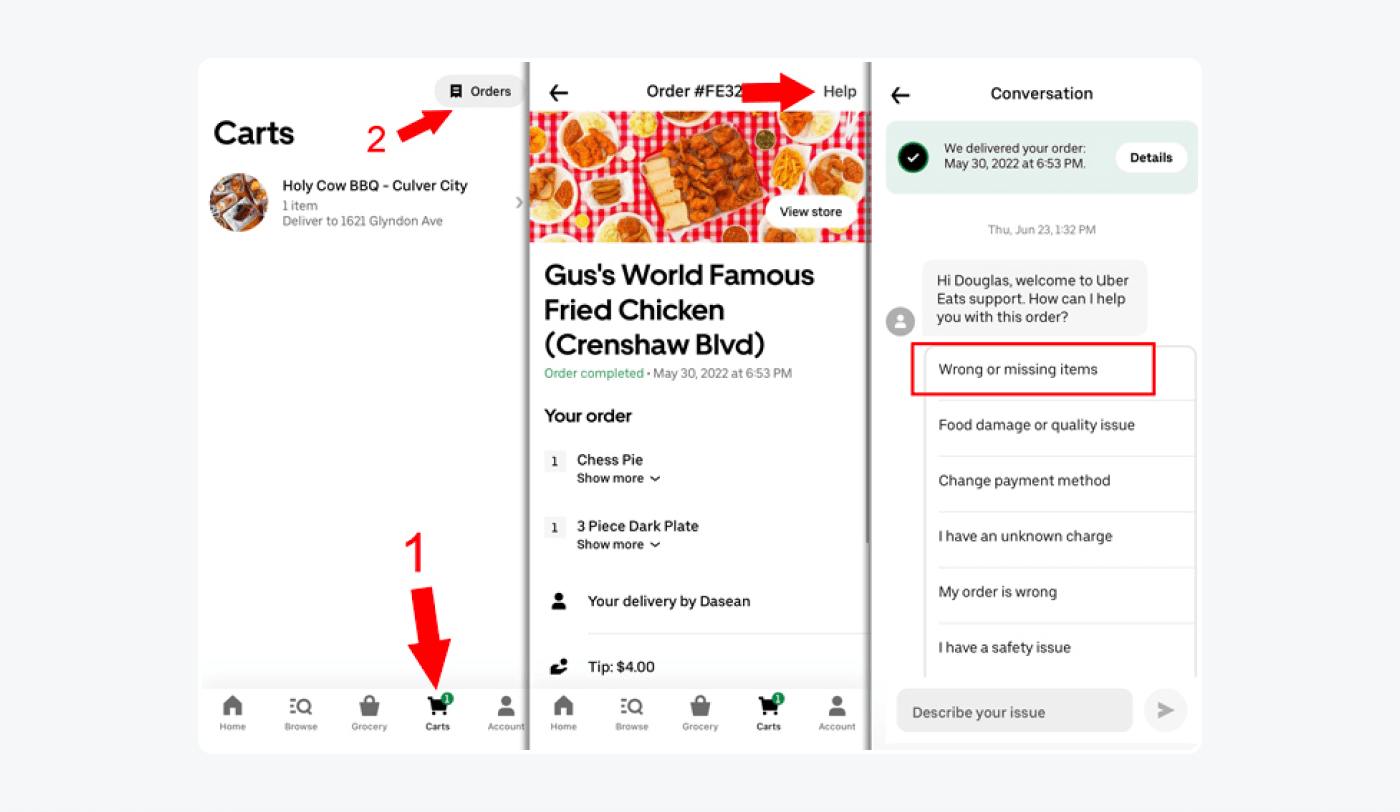 Mobile apps related to your business can help customers trigger support automation. This is why many businesses make an app so that customers can initiate support requests, track their inquiries, and receive real-time assistance. Let's take an Uber Eats app for example.
It's an application that allows people to order food from available restaurants. If anything goes wrong with their order—for example, the delivery time is longer than previously estimated, customers can easily cancel the order and get refunds. With no need to talk to the support team.
Automated call-center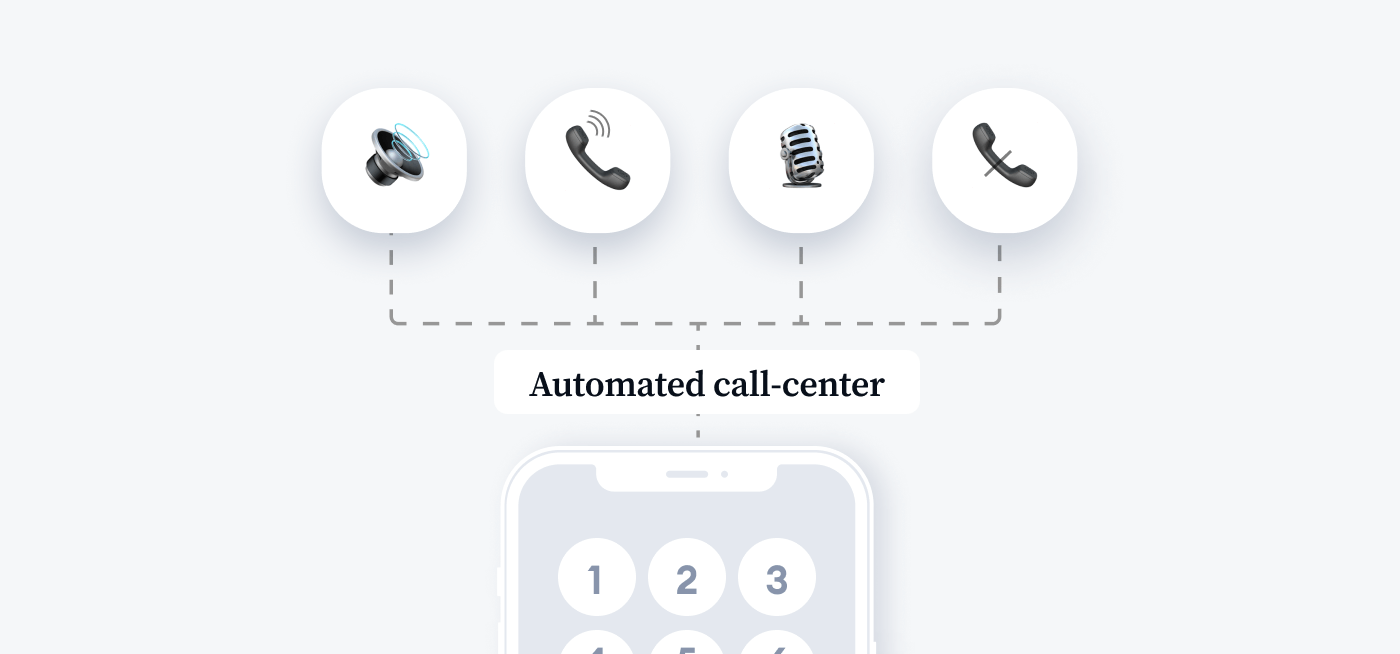 Although we live in the age of chats, DMs, short texts and mails, phone calls are still in the game when it comes to customer self-service.
Thanks to automated call centers or, to be more specific, Interactive Voice Response (IVR) technology, a customer can solve a problem without speaking to a live support agent. This solution, combined with automated menus, can provide customers with pre-recorded answers to the most frequently asked questions with no need to wait for the support agents.
OK—
Now you know what customer self-service is, its benefits, and examples. But it's not enough to successfully implement it in your company—for this, you need to have a proper plan.
5 steps for a successful customer self-service strategy
Note—to become a true customer self-service master, you need to do it not only right, but even better than your competitors. If you want to achieve it, you need to have the proper strategy.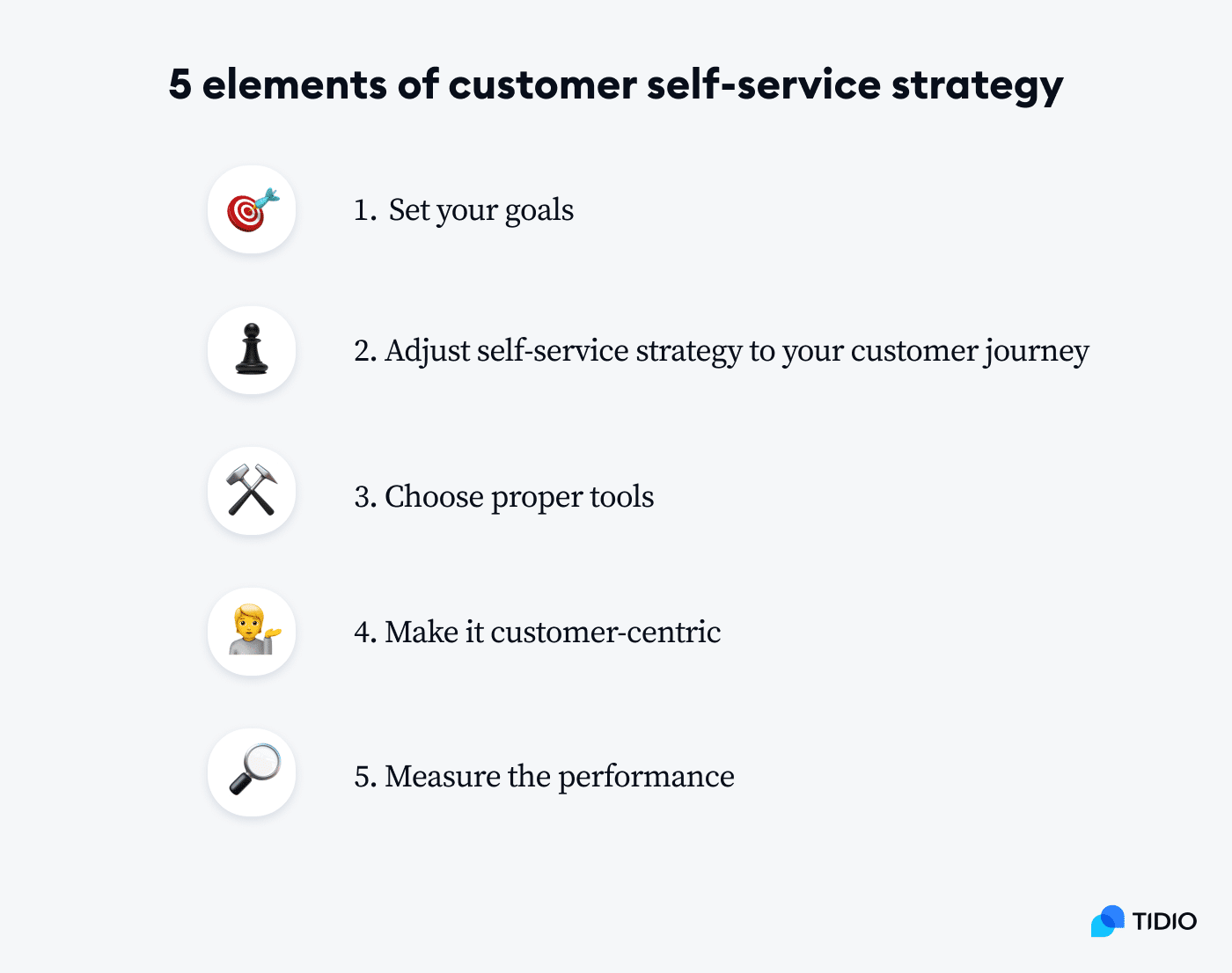 In this section, we'll go through the five steps of a successful customer self-service strategy. Follow them to leverage your company's self-support to another level and leave your competition behind.
Step 1: Set your goals
The first thing you need to do is to define what you want to achieve. Think about which customer experiences or use cases would benefit the most by supporting them by self-service solutions.
Of course, choose these elements in relation to your business, industry you operate in and your company's resources.
If we were to suggest something to you, speed and convenience should be your must-have ones while setting these goals. The whole concept of customer self-service is about providing your clients with immediate and easy-to-find solutions for their problems. Keep that in mind.
Step 2: Adjust self-service strategy to your customer journey
While planning your self-service strategy, try to do it in line with your customer journey map. Determine when your potential clients may need help that can be provided by self-service solutions.
By doing this, you'll provide them with immediate answers to their questions at every step of their journey with your brand. Thanks to that, you'll show that you understand their concerns at every stage of their buying process and know how to solve them. It's essential when you want to build strong client relationships and build a trust-worthy brand.
Step 3: Choose proper tools
Customer self-service resources should be a mix of human and virtual assistants. Your job here is to define which queries or aspects of your business can be explained by self-service solutions (like chatbots or knowledge base) and which ones require the interference of human agents.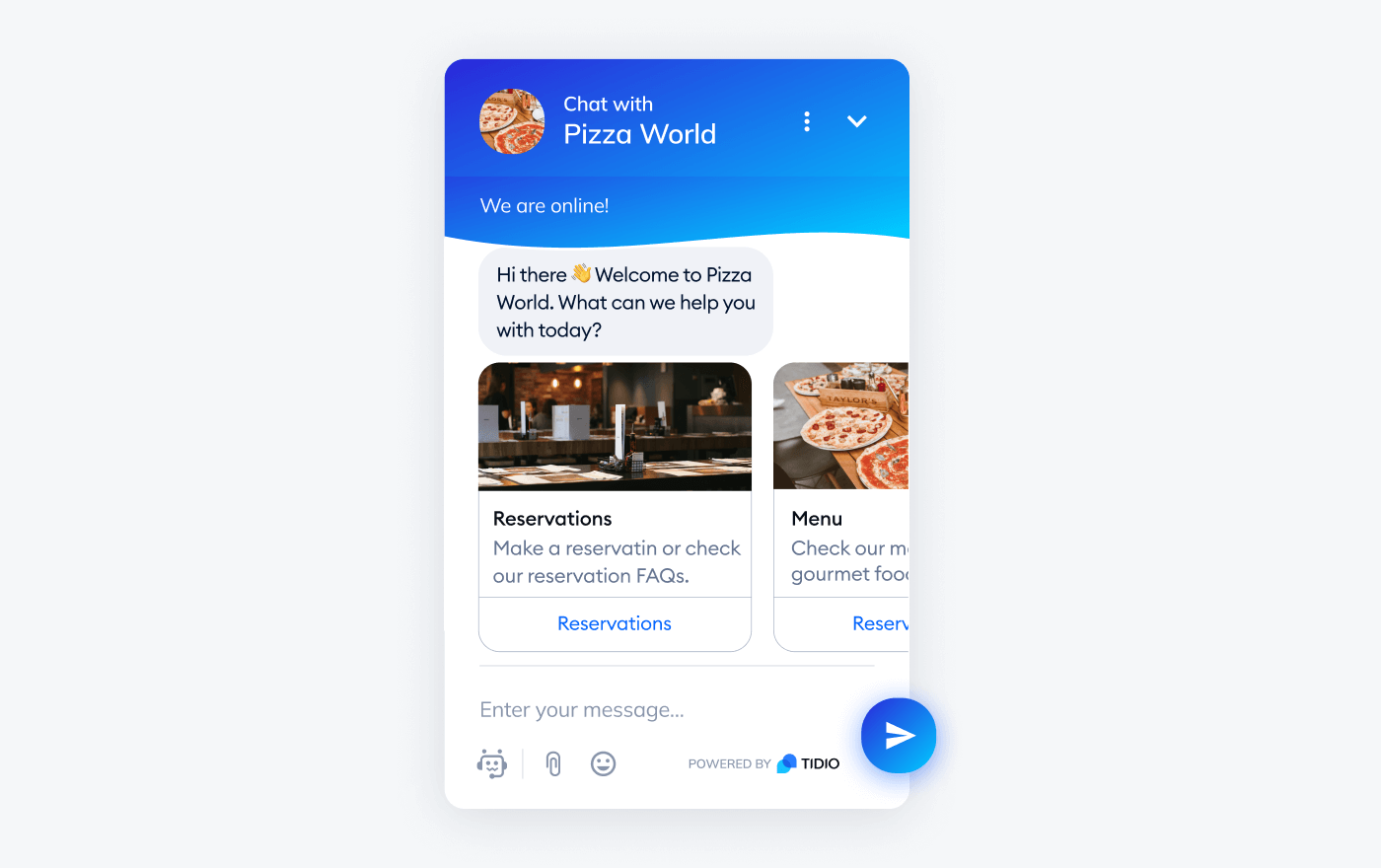 The best idea here is to engage the AI-based resources to basic tasks i.e FAQs to and leave the complex ones to your customer support representatives. This will minimize the response time for common questions and let your employees focus on more challenging tasks without being distracted by queries that can be handled by bots.
Read more: Discover all the differences between chatbot vs live chat to find out which solution will better help you in providing great customer service.
Step 4: Make it customer-centric
Once your clients feel that you listen to their concerns and take care of them, they are more likely to stay with you. Make sure that your customer self-service assets address every important information about your products or services.
Don't treat these materials as sales or marketing assets. Focus on being helpful and providing the best possible customer support. It simply pays off.
Step 5: Measure the performance
The users' behaviors and habits are constantly evolving and changing. So, to keep your customer self-service useful, you need to keep your finger on the pulse and respond to these changes.
Evaluate your efforts with metrics like:
Customer Satisfaction Score (CAST)
Tickets created
Bounce rates
Read more: Learn more about how to measure the effectiveness of your service experience with the most important customer service metrics.
Customer self-service best practices
While working on any kind of strategy, it's always good to know some pro-tips. In this section, we've gathered 4 best practices of creating customer self-service assets. Follow this advice to make sure your self-help assets will be truly helpful.
It should be your first thought while wondering about what is required for customer self-service. Nothing is more frustrating for customers than not being able to find answers to their questions. That's why your help center, chatbot, and FAQ page should be visible and easy to find for every visitor on your site.
A visible help center page shows your clients that you know how and want to help them. Be helpful. It simply pays off.
Another important thing to remember while creating customer self-service materials is to stay proactive. What does it mean? Simply reaching out to your customers via text, email, or phone before they report a problem.
A good example of proactivity is Glovo, a grocery and food delivery app. After completing every order, people get a message through the app asking how the delivery went. If there is any issue, they can jump straight into the process of solving it or receive compensation if, for example, they were charged too much.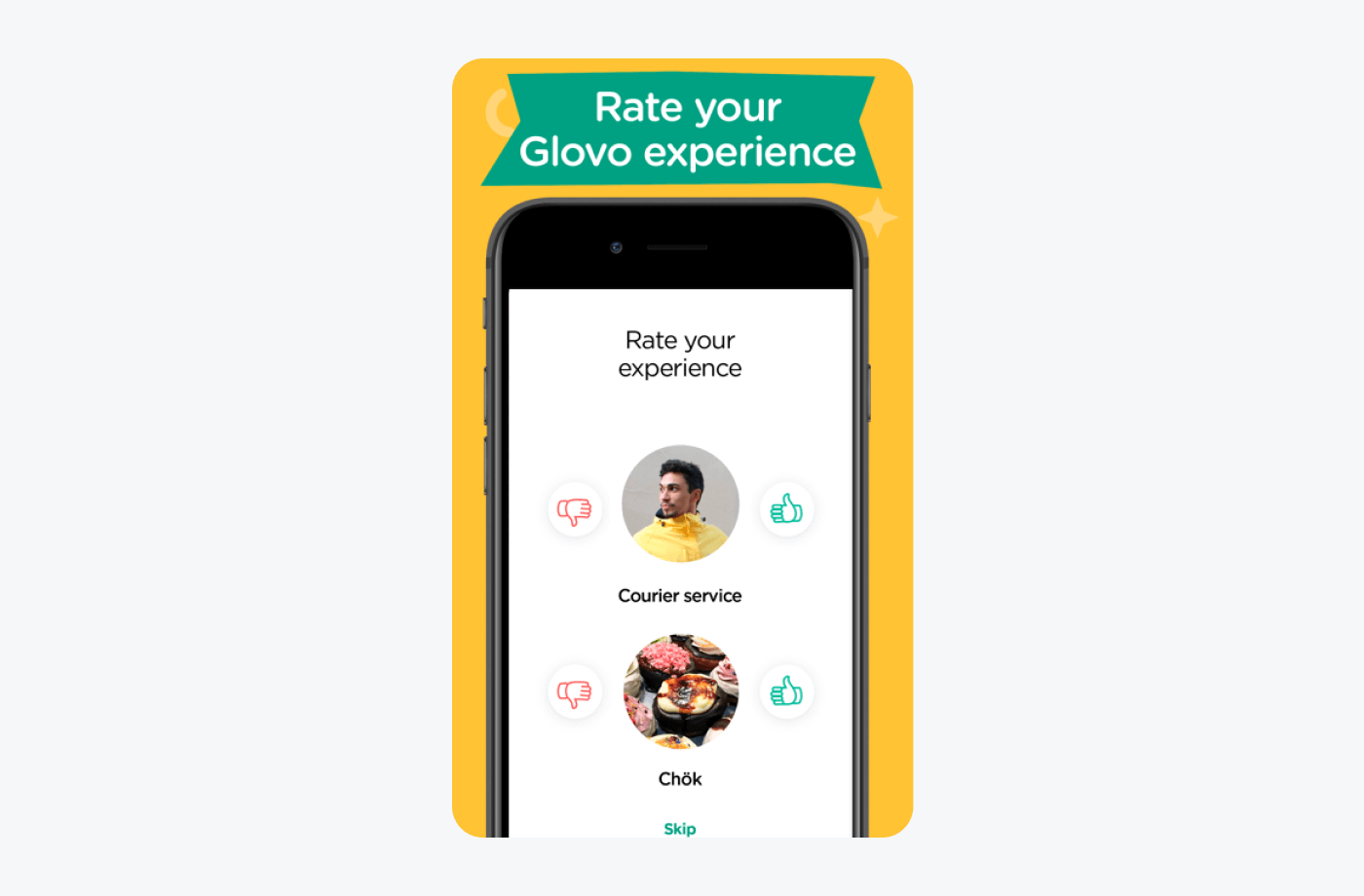 Read more: Discover more examples of proactive customer service.
Remember about accessibility
Your customer self-service materials have to be accessible for all users. So think about all the possible barriers your clients may face when looking for help and try to overcome them.
These barriers include:
Speaking disabilities
Visual impairments
Hearing problems
Poor internet access
What does overcoming these barriers mean in practice?
For example, chatbots and live chat can be great channels for people with speaking or hearing disabilities. Just make sure that your bots are able to assist foreign-language speakers.
On the other hand, automated call centers can perfectly serve all the customers with poor or limited internet connection. And, same as in the chatbots case, be sure that the voice assistant "understands" foreign languages.
If you want to provide your customers with a great self-service experience, you have to make it clear, consistent and straight to the point. So it's not a good idea to snow your customers with too much information at once—it can be overwhelming for them and backfire on your business.
Ensure that your content is plain and informative. Organize your knowledge base articles in categories to make the page easy to navigate on. On top of that, use writing assistant tools like Grammarly to make your texts grammatically correct and consistent.
When designing your knowledge base, follow the Material Design guidelines by Google to make sure your design is easy to navigate and accessible for every user.
Looks like you know almost everything about customer self-service and how to implement it in your business. But, we wouldn't be ourselves, if we wouldn't share some great tools that can help you with that.
Let's go through them briefly.
Customer self-service software
Below, you'll find a list of tools that will help you to prepare your strategy.
In our list of the best customer service software you'll find tools for:
Building chatbots
Building knowledge bases
Managing the relations and interactions with customers
Now, let's review this self-service customer support software in-depth, including their main features and pricing.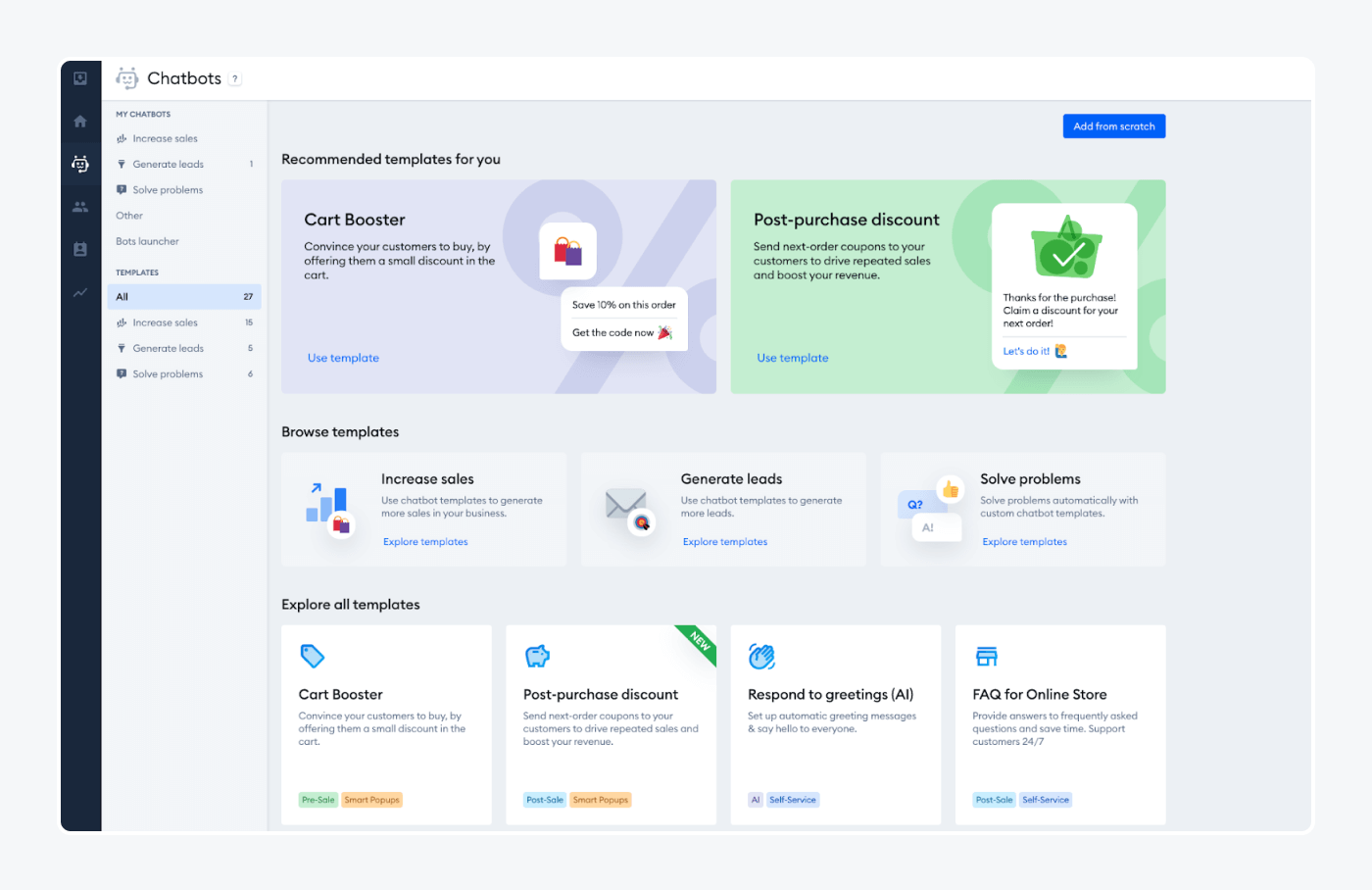 Yes, the first one on the list is our chatbot software. But, as you saw in the previously mentioned case study, it's a very helpful chatbot and live chat creator, so let us go through it quickly.
Tidio is an all-in-one customer service platform that allows you to build conversational AI chatbots and implement live chat on your company's website. The tool is easy to use and, thanks to its drag-and-drop visual builder, doesn't require any coding knowledge to build chatbots.
With Tidio, you can provide your customers with immediate, fully-automated 24/7 support. And, if your clients need to talk to the support representatives, they can still do it with the live chat functionality.
But let our reviews speak for ourselves. Check out our users' reviews on G2 and try Tidio chatbots for free to evaluate if we are really as good as we say.
Main features:
Over 16 different triggers
Drag-and-drop visual chatbot builder
NLP and machine learning technology
Over 37 ready-to-use chatbot templates
Dedicated app for desktop and mobile (iOS and Android)
Variety of integrations, including Shopify, Facebook, email, etc.
Free plan available
Communicator ($19/mo/operator)
Chatbots ($39/mo)
Tidio+ (from $289/mo)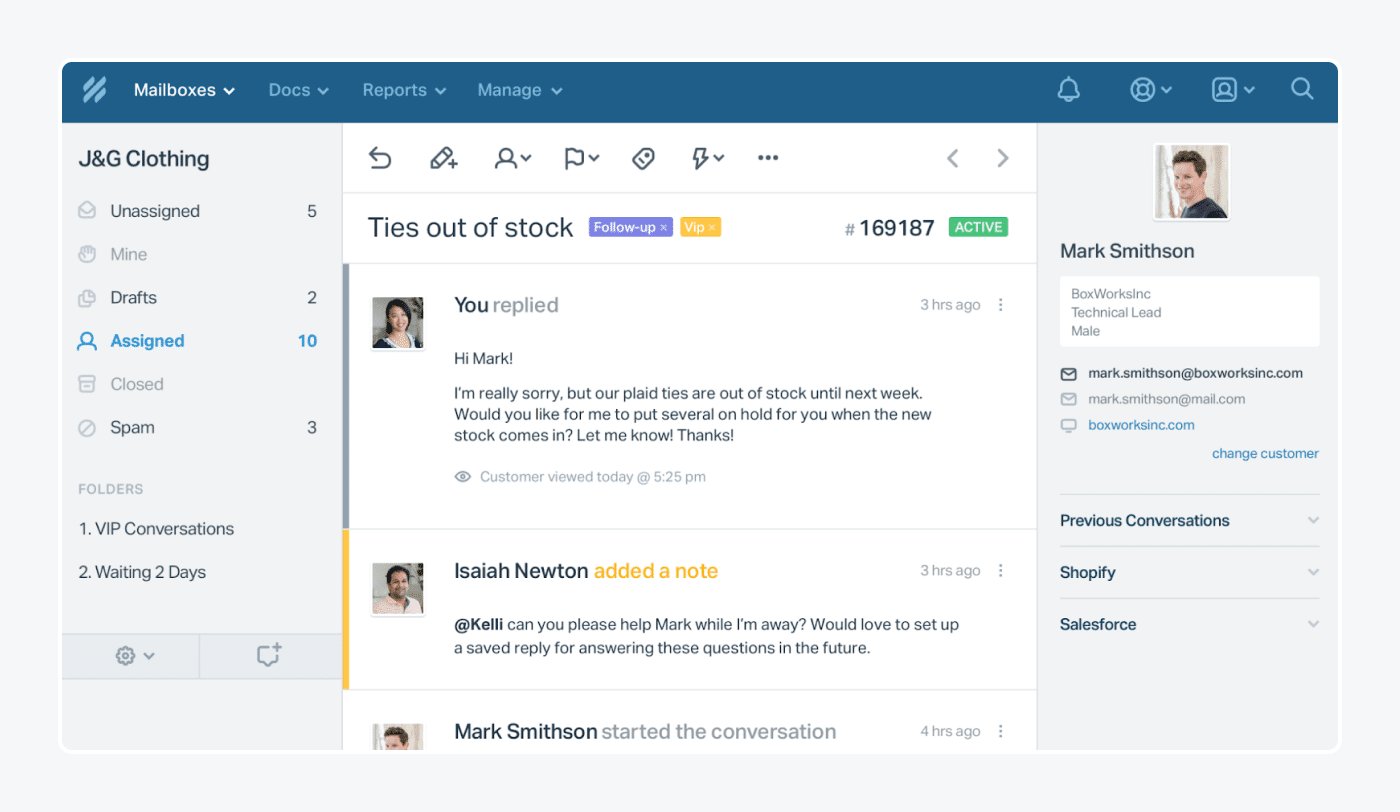 Help Scout is an omnichannel customer support platform with two customer self-service tools—Docs and Bacon.
Docs is a knowledge base builder that lets companies create, organize, and manage the content on the help center pages. Its editor is called WYSIWYG. This knowledge management tool also offers customizable templates (based on CSS) that helps to create the whole page on-brand. On top of that, thanks to organization options and search capabilities, the tool helps to make the whole page easy to navigate for the end users.
The Beacon tools allow companies to embed a widget on their pages that gives their customers instant access to the help center content. Thanks to that, end users are able to get the answers to their questions exactly when and where they need to.
Main features:
Help center page builder
Customer self-service widget
Shared inbox
Reports and dashboards available
Free trial available
Standard ($25 per user/month)
Plus ($50 per user/month)
Pro ($65 per user/month/in a yearly plan only)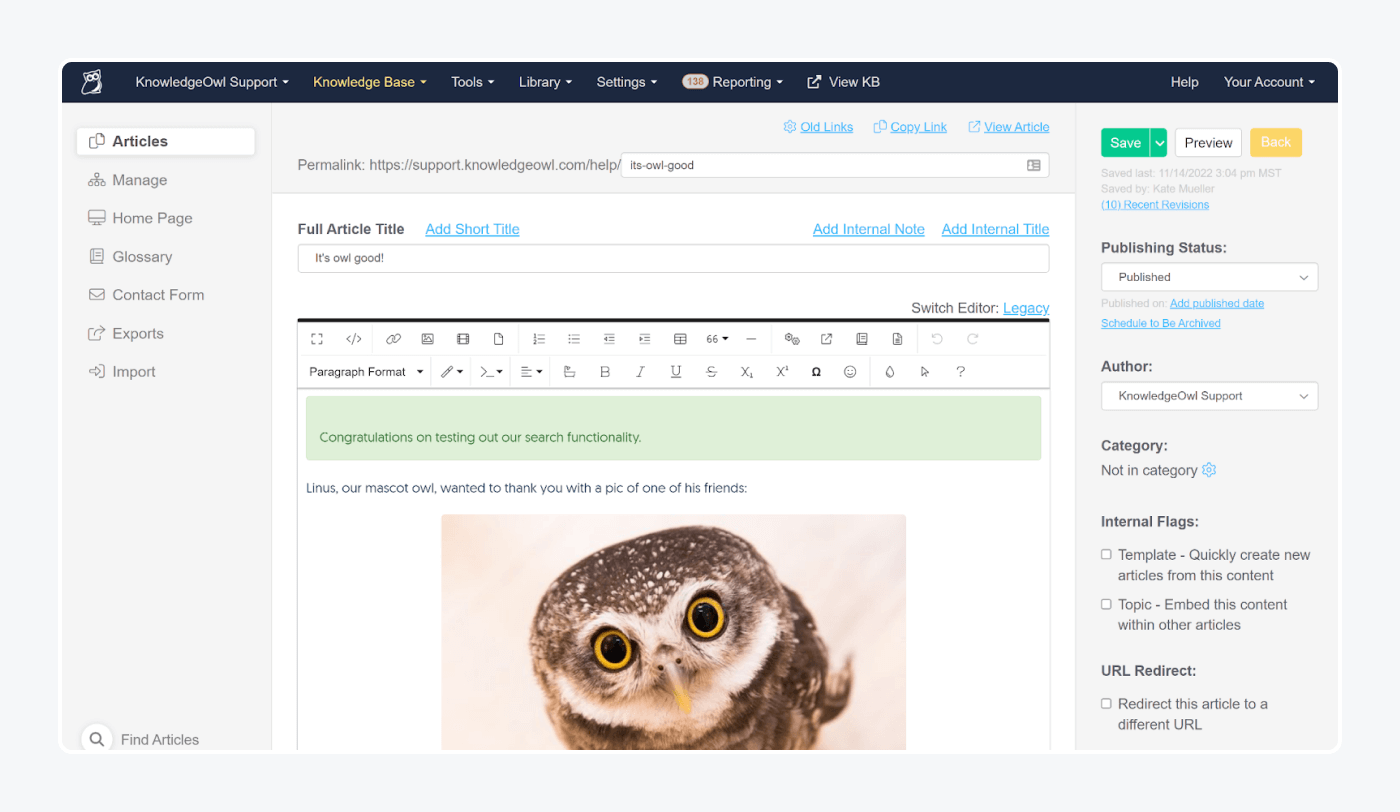 KnowledgeOwl is one of the best customer self-service applications for building a knowledge base. It offers an easy-to-use and intuitive content editor. What's more, the tool also includes some design options to make your knowledge base page in line with your brandbook. What's great about these design options is that they don't require coding knowledge.
Main features:
Contextual help widget
Navigation tools
Content organization
SEO tools for better ranking in SERPs
Flex (from 79$/month)
Business (from 299$/month)
Enterprise (from 999$/month)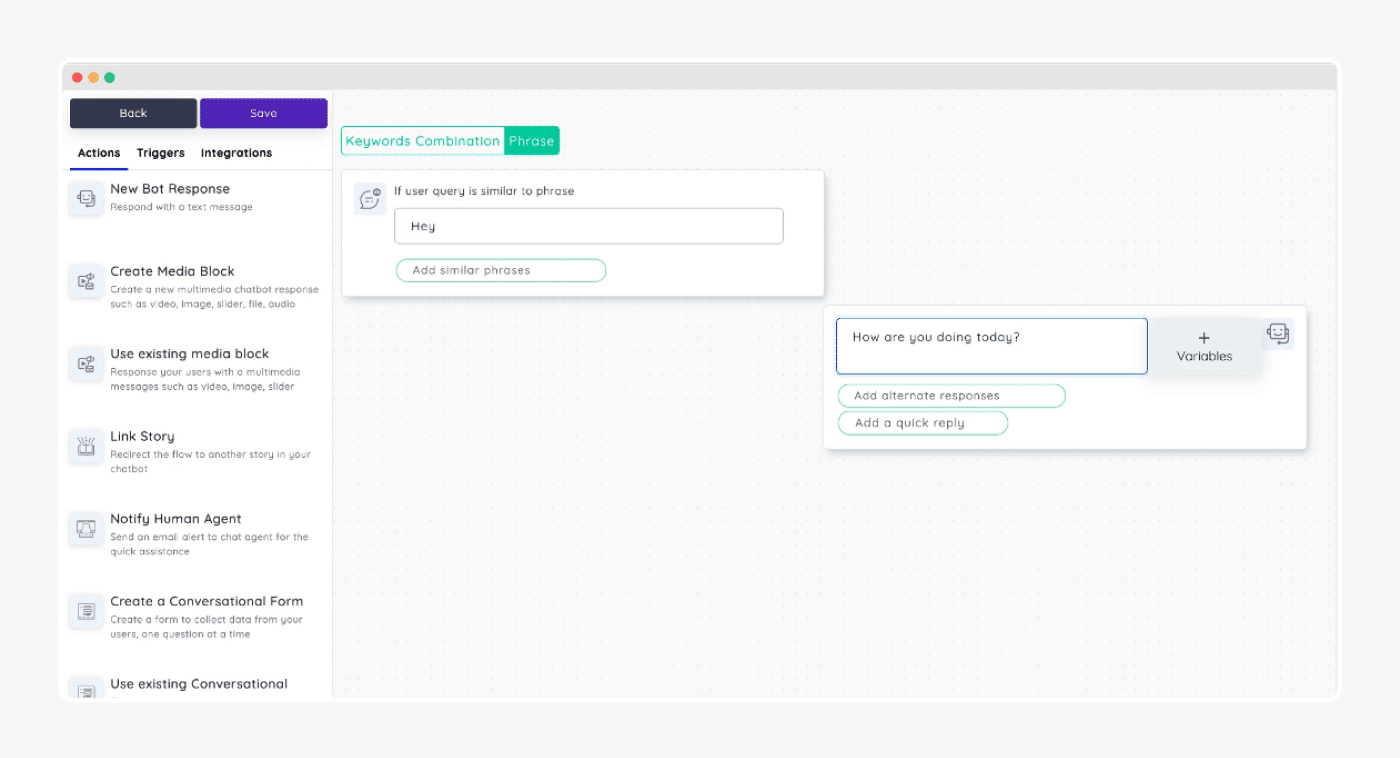 Botsify is a no-code chatbot builder. It allows companies to create chatbots for various communication channels like company website, Messenger, WhatsApp, or SMS. Thanks to the visual builder, designing workflows and updating conversation paths is very intuitive.
Besides chatbots, Botsify also offers a live chat feature if your customers need help that requires conversation with a support agent. They also offer integrations with platforms like WooCommerce, WordPress, Shopify, or Slack as well.
Main features:
Chatbot builder
Live chat
Lead generation conversational forms
Do it yourself ($49/month)
Done for you ($149/month)
Custom plan (after contact with the sales team)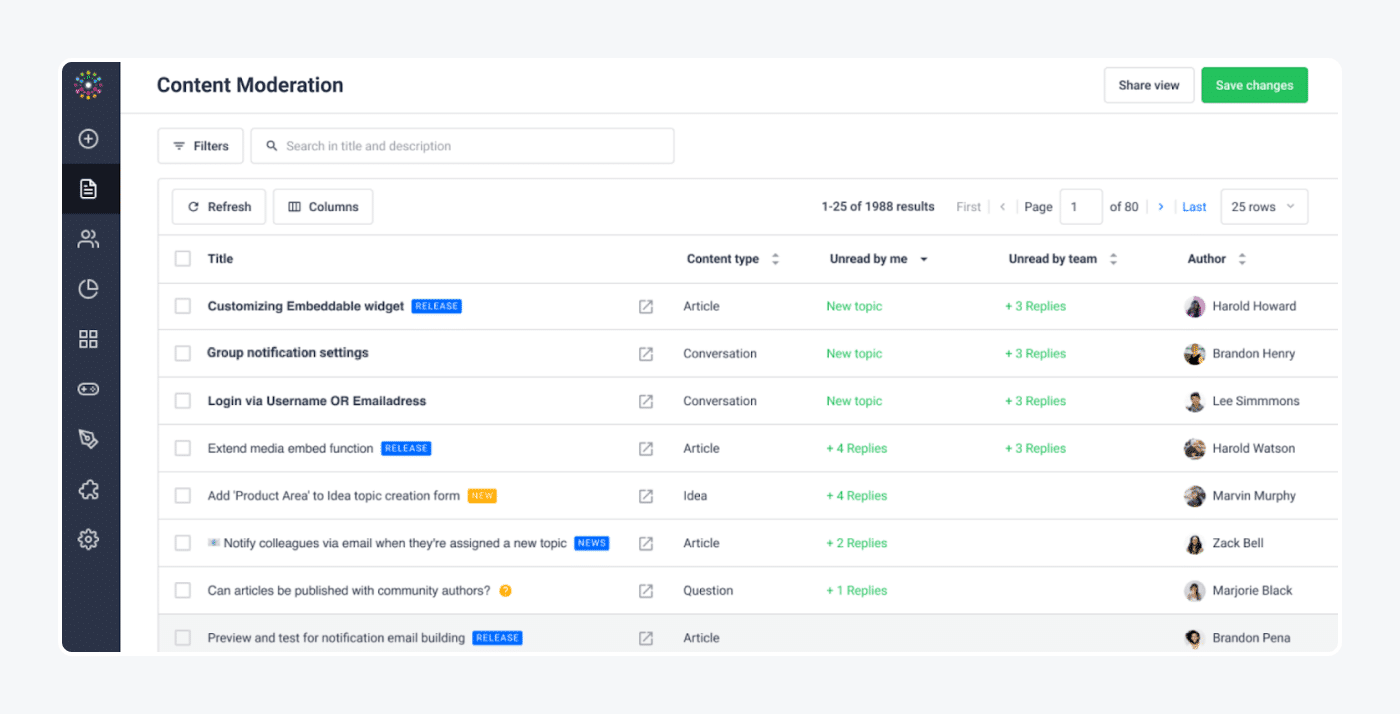 Insided is a customer self-service platform that allows you to build communities around your company and connect your clients with each other. Building such a community platform allows companies to reduce incoming requests for their support teams. Also, it gives their customers a space to answer questions regarding the company's products and services.
What's more, this tool offers companies the opportunity to build a knowledge base and on-page support thanks to the dedicated widget.
Main features:
Community platform builder
Knowledge base builder
Product feedback and ideation
Demo available
Professional, Business, and Enterprise plan (contact sales team)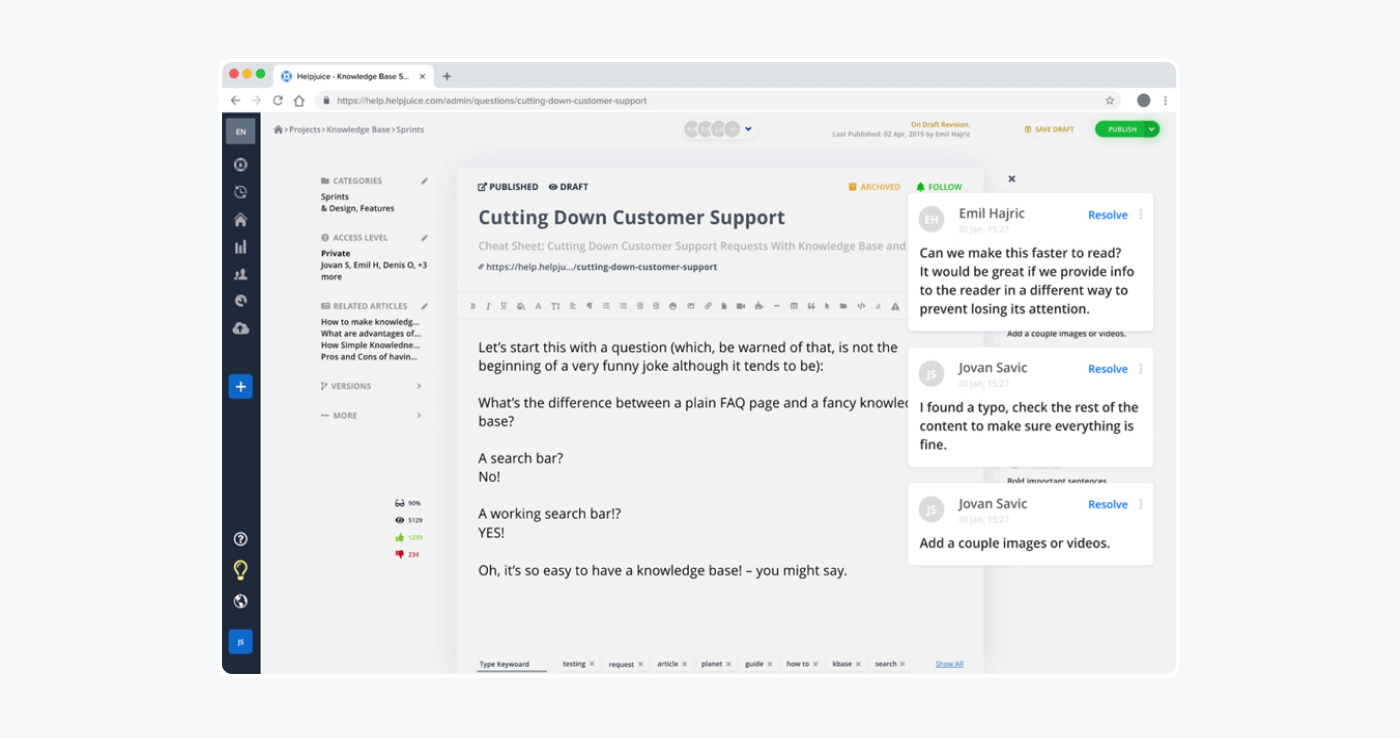 Helpjuice is an easy-to-use knowledge base builder. It includes tools for authoring, text formatting, and organizing help articles in a structure that is easy to navigate on for end users.
Also, thanks to Helpjuice's Intelligent Analysis feature, support agents can analyze if their help content is responding to what people are looking for. What's more, they can measure the articles' impact, check out what topics their customers consume, and much more.
This tool also offers integrations with tools like Slack, Salesforce, Zendesk, or Zapier (just to name a few), and the ability to customize the help page in line with your brandbook.
Main features:
Easy content formatting
Intelligent Analysis
Easy visual customization
Starter ($120/month)
Run-Up ($200/month)
Premium Limited ($289/month)
Premium Unlimited—unlimited users ($499/month)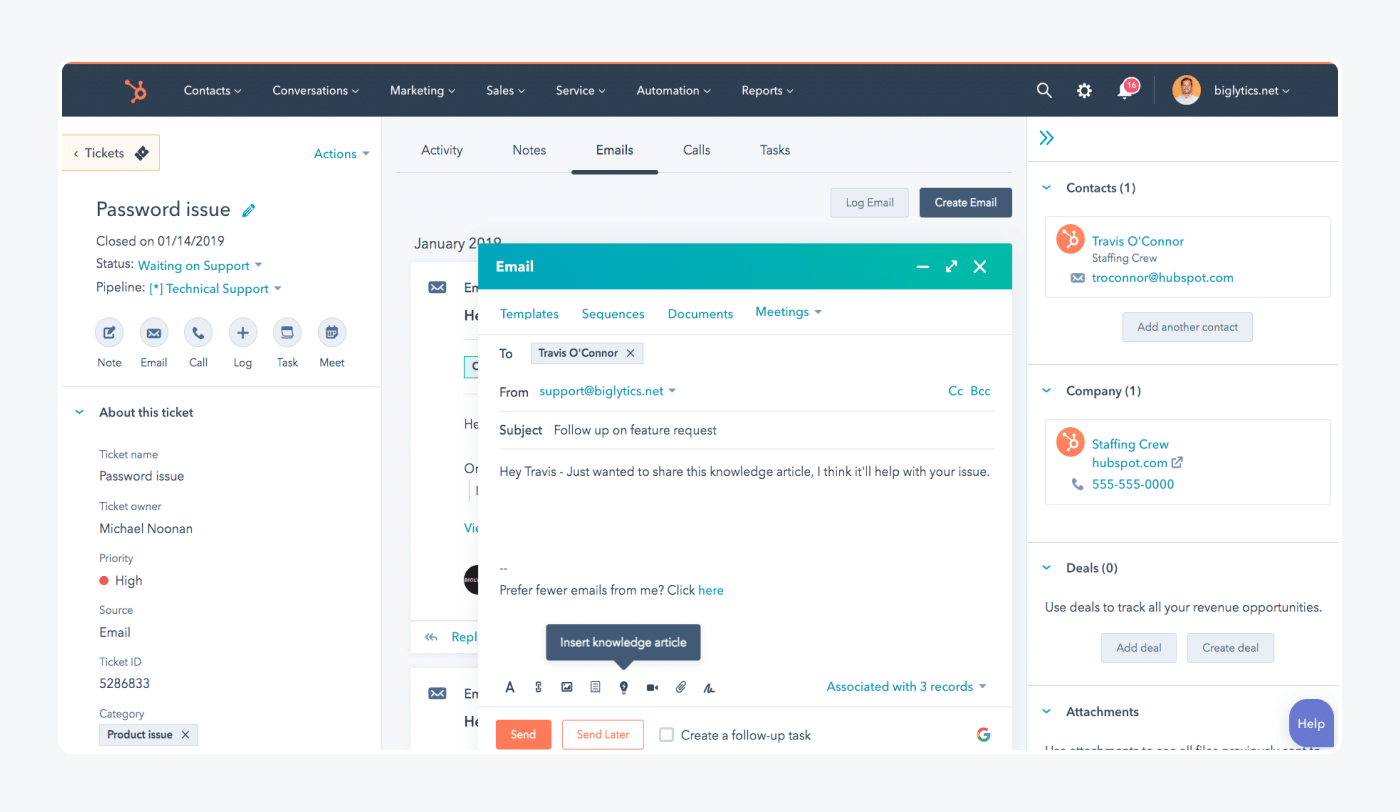 Customer service software from HubSpot helps support teams to build deep relations with their customers and improve communication between the company's clients and the front office staff. It's intuitive, easy to use, and connected to HubSpot's CRM platform. That helps to deliver a great customer service experience and show clients that they are an apple of the company's eye.
Main features:
Conversational tools
Knowledge base builder
Customer feedback and custom surveys
Playbooks
Free plan available
Starter ($45/month)
Professional ($450/month)
Enterprise ($1,200/month)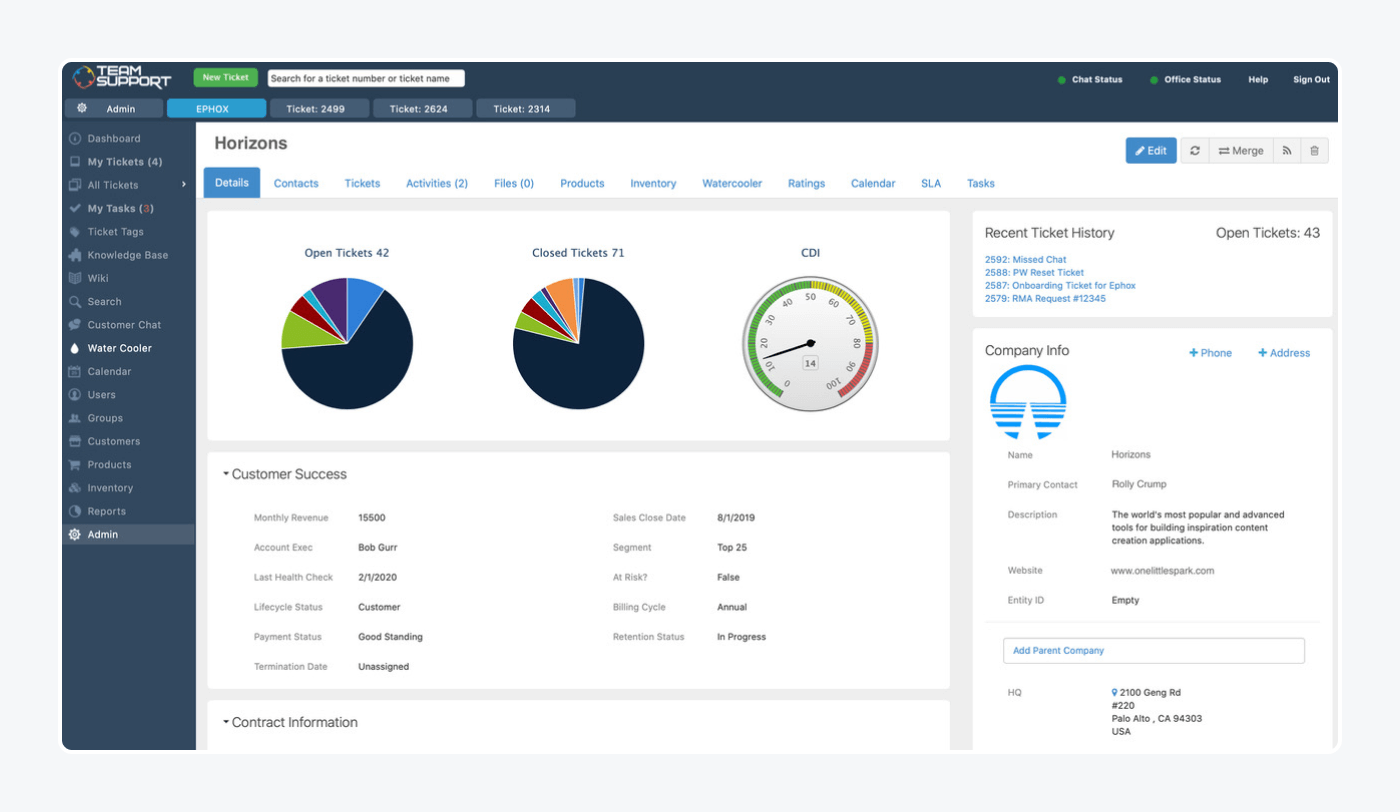 TeamSupport is a software for managing B2B customer support. It allows companies to consolidate all the interactions with their customers, get deep insights into customer sentiments, and identify critical issues.
Thanks to its numerous features like Customer Distress Index, TeamSupport gives support reps the opportunity to truly understand their customers and drive retention. The tool also enables a variety of integrations, including Microsoft Teams, Salesforce CRM, Jira, Slack, MailChimp, and HubSpot CRM.
Main features:
Help desks builder
Live chat software
Customers insights
Essential Support ($49 per user/month)
Enterprise Support ($69 per user/month)
Complete Customer Support Suite ($119 per user/month)
Customer self-service: key outtakes
Customer self-service can be a great ally in providing your clients with outstanding experience. This will increase the probability that shoppers will stay with your brand and become loyal clients for years. But, to fully benefit from this strategy, you need to have a plan on how to do it and use the right tools to make it work like clockwork.
What's more, your customers are not the only ones that can benefit from the self-service solutions. Your company can benefit from it too! Especially when it comes to the support teams.
Thanks to such elements of customer self-service like knowledge base or product training, your employees can learn more about your products or services, which will make them true customer support heroes. Then, no matter how difficult questions your clients will come, your support agents will be able to solve these issues at a glance.