If you're like most online shoppers, you hate browsing dozens of pages to find the product you're looking for.
And if you're an online business owner, you know that losing potential customers because they can't find products is a huge problem.
That's where virtual shopping assistants come in.
Ecommerce chatbots are the most popular online shopping assistance tools. They make online shopping experiences much more enjoyable—and help increase sales at the same time!
In this article:
What virtual shopping helpers and bots are
Benefits of personal shopping assistants powered by AI
How to add artificial intelligence assistant to your website
Examples of how popular brands are using them today
If you want to read more about chatbots and virtual assistants, you may also be interested in the following guides:
What are virtual shopping assistants?
Virtual shopping assistants are online tools that help shoppers find the products they're looking for. They work by answering questions and helping customers navigate your online store. Some virtual shopping assistants can even place orders for you!
Virtual shopping assistants come in many shapes and kinds. They include:
Chatbots
Widgets
Popups
Mobile apps
Conversational AI
Browser plugins
Some are very simple and can only provide basic information about a product. Others are more advanced and can handle tasks such as adding items to a shopping cart or checking out. No matter their level of sophistication, all virtual shopping helpers have one thing in common—they make online shopping easier for customers.
The majority of shopping assistants are text-based, but some of them use voice technology too. In fact, about 45 million digital shoppers from the United States used a voice assistant while browsing online stores in 2021.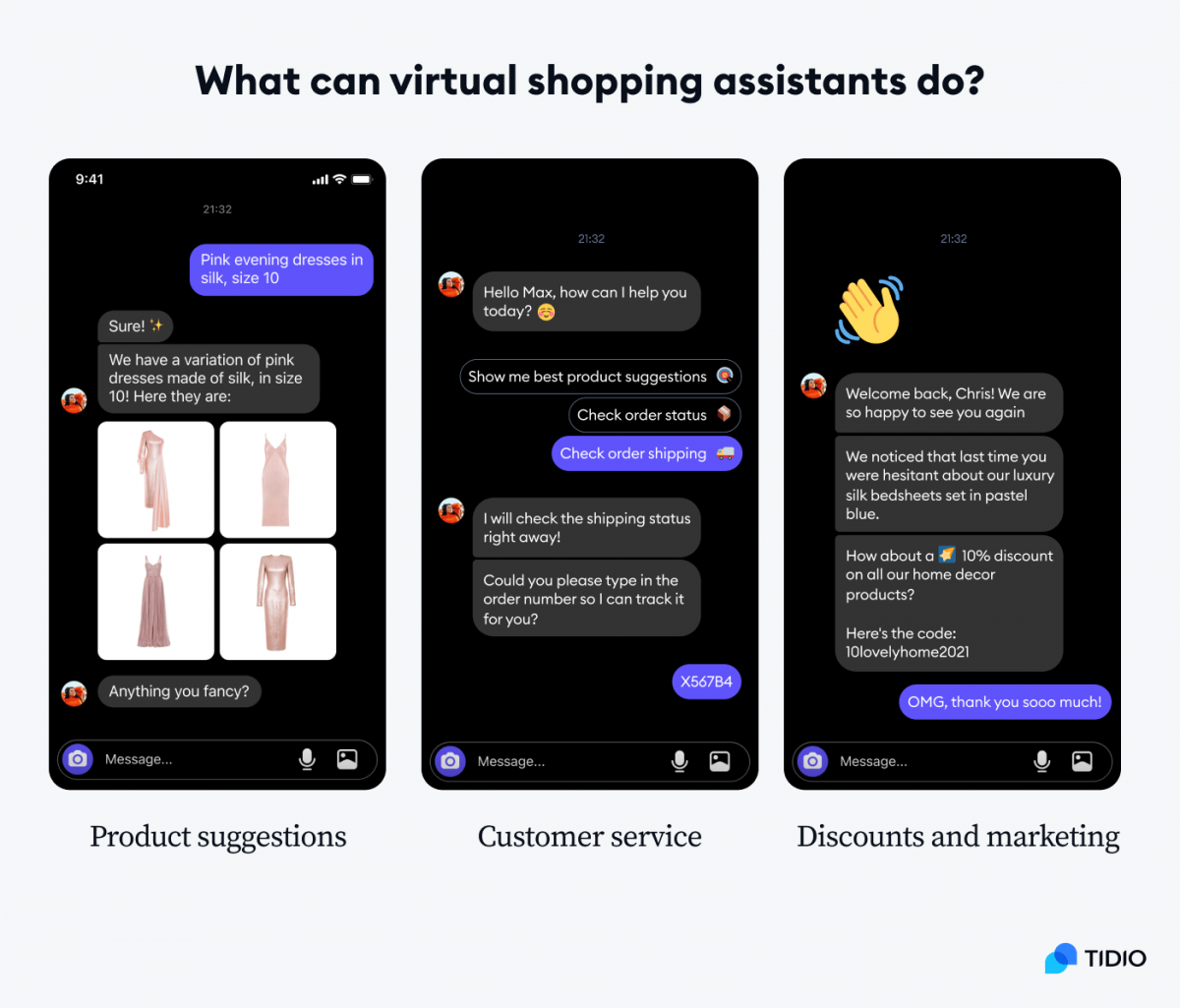 A study carried out by Heyday found out that 20% of all virtual assistant user intents were connected with product discovery. Other typical use cases include:
Providing discount codes and special offers
Recovering abandoned shopping carts
Offering personalized product recommendations
Answering customer questions
Processing and tracking orders and returns
Giving personalized gift suggestions
Virtual shopping assistants are becoming more popular as online businesses are looking for new ways to improve the customer experience and boost sales. In 2022, about 88% of customers had at least one conversation with an ecommerce chatbot. With chatbot popularity on the rise, more businesses want to use online shopping assistants to help their customers.
Why should I use a virtual shopping assistant?
According to recent online shopping statistics, there are over 9 million ecommerce stores. Right now, the online retail industry is highly competitive and businesses are doing their best to win new customers. Increasing customer engagement with AI shopping assistants and messaging chatbots is one of the most effective ways to get a competitive edge.
There are many reasons for using conversational chatbots:
1. Better customer browsing experience and store navigation
Browsing a static site without interactive content can be tedious and boring. Customers who use virtual assistants can find the products they are interested in faster. It's also much more fun, and getting a helping hand in real-time can influence their purchasing decisions.
2. Reducing the number of customers who abandon their shopping carts
Online shopping assistants powered by AI can help reduce the average cart abandonment rate. They achieve it by providing a quick and easy way for shoppers to ask questions about products and checkout. They can also help keep customers engaged with your brand by providing personalized discounts.
3. Increasing sales by sending product recommendations and cross-selling
Ecommerce chatbots are a great way to increase your conversion rate by automating your cross-selling and upselling strategy. They can recommend products to customers based on their previous purchases and browsing behavior. For example, when a customer buys a new pair of shoes, an AI virtual shopping assistant can suggest matching trousers.
4. Saving on expenses related to customer support and marketing
You can set up a virtual assistant to answer FAQs or track orders without answering each request manually. This can reduce the need for customer support staff, and help customers find the information they need without having to contact your business. Additionally, chatbot marketing has a very good ROI and can lower your customer acquisition cost.
5. Reaching customers through their favorite communication channels
Nowadays, it's in every company's best interest to stay in touch with their customers—not the other way round. It is a good idea to cover all possible fronts and deliver uniform, omnichannel experiences. Clients can connect with businesses through phone calls, email, social media, and chatbots. By providing multiple communication channels and all types of customer service, businesses can improve customer satisfaction.
6. More efficient lead capture and qualification
It's difficult to sell products to first-time visitors. That's why optimizing sales through lead generation and lead nurturing techniques is important for ecommerce businesses. Conversational shopping assistants can turn website visitors into qualified leads. They can also tag customers who visit specific product pages.
It's no secret that virtual shopping chatbots have big potential when it comes to increasing sales and conversions. But what may be surprising is just how many popular brands are already using them. If you want to join them, here are some tips on embedding AI chat features on your online store pages.
How to add a virtual shopping assistant to your website
Adding an online shopping chatbot to your website is easy. All you need is a chatbot provider and auto-generated integration code or a plugin.
1. Create an account on a platform that offers a virtual assistant feature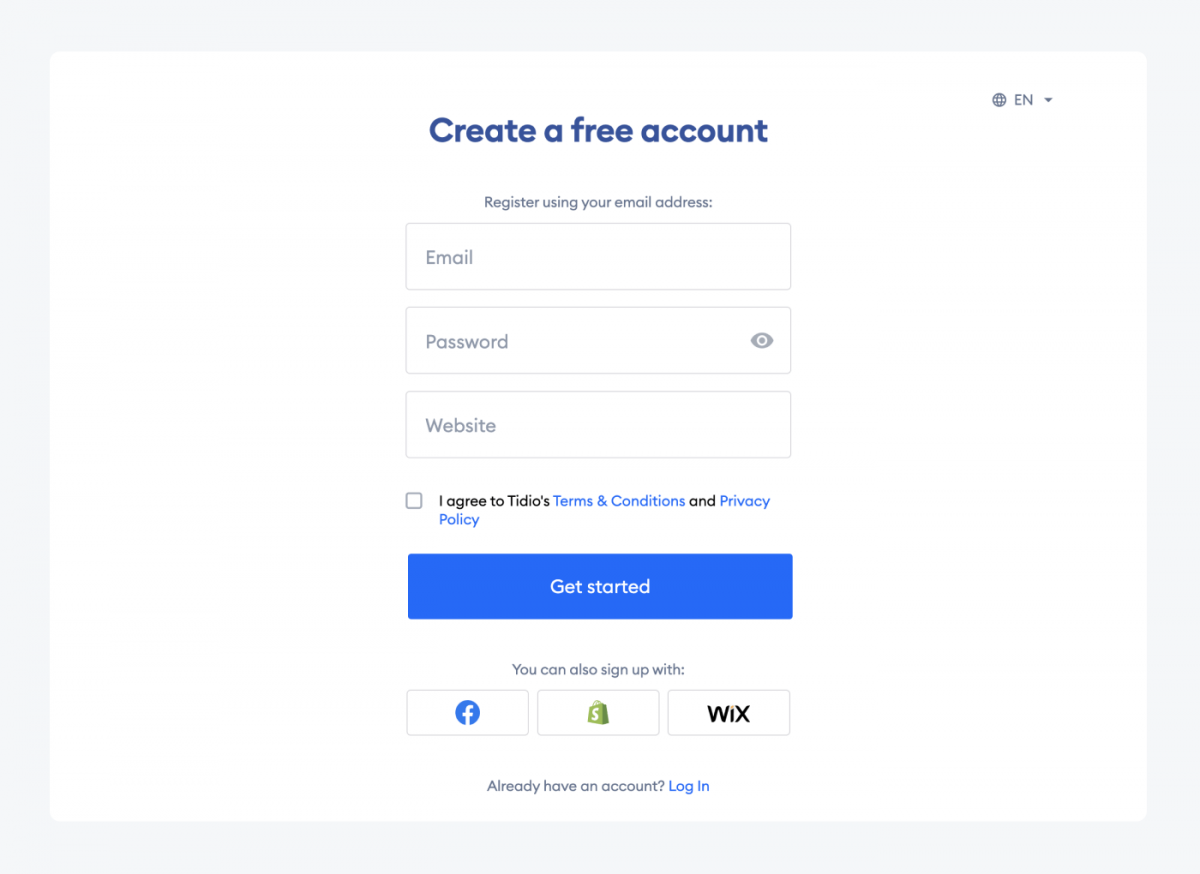 With some chatbot providers, you can create a free account with your email address. Tidio is one of them—when you sign up there is a tour with additional instructions.
2. Customize the look of your messaging widget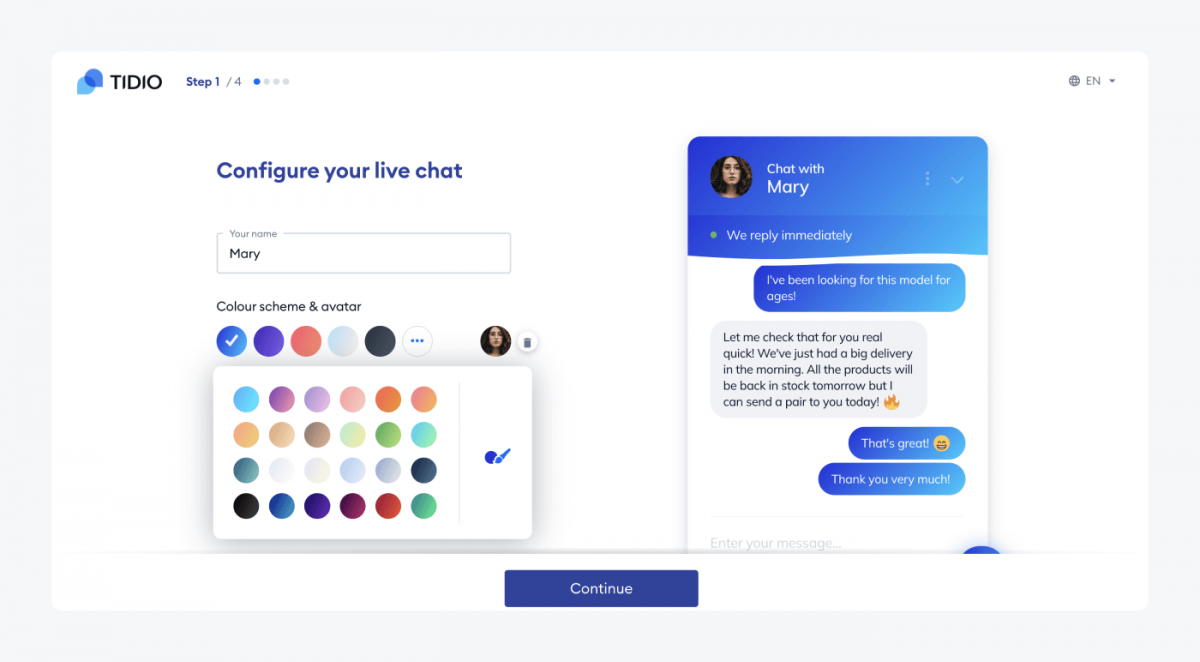 You can set the color of the widget, the name of your virtual assistant, avatar, and the language of your messages.
3. Generate a code-snippet or install a plugin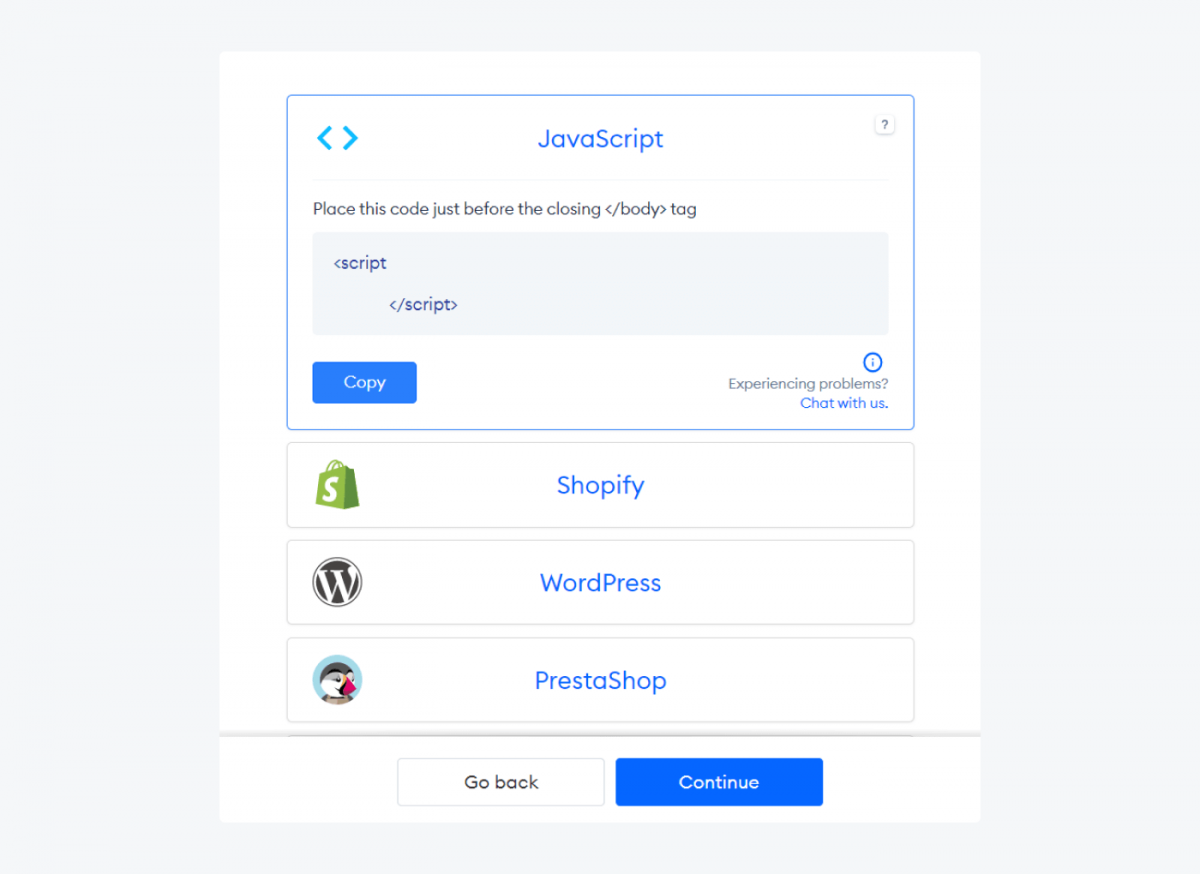 After setting up the initial widget configuration, you can integrate assistants with your website in two different ways. You can either generate JavaScript code or install an official plugin.
The code needs to be integrated manually within the main </body> tag of your website. If you don't want to tamper with your website's code, you can use the plugin-based integration instead. The plugins are available on the official app store pages of platforms such as Shopify or WordPress.
Read more about the installation process in this guide: Tidio Installation Process
4. Integrate the widget on your website and social media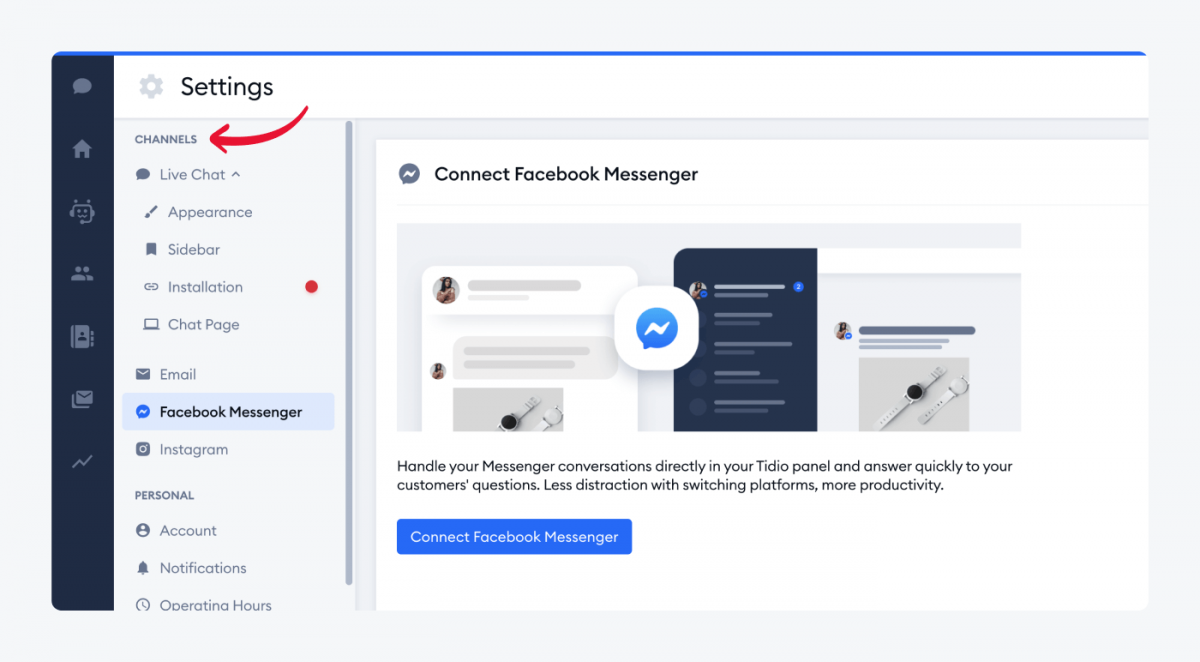 Go to the settings panel to connect your chatbot engine to additional platforms, channels, and social media. Some of the best chatbot platforms allow you to integrate your WhatsApp, Messenger, and Instagram accounts.
5. Configure your virtual assistant popups, their tasks, and behavior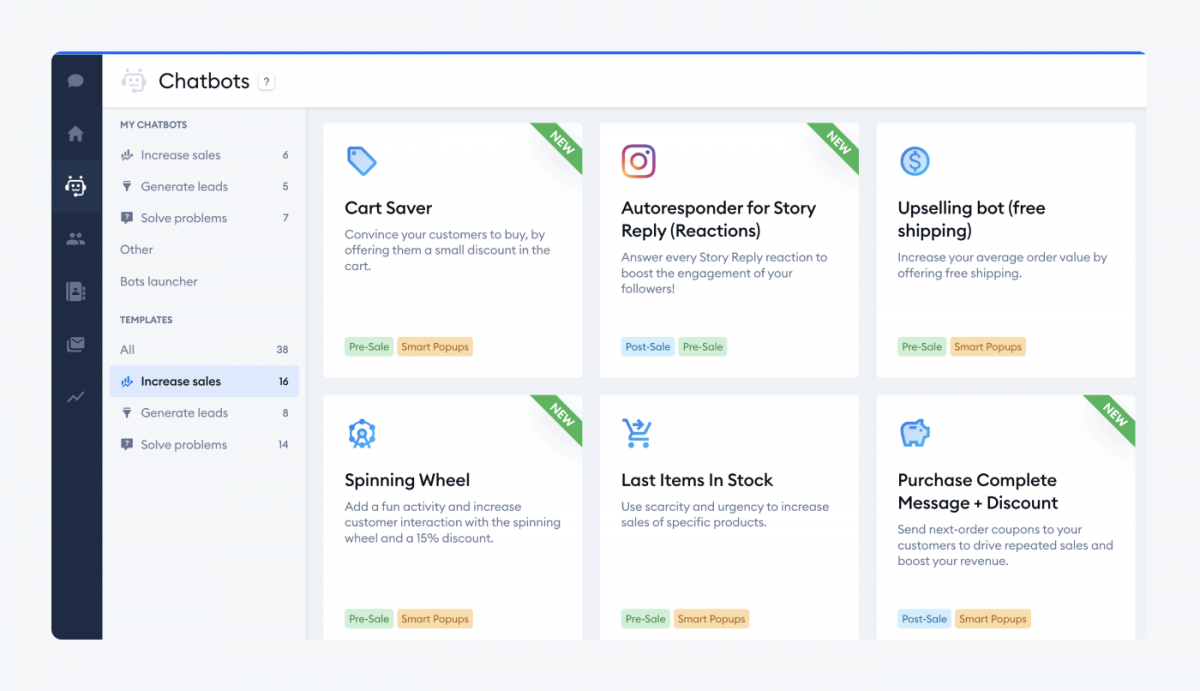 You can choose which chatbot templates you want to run and which tasks the customer service chatbots will perform. They are grouped into categories such as Increase Sales, Generate Leads, or Solve Problems. You can test each template before adding it to your website. After trying out several assistants, activate the ones you find helpful.
6.Monitor your results, such as response rates

You can watch sales results, engagement, helpfulness, or customer success metrics such as response rate for individual chats.
How to remove the Shopping Assistant popup?
Chatbots are very convenient tools, but should not be confused with malware popups. Unfortunately, many of them use the name "virtual shopping assistant." If you want to figure out how to remove the adware browser plugin, you can find instructions here.
What are examples of real virtual assistants? Let's take a closer look at some of them.
Best examples of virtual shopping assistants
Physical stores have the advantage of offering personalized experiences based on human interactions. People are social beings. That's why nothing beats real face-to-face communication. But virtual shopping assistants that use artificial intelligence and machine learning are the second-best thing.
In the context of digital shopping, you can still achieve impressive and scalable results with minimal effort. About 57% of online business owners believe that bots offer substantial ROI for next to no implementation costs.
Here are some examples of companies using virtual assistants to share product information, save abandoned carts, and send notifications.
Tidio ecommerce assistants
Let's start with an example that is used by not just one company, but several. Tidio is one of the most popular chatbot builders in the world. As a result, this AI shopping assistant app is used by hundreds of thousands of brands, such as Moon Magic.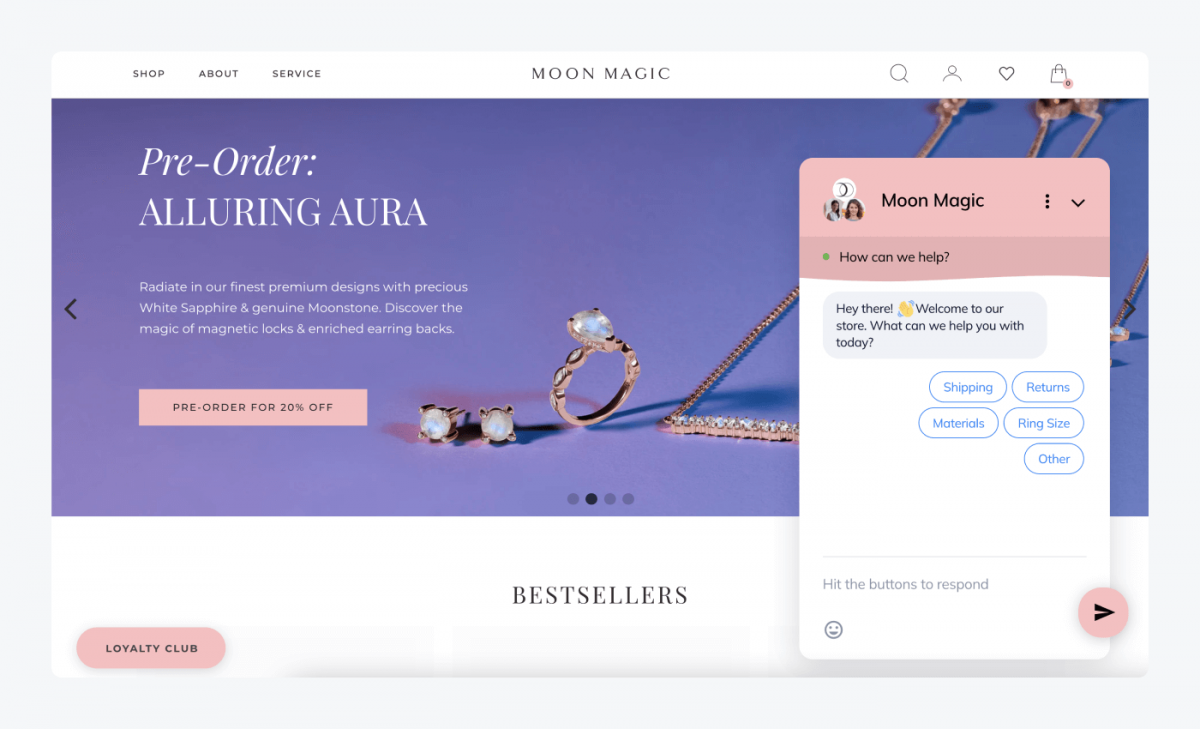 If you want to see some of them, just take a look at the selection of the best Shopify stores.
Tidio allows you to create a chatbot for your website, ecommerce store, Facebook profile, or Instagram. This can be extremely helpful for small businesses that may not have the manpower to monitor communication channels and social media sites 24/7.
This solution is tailored for typical ecommerce situations. Virtual shopping assistants powered by Tidio can recommend products, answer common customer questions, book appointments, or track orders.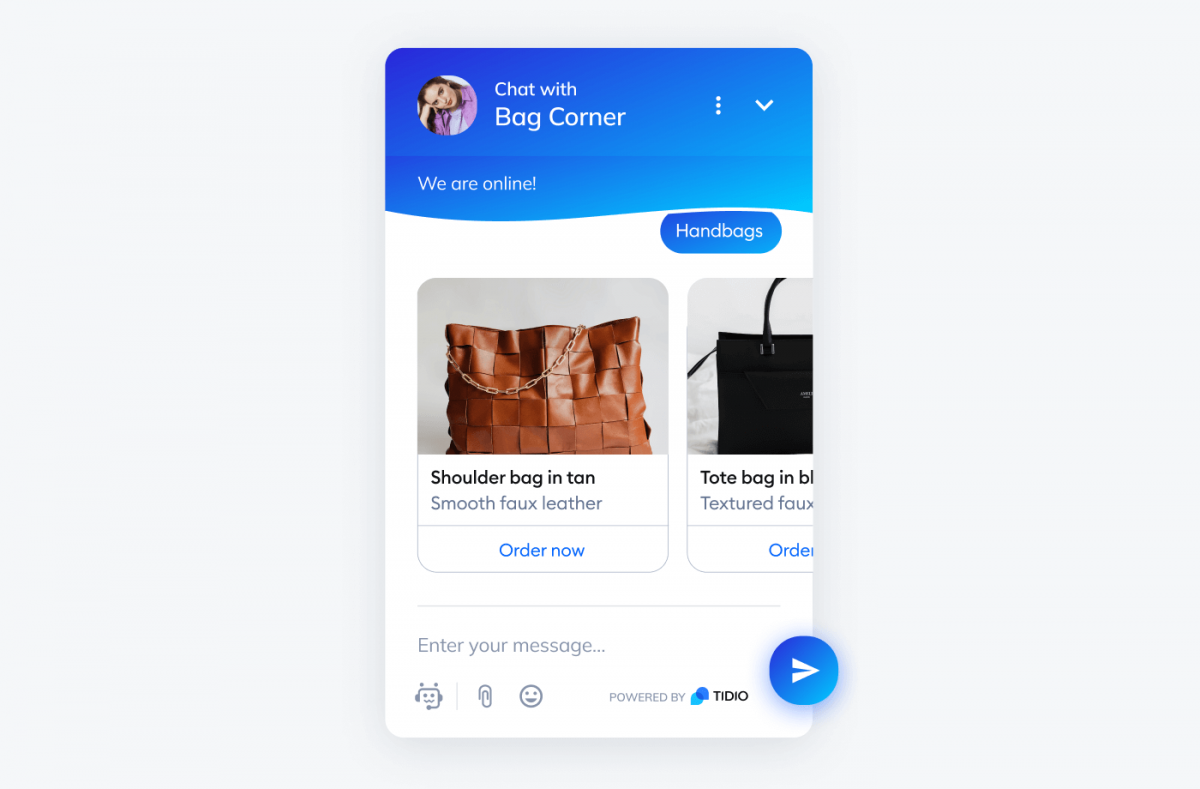 Amazon Alexa Voice AI
The online retail giant uses a virtual shopping assistant called Alexa that helps customers with their online shopping needs. Alexa is a voice-activated assistant that can be used on Amazon's Echo devices, as well as the Amazon app on mobile devices.
The Alexa engine responds to commands given in natural language. By saying "Alexa, order (item)," you can have Alexa purchase items from Amazon.com (by default). If you're not sure what you want to purchase, you can ask for recommendations. For example, "Alexa, find a good Christmas gift for my nephew."
Additionally, Alexa can be used to control smart devices, play music, and provide information about the weather, traffic conditions, and other topics.
Read more: Everything You Need to Know About Conversational Marketing
Walmart's Text to Shop
Over the past several years, Walmart has experimented with a series of chatbots and personal shopping assistants powered by machine learning and artificial intelligence. Recently, Walmart decided to discontinue its Jetblack chatbot shopping assistant. The service allowed customers to text orders for home delivery, but it has failed to be profitable.
If there's any lesson to learn, it's this: solve customer needs or cautiously uncover their unexpressed desires but avoid technology for technology's sake and un-vetted concepts at all costs.
The company plans to apply the lessons learned from Jetblack to other areas of its business. The latest installment of Walmart's virtual assistant is the Text to Shop bot.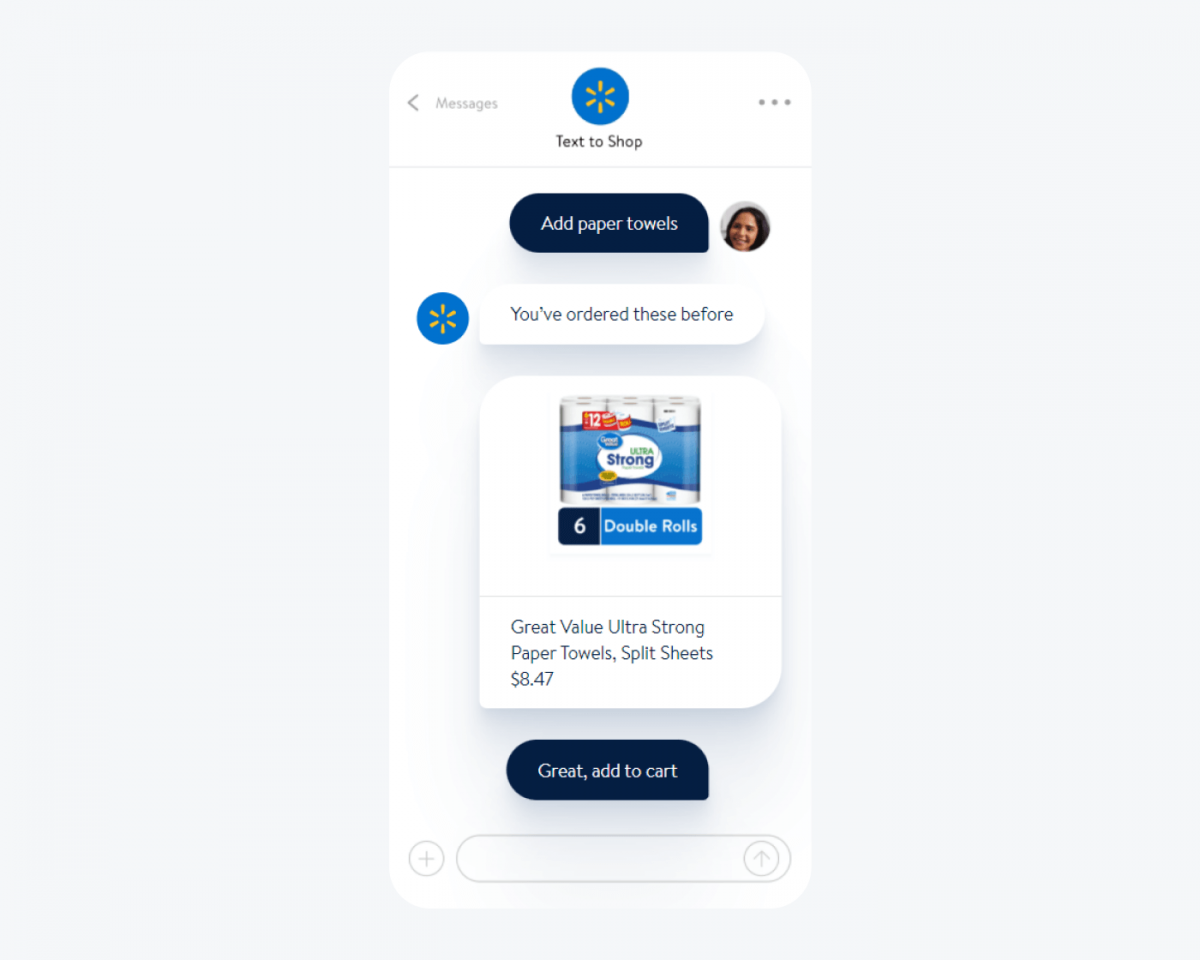 The Text to Shop feature is designed to allow text messaging with the AI to find products, manage your shopping cart, and schedule deliveries. Wallmart also acquired a new conversational chatbot design startup called Botmock. It means that they consider AI shopping assistants and virtual shopping apps permanent elements of their customer journey strategy.
AliExpress Messenger Shopping Assistant
AliExpress uses an advanced Facebook Messenger chatbot as their primary digital shopping assistant. If you choose to add the conversation with AliExpress to your Messenger, you can receive notifications about shipping status or special deals.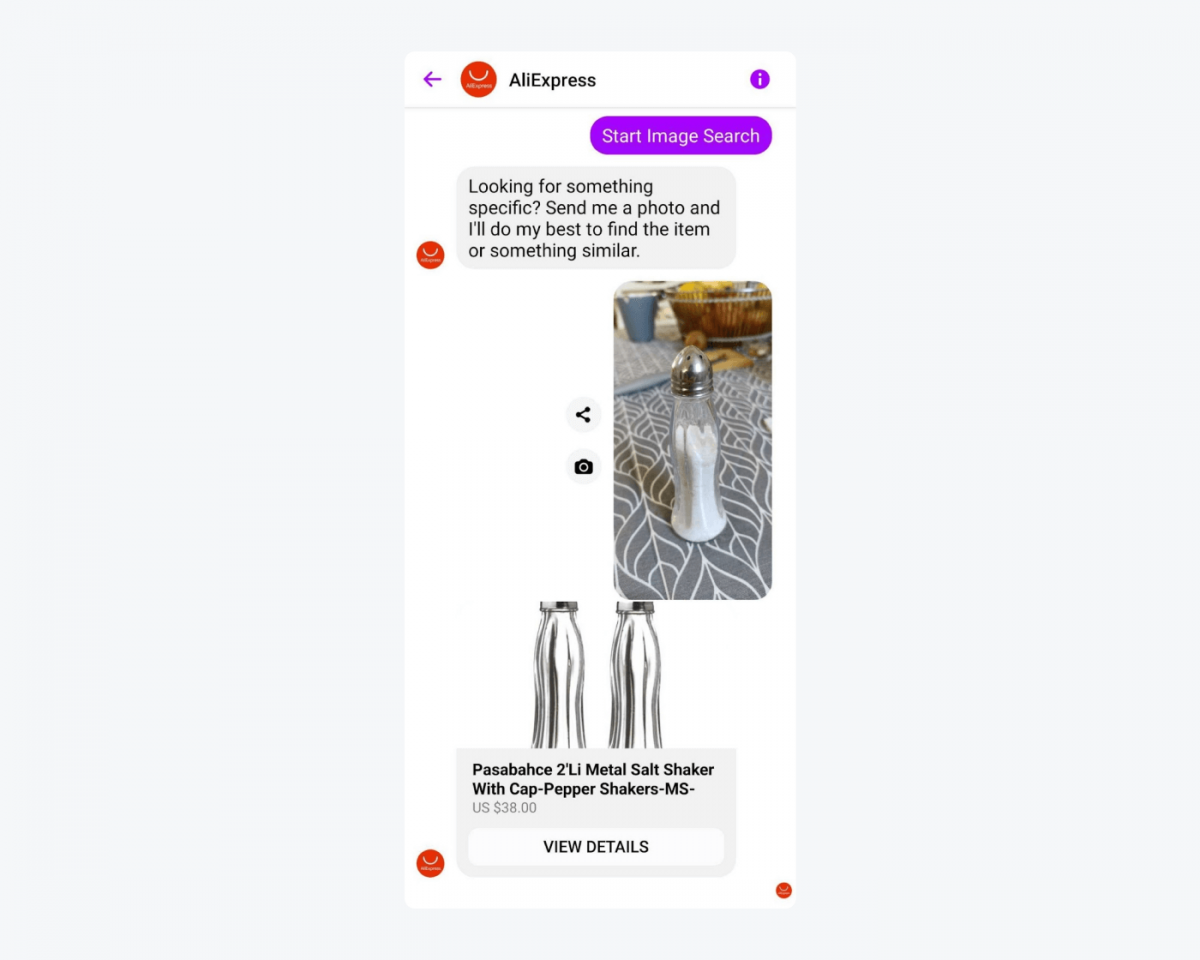 Looking for products on AliExpress can sometimes be cumbersome, as the number of vendors and stores can be overwhelming. But the shopping assistant can tell you what products are currently popular among online buyers.
You can also use the Image Search feature. Just take or upload a picture of the item, and the artificial intelligence engine will recognize and match the products available for purchase.
Read more: Top 25+ Chatbot Examples of 2022
Conclusion
Virtual shopping assistants are changing the way customers interact with businesses. They provide a convenient and easy-to-use interface for customers to find the products they want and make purchases. Additionally, ecommerce chatbots can be used to provide customer service, book appointments, or track orders.
Ecommerce virtual assistants:
Help online retailers get more customers
Improve digital customer experience in online stores
Use live chat and social media to help online shoppers
Simulate brick-and-mortar store experiences
As chatbot technology continues to evolve, businesses will find more ways to use them to improve their customer experience.
If you want to test this new technology for free, you can try chatbot and live chat software for online retailers now.