Most online stores fail because of one bad decision. And it happens long before they even launch.
Is it the name? The poor website design? The Oh dear, I knew I shouldn't have let Jessica draw the logo?
Well, there are thousands of successful businesses with unfortunate names. Or online stores that look very modest. And you would not believe how successful some of them are!
The single most important thing is choosing products and things to sell online. If you make the right choice, the rest just falls into place.
In this guide we'll share with you:
We went through data from thousands of stores using Tidio Live Chat and checked what industries and types of products are the most profitable. We also analyzed the results from search engines and trending products in popular stores.
Now—
Are you ready to explore the best-selling products online in 2023?
Popular Products to Sell Online in 2023
Finding the perfect products to sell online is difficult but, in the long run, it is better to spend as much time as you need to find that perfect product idea and hit the jackpot.
For example, Alex found a way to sell air purifiers with live chat and chatbots to get a higher net profit margin.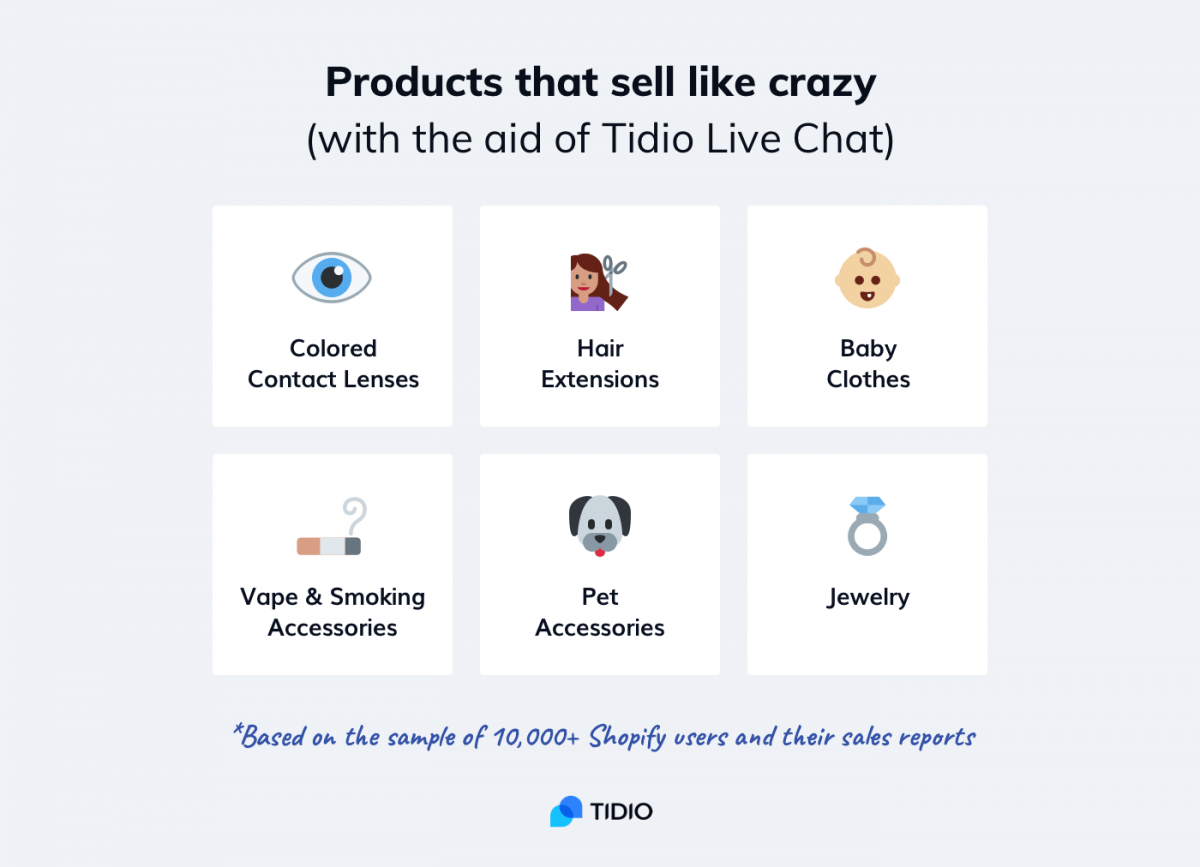 Here are some of the best products to sell online:.
Bluetooth speakers
E-cigarettes
Shapewear
Matcha powder/tea
Wigs & hair extensions
Pet products
Smartphone accessories
Clothes (but there is a catch!)
RC toys
Baby carriers
Jigsaw puzzles & board Games
Art supplies
Yoga and Pilates mats & accessories
Hiking backpacks
Let's find out why these product ideas are great choices for budding online stores.
1. Bluetooth Speakers

Buying a Bluetooth speaker is the easiest way to turn your smartphone into a boombox. It has also become the most popular home stereo alternative for Gen Z members. Bluetooth speakers are extremely convenient and as ubiquitous as headphones. How ubiquitous? Well, back in 2018, an estimated USD 1.9 billion worth of Bluetooth speakers were sold in the US alone.
The best part?
There are hundreds of companies that make them and their shape and design are often more important than sound quality. It makes them a perfect product to sell online.
2. Vape & Smoking Accessories

The vape market is booming right now—it's estimated that by 2027 it will reach USD 67 billion.
Although the long-term effects of using e-cigarettes are still unknown, many smokers switch to vaping. It is arguably a healthier alternative that revolutionized the "tobacco" industry. The vaporizer has not only become a cool gadget but sparked an emergence of new subcultures whose members share vaping tips and insider knowledge.
You can find all sorts of e-cigarette and e-pipe designs. Pair that with an overwhelming selection of different liquid brands and flavors that cater to any taste and what do we get? Another best selling online product.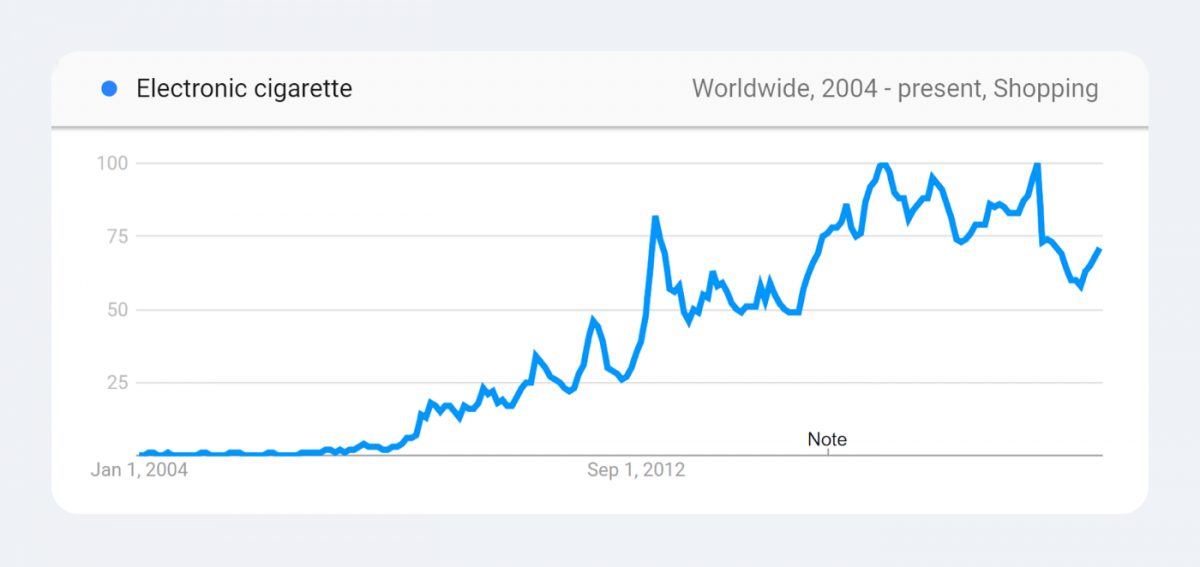 Online stores selling vape and smoking accessories thrive right now. It's not going to change anytime soon.
3. Shapewear

Weight loss pills are shady and are basically screaming "online scam." We don't recommend them as products to sell. Now, shapewear bodysuits, leggings, and leotards—that's the way to go. They are very popular products and they solve the same problem in a more direct and effective way.
Shapewear falls into the category of items that help us to hide our imperfections. Does it sell? The story of Sara Blakely and Spanx shows the enormous potential of shapewear products.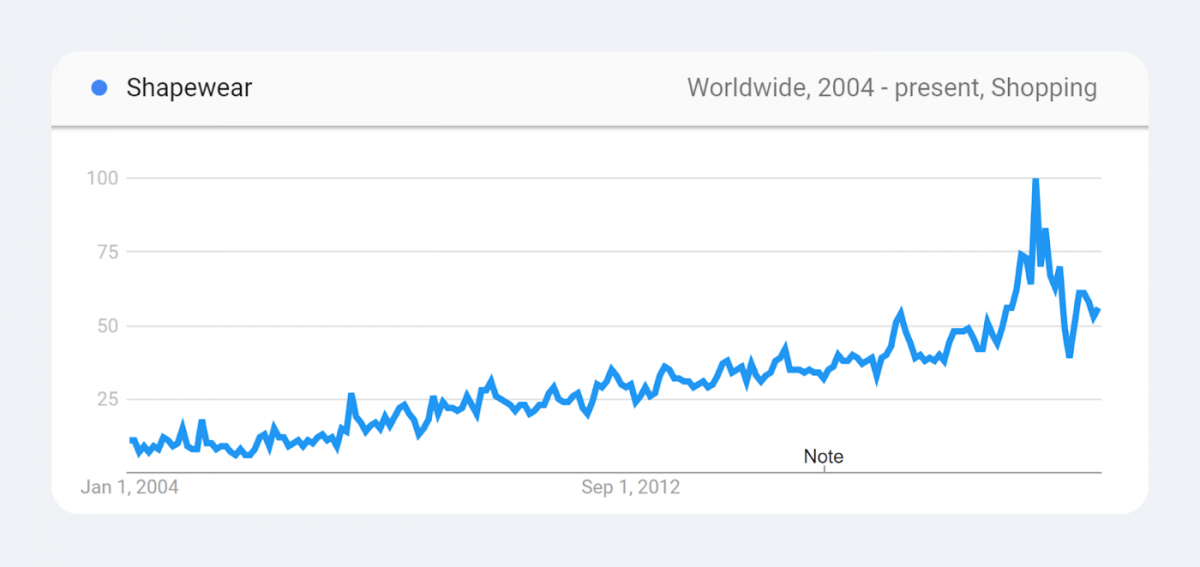 By 2024, the market for this product is expected to reach $6.4 billion.
To start selling items of clothing, you need an online store. Here's our dedicated guide, you may want to read: How to Start an Online Clothing Store in 7 Easy Steps
4. Matcha Tea

Matcha tea can be hard to find in your local store (or the selection is quite poor). People usually buy matcha online and are willing to try out different brands. It is trendy. It is healthy. It makes you relaxed.
Drinking matcha is a ritual. That means repeat purchases. That means one of the best products to sell online. You can sell elegant matcha kits with accessories like bamboo scoops, filters, and ceramic bowls.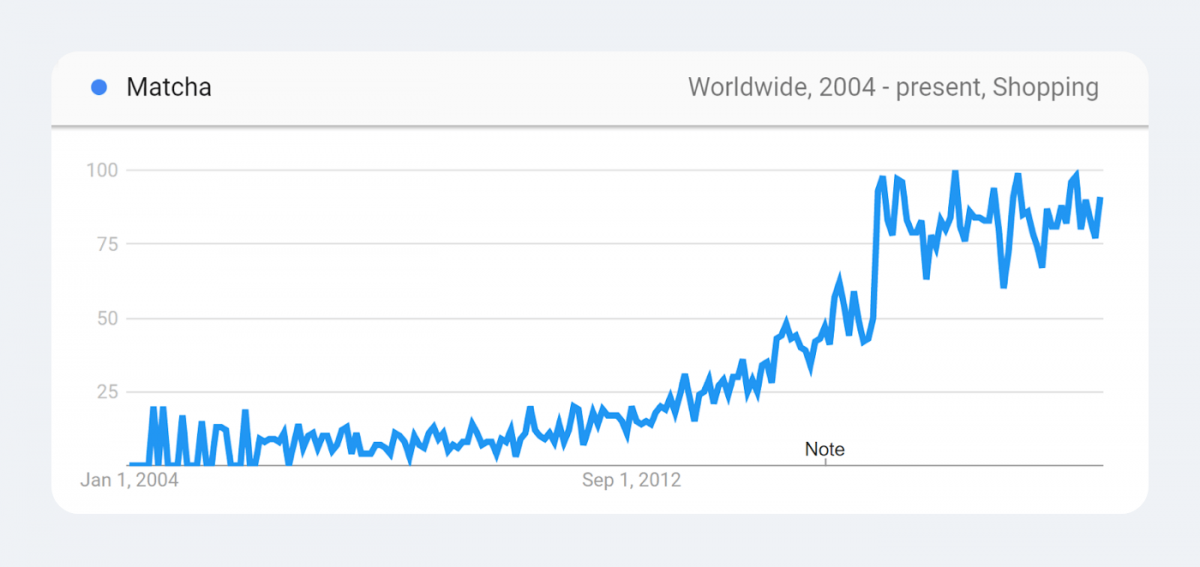 With a compound annual growth rate of 7.6%, matcha products are one of the fastest-growing markets.
5. Wigs & Natural Hair Products

Hair loss is a problem that affects almost everyone. It can happen in your 20s, 40s, or 60s but—in most cases—it will catch up with you eventually. At some point in their lives both the majority of men and women suffer from hair loss.
There have been some remarkable improvements in the quality of wigs and other products made of human hair. Wigs and hair extensions are among the top niche products that were trending in 2020. The industry is very lucrative and it grows by 8% every year. It is not too late to enter the market.
If you are trying to figure out what to sell online, you should know that many people find it more comfortable to buy wigs on the internet. Find a way to connect with them and help customers with choosing the products that fit their needs (and heads). You can start making some serious dough without tearing your hair out about breaking even.
6. Pet Products

Pet products are one of the fastest-growing niches in the world. Soon, it is going to reach $100 billion. Today, many people are reluctant to have children. Instead, they spoil their pets.
Customers are willing to spend ridiculous amounts of money on their cats and dogs and buy all sorts of clothes, gadgets, and accessories.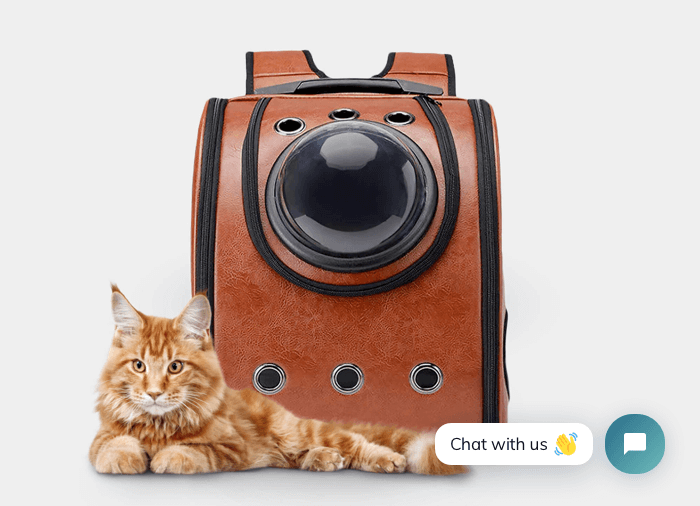 Some of them are very innovative. Take a look at Whisker Bag or Pooch Bandana.
Try Chatbots For Free
It's no accident that some of the most successful online stores that use Tidio sell pet accessories.
For pets, popular products and the best things to sell include:
Grass-growing kits for cats
Cat and dog bowls
Dental care treats and kits
Dander-reducing wipes
Brushes
Litter boxes
Purring cat toys
Eyewash kits
Personalized collars
Harnesses
7. Smartphone Accessories & Add-Ons

Phone accessories are definitely among trending products to sell online. Buying a new smartphone case, a screen guard, headphones, or a charger is something you don't even notice. It's like doing groceries.
Additionally, there are so many different sizes/models/personalization options! Local stores can't have everything and customers know it already. So, finding the best accessories for their phones requires going online.
Mobile phone users (the majority of the world population!) spend approximately $50-60 every year on phone accessories. The cake is huge and it is quite easy to get a slice.
8. Clothes

We don't all wear perfume, but—unless you are trying to make a radical statement—we all wear clothes. We also buy tons of clothes that we don't even wear.
You might have heard that clothes are difficult to sell online. There are too many competitors and it is hard to find customers. That said, the vast majority of successful online stores are, in fact, selling clothes.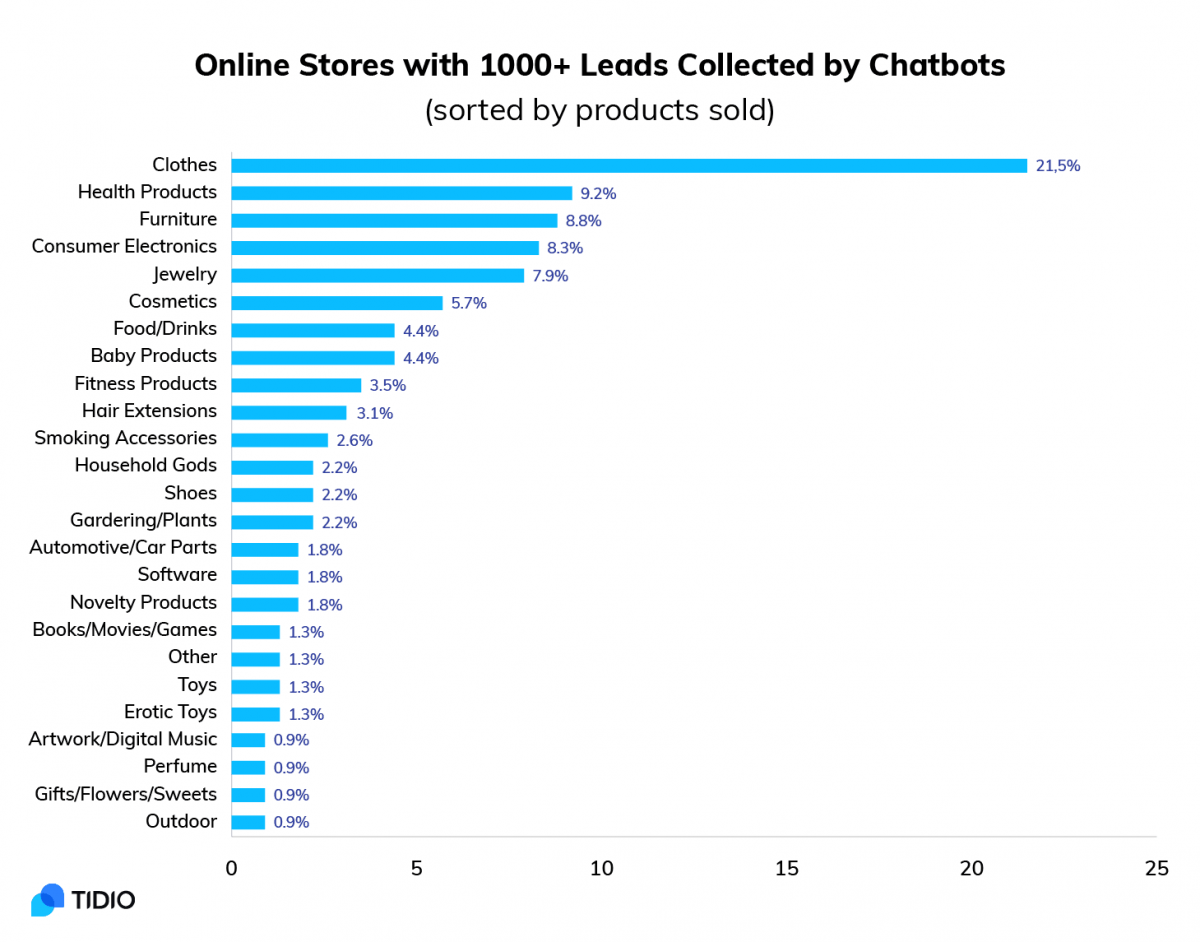 It's the bread and butter of eCommerce. But you have to be smart—as you see in the stats above the niche is extremely competitive So, don't bother with famous brands or regular clothes that people can buy anywhere.
If you want people to choose your store over any other, it must offer unique products. Do you need a bunch of niche ideas about products to sell? How about sportswear for cycling, maternity dresses, or baggy clothes for trendy kids? They all sound like far better things to sell online.
Why?
Because you can target the right audience on Facebook, Instagram, and Google Ads with several clicks. Once you find your niche and start advertising, it can be as easy as shooting fish in a barrel.
All of the products listed above are great choices. However, if you want to find the best dropshipping products to sell, check positions 9-14. They cover the top trending niches of 2022 for dropshipping stores.
9. RC Toys

Kids love remote control toys. They are physical and you can do amazing stunts with them. But you also control them. It's like playing a real-life video game! RC Toys are one of the best products to sell online in 2022. The CAGR for toys is 9.6%, so it is a sustainable market.
If you are not following the current trends, be aware that plain old RC cars are gone. Today, you can play around with a remote control submarine equipped with a camera. They are very popular products and you can also sell RC building kits.
Some of the most popular RC toys sought after throughout 2020 included:
Cars
Boats
Helicopters
Planes
Trucks
Robots
Dinosaurs
Snakes
Spiders
Submarines
Alligators
Sharks
Mice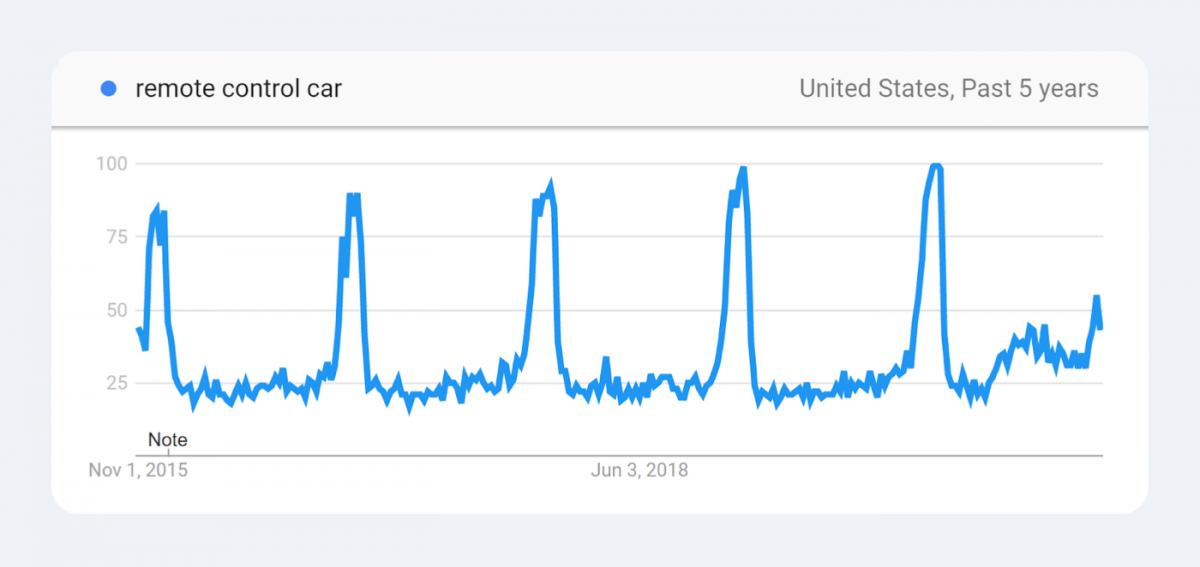 RC toys seem like a perfect gift and we can see that the interest always spikes before Christmas. However, during the lockdown, RC cars seem to be gaining unprecedented popularity as well.
10. Baby Carriers

Baby carriers have become far more popular than they used to be. They make traveling or hiking with children far more convenient. Baby carriers are suitable for parents who enjoy an active lifestyle and bonding with their kids. In the next 5 years, the baby carriers market is expected to grow by another $225 million.
Additionally, it is an item that can express the individuality of a parent. The personalization options are limitless. Moreover, the price range is perfect for online sales. It is one of the most popular and trending items for babies, and a booming business opportunity as well.
Here are three product ideas to sell online if you want to break into this niche:
Baby sling carrier
Buckled baby carrier
Baby wrap carrier
Wrap carriers are becoming the most popular option.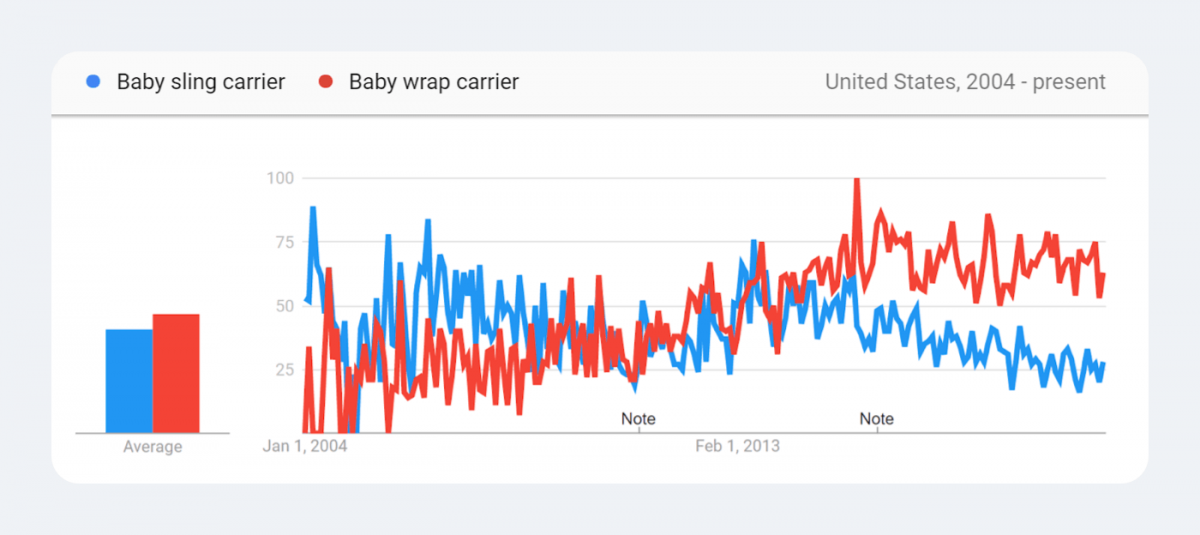 The good news is that they are also the simplest ones and fit everyone. It translates into low eCommerce return rates, which makes baby carriers one of the best things to sell.
11. Jigsaw Puzzles & Board Games
Due to COVID-19 pandemic, people are spending more time indoors. The side effects include a renewed interest in traditional games and jigsaws. Puzzles and board games are among the best-selling products online in 2022.
Even before the lockdown, we could observe a "board game renaissance." Now, the industry received a huge boost. The stock price of Games Workshop Group PLC (the manufacturer of popular tabletop games) increased by 143% over several months.
The good old classics are still the most popular products of this type sold online. 70% of them are:
Chess
Scrabble
Monopoly
Ludo
Puzzles and games have many devoted enthusiasts. As a result, it is easy to create useful content for your website or YouTube channel. You can record unboxing videos, explain the rules, or write reviews. It will attract lots of viewers and visitors that can become your customers.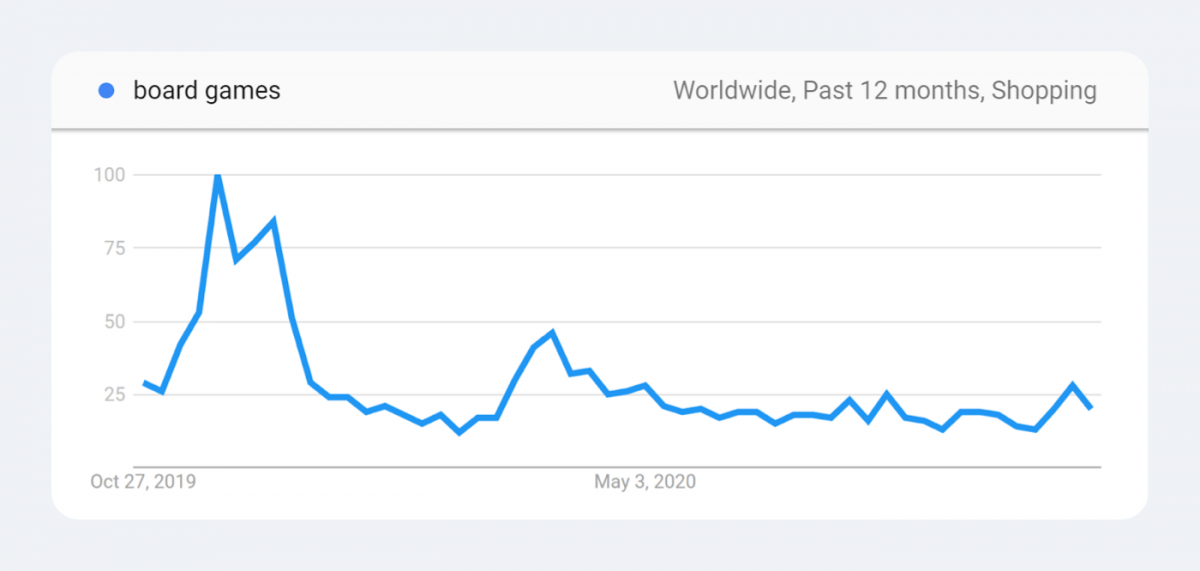 12. Art Supplies

The art supplies market is expected to grow at a CAGR of 4.5%.
There are two huge reasons why art supplies, in spite of the Covid pandemic, are in the highest demand in years.
Kids stay at home and their parents try to keep them occupied. But, more importantly, many adults finally have a good opportunity to explore their talents. This means that high-quality art supplies are among the top trending products.
The most popular items you can sell online include brush sets, paint pens, canvas panels, and pencil kits. Customers tend to buy art supplies in large quantities that are meant to keep them busy for months.
13. Yoga & Pilates Accessories

At this point, the pattern should be visible. Right now, the best products to sell online are products that were selling great in 2019 and skyrocketed after COVID-19. By 2025, the global yoga mat market is expected to reach $17.3 billion.
When gyms closed down, people were forced to figure out their new fitness routines. Yoga and Pilates exercises are the most popular choices. Consequently, yoga and Pilates accessories became trending products that are profitable to sell online.
There are all sorts of accessories that yoga lovers buy. Not only do they come with yoga equipment but also with unique apparel and home decor. It is a lifestyle.
Trending products to sell include yoga mats, straps, yoga mat wash, blocks, bolsters, pillows, candles, books, video courses, clothes, jewelry, or even custom designed water bottles. It is an easy catch.
14. Hiking Backpacks

Outdoors gear is a great niche. Hiking backpacks are top trending products and the market forecasts look very promising. By 2024, the backpack market is going to reach $20.4 billion.
But selling backpacks online can be a nightmare. It is a seasonal product and trends change in a very unpredictable manner. At some point, you may miss your chance and get stuck with your inventory.
Now, if we eliminate that single obstacle, the backpack may become the perfect eCommerce product. How? Dropshipping is the answer.
Additionally, you can create special discount offers and try to cross-sell. If somebody buys a hiking backpack they may also be interested in trekking poles or camping equipment.
Popular Things to Make and Sell Online
Dropshipping may not be for everyone. But it doesn't mean your career as an online seller will be ruined if you don't feel like looking for suppliers.
There's always an alternative—
Have you ever thought of manufacturing or creating your own products?
Here is the list of some easy things to make and sell:
Candles
Soap/bath bombs
Jewelry
T-Shirts
Courses & tutorials
Gift boxes
Music and beats
Art
1. Candles

Candles make a perfect gift. They make one of the best products to sell online. The scented candles market is growing at a CAGR of 5.80% and is expected to reach $4.2 billion in 2024. Most people are buying candles online because you can find some really unique aromas and shapes.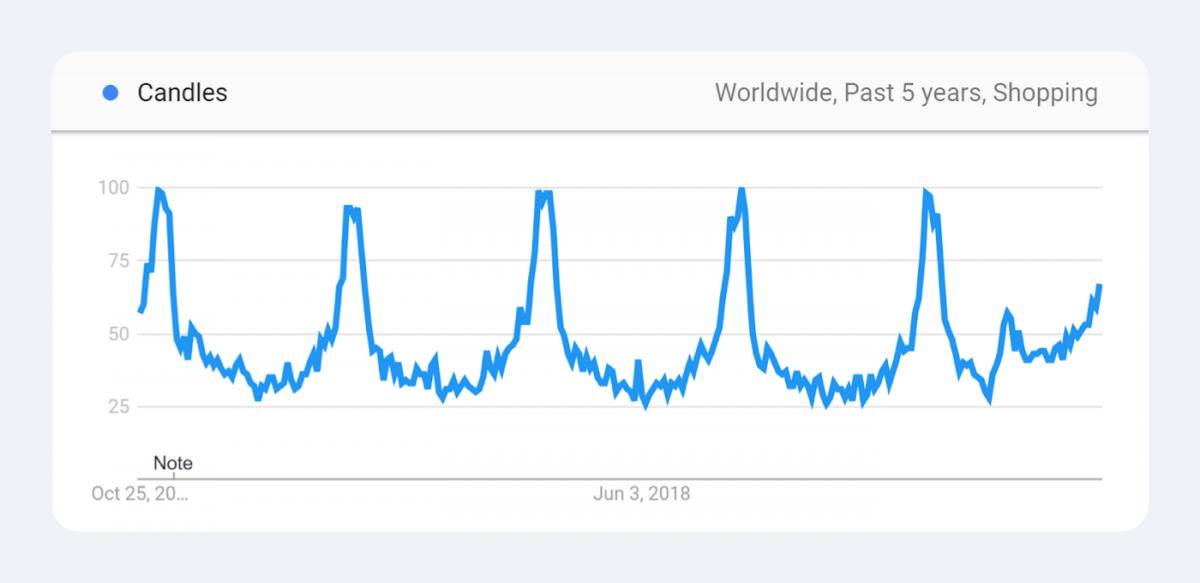 Candles are also one of the easiest and cheapest things you can manufacture at home and sell online. Get some molds, wax, fragrance oils (or dried petals/fruit/whatever comes to your mind) and go wild. You can turn it into a profitable business. All you need is some imagination and tasteful marketing.
2. Soap & Bath Bombs

Who doesn't enjoy a long, relaxing bath after a stressful day? It is one of the most common fantasies. A bar of vegan soap with natural ingredients and a bath bomb can bring that experience to a whole new level.
Soap and bath bombs are among the top trending products in 2022. Nowadays, bathing products are quite easy to make but most people don't bother. After all, the relaxing bath is supposed to be a treat, right? Nobody wants to play a "chemist." And that's your chance to shine. They are easy things to make and sell online.
3. Jewelry

You can turn almost anything into jewelry and it is easier than ever to find unique materials.
A little bit of copper wire and some polymer clay are enough to create $500 worth of earrings in a single evening. Still, it requires a lot of skill and patience.
If you are looking for easy things to make and sell, jewelry may not be the best idea. However, if you've already been making earrings and pendants for your friends, give it a shot and move your business online. Don't skimp on good photos—they are essential!
If you don't know how to create jewelry, consider dropshipping. It may sound harsh but making jewelry and selling jewelry are two very different skills.
If you are starting from scratch, you should consider testing out the second option first. Investing your time into learning how to make jewelry only to discover that you have no idea how to sell it can be very disappointing.
4. T-Shirts

The custom t-shirt printing market size is expected to reach $3.1 billion by 2025. It shouldn't come as a surprise that selling t-shirts is still a profitable business opportunity. Especially if it is a one-person operation and you take care of designs and printing yourself.
The process is easy to learn and a good screen printing machine is not a huge expense. If you can manage to take some commissions on the side it will pay for itself in no time. Offer some discounts to local businesses, schools, and institutions. The demand is huge (it is going to triple between 2016-2027) and t-shirts are among the easiest things to sell.
It is a type of activity where it is good to diversify your income sources. Operate both online and offline to maximize your profits. It will also let you see what works for you best and where you should channel your efforts.
According to Google search trends in 2020 people searched for:
Funny t-shirts
Christian t-shirts
Cat t-shirts
Vintage t-shirts
Trump t-shirts
Disney t-shirts
Anime t-shirts
Anti-Trump t-shirts
5. Courses & Tutorials

If you don't want to manufacture and sell any physical items you can sell your knowledge and skills in the form of ebooks, video courses, or premium content on your website. The barriers to entry are very low and everyone can try doing this. Not everyone will succeed, though.
How not to fail?
There are still many unexplored fields and niches. In some industries, the tools and methods become outdated very quickly and new courses are in high demand. There are also many evergreen categories, like personal development, where everyone can contribute.
If you are a professional and an expert in your field, video courses and tutorials are some of the easiest things to make and sell online. The e-learning market is expected to grow very rapidly.
Here are some of the most popular subjects that people want to learn online:
Programming
Drawing & painting
Playing guitar & piano
Knitting
Dancing
Welding
Singing
Playing chess & bridge
Speaking foreign languages
Trading stocks

If you need more ideas, check trending courses on popular e-learning websites.
6. Gift Boxes

People are busy and they will buy pretty much anything if it saves their time and solves their problems.
Figuring out what to buy for a gift, especially on short notice, requires a lot of energy. Gift boxes come to the rescue. They are usually ready-made bundles that you can buy for specific occasions. Gift and subscription boxes are among the top trending products of 2022. Just look at Kelly who started a personalized gift box store this year and gets hundreds of customers pouring in.
When it comes to gift boxes, the whole is more than the sum of its parts. It's magic. You can find local suppliers and experiment with your packaging. Bestselling sets are often created with items that are not so popular products on their own.
In 2020 customers searched for such gift boxes as::
Quarantine gift boxes
Groomsmen gift boxes
Bride gift boxes
Gift boxes for him
Gift boxes for her
Gift boxes for mom
Dog gift boxes
Christmas gift boxes
7. Music & Beats

All musicians want to record a hit song that will make them rich and famous. But it happens once in a blue moon and even if your song does get popular on YouTube and Spotify it doesn't mean much. The real money is elsewhere.
Have you ever considered creating stock music for videos or loops for music production? Instead of being one of the guys panning for gold (knee-deep in a freezing river), you can be the guy who sells the tools.
There are hundreds of companies you can collaborate with or you can start your own website. Here is an example of a one-person sampling project turned into a great music production tool.
8. Art

Between 2013 and 2020 the online art market grew by 220%. There are countless types of artwork that you can sell. Paintings are the most obvious choice that pops into mind but buyers are hard to catch. You should consider relief printmaking.
Selling bags or clothes with your hand-printed designs can be a cool source of extra income. If you don't want to prepare everything on your own you can also try services like Printly.
Any artist can create an online portfolio website. But selling your original artwork requires dedication. Your paintings and prints won't sell like hotcakes unless you gather followers. Nowadays, successful artists spend 50% of their time painting and 50% writing on social media.
How to Find the Best Products to Sell Online
To find the best products to sell online you need to ask yourself a set of questions.
Is your product unique?
Does it appeal to a specific niche or market segment?
Does your product help to solve a problem or satisfies a craving?
Do people buy the product more than once?
Is the price range reasonable?
Is the product easy to deliver?
Can you find a good supplier?
Can you use specific marketing channels to advertise this product?
If the answer to most of them is "yes," you should roll up your sleeves and start earning some money.
If your product idea didn't make it, read on to find out why those questions are so important.
Unique Products for eCommerce
Some things are too common to sell them online. If you can buy it at Walmart while doing groceries, it doesn't make a good product for eCommerce. But it also doesn't mean that you need to sell many weird and random things.
It is better to focus on one unique product that is not overhyped. For example, hemp baby wrap carriers can become your thing, and 2 or 3 basic types will generate 90% of all your profits.
Understanding Niche Products and Market Segments
If something is for everybody, it is for nobody.
When someone visits your store, they should think: "It is a perfect place for me. It matches my lifestyle, my taste, and my temperament."
Once you start thinking along these lines it will be much easier to reach your potential customers. Try using Facebook targeting tools to estimate your potential customer base.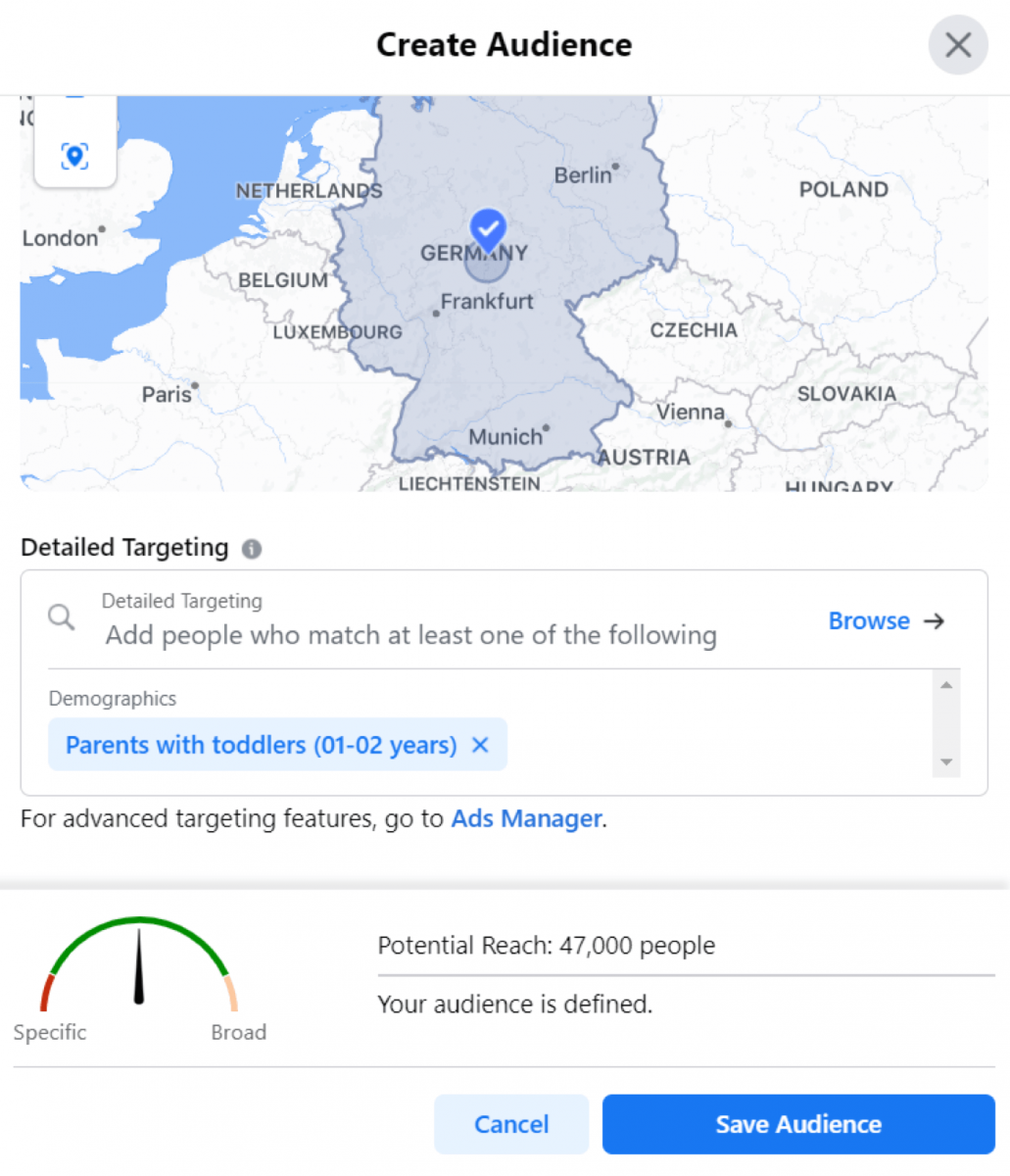 Products That Solve Problems
Buying something is only a means to an end. As online store owners, we may want to sell that matcha whisk but we should always remember that, ultimately, customers want to be healthy.
People want to be happier, healthier, safer, and more attractive. If your product helps them to achieve any of those goals, you might make a fortune and get to the top of your eCommerce game.
Alternatively, you can entertain them or satisfy their cravings. Boredom can also be treated as a persistent problem that needs to be solved on a regular basis.
Repeated Purchase Products
There are some products that people buy only several times or once in their lifetime. Other items, like hypoallergenic cat food for your pet, you buy on a regular basis.
You should decide if you want to focus on repeat-purchase products or "big-game" hunting. Mind that it may be easier to build a loyal customer base who spend below $80 than wait for that one bullseye sale.
Good Price Range Products for Online Sales
This question is linked with the previous one. Do I want to catch one big fish or several small ones?
People buy things spontaneously if the price is below $40. What happens when something is more expensive? Well, your customers start checking out their options and doing the math. Usually, that's not a good sign.
Still, it's ok to keep that $799 sous vide machine listed in your inventory. As long as you know that most of your profits come from sous vide silicone bags and smaller accessories.
Products That Are Easy to Ship
Remember how Laurel & Hardy were struggling with the piano in the famous The Music Box flick? Trust me, no courier will want to display such heroism. They will come to hate you if you choose to deal with bulky musical instruments, wardrobes, glassware, or suchlike.
In fact, chances are you'll come to hate yourself too.
If you want to dropship, you probably already know that it is best to keep your packages below 2kg/4.4lb. Some items, like hiking backpacks, are easy to compress and impossible to break in transport. They were made for online sales and—pardon the pun—traveling long distances.
Good eCommerce Suppliers
Choosing the right supplier is as important as choosing what you sell. You should try to pick suppliers who have many positive reviews and good ratings. Oberlo, Aliexpress, and Alibaba are good places to start your research.
Read more about finding dropshipping suppliers: How to Find a Reliable Dropshipping Supplier
Products You Can Advertise
Even if your products are great, you may find selling them hard without good marketing.
On Facebook, for example, you can't advertise:
Sex toys
Surveillance equipment
Weapons
Before-and-after effects of your health products
Smoking-related accessories
You should test what marketing channels and platforms are most suitable for your product.
Is it Instagram? TikTok? Google Ads? Can you write a great blog article and attract your potential customers with content?
If you still don't know what items are best for your store, look for popular products on:
Products You Should NEVER Sell Online
Here are some of the most notorious products that make the blood of eCommerce owners run cold. Beware!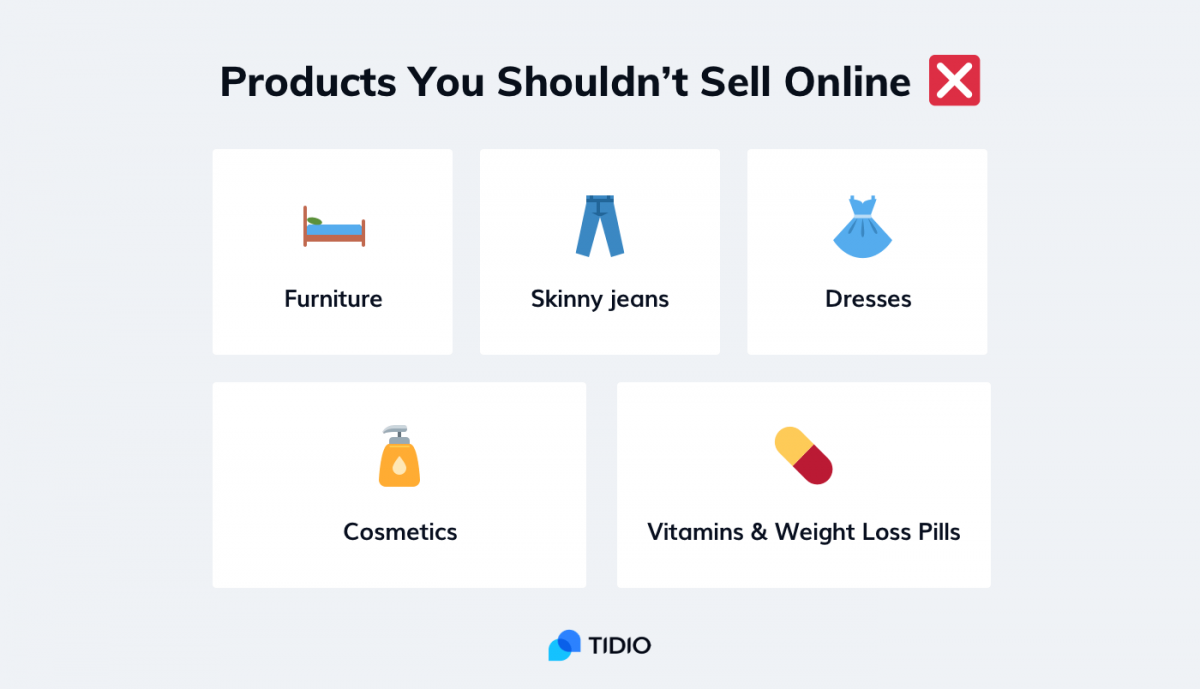 Products You Shouldn't Sell Online:
Furniture
Skinny jeans
Dresses
Cosmetics
Vitamins & Weight Loss Pills
Find out why these are not the best things to sell below.
Furniture

What is the golden rule of dropshipping? You should only sell things that you can ship with ePacket (China EMS). Most pieces of furniture are way too big. If things are heavy, bulky, and costly, they are a big no-no.
Skinny jeans

Denim clothes are OK for dropshipping but you should avoid skinny jeans. They won't fit most of your customers and they will realize that too late. The return rate will kill your business (don't confuse it with the repeated purchase rate you can get thanks to live chat).
Dresses

A different product, the same pattern. Expectations don't meet reality. Making fun of dresses people bought online became a sort of Internet phenomenon. It is one of those products that you need to wear to decide if it looks good on you. Mixing dresses and dropshipping is a courting disaster.
Cosmetics

It is alright to dropship nail polish but you shouldn't sell products that you apply on your skin. Usually, you won't be able to check the quality of the products that you dropship. In case of allergic reactions, irritation, or skin damage you can get yourself into some nasty trouble. Stick to make-up accessories and items to stay on the safe side.
Vitamins & Weight Loss Pills

Everything health-related seems a little bit shady when it is online. Pair that with dropshipping and you are treading on thin ice. There is an additional downside—you won't get past the advertising policies of companies like Facebook or Google. It's better to give up on the idea altogether and find some better products that are safe and reliable.
Watches

Smartwatches could work but regular watches will give you headaches. The market is oversaturated and cheap knockoff brands are not as hot as you might have thought. Wearing a watch is a matter of prestige, and sending the right signals about your status. Unless it is one of the classic brands with a good rep, nobody will bother.
Key Takeaways
Most eCommerce businesses fail within 2 years. Choosing what to sell is the single most important business decision you can possibly make.
You should remember that online stores are very different from traditional stores. Nobody will visit your website by chance. You need to think hard about your marketing and customer acquisition costs. What you sell is the critical element of the equation.
Find products that are durable, easy to ship, and cost less than $50
Think about your marketing strategy and customer acquisition channels in advance
Follow the eCommerce trends and read eCommerce case studies to get valuable insights
If you want to add new items to your existing store, use tools like live chat to collect product requests.