Which of these sounds like a bigger obstacle to you—a lack of ideas or a lack of courage to start a business?
Since you're here, it's the shortage of ideas presumably.
No longer.
Here's a data-informed list of small business ideas that will get you moving (and probably won't eat up all your savings).
In this guide:
15 ideas for starting a small business online & offline
How much you can expect to make and what you need to start
Advice from those who have already tried, and share their insights
Looking for different business knowledge? These guides might be helpful:
Small Business Ideas List
Here's the list of all small businesses ideas we cover. To learn more about them and see why they made the list in the first place, scroll down.
1. Tree Trimming/Removal Service
Whoever said that money doesn't grow on trees was apparently wrong.
A tree trimming and removal service is a good small business to start in cities of all sizes. The American Forests organization states there's a need for 14,000+ tree care workers annually, so there is a good demand.
The U.S. Bureau of Labor Statistics also suggests the highest employment, therefore demand, in these areas: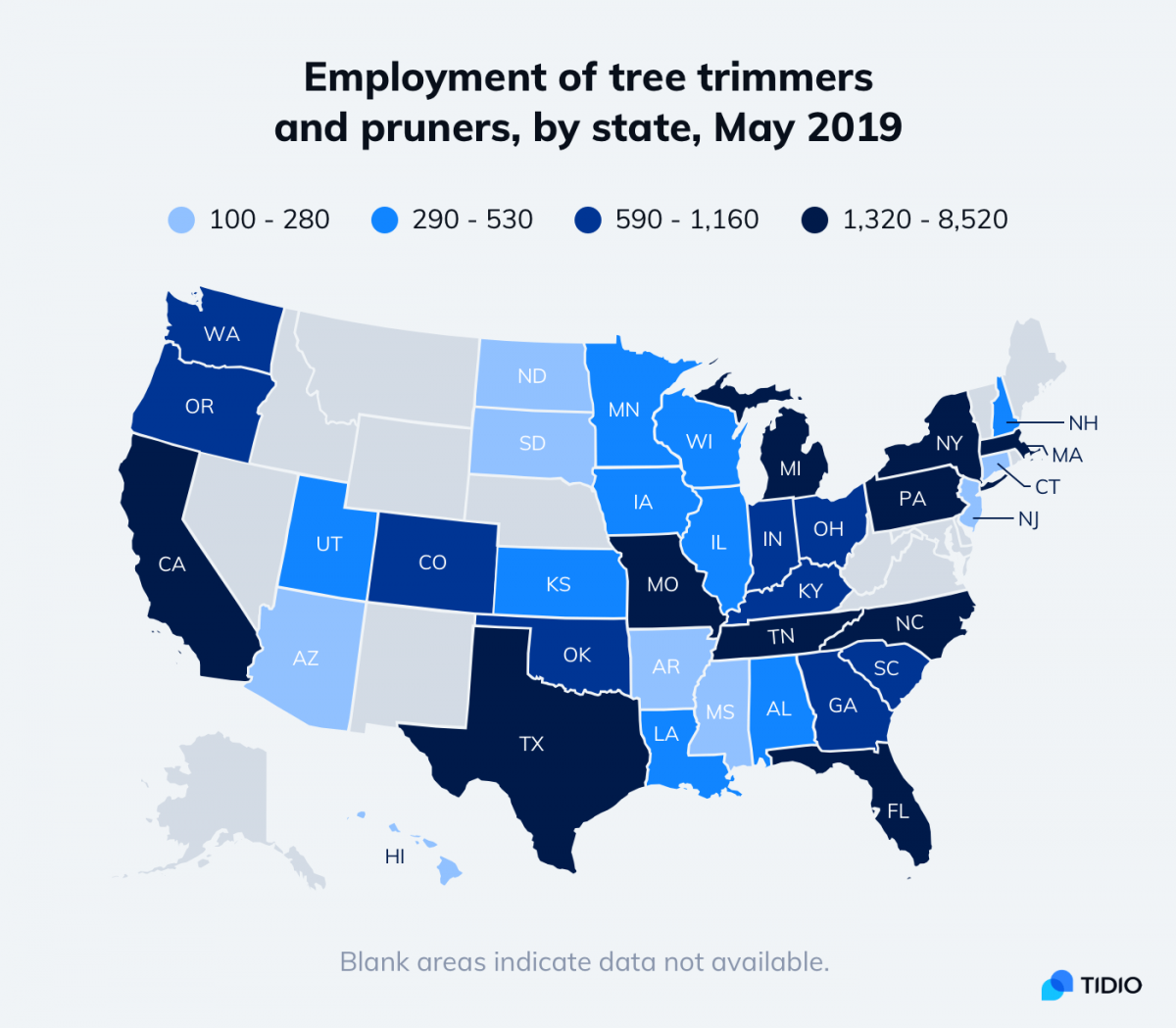 As you can see, routine tree removal, trimming and pruning, and other maintenance works are common services in the northern states. The businesses working in southern states are also involved in storm mitigation and landscaping.
Tree trimming and removal businesses provide services to different clients (homeowners, commercial clients, and the public sector). From routine trimming or pruning to mitigating storm damage, you can choose from a variety of services to provide.
How profitable is a tree service business?
Based on the US Bureau of Labor Statistics, a self-employed, individual provider can make between $41,540 and $63,240 annually. The average wage for entry-level workers is a decent $20.44.
Is this a good small business idea for you?
A tree trimming/removing business would be a good idea if you are…
Familiar with tools like wood chippers, chainsaws, and tree pruners
In a good physical condition to be able to perform tasks such as trimming and lifting
Willing to get an arborist certification—but many states don't require certification for routine tree care.
Here's a good starting point, a short video guide with useful advice from someone who's been in the tree pruning and removal business for a while now:
2. Dropshipping Clothing Store
Dropshipping is a business model where a website sells products without actually manufacturing, storing, or shipping them. These tasks are a job of a supplier, who takes care of everything from making a product to delivering it to customers.
Starting a dropshipping clothing store is one of the best small business ideas because it doesn't require inventory and other business costs. You need to register on one of the eCommerce platforms like Shopify, add your products and company data, and go online.
You will probably need to invest something in Google Ads to attract some traffic. But one thing you can be sure about—the demand is there. Research suggests that online fashion sales will continue to grow in the next several years.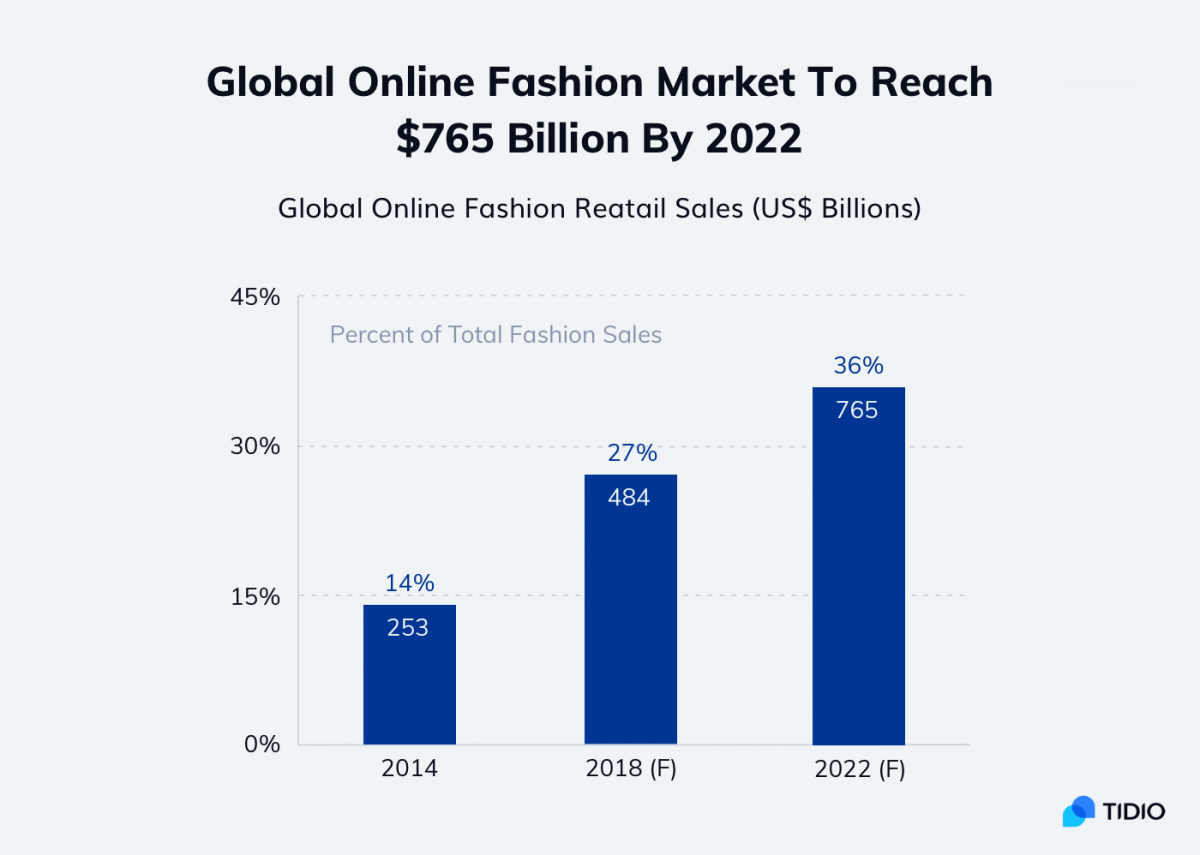 How to succeed as a dropshipper?
Be a customer-first business, build your skill set, and forget that "get rich quick" mindset many people often have. Approach dropshipping as a business, not a means to build a fortune overnight, and you'll have a better chance of making it.
How profitable is dropshipping online business?
People who do dropshipping as a side hustle of part-time business can make up anywhere between $300 and $5,000, depending on orders.
Is this a good small business idea for you?
No upfront costs (except the price of an eCommerce platform, Shopify pricing starts at $29/mo)
Pay suppliers only when you make a sale
You might need to create designs for products—it's pretty straightforward thanks to print on demand apps.
3. Dog Boarding Business
Dog boarding service (also called a dog daycare center) is a business that provides facilities for dogs to stay and play with other dogs.
The facilities include kennels and sleeping areas where dogs can stay in comfort. Besides pet sitting, dog boarding services also provide care and frequent walks for the residents. So you'd have to rent some real estate and hire some dog walkers who know how to take care of dogs.
The cost of boarding a dog varies between $25 and $85 per night. The ultimate cost depends on the quality of kennels and the price of extra services like walks, treats, and playtime. A typical mid-sized business like The Kennel at Arbor Lane provides these additional services.

So, why consider a dog boarding service as one of small business ideas to try?
Here's why this business model can turn into a successful company.
The American Veterinary Medical Association claims that 38% of households in the U.S. have at least one dog. So the number of potential clients is huge. As for the demand, a typical dog owner's annual boarding spending starts at $229, which doesn't include extra services.
How profitable is a dog boarding business?
You can make anywhere from $5,000 to $50,000 within several months, depending on the facilities, location, and range of services.
Is this a good small business idea for you?
An enjoyable occupation for pet lovers
Startup costs could be anywhere from $20,000 to $80,000
Dog boarding requires a kennel license in most states.
Here's a look at what a business like this looks like in practice:
4. Coffee Shop
A well-thought-out coffee shop can be one of the best ideas for a small business. It's very flexible: you can adjust the product range to your budget and reduce rent expenses by using a kiosk or a mobile truck.
But with so many competitors around, you'll need to make your coffee shop stand out. Besides the obvious must-haves like excellent customer service and coffee quality, you can brainstorm unique names and branding. Mark Brown, handled this challenge by calling his brand "Death Wish Coffee" because his coffee was stronger than competitors'.
How profitable is a coffee shop business?
Coffee Shop Startups' survey suggests the annual revenue of a kiosk and truck from $75,000 to $95,000 and from $145,000 to $165,000, respectively. Here's how the revenues could look like for a small coffee shop that works from 7 am to 7 pm.

Is this a good small business idea for you?
Cost of opening a coffee kiosk can reach $25,000 and higher
You can create your own schedule but the business will take most of the time
Besides coffee sales, you can earn money for baked goods, sweets, and other food offers
Here's what the idea can develop into (the video includes the cost breakdown and other business details):
5. Personal Trainer
A personal trainer has always been on the great small business ideas list, and the pandemic didn't change that. Although COVID-19 made personal meetings impossible for now, trainers connect with their clients via live and recorded video.
Samm Haden, a Los Angeles-based trainer, stays connected to her clients via her social media and personal website.
She had to get creative and did the hard work of making several video training courses, which anyone can buy online. Also, she invested in some content marketing and started a great fitness blog to educate clients and make search engines rank it well.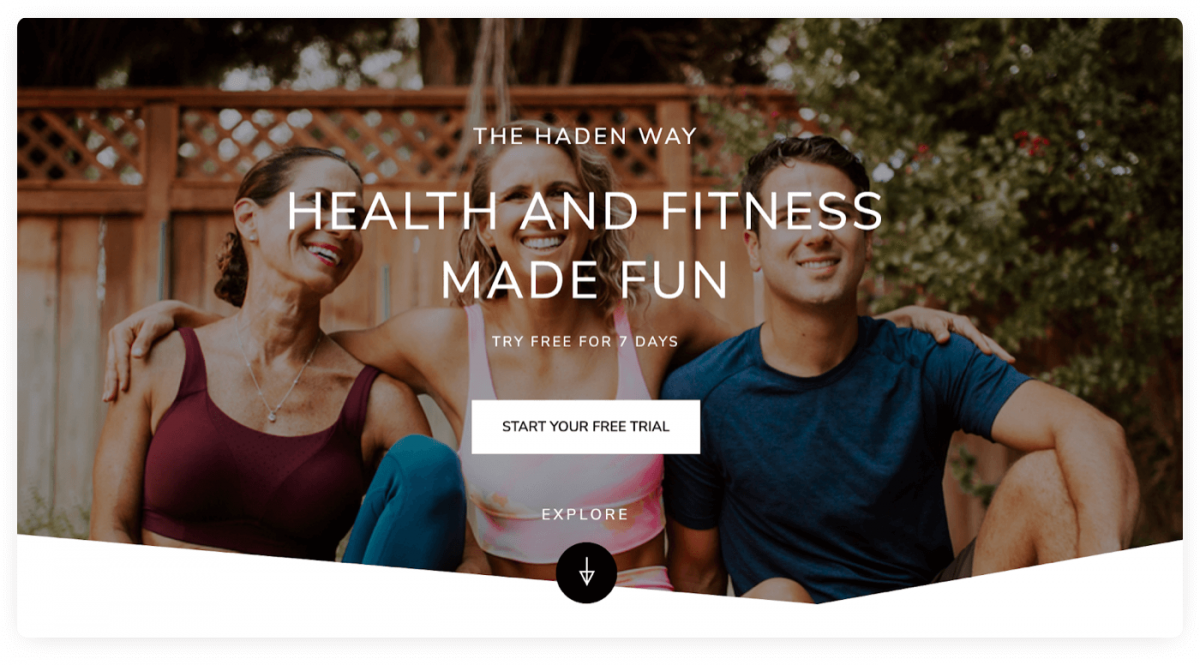 So the personal training and fitness service business idea is still on the table. Plus, keep in mind you can do it as a side hustle or join small business owners who commit full-time.
You can go virtual with your own website and earn the same income you would have with face-to-face training. If you need any help with setting up your new business—The National Academy of Sports Medicine has this helpful guide with good business tips + you can get a virtual training certification.
How profitable is a fitness training business?
Beginner certified personal trainers can make a decent $25/hr as freelancers. The rate might be slightly higher if you decide to work for a gym. So, making good money is viable from the start.
Is this a good small business idea for you?
Opportunity to engage both part-time and full-time
You'll need a certification to become a trainer
Personal training takes a lot of energy, both mental and physical
An if you're trapped in the "I need some money to start making money" way of thinking, here's a video just for you:
6. Freelance Graphic Designer
Freelancing is a legit way to earn money, and people are used to hiring independent workers. Freelance graphic design services are popular and pay $29.52/hr on average, which makes it one of the best ideas for a small business from home.
You can start your own side business even without graphic design knowledge. There are online courses pretty much about everything you need to start. For example, you can learn Photoshop design fundamentals for free on Udemy within hours thanks to this top-rated course.

Finding potential clients for your new graphic design business is easy thanks to freelance platforms like Upwork and Fiverr. Once you're ready to work on design projects, you can create a free account on a platform of your choice and send out applications.
How profitable is a freelance graphic design business?
Freelance graphic designers charge anywhere from $20 and $150 per hour. As a beginner, you can start with a decent $20 and build a portfolio, gradually increasing the hourly rate. This way, it's possible to get to $50/hr within one year.
Is this a good small business idea for you?
You can create your own schedule and be your boss
You'll need training in graphic design, web design, animation
A sense of creativity, originality, and style is a huge advantage
And here's some practical advice for you:
7. Handmade Organic Bath Products Store
Selling handmade bath products like soaps is one of the best and newest small business ideas to consider. Here's why.
Consumers are becoming increasingly aware of harmful chemicals in body care products and their impact on the environment. Added with the growing focus on body care and hygiene, a small business idea of organic bath products is a good one to try.
Research also shows that the U.S. market for organic soaps alone should experience impressive growth in the next several years.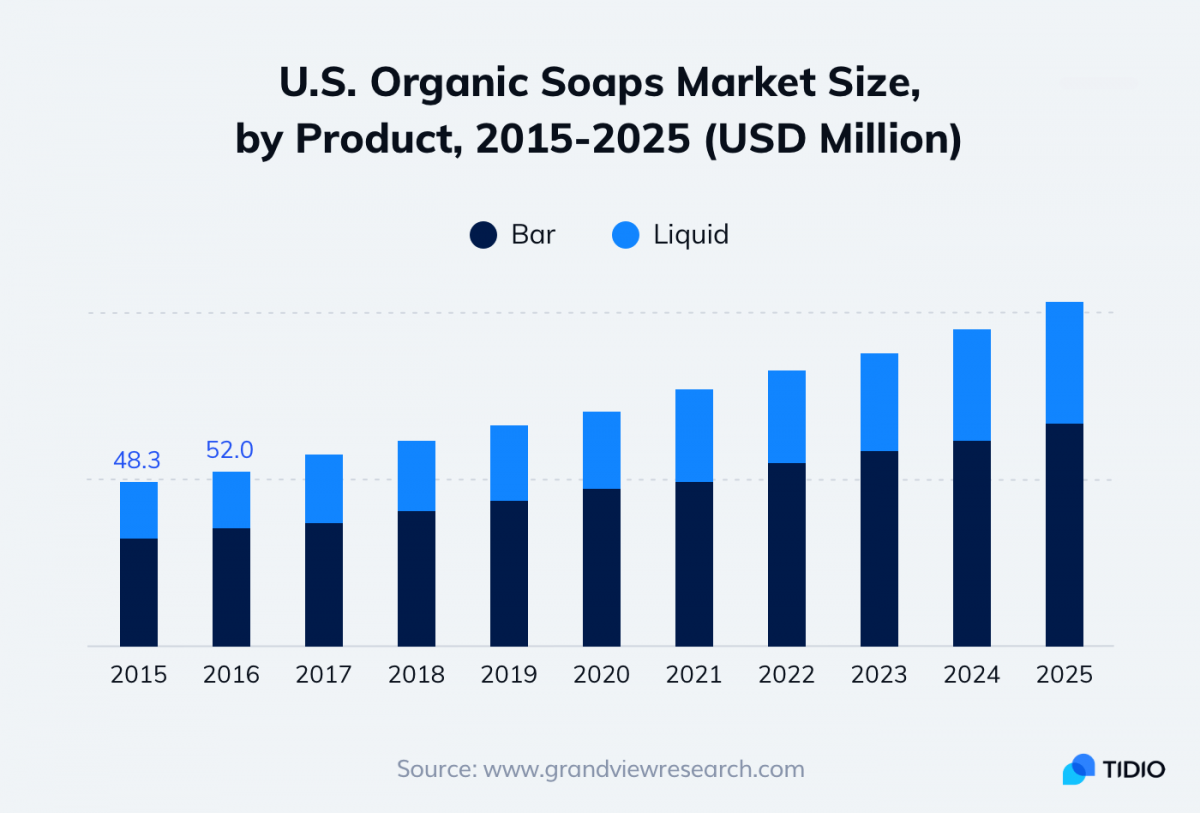 So, you can start your own organic bath products store and jump on this trend. You'd still have to get the licenses for this type of business, which shouldn't be a problem as long as you use only organic ingredients.
And it would be possible to sell your products both online and in local body care shops. But you will have to do some marketing work—perhaps some blogging and word of mouth to get referrals—to get people talking about your business.
How profitable is an organic bath products business?
You can make anywhere from $100 to $5,000 depending on your product range and sales. Profitability might be really low at the beginning because of competition. For example, Etsy has 31,600+ product results for the "organic soap" search query.
Is this a good small business idea for you?
Startup costs are low: you should expect the spending to be around $2,000
Many states require licenses and have regulations for product ingredients
Sales might be low at first due to fierce competition; you might want to try to get into local stores and sell on Etsy
8. Cleaning Service
Residential and commercial cleaning services are in high demand and are expected to continue attracting tons of clients. The rising concern over health and hygiene in re-opened offices, for example, makes commercial clients rely even more on cleaning businesses.
"Our clients want more frequent deep cleaning," NBC quoted Ryan Van Orden, a co-owner of a Boston-based UniStar Cleaning Service, as saying. "We are hiring to make sure we can deal with the demand."
The company even launched a special cleaning service that follows strict guidelines to help customers prevent COVID-19 in their homes.

So, there should be an opportunity for this great business idea in your community, too. Consider opening a cleaning service and help people keep their homes clean—it could be one of the most successful small business ideas in 2023.
How profitable is a cleaning service?
A cleaning company can be very profitable now as cleaning services are in high demand. Right now, you can charge as high as $50/hr per cleaner as a professional service.
Is this a good small business idea for you?
Startup costs start from about $3,000 + many states require licensing
Wide range of services (disinfecting, dusting, waxing, vacuuming, etc.) can help get more revenue
You might be required to do the cleaning jobs yourself until you've made enough money to hire employees
Even though cleaning may seem like an easy thing to do, running a cleaning business is not. Here's a detailed video on what to keep in mind:
9. Online Tutoring
Online learning is even more popular during the times of COVID-19, so many people are looking for quality tutors and learning opportunities. The U.S. Chamber of Commerce even lists online tutoring companies among examples of businesses that thrive during the pandemic.
That's why success stories are everywhere. A group of six talented teens, for example, started a "Remote Tutoring" business that even got covered on ABC and other news sites. Besides the tutor job, each team member has another role: a CEO, a bookkeeper, a marketer, or a communications lead.
They make $15 per hour helping others learn. Not bad for 16-year-olds, some of which already have LinkedIn profiles (here's Abrar Kazi, the CEO) and share entrepreneurship knowledge.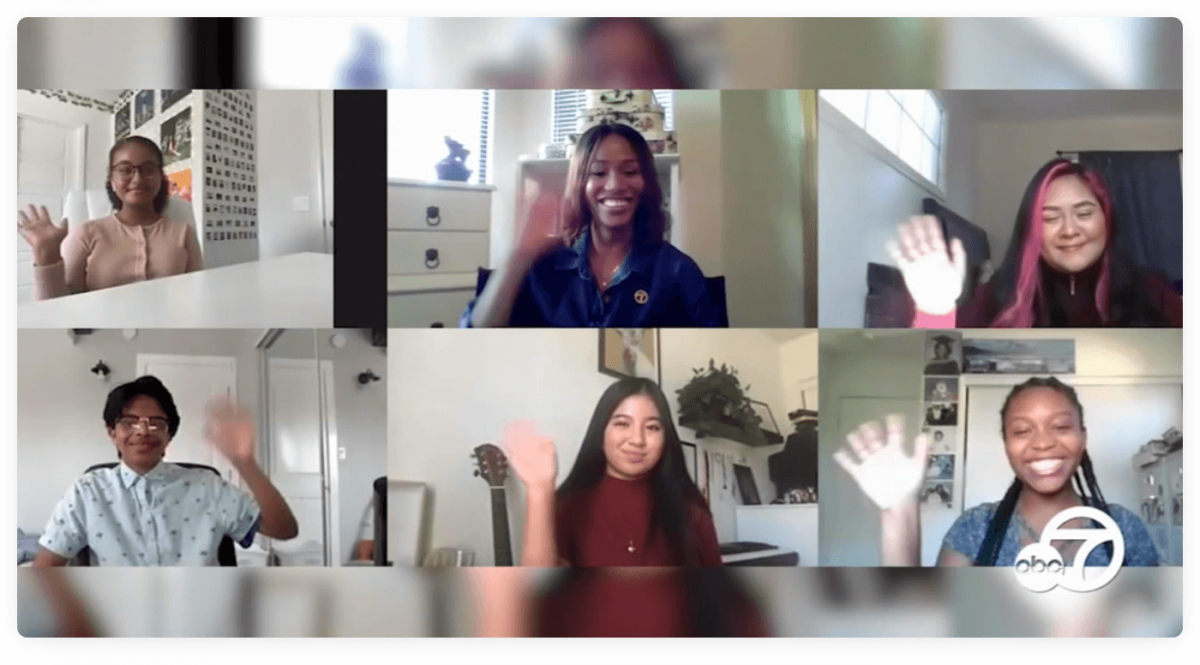 You can promote your new tutoring business via social media, online directories like Craigslist, tutoring services like Preply, or a personal website. There could be many people looking for your business—from language learners to students who need some help to get them through the finals.
How profitable is an online tutoring business?
Depending on your experience, you can charge anywhere from $10 and $100 per hour. Committing yourself to full-time tutoring can be a good source of income when you have a large portfolio and recommendations.
Is this a good small business idea for you?
You can work both part-time and full-time, from home
Low startup costs: tutoring is one of the low-cost small business ideas, as you only need a computer and knowledge to share with others
Most states don't require certification + you can connect with clients via online tutoring platforms
Sounds like a good business idea for you? Make sure not to make these mistakes:
10. Mobile Bike Repair and Maintenance Shop
Are you a mechanically inclined person with an interest in cycling? Then you might be interested in creating a bike repair shop. This business idea was quite popular already, and COVID-19 made more people rely on bikes rather than public transportation.
Bike repair shops (including mobile ones) are proving to be one of the most lucrative small business ideas in 2023. There are many wonderful success stories of these businesses in the news, too.
MarketWatch recently wrote about Bicycle Fixer, a Seattle-based mobile bike service whose sales were up by 50% because of socially distanced recreation and transportation. Another good story came from the U.S. Chamber of Commerce, about London Blankenship, the man running The Bikesmith Truck.
Blankenship's mobile service has been getting as many clients as ever due to the same reasons. Plus it looks really cool—kinda like a food truck.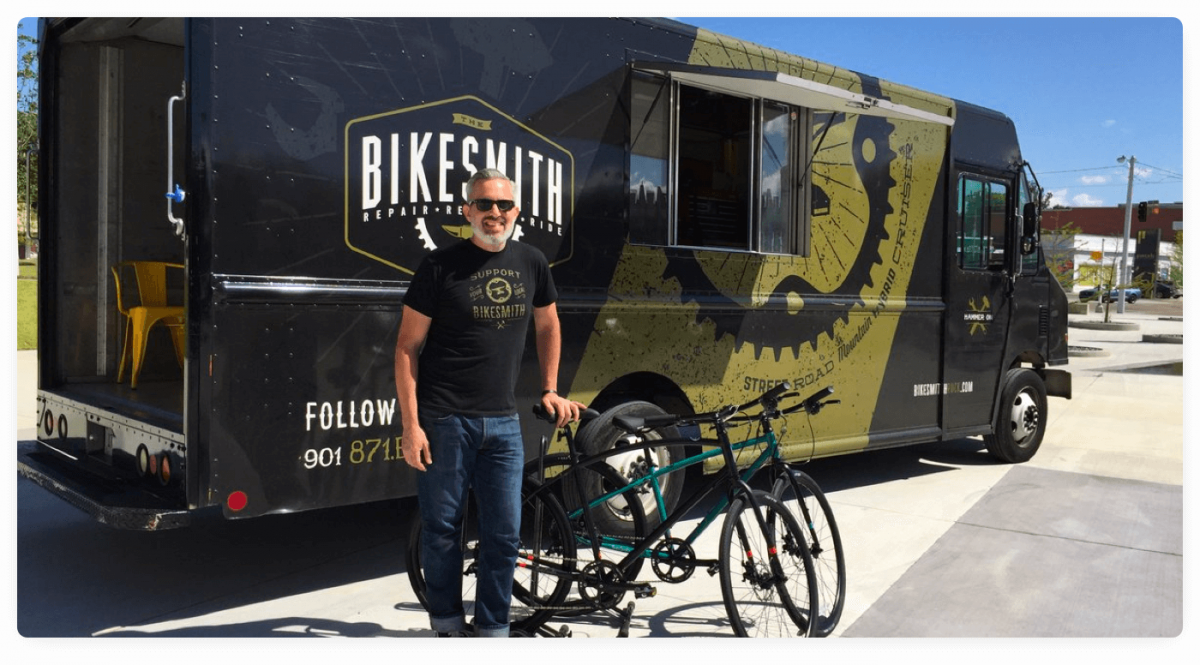 The founders of Bicycle Fixer and The Bikesmith gave some pointers to people interested in creative small business ideas like that.
The two say that keeping a shop mobile keeps business overhead low. Also, dealing with customers in various locations allows following social distancing. Besides, everybody stays outside, which also helps reduce customer concerns about COVID-19.
How profitable is a bike repair and maintenance business?
The average retail profit margin for bike sales is 36%, but depends on the type and quality of products. Plus you have opportunities to increase the profitability every day by providing additional services and getting regular "maintenance" clients.
Is this a good small business idea for you?
You'll need mechanic skills to fix, assemble, and tune bikes
Initial investments can range anywhere from $20,000 to $70,000
You might need at least a few years of bike shop experience to build expertise
Here's how you can do it if you're on a budget:
11. Career Counseling
The coronavirus pandemic has led many people to think about changing their careers. Pew Research Center data shows that 49% of Americans are "somewhat" or "very pessimistic" about finding a job in the near future. Many of those who became unemployed are also thinking about changing their occupations.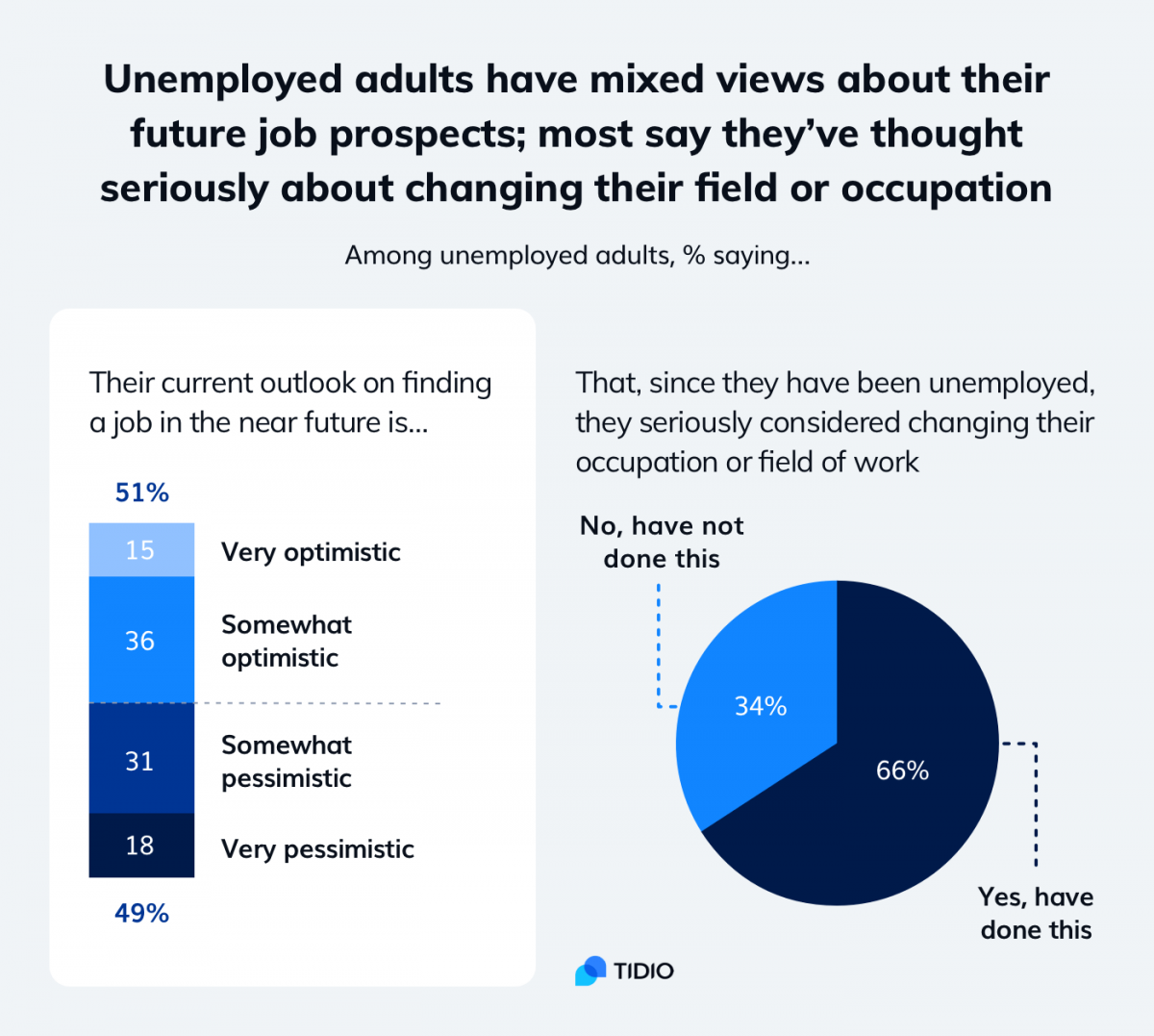 With many people considering a career shift, there is a huge potential for a career advisor business. Surely people are afraid of moving out of their comfort zones and start a new journey, which is something an advisor can help with. That's why a career counseling service is among the best ideas to start a small business this year.
How profitable is a career counseling business?
You can start your business by charging a decent $20/hr and increase it up to $150 as you build a portfolio of clients.
Is this a good small business idea for you?
Low startup costs: just might need just a certification and laptop to start
Some background in behavioral, social science, or counseling is required
You'll need to be committed to helping others make good decisions and find the best career options
12. Carpet and Upholstery Cleaning Services
Carpet and upholstery cleaning services remain on the list of good small business ideas because this industry pivoted for COVID-19. These businesses don't do as many residential projects as they used to, but the demand for their services from retailers has been unprecedented.
Quality cleaning is one way retail businesses can mitigate the concerns of their consumers. Digitalcommerce360 recently posted this insightful quote from Tom Buiocchi, the CEO of ServiceChannel, a facility management business:
One way is by ensuring consumers that they [retailers] are taking health and safety seriously by taking the proactive steps of deep cleaning their stores or increased cleaning schedules. It's not just an aesthetic issue anymore; it's a step in rebuilding consumer trust.

Tom Buiocchi, CEO of ServiceChannel
Indeed, reports support this claim with these incredible stats:
Luxury retail businesses increased janitorial cleaning and carpet shampooing by 84%
Restaurants increased kitchen cleanings by 53%
Big-box retailers increased cleaning and HVAC air filter cleanings by 35%
Consider starting a carpet and upholstery cleaning business to help businesses keep both employees and clients safe. The demand is there, so try some quick courses and obtain COVID-19 Disinfection Certification from the ISSA to start your business.
How profitable is a carpet and upholstery cleaning business?
The demand from commercial clients is very high, so you can quickly make good money. Even as a solo business owner, you can earn anywhere between $50,000 and $80,000 per year.
Is this a good small business idea for you?
You'll need equipment, cleaning supplies, and training
Most states require certification as proof of expertise
A lot of physical work is required on a daily basis
Here's what equipment you may need, and what the work looks like in practice:
13. Car Wash
Car washes are back on the list of easy small business ideas. These businesses have re-opened and, like others, have to comply with COVID-19 requirements. Although the demand is still getting up to speed, there are major business opportunities for those ensuring both quality washing and disinfection.
Research shows that car wash businesses even managed to increase their weekly revenue by 6% compared to the period before the pandemic. Closures of some competitors are a probable reason, but still, this indicator serves as a good sign of recovery.

So, add a car wash to your list of ideas for a small business. As you can see, there should be an opportunity for new folks who step up to the plate.
Make sure to review your local reopening regulations for car wash businesses, too. Here are some of the latest examples for business owners:
How profitable is a car wash business?
With the closures of many car washes, you should be able to build a good customer base quickly. An automatic car wash can make up to $150,000 a year depending on location and range of services.
Is this a good small business idea for you?
High startup costs: you'll need to pay for rent, supplies, and equipment
You'll need to stay in compliance with regulations from The Environmental Protection Agency (EPA) and The Occupational Safety and Health Administration (OSHA)
You're responsible for every decision and your investment
Here's what you need to start a simple car washing business:
14. Digital Artist
Selling designs online is one of the best low-cost small business ideas. Thanks to print on demand and design sites like Etsy and Redbubble, artsy folks can start in minutes and reach even international customers.
With Redbubble, you can sell graphic designs and put them on mugs, t-shirts, hoodies, and even dresses. You get a profile like this one below, so people can check out and buy your fantastic designs.
So, the whole thing is like eBay or Amazon, only for digital artists like mdmarkovic.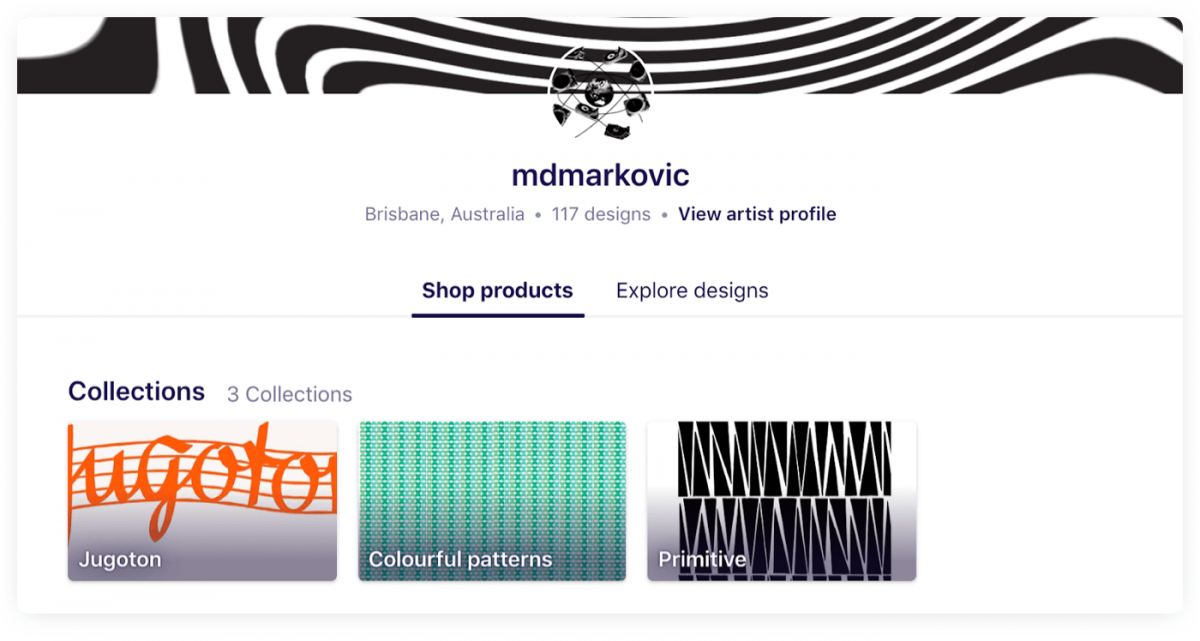 Etsy works pretty much the same: you start by making an account that becomes your online shop. The more quality design items you add there, the more chances to get for a good return.
The product range you could sell isn't limited to clothing. You can also sell art supplies, rugs, handmade items, jewelry, stickers, posters, and other products.
Links to get you started as a digital design creator:
How profitable is selling on Etsy or RedBubble?
Profits depend on the product range, but you can earn anywhere from $300 to $2,000 as a beginning digital artist.
Is this a good small business idea for you?
Some design background and artistic ability are required
You can be a part-time entrepreneur—doing designs can take as little as several hours daily
There's no need to do extensive SEO or digital marketing, as sites like Etsy are well-known
Need help with starting your art business? We've got a fantastic guide just for that: How to Sell Art Online and Make Money [10 Tips, Ideas, & Sites]
15. Virtual Assistant
If you've been looking for ideas for a small business from home, that's the one. Virtual assistant services are getting popular amid the pandemic. They do routine tasks like bookkeeping, research, and calling while entrepreneurs focus on keeping their businesses running.
The demand for virtual assistants is great, so you should be able to find both full-time and part-time offers. If we search Upwork (the biggest freelance platform in the world), we get 5,229 job ads for freelancers.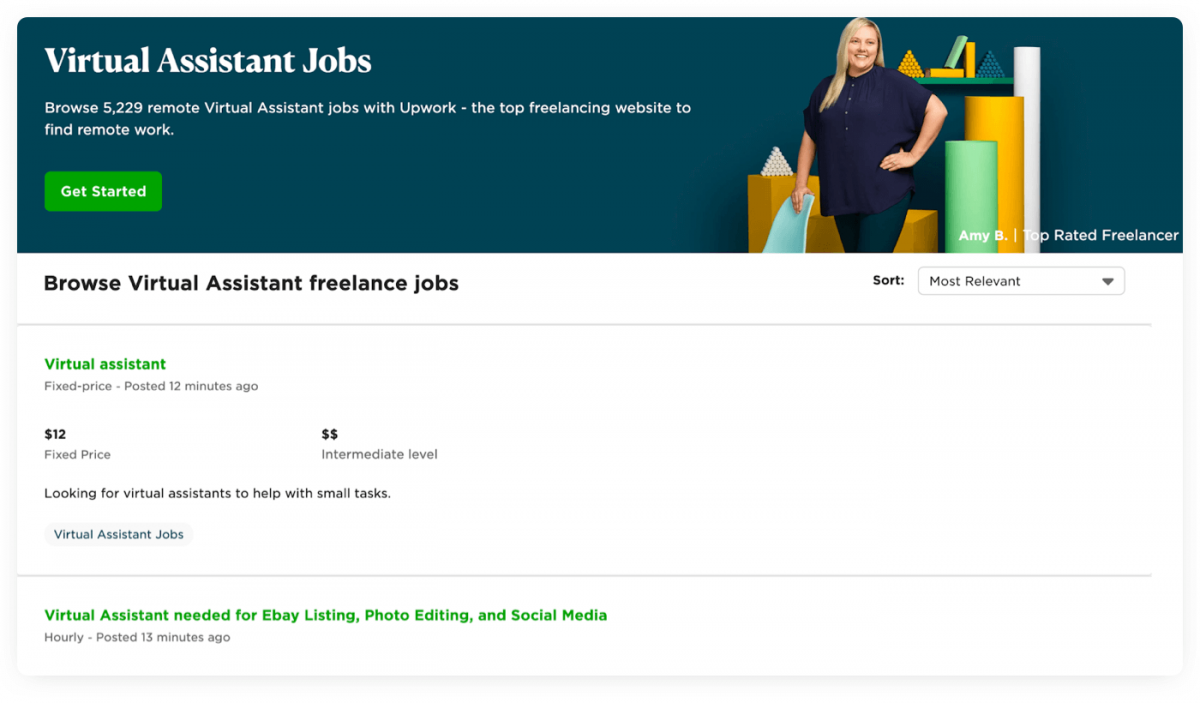 So you might get the first job and make money even without a lot of marketing.
How profitable is a business?
The average salary of virtual assistants ranges from $10 to $27 and depends on the experience. But it's possible to build experience quickly—there are many stories like this one of beginners getting multiple paying clients in just 3 months.
Is this a good small business idea for you?
Startup costs are low, and you can work from anywhere
You need excellent time management, organization, and communication skills
You might need to work for many clients to earn decent money, which involves multitasking
Here's a video to get you started:
Small Business Ideas FAQ
What are the most successful small businesses?
The most profitable businesses from this list include:

– Tree trimming services: entry-level salary starts from $20.44/hr
– Cleaning services: due to great demand driven by the pandemic
– Carpet and upholstery cleaning services: due to rising demand from commercial clients
– Mobile bike repair and maintenance shop: great demand can help get high ROI quickly
– Freelance graphic designer: quick to learn and get to the average salary of $29.52/hr
What business can I do from home?
Based on our list, the best small business ideas to start from home are:

– Dropshipping clothing store
– Freelance graphic designer
– Online tutoring
– Virtual assistant
– Digital artist
– Career counseling
What business can I start with small capital?
– Freelance graphic designer: just pay for graphic design apps, you can learn how to use them for free thanks to courses
– Virtual assistant: free or low-cost virtual assistant courses can help to start this business with no significant startup cost
– Digital artist: platforms like Redbubble and Etsy might charge business owners only a monthly or commission fee
– Cleaning services: you should be able to cover the cost of truck rent, certification, and cleaning products for about $1,000
– Carpet and upholstery cleaning service: you should face similar costs as for cleaning services
– Online tutoring: most online tutors start for free but might play a small fee to tutoring platforms
– Dropshipping clothing store: pay only for an eCommerce store (about $30/mo) and commissions only when you make sales
– Career counseling: the cost of training and certification shouldn't exceed several hundred dollars
Best Small Business Ideas: Summary
There you go, 15 best small business ideas to start this year. Some of them are fully online business ideas while others require the traditional approach. Here's our list of top small business ideas one more time:
Tree Trimming/Removal Service
Dropshipping Clothing Store
Dog Boarding Business
Coffee Shop
Personal Trainer
Freelance Graphic Designer
Bath and Body Products Store
Cleaning Service
Online Tutoring
Mobile Bike Repair and Maintenance Shop
Career Counseling
Carpet and Upholstery Cleaning Services
Car Wash
Digital Artist (Etsy, RedBubble)
Virtual Assistant
We hope this guide has given you some good insights, pointers, and ideas to start a small business. Whatever option you choose, make sure you solve a specific problem for a specific audience. And, you should be comfortable doing that business to have some fun every day.
Good luck!