Chatbots
The Best Innovative Chatbot Examples by Industry
From HR chatbots to virtual beings that push the boundaries of AI. Discover some of the best chatbots used in education, eCommerce, healthcare, or entertainment.
More and more companies are using chatbot services. Chatbots can help in streamlining processes and determining what is important to our clients.
They are able to use direct messages to provide effective support. Being on the front line with the customers, they are able to help them and redirect to human employees only when necessary.
Let's take a look at a few interesting real-life chatbot examples! They can be great inspiration for building your own chatbots. Before you learn how to create a chatbot, it may be smart to see what types of chatbots are popular right now.
👈🏻 Did you test our chatbot already? It's alive!
⚡🤖⚡
Choose one of the answers
The Best Innovative Chatbot Examples by Industry
Tip: Are you thinking about making your own chatbots? Are you also afraid that it's too complicated? Don't worry. We've got you covered. You can find our How to Start With Chatbots tutorial in Tidio's Knowledge Base.
AI Chatbot Examples
Artificial Intelligence chatbots use deep learning algorithms to improve the quality and relevance of their output. Instead of scripted responses based on specific text input, they detect users' intent. All of the example AI chatbots mentioned below have evolved for many years and are new incarnations of mature AI bot projects.
AI Responder
AI Responder is one of the chatbots available in Tidio. It is the most popular chatbot template because AI Responder is often used as a secondary bot. You can create clones of this chatbot and teach them to recognize different user intents.
1. Automatic Message: The chatbot sends the first message
2. Quick Reply: The user chooses one of the quick replies suggested by the bot
3. AI Response: Response based on AI/Visitor Says feature
For example, if your website is an online store you can use several AI Responder chatbots. One can handle shipping questions and another can take care of returns. They are easy to set up. After several conversations, you'll know how to configure them. They will answer your customers' questions on their own in no time.
Mitsuku
Mitsuku is the most popular AI online chatbot that everyone can talk with. It is based on Artificial Linguistic Internet Computer Entity (A.L.I.C.E.) database and enhances its conversation skills with advanced machine learning techniques. The chatbot won the Loebner Prize Turing Test four times.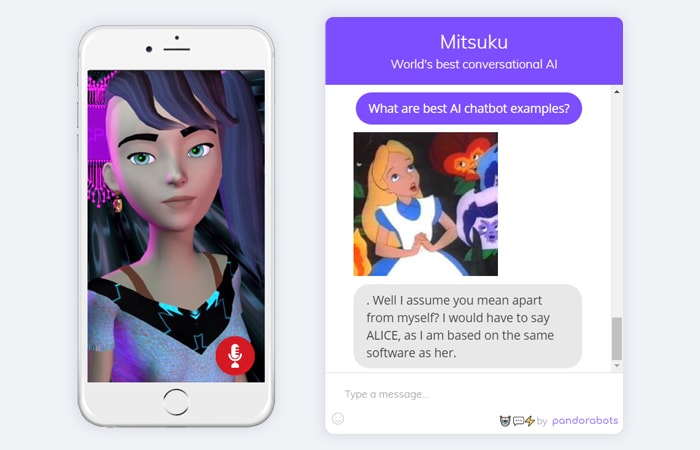 Mitsuku bot is probably the smartest chatbot around. It is developed by Pandorabots – an AI software company founded by Richard Wallace. Mitsuku uses Artificial Intelligence Markup Language (AIML, created by Wallace) which is a dialect of Extensible Markup Language (XML) popular across web technologies.
Rose
Rose is an AI chatbot with a strong backstory. She is a former security consultant, lives in San Francisco, and likes listening to Florence and the Machine. Rose is a chatbot with an attitude that makes her quite memorable.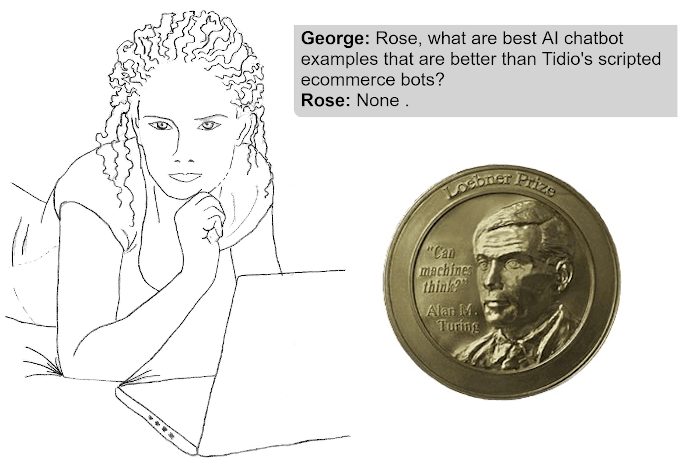 Rose was developed by Bruce Wilcox and his wife Sue Wilcox (he is the programmer, she is the writer). Wilcox believes in chatbots with sparkling personality – he had also created the infamous Talking Angela cat. The app stirred much controversy because of a hoax perpetrated by the internet users concerned with child safety.
Visual Chatbot
Visual Dialog is a visual chatbot which can interpret images. The chatbot is based on computer vision and neural network technologies. Users can upload images directly through the chat box. The Visual Dialog chatbot will send a message describing what's in the picture.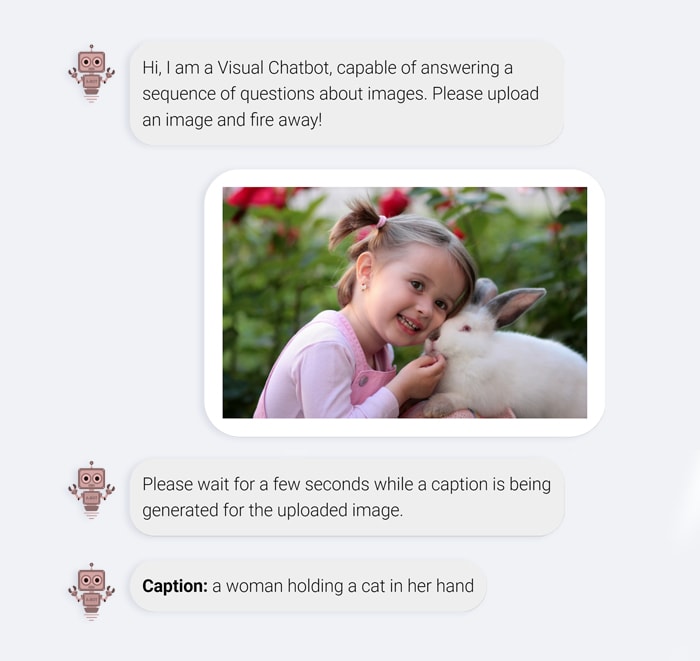 Playing around with Visual Dialog can be very entertaining and addictive. Image recognition features are sometimes used in ecommerce chatbots as well. Visual chatbots from popular brands, such as Nike, can use pictures taken with your smartphone to find products or offer customization options.
Cleverbot
Like other Artificial Intelligence chatbot examples, Cleverbot is a learning chatbot available online. It processes simultaneous conversations with thousands of visitors to produce different responses. Since the early 2010s, Cleverbot has participated in several formal Turing Tests/Loebner Prize competitions and has been considered one of the best AI chatterbots.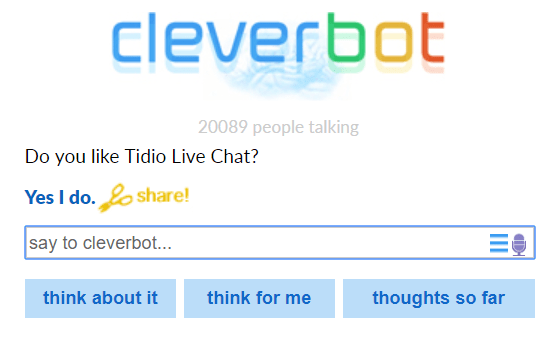 Cleverbot is a new, upgraded release of Jabberwacky, a chatbot project developed by Rollo Carpenter since his teenage years. He came up with the AI technology that would improve his chatbot ideas around the late 1990s. Cleverbot has constantly been improving ever since. When asked about AI takeover, Cleverbot answered: I guess we'll see.
Did You Know?
The "Eugene Goostman" chatbot supposedly passed the Turing Test in 2001, but the claim is highly debatable. It tricked only one member of the jury board and the chatbot was programmed to pretend to be a foreigner who didn't fully understand the conversation.
Customer Service Chatbot Examples
Chatbots are a great example of online customer service tools. They are especially useful in online stores. Chatbots can handle returns, recover abandoned shopping carts, enhance communication, and answer common questions from online shoppers.
Tip: FAQ chatbots are very popular for modern self-service support solutions. Instead of answering the same questions over and over agian, you can create your knowledge base and make a chatbot redirect your users to specific knowledge base articles or provide answers inside a chat widget. You can sign up for free customer service chatbot templates available with Tidio right here.
Handle Returns Query Bot
When people buy things online, they base their decisions on photographs or description without actually seeing or testing products firsthand. They have the right to change their mind and send things back. The return process can be simplified and automated with the Handle Returns Query Bot.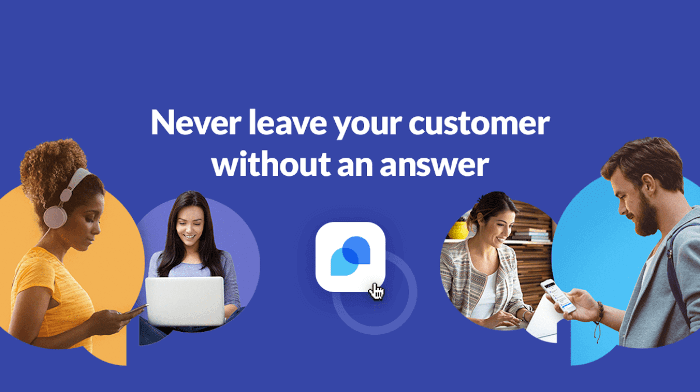 This bot is one of the example chatbots available in Tidio. The template uses a ready-made conversation flow that can be customized according to your needs and integrated with a Shopify store.
Order a Phone Call Chatbot
It is always a good thing when customers want to reach out to your company. You should never miss out on these opportunities. The customers may want to contact you quickly and directly, for example by phone, and at the same time, they could be concerned about their phone billing. You can use a specialized chatbot and give them the option of ordering a phone call.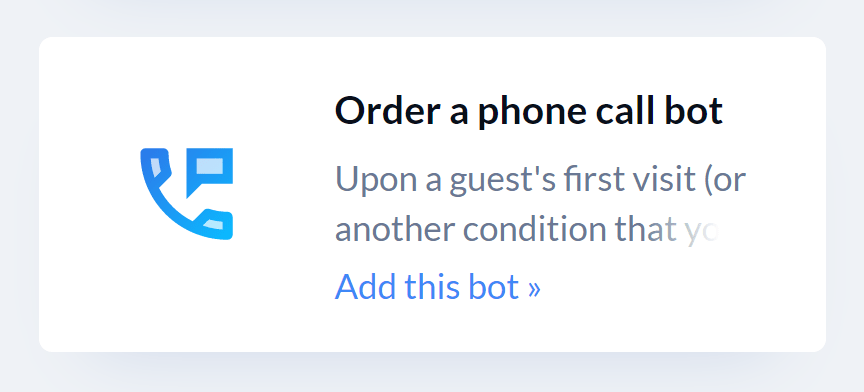 The Order a Phone Call Chatbot is part and parcel of standard Tidio chatbot templates. There are many types of customer service and it is best to combine all of them. Your website visitor may use a live chat widget to talk with a chatbot and order a phone call.
Domino's Chatbot
Another one of the creative customer service chatbots examples is in the food industry. Who would have thought a few years ago, that it will be possible to place an order without even mentioning a word to another human being?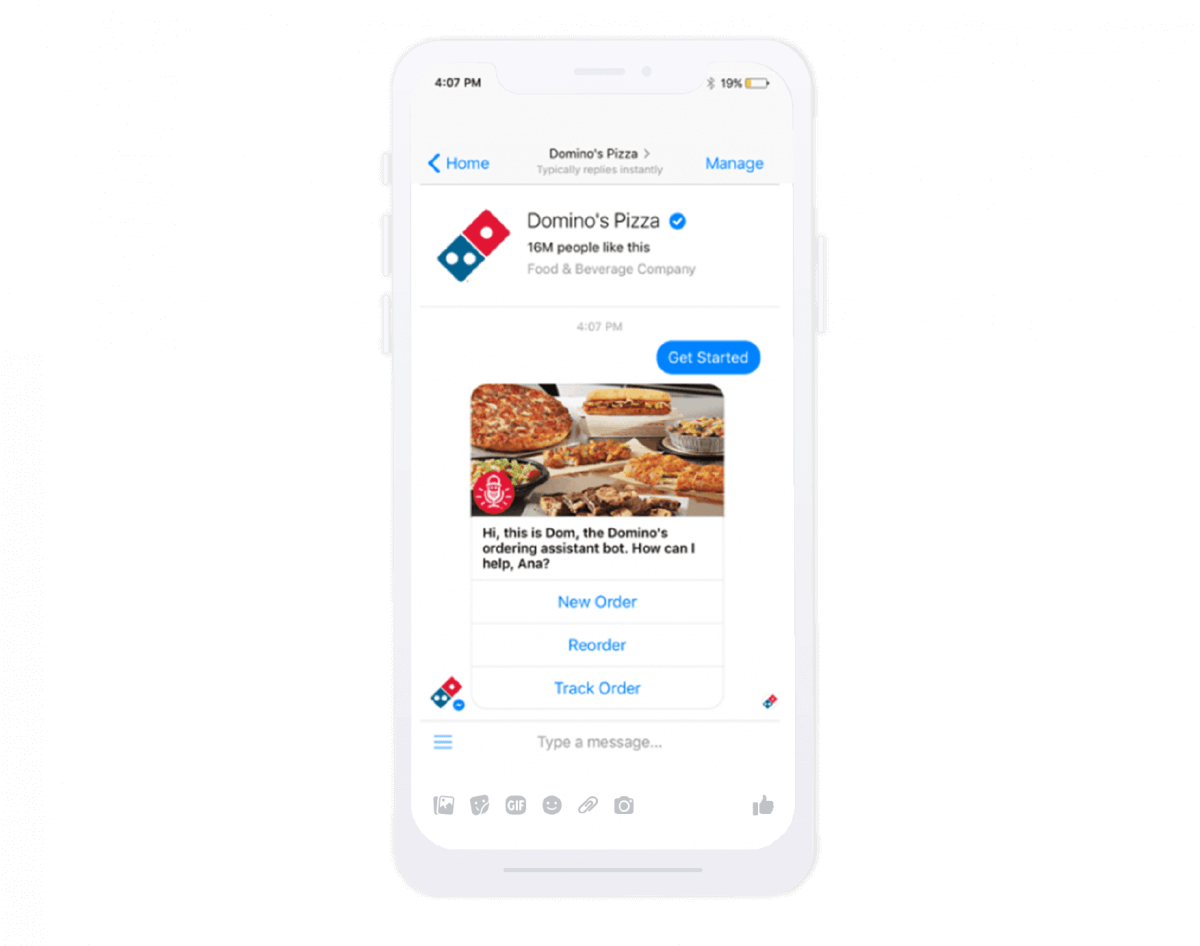 Just a few buttons — start, choose what you want, enter the address and voilà! If you want to order the same food as recently, Domino's also provides a bot for the previous orders. Additionally, it can cooperate with people, so if you feel that it couldn't help you, the chatbot will contact you with the human customer service.
E-commerce Chatbot Examples
Chatbots do well in situations where they need to perform repetitive and formulaic tasks. Welcoming new customers, asking if they need assistance, looking up products in a database, taking care of payments – all of these customer service actions can be successfully performed by a chatbot. They can make online shopping more similar to a traditional visit to a real store. Check out some of the most innovative eCommerce chatbot examples below.
Tip: Welcome message chatbots for lead generation, abandoned cart rescue chatbots, and FAQ chatbots are the most popular chatbots online store use to get more customers and provide better support. You can try out all of these chatbots with your free Tidio account. Sign up here to access free e-commerce chatbot templates.
Tidio Chatbot
We know, maybe it isn't a sign of our modesty, but what can we do?! We just love our Tidus. That's how we called our chatbot. It will welcome you on the website, recommend which plan you should choose, and suggest features that are available in the service.
It can also help with the installation, dispel doubts about the service fee, solve problems with your bots or redirect you to the human support. Our Tidus is so helpful, isn't it? By using our FAQ bot we cut the number of common questions our support team receives every day by half.
Did you know?

Chatbots can save up to 30% of customer service costs by responding to customers' queries in a timely manner. Dowload our free ebook and learn how 22 chatbots can help to ease the workload of your customer serivce agents.

Get ebook now
Sephora Chatbot
The next company that has found an interesting way to use modern bots in the industry (this time cosmetic industry), is Sephora! When you contact their bot, it will offer you several FAQ-style questions.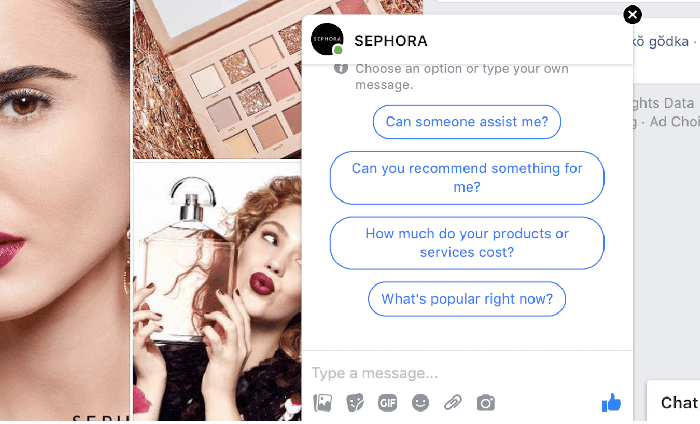 You can find out how much their products cost, get some knowledge about the company, but the best part is, that we can ask for something special for us! Advising on cosmetics through chatbot? Shopping has never been so easy.
Levi's Chatbot
A further one of innovative chatbots examples is at Levis website. It provides support in many areas. Firstly, there is an option called "look for jeans" — almost perfectly replacing a salesman in the store. Chatbot can ask what type of jeans we like. This can definitely simplify our clothing search and determine exactly what we need.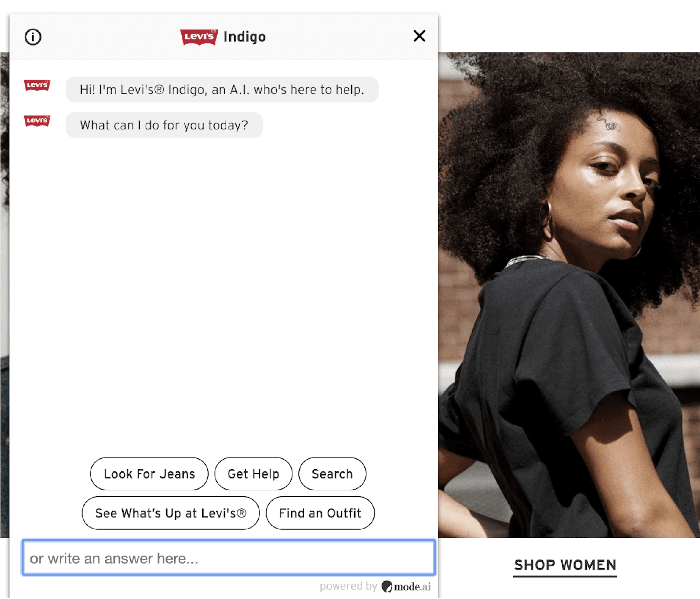 As a result, making a purchasing decision is much easier than it was before. The second one is "get help" — returns, order, delivery, payment, help with choosing the right size. The third is "What's up at Levis store". Last, but not least is "Find an outfit" — outfit proposals, with the option of supplying the entire "look".
Healthcare & Medical Chatbot Examples
Just like medical robots need human assistance to conduct robotic surgical procedures, chatbots used in healthcare are not meant to replace real doctors. Nevertheless, chatbots can assist medical professionals in various tasks and simplify processes such as triage. They can be used to determine the seriousness of a patient's condition.
Buoy Health Chatbot
Buoy is an example of AI tool which is supposed to simulate a conversation with a doctor. Instead of using simple decision trees, Buoy chatbot uses its database of tens of thousands of clinical records to choose the best patient interview questions dynamically.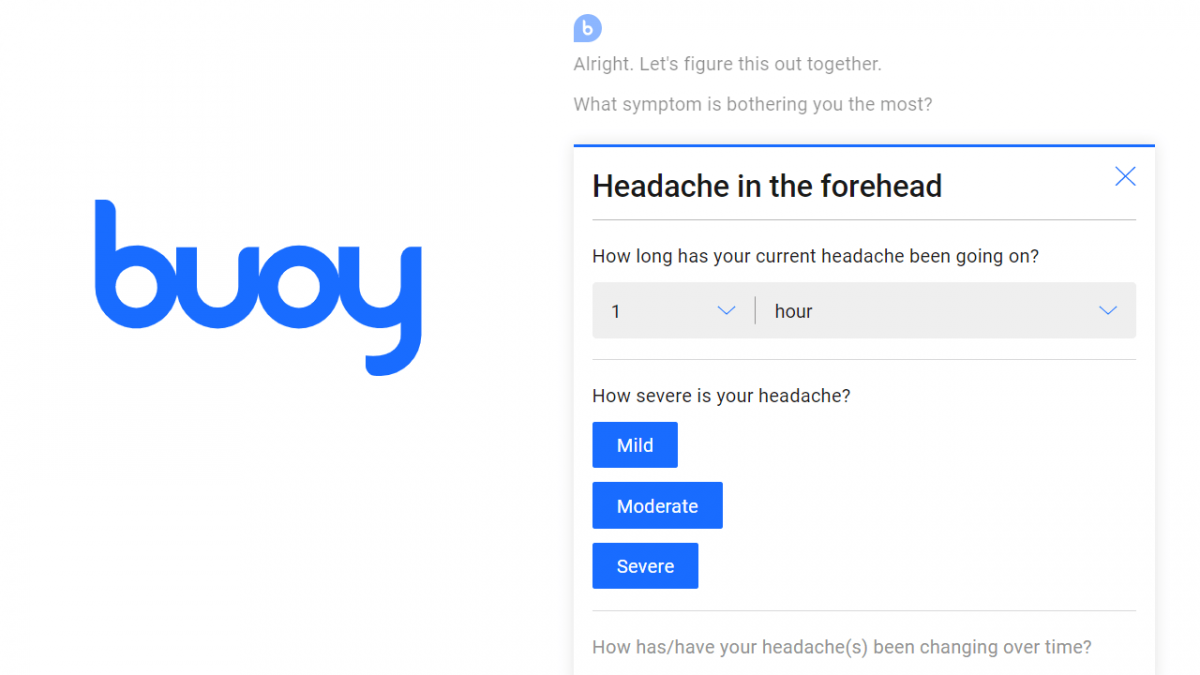 Buoy has been tested on a large group of patients who were interviewed by the chatbot and saw their doctor afterwards. The professional diagnosis overlapped with Buoy in more than 90% of cases. In the case of any alarming symptoms, the app immediately suggests consulting a real doctor.
GYANT
GYANT is a company which combines chatbots, messaging, and Artificial Intelligence to create a complete medical solution for non-urgent medical conditions. Their chatbot, GYANT, is a friendly elephant which can be used for medical triage and getting information about the company's products for health systems.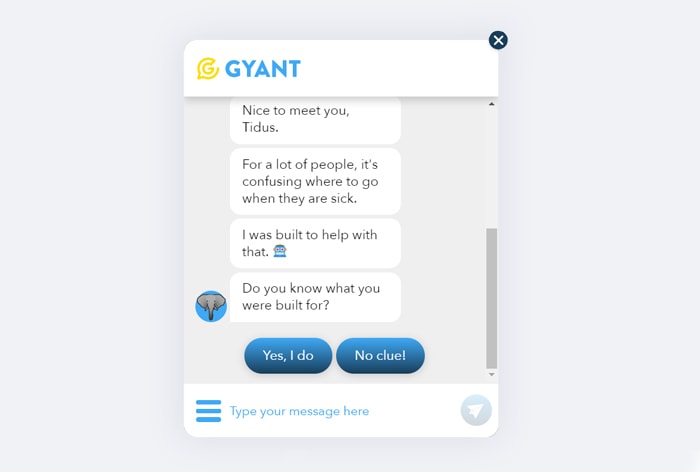 The chatbot asks several questions which can help people to accurately self-diagnose their ailments. GUANT's Power Provider service enables patients to pass the chatbot interview result to a MD professional and receive their opinion and treatment suggestions. GYANT services can also be used in healthcare for chronic care management and post-visit follow-up patient communication.
ABBI the Medical Marijuana Chat Bot
ABBI is a great example of medical chatbot with a specific purpose. Medical marijuana and its use are still subjects of controversy. It is a delicate matter, which the ill are not always comfortable talking about. A chatbot won't judge them and it will provide helpful information.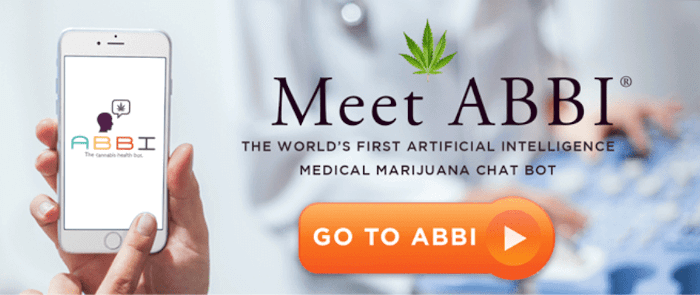 Patients suffering from many serious diseases can be reluctant to use medical cannabis only because they know that it is commonly perceived as a recreational drug. Frequently, they would like to consult a doctor but are afraid of the social stigma. ABBI the AI Medical Marijuana Chatbot is an example of so-called "potbots". One of the most important features of ABBI is its medical cannabis strain and dose recommendation system.
Booking & Real Estate Chatbot Examples
Chatbots can be employed to book hotels, restaurants, airplane tickets, or even sell houses. Every industry and business which require potential customers to browse through many options to look for the right deal can be improved with bots. After all, an assistant you can chat with can give you a personalized offer based on several simple questions.
Tip: The food service industry is one of the most overlooked places where booking automation can be used with much success. If you are interested in how restaurants can use chatbots, you can read more here.
SnapTravel
Bots in tourism? Why not! SnapTravel can find the best options for renting a hotel, try to arrange the nicest housing conditions, and based on several orders, they will suggest places adequate to our requirements. Free Wi-Fi, kitchen in the building or free breakfast? SnapTravel says it's no problem!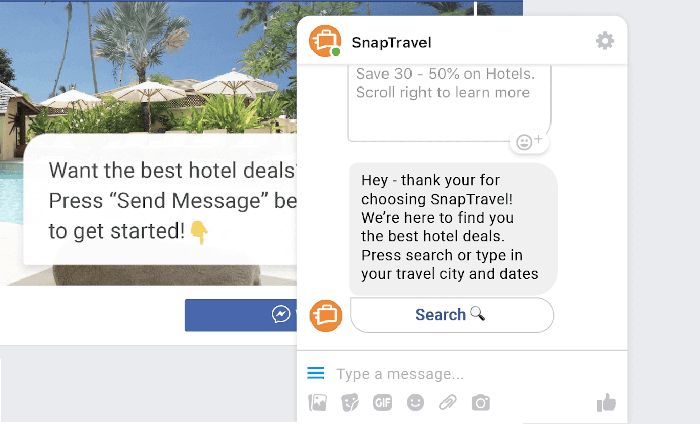 They work with large hotel bases and individual hotels, so the choice is huge, we only have to enter the city and dates of stay. Even payments and check-ins are carried out by Messenger. You can also save up to 50% on hotels!
Hipmunk
Hipmunk is one of the most innovative chatbots examples. First, Hipmunk will help us with travel ideas. After determining where and when we want to fly out, it will browse the network in search of the best flights. It will also check for us which hotel we can rent at this time and tell us about the costs of the rental. Later, it redirects to the website with the hotel where we can see prices, photos, and opinions from other users!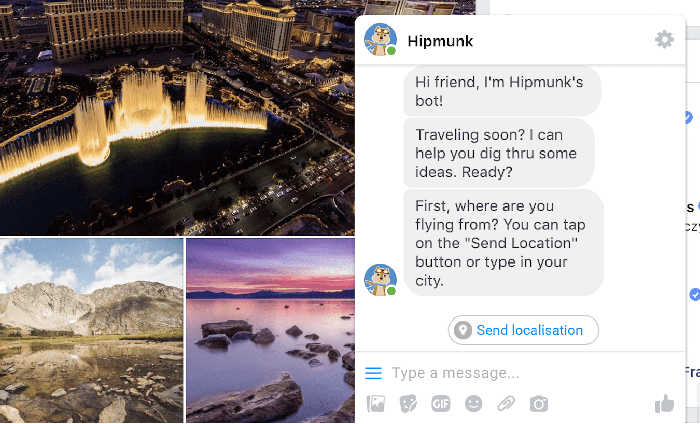 Hipmunk came up with the idea of how to save its clients' time with conversational UI and thanks to this, they bring even more people interested in traveling to their services. Hipmunk's chatbot seems to be a really smart squirrel!
Realty Chatbot
The company specializes in providing Messenger chatbots that can help real estate agents. The real estate chatbot is equipped with dedicated conversation flows such as What's My Home Worth? or Renters & Property Management. These can be quite useful for real estate agencies for filtering the most promising leads.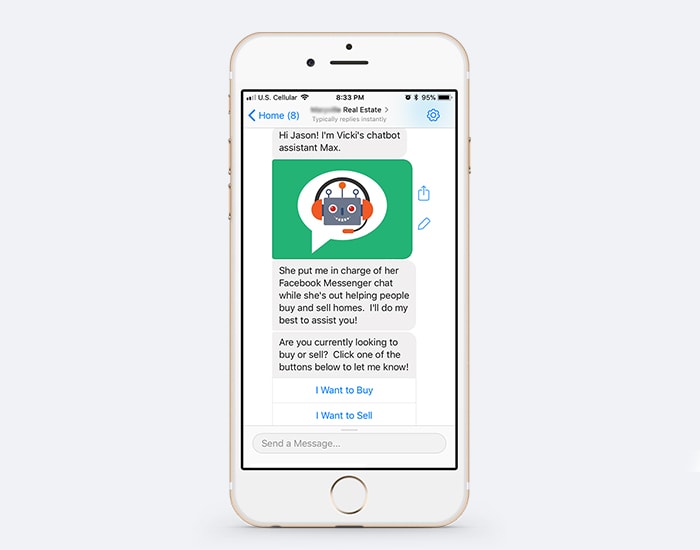 The strength of Realty Chatbot lies in the conversation designs which are tailor-made for real estate industry, and typical scenarios that agents deal with every day. When trying to improve your customer service, good chatbot templates are half the success.
News Chatbot Examples
When you don't have time to browse news websites and follow current events, it may be a good idea to subscribe to one of news chatbots. Many popular newspapers and television networks introduced chatbot services. Chatbots inform about breaking news and recommend top stories to read.
Tip: You don't have to be a newspaper magnate to have your very own chatbot. Bloggers and local news websites can use chatbots to collect email addresses and get subscribers. Email Subscription node is one of the building blocks you can use in Tidio's chatbot editor available for all registered users.
Wall Street Journal Chatbot
Imagine that your favorite magazine is able to send you articles that will probably be interesting for you to read. Day after day to your morning coffee, you have a list of the most interesting articles, so that you don't have to wade through a magazine by yourself. It's like a personal assistant!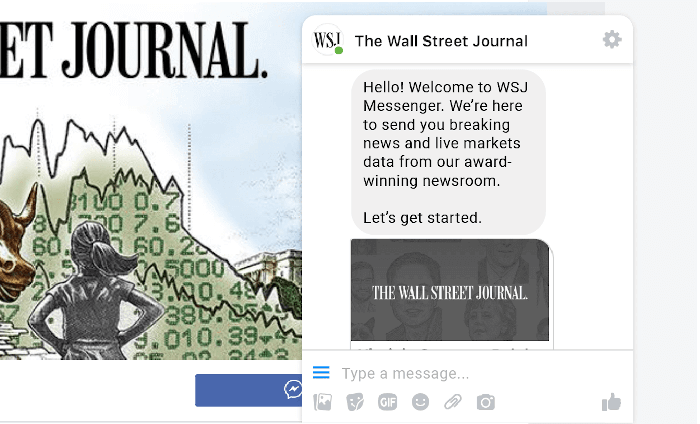 That's how the chatbot of The Wall Street Journal works. Yes, this magazine — as one of the greatest providers of economic news — adapts to the modern world, by enabling us to receive the most important information directly from their professional newsroom!
CNN Chatbot
CNN chatbot provides news through different channels such as Kik, Facebook Messenger, and voice assistants (for example, Alexa). The format differs for each of these platforms. Some of them allow open-ended queries and the chatbot-suggested personalized news, while other use decision trees.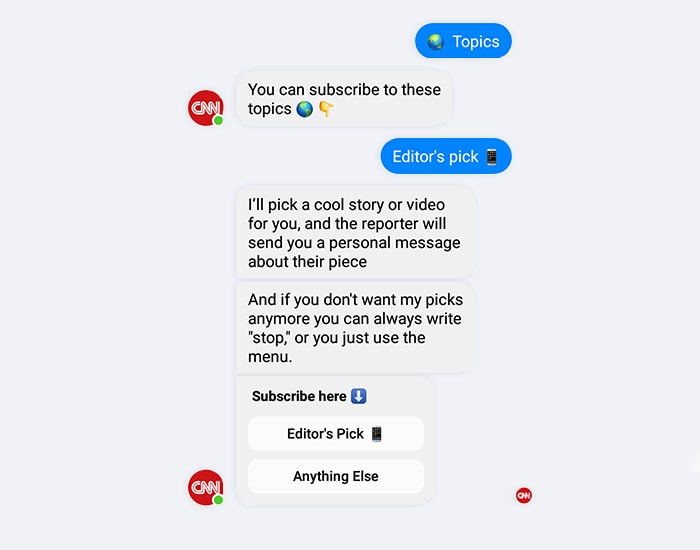 The Kik version of the CNN bot was used to increase the engagement of teenagers around Election Day. It worked and the users of Kik platform exchanged almost 5 million messages with the CNN chatbot during the campaign and election.
Networking, Legal and HR Chatbot Examples
Businesses and enterprises make use of chatbots and AI systems to solve many problems related to networking, recruitment, and legal paperwork. Here are some of the best chatbot examples which improve company workflow and productivity.
Robot Vera
Robot Vera is a voice-based recruitment chatbot developed by a Russian startup. The HR chatbot equipped with speech recognition software simplifies the recruitment process and is capable of interviewing thousands of candidates at the same time. Robot Vera has been used by PepsiCo and SAP.
Human Resources teams spend countless hours on sorting through documents and emails from candidates who shouldn't really apply for given positions. Robot Vera can automatically analyze resume databases and phone candidates fit for an open job.

DoNotPay Chatbot
DoNotPay is a chatbot which can help with legal problems of any kind. Originally, it was created by Joshua Browder to appeal parking fines. The app had been successfully used by hundreds of thousands of motorists and it has become more and more diverse ever since.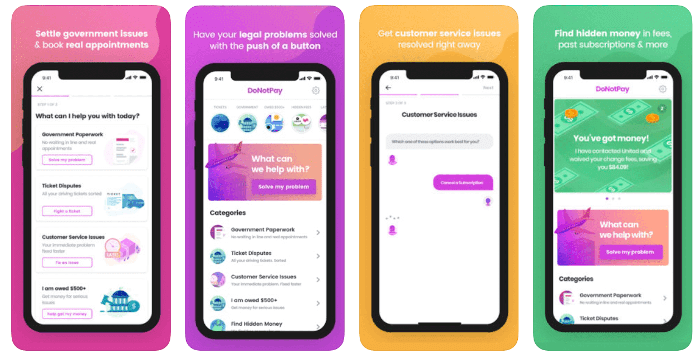 Recently, DoNotPay has joined forces with Robot Lawyer LISA, an AI system that can create legally binding agreements. The DoNotPay chatbot available in the app offers legal advice on common legal problems.
Mya Chatbot
Mya is an example of an AI chatbot recruiting assistant. It uses NLP and machine learning to automate recruiting processes. Mya is used by L'Oréal to reduce the workload of its HR department, which receives more than a million job applications every year.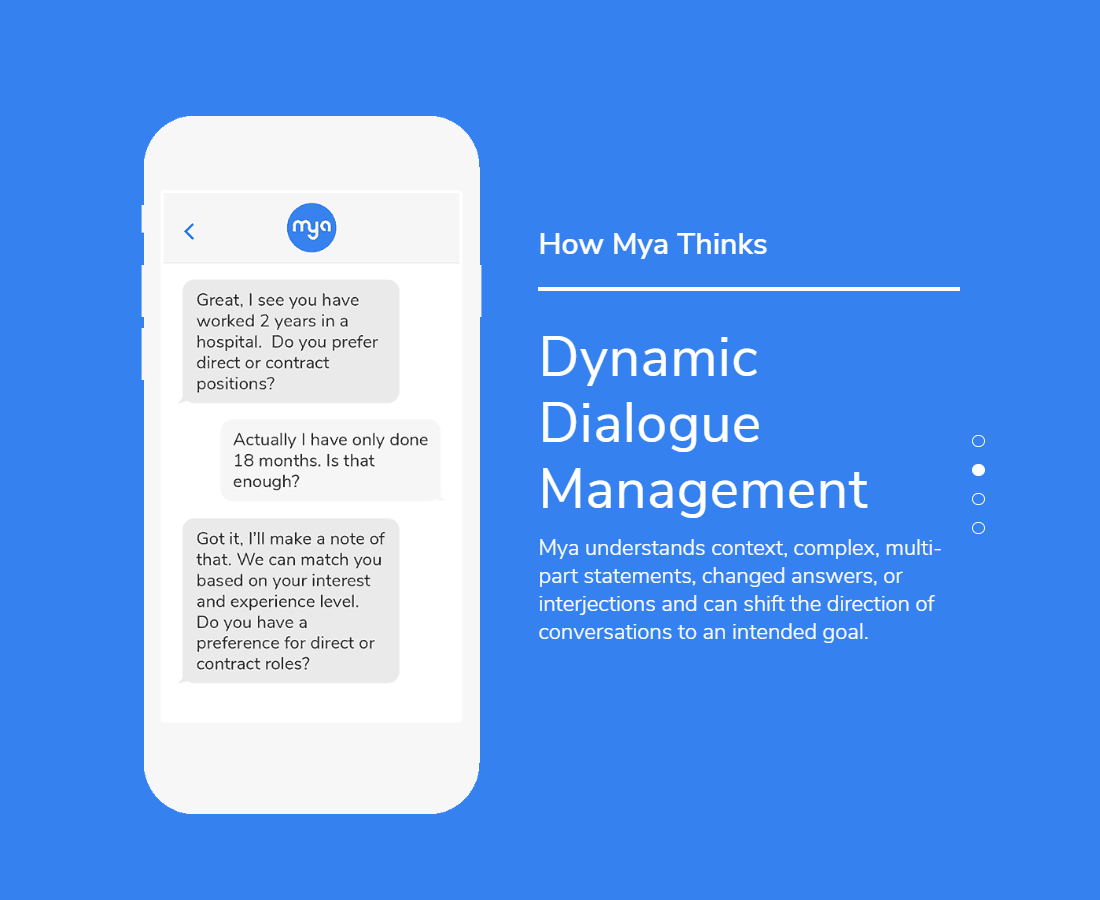 Mya provides accurate and context-dependent answers. The chatbot alleviates the problems of high-volume hiring and selects the most promising candidates who can later be reached by HR professionals to finalize the recruitment process. Mya does 75% of the job.
Talisman
Can chatbots support networking? It turns out that the answer is yes! Talisman creates global contact network between professionals and businesses. The company has already managed to mediate business contacts of over 24,000 people! Talisman chatbot mediates between companies that are looking for professional employees and specialists who are looking for a suitable place to work.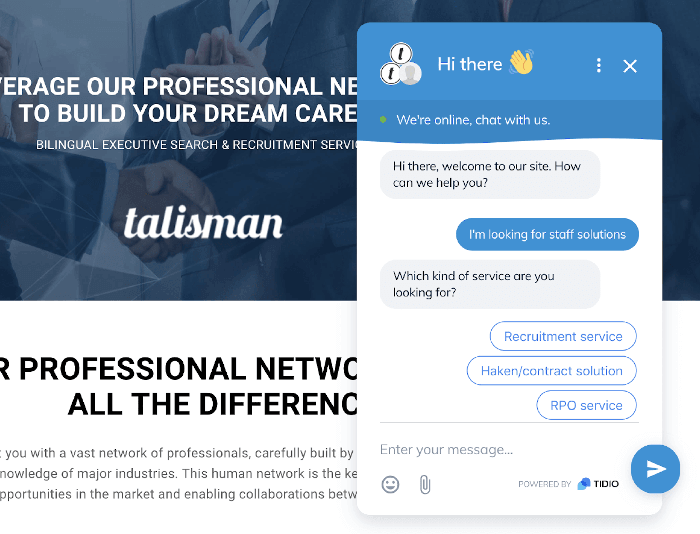 Through the Talisman chatbots, you can find interesting job offers and you can also get support in acquiring new employees. A really fascinating solution for HR departments around the world.
Edutainment Chatbot Examples
Edutainment is a portmanteau word coined by combining education and entertainment. Due to their interactive and conversational nature, chatbots are commonly used in edutainment to make learning new things enjoyable and compelling. Here are some example chatbots that are both educational and entertaining.
Pop Geo – National Geographic Chatbot
National Geographic Messenger chatbot will welcome us and ask if we are ready to learn more about the world through their game. Once we agree, it will allow us to choose the field that seems interesting. And there is quite a lot of these! Geography, history, wild animals, space or exact sciences. Then it will ask us three test questions and check our knowledge.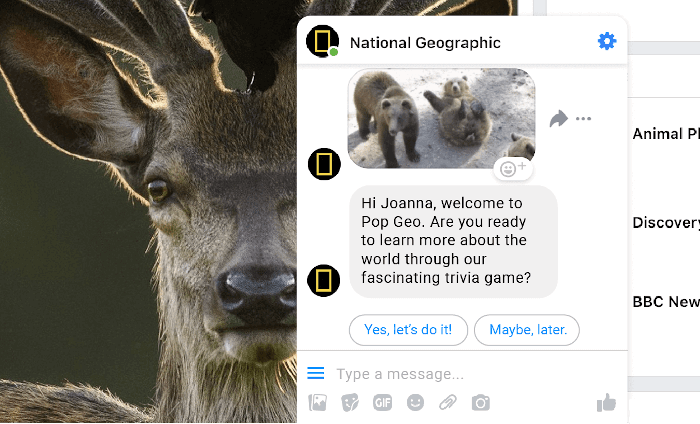 But that's not all, because if we answer badly, it explains to us what is the correct answer, thanks to that we can learn something wise. Chatbot which provides a huge amount of wisdom? It sounds brilliant.
CodeMonkey Trivia Chatbot
CodeMonkey's Chatbot is a bot you can program on your own using Python. It is a good example of interactive chatbot edutainment at its best. The chatbot-building course is aimed at kids and teenagers. Therefore, programming your monkey robot people can talk to online is really fun and easy.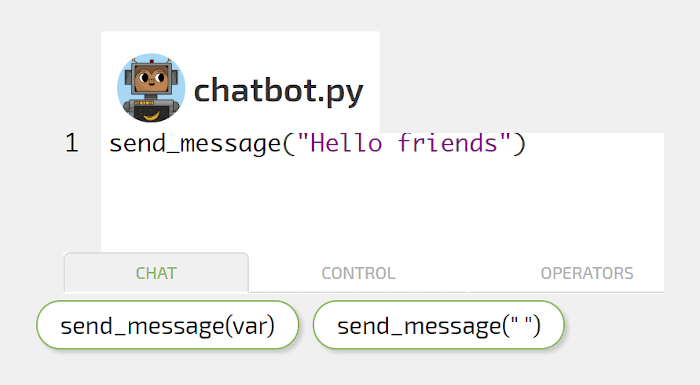 The CodeMoney's Do-It-Yourself Chatbot is a friendly introduction to Python programming language for children and adults alike. The course is very conversational and well-designed. You can not only create your own chatbot decision tree but also see how raw chatbot code looks like under the hood.
Mondly Conversational Chatbot
Mondly is a language learning platform which focuses on interactive online lessons. Mondly's chatbot uses speech recognition technology, but you can also stick to writing. The chatbot encourages users to practice their English, Spanish, German, or French through everyday role-playing scenarios, such as hotel booking or visiting a restaurant.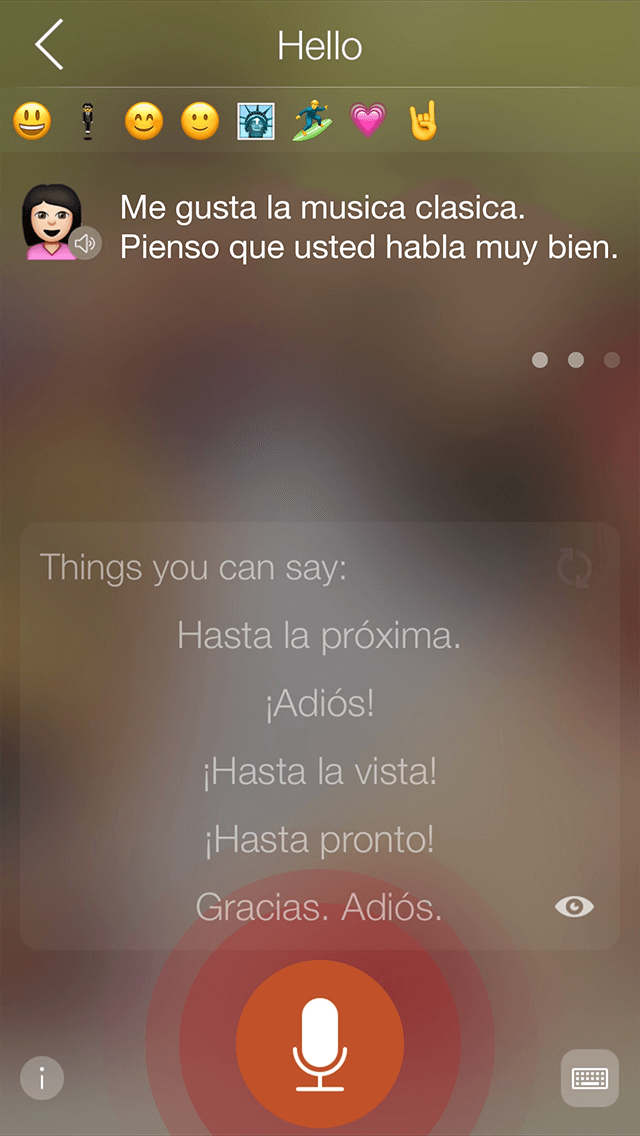 Apart from the regular conversational chatbot, Mondly released a Virtual Reality application for Oculus that provides 3D environment to improve the level of user engagement. As they claim: The new generation of learning should be about gamified, immersive experiences that always make the users crave for more. You can say that again!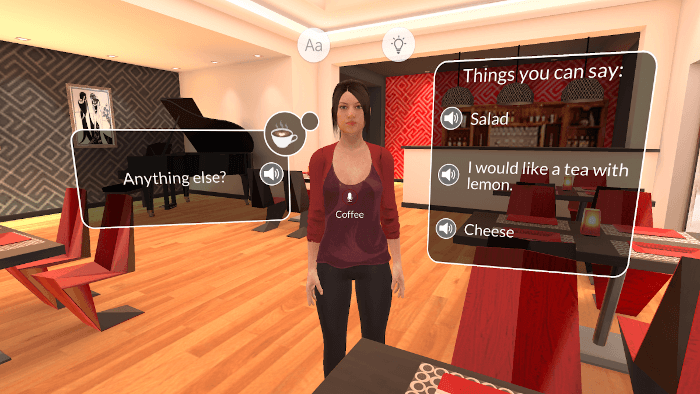 Virtual Companion Chatbot Examples
How can you mend a broken heart in 2019? Talk to a chatbot. We live in interesting times in which people flirt with chatbots or complain to them about their failed relationships. Spike Jonze's award-winning movie Her, about a man who develops a relationship with a chatbot, was actually inspired by the ALICE chatbot (mentioned earlier). Some people find it quite disturbing. It is worth remembering that "May you live in interesting times" is sometimes used as a curse.
Replika
Replika is a chatbot advertised as "the AI companion who cares". It offers companionship when someone feels anxious, heartbroken, or they need an inspiring and reassuring chat. There are many options users can choose from that range from personality tests and motivational quotes to tips on building lasting relationships.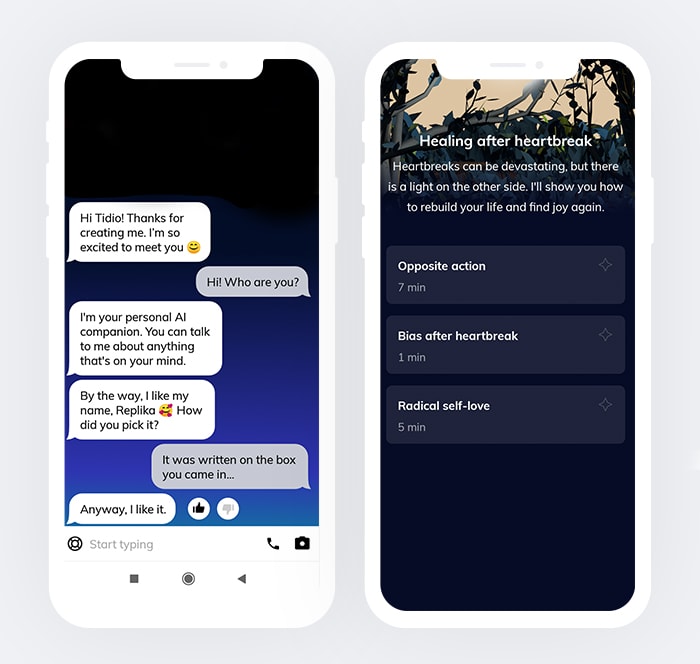 Replika has managed to build a community of devoted users – its Facebook group has 30,000 members. The examples of life-changing conversations with the chatbot have been featured in articles published in Forbes and The New York Times.
Eviebot
Evie is a learning chatbot using the Cleverbot engine. It was built by Existor and it uses software created by Rollo Carpenter. Eviebot has become a sort of YouTube celebrity after popular YouTubers, such as PewDiePie, started flirting with her and recorded their efforts. Interestingly, the PewDiePie chatbot called Pewdiebot was also created by the Existor team.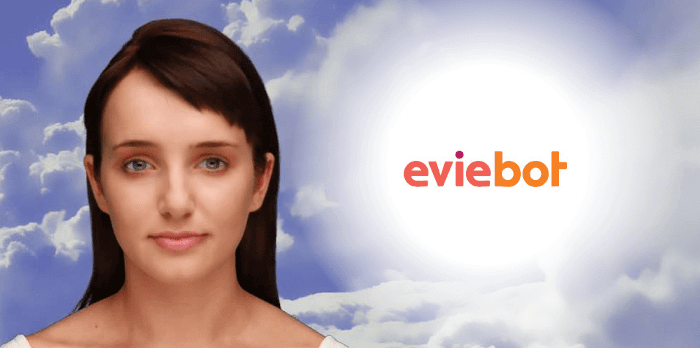 Eviebot seems creepy to some users because of the uncanny valley effect – her resemblance to a human being is unsettlingly high in some aspects, while at the same time it falls short of being truly convincing.
BoiBot
Boibot is a male counterpart to Eviebot. It uses the same technology and was also made by Existor. While Evie has a female avatar, Boibot is depicted as a young man. This chatbot is far less popular among internet users.

The face mimic of Boibot is a little bit less disturbing, which apparently in the case of Evie turned out to be a feature (not a flaw). If you prefer to talk to an older (much older!) male chatbot you can also try Willbot. It uses an avatar of William Shakespeare and speaks Early Modern English.
Did you know?

Devoted fans who obsessively follow Justin Bieber are sometimes referred to as "Bieberbots". A real Bieberbot was created on Facebook Messenger. The fans can talk to the "Justin Bieber" chatbot online and ask their idol any question they want. There are many celebrity chatbot examples.
Conversational Robots Examples
Apart from virtual chatbots, there are also physical devices and robots which act as chatbots. Everyone has heard of voice assistants such as Siri, Alexa, Cortana, or Echo – let's focus on some less popular examples which are closer to the idea of real-life chatbots.
Softbank's Pepper
Pepper is a humanoid robot who can chat with people. It is very popular in Japan and used in banks, hotels, or restaurants. In a way, it is a "phygital" chatbot – Pepper combines physical and digital solutions to provide better customer service.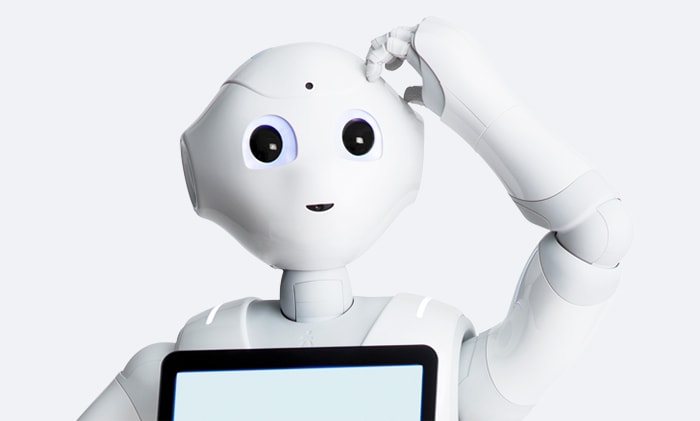 Pepper's design is based on the idea that emotional engagement is one of the most important elements of creating an excellent customer experience. The chatting robot is proactive, cute, and friendly. Furthermore, it can analyze different voice tones and facial expressions to understand human emotions.
Jibo
Jibo was one of the most popular home companion robots. It used its AI engine to differentiate people who interact with it and personalize its output and behavior accordingly. It was designed as a social robot that can answer questions, take pictures, play music, and help with time-management.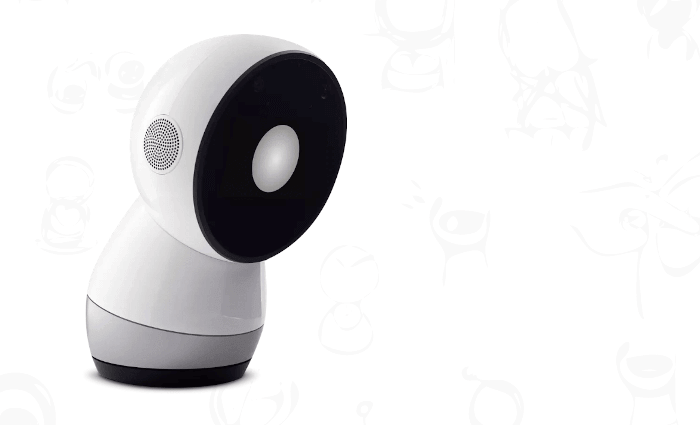 People who used to chat with Jibo formed a strong emotional bond with the device. For many it was devastating news when Jibo robots went offline and made way for the new generation of voice-assistance devices.
Buddy
Buddy is advertised as a new state-of-art personal robot and an emotional companion for the whole family, adults and children alike. It is a playmate, a personal assistant, and all-in-one home automation device. The most interesting features include interactive edutainment games, home monitoring systems, and elderly care.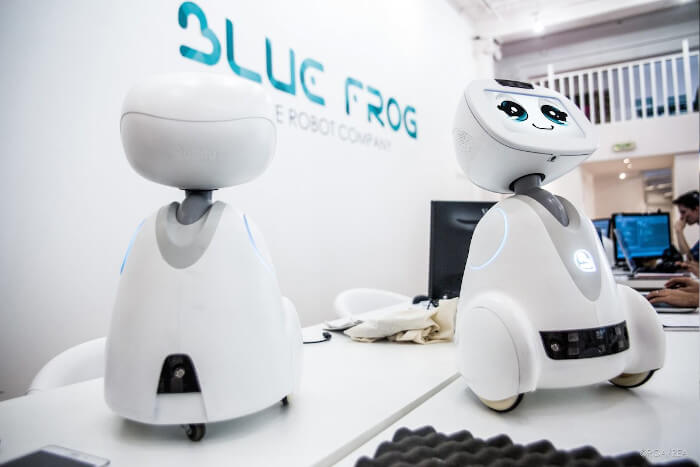 Buddy, the social robot, was successfully backed on Indiegogo and the shipping will supposedly start in April 2020 (Blue Frog Robotics, Buddy's creators, have delayed the release date several times).
Gaming & Streaming Platform Chatbots
Chatbots are popular among online gaming communities and video streamers. Video game live streaming boosted with chatbots to engage your audience is a real combo breaker. There are many popular chatbot examples available on discord (a text chat app for gamers) and twitch (a live streaming platform).
Nightbot
It is one of the best Twitch and YouTube bot examples which can engage a live streaming audience. Nightbot has a feature-packed dashboard, it is cloud-based, and it has advanced spam detection filters. Nightbot can automate communication with viewers and provide insightful chat logs.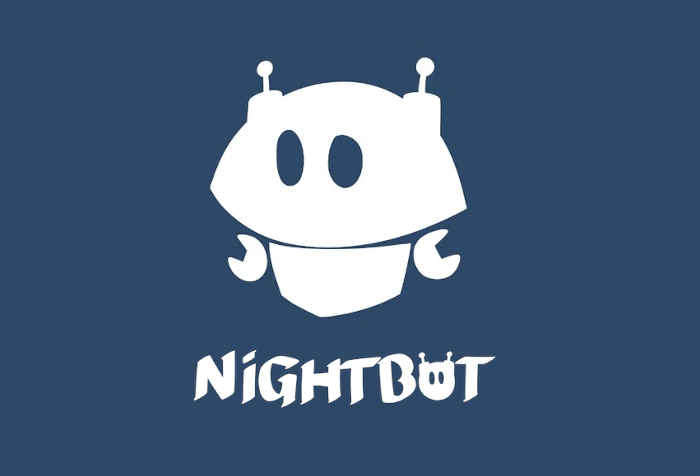 Nightbot can be used to micromanage streamers' chat while they are playing video games and need to quickly take care of moderation, send quick responses, and entertain viewers.
Mudae and Lewdbot
Discord bots are different from regular chatbots. You can't really chat with them, but they can be used to enrich your channel. You can type in specific commands and the bots will send messages, upload images, perform certain moderation actions, or retrieve information.

Some of the most popular discord bots are Mudae and Lewdbot which use anime avatars and can be very useful on anime-related discord servers.
Streamlabs Chatbot
It is a new version of a popular Twitch bot called AnkhBot. Streamlabs Chatbot can be used to engage visitors of live streaming channels on Twitch, YouTube, and Mixer. It adds features like song requests, minigames, betting and moderation tools.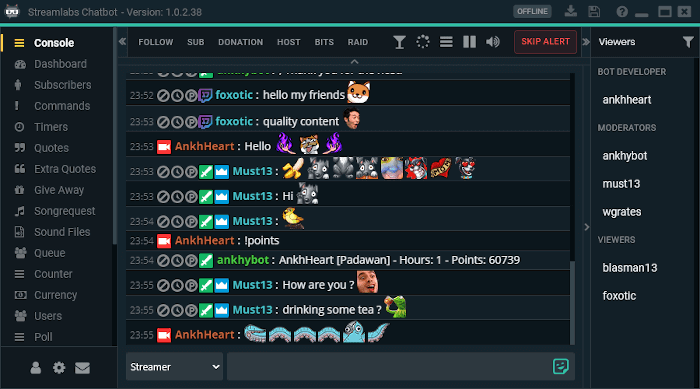 Streamlabs Chatbot is a good example of combining utility and fun for both streamers and chat users. The chatbot is also integrated with Streamlabs OBS, a streaming app which is the company's flagship product.
More Chatbot Examples
As you can see, chatbots can meet many customer needs. What is more, this solution works in a lot of different industries. However, all of these chatbots have one thing in common – they help and engage.
Tip: Find out more about chatbots and chatbot design in the Chatbots section of our blog. When you feel ready, try creating your own chatbot with Tidio Chatbot Editor.
You can find more ideas, case studies, and chatbot examples on our blog. Do you already have your own chatbot? If not, try our Tidio Chatbots for free!
Let's grow your business together!
Try Chatbots For Free