Chatbots
The Best Chatbot Examples and Awesome Chatbot Ideas That You Can Borrow
Examples of chatbots in eCommerce, healthcare, entertainment, and customer service. Ideas and case studies included.
Listen—
We've seen chatbots boosting sales from $8,000 to $30,000 in a matter of weeks.
But it's hard to set up a chatbot off the top of your head and expect it to make your sales go through the roof.
That's why we put together this list of the best and most innovative chatbot examples to get you inspired.
Want to generate leads and provide 24/7 customer service even when you sleep? Create unlimited chatbots for your website without coding to engage more visitors or recover abandoned carts.
Try Chatbots Here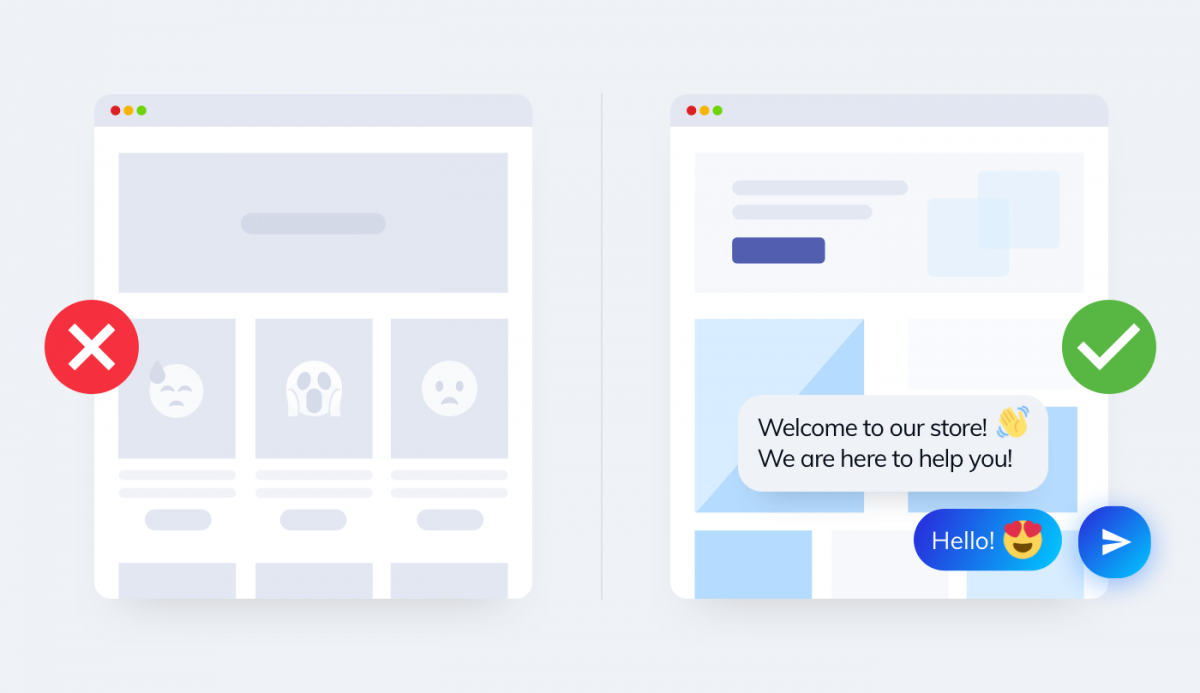 Explore chatbots now—Test the easiest visual chatbot builder for free.
One of our users, Michael, had this to say:
We could set up a simple chatbot in minutes because the drag-and-drop bot builder was really easy to use. Also, the support team was very helpful and answered all our questions
Before we take a look at a few interesting real-life examples of chatbots, let's see which ones are popular right now.
The Best Chatbot Examples
Chatbots work in all business sectors. eCommerce, education, entertainment, public institutions, healthcare, and more. They are also present in instant messaging apps, on landing pages, and within other apps.
💡 Psst! Looking for out-of-the-box chatbot solutions?

You can add a chatbot on your website or Facebook page for free. There are many platforms and tools that you can use to set up your custom bot in minutes.

👉 Find the best free chatbot
👉 Browse free chatbot templates
We're going to analyze how various brands are using chatbots to reach their customers. We'll also share with you a tool you can use to build your own custom chatbots.
eCommerce Chatbot Examples
Chatbots do well in situations where they need to perform repetitive tasks. E.g. They can welcome and assist customers, look up products, process payments, and more. Chatbots can handle most of the customer service actions. They create an online shopping experience similar to the traditional one.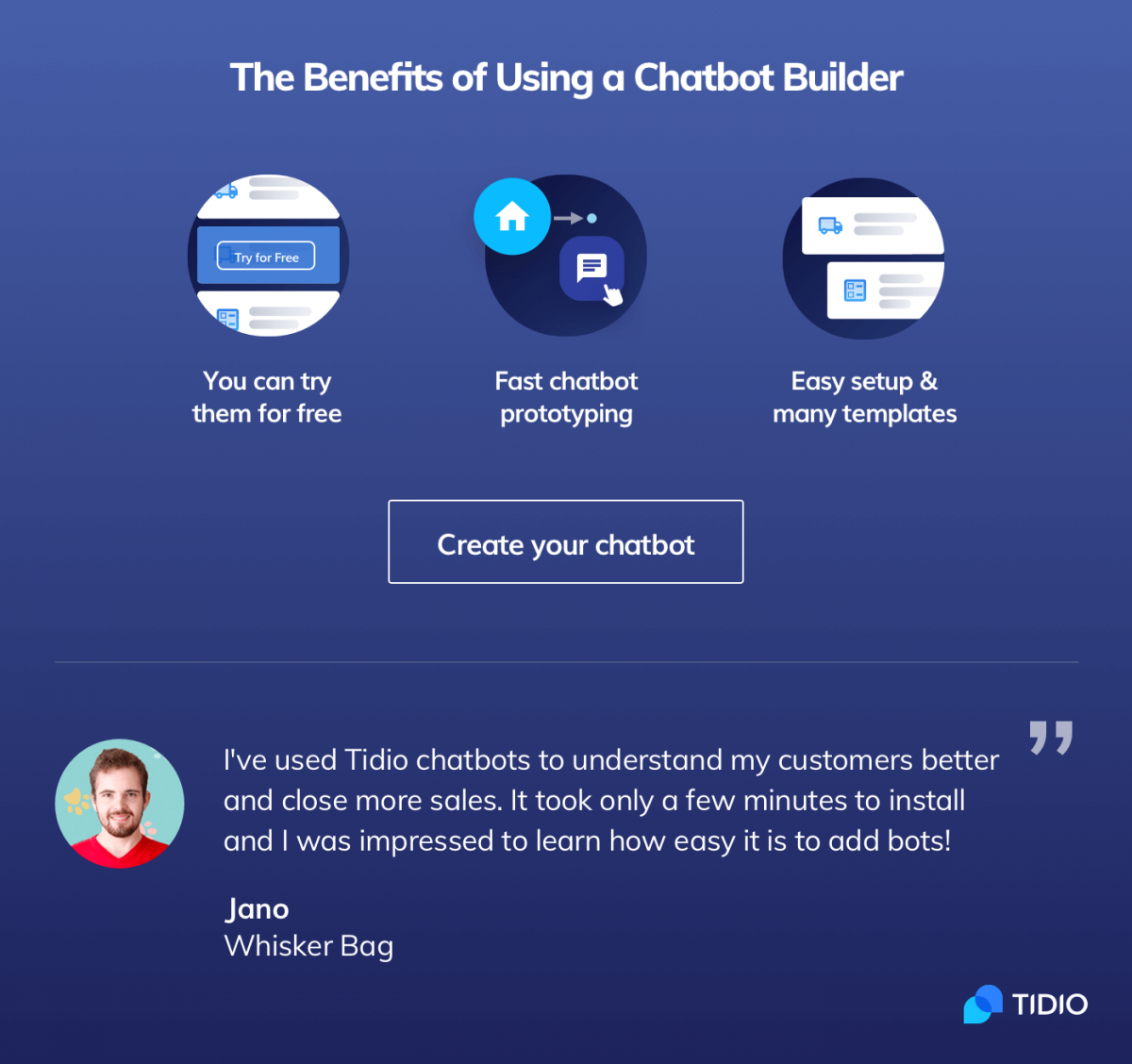 Tidio Chatbots

Tidio Chatbot app is one of the most popular choices among online merchants. They can handle most of the tasks related to your customers or marketing. Other than that, they can also help you with customer tracking and data collecting. Tidio app comes with a visual editor. It allows users to build custom bots from scratch or edit templates included in the app.
For better workflow, you can integrate Tidio bots with many third-party apps.
Chatbot used for: Customer service and marketing.
Where is this chatbot: Tidio homepage, Tidio customers' websites and stores.
What companies use this chatbot: from small online companies to private healthcare institutions. Businesses that need chatbots tailored to their needs for no cost.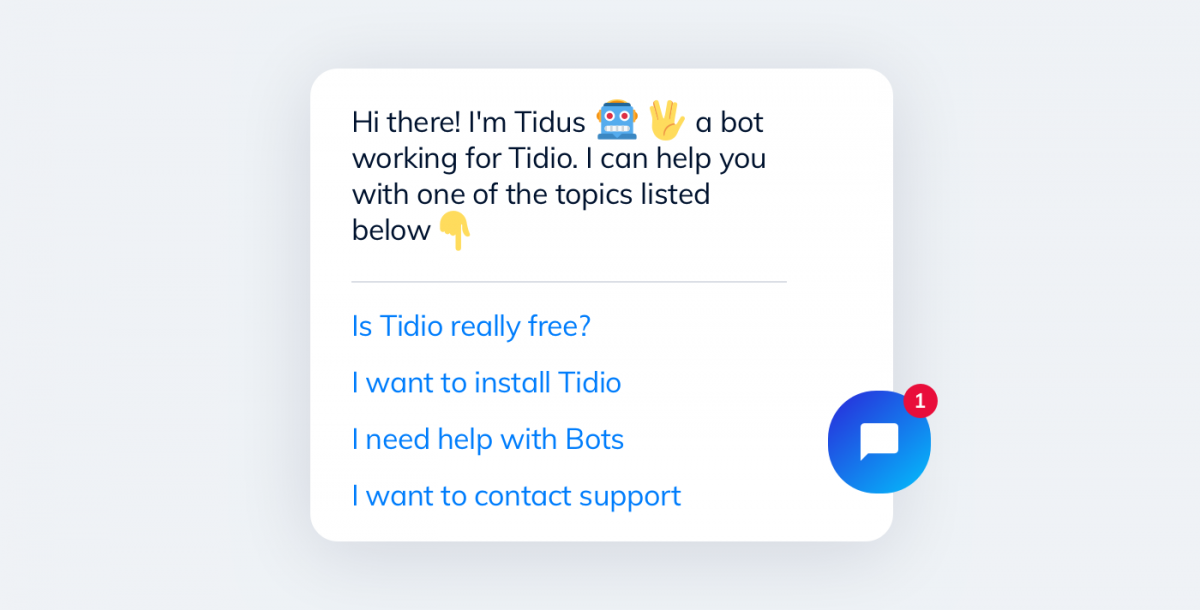 Did you know?

Chatbots can save up to 30 percent of customer service costs by responding to customers' queries on time. Learn how 18+ chatbots can help reduce the workload of your customer service agents.

Browse Chatbot Templates Now
Sephora Assistant

Interested in learning about make-up? Chat to Sephora Assistant on Kik. You'll receive tips, picture tutorials, and even video clips. Sephora bot will help you find the products used in the tutorials and suggest the best products from any category.
Customers chatting to Sephora Assistant on Messenger can also book make-up appointments. The booking process takes only three steps.
Chatbot used for: customer service automation, product suggestion, customer education.
Where is this chatbot: Sephora social media channels (Kik and Facebook).
What companies use this chatbot: Beauty online stores.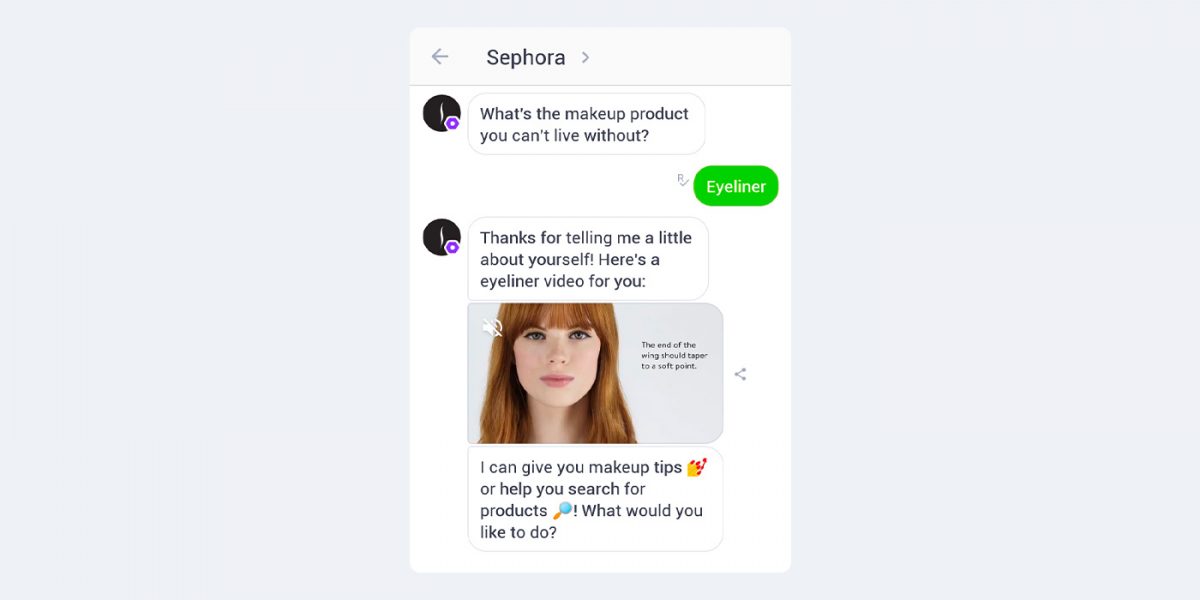 Customer Service Chatbot Examples
One of the chatbots' goals is to improve communication. Chats alone can increase your customer's experience and generate more sales. They also help to build relationships with your customers.
Handle Returns Query Bot (by Tidio)

Product returns are part of the eCommerce world. Questions like "How do I return..?" are very common. Handle Returns Query Bot educates customers on how to return an item they bought. This bot is one of the many eCommerce templates included in the Tidio app. Users can use it as it is or edit it to suit their needs.
Chatbot used for: customer service automation, answering questions about product returns.
Where is this chatbot: eCommerce sites.
What companies use this chatbot: Online stores that want to automate repetitive questions.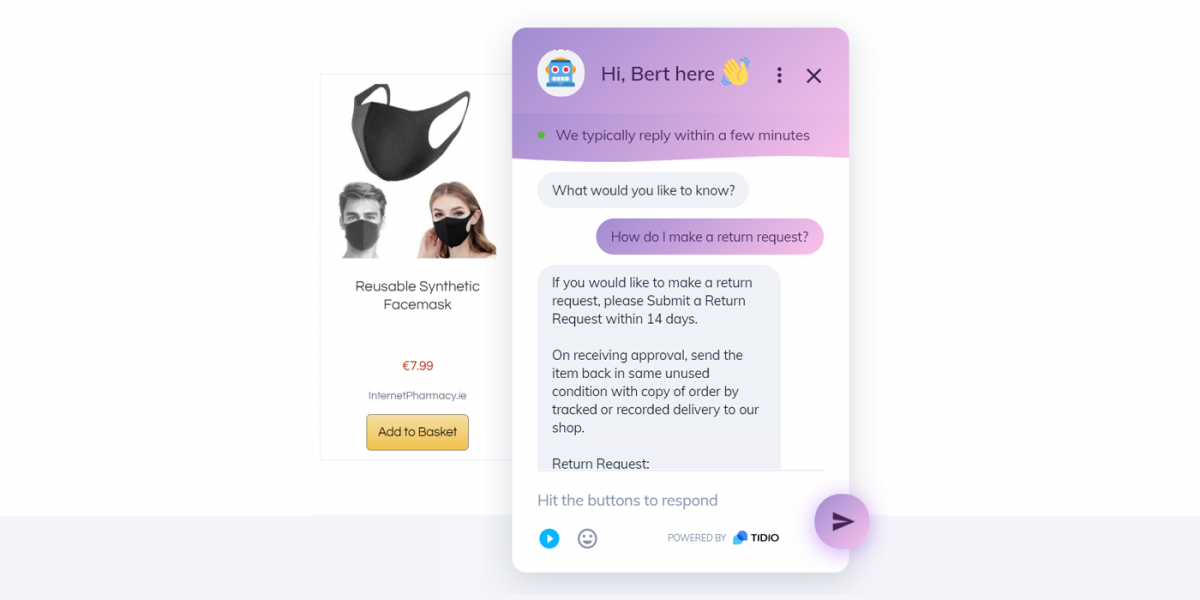 Order a Phone Call Chatbot (by Tidio)

Chatbots work well for not only engaging chats. You can also use them to refer you to those customers who prefer personal contact. What is important to note is that you can place bots on any page (or all of them).
This way, your customers can look for help through the bot first, and then ask for a phone call (if needed). No looking for a Contact Us page. One smooth process.
You can use Zapier to integrate this bot with your VoIP software.
Chatbot used for: customer service automation, collecting contact details from customers.
Where is this chatbot: All sort of companies that offer phone support. E.g., online stores, public, and healthcare institutions, schools.
What companies use this chatbot: Companies that want to collect new leads to nurture via phone.
Step 1: The chatbot offers different contact channels
Step 2: The user chooses one of the quick replies suggested by the bot
Step 3: The chatbot collects contact details and notifies the operators or sends it to a VoIP system
Test This Chatbot
Domino's Chatbot (by Domino's)

Nowadays, customers can order their food without making a single phone call. All thanks to chatbots. A few buttons — start, choose what you want, enter the address, and done!
Dominos' pizza bot lives in Facebook Messenger. That means that customers can place orders from different devices. Domino's bot remembers members' order history so re-ordering is possible. This chatbot can also track orders and estimate their time of delivery.
Chatbot used for: customer service, convenient food ordering.
Where is this chatbot: Domino's Facebook business page.
What companies use this chatbot: Companies in the food industry sector.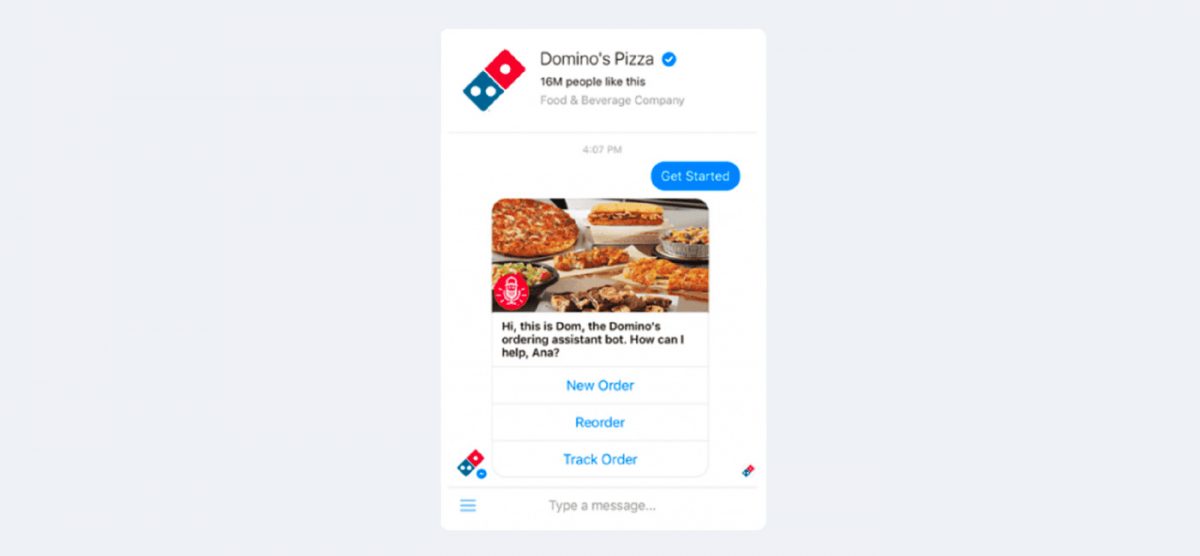 Conversational AI Chatbot Examples
Conversational AI bots can recognize text and understand the user's intent. Then, they respond in a way that mimics human conversation. AI bots, contrary to rule-based ones, do not need buttons with pre-scripted questions.
Mitsuku AKA Kuki (by Pandorabots)

Mitsuku is an AI online chatbot that everyone can talk with. It uses Artificial Linguistic Internet Computer Entity and advanced machine learning. Kuki bot won the Loebner Prize Turing Test four times.
Chatbot used for: Casual chats and entertainment.
Where is this chatbot: Pandorabot website, Messenger, Kik, and Telegram apps.
What companies use this chatbot: Mitsuku chatbot is available as a service via its API in the form of a module.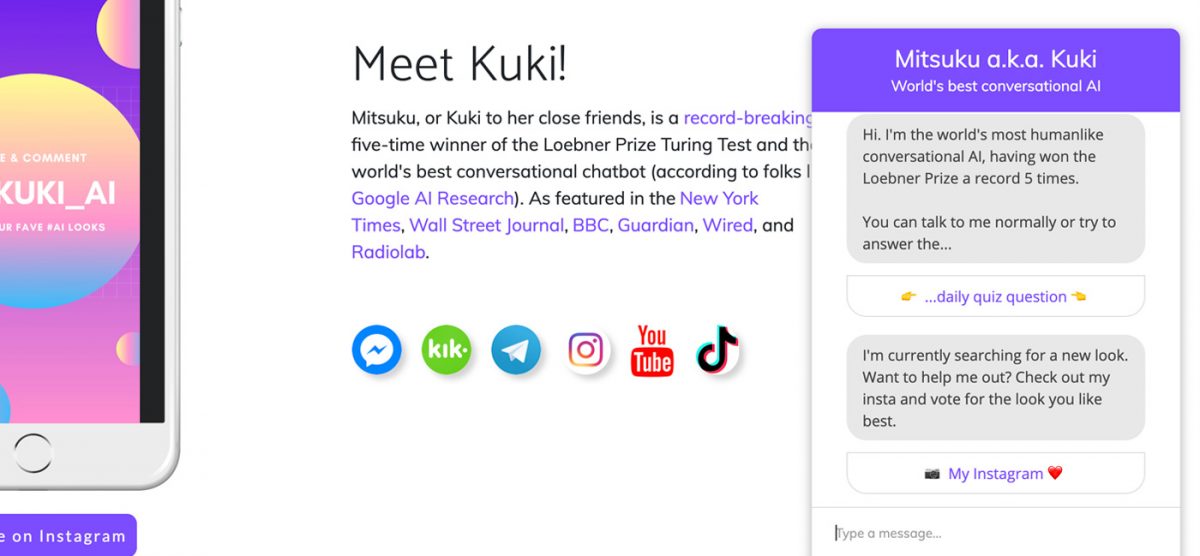 AI Responder (by Tidio)

"Where can I find..?", "How much is..?", "I'm looking for..?"
How many times do you answer such questions over and over again? There's a faster way – AI Responder bot. It answers FAQ questions regardless of how your visitors state them. All you need to do is to "feed" this bot with a few question variants so it can recognize the context.
AI Responder is a free chatbot template that comes along with the Tidio app.
Chatbot used for: Customer service, automated FAQ.
Where is this chatbot: Websites of online companies from different business sectors.
What companies use this chatbot: Small companies with a small CS team (or none). Companies that need an optimized way of answering repetitive questions.
Step 1: The user asks a question
Step 2: The AI chatbot searches for keywords in the query and compares the message with other similar questions
Step 3: The chatbot answers, even if the question is phrased in a slightly different way than expected
Test This Chatbot
Visual Chatbot
Visual Dialog is a visual chatbot that is able to interpret images. The chatbot uses computer vision and neural network technologies. Users upload images through the chat box. In turn, the Visual Dialog chatbot responds with a description of the picture.
Visual chatbots are useful in eCommerce. E.g., some brands enable their customers to send pictures of the product they're looking for. The chatbot can also offer recommendations based on the picture it receives. Computer vision is still far from being perfect, though. That's why visual bots are not commonly used. But they are interesting chatbot examples anyway.
Chatbot used for: Customer service, product recommendation, cross-/upselling, entertainment.
Where is this chatbot: Online stores, entertainment websites.
What companies use this chatbot: Big brands that can afford advanced AI solutions.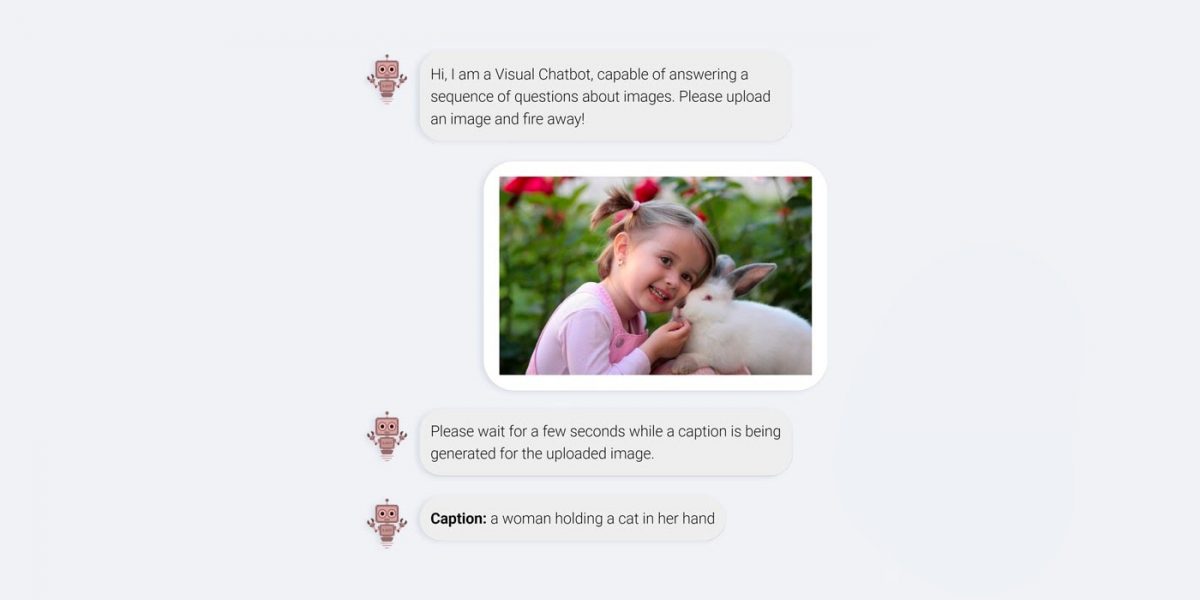 Facebook Messenger Bot Examples
Facebook Messenger bots live in Facebook Messenger. Their main tasks are usually related to customer service and marketing.
CNN Chatbot
CNN chatbot delivers news through different channels such as Kik or Facebook Messenger. It works with voice assistants, too (e.g. Alexa). The bot differs on each of these platforms.
💡 Pro Tip:
Some bots allow for open-ended queries, while others have a set of pre-defined questions. You should decide if you prefer to have an AI chatbot or a decision tree chatbot.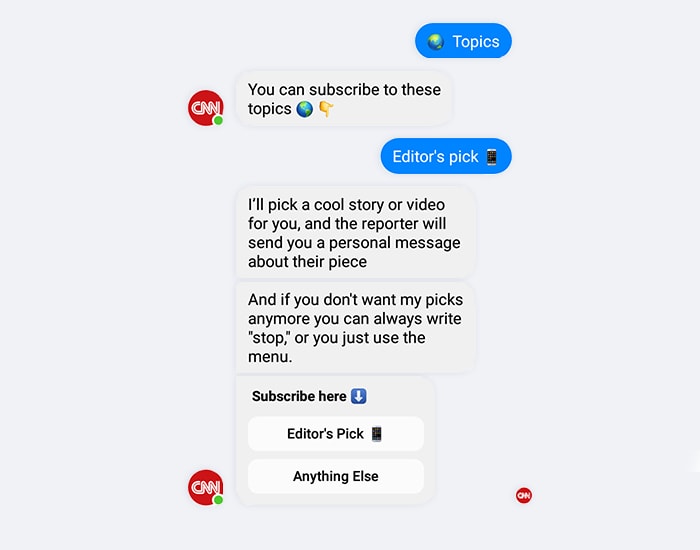 Chatbot used for: Personalized news, news subscription.
Where is this chatbot: Instant messaging apps.
What companies use this chatbot: CNN, news.
Abbi the Medical Marijuana Chat Bot
Medical marijuana and its use are still controversial. It is a delicate matter and people are not always comfortable talking about it.
ABBI is a chatbot whose goal is to help patients using marijuana. She won't judge anyone. Instead, she will do her best to help. Backed by medical cannabis experts, ABBI learns to recommend the best dose recommendations.
She will also tell you how to pass a drug test, or show some beautiful photos of green buds.
Chatbot used for: Medical marijuana dosage recommendation.
Where is this chatbot: Facebook Messenger.
What companies use this chatbot: ABBI.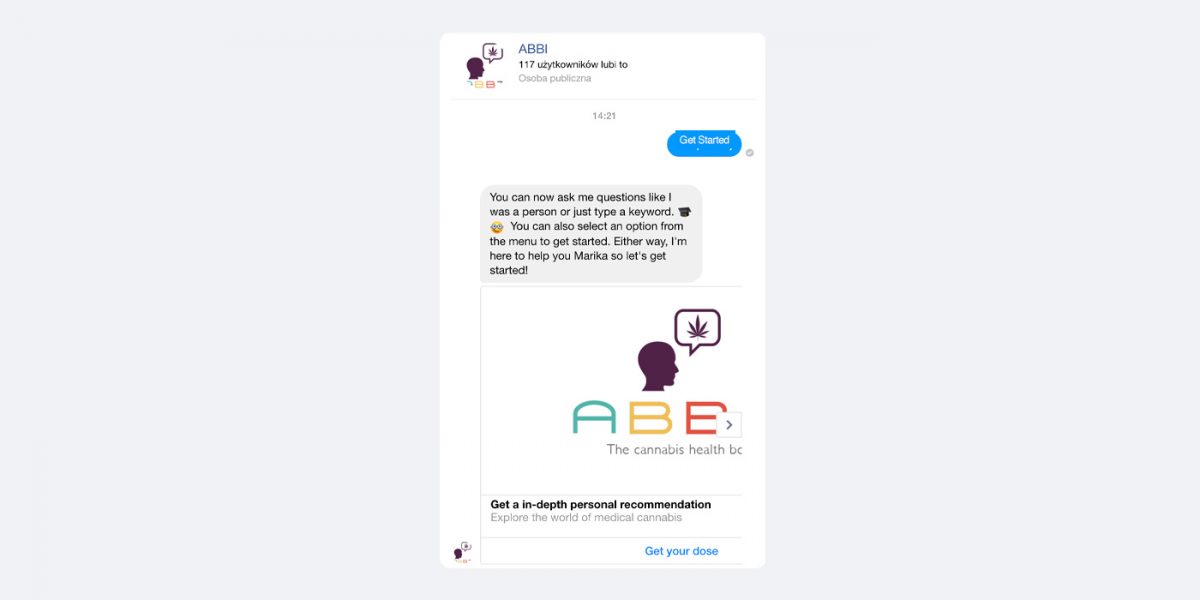 Tip: Are you thinking about building your own chatbots but a bit afraid that it's too complicated? Don't worry. We've got you covered. Read our article to learn how to make a chatbot without writing a single line of code.
Chatbot Conversation
In simple terms, humans, when they're talking, they take turns. One person speaks, tells some story, or asks a question. Then, the other person follows. There is (usually) some sequence, spontaneity, and intent in the conversation.
Talking to a chatbot is quite similar. The biggest difference is that the human selects what they want the chatbot to talk about. So the key to creating a good chatbot conversation is to understand the business process.
In other words, when writing a script for your chatbot, you need to think about:
When do you want the chatbot to activate?
What is the goal of the chatbot? E.g.: Is it to answer some questions? Or to help your visitor find some product?
What kind of possible questions and answers will the chatbot need to cover to fulfill the goal?
Narration must have the beginning and end. It must lead your customer from point A to point B and cover possible dead-ends.
The simple flowchart below illustrates a simple chatbot conversation script. Blue bubbles represent the options the visitor may choose.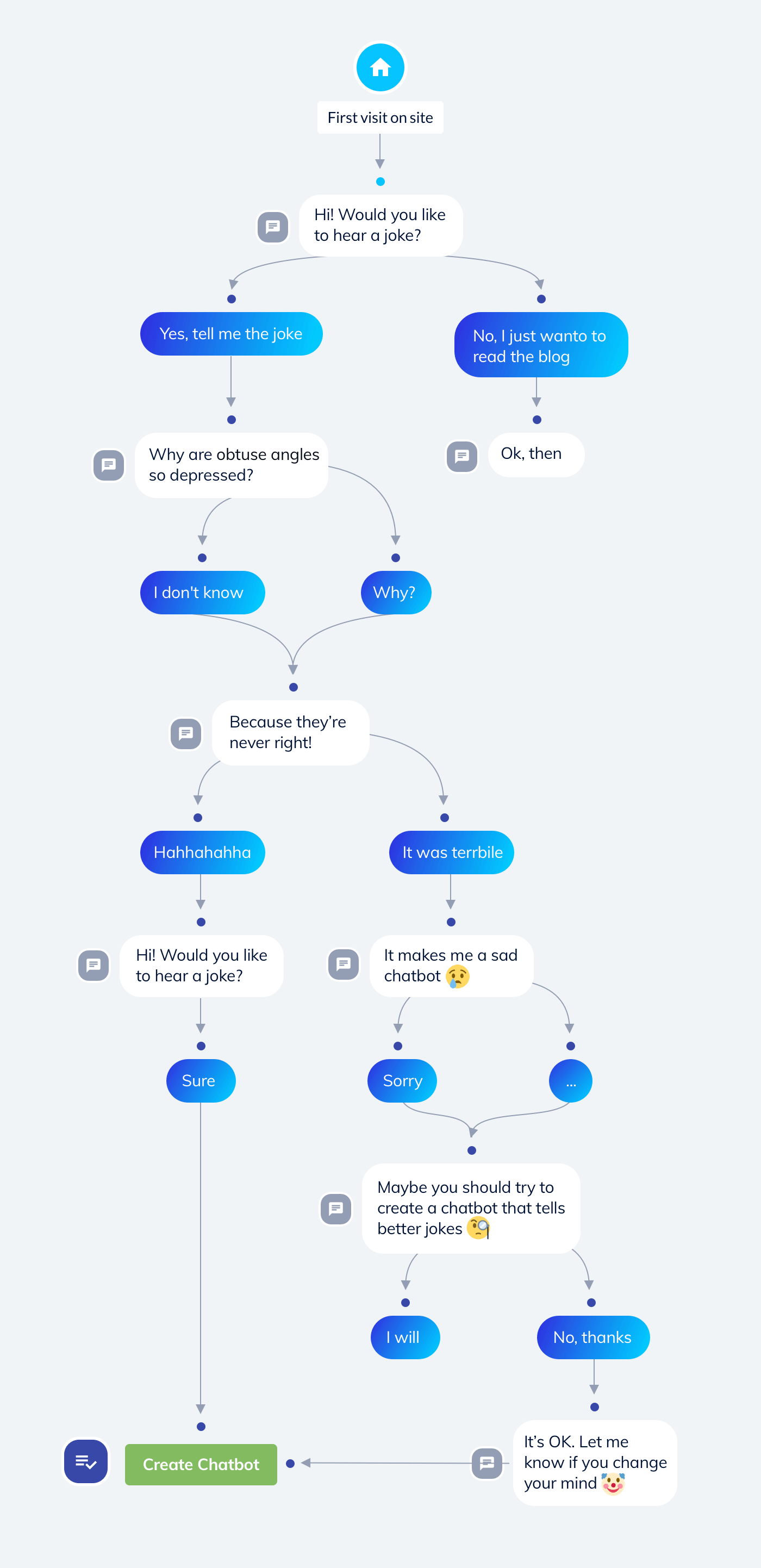 Chatbot Ideas You Can Try Today
Earlier in this article, we went through a few chatbot examples. But that list is far from being complete. Chatbots can do a lot more. It really comes down to your business needs and imagination. So for example, you could have a simple bot that would greet customers. Or a complex one with a very long conversation script to entertain your visitors.
In the table below, we've collected the most popular chatbots our customers use.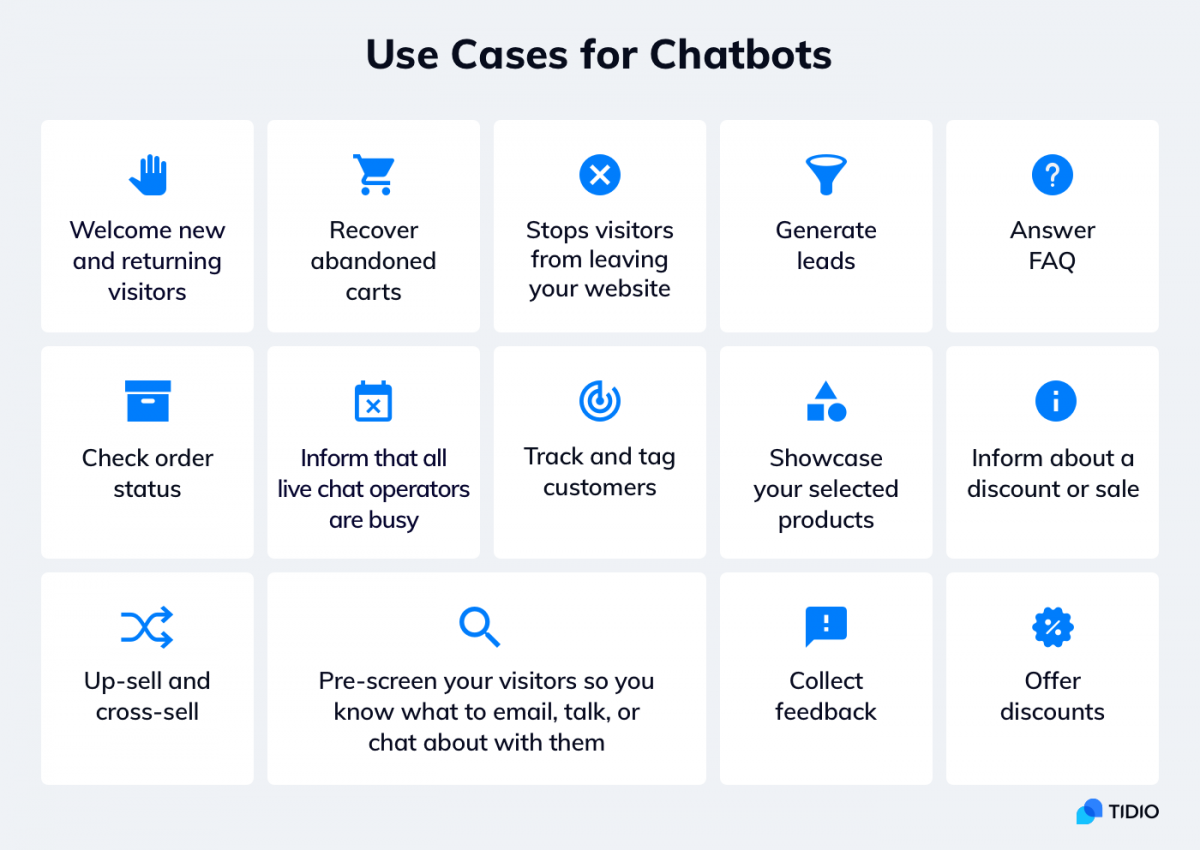 🚀 Read more: Chatbot for Business – How They Work & What They Do
Some of those ideas suit better eCommerce businesses. Others are universal and any online business will find them useful.
Websites With Chatbots
We've already mentioned that a lot of different companies use chatbots. So let's now introduce some of them and see what chatbots they use.
Gyant
Chatbots in healthcare? Sure, and they're not only about marijuana intakes. Gyant helps patients and doctors communicate better and decreases the handling time.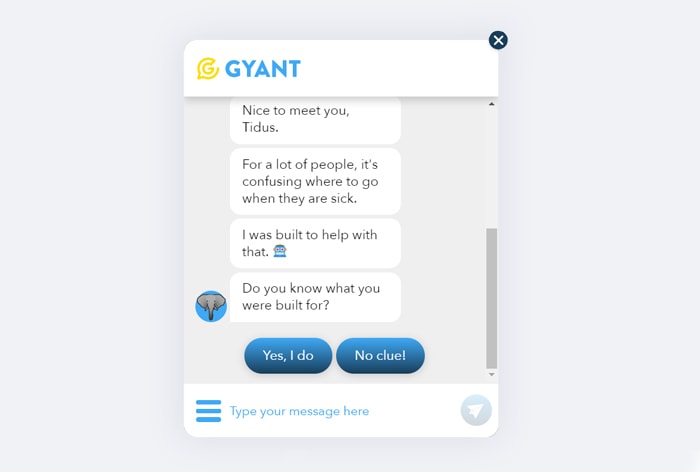 Tidio
Whether you are in eCommerce, SaaS, or any other online business, Tidio chatbots will be a good fit. They are free and easy to customize so all small and big businesses can enjoy using them.
Buoy
Buoy is another example of a medical chatbot. This one helps online visitors to diagnose their health issues. The whole interaction is very much like a real medical interview.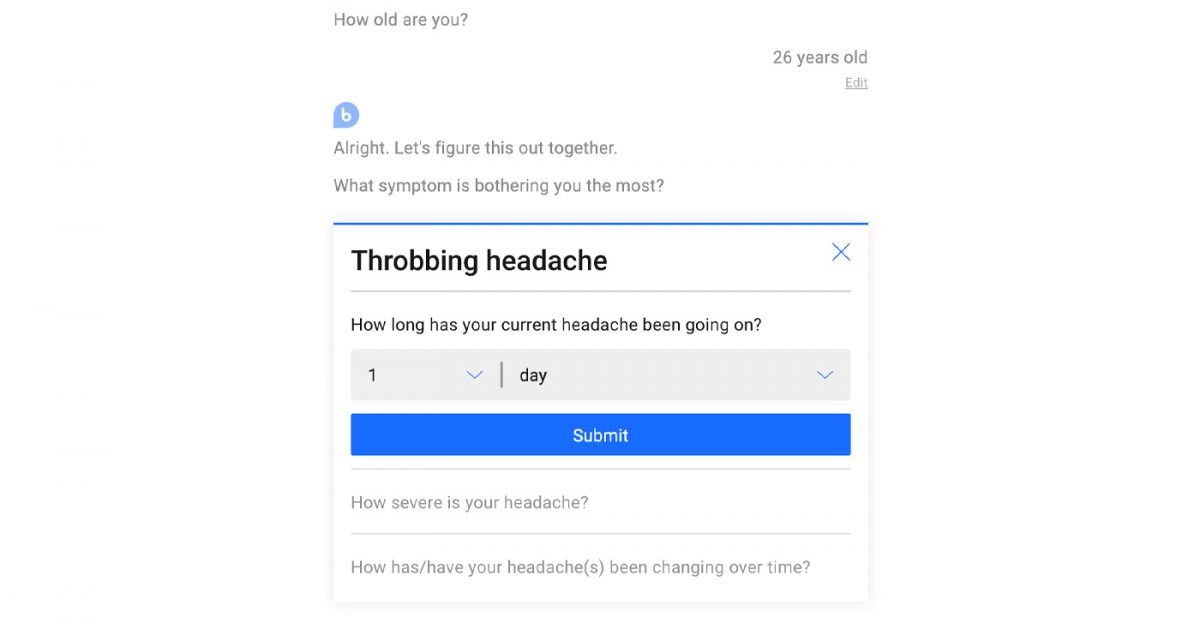 Horti
Horti is one of the many online shops that use Tidio chatbots to boost their sales. The chatbot offers visitors a discount on their first month's subscription.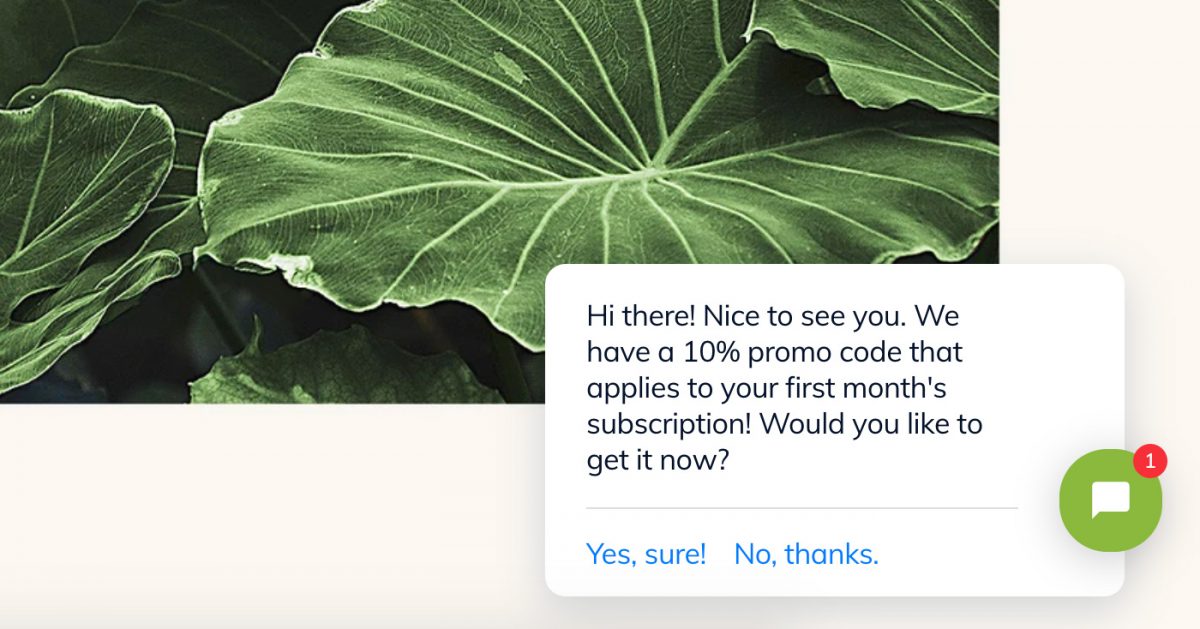 Use Cases for Chatbots
On the surface, chatbots may look simple. There's a chat box filled with messages. But under the hood, there's quite a lot of going on. What the visitor doesn't see are the extra things the chatbot does. For example, visitor tagging, tracking, or data exporting.
It doesn't mean that these will always happen because it all depends on what you want the bot to do for you. You choose the right nodes and connect them to make sure the chatbot does what you want.
Tip: Some chatbot solutions—for example, Intercom—don't have a free plan. Check out several popular alternatives here: Intercom Competitors [Tidio/Drift/Zendesk].
Chatbot Case Study #1: Tidio Chatbots for Lead Generation
They say, "practice what you preach" and here, at Tidio, we do. We not only develop chatbots but use them as well.
Lately, we launched a series of lead generation bots. Generally, there are different bots that appear on each blog post category.
Here's how they work.
The chatbot activates when the visitor scrolls down to 25 percent of the article. Then, it sends a message to offer some helpful resources in the form of a PDF file. The visitor may accept or refuse to receive it.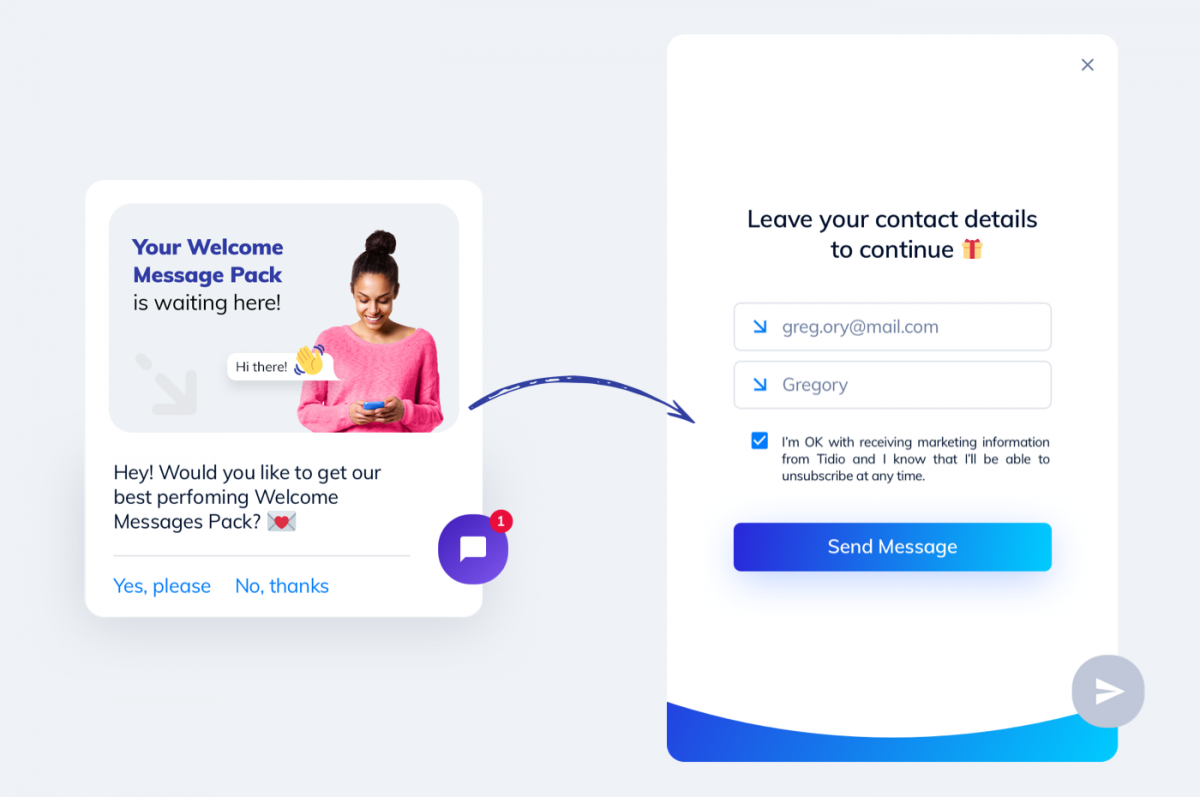 If the visitor accepts it, the bot prompts a pre-chat survey to collect the visitor's name and email address. The email address is important, otherwise, the visitor won't get the file.
If you take a look at the bot template, you'll notice that the bot uses a "Set Contact Property" and "Send to Zapier" nodes.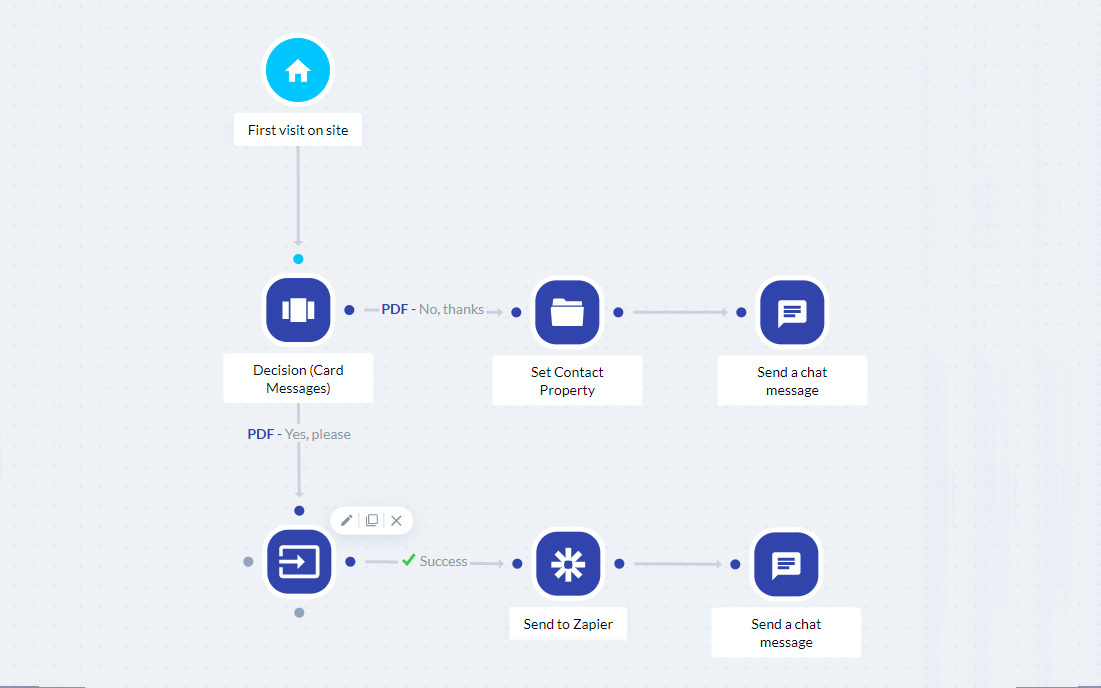 The first one saves the visitor's data to Tidio CRM. The second once sends it to a Google spreadsheet. This way all the data is available for analysis, even if the visitor leaves the site.
Chatbot Case Study #2: Tidio Chatbots for Customer Support
What do you do when you need to respond fast to your customers' queries? Exchange emails? That's too slow. Arrange Skype sessions? Too inconvenient. That's the issue that many online merchants who sell game-related digital goods face.
Fortunately, BoostRoyal found a way – Tidio live chat and chatbots. Thanks to this solution their customers can contact them immediately. All they need to do is to click the custom Live Support widget to launch the chatbot.
BoostRoyal also took care of the looks as well. They personalized their bot to match their website layout and business theme. (Check out those cute LoL avatars!)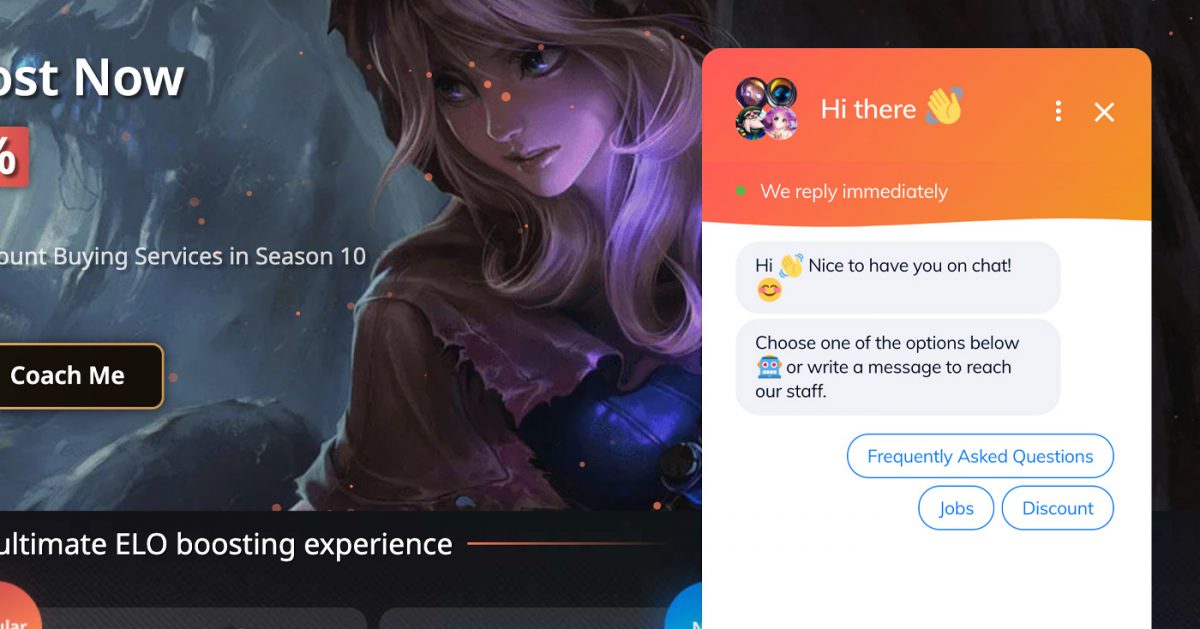 The store owner admits, that are a few more factors that speak for using chatbots:
The chatbot app is installed on the website so any customer can use it anytime.
Customer service automation saves their live chat operators' workload and their customers' time.
Discounts given by their chatbot help them get new customers.
Did Tidio make any difference? Definitely! BoostRoyal has improved customer service and sales from their returning customers.
🚀Read more: Chatbot Marketing 101: Fast, Easy Guide and Steps
Chatbot Examples: Final Thoughts
Chatbots can work in a lot of different business sectors and meet many customer needs. Even though they can have different goals, they do have one in common – to help and engage.
Help goes both ways. They help entrepreneurs to save time and improve their business. And they help customers by assisting them instantly and round-the-clock.No matter what business you run and what your customers need, you will find a suitable chatbot.
How come? Because you can build a chatbot yourself. After all, who knows better what chatbot is best for you if not — you?
Tip: Before you dive into building your own bot, check out the Chatbots category on our blog. You will find tips on writing chatbot scripts, structuring decision trees, and more.
There are many chatbot examples made by others. When you are ready, build your own chatbot — and set an example yourself!
Try Chatbots For Free