Do you remember what you did the last time someone liked 20 of your photos on Instagram out of nowhere?
A quick guess—
You saw the notifications. You became curious about who the person responsible for the likes was. You visited their profile. There is a high probability that you liked some of their posts to return the favor.
That was exactly their end goal from the start—you fell for it hook, line, and sinker.
And what's more, they may not have been real people at all. They might have been Instagram bots!
Care to learn more about them?
In this article:
If you are interested in chat-bots specifically, you can also read our separate guides:
What are bots on Instagram?
Instagram bots are computer programs that automatically post content or send messages on behalf of users. They can be used for a variety of purposes, such as increasing follower count, driving traffic to websites, or promoting products. Some bots are also designed to engage with other users, by liking and commenting on their Instagram posts.
In some cases, bots mean fake users or trolls. That's why some Instagram bots, for example the ones spreading fake news and misinformation, are perceived as harmful.
But—
There are also good Instagram bots that can help you with marketing automation or sending automatic replies through Instagram direct messages.
So, are Instagram bots allowed?
Bots as such are not prohibited, but some of the ways they are used violate Instagram's policy on spam. You are not allowed to: post, share, engage with content or create accounts, Groups, Pages, Events or other assets, either manually or automatically, at very high frequencies.
As a general rule, you should also not use bots that involve creating fake accounts. In theory, you might get banned and lose all the popularity you have earned.
Why does Instagram have so many bots?
According to some estimates, about 10% of Instagram accounts are bots. With about 1 billion user base this translates into 100 million fake IG accounts.
There are a few reasons why Instagram and other social media are infested with bots.
First of all, bots can be used to boost engagement and increase visibility among real users. Many profiles are trying to outsmart the algorithms and make their posts and accounts more popular. With automated comments and likes, your content can gain some initial momentum.
Secondly, Insta bots are relatively easy to create. There are many tools and platforms that you can use to build custom bots or manage your bot accounts. No advanced technical knowledge or coding skills are needed. Pretty much anyone can get their own Instagram bot or use a platform to buy "robot" followers.
Last but not least, fake bot accounts on Instagram are difficult to eliminate. While using bots is, obviously, frowned upon, most social media still have problems with enforcing their policies regarding fake accounts. You can report profiles and Instagram won't take them down unless they violate other serious policies.
To sum up, Instagram bots are:
Believed to be an effective technique to boost engagement
Easy to set up and customize without specialist knowledge
Difficult to get under control or delete by the platform itself
These three aspects contribute to their massive popularity.
What is the purpose of Instagram bots?
Some Instagram bots are designed to get you more followers, while others can help you automate scheduling your Instagram posts in advance.
How do Instagram bots work exactly?
The most common type of Instagram bots is the one designed for promoting your profile. These bots usually work by following a bunch of people in your target niche and interacting with their posts. This helps to get your name out there and get more people interested in checking out your profile.
Instagram bots can:
Follow other influencers and users
Like and comment on posts with specific hashtags
View Instagram stories and send messages
Send automatic replies in DM channels
Schedule and publish your content for you
Send notifications and manage your interactions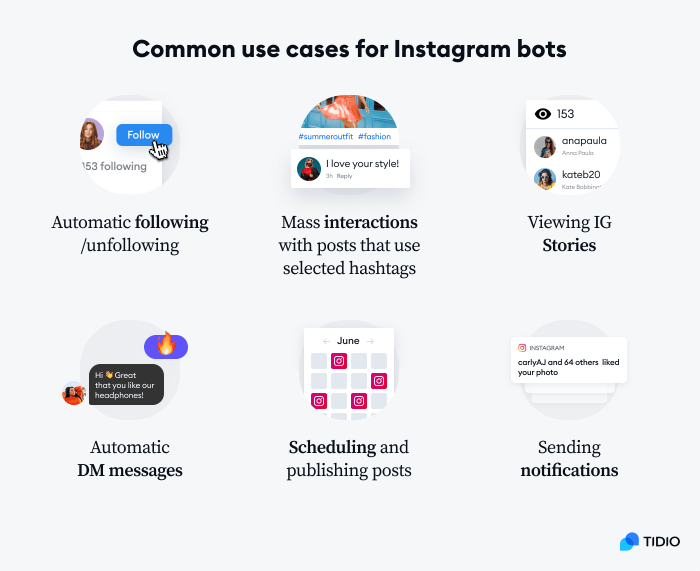 In fact, the term bot is very broad and can mean a lot of different things. The matter is also complicated by the fact that some of the solutions deliberately refrain from calling themselves instagram bots.
For example, "social media marketing agencies" such as Social Sensei explicitly say that they don't use bots or Instagram scripts.
But they accomplish the same thing and use similar strategies, even if there are real people operating behind the scenes. But for some reason, if you try to Google Instagram bots, you can expect those "agencies" to pop up more than once. A rose by any other name…
The burning question is—
Are Instagram bots and automation services effective, or are they a scam?
Well, you shouldn't expect more than 1% of bot interactions resulting in getting a new follower. A recent experiment shows that about 1,200 story views, comments, and likes can bring you… 8 new Instagram followers. This means that the conversion rate was slightly below 0.7%, which isn't particularly impressive.
However, one metric that you can max out with automation is your customer satisfaction score (CSAT). Replying to messages with IG bots improves your average response speed and improves customer experience.
Now—
Let's take a look at some of the Instagram automation software that you may want to check out.
Best Instagram bots you can try in 2022
There are a lot of Instagram bot providers on the market. So, how do you know which one is the best for you? And, more importantly, how do you avoid getting scammed by a bot that doesn't deliver on its promises?
Here is a rundown of the top Instagram bots on the market, as well as their pros and cons.
| | | | |
| --- | --- | --- | --- |
| Instagram growth service | What it is best for | Free trial | TrustPilot score |
| Tidio | Message automation | Yes | 2.9/5 ⭐ |
| Hyper IBF | Automatic following | No | N/A |
| Kicksta | Getting upvotes | No | 3.5/5 ⭐ |
| Instamber | Detailed niche targeting | No | 2.4/5 ⭐ |
| Nitreo | Follow and unfollow cycles | No | 2.0/5 ⭐ |
| Jarvee | Boosting IG overall presence | Yes | 4.1/5 ⭐ |
| Inflact | Selling via Instagram | No | 4.6/5 ⭐ |
| Kenji | Instagram Story views | No | 1.9/5 ⭐ |
| Growth Beast | Automatic comments and views | Yes | N/A |
Let's go through the more in-depth descriptions of each platform to find the right choice for you.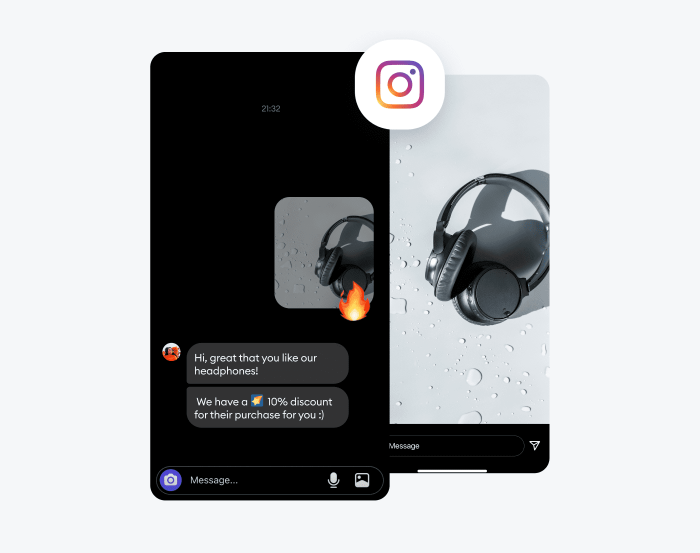 Tidio is a complete sales and marketing automation solution. It allows you to create all kinds of bots, including website chatbots, Instagram bots, and Facebook chatbots. Tidio also offers a wide range of integrations with all the popular marketing and ecommerce platforms. If you want to use your Instagram DM for conversational marketing and product recommendations, it is a perfect tool.
Main features:
Automatic replies to IG comments and messages
Easy integration with Instagram Business accounts
AI chatbots with intent recognition features
A visual bot editor and free chatbot templates
Integrations with other social media platforms
JavaScript API for additional functionalities
Pricing:
Free. Up to 100 interactions available in the freemium plan
Starter ($32.5/month). Typing preview and multichannel support
Team ($65.83/month). Quick responses and additional panels
Scale ($332.50/month). Custom roles, 1 on 1 onboarding, dedicated chatbot consultants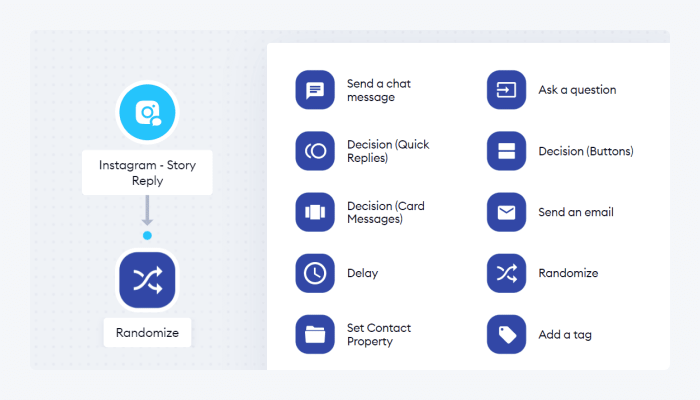 Tidio is easy to use and offers a free trial, so you can try it out before you commit to a paid plan.
Read more: Learn How to Use Tidio Instagram Bot Panel
Hyper Instagram Bot Follower is an automated tool that can help you increase your followers on Instagram. The bot follows users based on certain hashtags that you choose, and then unfollows them after a period of time. This allows you to get more followers without having to put in any extra effort. Additionally, the bot can help you like and comment on photos, as well as follow and unfollow other users.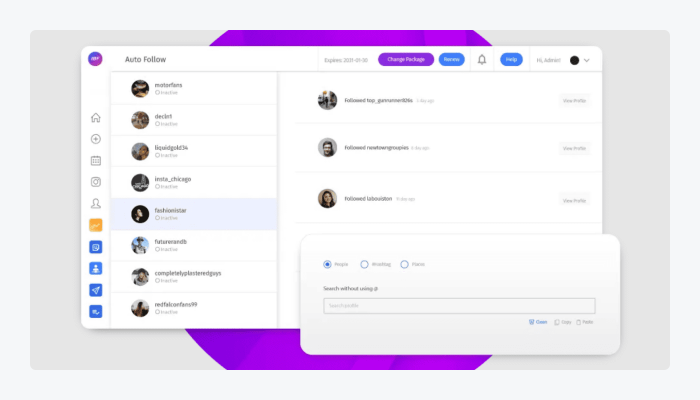 Pros:
Profile scraping tools for targeting new profiles
Searching through account followers, hashtags and places
Built-in iOS and Android device emulation
Cons:
It might be difficult to connect with their customer support team
There is a small chance that Instagram might detect that you are using a bot and ban your account
Pricing:
Mini ($9.99/month). 1 Instagram account and a limited number of upvotes
Midi ($24.99/month). 3 accounts, additional automations, and DM management
Maxi ($49.99/month). 10 accounts, profile scraper, and prioritized customer support
Agency ($99.00/month). 20 accounts and additional integration with Instagram's API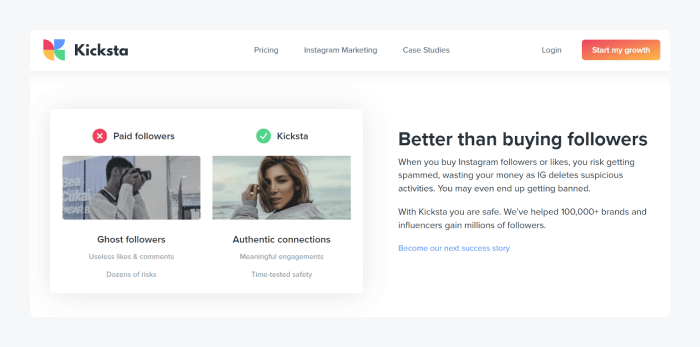 Kicksta is a social media marketing platform that helps brands and businesses to grow their Instagram following organically. Kicksta provides its users with access to a database of real, active Instagram users, who they can then interact with through the platform's automated features. The tool helps you get more followers on Instagram by liking photos from similar accounts.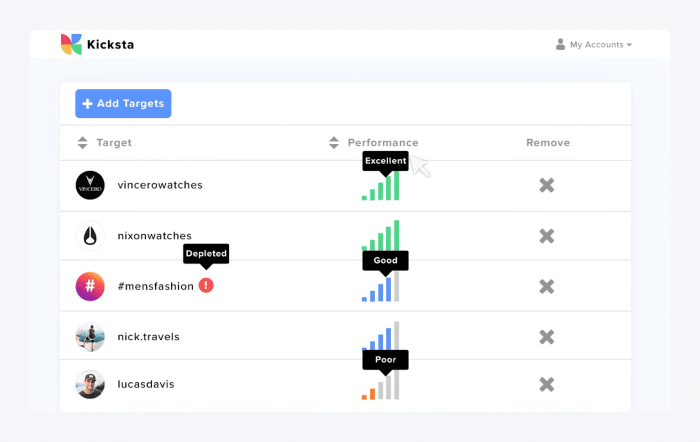 Pros:
It's easy to search for users you can connect and interact with
The tool provides its own dashboard with Instagram analytics
You can automatically exclude NSFW accounts with the Profanity Filter
Cons:
You cannot set up your target audience manually
The customer support team is hard to reach with the Standard plan
Pricing:
Standard ($49/month). Up to 10 AI Instagram Targets for creating your audience profile
Premium ($99/month). Dedicated VIP email customer support team
Boost ($218/month). Automatic audience diversification from global influencers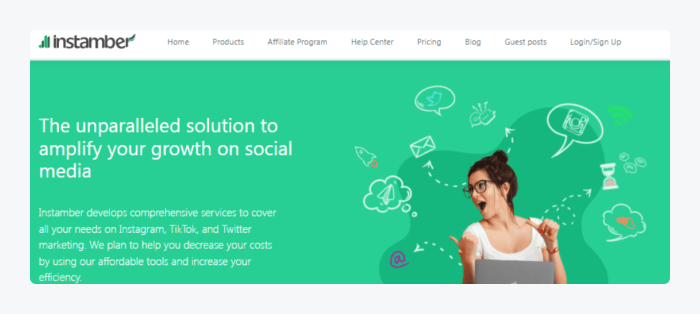 Instamber is an Instagram management tool that helps you get more real followers, likes, and comments on your posts. It also provides detailed insights into your Instagram account, so you can better understand your audience and improve your content strategy. Overall, Instamber is a great tool to use if you want to take your Instagram account to the next level.
Pros:
You can use location tags to select target profiles for your Instagram engagement
The bot's targeting algorithm has received many positive reviews
The bot interface design is clean and easy to use
Cons:
Their app has quite a few crashes and at times the tool is offline
You need to buy separate modules to activate specific features
Pricing:
Instagram Bot ($10.00/month). IG bots for auto-following and unfollowing
Direct Message ($10.00/month). Auto-reply and DM automations
Comment Manager ($10.00/month). A module for comment management
Post Manager ($10.00/month). Tools for content scheduling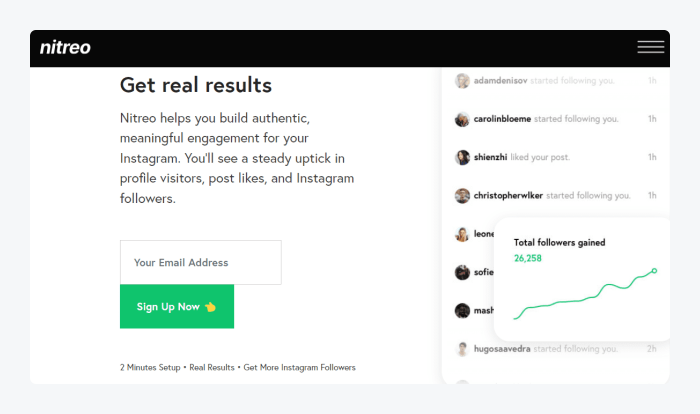 Nitreo uses a variety of methods to get real, active followers on your account. First, it finds and follows relevant users in your target niche. These users are then notified of your follows, and some of them will follow you back. These followers are more likely to engage with your content and help you grow your account. After a while, the bot will also automatically unfollow some of the users, to keep the flow steady without raising suspicion.

Pros:
Detailed impression and interaction analytics
You can create both whitelists and blacklists to set up your target follower profile
Agencies and non-profit initiatives can get personalized pricing options
Cons:
Some users may not see results as quickly as they would like
If you don't set up the app correctly, many of your new followers may come from random niches such as cryptocurrencies and NFT tech
Pricing:
Essential ($49/month). Hashtag targeting and custom audience lists
Speed (79$/month). Additional targeting features, story viewing, prioritized support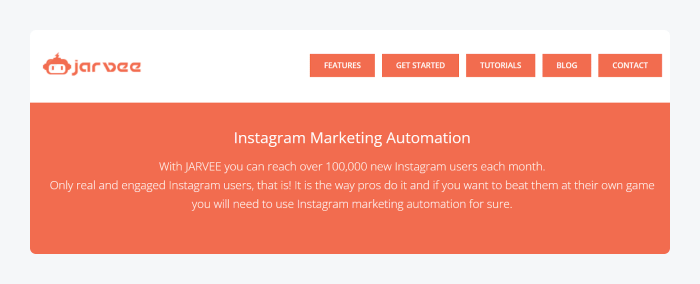 Jarvee is a social media automation tool that can help you save time and grow your social media accounts by automating tasks like posting, following, unfollowing, liking and commenting.
You can also use Jarvee to find and connect with potential customers and followers who are interested in your products or services. Jarvee can help you improve your social media presence and reach your business goals. With Jarvee, you can focus on your content and let the tool do the rest.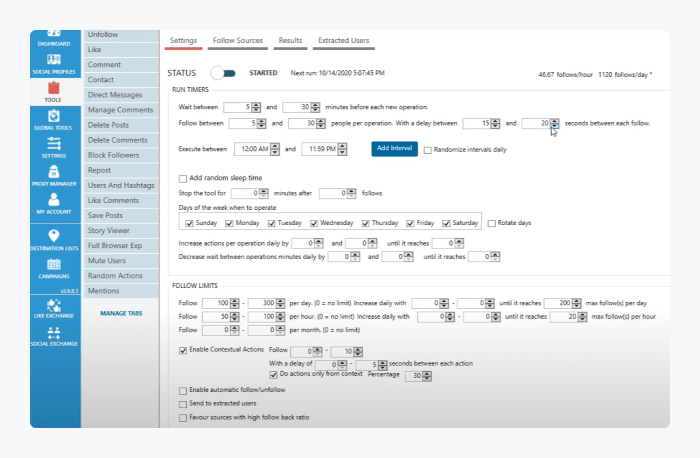 Pros:
It is very advanced and offers a lot of tools and parameters to work with
You can integrate it with other social media such as YouTube and Facebook too
Useful resources such as blog articles, videos, and tutorials explaining how to use the tool
Cons:
Although functional and detailed, the user interface looks a little bit outdated
Sometimes you have to experiment with different parameters before you get the best results
Pricing:
Free trial. You can use a 5-day free trial without a credit card
Starter ($29.95/month). 10 social media accounts, all features unlocked
Regular ($49.95/month). Up to 30 accounts on all social media platforms
Professional ($69.95 /month). You can connect up to 70 accounts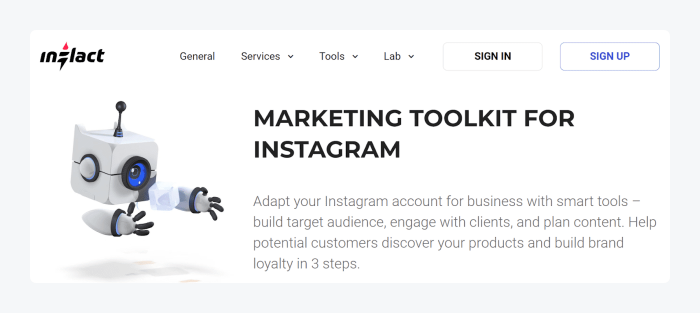 Inflact's Instagram bot helps you get more likes and followers on your Instagram account. It does this by following and liking other users' posts, as well as commenting on them. Once you have signed up for an account, you just need to connect your Instagram account and start following other users. Inflact will then like and comment on their posts on your behalf.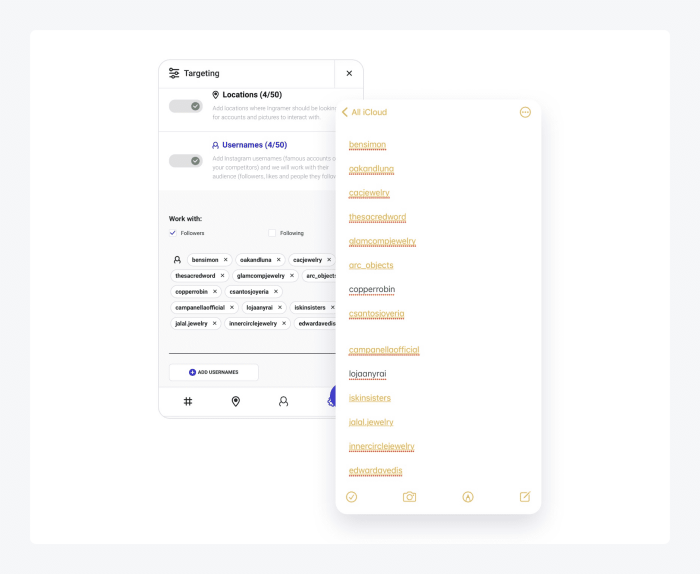 Pros:
Extra tools such as Hashtag Generator, Instagram Downloader, and Profile Analyzer
Comes with a dedicated app for iOS and Android
Many resources and Instagram bot tutorials
Cons:
Some users claim that the AI system targets too many fake profiles, and it is hard to generate engagement from real users
The monthly price of some plans can be expensive for small businesses
Pricing:
Paid trial. 7 days trial available for $3
Basic Pack ($64/month). 1 account, automatic follow/unfollow, and likes
Advanced Pack ($114/month). 2 accounts, bulk messages to your audience
Pro Pack ($148/month). 3 accounts, Stories Saver, Instagram search features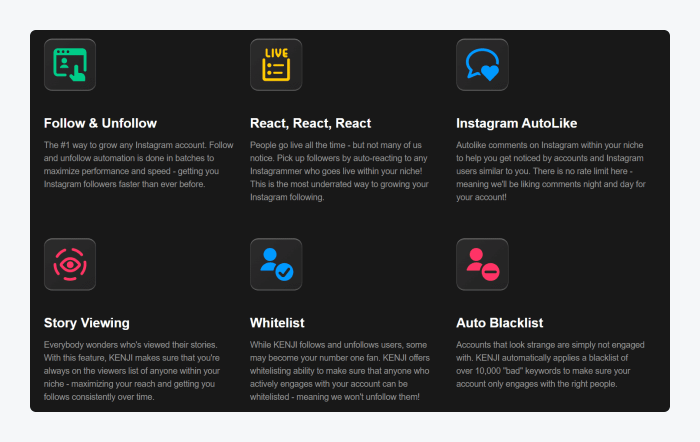 Kenji is a platform that enables you to get more reactions and story views on your Instagram account. The platform works by allowing users to connect their Instagram account to the Kenji growth service. Once connected, the server will then start mass following and liking other users' stories in order to generate more views for your own stories.
Pros:
The setup is easy and takes only a few minutes
Additional functionalities for reacting to Instagram Live transmissions
It shouldn't get you shadow-banned on Instagram because the number of automatic interactions is limited
Cons:
Some users claim that getting new followers with this app takes too much time
It may require ongoing maintenance and updates
Pricing:
Simple ($49/month). Basic hashtag and user targeting features
Pro ($79/month). Advanced segmentation settings and skip-the-queue support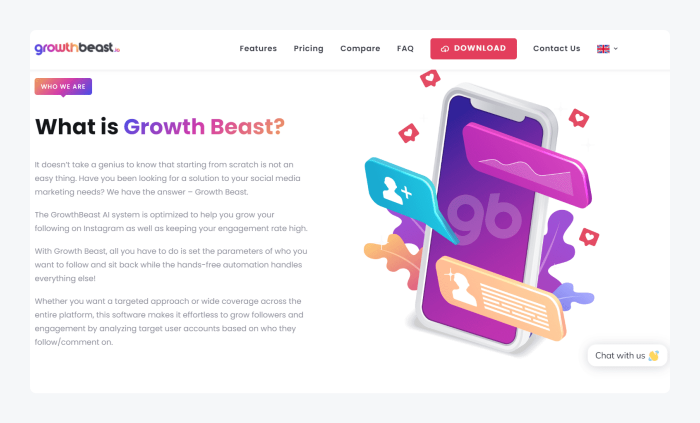 Growth Beast is an Instagram marketing service that helps businesses grow their reach. They offer a variety of tools and services, such as automated engagement, targeted follower growth, and hashtag optimization. Growth Beast is one of the best Instagram bot solutions and a great way to get more followers on Instagram. Their services are affordable, and they use randomized delays for increased security and avoiding spam detection.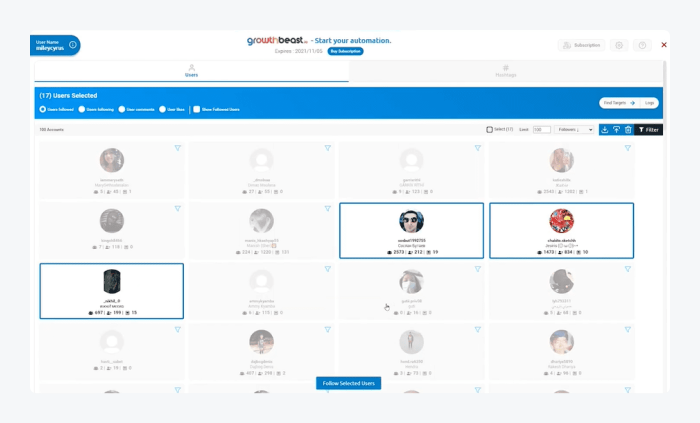 Pros:
It comes with Chrome and Firefox extensions that are easy to use
Real-time dashboards for account management and monitoring what's going on
The pricing is lower than the majority of other Instagram bot apps
Cons:
You need to make sure your computer is not going to sleep mode while the bot is running
It is a relatively new app, so it is hard to say if it is going to be maintained on a regular basis
Pricing:
Free trial. There is a free 3-day trial option for testing this bot
Premium ($5/month). It unlocks all Instagram automation features
How to get bots on Instagram?
If you want to buy bots, there are a few places you can go. You can choose one of Instagram bot services like the ones mentioned above. But you can also buy Instagram followers from sites like Fiverr. It is easy to find people who will follow you or who will like and comment on your photos if you pay for them.
However, just because you can do it doesn't really mean that you should do it.
Should I use Instagram bots?
No, you should not. Unless by "bots" you mean some content management and Instagram automation tools. However, you should never buy fake followers on Instagram.
Instagram's algorithms can detect which interactions come from spammy bots and which from genuine Instagram followers.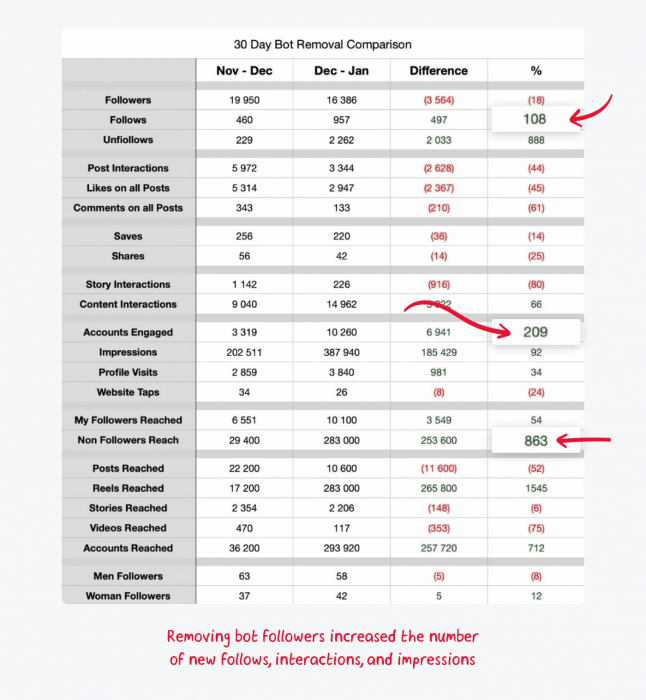 Some new research suggests that Instagram bot followers have a negative impact on your profile's performance. For example, one experiment shows that removing bots from Instagram (about 20% of all followers) had a positive impact on real engagement and reach. It translated into a 92% increase in the number of total post impressions.
Still, you can use Instagram integrations that will help you send automatic replies and messages.
Here is the right and legitimate way to connect Instagram and bots.
How to create an Instagram bot that doesn't violate Instagram's terms of service
Here is how to make your own Insta bot with one of the best Instagram bot services.
Step 1: Create your free Tidio account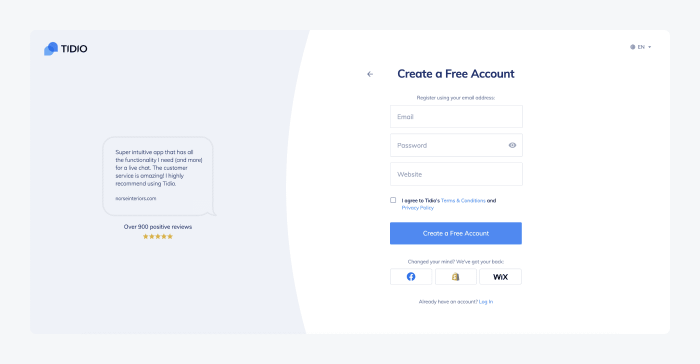 Go to the signup page. Provide your email or sign in with your Facebook account.
Step 2: Complete the registration tour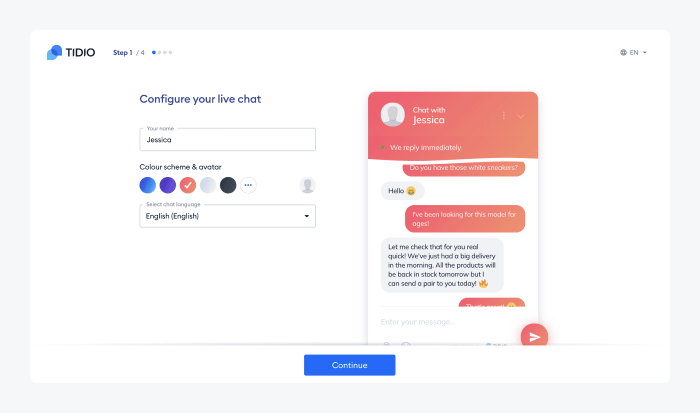 Follow the instructions and set up your live chat widget. Don't worry about it if you intend to use chatbots only on your Instagram account. However, it is a good idea to add a live chat widget on your website and connect it with Tidio.
Step 3: Connect your Instagram account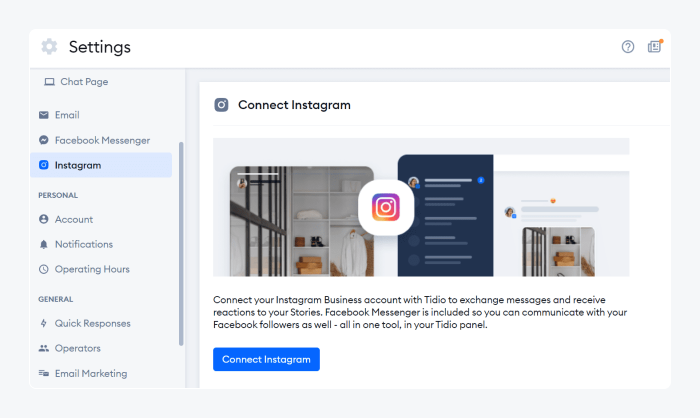 Go to Settings > Channels > Instagram and connect your Instagram Business account. If you are still using a personal profile, it is a great opportunity to upgrade your account. Just like Facebook Business pages and WhatsApp Business, Instagram Business is completely free.
Step 4: Set up your chatbot triggers and actions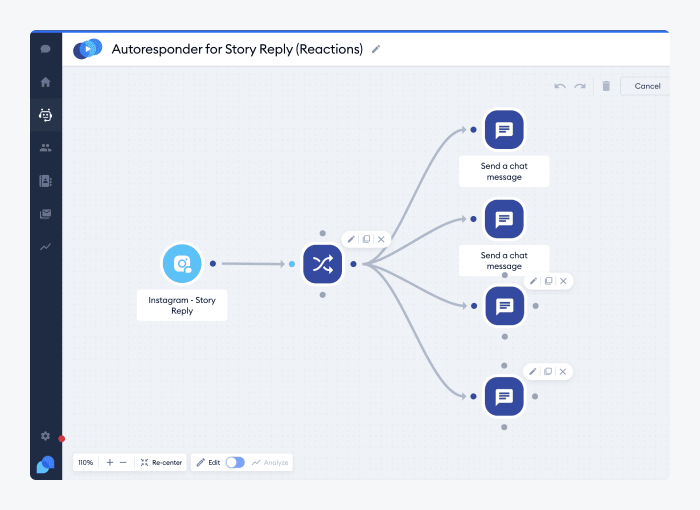 You can use a drag-n-drop visual editor to specify the sequence of messages that the bot will write. You can also add elements such as multimedia or buttons for better user experience.
Step 5: Test your new Instagram bot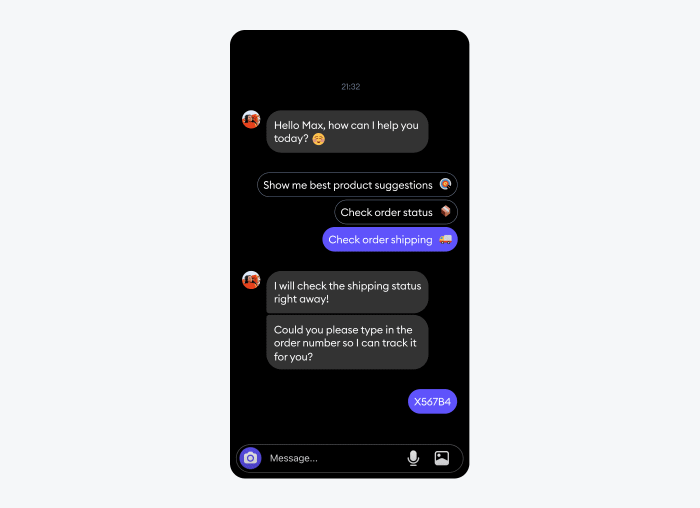 The last thing left is to test your bot. Click the test button to see a preview of the conversation design. While it seems simple enough, designing your own bots is quite an interesting and intricate process.
You can check out more tutorials about creating bots here:
How to promote my Instagram profile without using IG bots?
Many of the popular methods for getting followers on autopilot, such as using bots, are against the platform's terms of service. So, how can you boost your visibility without buying followers or resorting to other prohibited methods?
If you're looking to promote your profile without bots, there are a few things you can do.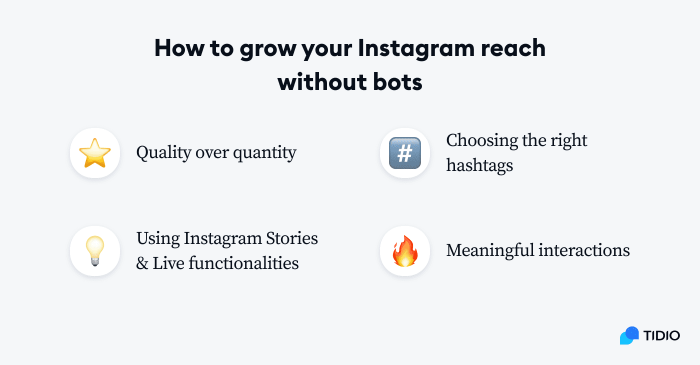 And you know what? Most of these methods will help you get better results, even if you still decide to use bots for automating some of your activities.
1. Focus on creating high-quality content to boost organic growth
It sounds quite obvious, but there is really no way around it. If you want to be successful, interesting Instagram content is more important than whether you use a social media manager for post scheduling or not. Make sure that your videos and photos are visually appealing, and your posts are engaging.
2. Use the right hashtags and analyze their popularity
You can use Instagram hashtags to make your content more discoverable, and connect with other users who share similar interests. Consider using third-party apps to monitor Instagram trends and increase your visibility and reach. For example, social listening tools such as Brand24 are very good at tracking hashtags.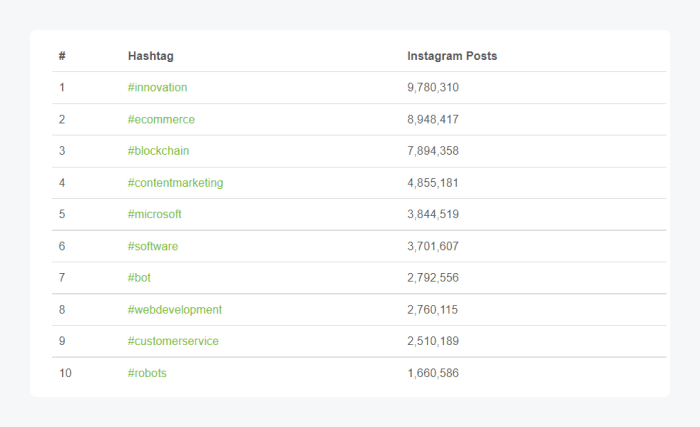 3. Take advantage of Instagram Stories, Live, and other features
Instagram Stories are an incredibly effective way to connect with your audience and share your brand's story. According to a report by Business Insider, 70% of Gen Z users watch Instagram Stories on a daily basis. They are perfect pieces of content for people with a short attention span.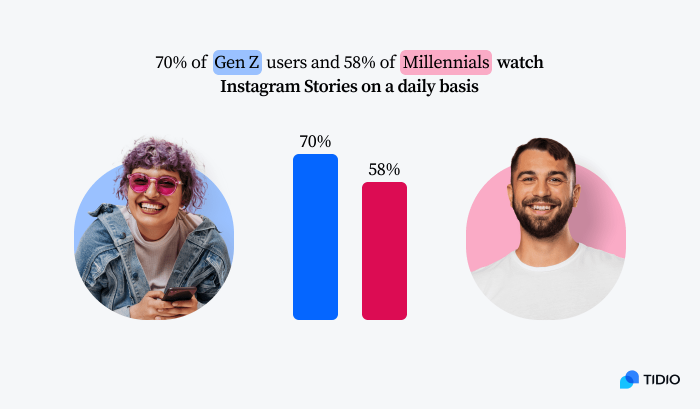 Unlike a long blog post or even a short video, Instagram Stories can be quickly viewed and digested. If you think about it, the whole TikTok platform is based on the same principle—and it is extremely popular.
4. Interact with other users to build relationships and grow your following
Yes. It is exactly the sort of thing that you would want to automate with bots and scripts. But don't. People hate spammy bots, and they can usually recognize them from miles away. If you are serious about building a connection with your audience, nothing beats real interactions.
Conclusion
Using social media automation tools and Instagram bots can help you save time and grow your social media accounts. They can automate tasks like posting, following, unfollowing, liking, and commenting. They can also help you find and connect with potential customers and followers who are interested in your products or services.
The best automation tools and bots for Instagram are:
Tidio
Hyper IBF
Kicksta
Instamber
Nitreo
Jarvee
Inflact
Kenji
Growth Beast
However, you should never use bots to generate fake likes or comments on your posts. It can lead to your account being banned by Instagram. Additionally, it also creates a negative impression of your brand, as people will know that you are using prohibited engagement tricks.
There is no easy way to grow your Instagram following without putting in the work. If you want to be successful, you need to create high-quality content and interact meaningfully with other users. Automation might help you save time, but it will not get you followers who are genuinely interested in your brand. You can learn more about your potential audience by starting direct conversations instead.