You might have heard things like:
Bots are revolutionizing the customer experience! Chatbots are the new apps! All reputable companies implement Facebook bots!
Sure. They are and they do. But let's take a step back.
You want to find out what Messenger chatbots are all about, right? And figure out how to start using Facebook Messenger bots yourself so you don't stay behind the competitors.
Well, you're in luck.
We can help you out.
In this article:
If you want to find out more about chatbots for specific platforms, check out these articles:
Now, let's start from the top.
What is a Facebook chatbot?
A Facebook chatbot a computer program designed to engage with users, simulate a human-like interaction, and answer questions via the Messenger app. It uses preprogrammed replies, artificial intelligence, and keyword recognition to understand the intent behind user queries.
Customers can access these systems by messaging the business account of a company.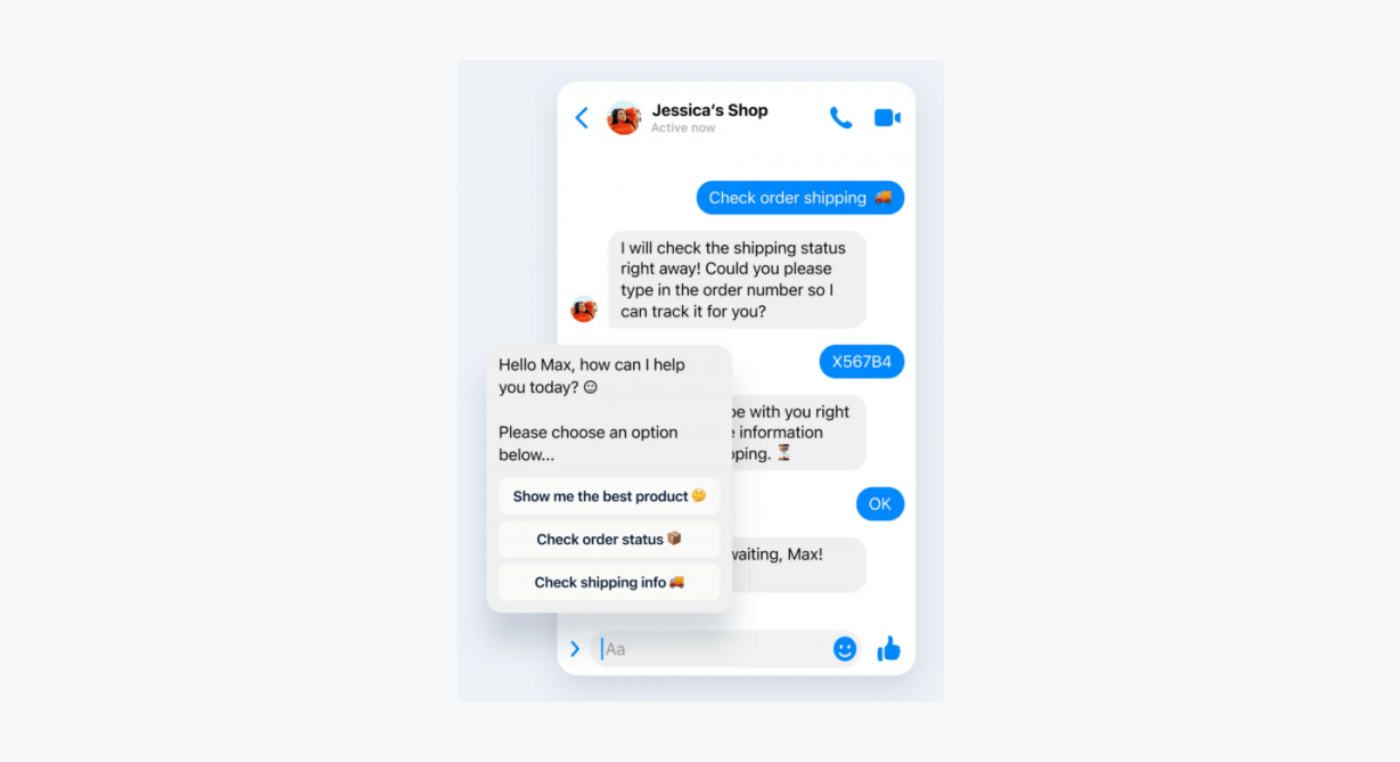 Chatbots on Facebook are primarily used for customer service and marketing. They operate 24/7 and reply instantly. It means that businesses can save the time and money they would normally spend on sending messages to customers via Facebook Messenger live chat.
A Nielsen study revealed that some 69% of customers believe that messaging apps have made their lives easier. Businesses also took note of how they can use instant messaging for the convenience of their shoppers. FB bots are one of the most popular examples of AI customer service and marketing automation.
You can think of Facebook bots as elaborate virtual assistants. A Messenger bot is a subtype of a chatbot.
Read more: Learn more about chatbots and what they're used for.
But are all FB bots good?
Good vs. bad Facebook bots
Some people refer to all fake Facebook accounts as "bots." Sometimes bots (or advanced features of Facebook API) are used for scams or political propaganda.
When describing the activities of state-sponsored political commentators, such as Russian web brigades, the terms such as "trolls" and "bots" are often used interchangeably. However, that doesn't necessarily mean that they are real bots powered by artificial intelligence.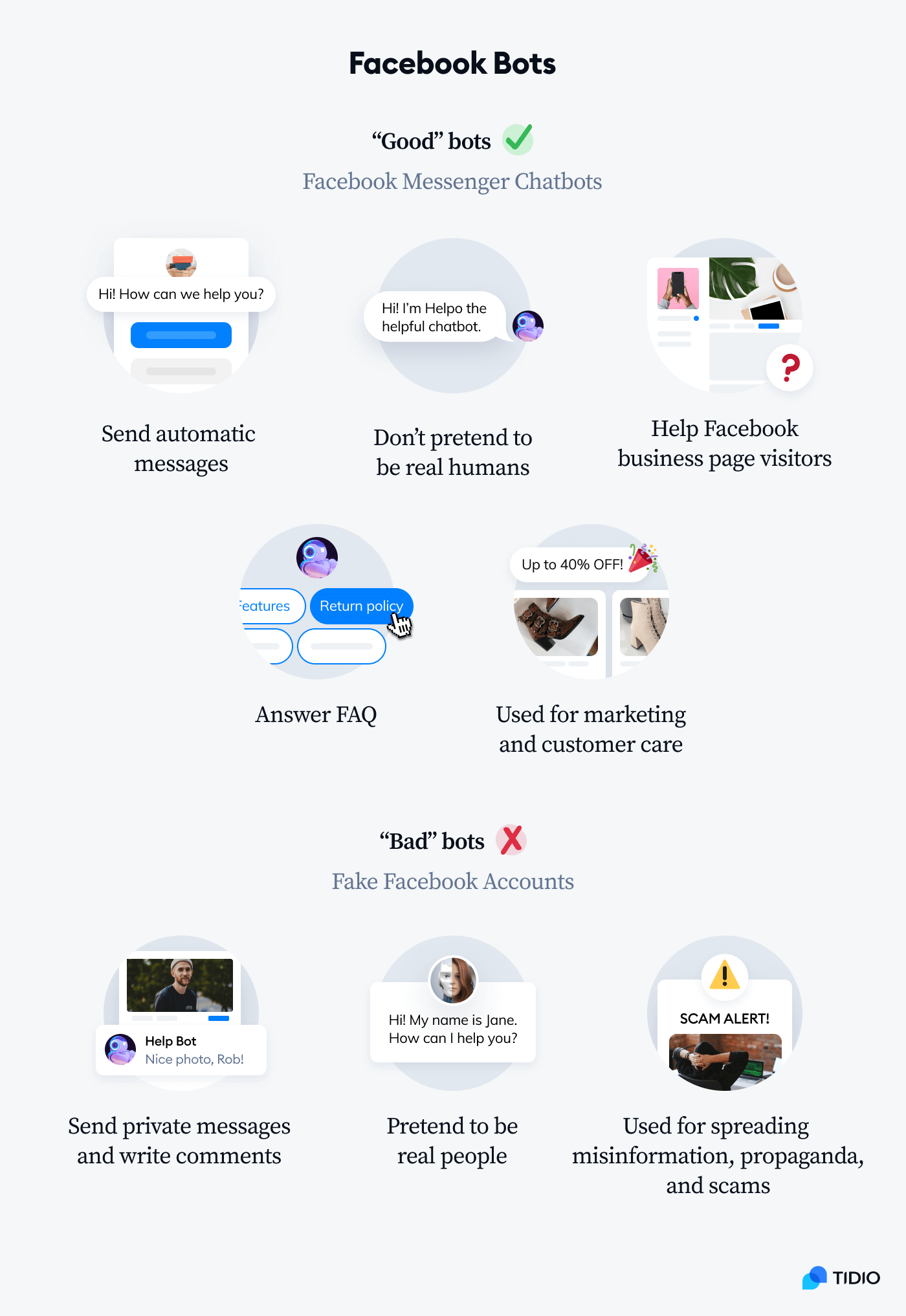 Facebook has deleted billions of "bad bot" accounts over the years. However, this is a never-ending struggle. Social media users have a huge impact on the market and public opinion. Too many influence groups have a vested interest in weaponizing Facebook for their own purposes.
But how can you tell if someone is a Facebook bot?
If you visit their profiles, bots and trolls usually share lots of resources. They seem very committed to commenting on controversial topics and taking a side. But they rarely share personal photos or details from their private lives. Or at least details other than generic pictures which seem random and don't really create a believable feed timeline.
Read more: Can you tell the difference between a human vs AI? Take our test and find out.
Facebook Messenger bots for business
Let's get back to the good Facebook automation bots—messaging apps that use natural language to engage your potential customers. A recent survey by Oracle confirms that about 80% of businesses plan to use them in the near future.
Businesses use Facebook Messenger chatbots to: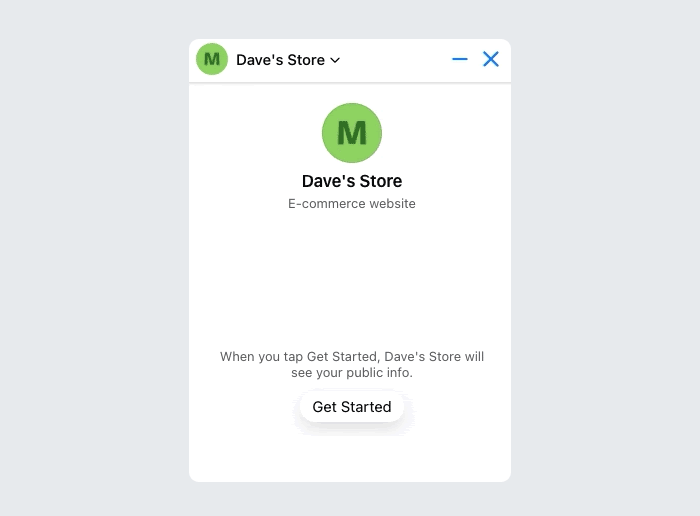 Deliver conversational user experience
Increase customer engagement on pages
Answer common questions
Generate leads
Create automated customer care workflows
Reduce the workload on customer service teams
Increase client satisfaction
Send information about updates and news
Some bots can actually cover the entire Meta ecosystem of apps and products. You can use the same chatbot platform to design bots for Messenger, Instagram, and WhatsApp.
All of these have one thing in common—they're extremely popular and mobile-friendly. People use Instagram and WhatsApp almost exclusively on their mobile devices. If you want to reach your customers when they are on their phones, a conversational bot is a better option than developing a custom mobile app.
Read more: Learn all about chatbot pricing and how much it costs to build a chatbot.
Finding bots on FB
In the past, the Messenger app allowed conversations with featured chatbots. Currently, this feature has been removed in favor of user Stories. You can still find some examples of automated FAQs in the Discovery section of the app. However, the information about the use of a bot by a company is not immediately available.
Main features of a Messenger chatbot
You might say that the functionality of the bot depends purely on your business needs. And that's true to an extent. Because some features are useful for all companies. That's because they make your FB chatbot easier to use, utilize automation, and enable you to take advantage of multichannel communication.
The top features of the Facebook messenger bots for business include: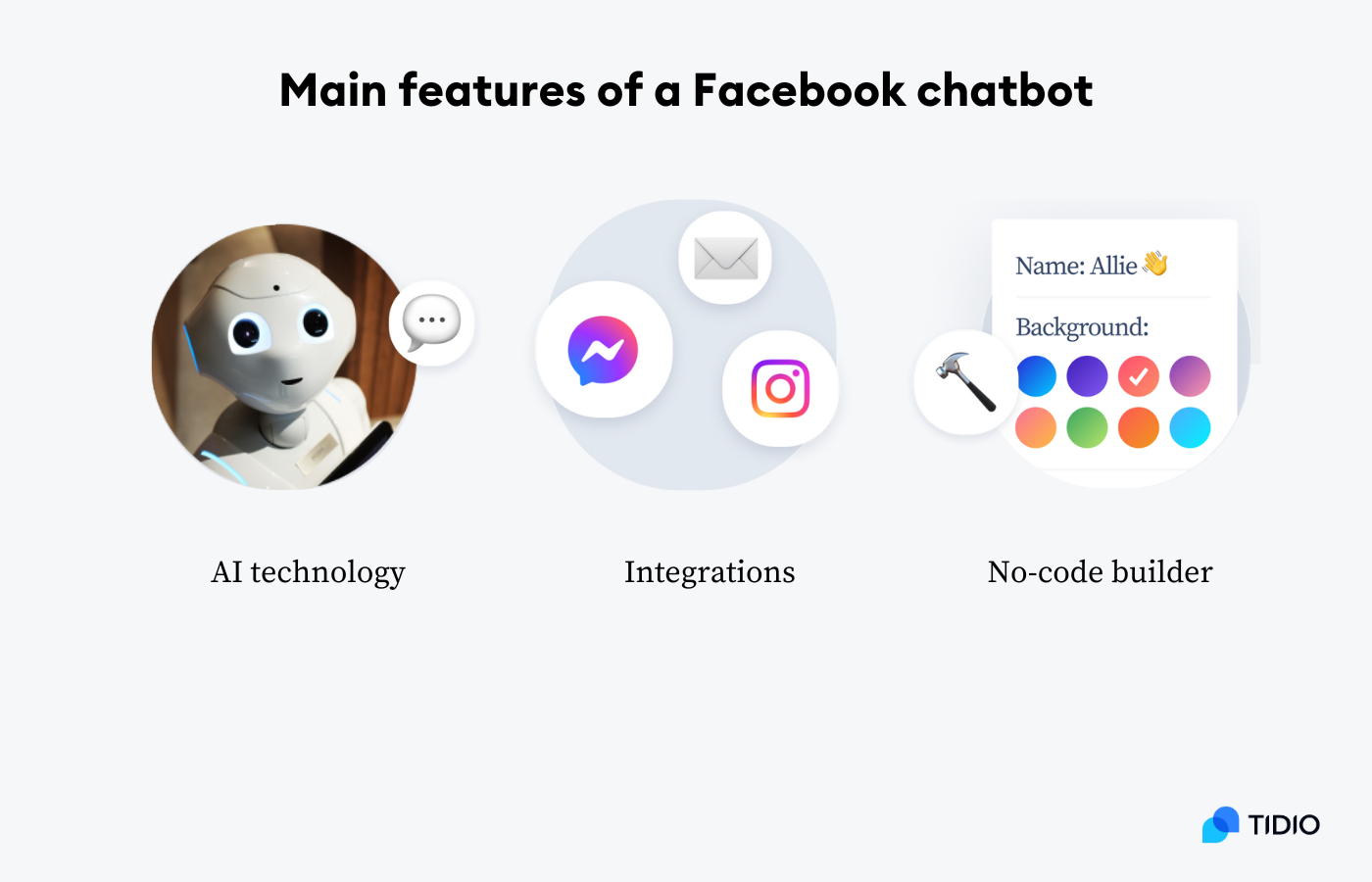 A chatbot that uses natural language processing (NLP) makes the communication more natural while automating the customer support processes for you. This way, your agents will get fewer messages and be able to focus on the more complex queries while shoppers will be happy with their customer service experience.
Integrations are crucial if you want to provide an omnichannel experience for your customers. This means that they're able to reach you on a variety of platforms and get the exact same service quality. And your team's able to see all the incoming messages in a single inbox so they never miss a sales opportunity.
If you don't want to spend thousands of dollars on development, then you need a Facebook AI chatbot that you can build without the need for coding. This usually means that you can drag and drop elements into right places and teach your conversational AI by inputting past customer interactions into the system.
And with these, and more, features of Facebook live chatbots come great benefits.
Let's check them out.
Benefits of a Facebook chatbot
Messaging apps have revolutionized customer service and communication on social media platforms like Facebook. Their integration into the Facebook platform has opened up new avenues for businesses to enhance customer interaction and provide world-class customer support solutions.
By leveraging the benefits of an FB chatbot, businesses can differentiate themselves in the market, create exceptional user experiences, and drive notable business growth.
Here are some of the key advantages of using a Facebook chatbot: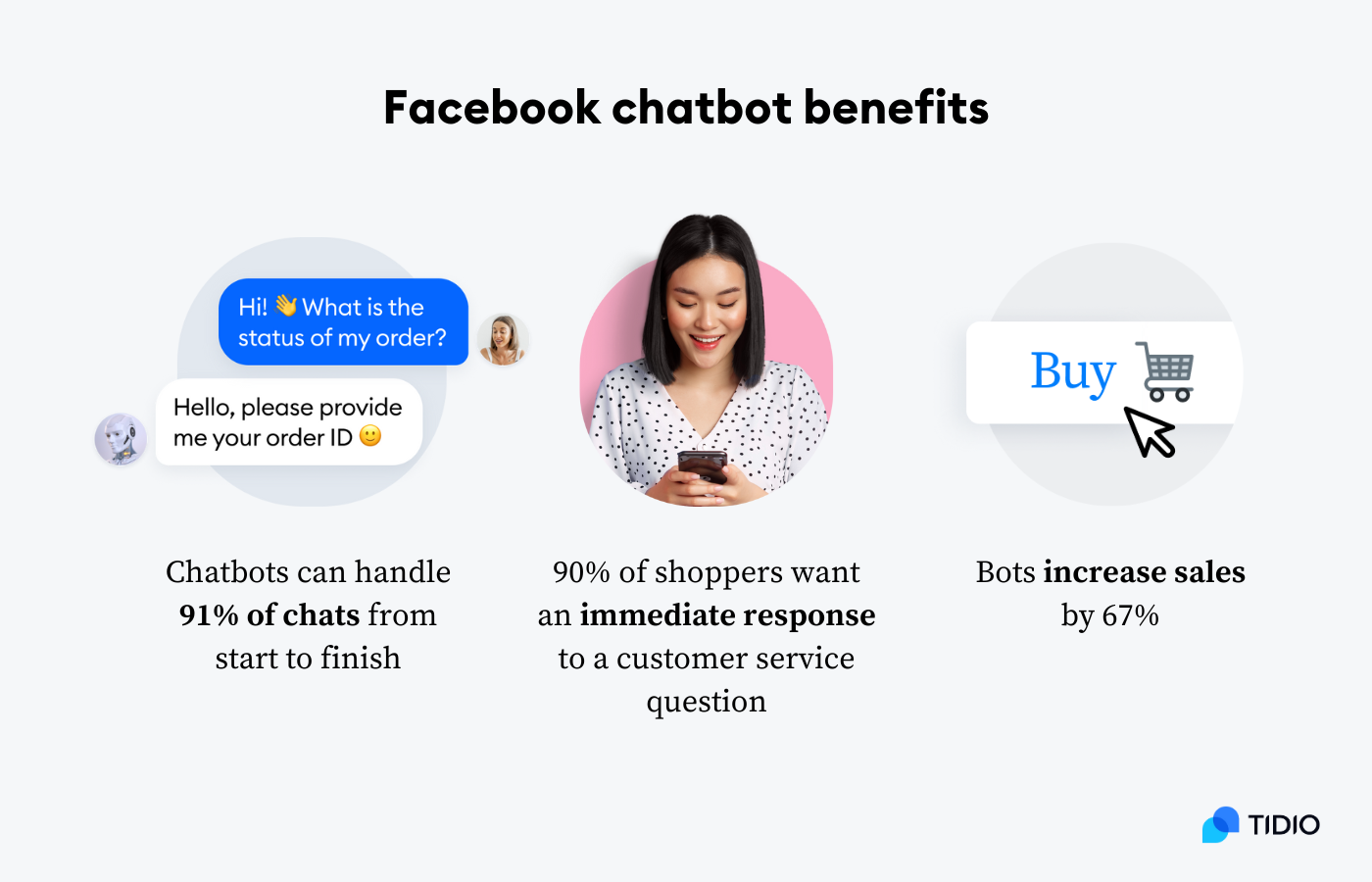 Efficient and scalable customer service
One of the primary benefits of using a chatbot is its ability to handle a large volume of customer conversations simultaneously. Unlike human agents, bots do not tire or require breaks, enabling them to provide support to multiple users at once. Studies show that virtual assistants can handle around 91% of customer service chats from start to finish.
Instant access to support
With a Facebook chatbot, users have instant access to customer service and support agents. The chat window allows users to easily type their questions or concerns and receive relevant responses from the bot in real time. In fact, over 90% of shoppers rate "immediate response" as essential when they have a support question.
Read more: Discover how Shockbyte decreased response time using Tidio chatbots.
Marketing and conversion opportunities
Facebook chatbot marketing can also be utilized for your campaigns and to boost sales. Bots can offer personalized product recommendations and convert conversations into sales opportunities. Research shows that, according to business leaders, chatbots increase sales by as much as 67%.
And what are some examples of effective bots on Facebook? Let's have a look.
Facebook Messenger bot examples
Facebook has more than 1.96 billion daily active users that you can reach via Messenger bots. These virtual shopping assistants help to answer questions, find products, or deliver notifications about new content.
Feel free to test drive a demo project prepared by Facebook.
Here are some of the coolest marketing and support FB chatbot examples and use cases.
1. LEGO bot
One of the most memorable virtual ecommerce assistants was developed by Lego. Ralph the giftbot was supposed to act as an interactive Lego catalog. It was launched before Christmas to help users pick the best gifts by answering a set of questions. The idea worked like a charm.
And this is what the company's representatives say about the project:
"We are continuously searching for new and fun ways to engage with our consumers and shoppers. Chatbots are increasingly being used by brands to engage in the digital space, and in turn to drive sales. The Lego Group is one of the first in the toy industry to embrace this concept."
The Facebook bot campaign was featured in the UK, US, Canada, France, Germany, and Poland. Currently, Ralph is "on vacation" but the company will certainly revisit conversational marketing campaigns using social media sooner or later.
2. McDonald's chatbot
McDonald's designed a marketing campaign that incorporated a board game, discount codes, and FB Messenger bots. After scanning the board, you could chat with McBot and play a virtual game.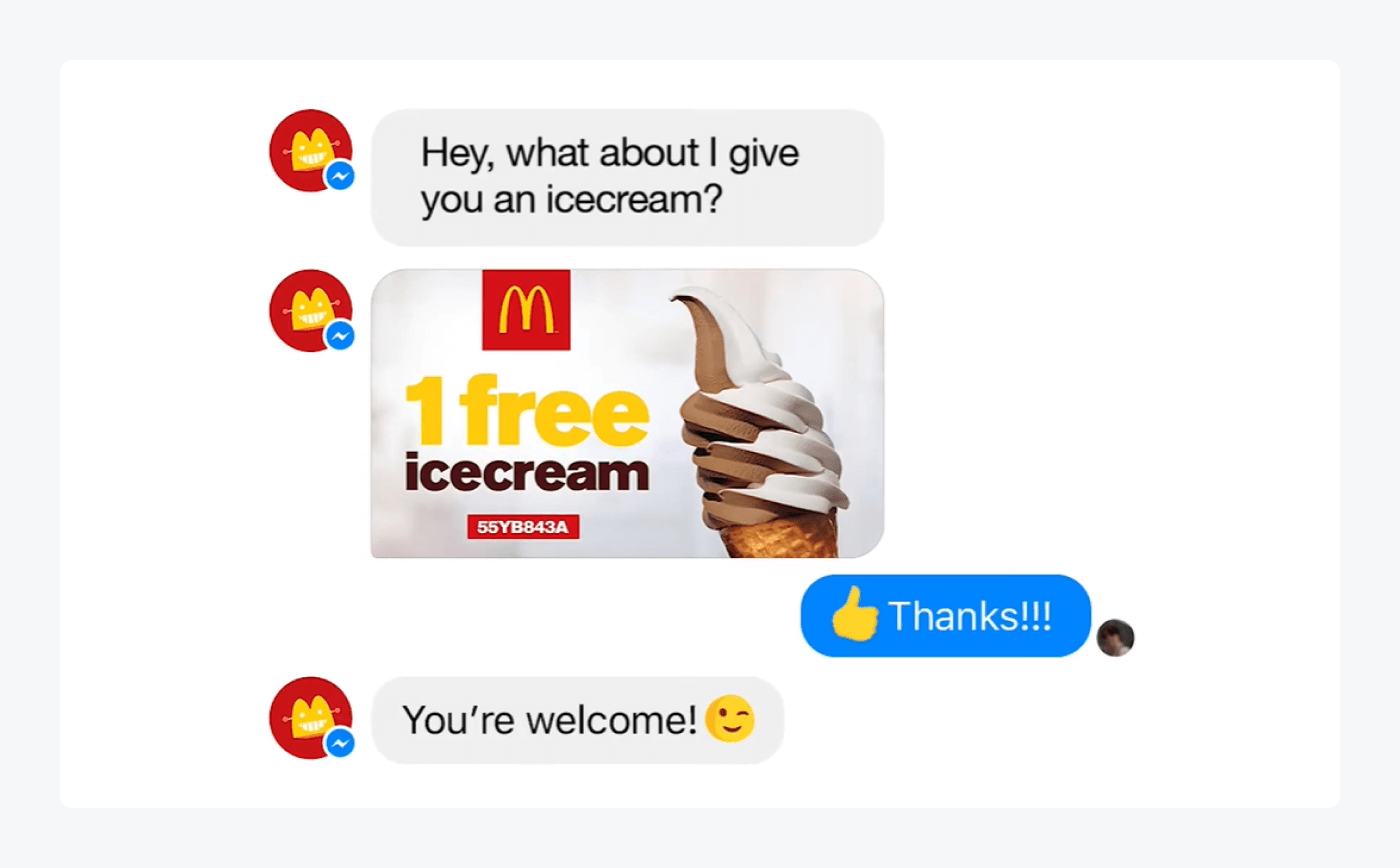 After completing certain tasks, customers could win discount coupons and other gifts. Over 175,000 people participated in the campaign during the first week.
3. Coca-Cola chatbot
It might seem that soft drinks are not an interesting topic of conversation. Okay, to be honest, they're not. Talking to a Coca-Cola bot is unlikely to be a life-changing experience. But the company's local branches and profiles have repeatedly used FB Messenger chatbots as part of marketing campaigns.
The example above comes from Coca-Cola Switzerland. A short conversation allows the company to collect customer feedback, inform clients about a new product, and give coupon codes.
It would be extremely difficult to encourage people to complete the same tasks if they were presented as a survey or a form.
4. The Guardian bot
Media outlets have fallen in love with instant messaging, too. The Guardian deployed a Facebook chatbot that can send you top stories and article recommendations. You just need to answer a sequence of questions to help it choose the right pieces.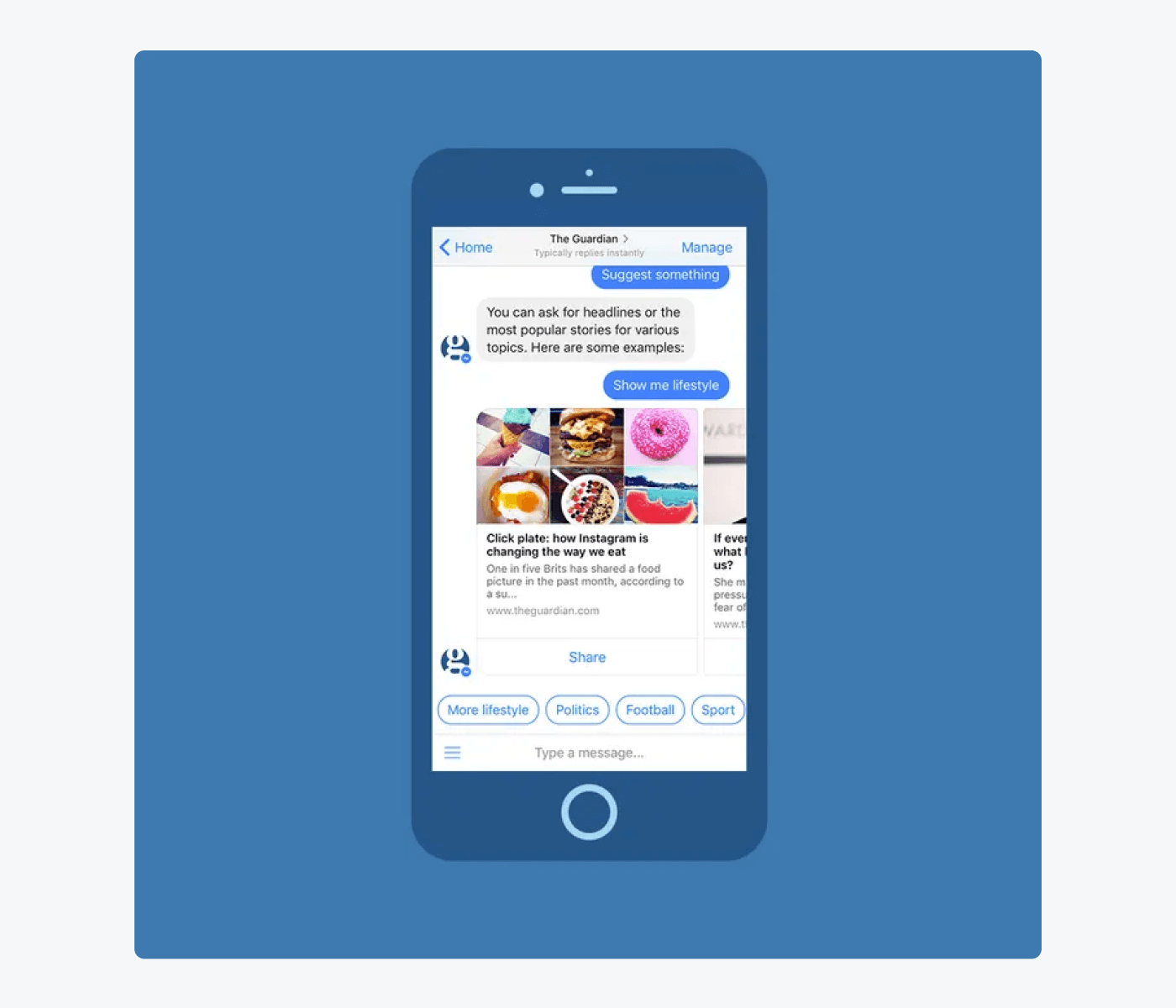 You can swipe between decision cards or change topic categories to find the most relevant articles.
5. Disney chatbot
At some point, Disney released a whole range of different interactive characters powered by artificial intelligence that you could chat with. They were available via Messenger chatbots and Kik, but if you want, you could even try SMS texting.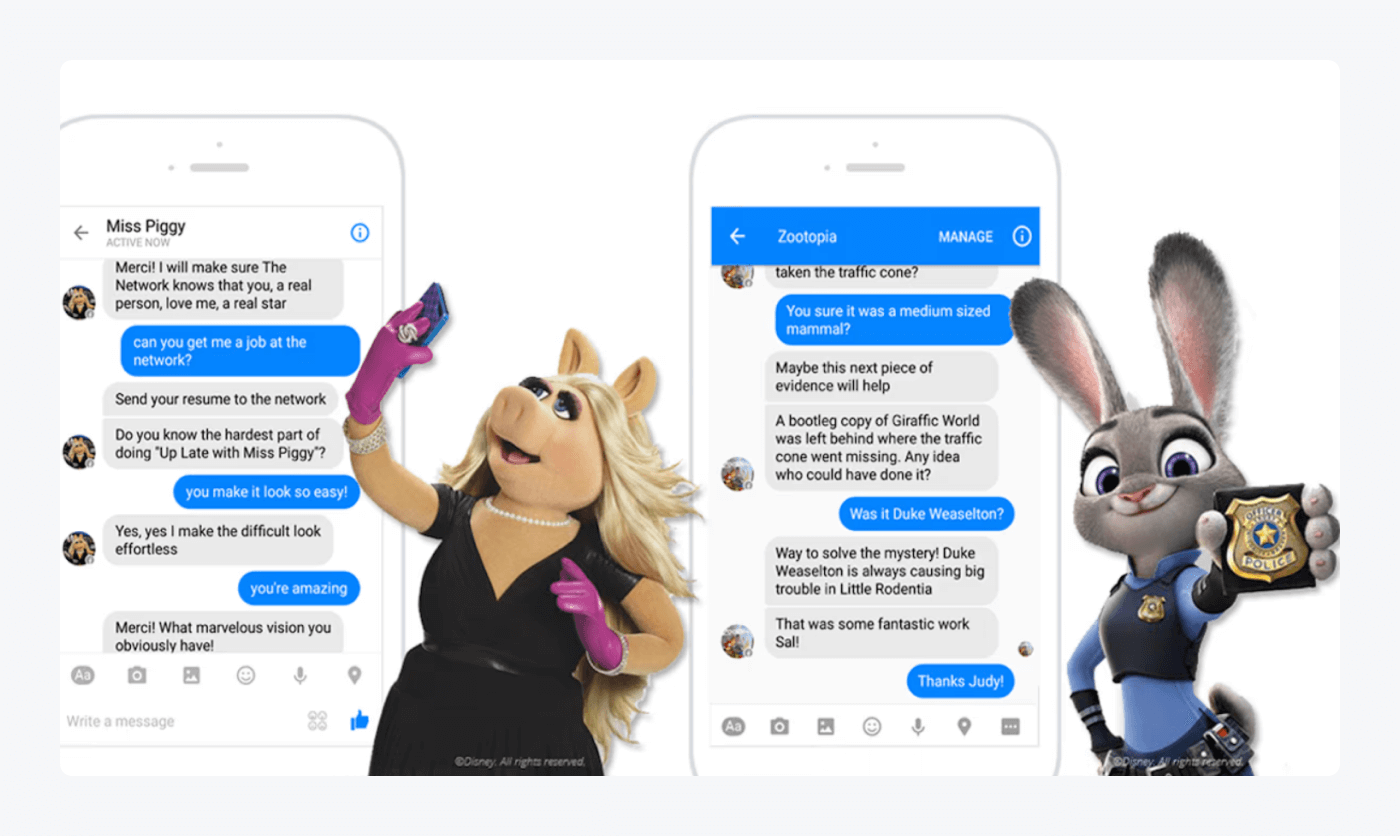 Some of the most popular were Miss Piggy from The Muppets and Judy Hopps from Zootopia. Customers exchanged millions of messages with those two characters alone. Obviously, it's difficult to directly measure how these interactions translate into sales. However, some solutions offer advanced tools for measuring your bot's performance.
Read more: Discover how you can use chatbot analytics to measure your results.
Now, you're probably wondering how to set up a chatbot on Facebook, so let's look into that.
How to make a Facebook bot?
Currently, there is no native platform for creating chatbots for Facebook. The business version was released to a test group of users, but the project has still not been released for general use.
However, there is a whole range of third-party solutions available on the market. You can try chatbot platforms such as Tidio, ManyChat, Chatfuel, or Customers.ai. Jump to the comparison of the best Facebook chatbouts available on the market.
To build a Facebook chatbot, follow the steps below.
1. Sign up for a free Tidio account
Go to the registration page and create your free account. What's good is that you don't have to sign up with your Facebook account. You can use your FB login credentials, but it's also perfectly alright to create an account with your email or Shopify account. Either way, you can integrate your Tidio profile and Facebook page later on.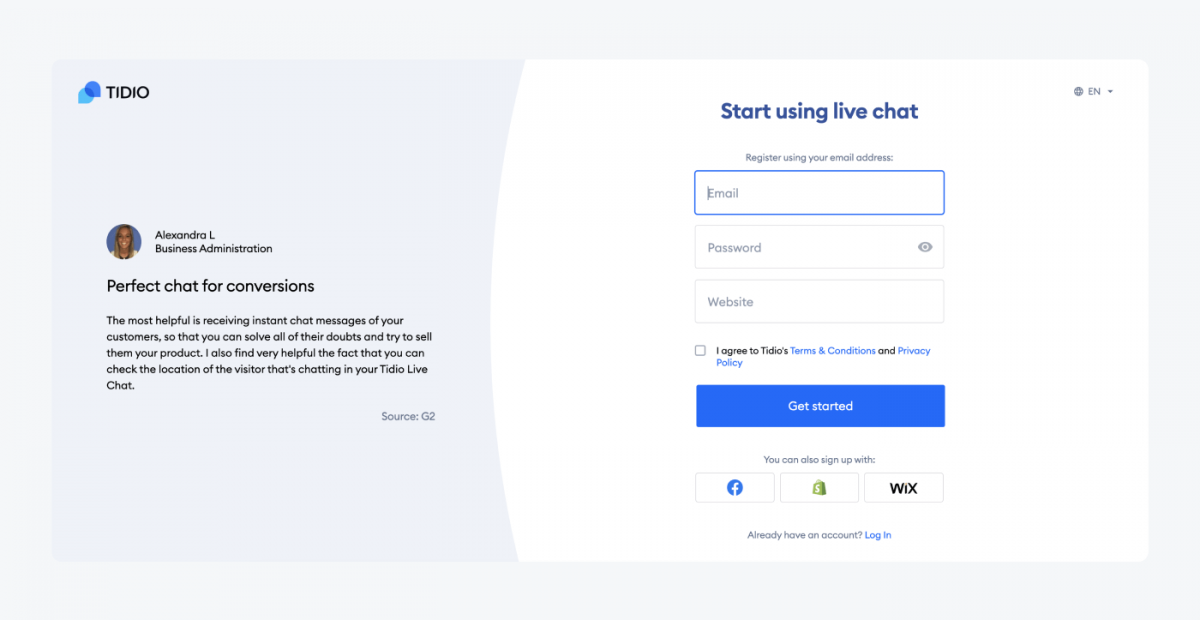 If you're using an ecommerce platform like Shopify or WordPress, you can also install Tidio as a plugin.
2. Set up your chat widget and customize it (optional)
The registration tour also involves setting up the look of your live chat widget. However, you should note that this step is optional.
Tidio can be used to manage your live chat, WhatsApp, Facebook, Instagram, and email conversations. You can add live chat to your website for omnichannel communication. But if you want to use it only as a tool for creating Messenger bots, configuring the widget doesn't concern you. You can simply skip it and keep the default settings.
3. Connect it with your Facebook business page
When you open the main Tidio dashboard, click on Settings on the left side menu. Go to the Channels panel and click Facebook Messenger.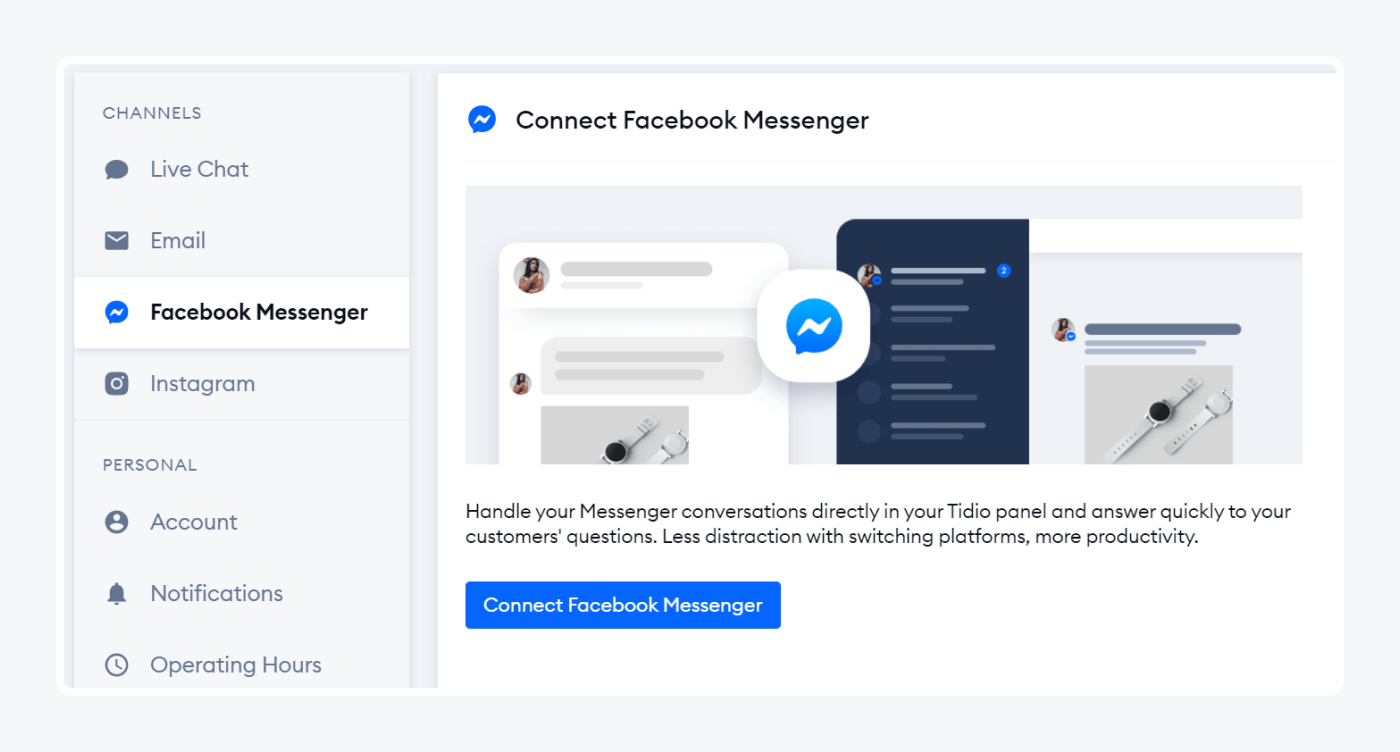 You can integrate your pages with Tidio by clicking the Connect Facebook Messenger button. Once you click the button, you'll see a window with the integration steps. Log in to your Facebook account, choose the pages you want to integrate with Tidio, and give all the required permissions for the integration to work correctly.
After that, you should see a message that Tidio is now linked to your Facebook page. Press OK and save the changes to confirm the integration.
Read more: Learn more about Tidio integration with Facebook Messenger.
Did you know that…
In order to comply with the EU privacy guidelines, Facebook introduced restrictions on Messenger API usage on December 16th, 2020. The changes to the Messenger API impact the platform, but can also influence the way you use the Tidio integration with Messenger.
4. Design your conversation flows
You can keep things simple by using templates or creating advanced Facebook bots from scratch. Clicking on one of the decision buttons or adding a new one will open the visual drag-and-drop editor.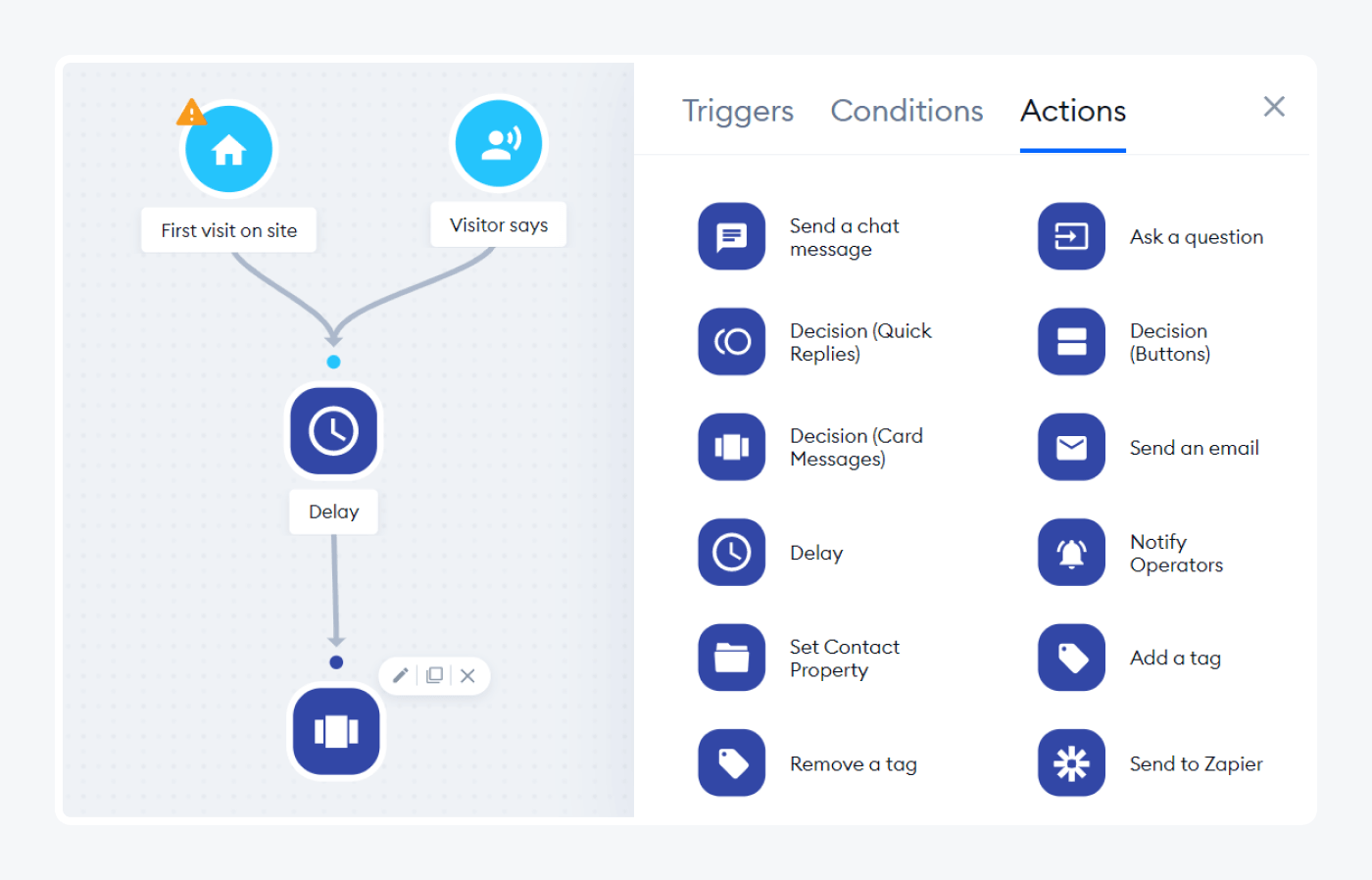 Tidio is a powerful bot builder. Some of its chat triggers use machine learning, artificial intelligence (AI), and natural language processing (NLP). Messaging apps can send messages or analyze user intent, but they can also send funny GIFs, mobile phone notifications, or be integrated with Slack (via Zapier). You can set up different conditions and advanced chatbot logic. I's a good idea to customize your chatbot scripts and make them more in line with your business and customers.
Read more: Discover how to design a chatbot workflow with best practices for bot design.
5. Activate your Facebook bot
Once you get your chatbot decision trees ready, you can activate your bot. When your Facebook page visitors open your Messenger profile, the chatbot will send a welcome message. It's a good idea to add an option to send messages as one of your main action buttons on the main page.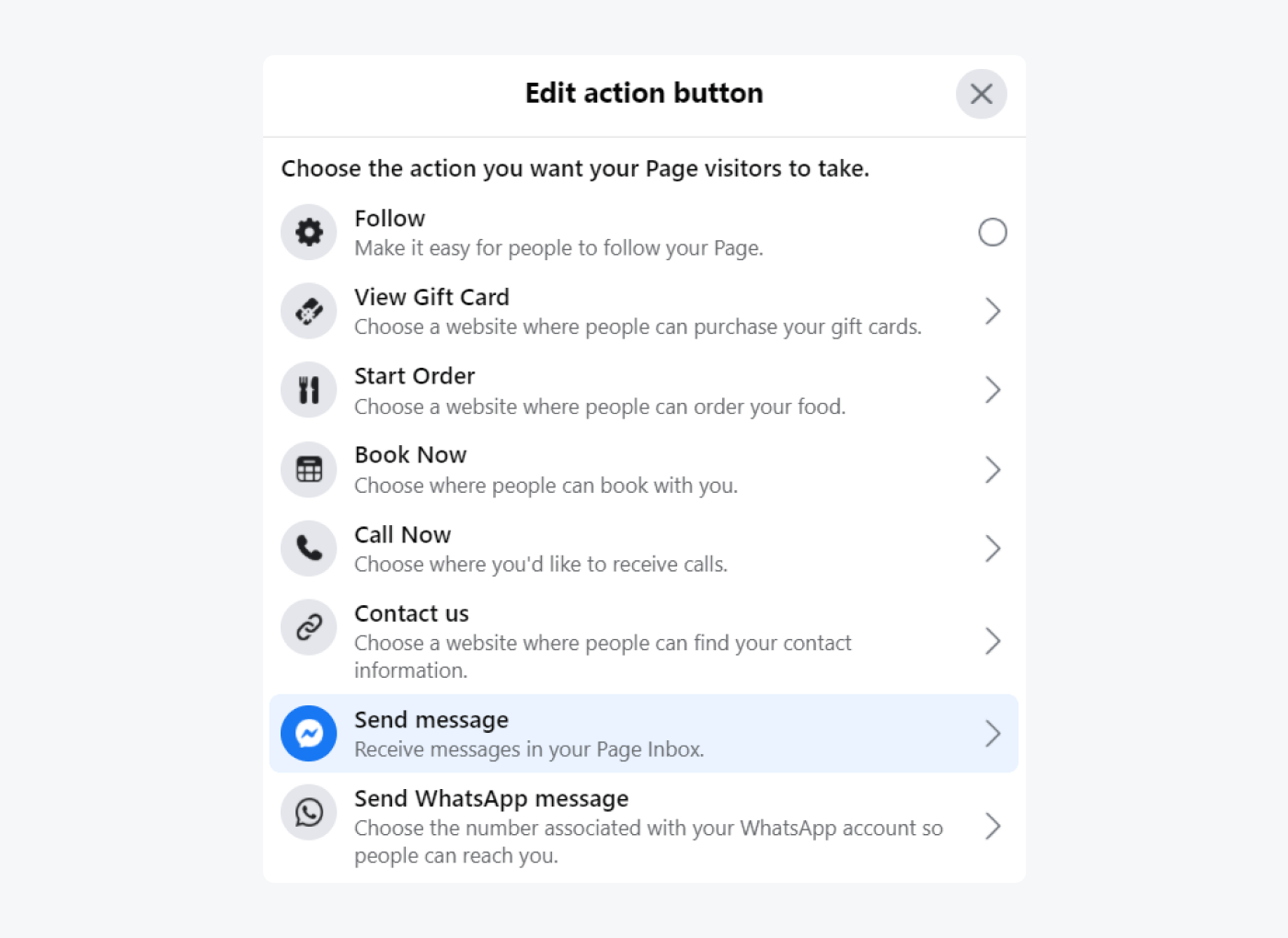 Some businesses even run Facebook Ads with Send message as their primary call-to-action buttons. Social networks are a great place for this type of ad campaign.
Read more: Learn all you need to know about business chatbots and how to get the most out of them.
Since now you know how to create a Facebook chatbot, it's time to also check out some of the tips and best practices for a successful implementation of your bots.
Strategies for a successful Facebook chatbot implementation
Implementing a chatbot on Facebook can be a game-changer for your business, providing an efficient and effective way to engage with your customers. However, to ensure its success, you need to have a well-thought-out strategy in place. Here are some best practices that will help you with the implementation.
1. Clearly define your objectives
Before diving into the development of your chatbot, set the objectives you want to achieve. Are you looking to enhance customer service, generate leads, or provide product recommendations? Having a clear understanding of your goals will guide the design and functionality of your chatbot.
2. Provide personalized experiences
Personalization is the key to delivering exceptional customer experiences. Use data collected from previous interactions or customer profiles to provide tailored recommendations or solutions. By making customers feel heard and understood, you can build lasting relationships and drive conversions.
Here's how Lidl helps people who aren't wine experts choose the right wine to go with their meal. You can ask for recommendations of wines from specific countries, check which ones are in your planned price range, and what wine you should choose to pair tastefully with the dish.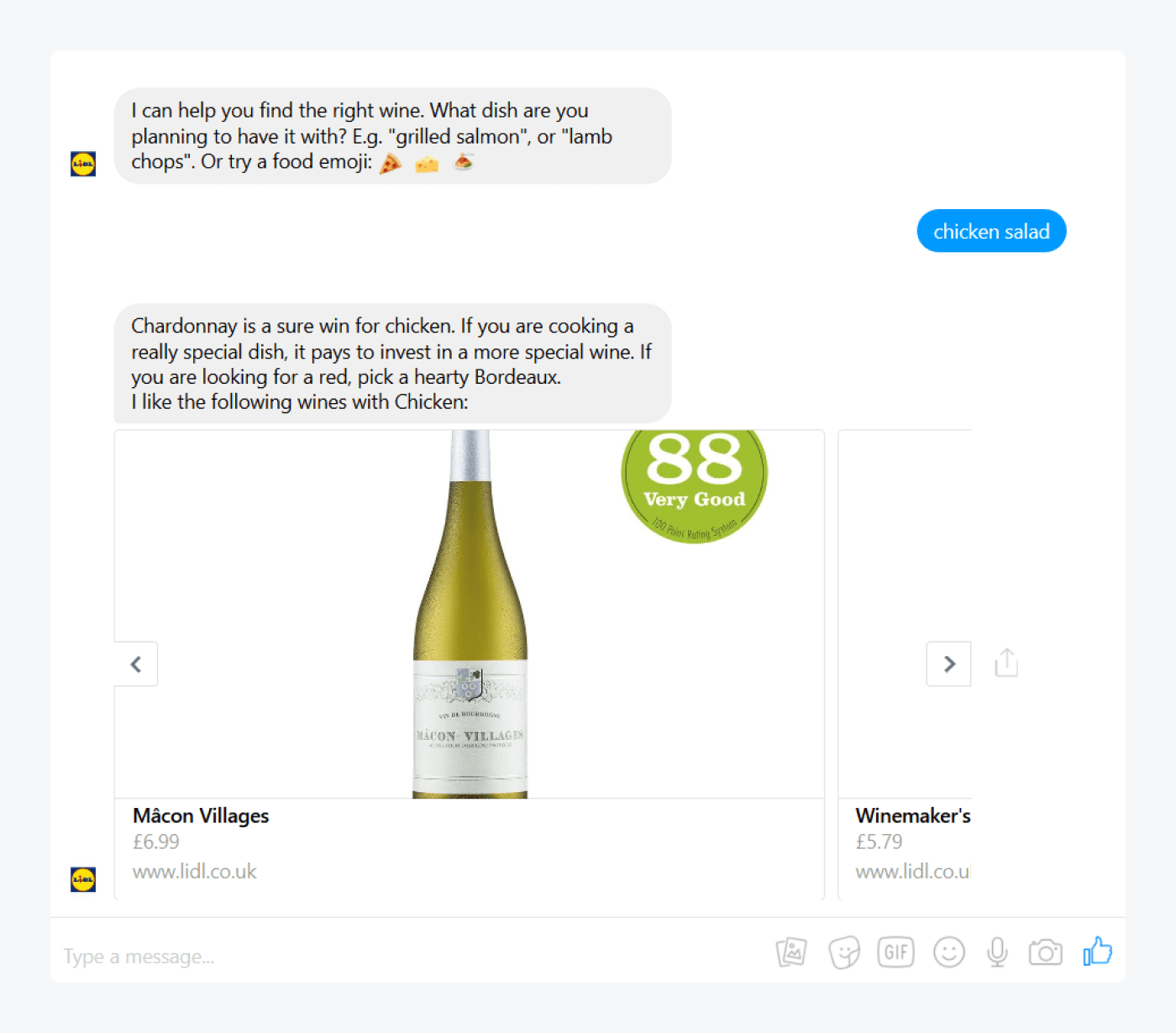 3. Keep it conversational
One of the key benefits of chatbots is their ability to simulate human conversations. Ensure that your chatbot's language is natural and conversational. Also, you should try, as often as possible, to use a friendly and relatable tone when communicating with your shoppers. Avoid sounding robotic or overly formal, as it may put off potential customers.
4. Incorporate AI and NLP
Artificial intelligence (AI) and natural language processing (NLP) technologies play a crucial role in enhancing the functionality of your chatbot. These technologies enable your bot to understand and interpret user queries accurately, leading to more personalized and effective responses.
One of the most advanced bots emerged from a partnership between Messenger and American Express—the AMEX Messenger bot. It uses AI to keep customers informed of transactions, provide tips, and suggest other products.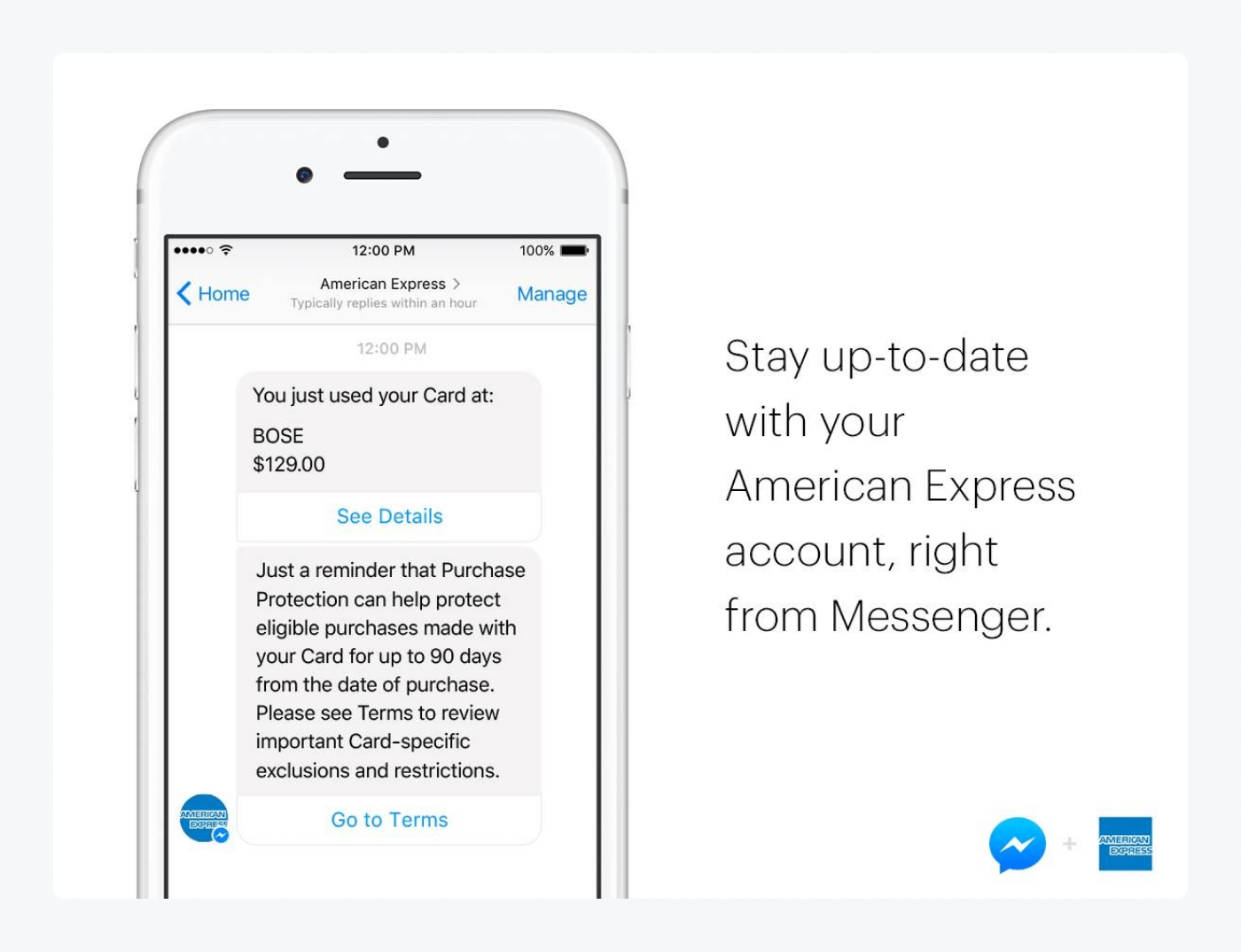 5. Continuously monitor and improve
Deploying a chatbot is not a one-time task. It requires continuous monitoring and improvement. So, ensure that you analyze user feedback and track metrics to quickly identify areas for improvement. This will help you regularly update your chatbot's responses and functionalities to meet evolving customer expectations.
6. Don't spam people
If you want shoppers to communicate with you, don't be pushy and don't spam them with messages. A simple "Hello, how can I help you?" is enough to engage with visitors. If they want to chat with you, they will. If they don't, then it's best to just leave them be until they're ready for a conversation.
So, in short, implementing a successful Facebook chatbot software requires a comprehensive strategy that aligns with your business goals and meets the needs of your target audience. By defining clear objectives, personalizing experiences, leveraging AI and NLP, and continuously monitoring and improving, you can ensure a successful chatbot implementation that drives customer satisfaction and business growth.
Now—
Which platforms are best for building your Facebook Messenger AI chatbot?
Best Facebook chatbots
There are many options out there that you can add to your Messenger platform including free chatbots, bots for lead generations, sales chatbots, and intelligent bots. But going through them all would be tiresome and time-consuming. So, we picked the three best Facebook Messenger bots you should look at when choosing your provider.
Here's a table for a quick comparison of the platforms offering the best chatbot for Facebook:
| Platform | Rating | Free plan/trial | Best for |
| --- | --- | --- | --- |
| Tidio | 4.7/5 ⭐️ | ✅ | Automations |
| Chatfuel | 4.5/5⭐️ | 7-day trial | Easy onboarding |
| Customers.ai | 4.8/5 ⭐️ | ✅ | Omnichannel service |
Now—
Let's get some more details.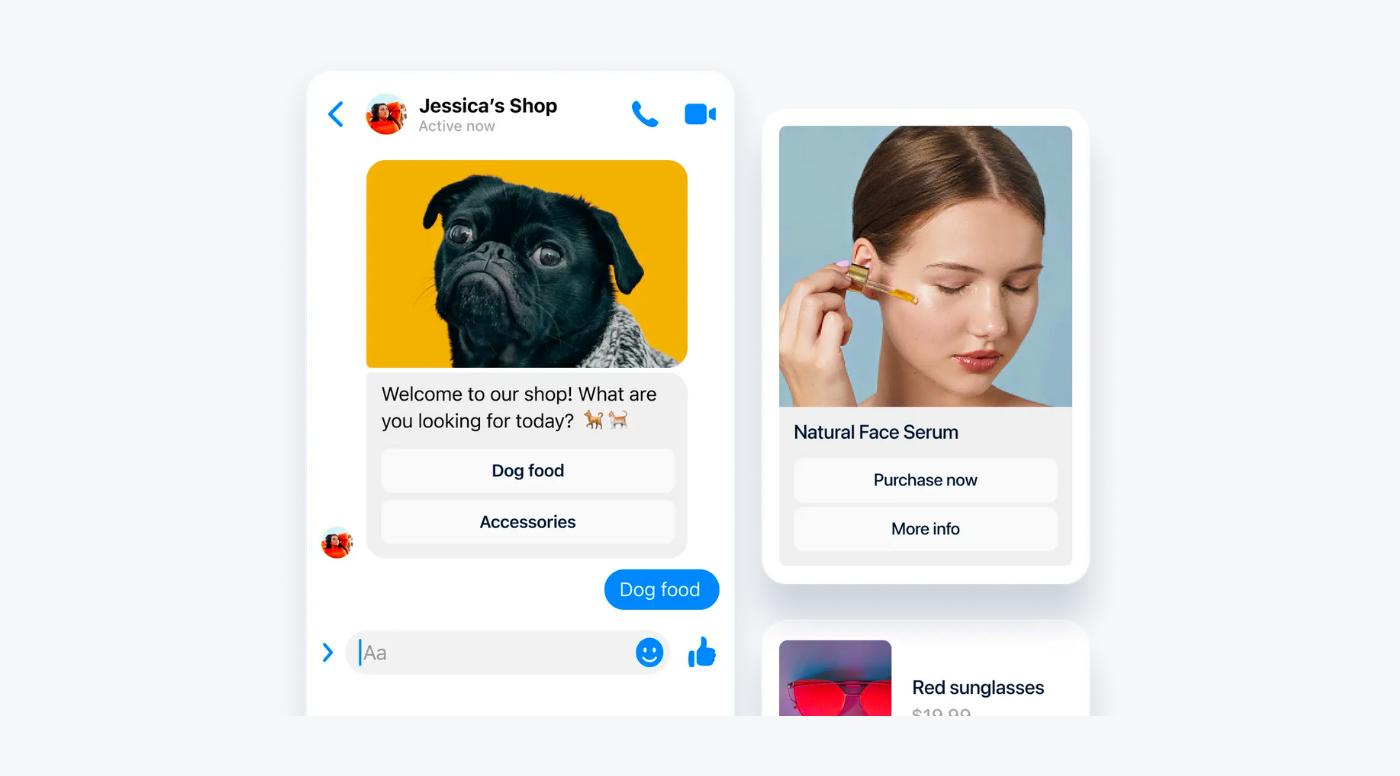 Ratings: 4.7/5⭐️ (1,410+ reviews)
Tidio offers an all-in-one customer experience platform that includes AI chatbots, Facebook bots, and a live chat feature. It provides a visual bot builder with a drag-and-drop interface for easy use as well as chatbot templates to make creating conversational AI even quicker. This chatbot for Facebook Messenger is a perfect solution if you're looking to automate your support, answer FAQs on autopilot, use conversational marketing on your social media, and more.
But we won't be bragging about how great we are. You can check our reviews to see what users say about us and try our software for free. Then, you'll be able to judge if we deserve this spot on the list.
Main features:
Over 16 different chat triggers for the bots
Easy integration with Facebook and Instagram
Robust tools for analytics and reporting dashboards
Ticketing system with marketing automation tools
Machine learning and NLP technology
Free plan available
Starter ($29/mo)
Communicator ($25/mo/seat)
Chatbots ($29/mo)
Tidio+ (Starting from $394/mo)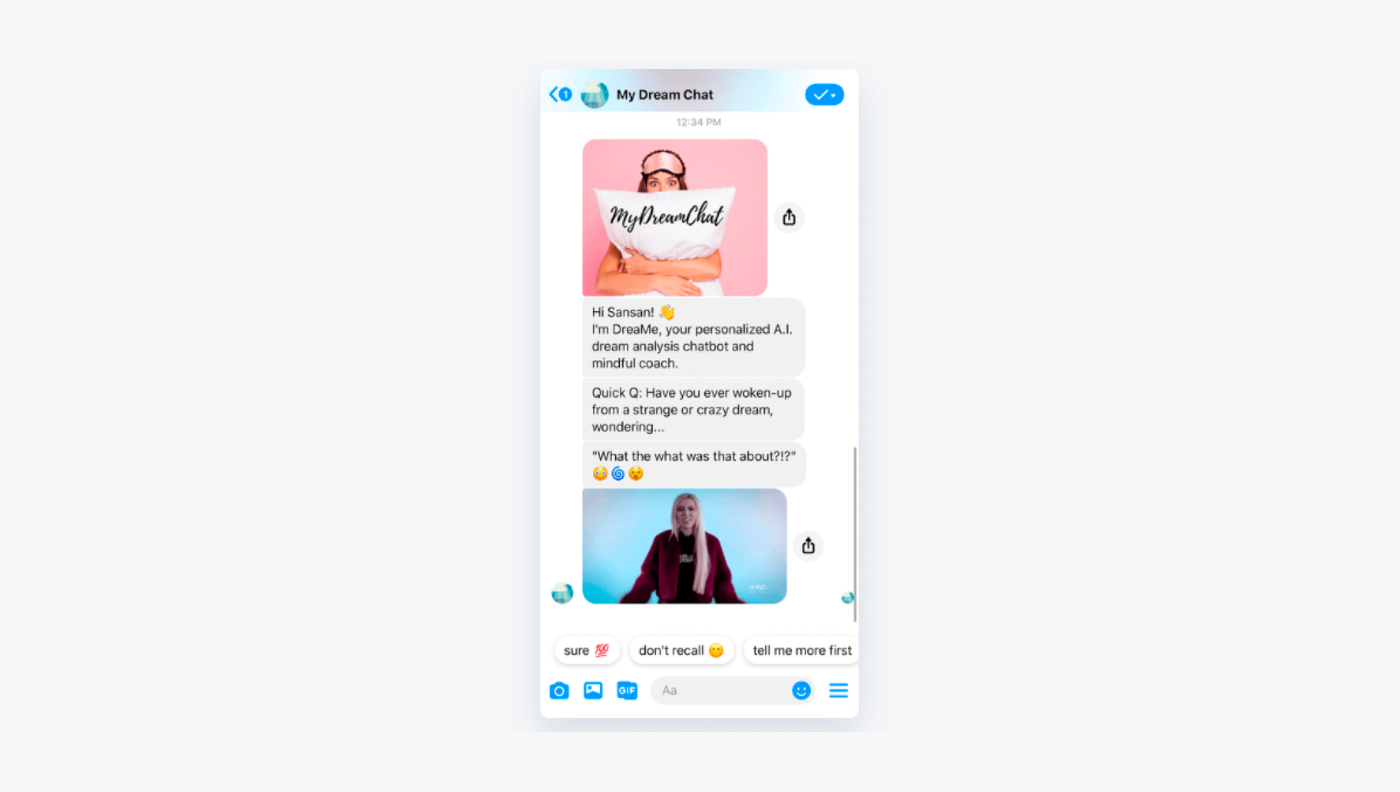 Ratings: 4.5/5⭐️ (40+ reviews)
This chatbot for Messenger and Instagram is easy to use with extensive documentation, tutorials, and step-by-step guides on building your bots. It offers a simple interface with content blocks for a fast and easy setup. Chatfuel also provides good analytics reports, so you can track your chatbots' performance and measure results.
Main features:
Easy onboarding process
Templates for a variety of industries
Highly customizable
Automated notifications
Up-selling and cross-selling
Free 7-day trial available
Entrepreneur (from $14.99/mo)
Startup (from $24.99/mo)
Small Business (from $59.99/mo)
Growing Business (from $119.99/mo)
Enterprise → contact sales team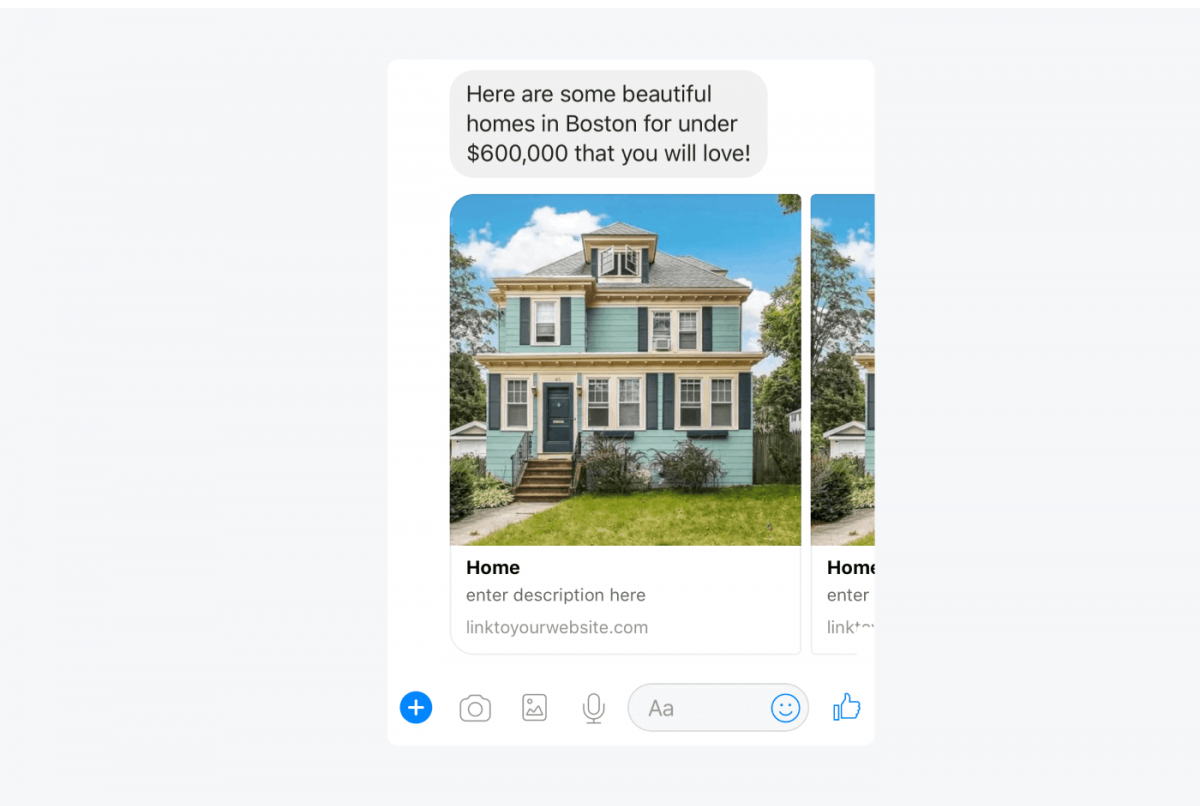 Rating: 4.8/5⭐️ (300+ reviews)
Customers.ai (formerly known as MobileMonkey) provides omnichannel software that lets you integrate Facebook, Instagram, webchats, and SMS messaging. This way, you can control all of your customer communication from a single platform. It also offers easy export of your existing contacts as well as tools for conducting drip campaigns and scheduling follow-up messages.
Main features:
Easy-to-use panel
Custom chatbot scripts
Mass text messaging
Keyword recognition
Visual chatbot builder
Free plan available
Starter ($199/mo)
Pro (Starts at $499/mo)
Enterprise → contact sales team
Facebook chatbot: summary
Chatbots are extremely popular and there are many third-party providers that allow you to set up all sorts of Messenger, WhatsApp, and Instagram automations.
A Facebook chatbot is a computer program that automates your customer experience through social media channels. The main features you should look for include AI technology, integrations, and no-code builder. And the top benefits include quicker customer service, scalable support, and increased sales.
Three of the best Facebook chatbots are Tidio, Chatfuel, and Customers.ai.
And you can try FB bots for free. Are you ready?