The best way to avoid negative reviews of your business on Facebook?
Answer your customers' queries at the speed of light 24/7.
Impossible?
You clearly haven't heard about a Facebook chatbot and what it can do for you.
Not anymore.
In this article, we'll show you:
What is a Facebook Chatbot?
A Facebook chatbot is an app that simulates a conversation with a human by interpreting the user's questions and giving instant answers in Messenger. The conversation with Facebook bots is quick, which makes them perfect for customer service.
Often, Facebook chatbots are called "Facebook Messenger bots," and there's a good reason for this.
What is Facebook Messenger Bot?
A Facebook Messenger bot is a chatbot that works "inside" the Messenger app. It "talks" to people through the Messenger window.
Facebook Messenger chatbots allow businesses to automate common customer service requests and spread awareness of their services.
This is how it looks:
Simple Facebook Chatbot—Example
We used Tidio to make this Messenger chatbot.
It's a customer service bot for getting order status, shipping, and sorting out account issues.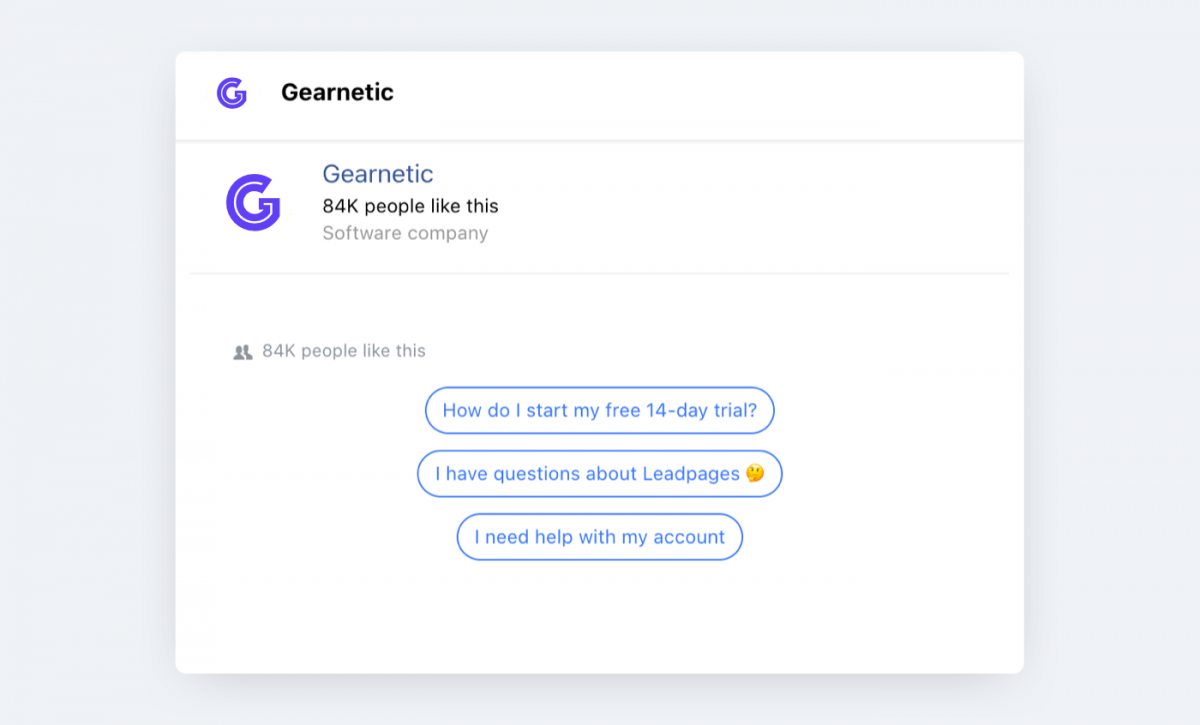 If you're wondering how many businesses use Facebook chatbots like this one…
As of 2018, there were over 300,000 Facebook Messenger bots. These bots exchange billions of messages every day. The number of active Facebook chatbots is growing, as more and more businesses see how useful they are.
Why Use Facebook Messenger Bots?
Facebook Messenger bots can answer customer questions, generate leads, and share blog content. All this with minimum or no effort on your part. Let's discuss these real quick.
Facebook Chatbots Improve Customer Service
Around 37 percent of customers message brands on social media to get support, says Sprout Social.
But there's a problem with social media customer service—brands aren't always there to respond. So, potential customers leave without getting answers…
But—
This problem vanishes thanks to FB Messenger bots such as this FAQ bot from Kindred Bravely. It has answers related to product sizes, shipping, and returns.
Facebook Bot—Customer Service Example
(Note the explanation: without the Messenger chatbot, the brand would be replying only after a few hours. The bot cuts down the waiting time to seconds!)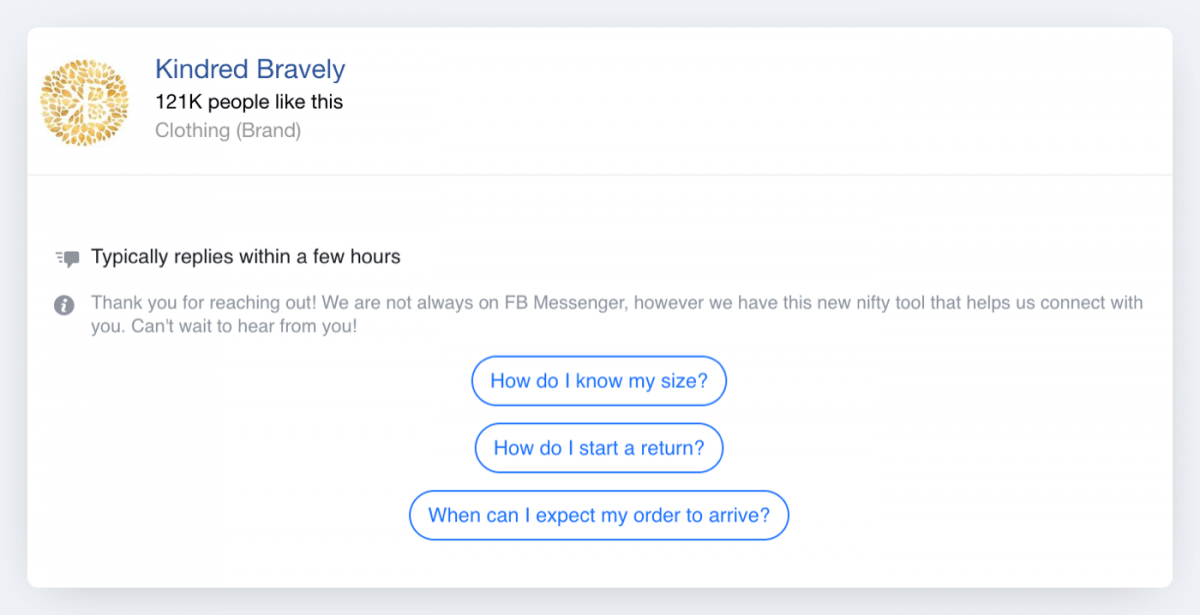 If your customers are impatient, too, they will love your brand for having a Facebook bot. That's how Facebook can become a source of positive reviews for you.
Ultimately, a FB Messenger bot can take a big chunk of support requests off the shoulders of your support team.
Messenger Chatbots Help with Sales
About 57 percent of customers follow brands on social media to "learn about new products and services," says Sprout Social. This means they ask questions because they're considering buying.
With Facebook Messenger bots for business, you can also turn those conversations into sales. How?
You're in charge of creating conversations for your Facebook Messenger chatbot. Here's what we mean.
Facebook Chatbot for Sales—Example
This chatbot from a travel company shows the latest offers, discounts, and even redirects to the trip search tool.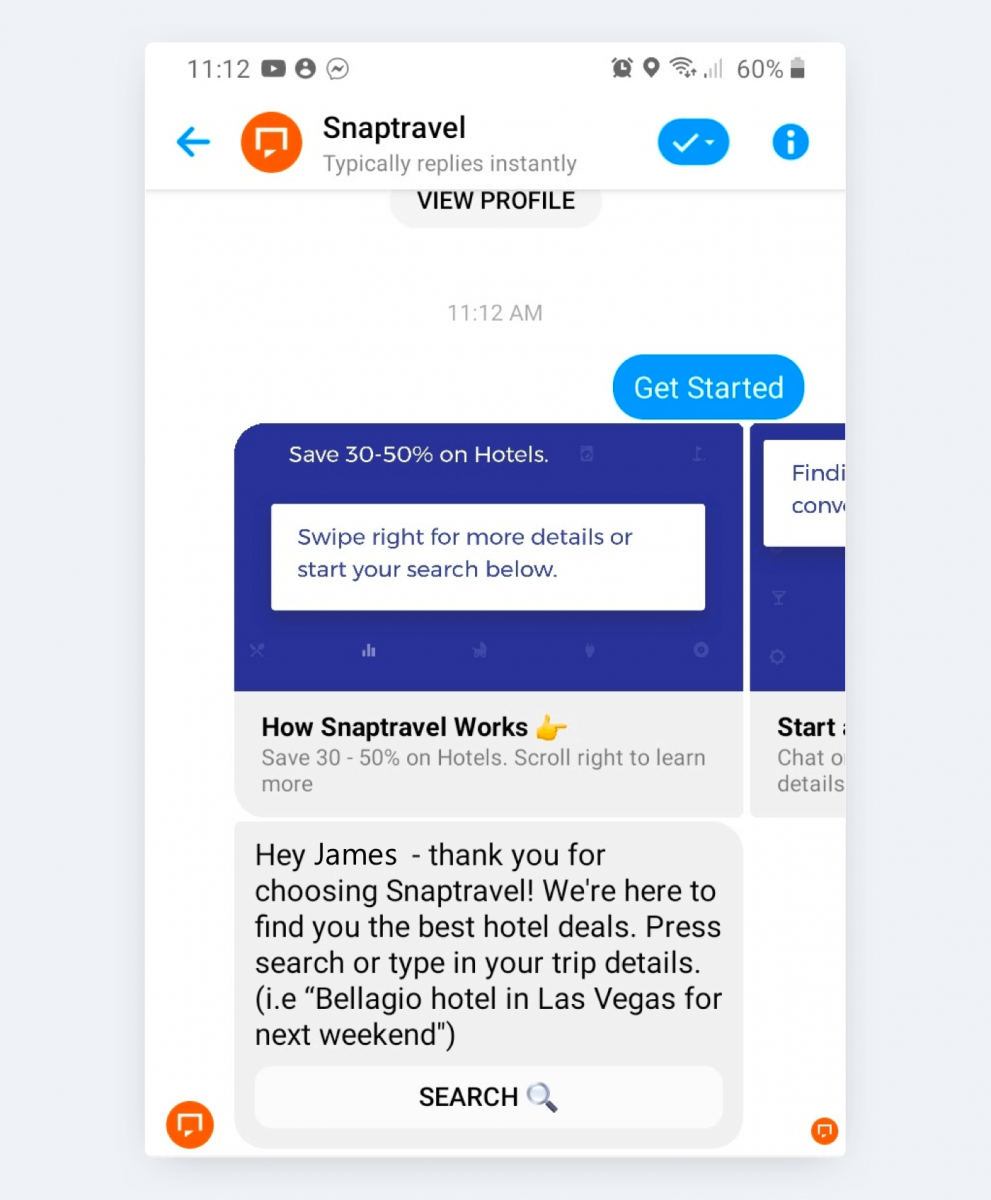 If you were a customer looking for a good-priced trip, this would be an amazing find. So, the chatbot is a win-win for customer experience!
A chatbot can get 10,000 customer interactions and 125+ high-quality leads monthly. That's the case of Kelly, an online business owner, who chose a chatbot for customer service. Read Kelly's case study.
Facebook Chatbots Share Content
If you share blog articles, announcements, or other content, a Facebook chatbot is the easiest option for distribution.
Facebook Messenger Chat Bot—Example of Content Sharing
This Messenger bot from Wine Folly, for example, sends this newsletter subscription request. It's a great, non-pushy way to grow an email list.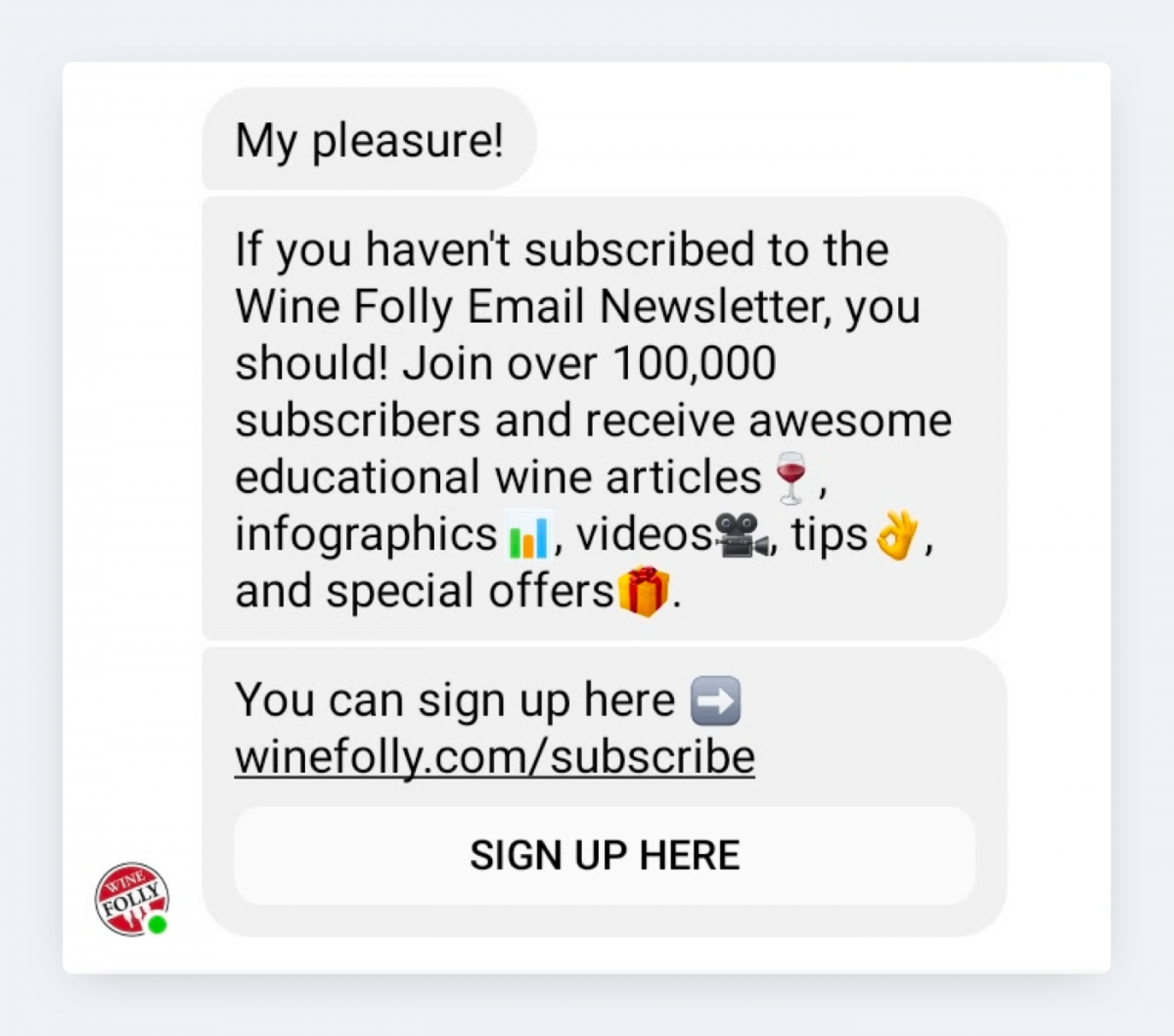 You don't have to invest a lot of your time in building an email list. Add this message once, and let your Facebook chatbot do the job.
But there's more—A Facebook bot can also send direct links to blog articles. The goal is to drive more traffic to your website.
Big online business names like Jeff Bullas do this.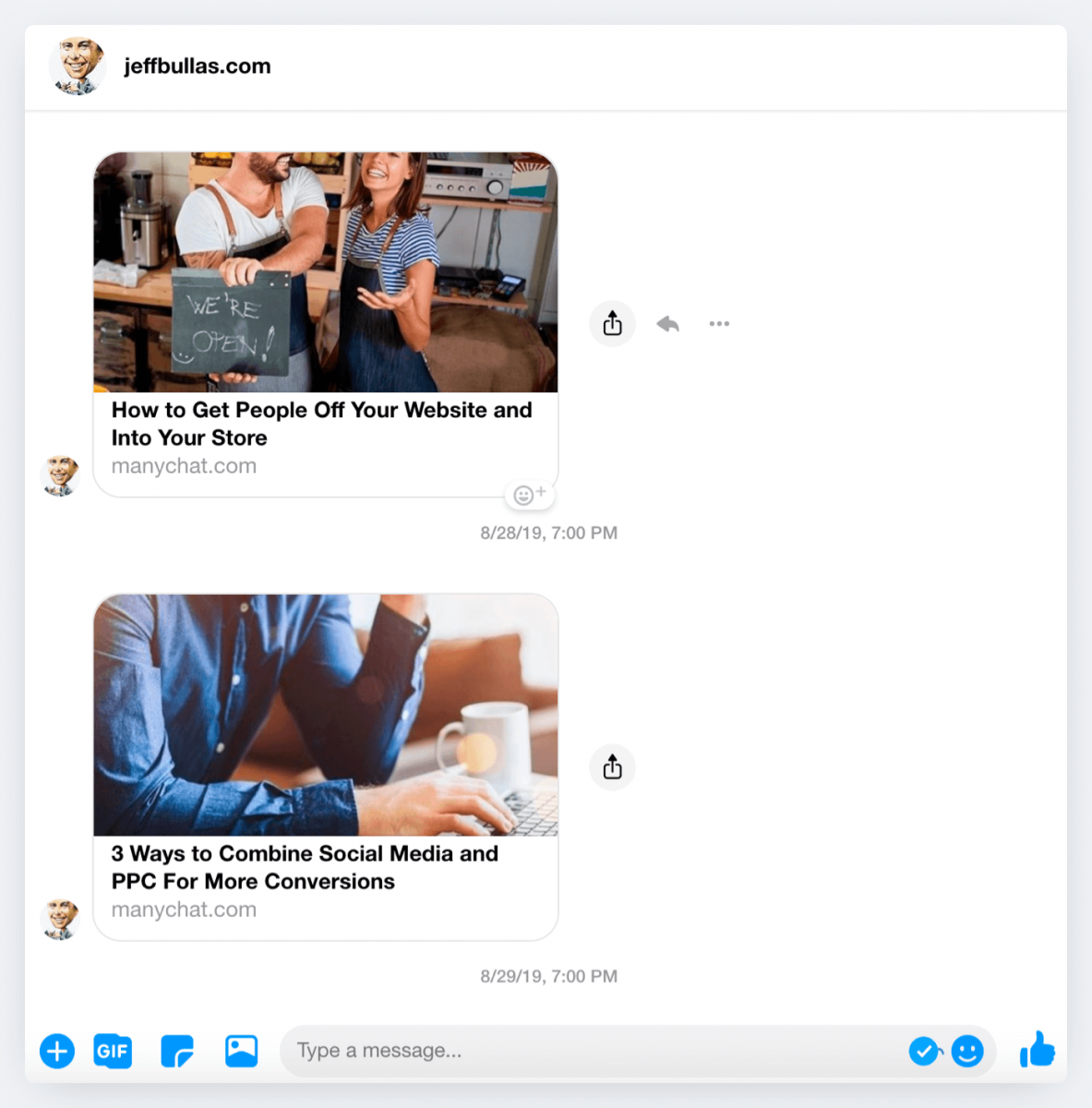 One click on the message and you can access the content. If you want quality blog traffic from Facebook, it doesn't get better than that.
Related: How to Build an Email List From Scratch
Best Facebook Chatbot Examples
Let's get you inspired by the best Facebook chatbot examples.
MailChimp—Email Marketing Company
MailChimp's Facebook chatbot goal is to answer specific support questions.
One question is useful for potential customers (the second question in the screenshot). The rest deal with common issues that MailChimp users might have.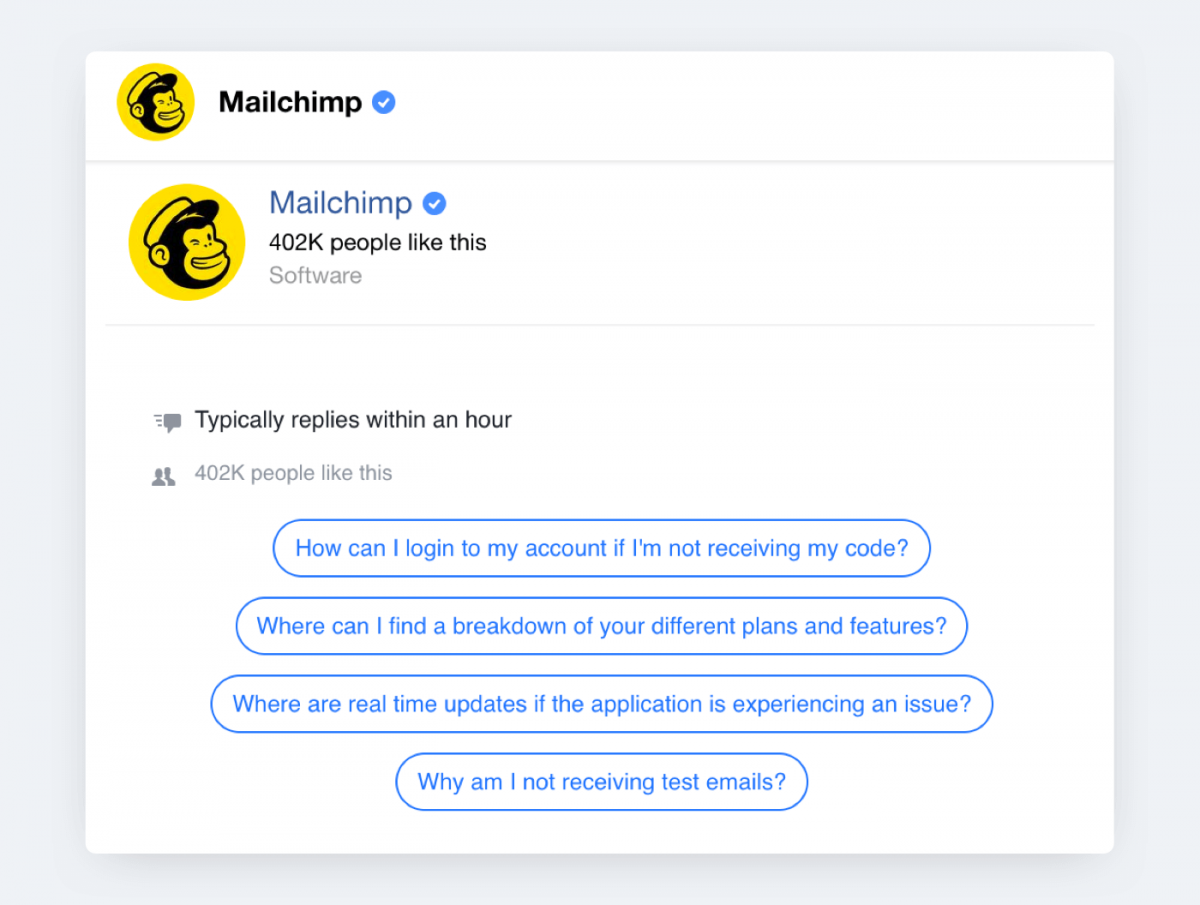 This is an excellent example of a product-focused Facebook bot.
With this Facebook auto reply bot, the company takes some requests off the shoulders of their busy customer service team.
Bestia—Restaurant
How do you decide if a restaurant is worth a visit? Chances are, you'd need to see the menu, prices, and location.
That's exactly what this Facebook chatbot helps with. It comes from Bestia, a popular restaurant, and it's a 24/7 information source for diners.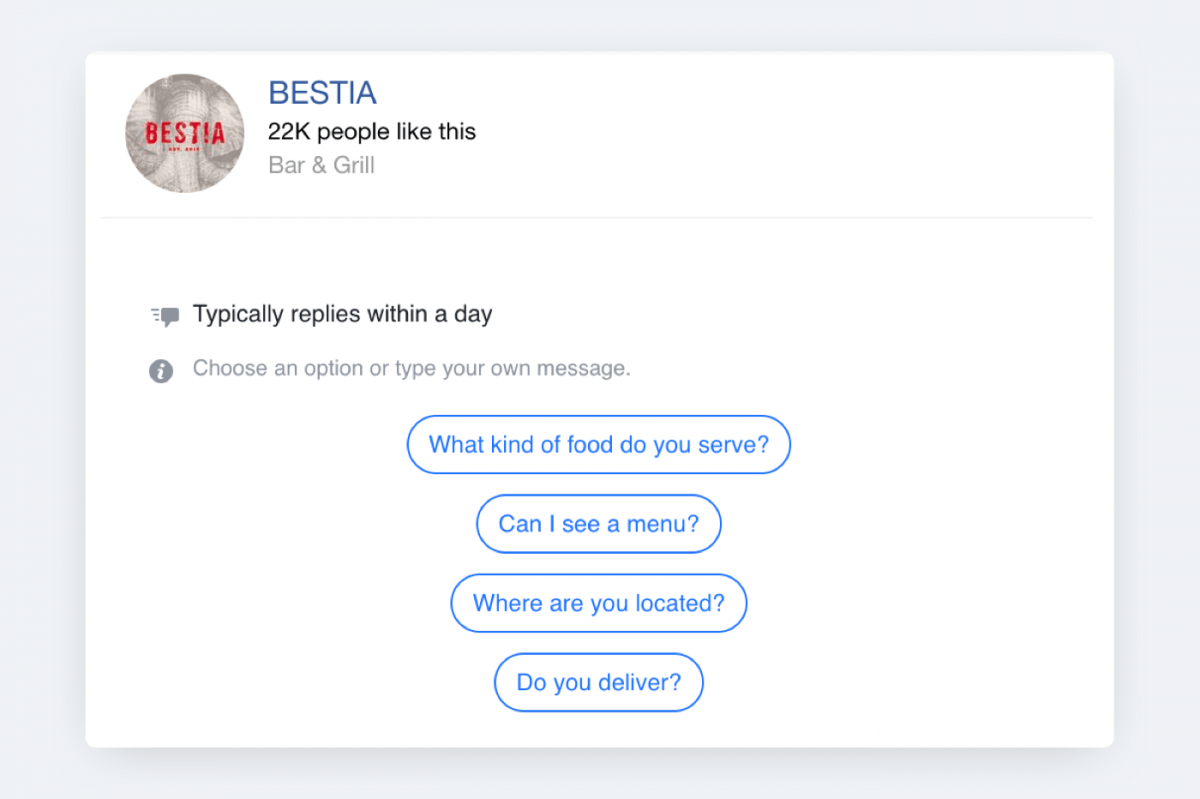 What makes this Facebook Messenger bot great is value for customers.
Just think about it: the questions are some of the most common that people have about restaurants. The chatbot will not get frustrated if the same question is asked for an umpteenth time, and you can attract more diners.
But there's more! With Messenger bots for restaurants, customers can make reservations and orders. It's like having a 24/7 support agent/promoter.
Pro tip: Want to have a restaurant chatbot up and running in minutes? Try a free restaurant chatbot template with business hours, menu, reservations, specials, and other useful information for customers.
Chuck Nice—a Public Figure
Are you a solopreneur or a public figure?
Facebook Messenger bots can help you to get clients, too. You can have an FAQ bot to answer questions about your availability, services, and prices.
See this Messenger bot from Chuck Nice, an American comedian. Everything clients might want to know about him—background, experience, prices, and availability—is readily available.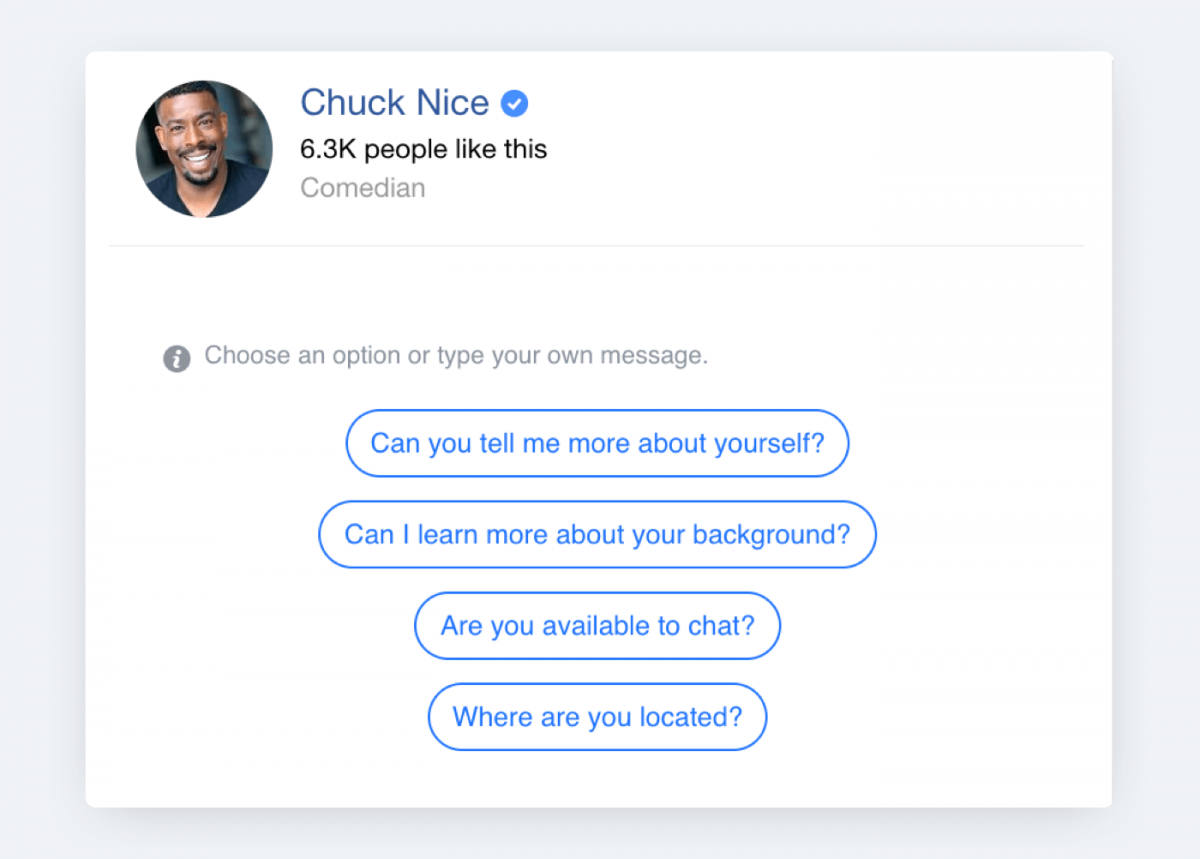 This Facebook chatbot is like a personal assistant that helps with PR, generating leads, and getting more info for customers.
For solopreneurs and public figures, Facebook can share content with potential customers. This way, you keep them updated on events you organize/attend, news, and services.
Facebook isn't the only place with chatbots. Check out 15 best chatbot examples from around the web.
How to Make a Facebook Bot
To create a Facebook chatbot in Tidio, let's get a free account. After you log in, start making custom chatbots or use a ready-made template.
Facebook Chatbot Tutorial
We are going to build a chatbot that can be integrated with Facebook Messenger. However, you can also make a chatbot and add it to any website.
Try Chatbots For Free
Step 1: Get a free Tidio account
The fastest way is the Facebook sign up. But you're free to choose the option you prefer, and you'll be prompted to connect your account later on.
Next, you'll go to the Tidio dashboard. Once there, click the Chatbots tab in the main menu—a dark stripe stretching all the way from the top left corner to the bottom.
Once in the Chatbots tab, scroll down to the section called Bots Launcher.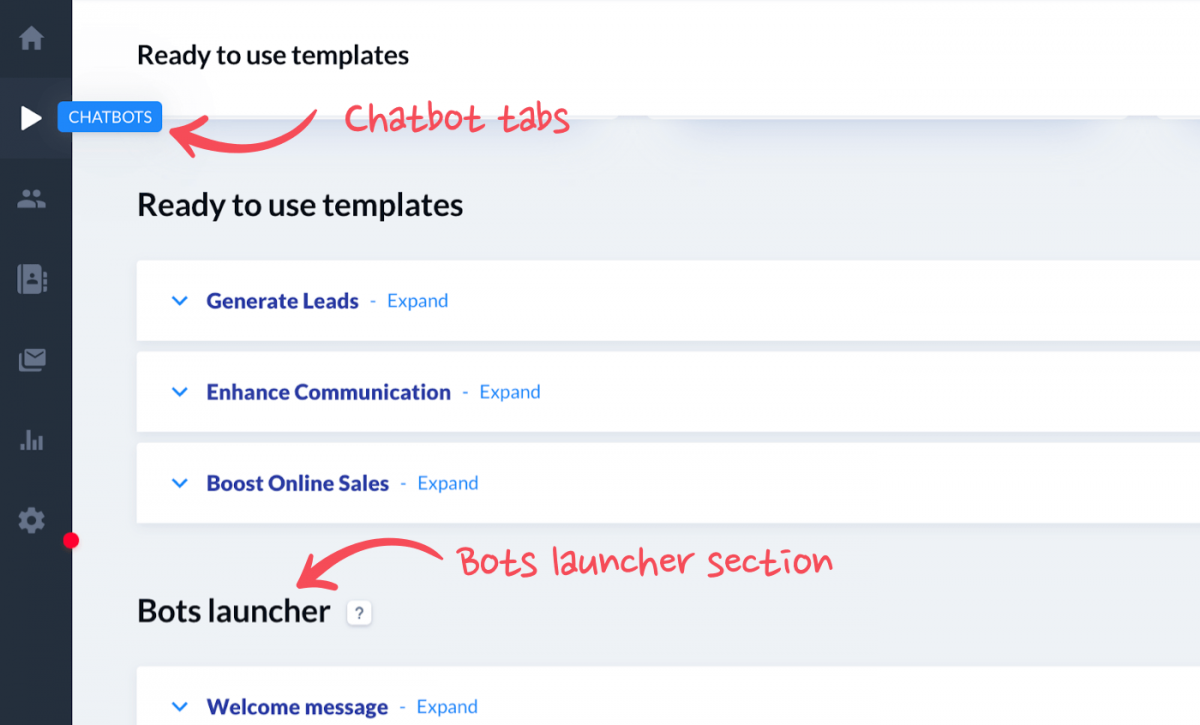 Step 2: Connect Your Account with Facebook
In Bots Launcher, find the Facebook Messenger toggle button.
Click it to complete connecting your new Tidio account with Facebook. The app may prompt you to provide some Facebook registration data.
Step 3. Write a Chatbot Welcome Message
Now, let's write the first bot message! It'll be the welcome message—the first one shown by the chatbot to your potential customers.
Let's go with a simple greeting like this (you can change it anytime).
When you activate this Facebook chatbot, you can see this welcome message inside Messenger.
It'll look like this for your customers.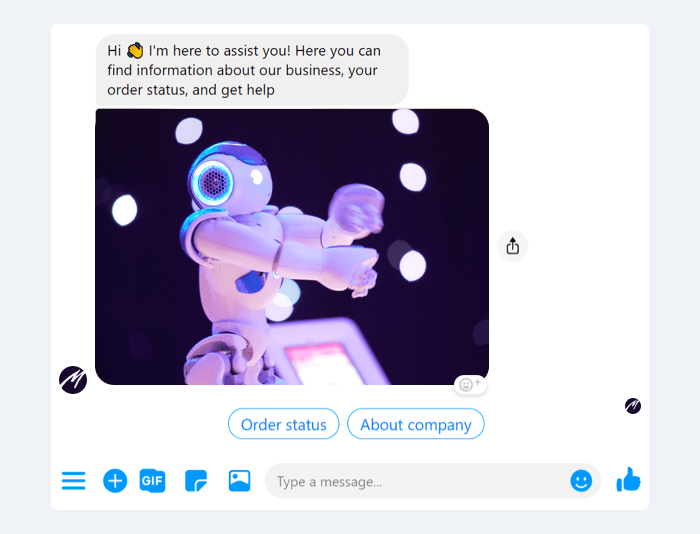 At this point, you can add more messages or decision buttons to make a conversation. This is super easy to do with a drag-and-drop chatbot editor.
How to Remove Facebook Bots
To remove a Messenger chatbot from your page, go to Facebook settings. There, in the "Advanced Messaging" tab, you'll see a list of apps connected to your account.
Also, remember that you can remove and change individual Facebook Messenger bots from the Tidio dashboard.
Best Facebook Chatbot Platforms
Here are our picks for the best Messenger bot platforms to try.
1. Tidio

Tidio is a chatbot platform created for small or medium-sized business owners.
You can sell, provide customer support, and generate leads with Tidio Facebook chatbots for… free. Get a forever-free account—it comes with all goodies you need for customer support and sales.
Creating Facebook bots is easy for non-technical folks thanks to the visual drag-and-drop editor. Plus, you can have as many Messenger bots as you want and get business-specific templates (restaurant, etc.).
Together, Tidio offers great flexibility to create Facebook chatbots for any business and industry.
Price: Free, Premium features for $18.
2. Chatfuel

One of the largest players in the Facebook chatbot building business, Chatfuel is used by many big companies like Netflix and TechCrunch.
Building bots inside the Chatfuel editor is fairly easy, even without coding skills. You can build a Messenger bot for free with a trial account and use the essential features. But more interesting ones—such as audience insights—require an upgrade to the Pro account.
Who is Chatfuel right for? Judging from the user base, this Facebook chatbot tool is mostly used by large and medium-sized companies.
Price: Pro account pricing starts at $15; Free trial account available.
3. ManyChat

ManyChat offers two plans: for beginners and growth hackers.
The first plan is free and has all the features to start promoting a business and providing customer support. The second—the "pro" account—has more options for selling, and removes all limits of the free one.
One of the most useful features for beginners is Facebook chatbot templates. ManyChat has templates created for specific kinds of businesses. This helps to get started quicker and generate leads right away.
A major shortcoming is that the free version promotes ManyChat to subscribers. This might add some unnecessary third-party marketing to your communication with customers.
Price: Free account, Pro features start at $10.
Facebook Chatbots: Summary
Facebook chatbot "works" inside the Messenger app. Already, hundreds of thousands active bots are out there, working for businesses of all sizes.
Facebook bots can help businesses by:
Giving customers info on the opening times, services available, etc.
Providing customers with quick 24/7 support via FAQs
Sharing marketing content to nurture leads.
The best news is that you can build a Facebook Messenger bot for free with no coding skills. Give it a try!
Try Chatbots For Free