Here's a quick reality check—
Can you answer a potential customer's question in under two seconds?
2… 1… 0…
No?
Too bad.
They've taken their business somewhere else.
It's brutal, I know. But the solution is simple.
Consider adding web chat services to your store to support and interact with customers in real-time.
In this article:
Top 10 best web chats on the market with pros and cons
An insider look into the web chats' back-end and functionalities
List of web chat's must-have features to drive your business' growth
Here's a list of the best web chat software we reviewed:
What is web chat?
Web chat is a tool that allows you to chat with your website visitors, generate sales leads, and customers in real-time—that's why it's also referred to as live chat or live support.
Customers can use web chat to ask questions about products and services, resolve a technical issue, or make a complaint. It only takes adding the snippet of code to your website to get started.
The messages sent via web chat software are usually short, which helps customer service reps understand what the issue is about and respond instantly. The speed at which issues are tackled improves customer experience.
What's in it for companies?
In the backend, the operators can use advanced dashboards with information about their visitors, previous interaction history, and other tools that ultimately help to build strong customer relationships.
Convenience, speed, and simplicity make website chat apps one of the most popular types of customer service, with an 85% customer satisfaction rate.

And a high satisfaction rate like this translates into increased customer lifetime value and growing your business.
What's not a web chat?
When the volume of queries increases or they become repetitive, companies can incorporate web chatbot applications into their their live web chat software to automate some tasks.
Chatbot software programs (bots, for short or virtual agents) can imitate human customer service agents to interact with consumers 24/7. They rely on pre-set automatic responses to common inquiries asked by your visitors.
I think we've covered the basics now.
So let's cut to the chase and see what the best web chat solutions are.
And if by best you mean free web chat apps—we've included them, too.
Tidio
Tidio's our product. We included it in the list with our competitors to encourage you to try it for free. You can then leave us a review to let us know if it deserves to be here!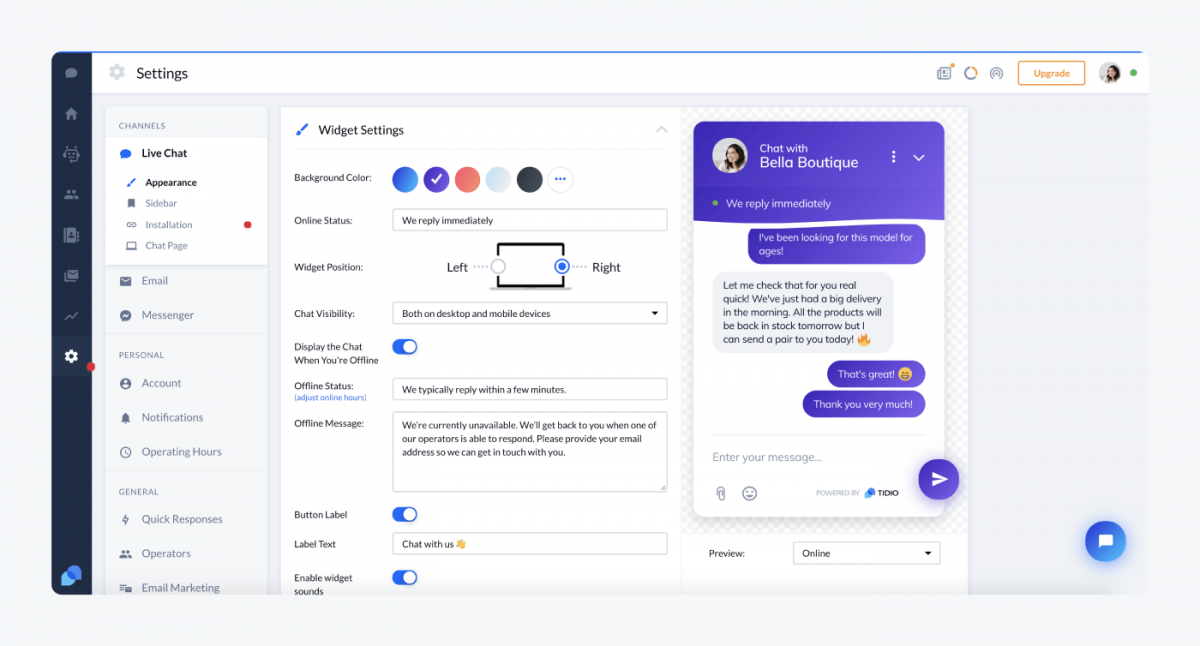 Tidio is an excellent choice for small and medium businesses which need a powerhouse to support all types of customers and gather insights about consumer behavior—all at competitive prices. You'll definitely appreciate workflow-based automation and a free web chat plan.
Capterra Score: 4.8/5 based on 196 reviews
Pros
You can customize Tidio's lightweight web chat widget so it seamlessly blends into your web pages and branding
You can set up incoming visitor notifications and track their visits with viewed pages, so you can proactively communicate exactly when and where they need it
You can see what your visitors are typing in real-time before they send the message, thanks to a live typing feature
You can integrate Tidio web chat with major eCommerce platforms, CRMs, email marketing software and switch between conversations on different platforms with ease
You can add chatbots into the conversation to reduce the customer wait time. You can use chatbot templates or build your own customized one
You can leave offline and welcome messages for your customers, use canned responses and conduct pre-chat surveys to generate leads.
Plans & Pricing
Tidio's pricing is a little different from other plans. You get unlimited web chats with two operators for free and add flexible paid plans on top of that.
Forever free web chat application with unlimited chats and two operators
Communicator plan for $19/mo
Chatbots plan for $49/mo
In the process of writing this article, I sometimes had to resort to web chats' customer support for help.
Here's my firsthand experience with the reps:
Userlike—patiently explained chat's features and pricing and helped with setting up the account
Drift—was honest about Drift's unsuitability for my needs (small business) and despite that maintained a friendly chat
Intercom—I'm still waiting for a reply to my question about higher plans
LiveChat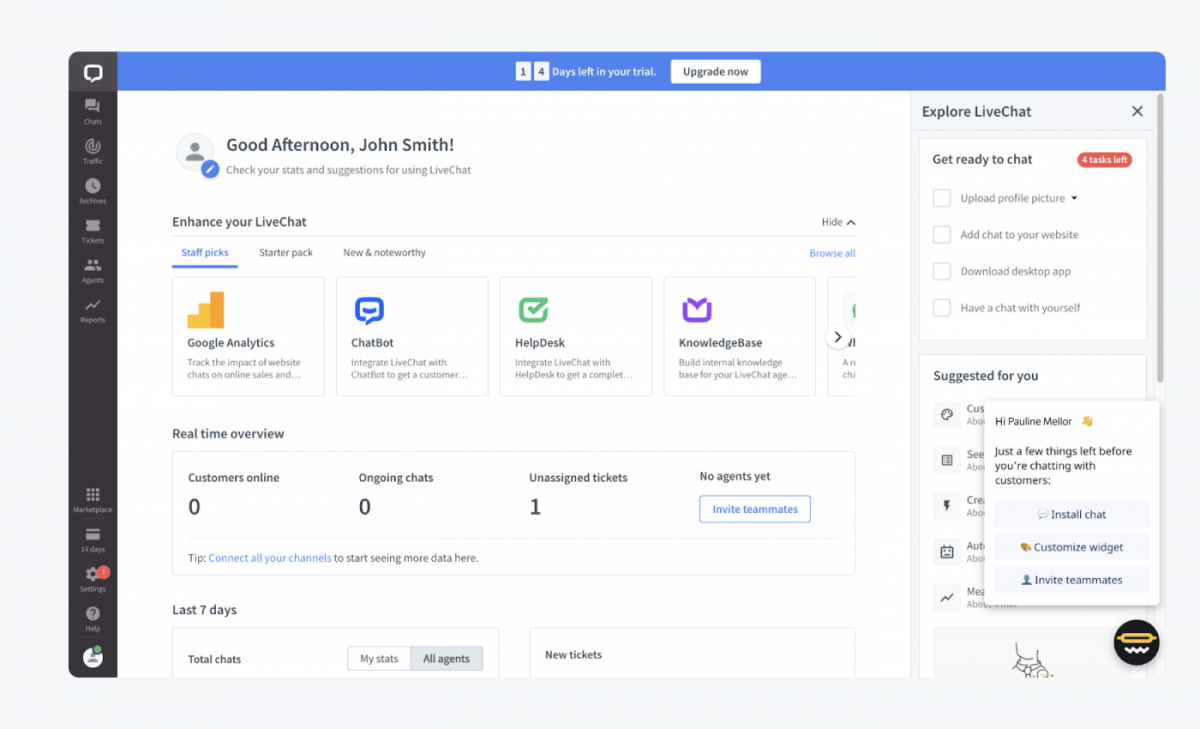 Live chat app is aimed at mid-sized and large companies with the budget necessary to pay for a feature-rich web chatting software. Smaller businesses may not benefit from all the team-oriented features.
Capterra Score: 4.6/5 (based on 1,117 reviews)
Pros
Sleek, customizable, and functional web chat solution
Displays web chat metrics e.g., unassigned tickets, queued visitors, or the number of logged-in agents
You can divide agents into groups (e.g., sales and support) and subgroups in higher plants to reflect each organization's hierarchy
Cons
No support for multilingual chatting
Very limited features in the Starter plan
Users mention long wait times to fix bugs and technical issues
Plans & Pricing
No free web chat software
14-day free trial of a Team plan available
Enterprise plan with pricing available upon request includes a dedicated account manager
Starter plan at $19/mo per agent includes basic widget customization, default ticketing, and 60-day chat history
Team plan at $39/mo per agent has a ticketing system, branding, agent groups, and reporting
Business plan at $59/mo per agent has staffing prediction and work scheduler
LiveAgent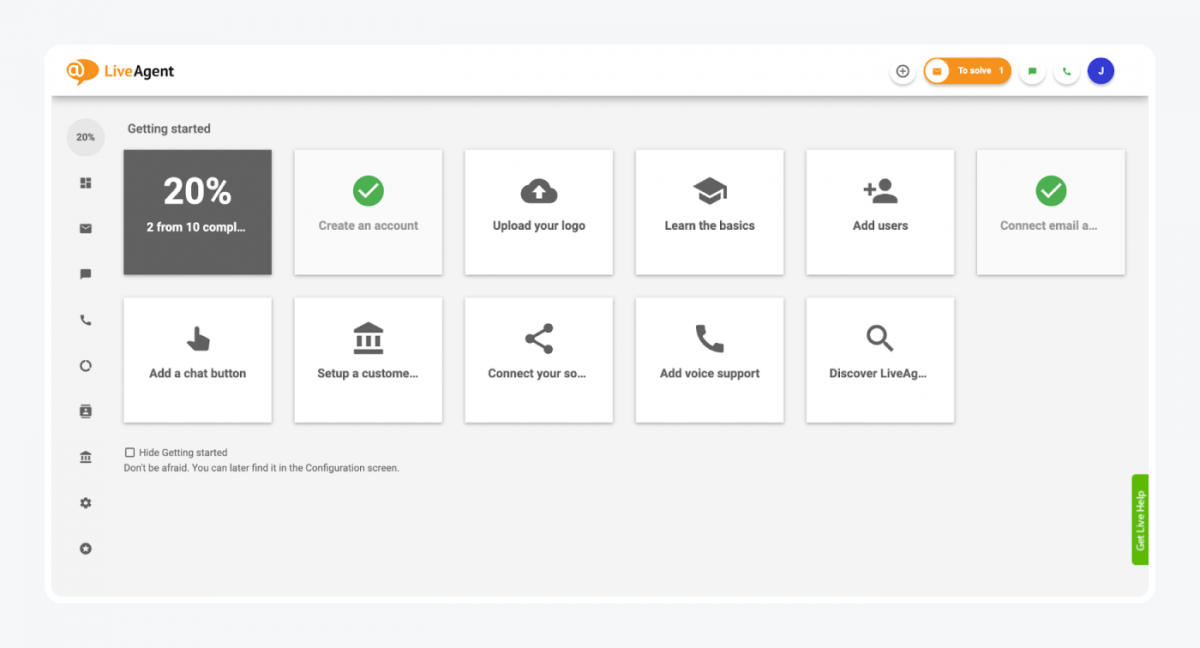 LiveAgent's web chat is a good choice for businesses that operate on different channels and want to keep records of their chats with customers in one place.
Capterra Score: 4.7/5 based on 1007 reviews
Pros
You can transform every received message into a "ticket" that serves as a communication thread
You can gather messages from various channels: web chats, emails, phone calls, Facebook messages, and tweets in one place
You can add internal notes about customers.
Cons
Some users complain the Spam filter doesn't work really well
The overall look of this web-based chat application could benefit from a bit of updating
Minimal web chat features in the free version won't suit a team or a complex website
Plans & Pricing
A free web chat service with limitations, e.g., one-week ticket history, chat button limited to one URL
Ticket plan at $15/mo per agent has email ticketing, advanced reports, and API integrations
Ticket+Chat at $29/mo per agent has a real-time website visitor view, feedback management options, social media integration
All-inclusive at $39/mo per agent includes call routing and video calls and an option to design interactive voice responses
Tawk.to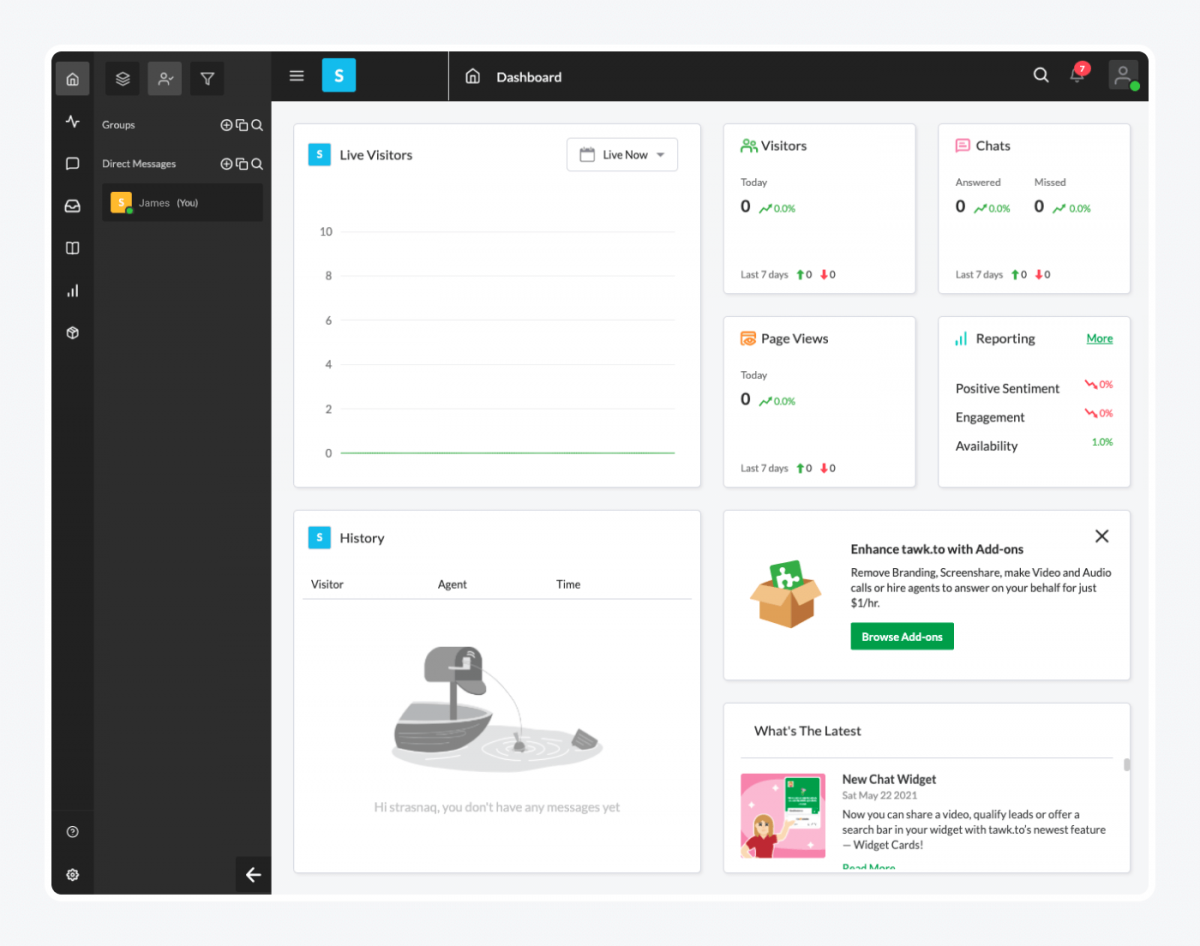 A good website chat app for small companies that want to test-drive this type of software. Not reliable if you wish to use a web chat to increase sales and efficient customer service.
Capterra Score: 4.6/5 based on 236 reviews
Pros
You can use all the essential web chat features, normally included in paid plans with other software providers, for free
There's no cap on how many customers you can chat with or the number of agents answering them
You can hire web chat agents to answer chats for you with prices starting at $1 an hour
Cons
Issues with incoming notifications that cause a delayed response
Missed chat opportunities because responding to visitors hours after they tried to message isn't possible at all
Simplistic and sometimes cumbersome dashboard
Plans & Pricing
This web chat costs nothing and its founder promises it won't change in the future
Removing Tawk.to branding is $19/mo
Hiring live agents is between $1 and $3 per hour, depending on how many hours you need them and when
Video + Voice + Screen sharing is $29/mo
Read more: Free Alternatives to Tawk.to Compared & Reviewed [2022]
Chatra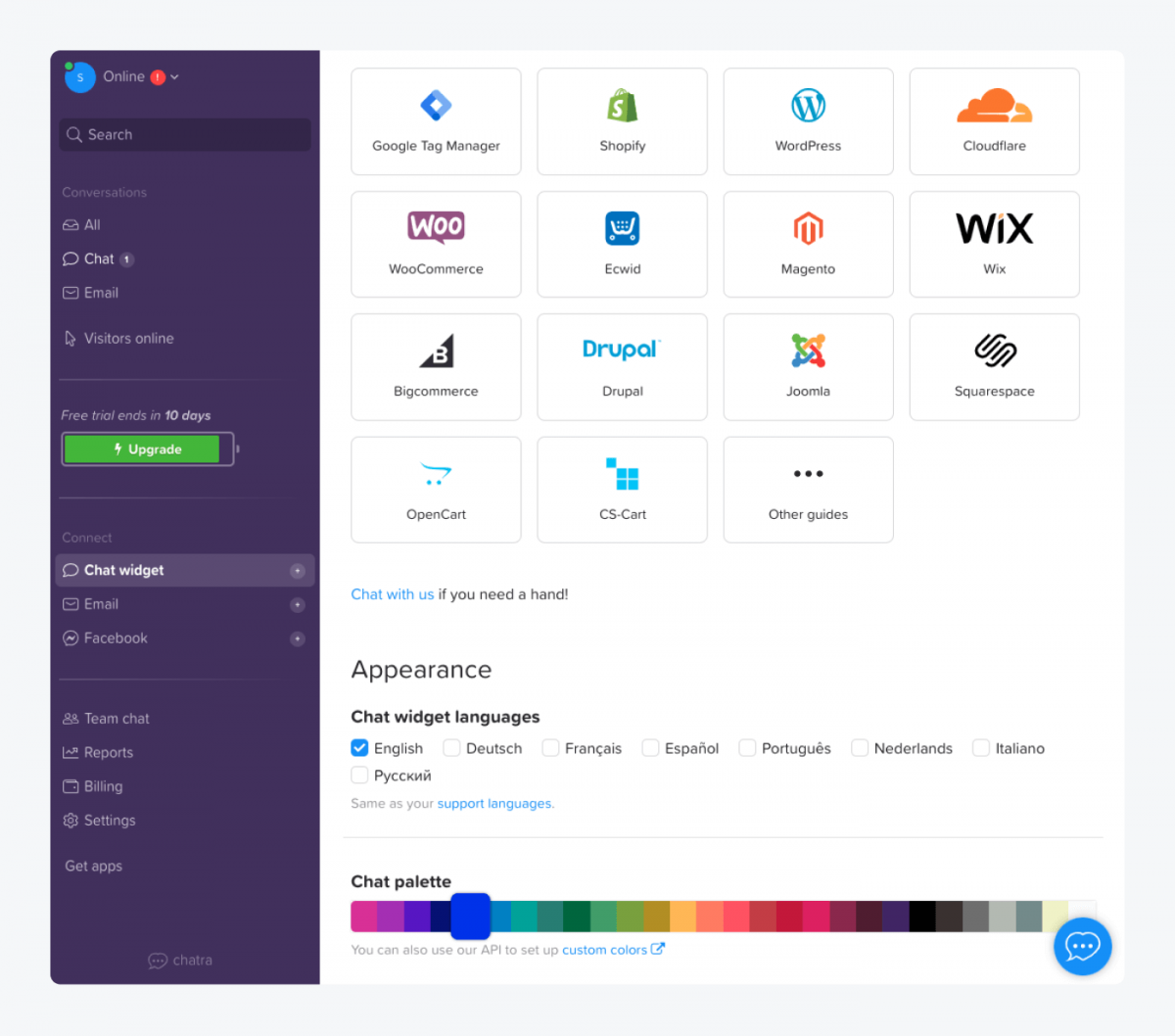 Chatra's web chat is a good option for eCommerce companies on the budget who are satisfied with basic web-based messaging options or want to integrate Facebook messenger.
Capterra Score: 4.8/5 based on 431 reviews
Pros
You can forward chat transcripts, offline and missed messages to your inbox and reply to your customers from there, even after they left your web pages
You can track if recipients opened your emails
You can see what visitors to your eCommerce website added to their cart
Cons
New chats can sometimes be lost in the queue if online agents don't pick them up fast enough, which lowers the efficiency
Integrates only with four major eCommerce platforms
Basic features, e.g., setting operating hours, are included only with the highest plan
Plans & Pricing
Chatra is free for one live web chat agent and basic visitor data. You also get mobile and desktop apps
10-day trial available
Two paid plans at €15/mo and €23/mo per agent unlock features like chatbots, canned replies, email helpdesk, Facebook chatbot, operating hours, and detailed visitors data
Crisp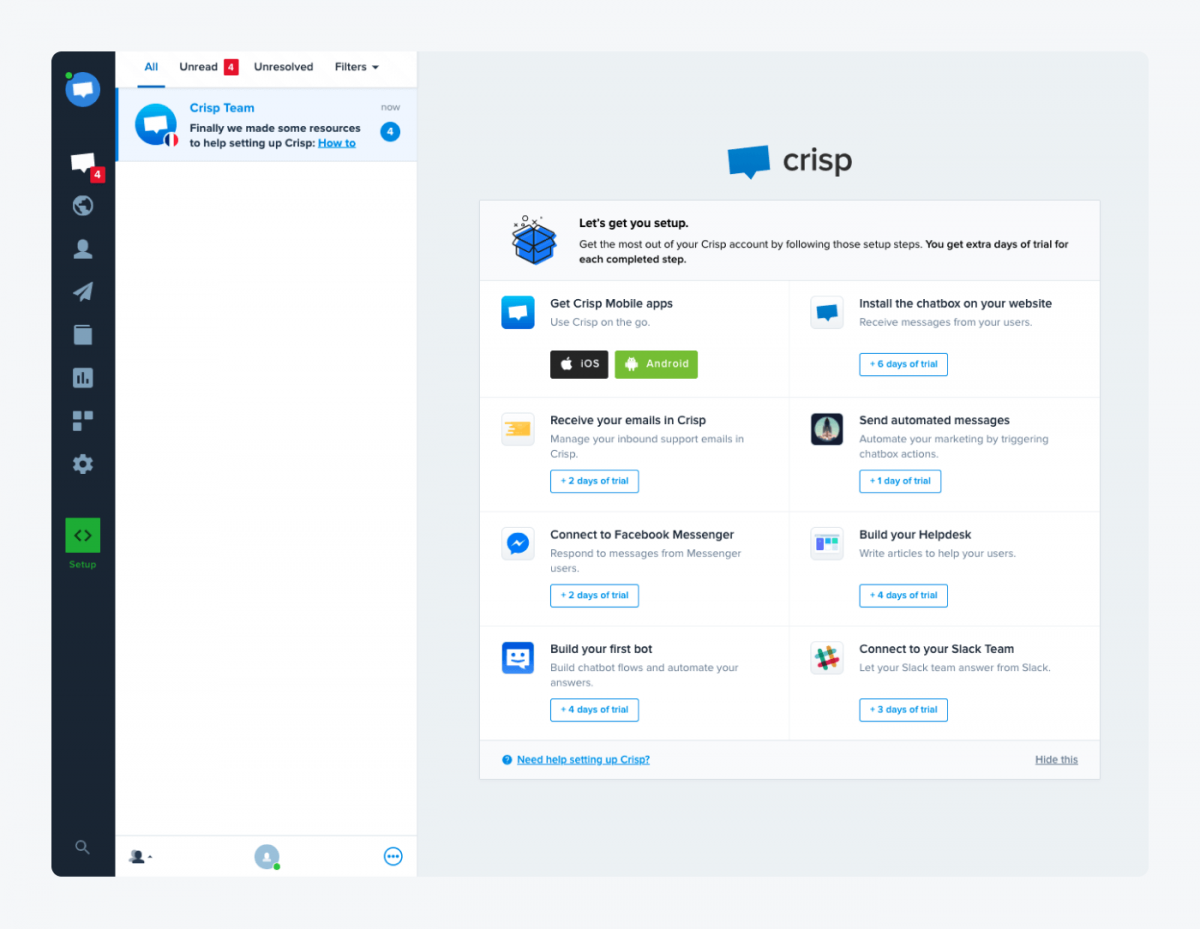 Crisp's website chat app will be useful for SMB's and startups who want to use it for marketing on multiple channels and increase internal collaboration within their organizations. Special discount for nonprofits.
Capterra Score: 4.5/5 based on 63 reviews
Pros
You can unify all channels into a shared inbox
You can keep visitors engaged when you're offline with CrispyBird game
You can translate your messages into 100 languages in real-time with LiveTranslate feature
Cons
You may struggle with Crisp's interface as there is lacks onboarding features, like simulating visitors or auto messages with what options are there
Some users noticed that useful web chat customization options are only available with the paid plans
It doesn't allow to build more advanced marketing strategy
Plans & Pricing
Free basic web chat app comes with two seats, mobile apps, and notifications
14-day trial on paid plans
Pro Plan at €25/mo with four seats, replies from Slack, and an option to block users
Unlimited plan at €95/mo with unlimited seats, routing and assigning, video chatting, useful integrations, and removed Crisp logo
50% discount for nonprofits and students
Userlike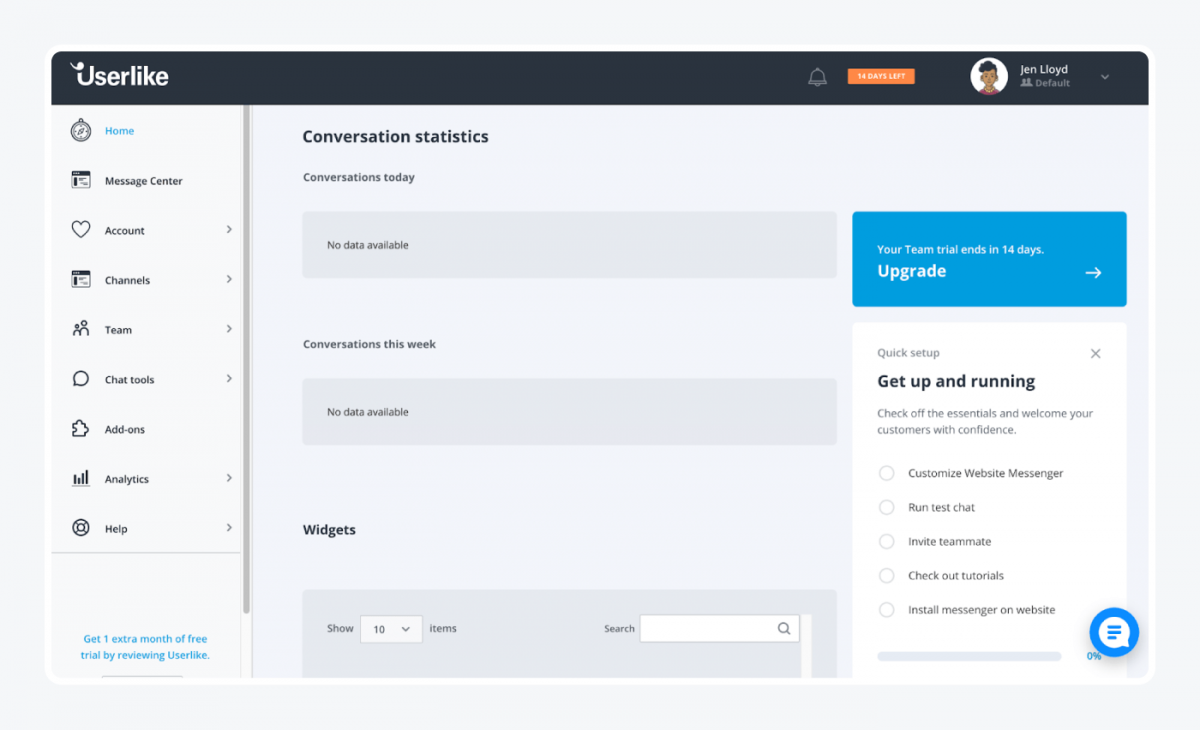 Userlike is a new web chat for large businesses and enterprises that can afford the investment to build customer satisfaction. The free web chat version is limited in comparison with other online web chat tools.
Capterra Score: 4.6/5 based on 634 reviews
Pros
You can collect feedback on the provided service with many ratings and reviews options, like star ratings, surveys, and comments
You can use a data-privacy switch to comply with EU privacy laws (GDPR)
Sticky Chat logic feature automatically connects visitors to the operator with whom they chatted before
Cons
You only get one widget in the free plan, which means you can't optimize chat window to look or function differently on mobile and desktop
No own ticketing system solution
Plans & Pricing
Free website chat app with one seat and one widget
14-day free trial to get to know the service
Team at a $100/mo with four seats, four widgets, and one channel
Corporate at $320/mo with 10 seats, 10 widgets, and three channels
Business at $800/mo with 20 seats, 20 widgets, and five channels
Flex solution with a dedicated account manager for enterprises
Pure Chat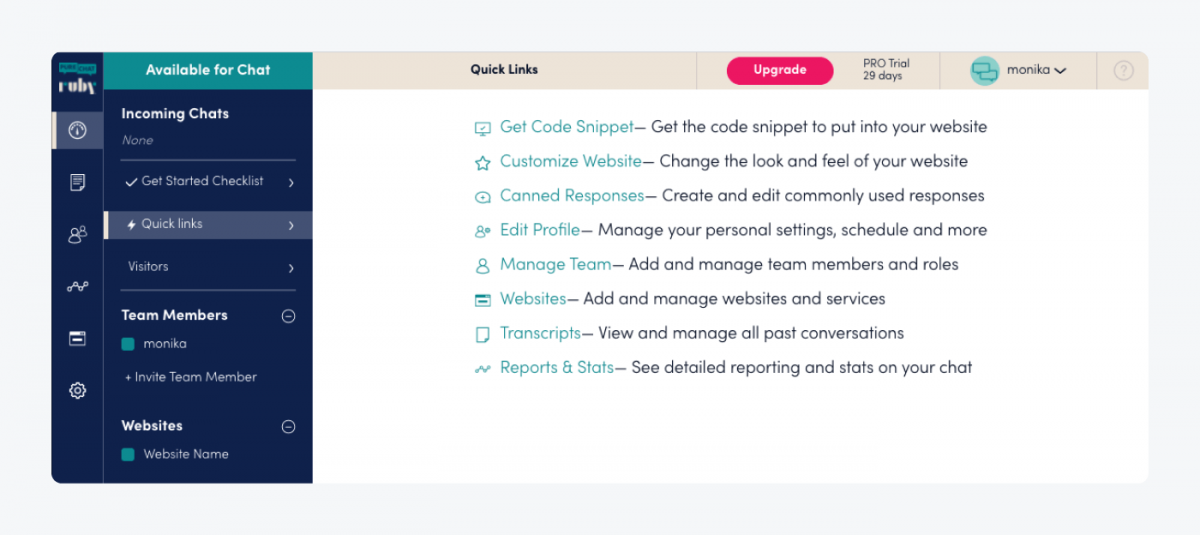 It's a simple, no-nonsense solution for larger teams in medium-sized companies wanting to leverage customers' contact information and behavioral data.
Capterra Score: 4.6/5 based on 320 reviews
Pros
Complete control over your web chat widget looks and functions on desktop and mobile devices run on iOS and Android
You can search complete transcript of chat history
You can send files to the web chat without having to switch to email or other channels
Cons
List of integrations could be longer, in comparison to other paid plans
Pure Chat branding is only removed with the higher plan
Some users report issues with unexpected app shutdown
Plans & Pricing
No freemium plan
30-day free trial period—longer than other web chats'
The two plans include the same features and are currently priced at $49 and $99 a month—they include four and ten operators, respectively.
Additional support agents are paid extra.
Zendesk Suite
Zendesk is a web chat software for large and enterprise-level companies with the right budget. It integrates really well with the rest of the company's software, so it's probably the best online chat if you already use other Zendesk tools.
Capterra Score: 4.3/5 based on 2583 reviews
Pros
Robust APIs to create apps, pull data from external sources, bulk-import resources with entry Suite Team plan
Instant AI-powered automated answers delivered via multiple channels
You can message customers using automated responses, emojis, GIFs, forms, and quick replies
Cons
Service Level Agreement (SLA) management features not included with the $49 plan
Can be challenging to use due to the complexity of its features
Zendesk support teams can take time to solve users' complicated issues
Plans & Pricing
Zendesk web chat offer changed as of February 1, 2021.
The current Zendesk Chat plans are:
Team, included with Suite Team at $49 and Suite Growth at $79
Professional, included with Suite Professional at $99
Enterprise, included with Suite Enterprise at $150 and Suite Enterprise Plus at $215
The free 14-day trial is available on all plans.
Drift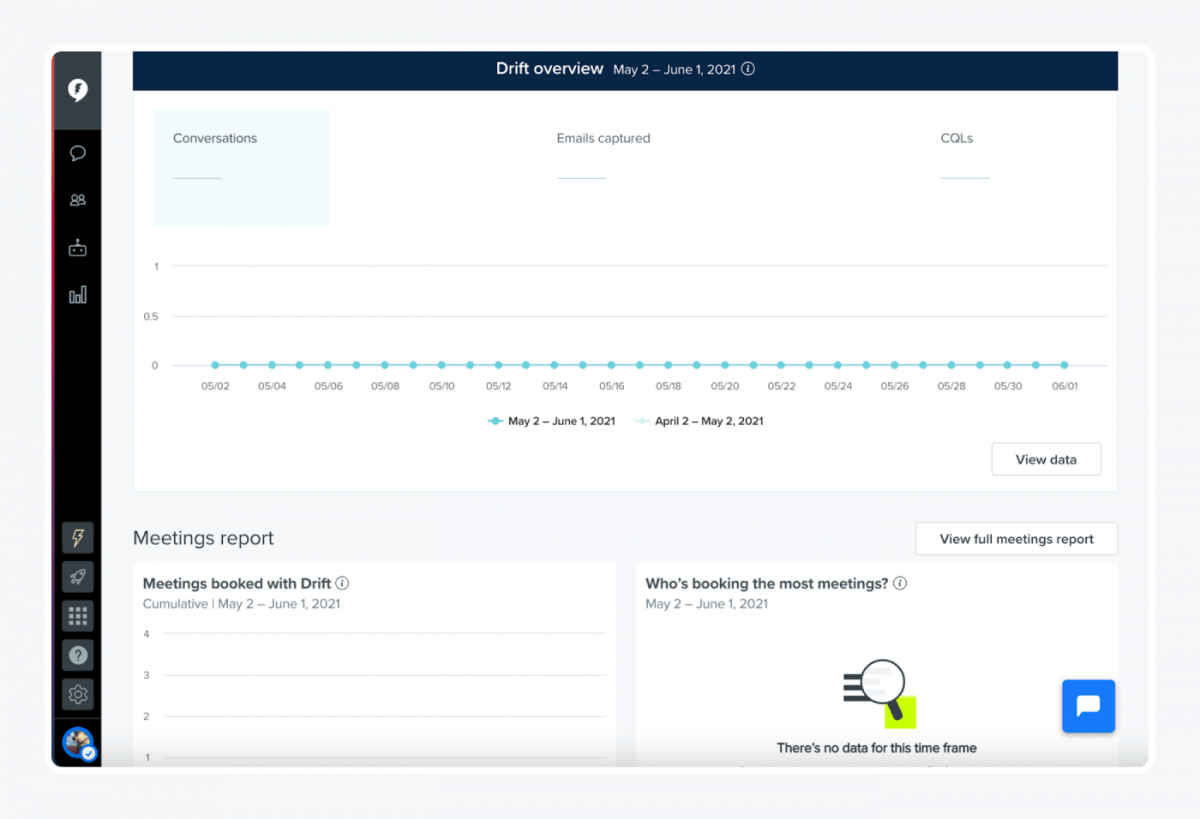 Drift is a web chat solution for multi-region enterprises or organizations with complex product lines and unique needs. It can be overkill for small and medium businesses.
Capterra Score: 4.5/5 based on 154 reviews
Pros
Conversation routing within the web chat app depending on certain criteria to enhance customer segmentation
Conversational marketing analysis based on AI chatbots helps to optimize the buying journey and sales process
Multiple flexible inboxes to manage different types of conversations (e.g., a new region, separate sales teams.
Cons
Web chat personalization and pop-ups design could be more advanced and flexible
Some users were unhappy with the AI-powered chatbot messages
Using the platform can be a learning curve for beginners
Plans & Pricing
A free plan limited to live web chat only
No trials on higher plans
Customized pricing not shared on their website, but web chat reviews suggest the costs around $400 a month
Intercom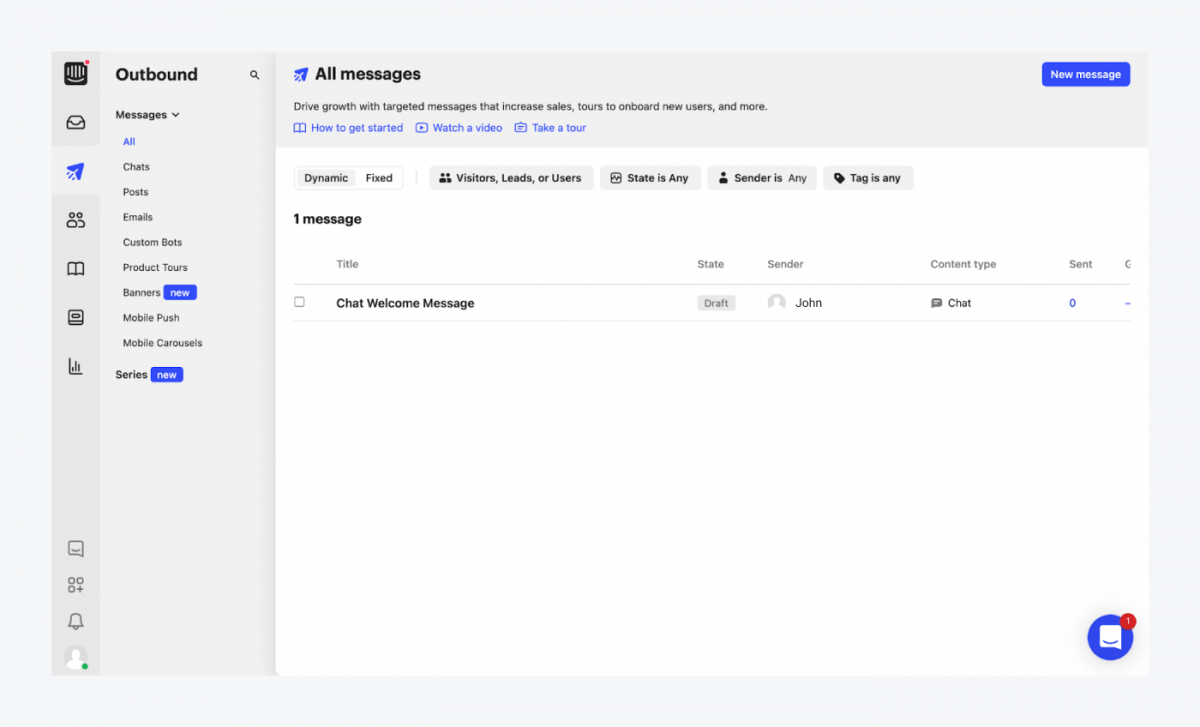 Intercom's aimed for large support teams in corporations that can afford a high price tag, like Slack or Accenture. If you're not that, you may benefit from Intercom alternatives.
Capterra Score: 4.5/5 based on 765 reviews
Pros
You can measure web chat customer service quality, e.g., web chat conversation ratings and more advanced CSAT scores
You can monitor sales performance, including Salesforce dashboards
You can organize conversations by creating separate inboxes for different teams and set permissions
Cons
Due to its advanced features, the Intercom web chat system can be complicated to use
The most common complaint from Intercom users is the poor quality of customer service
Higher plans have no fixed price, so it's hard to compare them with other website chat tools
Plans & Pricing
All plans include free trials
Their offer for small businesses is $59 or $119 a month for one or five seats, respectively
Prices on Conversational plans available upon requesting a demo
The Best Website Chat Tools Checklist
Here's a quick recap of the most useful features we found in web-based chat applications that will make your job far easier in the long run: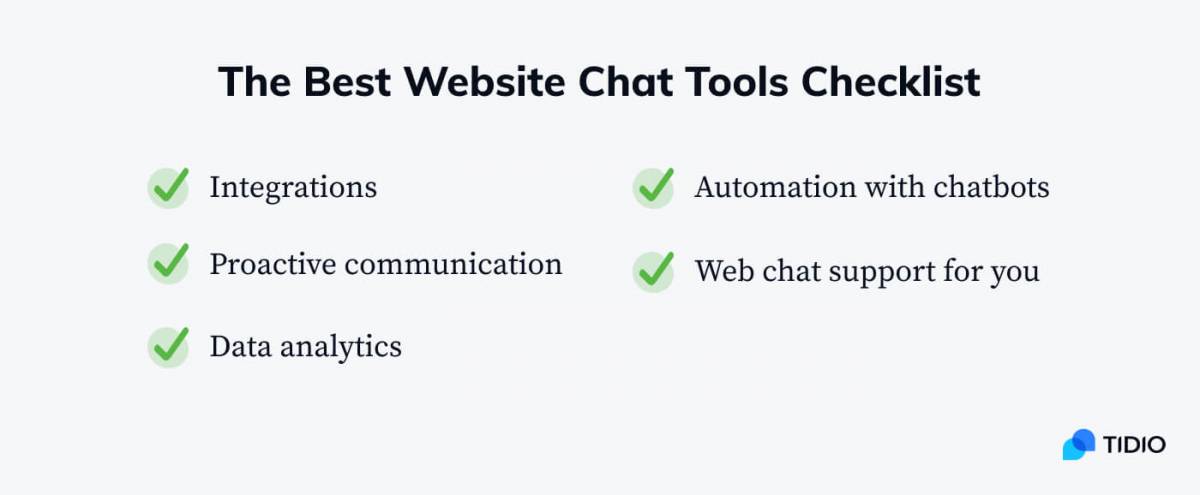 Integrations—Make sure the online web chat you choose is natively integrated with whatever website you're using (eCommerce platform, WordPress, or other) and popular apps, CRMs, and tools. Even if you're not using them now, you might in the future. Top web chats usually list integrations on their websites.
Proactive communication—This one's a biggie. Proactive communication is about reacting to certain user behaviors. It helps decrease bounce rate and cart abandonment rate. Best chats for a website allow you to see a Visitors List as a minimum and offer them help.
Data analytics—Web chat can be a powerful tool to collect information about your consumer behavior. If there are no built-in reports, web chat should provide Google Analytics integration. This data can be used for marketing and quality control of your agents.
Automation with chatbots—When you grow your business, helping customers via web chat will eventually take up most of your time. So look for a live web chat that allows you to automate your work by adding chatbots into the conversation. They are tireless and reduce the customer wait time.
Web chat support for you—When you're starting out on web chatting software, it can be easy to get muddled up. Whether it's getting started or setting up extra features, it's crucial to access support teams.
The list of necessary chat features on websites is not exhaustive and will vary from business to business depending on their nature. The ultimate goal is to deliver excellent chat communication skills so that visitors want to come back to you again and again.
Key Takeaways
By now, you should be able to pick two or three web chats you'd like to try out or at least continue your search knowing what to look for.
Here's what to remember about web chats:
With web chat added to your website, you and your customers can chat in real-time
Some web chats come with advanced backend features that extend their functionality beyond customer support to marketing and lead generation
Customers love web chats for their convenience and speed of resolving issues
Best web chat programs generally provide plenty of features, as well as the right balance between the price and what you get in return
Free web chats available
What's not to like?